Does It Get Any Bigger Than Asuka vs. Charlotte? (Yes, It Already Has)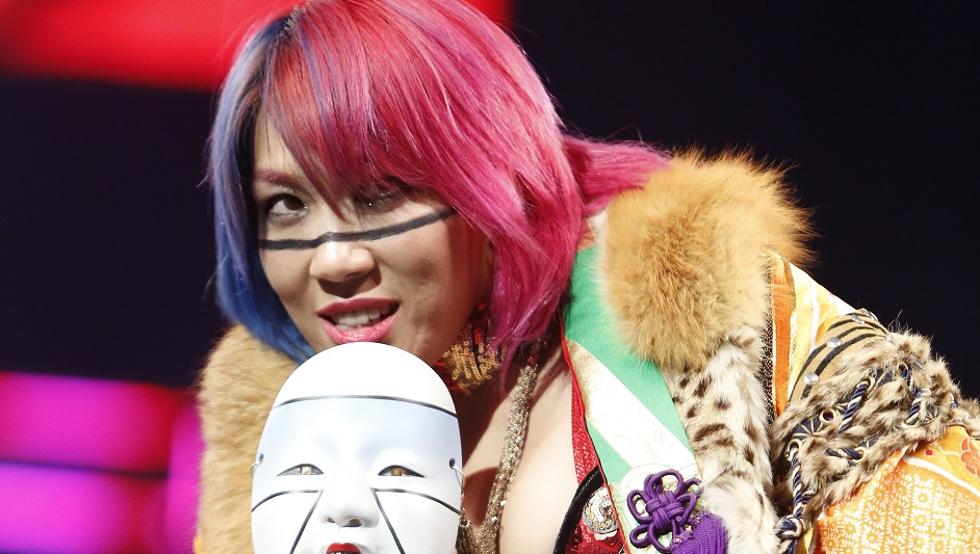 Wrestling fans around the world are thrilled at the thought of Charlotte vs. Asuka, a match that many believe could main event WrestleMania 34. While I don't think it will, I won't be shocked if it does. But does it get bigger than Asuka vs. Charlotte at WrestleMania? Indeed it does…
In fact, it already has.
Is Asuka vs. Charlotte the biggest spectacle in the history of WWE in terms of women's matches?

— Matt (@Raw_Wrestle) March 14, 2018
First off, it's important to realize that the question needs to be asked, as we continue to embark on uncharted territory in the history of WWE. Women are more prominently featured now than ever before. They've had Money In The Bank (twice), Hell In a Cell (main event) and the Royal Rumble (also the main event). Two years ago we wondered if the women would main event a WWE pay-per-view. It's now happened twice.
Regardless of the positioning of Stephanie McMahon at the forefront–you can argue the The Bella Twins deserve way more credit than Stephanie does–the Diva's Revolution evolving into the Women's Evolution has put us in a position to witness history that will never be seen before.
The next stop? SummerSlam and/or WrestleMania. It could happen with Asuka and Charlotte, it'll most likely happen with Ronda Rousey.
But until that happens, it doesn't top the list of important women's wrestling matches in WWE history.
---
July 23, 1984, over 33 years ago, the (then) WWF put on an event at Madison Square Garden that drew 23,416 people. WrestleMania 20 drew 18,500 (thanks to the stage), WrestleMania 10 drew 19,444, and original WrestleMania drew 19,191. The Brawl To End It all outdrew each WrestleMania by a minimum of over 3000, and it was anchored by a match between Wendi Richter and The Fabulous Moolah (is she currently in the news cycle?).
That match was one of 11 on the card, but it was the only match broadcast live on MTV. Richter was managed by Cyndi Lauper, who for some crazy reason isn't in the WWE Hall OF Fame today. Moolah was managed by Captain Lou Albano, who had appeared in Lauper's "Girls Just Wanna Have Fun" music video.
The event was historic for several reasons:
This was the first wrestling match broadcast live on cable television
First live broadcast of a women's wrestling match
Highest rated program in MTV history, drawing a 9.0 rating (today, Raw is in the 3's)
Wendi Richter ended the 28-year long reign of The Fabulous Moolah that night, thanks to Cyndi Lauper's "loaded" purse. Moolah's reign being 28 years is a bit misleading, as there were several long stretches where she didn't defend the championship and wasn't even with the company.
The event itself included 11 matches, including a WWF Championship defense by Hulk Hogan, and a rare WWF Martial Arts Championship defense by Antonio Anoki, who also won a 20-man battle royal that evening.
---
Many modern day wrestling fans weren't yet born when this match took place, but this match was huge to the degree that it captivated a nation of fans and non-fans alike. The rematch at the first WrestleMania had more heat on it than any WrestleMania women's match until WrestleMania 20, and few have rivaled it since (WrestleMania 22, and especially WrestleMania 32).
Where does all this rank in history? Let's take a look at how I would rank the most significant WWF/WWE matches:
Brawl To End It All, July 2, 1984 (Wendi Richter defeats Fabulous Moolah for the WWF Women's Championship)
WrestleMania 32, April 3, 2016 (Charlotte Flair defeats Sasha Banks & Becky Lynch for the WWE Women's Championship)
WrestleMania 34, April 8, 2018 (Charlotte Flair is scheduled to defend the WWE Smackdown Women's Championship against the undefeated Asuka)
Monday Night Raw, December 6, 2004 (Lita defeats Trish Stratus for the WWE Women's Championship)
NXT Takeover: Respect, October 7, 2015 (Bayley defeats Sasha Banks 3-2 in an Iron Man Match to retain the NXT Women's Championship)
WrestleMania 22, April 2, 2006 (Mickie James defeats Trish Stratus for the WWE Women's Championship)
Don't scoff at Charlotte vs. Asuka being #3. It's #3 without even happening yet. Barring a really disappointing performance (highly unlikely), it'll move to #2 once it happens. If it is the WrestleMania main event? I'd have to move it to #1 on the list.
Women's wrestling has come a long way, and WWE wasn't even the true pioneer of the "evolution" we see today. They followed suit of what was happening internationally, nationally in companies like Shimmer, and even the job done (at times) by the TNA Knockouts division. But even starting from behind, WWE has managed to put women's wrestling on the biggest stage possible.
With the continued climb of Charlotte, the ascension of Asuka, and the arrival of Ronda Rousey, with many more waiting, the best is yet to come.