Greg DeMarco's BOLD #WWE Fastlane Predictions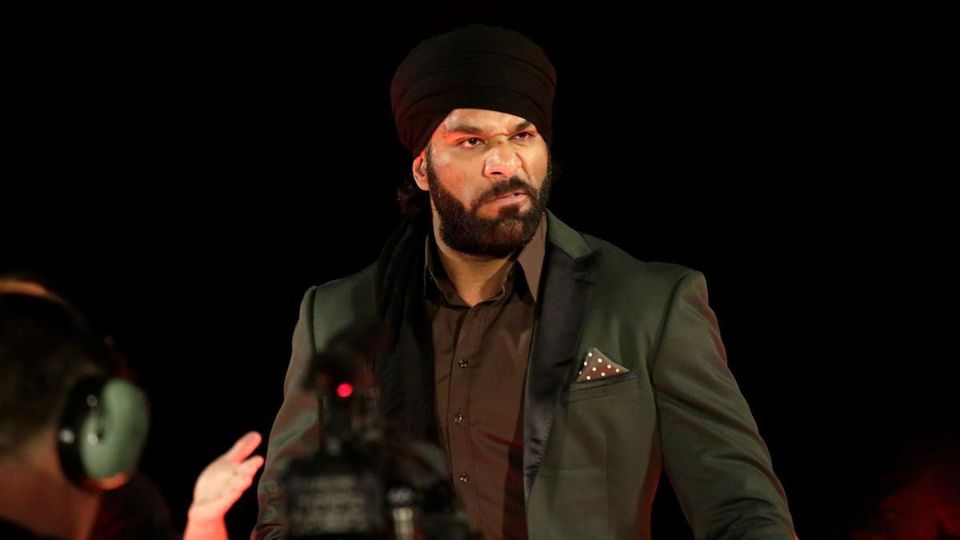 WWE Fastlane is here, and you might think you're ready. But you're not truly ready until you read some BOLD Predictions!
Remember, these are BOLD:
Bull-headed
Outlandish
Lacivious
Deplorable
But keep one thing in mind. If–er…when one of these comes true, you won't hear the end of it.
So sit back and get your last minute reading done before turning on the WWE Network and watching Fastlane!
New Day wins the Smackdown Live Tag Team Championships from The Usos
This honestly shouldn't be considered BOLD. New Day has been one of the hottest acts over the past few years. But The Usos…The Usos are the best tag team in the whole damn world.
The Usos should win this match, and The Usos should walk into WrestleMania as the Smackdown Tag Team Champions. They need it, and the Smackdown titles need it.
But The Usos are getting something more. They're getting onto the WrestleMania main card for the first time ever, and this is already a crowded card. Where do they fit in?
Against The Bar. WWE could easily go title vs title, but it seems more likely they have The Usos show up on Raw to answer The Bar's open challenge without any gold (silver) around their waists.
The ironic part? The New Day will also be on the WrestleMania card, as Smackdown tag team champions. Unless they're not. Any way you slice it, The Usos are going to Raw, and they're going to WrestleMania.
Carmella Cashes In Money In The Bank
Carmella is scheduled to team with Natalya against Becky Lynch and Naomi, in a tag team match that makes a ton of sense but has zero build. I have to wonder if Carmella even shows for the match, or if she no-shows entirely and puts her status into question.
Then, when the moment is right (Charlotte is facing an opponent with a posse, you know), Carmella finally cashes in and becomes Smackdown Women's Champion. She may or may not hold that belt at WrestleMania, but she is going to win it tonight.
Jinder Mahal Costs John Cena his 17th WWE World Championship
The clues are all there–The Undertaker is gone. He retired at WrestleMania 33, creating a moment that internet fans want to forget ever happened. John Cena even told you it's impossible. You just don't want to believe him.
We've had reports that there will be a major angle at Fastlane, and in the main event. Some think it's The Undertaker, others think it'll set up a match between Shane McMahon and Dolph Ziggler, still others thing it'll advance the Kevin Owens/Sami Zayn story.
Wrong. Wrong. Wrong.
It's The Maharaja himself, Jinder Mahal, costing John Cena his 17th world title. Why? Because I've had Jinder pegged for "The John Cena Match" at WrestleMania since August, and I am not relenting now!
WWE elevated Jinder Mahal for a reason, so much so that even AJ Styles has advocated for acceptance of his title run. He's not what the internet loves, but we already have WrestleMania matches to pander to the internet. Rarely is that match ever John Cena's.
John Cena indeed has a story for WrestleMania, and the co-star will be Jinder Mahal. And this time Cena might not be going over.
---
Always Use Your Head and visit the official Pro Wrestling Tees store for The Chairshot All t-shirt proceeds help support the advancement of your favorite hard-hitting wrestling website, The Chairshot!

---
What Happened To The Heels?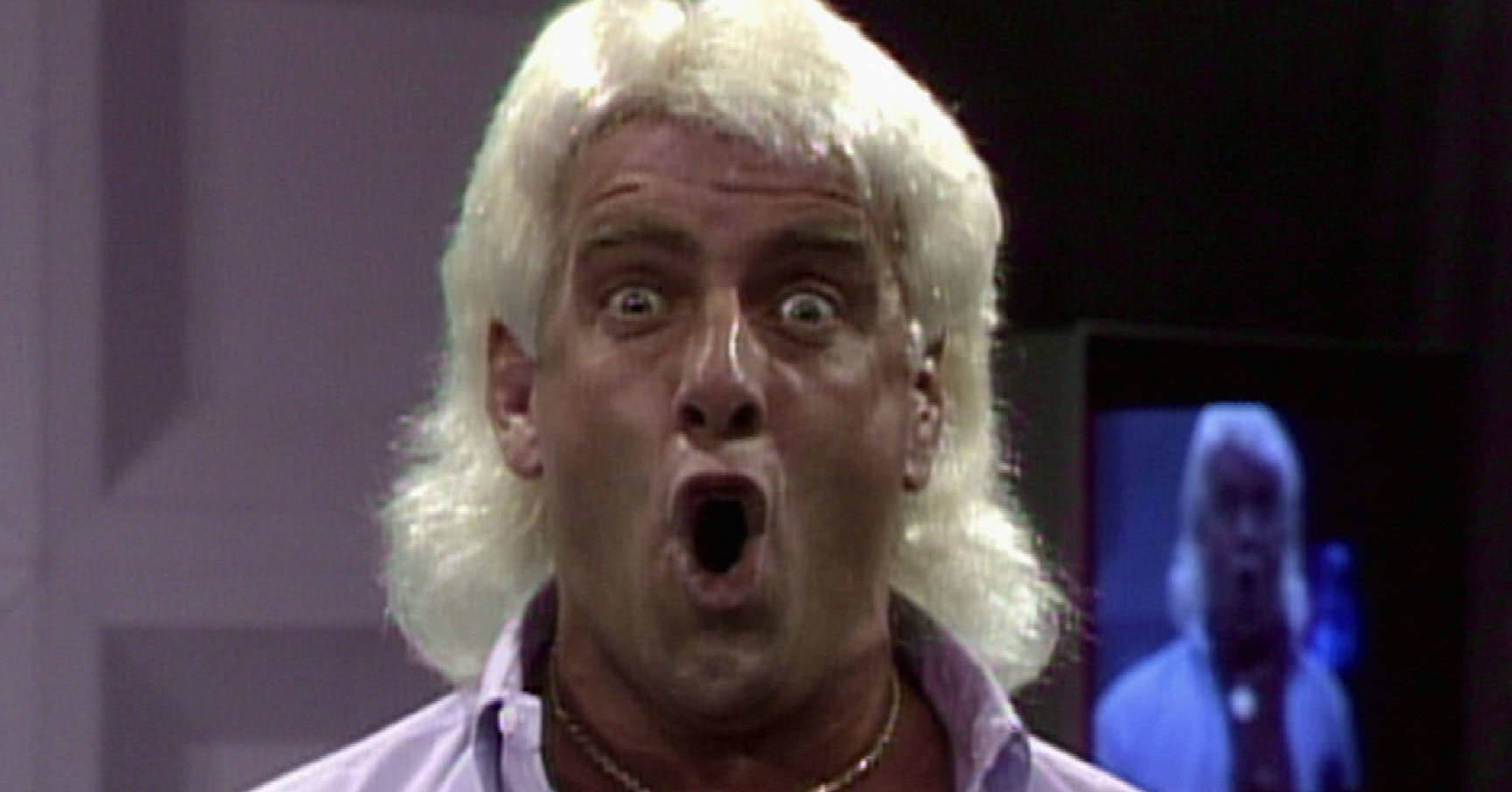 Where have all the good heels in professional wrestling gone? Why aren't there characters like the ones from my youth that struck fear in me while watching the NWA on Saturday mornings with my father?
Granted, I am a bit older than I used to be and I know what professional wrestling is now as opposed to being seven years old. Still, the heel wrestler has been eliminated like the "Loser Leave Town" matches from the days of territorial promotions.
After finally watching ESPN's 30 for 30 documentary on Ric Flair, it has occurred to me there will never be a heel as solid as the "Nature Boy" and a generation will never know what "real" wrestling was about.
I will need a moment of silence to get over this pain I feel.
Back in the day, when Kayfabe was alive and well, Kevin Sullivan terrorized my mind at night with his cryptic messages on Championship Wrestling from Florida. The Wild Samoans scared fans in the stands at Madison Square Garden. Gary Hart and his band of Japanese heels proved to be evil. They were just a few of the "bad guys" fans hated with a passion. There was no blurred line. Heels were hated, babyfaces loved. It's a phenomenon that is scarce in WWE or TNA or even ROH.
We can thank Vince McMahon for that and the creation of Sports Entertainment. The name on the marquee used to be "wrestling" and that is what superstars did, helping to create my childhood memories of Dusty Rhodes and Sullivan, Dory Funk, Jr. and Jack Brisco.
Blake Oestriecher of Forbes.com wrote a story recently about the deficiency of heels in WWE. He makes a valid point, addressing the issue of fan support for the bad guys while the scales are tipped toward the babyfaces on both Monday and Tuesday nights. This would never have been the case if McMahon had just let wrestlers wrestle and honored the traditions of 1970s grappling.
Those days are gone forever.
"Overall, WWE has a lot of depth on the heel side. There are quality villains on Raw in the form of Kevin Owens, Sami Zayn, Baron Corbin and Jinder Mahal and on SmackDown with guys like Shinsuke Nakamura, Samoa Joe, and The Miz," Oestriecher writes. "It's not the number of heels that is the issue. Rather, it's WWE's presentation of those heels and the creative team's inability to establish them as bona fide superstars in that role that have really hurt the quality of WWE's programming."
Oestriecher hits it out of the park with that one paragraph.
Mahal is as close to a throwback heel you will find in WWE. His look, his gimmick, the venomous dialogue he spews and takes heat from the fans. It's a perfect combination. Mahal, who has become a fringe main event star, would be successful in the 1980s NWA with Rhodes championing the cause of fighting good versus evil.
Other than the former WWE champion, who else besides Brock Lesnar, who is back hibernating with the Universal Title under his pillow, is there to fill that role? Even Lesnar, who by all accounts is a heel based on his gimmick, his look, and his mouthpiece Paul Heyman, is cheered simply because of size, power and his ability in the ring.
"Now, with Brock Lesnar, who is widely viewed to be WWE's No. 1 heel, apparently not set to wrestle again until at least July, WWE finds itself with a gaping hole on the heel side of Raw," Oestriecher adds. "There is not one particular thing that will make up for the loss of Lesnar, who many still consider to be WWE's biggest draw, and doing so on Monday nights won't help the blue brand."
This might be a case of fans learning to deal with deficiencies in booking, that creative writers don't see three steps in front of them and the bad guy is really the good guy and the good guy is really bad because he doesn't have the qualities fans want in today's business. If that is the case, then why is Roman Reigns so hated by the wrestling community?
That's another column for another time and place.
No matter what WWE does to try and correct its problem, there will never be a viable solution. The present and future dictate the company sticks to the script of uneven booking. And until the problem is eased – not fixed – we will all wonder whatever ever happened to the "real" heels of professional wrestling?
---
Always Use Your Head and visit the official Pro Wrestling Tees store for The Chairshot All t-shirt proceeds help support the advancement of your favorite hard-hitting wrestling website, The Chairshot!

---
Will 'All In' Be All The Smarks Want It To Be?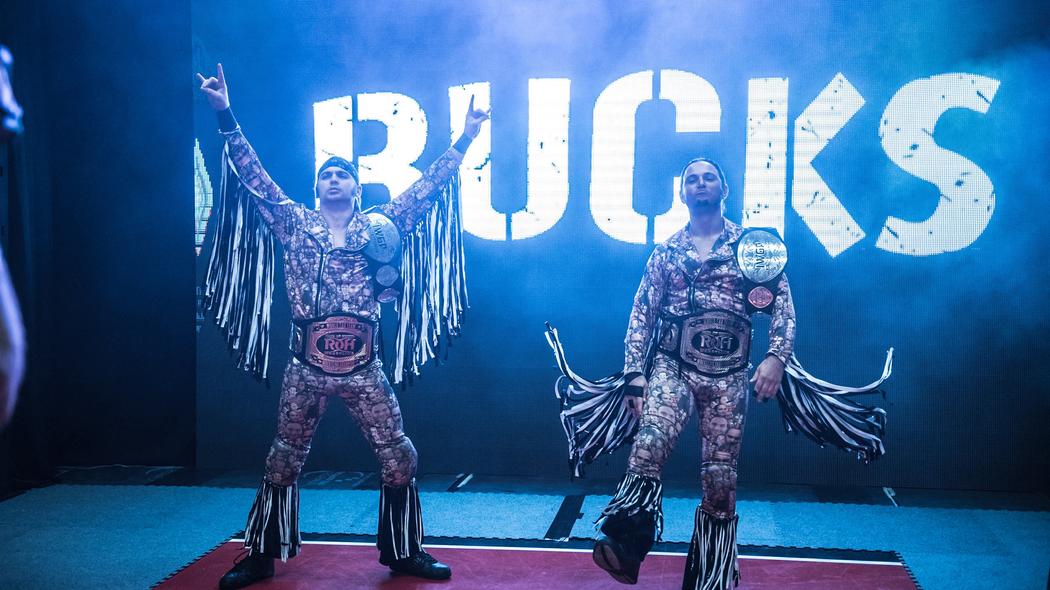 So the biggest thing the wrestling world seems to be talking about is All In, the one off indie show that Cody (Rhodes) and the Young Bucks have put together and are saying that it's sold 10,000 tickets. If this is true, it's quite a feat and would make it the first non-WWE show to sell that many since WCW folded in 2001. Since this news came out on Monday, smark fans have trumpeted this a the salvation of pro-wrestling because it's supposedly a shot against WWE's monopoly on the business, but is it really? Or are the smarks so desperate to prove their coolness that they're ignoring some issues with this situation?
I'm going to preface the following by saying that I have nothing against Cody or the Bucks. I'm not a fan of either him or the Young Bucks and have no intention of watching All In, but I wish them luck on this thing. However, I feel the need to point out the problems I see with this whole thing.
1. The Lack of a Card. I realize that it's a little early to be griping about the lack of a card, and if it were an actual promotion, WWE or not, I wouldn't be, but the fact that as of right now, the only match on the card is Cody vs Magnus/Nick Aldis for the NWA World Heavyweight Championship is a little concerning to me. The Young Bucks, Rey Mysterio, Kenny Omega, Okada, Skrull, Tessa Blanchard, Pentagon Jr, Fenix, and Deonna Purrazo are going to be involved in some way, but there's no other matches lined up.
2. The Title Match Itself. This is based on what I'm reading about the title match. Nick Aldis is actually scheduled for an NWA title match against PJ Black (Justin Gabriel) before competing at All In, though the article didn't say when. Which means, if Aldis loses, All In's main event will be a 'Special Non-Title Match', which is nice, but doesn't have the same drawing power as an NWA Title Match. Do I think Aldis will lose to Black? No, but given that it's the only match on the card so far, it's a big risk to take.
3. The Emphasis on Cody and the Bucks. I'm willing to admit that I'm not into indie wrestling. I watch WWE and I used to watch TNA back when it was good, but even not knowing a lot about a lot of the people scheduled to appear, I'm worried about what the back up plan is if Cody and/or the Bucks get hurt, which is a distinct possibility in the wrestling business. Do they have a backup plan? We've all seen WWE have to throw out almost an entire WrestleMania card because of a rash of injuries, and that's with a roster of around 50 guys. What do Cody and the Bucks have in reserve in case s**t happens?
4. The Lack of a Plan to Build On It. I think this the think I find puzzling about this whole thing: Is there a long-term plan for this? Does Cody have a plan of building on this, maybe making deals with other promoters and making it the WrestleMania or Starrcade of the indies? Given Cody's background, I assume he wouldn't do this without some kind of plan for the long-term.
5. What Kind of An Event Is This?  I ask this because as I was looking through the people who are scheduled to appear during All In and I noticed that there are a lot of Legendary performers listed. In fact, it seems that there are more people making appearances than are scheduled to wrestle on the show. So that begs the question: Is this a wrestling show with a fan convention attached, or a fan convention with a wrestling show attached? I will give Cody props for having the good sense to BAR Vince Russo from the Starrcast event.
Again, I'm not knocking this event, if Cody and the Bucks can actually pull this off in September, kudos to them, and I understand that fans who are not necessarily hardcore WWE fans are wanting to bask in the moment of somehow striking back at WWE, but let's not get so caught up in the moment that we ignore the issues.
---
Always Use Your Head and visit the official Pro Wrestling Tees store for The Chairshot All t-shirt proceeds help support the advancement of your favorite hard-hitting wrestling website, The Chairshot!

---
Is Samoa Joe Headed for a Babyface Turn in WWE?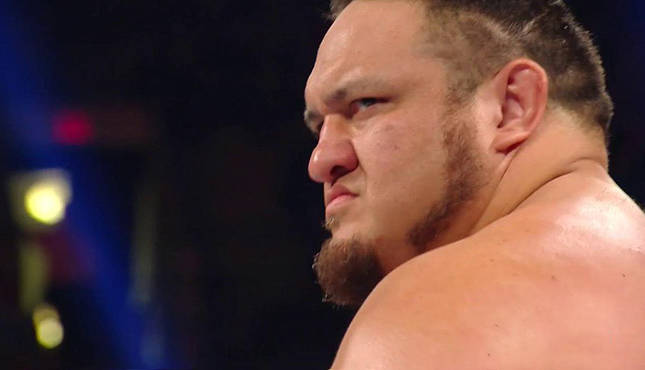 Samoa Joe's recent promo on Big Colin Cassady has everyone talking. That's because Joe once again took advantage of the mic time afforded him to cut his opponent in half. Both men may be heels but Joe's words were that of a babyface, which has many asking if a character turn is on the horizon.
The Samoan Submission Specialist is booked to face Big Cass in a Money in the Bank Qualifying Match on the May 22 edition of SmackDown Live. The two men have a reason to sound off on each other. Joe was simply generating heat and nothing more may come of this scathing promo. But what if it does?
What if this propels Samoa Joe to a whole new level? Fans already love to cheer for him despite how vicious he is. Samoa Joe could do just about anything to anyone on SmackDown and still pop the crowd. There's just something about him that makes the fans want to stand up and shout.
Joe is a man's man. He's a legitimate tough guy and everyone knows it. His gaze is ice cold and his intentions are purely evil. Every time he opens his mouth, his words cut like a knife. Just as there is no wasted movement in his matches, there are also no wasted words when he speaks. Samoa Joe is deliberate and that is what makes him different.
Pro wrestling fans gravitate to this kind of personality. It's precisely what first turned The Road Warriors babyface during the mid-80's. The same was true of Jake the Snake Roberts in 1987. Stone Cold Steve Austin was supposed to be a heel as well but like Hawk, Animal and Roberts, Austin turned face because of the crowd.
The WWE faithful wanted Steve because he was the real deal. He wasn't flashy, he wasn't loud and he wasn't a caricature. He was the baddest man in WWE and every fan in the crowd respected that. They loved him for it. This is Samoa Joe.
It's not to suggest that Joe could suddenly explode in terms of popularity the way Austin did but it's obvious that Joe has that unique quality about him. He's Charles Bronson tough but with a Clint Eastwood intensity that's always simmering just below the surface. Samoa Joe looks as though he could take down half the locker room with little to no effort. What's not to love about that?
Losses don't hurt him. Time off doesn't hurt him. Samoa Joe is the same piece of steel today as he was yesterday. His gimmick does not age and his persona is timeless. It's hard for any man in the crowd to hate a guy with that much fire, especially when that guy is matched against a lesser talent.
Enter Big Cass, who has a world of potential in his corner. But he doesn't have a real direction just yet and he also doesn't have any real credibility. Cass is a big guy that could be a big star but right now he's just talking a big fight. He was dismantled by Daniel Bryan and it took three guys to pull Daniel off of him. Cass is seven-foot, 285lbs. Bryan is 5'10," 210lbs.
Big Cass is already at a disadvantage going into his match with Joe and the fans know it. They will surely remind him of it and when Joe's music hits, they will surely erupt. The fans want Joe to turn face. They love him as a heel and they love what he does but if he were on their side? Samoa Joe could become the hottest protagonist in WWE.
But the main problem with any sort of character change for Joe is WWE itself. The company doesn't exactly have a great track record when it comes to turning guys from one side to the other. Fans have demanded a Roman Reigns heel turn for two years and it's not happened yet. They've also wanted a Rusev face turn but that's not happened yet either. What makes anyone believe Joe will be any different?
The fact is that so much is possible with Samoa Joe if he does make the turn. He can immediately be positioned against any heel in the company and he would automatically get over with the crowd. He would be one of the most popular babyfaces on the blue brand and very few would be able to match his pop. But is this really the best move for him right now?
Joe is working on a program that features AJ Styles, Daniel Bryan, Jeff Hardy and Randy Orton. These are four top faces that consistently get the biggest reactions on SmackDown Live. Does WWE really want to add another face to that group? Is there even room for Samoa Joe as a top babyface on Tuesday nights?
What makes him a great heel is ultimately the same thing that keeps him a great heel. He's much too valuable in his current role to try anything new. Joe is just too good at being bad. Why would WWE want to change that now?
But when it comes to the fans, anything is possible. If the crowds continue to react positively to Joe and if he keeps getting cheers even when he's doing something wrong, then everything could change. Samoa Joe is the kind of destroyer that fans want on their side. He's just so cool and he's just too tough to hate. He may remain right where he is but Samoa Joe is ready for anything. He always has been.
---
Always Use Your Head and visit the official Pro Wrestling Tees store for The Chairshot All t-shirt proceeds help support the advancement of your favorite hard-hitting wrestling website, The Chairshot!

---