Greg DeMarco's BOLD #WWE Fastlane Predictions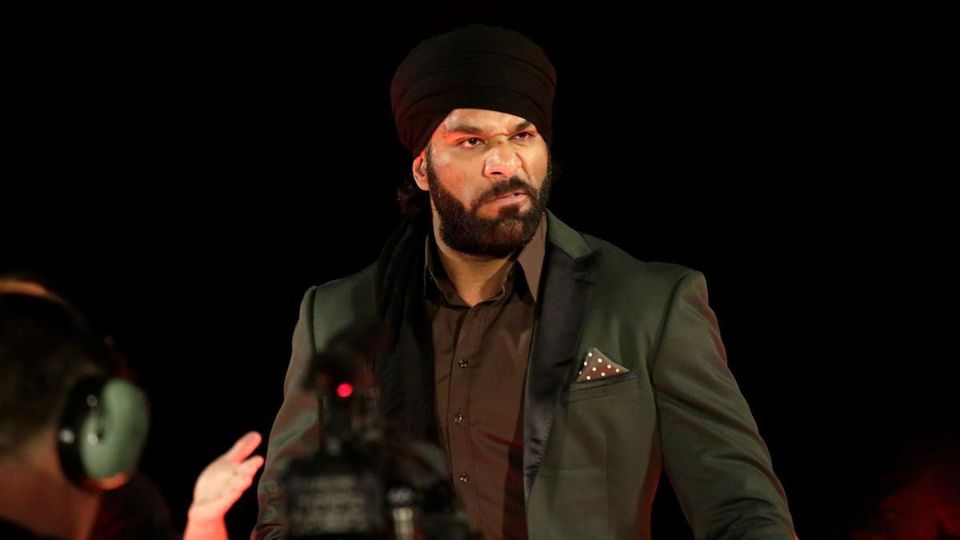 WWE Fastlane is here, and you might think you're ready. But you're not truly ready until you read some BOLD Predictions!
Remember, these are BOLD:
Bull-headed
Outlandish
Lacivious
Deplorable
But keep one thing in mind. If–er…when one of these comes true, you won't hear the end of it.
So sit back and get your last minute reading done before turning on the WWE Network and watching Fastlane!
New Day wins the Smackdown Live Tag Team Championships from The Usos
This honestly shouldn't be considered BOLD. New Day has been one of the hottest acts over the past few years. But The Usos…The Usos are the best tag team in the whole damn world.
The Usos should win this match, and The Usos should walk into WrestleMania as the Smackdown Tag Team Champions. They need it, and the Smackdown titles need it.
But The Usos are getting something more. They're getting onto the WrestleMania main card for the first time ever, and this is already a crowded card. Where do they fit in?
Against The Bar. WWE could easily go title vs title, but it seems more likely they have The Usos show up on Raw to answer The Bar's open challenge without any gold (silver) around their waists.
The ironic part? The New Day will also be on the WrestleMania card, as Smackdown tag team champions. Unless they're not. Any way you slice it, The Usos are going to Raw, and they're going to WrestleMania.
Carmella Cashes In Money In The Bank
Carmella is scheduled to team with Natalya against Becky Lynch and Naomi, in a tag team match that makes a ton of sense but has zero build. I have to wonder if Carmella even shows for the match, or if she no-shows entirely and puts her status into question.
Then, when the moment is right (Charlotte is facing an opponent with a posse, you know), Carmella finally cashes in and becomes Smackdown Women's Champion. She may or may not hold that belt at WrestleMania, but she is going to win it tonight.
Jinder Mahal Costs John Cena his 17th WWE World Championship
The clues are all there–The Undertaker is gone. He retired at WrestleMania 33, creating a moment that internet fans want to forget ever happened. John Cena even told you it's impossible. You just don't want to believe him.
We've had reports that there will be a major angle at Fastlane, and in the main event. Some think it's The Undertaker, others think it'll set up a match between Shane McMahon and Dolph Ziggler, still others thing it'll advance the Kevin Owens/Sami Zayn story.
Wrong. Wrong. Wrong.
It's The Maharaja himself, Jinder Mahal, costing John Cena his 17th world title. Why? Because I've had Jinder pegged for "The John Cena Match" at WrestleMania since August, and I am not relenting now!
WWE elevated Jinder Mahal for a reason, so much so that even AJ Styles has advocated for acceptance of his title run. He's not what the internet loves, but we already have WrestleMania matches to pander to the internet. Rarely is that match ever John Cena's.
John Cena indeed has a story for WrestleMania, and the co-star will be Jinder Mahal. And this time Cena might not be going over.
---
Always Use Your Head and visit the official Pro Wrestling Tees store for The Chairshot All t-shirt proceeds help support the advancement of your favorite hard-hitting wrestling website, The Chairshot!

---
Top 5: Wrestling Nicknames!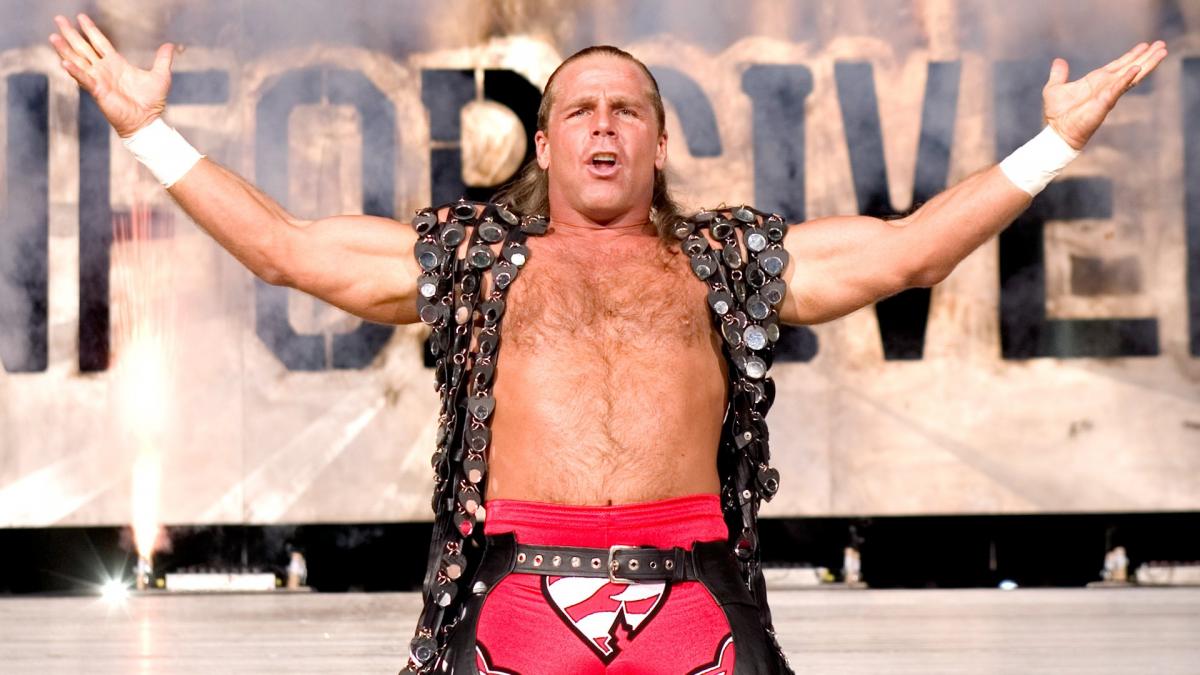 What's in a nickname? Well, the right one can make you a Living Legend. The wrong one can make you ultimately forgettable. Let's be honest, Stunning Steve Austin wasn't going to be a Superstar until he got Stone Cold. The Rock didn't become the People's Champion until people caught on and started playing along with it. Triple H became one of the top stars in the game when he called himself The Game.
Here are my Top 5 Wrestling Nicknames. I fully expect massive disagreeing on this one. We all love nicknames, right?
5. The Anvil
The idea for this column came from a tweet I made about Jim Neidhart's death.
"The Anvil" has to be a Top 5 Wrestling Nickname. #RIPJimNeidhart

— Steve Cook (@stevecook84) August 13, 2018
I always liked his nickname because it came from something factual. He won the anvil toss event at the Calgary Stampede one year. You believed he was the kind of guy that would sit around and decide one day to toss an anvil and have no problem with it. He also had an effect on his opponents similar to the effect an anvil had on Wil E. Coyote & other Warner Brothers characters.
4. The Modern-Day Maharaja
Every top star needs a good nickname. Jinder Mahal never had one for the majority of his. The Man Who Comes In Peace wasn't going to win any major championships. The Modern-Day Maharaja? Sure, why not? It sounds cool, especially when Jinder or one of the Singh Brothers says it.
I like it because it's unique. When is the last time you heard the word Maharaja before Jinder? Unless you live in India I'm guessing it was a long time ago, if at all. He's reintroduced the word to vocabulary.
3. The Snake
Did anybody ever live up to his nickname the way Jake "The Snake" Roberts did? It was nice that Snake rhymed with Jake, but anybody that ever knew Roberts could tell you he could be a difficult individual in & out of the locker room. Jake never could be trusted. People were calling him a snake long before Vince decided he needed Damian.
2. Macho Man
When you thought "Macho Man" in the late 1970s & early 1980s, you probably thought of the Village People's immortal disco tune.
Randy Savage's colorful costumes would have fit right in with the Village People. He also lived up to the Macho Man moniker with his funky walk & his undisputed manliness. One thing that puts "Macho Man" over the nickname that got an Honorable Mention…nobody else used "Macho Man". Everybody knew that trying to follow Savage was a fruitless endeavor.
Honorable Mention: Nature Boy
I like "Nature Boy" mostly due to the randomness. An Ask 411 Wrestling reader once asked me where the term came from. It sounds weird to modern folks. As I discovered in my research, promoter Jack Pfefer originally called Buddy Rogers the Natural Guy, but switched it to "Nature Boy" off of a popular song in the late 1950s.
A couple of all-time legends used it, and one can argue that it deserves to be on the list because multiple people got over with it. Me, I like originality.
Honorable Mention: The Big Dog
Michael Cole makes this worth a mention.
1. The Heartbreak Kid
It seemed like Shawn Michaels' star kicked up several notches once Mr. Perfect called him the Heartbreak Kid on commentary. Up until that point, people were going with "Sexy Boy" or "Boy Toy" based off his theme music. Now that Michaels had a proper nickname, he could be taken seriously as a heel contender.
HBK kept the name long after any illusion that he could break the ladies' hearts could be maintained. People still called him it though, so whatever works.
---
Always Use Your Head and visit the official Pro Wrestling Tees store for The Chairshot All t-shirt proceeds help support the advancement of your favorite hard-hitting wrestling website, The Chairshot!

---
The Good, Bad and Ugly: SummerSlam 2018 Post Show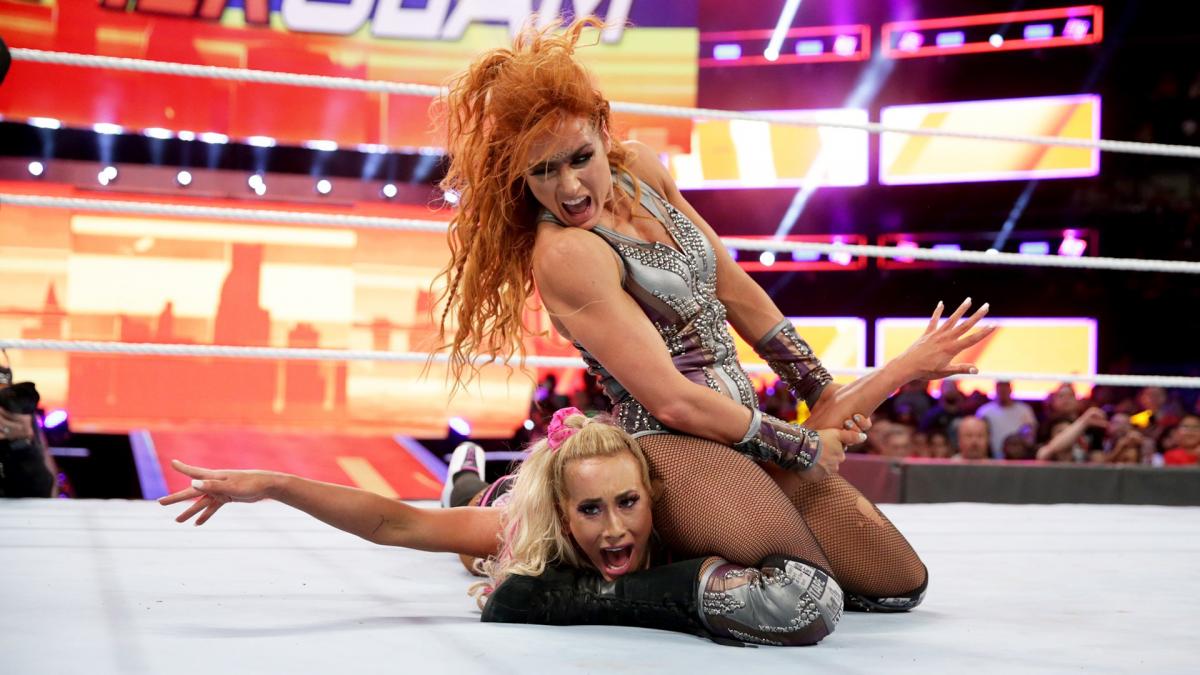 Bobby is back with his Good, Bad, and Ugly look at WWE SummerSlam 2018!
The Good
Let me start with the best, a match I greatly looked forward to, Smackdown Women's Championship Carmella (c) vs. Becky Lynch vs. Charlotte.  All 3 competitors looked incredible.  The constant head games by Champion Carmella and the intense, tight in ring action between frenemies Becky Lynch and Charlotte were entertaining.  This was a solid showing by great athletes, and one of the better Woman's Matches I have seen in a long time many high moments, and fluid action.  The ending was also unpredictable and incredible, making Charlotte Flair 7 time Heavyweight Champion.  I couldn't be any happier with Becky Lynch's heel turn, and absolutely love the crowd's reaction to it.
Andrade "Cien" Almas & Zelina Vega vs. Rusev & Lana on the Kickoff Show was quite the match. Rusev is so over, he really could do almost anything at this point and the crowd will get hot.  Cien and Rusev are very natural with each other, tonight was no different.  What ruins a great match is putting hype ads up during the action, and if that isn't bad enough they do it hyping the show we all are about to watch.  It really is garbage and completely wrong.  Surprisingly Lana and Vega looked very comfortable tonight, had great energy and held their own.  Even though the ending was cheap, this was at the least entertaining.  Given it was a Pre-show however I would have given our Hero's the nod on Rusev Day, but this crew went from Ugly too Good to this Fan.
The Cruiserweight Championship Match Cedric Alexander (c) vs. Drew Gulak was placed poorly on the Kickoff Show.  It also had some actual old school technical wrestling which by the reaction of the half-filled kickoff crowd, enjoyed.  Gulak and Alexander are unbelievably talented, and are a treat for us.  Having said that, again WWE shamelessly plugging Summerslam to those who already know, imo is a completely tasteless and disrespectful move all around to the fantastic talent in the ring.  Pay attention kiddos, this was a solid match as expected on an unfortunate spot of the card, but these professional's owned it as always and gave us more than ours money's worth.  Congrats to Alexander on retaining in a fantastic match.
The Raw Tag Team Championship saw The B-Team (c) defend against Revival, I labeled Bad in the pre-show edition because I am salty about the placement of the match on the usually easily forgotten Kickoff Show.   These 4 guys are tremendously talented, and being put on an ill-fated spot of the night, will in no way inhibit their unbelievable talent.   Each showing great technical prowess, working a body part and staying with it, is no doubt a product of the years of expertise these teams have.  What does WWE do, to reward this?  Advertise during the match. "B" Team is far from their name sake, with so many false hopes, and psychology next to none this was yet another Good point of the night, even with all odds stacked against them deservingly retaining their titles and showing that "luck" is on their side.  Bravo on a making the "B"est of it.
Before I get into the Intercontinental Championship Match with Dolph Ziggler (c) vs. Seth Rollins which I predicted would be Good, let me just reiterate how over Ambrose is, Rollins too for that matter.  The crowd was hot for this one the minute Ambrose's music hit.  This had a retro feel in the very best way.  The gear, the buildup, and for a change, a match worthy of the IC Title's history.  Although the play back and forth with Ambrose and McIntyre served its value, nothing out of the ordinary seemed ahead.  There were a lot of rest spots, and awkwardness in the pace at times, with little bits of pop sprinkled in.  Then, like a bomb, spot after spot, they turned it on, and it showed.  The crowd woke up and took off!  They showed us why they are where they are.  Bloody, beaten, laying it all out there, Rollins victorious.
Now for the Money in the Bank Match Braun Strowman (h) vs. Kevin Owens for the Briefcase of Dreams, although The Monster is one of my personal favorites, and Owens is a natural, I had very low expectations of this match and referred to it as a waste in my pre-show article.  WWE must have heard because this was a squash match.  I enjoyed it due to the fact that it was what it should be.  Therefore this "bad" match is labeled Good.  Old School straight up beat down, and now we wait and see if the Monster in the Bank will make a 2nd appearance tonight!
Finn Balor vs. Baron Corbin I am going into this with a bad taste, as I hate Corbin and feel that there are so many more deserving people of his spot on tonight's show.  Finn Balor is a top guy and he is facing this clown.  Finn Balor's entrance was incredible, I loved it, and it was a great surprise to come out as the Demon.  The hologram above the ring was mesmerizing.
The save sake for me is that it was quick, and one sided.  I am glad this ridiculous feud is over, and now Finn Balor can go onto something better.  A decisive win for the Demon.
Our United States Championship match saw Shinsuke Nakamura (c) vs. Jeff Hardy, and it could have gone either way.  The talent is outstanding, the following for both competitors is vast.  I knew coming in that if WWE let's these 2 do what they know how we would have a classic on our hands.  The strikes were great, the taunting was done well, and the crowd was into it.  The risk when Jeff Hardy is in a match is expected but let me say as someone who knows how much this hurts.  That was high risk bump on the apron was painful to watch.  This was a good match and we were saved from the usual cheesy WWE take on it.  A clean finish in a respectable U.S. Title Match.  Congrats to both men for a job well done, and Nakamura for a hell of a defense.  I even didn't mind seeing Orton just leave after his seemingly unnecessary appearance after the match.  Anything he would have added would have been cheap.
Prior to the Match, it was great to see Nattie. We all loved the Anvil, and it was a great show of respect.  The Raw Women's Championship match featured Alexa Bliss (c) vs. Ronda Rousey. I absolutely love Alexa Bliss, she started off perfect throwing shade to the Bella's and having little to no respect for her inferior fans.  Rousey as always was fired up, and looked incredible.  She is a warrior and has an appropriate look as such.  She is so intense, and I knew this was going to be a winner.  The crowd was hot for this one and rightfully so.   Bliss played her role as the heel Champion to perfection and Rousey our gallant hero.  I loved the constant heat and taunting from Rousey.  This was a squash match, and I would have never in my life, guessed that Bliss would ever have lost so quick without a fight.  It was fun to watch, Congrats to the Baddest Women Champion on the Planet Ronda Rousey.
Your main event, for the Universal Championship, Brock Lesnar (c) vs. Roman Reigns started off on fire.   I couldn't be happier with Strowman's presence.  Followed up with insane offense on Roman's part. The match was action packed and the crowd was hot.  They kept Strowman out with a vicious F5, making him a non-factor.  It was done right: quick and Roman finally got the belt back.
---
Always Use Your Head and visit the official Pro Wrestling Tees store for The Chairshot All t-shirt proceeds help support the advancement of your favorite hard-hitting wrestling website, The Chairshot!

---
Three Stars of The Night: WWE Monday Night Raw (August 20, 2018)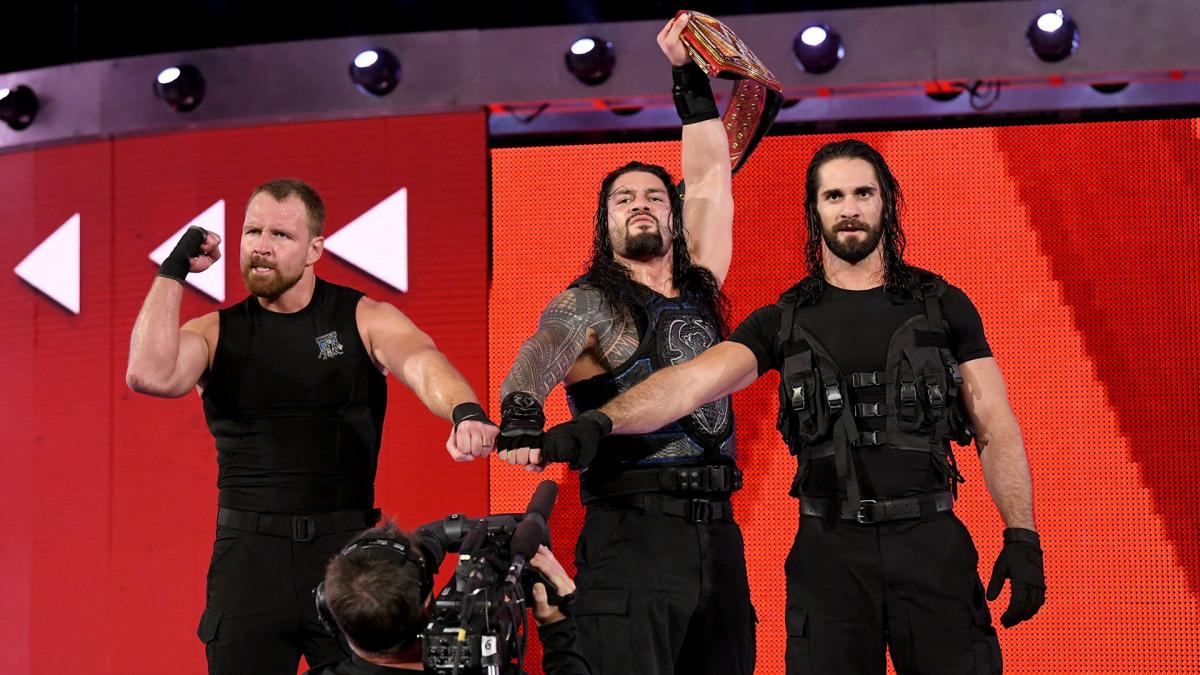 A look at the Three Stars Of The Night for the August 20th edition of WWE Monday Night Raw!
Tonight was the much anticipated RawAfterSummerSlam!
Okay, maybe not. But it was a the Raw that aired after SummerSlam, and if you look closely you'll see the company already planting the seeds for WrestleMania 35. But that road is a topic for another day, as tonight we have to bring you the Three Stars!
The Third Star:
Ember Moon
On multiple occasions I've said Ember Moon wasn't the type of character to have a great run through NXT, that Ember Moon was a "main roster character." And when given the chances, she's proving me right on Raw.
Tonight was no exception. Ruby Riott and Sasha Banks are world class talents, Liv Morgan and Bayley are great. But in her spots, Ember Moon exhibited a fire and passion that was unmatched in this match. The woman is a star, and she's going to be a fixture of the main roster for a long time.
The Second Star:
Drew McIntyre
Sounds crazy, right? The guy was but a second for Dolph Ziggler, who fell in defeat to Dean Ambrose. But Drew McIntyre is the real deal, and Brooklyn wanted to see him.
The people want to see him.
He accomplished more by removing his jacket and daring Seth Rollins to hit him, setting up a feud that can easily end up with Drew McIntyre as Intercontinental Champion. And that sounds great to me.
Other Honorable Mentions:
Triple H, Constable Baron Corbin
And now… a distinction usually reserved
for the top performer of the night …the first star!
The First Star:
The Shield (Roman Reigns, Dean Ambrose, and Seth Rollins)
"Dean Ambrose turns heel." That was the prevailing prediction for SummerSlam, or the Raw after, upon the Lunatic Fringe's return to a WWE broadcast. The Shield reuniting was another thought, but not right away. Not around SummerSlam, that's for sure.
Fast forward to Monday's Raw, and Roman Reigns is already a fighting champion–giving Finn Balor the championship opportunity he deserves. Enter Braun Strowman, ready to cash in his Money In The Bank briefcase. The crowd was a absolutely on fire, but the alarms were answered by a very familiar sound.
"Sierra – Hotel – India – Echo – Lima – Delta … SHIELD."
The Shield, back together again, and it already feels better than last year.
All three men were the stars tonight, together AND separate. Roman Reigns controlled the entire crowd when he gave Finn Balor his title shot. Dean Ambrose had a hell of a return against Dolph Ziggler, with Seth Rollins in his corner. WWE is better when The Shield around, and tonight was proof of that point.
---
Who are your Three Stars of WWE Monday Night Raw? Comment on social media @ChairshotGreg, @theCHAIRSHOTcom, and use the hashtag #UseYourHead!
---
In hockey, a game's "Three Stars Of The Night" represent the top three performers of the night. For more clarification, I defer to this Pittsburgh Gazette explanation:
"The tradition dates to the 1936-37 season, when Imperial Oil became the principal sponsor of Hockey Night in Canada radio broadcasts and was seeking a way to promote one of its products, Three Star gasoline. The idea of doing so by selecting the top three performers in a particular game purportedly came from a Canadian advertising agency.
Many clubs do recognize the player with the most three-star selections with an award or trophy, usually in conjunction with a corporate sponsorship, at the end of the season (or sometimes, each month). All six Canadian franchises, for example, have an affiliation with a well-known brewery.
The NHL keeps track of its own Three Stars Of The Night selections, but that is done on a league-wide basis. The league employs a system that awards 30 points to a first star, 20 to a second star and 10 to a third – a running total can be found on the league's website – but it does not present an award based on them."
In hockey tradition, the first star represents the best of the three, but all three are considered to be receiving a high honor.
---
Always Use Your Head and visit the official Pro Wrestling Tees store for The Chairshot All t-shirt proceeds help support the advancement of your favorite hard-hitting wrestling website, The Chairshot!

---