Facts And Assumptions: John Cena at WrestleMania 34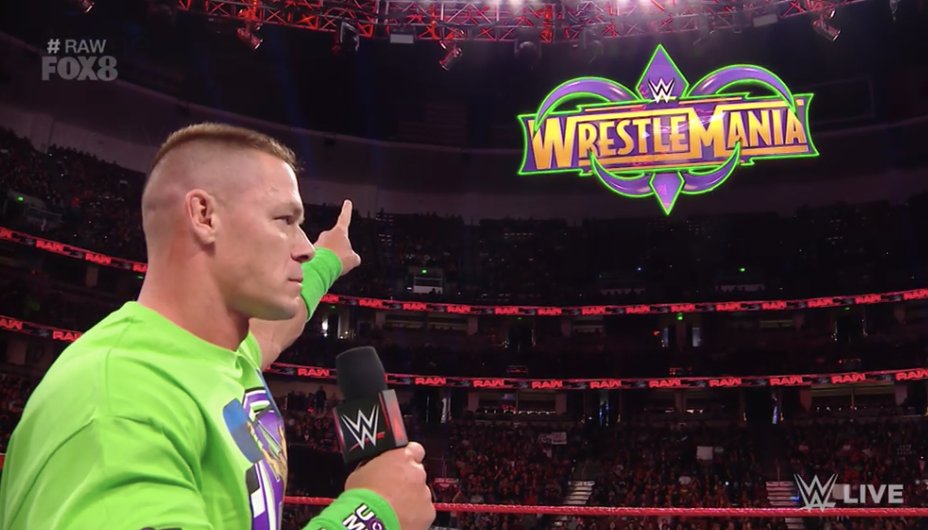 For the first time in a good while I'm extremely intrigued in the WWE WrestleMania story for John Cena. Now that "What's my road to WrestleMania?" has successfully entered the vernacular of every WWE wrestler, there is no path more unpredictable than that of the man who is a cornerstone of the grand event each and every year. The internet dirt sheets have been clamoring for an answer, and I've been enjoying the ride.
There are a few possibilities here and though I think both will work, but one will definitely make this WrestleMania more historic. Let's get into the options everyone's been talking about.
Rey Mysterio
The latest news out there is indicating that WWE is considering a match between John Cena and Rey Mysterio at WrestleMania 34. Though this is the more lackluster of the two options (spoiler: the other is The Undertaker), I'm not too down on it. I certainly think that Cena and Mysterio can put on a good show, but I'm just concerned about three things:
1) What possible storyline this could follow?
WWE would have to throw together a pretty fantastic storyline in six weeks to make this match mean something. The only suggestion I have for a story without doing a simple veteran vs. veteran "face"-off would be a Rey Mysterio retirement angle, which would be a waste considering how great of shape he's in.
2) Why would they do this when they can use Mysterio to elevate a new star/the entire 205 Live roster?
Rey Mysterio could be used as a great tool to help get someone, or an entire division, over. Give him a match with Rollins if the Intercontinental Title picture is too crowded, or have him compete for a No.1 contendership for the Cruiserweight Title. I'm not sure what the point would be of putting him in a one-off match with John Cena when he can do so much more. At least the idea of John Cena vs. Undertaker oozes anticipation. I love Mysterio, but John Cena vs. Rey Mysterio just doesn't have the same weight behind it.
3) What about Mysterio's deal with NJPW?
Mysterio is currently advertised to face Jushin Thunder Liger in Long Beach, CA at a NJPW event. Apparently if Mysterio takes a deal with WWE he won't be able to work NJPW, which could very happen. I don't know about you, but my god would I rather see Mysterio vs. Liger at a random NJPW event than Mysterio vs. Cena at WrestleMania.
The Undertaker
John Cena came out the night after losing in the Elimination Chamber match with a solution to his WrestleMania problem. His solution was to challenge The Undertaker, and what a blockbuster announcement it was. That is something WWE fans have wanted for quite some time, and right when it felt like we were going to get it, it fell right through. Cena quickly admitted that Undertaker cannot compete at WrestleMania 34 and that this match is an impossibility.
I think that is a load of crap. I think that if The Undertaker truly had his last match at WrestleMania 33, he would be heading into the Hall of Fame this year. There would be no speculation of him returning and John Cena would not call him out. I think Mysterio might be a sort of red herring at the moment, and The Undertaker is waiting in the wings for a final WrestleMania match in the place he lost the streak four years prior: New Orleans.
There has to be a reason that Cena called out Undertaker. I will not accept that it was just a writing decision to gain a cheap pop. I think that Undertaker makes an appearance at Fastlane. I think that a gong sounds just as Cena is about to win, and the distraction costs him his WrestleMania WWE title match.
End of the Road
I remember hearing way back when that John Cena was not going to be in a championship match, but would be in something "bigger." That something bigger is probably not Rey Mysterio, but instead is a job to retire The Undertaker. I firmly think John Cena will face Undertaker at WrestleMania 34, and if WWE gives us Mysterio vs. Cena instead I'll be slightly disappointed, but still be excited for the match because I love wrestling. Nonetheless, there are too many mysteries in play for us to definitively say that WWE isn't just toying with us for the time being. In six weeks time, we may very well hear that gong ring once more in New Orleans.