New Japan Cup: Finals Results/Review (3/21/2018)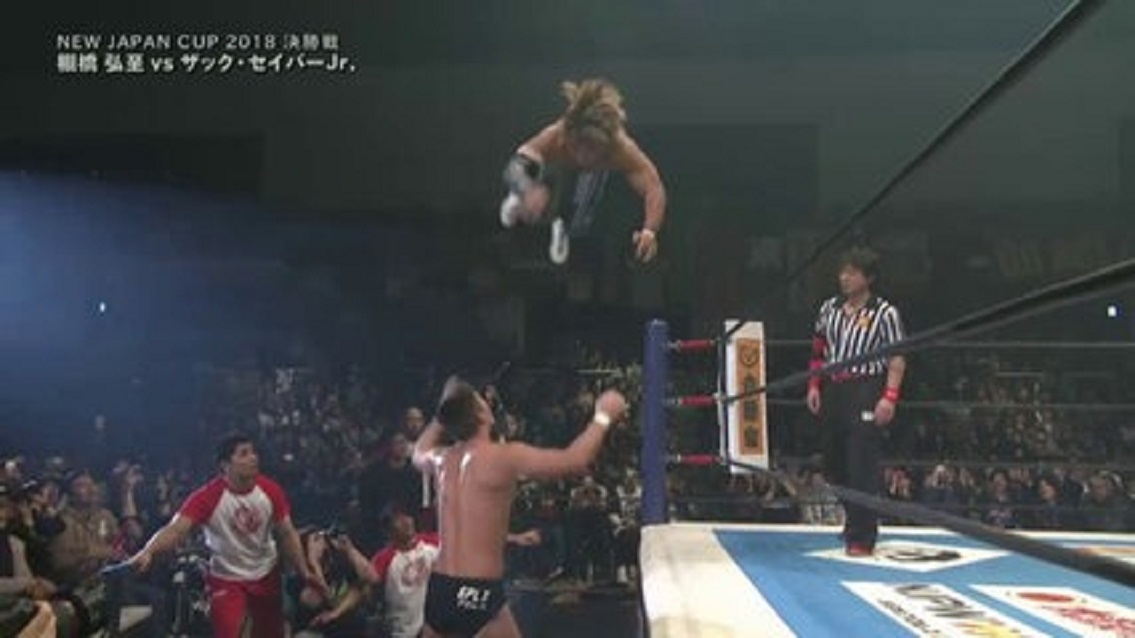 Here we go, the final show of the New Japan Cup and as promised, I will be covering the whole show this time instead of just the final match. Let's not waste any time and just dive right in.
Singles Match
Shota Umino vs. Tetsuhiro Yagi
Review:  We start our show with the traditional match involving two of our Young Lions. I'm fairly new to these guys also, so I get to see them fully with fresh eyes. I gotta say that while they have a lot more to work on, they were pretty impressive and I think they could go far if they keep this up. Think I was impressed more with Shota in this match and I'm curious to see their progression. Shota won the match with a traditional Boston Crab in a solid match for what they worked with.
Recommended:  If you're interested in their Young Lions and wanna see them grow, yes.
Singles Match
Taichi vs. Tomoyuki Oka
Review:  We got another match involving a Young Lion and is in the ring with Taichi, but Miho didn't come out with him and that makes me sad…very sad indeed. Anyway, the match itself was another basic one with a Young Lion being in the ring with a vet to help him out and Oka didn't do too bad, even got some offense in the match as well. Taichi did his job well with pretty much beating the crap out of him and picking up the win. I'm not the biggest Taichi fan, but I will admit that he has been growing on me since he joined the heavyweight division and gives him fresh new possibilities, maybe even be in this years G1 Climax which I wouldn't mind. Taichi won the match with a Superkick and lights out for Oka.
Recommended:  It was decent, but optional.
Six Man Tag Team Match
Bad Luck Fale, Tanga Loa & Yujiro Takahashi vs. Michael Elgin, Toa Henare & Togi Makabe
Review:  I don't know what it is about Henare, but I'm just not really invested into his gimmick despite him actually being good in the ring. It's one of those that I only see him only being a mid-carder or in the tag team division and nothing to be taken seriously. The match itself was just another basic six man tag team man and surprised no Tama Tonga in the match, but guess they're saving him for Strong Style Evolved. This one was the typical everyone getting a chance to do what they wanna do in the ring, nothing too big or terrible either, and Tanga Loa won with the Apeshit over Henare. After the match, Elgin and Makabe made it clear that they want a shot at the NEVER Six Man Tag Championships, but who would their third person be unless they wanna use Henare again.
Recommended:  I would skip it honestly.
Tag Team Match
Tomohiro Ishii & Toru Yano vs. Davey Boy Smith Jr. & Lance Archer
Review:  My god, Ishii is just to tiny compared to both Archer and Smith, but he's got a big bite despite being small. I do gotta admit that whatever it is that Lance Archer is doing with being the generic big Gaijin bully and getting very close to everyone's face, it's starting to grow on me a little. This match was much better than I expected it to be with Killer Elite Squad working on finding more of their groove back as a tag team. Yano being Yano with his usual tactics to try and get a quick win even though it bites him in the ass, due to Smith and Archer not falling for it. Ishii took quite a beating and was thrown a bit like a rag doll which you don't usually see like that, but as a tiny pitbull, he bites back hard against the both of them, but wasn't enough as Killer Elite Squad hits the Killer Bomb on Yano for the win and made it clear that they're looking to regain their IWGP Tag Team Championships.
Recommended:  Solid tag match between both teams, I would give it a watch.
Tag Team Match
Hirooki Goto & YOSHI-HASHI vs. David Finlay & Juice Robinson
Review:  This is probably just me, but I feel like David Finlay hasn't been all that impressive lately, like hasn't done anything memorable in a while or maybe just his physique looks a little lazy and it's a shame too because he was one of my favorites when he was a Young Lion and a bit further on. I think taking time away from New Japan can be a good thing for him since it looks like they don't have much use for him right now aside from tag matches, let him venture out around the world with an excursion to better himself. We got another solid tag match with Juice and YOSHI-HASHI stepping up their game a little and I like that very much since those two need to be utilized more, so I hope that happens. We got some nice back and forth action between both teams, Goto doing what he does at being Goto, but he surprisingly took the pin from Juice Robinson which makes him next in line for the NEVER Openweight Championship. This happened last year too where he pinned Goto in the tag match, but lost the title match when it happened, so will history repeat itself or will Juice finally win his first deserving championship?
Recommended:  Worth a watch, plus nice to see Juice do so well.
Eight Man Tag Team Match
BUSHI, Hiromu Takahashi, SANADA & Tetsuya Naito vs. El Desperado, Minoru Suzuki, Takashi Iizuka & Yoshinobu Kanemaru
Review:  I think it's about time that we see Suzuki-Gun and Los Ingobernables de Japon get involved into a rivalry with each other for a change, since it hasn't really happened due to Suzuki-Gun mostly focusing on CHAOS. Despite BUSHI and Kanemaru not really getting involved in this match, I thought it was a fun match and mostly just a fight between the two factions, which is good because I felt like the match needed that to give it some depth. Suzuki and Naito seems like they'll be fighting for the IWGP Intercontinental Championship, but the question is when would they fight and can Naito or Suzuki afford a loss like that if they do fight for the title since Suzuki just won the title not too long ago and if it'll hurt Naito's momentum or just be another obstacle for his rise back to the top? I'm glad the crowd is getting behind SANADA more and more since he's just amazing in the ring and he even made Iizuka tap out with the Skull End. Suzuki would still continue his assault on Naito even before the match ended and both Hiromu/BUSHI and Kanemaru/Desperado were going at it a little until SHO and YOH came out to brawl with both of them, and now it looks like we'll get another triple threat for the IWGP Junior Tag Team Championship at Sakura Genesis.
Recommended:  If you love both of these teams and wanna see the feud progress, then yes.
Tag Team Match
Chuckie T & Kazuchika Okada vs. Chase Owens & Kota Ibushi
Review:  I'm still confused about the pairing between Ibushi and Chase, maybe it's because Chase is siding with Omega and the fact that Ibushi needs a partner while Omega isn't there? Only thing I can come up with. Okada and Chuckie is a tag team that I would never expect to see happen and here we are witnessing it right here, but I don't know how I feel about it.
We're off to a good start with Okada and Ibushi going back and forth for a good while and I really hope that we get to see the both of them fight one on one this year, maybe at G1 or something, but it needs to happen. I forgot how good Chase Owens can be when he's not always the one eating the pin like Yujiro, I remember him before he joined Bullet Club and I still thought he was good, but nowadays you don't fully get to see it as much anymore. Chuckie is another one that while not my favorite, he can still go in the ring and be very entertaining, it's one of those where sometimes you enjoy him and sometimes you just wanna skip him. The match itself is probably my favorite out of the set of tag team matches we had throughout the night since all four of them did a great job in the match as everything just flowed nicely in there. Okada would pick up the win with the Cobra Clutch to make Chase Owens tap out which I think leaves a bit of a clue as to who actually wins the New Japan Cup.
Recommended:  Fun match nothing to really complain about with this one.
New Japan Cup 2018 Final Match
Hiroshi Tanahashi vs. Zack Sabre Jr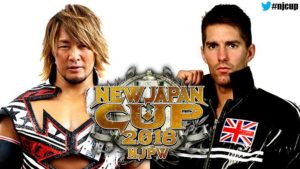 Review:  Before I start the actual review of this match, I just wanna say that both of these men have done very well in this whole tournament and giving us quality matches throughout the whole thing, and I will have no issue with either of these men winning the match. Before the match starts, we got TAKA hyping up Zack Sabre Jr with how he tapped out Naito, Ibushi, and SANADA during the whole tournament and how Tanahashi will be next as he should 'JUST TAP OUT'. I don't get why we don't see this side of Zack Sabre Jr more, aside from just showing just his incredible technical ability. The fact that he can actually sell and have a personality, I want more of this Zack outside of New Japan please.
I love matches like these where they have a nice and slow start, have a nice sequences very few between, and just telling us a great story without the need of anything to flashy and enough to not get people bored. This is probably my favorite bout between them out of their whole little trilogy since just the story of this one in particular just made it better from beginning to end. Zack would add Tanahashi to the list of people that he has tapped out, as he is the first British Wrestler to win the New Japan Cup.
I can't be mad at the decision of giving Zack the win here since he's been great throughout the whole tournament and even won me over a little bit here. Tanahashi, while I wanted him to win the whole thing just so he could fight Okada at least one more time in his career, there's also a story here with how much he's putting his body on the line and what his limit would be after his match with Suzuki when they fought at New Beginning, I just really hope he takes a long earned rest finally to heal up and possibly be healthy enough for G1 at least. With Zack being the winner, he has chosen to fight Kazuchika Okada at Sakura Genesis for the IWGP Heavyweight Championship and I'm starting to like the sound of it better since it gives Okada a fresh new opponent to add to his list of title defenses, plus curious to see how Okada would find a way to retain against him. Also let's be honest, seeing Gedo and TAKA hyping up their own guys is going to be a treat here.
Recommended:  If you've been following the entire cup, watch this incredible match.
Overall:  As a usual New Japan Show, the undercard was pretty weak and the last few matches made it better, specially with the main event. It was enough to help sell both Strong Style Evolved and Sakura Genesis as those are pretty much in the course of a week and those two you don't wanna miss.
Favorite Match:  Hiroshi Tanahashi vs. Zack Sabre Jr
Least Favorite Match: Bad Luck Fale, Tanga Loa & Yujiro Takahashi vs. Michael Elgin, Toa Henare & Togi Makabe
Score: 7/10