New Japan Cup: Round 1 Results/Review & Round 2 Preview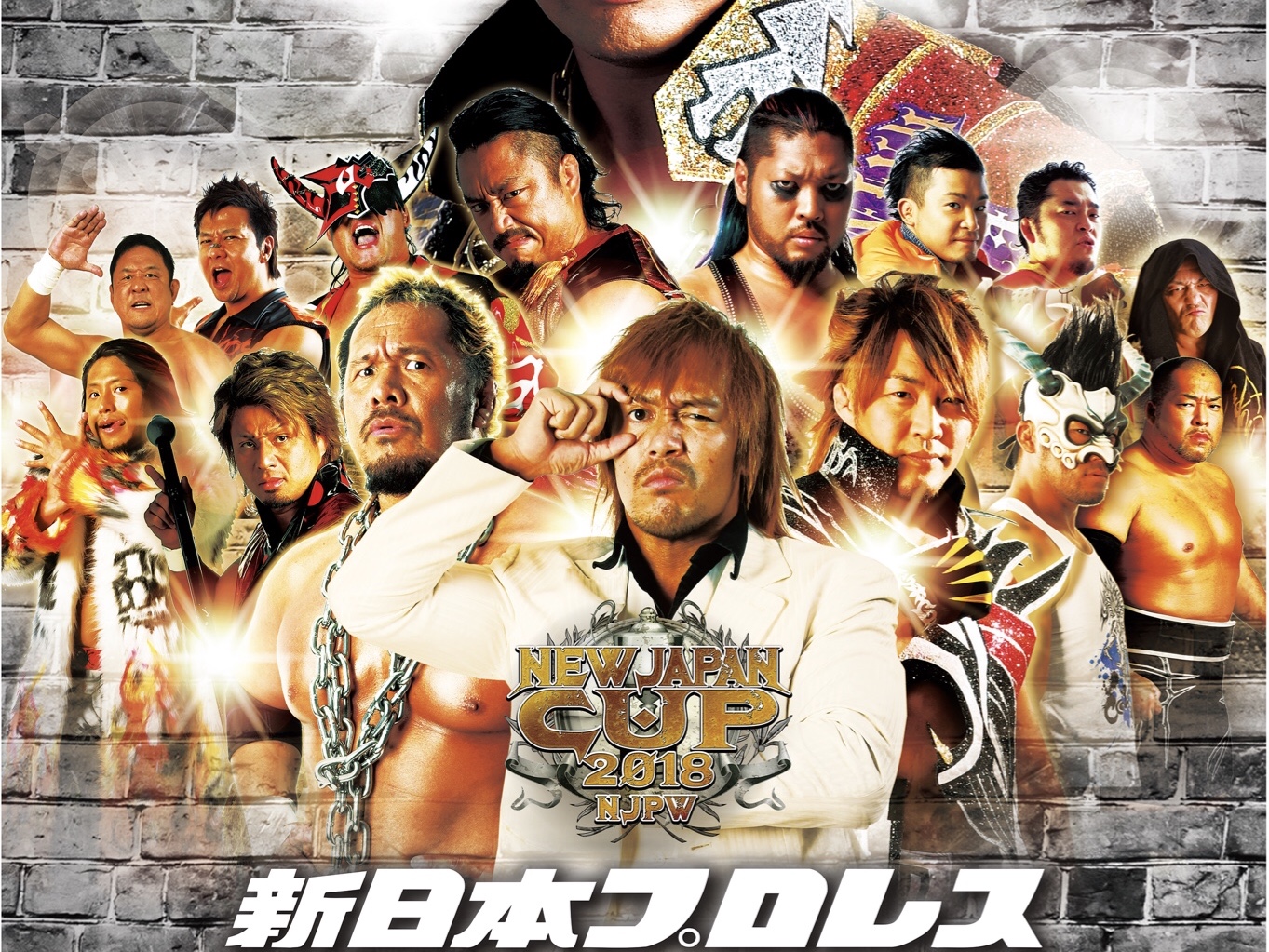 Alright, that concludes the first round of the New Japan Cup and I think to think it was an enjoyable first round with some great matches and some surprises that some of us didn't expect. I wanted to cover just the first round matches instead of just doing the four shows with the same tag matches, but I will add some highlights on days that had them, so let's get to it.
Yujiro Takahashi vs. Juice Robinson
Review:  I wish Yujiro used his solo theme more, it just fits him when he's not used for eating the pinfalls in tag matches. Juice is still growing and proving to be one of the most improved guys on the New Japan roster and how far he's come. From NXT, being a Young Lion, and to where he is now, just exemplifies hard work.
The match itself was a enjoyable for what it was, both getting some nice offense in their arsenal, some close calls, and had a good finishing sequence. Juice was able to pull a victory after taking a beating from Yujiro near the end and Juice made it clear who he looks to challenge after the match. In a press conference before the cup, he said he would fight Jay White for the United States Heavyweight Championship, but it looks like the belt wasn't added on what the winner could fight since they still mentioned the other three instead. Juice made it clear that he wants to fight Goto for the NEVER Openweight Championship after having a great bout for it last year, let's see if Juice can win the cup and get another chance.
Recommended:  I like to think it was a great way to start the cup with two underutilized guys on the roster.
Tomohiro Ishii vs. Michael Elgin
Review:  This is the one that has surprised me, and I will get to that near the end.Michael Elgin has had no luck lately with not getting as many opportunities as when he first joined NJPW. So being placed on the back burner of the roster, so he needed to prove himself, and the cup is a way to do it if he plans to win. Ishii is another work horse that has been putting on quality matches all year round just to make the fans happy. With his match quality and being CHAOS' gatekeeper to prove if their worthy of fighting Okada, or if they have what it takes to be in New Japan.
The match was hard hitting and exciting despite some stuff being slow and a couple of sloppy moments. Both would put each other to their limit and even Ishii took a nasty Powerbomb spot and I don't know how he was still standing after that. However, Michael Elgin would pull the surprise win with a Burning Hammer and move on to fight Juice Robinson in the Quarter Final Round. If I had one complaint it would be that the ending did seem to drag on a bit too long; with some overkill spots and an anti-climatic ending despite the move he used, just the crowd seemed burnt out and not care about the fact Elgin won. What title would Elgin go for if he wins? He could go for either of the three, depends on what he does and has to win.
Recommended:  Definitely worth a watch despite some of the cons of the match. If you're into hard hitting action, then definitely give it a look.
Bad Luck Fale vs. Lance Archer
Review:  This was how I expected it to go between the two, not great, but nothing special about it either. It just felt like a standard match too which is a shame this is one of the places that Fale normally shines when it comes to singles action. Lance Archer really didn't impress me all that much in this match except for randomly punching a Young Lion when they were outside. Had some decent moments, but not a lot to really talk about except that Bad Luck Fale won the match.
Recommended: Not really, I would just skip this one.
Taichi vs. Hiroshi Tanahashi
Review:  I could just watch Miho Abe all day. Anyway, Taichi has been enjoyable to watch lately ever since he announced that he would be moving up to the heavyweight division after fighting Tetsuya Naito at TakaTaichiMania. Maybe this is what he needed to refresh his career a little bit and open up to more possibilities as to where his career can go, I wish him luck on his new adventure.
Hiroshi Tanahashi looked like he hasn't missed a beat, but I am worried about his health since he does need to take a long and deserved break to heal his injuries. I thought the match itself was great and the two meshed well together and gave us a fun quality type of match. Taichi looked strong in the match, giving Tanahashi a little bit of a run for his money, even doing some moves reminiscent of his trainer, Kawada, and there were a few times where I thought he would actually pull off the upset. But in the end, Tanahashi, broken and all, found a way to overcome him and move on to fight Bad Luck Fale next. Right now Tanahashi is still my pick to win the New Japan Cup, but what belt he would go for is still a mystery and probably will be until he wins the cup before decided to either get revenge on Suzuki or try to keep his record and fight Okada once again.
Recommended:  Absolutely, great fight and my favorite first round match thus far.
Kota Ibushi vs. YOSHI-HASHI
Review:  First off, HASHI, you're not the 'Viper' so shame on you. Second, I am confused by how he is booked since he'll have his moments to show he actually can shine, but then it just disappears until the next tournament. So that's a huge gap where he doesn't do a whole lot outside of that and kinda hard to take him too serious.
These two do work surprisingly well together, showing that when they worked at G1 Climax last year and again it in this match right here. There were a couple of sloppy moments, but not enough to take away from the match at all, since they still made everything they wanted to do exciting. I didn't like that the Canadian Destroyer was used because I'm one of the few that think it's a move that you shouldn't kick out of instead of just using it as a spot much like the Burning Hammer. Kota picked up the win in a nice back and forth match, and was expected to do so. But can he win the whole thing? While it is possible, I wouldn't see him win the title unless he gets rid of his fear of commitment.
Recommended:  I would definitely give it a watch.
Zack Sabre Jr vs. Tetsuya Naito
Review:  Before I start I do wanna say that I am not the biggest fan of Zack Sabre Jr. I will give him credit that I love his submission holds and his technical ability is amazing, but when it comes to everything else, it's pretty bland. However, I do like that he actually shows personality when he goes to Japan and being involved with Suzuki Gun. This match though was just great, the story behind it, the atmosphere of the crowd, and just the chemistry between these two.
I really enjoyed how Zack was working various spots on his body just so he can use any part to make him tap out for any situation in the match. Zack picked up the surprise him making him tap out in a very nice submission while TAKA hypes him up like how Gedo does to Okada. I kinda figured Naito would lose here and it's not really a punishment either, as quite a few top guys like Tanahashi and Okada have both gone through losing the first round of the cup and built themselves back up again. Naito is definitely going to get another chance against Okada, but it's good that they hold it off for a while, as Zack looks to avenge his G1 losses to both Naito and next, Ibushi. If he keeps this up then there might be a good chance that he can actually make it to the finals or even win the thing depending on who he fights.
Recommended:  You should very much so watch this match, just a great bout.
Toru Yano vs. Davey Boy Smith Jr
Review:  This isn't the best match, but this is the more entertaining out of the first round. Toru is pretty much how you would expect him to be in this type of match, with his comedy and dirty tactics to try and win it as quick as possible. But, Smith made sure that wouldn't happen here as we actually get a match out of it instead of just a quickie.
Smith was able to showcase more of his talent in here and I wish he would do more single work to see how he could really do here, but just tournaments is the best we're gonna get out of him. Toru would eventually get the win after about ten minutes with a countout and was expected how he would win instead of a pinfall. Normally expect Yano to win the first round of the cup and then loses the next round, so expect the same thing to happen here.
Recommended:  I think it's worth a viewing if you like to have a couple of laughs or if you just like Yano.
Chuckie T. vs. SANADA
Review:  Chuckie to me just felt so odd and out of place in this tournament and did question why. But I guess due to both Trent and Makabe being injured, they needed someone and it's a good chance to see how he can do for a solo match in New Japan. SANADA I believe is going to have an impactful year in 2018 and his match with Okada last month was only the beginning of his progression.
Chuckie didn't do too bad in this match, but nothing to praise and I'm sure he'll have more opportunity in the upcoming future. The match itself went pretty well and had a couple of awkward spots to hold it back a little to make it better, but it still wasn't bad and SANADA was able to pick up the needed win over Chuckie with a Moonsault after applying the Skull End. I have a sinking feeling that the Moonsault might bite him in the ass during the tournament, but we will see.
Recommended:  I would give this one a watch, good wrestling and nice to see SANADA coming out of his shell more with each match.
Now that the first round matches are out of the way, let's take a look at the quarter final matches and see who will make it to the semi-final.
Juice Robinson vs. Michael Elgin
Bad Luck Fale vs. Hiroshi Tanahashi
Kota Ibushi vs. Zack Sabre Jr.
Toru Yano vs. SANADA
And here's what I think what it might look like when it's over.
Juice Robinson vs. Hiroshi Tanahashi
Zack Sabre Jr vs. SANADA
Favorite Match: Zack Sabre Jr vs. Tetsuya Naito
Least Favorite Match: Lance Archer vs. Bad Luck Fale
Score: 8/10
I hope you all enjoyed reading about the first round and I'll see you all at the quarter finals next.