Is Seth Rollins The New Mr. Monday Night?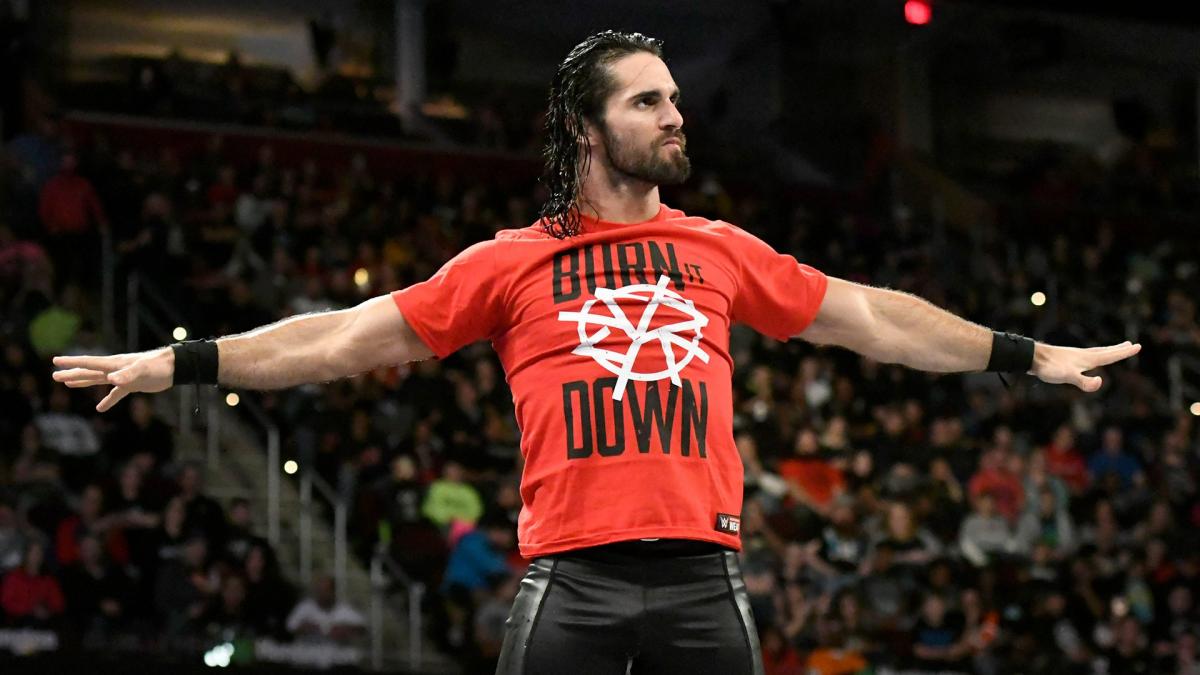 Seth Rollins has reignited his career on WWE Monday Night Raw, thanks to near weekly amazing performances. Has he taken over the title of the new "Mr. Monday Night"?
It's nights like these when I remember why I fell in love with professional wrestling. Thank you to the men I shared the ring with this evening. It was truly special. I've drawn a line in the sand… #MONDAYNIGHTROLLINS #WrestleMania

— Seth Rollins (@WWERollins) February 20, 2018
The comments above came after former WWE champion Seth Rollins wrestled over an hour on Raw as part of the gauntlet match involving all seven men in the seven-way Elimination Chamber match. Rollins defeated Roman Reigns and John Cena during his time in the match and was later defeated by Elias. It didn't matter who he was in the ring with at that point, he turned heads with his showing on this evening. After he was pinned and rolled out of the ring, fans couldn't help, but applaud his effort; it was as though fans had once again remembered just how superb of an athlete Seth Rollins is. While they may not have necessarily forgotten how good he was, there is a good reason why he is a former three-time tag team champion and WWE champion.
For nostalgia purposes, having Rollins, Reigns, and Ambrose reunite in 2017 was nice, but it meant Rollins' personal goals had to take a backseat. However, his commitment to his craft means that, whether he is competing solo or in a team, he is dedicated to making the best of any situation. His success as part of a tag team seemed to put his singles career on the backburner. While the likes of Braun Strowman, Roman Reigns, The Miz and Finn Balor are all being used in strong singles roles, it was the architect who was, ironically, left to be rebuilt and redesigned. Whether that was the intent or not, the question remained as to whether or not Rollins had lost his ability to connect with the audience? It can safely be said after his most recent performance that he is still capable of connecting with the fans.
With that said, to appreciate where Rollins appears to be going is to also to appreciate where he has been. Before there was a Seth Rollins or a Shield, there was simply Colby Lopez, a talented aspiring wrestler from Buffalo, Iowa who had all the raw talent but simply needed the time to develop his craft in order to become a success. Many years ago, before he began to gain notoriety on the independent scene, he faced off against a certain phenomenal competitor that was well versed in his craft. That match between current WWE champion AJ Styles and Lopez, who competed under the name Tyler Black, gave fans something special. Black was 19 years old at the time, and this match went almost thirty minutes. To be so young and be able to hold his own against the more seasoned Styles showed that he was 'getting it,' he was beginning to figure out what many nearly ten years his senior struggle with.
Rollins' journey briefly took him to TNA, where he was part of a tag team match against the original Latin America Exchange. He moved around early in his career, appearing in promotions such as PWG and Full Impact Pro, continuing to earn experience and build a reputation for himself. After his training, and then competing all around the United States, it was during Rollins' time in Ring of Honor where things began to come together for him. While we could claim that his growth was all of his own doing, he was surrounded by incredibly talented and knowledgeable talent that helped him to harness his skills and make him into what we see today. For instance, early in his career, he was aligned with former WWE creative team member Jimmy Jacobs, forming the faction 'The Age of the Fall.' This alliance proved to be quite fruitful for Rollins, who was continuing to compete as Tyler Black, and they worked together for a couple of years until Jacobs turned on him and he later became a face.
While the change of direction was a fresh outlook for the character, it came after he had neck surgery in the fall of the same year. With time and healing, Black returned, and he didn't just walk back into Ring of Honor in the hope of fitting in. He walked back in and completely tore the roof off the promotion. He had a long-standing feud with Austin Aries, who had attacked him prior to his neck surgery. Black's most notable match at that point was his now classic 60-minute time limit draw against Aries at Final Battle 2009. It was a really special moment, as he continued to strive for greatness and was rewarded because of it. At Ring of Honor's Eighth Anniversary, he defeated then ROH World champion Aries to capture the championship. It was amazing to think someone who had only been involved in the sport for five years was now a world champion. He made the most of the opportunity presented to him and faced many notable names in ROH and with each one those matches he improved both as a character and a performer.
By the late summer of 2010, he signed with WWE, meaning he had to start over. The idea of starting over for anyone has to be frustrating, but as someone that was at the top of his previous company, he had to be taken aback because he was simply a guy that had to earn his way once again. Tyler Black was no more, and in his place was Seth Rollins. Some fans had an understanding of whom he was previously or where he came from, but that very small niche audience didn't impact the trajectory of this newcomer to WWE developmental. Unlike today where a number of the talent that comes into NXT are well known around the world because the exposure of wrestling all over the world has increased, when Rollins first came in it was still FCW, and he was at the grassroots level trying to find its niche.
Rollins eventually defeated Jinder Mahal and became the inaugural NXT champion, something that was celebrated by all. This achievement was the first of many steps in his WWE career. He would find his footing as a singles wrestler, and, but was eventually teamed with two other young and promising talents. As most are aware, in his main roster debut Rollins was aligned with Roman Reigns and Dean Ambrose, collectively forming the Shield. This collection of talent was special, as they were a unit that was as effective as a unit as they were as singles wrestlers. Rollins along with Roman Reigns captured the tag team championships, and defended them against anyone and everyone, bulldozing their way through their competition.
However, it is often said that all good things must come to an end. The group split and Rollins was pushed into singles competition and made a significant part of the main event, in the process achieving even greater success. He captured the Money in the Bank briefcase, and cashed it in at Wrestlemania, becoming the WWE champion as a result. Whether he had his own security unit around him or not, he consistently would show just how talented he was regardless of the competition. As a heel, there was no question he was cowardly and would attempt to worm his way out of situations. However, there is no denying that even with his back against the wall he would still come in and steal the show. That has unquestionably been a part of his make up throughout his time with the company. Regardless of whom was added to his side to help ensure he would win, Rollins ultimately succeeded.
We wish that his continued success hadn't been met with obstacles, but with any sport there is some modicum of risk. Something as simple as a sunset flip, a move he had completed countless times before, resulted in a fluke injury that would sideline him for what was originally forecast to be between, seven and nine months. Speaking as someone that has suffered a torn ACL, the recovery is agonizing and frustrating. However, though at the time it seems as though you haven't progressed, you just have to push a little further and recovery is very much possible. For Rollins, his recovery included frustration as well, as he not only had to sit out while Wrestlemania came and went, but he was left out of storylines and was a forgotten member of the Raw roster. Then, after he returned and recaptured the WWE championship from Reigns, he lost it the same night to another former friend, Ambrose. He didn't capture the WWE Universal championship either, as he was pushed back and Kevin Owens was thrust in that position. While he has competed for the title he has not captured the championship.
This leads us to the present, and the former multi-time tag team champion was thrust into tag team competition because that was best for him at the time. However, after a standout performance, and an unfortunate injury suffered by his tag team partner Jason Jordan, it was Rollins' time to show once again why he can call himself 'freakin'. He took over the show and did what Rob Van Dam boasted about doing years ago. The time has now come for a new Mr. Monday Night, and a renewed effort on Raw to feature a man that has worked to regain the attention of the WWE Universe.
Feel free to follow me on Twitter @TheMarcMadison and Instagram @themarcmadison
Feel Free to like my Facebook page Pro Wrestling Post
Feel Free to check out my blog The Wrestling News Hub Magazine including interviews with ROH top prospect tournament entrant, Curt Stallion, Sebastian Suave, Ring of Honor's Frankie Kazarian, "All Good" Anthony Greene, 'The Green Machine' Mike Orlando, Josh Briggs, ROH top prospect finalist John Skyler and current rising Ring of Honor star Flip Gordon with interviews with Tyson Dux, Ivelisse and Madman Fulton (former WWE NXT superstar Sawyer Fulton) and former WWE referee Jimmy Korderas.
King's WrestleMania Rewind: Eddie Guerrero vs. Rey Mysterio (WrestleMania 21)
In the next WrestleMania Rewind, Chris King takes us back to WWE WrestleMania 21, and Rey Mysterio vs Eddie Guerrero in a battle of tag team champions!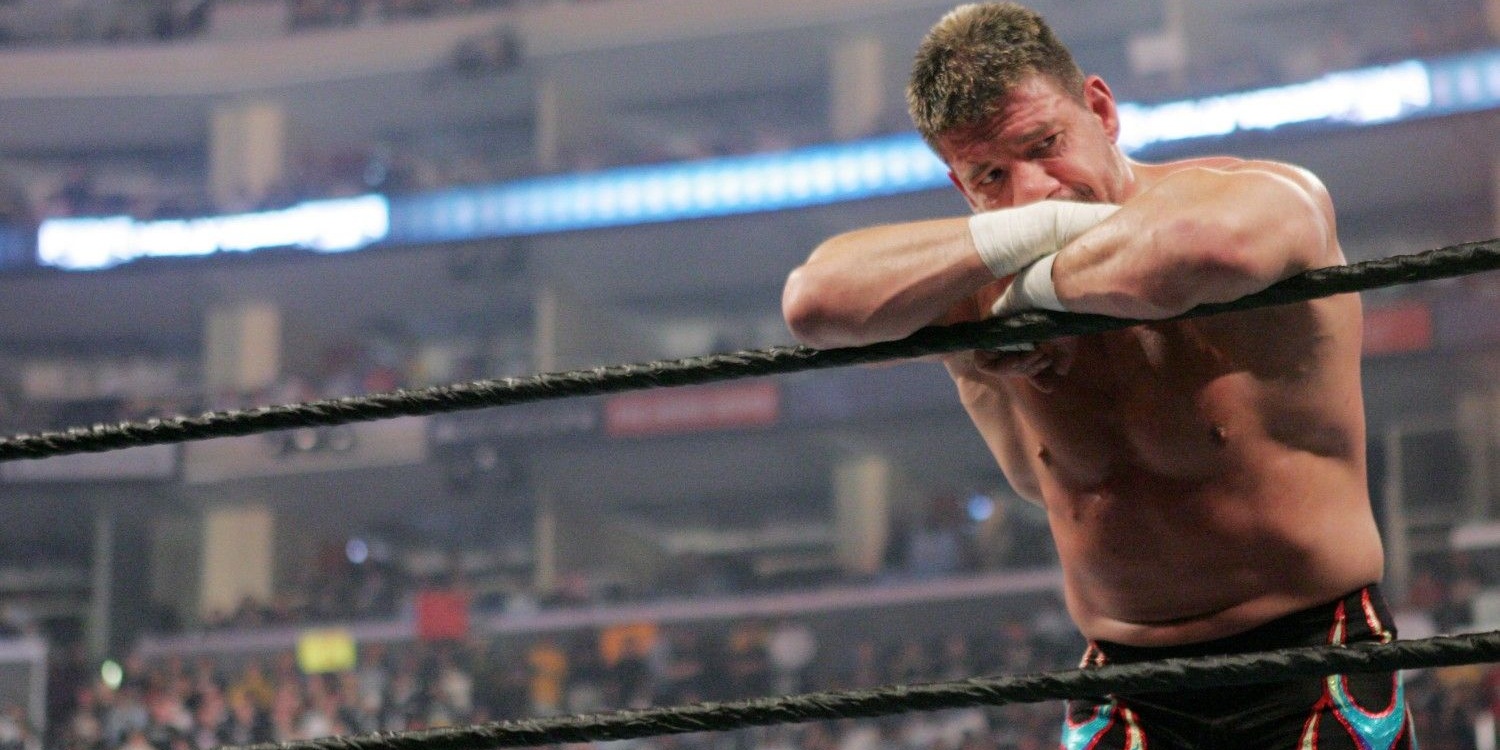 In the next WrestleMania Rewind, Chris King takes us back to WWE WrestleMania 21, and Rey Mysterio vs Eddie Guerrero in a battle of tag team champions!
Chris King is back with his third edition of WrestleMania Rewind. This week he's bringing us back to some 'Latino Heat.' We're rolling back to WrestleMania 21 where Eddie Guerrero faced longtime friend and rival Rey Mysterio.
This would be Guerrero's last Mania match caused by his unfortunate death. Over on SmackDown, Mysterio and Guerrero would become the tag team champions at No Way Out where they defeated MNM.
Chavo Guerrero would get into the head of Latino Heat by making him believe Mysterio was trying one-up his tag team partner. Chavo went as far as to tell his uncle to stop using the Guerrero name.
Guerrero would finally give in to his nephew's manipulation and went on to challenge Mysterio to a one-on-one match at WrestleMania 21. I For the first time in history, both tag team champions would face each other. Guerrero vs. Mysterio was the first match on the stacked card. Both partners threw everything at each other including the kitchen sink in a battle of one-up-manship.  In an incredible high-octane match that saw both superstars delivering counter for counter, Mysterio pulled off the win with a surprise pin roll up.
A few months later, what once was a friendly battle turned into a nasty fight involving the custody of Mysterio's real-life son Dominik Mysterio. After several torturous weeks, both former tag team champions would face off in a ladder match with the custody of Dominick on the line. I forgot how amazing this rivalry was and it's definitely worth a watch. Sadly, we would lose Latino Heat in November of 2005. There will never be another Eddie Guerrero. Viva La Raza!
King's WrestleMania Rewind: Stone Cold VS. Scott Hall (WrestleMania X8)
Chris King is back with another WrestleMania Rewind, looking at the NWO's Scott Hall battling Stone Cold Steve Austin at WWE WrestleMania X8 from Toronto!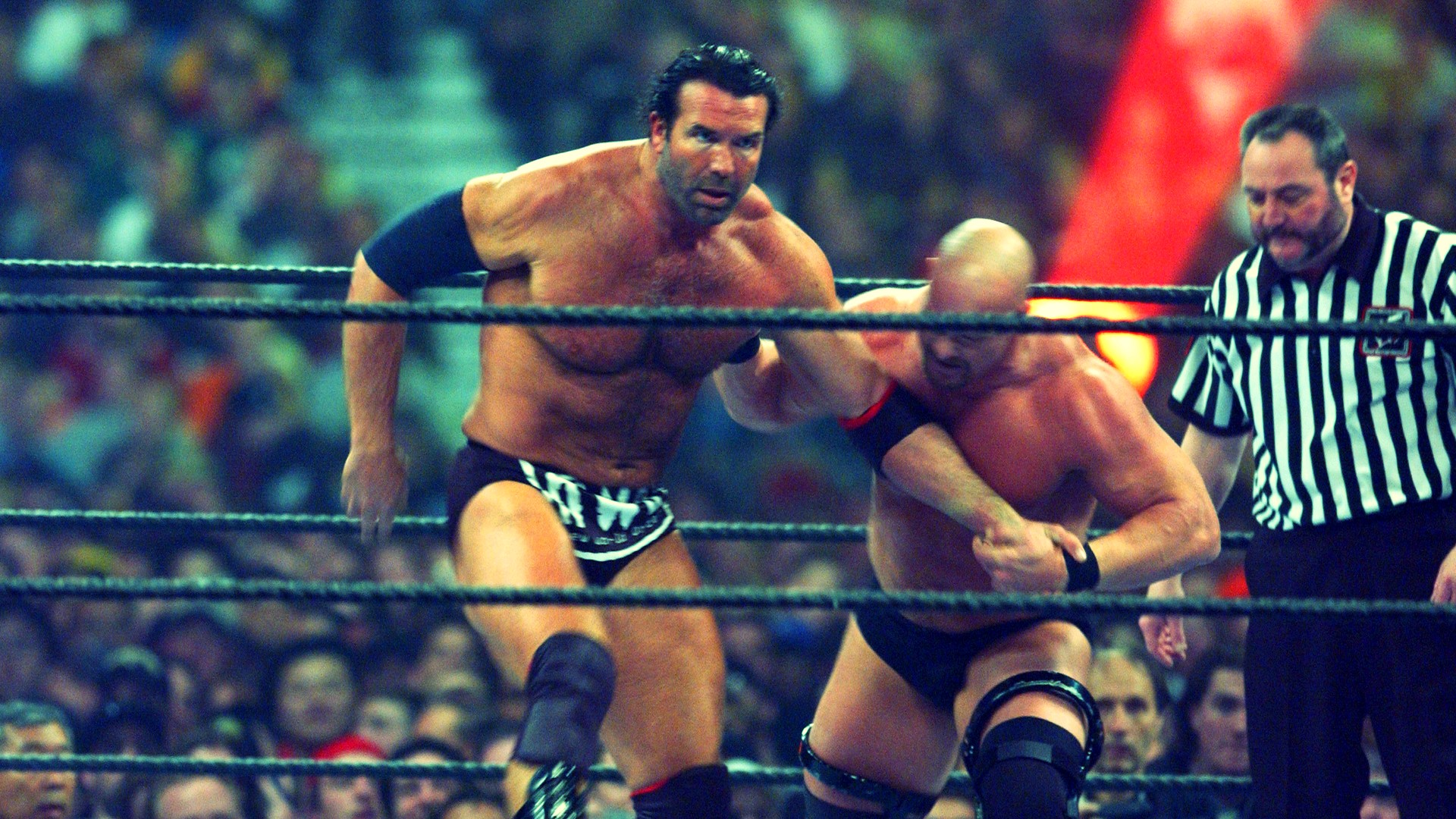 Chris King is back with another WrestleMania Rewind, looking at the NWO's Scott Hall battling Stone Cold Steve Austin at WWE WrestleMania X8 from Toronto!
Chris King is back this week with another edition of WrestleMania Rewind, where he is rewatching all the past Mania matches and feuds. This week you're in for a treat as we look back at 'Stone Cold' Steve Austin vs. Scott Hall at WrestleMania X8.
In late 2001, Vince McMahon bought out his competition WCW and acquired the rights to a plethora of talent including Booker T, Eddie Guerrero, Chris Benoit, and the iconic trio known as NWO. Hulk Hogan; Kevin Nash, and Scott Hall were hell raisers, and what better way to make a name for yourself than take out the two top superstars in the WWE The Rock, and Stone Cold?
The NWO cost Austin his chance at becoming the Undisputed Champion at No Way Out during his match with Chris Jericho. Adding insult to injury, the NWO spray-painted 'The Texas Rattlesnake' with their brand logo just like they did in WCW. As you can imagine, Austin was pissed and out for revenge against the group and primarily Scott Hall.
Hall would challenge Stone Cold to a match at WrestleMania 18. Both superstars beat the living hell out of each other leading up to this highly-anticipated match for who runs the WWE.
The glass broke and Stone Cold made his iconic entrance, and black and white NWO covered Halls' entrance alongside Kevin Nash. With the odds stacked against 'The Toughest S.O.B' could Austin or NWO prove their dominance? Sadly the NWO  broke up that very night when Hulk Hogan came to the aid of his adversary The Rock after their 'iconic' dream match. Stone Cold would ensure the victory with the Stunner. Hall would perform an Oscar-worthy sell over the finisher.
What a time to be a wrestling fan in the 2000s when nothing was impossible for WWE. Who would've thought WCW would go out of business and Hogan would make his long-awaited return to WWE?