Seven Options For John Cena At WrestleMania Not Involving The Undertaker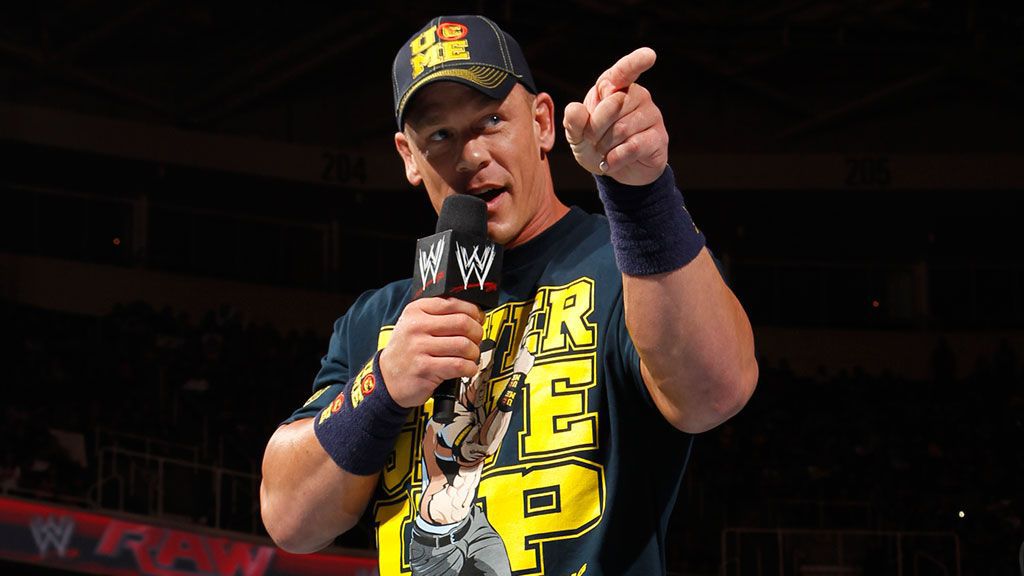 Since my recent article about The Undertaker has generated a lot of comments, the question has been "What will WWE do with John Cena if they don't put him in the Undertaker match?" Despite popular belief, there is a lot Cena can do at WrestleMania that doesn't involve the Deadman.
Try to Break Ric Flair's Record (John Cena vs. AJ Styles vs. Shinsuke Nakamura)
This match seems to be aimed at the more hardcore fans who watch other promotions, as well as WWE. The problem with that is that there is not a whole lot to recommend it to casual and mainstream viewers. Styles is amazing, but Nakamura hasn't been setting the world on fire since his debut. Also, this match is based on the feud Styles and Nakamura had in Japan, which won't mean a whole lot to casual fans that only watch WWE. Adding Cena to the mix would give it mainstream attention and give us the ongoing storyline of whether or not Cena breaks Ric Flair's record.
Try to Win the Grand Slam (John Cena vs. The Miz vs. Seth Rollins vs. Finn Balor)
With Randy Orton finally achieving the status of Grand Slam Champion, it also reminds us that Cena is NOT a Grand Slam Champion. The only belt Cena is missing is the Intercontinental Title, which is currently slated to be contested in a Triple Threat Match between Miz, Seth Rollins, and Finn Balor. Now, I love two of the three guys in this match, but there is a potential bug in the program: Maryse Ouellet, Miz's wife, is due to give birth to the couple's first child around WrestleMania weekend. Babies come when they are good and ready, and there's every possibility that Baby Girl Mizanin will be born before or after WrestleMania weekend, but that's a big chance to take for the Granddaddy of Them All. WWE could cover their bets by putting Cena in the Intercontinental Match and keep the Triple Threat up, even if Miz is unable to compete because of the arrival of his child, since Triple Threats don't require the champ to be pinned for the title to change hands.
Go Back to Smackdown, Again (Team with Shane McMahon vs. Kevin Owens & Sami Zayn)
Safe to say that the Yep! Movement will probably be out for Shane's head after he screwed both of them out of being WWE Champion at Fastlane. It's looking like Shane's going to need a partner against the Yep! Movement. I know a lot of fans want Daniel Bryan involved, but let's stick with what could likely happen. Cena has had his fair share of issues with Kevin Owens, so this wouldn't be a hard thing to set up quickly.
Still going for #17 (John Cena vs. Brock Lesnar vs. Roman Reigns)
Okay, Roman fans, let me finish before you kill me. I want Lesnar/Roman, I want it to be one-on-one, BUT there is a possibility that things go wrong and we're short a competitor for the Universal Title match, especially given the rumored situation between Lesnar and WWE.  Cena and Roman had a good feud back in the fall and having another match for a title at WrestleMania would be a great thing to see.
"The John Cena Match" (John Cena vs. either Elias or Braun Strowman)
I will preface this one by saying that I don't like either of these guys, BUT, they have both been on hot streaks lately and Cena facing either of them would boost them considerably, even if they lose.
Literal "Big Match" John (John Cena in the Andre The Giant Memorial Battle Royal)
Okay, this will probably never happen, but since the Battle Royal seems to be where WWE sticks Superstars that have nothing else going on at WrestleMania, having Cena involved would elevate it above being 'the jobbers' match'.
Chasing Tag Team Gold? (John Cena & a mystery partner vs. The Bar)
Another match that doesn't seem likely, but could be fun. Cena and Sheamus have had issues in the past and since the rumor is that The Bar will face a non-team at WrestleMania, giving Cena a partner and facing the Bar would be interesting, especially if his partner was a certain Lunatic Fringe OR the RAW GM's son, both of whom have issues with The Bar.
Tere you have it. Seven matches John Cena could have at WrestleMania that do not involve The Undertaker.  Some of them are more likely than others, but all of them could be interesting to see.
What would you do with John Cena if he doesn't face The Undertaker?