STARDOM Grow Up Stars Day 4 Results/Review (3/25/2108)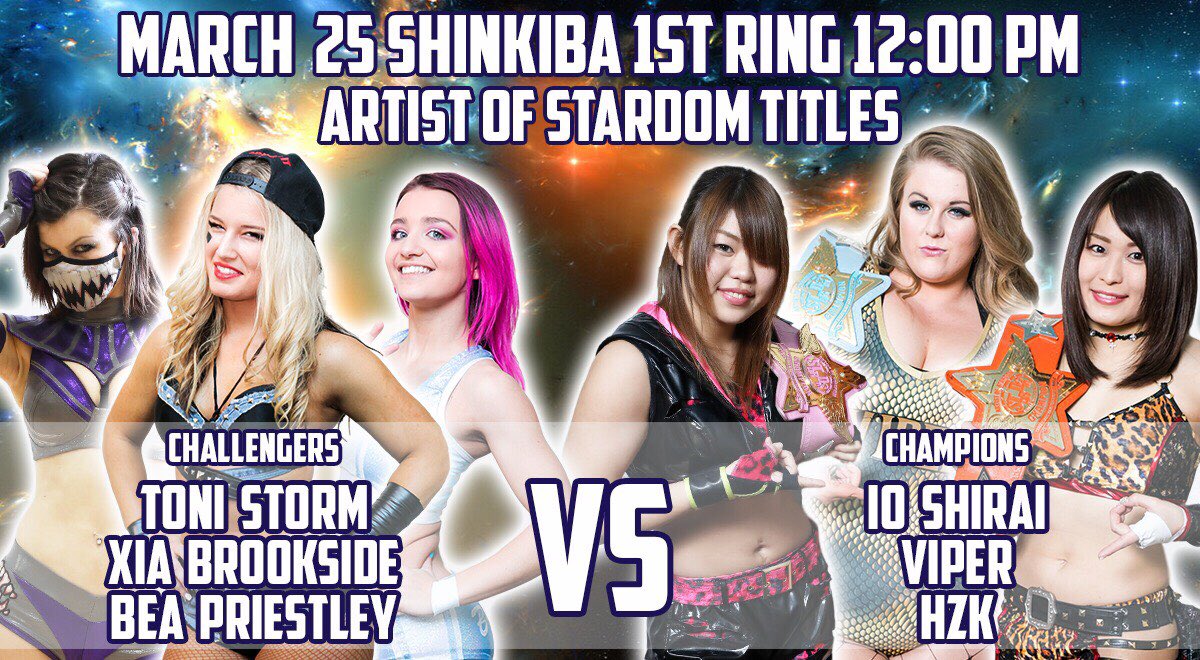 So we have one more show before this one and Hiromi Mimura will be retiring from professional wrestling. We also got a good show lined up as we see who will be going to the finals to fight Starlight Kid and we get a title match today, so fun times ahead and let's dive right in.
Singles Match
Momo Watanabe vs. Nao Yamaguchi
Review:  So first, happy birthday to Momo Watanabe who has just turned 18 the day of the show and all she said in the interview was she was just gonna beat her up, sounds like a good birthday gift. In Nao's interview, she talked about how she hate Momo's kicks during training and guess what? She takes more of them in the match and Momo does not let up with them, they were fierce let me tell you. The match is about five minutes with Momo basically smacking Nao around while trying to get a little bit of offense here, but doesn't work as Momo won with the Somato. Happy birthday, Momo Watanabe.
Recommended:  If you like them and wanna see five minutes, go for it.
Singles Match
Leo Onozaki vs. Natsuko Tora
Review:  It looks like we have another female debuting here named Leo Onozaki, but there's not much known about her or when she started training, but hey always nice to see people making their debuts in the ring, so let's see how she does. I think Natsuko is a good choice for your debut match since she can help out the younger females in the promotion while only being with the company for almost two years herself. Gotta admit though, Leo while having a weird attire, she did pretty well for herself and had a much better debut than Nao Yamaguchi, her moves were crisp, did good selling, and has held her own. Match lasted almost eight minutes which gave her plenty of time to impress everyone, however Natsuko would win with the Boston Crab in a good effort by Leo, so I wish her luck.
Recommended:  Solid match, so yes.
Future Of Stardom Title Tournament Semi Final Match
AZM vs. Shiki Shibusawa
Review:  With AZM winning her first round match, she now faces Shiki Shibusawa to see who fights Starlight Kid on March 28th for the Future of Stardom Championship. For a refresher, the Future of Stardom Championship is only for people who are rookies to the promotion with less than two years of experience and for people that are under 20 years of age. I gotta say that this is probably one of my favorite five minute bouts in recent memory, started off quick right off the bat and solid back and forth action despite a slip up here and there. I didn't expect the two to work so well together and I'm happy I was wrong in that regard, and even Shiki impressed me here with her performance as well. Five minutes later, Shiki would get the roll up on AZM to advance to the finals on March 28th. I probably would've went with AZM to get the win, but she'll definitely get other opportunities and can always be the first challengers to either one. Looking forward to the finals.
Recommended:  I enjoyed it a lot, so go ahead.
Six Man Tag Team Match
Jungle Kyona, Konami & Ruaka vs. Keneisha Moon, Starlight Kid & Tam Nakano
Review:  It looks to be Keneisha Moon's first match in STARDOM according to the pre match interview, but I don't know what other promotion she's from or if she's just completely new, but I'll soon find out for myself. Tam also trying to think she's a masked wrestler during the interview so she wouldn't feel left out…I guess this is why Oedo Tai abuse her. The match was mostly focusing on Starlight Kid since she had the most offense in the match with Keneisha and Tam only did a couple of things here and there, but the other team almost had an equal amount of time in. The match itself was average enough, but did it's job for helping Starlight Kid as she got the win over Ruaka with her Rounding Moonsault.
▪️2018年3月25日(日)新木場1stRING
◆中野たむ&スターライト・キッド&ケニーシャ・ムーン vs ジャングル叫女&小波&ルアカ

メキシコWWS王者ケニーシャが初来日しスターダムと合流。ルアカが始めて6人タッグに抜てきされたが…

会員登録は https://t.co/lZc15hAPwd pic.twitter.com/m7hX9f2lOv

— スターダム/STARDOM (@wwr_stardom) March 26, 2018
Recommended:  This one is pretty skippable.
Six Man Tag Team Match
Faby Apache, Mary Apache & Mayu Iwatani vs. Hana Kimura, Kagetsu & Natsu Sumire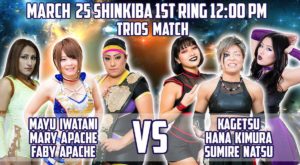 Review:  Oh hey, Kris Wolf is back with Oedo Tai, awesome to see her back. We also get to see the Apache Sisters in action again and they did great last time, so it's exciting to see them team with Mayu. Oedo Tai still have the best entrance together in Stardom and Kris Wolf being back with them made it look better with just the four of them. Very entertaining tag match here with everyone have awesome spots together in the ring and even Natsu flogged Mayu right in the face out of nowhere! I appreciate a good flogger, but ouch that looked painful. Apache Sisters are still on a roll with their matches in this tour as they delivered again in this match and hopefully they stick around a little bit longer at least. Kagetsu also hits a really nice 450 Splash during the match, but that wasn't enough to get the win as Mary Apache pinned Kagetsu with a Michinoku Driver to pick up the win. Since she got the direct win over one half of the Goddesses of Stardom Champions, I wonder if the Apache Sisters get a title match against Kagetsu and Hana soon? I hope so, since it could be a good one.
Recommended:  Yes, very fun match.
Artist Of Stardom Title Match
HZK, Io Shirai & Viper (c) vs. Bea Priestley, Toni Storm & Xia Brookside
Review:  I don't know why, but Toni storm is always so awkward in these pre match interviews and I cannot tell if it's intentional or not, anyway Toni is looking to win her fifth belt here and that might be the case, so we'll see. Also didn't know this, but apparently Io's next Wonder of Stardom title defense is against Bea Priestley, so this is gonna be a little preview for them here, and same with Viper and Toni Storm as they're scheduled to fight on the March 28th show. The beginning of the match is exactly what we needed with Viper/Toni and Io/Bea showing off their little previews as to what they have in store for us when we get our actual matches coming up soon and already excited to see them. Bea does remind me a bit of Will Ospreay while not as acrobatic as him, but still pretty quick and agile, then again she is dating him. Great match here as everyone did well from beginning to end, nothing stood out as bad, except a sloppy spot, but it was hardly noticeable, and the ending sequence was great as Queen's Quest retain in their third defense as HZK pinned Xia Brookside with the Atomic Bombs Away.
After the match however, Kagetsu came out to try and convince Io Shirai to be involved in the upcoming Exploding Death Match on April 1st after being annoyed about her declining the last time. Io then declined again and thinks Kagetsu is making her do this because she's afraid to fight her in a normal match. Kagetsu proposes a deal with her that if she agrees to be in the Death Match, in exchange she will fight Io one on one for the Wonder of Stardom Championship in a Strong Style Match like she wanted. Tam came in to beg and plead with Io to be her partner as she even gets on her knees, Io would then slap her in the face asking her why she even came to STARDOM, but she would eventually accept and walk away from the ring. Sign me up for both of these matches.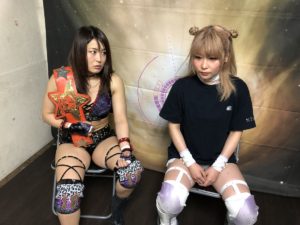 Recommended:  Definitely give it a watch.
Hiromi Mimura Retirement Countdown Gauntlet Match
Hiromi Mimura vs. AZM, Hanan, HZK, Io Shirai, Kagetsu, Kris Wolf, Mayu Iwatani, Natsuko Tora, Shiki Shibusawa, Starlight Kid, Tam Nakano & Viper
Review:  Before I talk about the match, let me explain how this works. This is normal for people that are leaving STARDOM or just retiring as the person fights a number of wrestlers in a gauntlet match with a one minute time limit with each participant. The match can end in a draw or someone winning and soon as it's over, the next one comes in and it keeps on happening til the last participant is in. First one fighting Hiromi is Hanan and I don't know why Hanan was smiling for most of the match, but kinda threw it off a little bit and she even had Rukaka involved for a bit, but ends in a draw and onto the next one, Shiki Shibusawa. This one was just sloppy to me and ever Shiki hitting a terribly botch Bulldog, but that was just bad timing and we have another draw as Starlight Kid is next. This one started off really strong with them getting right into the action, but simmered down in the end and even had another draw when Starlight was so close to pinning her, up next is AZM. Nothing really to talk about this one since it was just a whole minute caught in a roll up back and forth with nobody getting the pin here, so far Hiromi didn't win or lose yet, but up next is Natsuko Tora. Tora went to go for a hug, but instead she gives her a Spear and tries to make quick work of her, but soon as she missed her Splash, the bell rang and another draw as Tam Nakano comes out next. Tam would use her stuffed Panda to hit her as a weapon, stop the carnage with Panda violence, even Hiromi throws her out of the ring and another draw, now we have HZK. We get ANOTHER draw right here as HZK just looks to try and wear Hiromi down since she already looks like she's out of breath here, up next is Kagetsu! However, this mostly turns into a Oedo Tai beatdown for the minute, but Hiromi was able to hold them off til the time stopped to have another draw and Viper is next. Nothing really happens in this one as Hiromi was just ducking the tie-up's and Viper playing toro with her til the time ran out as Io Shirai is next. Io would make quick work with her for a bit and goes for her Moonsault, but misses as Hiromi went go to after her and gets rolled up for her first lost in 58 seconds, up next is Mayu Iwatani, Mayu would hit her with a move and call all the participants in for a group SHOUT Dropkick and then pin her, giving Hiromi her second loss and our last participant, Kris Wolf. It looked like Kris was about to win, but Hiromi's partner Konami would kick Kris off and hold her down so Hiromi would be able to hit her and after reversing a roll-up, Hiromi would win the last match making her 1-2-9.
After the match, Hiromi would bring up her final match on March 28, but we also learn with this was Kris Wolf's last match in STARDOM also, I am sad now. Kris said she's been with Stardom for over three years and she wishes the company luck and to keep supporting them. Hiromi would introduce a new class of talent as they introduce themselves, their names are Misato and Utami as they look to possibly have their debut around the summer time. Hiromi would call everyone in the ring and end the show with a loud SHOUT.
▪️2018年3月25日(日)新木場1stRING
◆美邑弘海シャウト・カウントダウン 10人掛け

いよいよラスト新木場となった美邑が10人を相手にシャウトしまくったが…最後の相手としてデビュー戦を闘ったクリス・ウルフが登場。

会員登録は https://t.co/lZc15hAPwd pic.twitter.com/aCnUvgq6Pf

— スターダム/STARDOM (@wwr_stardom) March 27, 2018
Recommended:  It was fine and a nice ending ceremony, also a goodbye to Kris Wolf and good luck to wherever she goes to next.
Overall: It was a pretty solid with a average beginning and ended strong, no complaints here and looking forward to their next show along with April 1st.
Favorite Match:  HZK, Io Shirai & Viper vs. Bea Priestley, Toni Storm & Xia Brookside
Least Favorite Match: Jungle Kyona, Konami & Ruaka vs. Keneisha Moon, Starlight Kid & Tam Nakano
Score: 7/10
Joe's CMLL Results & Review (ending 12/16/2018)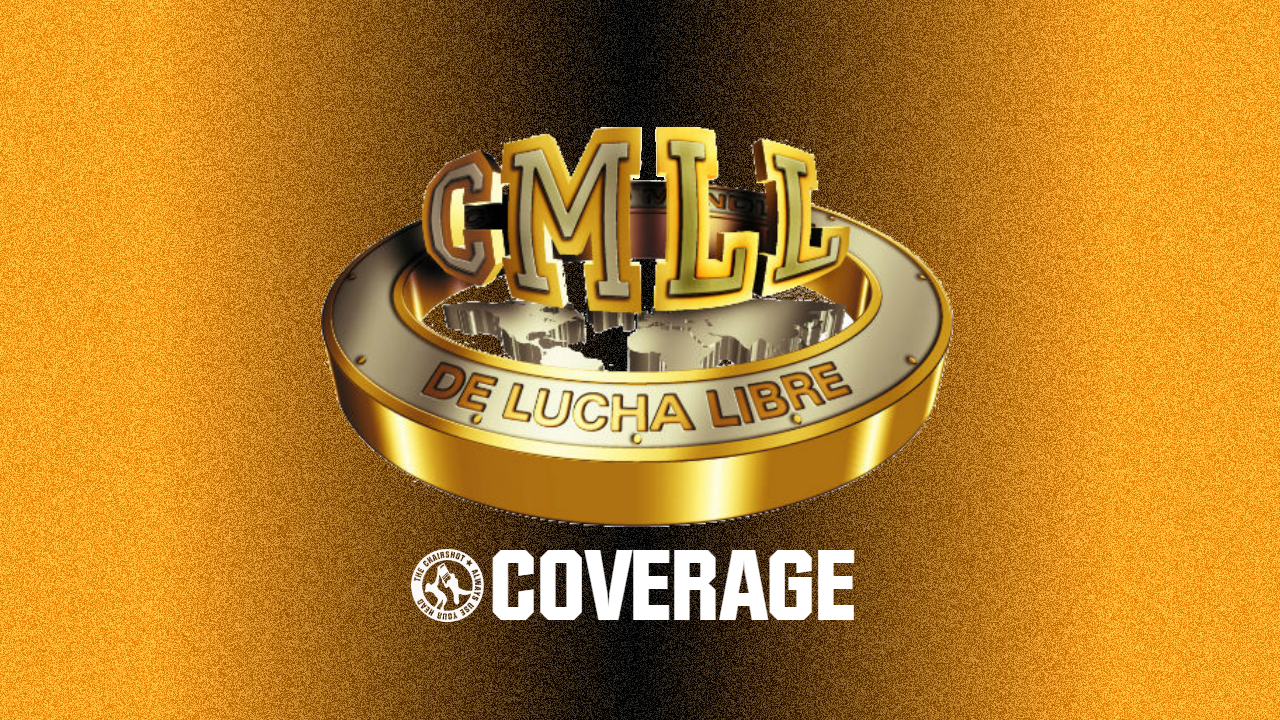 See what happened in CMLL this week as Joe Dinan brings you up to date!
Arena Puebla Monday
Sonic and Astro vs Ares and Guerrero Especial
Especial and Astro start the match out with some ground grappling. They re-engage a few times and continue to grapple. Ares and Sonic come in next and they grapple as well, at a faster pace. They shake hands and Especial and Astro are back in. Astro hits a hurricanrana and then an arm drag. Afterwards he gets caught in a neck crank submission by Especial. Ares catches Sonic in a modified abdominal stretch. First Fall: Ares submits Sonic with a modified abdominal stretch.
Ares and Sonic start out and Sonic misses a drop kick but counters him with a cross body and head scissors. Sonic gets Espeical in a pinning combination for the pin. Astro gets in the ring with Ares and then submits him with an abdominal stretch. Second Fall: Astro submits Ares with an abdominal stretch.
Sonic gets double teamed to start this round. Especial hits a big spine buster on Astro. They make a come back when Sonic launches Astro into them with a drop kick. Ares launches Astro into Especial for a power bomb but it's countered into a hurricanrana into a pin. Then Sonic catches Ares with a torture rack for the win. Third Fall: Sonic submits Ares with a torture rack.
Winners: Sonic and Astro
Millenium and Rey Samuray vs El Perverso and King Jaguar
Samuray and Jaguar start out in the ring striking each other. They start to trade submissions on the ground. Perverso and Millenium come in next and start to move at a faster pace. It was a stage of them countering each thing the other did. Samuray hits a cross body on Jaguar but then Perverso hits him with a back stabber for the pin. Jaguar hits a power slam on Millenium for the fall. First Fall: Jaguar pins Millenium with a power slam.
They start to beat on Millenium to begin the round. They continue to beat up on Samuray and Millenium. They make a come back and Millenium does a lionsault on Perverso for the pin, then Samuray slams Jaguar and hits a springboard lionsault for the fall. Second Fall: Rey Samuray pins King Jaguar with a springboard lionsault.
They third round starts with them all trading spots. Jaguar catches Samuray with a clothesline. Perverso misses a drop kick off the top to hit Jaguar. Millenium hits a over the top senton then gets a neck stretch on Jaguar. Samuray gets Perverso in an indian death lock for the win. Third Fall: Ray Samuray submits Perverso with an Indian death lock.
Winners: Millenium and Rey Samuray
Microman, El Gallito, and Atomo vs Chamuel, Perico Zakarias, Guapito
Guapito and Atomo do some posturing and grappling. Now they're all brawling. Chamuel and Gallito are fighting and Microman is laid out. They continue brawling. It's been a little awkward. Guapito had somebody in a pin but just got up. Now he's squaring off with Microman. Microman hits knees to the corner on Guapito. Perico and Guapito try to double Gallito but fail. Gallito hits a dive on Guapito to the outside off the apron. Atomo hits a splash on Chamuel but stops his pin too. I don't know what's happening. Guapito gets Gallito in a camel clutch but Microman stops it. This is the longest first fall ever. Atomo gets Chamuel in an abdominal stretch for a submission and Microman hits a vader bomb on Zakarias for the fall. First Fall: Microman pins Zakarias with a vader bomb.
Apparently the match is over. I don't know what happened. They never even showed the cards for rounds 2 and 3. Maybe it was one round or they cut their time short because they went so long. Weird.
Winners: Microman, El Gallito, and Atomo
Mitchell's WWE Monday Night Raw Report & Results! (12/17/18)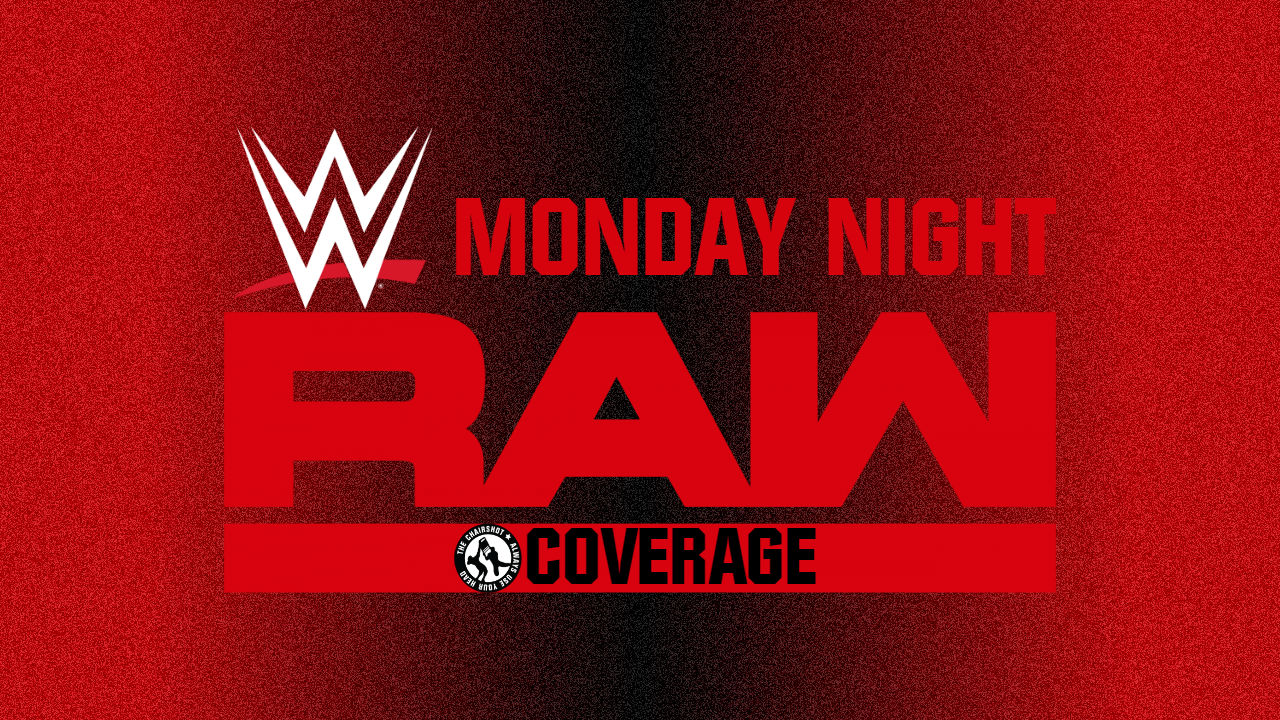 It's the Raw after TLC, and The Chairman makes a return! What will Vince Kennedy McMahon have in store to "shake things up again?"
OFFICIAL RESULTS
Baron Corbin VS Kurt Angle; changed to…
4v1 Handicap Match: Baron Corbin VS Kurt Angle, Apollo Crews, Bobby Roode & Chad Gable; changed to…
4v1 Handicap No Disqualifications Match: Baron Corbin VS Kurt Angle, Apollo Crews, Bobby Roode & Chad Gable; Angle, Crews, Roode & Gable win, and Baron Corbin is NOT Raw GM.
Finn Balor VS Dolph Ziggler; Finn wins.
WWE Intercontinental Championship Open Challenge: Dean Ambrose VS Tyler Breeze; Ambrose wins and retains the WWE Intercontinental Championship.
Raw Tag Team Championship #1 Contenders Fatal 4 Way: The Authors of Pain VS The Revival VS The B-Team VS Lucha House Party; The Revival wins and will face Roode & Gable for the Raw Tag Team Championships.
Raw Women's Championship Open Challenge: Ronda Rousey VS ???; changed to…
8 Woman Gauntlet Match: Natalya wins and is the #1 contender to Ronda Rousey's Raw Women's Championship.
PLAY BY PLAY
Mr. McMahon is here!
The Chairman, Vincent Kenny McMahon, is on the Raw after TLC! And he knows we want to know what's going on with Raw. Tonight, we find out. Raw has been on the air for over 25 years, an extraordinary feat. And that's because the show changes with the time. "Despite one man's brilliance, despite one man's creativity, despite one man's vision," Vince can't do this alone. Vince can do it without the fans, though. Fans boo, but then Stephanie McMahon appears! The Commissioner, and daughter of Vince, heads to the ring and gives her father a big hug. Fans boo but Vince asks they be nice. And then, Triple H appears! The Game, the COO, joins wife and father-in-law in the ring, and even gives Vince a hug.
Fans are excited to see these three in the ring, but there's more! Shane McMahon is here! The SmackDown Commissioner joins father, sister and brother-in-law in the ring, and now we have all the power players of WWE at the same time! Stephanie says they're all out here because they've all realized, "we haven't been doing a good job lately." They've all realized that there's need for a change, and this will be a fresh start. These four will be "taking back Monday Night Raw", and even SmackDown. These four know they are the ones ensuring the best possible experience for their fans and empowering their superstars. They will finally give fans what they want. "Something new, something fresh." There will be new faces, new matches, and now the fans are the Authority! WWE will always be #ThenNowandForever.
But wait, here comes Baron Corbin! The Constable lost his job at TLC when he lost his TLC Match to Braun Strowman, but he seems to think he has another chance. "No one is more excited for a fresh start than me." Fans rain down the boos and jeers, to which Stephanie makes sure Corbin understands. Corbin knows they're all upset, but he's so very excited to have the entire McMahon family in charge of Raw. However, those promises were amazing, but there's something they didn't mention. "Fair". Last night's TLC Match was not fair, so let's talk this out. What will Corbin have to say? Find out after the break!
Raw returns and Corbin joins the McMahons and HHH. Fans still boo as he defends the Sacramento crowd does not reflect the WWE Universe as a whole. HHH tells the fans if they keep booing, Corbin can't finish speaking. Corbin needs to explain himself. HHH asks the fans please stop for a moment. Stephanie wants fans to speak up, Vince is harder of hearing. But the fans eventually calm down, but Corbin riles them up again. Shane actually encourages the booing. Corbin ties to defend that he does his best. Vince tells Corbin he can be louder with his microphone. Fans chant "You Suck!" but Corbin does not take the blame. He says superstars aren't living up to the challenge. Strowman was not supposed to be at TLC, Corbin was not prepared, and Corbin was not prepared for being outnumbered. If fans think that is fair– They do!
HHH tells Corbin that "as predictable as you are", Corbin is here to say it's a "travesty of justice" and hopes they all reconsider Corbin as GM. Is that it? Yes! And Corbin is thankful they're all here to sort this out. Corbin would've won if not for Finn Balor, Kurt Angle and the rest. Are they letting that travesty stand? Or will they overturn the decision? Fans boo but Corbin says "Think of what we can accomplish with you guys backing me." The McMahon Family huddles up, and then it comes down to a vote. Shane and HHH go with "No", Stephanie says "No Chance in Hell." Vince thinks of a way. They huddle up again and perhaps Corbin does deserve a chance. Fans don't agree, but Corbin is willing to take that chance. Then Corbin will get that chance.
If Corbin wins a match tonight, right now, he'll be permanent Raw GM! Just beat this man. KURT ANGLE! The previous Raw GM and Olympic Gold Medalist returns to action himself, and gets a chance to shut Corbin up once and for all! Will Corbin fail to make good on this second chance? Or will he find a way to revive his tyranny?
Baron Corbin VS Kurt Angle!
Stephanie "remembers" the special guest referee for this match. It's Heath Slater! The One Ref Band gets to be part of this payback! Slater rings the bell and we begin!
Corbin swings but Angle counter punches! Angle bumps Corbin off buckles to then stomp and punch away! Slater lets Angle continue and whip Corbin corner to corner. Corbin reverses but misses, Angle throws him with a German Suplex! Corbin bails out of the ring while we go to break.
Raw returns and Corbin has Angle down. Corbin eggs Angle on while fans rally up. But then HHH returns to say he "forgot" something else. This is a Handicap Match.
4v1 Handicap Match: Baron Corbin VS Kurt Angle, Apollo Crews, Bobby Roode & Chad Gable!
The rising star AND the Raw Tag Team Champions appear to reinforce Angle! Corbin finds himself flanked by the people he wronged, and now they're getting further payback! Roode, Gable & Apollo rain down hands and stomps, then feed Corbin to Angle. Angle drags Corbin up for another German Suplex! And another! And the hat trick! Angle tags in Gable, and Gable drags Corbin up for his own German Suplex! Gable tags Roode, and the tag champs coordinate to double whip. Roode whips Gable to whip Roode in for a clothesline! Tag to Apollo for a big enziguri! Corbin bails out again but he can't get away from Apollo and the champs! They drag him back to ringside, tossing him over barriers!
Gable puts Corbin in and Angle returns. The four of them surround Corbin, but look to Slater. Slater literally looks the other way as they stomp Corbin out! But now Shane O'Mac appears, and says he was so pumped to be in Sacramento, he "forgot" this is No Disqualifications!
4v1 Handicap No Disqualifications Match: Baron Corbin VS Kurt Angle, Apollo Crews, Bobby Roode & Chad Gable!
Now the foursome don't have to worry about Slater's disapproval. In fact, Slater gets in on the action! Slater stomps Corbin while the others get chairs! Angle, Gable, Roode & Apollo repeat last night's humiliation with new chair shots! They jab, they SMACK, repeat! Fans love seeing Corbin getting what he deserves! But "We Want Tables!" Gable climbs while Roode brings Corbin up, GLORIOUS Combination! Apollo climbs for the frog splash! They bring Corbin up and feed him to Angle's Olympic Slam! Cover, Angle's team wins!
Winner: Team Angle, Kurt Angle pinning; Corbin is NOT Raw GM
Finally, the dictatorship of Constable Corbin ends! The Lone Wolf really was all alone against his "disgruntled employees", and now he is out of power! Who will take his place in this new Raw?
But the punishment isn't over! Apollo, Gable & Roode set a table up in the ring, and everyone but Corbin is grinning. They haul Corbin up again, for an Olympic Slam through the table!! Now the celebration begins!
John Cena wins the Muhammad Ali Legacy Award.
The Face that Runs the Place is honored to receive this award, but he wouldn't win this award without being a friend and philanthropist to so many.
Finn Balor VS Dolph Ziggler!
The Extraordinary Man helped The Show-Off to stick it to the Scottish Psychopath. And Ziggler would return the favor, mostly to stick it to Drew McIntyre. However, neither man is thankful for the other's help, and look to show what they can do on their own. Who will gain some major momentum as we approach the New Year?
The bell rings and the two circle. Fans are already fired up as they tie up. Finn and Ziggler go around and Ziggler puts Finn on the ropes. Ziggler backs off but gives a shove. They tie up again and Ziggler gets a headlock. Finn goes to power out but Ziggler holds on. Ziggler grinds and gets the takedown. Finn moves around to make it a cover, TWO! Ziggler keeps on Finn with the headlock, but fans rally. Finn gets up and powers out now, then things speed up. Finn arm-drags Ziggler around and into an armlock. Ziggler quickly headscissors but Finn quickly pops out, and fans cheer this close match-up. Finn kicks low, snapmares and kicks Ziggler, then brings him up again. Finn whips and dropkicks Ziggler down! Ziggler bails out while fans cheer Finn. Finn soaks it in as we go to break.
Raw returns and Ziggler whips Finn. Finn reverses but Ziggler sunset flips. Finn rolls through to dropkick! Both men are down as Finn clutches his leg. Finn gets up and to a corner, and boots Ziggler on the way in. Ziggler keeps after Finn but Finn counter punches and chops him! Finn whips but Ziggler reverses, only for Finn to run him over with forearms! Finn fires up and gets a takedown to a double stomp! Fans fire up as Finn aims at Ziggler. Finn runs out but the Slingblade is rolled up! TWO, and Ziggler uppercuts Finn. Ziggler taunts Finn, but misses the Famouser, to get the elbow drop DDT! Cover, TWO! Finn keeps moving as he aims at Ziggler again. Finn runs at Ziggler, and hits the Slingblade! He takes aim again, but the shotgun dropkick goes into the Satellite DDT! Cover, TWO!
Both men are down but fans rally up. Ziggler sits up but Finn gets to a corner. Ziggler runs but the ZigZag is denied. Finn goes to the apron and swing kicks Ziggler down! Finn climbs but Ziggler trips him up! Ziggler throws Finn into the post! ZIGZAG!! Cover, TWO!! Ziggler is shocked and sore, but he gets up in a corner. He takes aim, but here comes McIntyre! Ziggler kicks McIntyre, then leaps out! McIntyre catches Ziggler but they still brawl it out! McIntyre shoves Ziggler but Finn FLIES! Ziggler clobbers Finn! Ziggler puts Finn in, FAMOUSER! Cover, TWO!! Finn lives and the match continues! Fans rally for Finn while he and Ziggler stir. Ziggler stands first, tunes it up, but gets another Slingblade! Finn aims again, but McIntyre attacks!
Winner: Finn Balor, by disqualification
The Scottish Terminator targets both thorns in his side as he throws Finn out and gives Ziggler the Glasgow Kiss headbutt! McIntyre rains rights down on Ziggler, then yanks him right up for a Claymore! McIntyre aims at Finn, Claymore! Fans boo and jeer McIntyre as he seethes all the way to the stage. Will McIntyre eliminate Ziggler and Finn on the road to the Royal Rumble?
Dean Ambrose heads to the ring!
The Lunatic has his siren and his gas-mask wearing henchmen accompany him and his newly won WWE Intercontinental Championship. Ambrose picks up a mic while fans boo and jeer. "The more things change, the more they stay the same." Fans should show more respect! But they boo. "You disgusting little people" should be bowing to Ambrose, because he made his prediction come true. Rollins spun out of control, dropped the ball in the fourth quarter and choked. Rollins failed himself and failed the fans. Ambrose doesn't need respect, because he has the belt. And it wasn't too long ago that Rollins had two belts, now he has none. But Ambrose is just getting started. When Ambrose is done, Rollins will truly have nothing!
Ambrose promises to take Rollins' career, take Rollins reputation and drag it through the mud! But there's another option. "The Moral Compass" has an obligation. Rollins can come out here and be a man of character and integrity to admit Ambrose was right! Rollins, tell everyone that Ambrose was right! Fans boo while Ambrose waits. They chant "Burn It Down!" but Rollins doesn't appear. Ambrose waits but has a new idea. "How about an open challenge?" But not for the title, Rollins doesn't deserve it. But maybe Rollins wants to take out his anger. Ambrose dares Rollins to appear, but he doesn't. This proves Rollins is no hero, he's "a selfish little whiner who always has to get his way." Rollins lost and is too ashamed to show his face.
So Ambrose moves on to a third idea: Ambrose will stay a page from the playbook and actually give an Open Challenge for the title, to anyone not named Seth Rollins. And out comes… Tyler Breeze!
WWE Intercontinental Championship Open Challenge: Dean Ambrose VS Tyler Breeze!
Prince Pretty wants his shot and this is his chance! Can Breeze make that Intercontinental Championship gorgeous? Or will Ambrose make an example out of him?
The introductions are made, the belt is raised, and we begin! Ambrose goes after Breeze but Breeze is ready! Breeze throws hands, whips but Ambrose reverses. Breeze hits big forearms then stomps away in a corner! He backs off at 4 and dropkicks Ambrose! Breeze clotheslines Ambrose out! Prince Pretty is fired up while we go to break!
Raw returns and Ambrose stomps Breeze out. Ambrose laces up the legs and puts Breeze in a modified Queen Angelito stretch. Breeze endures and crawls for ropes. Ambrose grabs that arm to stomp it! Breeze crawls but Ambrose is on him with a whip. Ambrose elbows Breeze down, covers, TWO! Ambrose keeps on Breeze with a chinlock. Fans rally up as Breeze endures. Breeze fights his way up but Ambrose wrangles him down hard! Ambrose keeps Breeze grounded, but fans rally for Breeze. Breeze gets up but Ambrose knees low. Ambrose clubs and scoops Breeze, but Breeze slips out to enziguri! Ambrose is dazed, and Breeze gets up to huricanrana! To a cover, TWO! Breeze enziguris from a corner, then sends Ambrose into post! Cover, TWO!
Breeze hits the Beauty Shot heel kick! But Ambrose gets up again so Breeze climbs up. Breeze leaps, big crossbody! Cover, TWO! SUPER MODEL KICK! Cover, TWO!! Ambrose survives Breeze's best, but he is dazed. Breeze gets up and stalks Ambrose. Breeze brings him around but the Unprettier is denied. Dirty Deeds! Cover, Ambrose wins!
Winner: Dean Ambrose, by pinfall; still WWE Intercontinental Champion
The Lunatic says that is the performance of a champion with character! Rollins didn't show because Rollins– "BURN IT DOWN!" But where is Rollins?! He's one of the gas-mask men!! Rollins SUPERKICKS Ambrose down! And then throws fast hands from all sides! The other henchmen hurry in but Rollins fights them off. Ambrose runs away with the belt while Rollins tosses the henchmen away, and SUPERKICKS another! Rollins tells Ambrose to bring the fight, but Ambrose continues his retreat. Will Ambrose back up his words and be brave enough to face The Kingslayer?
Backstage interview with Shane McMahon.
The McMahons promise a fresh start, but what does that mean? Fresh faces and new opportunities! There will be tough decisions to make, but here comes Drake Maverick. These two finally meet, and Maverick introduces the "rightful" Raw Tag Team Champions, Akam & Rezar. Maverick says those titles were stolen from them. But now that the McMahon Family is here, they'll make this right. Authors of Pain get their title rematches tonight. Now, now, hold on. The mandatory rematch clause Maverick is citing is "antiquated", Corbin handed AoP those titles in the first place. Let's create an opportunity. But they're the former champions! Shane suggests AoP take on The B-Team, The Revival and… Lucha House Party! Fatal 4 Way #1 Contender's match! Shane wishes them luck, but the AoP are just upset. Will they make the best of this huge opportunity?
WWE takes a look at the new faces coming to the main roster!
Monsters, Beasts, Vipers, Giants. None of them compare to the Leviathan! Lars Sullivan is a dominate Freak and promises to destroy the roster.
The Lady of NXT, the Model Soldier, Lacey Evans is armed with a Woman's Right to hit hard and class it up.
#SteaksAndWeights fuel Tucker Knight & Otis Dozovic in tag team wrestling! They have a "damn good time" in the ring, and they're COMIIIIN'!
The Loony Lass loves to play! SAnitY's Twisted Sister finally joins her chaotic crew, who wants to play?
The Top One Percent prepares for #VictoryAfterVictory on the main roster! Will he find brand new success as he jumps from #NX3 to TV?
"Ladies and Gentlemen: The Almighty Bobby Lashley."
Lashley and Lio Rush are in the ring, parodying Elias' usual greeting and performance. These two will give the fans something they've never seen before. It turns out Elias isn't the only gifted guitarist. The greatest music Elias ever heard was a guitar smashing into his back at the hands of Bobby Lashley! And be honest, no one here wants to hear another of Elias' boring songs. They're all here to witness a "true work of art." And that is exactly what Lashley will give you. But before that, please silence phones, hold applause, and shut your mouths!
Lashley gets up with the mangled guitar, and starts posing. The double biceps, the side chest. Comparing Lashley to Elias is like comparing the Golden State Warriors to the Sacramento Kings. But of course, there's always the "favorite pose", the double glutes! Lio and Lashley laugh it up, but "Ladies and gentlemen, Elias." The Drifter SMACKS Lashley with a guitar! Lashley gets back up but Elias gets away. There won't be an encore tonight, but when will these two create another smash hit together?
Raw Tag Team Championship #1 Contenders Fatal 4 Way: The Authors of Pain VS The Revival VS The B-Team VS Lucha House Party!
Drake Maverick knows Akam & Rezar feel robbed over the feud they had with Roode & Gable, but considering they got those titles through unfair means to begin with, they have no automatic right to a rematch. Can they rip their way through Dash & Dawson, Axel & Dallas, and the luchadores of 205 Live? Or will one of those other teams step up to the GLORIOUS challenge instead?
The teams sort out and we start with Curt Axel and Lince Dorado. They circle but Axel stays back when Lince handsprings. "Lucha! Lucha!" starts, as do the matracas. But "B-Team! B-Team! GO GO GO!" counters. The chants duel but Axel swings into a dropkick! Lince tags Kalisto and they combine for an alley-oop dropkick! Scott Dawson tags in and now The Revival revive their feud with LHP. Dawson slaps Kalisto, Kalisto fires off forearms! They brawl, and Dawson rocks Kalisto with a right. Dawson wrenches the arm and kicks Kalisto to the ropes. Dawson chops Kalisto on the ropes, but keeps his distance from AoP. He bumps Kalisto off buckles and gives European Uppercuts. Dawson mocks the lucha chant, then suplexes Kalisto. He drops an elbow, then tags Dash Wilder.
The Revival go after Kalisto together but they get a double DDT! Kalisto tags Lince, and hist the elevated splash! Lince hits the planking splash, covers, TWO! Dash scrambles and Akam tags in. Lince goes after Akam but Akam shoves him away. Lince dropkicks but Akam tags Rezar, for a pop-up and tackle into a corner! AoP mug Lince while we go to break.
Raw returns as Dash has Lince in a Gory Special! Lince endures as fans chant, but Dash reaches back to go after the mask. Dash mocks the lucha chant, but Lince pops out to arm-drag Dash! Axel tags in, Dash gets an enziguri! Axel goes after Lince but Lince handsprings to the Golden Rewind! Both Lince and Axel are down and fans rally up. Chants duel while Axel crawls. Hot tags to Bo Dallas and Kalisto! Kalisto springboards and crossbodies! Kalisto kicks and whips, Bo reverses but Kalisto springboards for a corkscrew crossbody! Fans fire up with the Lucha Dragon as he tackles Bo in a corner. Axel returns but gets the tornado DDT! Kalisto kicks Bo then whips, but Bo reverses. Dawson tags in and goes after Kalisto to throw him out. Dawson slaps Bo but Bo fires off hands!
Bo boots and clotheslines Dawson, then brings him up for the draping neckbreaker! Cover, but Dash breaks it up! Dash takes his time leaving, but Kalisto comes in to tilt-o-whirl DDT Dash down! Axel swings but gets a kick! Kalisto dodges Rezar, Bo and Dawson clothesline him out! But then Akam grabs them both, only to get haymakers. Akam shoves them back but is sent out. Lucha House Party are LAUNCHED onto both AoP! Bo and Dawson are alone, Dawson rolls Bo up but Bo rolls him back! Cover, TWO! Small package, TWO! Dawson scoops but gets another cradle, TWO! Bo shoves Dawson but Dash tags in. SHATTER MACHINE! Cover, The Revival win!!
Winners: The Revival, Dash Wilder pinning; new Raw Tag Team Championship #1 Contenders
#SayYeah! Now that Dash & Dawson got a fair shake, they can get another shot at those tag titles! Will they be #ReadyWillingAndGLORIOUS against Roode & Gable?
Backstage interview with Seth Rollins!
The Architect got back at Ambrose just a bit earlier, but he still feels rough from last night's "disaster." Personally, professionally, it was all wrong. He let Ambrose get in his head and take that title, and Rollins heard the crowd. Rollins takes the blame for all of that, and vows to move forward. This isn't about his in-ring performance or titles, this is his life! "This is everything that I've dedicated everything to!" It's going off the rails, but Rollins will right the ship by ending Ambrose.
But Baron Corbin comes over, and tells Rollins that everyone thought he was doing great until Rollins had to speak up. Rollins goaded Corbin into a match, Rollins is why Strowman won, and Rollins is why the McMahons are back in charge. Ambrose was right. And Corbin would take Rollins title, if Ambrose hadn't already done that. Rollins hits Corbin! The Lone Wolf gets further comeuppance, but when will the Lunatic get his?
Ronda Rousey is here!
And the Baddest Woman on the Planet is still Raw Women's Champion after a physical match with Nia Jax! Ronda denied the #FaceBreaker her victory, but she didn't stop there. She got her payback on The Queen, Charlotte Flair, and The Man, Becky Lynch, by throwing them off their ladder in the SmackDown Women's Championship TLC Match! The Empress of Tomorrow, Asuka, has the throne now, but what does that mean for both shows now?
Ronda smiles as fans duel. She says "I told Nia Jax she could kiss that right hand she's so proud of good-bye. I told Charlotte Flair I was going to write the next chapter of our story. And I told Becky Lynch I am the last woman on Earth she should provoke." Ronda didn't come out here to justify her actions, but to define what a real champion is. "A real champion is so much more than just a title someone puts in front of your name or an object you can hold". It's so much more than the winner of a match. A real champion represents the limit of human potential, physically, mentally and morally. A real champion is the best the human race has to offer, and steps up to the challenge. That is why Ronda is here tonight!
Fans still duel as Ronda suggests a new tradition. Every Raw after a PPV, the champion shows up no matter what to defend their title! Ronda wants a fight, this is her open challenge, so who wants a shot!?
Raw Women's Championship Open Challenge: Ronda Rousey VS ???
There's a traffic jam at gorilla position! So many women want their shot at Ronda, the production team can't figure out what song to play! Stephanie McMahon leads them out in front of the fans, microphone in hand. Stephanie lets Ronda know that everyone wants their shot. And they're deserving, but there won't be any favorites anymore. These women will all earn their shot, in a Gauntlet Match! And that's right now! And we start with Alicia Fox, against Bayley!
8 Woman Gauntlet Match!
Who will be the last woman left to challenge Ronda for her title?!
Bayley circles with Alicia and tie up. Bayley rolls Alicia, ONE. Alicia backs off to circle with Bayley again. They tie up and Bayley gets an arm wrench. She brings Alicia down and then Mahistrols, TWO! Alicia scrambles to ropes for safety, and fans boo as she takes her time getting up. Alicia kicks low, still holding the ropes, then throws forearms. She throws Bayley down by her hair, covers, ONE. Alicia keeps on Bayley in a corner for buckle bumps, then stomps her in another corner. She backs off to snapmare Bayley to a cover. ONE, but Alicia wraps on a chinlock. Fans rally up and Bayley feeds off the energy. Alicia clubs Bayley but misses the scissor kick to get a saido suplex! Cover, TWO! Alicia runs away again and we go to break.
Raw returns as Alicia stomps Bayley. Alicia kicks Bayley down and around at the ropes. Bayley gets to a corner, Alicia throws forearms. Alicia taunts Bayley to whip her corner to corner. Bayley slips to the apron and shoulders in. She slides under to sunset flip, TWO! Alicia clobbers Bayley quick! Alicia chokes Bayley on the ropes but backs off at 4. She pulls on Bayley's ponytail, then throws more forearms. Bayley kicks and kicks, then throws forearms. Alicia kicks low but fans rally for Bayley. Alicia whips Bayley hard into buckles! Cover, TWO! Alicia keeps her cool, but then she starts slapping Bayley around in the corner. Bayley pushes Alicia away then flapjacks her on the buckles! Bayley whips but Alicia reverses, but Bayley goes up and over. But Bayley's ankle gives out, and Alicia boots her down! Cover, but Bayley reverses it, Bayley ELIMINATES Alicia!!
Dana Brooke comes out now, and hurries to capitalize. She goes after Bayley with an enziguri! Dana handsprings corner to corner for the elbow! Cover, TWO! Dana tries again, TWO! Dana rains rights down because she wants this chance. She puts Bayley in a body scissor squeeze and trash talks, but Bayley fights out. Bayley makes it a cover, TWO! Dana chop blocks the bad leg! The ref checks on Bayley, but she won't quit. Dana bumps Bayley off buckles and stomps a mudhole. Dana whips but Bayley can't even run on the leg. Cover, TWO! Dana keeps on Bayley with a chinlock but fans rally. Bayley endures the thrashing, and fights her way up. Dana throws her back down by her hair, then covers. TWO, Dana tries again, TWO!
Dana grows frustrated but she keeps on Bayley in a corner. She stomps in another mudhole, then backs off at 4. Dana taunts Bayley, but gets a Bayley2Belly! Cover, Bayley ELIMINATES Dana! The Huggable One continues in this Gauntlet while we go to break!
Raw returns and Bayley's third opponent is Mickie James. Mickie has Bayley in a chinlock but Bayley fights her way up. Bayley fights back but Mickie knees low. Mickie whips Bayley to a corner, but runs into a boot! Bayley runs out but into a neckbreaker! Cover, TWO! Mickie is frustrated that a beat up Bayley is still going. Ronda watches backstage as Mickie toys with Bayley. Mickie drags Bayley up to choke her on the ropes. She stops at 4, but runs, only to miss and get ropes! Bayley covers, TWO! Mickie brings Bayley up and kicks, but then runs and misses, Bayley rolls her up! TWO, and Mickie flapjacks Bayley! Mickie kips up and heads up top. Bayley stands, Mickie hits the flying seated senton! Cover, TWO and Bayley sunset flips, TWO! Mickie high stacks, TWO, roundhouse! Cover, TWO! Bayley still lives!
Mickie grows frustrated, but aim to finish this. Bayley slowly stands, but denies the Mick-DDT to a saido suplex! Fans fire up with Bayley, but Mickie kicks her out of the ring. Mickie builds speed, to slide, but Bayley spins her around for a big knee! Bayley grits her teeth as she heads back up. Bayley has a bad footing on the ropes but she still elbows Mickie. She leaps for a crossbody, but can't keep the cover! Mickie gets to a corner, Bayley runs in for a big knee! Bayley tosses Mickie out to climb back up. Bayley leaps, Macho Elbow! Cover, ROPEBREAK! Mickie survives and Bayley grows frustrated. Bayley gets up and goes after Mickie but gets body shots. Mickie steps in for a hotshot! Bayley fires herself up, but Mickie grabs hair! Bayley powers Mickie back, but Mickie elbows Bayley.
Mickie goes for the Mickanrana but is put on the apron. Mickie hits back and bumps Bayley off buckles! The Mick-DDT hits! Cover, Mickie ELIMINATES Bayley! But there's no rest for the wicked, Ember Moon heads in! Mickie dropkicks Ember right as she slides into the ring! Mickie stomps away but backs off at 4. Ember gets up but Mickie kicks her to a corner. Mickie grinds her boot in but stops at 4. Ember gasps for air but Mickie is on her with a slap. Ember and Mickie kick each other, Mickie whips but Ember flips through the hip toss to arm-drag! Mickie runs into a leg sweep, Ember misses the dropkick! Mickie covers, TWO! Ember blocks a kick but gets a kick. Mickie runs, but she misses. Ember runs, springboard crossbody! Cover, TWO!
Mickie slides out, because she wants a time-out. But Ember doesn't give her one. ember runs and slides out, but Mickie kicks her on the return. Mickie wants a draping DDT but Ember fights her off. Mickie slides out and wants a bomb! Ember holds on for dear life and fights Mickie off, but Mickie trips her up! Ember hits apron while we go to break.
Raw returns and Ember slams Mickie! Both women are down but stirring. Mickie throws a forearm but Ember throws one back. Ember throws more forearms, then ducks to swing. Mickie dodges but Ember dodges and mule kicks, Ember enziguris! High stack cover, TWO! Ronda still watches backstage as Mickie gets to a corner. Ember runs in but misses, and Mickie rolls her up. She uses ropes but gets caught! The referee reprimands Mickie, but Mickie still flapjacks Ember! Mickie kips up again, then heads up top. Mickie leaps, but into a code breaker!! Ember hurries up top now, for the ECLIPSE! Cover, Ember ELIMINATES Mickie! But here comes The Queen of Harts! Natalya hits the ring but Ember rolls her up, TWO!
Natty gets Ember down, but the Sharpshooter is denied. Ember ducks the discus to SUPERKICK Natty! Cover, TWO! Ember drags Natty up into a chinlock but Natty endures. Natty works her way up and fights out, but Ember kicks her back. Ember brings Natty up to trap an arm in the standing chinlock. Natty endures the modified stretch, even as Ember clubs her on the back. Natty fights out and fireman's carry, but Ember fights out. Ember throws forearms, then whips, but Natty reverses. Natty runs into a boot, and Ember hops up. Ember brings Natty over, tornado snap suplex! Cover, TWO! Ember clubs Natty again, then heads up top. Natty stands and gets clear of the Eclipse, to discus clothesline Ember! Cover, TWO!! The War Goddess survives and the Queen of Harts is frustrated.
Natty goes for legs but Ember fights her off. Cradle, TWO! Natty rolls Ember up, Natty ELIMINATES Ember!! Natty shocks Sacramento, but The Riott Squad heads out together. Will it be a rematch of TLC to determine a #1 Contender? We'll find out after the break.
Raw returns and Ruby has Natty in a chinlock. Natty endures and pries her way out of the chinlock, but Ruby puts on body scissors. Liv and Sarah smirk as Ruby squeezes Natty. Natty turns around to club Ruby, so Ruby slaps Natty! Ruby wraps Natty in a guillotine now, but Natty still endures. Natty powers up and powers Ruby off with a scoop slam! Fans fire up as Natty and Ruby double clothesline! Both Ruby and Natty are down but the Squad coach Ruby up. Ruby gets up first and kicks Natty in the ribs! Ruby drags Natty up to throw her down, then brings Natty up to bump her off buckles. She stomps a mudhole into Natty but stops at 3. Natty rolls her up! TWO, and Ruby clobbers Natty again. Cover, TWO!
Ruby grows frustrated, but puts Natty in a cravat. Natty endures and fights her way back up. Natty arm-drags Ruby off, but gets a knee to the chin! Ruby throws Natty down, covers, TWO! Ruby keeps her cool, and toys with Natty, but Natty slaps her! Natty gets up but Ruby rolls her, TWO! Natty boots Ruby down, then catches her breath. She scoops Ruby but Ruby sunset flips, TWO! Natty dropkicks Ruby down! Ruby and Natty are slow to get up but Natty rallies with ax handles and lariats. Natty kicks low, then fires the fans up with a snap suplex! And another! Natty slaps Ruby then whips her to a corner. Discus meets STO! Ruby positions Natty in the drop zone then climbs up. The Squad cheer on the back senton, but it misses! Roll up, Natty ELIMINATES Ruby!
But it's Boss Time! Sasha Banks goes at Natty, and rallies the moment she hits the ring! She blocks a kick to give a knee, then turns Natty sideways in the corner. Stock Drop knees! Cover, TWO! Natty survives but The Boss keeps her focus. Sasha puts up the four and says she wants that belt, but Natty powers her to a corner! Natty rams her shoulder in but then misses. Sasha goes up, but Natty gets under to roll her up! TWO! Sasha runs, sunset flip DDT! Cover, TWO!! Natty still lives and this match continues, after one more break!
Raw returns and both women are down. A 10 count begins, and Sasha sits up at 6. She stands at 7 and Natty follows. Natty blocks the kick to trip Sasha up, then she walks all over her to dropkick! Cover, TWO! Natty fires up the fans as she brings Sasha around. She wants the Sharpshooter but is denied with a roll up, TWO! Sasha backslides, TWO! Sasha knees Natty but Natty discus clotheslines! Cover, TWO!! Natty grows frustrated, but she wants that Sharpshooter. And she gets it! Sasha endures as Natty drags her from ropes! Fans fire up and duel as Sasha crawls. Sasha reaches but Natty drags her away again! Natty sits down deep but Sasha gets a second gas, to roll Natty into buckles! Both women are down and the ref checks on them.
Fans rally up as both women are okay to continue. Natty goes for the legs but Sasha rolls through to a Half Crab! Natty endures, crawls and reaches! Sasha shifts to the Rings of Saturn, to a cover, TWO! Bank Statement crossface!! Natty endures as Sasha pulls back hard! Natty powers Sasha around, but Sasha holds on. Fireman's carry, but Sasha slips off. Natty throws Sasha with a German Suplex! Fans rally and duel while both women stir. Sasha gets to a corner, but Natty stands up. Natty runs in, but into a boot! Sasha elbows Natty away, then hops up. She leaps, Meteora! Cover, TWO!! Natty lives and Sasha can't believe it! Sasha and Natty slowly stand, and Sasha wants the backstabber. Natty bucks her off, but walks into a takedown!
Sasha wants the crossface but Natty arm-drags her off. Sasha runs and rolls again, but into an inverted bomb! Natty gets the legs, Sharpshooter is on! Sasha endures as she's far away, and TAPS! Natty wins the Gauntlet!!
Winner: Natalya, by submission; will face Ronda Rousey for the title next week
The Queen of Harts just won herself the best Christmas present ever! Natty shows Sasha respect, but here comes Ronda to congratulate her friend. Natty and Ronda celebrate this accomplishment together, but now friends must become opponents. Ronda offers a handshake, and Natty accepts it. Will friends stay friends after their title match?
---
My Thoughts:
Well this wasn't what I expected from a post-PPV Raw. And sadly it wasn't worth the hype. Vince and the McMahon family promised change and finally giving fans what we want, but this first night doesn't quite give that impression. The only change might've been that there were way more commercials than I can remember being on a Raw. Did WWE need to pay some bills or something? This would've been a better Raw just on the virtue of keeping the flow going with less ads and more action. It's not like having more of those commercials changed how Raw actually ran, either. The opening was a talk segment to give us this supposed "change", and Vince's time on his own show to shine. The only reason it wasn't a consecutive 20 minutes is because a commercial happened 5 minutes in.
Now, I did appreciate that the McMahons were the Faces in this scenario, and gave Corbin further comeuppance. It was proper karma with the running gag of "remembering" things. However, another "change" seems to be we won't get Angle back as GM or even someone new, like a rumored WOKEN Hardy. But perhaps if that means HHH is technically in charge, there's a sliver of hope he'll get this thing running as it should. In fact, Finn VS Ziggler was a really great match, but I am a bit disappointed McIntyre interfered. We've already been told there will be a Triple Threat for this story on the Christmas Eve edition, so that sounds like a good time. And for those who don't already know, the Christmas Eve Raw will be recorded TONIGHT and put on tape delay. I don't know if the live audience is lucky or being tortured…
There are also these "new faces" to address. The NXT Call-Ups have been announced in advance, but honestly I hope most of them go to SmackDown. We'll have to wait and see how the "fresh start" affects SmackDown, but I'd imagine SmackDown will still be just as good as it was before. Therefore, they'd be able to use Lacey Evans, Heavy Machinery and EC3 much better than Raw. In fact, we were all worried about what Faces could face the Heel Daniel Bryan, maybe The Top One Percent can be that Face.
It seems Tyler Breeze is Mr. Open Challenge, with having gone back to NXT long enough to challenge Ricochet then returning to Raw to answer Ambrose's Open Challenge. Rollins being in disguise as a gas-mask man was a standard twist, but still fitting of the story. If only Rollins interfered during the match to cost Ambrose the title. But perhaps that in itself proves Ambrose right: Rollins won't go after Ambrose unless he can get the title back. Rollins VS Corbin will be the Christmas Eve match, and perhaps Ambrose attacks him back to keep pace. I wonder if their title rematch would be at Royal Rumble to keep them out of the Royal Rumble match… Perhaps that's for the best if Rollins isn't going to win to then challenge for the Universal Championship.
A Fatal 4 Way tag to determine contenders was good, and the match itself was alright. I'm sure many fans are happy that The Revival are finally back in the title scene, and I for one am glad the Raw Tag Division didn't have to worry about pee jokes and lucha rule inaccuracies. Revival VS Gable & Roode should be a good one, if they're allowed to go NXT level with HHH behind the wheel. Fans would be even more amazed if The Revival finally won. At the same time, we're getting some Kevin Owens and Sami Zayn "returning soon" hype, I wonder if they finally aim for tag titles on top of singles. It'd make a lot of sense to me, at least, as Kevin would get his Grand Slam with the help of his best friend.
It seems the Raw Women's Division has finally turned the corner to match up to SmackDown's. Ronda wanted a match already, and the Gauntlet was a great surprise. I am genuinely surprised but pleased that Natalya is facing Ronda "next week" rather than Sasha Banks. There is story to be had with Ronda VS Raw's NXT Horsewomen, but everyone was expecting Ronda VS Natty to have happened at some point, so this seems like a good a time as any. Ronda VS Natty, tired as they both might be, will still be a solid match, and I just hope that there's no interference. At least not until the title match gets to a really hot point. The Riott Squad or the Samoan Dynasty might be expected given Raw stories, but I'm thinking it should be Charlotte and Becky for payback from TLC to move that story forward.
My Score: 7.7/10