STARDOM Grow Up Stars Day 4 Results/Review (3/25/2108)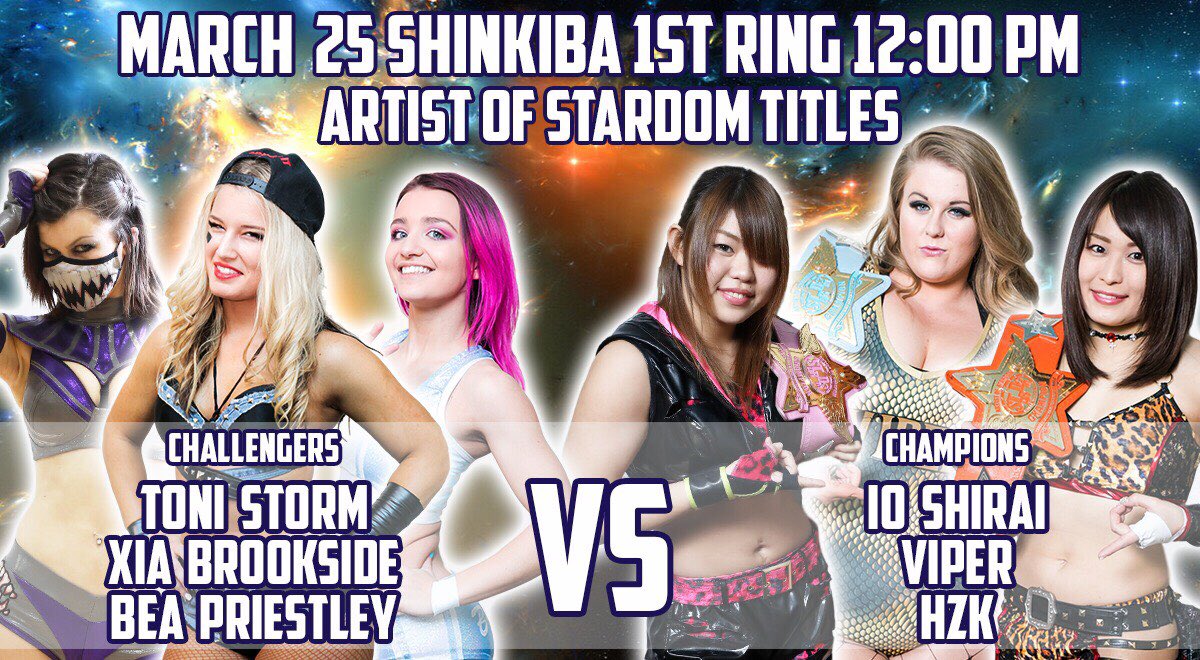 So we have one more show before this one and Hiromi Mimura will be retiring from professional wrestling. We also got a good show lined up as we see who will be going to the finals to fight Starlight Kid and we get a title match today, so fun times ahead and let's dive right in.
Singles Match
Momo Watanabe vs. Nao Yamaguchi
Review:  So first, happy birthday to Momo Watanabe who has just turned 18 the day of the show and all she said in the interview was she was just gonna beat her up, sounds like a good birthday gift. In Nao's interview, she talked about how she hate Momo's kicks during training and guess what? She takes more of them in the match and Momo does not let up with them, they were fierce let me tell you. The match is about five minutes with Momo basically smacking Nao around while trying to get a little bit of offense here, but doesn't work as Momo won with the Somato. Happy birthday, Momo Watanabe.
Recommended:  If you like them and wanna see five minutes, go for it.
Singles Match
Leo Onozaki vs. Natsuko Tora
Review:  It looks like we have another female debuting here named Leo Onozaki, but there's not much known about her or when she started training, but hey always nice to see people making their debuts in the ring, so let's see how she does. I think Natsuko is a good choice for your debut match since she can help out the younger females in the promotion while only being with the company for almost two years herself. Gotta admit though, Leo while having a weird attire, she did pretty well for herself and had a much better debut than Nao Yamaguchi, her moves were crisp, did good selling, and has held her own. Match lasted almost eight minutes which gave her plenty of time to impress everyone, however Natsuko would win with the Boston Crab in a good effort by Leo, so I wish her luck.
Recommended:  Solid match, so yes.
Future Of Stardom Title Tournament Semi Final Match
AZM vs. Shiki Shibusawa
Review:  With AZM winning her first round match, she now faces Shiki Shibusawa to see who fights Starlight Kid on March 28th for the Future of Stardom Championship. For a refresher, the Future of Stardom Championship is only for people who are rookies to the promotion with less than two years of experience and for people that are under 20 years of age. I gotta say that this is probably one of my favorite five minute bouts in recent memory, started off quick right off the bat and solid back and forth action despite a slip up here and there. I didn't expect the two to work so well together and I'm happy I was wrong in that regard, and even Shiki impressed me here with her performance as well. Five minutes later, Shiki would get the roll up on AZM to advance to the finals on March 28th. I probably would've went with AZM to get the win, but she'll definitely get other opportunities and can always be the first challengers to either one. Looking forward to the finals.
Recommended:  I enjoyed it a lot, so go ahead.
Six Man Tag Team Match
Jungle Kyona, Konami & Ruaka vs. Keneisha Moon, Starlight Kid & Tam Nakano
Review:  It looks to be Keneisha Moon's first match in STARDOM according to the pre match interview, but I don't know what other promotion she's from or if she's just completely new, but I'll soon find out for myself. Tam also trying to think she's a masked wrestler during the interview so she wouldn't feel left out…I guess this is why Oedo Tai abuse her. The match was mostly focusing on Starlight Kid since she had the most offense in the match with Keneisha and Tam only did a couple of things here and there, but the other team almost had an equal amount of time in. The match itself was average enough, but did it's job for helping Starlight Kid as she got the win over Ruaka with her Rounding Moonsault.
▪️2018年3月25日(日)新木場1stRING
◆中野たむ&スターライト・キッド&ケニーシャ・ムーン vs ジャングル叫女&小波&ルアカ

メキシコWWS王者ケニーシャが初来日しスターダムと合流。ルアカが始めて6人タッグに抜てきされたが…

会員登録は https://t.co/lZc15hAPwd pic.twitter.com/m7hX9f2lOv

— スターダム/STARDOM (@wwr_stardom) March 26, 2018
Recommended:  This one is pretty skippable.
Six Man Tag Team Match
Faby Apache, Mary Apache & Mayu Iwatani vs. Hana Kimura, Kagetsu & Natsu Sumire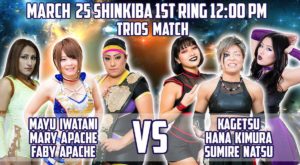 Review:  Oh hey, Kris Wolf is back with Oedo Tai, awesome to see her back. We also get to see the Apache Sisters in action again and they did great last time, so it's exciting to see them team with Mayu. Oedo Tai still have the best entrance together in Stardom and Kris Wolf being back with them made it look better with just the four of them. Very entertaining tag match here with everyone have awesome spots together in the ring and even Natsu flogged Mayu right in the face out of nowhere! I appreciate a good flogger, but ouch that looked painful. Apache Sisters are still on a roll with their matches in this tour as they delivered again in this match and hopefully they stick around a little bit longer at least. Kagetsu also hits a really nice 450 Splash during the match, but that wasn't enough to get the win as Mary Apache pinned Kagetsu with a Michinoku Driver to pick up the win. Since she got the direct win over one half of the Goddesses of Stardom Champions, I wonder if the Apache Sisters get a title match against Kagetsu and Hana soon? I hope so, since it could be a good one.
Recommended:  Yes, very fun match.
Artist Of Stardom Title Match
HZK, Io Shirai & Viper (c) vs. Bea Priestley, Toni Storm & Xia Brookside
Review:  I don't know why, but Toni storm is always so awkward in these pre match interviews and I cannot tell if it's intentional or not, anyway Toni is looking to win her fifth belt here and that might be the case, so we'll see. Also didn't know this, but apparently Io's next Wonder of Stardom title defense is against Bea Priestley, so this is gonna be a little preview for them here, and same with Viper and Toni Storm as they're scheduled to fight on the March 28th show. The beginning of the match is exactly what we needed with Viper/Toni and Io/Bea showing off their little previews as to what they have in store for us when we get our actual matches coming up soon and already excited to see them. Bea does remind me a bit of Will Ospreay while not as acrobatic as him, but still pretty quick and agile, then again she is dating him. Great match here as everyone did well from beginning to end, nothing stood out as bad, except a sloppy spot, but it was hardly noticeable, and the ending sequence was great as Queen's Quest retain in their third defense as HZK pinned Xia Brookside with the Atomic Bombs Away.
After the match however, Kagetsu came out to try and convince Io Shirai to be involved in the upcoming Exploding Death Match on April 1st after being annoyed about her declining the last time. Io then declined again and thinks Kagetsu is making her do this because she's afraid to fight her in a normal match. Kagetsu proposes a deal with her that if she agrees to be in the Death Match, in exchange she will fight Io one on one for the Wonder of Stardom Championship in a Strong Style Match like she wanted. Tam came in to beg and plead with Io to be her partner as she even gets on her knees, Io would then slap her in the face asking her why she even came to STARDOM, but she would eventually accept and walk away from the ring. Sign me up for both of these matches.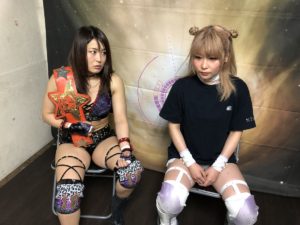 Recommended:  Definitely give it a watch.
Hiromi Mimura Retirement Countdown Gauntlet Match
Hiromi Mimura vs. AZM, Hanan, HZK, Io Shirai, Kagetsu, Kris Wolf, Mayu Iwatani, Natsuko Tora, Shiki Shibusawa, Starlight Kid, Tam Nakano & Viper
Review:  Before I talk about the match, let me explain how this works. This is normal for people that are leaving STARDOM or just retiring as the person fights a number of wrestlers in a gauntlet match with a one minute time limit with each participant. The match can end in a draw or someone winning and soon as it's over, the next one comes in and it keeps on happening til the last participant is in. First one fighting Hiromi is Hanan and I don't know why Hanan was smiling for most of the match, but kinda threw it off a little bit and she even had Rukaka involved for a bit, but ends in a draw and onto the next one, Shiki Shibusawa. This one was just sloppy to me and ever Shiki hitting a terribly botch Bulldog, but that was just bad timing and we have another draw as Starlight Kid is next. This one started off really strong with them getting right into the action, but simmered down in the end and even had another draw when Starlight was so close to pinning her, up next is AZM. Nothing really to talk about this one since it was just a whole minute caught in a roll up back and forth with nobody getting the pin here, so far Hiromi didn't win or lose yet, but up next is Natsuko Tora. Tora went to go for a hug, but instead she gives her a Spear and tries to make quick work of her, but soon as she missed her Splash, the bell rang and another draw as Tam Nakano comes out next. Tam would use her stuffed Panda to hit her as a weapon, stop the carnage with Panda violence, even Hiromi throws her out of the ring and another draw, now we have HZK. We get ANOTHER draw right here as HZK just looks to try and wear Hiromi down since she already looks like she's out of breath here, up next is Kagetsu! However, this mostly turns into a Oedo Tai beatdown for the minute, but Hiromi was able to hold them off til the time stopped to have another draw and Viper is next. Nothing really happens in this one as Hiromi was just ducking the tie-up's and Viper playing toro with her til the time ran out as Io Shirai is next. Io would make quick work with her for a bit and goes for her Moonsault, but misses as Hiromi went go to after her and gets rolled up for her first lost in 58 seconds, up next is Mayu Iwatani, Mayu would hit her with a move and call all the participants in for a group SHOUT Dropkick and then pin her, giving Hiromi her second loss and our last participant, Kris Wolf. It looked like Kris was about to win, but Hiromi's partner Konami would kick Kris off and hold her down so Hiromi would be able to hit her and after reversing a roll-up, Hiromi would win the last match making her 1-2-9.
After the match, Hiromi would bring up her final match on March 28, but we also learn with this was Kris Wolf's last match in STARDOM also, I am sad now. Kris said she's been with Stardom for over three years and she wishes the company luck and to keep supporting them. Hiromi would introduce a new class of talent as they introduce themselves, their names are Misato and Utami as they look to possibly have their debut around the summer time. Hiromi would call everyone in the ring and end the show with a loud SHOUT.
▪️2018年3月25日(日)新木場1stRING
◆美邑弘海シャウト・カウントダウン 10人掛け

いよいよラスト新木場となった美邑が10人を相手にシャウトしまくったが…最後の相手としてデビュー戦を闘ったクリス・ウルフが登場。

会員登録は https://t.co/lZc15hAPwd pic.twitter.com/aCnUvgq6Pf

— スターダム/STARDOM (@wwr_stardom) March 27, 2018
Recommended:  It was fine and a nice ending ceremony, also a goodbye to Kris Wolf and good luck to wherever she goes to next.
Overall: It was a pretty solid with a average beginning and ended strong, no complaints here and looking forward to their next show along with April 1st.
Favorite Match:  HZK, Io Shirai & Viper vs. Bea Priestley, Toni Storm & Xia Brookside
Least Favorite Match: Jungle Kyona, Konami & Ruaka vs. Keneisha Moon, Starlight Kid & Tam Nakano
Score: 7/10
Mitchell's WWE SmackDown Results & Report! (5/27/22)
Who's the third man, brother?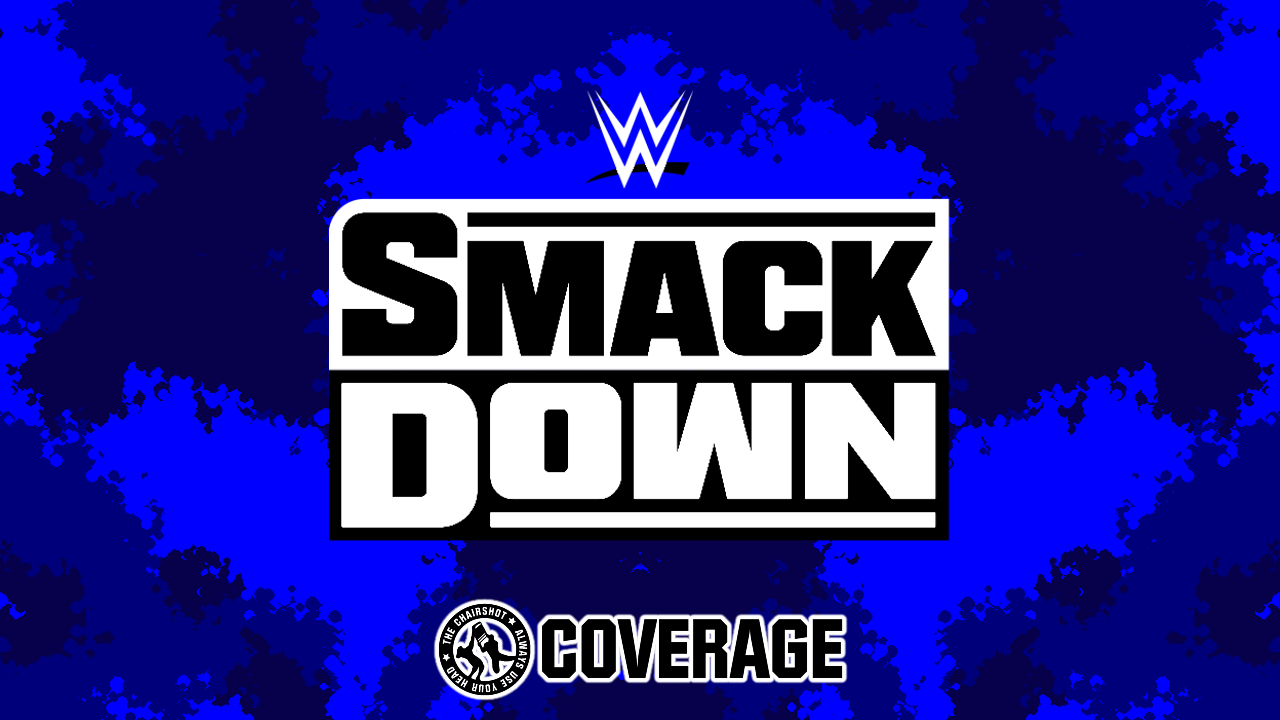 Just who (who who who) is joining The New Day?
The Brawling Brutes have been beating the New Day SmackDown after SmackDown, but now Xavier Woods & Kofi Kingston even the odds! But with who?
OFFICIAL RESULTS
SmackDown Women's Championship Contender's Match: Ronda Rousey VS Raquel Rodriguez; No Contest.
Ronda Rousey & Raquel Rodriguez VS Natalya & Shayna Baszler; Ronda & Raquel win.
Los Lotharios VS Jinder Mahal & Shanky; Los Lotharios win.
Ricochet & Drew Gulak VS Imperium; Imperium wins.
Six Man Tag: The New Day & Drew McIntyre VS The Brawling Brutes; New Day & McIntyre win.
PLAY BY PLAY
Ladies and gentlemen, welcome the NEW Undisputed WWE Tag Team Champions!
Jimmy & Jey Uso walk out, the 312 day SmackDown Tag Team Champions, but also THE tag team champions of the WWE! They get the mics while shouldering the belts, and Jey welcomes Little Rock to the show! Jimmy says before getting the celebration on, everyone put their fingers up to thank the Tribal Chief, the Needle Mover, the Head of the Table, and the Undisputed WWE Universal Champion, their cousin, Roman Reigns! Jey also thanks Big Uce to allow them to beat RKBRO all on their own. Thank you, Roman. Fans boo that bold faced lie, but Jey says he'll get real and off script.
Those rocking with the Usos since day one, you know that two days ago marks 12 YEARS in the WWE. Fans do applaud that, that is a triumph. 12 years ago, the Usos walked out and never in a million years would Jey have thought they'd still be here after all that. For 12 years, the fans have cheered them, booed them, seen the ups and the downs. But that means that for 12 years, y'all watched these two grow up. That means for 12 years, all these plane rides, the miles on the road, the time being away from family, you know who was there for the Uso? Fans cheer because they know, it was all of us fans! Real talk.
But check this out. The world is crazy these days. Jey loves coming to the WWE and entertaining the fans. So from the bottom of their hearts, for their family, the Usos want to say thank you to the fans. Fans cheer that in thanks back. Jimmy takes a breath as the fans chant, "UCE! OH! UCE! OH!" Jimmy then says, "For the past 12 years, we've also realized that… We absolutely needed NOBODY~!" GOTTEE! All they needed were each other! They didn't need you, you, or you! The Bloodline is drippin' in all the gold! Look upon your undisputed! Unified! WWE Tag Team Champions!! Don't boo them! Boo Randy for not being here!
Where is Randy? Home! He got bodied by the Usos! And Little Bro, got his ass crying like the kids last week. Riddle is looking at the true tag team! He the two, and #WeTheOnes! But here comes SHINSUKE NAKAMURA! He tells the Usos that he and his partners challenges them to a match for those tag titles! HE wanted to get them by himself but Nakamura asked to join. What? Well where is his partner? Peg Leg Pete, the dude who got busted? Rick, BOOOGS~? No, it's THE BRO! Matt Riddle is teaming with the King of Strong Style! Will they get revenge on the Usos together? They rush the ring, and they brawl at the ropes!
Fans fire up, Jimmy sends Riddle down, Jey sends Nakamura down, but Riddle rushes right back in! He fights them both, but they throw him out! Nakamura gets back in, but he gets mugged, too! Riddle returns with a FLOATING BRO ATTACK! Fans fire up as Riddle and Nakamura get the Usos up! Nakamura throws Jimmy out, ROUNDHOUSE! Riddle DECKS Jey! The Usos grab up their gold and get outta there! Will the Usos be able to handle the #BrosOfStrongStyle?
SmackDown returns as Riddle and Nakamura talk backstage.
The Bro wonders what they should call themselves. Nakamura Bro? Kayla says they did look good out there, but how would Randy feel about this? Actually, this was Randy's idea. and Nakamura is pleased. He may not be B0ogs, but Riddle and Nakamura will dominate. And Nakamura may not be Randy, but there's potential for greatness here. Will these two becoming the ultimate
SmackDown Women's Championship Contender's Match: Ronda Rousey VS Raquel Rodriguez!
Last time was for the SmackDown Women's Championship, but this to see if Big Mami Cool can earn another shot! Of course, backstage, we see Shotzi, Xia Li, Aliyah, Natalya and Shayna Baszler watching from the locker room. Shotzi complains that Raquel is getting another match with Ronda when she choked! Why are all of them getting passed over? Xia is undefeated in the WWE, so why isn't she out there? Xia thinks about that, then storms out. Aliyah may be annoying but she has the fastest win in WWE at 3.16 seconds. Even she deserves a shot. Aliyah tells Shotzi to just shut up, then she storms out.
But Natty has more wins than any woman in WWE history! She is a living legend! If she had the same opportunities as Raquel, she'd be champion now! And Shayna, straight up, you're a killer. Raquel has zero killer instincts. They are the best in the world yet here they are, letting another opportunity pass them by. So then, what're they gonna do about it? Spades & Hart look at each other, is there an understanding between them and the wild card? Will they do something about this while Raquel faces Ronda?
SmackDown returns and Ronda makes her entrance. And now Shotzi, Natty & Shayna decide to go out there to stop this! Shayna & Natty go first, Shotzi has to get her helmet. But then the door is locked!? Shotzi gets shut out of her plan! By Aliyah! Payback! Back tot he ring, though, the match begins and Ronda dodges Raquel. Then she fires hands, but Raquel waistlocks and SLAMS Ronda! Raquel drags Ronda up but Ronda elbows free and throws kicks. Ronda goes up but Raquel holds her up! Only to end up in a HANGING ARMBAR! But Raquel drags Ronda up, only for Ronda to cradle! TWO, and Raquel kicks low.
Raquel gut wrenches Ronda up to a Canadian Rack! And then she BENDS Ronda's arms! But Shayna CHOP BLOCKS Raquel down!
Winner: Raquel Rodriguez, by disqualification
Shayna & Natty mug Raquel but Ronda goes after Natty! They brawl, Shayna runs in but Raquel blocks a knee! Raquel dumps Shayna out, Ronda BOOTS Natty out! Fans fire up as the baddest and the biggest women on SmackDown are standing tall! But will there be something more after the break, playa?
Ronda Rousey & Raquel Rodriguez VS Natalya & Shayna Baszler!
SmackDown returns and holla holla, we have a tag match! Natty stomps Raquel's leg, tags Shayna, and Shayna puts the leg in a toehold. Raquel endures while fans rally for her and Ronda. Raquel kicks at Shayna with the free leg, but Shayna turns her over to isolate the foot and STOMP it! Raquel gets to a neutral corner, Shayna blocks the kick and JAMS the bad leg! Shayna puts Raquel in the corner but Raquel BOOTS her away! Raquel swipes at Natty but Shayna KICKS away on the bad leg! Shayna puts the leg on the ropes for a HIP- NO! Raquel boots Shayna out! Raquel crawls but Natty gets Shayna in.
Natty tags in, drags Raquel back, and steps through! But Raquel fights out of the Sharpshooter! Hot tag to Ronda! Fans fire up as Ronda rallies on Natty! Drop sayanagi after sayanagi, and Ronda fires up! Ronda boots but Natty blocks to trip her! Natty steps through, SHARPSHOOTER! Ronda endures, reaches out, crawls over, but Natty drags her away! Natty sits deep but Ronda still fights! Ronda reaches out, Raquel tags back in! Raquel CLUBS Natty down! Natty tags Shayna but Raquel rallies on her! Raquel swings, CLOBBERS Shayna, and fires up to fight through the bad leg! The bad leg gives up on the bomb, but Raquel HEADBUTTS Shayna down!
Raquel goes up the corner, TWISTING VADER! Cover, Natty breaks it! Ronda goes after Natty but Natty hits her first. But Ronda throws Natty out! Raquel shoves Shayna into Ronda, and Ronda snarls at her old pal. But then Natty drags Ronda out! Natty and Ronda trade hands, Raquel gets Shayna up for the TEXANA BOMB!! Cover, Raquel & Ronda win!
Winners: Ronda Rousey & Raquel Rodriguez, by pinfall
A huge win for Rowdy Ronda and Ricky Desperado! But will this keep back the tide of those coming for them both?
Backstage interview with The New Day.
Megan asks Kofi Kingston & Xavier Woods who their partner will be in tonight's match. Uh, does Netflix give away the ending to Stranger things? Does Bad Bunny give away all the songs before the album drops? The point is, errybody, and they mean errybody, has been blowin' up the phones of the NEW~ DAY~ Because they wanna fight the Brawling Brutes. With Big E out, this could be anyone joining them! Even Moon Knight! Or Max Moon! Or Reed Richards, Mr. Fantastic. Or a fantastic beast. Or some dude off the streets! It could be anyone. Even Megan.
But what ya bois have is the element of surprise. They won't go out there outnumbered. Tonight, they will take on and defeat those Brawling Brutes. BECAAAAAUSE~! NEW! DAY ROCKS! NEW! DAY ROCKS!
Mad Cap Moss posts a message to Happy Corbin.
"You spit in the face of Andre's legacy. You tried to end my career. But you didn't, cuz Mad Cap is built different. Corbin, get ready to see a side of me you've neve seen before. No jokes. No cap. Next week on SmackDown, I'm coming to WHOOP YOUR ASS!" Will Corbin wish he'd never even brought Moss up to SmackDown?
Los Lotharios VS Jinder Mahal & Shanky!
The Lethal Lovers are back in action, and also bring the Kiss Cam with them. They spot a lovely lady in the front row and give her kisses on the cheeks. But will Angel Garza & Humberto Carrillo be kissing the mat against the Modern Day Maharaja and his towering sidekick? Or will they be blowing kisses to everyone with a win tonight?
SmackDown returns as Jinder & Shanky make their entrance. Or, maybe not? The music hits but Jinder is looking for Shanky. Shanky is jamming out to the theme song, but he should be going to gorilla! Well, the Lotharios flirty with ring announcer Samantha while they wait. Now Jinder & Shanky make their entrance, and Shanky is still jamming out. The teams sort out, and Carrillo starts with Shanky. They tie up, Shanky powers Carrillo to a corner but Carrillo goes up the ropes. The ref counts, Shanky lets go, and Carrillo leaps! But Shanky catches him, shoves him, but Carrillo ducks, only to get a BOOT!
Shanky roars and fans fire up! Shanky gets Carrillo up, tags in Jinder, and they mug Carrillo. Jinder CLUBS Carrillo, whips him to ropes but Carrillo RANAS! Carrillo dropkicks Jinder, tags Garza, and they set up for the LEAP FROG ATTACK! They then DOUBLE CHOP Jinder, and Garza fires off haymakers! Jinder throws body shots back but Garza headlocks. Jinder powers up, Carrillo tags in and Garza reverses. Jinder KICKS Garza, back drops Carrillo, but Garza dumps him out! Garza WRECKS Jinder with a dropkick! Jinder hits the desk, Garza puts him back in. Garza then grins at Samantha and OFF COME THE PANTS!
But Shanky creeps up on Garza while he swivels, and he shows off his dance moves. Shanky CLUBS Garza, then SUPERKICKS! But Carrillo SUPERKICKS Jinder! Cover, Los Lotharios win!
Winners: Los Lotharios, by pinfall
So much for Shanky's good time! Garza & Carrillo snatch that win, and Jinder is upset with Shanky losing focus! They lost again because Shanky was too busy dancing! Shanky tells Jinder no more! Jinder storms off, and Shanky looks at Samantha. She smiles and the fans chant for "Shanky! Shanky!" as he does his Bollywood best! Is Shanky going to be his own man from now on?
Adam Pearce is visited by Max Dupri.
Max hopes Mr. Pearce has reached out to his legal team and verified the contract so that Maximum Male Models can begin recruiting. Isn't it about time SmackDown unleashed Max Du-PRI? Well, yes, turns out it is legal and binding, Max is onboard. Say it right, they did this last week. Max Du-PRI! Well, Max can teach everyone how to say the name because he is officially on SmackDown. Oh, y'know what this means? That means the process of Maximum Male Models finding their first client is on. And by the way, Pearce doesn't make the cut. Max heads out, but just who will he say is a fit for MMM?
Kevin Owens is here!
It's a very special edition of The KO Show! Kevin promises a member of The Bloodline as his special guest! Will it be the Usos? Paul Heyman? The Tribal Chief himself? We find out, after the break!
SmackDown returns and Kevin has his own custom KO mic. Kevin welcomes us to this special edition of HIS show! And for the last few months, Kevin has been seeking the truth and dealing with a liar by the name of ELIAS! NOT EZEKIEL! ELIAS! At Hell in a Cell, Elias will regret showing his stupid, beardless face in the WWE! That brings Kevin to his guest tonight. There is a special reason why this is Kevin's guest. It's the locker room leader and close personal confidant of the Bloodline, SAMI ZAYN! Of course it's Sami… Fans boo because now who is lying? But Sami and Kevin reunite after a long time apart, with a BIG hug!
Kevin and Sami are so happy to see each other, they look great. Sami's flowing locks are amazing! Sami says last time, they had some bad blood, but they're always up and down. They don't even remember what it was about. But Sami's been killing it here! He is the leader they sorely need. And what he's doing for the Bloodline, it's unbelievable. Oh, don't sell yourself short. Kevin is doing great on Raw! Elias? Ezekiel? Uh, clearly the same person! C'mon! How does no one see it? They hug again because Kevin is touched that Sami understands. Is he crying? N-No… Just finally good to hear someone say it!
Everyone knows it's Elias! But everyone plays along and it's horrible! But these two always have each other's back! Always. Well not always. No, always. But tonight, this is why Sami is Kevin's guest. Kevin needs Sami to kinda drop what he's doing on Smackdown to go to Raw so he and Kevin can call out all the liars! That starts with Elias. Let's go. C'mon. Uh, look, Kev. Sami's always got your back, but now is not a good time. He has a lot on hips plate leading SmackDown. They need him, the Bloodline needs him, it's just not a good time, Uce. Uce? Did you just say, "Uce?" Did he? Yes. That's weird. He's been hanging out with the Usos so much, they're rubbing off on each other.
This is the side Kevin forgot about Sami. He's naïve. No he' snot! Ye she is! Uce?! Sami is not actually in the Bloodline. Yes, but he's an associate. No, no, you're not. Frankly, Kevin is sorry to say this, but Sami is praising them, wearing their merch, he looks like a moron. Let's just cut it out and listen to your real friend. Oh, real friend, huh? Moron, huh? Sami was being nice. Sami says Elias and Ezekiel are clearly different people. Brothers who don't look like, there's photos that prove it. Who is the moron? NO, SAMI IS MORON! They're not different people! Kevin is a liar! Well Sami's a moron! Liar! Moron! Liar liar pants on fire! TOO FAR! They're not on fire!
Sami needs to snap out of it! If he's so tight with the Usos, why did they leave him high 'n' dry on Raw? Sami is like this with them, right Then Kevin can call them out, and they won't leave Sami high and dry. Ladies and gentlemen, the Bloodline! … Well, give them a sec. Then Kevin will say it louder. Ladies and gentlemen, THE BLOODLINE!! Still nothing. Kevin tells Sami that the reason they're not coming out is because the Bloodline couldn't care less about Sami. He's sorry but that's true. Sami looks around and says "Whatever, man. You don't know what you're talking about." Sami leaves, but Kevin chases after. Forget them, come to Raw!
Sami SHOVES Kevin! Sami tells Kevin to leave him alone and go back to Raw without him. Sami has a locker room to lead! Kevin is speechless, and ring staff already pack up his set. Kevin gets mad at the staff and gives one a STUNNER! Kevin glares at the other guy and the other guy says to calm down. Kevin says he's right. Then STUNNER! Kevin leaves the ring, but will he be able to forget what happened between him and Sami?
Ricochet & Drew Gulak VS Imperium!
The King of Flight and the Philly Stretcher team up to take on Der Ring General and Ludwig Kaiser! But will they get payback on GUNTHER together? Or will SmackDown and the mat become sacred?
SmackDown returns and Ludwig has the mic. "Ladies and gentlemen… The mat is sacred! Only one gives the rightful respect it truly deserves. DER RING GENERAL…! GUNTHER!" With that, Imperium makes their entrance and go to the ring. The teams sort out and Ludwig starts with Gulak. They tie up, Ludwig arm-drags, brings Gulak around and has the armlock. Ludwig grinds the shoulder but Gulak headlocks back. They end up on ropes, Ludwig turns things around to cravat and choke Gulak! The ref counts, Ludwig lets off and Gunther BOOTS Gulak down! Ludwig fires off stomps and hands, then tags Gunther!
Gunther brings Gulak up to TOSS Gulak out of the ring! Gunther shows no mercy while Ricochet checks on Gulak, and SmackDown goes to break.
SmackDown returns again and Gunther ha Gulak in a motorcycle stretch! Gulak fights up, but Gunther CHOPS him down! Gunther then stares down the Intercontinental Champion, then he stomps Gulak down. Tag to Ludwig and he waistlocks. Gulak reaches out for Ricochet, throws elbows, and fans fire up as he reaches again! Ludwig holds on, swings, but Gulak dodges! Ludwig scoops, Gulak escapes, tag to Ricochet! Ricochet fires off on Ludwig, whips, Ludwig reverses but Ricochet RANAS! Then he dodges to springboard CROSSBODY! Gunther gets in and the ref tells him to go back. But that was just to distract, Ludwig rolls Ricochet up, TWO!
Ricochet JUMPING KNEES Ludwig! Ricochet stares Gunther down now, fireman's carries, but Ludwig rakes eyes! Gulak tags in before Ludwig tosses Ricochet! Gulak fires off, Ludwig THROAT CHOPS! But Gulak boots! Ludwig blocks, "NEIN!" He ROCKS Gulak then HALF HATCH SUPLEX! Ludwig grinds, drags Gulak up, fans boo but Ludwig runs to PENALTY KICK! Cover, Imperium wins!
Winners: Imperium, by pinfall
Ricochet gets back in to keep them from doing any more to Gulak, but he should worry about himself! Gunther BOOTS Ricochet out, Ludwig PENALTY KICKS Gulak again! Will Imperium soon reign over SmackDown?
Sami apologizes to the Usos.
He is sorry but he just feels Kevin said some truths. He isn't sure he's getting respect for what he's putting in. They can tell him the truth. What do they think of Sami? What is he to them? Cuz here's what he's thinking. What if Sami joined the group? Not by blood or anything, but like an honorary member. Sure, honorary Uce works. Yeah, there we go! Sami says they're smart, this is the right choice. Now, if they need anything, he's got them. And if he needs anything, they have him. Got you, Uce! Peace! Sami is fired up, but is he just being strung along?
BREAKING NEWS!
For Memorial Day Monday, Riddle & Nakamura get a Championship Contenders Match against The Usos! If The Bro & The King of Strong Style can take down Jimmy & Jey, they'll get their shot at the Undisputed WWE Tag Team Championships!
SmackDown celebrates Memorial Day early.
"They didn't volunteer to die. They volunteered to defend values which make up what we call civilization." – Ronald Regan
"What doe sit mean to be selfless? To have the courage to put all else first for a greater cause? In every generation, there are those who put everything before themselves. And this weekend, we honor them." The men and women who fought for our freedom, from World War I to Desert Storm, Normandy to Afghanistan. Look back at the moments, the events, that defined America's history. The struggles, the battles. Remember those who made the ultimate sacrifice. Ronald Regan said that we honor their memory so that their pledges and sacrifices will be remembered.
We show our gratitude to those who shaped us, who guided us, and who ensured our values and freedom would live forever. We show reverence and respect. On this weekend, we say, "Thank you."
Six Man Tag: The New Day & ??? VS The Brawling Brutes!
The numbers game has been in the favor of the Fight Night Boys after Big E's horrible accident, but Woods & Kofi have found a way to turn things back around! But just who (who who who) is the third man, brother? We'll find out, after the break!
SmackDown returns and Sheamus has a mic. "What's the story? Now let me make one thing perfectly clear, yeah? It's FIGHT! NIGHT! FIGHT! NIGHT! Every night!" But the New Day don't want a fair fight! They won't tell us who the mystery partner is, but Sheamus doesn't care. They could bring out King Kong, Godzilla or Moby Dick. It won't matter, because they'll get a severe beatin' from these Brawlin' Brutes! It could be anyone in the world and they'd still lay out all three. And they'll all be on bed rest right next to Big E. Ain't that right, Ridge? Too bloody right! It won't matter how big and tall they are, they'll cut 'em root to stem, Right, Butch? Butch goes wild!
Sheamus says the truth is, these are two of the toughest brutes Sheamus has ever seen. New Day finds out they don't rock, "NEW! DAY SUCKS!" But here come the New Day! Woods wants everyone to hold up a sec. Brawlin' Brutes? Who are they? Off-brand Wrestle Buddies? Who is this dick they speak of? But Sheamus is right about one thing. Tonight IS fight night! But not 2v3, because Sheamus is right about something else: This will be an unfair fight. The New Day found a real physical specimen. They found a true freak of nature! A man who will steal Ridge's girl, AND Butch's Auntie at the same damn time!
So then, brutes, this man will not have any problem kicking Sheamus right in that ugly mug he calls a face. Good accent, Woods. No, don't lie to him. He was more Blackbeard than anything. Then arrrr ya ready? So who (who who who) is it? It's… DREW MCINTYRE! The Scottish Warrior knows Sheamus all too well and vice-versa! Will "Big D" McIntyre help Kofi & Woods layeth the smack DOWN on these brutes?
SmackDown returns once again and Woods starts with Butch! They rush each other, Dunne CLOBBERS Woods, DECKS Kofi, but just swipes at McIntyre. Woods whips but Dunne runs him over! Things keep moving, Woods hurdles then mule kicks! Woods CLUBS Dunne, runs, Kofi tags in and Woods hits a SWINGING NECKBREAKER! Kofi PENALTY KICKS, Woods SLIDING LARITS Kofi IMPLODER SPLASH! LEG DROP to FIST DROP to SPLASH! Cover, TWO! Kofi brings Dunne right up, wrenches, tag back to Woods. Dunne gets away but the New Day dodges him to DOUBLE BULLDOG!
Woods rains down rights on Dunne, then brings him up. Dunne fishhooks Woods' face! Dunne ROCKS Woods with a right, tags Sheamus, and Sheamus CLUBS Woods down. Sheamus stomps Woods, brings him up and gives him BEATS OF THE BODHRAIN! Sheamus goes all the way to nine, then tags Dunne so he can give Woods way m ore shots! Ridge then tags in, he drags Woods around and suplexes him into the ring! Cover, TWO! Ridge drags Woods up, whips him to ropes, but Woods ducks and dodges, Kofi tags in before the slide! ROLLIGN ELBOW, then FLYING AX HANDLE! Fans fire up with Kofi and he whips Ridge to a corner.
Ridge reverses, Kofi goes up and missile dropkicks! Dunne misses his chance to swipe at Kofi, and Kofi stomps Ridge! Tag to Woods, he stomps and it's the good ol' stampede! Dunne runs in but is sent right back out! And now the tag to McIntyre! Little Rock fires up as McIntyre joins in on the stampede! Tag to Kofi, McIntyre DECKS Dunne, and McIntyre whips Kofi in for a basement dropkick! Kofi claps it up, "NEW! DAY ROCKS!" But Ridge pushes Kofi to a corner. Kofi boots back, Sheamus distracts, Dunne sucker punches Kofi! Ridge POUNCES Kofi, roars "FIGHT NIGHT!" and the brute shave control as SmackDown goes to break.
SmackDown returns again and Dunne keeps Kofi from the corner! Kofi throws hands, Dunne holds on and whips Kofi into the brute corner! Forearm smash then tag to Ridge, but Ridge keeps Dunne from going after McIntyre. Ridge RAMS Dunne into Kofi, tag to Sheamus! POWERSLAM and Sheamus is up top, KING KONG KNEE! Cover, TWO! Sheamus tags Ridge back, they get Kofi up and Ridge ROCKS Kofi with a forearm. Tag to Dunne, they mug Kofi but Kofi fights back! Sheamus gets in, IRISH- NO! Kofi slips out to DDT! Fans fire up as Kofi and all the brutes are down! Kofi crawls, but Dunne trips Woods off the apron! Ridge trips McIntyre!
Ridge RAMS McIntyre into steps! Sheamus CLOBBERS Kofi, Alabama Lifts, ALABAMA SLAM! Cover, TWO!! Kofi survives and Sheamus is shocked! Sheamus fishhooks Kofi's face for the Dublin Smile, but Kofi fights up with body shots! Sheamus swings, into SOS! Both men are down and fans fire up! Kofi crawls, and McIntyre rises! Fans fire up for the hot tags to Ridge and McIntyre! McIntyre rallies on Ridge! McIntyre whips, CLOBBERS Ridge, then clinches in a corner for the OVEREHAD Belly2Belly! Dunne laps in, but into a clinch! OVERHEAD Belly2Belly! Dunne flounders out, McIntyre dodges Ridge to NECKBREAKER!
McIntyre kips up and fans fire up! McIntyre grins and waits on Ridge, but Dunne leaps on for a SLEEPER! McIntyre tosses Dunne out of the ring! Woods gets in, builds speed and he RWECKS Dunne with a dropkick! But Sheamus BROGES Woods! Kofi FLIES and takes out Sheamus! Fans are thunderous as McIntyre has Ridge! Ridge throat chops! Ridge scoops, but McIntyre fights free and shoves, to GLASGOW KISS! Then from the corner, "THREE! TWO! ONE!" CLAYMORE!! McIntyre tags to Woods so he can finish this! Woods goes up, tightrope walks, LIMIT BREAKER!! Cover, #DrewDay WINS!
Winners: The New Day & Drew McIntyre, by pinfall
Vengeance and vindication here in Little Rock! But New Day wants McIntyre to stick around to celebrate! Woods plays the trombone and Kofi gets the hips into it. They want McIntyre to take a turn! Fans fire up for it, and McIntyre figures why not. He does a strut, a shoulder shimmy, and a little spin around! #DrewDay roar in victory, have they all dealt with those Brawling Brutes once and for all?
---
My Thoughts:
This was actually a really fun episode of SmackDown here, though not without its strange choices. I feel like the meta of Shotzi's promo escaped the writers. Why have Ronda VS Raquel so soon already after their previous match? Why  not have Raquel go against the Heels who criticized the booking? And of course it leads to an "impromptu" tag match, Raquel & Ronda getting a great win over Shayna & Natty. I do like that we got interaction between Ronda and Shayna. Maybe Shayna can step up and get her shot to feud with Ronda for a stretch? A little late to set anything up for Hell in a Cell, but maybe something for Money in the Bank? Ironically, that might've helped ticket sales but oh well.
I liked the opening segment of Usos giving us a work shoot of their heartfelt feelings that then raise their Heel heat. And I like that while Nakamura is without Boogs and while Riddle is without Randy, we'll get these two trying for the tag titles together. We have already heard Roman is not defending his title(s) at Hell in a Cell, but maybe if Bros of Strong Style win on Monday, we get a last minute addition to Hell in a Cell for those tag titles. We also got a hilarious and amazing segment from Kevin Owens & Sami Zayn where they build both their stories of being delusional at the same time. That segment shows why those two should reunite and go for those tag titles very soon.
Moss has a good social media post promo, his return next week is going to be great. Max Du-PRI has a good segment with Pearce, and now that MMM is getting going, can't wait to see who Max brings in and see how this goes. It'll probably be a bit goofy but I suppose if it gives people screen time, there should be no complaints. I like that we got Imperium taking on Gulak and Ricochet. Gulak of course takes the loss but it was cool that Ludwig got the pin. He finally gets going on SmackDown, and there's still ways for Gunther to get at the Intercontinental Championship. Too bad it's not in time for Hell in a Cell. Maybe MITB will have one because duh, this title needs to be on a PPV again, and it sounds like this PPV needs more to it.
And of course, great stuff from The New Day. Great interview promo, good pre-match promos from them and The Brawling Brutes (I still hate how lazy Vince and team are in naming them), and naturally, it was McIntyre. We didn't get as much between McIntyre and Sheamus as I was hoping for but that's because Dunne being frantic and all over the place seems to take the focus of the match and the story. Naturally, #DrewDay wins because New Day needed to get even with the Brutes, and McIntyre needed to get going again here. But I feel like this feud is going to keep going. Maybe we get McIntyre VS Dunne? That'd be awesome stuff, at least.
My Score: 8.4/10
Mitchell's AEW Rampage Results & Report! (5/27/22)
The Young Bucks are on a Rampage!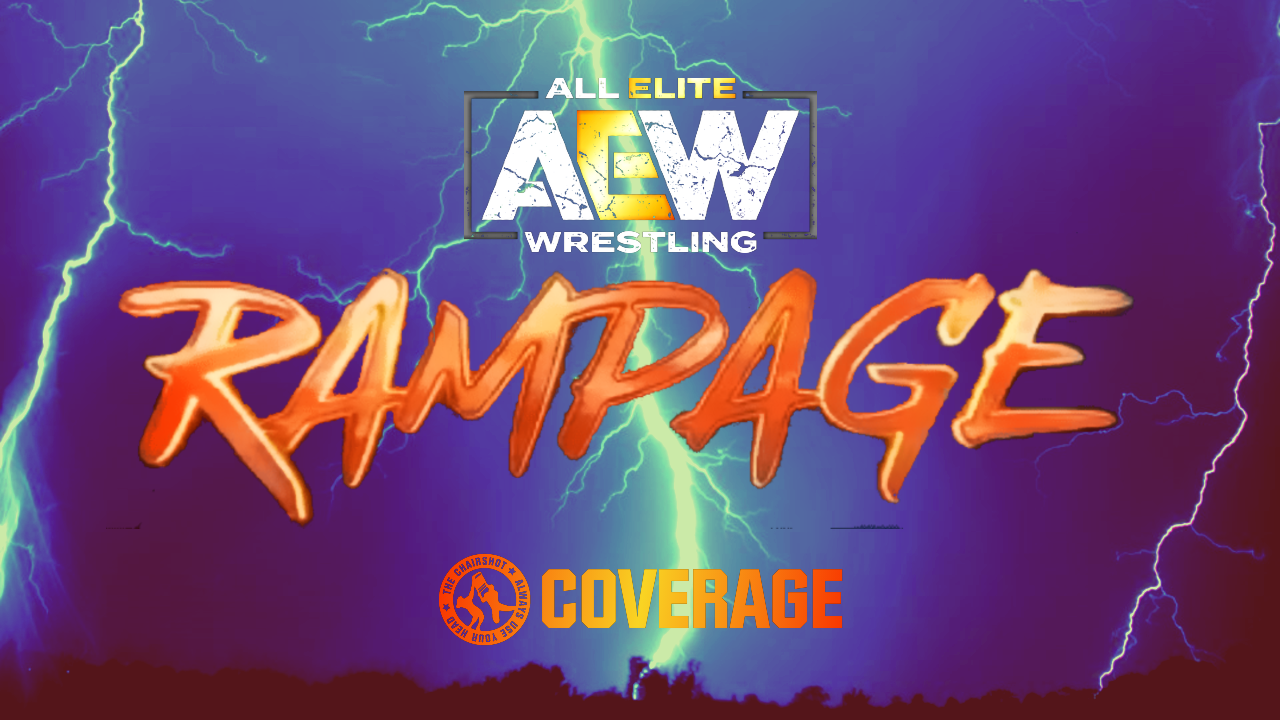 Time to pregame before the SUPERKICK, PARTAAAY~!
Before going Double or Nothing with the Hardy Boyz in Las Vegas, The Young Bucks are in action on another early edition of Rampage!
OFFICIAL RESULTS
Bryan Danielson VS Matt Sydal; Bryan wins.
The Young Bucks VS Jon Cruz & Taylor Rust; The Young Bucks wins.
Max Caster VS Dante Martin; Dante wins.
Owen Hart Foundation Women's Tournament: Ruby Soho VS Kris Statlander; Soho wins and advances to the finals.
PLAY BY PLAY
Bryan Danielson VS Matt Sydal!
The American Dragon had a scary spill just last week, but he looks just fine now. Will he kick Sydal's head in to prove to the Jericho Appreciation Society he's more than ready for Anarchy in the Arena? Or will Sydal's third eye see an opening to exploit?
The bell rings and fans are already thunderous for "A E DUB!" as the two men stare down. Bryan and Sydal circle, they tie up, and Bryan arm-drags Sydal. Fans fire up more as Regal on commentary assures us, Bryan is in great shape. Bryan and Sydal tie up with knuckle locks, they go shoulder to shoulder, but Bryan gets a forearm shot in! Bryan then drops back, gets the arm, spins Sydal to a headlock, and he grinds Sydal down. Sydal endures, but Bryan throws a palm strike! Sydal endures as Bryan shifts to a cravat, Bryan snapmares and drops a knee on his head! Fans fire up and Bryan backs off.
Sydal and Bryan circle again, the two feel things out, and fans rally up. Sydal shoot sin, cravats but Bryan shove shim away. Sydal comes back for a flying-mare! Bryan stays back and shakes his head. Bryan hops up to his feet and the two circle again. They tie up, Bryan waistlocks, full nelsons and he drags Sydal down. Sydal endures, fights up and fans rally again. Sydal pries free but Bryan gets him for a BACKBREAKER! Sydal goes to ropes but Bryan brings him up to EuroUpper! Bryan has Sydal in the corner, brings him out to EuroUpper again! And again! Bryan gets the leg, turns Sydal over, and he hooks up the legs.
Sydal reaches out but Bryan grabs as the shoulders. Sydal resists so Bryan fishhooks his face! The ref counts, Bryan lets go, and rolls forward to get the head! Bryan fires off forearms then lets off, "Who's the best?!" Fans fire up because it's him! Bryan headlocks, but Sydal endures. Sydal powers out but Bryan runs him over! Fans fire up as things sped up, Sydal hurdles and WHEEL KICKS! Fans fire up more as Sydal stomps and STANDING MARIPOSAS! Rampage goes picture in picture as Sydal covers, TWO! Sydal keeps cool and he KICKS Bryan in the side. Bryan gets up but Sydal throws knees. Bryan throws knees back!
Bryan has Sydal on the ropes, ROCKS him with forearms and uppercuts, then brings Sydal around to hang him out to dry! Sydal is stuck up top, Bryan KICKS him for good measure. Bryan goes to the corner, climbs up, and he FLYING KNEE DROPS! Bryan paces around Sydal then clamps on a cravat. Sydal endures, Rampage returns to single picture, but Bryan snapmares him down to drop another knee! Cover, TWO! Sydal growls but Bryan clamps onto him for another snapmare. Sydal handsprings through to JUMP KNEE! And SOBAT! Fans fire up while both men are down, Regal says Sydal should capitalize!
But too late, Bryan gives back more EuroUppers! Sydal KICKS, CHOPS and CHOPS again! Sydal fires off forearms, whips, but Bryan reverses. Sydal WHEEL- NO, Bryan catches the kick to pop Sydal up, but Sydal RANAS! Cover, TWO! Sydal fires up and so do the fans, Sydal KICKS Bryan's leg, then KICKS it again! Bryan shoves Sydal, but Sydal QUESTION MARK KICKS! Cover, TWO! Sydal hurries up top as fans rally, but Bryan ROCKS him first! Bryan gets up after Sydal and underhooks the arms. Sydal fights free, throws forearm sand he sends Bryan down! METEORA!! But into a HALF CRAB!! Bryan has the leg, Sydal endures, but Bryan steps over to get a deep angle!
Sydal still endures and he fights around! Bryan shifts to HEEL HOOK! But Sydal scrambles to the ROPEBREAK! Fans fire up as Sydal is let go, and Bryan snarls. Bryan KICKS Sydal, and KICKS again! KICK after KICK and Sydal flounders. Fans fire up and Bryan soaks it in. Bryan has Sydal in a corner, HEADBUTTS him, then hoists him up top backwards. Bryan climbs up behind Sydal, fans fire up as he brings Sydal up, but Sydal throws down elbows. Bryan CLUBS Sydal back, brings Sydal back up, but Sydal SUPER SUNET POWERBOMBS! DEEP stack, TWO!!! Bryan narrowly escapes and fans are thunderous for "A E DUB!"
Sydal and Bryan throws shots back and forth, Sydal gets the edge, but Bryan EuroUppers again and again! Sydal spins one to a backslide, TWO! JUMP KNEE! Bryan wobbles, but he ducks the next kick to BUSAIKU KNEE! Bryan then sits Sydal up, for HAMMER 'N' ANVIL ELBOWS! Bryan hits Sydal again and again then gets the DRAGON GUILLOTINE!! Sydal is OUT, Bryan wins!
Winner: Bryan Danielson, by submission
Regal thanks commentary for having him again, and the American Dragon is on fire! Will he, Jon Moxley, Eddie Kingston, Santana & Ortiz all get their revenge on the Jericho Appreciation Society?
The Hardy Boyz are- Wait.
That's not Matt & Jeff, that's Matt and Nick! The Young Bucks are taking that comment about being Hardy Boyz cosplayers to heart! And then they bring out Gangrel!? Sadly, Brandon Cutler is stuck as Lita.
The Young Bucks VS ???
Matt & Nick Jackson are taking on Matt & Jeff Hardy for Double or Nothing in a battle of brothers as well as generation defining tag teams. But will the Bucks be able to take this all seriously while mocking the Hardys? Or will Jon Cruz & Taylor Rust be the ones with the last laugh tonight?
The teams sort out and Nick starts against Cruz. They circle, tie up, and Nick headlocks. Cruz powers out, Nick runs him over, then mocks Jeff's dance. Things speed up, Cruz leaps but into an atomic drop! Nick triops Cruz and uses the leg splitting leg drop and basement dropkick! Tag to Matt, Nick DECKS Rust, and Matt puts Cruz in the corner. The Bucks set up, POETRY IN MOTION! Fans fire up for the picture perfect recreation! Matt scoop SLAMS Cruz, goes up top, and with the V1 fingers, Matt goes to the second rope. Tag to Nick, he gets Cruz up and now the V1 fingers! Elbow drop! Nick tags Matt back in and they bring Cruz up.
Double back suplex but Cruz lands out! Tag to Rust! Rust dropkicks Nick, dodges Matt and kitchen sink knees! Sobat and SCISSOR KICK on Matt! Rust runs, but into DOUBLE SUPERKICKS! The Bucks show their true colors, but Cruz tags in! He punches the Bucks, goes up top, but the Bucks get clear to DOUBLE SUPERKICK! Matt gets Cruz up, and he hits a TWIST OF FATE! Tag to Nick, he throws off the shirt and goes up top, SWANTON BOMB! Cover, the Bucks win!
Winners: The Young Bucks, by pinfall
It seems anything the Hardys can do, the Bucks can do better! But then they attack Gangrel! Seems he is part of them making an example to the Hardys! They get Gangrel down, but the REAL Hardys appear! "DELETE! DELETE!" The Bucks stand their ground as they stare down the Hardys, but they run into kicks! Cutler attacks! But then they turn their attention to him. Gangrel kicks Cutler and hits the IMPALER! And then a TWIST OF FATE from the real Matt Hardy! SWANTON BOMB for the real Jeff Hardy! Gangrel makes up with his old friends, but will the Hardys be able to DELETE the Elite?
Darby Allin speaks.
"It wasn't Adam Cole, it wasn't Bobby Fish. It wasn't the Young Bucks, it was you, Kyle O'Reilly. It was you who took out sting." Darby wants a fight at Double or Nothing with Kyle, or else he'll interfere with Cole's match, the Young Bucks' match, and he'll just make that night a living hell. So let's make it official: Darby Allin VS Kyle O'Reilly, Double or Nothing. Will #KillerKyle accept the Relentless One's challenge?
Max Caster w Gunn Club VS Dante Martin!
Platinum Max and Angel Dorado faced off on the very first episode of AEW Dark: Elevation, and now here, just after AEW turns three years old, they meet again! But will it be a repeat of history? Or will Dante show how much he's improved since that day? Caster has a rap, of course. "Acclaimed 'n' the Gunns, we the new hot thing. Dante's out of the break, already in the ring. I'ma bend your knees like the shmoney dance. Man, you couldn't get laid at the bunny ranch! Your girl told me that you such a bitch. I'ma put you on the shelf like your brother is! Top Flight's 'bout to crash, boy! You getting beat by Acclaimed and the Ass Boys!"
Austin says they talked about this, don't use that name. "LOS ANGELES!" No, VEGAS, stupid! Oh, right. LAS ANGE- NO!! Bowens gets the mic and says, LAS VEGAAAAAS~! The Acclaimed have arrived! But Dante springboards and takes out Caster & said Ass Boys! But then Billy Gunn CLOBBERS Dante and RAMS him into the steps! Billy then helps Caster get in the ring so this match can start. The ref reprimands and EJECTS rest of the club! Bowens can't believe it, and Dante rolls Caster up! TWO!! Dante springs up but Caster KICKS the leg out! Caster stomps the leg again and again, then covers. ONE, but Caster hurries to get Dante back up.
Caster has the leg, Dante CLUBS him down, throws forearms then KICKS! Dante whips, Caster reverses and CLOBBERS Dante, to then GROUND DRAGON SCREW! Cover, ONE!! Rampage goes picture in picture as Caster stalks Dante. Caster drags Dante up but Dante throws body shots. Caster grabs hair! Dante knees low, runs up the corner, and leaps, but into Caster's arms! Caster SLAMS Dante down, gets the leg and ties him up, FIGURE FOUR LEG LOCK! Dante endures and reaches out, fans rally up, and Dante works to turn it over! Dante turns the leglock! Caster endures, but he gets the ROPEBREAK! The ref undoes the hold, Dante storms over but Caster trips him! Caster SMASHES the knee into the mat, then wraps Dante up with a leg inside the chinlock!
Dante endures so Caster shifts to focus on an arm. Dante fights up, Caster CLUBS him down. Caster whips Dante to the apron but Dante ROCKS him back. Dante springboards, but Caster BOOTS him down! Caster drags Dante in and snap suplexes! Caster covers, ONE, and Rampage goes to break.
Rampage returns, Cater back hands then back suplexes Dante! Caster goes up the corner fast, aims and MIC- NOPE! Caster has to land on his feet as Dante moves! Dante elbows Caster, sunset flips, TWO! Caster gets the leg, steps through again but Dante kicks him away to O'Conner Roll on the rebound! TWO, and Dante springs up and over! Dante jumps over again, CLOBBERS Caster, and starts to rally! Fans fire up and Dante runs at the corner, but is put on the apron. Dante KICKS Caster, goes up top, CROSSBODY! Cover, TWO! Dante hurries to the apron, fans fire up but Caster blocks the gamangiri. Dante HOTSHOTS, then resets! NOSEDIVE!! Cover, Dante wins!
Winner: Dante Martin, by pinfall
Dante avenges his loss on Elevation! Will this help Dante fly to the top of the ranks in the near future?
AEW looks closely at the Owen Hart Cup Men's Finals.
Samoa Joe says that when it comes to facing someone like Adam Cole, you must take everything into account. Cole says he is in the finals with a man he truly admires. People look at the legacy Joe has left on this great sport and Cole finds himself where he has to beat that legacy. Cole says he is a world-class pro-wrestler, he ill be a franchise player for AEW for years to come, and it all starts with these finals! After Cole beats Joe and wins the Owen Hart Tournament, the world will remember Adam Cole BAYBAY. But Joe says as the ROH World Television Champion, Cole's time is near.
The Men of the Year and Dan Lambert are in the ring.
Lambert says we live in crazy times, and there are very few things we can count on in this world. Death, taxes, and if you have bad acne, and a girlfriend whose CM Punk merch shirt is two sizes bigger than yours, you're an AEW fan! If you need anything in the world of combat sports, come see Dynamite Dan. That's what Scorpio did when he needed a new TNT Championship belt. These usually take six months to handcraft, but Dan called his buddy Ron at Red Leather Belts, and not only did he put this together in less than a week, but this is a masterpiece truly worthy of Scorpio Sky, LA's favorite champion.
Ethan does the honors, and it is a GOLD strap with purple ribbon! The TNT Champion honors the Black Mamba, and Ethan says that now that Sky has a belt to match his talent, we can all finally be finished with the trash known as Sammy Guevara and Tay Conti! But speaking of, they and Frankie Kazarian are back on the tron. They hate to interrupt the celebration, but here is breaking news! A break in at the American Top Team HQ! Luckily, they're on the scene! They bust in, keep people from calling authorities, and they see the trophies. They'll take some of those. Oh hey, the "participation trophy" TNT belt! Kaz wants that belt!
Sammy says hold on, there's something better. The BMF Championship! That is one of a kind and beautiful. You thinking what he's thinking? Kaz sure hopes not. SamTay say they'll "celebrate" with this belt. Sammy SMASHES the case open and they grab the BMF belt! And a few other belts, too. If Men of the Year want all these back, they'll be in Vegas on Sunday. And bring VanZant, too. BMF: Be Mad, Fellas. Scorpio is FURIOUS! This has gone on way too long! If they want their mixed trios match, then those three scumbags against the Men of the Year & PAIGE VANZANT is happening!
But here's the kicker: If MOTY win, then Sammy and Frankie are BARRED from challenging for the TNT Championship! They've been begging for this ass kicking a long time, and they'll get it at Double or Nothing! And after that, they are DONE! But now that SamTay & the Heavy Metal Rebel have the match they wanted, will they get the revenge they wanted, too?
Mark Henry speaks tonight's main eventers.
He starts with Ruby about what this tournament means to her. These last couple of months, Ruby's been doubting herself, second guessing herself, losing the confidence she had when she arrived in AEW. Then she earned her shot in this tournament. This could be a turning point in her career, even if she has to beat her friend and whatever version of herself she's bringing to the ring. Kris says that it seems everyone "needs" to win this. But Ruby needs to understand Kris has been here since day one, and what does she have to shown for it? No title, a blown out knee, and a back-up plan to the prestigious tournament. And all her friends have turned on her.
So Ruby needs to understand Kris isn't letting this get away from her like all the other opportunities. No one, not friend or enemy, can stop her! Then there's been enough talk. It's time for the main event! Will the Runaway's destination be Double or Nothing? Or will Statlander's new form take the form of an Owen Hart Cup finalist?
Owen Hart Foundation Women's Tournament: Ruby Soho VS Kris Statlander!
The bell rings and fans fire up as the two circle and tie up. Kris headlocks, hits the takeover, but Ruby keeps her shoulders up. Ruby headscissors, squeezes tight, but Kris kips free. Ruby sweeps, Kris kips up and sweeps back! Ruby rushes after the bad leg but Kris has the ropes. The ref counts, Ruby lets off, and fans are dueling hard. The two tie up, Kris headlocks but Ruby powers up to power out. Kris runs Ruby over and fans fire up. Kris runs, Ruby drops then shoots in to waistlock. Kris throws Ruby off and flexes! Things speed up again, Kris runs Ruby over, covers, ONE! Kris drags Ruby up to wrench and whip to the corner.
Ruby goes up and over, shows a punch, but she pulls it back! Kris gets in Ruby's face about literally pulling punches, and the two tie up again. Kris monkey flips but Ruby comes back to wheelbarrow and arm-drag! Ruby runs in at the corner, Kris dodges but Ruby FLYING ARM-DRAGS! Kris blocks the next arm-drag to ROCK Ruby with a forearm! Ruby KICKS the leg, Kris CLOBBERS Ruby! Fans fire up while Rampage goes picture in picture.
Kris glares at Ruby, drags her up, and suplexes. Kris holds Ruby up for a count of 10, then 20, before the SLAM! Cover, TWO! Kris drags Ruby up, wraps on a chinlock then makes it a cobra clutch! Ruby endures, fights up, throws body shots, and runs, into Kris' arms! Kris SLAMS Ruby down, then SPLASHES! Cover, TWO! Kris grows annoyed but she rallies the fans up. Kris drags Ruby up, scoops, but Ruby slips out to roll Kris up! TWO, and Kris scoops Ruby to SLAM her again! Kris drags Ruby up, brings her around, but Ruby turns back suplex into CROSSBODY! Ruby bounces off and the ref starts a standing count.
Kris sits up at 3, Ruby follows at 4, and they go after each other at 5 with forearms. Ruby ROCKS Kris, Kris ROCKS Ruby, and back again! They stand, throw more forearms, then Ruby HEADBUTTS! Ruby runs, but the monkey flip is bounced off the ropes! Ruby tries a DDT but Kris throws her off! Ruby comes back, into a POWERSLAM! Cover, TWO! Rampage returns to single picture as fans rally up. Kris whips Ruby to a corner and uppercuts! Kris then fireman's carries Ruby up the ropes! Ruby fights with elbows, slips around and SUPER STEINERS! Kris flounders, Ruby runs, but into a POWERBOMB! High stack, TWO!!
Kris can't believe it! Ruby survives and she gets to ropes while fans fire up! Kris runs in at the corner but Ruby dodges! Kris' bad arm hits buckles! She still fireman's carries, "This is Awesome!" but the bad arm holds the trophy lift back! NO FUTURE! But Kris tumbles out of the ring! Ruby hurries to get Kris up but Kris is almost dead weight. Ruby gets Kris on her feet but Kris shoves her away. Kris puts Ruby on the apron but Ruby FLYING RANAS back! Ruby puts Kris in, hurries up the corner, but Kris rushes in! Ruby ROCKS Kris first, reels her in by the arm, TORNADO ARMBAR DDT!! Then KIMURA!!
Kris endures as Ruby cranks on the arm, and Kris reaches out for the ROPEBREAK! Ruby drags Kris up again, turns her, but no neckbreaker as Kris pushes free. Ruby goes up, but no Deadly Nightshade! Kris has the Electric Chair, but Ruby tries to bend back. No Poison-Rana, WHIPLASH INTO BUCKLES! O'Conner Roll, CHAOS THEORY!! And then the fisherman, DRIVER!! Cover, TWO!?! Ruby survives and no one can believe it! Kris snarls, she drags Ruby up, and she CLOBBERS her point blank! Kris gets the legs and the arms, SPIDE- NO! Ruby kicks and kicks and kicks! Kris staggers, Ruby sweeps the legs! Oklahoma Roll, RUBY WINS!!
Winner: Ruby Soho, by pinfall (advances to the finals)
Tony Schiavone gets in the ring to interview the winner, but Britt Baker shows up first! She has a mic but Ruby tells everyone to cut the music. Britt can put the mic down. Everyone's listened to Britt over and over, no one wants to listen to her anymore! Ruby gets it, the fans are upset she win. She did what she had to do to win the match. But Ruby needs to tell Britt something. Kris is Ruby's friend, she loves and respects her, but look what she did. And Ruby hates Britt, so she's gonna hurt her. Ruby has been telling Britt since Grand Slam that Britt has a receipt coming. Ruby's cashing it in at Double or Nothing! Britt just smiles, but will she still be smiling after the Owen Hart Cup Women's Finals?
---
My Thoughts:
A great episode here for Rampage, especially as a go-home. Great opening contest out of Bryan VS Sydal, wild to think that these guys only faced off once in ROH and missed each other in WWE, because this felt like they'd been going back and forth for years. Bryan wins, of course, for the momentum going into the Anarchy in the Arena 10 Man. Could be a sign that someone on Blackpool Combat Club & Friends is taking the loss to JAS. Great cosplay by the Bucks, that was a really fun match of them squashing Cruz and Rust. Also good to see Rust somewhere after WWE cut him way too soon, too. Great to see Gangrel, and of course the Hardys get their own bit. Bucks VS Hardys at Double or Nothing could go either way but I'm leaning towards Hardys.
They didn't advertise Caster VS Dante but this was a great surprise. Obviously good stuff within the Acclaimed Gunn Club faction, and we got a very good match. Caster won the Elevation match they highlighted, Dante wins this one, maybe they'll give this a tiebreaker match down the line. Scorpio Sky having a purple 'n' gold TNT belt is a great choice, and then an honestly genius move from SamTay & Kaz to steal some of the belts American Top Team "can't replace." A Mixed Trios is actually better than just 2v2, and I do like the stipulation of blocking Kaz and Sammy as contenders. It does give it away just a little that SamTay & Kaz win, but I bet Ethan takes the loss. PVZ isn't being brought in to take the pin and no one is going to pin the TNT Champion unless it's for the belt.
Great promo vignette from Cole and Joe, and I'm still leaning towards Cole winning. Great promos from Ruby and Kris going into their match, it really added to the fire in that main event, which was a great main event. Ruby using what Velvet told her was good story stuff, but I didn't expect fans to boo it as hard as they did. Kris is a fan favorite, so maybe she comes around to get a title shot, like the TBS Championship after Jade beats Jay. I did like Ruby's promo to end the show, shutting Britt up before she can begin. But Ruby being so adamant about getting that fire back, pretty sure she's losing to Britt.
My Score: 8.6/10