STARDOM Grow Up Stars Results and Review 3/3/2018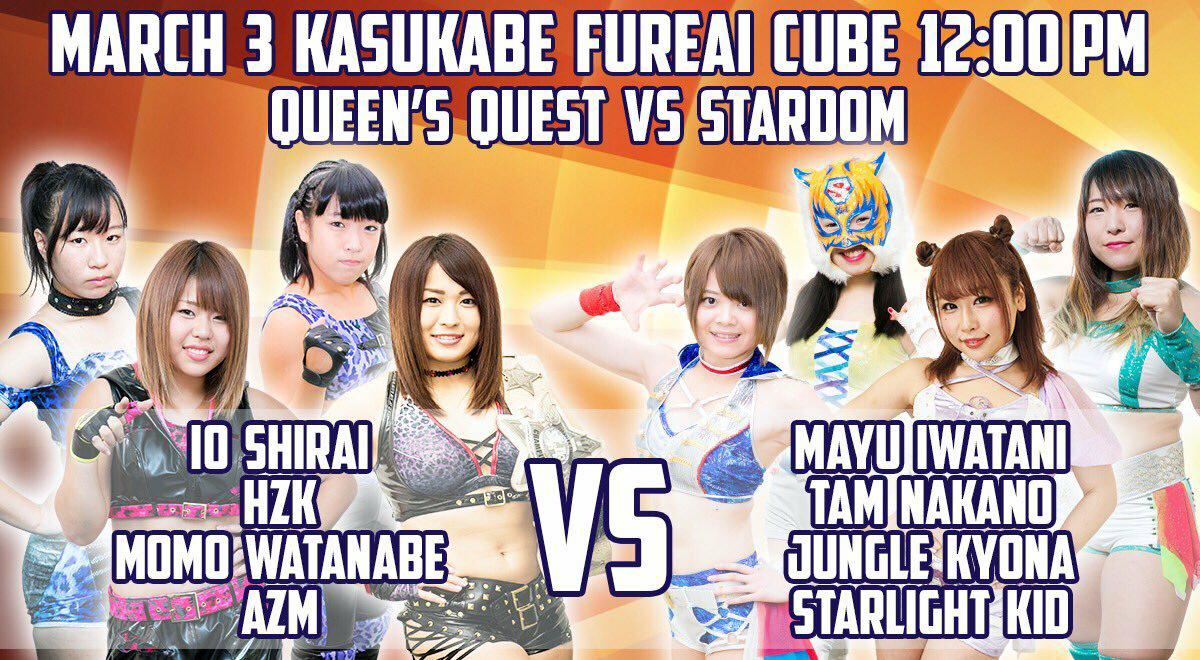 I got some time to kill and figured STARDOM would be the best start to add some Joshi content into the website. STARDOM is one of my favorite Joshi promotions right next to Sendai Girls and Ice Ribbon, they have a solid roster and some nice exposure. But, the best part is that they have their own streaming service that you can sign up for. The website is www.stardom-world.com , and it's a great website, it even provides English subtitles so you can understand their promos as well. You also can't go wrong since it's under $7 a month. If you got the money and like Joshi wrestling, then please sign up since they deserve the exposure. Now onto the match card.
Singles Match
Natsuko Tora vs. Ruaka
Review:  This may come as a shock to some people here and may not look like it, but Ruaka is only 13 years old and already has about a year of experience under her belt. Both of these women have about a year of experience, and this opening bout is more to showcase their abilities in this standard match. The potential for both of them is there and can have a bright future in the upcoming years. Natsuko picked up the win in a standard six minute match.
Recommended:  I would skip it unless you'd like to get familiar with the roster.
Three Way Match
Hanan vs. Kaori Yoneyama vs. Shiki Shibusawa
Review:  For those that don't know, STARDOM likes to have a three way bout during their shows. I honestly don't know the whole reasoning behind it, but I think it's pretty neat to make them do something for their shows. Hanan is another one that is also 13 years old, wow they're starting these women young huh? Both Hanan and Shiki are another two that have about a year of experience in the ring and you can tell that they're still pretty green, but not really a bad thing since there's always room for improvement. Kaori may not look like it, but she's a pretty well accomplished wrestler with 18 years of experience and about 19 championship reigns under her name, so pretty impressive right? Unfortunately, she doesn't showcase a lot of her ability in the match due to it being pretty sloppy in quite a few spots that just hurt the match. So pretty much a standard veteran fighting two up and coming stars as Kaori was able to get the win by pinning both of them.
Recommended:  This one I wasn't really too crazy about with the sloppy spots and nothing really standing out with all three of them.
Singles Match
Hiromi Mimura vs. Konami
Review:  Little bit of info about them before we dive right into the match. Hiromi Mimura is a former Artist of Stardom Champion which is their six woman tag team titles and has over two years of experience in the ring. Konami however is 21 years old with three years of experience and was actually trained by Kana who is now known as WWE Superstar Asuka, so there's definitely some promise in her. The match itself was much better than the last two since the last time these two fought wasn't bad either, so this was still nice to see and how much they've grown from the last time. Konami won the match with a nice Cross Armbar.
Recommended:  I enjoyed it for what it was and a nice seven minute match if you have the time.
I love everything about this interview with @doranyanpa, @hanadayo0903 and @SMR_sptmber_luv. Kagetsu made her own belt, @tonistorm_ is a "fake" and also we found a #COOLNEWTOY. #StardomWorld ? #スターダム

➡️ https://t.co/jniqaHHrua pic.twitter.com/0dnCf48pvJ

— TDE Wrestling (@totaldivaseps) March 11, 2018
Six Man Tag Team Match
Bea Priestley, Toni Storm & Xia Brookside vs. Hana Kimura, Kagetsu & Natsu Sumire
Review:  Hana is just so adorable and I love how she changes her appearance depending on the promotion she is working for. Anyway, another tip you might wanna know is that before the matches, they like to have promo's to get the match hyped up or a little bit about themselves and I gotta say that both of them were pretty awkward for this one. The group between Hana, Kagetsu, and Natsu is known as Oedo Tai and from the looks of it, Kagetsu looks to be the next challenger for the World of Stardom Championship which is currently held by Toni Storm and her group is called World Selection.
Now on https://t.co/q8dHnF58vW! Oedo Tai takes on World Selection, and Kagetsu's brought her own version of the Red Belt! pic.twitter.com/TSmnM0EWs8

— We Are Stardom (@we_are_stardom) March 10, 2018
Hey Toni, Kagetsu has worked really hard on making that belt and you just ruined it like you have the REAL one or something! Match starts off with the usual all six wrestlers fighting outside of the ring soon as the bell rings as they mostly focus on Toni and Kagetsu since they're the ones that're involved in a story, also a nice spot with Oedo rolling up their opponents with the ring mat. Kagetsu even used the toy truck on Bea, that is both an awesome and hilarious spot of the night right there. Every single person in this match had a chance to showcase and shine which was a good balance and the match itself wasn't bad either. The winner of the match was actually nobody since they had a 20 minute draw and I am fine with it since it adds more to the story and not hurt any of them.
Recommended:  Definitely worth a watch, very fun and entertaining match.
Eight Man Tag Team Match
Jungle Kyona, Mayu Iwatani, Starlight Kid & Tam Nakano vs. AZM, HZK, Io Shirai & Momo Watanabe
Review:  Our main event tonight is between the Stardom Army and Queen's Quest, who are arguably my favorite faction in this promotion, next to Oedo Tai, since all four of them are some of the best in that promotion, specially Io Shirai who is the companies best Joshi next to Mayu Iwatani who came back a couple of months ago from her injury. Definitely two of my favorite wrestlers in this match, and this is also the first time Starlight Kid is in a main event match, so good for her. I'm glad this one also didn't start off with everyone brawling to the outside, would've been too much if it was back to back. Another thing I love about Queen's Quest is their teamwork and the amazing combos that they do in their matches and they definitely show it here in this match up. I know a lot of people really only know Io Shirai, but don't sleep on Mayu Iwatani either because she is just as good as her, and two years in a row now they were both able to make it on my Match of the Year list, and I will never get tired of seeing them fight each other whether it's in singles or tag team matches. But very nice sequences throughout the match, nice combos and double team moves in the ring, and we have AZM defeating Starlight Kid for Queen's Quest to pick up the win.
Recommended:  Think this one was my favorite match of the night, so I would recommend a viewing of this one no doubt.
Overall: The show wasn't too bad, but it wasn't too great either since just two good matches don't save the whole show unfortunately. However, you can't deny their progression as a promotion as it was their first time wrestling in Kasukabe, Saitama, Japan. Good for them and hope they get to expand more.
Favorite Match: Jungle Kyona, Mayu Iwatani, Starlight Kid & Tam Nakano vs. AZM, HZK, Io Shirai & Momo Watanabe
Least Favorite Match: Hanan vs. Kaori Yoneyama vs. Shiki Shibusawa
Score: 6.5/10