The Chairshot Official Ratings & Review: New Japan Strong Style Evolved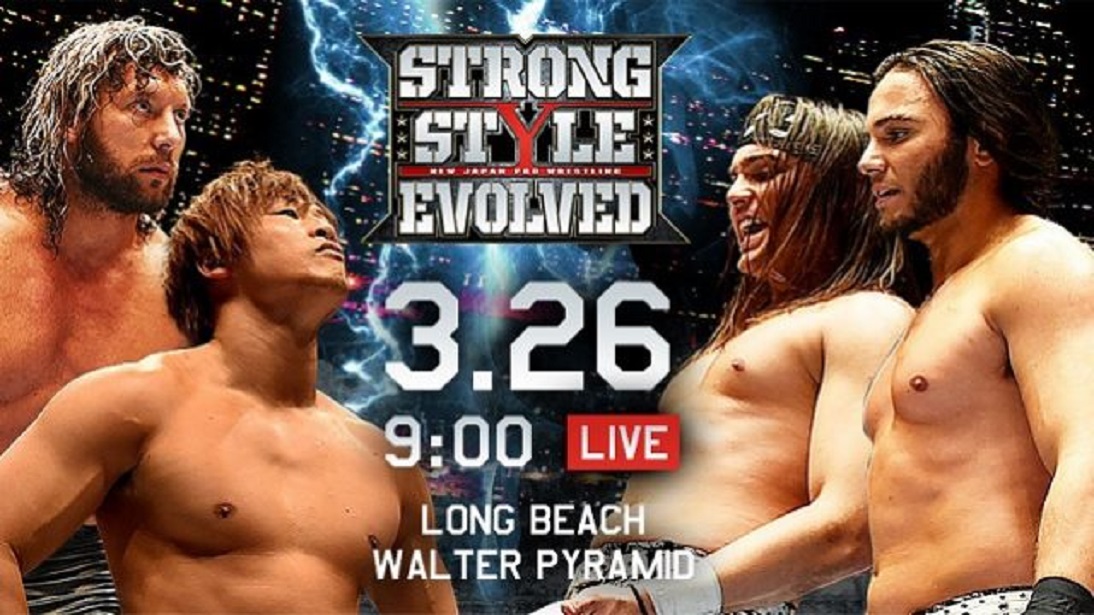 So New Japan returns to America, with even more of a following and larger storylines than before. Last year the two day event was driven by the inaugural IWGP US Heavyweight Championship tournament, but this year, most people are hooked in on the Bullet Club storyline. Golden Lovers vs Young Bucks, will it finish the implosion of the Bullet Club, or will it unlock more? Cody and Marty against Guerrillas of Destiny, more Bullet Club in-fighting.
Let's just hope the hype and expectation don't ruin the perception of the event. AXS TV puts on damn good programming, and we've got great announcers. Yes, the announcers we lambasted last year, but I don't think JR will allow that again.
6 Man Tag Match: So Cal Uncensored vs Roppongi 3k
Kazarian and Daniels saw Sho and Yoh in ROH last year as the Tempura Boys, but they've come a long way since then.
This match was fast paced, with names the crowd are fully aware of. A few odd spots, Kazarian slipped when he was trying to do a springboard leg drop, so ends up hoping on one foot to deliver it and Scorpio Sky delivers a cutter to Christopher Daniels, but it was still fun. For an opening match, it did exactly what it should have.
Winner: Roppongi 3k
Rating: * 3/4
Juice Robinson & David Finlay vs Hirooki Goto & Gedo
Seems like this match is setting up Juice as Goto's next challenger for the NEVER Openweight Title.
Fast paced match, with Gedo doing the lion's share of the work. Goto looked a little weak for a top champion, but the story was more just Gedo getting worked over. Even with a few short cut attempts from Gedo, Juice and Finlay pulled out the victory. Finlay got the pin after a rolling cutter.
A little surprised Juice didn't pin Gedo if they're trying to hammer home him as the next challenger for Goto, but I suppose Finlay needed a bone thrown his way.
Winner: Juice & Finlay
Rating: **
Killer Elite Squad vs Toru Yano & Chuckie T
The two biggest guys in New Japan, against, two renown comedic wrestlers. So this doesn't seem fair on paper, but Yano is like life in Jurassic Park, he finds a way.
Chuckie T got throttled for 70 percent of this match, while Yano was cowering in fear and trying to pick his spots. But when Yano finally got in, we all got to see his brand of humor, which is a nice mixture of cowardly heel tactics and situational comedy with turnbuckle pads. However, the laughter stopped once Archer got pissed off and they hit a Killer Bomb on Chuckie T.
Entertaining as hell, and even purists might find this acceptable.
Winner: Killer Elite Squad
Rating: ** 1/2
Marty Scurll & Cody w/ Brandi Rhodes vs Guerrillas of Destiny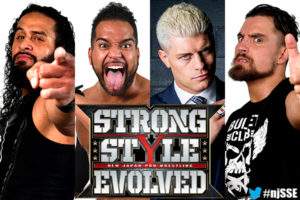 Cody wasn't happy about this pairing to begin with, and tries to play nice with the Tongans initially. A promo to start off with leads to another layer in this faction war.
The crowd hates Cody just like last year, and it's perfect since he's supposed to be seen as the bad guy. So Tama Tonga hits a Crossroads on Cody for a near fall, the crowd pops. Cody took a good bit of punishment throughout the match, all to the crowd's delight, while Marty was trying to string together an opening. It wasn't the cleanest match for the work rate enthusiasts, but the over arching storyline helped carry this.
A few moments of all four men trading moves and coming close to winning it for their team, it ends with Cody hitting a big Crossroads.
Winner: Marty & Cody
Rating: ** 1/4
8 Man Tag: Hiromu Takahashi, Bushi, SANADA & Tetsuya Naito vs Dragon Lee, Ryusuke Taguchi, Kushida & Hiroshi Tanahashi
Typical large tag match, with some story threads, but mostly for entertainment.
This match was exactly what it was supposed to be, action packed, filled with wrestlers the fans enjoy and just fun. Taguchi had his coach moment, SANADA landed a Paradise Lock, Hiromu was crazy, Tanahashi hit a Slingblade (which he innovated) and Naito was Naito. Surprisingly, after a lot of good chaos, one Destino put Taguchi away for the pinfall victory.
After the match, Naito does the Tranquilo pose, and then all members of LIJ get into a celebratory group pose. Good fun match.
Winner: Los Ingobernabes de Japon
Rating: ** 3/4
Jushin Thunder Liger vs Will Ospreay
The best Junior in history, Liger, against the current top guy (with one of the best themes right now), doesn't really need a lot of hype. It was nice to see Mysterio show up before this match to address things and take a front row seat.
This match went the way most of us expected. Liger used more power moves than high flying moves, but he still managed to dominate most of the match. Hitting a big Brainbuster on the ramp, an avalanche Brainbuster and even a Liger Bomb, but still Ospreay kicked out. It wasn't until Ospreay caught Liger in a Liger Bomb of his own, that the tides turned and Ospreay his an Oscutter for the pinfall victory.
.@WillOspreay scores a big win over a certifiable living legend #njSSE pic.twitter.com/mt7zdqWO5A

— TDE Wrestling (@totaldivaseps) March 26, 2018
Ospreay put over Liger, challenged Mysterio and then got jumped by Marty Scurll afterwards. Scurll was needed to break up the "face respect" promo, so it was a nice wrinkle and a good way to establish Scurll as the next opponent, before Mysterio heals up.
Winner: Will Ospreay
Rating: *** 1/4
Kazuchika Okada & Tomohiro Ishii vs Zack Sabre Jr & Minoru Suzuki
This match is to give Sabre and Okada a little heat leading into Sakura Genesis, and Ishii might be on the docket for Suzuki if he beats Naito.
Sabre and Suzuki both put on a clinic in this match. Okada and Ishii were fighting from underneath the entire time, and even though they had a few moments of offense, the submissions were fantastic. There was even one spot where Suzuki and Sabre were alternating limbs on Ishii while the referee was reprimanding Okada.
Sabre picks up the submission victory on Ishii with, I don't know what it is, it might be what he calles Hypernomalisation, but it just looks like terrible pain. I don't bend like that, and no one should.
Winner: Sabre & Suzuki
Rating: *** 3/4
IWGP United States Championship: Jay White (c) vs Hangman Page
Hangman had something to prove since he feels over shadowed by the drama and Jay needs to prove himself as not just a fluke.
This match was an oddity. It was decently wrestled, had a lot of pace changes and hard hitting moves…but the crowd was in and out, and the action slowed to a crawl at times. Also a huge miss from from Jay White, when he tried to German Suplex Page on the apron, and twisted to the side and sent him reeling to the floor, while clipping the apron.
Some of the moves felt like that took too long to set up or were just trying to hard for a flashy spot. Page had a nice sequence at the end where he hits his Shooting Star Shoulder Block and then his Buckshot Lariat, but Jay counters a Rite of Passage beautifully into the Bladerunner.
Buckshot Lariat by @theAdamPage! #njSSE pic.twitter.com/xNmyyJJT72

— TDE Wrestling (@totaldivaseps) March 26, 2018
After the match, David Finlay spears White and challenges him for the belt. I don't know what right Finlay has when he's lost more than he's won or been stuck in tag team purgatory. Sure, Finlay and White have history as Young Lions, but a Mister Potato head has a more believable shot than Finlay.
Winner: Jay White
Rating: *** 1/2
Golden Lovers vs The Young Bucks
Another chapter of the Bullet Club saga unfolds in the main event. Young Bucks move up in weight class, and the Golden Lovers look to prove themselves.
This match had most of what anyone could want, however, it was sloppy at times. Ibushi and Omega had timing issues early, and it wasn't caught on camera, but there may have been an issue with Ibushi during his half of the Cross Slash.
The nit picks aside, story telling was great, reluctance from Omega and Bucks slowly went away at different points in the match. Thanks to that, the first table spot was more poignant because it went from Nick telling Matt not to go there, to Nick saying screw it let's do it, and then Matt eventually putting Omega through the table mid More Bang for Your Buck.
The second table spot was unnecessary and seemed more like an excuse to keep Nick out of things for a prolonged period. Matt sold his ass off for another match, and it definitely helps to add to a psychology aspect. I don't know if they started this dynamic because they were sick of the hate, but Matt being the one who sells and Nick being the hot tag guy, has worked wonderfully for them this year.
.@KennyOmegamanX couldn't do it alone, he needed @ibushi_kota… GOLDEN TRIGGER! pic.twitter.com/Lm4vLxVUOE

— TDE Wrestling (@totaldivaseps) March 26, 2018
Winner: Golden Lovers
Rating: **** 1/2
After the tag match, Cody came out, pushed Matt Jackson and seems to be driving the wedge even deeper between the remaining members of the Bullet Club. So Cody being the cancer that it slowly killing the Bullet Club is a very nice story, regardless of match quality, Cody is elevating everyone in Bullet Club.
When it comes to the show, this was really just a normal New Japan show. An undercard that is alright but nothing special and two or three main matches that deserve to go on last and bring the show home. It was hard to live up to last year, since the first show is always more special, but this was by no respect bad. Could it have underwhelmed? Sure. Will some people who read the hype, think this was lame? Of course.
But when it comes down to it; who cares? AXS delivered something special, and the more exposure and popularity New Japan gets, means the shows will get better. We've got the Cow Palace in July as the next AXS special, so let's just look forward to that…and get a NJPWWORLD subscription.