Top 5: Matches of the Week (Ending 3/11/2018)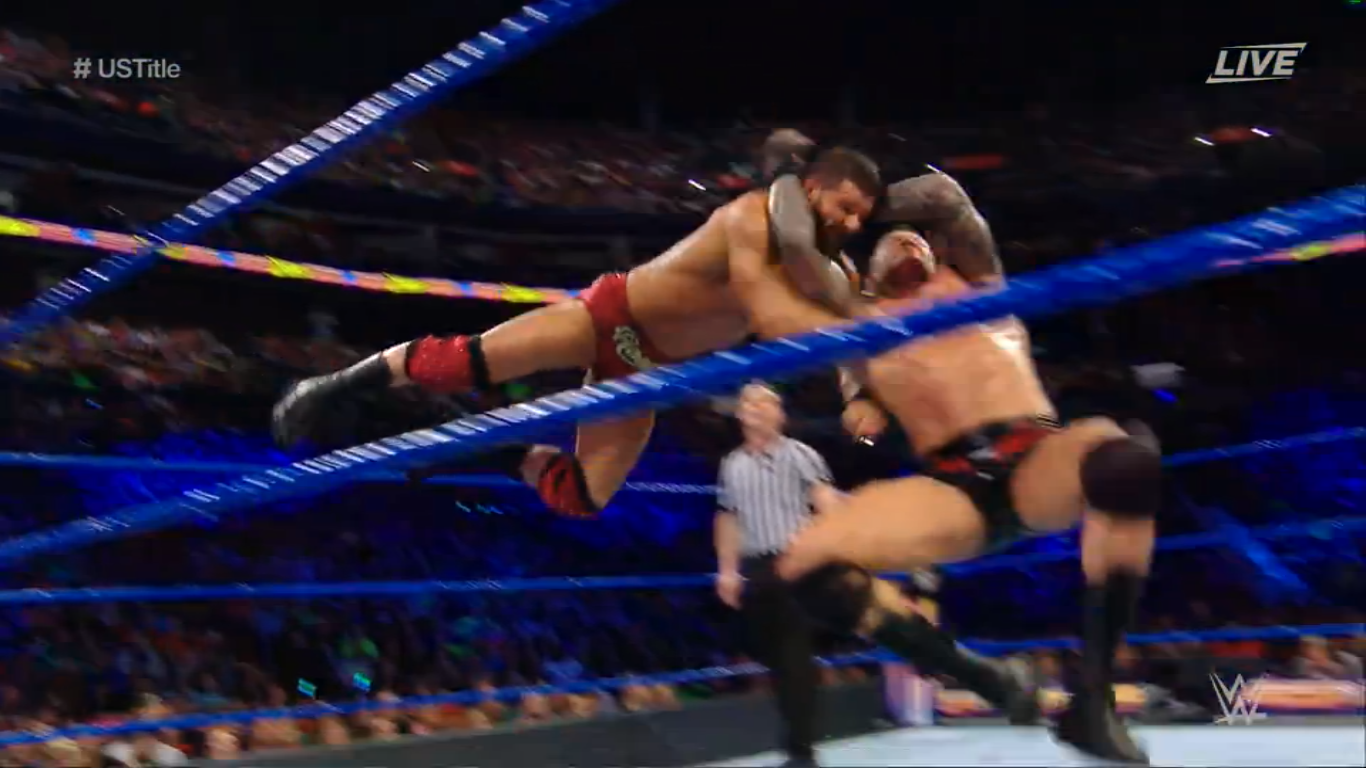 Well this week of matches is a little unfair to everyone else since New Japan has four shows, and their quality is hard to compete with basic television. But before we get into mentions and a Top 5 with a good bit a New Japan, let's assess the votes from last week.
For the month of February, it came down to the final vote, so, Kazuchika Okada vs SANADA @ NJPW New Beginning Osaka move into the Match of the Year Pool. As for the first match of March, we see,  AJ Styles vs John Cena @ Smackdown, winning a little more easily.
Now let's move on to the Top 5:
5. NJPW New Japan Cup Day 3: Tetsuya Naito vs Zack Sabre Jr

TAKA Michinoku has become Zack Sabre's hype man lately, and it's kind of fantastic. "Just Tap Out" must be a line they're trying to get over.
Sabre did his masterful Billy Robinson/Minoru Suzuki submission style of wrestling. Naito took some quick offense, and then most of the match flipped on it's head. Sabre dominated and twisted Naito into so many knots, I think I learned the Trucker's Hitch.
Surprisingly, Naito started to make a comeback, but Sabre countered a Destino by bringing Naito to his back and working over his legs. A combination of a Stretch Muffler and triangle knee bar, while stretching Naito's legs apart, was too much for Naito to take, and his verbally submitted. A clean submission win, and TAKA's words rang true " Just Tap Out".
Rating: *** 3/4 (Gold I)
4. United States Championship Match: Bobby Roode (c) vs Randy Orton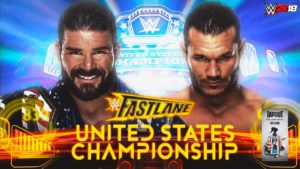 Well we all know both guys are good wrestlers, but it when it comes to Orton, there's always a question of how much he cares.
This match was something pulled from a Jim Cornette dream. The style felt older, it was a slow and methodical wrestling match but done beautifully. Orton and Roode are considered two of the more solid and safer wrestlers in the WWE right now, so putting them together you had an odd dynamic.
At times the match felt too slow and dragged a little, but between near falls, signatures, powdering out when necessary and an emphatic RKO ending; this match was pretty great. The crowd didn't help them at times, but it's hard to find fault in a match that was wrestled so masterfully. Now, Randy Orton finally has the one title (not including Universal), that has eluded him in his 16 year career.
Rating: ***3/4 (Gold I)
3. WWE Championship 6 Pack Challenge: John Cena vs Dolph Ziggler vs Kevin Owens vs Sami Zayn vs Baron Corbin vs AJ Styles (c)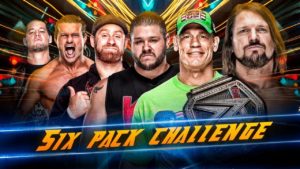 The match that everyone was most curious about, but all anyone knew, was they wanted Styles to retain.
We kicked off with four straight Attitude Adjustments, then a Cena beat down, which broke off into a litany of little one on one skirmishes. Each man got in most of their stuff, I think the only signature we didn't see was a Blue Thunder Bomb. But we got more heat with the Shane McMahon storyline between Kevin and Sami, plus, AJ retaining gives the IWC their desired Wrestle Kingdom 10 rematch.
Now for purists, no of course this was the type of match where there are too many players to have a "technical masterpiece" of a match. However, it was fast paced, big spots and entertaining to the average fan. Orton vs Roode gave the purists a solid "wrestling" match, and this put the E in WWE. Entertainment 101 was this match.
Rating: **** (Platinum V)
The target was @SamiZayn, but the Superkick landed in the FACE of #SDLive Commissioner @shanemcmahon!#WWEFastlane #WWEChampionship pic.twitter.com/I8XyYTk6TY

— WWE (@WWE) March 12, 2018
Honorable Mentions:
Impact Crossroads: Knockout's Championship Match: Allie vs Laurel Van Ness (c)
Rating: ***1/4 (Gold IV)
NJPW Anniversary Show: Taichi vs Tetsuya Naito
Rating: *** (Gold V)
NJPW New Japan Cup Day 3: Kota Ibushi vs Yoshi-Hashi
Rating: *** (Gold V)
NJPW Anniversary Show: IWGP Junior Tag Team Championship Triple Threat Match: Roppongi 3k (c) vs El Desperado & Yoshinobu Kanemaru vs Hiromu Takahashi & Bushi
Rating: **3/4 (Silver I)
2. NJPW 46th Anniversary Show: SANADA vs Yoshi-Hashi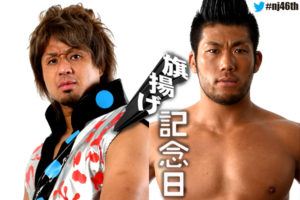 Yes this isn't a typo, Yoshi-Hashi actually got on the Top 5 this week (nearly twice), when he wants to try, Goku and his power pole have some talent.
What started as a throw together match since EVIL got injured during the Austrailia tour, turned into a match that rivaled Ospreay vs Okada for the show. Yoshi showed more urgency and aggression than I've ever seen, and SANADA had the crowd firmly in his corner the entire match. We saw numerous back and forths, counters and nice technical wrestling.
When SANADA went to the top for his Muta Moonsault, the crowd lit up like it was Christmas. He missed his first one, but after struggling through Yoshi's Butterfly Lock and failing to finish the match with his Skull End, the Moonsault picks up the pinfall victory.
Aside from establishing another fantastic match in SANADA's pocket, this helped solidify Yoshi-Hashi's ability moving into his New Japan Cup match against Kota Ibushi.
Rating: ****1/4 (Platinum IV)
1. NJPW 46th Anniversary Show: Kazuchika Okada vs Will Ospreay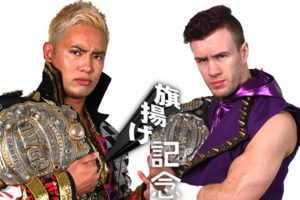 This is a tradition that got started at the 41st Anniversary, and Okada wanted to make sure it continued with the Heavyweight and Junior champions facing each other.
If you've seen either of these two wrestle once, you knew to expect a damn good match. Ospreay wrestled from underneath most of the time, but when he caught Okada, it was all believable. Okada counter the Os-cutter at least twice, and Ospreay had a fantastic counter for the Rainmaker.
Gedo staying at the commentary booth, opposed to seconding one of his two Chaos stable mates could add an interesting story element down the line, but this match was well done. Ospreay never really having a dominating position and getting near falls off of a few spurts hurt the believability a little, but that's nit picking. This match holds up against most matches.
Rating: ****1/2 (Platinum II)
Fastlane gave us more quality than I think most people were anticipating, but that makes the decisions very difficult this month. The 6 Pack Challenge was very entertaining, so it could easily run away with the week, but that's not where my vote is going. Due to the fact Yoshi-Hashi is such a usually disappointing wrestler, since his match with SANADA was so damn good, I have to give that the vote this week. SANADA has one match already in the Match of the Year pool, could easily make it two.
Comment, Retweet, hate this Top 5, love this Top 5, just make your opinion known. Want in on the voting? Email andrewbalaz@thechairshot.com.
Regardless of if you agree or disagree, Always Use Your Head.
Beyond The Mat: That Time My Two Favorite Shows Met And It Wasn't Awful
Was it…AWESOME?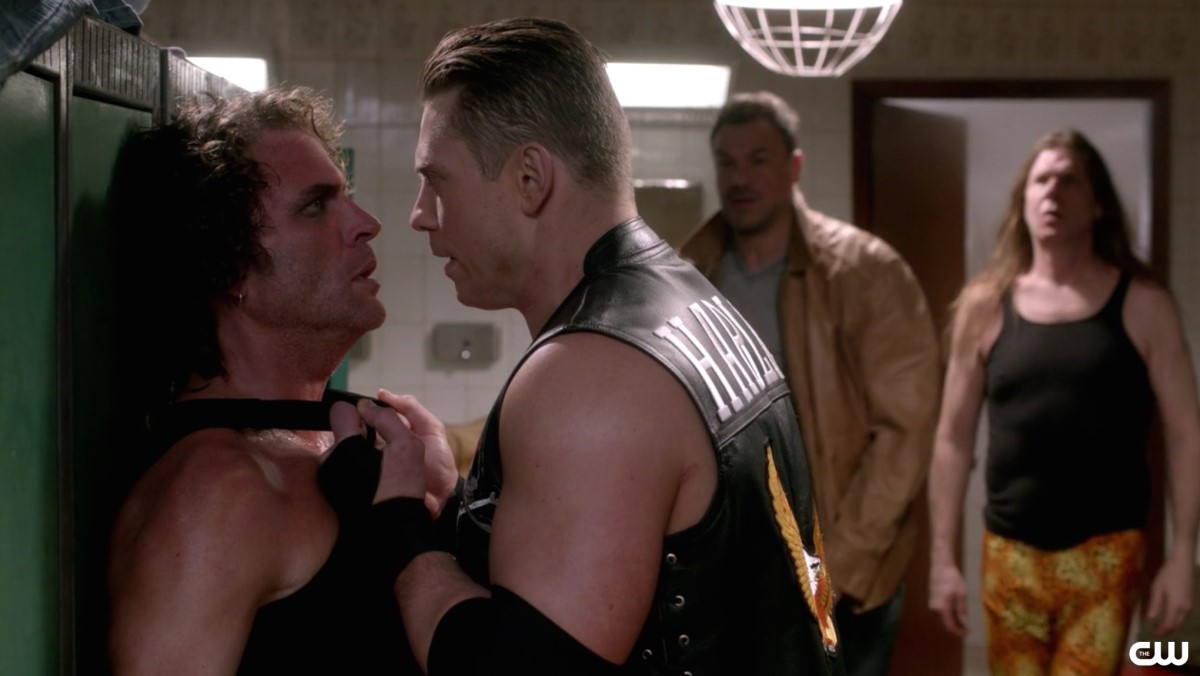 Tiffany MC checks in on Beyond The Mat, where The Miz guest stars on Supernatural!
Sometime Friday afternoon, it was announced that 'Supernatural' the longest running show in CW history, would be ending its unprecedented run after its upcoming FIFTEENTH season. For those of you who don't know what 'Supernatural' is about: Supernatural is a show about two brothers, Sam and Dean Winchester, who travel around the country hunting supernatural creatures in a 1967 Chevy Impala. It doesn't sound like much but this show has outlasted several better known CW shows, like 'Smallville', 'The Vampire Diaries' and its spinoff, 'The Original', it even outlasted its original parent network, the WB Network. Dubbed, 'The Little Show That Could', Supernatural went from being a perennial part of the Cancellation Bubble Crowd, to a staple and institution of television, that other sci-fi genre shows looked to for inspiration on how to last on TV.
On top of that, the show became infamous for its dedicated fanbase, dubbed 'The SPN Family' or just 'The Family' and that fanbase became famous in its own right through the acts of charity they and the show's cast and crew participated in, from the WSHES scavenger hunt, to helping raise awareness of mental health and social issues.
What does that have to do with wrestling? Well, on the surface, nothing, except for one thing: Mike 'The Miz' Mizanin. Miz actually guest-starred on Supernatural during the eleventh season in an episode called 'Beyond the Mat', playing a struggling professional wrestler who has a chance to make it to the big time, in exchange for his soul. Miz didn't take the offer and paid for it with his life.
When I first heard about this episode and who would be in it, I was extremely nervous and skeptical. Most wrestling fans know how non-fans view wrestling and wrestling fans: A bunch of uneducated morons spending good money to watch a fake sport with fake athletes. I was honestly afraid that this was what was going to happen in 'Beyond the Mat'. To my immense relief, that didn't happen. Wrestling and wrestlers were shown in an extremely respectful way, showing how hard they worked to try and make it in the indies. They did poke fun at wrestling fans a little, but no more than what wrestling fans do.
The episode itself wasn't much to write home about, just a typical Monster of the Week type of one off, and many non-wrestling fans panned it, but those of us who love professional wrestling enjoyed it, including watching Jensen Ackles trying to do the Ric Flair strut and fall out of the ring trying to get through the ring ropes, which has to be seen to be truly appreciated.
Miz himself did a pretty good job in the episode, but I can't say I was overwhelmingly wowed by his performance, but I would guess that he had some input in the portrayal of wrestling and why the moves actually looked good.
There will never be another show like 'Supernatural' in terms of longevity, storytelling, fan interaction, and outreach beyond the show, but it also has shown its ability to showcase a different form of storytelling in a respectful way, even the kind that most people scoff at.
Joe's Lucha Libre Weekly: News & Analysis (3/24/19)
Lucha? Joe has you covered!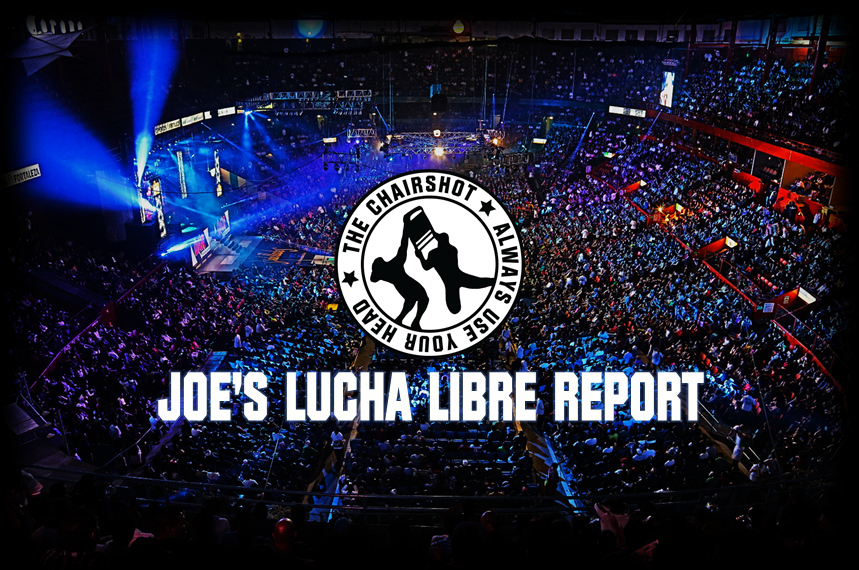 Joe Dinan keeps you up-to-date on the world of Lucha Libre in this week's Lucha Libre News & Analysis!
CMLL
Just a correction from last week. I said LA Park was going to be at Dos Leyenda, that was clearly false as he worked an indie show that date. I got confused with him showing up at Puebla on Monday where they did a smaller version of Dos Leyenda and honored two other legends. Just as they like to put on a variant of the Day of the Dead show for each
Dos Leyenda
The story for this show which was very close to a sell out, which surprised some experts. Niebla Roja and Angel de Oro defeated Terrible and bestia in a hair vs hair match. It went two out of three falls as you'd suspect. During the last fall where it came down to Angel and Terrible, Terrible legitimately hurt his shoulder and dislocated it. Terrible went through anyway to the finish which was soon after. The crowd was into it towards the end. Los Guerrero's retained their tag team titles by defeating Caristico, Volador, and Dragon Lee. Negro Casas made his in ring return also on this show. It had a lot of star power on the show but it just felt like a spiced up normal Friday show. In Mexico CMLL lost big to AAA in the Television ratings. Not sure how much that matters in Mexico.
Arena Puebla/Arena Mexico Tuesday
Well naturally the big news on this show was the return of LA Park. I do not believe he's been around since a little after the Day of the Dead show. I know his son showed up once a few weeks ago, however. So Park teamed up with Volador and Hijo Del LA Park vs Los Guerrero's. It was branded as Family vs Family and they were given a lot of time. Park looked super impressive for a man of his age or just in general. If you hadn't heard in the Observer Awards he won 4th place in the best wrestler in the world, coming behind Tanahashi, Okada, and Kenny Omega. Maybe some match making for AEW. So Park fooled the ref by taking his own mask off and throws it to Ultimo Guerrero to trick him for the DQ. This worked because a few moments ago the ref got distracted and Gran Guerrero and Euforia punted Hijo and Volador in the groin to try to get the win. They're going to run the match back next week. On the Tuesday show, Dragon Lee faced off against Mephisto for the welterweight championship and after a 1000 day plus reign Mephisto lost his title to Dragon Lee. I don't know what it means because titles mean less in Mexico than anywhere else, proven by the fact that Fenix is never gonna defend his Mega Championship in AAA.
Next Friday/News
There will be a Parejas Increibles tournament in April and Angel de Oro and Niebla Roja are the first team announced for that. The main event of this Friday show is Caristico, Volador, and Diamante Azul facing Los Guerrero's. Angel de Oro and Niebla Roja will square off with Terrible and Bestia again in a post hair match show down but Titan with be added to the former and Mr. Niebla to the latter. There is a lightning match with Cavernario and Forastero so that should be good.
AAA
As we all know by now the big news coming out of Rey de Reyes that made it to America is the Young Bucks winning the AAA tag team championships. So here's how it all went down. Cody showed up early in the show to announce the working relationship with AEW and AAA. Then Konnan came out and said anything you do here has to go past him. It almost felt like they were positioning AEW as the babyfaces and AAA as the heels in their own promotion. Maybe it'll just be Cody being babyface because towards the end of the show, the Lucha Bros beat Texano and Rey Escorpion and afterwards Konnan came out jawing with them. The lights went out and the Young Bucks were in the ring to almost no reaction. It seemed like Konnan was in the Bucks corner. So I don't know what they're trying. So the Bucks beat a tired Lucha Bros. The crowd didn't react for a few reasons. It was a long show, the Bucks weren't announced, and the fact is the Bucks do not have that level of popularity in Mexico. If AAA would have promoted them somehow as the best tag team in the world it might be different. But it also might have hurt the surprise. It all depends on the follow up. I presume they'll face each other at Double or Nothing for the AAA world tag team titles.
The rest of the show went like this, Aerostar won the Rey de Reyes tournament. The team of Psycho Clown, Maximo, and Mamba defeated Jeff Jarrett, Killer Kross, and La Mascara in a cage match with Super Porky at ringside. Averno, Chessman, and Super Fly defeated Pagano, Drago, and Puma King in a spotty hardcore match. Super Fly got power bombed by Puma King and smashed his head on the side of the table. He had to be taken out but he ended up being okay. The match before saw Poder de Norte taking on Perros del Mal, Taya, Joe Lider, and Daga. Daga turned on them in this match leading to the victory of Poder de Norte. There was a growing alliance with Taya and Faby on this show. They both ran in to protect each other during a beat down. Which leads to the Reina de Reinas match where Shani retained over Keyra, Hiedra, and Chica Tormenta. At the end of the match Faby confronted the heel ref but then got beat on by Chica and Keyra. Taya made the save. After Daga turned on Perros del Mal, Taya was getting beat on and Faby made the save. So I smell some kind of tag match in the future. And finally, Big Mami and Nino Hamburguesa retained the Mixed tag team titles over Villano III Jr and Lady Maravilla. The story here was Nino didn't want Big Mami to keep hurting Maravilla and at the end of the match he carried her out.
AAA has put out the billboard for I think their next show on April 5th and the top of the card looks like this, Psycho Clown and Dr. Wagner Jr vs Blue Demon and Rey Escorpion. Pagano and Joe Lider vs Texano and La Mascara. Maximo, Mamba, and Pimpinela Escarlata vs Poder de Norte. Lady Shani, La Hiedra, and Nino Hamburguesa vs Lady Maravilla, Keyra, and Villano III Jr. We also have a 5 way match for the Latin American championship seeing Drago face Hijo Del Vikingo, Myzteziz Jr, Aerostar, and Argenis. Drago is the champ going in.
Here & There
Garza Jr has signed with WWE and he will start NXT in April. Of course there has been word he was going to WWE for a while now but there was something that wasn't disclosed that prevented it. But now that he'll be going there I imagine he'll work NXT and 205 Live just like Ultimo Ninja is doing. I suspect Garza might keep his name because of the connection they can make with Hector Garza. Though that might be giving WWE too much credit.
So in addition to knowing that Bandido will face Dragon Lee and Ishimori for the Jr Heavyweight Championship at MSG, we also know that Rush is going to face Dalton Castle at MSG. Rush defeated Bandido at the Ring of Honor anniversary PPV, but what I've heard Rush took most of the match and won.
I believe this Saturday on MLW TV it will be LA Park vs Mance Warner. Park and his son will also be in the Battle Riot amount others. It's going to be a busy WrestleMania weekend, Bandido faces Will Ospreay at Wrestle Con on Thursday. I'll likely go to that. For me there will be an extra show since I'll need to fit AAA in, but on Friday I'm going to Stardom and then MLW Battle Riot, and of course I'll be at the New Japan G1 Super Show on Saturday. I will not be at NXT or WrestleMania. NXT's secondary market is very high and WrestleMania looks to be a very average show and since it's at Giants Stadium, it's overly expensive.