Top 5: Matches of the Week (Ending 3/11/2018)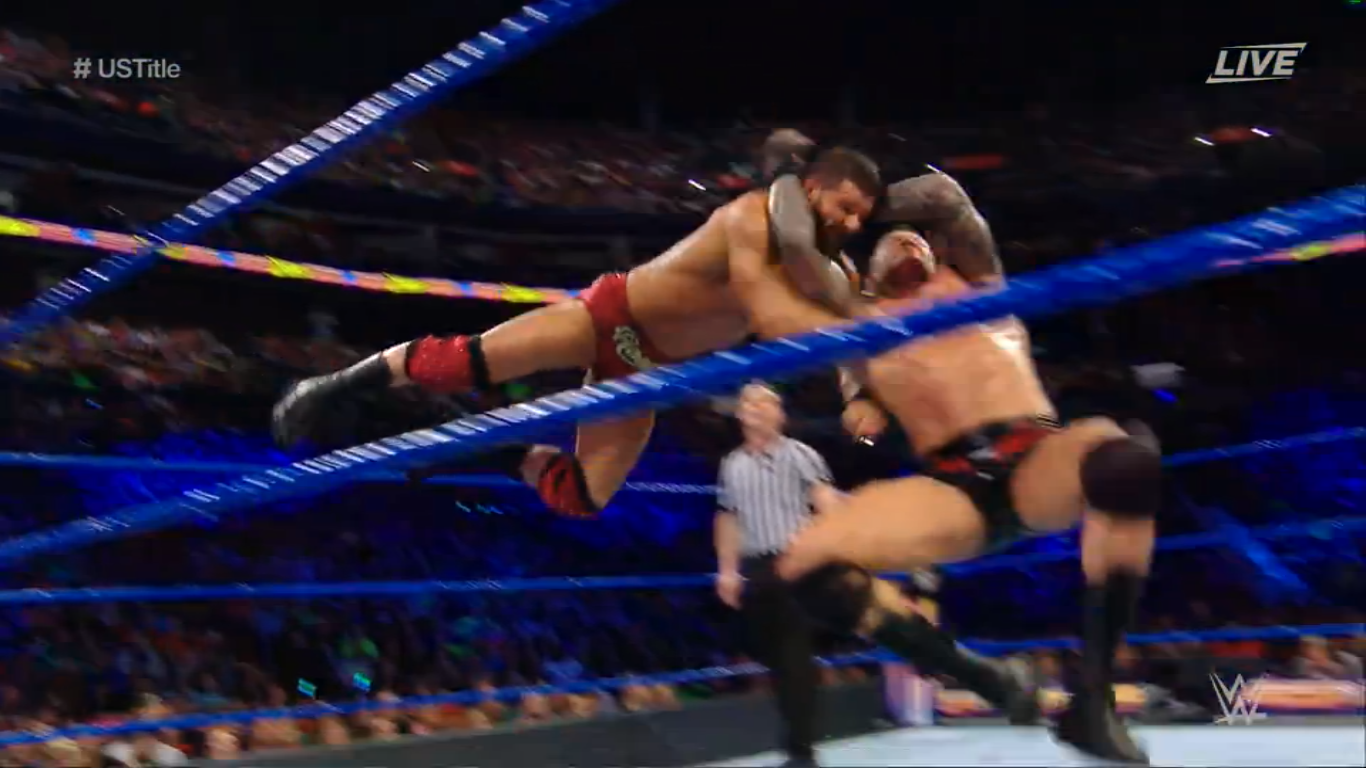 Well this week of matches is a little unfair to everyone else since New Japan has four shows, and their quality is hard to compete with basic television. But before we get into mentions and a Top 5 with a good bit a New Japan, let's assess the votes from last week.
For the month of February, it came down to the final vote, so, Kazuchika Okada vs SANADA @ NJPW New Beginning Osaka move into the Match of the Year Pool. As for the first match of March, we see,  AJ Styles vs John Cena @ Smackdown, winning a little more easily.
Now let's move on to the Top 5:
5. NJPW New Japan Cup Day 3: Tetsuya Naito vs Zack Sabre Jr

TAKA Michinoku has become Zack Sabre's hype man lately, and it's kind of fantastic. "Just Tap Out" must be a line they're trying to get over.
Sabre did his masterful Billy Robinson/Minoru Suzuki submission style of wrestling. Naito took some quick offense, and then most of the match flipped on it's head. Sabre dominated and twisted Naito into so many knots, I think I learned the Trucker's Hitch.
Surprisingly, Naito started to make a comeback, but Sabre countered a Destino by bringing Naito to his back and working over his legs. A combination of a Stretch Muffler and triangle knee bar, while stretching Naito's legs apart, was too much for Naito to take, and his verbally submitted. A clean submission win, and TAKA's words rang true " Just Tap Out".
Rating: *** 3/4 (Gold I)
4. United States Championship Match: Bobby Roode (c) vs Randy Orton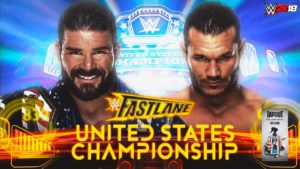 Well we all know both guys are good wrestlers, but it when it comes to Orton, there's always a question of how much he cares.
This match was something pulled from a Jim Cornette dream. The style felt older, it was a slow and methodical wrestling match but done beautifully. Orton and Roode are considered two of the more solid and safer wrestlers in the WWE right now, so putting them together you had an odd dynamic.
At times the match felt too slow and dragged a little, but between near falls, signatures, powdering out when necessary and an emphatic RKO ending; this match was pretty great. The crowd didn't help them at times, but it's hard to find fault in a match that was wrestled so masterfully. Now, Randy Orton finally has the one title (not including Universal), that has eluded him in his 16 year career.
Rating: ***3/4 (Gold I)
3. WWE Championship 6 Pack Challenge: John Cena vs Dolph Ziggler vs Kevin Owens vs Sami Zayn vs Baron Corbin vs AJ Styles (c)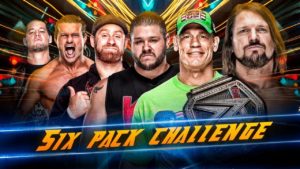 The match that everyone was most curious about, but all anyone knew, was they wanted Styles to retain.
We kicked off with four straight Attitude Adjustments, then a Cena beat down, which broke off into a litany of little one on one skirmishes. Each man got in most of their stuff, I think the only signature we didn't see was a Blue Thunder Bomb. But we got more heat with the Shane McMahon storyline between Kevin and Sami, plus, AJ retaining gives the IWC their desired Wrestle Kingdom 10 rematch.
Now for purists, no of course this was the type of match where there are too many players to have a "technical masterpiece" of a match. However, it was fast paced, big spots and entertaining to the average fan. Orton vs Roode gave the purists a solid "wrestling" match, and this put the E in WWE. Entertainment 101 was this match.
Rating: **** (Platinum V)
The target was @SamiZayn, but the Superkick landed in the FACE of #SDLive Commissioner @shanemcmahon!#WWEFastlane #WWEChampionship pic.twitter.com/I8XyYTk6TY

— WWE (@WWE) March 12, 2018
Honorable Mentions:
Impact Crossroads: Knockout's Championship Match: Allie vs Laurel Van Ness (c)
Rating: ***1/4 (Gold IV)
NJPW Anniversary Show: Taichi vs Tetsuya Naito
Rating: *** (Gold V)
NJPW New Japan Cup Day 3: Kota Ibushi vs Yoshi-Hashi
Rating: *** (Gold V)
NJPW Anniversary Show: IWGP Junior Tag Team Championship Triple Threat Match: Roppongi 3k (c) vs El Desperado & Yoshinobu Kanemaru vs Hiromu Takahashi & Bushi
Rating: **3/4 (Silver I)
2. NJPW 46th Anniversary Show: SANADA vs Yoshi-Hashi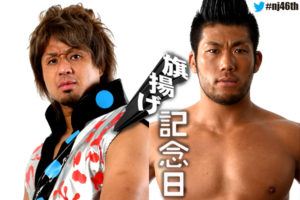 Yes this isn't a typo, Yoshi-Hashi actually got on the Top 5 this week (nearly twice), when he wants to try, Goku and his power pole have some talent.
What started as a throw together match since EVIL got injured during the Austrailia tour, turned into a match that rivaled Ospreay vs Okada for the show. Yoshi showed more urgency and aggression than I've ever seen, and SANADA had the crowd firmly in his corner the entire match. We saw numerous back and forths, counters and nice technical wrestling.
When SANADA went to the top for his Muta Moonsault, the crowd lit up like it was Christmas. He missed his first one, but after struggling through Yoshi's Butterfly Lock and failing to finish the match with his Skull End, the Moonsault picks up the pinfall victory.
Aside from establishing another fantastic match in SANADA's pocket, this helped solidify Yoshi-Hashi's ability moving into his New Japan Cup match against Kota Ibushi.
Rating: ****1/4 (Platinum IV)
1. NJPW 46th Anniversary Show: Kazuchika Okada vs Will Ospreay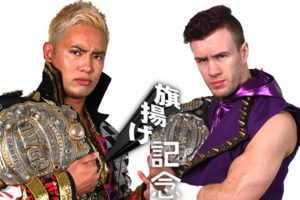 This is a tradition that got started at the 41st Anniversary, and Okada wanted to make sure it continued with the Heavyweight and Junior champions facing each other.
If you've seen either of these two wrestle once, you knew to expect a damn good match. Ospreay wrestled from underneath most of the time, but when he caught Okada, it was all believable. Okada counter the Os-cutter at least twice, and Ospreay had a fantastic counter for the Rainmaker.
Gedo staying at the commentary booth, opposed to seconding one of his two Chaos stable mates could add an interesting story element down the line, but this match was well done. Ospreay never really having a dominating position and getting near falls off of a few spurts hurt the believability a little, but that's nit picking. This match holds up against most matches.
Rating: ****1/2 (Platinum II)
Fastlane gave us more quality than I think most people were anticipating, but that makes the decisions very difficult this month. The 6 Pack Challenge was very entertaining, so it could easily run away with the week, but that's not where my vote is going. Due to the fact Yoshi-Hashi is such a usually disappointing wrestler, since his match with SANADA was so damn good, I have to give that the vote this week. SANADA has one match already in the Match of the Year pool, could easily make it two.
Comment, Retweet, hate this Top 5, love this Top 5, just make your opinion known. Want in on the voting? Email andrewbalaz@thechairshot.com.
Regardless of if you agree or disagree, Always Use Your Head.