Top 5: Matches of the Week (Ending 3/11/2018)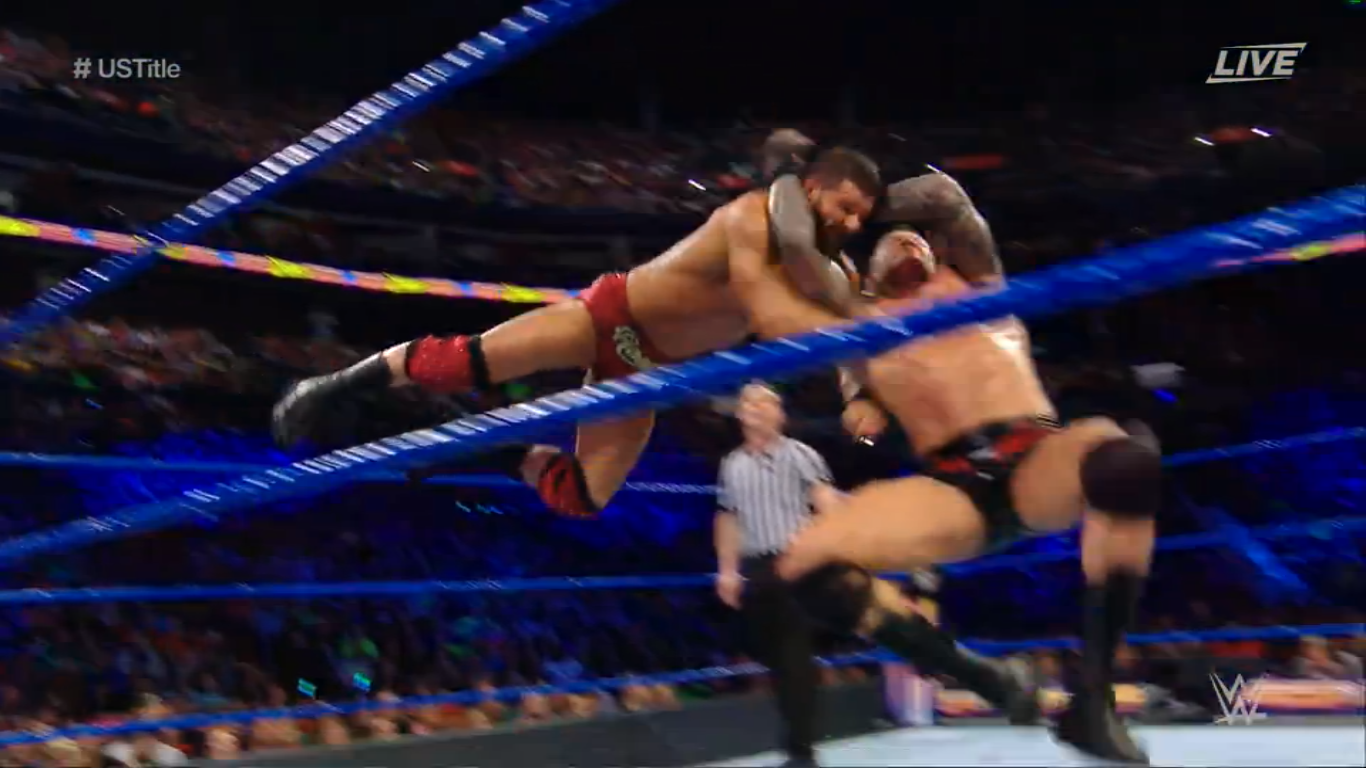 Well this week of matches is a little unfair to everyone else since New Japan has four shows, and their quality is hard to compete with basic television. But before we get into mentions and a Top 5 with a good bit a New Japan, let's assess the votes from last week.
For the month of February, it came down to the final vote, so, Kazuchika Okada vs SANADA @ NJPW New Beginning Osaka move into the Match of the Year Pool. As for the first match of March, we see,  AJ Styles vs John Cena @ Smackdown, winning a little more easily.
Now let's move on to the Top 5:
5. NJPW New Japan Cup Day 3: Tetsuya Naito vs Zack Sabre Jr

TAKA Michinoku has become Zack Sabre's hype man lately, and it's kind of fantastic. "Just Tap Out" must be a line they're trying to get over.
Sabre did his masterful Billy Robinson/Minoru Suzuki submission style of wrestling. Naito took some quick offense, and then most of the match flipped on it's head. Sabre dominated and twisted Naito into so many knots, I think I learned the Trucker's Hitch.
Surprisingly, Naito started to make a comeback, but Sabre countered a Destino by bringing Naito to his back and working over his legs. A combination of a Stretch Muffler and triangle knee bar, while stretching Naito's legs apart, was too much for Naito to take, and his verbally submitted. A clean submission win, and TAKA's words rang true " Just Tap Out".
Rating: *** 3/4 (Gold I)
4. United States Championship Match: Bobby Roode (c) vs Randy Orton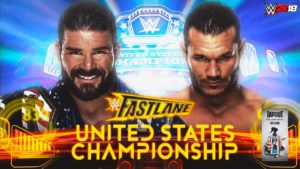 Well we all know both guys are good wrestlers, but it when it comes to Orton, there's always a question of how much he cares.
This match was something pulled from a Jim Cornette dream. The style felt older, it was a slow and methodical wrestling match but done beautifully. Orton and Roode are considered two of the more solid and safer wrestlers in the WWE right now, so putting them together you had an odd dynamic.
At times the match felt too slow and dragged a little, but between near falls, signatures, powdering out when necessary and an emphatic RKO ending; this match was pretty great. The crowd didn't help them at times, but it's hard to find fault in a match that was wrestled so masterfully. Now, Randy Orton finally has the one title (not including Universal), that has eluded him in his 16 year career.
Rating: ***3/4 (Gold I)
3. WWE Championship 6 Pack Challenge: John Cena vs Dolph Ziggler vs Kevin Owens vs Sami Zayn vs Baron Corbin vs AJ Styles (c)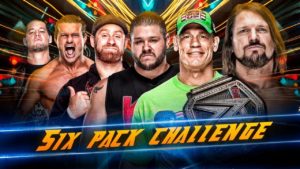 The match that everyone was most curious about, but all anyone knew, was they wanted Styles to retain.
We kicked off with four straight Attitude Adjustments, then a Cena beat down, which broke off into a litany of little one on one skirmishes. Each man got in most of their stuff, I think the only signature we didn't see was a Blue Thunder Bomb. But we got more heat with the Shane McMahon storyline between Kevin and Sami, plus, AJ retaining gives the IWC their desired Wrestle Kingdom 10 rematch.
Now for purists, no of course this was the type of match where there are too many players to have a "technical masterpiece" of a match. However, it was fast paced, big spots and entertaining to the average fan. Orton vs Roode gave the purists a solid "wrestling" match, and this put the E in WWE. Entertainment 101 was this match.
Rating: **** (Platinum V)
The target was @SamiZayn, but the Superkick landed in the FACE of #SDLive Commissioner @shanemcmahon!#WWEFastlane #WWEChampionship pic.twitter.com/I8XyYTk6TY

— WWE (@WWE) March 12, 2018
Honorable Mentions:
Impact Crossroads: Knockout's Championship Match: Allie vs Laurel Van Ness (c)
Rating: ***1/4 (Gold IV)
NJPW Anniversary Show: Taichi vs Tetsuya Naito
Rating: *** (Gold V)
NJPW New Japan Cup Day 3: Kota Ibushi vs Yoshi-Hashi
Rating: *** (Gold V)
NJPW Anniversary Show: IWGP Junior Tag Team Championship Triple Threat Match: Roppongi 3k (c) vs El Desperado & Yoshinobu Kanemaru vs Hiromu Takahashi & Bushi
Rating: **3/4 (Silver I)
2. NJPW 46th Anniversary Show: SANADA vs Yoshi-Hashi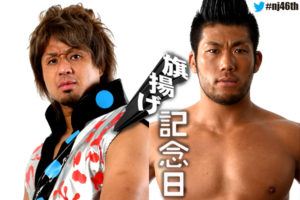 Yes this isn't a typo, Yoshi-Hashi actually got on the Top 5 this week (nearly twice), when he wants to try, Goku and his power pole have some talent.
What started as a throw together match since EVIL got injured during the Austrailia tour, turned into a match that rivaled Ospreay vs Okada for the show. Yoshi showed more urgency and aggression than I've ever seen, and SANADA had the crowd firmly in his corner the entire match. We saw numerous back and forths, counters and nice technical wrestling.
When SANADA went to the top for his Muta Moonsault, the crowd lit up like it was Christmas. He missed his first one, but after struggling through Yoshi's Butterfly Lock and failing to finish the match with his Skull End, the Moonsault picks up the pinfall victory.
Aside from establishing another fantastic match in SANADA's pocket, this helped solidify Yoshi-Hashi's ability moving into his New Japan Cup match against Kota Ibushi.
Rating: ****1/4 (Platinum IV)
1. NJPW 46th Anniversary Show: Kazuchika Okada vs Will Ospreay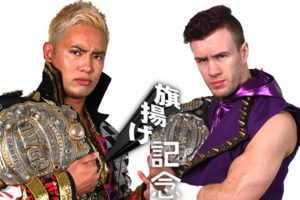 This is a tradition that got started at the 41st Anniversary, and Okada wanted to make sure it continued with the Heavyweight and Junior champions facing each other.
If you've seen either of these two wrestle once, you knew to expect a damn good match. Ospreay wrestled from underneath most of the time, but when he caught Okada, it was all believable. Okada counter the Os-cutter at least twice, and Ospreay had a fantastic counter for the Rainmaker.
Gedo staying at the commentary booth, opposed to seconding one of his two Chaos stable mates could add an interesting story element down the line, but this match was well done. Ospreay never really having a dominating position and getting near falls off of a few spurts hurt the believability a little, but that's nit picking. This match holds up against most matches.
Rating: ****1/2 (Platinum II)
Fastlane gave us more quality than I think most people were anticipating, but that makes the decisions very difficult this month. The 6 Pack Challenge was very entertaining, so it could easily run away with the week, but that's not where my vote is going. Due to the fact Yoshi-Hashi is such a usually disappointing wrestler, since his match with SANADA was so damn good, I have to give that the vote this week. SANADA has one match already in the Match of the Year pool, could easily make it two.
Comment, Retweet, hate this Top 5, love this Top 5, just make your opinion known. Want in on the voting? Email andrewbalaz@thechairshot.com.
Regardless of if you agree or disagree, Always Use Your Head.
The Risk & Reward Of The Original WrestleMania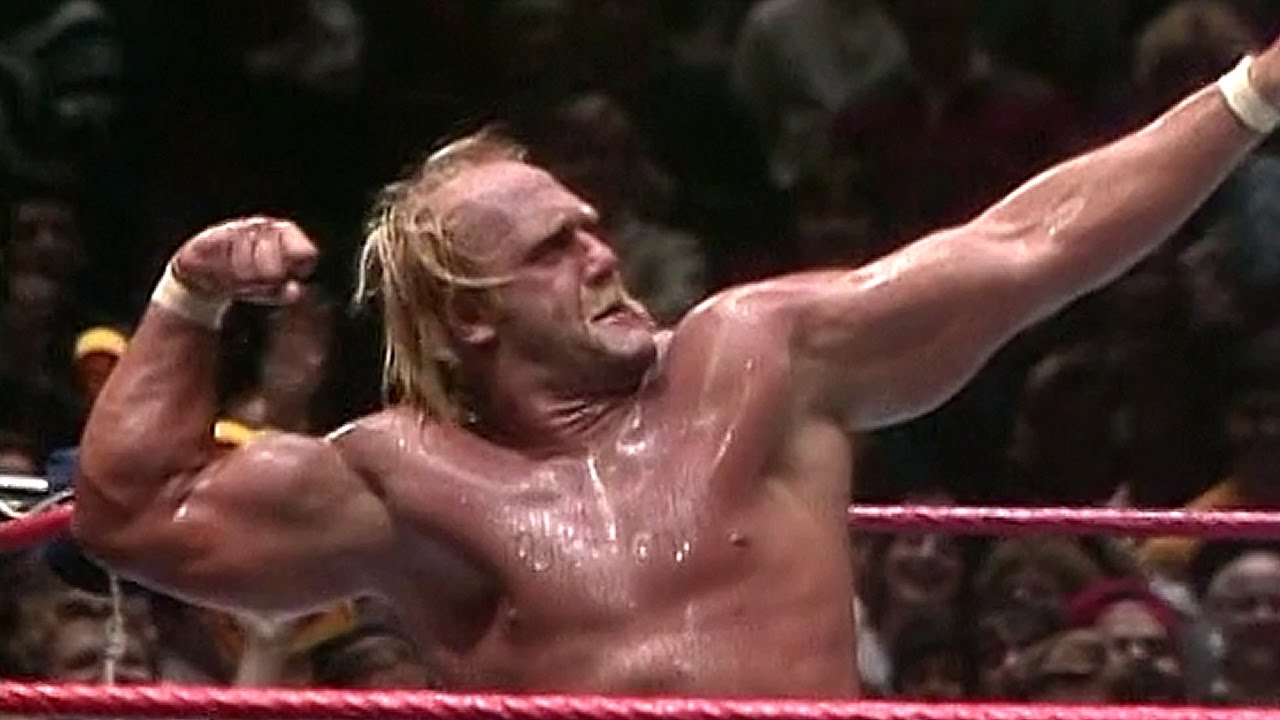 WrestleMania. It's what put the world of Sports Entertainment on the map. Sports Entertainment being the keyword. If you wanted Professional Wrestling, if you were a hardcore fan, you had the NWA's Starrcade event but that only ran in the territory. If you wanted action, drama, emotion, larger-than-life athletes, and celebrities, you had… nothing.
That was until Vincent Kennedy McMahon thought up the incredible event of WrestleMania. McMahon turned an idea into reality using his own fortune, using Cindy Lauper, using Mr. T, using MTV, and using the top athletes from each territory from around the world to make his idea of WrestleMania into the most exciting, the most captivating event in sports and entertainment history. More exciting than the Academy's Oscars, more exciting than the MLB's World Series, even more exciting than the NFL's Super Bowl.
WrestleMania took every risk possible to become what it is today. It isn't an event, it's a feeling. A feeling that comes one week a year to anyone viewing either in-person or through PPV. This is the story of the risks taken to make WrestleMania what it is today and the story of the reward it received to have tens of thousands of average people from around the world to view the incredible spectacle dubbed as "WrestleMania Week." 
It all started in the Summer of 1984. Vince McMahon had thought up the idea of WrestleMania: "I remember in 1984, in the Summertime, there was a meeting room, literally a little meeting room. I remember Vince said, 'I'm gonna do this,' and he explained his vision, what he wanted to do. We all thought he was nuts, but we all knew one thing about Vince McMahon, when he sets his mind onto doing something, he's going to do it." – Howard Finkel on Vince McMahon pitching the idea of WrestleMania (Source: WWF WrestleMania: The Official Insider's History DVD). 
Now the question is, "Why?" The answer is simple: Domination. Vince Jr. had bought out the World Wrestling Federation from his father, Vince Sr., Gorilla Monsoon, and Arnold Skaaland. Vince was always known as wanting more. Well, in 1984, he sought after it. He sought after that mysterious "More" that no single promoter really understood or ever had at the time. One singular domination over the entire country is what McMahon wanted, and this was the start. 
There, of course, was an issue. No promoter wanted any performer involved in WrestleMania, or else, they'd be shunned: "This guy's gonna piss everybody off. Vince is gonna get everybody so mad that everybody that'll work on the WrestleMania card will be blackballed," Hulk Hogan noted in the WrestleMania Rewind series on the WWE Network. "This was the first real move on Vince McMahon's expansion. The promoters were telling wrestlers that if you go work for him, you may never come back again," Bill Apter noted in WrestleMania Rewind. If WrestleMania succeeded, everyone involved would never be forgotten. If it failed, their names could've very well been scratched from every record book by every promoter personally. 
Now obviously, you can't get a reward with no risk. It is well known by many insiders that Vince had put every single penny of his own fortune into his crazy idea of WrestleMania.
"It was the general consensus around the country that Vince McMahon was taking the biggest risk of his life and there was still some other wrestling companies around the country who were actually hoping that Vince would fail," is what Jerry Lawler said on WrestleMania Rewind about Vince's massive risk. "It was a huge gamble, the biggest gamble I've ever been involved with. It was a roll of the dice," Vince said. "The risk for Vince McMahon was his entire life so to say. He had everything, all his money down on WrestleMania betting that this would make his business soar," said Bill Apter on WrestleMania Rewind. 
Vince had to gain buzz about the event, and he did so by working two shows with MTV. The first show being "The Brawl to End It All" which went down on July 23, 1984. It featured multiple dark matches including a WWF Intercontinental Championship match which showed champion Tito Santana and Bob Orton Jr. wrestle to time-limit draw, a WWF World Heavyweight Championship match which featured champion Hulk Hogan defeated Greg Valentine in ten minutes, and WWF World Martial Arts Championship match which featured champion Antonio Inoki defend against Charlie Fulton in a little under four minutes, a WWF Tag Team Championship match which showed the incredible Adrian Adonis and Dick Murdoch defend against Sgt. Slaughter and Terry Daniels in an outstanding 17:16 bout.
The featured event though was for the WWF Women's Championship. It featured The Fabulous Moolah, accompanied by Lou Albano, defend against Wendi Richter, who was accompanied to the ring by musician Cyndi Lauper and David Wolff. The entire world was shocked when Richter had ended Moolah's 10,000+ day reign as WWF Women's Champion. 
The second event, "The War to Settle the Score", occurred a month before WrestleMania. It featured many dark matches which included The U.S. Express (Barry Windham and Mike Rotunda) successfully defend their WWF Tag Team Championships against The Spoiler and The Assassin. Another title match was for the WWF Women's Championship. Leilani Kai, accompanied by The Fabulous Moolah, had beaten Wendi Richter, who was accompanied to the ring by Cyndi Lauper, in 11:49. The Women's Title change was aired via tape delay on the March 5th edition of Prime Time Wrestling.
The Main Event was aired on MTV, it was the set-up for WrestleMania. It featured Roddy Piper get disqualified in his match against champion Hulk Hogan for the WWF World Heavyweight Championship after Hogan was attacked. This would be the set-up for the Main Event of WrestleMania. 
The day had come: WrestleMania.
It had nine bouts. The first one showed Tito Santana defeating The Executioner (FKA "Playboy" Buddy Rose) in 4:50. The second bout showed King Kong Bundy defeat Special Delivery Jones in an astonishing twenty-three seconds! The third bout showed Ricky Steamboat defeat Matt Borne in 4:38. The fourth match was a homecoming for the Sammartino Family, as it showed Bruno Sammartino's son, David Sammartino compete against Brutus Beefcake. Unfortunately for both competitors, that match ended in a double-DQ. The fifth match was the first title event of the night, it showed champion Greg Valentine defend the WWF Intercontinental Championship against Junkyard Dog. While JYD had beaten Valentine, it was via countout, so Greg Valentine kept his title.
The sixth bout was also a title match, this time for the WWF Tag Team Championship. It showed The Iron Sheik and Nikolai Volkoff, who was accompanied by Freddie Blassie defeat the team of The U.S. Express, which consisted of Barry Windham and Mike Rotundo, and manager Lou Albano. The seventh bout was the $15,000 Body Slam Challenge. It showed André the Giant put his career on the line against Big John Studd. If André won, he would get Studd's $10,000. If not, Big John would have the tremendous honor of getting to say he retired the Eighth Wonder of the World. Of course, André won in 05:54. The Semi-Final Bout showed Wendi Richter with Cyndi Lauper take back the WWF Women's Championship from Leilani Kai in 06:12.' 
The Main Event was ready. It was promoted every second Vince McMahon could get the chance, including the night before when Hulk Hogan and Mr. T hosted Saturday Night Live. The Main Event went incredible. It featured world-class boxer Muhammad Ali and inaugural WWE Intercontinental Champion Pat Patterson as special guest referees, New York Yankees manager Billy Martin as the special guest ring announcer, and musician Liberace, accompanied by The Rockettes, as the special guest ring announcer. The Main Event consisted of every celebrity possible. It showed the team of WWF World Heavyweight Champion Hulk Hogan and Mr. T (accompanied by Jimmy Snuka) defeat the team of "Mr. Wonderful" Paul Orndorff and Roddy Piper (accompanied by Bob Orton Jr.) after Orton had tried to hit a double-ax handle on Hogan when the ref wasn't looking but Hogan moved away, and Orton had hit Mr. Wonderful instead. 
The Original WrestleMania had concluded, and it left a legacy no one could dare imagine. Obviously, it had succeeded. Vince McMahon went onto say this on WrestleMania Rewind, "After the event was over in Madison Square Garden, the very first one, I began to get phone calls from the rest of the Eastern Sea Board. That to was a success, now we're onto something. What about the Midwest? Chicago came in, hey that's working. So, at the end of the night, we had been parting quite heavily." Hulk Hogan said on WrestleMania Rewind, "We had a guy, Vince McMahon, who believed in us and he put everything he into that night and I just knew that if everybody stepped up to their A-game, we're onto greatness, one way or the other. Vince McMahon went onto call this the defining moment of the WWE on WrestleMania Rewind: "With the success of WrestleMania, it really put us on the map and that was the defining moment of what we know now as the WWE." 
The legacy of WrestleMania is well documented. There have been 34 annual WrestleMania events, and one more confirmed to be happening. WrestleMania became more than a day though… now it's a week. WrestleMania Week is home to an NXT TakeOver event, the WWE Hall of Fame, WrestleMania Axxess, ROH Supercard of Honor, and other independent shows. Thanks to WrestleMania, World Wrestling Entertainment is now a household name. Vince McMahon is now a billionaire, and the company alone is worth hundreds of millions of dollars. To think, it all started with that one meeting in the Summer of 1984. 
Sex Appeal Will Not Boost Ratings Long Term For WWE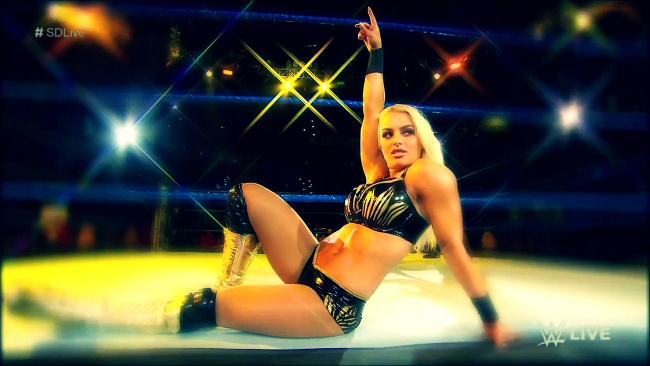 In the latest editions of both RAW and SmackDown we saw in Mandy Rose and Alexa Bliss segments trying to make things edgier in the WWE in a way to raise the ratings of both shows after a terrible streak of all-time low ratings seen last month. Doing this is just an immediate solution for this crisis of ratings WWE has.  
The effect
The Alexa Bliss segment with the WWE ''official'' entering by mistake to her private locker room as of this moment has 5.9 million views on YouTube and Mandy's hotel room segment gathered 2.7 million views on YouTube as well, being the most seen videos of each show. This was predictable to happen since both women are attractive and this kind of segments always get the attention of people especially casual fans of the WWE product.
3 steps forward and 7 steps backwards
On Monday we saw the reveal of the WWE women's tag team belts. The championships have a very great look and outshine most of the belts in the WWE main roster but the fact people to this day are talking more about the Alexa and Mandy segments was poor timing by the WWE and people are focus on what next sexy segment will WWE do next week instead of talking about the belts. WWE just like in 2018 must work a lot of things in the women's department.
A short term thing
This sex appeal segments for obvious reasons will get the attention of some people and gather a great deal of views on YouTube but that will only work on the short term. If we think on long term that act will become irrelevant pretty quick and the ratings will keep going down. This is just another bad idea from Vince McMahon and shows things haven't change at all. WWE should instead focus on improving its booking heading to WrestleMania.
WWE should stop this now
As all reports have told us, the main event of WrestleMania 35 will most likely be Ronda Rousey Vs Becky Lynch Vs Charlotte Flair, and as WWE builds to this historic moment in women's wrestling history having sex appeal segments while booking and building up this match, doing this type of segments will take the thunder out of such historic moment. WWE needs to realize this type of segments in 2019 are not ok.
The Scarlett Bordeaux case
 Some people will mention Scarlett Bordeaux and her character on IMPACT. Her case is a bit different since she is doing a parody of the ''WWE Divas'' era of things, while I'm not fan of some aspects of the gimmick and segments this is clearly made as a parody and updated of that era. Scarlett is booked as this mastermind and narcissist wrestler/manager. To compare her act to the Mandy and Alexa segments would be unfair to Scarlett. The character of Bordeaux wants the reaction and attention but is not as a desperate attempt to get ratings like in WWE's case.