Top 5: Matches of the Week Ending 3/18/2018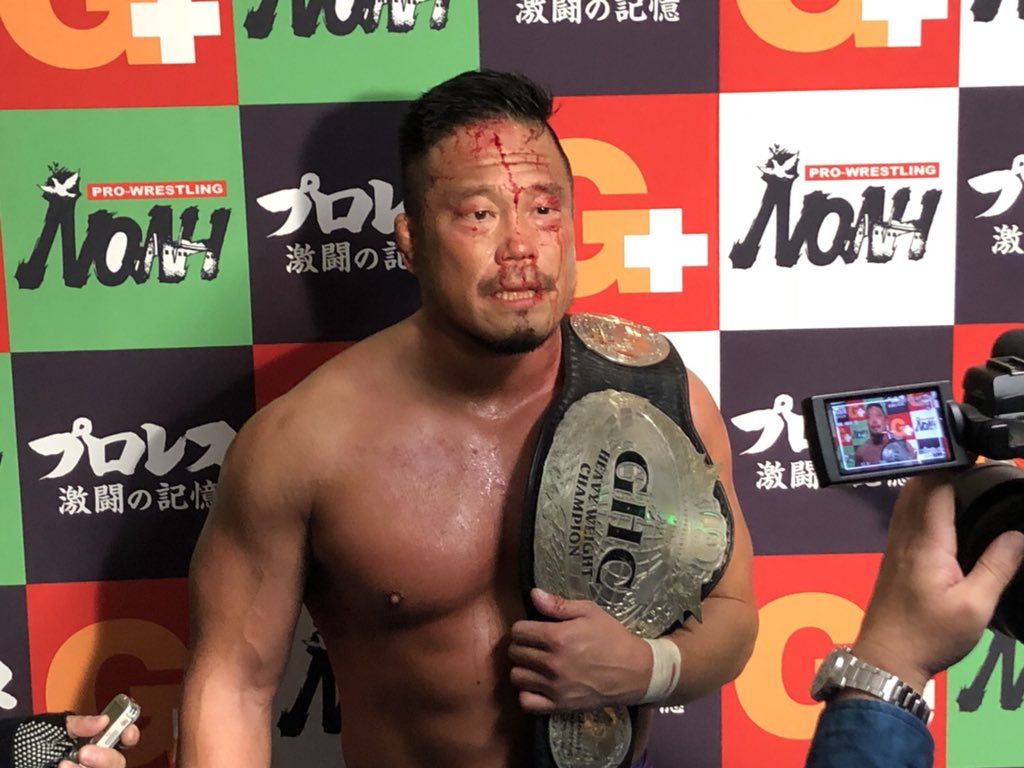 Well I felt like I was dying most of this week, so I missed a bunch of stuff, since I was trying to sleep off the death. So this week is a more straight forward Top 5, from easily found products. But before the new list, we need to reveal the winning match from last week. In yet another 1 vote win, Kazuchika Okada vs Will Ospreay @ NJPW 46th Anniversary, scraped by.
So there we have it, another close vote, and now we've got a new week. Let's get to that already, shall we?
5. NOAH Great Voyage 2018 in Yokohama GHC Heavyweight Championship: Kenoh (c) vs Takashi Sugiura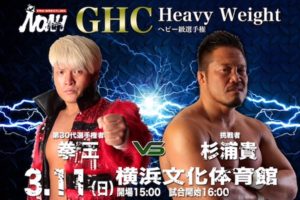 There was a lot of threads that went into this story. Sugiura is less than a year removed from open heart surgery, he was tag team partners with Kenoh up until a month ago, and if he wins, he becomes the only man to hold the belt more than 3 times.
This match had every bit the feel of a grudge match. The strikes were stiff, the submission trades looked like they had emphasis and each man seemed to take a few extra chances. A big double footstomp to the outside from Kenoh, as well as, Sugiura pulling up the padding and hitting an draping neckscrew from the apron.
Sugiura's amateur wrestling and MMA background ended up being the difference in this match. His striking and submission ability trumped Kenoh's kicks. Takashi wins his record 4th title reign, via guillotine choke.
So they are supposed to be partners in the upcoming Global Tag League…so that should be interesting how it plays out.
Rating: *** 1/2
4. 205 Live: Roderick Strong vs Cedric Alexander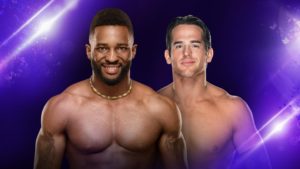 205 Live has done very well for itself in recreating the magic of the Cruiserweight Classic.
We see two fan favorites, come out on fire, and it doesn't slow down too much. So much went on in this match, it's not fair to highlight only a few things, but I will say it was nice to seem them both kick out of the first finisher. Granted the pin was super close to the ropes for both men, so it was an obvious spot, but the match was still entertaining, hard hitting and the winner definitely earned it.
Speaking of winner, Cedric pulled off the win, after his second Lumbar Check. After this match, I personally feel like only Gulak can match up with Alexander. Since we've already seen Alexander beat Ali in his recent rise to number one contender and now basically being the "anointed heir" for the belt. But, we haven't seen Alexander face Gulak in his old, malicious, mat technician mentality, during these last few months.
Rating: *** 3/4
3. NJPW New Japan Cup Semi-Finals Day 2: Zack Sabre Jr vs SANADA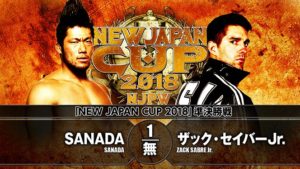 Sabre has been on a tear in this tournament. He's had easily the hardest schedule ( Tetsuya Naito, Kota Ibushi and now SANADA), and he's looked fantastic in all of them.
This was an odd match for SANADA, since not only was he working from underneath a lot, Sabre had counters for SANADA's technical moves. The beginning of the match was both men matching the other one, or finding different escapes, but slowly Sabre started working over some limbs, and SANADA's desperation crept back up.
SANADA went for a moonsault when he really shouldn't have, and that's when the match slowly started slipping away. Unable to really regain momentum, or get Sabre to submit, in his one chance at the Skull End, Sabre twisted him up and made it impossible for him to move to the ropes. So SANADA verbally submits, and Sabre moves to the finals.
NEW JAPAN CUP 2018 (3/18) is now available on NJPW World! @seiyasanada takes on @zacksabrejr to see who moves on to the finals! Who will tap out, and who earn #NJCUP glory! Watch now▶︎https://t.co/Tj7UBINesh#NJCUP #NJPWWorld pic.twitter.com/1oSgx2HjgH

— njpwworld (@njpwworld) March 19, 2018
As I mentioned in my last blurb about a ZSJ match, TAKA has become his Gedo. TAKA playing hype man before and after matches is beautiful. I feel like Sabre should win the Cup just so TAKA and Gedo can have a "hype man off".
Rating: ****
Honorable Mention:
Raw: Finn Balor vs Seth Rollins
Rating: *** 1/4
2. NOAH Great Voyage 2018 in Yokohama GHC Jr Heavyweight Championship: Daisuke Harada (c) vs HAYATA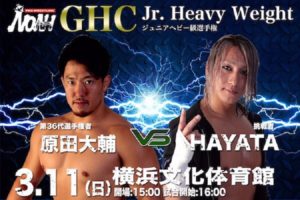 Two stablemates, going at each other like they hated each other. The familiarity between the two was evident, and made for a great match.
Starting off before the bell, HAYATA hits a big cannonball as Harada is walking down the ramp, and proceeds to beat on him before rolling him into the ring. At this point the referee calls for the bell and only seems concerned with taking the belt off the prone champion. It really reminded me of looting a dead body, because once the ref took the belt off, he was like 'okay, continue killing him'.
As soon as Harada got a little momentum back, this match was very typical back and forth Junior match. However, the last 5 or so minutes really sold this match. The pace quickened to lightning speed and we saw numerous move combinations, counters, roll ups, attempts and wow, it didn't stop until the pinfall.
What makes this special is how each man sold the move they were attempting, before the mid air counter. There were numerous times HAYATA would change what looks like a basic high flying move and kick Harada in the face. So even though Harada picked up the win after back to back German Suplex Holds, HAYATA looked amazingly impressive. HAYATA's biggest highlight being a missed moonsault, into a standing shooting star press, into a middle turnbuckle corkscrew senton.
HAYATA is so fluid I want to call him Shape of Water. It is to be noted, that all of the Ratel stable posed together after the match. So there seems to be no bad blood.
Rating: **** 1/4
1. NJPW New Japan Cup Semi-Finals Day 1: Hiroshi Tanahashi vs Juice Robinson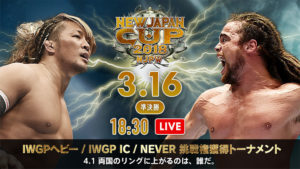 Tanahashi finding success in the New Japan Cup for the first time in a few years, and Juice reaching the semi-finals, in only his second appearance in the tournament, are the obvious notes to this match. Juice and Tanahashi have a lot of history as well, from being on the same teams and Tanahashi mentoring Juice when he was younger. So the way both men approached this match was different, and helped the story exponentially.
We saw a more aggressive Tanahashi, which has been the way his character is trending last couple years. Unwilling to shake hands, and more willing to hold submissions beyond the referee's count, Tanahashi was playing more of the heel role.
The story and actual wrestling was fantastic throughout the match. Each man got in all of their stuff, and even took a page out of the other one's book at a few different points. A spot in the match that proves the "Former Ace's" desperation to win, is while in the corner and getting admonished by Red Shoes, Tanahashi stops, slowly walk Red Shoes away from the corner and shushes him; only to return to laying the boots to Juice in the corner.
Little things like that, all through the match made this very special. Juice had plenty of times where he had a believable pin attempt, and at the end of the match, Tana and Juice showed respect. Juice even went as far as to get Tanahashi's air guitar for him, but had a Young Lion throw it in, since he was too injured after the match.
Tanahashi vs Zack Sabre Jr will be a fantastic finals, and if last year proves anything, both finalists position themselves towards chances for the IWGP Heavyweight Championship. So win or lose, we should see Okada vs Tanahashi 1 more time, very soon.
Rating: **** 1/2
Well now I know I said I didn't go out of my way, but that's also because NOAH has been my second favorite promotion in Japan for years, so if it's available to find, I don't see it as an issue. That being said, neither of the NOAH matches get my vote, even though I was happy with the quality of the entire show.
My vote for match of the week is, Hiroshi Tanahashi vs Juice Robinson, there was just too much too like about this match. Well wrestled, good story, happy ending for the crowd, overall exactly what a wrestling match should be.
Vote on Facebook, Twitter, via Carrier Pigeon, or e-mail me at: andrewbalaz@thechairshot.com
---
Always Use Your Head and visit the official Pro Wrestling Tees store for The Chairshot All t-shirt proceeds help support the advancement of your favorite hard-hitting wrestling website, The Chairshot!

---
The 10 Defining Moments Of Kurt Angle's Career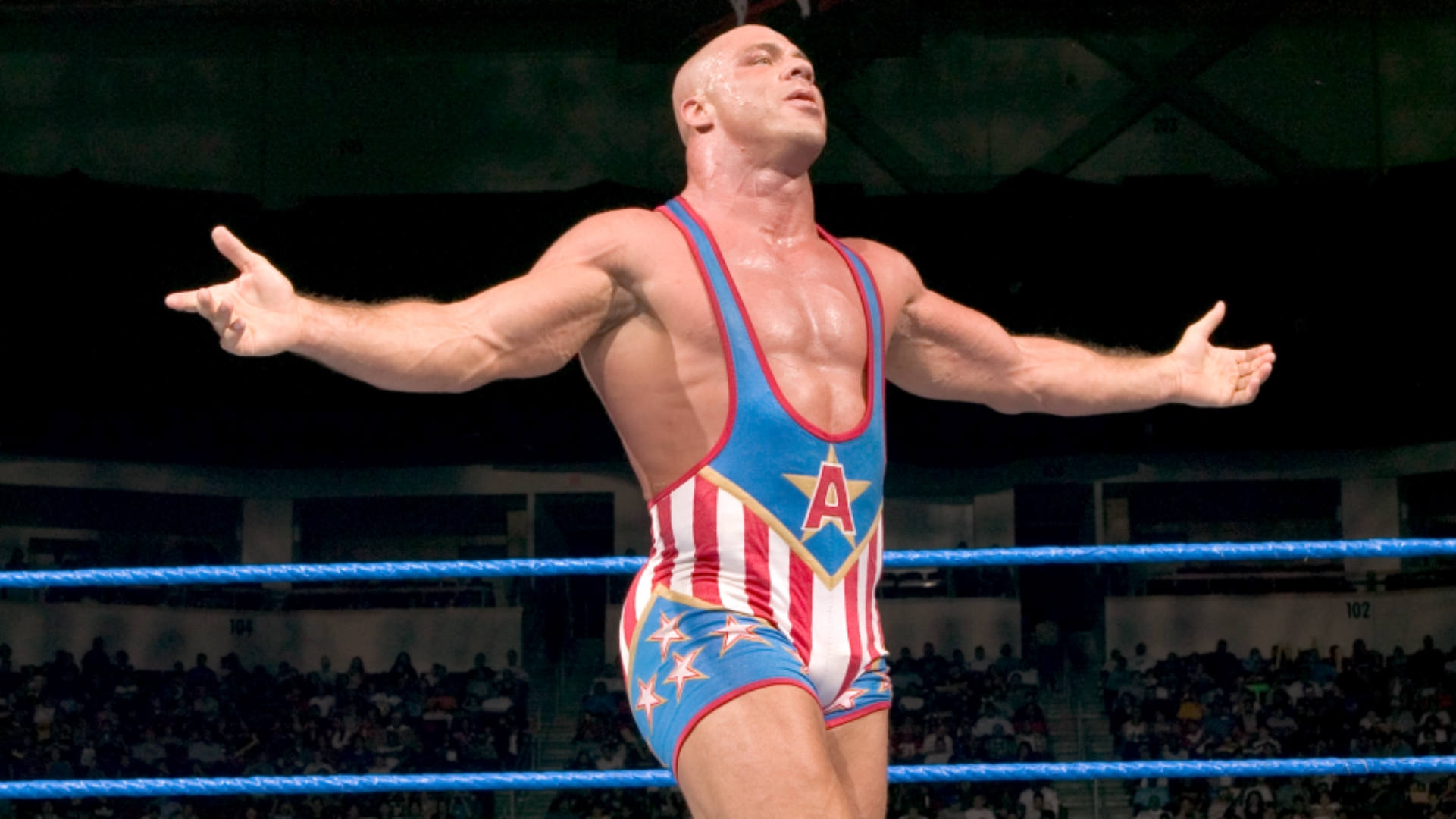 Don't let his cringe worthy role as RAW GM distract you from the fact that Kurt Angle is one of the best in ring technicians of all time. A legit Olympic gold medalist and a multi time world champion as  anyone transitioned from amateur wrestling to pro wrestling as seamlessly as Kurt Angle.
He's one of the most decorated wrestlers of all time and has had a career filled with great moments but which best define the Career of pro wrestling's only Olympic Gold medallist. That's Why I'm here to give you the 10 defining moments of Kurt Angles career.
10. Winning His Gold Medal
I don't know if you're aware of this, but Kurt Angle won a gold medal with a broken freaken neck. He might have mentioned it once or twice. Angle shifted his wait to avoid losing a point but in doing so he landed right on his head. However since Angle is not like most people he still gained the points and went on to win the gold medal
This is on the list not just cause it's a great accomplishment in its self but the fact it became the crux of Kurt Angle's character. This gave Kurt that air of legitimacy and immediately set him apart from everyone else on the roster as there had never been a gold medallist in Pro wrestling before.
9. Appearing in ECW
Despite not debuting until late 99 WWE first offered Kurt Angle a contract in 96 shortly after winning his medal. This was around the time they were brining in people with legit sporting backgrounds like Mark Henry and Ken Shamrock.
Angle was hesitant but a trip to Philadelphia nearly soured Angle on pro wrestling altogether. Angle was a guest at an ECW show because Paul Heyman was trying to convince him to debut for him. It just so happened this was the same show Where the Sandman was crucified by Raven. Not only did they offend many of the people in attendance, but Angle was so offended he walked out.
Imagine if Angle hadn't changed his mind and never went into pro wrestling. This match would have deprived us of so many great matches and moments. 
---
Always Use Your Head and visit the official Pro Wrestling Tees store for The Chairshot All t-shirt proceeds help support the advancement of your favorite hard-hitting wrestling website, The Chairshot!

---
Does Seth Rollins Need to Win vs. Dolph Ziggler at WWE SummerSlam?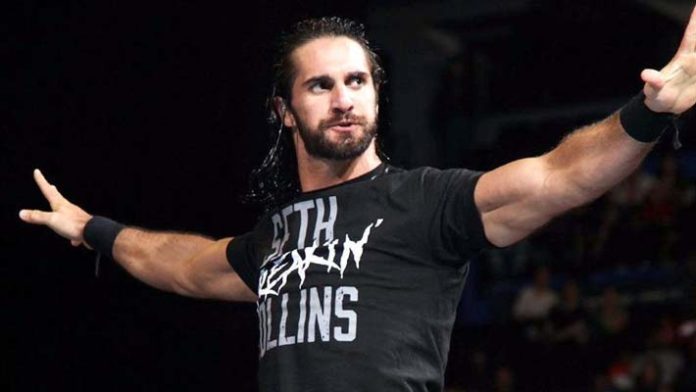 Seth Rollins will wage war against Dolph Ziggler for the WWE Intercontinental Championship at SummerSlam on August 19. The two men have been embroiled in a very intense feud on the red brand for the past few months and SummerSlam may just be the blow-off match.
But does The Kingslayer need the win on August 19? Rollins has been at the top of his game over the past year and many fans believe he is the best in WWE right now. It's certainly difficult to argue that point, as Seth has really never looked better. So should he go over and take back the gold?
For some fans, there is no better validation of a Superstar's talent than with the reward of a championship belt. Titles in WWE denote a certain level of importance of the men and women holding them, which is exactly the notion that the company wants to convey. It is very effective of course, as a title can often mean the difference between a featured star and a supporting cast member.
Sometimes though a championship reinforces a guy's standing in the company. AJ Styles is a perfect example of this. Many believe that AJ is the best in the world today. His matches are must-see TV and he always brings everything he has to tell an amazingly compelling story between the ropes. 
But if Styles did not have the WWE Championship, would fans think any less of him? Would AJ be considered a great talent, but not so great that he can handle the main event grind that comes with being the top titleholder? Common sense says that a guy like AJ Styles doesn't need a title belt or any other type of trophy to be considered the top pro wrestler working today. His work speaks for itself.
However the overall perception of AJ has undoubtedly been heightened due to his run with the WWE Championship. He was always a favorite of fans who followed his career before he came to WWE. But a lengthy run with WWE's top title does nothing but bolster the idea that the company has a tremendous amount of faith in him. Of course there's always the question of who would be WWE champion if AJ didn't have it. After all, there's only so many main event talents working on SmackDown Live.
As for Seth Rollins, the opposite is true. Monday Night Raw is rife with main event guys, all of whom could wear any championship at any time and have a successful run in the process. That makes things a bit tougher for Seth, but it also forces him to raise his game. That is especially true due to a certain Samoan Superstar.
Raw is Roman Reigns' show. WWE is Roman Reigns' company. It's only logical to assume that any brand he lives on would be the top brand and he would be the top champ. The fact that he doesn't have the WWE Universal Championship right now is a mystery to many, who felt that he should have beaten Brock Lesnar months ago at WrestleMania 34.
Even Roman's critics were surely bewildered by WWE's decision to keep the belt on Brock. The Beast Incarnate is never around. He never defends the title. At the very least, Roman is always there and if he did hold the belt, he could potentially drop it to anyone at any time. He's not invincible and he's not unbeatable. 
Reigns may indeed be the next Universal champion of course. He and Lesnar will do battle at SummerSlam for the title. But even if Reigns wins now, it would perhaps feel a bit anticlimactic. Would anyone really care that he finally pinned Lesnar? If Brock wins, would another loss lessen Roman's standing in the company?
As The Big Dog has fought to dethrone the beast, Seth Rollins has been waiting just to the left of his former Shield teammate. As Rollins' matches continued to impress and his stock continued to rise, Seth arguably became the true top guy of Monday Night Raw. Does that come with an asterisk because Rollins does not have a title? Or does that even matter?
Not only does Seth have to contend with the presence of WWE's top star, he also has to deal with guys like Finn Balor, Kevin Owens and Braun Strowman, all of whom are viable contenders for the main event mantle. Even Dean Ambrose, who will eventually return from injury, is among that group.
Of course the Intercontinental Championship is not the Universal Championship. But fans may or may not see that as a negative and WWE certainly doesn't portray it as a negative. The company presents the IC title as the workhorse title and even refers to it that way as well. WWE reinforces the idea that whoever holds the title is a trusted, dependable, hardworking guy. The Intercontinental champion is someone who always delivers and always gets over. What better way to describe Seth Rollins?
The fact is that Seth Rollins is Seth Rollins with or without the Intercontinental Championship. But if he does not regain the title at SummerSlam, does that diminish his standing on Raw? This is WWE after all and in WWE, guys can often get overlooked if no championship plans are in place for them. Surely this is not the case for Seth. 
But some view Rollins as the kid brother to Roman Reigns. Seth is always just behind Reigns, always living in his immense shadow. Is that actually the case? While the Intercontinental Championship may not be a cure-all for Seth Rollins, it may just be the remedy he needs right now. It would anchor his position in WWE. It would also be a nice consolation prize next to the Universal Championship and that title is one that should definitely come to Rollins in time.
---
Always Use Your Head and visit the official Pro Wrestling Tees store for The Chairshot All t-shirt proceeds help support the advancement of your favorite hard-hitting wrestling website, The Chairshot!

---
WWE Week In Review: August 5-11, 2018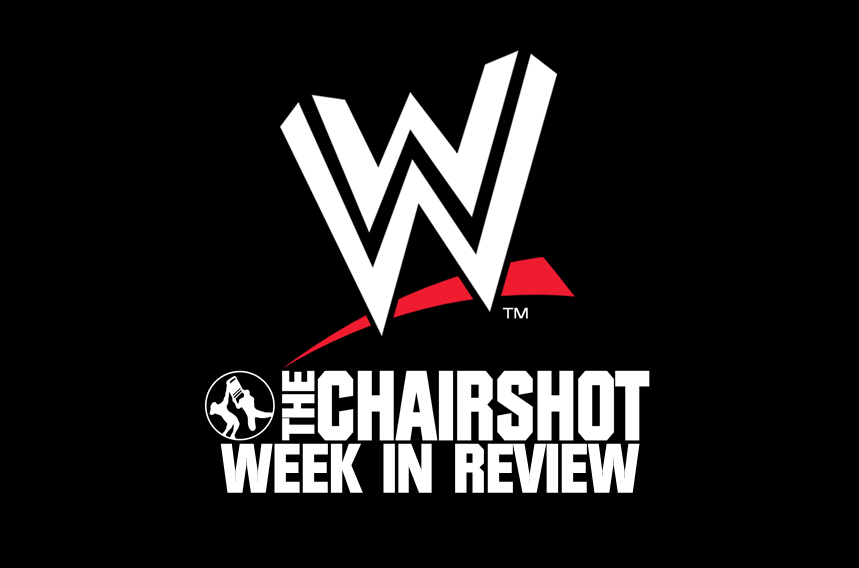 This week, WWE enters the home stretch for SummerSlam and TakeOver, as each brand finalizes their cards and get the ducks in order for the biggest party of the summer. So, let's see how everyone's doing.
RAW
WWE Universal Championship: If anyone had any illusions that Brock Lesnar would face any kind of punishment for his actions last week, they were sorely mistaken. Lesnar will not be punished for his unwarranted attack on Angle or Paul Heyman, and Heyman still has a job with WWE.
Reigns took the opportunity during the opening segment to call out Angle's seeming impotence and Corbin's cowardice last week, saying that if they hadn't thrown him out of the building for no reason, there would've been someone to stop Brock Lesnar. Angle, in a rare moment of favoritism, said that he hoped Reigns would kick Lesnar's ass at SummerSlam.
Reigns was also in action against Constable Corbin, who ran his mouth once too often and was put in a match by Kurt Angle at the top of the show. Corbin tried to take a Countout loss, but Finn Balor stopped that pretty quickly and helped Reigns secure a pinfall.
Reigns had a sitdown interview with Corey Graves and continued to make his case against Lesnar, citing the latter's disrespect of the business and his half assed championship reign.
On the Lesnar side of this match, Paul Heyman had a sit down interview with Renee Young. Heyman gave a very emotional interview, leading us to believe that the sixteen-year business relationship has ended permanently and that Heyman doesn't know what to do about it. Though Heyman seems sincere enough, most of the people I talk to smell a rat, and I agree with them, this break up seems too convenient.
WWE Intercontinental Championship: After last week's sneak attack, Seth was out for McIntyre and Ziggler's collective ass. Angle told Rollins to find a partner and he could take on Ziggler and McIntyre in a tag match. Seth had his pick of partners, including Tyler Breeze, who has had little to do since his partner, Fandango, was injured and seemed to fancy himself a replacement for the injured Dean Ambrose, who got a mention on RAW as the one person who WOULDN'T be Seth's partner. Fortunately, Roman Reigns stepped up to help save his Shield brother from the possibility of Crossfit Breezus (I swear, that's what he said!).
Unfortunately, Stephanie McMahon arbitrarily decided that Roman could not be allowed to wrestle twice in the same night, in the name of protecting the SummerSlam main event, leaving Seth, again, without a partner. Rather than settle for a second-rate partner, Rollins chose to go it alone and paid for it by being defeated by Ziggler and McIntyre, though it was a very close thing. It's clear that Rollins is going to need some backup for SummerSlam, but it's not clear who it's going to be.
RAW Women's Championship: Ronda Rousey made her RAW debut against Alicia Fox this week after Fox attacked Rousey from behind last week after beating Rousey's buddy, Natalya, with an assist from Alexa Bliss. Despite the best efforts of Alexa Bliss, all her and Fox's antics did was piss off Rousey, which is criminal level stupidity. Rousey got the submission victory and sent a very loud message to the RAW Women's Champion: Your days as RAW Women's Champion are numbered. Bliss tried to regain some momentum, but just further pissed off the Baddest Woman on the Planet. It finally seems to be registering with Bliss that she's bitten off a lot more than she can chew with Rousey, but time will tell what the self-proclaimed Goddess of RAW has up her sleeves.
In a post-show interview, Bliss claimed to not be scared of Rousey, but it's clear that Bliss is trying to save face, considering that Rousey seems to be unstoppable.
RAW Tag Team Championship: B Team was in action tonight against the Revival, who made their argument for being in the Tag Team Championship conversation by beating the Deleters of Worlds last week. The match was broken up by a run in by the Deleters of Worlds, who took out both teams, signaling that they're not out the conversation yet.
Towards the end of RAW, it was announced that there will be a Triple Threat Match for the tag titles on RAW next week between B Team, Deleters of Worlds, and the Revival. It's too soon to say this means that the Tag Titles WON'T be on the line at SummerSlam, but this could also mean that WWE's trying to trim down the number of matches.
Sasha and Bayley: The Boss Hug Connection was in action again against Sarah Logan and Liv Morgan of the Riott Squad. Though Banks and Bayley worked well together, Riott Squad were in the mood to fight and got a big assist from the returning Ruby Riott for the win. Since Banks and Bayley are still getting along two weeks out from SummerSlam, it looks like their eventual PPV confrontation is being held off again.
In a post-RAW interview, the returning Ruby Riott and her Squad celebrated her return and vowed to take the Boss Hug Connection apart, which could mean that there will be a match at SummerSlam.
Kevin Owens vs Braun Strowman: The Kevin Owens show made its return this week. His guest was the Modern Day Maharaja, Jinder Mahal. After a lot of mutual ass kissing, Owens and company found their stage on the move, as it was toppled over, with them on it.
Strowman was in the mood to fight, still not over the countout defeat he suffered due to the machinations of Mahal and Owens last week, but once again, a distraction by Owens taking off with the MITB briefcase gave Mahal a victory but didn't save him from getting his butt kicked. Owens again took off with the briefcase and got slapped into next week, as did Singh, who tried to come to Mahal's aid
 Finn Balor: Balor's road to SummerSlam has a map, after assisting Reigns in defeating Corbin early in the show, Balor furthered the humiliation of the Constable of RAW, by attacking him post-match and hitting the Coup de Grace on Corbin's already sore ribs. General Manager Angle, tired of Corbin's constant meddling and undermining, put his unwanted Constable in a match against the man he's continually tried to humiliate in an Extreme Rules rematch.
Elias vs Bobby Lashley: The issue between Elias and Lashley got nastier this week with Lashley disrespecting Elias and his talent after getting tired of Elias' prima donna antics, calling him a joke. Unsurprisingly, Elias didn't appreciate the criticism, sucker punching Lashley. Lashley fired back and commandeered the camera crew that was following Elias around so that Elias' ass kicking could get a close up.
Titus Worldwide vs Authors of Pain: AOP member Rezar (again, I'm not sure which one that is) was in action against Titus O'Neil. Rezar put out a pretty dominate performance and got the win on O'Neil. I don't know if this feud will go to SummerSlam, but it would be a fun one.
Bobby Roode vs Mojo Rawley: Roode and Rawley's issues came to a boil last week when they had a fistfight in the locker room after Roode got tired of Rawley disrespecting the locker room. The two met in a one-on-one confrontation tonight. Roode came out on top, but I have a feeling this issue isn't over yet.
Kurt Angle vs Baron Corbin: Things between Angle and Corbin continue to disintegrate as Corbin stepped up his undermining efforts, calling Angle out in the ring, as well as Roman Reigns. Angle finally seems to be tiring of being neutered by Corbin and Stephanie McMahon, so it's safe to assume that Angle will be watching Corbin's match with Finn Balor very closely.
---
Always Use Your Head and visit the official Pro Wrestling Tees store for The Chairshot All t-shirt proceeds help support the advancement of your favorite hard-hitting wrestling website, The Chairshot!

---