Top 5: Matches of the Week Ending 3/18/2018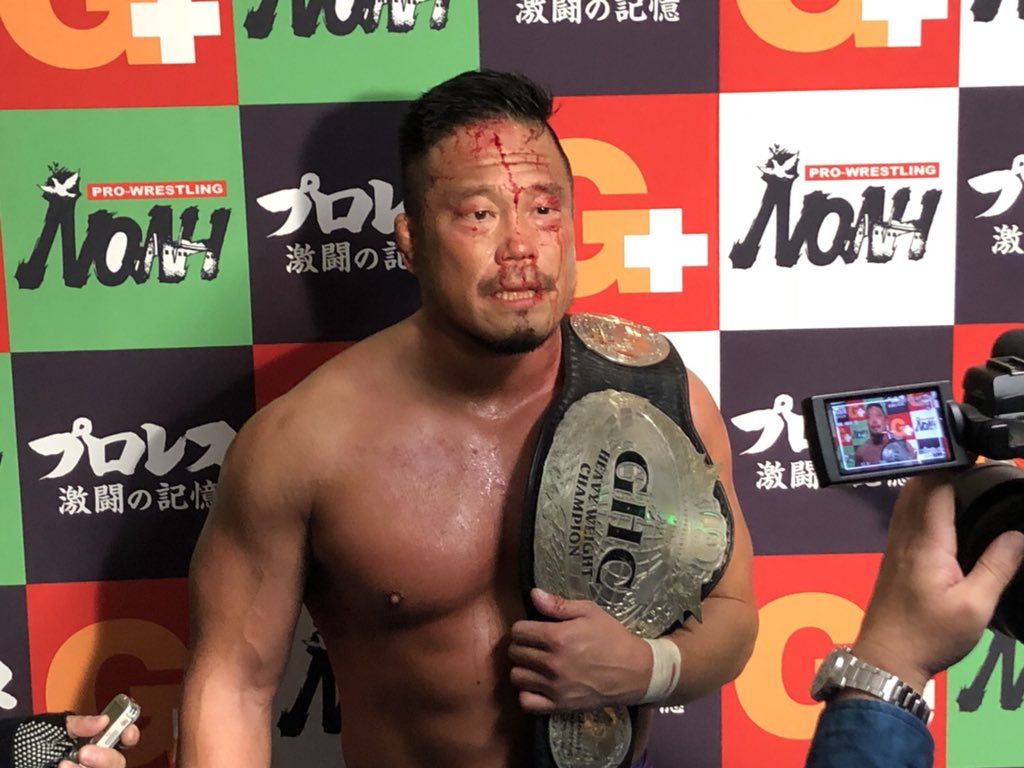 Well I felt like I was dying most of this week, so I missed a bunch of stuff, since I was trying to sleep off the death. So this week is a more straight forward Top 5, from easily found products. But before the new list, we need to reveal the winning match from last week. In yet another 1 vote win, Kazuchika Okada vs Will Ospreay @ NJPW 46th Anniversary, scraped by.
So there we have it, another close vote, and now we've got a new week. Let's get to that already, shall we?
5. NOAH Great Voyage 2018 in Yokohama GHC Heavyweight Championship: Kenoh (c) vs Takashi Sugiura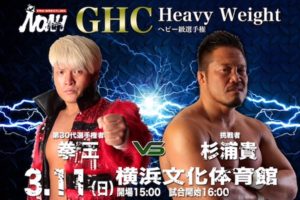 There was a lot of threads that went into this story. Sugiura is less than a year removed from open heart surgery, he was tag team partners with Kenoh up until a month ago, and if he wins, he becomes the only man to hold the belt more than 3 times.
This match had every bit the feel of a grudge match. The strikes were stiff, the submission trades looked like they had emphasis and each man seemed to take a few extra chances. A big double footstomp to the outside from Kenoh, as well as, Sugiura pulling up the padding and hitting an draping neckscrew from the apron.
Sugiura's amateur wrestling and MMA background ended up being the difference in this match. His striking and submission ability trumped Kenoh's kicks. Takashi wins his record 4th title reign, via guillotine choke.
So they are supposed to be partners in the upcoming Global Tag League…so that should be interesting how it plays out.
Rating: *** 1/2
4. 205 Live: Roderick Strong vs Cedric Alexander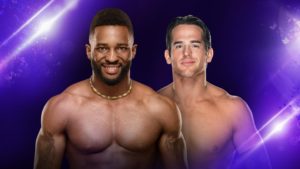 205 Live has done very well for itself in recreating the magic of the Cruiserweight Classic.
We see two fan favorites, come out on fire, and it doesn't slow down too much. So much went on in this match, it's not fair to highlight only a few things, but I will say it was nice to seem them both kick out of the first finisher. Granted the pin was super close to the ropes for both men, so it was an obvious spot, but the match was still entertaining, hard hitting and the winner definitely earned it.
Speaking of winner, Cedric pulled off the win, after his second Lumbar Check. After this match, I personally feel like only Gulak can match up with Alexander. Since we've already seen Alexander beat Ali in his recent rise to number one contender and now basically being the "anointed heir" for the belt. But, we haven't seen Alexander face Gulak in his old, malicious, mat technician mentality, during these last few months.
Rating: *** 3/4
3. NJPW New Japan Cup Semi-Finals Day 2: Zack Sabre Jr vs SANADA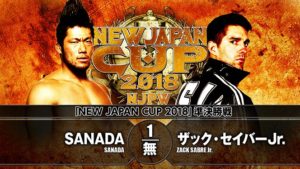 Sabre has been on a tear in this tournament. He's had easily the hardest schedule ( Tetsuya Naito, Kota Ibushi and now SANADA), and he's looked fantastic in all of them.
This was an odd match for SANADA, since not only was he working from underneath a lot, Sabre had counters for SANADA's technical moves. The beginning of the match was both men matching the other one, or finding different escapes, but slowly Sabre started working over some limbs, and SANADA's desperation crept back up.
SANADA went for a moonsault when he really shouldn't have, and that's when the match slowly started slipping away. Unable to really regain momentum, or get Sabre to submit, in his one chance at the Skull End, Sabre twisted him up and made it impossible for him to move to the ropes. So SANADA verbally submits, and Sabre moves to the finals.
NEW JAPAN CUP 2018 (3/18) is now available on NJPW World! @seiyasanada takes on @zacksabrejr to see who moves on to the finals! Who will tap out, and who earn #NJCUP glory! Watch now▶︎https://t.co/Tj7UBINesh#NJCUP #NJPWWorld pic.twitter.com/1oSgx2HjgH

— njpwworld (@njpwworld) March 19, 2018
As I mentioned in my last blurb about a ZSJ match, TAKA has become his Gedo. TAKA playing hype man before and after matches is beautiful. I feel like Sabre should win the Cup just so TAKA and Gedo can have a "hype man off".
Rating: ****
Honorable Mention:
Raw: Finn Balor vs Seth Rollins
Rating: *** 1/4
2. NOAH Great Voyage 2018 in Yokohama GHC Jr Heavyweight Championship: Daisuke Harada (c) vs HAYATA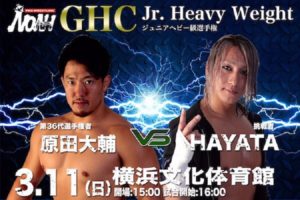 Two stablemates, going at each other like they hated each other. The familiarity between the two was evident, and made for a great match.
Starting off before the bell, HAYATA hits a big cannonball as Harada is walking down the ramp, and proceeds to beat on him before rolling him into the ring. At this point the referee calls for the bell and only seems concerned with taking the belt off the prone champion. It really reminded me of looting a dead body, because once the ref took the belt off, he was like 'okay, continue killing him'.
As soon as Harada got a little momentum back, this match was very typical back and forth Junior match. However, the last 5 or so minutes really sold this match. The pace quickened to lightning speed and we saw numerous move combinations, counters, roll ups, attempts and wow, it didn't stop until the pinfall.
What makes this special is how each man sold the move they were attempting, before the mid air counter. There were numerous times HAYATA would change what looks like a basic high flying move and kick Harada in the face. So even though Harada picked up the win after back to back German Suplex Holds, HAYATA looked amazingly impressive. HAYATA's biggest highlight being a missed moonsault, into a standing shooting star press, into a middle turnbuckle corkscrew senton.
HAYATA is so fluid I want to call him Shape of Water. It is to be noted, that all of the Ratel stable posed together after the match. So there seems to be no bad blood.
Rating: **** 1/4
1. NJPW New Japan Cup Semi-Finals Day 1: Hiroshi Tanahashi vs Juice Robinson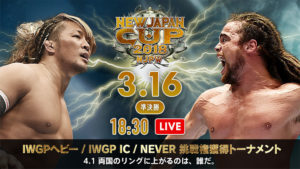 Tanahashi finding success in the New Japan Cup for the first time in a few years, and Juice reaching the semi-finals, in only his second appearance in the tournament, are the obvious notes to this match. Juice and Tanahashi have a lot of history as well, from being on the same teams and Tanahashi mentoring Juice when he was younger. So the way both men approached this match was different, and helped the story exponentially.
We saw a more aggressive Tanahashi, which has been the way his character is trending last couple years. Unwilling to shake hands, and more willing to hold submissions beyond the referee's count, Tanahashi was playing more of the heel role.
The story and actual wrestling was fantastic throughout the match. Each man got in all of their stuff, and even took a page out of the other one's book at a few different points. A spot in the match that proves the "Former Ace's" desperation to win, is while in the corner and getting admonished by Red Shoes, Tanahashi stops, slowly walk Red Shoes away from the corner and shushes him; only to return to laying the boots to Juice in the corner.
Little things like that, all through the match made this very special. Juice had plenty of times where he had a believable pin attempt, and at the end of the match, Tana and Juice showed respect. Juice even went as far as to get Tanahashi's air guitar for him, but had a Young Lion throw it in, since he was too injured after the match.
Tanahashi vs Zack Sabre Jr will be a fantastic finals, and if last year proves anything, both finalists position themselves towards chances for the IWGP Heavyweight Championship. So win or lose, we should see Okada vs Tanahashi 1 more time, very soon.
Rating: **** 1/2
Well now I know I said I didn't go out of my way, but that's also because NOAH has been my second favorite promotion in Japan for years, so if it's available to find, I don't see it as an issue. That being said, neither of the NOAH matches get my vote, even though I was happy with the quality of the entire show.
My vote for match of the week is, Hiroshi Tanahashi vs Juice Robinson, there was just too much too like about this match. Well wrestled, good story, happy ending for the crowd, overall exactly what a wrestling match should be.
Vote on Facebook, Twitter, via Carrier Pigeon, or e-mail me at: andrewbalaz@thechairshot.com
Steve Cook: 10 Commandments For Wrestling Fans
Be a good fan.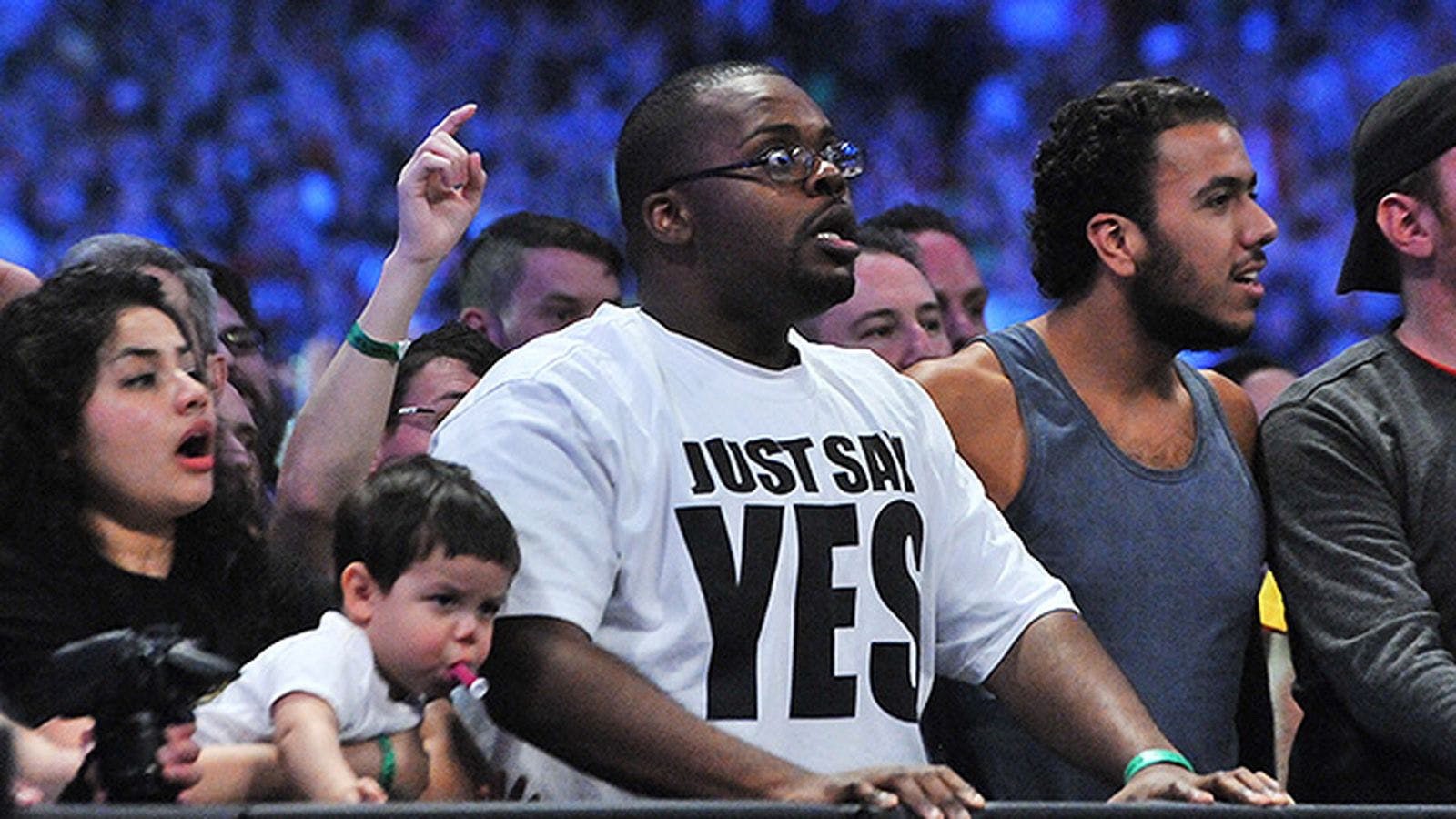 It's an amazing time to be a fan, but that great power brings great responsibility. Steve Cook steps in with an all-too-important list of commandments for wrestling fans!
We live in a crazy time. I feel like it's getting crazier the further we move along. I'm not sure what I can do otherwise than try to set behavioral standards for wrestling fans attending events right now. I would prefer not to do such a thing, but wrestling fans are not giving me a choice with their antics recently. If they acted like rational people I could remain silent, but instead they choose to act like assholes and force my hand. I wish they wouldn't, but I have no choice but to strike them down.
I have 10 Wrestling Commandments for Wrestling Fans, and they need to accept them.
10. Thou shalt apply deodorant
This is the biggest common courtesy you can do for your fellow wrestling fans. Let's be honest, a lot of us are going to be sweating buckets during a show. The experience is never going to be lemony fresh. Deodorant does make a difference. It's one layer to suppress the stink, and maybe it ends up losing the battle, but it puts up a good fight.
9. Thou shalt not consume more than you can handle
Knowing your limit & staying under that limit suppresses a lot of situations. I'm one of those guys that can consume way too much and not do anything too crazy most of the time, but not everybody has my constitution. Which is great for them, as they don't have to worry about dying of liver failure before they hit 50.
8. Thou shalt not hold up signs blocking fans' view
I can only name one time I could approve of such a thing. I attended the 2012 Royal Rumble in St. Louis. A fan right in front of me had a sign. I was outraged at first, but then I realized the sign said "I Paid To See Daniel Bryan". Then I shook the man's hand and gave him my approval as a fellow Daniel Bryan fan. As it turned out, Bryan worked the opening match, so I didn't have to deal with it most of the night.
7. Thou shalt not compare African-American Wrestlers to other African-Americans
The worst fan experience I can remember being a part of was an ROH show in Dayton, Ohio with Jay Lethal in the main event. I don't know why that was the time they felt the need to compare Lethal to Gary Coleman or Webster or other famous African-Americans they could think of, but it was a humiliating experience as a wrestling fan without racist tendencies, and I understood why ROH would be hesitant to bring Japanese talent to the Montgomery County Fairgrounds. Just so so bad.
6. Thou shalt spend freely at the merchandise table
The merch table is where the wrestlers make most of their money on most of the shows you will attend. If you really want to show your appreciation for a wrestler, this is where you will spend your money.
5. Thou shalt not use profanity
This is one I've been guilty of far too frequently. I grew up watching Tony Soprano & Al Swearengen, so profanity is undeniably part of my vocabulary. Especially at sporting events with quality opposition & questionable officiating. It's not an admirable trait though, especially when pro wrestling is most enjoyed as a child. Try to keep it clean if a child is within eyesight. They'll learn these words eventually, but you don't want it to be from you.
---
Time to pick up a new Chairshot shirt!

Get yours at:
https://www.prowrestlingtees.com/related/thechairshot.html
---
4. Thou shalt not use "insider terms"
The problem I have is with people who use insider terms wrongly. Also, with people that use them to heckle the wrestlers. I hate people that try to act like they know things when they really don't. I've been writing these columns for years and have read more than most people on the Internet, but I still wouldn't use insider terms to heckle wrestlers. If I wouldn't go there, you shouldn't.
3. Thou shalt cheer for whomever you please
This is a debatable one. One popular school of thought, especially among wrestlers, is that fans should cheer the faces & boo the heels no matter what. It's said to reflect poorly on a heel if he gets cheered, therefore if a fan truly appreciates the bad guy wrestler they should boo anyway.
I reject all of this nonsense. If you like a wrestler, cheer them. I don't want to train fans to lie, so I won't. I mean…can somebody really boo Chris Jericho in 2019? He's an evil man, but I would cheer if he walked out in an arena I happened to be in. I couldn't help myself. The man is a wrestling legend. If Jericho, or Flair, or somebody on their wavelength came out, I would cheer regardless of whatever a wrestling promoter told me to do.
2. Thou shalt not touch the wrestler, unless thou art high-fiving a fan favorite
This seems like common logic, but it's been ignored far too often lately. Scarlett Bordeaux had the temerity, the unmitigated gall to work a show in Cancun over the weekend, and some overeager ringsider wanted to get all touch-feely.
Scarlett Bordeaux was groped by a fan at yesterday's AAA Worldwide event in Cancun. Security watched and did nothing. pic.twitter.com/coz0ZwGkvD

— HeelByNature.com (@HeelByNatureYT) June 16, 2019
What the hell? In what universe is that kind of behavior acceptable? I don't give a damn about Scarlett's persona or her ring attire or whatever. What makes fans think they have the right to cop a feel on anybody? Money? I know we elect people to public office based off of money, and we don't care if our presidents grope females, but we hold wrestling ringsiders to higher standards than our Presidents apparently.
We should hold our Presidents to higher standards, but this isn't a 10 Commandments for Presidents column. If somebody higher on the foodchain wants me to write that column, I will with pleasure.
1. Thou shalt remain on your side of the barrier
This seems like the easiest commandment to live by. As fans, we should all know our place is in the audience. We're not getting paid to be part of the show. Yet, some dumbass marks think they are part of the show and need to participate. Very recently, there was the asshole that got owned by an angry Samoan.
Someone learned the hard way why fans shouldn't cross the barricade at PCW Ultra tonight, courtesy of @SAMOANWEREWOLF pic.twitter.com/RihAqcshax

— SoCal UNCENSORED (@socaluncensored) June 15, 2019
I wish I had an angry Samoan at hand to deal with people that annoyed me. I don't, but most wrestling shows do. My feeling is that once you cross the barrier, you are subject to whatever punishment the people employed by the company feel is acceptable. If it's getting your ass kicked by an angry Samoan, it is what it is. You are entering into their workplace. Their workplace often involves violence. It isn't their fault if you don't know how to work.
Tiffany's Takes: WWE Raw (6/17/19)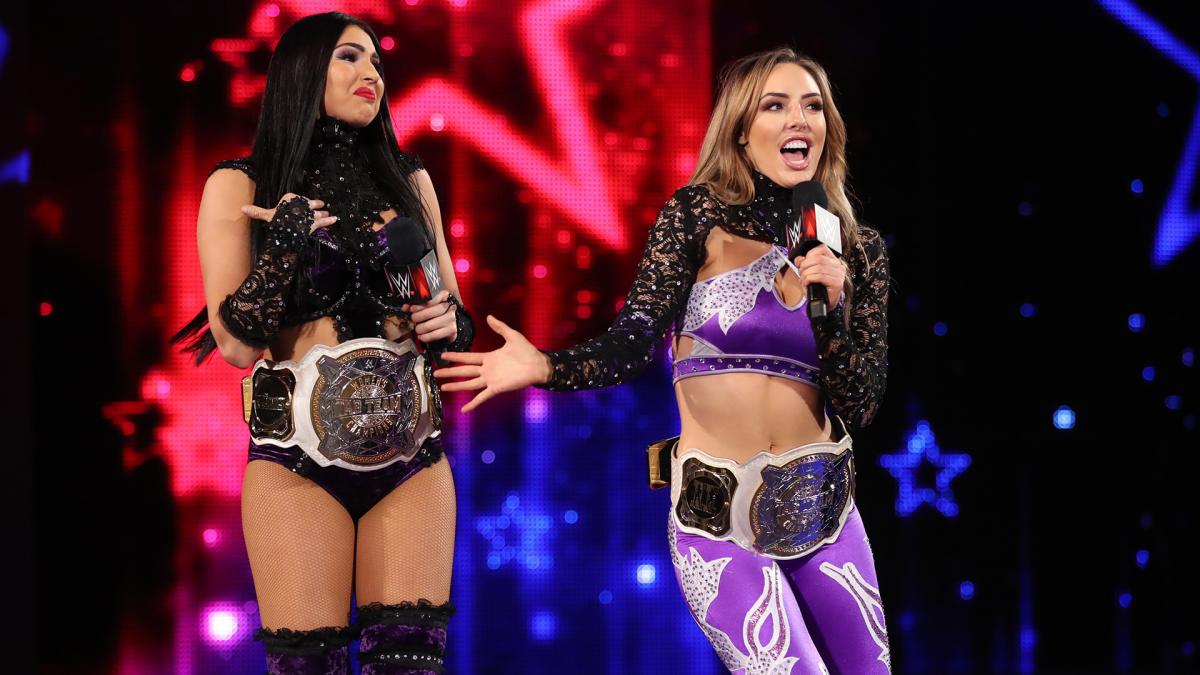 Tiffany's Takes kicks off the week with look at WWE Raw that featured Seth Rollins vs. Daniel Bryan and The New Day in a 2-Out-Of-3-Falls Match!
It's the go-home show for Stomping Grounds! How will WWE Raw make a case for fans to tune in?
Universal Championship: Seth Rollins might a babyface, but that doesn't mean he's afraid to get nasty. I LOVED this nasty side of the BeastSlayer and the warning about what will happen to anyone who sides with Corbin over him. THIS is a Universal Champion I can definitely get behind.
I love it when a face makes good on a threat. I lost count on how many prospective refs Seth destroyed, but he definitely got his point across to Corbin and his cronies: Do NOT piss off Seth Rollins.
I enjoyed the six man tag, though an actual, conscious ref was not as fun as EC3 playing Bernie from Weekend at Bernie's (look it up on Wikipedia if you have no idea what I'm talking about). I had a rant all done about how dumb it was to have Rowan interfere and ruin Rollins vs Bryan, but it wasn't needed. That was a great match, can we have more of those, please?
United States Championship:  If Elias wasn't such a slimeball and mediocre singer, I'd almost feel bad for him after he got beat up by every person involved in the Fatal Five Way #1 Contender's Match for the United States Championship, including two guys he used to be allied with.
The match was actually better than I'd expected, though I did somewhat appreciate the story building of Lashley helping to get Strowman eliminated as payback for Strowman eliminating him. My one big gripe is that this match didn't go for very long, but I am THRILLED that Ricochet won and will get a shot on Sunday!
RAW Women's Division: Have I ever mentioned that I'm over this Becky Lynch/Lacey Evans feud? I have? Good, because I wasn't sure I've mentioned how boring I'm finding Becky's ongoing problems with Emmie Slattery (Evans). I did appreciate them bringing up that Evans is a former Marine because I hate that they've taken someone who is a legit badass and can be such a great example for girls and turned her into a pinup who espouses sexist nonsense that has no place in modern America. HOPEFULLY, Scarlett (Lynch) will finally triumph over Emmie and move on to someone else.
Thank you, God, they made the IIconics look like competent champs! Their title run has been build on them looking stupid and it's hurt them so badly. Even with a tainted win, it was a win over serious opponents, which they needed. Again, I loved edgy Bayley, but I hate that she's playing into Alexa's plan to steal the title. Hopefully, someone gets to Nikki and makes her see sense before something really goes wrong.
Raw Tag Team Division: After an absence of several weeks, Viking Raiders finally returned to RAW for some pillaging, and had to deal with the Greenjerks watching their match, for some reason, and that was about the most interesting thing about that match, since I don't think we got the names of the poor guys they squashed.
I liked the Revival proving that there is no honor among thieves when they stole money from Drew McIntyre. I appreciated WWE trying to enhance McIntyre's heel creds by having him attack Heath Slater, but it just felt forced.
I know Good Brothers are leaving in the fall, but I LOVED the reunion between them and Styles. Oh, what could've been if Vince had pulled his head out of his ass. That said, it looks like Styles' words got to them so this last run might be pretty good. I did enjoy the tag match between them and the Usos, but it wasn't long enough for me, plus Good Brothers looked ridiculous.
24/7 Championship: I'll give Truth and Carmella their dues for trying to be clever with those disguises. They would've gotten away with it if not for the camera crew.
Roman Reigns vs Shane McMahon: If Shane and Drew haven't gotten the message about pissing off Roman Reigns, I'm pretty sure they learned it tonight after Roman beat the hell out of Shane, to everyone's delight, including mine.
Firefly Fun House: NOPE. Just…NOPE! He still gets points for the literature nod, but that's it. I draw the line at maggots, but at least the rabbit was okay. Also: The world is ROUND, you inbred!
Overall Comments: So, how was RAW tonight? That was actually the best go-home show they've had in awhile. Every story got built and we got some great matches. Whoever was booking tonight should get a raise.
There's been some discussion about Seth's conduct, but it makes sense when you realize that he's on his own. Ambrose is gone and Roman is dealing with his own issues. Seth's got no one to watch his back and Lesnar is lurking around, so he's getting paranoid and sick of everyone's BS.
I'm ready for Alexa to get her ass kicked on Sunday and I hope Nikki Cross comes to her senses soon. I'm thrilled that the IIconics are finally being treated like legit performers and not just jokes.
Rollins vs Bryan didn't disappoint, but the fact that we still don't have a guest ref is cause for concern.
That's it for Tiffany's Takes! Tune in tomorrow for SmackDown and 205!
---
Time to pick up a new Chairshot shirt!

Get yours at:
https://www.prowrestlingtees.com/related/thechairshot.html