Top 5: Matches of the Week Ending 3/18/2018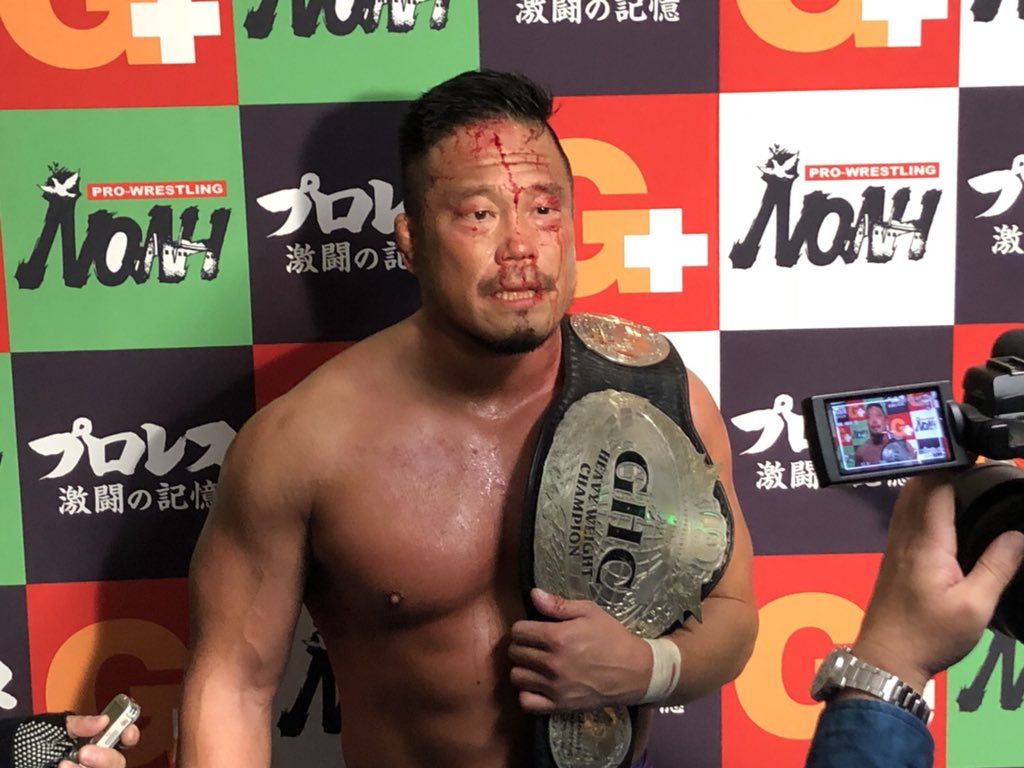 Well I felt like I was dying most of this week, so I missed a bunch of stuff, since I was trying to sleep off the death. So this week is a more straight forward Top 5, from easily found products. But before the new list, we need to reveal the winning match from last week. In yet another 1 vote win, Kazuchika Okada vs Will Ospreay @ NJPW 46th Anniversary, scraped by.
So there we have it, another close vote, and now we've got a new week. Let's get to that already, shall we?
5. NOAH Great Voyage 2018 in Yokohama GHC Heavyweight Championship: Kenoh (c) vs Takashi Sugiura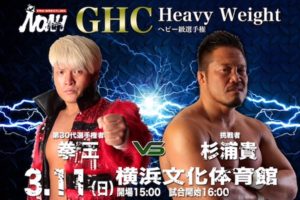 There was a lot of threads that went into this story. Sugiura is less than a year removed from open heart surgery, he was tag team partners with Kenoh up until a month ago, and if he wins, he becomes the only man to hold the belt more than 3 times.
This match had every bit the feel of a grudge match. The strikes were stiff, the submission trades looked like they had emphasis and each man seemed to take a few extra chances. A big double footstomp to the outside from Kenoh, as well as, Sugiura pulling up the padding and hitting an draping neckscrew from the apron.
Sugiura's amateur wrestling and MMA background ended up being the difference in this match. His striking and submission ability trumped Kenoh's kicks. Takashi wins his record 4th title reign, via guillotine choke.
So they are supposed to be partners in the upcoming Global Tag League…so that should be interesting how it plays out.
Rating: *** 1/2
4. 205 Live: Roderick Strong vs Cedric Alexander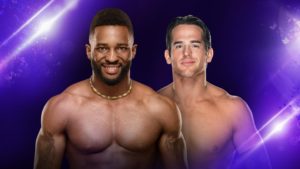 205 Live has done very well for itself in recreating the magic of the Cruiserweight Classic.
We see two fan favorites, come out on fire, and it doesn't slow down too much. So much went on in this match, it's not fair to highlight only a few things, but I will say it was nice to seem them both kick out of the first finisher. Granted the pin was super close to the ropes for both men, so it was an obvious spot, but the match was still entertaining, hard hitting and the winner definitely earned it.
Speaking of winner, Cedric pulled off the win, after his second Lumbar Check. After this match, I personally feel like only Gulak can match up with Alexander. Since we've already seen Alexander beat Ali in his recent rise to number one contender and now basically being the "anointed heir" for the belt. But, we haven't seen Alexander face Gulak in his old, malicious, mat technician mentality, during these last few months.
Rating: *** 3/4
3. NJPW New Japan Cup Semi-Finals Day 2: Zack Sabre Jr vs SANADA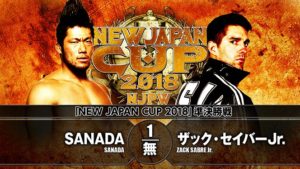 Sabre has been on a tear in this tournament. He's had easily the hardest schedule ( Tetsuya Naito, Kota Ibushi and now SANADA), and he's looked fantastic in all of them.
This was an odd match for SANADA, since not only was he working from underneath a lot, Sabre had counters for SANADA's technical moves. The beginning of the match was both men matching the other one, or finding different escapes, but slowly Sabre started working over some limbs, and SANADA's desperation crept back up.
SANADA went for a moonsault when he really shouldn't have, and that's when the match slowly started slipping away. Unable to really regain momentum, or get Sabre to submit, in his one chance at the Skull End, Sabre twisted him up and made it impossible for him to move to the ropes. So SANADA verbally submits, and Sabre moves to the finals.
NEW JAPAN CUP 2018 (3/18) is now available on NJPW World! @seiyasanada takes on @zacksabrejr to see who moves on to the finals! Who will tap out, and who earn #NJCUP glory! Watch now▶︎https://t.co/Tj7UBINesh#NJCUP #NJPWWorld pic.twitter.com/1oSgx2HjgH

— njpwworld (@njpwworld) March 19, 2018
As I mentioned in my last blurb about a ZSJ match, TAKA has become his Gedo. TAKA playing hype man before and after matches is beautiful. I feel like Sabre should win the Cup just so TAKA and Gedo can have a "hype man off".
Rating: ****
Honorable Mention:
Raw: Finn Balor vs Seth Rollins
Rating: *** 1/4
2. NOAH Great Voyage 2018 in Yokohama GHC Jr Heavyweight Championship: Daisuke Harada (c) vs HAYATA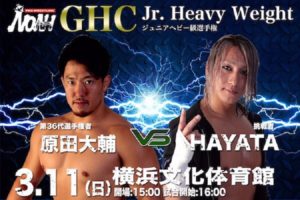 Two stablemates, going at each other like they hated each other. The familiarity between the two was evident, and made for a great match.
Starting off before the bell, HAYATA hits a big cannonball as Harada is walking down the ramp, and proceeds to beat on him before rolling him into the ring. At this point the referee calls for the bell and only seems concerned with taking the belt off the prone champion. It really reminded me of looting a dead body, because once the ref took the belt off, he was like 'okay, continue killing him'.
As soon as Harada got a little momentum back, this match was very typical back and forth Junior match. However, the last 5 or so minutes really sold this match. The pace quickened to lightning speed and we saw numerous move combinations, counters, roll ups, attempts and wow, it didn't stop until the pinfall.
What makes this special is how each man sold the move they were attempting, before the mid air counter. There were numerous times HAYATA would change what looks like a basic high flying move and kick Harada in the face. So even though Harada picked up the win after back to back German Suplex Holds, HAYATA looked amazingly impressive. HAYATA's biggest highlight being a missed moonsault, into a standing shooting star press, into a middle turnbuckle corkscrew senton.
HAYATA is so fluid I want to call him Shape of Water. It is to be noted, that all of the Ratel stable posed together after the match. So there seems to be no bad blood.
Rating: **** 1/4
1. NJPW New Japan Cup Semi-Finals Day 1: Hiroshi Tanahashi vs Juice Robinson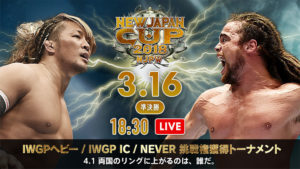 Tanahashi finding success in the New Japan Cup for the first time in a few years, and Juice reaching the semi-finals, in only his second appearance in the tournament, are the obvious notes to this match. Juice and Tanahashi have a lot of history as well, from being on the same teams and Tanahashi mentoring Juice when he was younger. So the way both men approached this match was different, and helped the story exponentially.
We saw a more aggressive Tanahashi, which has been the way his character is trending last couple years. Unwilling to shake hands, and more willing to hold submissions beyond the referee's count, Tanahashi was playing more of the heel role.
The story and actual wrestling was fantastic throughout the match. Each man got in all of their stuff, and even took a page out of the other one's book at a few different points. A spot in the match that proves the "Former Ace's" desperation to win, is while in the corner and getting admonished by Red Shoes, Tanahashi stops, slowly walk Red Shoes away from the corner and shushes him; only to return to laying the boots to Juice in the corner.
Little things like that, all through the match made this very special. Juice had plenty of times where he had a believable pin attempt, and at the end of the match, Tana and Juice showed respect. Juice even went as far as to get Tanahashi's air guitar for him, but had a Young Lion throw it in, since he was too injured after the match.
Tanahashi vs Zack Sabre Jr will be a fantastic finals, and if last year proves anything, both finalists position themselves towards chances for the IWGP Heavyweight Championship. So win or lose, we should see Okada vs Tanahashi 1 more time, very soon.
Rating: **** 1/2
Well now I know I said I didn't go out of my way, but that's also because NOAH has been my second favorite promotion in Japan for years, so if it's available to find, I don't see it as an issue. That being said, neither of the NOAH matches get my vote, even though I was happy with the quality of the entire show.
My vote for match of the week is, Hiroshi Tanahashi vs Juice Robinson, there was just too much too like about this match. Well wrestled, good story, happy ending for the crowd, overall exactly what a wrestling match should be.
Vote on Facebook, Twitter, via Carrier Pigeon, or e-mail me at: andrewbalaz@thechairshot.com
King's WrestleMania Rewind: Charlotte Flair vs. Asuka from WrestleMania 34
Chris king is back with one of the most underrated matches in WrestleMania history–Charlotte Flair vs. Asuka!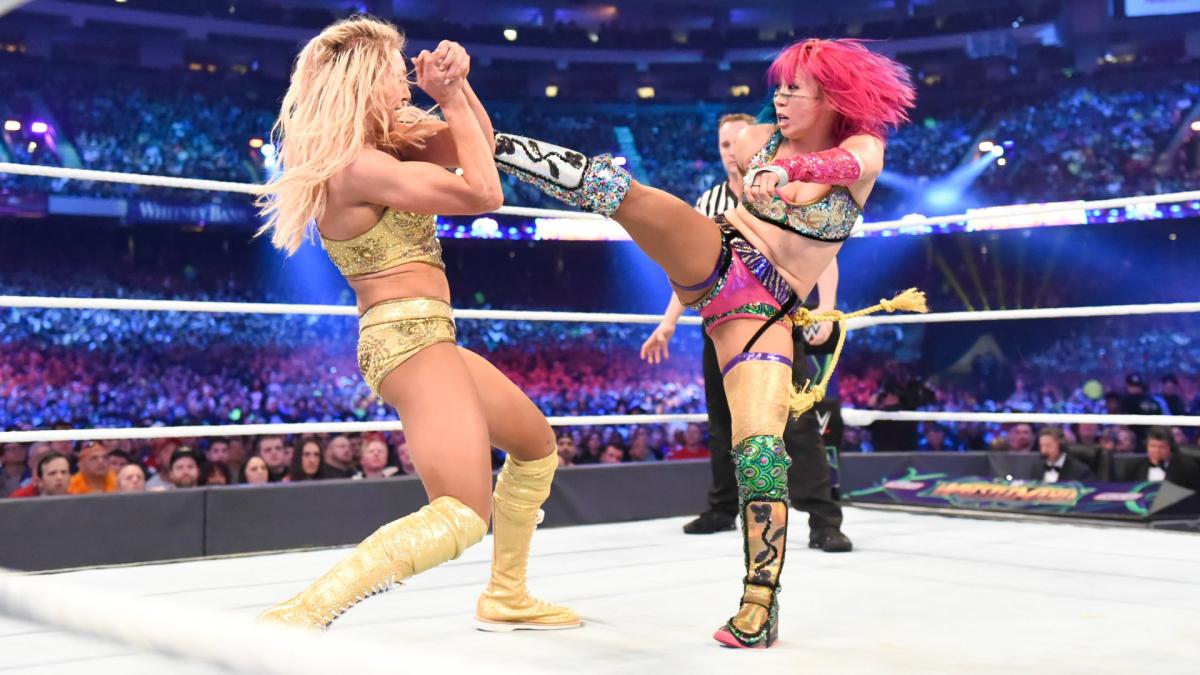 Chris king is back with one of the most underrated matches in WrestleMania history–Charlotte Flair vs. Asuka!
We look back at Charlotte Flair vs. Asuka at WWE WrestleMania 34. 'The Empress of Tomorrow' put her unprecedented and historic undefeated streak of 914 days on the line against 'The Queen's' SmackDown Women's Championship.
For years, this was considered a dream match while Asuka dominated the roster in NXT, while Flair won numerous championships on the main roster on both Raw and SmackDown. The Empress made her long-awaited debut on the September 11th episode of Raw and began to tear through the competition.
Asuka outlasted all twenty-nine other women in the historic first-ever Women's Royal Rumble match to challenge for the title of her choosing. At Fastlane, she made her choice.
The WWE Universe was so excited for this match myself included. Both superstars delivered a fantastic performance on the Grandest Stage of Them All executing counter after counter. Asuka showed off some nasty-looking kicks to her opponent, and Flair hit a thunderous Spanish Fly off the top rope. Flair was seconds away from defeat at the hands of The Empress but she locked in Figure Eight and Asuka was forced to tap out.
I can't even begin to explain how shocked I was at this outcome, as nearly everyone expected The Empress to continue her undefeated streak and walk away with the women's title. This controversial decision was the downfall of Asuka's momentum. She would ultimately win the SmackDown Women's Championship at the 2018 TLC pay-per-view in the triple-threat ladder match.
Fast forward to this year when Asuka has recently returned with her Japanese-inspired persona Kana. Kana is dangerous and ruthless and is heading into a championship with Bianca Belair at WrestleMania 39. The Empress has regained all her momentum and is highly favored to walk away with the Raw Women's Championship. Let's hope that Asuka and Belair can tear the house down and deliver an A+ grade match both women are fully capable of.
King: Dominik Mysterio Needs To Do This At WrestleMania
Chris King is here with what WWE should do with Dominik Mysterio at WrestleMania in his long-awaited match against his father Rey Mysterio Jr.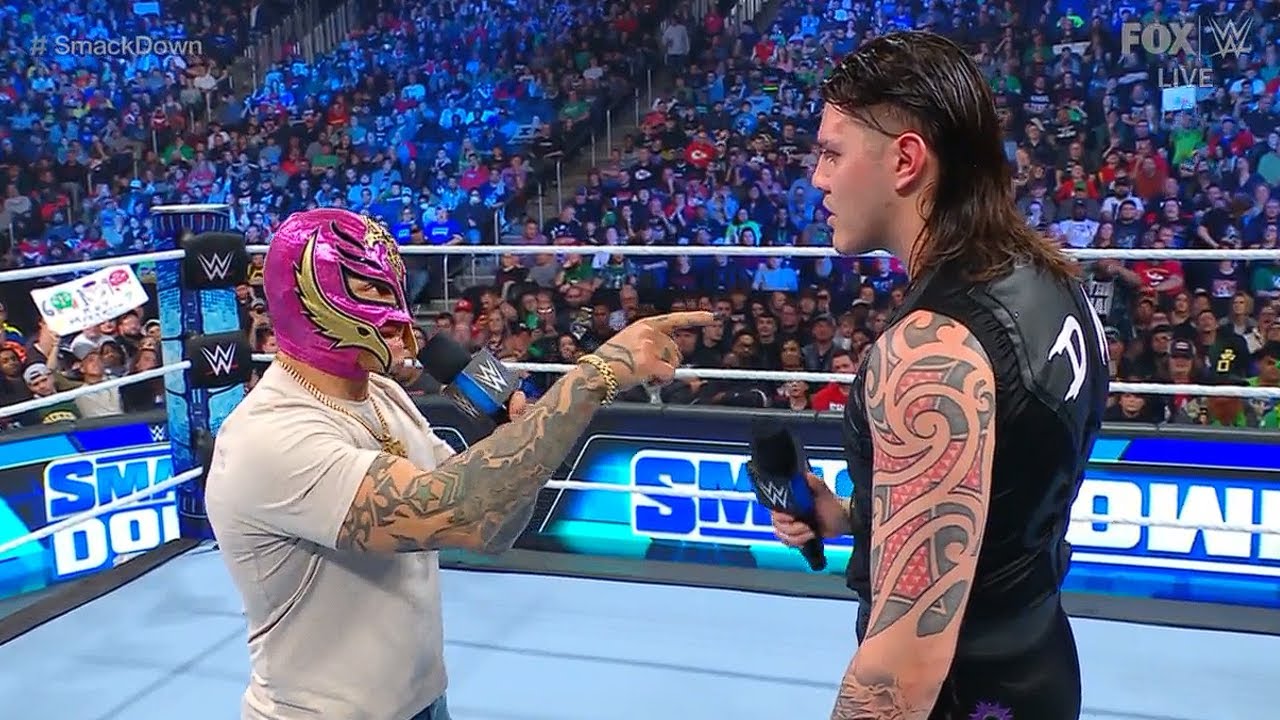 Chris King is here with what WWE should do with Dominik Mysterio at WrestleMania in his long-awaited match against his father Rey Mysterio Jr. 
On this week's episode of Friday Night SmackDown, Rey Mysterio finally snapped and beat some sense into his disrespectful punk-ass kid Dominik. The member of the Judgement Day came out to push his father again for a match on the Grandest Stage of Them All, this time with his mother and sister at ringside. The ungrateful punk told his mom to "Shut Up," as a father even I wanted to jump through the screen and whoop his ass.
Back in October of last year, Mysterio made the emotional decision to possibly quit the company but, instead, Triple H persuaded the Lucha libre superstar to move over to SmackDown to avoid his son. This came after Dominik shockingly turned on his father at Clash at the Castle. Mysterio did everything he could to refuse his despicable son's challenge for Mania but, a man can only be pushed so far. Mysterio will be inducted into the 2023 WWE Hall of Fame and I expect Dominik to embarrass his father during his speech to further this personal feud.
Yes, the WWE Universe hates Dominik and wants to see him get the ever-loving crap kicked out of him but, this feud is missing a special ingredient to capitalize on the biggest heat possible. Throughout this feud, Dominik has made mention of the legendary Eddie Guerrero on several occasions going back to the "iconic" 2005 feud.
I know WWE might not want to go this route but, Dominik MUST come out to Eddie Guerrero's theme at Mania. The disrespectful punk needs to come out in a lowrider to garner nuclear heat. It doesn't matter if The Judgement Day comes out and causes interference for Dominik to get the win, all that matters is that both superstars get the biggest payoff of this nearly year-long feud. Just imagine the Roman Reigns heat after he defeated The Undertaker and multiply that by ten. Dominik portrays the perfect heel and he truly is the missing ingredient that The Judgement Day needed to grow and evolve into a top faction.