WrestleMania IV: Macho Man Ascends and a Fuse is Lit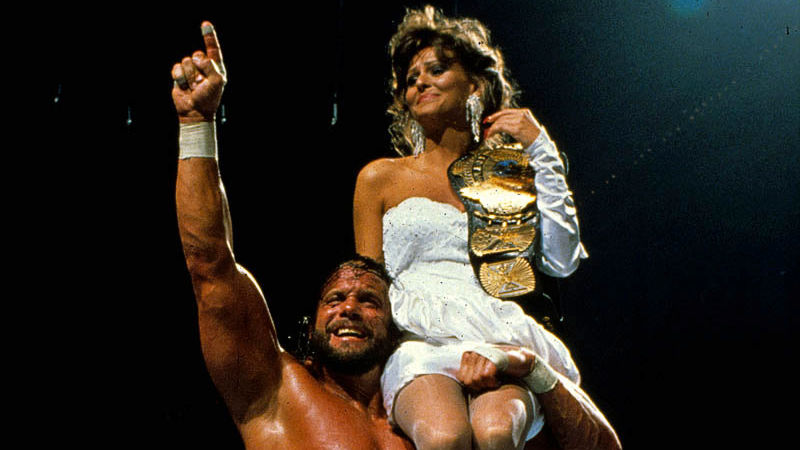 WrestleMania IV comes in under two major sources of pressure: To meet or exceed the immense success of WrestleMania III, and to put on a compelling show that consisted of a WWF Championship Tournament. Does it succeed? Let's all find out
Opener: Since WrestleMania IV is coming to us from Atlantic City, our opening graphics feature slot machines. We start with Mean Gene Okerlund, who welcomes us to the show! He introduces us to Gladys Knight, who will be singing 'America, The Beautiful'.
Gladys sounds gorgeous, as always. The video celebrates the symbols of America, as well as America's diversity. The crowd loves it.
We see the refs come out with a HUGE trophy, with the participants of the Battle Royal behind them
Match 1: Battle Royal
This is a good mix of singles and tag teams. One memorable mention is Sika Anoa'i, father of future WWE superstars Rosey and Roman Reigns. I'm not sure why Junkyard Dog isn't in the tournament.
Bad News Brown and Bret Hart double team Junkyard Dog before Bad News double-crosses Bret and eliminates him. Bret retaliates by beating up Bad News and trashing the trophy.
Winner: Bad News Brown by eliminating Bret Hart
Highlights: George 'The Animal' Steel staying outside and eliminating people. A hint of a face turn for Bret Hart. Bob Uecker comparing the battle royal to baseball was funny.
Finkel is back in the ring and he's trying to explain the rules of the Championship tournament but the mic isn't working. Robin Leach is brought in to give the proclamation about the tournament and give the title.
Our first two competitors are Hacksaw Jim Duggan and the Million Dollar Man Ted DiBiase. Since we couldn't hear Finkel's explanation of the rules, Monsoon and Ventura explain that the first round matches have a fifteen minute time limit, quarterfinals have a twenty minute time limit, semi-finals can go thirty minutes, and the final round will go until someone is declared the winner. The tournament is single elimination, only the winners will advance. If both men get counted out, disqualified, or the match goes the full time limit, both men are eliminated.
We're told that Andre and Hogan, being the only former WWF Champions among the competitors, get an automatic bye to the quarterfinals.
First Round Match 1: Hacksaw Jim Duggan vs Million Dollar Man Ted DiBiase (with Virgil and Andre the Giant)
Hacksaw is out first to a nice pop, 2×4 in tow. DiBiase is out next with Virgil, who looks thrilled as always, and Andre, who is not dressed for competition just yet.
This was an odd match up, but it worked really well. DiBiase carried Duggan quite a bit, but both looked pretty good. The interference by Andre and wonky count protected Duggan.
Winner: Million Dollar Man by pinfall after Andre trips Hacksaw. He will meet the winner of the Don Muraco/Dino Bravo match.
Thoughts: As much as I love Hacksaw, I'm not really sure why he's in this tournament as he's not as good as the other guys. I'm guessing that, in a precursor to what would happen in the Royal Rumble in a few years, his win in the inaugural Rumble got him in the tournament.
Next up, Mean Gene interviews Brutus 'The Barber' Beefcake. Brutus has his hedge clippers and pretends to cut Okerlund's hair. For some add reason, Mean Gene comments on Brutus' gear like he's hasn't been dressing like this for years. Brutus vows to win the Intercontinental title from Honky Tonk Man. He also says he's going to give Jimmy Hart a haircut if he interferes, or I hope that's what he's threatening to do.
Thoughts: Brutus' tan looks a little overdone and he looks a little nuts, but this was a good interview for him.
First Round Match 2: Don Muraco (with Superstar Billy Graham) vs Dino Bravo (with Frenchy Martin)
We go back to the ring for the second match of the first round of our tournament. Dino Bravo is already in the ring with Frenchy Martin, his manager. Dino's not too popular. Don Muraco comes out with his manager, 'Superstar' Billy Graham, both clad in tie dye. Muraco's getting a great pop, but that might be partially because of Superstar.
This was a surprisingly good match for such big guys. Both used a lot of power moves and the crowd seemed into it. Both looked great, the DQ finish protects Bravo.
Winner: Don Muraco by DQ after Bravo pulled the ref in front of him. Muraco will face Million Dollar Man in quarterfinals
Highlight: Muraco slipping off the second turnbuckles and trying to cover it was funny. So was Superstar chasing after Frenchy Martin, waving his cane.
Thoughts: Graham looked like a turkey that had been left in the oven too long, but I was genuinely surprised by how good this match was since Muraco and Bravo are very muscular and more known for their power.
We go to Bob Uecker who is looking for Vanna White, who is the premiere special guest (Wheel of Fortune had just become hot thanks, in part, to Vanna). Jimmy Hart and Honky Tonk Man walk up and begin harassing Uecker, implying that he was looking for something other than Vanna White. Uecker's not amused and tells Jimmy Hart about Beefcake's promise to give Hart a hair cut if he gets involved. Honky and Hart refused to be intimidated and throw Uecker's sub-par batting average (.20o) in his face. Honky says that they're there to talk about serious business like the Intercontinental Title and cutting someone's hair.
First Round Match 3: Greg 'The Hammer' Valentine (with Jimmy Hart) vs Ricky 'The Dragon' Steamboat. 
Valentine is already in the ring to a chorus of boos. Steamboat comes out with his baby son, Richie, in matching Karate gis. Richie looks a little overwhelmed by the noise and the crowd. The crowd seems to love the image, and Mrs. Steamboat takes the little dude and carries him to the back for peace and quiet.
Unsurprisingly, this was an amazing match. Steamboat and Valentine are both great in ring performers, and former Intercontinental Champions. That said, there were some sloppy spots. It wasn't Savage/Steamboat, but it was very enjoyable.
Winner: Greg 'The Hammer' Valentine by pinfall with a handful of tights. He will meet the winner of Savage/Reed in the quarterfinals.
Highlights: Hard to pick. Little Richie Steamboat was adorable and handled the noise and crowd much better than I figured he would. Monsoon using big medical words to describe the back of the head and Ventura having no idea what he's talking about was hilarious.
Thoughts: This was a good match, but I'm surprised that Steamboat didn't advance to face Savage for a rematch from Mania last year. Also, I've seen this PPV a couple of times on the original VHS and I remember there being an interview with Steamboat and his family that is not included on either the DVD boxset or the WWE Network.
We go to Mean Gene Okerlund, who is with the British Bulldogs and Koko B. Ware. Everyone is happy that Matilda the bulldog is back after being dognapped by Heenan and the Islanders. Okerlund nearly calls Heenan 'Weasel', to everyone's amusement. The Bulldogs say Matilda's been getting trained to hunt weasels so she can hunt Heenan. Koko says he smells a weasel and that he and the Bulldogs are ready for the Islanders.
Comments: This was an okay interview. Matilda really didn't seem interested in hunting weasels or anything else, so I hope they didn't spend too much money getting her trained.
First Round Match 4: The 'Natural' Butch Reed (with Slick) vs Randy 'Macho Man' Savage (with Miss Elizabeth)
Reed and Slick are getting booed, though the crowd seems into the music. Macho Man and Elizabeth come out to a fantastic pop. Elizabeth looks beautiful and is wearing a beautiful diamond jewelry set. Savage and Elizabeth are in coordinating outfits of dark blue.
This was an okay match. Reed wasn't that good of wrestler and was very sloppy in places. Savage made him look really good, but he couldn't hide that Reed's skill was lacking.
Winner: Randy 'Macho Man' Savage by pinfall after hitting the flying elbow. He will meet Greg 'The Hammer' Valentine in the quarterfinals
Highlights: This may make me sound sexist, but I thought Elizabeth was a highlight. She looked lovely and helped Savage without actively getting involved. Savage really shined in this match and still kept some of his heel tactics while getting over as a face.
Thoughts: This was  a good start for Savage, it was quick and he made Reed look good. The crowd was definitely in his corner.
We go to Bob Uecker, who is teasing Ventura about the WrestleMania IV program, that has Uecker's face next to Vanna White's. He claims Vanna's waiting on him to get finished. Heenan and the Islanders interrupt, thankfully, and Heenan calls Uecker out for writing Vanna White letters. Uecker tells him about Matilda being back and claims the ASPCA is going to go after them for what they did to Matilda. Heenan fires back about Uecker's Baseball Hall of Fame voting. Heenan vows to have a surprise for the match with the Bulldogs and Koko.
First Round Match 5: One Man Gang (with Slick) vs Bam Bam Bigelow (with Oliver Humperdink)
One Man Gang and Slick are already in the ring to a lot of boos. Bam Bam comes out to a nice hometown pop.
This match was odd. It was quick, but the way Bigelow was eliminated was strange. It may have been to protect him, but it didn't look like the ref got the count right, especially since Bigelow was on the apron and Gang was preventing him from coming back in.  The crowd was not happy, and I don't blame them.
Winner: One Man Gang by countout. He will meet the winner of the Roberts/Rude match in the quarterfinals
Highlights: Bam Bam Bigelow's athleticism cannot be overstated. To see such a huge guy do cartwheels and crossbodies is amazing, especially in the 80s when big guys didn't do that stuff.
Thoughts: Something went wrong in this match. Gang should've been DQ'd because the ref had to have seen Slick's hand on the top rope and Bigelow didn't get a fair ten count. Even the announcers weren't sure what was going on.
We go to Mean Gene, who is interviewing a rather maniacal looking Hulk Hogan. Okerlund admits that he's had trouble remembering to NOT introduce Hogan as the WWF Champion; considering that Hogan held the belt for four years, that's understandable. Hogan agrees that it's been hard to not hear himself introduced as the champion. He says that the year since WrestleMania III has been hard because little Hulkamaniacs have been asking him if he really beat Andre and if he really body slammed the giant. He vows that there's going to be no more questions and that he's going to slam Andre while he's fresh so there's no excuses. This interview quickly goes weird with Hogan saying that when he slams Andre, a fault line will form and he'll put all the Hulkamaniacs on his back and swim away.
Thoughts: Hogan came across as a little crazy here. In a later time, this interview would've been used as part of a heel turn, but since it's the 80s and a heel Hogan was unthinkable (and unbankable), we just get a really strange interview.
First Round Match 6: Jake 'The Snake' Roberts vs 'Ravishing' Rick Rude (with Bobby Heenan
Rude and Heenan are out first to a much better pop than expected for a heel, but considering what Rude does before a match, I can't say I'm surprised.  Roberts comes out to a quieter pop, but still a good one and he's got Damien with him.
This was one of those matches that looks good on paper, but didn't really work in practice. This match went the full fifteen minutes and was tedious at best. I have no shame in admitting that this match bored me to tears.
Winner: Because the match went to the time limit, both men were eliminated. One Man Gang gets an automatic bye to the semi-finals and will meet the winner of the Savage/Valentine quarterfinal match.
Highlights: Rick Rude's selling is some of the funniest stuff I've ever seen. He sold any faceplant like someone had thrown acid in his face, sold Damien in the bag like a total spaz, an armwringer like he had to pee, and sold an atomic drop like Roberts gave him a wedgie. His selling really saved this match for me because it made me full on belly laugh, which I'm sure was not intentional, but that was my reaction.
Thoughts: This match was okay, but it got so boring since Roberts and Rude only seem to know two holds: armwringer and headlock, respectively. They were too evenly matched because there was no real contrast in styles, which you need for a good match. There wasn't even a contrast in hair, on the head or on the face.
We go back to Mean Gene, who is with the tournament bracket and introduces Vanna White. Vanna is all smiles, but seems a little…insincere about this whole thing. She seems to have no idea who Bob Uecker is, much to Okerlund's amusement. She picks Hogan for the match against Andre, she doesn't like Million Dollar Man and likes Macho Man and loves Elizabeth.
Comments: Vanna seems very nice, but she didn't seem to be all that invested in what was going on. One of my pet peeves with celebrity guests is when they bring in someone who isn't a fan of the product because it comes across on screen. That said, she was nice and seemed to be enjoying herself.
 Ultimate Warrior vs Hercules (with Bobby Heenan)
Hercules and Heenan are already in the ring to a loud round of boos. Warrior comes running out, as always, acting like he's had way too much caffeine.
I always try to find something nice to say about matches, but this match stunk. I actually felt bad for Hercules for missing the tournament to be in this match (he could've taken Butch Reed's spot against Savage). Hercules is a really good athlete for such a big guy, but he couldn't cover how really bad Warrior was. There were a lot of sloppy spots and it was just bad.
Winner: Ultimate Warrior by pinfall by getting his shoulder up at the last second due to the double pin.
Highlights: The best I can say is that this match wasn't long.
Thoughts: I was actually mad I watched this match once, let alone twice. I was cheering for Hercules when he attacked Warrior.
Now we're in the quarterfinals, starting with Hulk Hogan vs Andre the Giant. We get a video package that rehashes what happened leading up to WrestleMania III and Andre winning the title.
Quarterfinal Match 1: Hulk Hogan vs Andre the Giant (with Million Dollar Man and Virgil)
Andre comes out first to a loud chorus of boos, DiBiase looks smug, and Virgil looks like he'd rather be somewhere else. Andre looks a little winded from the walk down the steps of the arena. Hogan seems to have missed his cue, but eventually comes out to a loud pop.
If this was meant to be a sequel to WrestleMania III, it fell a little flat. Andre seemed to be in slightly better shape than last year, but the intensity seemed to be lacking, I didn't get the same chills I did for Hogan/Andre last year.
Winner: Both men were disqualified after hitting each other with a chair. As a result, the winner of the DiBiase/Muraco match gets a bye straight to the finals
Highlights: Hogan losing his temper and nailing Andre with the chair, knowing he'd be DQ'd was interesting, so was Hogan slamming Andre for the hell of it and suplexing poor Virgil.
Thoughts: This match wasn't the best. It wasn't a total stinker, Warrior/Hercules takes that prize, but the bloom was definitely off the rose of  Hogan/Andre  after WrestleMania III and Survivor Series. Andre's selling left something to be desired in places. That said, even having seen this PPV a few times, the swerve of the double DQ, taking Hogan out of the title match, really surprised me. This match and Hogan's earlier promo should've been the start of a heel turn, and probably would have in later years, but it wasn't to be in 1988, which is a shame.
We go back to Mean Gene, who is interviewing Macho Man and Elizabeth. They have changed clothes, they wore coordinating blue outfits, now they're in pink. Savage says that Hogan was cheated and says that he's never been able to beat Hogan and neither has DiBiase or Andre. Okerlund asks Savage what he thinks of his chances against Greg 'The Hammer' Valentine, and Savage says he's had the blessings of the mania all along and thinks his chances are pretty good. Savage asks Elizabeth if she thinks he'll take the whole thing and, in a rare instances, Elizabeth actually gets to speak and says she thinks he will take it all.
Quarterfinal Match 2: Don Muraco (with Superstar Billy Graham) vs Million Dollar Man Ted Dibiase.
Muraco and Graham are out first to a great pop. DiBiase comes out by himself to loud boos due to his costing Hogan a chance to regain the gold.
This was a good match, both guys looked good, DiBiase got to play the cornered heel to the hilt and there was plenty of back and forth by both men.
Winner: Million Dollar Man by pinfall. He gets an automatic bye to final match due to the double DQ of Andre the Giant and Hulk Hogan
Highlights: DiBiase really shined in this one.
Thoughts: This was  a good match, but I'm a little surprised DiBiase got a clean pin on Muraco, especially since he didn't have any help.
We go to Bob Uecker who is STILL looking for Vanna White, when he meets Demolition with the devious Mr. Fuji. Demolition says they've been ordered to beat Strike Force by Master Fuji and that's what they're going to do and they're going to win the tag belts.
Thoughts: This promo was short, thankfully. Demolition got their point across and left.
Back in the ring, One Man Gang is in the ring and we're reminded that he has a bye due to the Roberts/Rude match going to the time limit.
Quarterfinal Match 3: Randy 'Macho Man' Savage (with Miss Elizabeth) vs Greg 'The Hammer' Valentine (with Jimmy Hart)
Valentine gets a lukewarm boo. Savage gets a better pop. The crowd seems a little tired, but Monsoon and Ventura claim it's really loud in the arena. Funnily, Savage's robes are lined with rainbow colored fabric, which is a nice touch.
This was another 'it sounds great on paper' matches. It was good, but didn't live up to expectations, in my book. Valentine looked tired and bored and seemed to want to timber bump everything.
Winner: Randy 'Macho Man' Savage by pinfall. He'll meet One Man Gang in the semifinals.
Highlights: Savage's robes were lovely.
Thoughts: This is one of those where neither man really shined. The surprise small package pin protected Valentine. In an interesting tidbit, it seems that we were possibly supposed to get Rude/Savage at some point, in the first round, instead of Savage/Reed. Monsoon makes a comment about 'The Ravishing One' taking a lot out of Savage when Ventura corrects him that Rude and Roberts had a match, not Savage/Rude. I don't know why that was changed, if that was what was supposed to happen, but it would've been an interesting match.
Since the quarterfinals are over, we go back to Mean Gene and Vanna with the updated bracket. Okerlund mentions Uecker again and asks Vanna if she's hiding. Vanna replies that she doesn't know who she's supposed to be hiding from.
Now we're going to our first non-tournament championship match.
Intercontinental Championship Match – Honky Tonk Man (with Peggy Sue and Jimmy Hart) vs Brutus 'The Barber' Beefcake.
Honky Tonk Man comes out with Peggy Sue (Sherri Martel in a bad wig, dressed like a bad 50s throwback) and Jimmy Hart to a lukewarm response. Beefcake gets a better pop and comes out with his hedge clippers.
This was an good palate cleanser match. I can't say I really thought Beefcake was going to win or should've won. It was fun and the fans got to see Jimmy Hart get his a little.
Winner: Beefcake wins by disqualification, Honky Tonk Man retains the belt.
Highlights: Beefcake cutting Jimmy Hart's hair was funny, so was 'Peggy Sue' dumping water on Honky Tonk Man.
Thoughts: Both guys looked good here, but it was pretty much a match to give the fans a break from the tournament. There were too many silly spots for this to be taken really seriously. Interestingly, Jimmy Hart botched the spot that got Honky Tonk Man DQ. He was supposed to 'hit' the ref with the megaphone and ACTUALLY hit the ref, knocking him out. They declared the DQ anyway and we got a trip to the barber shop.
We're with Uecker again, still looking for Vanna, when he runs into Andre. Andre still considers himself undefeated :eyeroll:. He admits that DiBiase paid him him to keep Hogan from winning, an presumably himself too, so DiBiase could go to the final and become champion. He tells Uecker to stop worrying about Vanna (thank you, Andre) because DiBiase will be the next champion and Hulkamania is dead. When Uecker asks Andre to get his 'foot'(hand) off his shoulder, Andre 'chokes' Uecker, in one of the most infamous moments in WrestleMania up to that time.
We go back to the ring for the six man, plus one dog, tag team match
The Islanders and Bobby Heenan vs The British Bulldogs and Koko B. Ware (with Matilda the bulldog)
Islanders come out first and, to everyone's surprise, Heenan comes out wearing a suit used in training police dogs. They're getting next to no response. The Bulldogs, Matilda, and Koko get a better pop.
This was a good match, told a good story. The wonky finish protected the faces.
Winner: The Islanders and Bobby Heenan by pinfall
Highlights: Heenan in the attack dog suit.
Thoughts: This was a good match, both teams looked great, we got a classic Heenan moment
In the ring, Finkel acknowledges Jesse 'The Body' Ventura, for some reason, and Ventura poses for the crowd. Not sure what this is all about, but it filled a couple of minutes.
Back to Finkel, he reminds us that due to the double DQ of Andre and Hogan, the Million Dollar Man has drawn a bye and advances to the final match.
Semifinal Match: One Man Gang (with Slick) vs Randy 'Macho Man' Savage (with Elizabeth)
One Man Gang is in the ring to loud boos. Macho Man and Elizabeth come out to a good pop. Savage and Elizabeth are in black coordinating outfits.
This was a match that no one expects technical precision, but both guys looked good. Gang looked like a credible threat and Savage got to show off his skill. Gang tries to get revenge for his loss by breaking Slick's cane over Savage's back, Savage retaliates by hitting a double ax handle off the top, knocking Gang and Slick to the mat.
Winner: Randy 'Macho Man' Savage by disqualification after the ref saw One Man Gang trying use Slick's cane on Savage. Savage goes to the final match.
Highlights: Gang being so caught up in trying to hit Savage, he didn't realize that the ref had turned around.
Thoughts: This was a quick one. It did look like they were going to have Elizabeth cost Savage the match by Slick chasing her onto the apron to distract the ref.
We're back with Mean Gene and Vanna, both are excited about the final match, and Vanna excuses herself, as she'll be needed at ringside. Okerlund gives us a rundown of the bracket as Uecker runs in, still in search of Vanna. Okerlund tells him that Vanna's already left and hints that Vanna doesn't want to see him.
Next up is the WWF Tag Team Championship.
WWF Tag Team Championship Match: Strike Force vs Demolition (with Mr. Fuji)
Demolition comes out not much of a pop and neither do the tag champs, which is surprising, but the crowd also seems tired.
This was a really good match. Demolition showed surprising skill and kept up with Strike Force. Both teams looked good and it wasn't a total squash and the crazy finish protected Strike Force
Winner: Demolition by pinfall. New Tag Team Champions
Highlight: Tito hitting that flying forearm is always fun.
It is now time for the final match, we will have a new WWF Champion, either Randy 'Macho Man' Savage or Million Dollar Man Ted DiBiase
Finkel re-introduces us to Robin Leach who will be presenting the trophy. Our guest announcer is Bob Uecker and Vanna White is the guest timekeeper.
WWF Championship Tournament Final: Randy 'Macho Man' Savage (with Miss Elizabeth) vs Milion Dollar Man Ted DiBiase (with Andre the Giant)
Uecker gets a minimal pop, Vanna gets the best one of the post-Hogan matches.
Million Dollar Man is out first with Andre, Virgil is still selling the suplex from earlier. Vanna woke the crowd up, they give DiBiase a very loud chorus of boos. Savage and Elizabeth come out to a quiet pop, both in coordinating outfits of white.
This was a great match. Both guys looked good. The addition of Hogan to neutralize Andre was nice and got the crowd engaged.
Winner: Randy 'Macho Man' Savage by pinfall
Highlights: The post match celebration, with Savage acknowledging Elizabeth and putting her on his shoulders is still an iconic picture.
Thoughts: This was a good match and having Hogan help Savage win by getting back at DiBiase was fun. I still thing a Hogan turn starting at this WrestleMania would've been interesting. Savage's return to being a heel almost seems pre-ordained here.
Overall Comments: This was a good PPV, but it doesn't come close to WrestleMania III. The tournament was a good idea, but the swerve of Hogan not making it to the final seemed to take the crowd out of the rest of the tournament, which isn't fair to Savage, who had to wrestle four times that night.
The big problem with the tournament is that, as time went on, it became obvious who the final match was going to be once Hogan was out. However, most of the matches were good.
Stinkers and Snoozers: I cannot state enough how bad that Ultimate Warrior match was. In our current age of wrestling, this would not have made it onto NXT programming, never mind a WrestleMania card. I actually felt sorry for Hercules, who should've been in the tournament, for having to do that match to get Warrior over.
Roberts vs Rude was easily the most boring match of the night. Rude's over-the-top selling was the only thing that saved it.
The 'Eh': Hogan/Andre Round 3 (if we count Survivor Series) just didn't pass muster. There wasn't that same electricity that they had in WrestleMania III. Andre looked tired and it just didn't work.
The Intercontinental Match was fun, but there was too much silly to take seriously.
Celebs: Again, Vince seems to have realized that he needs to keep the number of  celebrities short. Uecker was fun, as always, and he was a good sport about the Andre spot. Vanna White was very nice, but seem to be more there because she was paid to, than really invested in the product.
The thing between Uecker and Ventura over Vanna White was gross. I actually cheered the heels who kept telling Uecker to shut up about it.
I don't have much of an opinion about Leach since he was only in two spots, but he did that job well.
Final Thoughts: As someone who loves tournaments, this WrestleMania has a special place in my heart, but it definitely wasn't the greatest, but it did a very good job.
Chairshot Classic: Andrew's 2019 AEW Double or Nothing Ratings & Analysis
Take a look back at AEW's first PPV effort, the 2019 Double Or Nothing in Andrew's Retro Ratings and Analysis!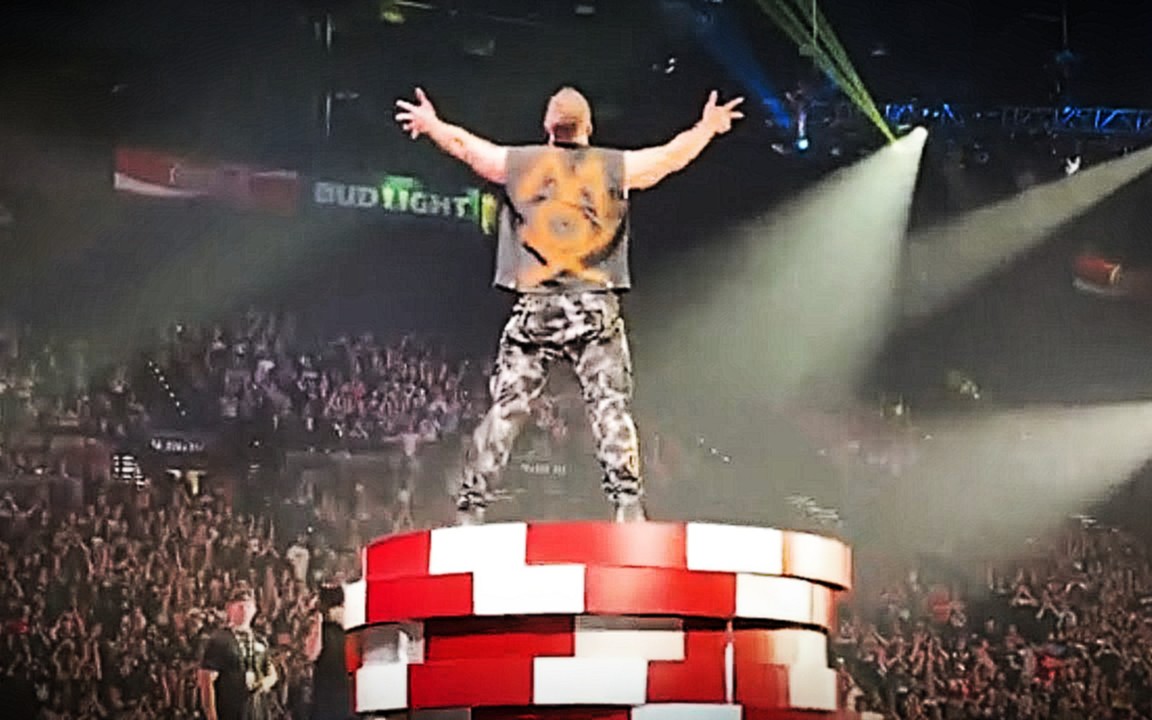 Take a look back at AEW's first PPV effort, the 2019 Double Or Nothing in Andrew's Retro Ratings and Analysis!
With AEW Double Or Nothing–the 2022 edition–on the horizon, enjoy this trip down memory lane as Andrew Balaz reviewed the inaugural Las Vegas AEW pay-per-view…spectacular?
Well this is history boys and girls. Good, bad or indifferent, it's the first show of the IWC's favorite t-shirt company. What becomes of Hangman since he's injured and PAC cancelled? What surprises will we get?
We all sit here with bated breath. Some want it to fail, many want it to succeed. Me? I just want it to not suck.
Let's see what we got!
Ratings:
Casino Battle Royal: Hangman Page wins @10:45 – **
Sammy Guevara vs Kip Sabian: Sabian wins Argentine Facebuster @9:55 – ***
So Cal Uncensored vs Strong Hearts: SCU wins via Best Meltzer Ever @14:00 – *** 1/2
Britt Baker vs Nyla Rose vs Kylie Rae vs Awesome Kong: Britt Bakers wins via Kneecap Brainbuster @11:05 – ***
Best Friends vs Angelico & Jack Evans: Best Friends win via Strong Zero @12:55 – ** 1/2
Riho, Hikaru Shida &  Ryo Mizunami vs Aja Kong, Yuka Sakazaki & Emi Sakura: Hikaru wins via Three Count @13:10 – *** 1/4
Dustin Rhodes vs Cody Rhodes: Cody wins via Crossroads @22:35 – *****
AAA Tag Team Championship: The Young Bucks (c) vs Lucha Brothers: Bucks retain via Meltzer Driver @25:00 – *****
Kenny Omega vs Chris Jericho: Jericho wins via Judas Effect @23:50 – **** 1/4
Analysis:
This was definitely a mess. A few spots, a bunch of messy spots and just generally awkward moments. Flying Brian Jr had a few decent spots, Luchasaurus looked good and Orange Cassidy is awful. Hangman being the 21st entrant made a lot of sense, but probably already upset a few people since it wasn't CM Punk or Jon Moxley. Of course Page won. He can fight with a bum leg, cause he has three of them. So yeah, not an awful match, but it had a lot of issues.
Sabian looked tremendous in this match. Guevara definitely did too much. Shooting Star onto Sabian draped over the outside barricade, a bad double Moonsault and standing Shoot Star hurt the match a little. But Sabian's technically proficient, charismatic and can hang in the air a bit too. So Sabian was the star here. Solid match.
Well now, this was great. Strong Hearts trio pulled off some great fluid offense and SCU did fantastic. This was just a great match, I can't really accurately describe more than great match. Best Meltzer Ever is a little dumb when it comes to names, but damn was this a good match.
So Brandi comes out in her gear to swerve us that she's adding herself to the match, but instead she adds Awesome Kong! So the Triple Threat turns into a Fatal 4 Way and it's not bad. A lot of the early portion is focused on taking out Kong, then Nyla becomes the target. Britt and Kylie are the ones left in the ring after the collateral damage. Kylie looks to be firing up for a finish, but Britt catches her in a Kneecap Brainbuster (Adam Cole's Last Shot in ROH).
Excessive spots, excessive near falls, I knew to expect it to a degree with these four, but that doesn't make it better. This was definitely an 'Indie style" match, but the crowd seemed to enjoy it. There was a lights out attack on both teams from…some team, with masked minions. The "Who Are You" chant kicks up and commentary doesn't lend any information. So that's really not helpful.
Everyone got their stuff in, we got to see a lot of personality from the different women and the action was solid. I also appreciated Emi Sakura trying to rally momentum doing We Will Rock You stomps (since she was dressed as Freddy Mercury). Save for the big mess up with the bell ringer calling the end of the match when the referee obviously held up 2 and said 2, just messed up the flow and gave away the finish since Hikaru's music played. Not bad, just the ending did kind of take the air out of a pretty good match.
Wow. Dustin and Cody brought it, Dustin bladed pretty deep, I think even Dusty would've blushed. New moves from Dustin like the Misawa style Apron Senton, a Code Red and a few classics. The blood, the desire to keep fighting, this was everything wrestling should be. It made sense for Cody to win the match of course, but wow after the match was a beautiful moment. Also call of the night might have to go to Excalibur when Cody hit a Pump Kick aka Bicycle Kick and you hear him say something like " He hit him with a BICYCLE".  In a huge homage to Dustin and Dusty's Heart to Heart promo, Cody tells Dustin he can't retire, because he needs a partner. He doesn't just need a partner, he needs his big brother. This was a great way cap off such a hard hitting personal match. Wow.
Belt reveal with a few extra curricular and Bret Hart. Much like Bret Hart, the belt doesn't do anything for me. It looks a lot like Big Gold, but it's so ostentatious it's hard to love it. Just too shimmery or whatever. It's not bad, but I in no way love the belt.
I'm very happy there was the unveiling ceremony between the Rhodes match and this one. Cause this was a great match and moving it out too quick could've hurt the crowd immersion. Great tandem moves, a decent thread of the ring rust playing a part against the Young Bucks early on and just generally great spots. There definitely was a lot of stuff, big spots and it was "spot monkey" style, but it all worked. The Lucha Brothers pulled out crazy moves to try and get the AAA belts back and the Bucks were trying to prove they still had it with most of the year off. Just really really good.
Well now Jericho and Omega pick back up where they left off. Referee Paul Turner allows for a lot of out of the ring shenanigans. Jericho busts Omega open, tries to use a table as a shield, but Omega still throws himself at Jericho.Jericho focuses on Omega's face with the Triangle Dropkick, a Lionsault went high and this was pretty damn solid. A few missteps and Jericho not countering the first One Winged Angel was car crash worthy, but aside from that, this was nice. Multiple Codebreakers followed by the new Judas Effect, leave Omega laying for the 1, 2, 3.
Jericho says AEW is for him not for fans, and he deserves a thank you. When the crowd pops, Jericho thinks it's for him, but Jon Moxley makes his debut through the crowd! Almost as if it were a reference to Lex Luger showing up on the first Nitro, it looks like Jericho basically says "You don't work here". Dirty Deeds to Jericho, Dirty Deeds to referee Paul Turner and Omega manages a burst of energy to brawl for a little bit. They end up on the poker chips, Moxley hits Dirty Deeds and then just dumps him off, onto some other stage item.
Overall Score: 8.5/10
Well damn, I was skeptical since All In didn't rate as highly for me as other fans, but this was great. Aside from a few personal gripes, and not really enjoying the cluster that was the Battle Royal, this was one of the better shows of the year thus far. Good surprises like Awesome Kong, Bret Hart and Jon Moxley. Jericho winning the main event breaks up The Elite getting the clean sweep, so that shows it's not as predictable as All In.
Oh and yes, I can't express how good the Rhodes match was. The match itself, the story it told, the promo after, everything was just beautiful. That is my number 1 match of the year personally, cause it was just too damn poignant.
Good job AEW. Great show, and the symbolic moment where Cody used the sledgehammer to break the replica throne Triple H used for his WrestleMania 22 entrance. It was awesome.
Chairshot Classics: "Stone Cold" Steve Austin vs. The Rock from WWE Backlash 1999
Ahead of WrestleMania Backlash, Chris King takes a stroll back to WWE Backlash 1999 as Stone Cold Steve Austin defends his WWE Championship against The Rock.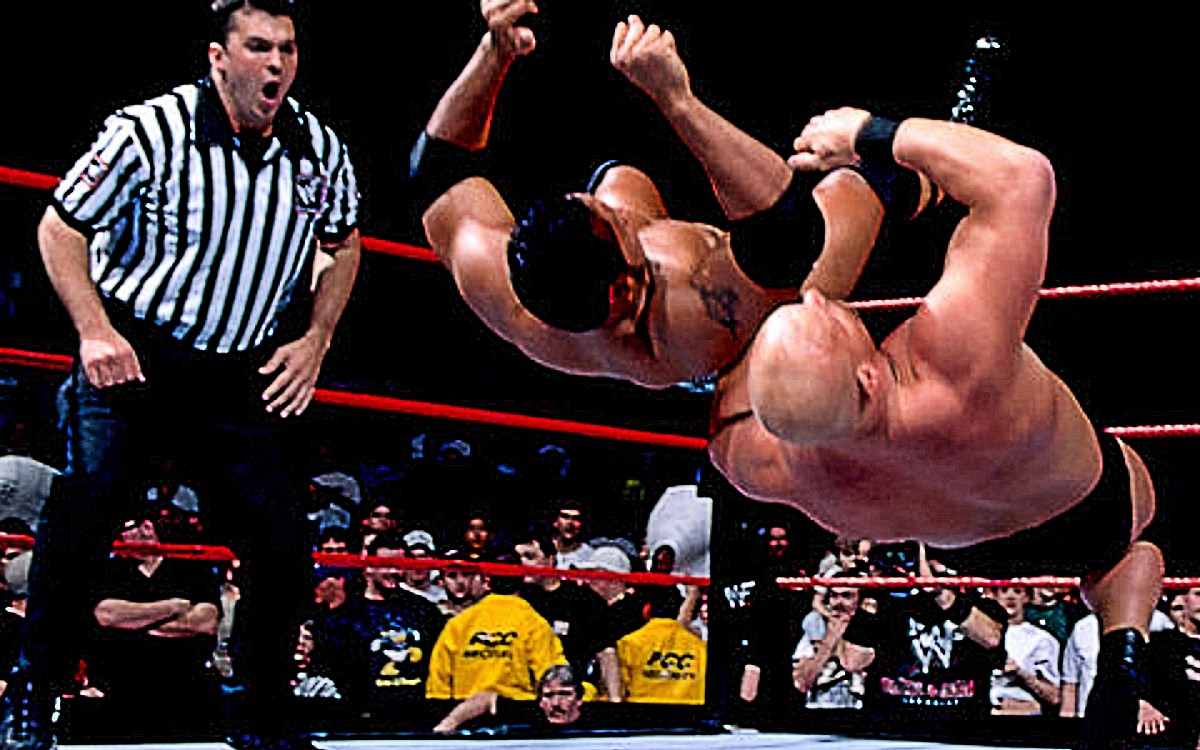 Ahead of WrestleMania Backlash, Chris King takes a stroll back to WWE Backlash 1999 as Stone Cold Steve Austin defends his WWE Championship against The Rock.
Let's set the scene for a minute, you've got "The Texas Rattlesnake" and Corporate Rock going one-on-one at WrestleMania XV. Austin wins the championship and the McMahon family is livid. Stone Cold wants his Smoking Skull Championship belt back, and Vince and Shane McMahon are trying to keep it from him by hook or by crook.
Damn, things were different during the Attitude Era, The Rock threw Stone Cold over a bridge and held a funeral for his rival. The storytelling was captivating and exciting, and it kept you guessing what would happen next. Keep in mind this match was conclusively built around a championship belt, something that would never work in the current product.
It was a high-octane no disqualification match with Shane as the special guest referee for their latest encounter. Austin began the match running straight into the ring for a brawl which spilled out all over the arena.  I miss how exciting these two superstars were. Rock hit a vicious Rock Bottom through the Spanish announce table and then got on commentary to talk some smack.
The arrogant challenger took the camera to talk trash while Austin laid on the other announce table, and ate a Stunner through the table. Man, the WWE Universe was on fire throughout the entire match. I feel like both superstars can't put on a bad match because they have such strong in-ring chemistry.
The finish of the match came when Austin had Rock set up for the three-count but Shane refused to count. Vince came down and struck Shane with the Smoking Skull belt. Austin hit another Stunner and decked the challenger with the belt for the victory. Vince then tossed his rival his precious Smoking Skull Championship.