WrestleMania V: The Mega Powers Explode and the Road to a Hall of Fame Career Begins in Obscurity
WrestleMania V seems to be one of the least liked WrestleManias. The reviews are pretty negative, despite what seems, on paper at least, to be a pretty great main event. Does WrestleMania V deserve to be forgotten? Let's find out.
We're back in Atlantic City, but there are no slot machine graphics. We go to the ring and 'America, the Beautiful' will be sung by the Women's Champion, Rockin' Robin. Robin gets a nice pop, but her singing isn't the best and she looks uncomfortable. The video montage is lovely, as always.
Hercules vs King Haku (wth Bobby Heenan)
Our first match is King Haku, with Bobby Heenan, vs the mighty Hercules. I don't remember why Haku is a king, but he looks nice in the regalia. He's greeted with boos from the fans. Heenan takes the mic and tries to tell the fans to bow to King Haku. The fans aren't having it. Hercules is out next to a really nice pop. Hercules swings the chain around and everyone bails out.
This was a really good starter. Hercules was a really good wrestler, especially for as jacked as he was. Haku was very good and both guys looked great.
Winner: Hercules by pinfall.
Highlights: There were a couple of high-flying moves that were surprising for such big guys.
Thoughts: I liked this match. There was solid, good wrestling and both guys did a great job. Only regret is that Hercules didn't get his hands on Heenan, but since Heenan was going to be part of several matches, that's understandable.
We go to the locker room, Mean Gene is interviewing the Rockers. Both guys are super excited to be there. HBK says this the moment of truth and that they're going to show the Twin Towers a thing or two. Jannetty pipes up and says that just coming out intact would be enough, considering that they're up against two huge guys, but they would like to win.
Comments: It's always funny to see future big stars when they're just starting out and this interview with HBK and Jannetty was no exception. Knowing what was down the road for HBK, seeing him at his first WrestleMania was fun. Oh, the places you're going to go, young man.
Twin Towers (Akeem and Big Boss Man) with Slick vs the Rockers (Shawn Michaels and Marty Jannetty)
The Twin Towers are already in the ring and the crowd boos. This team is weird. The Rockers get an okay pop, but I don't think they've been in the WWF very long. The ladies seem to like the Rockers.
This was a really good match. Rockers looked great, even in defeat. It's too bad that they never officially won the Tag Titles.
Winner: The Twin Towers by pinfall.
Highlights: HBK and Akeem's dance off, who knew HBK could moonwalk? HBK is always fun to watch, he's like a terrier that thinks he's a Rottweiler.
Thoughts: I'm not sure what One Man Gang did to deserve the Akeem gimmick, but it couldn't have been this bad. He looked ridiculous. The match sort of looked like two grown men playing with kids.
We go back to the locker room where Tony Schiavone is interviewing the Million Dollar Man. Virgil's there, looking like he'd rather be doing something else. DiBiase says that he's been waiting for WrestleMania V because he's going to be with his elite friends, and name drops a few, and they'll watch him demolish Beefcake. He claims to spend thousands on the cheap bleach job he's got and that Beefcake isn't going near him with his 'grubby' hands. He calls himself the greatest athlete in the WWF and cites the Million Dollar Championship belt as proof.
Brutus 'The Barber' Beefcake vs Ted DiBiase (with Virgil)
DiBiase comes out to boos and glad-hands some wealthy people at ringside. Beefcake comes out to a nice pop and he's got the clippers with him, judging by the bag.
This was a really good match. The difference in styles really worked and both guys looked really good. There was a lot back and forth.
Winner: Both men are counted out, but continue to duke it out on the floor until Beefcake runs DiBiase into the post and chases Virgil into the ring. Virgil tries to fight, but gets an atomic drop for his efforts. Beefcake slaps a sleeper on him, DiBiase tries to get the jump, but Beefcakes sees it and punches DiBiase and scoop slams him before going for the clippers. DiBiase scrams and pull Virgil out with him, surprisingly.
Highlights: Brutus countering the Million Dollar dream by getting into the ropes was nice.
Thoughts: I liked this match. Beefcake looked really good, Virgil took a nice bump, crowd got to see DiBiase get his a little.
We go to Lord Alfred Hayes who is doing a pre-recorded interview with the Bushwhackers at the annual WrestleMania brunch. The Bushwhackers have the worst table manners and they keep talking with their mouths full. Hayes is failing to keep a straight face and ends the interview.
The Bushwhackers vs The Fabulous Rougeaus (with Jimmy Hart)
Rougeaus are out first and the crowd boos loudly, not believing that the Rougeaus are from Memphis. Bushwhackers out next to loud cheers. One of the Bushwhackers chases Jimmy Hart and gets his lovely jacket.
This was just a weird one. The contrast in styles worked…sort of, but it seemed like a poor use of the Rougeaus.
Winner: Bushwhackers by pinfall after ramming Raymond.
Highlights: Bushwhackers getting Jimmy Hart's jacket.
Thoughts: Well, that happened. I loved the Bushwhackers when I was a kid, but now it's just 'WTAF' a I watching.
Sean Mooney is on the floor interviewing fans and gets licked by the Bushwhackers for his efforts. He's a good sport about it, at least.
Mr. Perfect vs The Blue Blazer
Mr. Perfect is out to loud boos, though it looks weird to not see Heenan with him. The Blue Blazer is out net to an okay cheer. His music is really generic. Blue Blazer appears to be the late, great Owen Hart.
To no one's shock, this was a great match.  Perfect and Blazer looked great. Perfect's perfect streak is preserved, but it was more out of luck than being better than Blazer
Winner: Mr. Perfect by pinfall
Highlights: The match was a great highlight. Ventura taking time to say hi to his kids was sweet.
Thoughts: My match of the night so far. Definitely a hidden gem kind of match. It wasn't quite a show stealer, but it was an excellent effort by both men.
Ventura announces his 'surprise', which seems to be announcing that he's there so the crowd can cheer for him.  Monsoon is not impressed.
We go back Lord Alfred Hayes in a pre-recorded segment at the 5k run. Mr. Fuji enters the race, still in his suit and says that he did it to prove that the Powers of Pain will win the Tag Team Championship. Mr. Fuji starts before everyone else. Of course, they don't show him running the whole race, just part of it.
Run DMC comes out to raucous applause and performs the 'WrestleMania Rap'.
We get our first feud video recap. This one highlights the issues between the Powers of Pain and Demolition, starting with Survivor Series.
We go to Mean Gene, who interviewing Demolition. Okerlund asks about the upcoming match. Smash says that they're in their war gear and ready for the match.  All they have to do is knock teeth down throats.
WWF Tag Team Championship Handicap Match: Demolition vs The Powers of Pain and Mr. Fuji
The Powers of Pain and Fuji are already in the ring to loud boos. Fuji actually looks in reasonable shape. Demolition comes out to loud cheers. It's not clear if Fuji will become champion if the Powers of Pain were to win.
This was a surprisingly good match. It wasn't pretty, but it was good. Fuji's spots were good and everyone looked great.
Winner: Demolition
Highlights: The sound the crowd made when Fuji missed the move off the top turnbuckle. Fuji missing with the salt and hitting the Warlord instead. Demolition getting their hands on Fuji and making history by holding the Tag Belts for a full year.
Thoughts: I have to admit to being surprised by how good this was.
We go to Tony Schiavone, who is outside the Macho Man's dressing room, and from the sound of it, Savage is trashing the place.  Savage comes out, attacks the camera and says that he doesn't want to be interviewed and that he's ready for Hulk Hogan.
Dino Bravo (with Frenchy Martin) vs Ronnie Garvin
Bravo and Frency are coming out to the ring to loud boos.  Garvin is already in the ring to an okay pop, certainly not what Garvin would be used to getting from an NWA/WCW crowd.
For some reason, Jimmy Snuka comes out, to a quite nice pop. Not sure why he's there, but the crowd seems happy to see him.
This match was not as good as I would have expected from Ronnie Garvin.
Winner: Dino Bravo by pinfall.
Highlights: Garvin attacking Bravo and Martin and getting a Garvin Stomp on Martin.
Thoughts: I'm really not sure what this match was about. Garvin never really got out of the box. Snuka showing up was really strange and the whole thing was 'eh'.
We go right into the next match.
The Brain Busters (with Bobby Heenan) vs Strike Force
Brain Busters are on their way to the ring with Heenan to boos. Strike Force get a better pop.
Unsurprisingly, given the four men involved, this was a really good match. However, the point of this match seems to be to turn Martel heel.
Winner: Brainbusters by pinfall after Martel refuses to tag in and leaves Santana to his fate after Santana accidentally hits him after Blanchard ducked a crossbody.
Highlights: Stereo Figure Fours by Strike Force on former members of The Four Horsemen. Anderson getting caught on the turnbuckle and slammed is never not funny.
Thoughts: I liked this match, but I can't say that Martel turning heel was a surprise. Monsoon and Ventura telegraphed it a little with their comments.
We go backstage where Mean Gene is confronting Martel over what happened. Martel says that, as far as he's concerned, Santana got what he deserved and that he's tired of carrying Santana and that Santana's been riding his coattails. Okerlund angrily points out that Strike Force was supposed to be a team. Martel says that he's sick of Santana, that Santana's timing was off when he accidentally hit him (instead of Blanchard ducking). Okerlund's had enough and ends the interview.
Piper's Pit Segment
Next up is a special Piper's Pit. 'Piper' comes out and it's Brother Love and the crowd isn't happy about it. Love starts out talking to an imaginary 'Brother Rodney' and making fun of Piper, which just makes the crowd angrier. Our guest is Morton Downey Jr (whoever that is). The crowd seems to like him and he's puffing on a cigarette. Downey doesn't seem impressed by Brother Love and is just a real jerk about the whole thing.
FINALLY, the real Piper comes out to save us all to a great pop, once the crowd realized it was actually Piper. Piper has that look where someone's going to get it. Piper takes it to Brother Love, much to the crowd's amusement. Downey seems put out at not being the center of attention.
As Piper takes it to Love, Downey gets sick of being ignored and throws a cigarette at Piper's back, bad move. Piper ignores him for now and continues to rip apart Brother Love. Downey offers Love a cigarette and Piper looks about done with this nonsense. Piper finally strips Love down to his red briefs and turns his attention to Downey.  Piper calls Downey 'Morticia'. Downey seems to take Piper lightly because he's not listening. Even Monsoon and Ventura know s**t's about to go down. Downey makes the mistake of doing a 'Your mama' joke to Piper. Piper's about to blow a couple of gaskets. Piper insults Downey's girlfriend and it's getting nasty. Piper, again, asks Downey to not blow smoke in his face. Downey replies that since Piper's wearing a skirt, he doesn't have to listen to him, another bad move. Piper tells him it's a kilt and Downey spells it 'killed'. Piper explains it to the crowd and slaps his knee, but his temper is getting short. He just compared Piper to a transvestite and the crowd is livid, and so is Piper. Piper, AGAIN, asks Downey to not smoke and blow the smoke in his face.  Downey seems to comply and then deliberately blows the smoke in Piper's face.  Downey does it again, saying it's good for ya (despite his smoker's cough). As Downey turns away, thinking he's won, Piper pulls up the third stool, revealing a fire extinguisher. He asks Downey for a smoke and blasts him with the fire extinguisher. Piper leaves in triumph.
Thoughts: This why you don't bring in outsiders who don't respect the business onto the show and let them talk. It says something about the feeling about Downey's attitude that Ventura didn't criticize what Piper did.
We go back to Mean Gene who is plugging 'No Holds Barred'.  This movie looked bad even in previews.
Sean Mooney is meeting with the sponsor of WrestleMania. The owner of the casino says that he's very honored to have the WWF there and that it's been a big boon to business and that he hopes WWF will come back.
Ventura is mad that Hogan's doing a movie and encroaching on Ventura's territory, despite Hogan having already done a movie long before 'No Holds Barred'.
We get a recap of how the Mega Powers came to be and how things broke down, including the infamous Saturday Night's Main Event.
We go to Mean Gene, who is with Hogan and he mentions what happened last year. Hogan agrees and says that if you'd told him that he and Savage would be locking at WrestleMania V, he'd have called that person a liar. He then says he should've seen it coming and that Savage made him believe that he was all in and that Savage was jealous and angry that he couldn't be the man that the Hulkamaniacs wanted him to be and that his jealousy over Hulkamania and Elizabeth is what really tore them apart. Says the owner of the arena was worried about the foundation when the Mega Powers exploded. He then says his Hulkamaniacs are survivors and that he doesn't care what Savage wants, he just wants Savage's best so that there are no excuses.
Comments: That was a good promo for Hogan and continues the story that Savage's turn was a surprise.
We're back in the ring and Finkel introduces our special guest referee: Big John Studd. Studd looks good in a ref's shirt.
Jake Roberts vs Andre the Giant (with Bobby Heenan)
Andre is out first with Bobby Heenan. Andre's sporting mutton chops from 'The Princess Bride'. Andre and Studd trade words. Jake's out next to a nice pop.
This was not a pretty match and no one expected it to be. Studd did an okay job as ref, but he let stuff go. Andre's performance was even worse than at WrestleMania III.
Winner: Jake Roberts by disqualification after Andre deliberately hits Studd from behind. DiBiase tries to take off with Damien while Andre chokes Studd. Jake throws Damien into the ring and Andre bails out.
Highlights: Jake hurting his hand on Andre's head. Andre and Studd getting into it and Andre deciding he doesn't have to listen to Studd.
Thoughts: This match was awful. Roberts and Andre really tried, but there was nothing saving this match.
Sean Mooney interviews a fan that's a big Jake Roberts fan.
We go to Tony Schiavone, who is interviewing Sensational Sherri. Sherri throws some shade at Rockin' Robin's singing and wrestling skills. Sherri says that she'll be taking the title back from Rockin' Robin when she's ready. She also throws shade at Elizabeth and says she's not beautiful and that she (Sherri) is beautiful and vicious. Sherri thinks the destruction of the Mega Powers is funny and the interview ends.
Comments: This seems to be a set up of Sherri becoming Savage's manager after WrestleMania V and the verbal feud with Elizabeth. There also seems to be a hint that Sherri had something to do with Savage's turn.
Next up is another tag team match.
The Hart Foundation vs Greg 'The Hammer' Valentine and Honky Tonk Man (with Jimmy Hart)
Valentine, Honky Tonk Man and Jimmy Hart are coming out to lukewarm boos. Hart Foundation gets a nice pop.
This match was solid and not much else. It's pretty much what you'd expect from a match featuring Bret Hart and Greg Valentine.
Winner: The Hart Foundation by pinfall
Highlights:  Bret and Anvil breaking out some aerial moves was pretty good. Hart Foundation using Jimmy Hart's megaphone against Honky Tonk Man for the pin was hilarious.
Thoughts: I liked this match. I loved seeing the Hart Foundation using heel tactics against heels and so did the crowd.
We get a recap of the feud between Rude and Ultimate Warrior, starting with the pose down at the Royal Rumble and Warrior blowing his stack.
Intercontinental Championship Match: The Ultimate Warrior vs 'Ravishing' Rick Rude (with Bobby Heenan)
Rude and Heenan are out first and Rude is getting a mixed reaction: Men are booing, women want to see the robe come off. Warrior comes out to a loud pop, running like demons are on his tail.
This match was better than last year's trainwreck with Hercules, Warrior seems to have learned to do the moves correctly, but this was still a rough outing. Some of the whips into the corner looked like they legit hurt Rude's back,
Winner: Ravishing Rick Rude by pinfall after Heenan pulled Warrior's leg out from under him and held onto it.  Warrior chases Heenan into the ring, punches him and press slams him, very sloppily.
Highlights: As usual, Rick Rude's selling was about the only saving grace of this match
Thoughts: That match happened and I'm glad it's over.
Bad News Brown vs Hacksaw Jim Duggan
Bad News Brown is on his way to the ring to boos, and doesn't seem to really care. Duggan comes out to loud cheers.
This match was bowling shoe ugly, to quote Jim Ross. There was no finesse or technical precision, it was just a fight.
Winner: Both men are disqualified and continue fighting. Duggan finally gives Bad News an atomic drop and uses the 2×4 to push him out of the ring.
Thoughts: Another 'Well, that happened' matches
Mean Gene is with the Red Rooster. Rooster says he's going to teach Heenan to lose and that there will be nothing left of the Weasel when the Rooster's done.
The Red Rooster vs Bobby Heenan (with the Brooklyn Brawler)
Heenan's out first, looking sore, and the Brooklyn Brawler is with him.  The Red Rooster gets a nice pop
This match was short and sweet. Heenan didn't really have a prayer, though he got in one Irish whip.
Winner: Red Rooster by pinfall. Brawler attacks from behind and beats Rooster up. Rooster chases Brawler and Heenan out of the ring, but looks as mad as wet hen (yeah, I went there)
Thoughts: Whoever made Terry Taylor the Red Rooster must've been mad at him for something. That gimmick was awful. The match was okay, Taylor took care of Heenan and the crowd got to see Heenan get beat up.
Mean Gene is with Miss Elizabeth. Elizabeth says this is very difficult and that she'll be in a neutral corner, rather than side with Savage or Hogan, but she'll support them both. She thinks it's unfortunate that Savage and Hogan think they have to settle this in the ring and that she prays that neither of them will seriously injured in this match.
Comments: Well, now I see why Elizabeth never did much talking as a manager. She looked very awkward and uncomfortable, which was probably the point.
We go to Tony Schiavone , who says the locker room has cleared out so the wrestlers can watch the match.
Sean Mooney is taking a poll with fans and the decision split.
WWF World Heavyweight Championship Match: Randy 'Macho Man' Savage vs Hulk Hogan
Savage is out to a mixed reaction. Miss Elizabeth is out next, she's got more security than Savage does, Pat Patterson right behind her to protect her. Savage isn't happy about this, and tells Elizabeth to go to the back. Hogan comes out last to a loud pop. Hogan seems to have missed his cue.
This was a great match in my opinion. Hogan and Savage really brought out the best in each other. Elizabeth's bid to stay neutral wasn't going to last, but it was interesting.
Winner: Hulk Hogan by pinfall
Highlights: Elizabeth coming out surrounded by security, but being protected by Pat Patterson was funny.
Thoughts: I liked this match okay, it's not my favorite, but it didn't suck. It's too bad that it was on a mediocre card.
Overall Comments: So, does WrestleMania V deserve its rotten reputation? Well, it wasn't a total trainwreck, but it definitely wasn't good. The collision of the Mega Powers was great, but the rest of the card was more misses than hits.
Stinkers : Lord, where do I start? This card was full of stinkers. I think the worst offenders were Roberts/Andre, Bushwhackers/Rougeaus, and Warrior/Rude.
The 'Eh': Hart Foundation vs Honky Tonk Man and Greg 'TheHammer' Valentine was good on paper, but boring in practice, same with Bravo/Garvin.
Celebrities: The Morton Downey thing was awful, I have no idea why he was on there and if your attitude is so rotten that the heel commentator won't defend you, there's a problem
Match of the Night: Mr. Perfect vs The Blue Blazer, hands down.
Final Thoughts: While I don't think this WrestleMania wasn't great, I don't think it was the worst ever.  We saw a Hall of Fame career start and there were a few bright spots.
Chairshot Classic: Andrew's 2019 AEW Double or Nothing Ratings & Analysis
Take a look back at AEW's first PPV effort, the 2019 Double Or Nothing in Andrew's Retro Ratings and Analysis!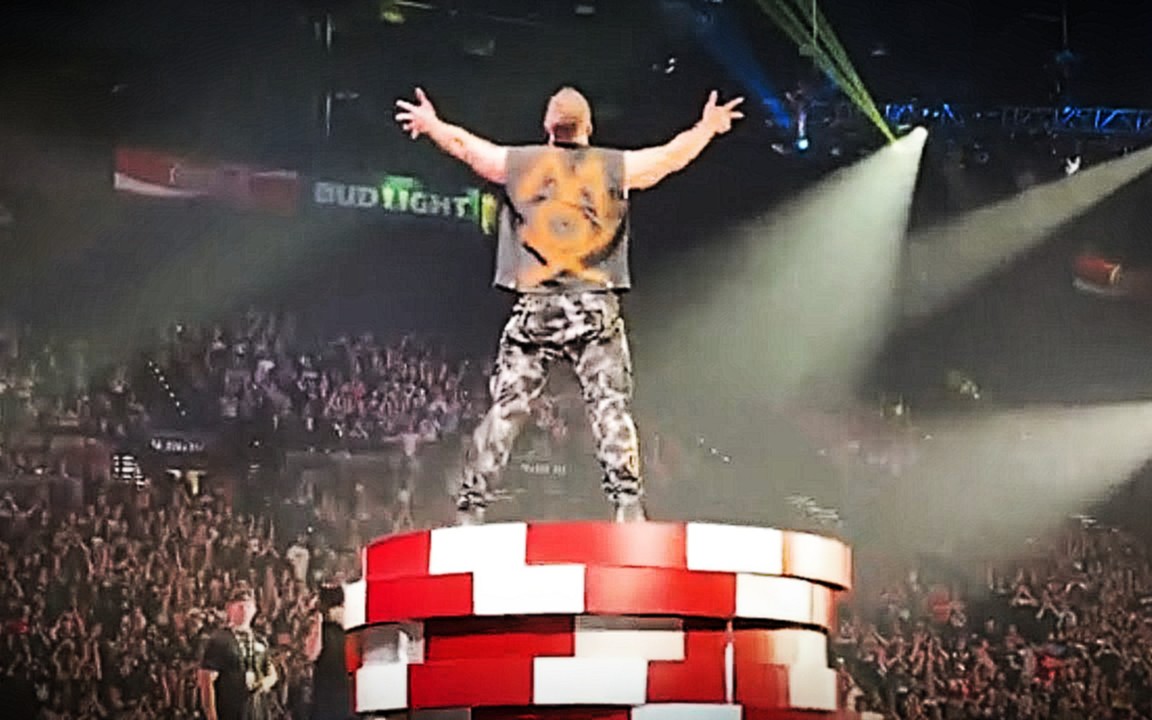 Take a look back at AEW's first PPV effort, the 2019 Double Or Nothing in Andrew's Retro Ratings and Analysis!
With AEW Double Or Nothing–the 2022 edition–on the horizon, enjoy this trip down memory lane as Andrew Balaz reviewed the inaugural Las Vegas AEW pay-per-view…spectacular?
Well this is history boys and girls. Good, bad or indifferent, it's the first show of the IWC's favorite t-shirt company. What becomes of Hangman since he's injured and PAC cancelled? What surprises will we get?
We all sit here with bated breath. Some want it to fail, many want it to succeed. Me? I just want it to not suck.
Let's see what we got!
Ratings:
Casino Battle Royal: Hangman Page wins @10:45 – **
Sammy Guevara vs Kip Sabian: Sabian wins Argentine Facebuster @9:55 – ***
So Cal Uncensored vs Strong Hearts: SCU wins via Best Meltzer Ever @14:00 – *** 1/2
Britt Baker vs Nyla Rose vs Kylie Rae vs Awesome Kong: Britt Bakers wins via Kneecap Brainbuster @11:05 – ***
Best Friends vs Angelico & Jack Evans: Best Friends win via Strong Zero @12:55 – ** 1/2
Riho, Hikaru Shida &  Ryo Mizunami vs Aja Kong, Yuka Sakazaki & Emi Sakura: Hikaru wins via Three Count @13:10 – *** 1/4
Dustin Rhodes vs Cody Rhodes: Cody wins via Crossroads @22:35 – *****
AAA Tag Team Championship: The Young Bucks (c) vs Lucha Brothers: Bucks retain via Meltzer Driver @25:00 – *****
Kenny Omega vs Chris Jericho: Jericho wins via Judas Effect @23:50 – **** 1/4
Analysis:
This was definitely a mess. A few spots, a bunch of messy spots and just generally awkward moments. Flying Brian Jr had a few decent spots, Luchasaurus looked good and Orange Cassidy is awful. Hangman being the 21st entrant made a lot of sense, but probably already upset a few people since it wasn't CM Punk or Jon Moxley. Of course Page won. He can fight with a bum leg, cause he has three of them. So yeah, not an awful match, but it had a lot of issues.
Sabian looked tremendous in this match. Guevara definitely did too much. Shooting Star onto Sabian draped over the outside barricade, a bad double Moonsault and standing Shoot Star hurt the match a little. But Sabian's technically proficient, charismatic and can hang in the air a bit too. So Sabian was the star here. Solid match.
Well now, this was great. Strong Hearts trio pulled off some great fluid offense and SCU did fantastic. This was just a great match, I can't really accurately describe more than great match. Best Meltzer Ever is a little dumb when it comes to names, but damn was this a good match.
So Brandi comes out in her gear to swerve us that she's adding herself to the match, but instead she adds Awesome Kong! So the Triple Threat turns into a Fatal 4 Way and it's not bad. A lot of the early portion is focused on taking out Kong, then Nyla becomes the target. Britt and Kylie are the ones left in the ring after the collateral damage. Kylie looks to be firing up for a finish, but Britt catches her in a Kneecap Brainbuster (Adam Cole's Last Shot in ROH).
Excessive spots, excessive near falls, I knew to expect it to a degree with these four, but that doesn't make it better. This was definitely an 'Indie style" match, but the crowd seemed to enjoy it. There was a lights out attack on both teams from…some team, with masked minions. The "Who Are You" chant kicks up and commentary doesn't lend any information. So that's really not helpful.
Everyone got their stuff in, we got to see a lot of personality from the different women and the action was solid. I also appreciated Emi Sakura trying to rally momentum doing We Will Rock You stomps (since she was dressed as Freddy Mercury). Save for the big mess up with the bell ringer calling the end of the match when the referee obviously held up 2 and said 2, just messed up the flow and gave away the finish since Hikaru's music played. Not bad, just the ending did kind of take the air out of a pretty good match.
Wow. Dustin and Cody brought it, Dustin bladed pretty deep, I think even Dusty would've blushed. New moves from Dustin like the Misawa style Apron Senton, a Code Red and a few classics. The blood, the desire to keep fighting, this was everything wrestling should be. It made sense for Cody to win the match of course, but wow after the match was a beautiful moment. Also call of the night might have to go to Excalibur when Cody hit a Pump Kick aka Bicycle Kick and you hear him say something like " He hit him with a BICYCLE".  In a huge homage to Dustin and Dusty's Heart to Heart promo, Cody tells Dustin he can't retire, because he needs a partner. He doesn't just need a partner, he needs his big brother. This was a great way cap off such a hard hitting personal match. Wow.
Belt reveal with a few extra curricular and Bret Hart. Much like Bret Hart, the belt doesn't do anything for me. It looks a lot like Big Gold, but it's so ostentatious it's hard to love it. Just too shimmery or whatever. It's not bad, but I in no way love the belt.
I'm very happy there was the unveiling ceremony between the Rhodes match and this one. Cause this was a great match and moving it out too quick could've hurt the crowd immersion. Great tandem moves, a decent thread of the ring rust playing a part against the Young Bucks early on and just generally great spots. There definitely was a lot of stuff, big spots and it was "spot monkey" style, but it all worked. The Lucha Brothers pulled out crazy moves to try and get the AAA belts back and the Bucks were trying to prove they still had it with most of the year off. Just really really good.
Well now Jericho and Omega pick back up where they left off. Referee Paul Turner allows for a lot of out of the ring shenanigans. Jericho busts Omega open, tries to use a table as a shield, but Omega still throws himself at Jericho.Jericho focuses on Omega's face with the Triangle Dropkick, a Lionsault went high and this was pretty damn solid. A few missteps and Jericho not countering the first One Winged Angel was car crash worthy, but aside from that, this was nice. Multiple Codebreakers followed by the new Judas Effect, leave Omega laying for the 1, 2, 3.
Jericho says AEW is for him not for fans, and he deserves a thank you. When the crowd pops, Jericho thinks it's for him, but Jon Moxley makes his debut through the crowd! Almost as if it were a reference to Lex Luger showing up on the first Nitro, it looks like Jericho basically says "You don't work here". Dirty Deeds to Jericho, Dirty Deeds to referee Paul Turner and Omega manages a burst of energy to brawl for a little bit. They end up on the poker chips, Moxley hits Dirty Deeds and then just dumps him off, onto some other stage item.
Overall Score: 8.5/10
Well damn, I was skeptical since All In didn't rate as highly for me as other fans, but this was great. Aside from a few personal gripes, and not really enjoying the cluster that was the Battle Royal, this was one of the better shows of the year thus far. Good surprises like Awesome Kong, Bret Hart and Jon Moxley. Jericho winning the main event breaks up The Elite getting the clean sweep, so that shows it's not as predictable as All In.
Oh and yes, I can't express how good the Rhodes match was. The match itself, the story it told, the promo after, everything was just beautiful. That is my number 1 match of the year personally, cause it was just too damn poignant.
Good job AEW. Great show, and the symbolic moment where Cody used the sledgehammer to break the replica throne Triple H used for his WrestleMania 22 entrance. It was awesome.
Chairshot Classics: "Stone Cold" Steve Austin vs. The Rock from WWE Backlash 1999
Ahead of WrestleMania Backlash, Chris King takes a stroll back to WWE Backlash 1999 as Stone Cold Steve Austin defends his WWE Championship against The Rock.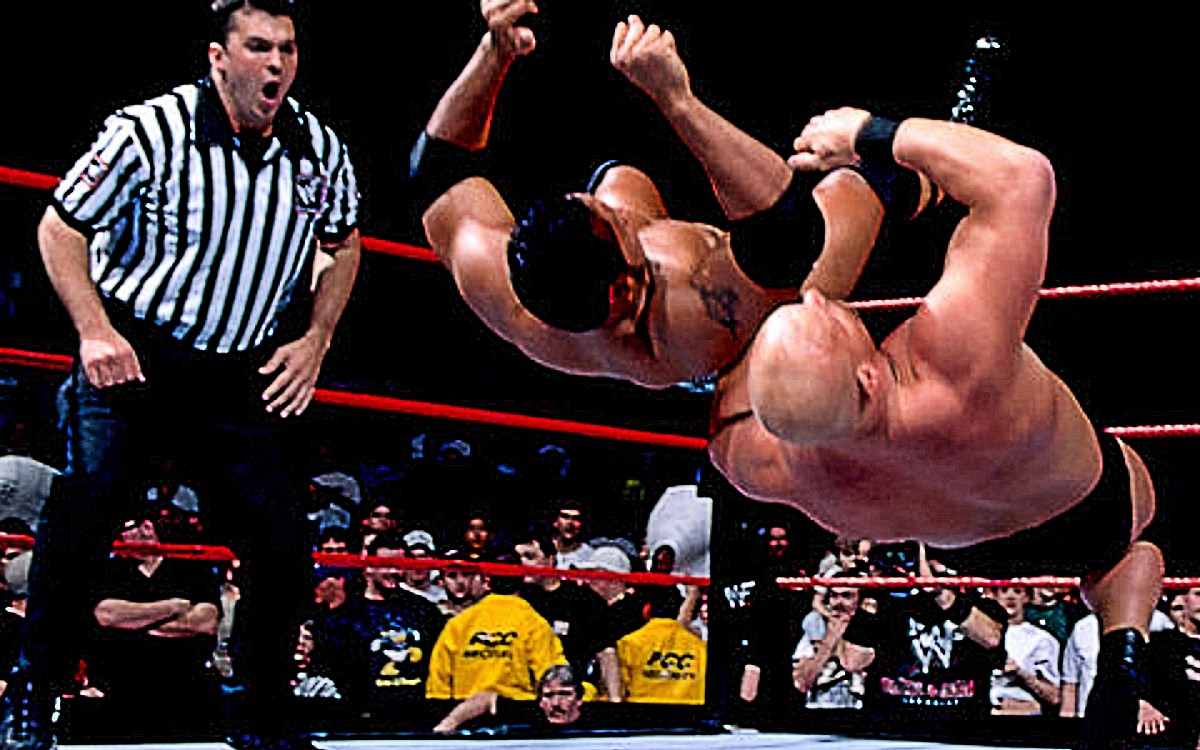 Ahead of WrestleMania Backlash, Chris King takes a stroll back to WWE Backlash 1999 as Stone Cold Steve Austin defends his WWE Championship against The Rock.
Let's set the scene for a minute, you've got "The Texas Rattlesnake" and Corporate Rock going one-on-one at WrestleMania XV. Austin wins the championship and the McMahon family is livid. Stone Cold wants his Smoking Skull Championship belt back, and Vince and Shane McMahon are trying to keep it from him by hook or by crook.
Damn, things were different during the Attitude Era, The Rock threw Stone Cold over a bridge and held a funeral for his rival. The storytelling was captivating and exciting, and it kept you guessing what would happen next. Keep in mind this match was conclusively built around a championship belt, something that would never work in the current product.
It was a high-octane no disqualification match with Shane as the special guest referee for their latest encounter. Austin began the match running straight into the ring for a brawl which spilled out all over the arena.  I miss how exciting these two superstars were. Rock hit a vicious Rock Bottom through the Spanish announce table and then got on commentary to talk some smack.
The arrogant challenger took the camera to talk trash while Austin laid on the other announce table, and ate a Stunner through the table. Man, the WWE Universe was on fire throughout the entire match. I feel like both superstars can't put on a bad match because they have such strong in-ring chemistry.
The finish of the match came when Austin had Rock set up for the three-count but Shane refused to count. Vince came down and struck Shane with the Smoking Skull belt. Austin hit another Stunner and decked the challenger with the belt for the victory. Vince then tossed his rival his precious Smoking Skull Championship.