WrestleMania X8: Icon vs Icon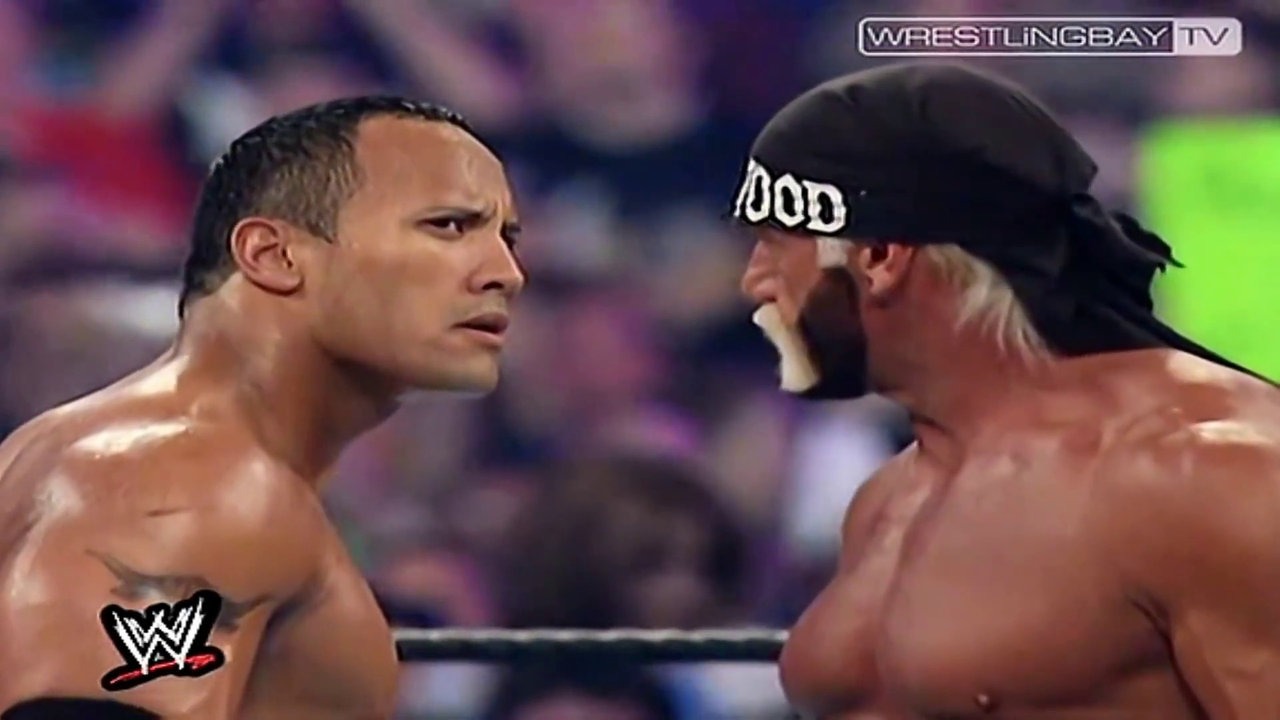 WrestleMania X-8 comes to us from Toronto, only the second time WrestleMania emanated from outside the United States and this WrestleMania saw the return of the legendary Hulk Hogan, after a nearly nine year absence, taking on The Rock. Nash and Hall returned, with Hall taking on Stone Cold Steve Austin. Triple H returned after a nearly one-year absence and winning the Royal Rumble to face Undisputed Champion, Chris Jericho. Ric Flair returned to WrestleMania after a ten- year absence to face the sinister Undertaker in a No DQ match.
That's a pretty stacked card by any measure and that's only the big name matches. So, does this incredibly stacked and star-studded card live up to its potential? Let's find out!
Opener
We open with Saliva singing the theme song of WrestleMania X-8 (or one of them, at least) and a video montage of the feuds going into WrestleMania.
After that, we get a promo by the superstars about what WrestleMania means for them and the business.
JR and Lawler are back together at ringside.
Intercontinental Championship Match: William Regal vs Rob Van Dam
RVD comes out to a great pop. Regal gets no reaction or very quiet boos.
These guys worked really well together, which is a little surprising since neither of them have a traditional wrestling style, but the contrasting unusual styles worked really well.
Winner: RVD by pinfall after hitting a Five Star Frog Splash.
Highlights: RVD kicking the brass knuckles away from Regal.
Comments: This was a really great start to WrestleMania.
We go backstage where Christian is mocking DDP's self-help guru gimmick. Lilian Garcia asks him about his feud with DDP. Christian says that since he'd used DDP to get back to winning, he didn't need him anymore.
European Championship Match: Diamond Dallas Page vs Christian
Christian gets a great hometown pop, despite being the heel, and changing his hometown to Tampa, Florida. DDP gets an okay pop from the crowd.
This was an okay match. I can't say it's the best I've seen from either guy before, but it wasn't bad.
Winner: DDP retains via pinfall after hitting the Diamond Cutter. DDP tells Christian that he's proud of him for not losing his temper, even though he lost. Christian throws an absolute fit
Highlights: Christian being secure enough to throw a temper tantrum on PPV TV. DDP leaving through the crowd.
Comments: This would be DDP's only appearance at WrestleMania as a competitor, he would retire later this year due to injuries. This would also be the last WrestleMania for the European Title, as it, along with the Hardcore and Intercontinental Titles would be unified before the IC belt was unified with the World Heavyweight Championship.
Hardcore Championship Match: Maven vs Goldust
Goldust is out first to a good pop. Maven is out next and he gets an okay pop.
As far as hardcore matches, this wasn't quite as fun and chaotic as previous ones, but it was still okay.
Winner: Spike Dudley gets the win by pinning Maven (anyone can join the match under Hardcore Rules), even brought his own ref. As Spike celebrates, Crash Holly shows up and chases Spike backstage, with Goldust and Maven in hot pursuit.
Highlights: Spike getting the victory. The gold trashcans and shovel.
Comments: This would be the last WrestleMania for the Hardcore Championship. It would be unified with the European and Intercontinental Championships. The final Hardcore Champion was Rob Van Dam.
Drowning Pool gives us the story of our Undisputed Championship match.
Backstage, we find Crash Holly going after Spike Dudley. Spike and Crash are almost run over by Al Snow in a golf cart with a ref, but Al hits a wall of cardboard boxes. Spike manages to get away, but is ambushed by Hurricane Helms, who flies away before Al Snow can get to him.
Kurt Angle vs Kane
Angle actually gets a good pop, along with the 'You Suck' chant. Angle trashes the Canadian pairs figure skaters, who were robbed of their gold medals by a corrupt Olympic judge. Kane gets a really good pop.
This was a really good match up. The contrast in styles worked really well for both guys.
Winner: Kurt Angle by pinfall, putting his feet on the ropes.
Highlights: Angle hopping up and down with frustration
Comments: I enjoyed this match. I don't remember why these two were having a match at WrestleMania, but this was a good one.
Backstage, Hurricane is carefully making his way around the arena, when he wanders into the shower are that Godfather's ladies are using. Not wanting to get caught he hides behind a dressing screen with a broom as protection (yes, they're really going there). This is mostly just an excuse to have scantily clad women and juvenile humor in a scene, but it was funny anyway.
We get a recap of the issues between Flair and Undertaker and the implication that Taker was put up to this by Vince, to get Flair out of the WWF (something Vince had been trying to do for months).
The Streak: Undertaker vs Ric Flair – No Disqualification Match
Undertaker comes out on his motorcycle to a nice pop. JR comments that Undertaker is 9-0 and has never lost at WrestleMania. Again, this is used as a statement of why Flair will have a tall mountain to climb (Flair was 0-1 at WrestleMania). Flair gets a great pop, as expected.
This match gets physical very quickly. An extremely skilled ring vet, Flair might be, but he knows how to fight and takes it to Taker.
If you're looking for one of Flair's technical classics, look somewhere else. This match was rough and physical. It was still as good as you'd expect from Flair at this point in his career.
Winner: Undertaker by pinfall. Taker takes out Charles Robinson, aka 'Little Naitch' for the hell of it, I guess. Before leaving, Taker counts his WrestleMania wins on both hands, he is 10-0.
Highlights:
Arn Anderson coming to Flair's aid and taking bumps with a bad neck.
Flair still being the Dirtiest Player in the Game.
Taker taking it to Anderson while clearly trying to not harm him.
Comments: This one of the best matches in the Streak, in my opinion.
We get a promo from Booker about his match with Edge where Booker tries to pretend he's a genius, not sure why, but he is, and botching it. Apparently, he and Edge are feuding over hair care product endorsement that Booker thinks Edge stole from him.
Edge vs Booker T
Booker comes out to a minimal pop. Hometown boy, Edge gets a great pop, as expected. We get a reminder that at WrestleMania VI, Edge was in the ringside area as a kid and is now competing in WWF.
Okay, stupid feud aside, this was a good match. At this point, Booker and Edge were still primarily known for their tag team skills, so seeing them in a singles match is nice.
Winner: Edge by pinfall. The crowd loses it, as they should. Edge looks incredibly proud and emotional.
Highlights: Seeing the two members of the, arguably, most successful tag teams in WWF and WCW going at it in singles competition.
Comments: I enjoyed this.
Backstage, Hurricane is still trying to get out of Skydome with the Hardcore Championship. Coachman approaches him and asks about the scene with the Godfather's ladies. Hurricane says he's not a 'Hurriperv', but he is the Hardcore Champion. Mighty Molly approaches and recommends leaving on the Hurri-cycle, when Helms turns to go, Molly clocks him upside the head with a skillet and becomes the new Hardcore Champion, but for some reason, she runs back into the building, instead of leaving.
We get a recap of the Austin/NWO feud and why the NWO was brought to WWF.
Stone Cold Steve Austin vs Scott Hall (with Kevin Nash)
Austin is out first his usual great pop. Hall and Nash get a pretty good pop. This match gets physical very quickly, but it's a really good match and we got to see Austin get some revenge.
 Winner: Austin by pinfall.
Highlights: Austin attacking Nash for the hell of it. Hall selling the Stunner.
Comments: This would the last WrestleMania appearance as in-ring competitors by Hall and Nash. They would make appearances during WrestleMania weekends, both being inducted into the Hall of Fame, and doing a run-in to back Sting in his match at WrestleMania 31. This would also be Referee Tim White's last WrestleMania as a full-time ref. He'd be injured during the Hell in a Cell match between Triple H and Chris Jericho and after a one match return in 2004, retire as a ref.
We get a video about Axxess, which always looks like a ton of fun.
Four Corners Elimination Match for the WWF Tag Team Championship: Billy and Chuck vs APA vs The Dudley Boyz vs The Hardy Boyz
Dudleys and Stacey are out first to a great pop and they dance with Saliva, who sing them to the ring. APA don't get nearly that good of a pop after that entrance. Hardys get a really good pop. Billy and Chuck get almost no reaction.
This match was really crazy right from the start, but it was a good match. Everyone seemed to want to eliminate Billy and Chucky.
Winner: Billy and Chuck by pinfall. The crowd is livid because Billy and Chuck spent most of the match outside the ring.
Comments: This would be Jeff Hardy's last WrestleMania for a few years. He would be released in 2003 due to personal and work issues. He would return to WrestleMania in 2007.
Backstage, Hall and Nash are steamed over Austin's victory. Nash says that the loss was a one-time thing and it won't happen again. He then says they'll take out what happened to them on Rock. Hogan comes up and tells them to stay out of his match with Rock, he wants to beat Rock on his own.
In another part of the arena, Mighty Molly is trying to find a place to hide with her Hardcore Championship. She races down a hallway only to be hit in the face with the top part of a Dutch door by Christian, who pins her to become the new Hardcore Champion.
We get a recap of the Rock/Hogan feud.
The Rock vs Hollywood Hulk Hogan
Hogan comes out to an incredible pop, heel or not. The dueling chants have already started. Rock also gets an incredible pop. And we get a Hogan/Andre level staredown. I still get goosebumps.
Hogan has never been the most technically sound wrestler, but this is one of those matches where it doesn't matter how good or bad the wrestling was, the story it told was great.
Winner: Rock by pinfall. After the win, Hogan gets to his feet and offers Rock a handshake, that Rock accepts. After Rock leaves, Hogan is confronted by Nash and Hall which quickly turns into a beatdown. Rock comes to Hogan's aid and the two of them fight off the Outsiders. Hogan turns to leave, but Rock convinces him to pose for the Hulkamaniacs, including Rock.
Highlights:
The staredown
Hogan wanting to win on his own.
Crowd not knowing who to cheer for
Rock telling Hogan to bring it
Hogan and Rock shaking hands.
Rock showing Hogan respect and letting him have time with the fans.
Rock still being a Hulkamaniac.
Comments: Even though it's not the greatest match ever, I still enjoy this match every time I see it.
We go to WWF New York where Big Show is having fun.
Finkel says that WWF has set a NEW Skydome record:  68,237 fans.
Triple Threat Match for the WWF Women's Championship: Jazz vs Trish Stratus vs Lita
Jazz is out first to no real reaction. Lita gets a better pop, but I think the crowd is waiting for the hometown girl. Trish gets a great hometown pop.
Lita and Jazz start before Trish gets to the ring and Team Bestie gangs up on Jazz. This match wasn't the best in terms of technical skill, but it was still really good. All three women worked well together.
Winner: Jazz by pinning Lita, thus saving the hometown girl from taking the pin
Highlights: Lita not being able to get her top off and saying 'f**k it'.
Comments: Even though Trish didn't win, seeing how much she'd improved since her WrestleMania debut just two years before is astonishing. I enjoyed this match a lot.
Christian has made his way outside, where a cab is waiting. Thinking he's home free, Christian runs to the cab and drops his stuff in it. Maven attacks Christian from behind, gets the pin, then takes off in the cab with Christian's stuff and the Hardcore Championship he came in with. Christian throws another fit, and you can hardly blame him.
WWF Undisputed Championship Match: Chris Jericho (with Stephanie McMahon) vs Triple H
Triple H comes out first to a great pop, sang to the ring by Drowning Pool. Y2J and Stephanie come out to an okay pop. The pairing of Jericho and Stephanie is an odd one to me.
Given the real-life relationship between Triple H and Stephanie, seeing him and Steph 'rough' each other up is really funny because they were each trying very hard to be gentle.
This was a really good match and a decent story, real-life relationships aside.
Winner: Triple H by pinfall after the Pedigree. Triple H and the crowd celebrate his triumphant return to WrestleMania.
Highlights:
Triple H using the figure four
Stephanie and Triple H being enemies while trying to not hurt each other is seriously funny.
Comments: I really enjoyed this match and I'm glad the feud continued for awhile.
Overall Comments
So, did WrestleMania X-8 live up to the potential? Yeah, it did. This was a really stacked, star-studded card and all the matches delivered.
Music Acts: I'm very critical of WWE taking time out of WrestleMania let music acts perform, but I love what they were doing with live groups in the early 2000s: The bands that performed were there because they performed the theme song and/or were going to sing one of the bigger superstars to the ring. It didn't take up time that could've been used on another match, the acts were quick and had an actual purpose. I wish WWE would do this again instead of having a half-time show.
Match of the Night: Rock vs Hogan. I believe the that THE title should always go last, but Rock/Hogan had more of a main event feel than the Triple H/Jericho match.
Hardcore Championship: I really liked the running Hardcore Match. It was a lot of fun and had some funny segments in it.
Final Thoughts: I really liked this show. I wouldn't make a special effort to watch it just because, but it was a fun show.
Chairshot Classics: WWE Royal Rumble 2016 – One Versus All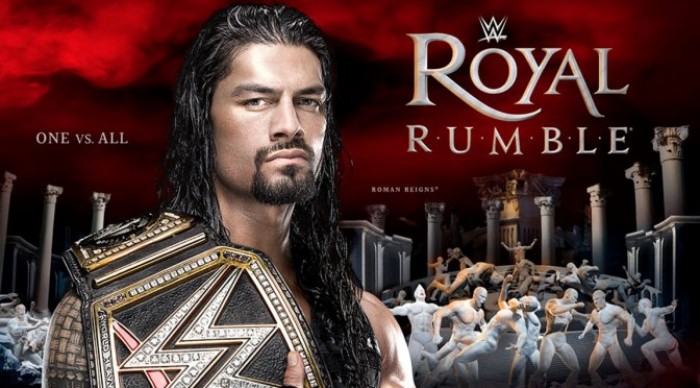 Our road to the 2019 Royal Rumble continues with a look back at one from the past!
For only the second time in WWE history, the WWE Championship is on the line in the Royal Rumble Match!
Kickoff Show Match – Fatal 4 Way Royal Rumble Qualifying Match: The Dudley Boyz (Bubba Ray & D-Von) vs. Mark Henry & Jack Swagger vs. Damien Sandow & Darren Young vs. The Ascension (Konnor & Viktor)
Swagger & Young to kick the action off, The Real American with a side headlock, Darren pushes him off into the ropes and is knocked down by a shoulder for a quick 1. Swagger to a wristlock, Henry tags in and flattens Darren after a whip by The Real American. The WSM chokes Young in the corner, tag back to Swagger, Darren reverses a whip to the ropes, ducks a right hand and drills The Real American with a discus forearm. Sandow gets a tag to a nice ovation, plant Swagger with a russian leg sweep and connects with the Cubito Aequet.
Darren back in, lands a corner clothesline to The Real American, hits a bridging northern lights suplex and only gets a 1 count. Young to a rear chinlock, Swagger rolls him out of it and Konnor tags himself into the match, forcing Darren out of the ring. He delivers a haymaker to The Real American, shoves Mark Henry on the apron and all 8 guys step into the ring for a shoving match as we go to a break….Swagger has Konnor grounded with a rear chinlock when we come back, Konnor gains his footing, gets pushed into the ropes and The Real American with a greco-roman slam.
D-Von reaches over and tags Swagger out, hits the ropes and knocks Konnor down with a shoulder block, then a clothesline, looking for a neckbreaker and he gets pushed into the corner, dropping Viktor off the apron in the process. Konnor rushes into the corner, D-Von sticks the boot up into the chin, Viktor with a leg trip from the outside as Konnor keeps the referee's attention. Viktor enters the match, The Ascension stomp away at D-Von in the corner, Viktor with heavy shots, brings Konnor back in and whips him into a corner clothesline, scores with a high knee and Konnor gets a count of 2. He looks to grind D-Von down with a rear chinlock, D-Von battles to his feet, hits the ropes and runs into a back elbow for another 2 count, Konnor going back to the rear chinlock.
D-Von fights up again, Konnor sends him into the corner, charges in and misses, going shoulder-first into the ring post and allowing Bubba to get a tag. Viktor tags in and runs into multiple clotheslines, Bubba squashes him in the corner, drops Konnor off the apron and plants Viktor with a uranage, getting 2 before Swagger is in to break it up. Sandow clears Swagger out, Henry lays out Sandow & Darren, then turns into a big boot from Bubba. He slams Young, D-Von heads up top and connects with the Wazzup Headbutt. The Dudleys call for tables, Viktor slides in and misses a clothesline, rebounding off the ropes into a 3D.
Bubba covers and Swagger again makes a save, dragging Bubba out and grabbing the Patriot Lock from the floor. The WSM takes advantage and hits a big splash to Bubba's back, turns over, covers Viktor and advances to the Royal Rumble Match.
Winners: Mark Henry & Jack Swagger (Henry/Splash)
EA's Take: Fair Kickoff match this evening with the sentimental favorite picking up the victory. When this match was announced, I figured either The Dudleys or Swagger/Henry would get the win. Sandow/Young is just a thrown-together pairing (which reminds me, what the hell happened to the Primetime Players?) and The Ascension are the jobbers of the tag team division. If it weren't for Mark Henry's interview speaking about how this could be his last Royal Rumble Match earlier in the week, I probably would have never anticipated Swagger/Henry having a shot. The Dudleys were a favorite merely for the name value, while it's obvious that none these guys will have much, if any kind of impact in the Rumble itself.
Open: A limousine pulls up in the back and out steps Vince & Stephanie McMahon. Jojo walks up asking Mr. McMahon about Roman Reigns tonight, Vince speaks about giving the champion the opportunity to make history tonight and successfully defend his title in the Royal Rumble. Steph agrees and says not only would he make history, but he'd go onto WrestleMania as champion. Vince is loving tonight, almost as much as he loves himself.
Video: "Here stands a time-tested arena where warriors have solved what countless others cannot. Now, one's immortality awaits ahead as 30 will battle to etch their place in history. But, fate twists it's cruel head. An unprecedented event occurs." For the first time in history it's One Vs. All, as Roman Reigns defends the WWE World Heavyweight Championship against 29 challengers in the Royal Rumble Match.
Match #1 – Last Man Standing for the WWE Intercontinental Championship: WWE Intercontinental Champion Dean Ambrose vs. Kevin Owens
The bell rings and the brawl begins with both guys throwing bombs, The Lunatic Fringe getting the quick advantage and working over the champion in the corner. Owens fires back with rights and chops, Ambrose calls for more, turns the tables and serves some chops of his own. He whips the champion to the opposite corner, charges in with a running forearm and follows it with a bulldog The Prize Fighter rolling to the outside. The Lunatic Fringe flies through the middle rope with a suicide dive, the champion is sent across the announce table and lands on Michael Cole. Dean tosses Owens back across, jumps off the table and meets a right hand to the ribs.
The champion attempts to drive Ambrose into the steps, Dean reverses and Owens meets the steel, getting up at a count of 4. The champion reaches under the ring and pulls out a kendo stick, teeing off on Owens back in and then out of the ring.. The Lunatic Fringe with a big swing and a miss, hitting the ring post instead and the challenger counters with a superkick. Ambrose is propped up against the barricade, The Prize Fighter charges and connects with the Cannonball, exploding into the timekeeper's area with Dean. The champion makes it up at 8, Owens returning the kendo stick shots, splits it in half and spears it into Ambrose's midsection.
Owens levels The Lunatic Fringe with a short-arm clothesline, hits the ropes for a running senton, then tosses the champion to the outside, driving him into the ringside barricade once more. The challenger now looks under the ring for some toys, putting a pile of chairs in the ring. He rolls outside and hammers Dean in the back with one, rolls back inside and grabs a seat as Ambrose gets up at 5. Back in the ring, The Lunatic Fringe eats a big right hand, Owens sets two chairs up and builds a bridge, elevating the champion on his shoulders. Dean battles out of it, takes a forearm shot, bounces into the ropes and scores with a Lunatic Lariat.
Both men reach their feet at 6, the challenger utilizing the chair again to Ambrose's ribs and pounding the back. Dean's up at 6, The Prize Fighter looks to slam him on the chairs, Ambrose blocks it, bounces off the ropes again and meets a boot to the midsection. Owens tries a powerbomb on the chairs, The Lunatic Fringe counters with a back body drop and sends the challenger through them instead. Both combatants are up at 7, Owens rolls to the floor, the champion attempts another suicide dive and gets caught, then driven spine-first into the ring apron. The Prize Fighter gets real aggressive, driving Ambrose into the ring steps numerous time, Dean struggling to his feet at 8.
Owens drags a table out and sets it up at ringside, then gets another and stacks them as Dean pulls himself back into the ring. The challenger climbs to the apron, then pulls Ambrose up to the top turnbuckle to superplex him through the tables. The Lunatic Fringe fights it off, grabs a chair and tosses it into Owens' face, the chair hanging off his head. The champion with a series of rights and chops, hits the ropes and runs into a superkick, The Prize Fighter looking for the Pop-Up Powerbomb and Dean counters into a hurricanrana. The champion ducks a clothesline, spikes Owens with Dirty Deeds and the challenger uses the ropes to get up at 8.
Ambrose spikes Owens with Dirty Deeds again, this time on a chair, but The Prize Fighter rolls out of the ring to get to his feet at 9. The Lunatic Fringe rolls outside, finds himself a table and sets it in front of the announce table. He drives Owens off the announce table, places him on the table, climbs to the top rope and comes off with an elbow drop through the table. The referee counts as both men are down, using the apron to pull up and back into the ring at an 8 count. The champion rolls out and slides another table into the ring, smacks Owens with a chair, sets up the table and props the challenger on the top turnbuckle.
Dean climbs up for a superplex, The Prize Fighter blocks and smashes Ambrose through the table with a 2nd rope fisherman's buster. Owens to his feet at 6, Ambrose stumbling up at 9 with help from the table wreckage. The Prize Fighter scores with a Pop-Up Powerbomb, the champion barely up at 9, Owens delivering a vicious chair shot then building another chair bridge. He lays the champion on the chairs, climbs up top for a moonsault, Ambrose gets to his feet and pushes Owens forward, The Prize Fighter falling through the two stacked tables and he can't make the count.
Winner and STILL WWE Intercontinental Champion: Dean Ambrose
EA's Take: Great opening contest that really got the crowd going to begin the night. A brutal brawl is what this should have been to be the blow-off to this rivalry as has been reported. I'd really like to see Owens stay in something relevant heading into WrestleMania, the guy is the best heel in the company right now. Ambrose could be involved in the main event heading to WrestleMania, but I suspect some kind of multi-man match for his IC Title could take place again. It would be a great way to showcase guys with so much up in the air right now due to injuries.
Match #2 for the WWE Tag Team Championships: WWE Tag Team Champions The New Day (Big E & Kofi Kingston) w/Xavier Woods vs. The Usos (Jimmy & Jey)
Prior to the match, Big E talks about The New Day being in mourning since Chris Jericho broke Francesca the trombone. Kofi calls for a moment of silence, but we hear a trombone in the background and out comes Woods. They welcome the newest member of New Day, Francesca 2. Jimmy & Kofi will begin, Jimmy with a waistlock, Kingston switches out, they trade side headlocks, Jimmy getting pushed off into the ropes. Kofi with leapfrogs, Jimmy stops short of one for a back suplex, Kingston lands on his feet and runs into a stiff right hand. Jey gets the tag, The Usos with a combination backbreaker/top rope foream and Jey tosses Kofi to the outside.
Jimmy levels Kingston with a clothesline on the floor as Jey distracts the official, rolls Kofi inside and covers for a count of 2. Kingston sneaks in a jawbreaker, makes a tag to Big E who charges into a right hand. Jey backs him to the corner, Big E reverses a whip across, Jey attempts to hop up and over, but E has it scouted and drives him shoulder-first into the ring post, falling to the outside. Big E follows him out, lifts Jey on his shoulder and charges toward the barricade, Jey slipping out and connecting with a dropkick to turn the tables. Woods gets involved behind the ref's back, using the barricade to spring into a tornado DDT.
Kingston tags, drops to the floor and rolls Jey in to deliver some punishment in the corner, gaining a 2 count. He grounds Jey with a chinlock, Jey to a vertical base, gets backed into the wrong corner, Big E tagging as Jey battles out. Kofi & Jey both look for superkicks, Kingston hooking the leg and holding Jey down for a Big E splash for a count of 2. Big E pounds away at Jey's chest, flattens him with a back elbow and covers, but is too close to the ropes. Kofi slingshots in with a stomp off the tag, hammers Jey in the corner, charges in and gets elevated to the apron, landing on his feet. Kingston gets a handful of Jey's hair and pays for it, getting dropped to the floor by an enzuigiri.
Big E & Xavier assist him back into the ring, Big E makes the tag just as Jimmy hits the ring with a right hand, then knocks Kofi off the apron. Big E reverses a whip into the ropes, Jimmy ducks a right and delivers a kick to the midsection, drops Kingston off the apron again, ducks a Big E clothesline and scores with a samoan drop. Kofi springboards into the ring and gets caught in a samoan drop, Jimmy rushing him in the corner with the hip attack. He ducks another shot from Big E, scales to the top and hits a corkscrew senton for a near fall, then heads back upstairs. Kofi hits the apron, Jey pulls him to the floor, looking to toss Kingston into the barricade, but it's reversed and Jey is sent into the crowd.
Back in the ring Big E crotches Jimmy on the top turnbuckle, plants him with a belly to belly suplex and covers for a 2 count. Jimmy rolls to the apron, Big E looks for a spear and meets a knee for his troubles, Kofi grabs the leg and gets kicked away, then taken out by Jey who dives in off the barricade. Jimmy is distracted and Big E spears him off the apron to the floor, all 4 men down outside, struggling to their feet. E rolls Jimmy inside and covers for 2, tag to Kofi for the combo Big Ending/top rope DDT, Jimmy slips out and shoves Big E into the corner, knocking Kingston to the canvas. Kofi looks to sneak in Trouble In Paradise, Jimmy ducks and hits a superkick, tag to Jey and he connects with an Uso Splash, Kingston getting a foot under the rope at a count of 2.
Woods has words with Jey from the floor, Jimmy takes him out with a suicide dive, but Big E is there to drive him spine-first into the barricade. Kofi looks to take advantage with a roll-up on Jey for 2, Jey rolls through and gets 2 of his own. Kofi hops to Jey's shoulders in the corner, E making a blind tag, Jey drops Kingston down and connects with another superkick before scaling to the top rope. He comes off for another Uso Splash, Big E slides in and catches him in the air into the Big Ending to retain.
Winners and STILL WWE Tag Team Champions: The New Day (Big E/Big Ending)
EA's Take: Part of me thought this could be the night that The New Day drops the titles given the way The Usos have been getting over on them of late. The problem is that New Day is just so entertaining that they are getting cheers, or as evidenced tonight, their opponents are getting booed. And that's not a knock on The Usos because they're a great team, that's just how over New Day is. The match itself to me was a little ho-hum, I did enjoy the finish however.
Video: Last Monday on Raw, Brock Lesnar sent a message to the participants in the Royal Rumble Match before falling to a Spear from Roman Reigns. Then, The Wyatt Family showed up and took them all out.
Backstage: In a dark room is The Wyatt Family, Bray speaking about slaughtering everyone in his path. After tonight, he will truly have the whole world in his hands. "The apocalypse is here…run."
Match #3 for the WWE United States Championship: WWE United States Champion Alberto Del Rio vs. Kalisto
Collar & elbow to start, Del Rio backs Kalisto into the corner, the challenger switches out and delivers right hands, Alberto doing the same. He snapmares Kalisto over for a kick to the head and a count of 1, then shoots the challenger sternum-first into the turnbuckles. The champion to the 2nd rope, reigns down right hands, Kalisto with a kick to the back that sends Del Rio outside, then hits the ropes for a suicide dive. He drives Alberto into the barricade, tosses him in the ring and climbs to the top, Del Rio sees it and drops him with an enzuigiri for a count of 2.
El Patron with a snap suplex for another 2, then looks to ground the high flyer with a rear chinlock. Kalisto fights to his feet, hits the ropes for a kick, back to the ropes and the champion splits him with a tilt-a-whirl backbreaker. Del Rio heads up top now for a double axe and a near fall, slides the challenger to the outside, dropping him face-first to the floor. Alberto outside after him, Kalisto with a hurricanrana out of nowhere, rolls the champion in the ring, attempts a headscissors takedown, Del Rio countering into a gutbuster that only gets 1. El Patron takes the fight outside, tosses Kalisto into the barricade, back into the ring and he props him on the top turnbuckle, trying to remove his mask.
The challenger fights Alberto off, comes off the top with a seated senton, into the ropes he goes, missing a 2nd rope springboard corkscrew headbutt, the champion following with a superkick and he nearly gets a 3 count. Alberto looks to finish with the Cross Armbreaker, Kalisto slips out of it, goes to the 2nd rope and spikes Del Rio with a tornado DDT for a count of 2. Kalisto this time scores with the corkscrew headbutt, hits the ropes and plants Alberto with a spikerana, covers and again only gets 2. He scales the top rope, El Patron crotches the challenger on the top turnbuckle, climbs up and brings him down the hard way with a top rope reverse suplex.
The champion toying with Kalisto and slapping him in the face, Kalisto fires back with a kick, follows with a roll-up and gets another near fall. He charges Alberto in the corner and meets boots the to face, Del Rio to the top, know he gets crotched on the turnbuckle. Kalisto climbs up to meet him, the champion with right hands, dropping the challenger and he's caught in the tree of woe. Del Rio looks for the double stomp and misses, Kalisto goes into Salida Del Sol, covers and Alberto grabs the bottom rope at 2.
El Patron dumps the challenger outside to buy some time, Kalisto to the apron, springboards in and Del Rio turns it into a codebreaker, still unable to get a pinfall. He exposes the top turnbuckle, looks to drive Kalisto into it, the challenger blocks and connects with an enzuigiri. He charges Del Rio in the corner, Alberto elevates him towards the exposed turnbuckle, Kalisto landing on the 2nd rope. He comes off the with a hurricanrana that sends the champion into the turnbuckle, follows with a 2nd Salida Del Sol and regains the championship.
Winner and NEW WWE United States Champion: Kalisto (Salida Del Sol)
EA's Take: I have to admit that I'm a little surprised to see Kalisto regain the title. I keep thinking that Sin Cara will be back here fairly soon, but with the amount of momentum Kalisto has it could be best to keep him on his own. Although I don't see him having the career longevity due to his age, you can't help but see a lot of Rey Mysterio in him and the company certainly recognizes it. I think Kalisto should get a decent title run this time around, I wouldn't be surprised to see this feud stretched out further, possibly into Fastlane.
Chairshot Classics: WCW Slamboree 1995 – A Legends' Reunion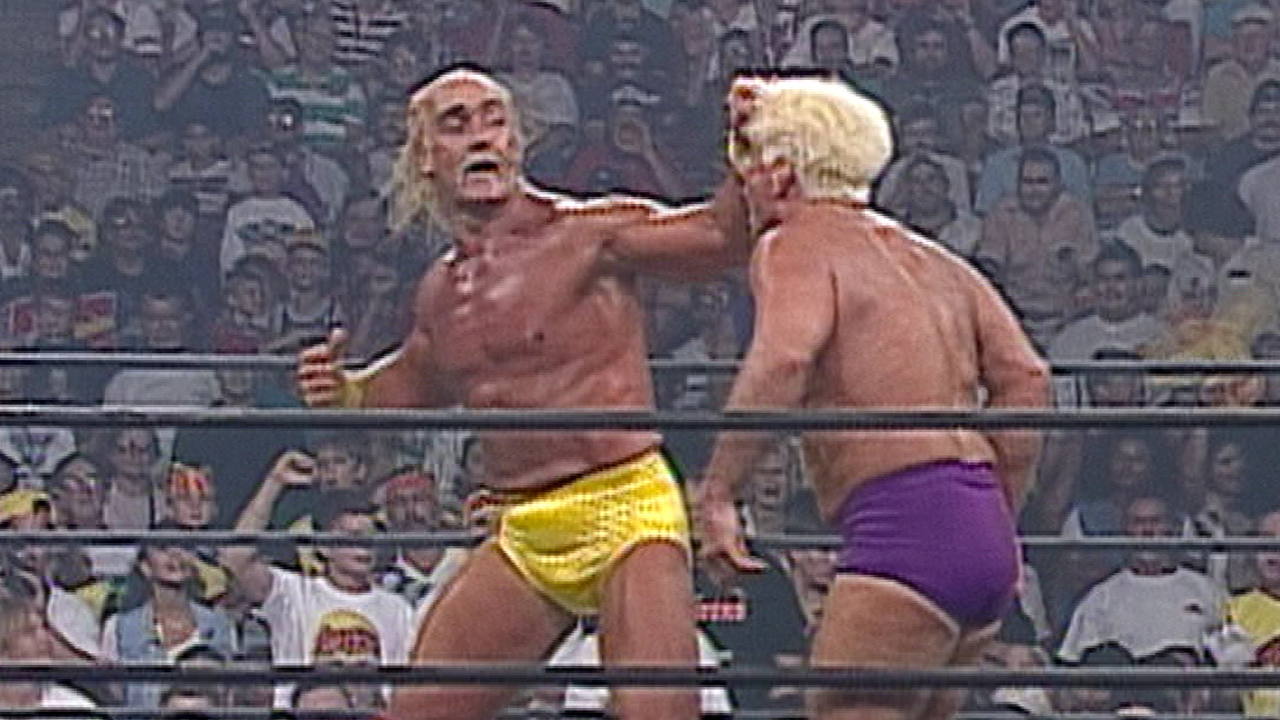 Our weekly Chairshot Classics WCW PPV series continues with Slamboree '95!
Following a brutally cheesy inaugural Uncensored event in March, what would WCW do to follow-up? Let's not waste any time and get to the action!
Match #1 for the WCW World Tag Team Championships: The Nasty Boys (Brian Knobs & Jerry Sags) vs. WCW World Tag Team Champions Harlem Heat (Booker T & Stevie Ray) w/Sister Sherri
Jerry Sags makes his way down to the ring by himself at the open. Brian Knobs was previously injured and they're not sure what his status is. The "Nasty" chants break out for Sags who is by himself. Booker T will start it off for Harlem Heat. He lectures the chanting crowd and rounds the ring. They exchange slaps and strikes, Sags takes the advantage and hits an inside out clothesline. Booker eats turnbuckle, Irish whip and Sags comes in with another big lariat. Stevie rushes the ring, but Sags takes it to both champions with a double DDT.
Sherri is on the apron and she eats a right from the Nasty Boy. Sags sets up a pumphandle slam on Booker and lands it. He makes a cover and Booker kicks out at two. Sags pursues in the corner, but Booker lands a right. The champs double team Sags and Stevie is tagged in. He tries an elbow, but Sags moves. Double leg takedown by Sags and he hits a low blow head butt. Sags sets up again and he drops a leg across the mid section. He makes a cover and Booker T comes in for the save. Scoop slam by Sags and he heads up the turnbuckles. Double ax from the top rope and Booker is forced to make the save once again. Sags tries a cover but Sherri pulls his leg.
Jerry pursues the valet who baits him into a beat down from Stevie Ray. The ref pulls him off and Sags rolls to the floor, where he's double teamed by Booker and Sherri. Stevie heads out, drives him into the steel and rolls him back into the ring. Double team in the ring by the champs and Booker grabs a reverse chin lock. Back to vertical, Sags tries to go to the eyes but Booker stays in control. He misses an elbow, but with a spin-a-roonie comes back to his feet and hits a heel kick. Tag is made to Stevie, Sags is sent for the ride and he eats a drop kick. Side slam by Stevie and Sags is set up for a senton by Booker. He's slow to make a cover and Sags gets his shoulder up.
A quick tag is made back to Stevie who lands a leg drop and a big forearm. Another fast tag back to Booker who lifts Sags and sends him to the ropes. Sags reverses a back drop into a piledriver, and finally from the back, here comes a taped up Brian Knobs. Sags makes the hot tag and Knobs cleans house. Scoop slams and back elbows for both. He hits a bulldog on Booker and back drops Stevie over the top. Sherri climbs to the top rope and leaps but Knobs catches her out of the air and drops her hard on the canvass before dumping her to the floor. Knobs tags in Sags, hits a powerslam, Jerry hits a top rope elbow and we have new champs!
Winners and NEW WCW World Tag Team Champions: The Nasty Boys (Sags/Top Rope Elbow Drop)
After The Bell: The Blue Bloods are standing at the top of the ramp in suits, looking disgusted with the new champions. They seem to want a piece of them, but they shake their heads and head to the back. The Nasty Boys join Eric Bischoff after, and if The Blue Bloods want an opportunity, they're going to get one.
EA's Take: Very good opening match between two teams who are no strangers. The story of Knobs escaping from the back after being kayfabe injured was a nice touch and it popped the crowd when he came rushing down. I continue to respect Sherri's bumping as a valet. The introduction of The Blue Bloods (Regal and Eaton) will help a pretty thin tag team division.
Backstage: 'Mean' Gene Okerlund is joined by Kevin Sullivan. He'll be facing the man formerly known as The Butcher. He told him not to show up, and he hasn't slept in the last 5 days. The problem is that 'The Man With No Name' still believes in Hulkamania, and he heads for the ring after some deranged musings.
Match #2: Kevin Sullivan vs. The Man With No Name
A brawl breaks out immediately, and a big knee lift sends Sullivan to the floor. TMWNN follows him immediately and continues his assault. Back in the ring, a countoff series of rights is delivered to Sullivan and he gets his eyes rakes. Uppercut by TMWNN and Sullivan eats turnbuckle. A whip to the ropes and TMWNN locks in a sleeper, Sullivan drops to the mat to reverse it and dumps him to the floor. TMWNN hits the steel and they exchange chops. Sullivan is rolled back into the ring, TMWNN takes position in the corner with a splash. Sullivan has a knee driven his neck and gets an eye rake, but he fights back with chops.
It only wakes up TMWNN and he fires back with rights. A big chop between the eyes knocks Sullivan down and he gets a two count. TMWNN sets up for and hits a piledriver. TMWNN is slow to cover and Sullivan barely escapes. He pursues but Sullivan goes to the eyes. TMWNN is smashed into the turnbuckle and dumped outside for a shot on the ring post. Sullivan rakes his back and rolls him back in. TMWNN blocks a chop and fires back. To the ropes they go, TMWNN hits a big lariat. He tries a running splash, but Sullivan moves out of the way. Sullivan sets him up for the tree of woe and he hits a running knee. Double stomp by Sullivan and we have a winner.
Winner: Kevin Sullivan (Devil Stomp)
After The Bell: A strange voice starts yelling and an image of a creepy man appears on the big screen. He summons Sullivan, but Kevin bails out through the crowd.
EA's Take: How many monikers has the man best known as Brutus Beefcake had? Clearly the post-match is planting the seeds for the proper Dungeon of Doom and things are about to get even MORE weird. Hard to imagine after Uncensored, eh?
Backstage: 'Mean' Gene is joined by WCW World Heavyweight Champion Hulk Hogan, 'Macho Man' Randy Savage & Jimmy Hart. They were late showing up tonight because Macho Man was dog paddling from the beach, his dad Angelo was doing the backstroke, and he wishes that he ran into Vader and Flair in the parking lot. With all the power on their side, there is no way they're making it out alive. Savage says the monster maniacs will not be denied, nothing is raining on their parade. Whatcha gonna do? Ooohhh Yea!
Match #3: Dick Murdoch vs. Wahoo McDaniel
Gordon Solie has joined commentary for this legends match. Both men measure and lock up, McDaniel takes position in the corner and it's a messy break. Another collar and elbow, McDaniel with an arm drag. A third tie up and McDaniel scores another arm drag. Murdoch blocks a strike and drops an elbow on the head. Murdoch charges into the midsection on McDaniel and grabs a wristlock. McDaniel fires back with a slap across the face and Murdoch falls on the canvass. Collar and elbow tie up, Murdoch hits some knee lifts and a big elbow. McDaniels fights back and chops Murdoch between the eyes. McDaniels gets the top wristlock, he takes position in the corner and the ref calls for a break.
Murdoch doesn't oblige, he hits some short range rights but McDaniels strikes back and Murdoch falls to the mat. Murdoch's head hits the turnbuckle multiple times and he eats another chop. Murdoch almost buckles but he hits some knees and stomps. Murdoch bails to the floor and lays an elbow across McDaniel's throat on the apron. Irish whip by Murdoch, he climbs to the top rope and he hits a modified bulldog. McDaniels is sent for the ride, he eats a back elbow and an elbow drop for a two count. Big elbows across McDaniel's forehead. Wahoo reverses a whip to the ropes, hits a backhand chop across Murdoch's throat and that's good for 3.
Winner: Wahoo McDaniel (Backhand Chop)
EA's Take: I get the whole legends thing, but broadcasting the match in black and white was a little cheesy, in my opinion. I love Solie's voice, though. Due to both men's age and old style, this match was obviously slow. I fear the modern crowd with their boring chants and ability to get more fired up by beachballs wouldn't give legends like this the respect they should get if WWE did something like this now.
Backstage: 'Mean' Gene is joined at this time by Big Bubba Rogers. He recognizes that Sting is one of the best wrestlers in the world today, but he is one of the few who has a pinfall victory over him. What people don't know is that when the referee counted 1-2-3, he knows the faith in him disappeared. He plans to do it again because he's big enough, bad enough, and because he can.
Match #4 for the IWGP Heavyweight Championship: 'Mr. Wonderful' Paul Orndorff vs. IWGP Heavyweight Champion The Great Muta
The "Paula" chants inevitably come out and Mr. Wonderful takes it out by yelling at Nick Patrick. The official blows right back up to him and let's him know who is in charge. Muta backs him up swinging with some kicks, Orndorff wants space. Collar and elbow tie up, they reverse wristlocks and Muta takes advantage. Drop toe hold by Orndorff but he can't grab a headlock, Muta reversing with a hammerlock by Orndorff is on the ropes. Muta motions that he's going to kill him and Orndorff tells him where to stick it. Collar and elbow, chain wrestling with Orndorff into a hammerlock. Muta flips out with a single leg and a stomp and both men back up and feel each other out.
Collar and elbow, side headlock by Muta, they hit the ropes and Muta hits a shoulder tackle. He ducks a clothesline and hits a spin kick, Orndorff rolls out. Muta teases a leap from the top rope but Mr. Wonderful sees him and walks away. Collar and elbow hookup, Muta with the side headlock and a takeover. Orndorff counters with a roll up, Muta kicks out and gets back in control. Orndorff escapes and wrestles his way into a hammerlock. He drives the knees into Muta's shoulder and really cranks the arm. Back to vertical, it's knee lifts and rights from Orndorff. Muta is on the receiving end of a short clothesline but Muta moves away from an elbow drop, scores with a dropkick, a snapmare, and a theatrical elbow drop.
Another snapmare and Muta goes into a reverse chin lock. Orndorff works back to vertical, tries a reversal but it's quickly countered by Muta with a head scissor. Orndorff rolls to his knees, Muta tries cranking back and he strikes Wonderful in the eyes. Desperation belly to back suplex by Orndorff and he's slow to get up. Stomps to the back of the head by Orndorff and he dumps Muta to the floor. He follows and chokes the IWGP champ with a camera chord. He returns to the ring and poses as the crowd boos. He pulls Muta back to the apron and hits a vertical suplex. He comes in with an elbow drop and cranks on Muta's chin.
He keeps the knee at the top of the back for leverage. The crowd gets behind Muta as he works his way to his feet. He hits some body shots, breaks the hold and knocks Orndorff down with rights. To the ropes, Muta tries a dropkick but Orndorff puts on the brakes. Wonderful drops an elbow across the back and tries a front facelock. They're on their feet, Orndorff hanging on. Muta counters by lifting with an inverted atompic drop. Short clothesline by Muta, he heads for the 2nd rope and drops an elbow but Orndorff moves. Wonderful hits some forearms and drives Muta's head into the mat.
Vicious kicks by Orndorff and he hits a snapmare before driving a fist between the eyes, Muta kicks out at two. Orndorff wants a piledriver but it's reversed with a backdrop. They exchange rights before Muta hits a spin kick. Big back elbow in the corner by Muta and he follows with a bulldog. Muta with a lateral press and Orndorff kicks out. Shoulder block by Muta and he follows with a side breaker. Muta scores with a moonsault from the top rope and he retains the title.
Winner and STILL IWGP Heavyweight Champion: The Great Muta (Moonsault)
EA's Take: Great to see Muta again. He's a guy who deserves to go in the Hall of Fame, but I'm not sure if or when that will happen due to his lack of WWE ties. Just a solid, smart match by two pros here. You had to know the New Japan champion was retaining, but it was enjoyable nonetheless. You also will get a new appreciation for Orndorff through all of these Chairshot Classics as well, as unfortunately he's almost remembered more for his injury and weak arm than anything else.
Backstage: 'Mean' Gene gets a word with WCW World Television Champion Arn Anderson, 'Nature Boy' Ric Flair & Vader. What The Enforcer is going to do tonight is going to show Alex Wright why people his age call him Mr. Anderson. Flair is already planning to celebrate his and Vader's victory, Hogan and Savage have run roughshod long enough. When Hogan looks at Vader, he's looking at the most powerful wrestler in the world today. He can run, but he can't hide because it's Vader time.
Match #5 for the WCW World Television Championship: 'Das Wunderkind' Alex Wright vs. WCW World Television Champion 'The Enforcer' Arn Anderson
Collar and elbow tie up, they jockey for position and Wright hits an arm drag. They lock up, Wright grabs the headlock, Anderson throws him to the ropes but he puts on the brakes and drops down to re-grab the headlock on the mat. Back to vertical, they hit the ropes again, Wright confuses Anderson by flipping around, hits a drop kick and goes back to the headlock. Anderson tries countering with a roll up but Das Wunderkind stays in control. Back to their feet, Anderson powers into position on the ropes and drives his shoulder again.
Wright reverses a whip, Anderson catches the boot but Wright hits an enzigure. Back to the mat with the headlock and he cranks away. Left hand body shots by The Enforcer, he grabs the leg but Wright hits a backflip and a dropkick. European uppercut and a side headlock takeover by the kid and he hangs on. Back to vertical, Anderson lifts the knee and lays in a punch. He sends Wright for the ride, Wunderkind grabs a boot, Anderson tries an enzigure but misses and Wright moves into complex crossface submission. Anderson pulls himself to the ropes to break the hold and he bails out for some regroup. He takes too long and Wright hits him with a baseball slide before flying over the top rope with a crossbody.
He fires in some rights, Enforcer fights back but Wright makes him eat the ring post. Back in the ring, Wright tries hyperextending the arm and he works down to the mat for some submission work. With leverage, Wright drives his knees into Anderson's arm. Up to their feet, Anderson is trapped in a hammerlock but breaks it with an elbow to the side of the head. Some kicks and a headbutt by Arn before dragging Wright's eyes across the top rope. Wunderkind fights back with European uppercuts. Anderson misses with an atomic drop, but the vintage spinebuster is on point. Double ax handle by Anderson and he stomps away before slingshotting Wright into the bottom rope.
Blatant choke by The Enforcer and the ref has to call for a break. He uses the ropes for leverage to drop the boot across Wright's throat. Anderson cranks with a wrist lock and works over the shoulder. Single leg sweep by Anderson, he appears to try a Figure Four but Wright boots him away. From the 2nd rope, Wright counters with a right to the midsection. Snap suplex by Wright and he heads for the top. He leaps with missile dropkick and Double A is forced to kick out. They hit the ropes, Anderson grabs a front facelock and they exchange inside cradles. On their feet, Anderson pokes the eyes, Irish whip but Anderson runs into elbows. Wright ducks a punch, but Anderson takes advantage of the positioning and scores a DDT out of nowhere to retain his belt.
Winner and STILL WCW World Television Champion: 'The Enforcer' Arn Anderson (DDT)
EA's Take: I was looking forward to this one as soon as I did the template. It's also the first time I remember hearing the Arn music, later adapted in general 4 Horsemen matches. I love how many clean finishes there are in this show so far. As Scott Hall has explained, that's 'Curt Hennig Booking — if you're going to make someone, make them and take their finish".