Flashback Friday: AJ Styles vs. Tyler Black (Seth Rollins) 4/28/06
Welcome to the first installment for Flashback Friday. The premise of the piece is to review an old match between opponents' fans probably didn't know had faced each other in the past; the matches will be accessible at the end of each column. For this month's installment, the match is said to be the only time these two men faced each other to date, and it wasn't in a WWE ring. The match took place on April 28th, 2006 in Muscatine, IA at an NWA No Limits show. The two men facing each other were current WWE champion AJ Styles and former WWE champion Seth Rollins. We should mention that this match was before there was a 'Seth Rollins;' at the time he went under the moniker of Tyler Black. The match went just over twenty-eight minutes and featured a more seasoned Styles against a green Tyler Black.
AJ Styles s. Tyler Black (Seth Rollins)
April 28, 2001, IWA No Limits (Muscatine, IA)
Times have changed for both men since then. The match took place in a gymnasium in front of a crowd of possibly a couple of hundred people. It begins with the camera focused on the entrance, and a very young, fresh-faced Tyler Black emerging from behind the heavy-duty steel doors. Fans immediately gravitated towards him as he slapped hands with everyone in attendance on his way to the ring. He was quite enthusiastic, soaking in all the adulation of the crowd as he stood on a table and slapped his chest, showing how pumped up he was for this match-up. Once Black is in the ring, the camera pans away to the doors to focus in on the next participant. Emerging from behind the doors was an equally fresh-faced AJ Styles, with his clean-cut look and short hair, and missing the AJ tattoo that runs down the right side of his rib cage. Styles, much like Black, walked in with much fanfare and carried a little more notoriety at the time. He also slapped hands with fans along his way to the ring. We can tell that this was relatively new for all involved, as it didn't have the refined finish that we have become accustomed to seeing in the WWE today.
Both men stood in the ring prepared to go as they were announced for the match. We have to remember that, this being twelve years removed from today, it lends itself to seeing things from both men we may not necessarily see from them anymore. This is what proves to be so exciting about this match-up. The match started off simple enough with both men trying to feel their way along, trying to lock up not unlike what fans will see from either man today. Both men's physiques have certainly developed since this match. Both have developed the strength of their upper body and core. The physical differences also make what we see from them here quite unique.
Early on, the match was fairly technical, with Styles taking Black down momentarily only to have it countered and Black recovering and gaining the advantage. Both men pretty much used a ground game to try to wear down and exhaust the other guy. Those in attendance appreciated the story these two were telling early on. Both men then began to exchange arm drags in what seemed like a progressive moment in the match. However, just when it appeared as though Black had the advantage, Styles regained the advantage with a side headlock on the mat. There were a few attempts to use leverage in order to make a pinning attempt. There weren't a lot of high spots early on, with each man spending more time trying to work on their opposition. This was until Styles hit Black with a phenomenal dropkick and followed that up with a plancha to the outside the ring onto Black.
This was when it began to pick up. Styles rolled Black into the ring and attempted a pinfall, only getting a two count. He then proceeded to hit Black with a side backbreaker and once again got a two count. A vertical suplex led to another count of two. It was at this point where Black attempted to make a comeback by hitting Styles with a few kicks, almost defensively in order to keep distance between himself and the phenomenal one. However, that only went so far as Styles hit a vertical shoulder breaker leading to another pinfall attempt. Styles then transitioned to what appeared to be the last chancery, a submission maneuver made famous by Austin Aries. Black writhed in pain then struck Styles out of desperation in order to break the hold.
Black was battered and beaten, having been systematically worked on by Styles, who was proving that he is the veteran, of the two. However, when Styles attempted a springboard move, Black dropkicked the top rope knocking his opponent down. Black then climbed the top rope and hit a standing moonsault onto Styles on the outside, with nothing to brace their fall, but steel folding chairs. He then rolled Styles in the ring and attempted his own pinfall, but again only a two count was made. Black, still trying to recover himself from the earlier beating he received, was moving slowly as he slammed Styles. He then proceeded to hit a running senton. Styles attempted to make a comeback, but Black continued to get the advantage with a variation of a side headlock and reverse chin lock, wearing down the phenomenal one.
Once both men returned to a vertical base, Black hit a bridging suplex on Styles. He then followed it up with a rolling fireman's carry into a standing moonsault, but only to a count of two. Styles slowly began to mount a comeback, only for Black to counter. Styles ended the sequence with a Pele kick, taking Black down and buying time to recover. Both men attempted standings suplexes, countering each other's effort until Styles ultimately succeeded. He followed that up with a suplex into a standing reverse neckbreaker, once again to no avail. Styles signaled for the Styles Clash, but Black countered it and then caught AJ in mid-air for a powerbomb pinning combination.
The match truly began to pick up. Spots included Styles' famous moonsault into a Scorpion death drop. Black then perched his opponent on the top rope and hit a superplex from the top rope, once again for a count of two. Both men appear completely exhausted at this point, but Black managed to hit a running kick and a standing 450 splash. Styles revived and again signaled for the Styles Clash, this time hitting it for the three count. While there may have only been a few hundred in attendance that didn't take away from the action these two showcased in this match.
Winner via

pinfall

: AJ Styles
After the match, Styles got on the microphone and pointed out how good Black was. He said that he is the future and gave him the match of his life. It ended with a handshake a hug out of mutual respect. Fans shared their appreciation, and then Black got on the microphone and said 'Thank you' to AJ for helping make a dream come true. Once Black left the ring fans showed their respect for him by patting him on the back or giving him hugs.
All wrestlers have to start somewhere, and this match gave fans a glimpse of how these two tremendous athletes give it their all regardless of the size of the crowd. Styles had a higher level of recognition and popularity due to his being in TNA at the time, but Black was an unknown in comparison. The match took place prior to Black joining Ring of Honor, which was where a wider range of fans began to see just how talented he was. This small venue gave fans an opportunity to see this promising young talent in action.
The running time of the video is over 28 minutes, but that isn't really an accurate account of the match. It was probably closer to about 20 minutes of in-ring action, which is quite telling as both men got a great deal of offense. When we consider the time when the match took place it makes sense that Styles walked away from the winner. However, Black (or Rollins) was certainly given an opportunity to show just how good he was. Before watching the match, it would have been easy to think that Black was green going in, but that wasn't true at all. His moves looked polished, his selling of offense appeared refined, and this was twelve years before he was in WWE, where he has only gotten better.
It is incredible to think that nearly twelve years after this match, both men are now prominently featured performers in WWE, but have never faced each other while with the company. A number of the moves the men performed in the match perhaps couldn't be done today. However, it is probably safe to assume that they could put on an even better performance today. We have to consider that in WWE oftentimes a day is dedicated to planning out a match, in order to have it appear as flawless as possible in its execution.
We hope you enjoyed this little trip down memory lane, and encourage you to watch the match for your own enjoyment.
---
Feel free to follow me on Twitter @TheMarcMadison and Instagram @themarcmadison
Feel Free to like my Facebook page Pro Wrestling Post
Feel Free to check out my blog The Wrestling News Hub Magazine including interviews with ROH top prospect tournament entrant, Curt Stallion, Sebastian Suave, Ring of Honor's Frankie Kazarian, "All Good" Anthony Greene, 'The Green Machine' Mike Orlando, Josh Briggs, ROH top prospect finalist John Skyler and current rising Ring of Honor star Flip Gordon with interviews with Tyson Dux, Ivelisse and Madman Fulton (former WWE NXT superstar Sawyer Fulton) former WWE referee Jimmy Korderas and Ring of Honor commentator Ian Riccaboni.
---
Always Use Your Head and visit the official Pro Wrestling Tees store for The Chairshot All t-shirt proceeds help support the advancement of your favorite hard-hitting wrestling website, The Chairshot!

---
Chairshot Classics: WWF King Of The Ring 1993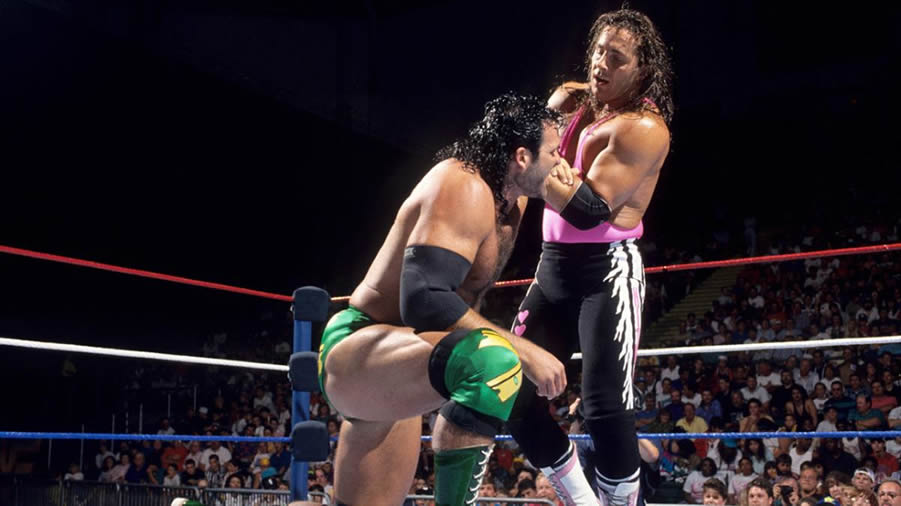 The nWo is reuniting next month for a very rare event where fans can see all three original members in the same place at the same time. So today, were looking back at another rare occurrence when Hulk Hogan, Scott Hall and Kevin Nash were all apart of the same card before they "took over" with King Of The Ring 1993! 'The Bad Guy' takes part in the King Of The Ring tournament, meanwhile 'Big Daddy Cool' accompanies Shawn Michaels as he defends the Intercontinental Title, on top of Yokozuna challenging 'The Hulkster' for the WWF Championship!
Open: Vince McMahon voices over a video package highlighting tonight's King Of The Ring Tournament, running down our Quarterfinal match-ups before we head to the arena.
Match #1 – King Of The Ring Quarterfinals: Razor Ramon vs. Bret 'Hitman' Hart
The people chant "1-2-3" at Razor, they lock-up, Ramon using his power and pushes Bret away. Another collar & elbow, The Bad Guy powers The Hitman away again, a third lock-up now and Hart applies a side headlock. Razor pushes him away to the ropes, they collide shoulders, Bret back to the ropes, ducks a couple of shots and scores with right hands before taking Ramon over with an arm drag. Hitman grounds him with an armbar, Ramon back to his feet, shoots Hart to the ropes for a hip toss, it's blocked, Bret attempts one of his own, but that is also blocked and The Bad Guy floors him with a clothesline.
Follow-up elbow drop doesn't find the mark, The Excellence Of Execution with another arm drag, targeting the left arm again with a standing armbar. Ramon throws him to the corner and charges in, Bret side-steps it, hits another arm drag and is persistent in applying the armbar. The Bad Guy attempts to body slam his way out, The Hitman maintains his grip, drives fists into the shoulder joint, Razor coming back with a thumb to the eye. He whips Hart to the ropes and scores with a back elbow for a quick 2 count, looks to hook on a rear chinlock, Hitman quickly counters out and utilizes a hammerlock, Ramon finding his way to a corner to force a break, but sneaks in a back elbow. Irish whip to the opposite corner is reversed, Hart charges in and is met by a knee to the jaw, Razor grabs him and drives Bret shoulder-first into the ring post.
The Bad Guy takes control and hammers The Hitman on the outside, throws him back inside to more loud "1-2-3" chants, starts to pummel Hart with heavy rights and boots, tosses him with a fallaway slam and hooks the leg for a count of 2. He lifts Bret onto his shoulders and plants him with a running powerslam for another near fall, drops a succession of elbows, then hits a side slam. He goes to the ropes for another elbow drop and misses, Bret avoids a couple more attempts, fires up with stiff right hands, splits Razor with an inverted atomic drop and levels him with a clothesline for a 2 count. He whips Ramon to the ropes, goes downstairs with a right hand, scores with a side russian leg sweep for another 2, The Excellence Of Execution cracking him with a backbreaker, but still can't get a 3 count.
The Hitman off the 2nd rope now with an elbow drop that nearly gets 3, The Bad Guy swings with a wild right, Hart ducks under, rolls him up and Razor barely kicks out again at 2. Bret sets him for a running bulldog, Ramon pushes him away sternum-first into the turnbuckles, staggers to his feet and calls for The Razor's Edge. He gets Hart up in the air, Hitman slips out of it for a backslide, The Bad Guy blocks it, but Bret uses his feet to scale the ropes and flips himself over, grabbing a small package for a near fall. The Excellence Of Execution can't believe it and argues with the referee, Razor takes the opening to clobber him from behind, props Hart on the top turnbuckle for a super back suplex, Hitman counters and falls on top of Ramon and gets the pinfall.
Winner: Bret 'Hitman' Hart (Super Back Suplex Counter)
EA's Take: Tremendous opening contest and one of the better WWF pay-per-view matches since WrestleMania VIII, if not the best one. After losing the WWF Title 3 months earlier at WrestleMania, Bret was moved away from the championship picture for a few months and although Razor had been getting cheered at Mania, the people were clearly behind The Hitman tonight. Ramon was just getting into the start of his angle that would turn him face, recently losing in a major upset to 1-2-3 Kid on RAW, hence the "1-2-3" chants aimed at him.
Video: This past weekend on WWF Superstars, Harvey Wippleman masterminded a plan to punish The Undertaker, using Giant Gonzalez as a distraction and allowing Mr. Hughes to lay him out with Paul Bearer's urn and take possession of it.
Match #2 – King Of The Ring Quarterfinals: Mr. Hughes w/Harvey Wippleman vs. Mr. Perfect
They lock-up to begin and Hughes uses his raw power to shove Perfect down, they tie-up again with the same results, Hughes hits the ropes, The Perfect One drops down and scores with a hip toss. Irish whip back to the ropes is reversed, Perfect leaps over a back body drop attempt, comes back through with a dropkick, but it doesn't take Mr. Hughes off his feet. Hughes powers Mr. Perfect to the ropes off the collar & elbow, doesn't break clean and clocks Perfect over the top to the floor, The Perfect One staggering back into the squared circle.
Mr. Hughes with heavy shots, wrenches away at the neck, Mr. Perfect battles to his feet, hits the ropes, ducks a clothesline, but gets flattened by a big boot on the other side. Hughes shoots him back to the ropes and connects with a clothesline, snapmares Perfect back over and focuses his attention on wrenching at the neck again. The Perfect One uses Hughes' tie to works his way up, tries to hit the ropes, Mr. Hughes with a handful of hair to prevent it and he buries a knee to the abdomen. Irish whip to the corner turns Perfect inside-out, maintains control with more heavy blows as Bret 'Hitman' Hart offers up his comments about the outcome of this match. Mr. Hughes sends Perfect hard into the turnbuckles again, whips him to the ropes and we have a badly botched spot before Hughes rakes at the eyes, then chokes him on the middle rope.
Hughes hits the ropes to gain a head of steam and land on The Perfect One's back, he misses and gets crotched on the 2nd rope, Perfect taking the opening to send him to the ropes for a hip toss. He shoots him back in for a back body drop, snapmares Hughes over and hits the patented neck snap, Mr. Perfect then working him over in the corner with rights and lefts to the breadbasket. The officials steps in to force a break, Wippleman hands Mr. Hughes the urn and he clobbers Perfect right in front of the referee.
Winner: Mr. Perfect (Disqualification)
EA's Take: Short and a little bit rough, Perfect doing what he could to make this at least decent, Mr. Perfect moves on to meet Bret Hart in a semi-finals dream match. Also known as Big Cat, Mr. Hughes is most known for competing with sunglasses on. Hearrived in the WWF to join in with Harvey Wippleman in his rivalry with The Undertaker. He generally played more of a ringside enforcer and his in-ring career never really took off because he was sloppy at best. This stint with the WWF was very brief as this was his only PPV match. Interestingly enough, he was released not long after this match, ironically suffering an eye injury after his sunglasses shattered during a match against Tatanka.
Video: Gene Okerlund caught up with Yokozuna & Mr. Fuji earlier in the day in the locker room, Fuji reminding us that Yoko defeated Bret Hart for the WWF Title in a hard-fought match at WrestleMania. Hulk Hogan then cheated to steal the championship away, Yokozuna warning The Hulkster that tonight he and America will go down.
Match #3 – King Of The Ring Quarterfinals: Bam Bam Bigelow vs. 'Hacksaw' Jim Duggan
Duggan starts the "U-S-A!" chants, they lock-up, Bam Bam with a side headlock, Hacksaw pushes him away to the ropes, they collide shoulders and neither man budges. Bigelow goes back to the ropes to try again to no avail, hits the ropes for a clothesline on the third try, Duggan ducks it, scores with multiple clotheslines of his own to stagger the big man before finally dropping him. Bam Bam rolls to the floor to regroup, steps back inside and goes to the eyes, attempts right hands and Hacksaw fires back, forcing him to the corner.
Irish whip across is reversed, Hacksaw grabs the ribs, manages to avoid Bigelow running in and crumbles to the mat holding his midsection. He looks to deliver a body slam, can't get The Beast From The East up, Bam Bam with big headbutts and he starts targeting the injured abdomen. He sends Duggan to the ropes and hooks on a bearhug, Hacksaw clubs his way out of it, but Bigelow goes right back to the breadbasket to stop any momentum. He bounces off the ropes to drop a headbutt, Duggan rolls out of harm's way, gets Bam Bam up for a body slam, but can't hold the weight, Bigelow falling on top for a count of 2 before going back to the bearhug.
Hacksaw resorts to biting Bam Bam to break the grip, he reverses a whip to the ropes, finally hits the body slam and goes into the 3 Point Stance, The Beast From The East side-stepping out of the way. Duggan goes crashing into the top turnbuckle and hits the mat, Bigelow heads to the top rope, connects with a Diving Headbutt and advances.
Winner: Bam Bam Bigelow (Top Rope Diving Headbutt)
EA's Take: Not much excitement here, nothing really sloppy, but a pretty short one. Bam Bam is still being built as one of the top heels in the company, maintaining a status that was at the top of the mid-card with the ability to also work main events. Hacksaw had returned from a brief hiatus after an attack at the hands of Yokozuna, but the WWF's youth movement put him in a position to help establish the new stars. This would be his final WWF PPV match until a nostalgia run in 2006, leaving the company just before SummerSlam in August.
---
Always Use Your Head and visit the official Pro Wrestling Tees store for The Chairshot All t-shirt proceeds help support the advancement of your favorite hard-hitting wrestling website, The Chairshot!

---
Chairshot Classics: NWA-TNA Episode 12 – Best of the X-Division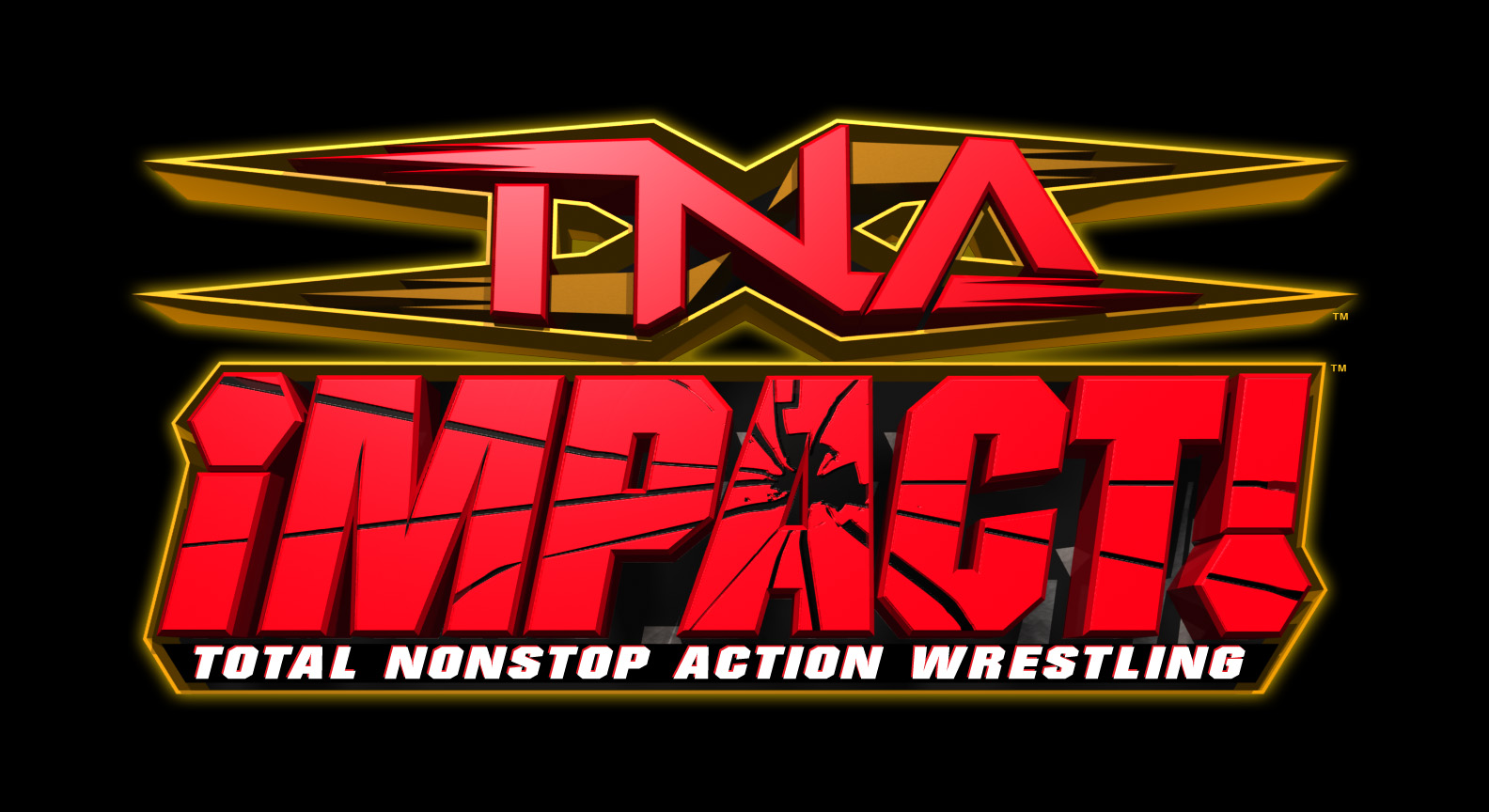 This recap is going to be a little different from the usual. Since, at the time this episode was done, TNA was still looking for new investors after Health South withdrew its financial backing of the program, the decision was made to do a clip show of the X-Division for Week 12 to fill the timeslot. This was September 4, 2002, Week 13 wouldn't air until the 18th due to being preempted by remembrance of the 9/11 attacks, which had happened the year before. So, let's see what's going on.
We start off with a RARE Lo-Ki interview with Goldilocks. Lo-Ki says there's no bigger opportunity than this and that opportunities like him don't get many shots like this on a national level.  We also get some fan interviews stating that they keep coming back for the X-Division matches. A lot of TNA stars like Kid Kash, Ron Killings, Monte Brown, and the Flying Elvises sing the praises of the X-Division and how great it is that anyone can compete in it, despite the fact that the division is pretty much made up of cruiserweight size guys.
Jeremy Borash and Goldylocks, who seems to be in a very good mood, probably because Borash isn't being a jerk to her. Borash and Goldy discuss how great the X-Division has been and how you never know what to expect. We get the explanation about how the X-Division is open to all kinds of athletes regardless of size or wrestling style. Again, I will point out that except for Sonny Siaki, all of the athletes in the X-Division fall into the Cruiserweight category. Also, Siaki had BARELY competed in the X-Division, at least as far as this episode.
ANYWAY, let's take a look at the matches TNA has dubbed the best of the X-Division.
The Flying Elvises vs Lo-Ki, AJ Styles, and Jerry Lynn
Comment: I remember being very impressed with this match. It seemed like a good opening match for TNA. These six men are easily the best of the X-Division as they actually WRESTLE and do the high-flying stuff. Sonny Siaki stands out here, not only due to his skills, but because he's easily the tallest and largest man in the match. This was such a good match that the fact that Styles took the pin doesn't really seem to matter.
*-*-*–*-*-*-*-*-*-*-*-*-*-
In the backstage interview, Estrada talks about how much pressure they were under because they were the first match. Yang says that his favorites to watch were Amazing Red, Lo-Ki, and AJ Styles. We also learn that Styles and Yang are great friends and started out together, which is a nice tidbit. Estrada talks again about paying their dues and working hard and wanting some changes. Yang talks about his WCW run and how he never felt like he'd be an impact player and that it feel different in TNA.
Tenay talks about how the Elvises were the first winners of TNA but that they've had communication issues and issues with Siaki's ego, which prompts a clip of Siaki saying that he's the best of the X-Division.
*-*-*-*-*-*-*-*-*-*-*-*-*-*-*
Borash and Goldy talk about the Elvises and Borash comments about Siaki thinking Goldy is sweet on him, to which Goldy says 'Only in his own mind.'
With that settled, we are turning our attention to Lo-Ki, Styles, and Lynn who, along with Psichosis, competed to be the first X-Division Champion.
Double Elimination Round Robin Match For the X-Division Championship: AJ Styles vs Psichosis vs Lo-Ki vs Jerry Lynn.
Comment: This match is, for me, still the best match, not just X-Division, but overall match that TNA has put on so far. That said, I still think they should've had a tournament to decide who would compete for the title and brought it down to Jerry Lynn vs AJ Styles because it felt like Lo-Ki and Psichosis were just there to take the pins, especially Psichosis.
*-**-*–*-*–*-*-*–*-*-*-*-*-*-*–*-*-*
Borash and Goldy discuss Styles and Lynn getting the Tag Team Championship and the issues the two men have had with each other during the show's run so far.
NWA Tag Team Championship: Jerry Lynn and AJ Style vs Slash and Tempest (with James Mitchell).
Comment: First of all, I'm annoyed that they didn't show us the Tag Team Championship Final between the Rainbow Express and Lynn/Styles, which is what it looked like they were going to show.
Anyway, I still think this was a pretty good match. Slash and Tempest, like many guys in TNA weren't totally ready for prime time, but still did a really great job of keeping up with Lynn and Styles.
As I'm watching this, a scroll is going across the screen, announcing that TNA will be back in two weeks, so the partnership with Panda Energy must've happened pretty quickly.
Watching this back, I'm not totally buying Jerry Lynn's excuse about Styles playing mind games and pulling ribs as the reason he turned on him. Lynn is clearly not happy about Styles tagging himself in the get the pinfall. Why not just stick with that instead of ret-conning it to make Lynn more sympathetic instead of a veteran being mad about a kid showing him up?
*-*-*-*-*-*-*-*-*-*-*–*-*-*-*-*-*-*-*-*-*-*-
Borash and Goldy continue their discussion about the issues between Lynn and Styles, which has been the central story of the X-Division and how it was all about respect.
NWA World Tag Team Match: The Flying Elvises vs Jerry Lynn and AJ Styles.
Comment: This was another really great match from these teams. The five guys in this segment are the core of the fledgling X-Division because they consistently put on great matches together, though the Elvises tend to stumble when they work with other teams. I still don't know who did the blade job on Lynn, but they overdid it for that little bump on the guardrail.
After this match, we get a clip of the Styles/Lynn backstage fight and them trying to work things out so that they can function as tag partners. I find it interesting that for all Lynn's talk about respect, he goes out of his way to disrespect Styles and what Styles has done in his, then, short career. I guess no one told Lynn that the best way to get respect is to give it in return and that he should earn Styles' respect instead of demanding it after jumping him from behind and beating him up. I guess this is why they had Lynn come up with the excuse of mind games and ribbing to justify him being the babyface despite being a jerk.
We see Styles and Lynn seeming to want to work things out and have the kinks ironed out, but that didn't even last the one show.
---
Always Use Your Head and visit the official Pro Wrestling Tees store for The Chairshot All t-shirt proceeds help support the advancement of your favorite hard-hitting wrestling website, The Chairshot!

---
Chairshot Classics: WWE Survivor Series 2015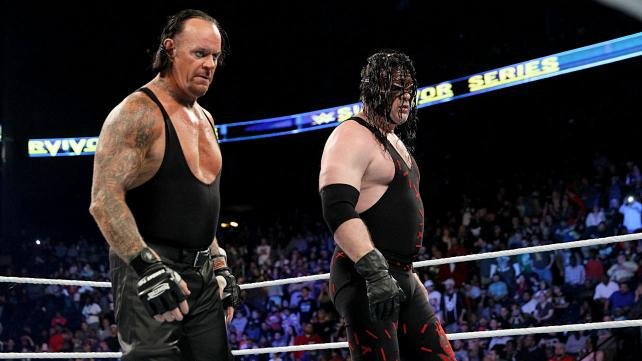 With all signs pointing to The Brothers Of Destruction teaming up at WWE's Crown Jewel on November 2nd, today we're looking back at another time The Undertaker partnered up with his brother Kane, Survivor Series 2015! It was a celebration of 25 years of 'The Deadman' on this evening, but The Wyatt Family looked to spoil the party. Could 'The New Face Of Fear' defeat The Brothers Of Destruction and take his place as WWE's newest evil?
Kickoff Show Match – Traditional Survivor Series Elimination Match: The Miz, Bo Dallas, Stardust & The Ascension (Konnor & Viktor) vs. Neville, The Dudley Boyz (Bubba Ray & D-Von), Titus O'Neil & Goldust
Gold & Stardust will kickoff the action, Stardust tries a boot, Goldust catches the foot and they slug it out, The Cosmic One falling back into his corner and tagging out. Viktor hits the ring, charges right into a powerslam, Goldust with the cover and he scores an early elimination. Viktor has been eliminated.
Konnor steps in and has words for The Bizarre One, Titus calling for the tag and he gets it. Collar & elbow lock-up, Konnor backs O'Neil into the corner, doesn't break clean and hammers away with right hands before celebrating prematurely, Titus turning the tables and unleashing a series of his won. Konnor reverses a whip across, charges in, O'Neil hops up and over and delivers a slam, following with a leg drop before tagging out. D-Von enters the match, connects with a couple of rights and brings in his brother, Bubba hitting a slam and calling D-Von to the top, hitting the Wazzup Headbutt. Bubba gives the orders for tables, Stardust and Miz charge the ring, only to get clotheslined to the outside. The Man That Gravity Forgot comes in, sees Dallas running in and elevates him out to the floor, hits the ropes and flies to the outside with a moonsault plancha as we go to a break….Konnor whips Bubba into the ropes for a back body drop when we come back, drops a big elbow and covers for 1. Bubba ducks a right hand and plants Konnor with a uranage out of nowhere, hooks the leg and gets a sneaky 3 count. Konnor has been eliminated.
Stardust rushes the ring and runs into a hiptoss, D-Von tags in and takes a knee to the breadbasket, The Cosmic One tagging out and Miz pummels D-Von in the corner. Bo tags and does more of the same, quickly tags out and Stardust rips at D-Von's face. The A-Lister re-enters the match, snapmares D-Von over and hits the ropes for a running boot that gets a count of 2. He goes to a front facelock, D-Von battles to his feet, Miz with a kneelift, hits the ropes and D-Von plants him with a spinebuster. Stardust gets a tag, climbs to the top for a double axe handle and catches a right hand to the midsection on the way down. D-Von crawls to a tag, The Man That Gravity Forgot spingboards into the ring over Stardust, takes down Dallas and Miz on the apron, then connects with a flurry of kicks to The Cosmic One. Neville scores with an enzuigiri, shoots him in for a back body drop and Stardust with a kick to the chest. He charges Neville in the corner, The Man That Gravity Forgot side-steps it, Bo makes a blind tag and plants him with the Running Bo-Dog, Miz with a blind tag, follows with the Skull Crushing Finale and finishes Neville off. Neville has been eliminated.
The A-Lister runs his mouth at The Dudleys on the apron, Goldust slides in from behind with a schoolboy and gets the 1-2-3. The Miz has been eliminated.
Miz can't believe it and argues with the referees on his way out, Goldust is distracted and Stardust takes advantage as we go to another break….Bo has Goldust on the floor when we return, rolls him back inside and covers for a 2 count before going to a rear chinlock. The Bizarre One finds his footing, breaks the hold and hits the ropes, running into a dropkick by Dallas for another count of 2. Stardust tags, clobbers away at Goldust on the apron, feigns going for a table and changes his mind, stomping away at his brother in the ring. The Cosmic One grabs a crossface chickenwing, pulls Goldust up for a suplex, The Bizarre One counters to a small package for a count of 2, but gets immediately laid out by a clothesline. Stardust with some early celebration, Goldust takes advantage with a schoolboy for 2, The Cosmic One angrily pounding away and bringing Dallas back in. The Inspirational One continues the onslaught, levels Goldust with a short-arm clothesline for a near fall, then goes back to the rear chinlock to wear him out. Bo slams him to the mat trying to get to his feet, Stardust tags and they split The Bizarre One with a wishbone, then drops The Dudleys & Titus off the apron. The Cosmic One runs at Goldust in the corner, meets a boot to the midsection and The Bizarre One plants him with a sunset flip bomb. Bo gets the tag as Goldust reaches Titus, O'Neil with a shoulder to Dallas, squashes Stardust in the corner, then clotheslines Bo and shoots him in for a back body drop. The Inspirational One sees it coming and hits a kick, but gets dropped by a big boot, Titus turning around and catching Stardust coming off the top into multiple backbreakers. O'Neil stacks them in the corner, squashes them both and Goldust & Bubba enter the ring with synchronized Dusty tributes, Clash Of The Titus to Bo and we're down to 4 on 1. Bo Dallas has been eliminated.
Stardust realizes he's all by himself, drops off the apron and tries to take a walk. O'Neil goes out to meet him, Goldust comes up from behind and catches a back elbow, The Cosmic One tries to run away, slides in the ring and runs into a 3D to finish it.
Winners & Sole Survivors: The Dudley Boyz, Titus O'Neil & Goldust
EA's Take: I think Renee Young is overblowing just how 'good' this match really was. To me it was just an appetizer, a time-filler, something to get the people in the arena a little more hyped up for the main show. The match was not bad by any means, but it was merely a bunch of thrown-together parts and the only significance was the return of Goldust.
Open: Everyone rises to their feet in the arena, as Lilian Garcia is in the ring to sing our National Anthem.
Video: "Once in a generation there comes a phenom. An individual not measured in seconds, days, weeks or even years, but by the legacy he's built. A presence that's risen above all challenges and gone head-first into the unknown. But, when a Phenom joins a Demon from the depths of Hell, only time will tell us what the future will bring." Tonight marks the 25 year anniversary of The Undertaker in WWE, as he and his brother, Kane, look to cement their spot as the keepers of the darkness over The Wyatt Family. A change is coming, as tonight we crown a brand new WWE World Heavyweight Champion. "History is written, by the survivors."
Match #1 – WWE Title Tournament Semi-Finals: Roman Reigns vs. WWE United States Champion Alberto Del Rio w/Zeb Colter
Collar & elbow tie-up to start, Alberto backs Roman into the corner and they break clean. Another lock-up, Reigns with a side headlock, Del Rio pushes him off into the ropes and gets knocked down by a shoulder, re-thinking his strategy. The champion with a leg kick, backs Reigns into the corner for more to the ribs, then fires off right hands from the 2nd rope. Roman powers out of the corner with Alberto on his shoulder, flipping him to the mat, Del Rio coming right back by pulling Reigns to the outside. The Big Dog drags Alberto out by the foot, looks to drive him into the barricade, Del Rio counters and Roman is sent into the wall, then rolled back inside.
Alberto comes off the top with an overhand chop for a count of 2, Roman reversing a whip into the corner, climbs to the 2nd rope with right hands, Del Rio pushes him off, charges in and gets planted by a tilt-a-whirl powerslam for 2. Roman drives the champion into the top turnbuckle, whips him hard into the corner, charges in and gets elevated to the apron, Alberto hanging him across the top rope and dropping him to the floor with an enzuigiri. Del Rio heads out and rams Reigns into the steel steps as Triple H watches from the back. Back in the arena, El Patron tosses Roman inside, heads up top for another overhand chop and goes to a rear chinlock.
The Big Dog battle to a standing position, whips Del Rio into the corner, rushes in and misses, hitting the ring post shoulder-first. The champion keeps the pressure on with kicks and right hands, charges for a running dropkick, Roman avoids it and Alberto flies through the ropes to the outside. Reigns rolls outside, catches Del Rio climbing up the apron with the Drive-By, bashes his head off the apron and announce desk, then rolls him back in the ring. Alberto tries a clothesline, Reigns ducks it and connects with one of his own, then clobbers the champion in the corner with a flurry more before hitting the ropes for a big boot. The Big Dog calls for the Superman Punch, El Patron ducks out of the way and scores with a Backstabber, makes the cover and gets a near fall.
Del Rio goes back to kicks in the corner, spikes Roman with a DDT for another count of 2, arguing with the ref about the count. The champion sets his sights on a superkick, The Big Dog ducks out of the way, plants Alberto with a Samoan Drop and gets 2. Reigns props Del Rio on the top turnbuckle, attempts a superplex, Alberto with headbutts, gets Reigns in the tree of woe and tries the double stomp. Roman avoids it, Del Rio's knee buckles on the landing, Reigns coming back with a Superman Punch and positioning himself for the Spear, Alberto countering with a superkick for a near fall.
The champion thinks it's time for the Cross Armbreaker, Reigns counters into a schoolboy powerbomb, Alberto kicking out at 2. Both men struggle to get to their feet, Alberto grabbing a Cross Armbreaker out of nowhere on the canvas, Reigns powers Del Rio up to a vertical base, but the champion hanging onto the hold in the ropes. The referee finally forces the break, El Patron heads to the top, jumps over Roman who's getting to his feet, turns around and takes a Spear, Reigns covering to advance.
Winner: Roman Reigns (Spear)
EA's Take: Del Rio clearly still hasn't quite gotten his footing back yet, there were some mix-ups at the beginning of the match that were glaring, things were a bit choppy for a bit there. They were able to turn it around towards the end of the match, but I've had Roman as a lock for the finals since the tournament was announced. Nothing surprising here in a match that was similar to a Raw main event.
Backstage: Jojo brings in Roman Reigns for some words, Dean Ambrose coming right in and congratulating his friend on the victory. Roman tells Dean that all he has to do is win and it'll be them for the title, Ambrose walking away. The Big Dog tells Jojo that once Dean's done, it will be best friends fighting for the championship. Kevin Owens comes in to remind Roman that he's not eliminated yet, telling Reigns he's been close before and tonight, he's the guy that will stop him. KO walks off, Reigns stating that Owens is about to get his ass whooped.
Match #2 – WWE Title Tournament Semi-Finals: Dean Ambrose vs. WWE Intercontinental Champion Kevin Owens
Ambrose with a hammerlock to start, switches to a side headlock, Owens fighting out and grabbing one of his own. The Lunatic Fringe pushes KO into the ropes and gets dropped by a shoulder knockdown, Owens back into the ropes and Dean with multiple armdrags. The champion reverses whip into the ropes, Ambrose with a schoolboy for a quick 1, gets a waistlock and Owens with a back elbow, using a schoolboy for a quick 1 of his own. KO with shoulders to the midsection in the corner, shoots Dean across and charges in, The Lunatic Fringe hops up and over, hits the ropes and takes Owens down with a forearm.
He rakes KO's face on the top rope, clotheslines him to the outside and flies with a slingshot crossbody to the floor. Ambrose sends the champion back inside, charges him in the corner with a forearm, follows with a running bulldog and covers for 1. The Lunatic Fringe heading upstairs, Owens hits the ropes and crotches Dean, dropping him to the mat with right hands and scoring with the Cannonball that gets 1. The Prize Fighter utilizes a rear chinlock, Ambrose gains a vertical base and breaks the hold with jabs and chops, Owens countering a whip into the corner and Dean goes in sternum-first.
The champion plants Dean with a torture rack neckbreaker for a 2 count, hits the ropes for a running senton and gets another count of 2. He chokes Ambrose on the middle rope, levels him with a short-arm clothesline, fires away with heavy rights, sends Dean into the ropes for a back elbow and gets another near fall. KO back to the rear chinlock, again Triple H is watching from the back as The Lunatic Fringe fights to his feet. Owens catches him in a sleeper, Dean counters to a back suplex, then avoids a running senton, hits the ropes and they double down off a double clothesline. The Lunatic Fringe tries Dirty Deeds, KO blocks it, they exchange right hands, Ambrose hits the ropes and Owens hangs him on the top rope.
He splits Dean with a gutbuster, heads up top for a moonsault and misses, The Lunatic Fringe scaling the corner to follow with a diving elbow drop and a near fall. Ambrose props Owens on the top turnbuckle, hooks for a superplex, KO blocks it and drops Dean back to the mat. The Lunatic Fringe fires back up to attempt a superplex, the champion counters and powers him into a 2nd rope fisherman's buster, but still can't get a 3 count. Owens yells at Dean to stay down, sends him into the ropes for a Pop-Up Powerbomb, Ambrose rebounds off the middle rope and scores with the Lunatic Lariat, KO rolling to the outside.
Ambrose flies through the ropes with a suicide dive, tosses the champion in, Owens rolls out the other side and Dean tries another suicide dive, but gets caught. KO drops The Lunatic Fringe on the announce table, tosses him back in for a Pop-Up Powerbomb, Dean avoids it and lands on his feet turning around into a superkick. Ambrose rebounds off the ropes for another Lunatic Lariat, walks into another superkick, the champion attempts the Pop-Up Powerbomb again, Dean counters with a hurricanrana, then spikes Owens with Dirty Deeds to head to the finals.
Winner: Dean Ambrose (Dirty Deeds)
EA's Take: A better match, a lot cleaner than our first semi-final. I had a hard time believing Ambrose wouldn't win this, but figured the odds were greater than that of Reigns, so it definitely helped make the match more interesting. I'm hoping for something more interesting to happen in the main event, as everything thus far has been expected.
---
Always Use Your Head and visit the official Pro Wrestling Tees store for The Chairshot All t-shirt proceeds help support the advancement of your favorite hard-hitting wrestling website, The Chairshot!

---