AJPW Champion Carnival A Block Results & Review: Part 2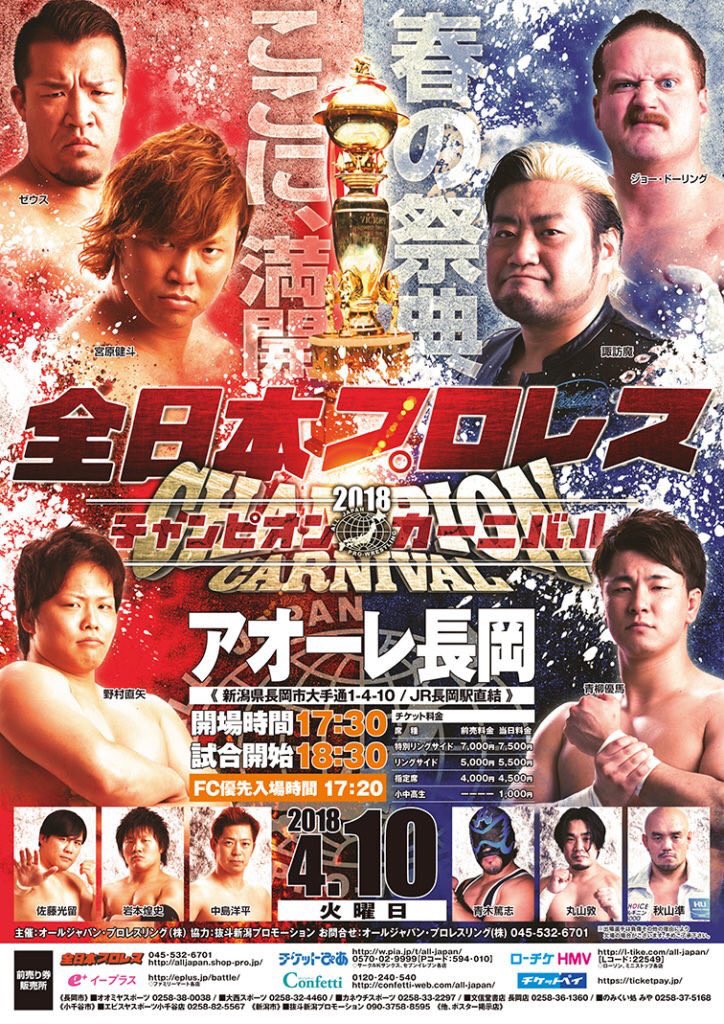 Hello and welcome to part two of our Champion Carnival! For this part it's going to be three days worth since the next two days have three B Block matches while I get one on all three of them.
Originally, I was supposed to get three matches on the April 12th show, but that got changed to one, however, I will be having five matches for the shows on April 14th and 15th, so that'll keep me busy for sure. So let us…dive right in.
4/10/2018
Champion Carnival Block A Match
The Bodyguard vs. Joe Doering
Review: Looks like Joe is set to have his second match to try and bounce back after losing to Shuji Ishikawa as he sets to take on Zeus's partner, Bodyguard in what should be a brawl for sure. Bodyguard wastes zero time here as he charges in for a Spear the second that the bell would ring to start the match and starts to get the early advantage til Joe starts getting some offense. My one problem with Joe is something that I covered in the show that happened on March 25th, and that is that I wish he showed more aggression with his strikes, like when he pulled Bodyguard in for a Clothesline and it just looked lazy. Joe is a big and powerful guy, needs to show a little bit more force in the beginning instead of near the end of the matches. Joe would then hit a Piledriver in which Bodyguard kicks out of it and I still scratch my head when people kick out of that move. Joe attempts to go for his Revolution Bomb, but Bodyguard would..attempt a reversal? It looks really sloppy and lazy, but after a couple of other moves being done, Joe would try again and pick up the win with the Revolution Bomb.
Recommended: So far my least favorite match out of my block, but up to you if you wanna watch it. Not a terrible match, but could've been so much better.
4/11/2018
Champion Carnival 2018 Block A Match
Joe Doering vs. Yuji Hino
Review: Joe really trying to get his matches out of the way since this is the third time in a row that I'm getting Joe Doering here, but let's see if he can pick up another win after defeating Bodyguard yesterday. This one is a much better bout than the one with him and Bodyguard, however this one still feels a bit lifeless here as well. I mean I get what they were trying to do with the match with them wanting to mostly show their strengths between the two powerhouses, but I felt like I really didn't get that here with this one and it is a shame too since I did expect more. Joe DID however show a little bit more force in his strikes, but not too much though, so I will keep yelling at him til it happens. Yuji picked up another shocking victory as he pins two former Triple Crown Champions with the FUCKING BOMB once again which makes him the lead of our scoreboard.
Recommended: I mean it's better than the previous one, but so far not by a lot. However, still give them a watch.
4/12/2018
Champion Carnival 2018 Block A Match
The Bodyguard vs. Naoya Nomura
Review: Both of our competitors have have both suffered a loss and would need to score a victory here to gain some momentum, now we need to see who wants it more out of these two. I forgot her name, but the female referee is really great at her job and much better than the elderly one who likes to but in most of the time, so good job. This one is a much better match than the one Bodyguard previously had here and felt a little bit more natural this time around and Bodyguard really is a good worker when you see him actually showcasing his stuff and he has shown that when he fought Kento Miyahara early last year. Naoya Nomura is someone that actually could be a key player in the company, he's young, only been wrestling for four years, and has a good look. If I could change one thing about him though, it would be that he needs to cut some of the little fat from his stomach and gain a little bit more muscle, if he could do that then he'll be a star for sure. The match was very solid, had nice back and forth action, a pretty neat Spear from Bodyguard and Naoya getting back up right away to deliver a Spear to him as well for a double countout and you hardly see that for a double knockdown spot, so it was cool to see. Naoya picked up the surprise win after hitting another Spear and added a Jacknife Hold to it to pin him for the win.
Recommended: Much better match than the previous two for sure, so yes.
Overall: Unfortunately this part of the tournament has been a bit lackluster on my end and I hope Andrew had better luck on his end for his B Block shows and if you haven't checked them out yet. I suggest you do so, since he's been gracious enough to help me out with this journey when he did have to and it's a fun experience for the both of us that's for sure. I'm hoping it picks up over the weekend for me and surprised Ruoji Sai hasn't had a match yet while everyone else did, but I think he will over the weekend.
Favorite Match: The Bodyguard vs. Naoya Nomure
Least Favorite Match: The Bodyguard vs. Joe Doering
Score: 6/10
Current Standings:
Yuji Hino (2-0) (4 Points)
Shingo Tagaki (1-0) (2 Points)
Kento Miyahara (1-1) (2 Points)
Shuji Ishikawa (1-1) (2 Points)
Joe Doering (1-2) (2 Points)
Naoya Momura (1-1) (2 Points)
Bodyguard (0-2) (0 Points)
Ryoji Sai (0-0) (0 Points)