AJPW Champion Carnival A Block Results & Review Part 4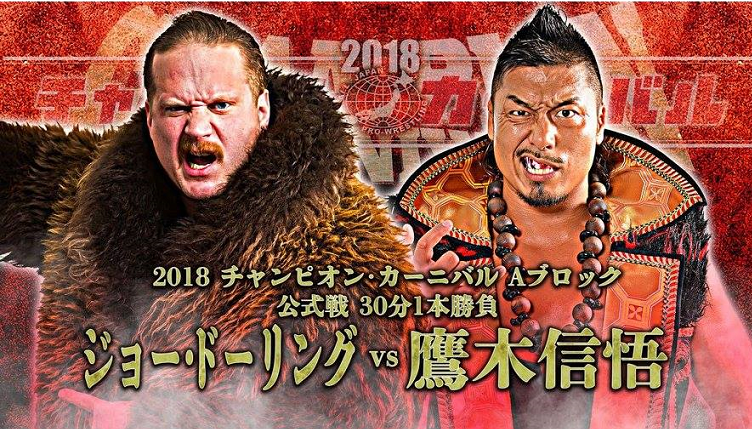 Welcome to Part 4 of our A Block coverage for the Champion Carnival. Before we begin, I wanted to inform you that Bodyguard starts competing again on the April 20th show.
However, he was scheduled to face Kento Miyahara on April 16th and since he was unable to compete, Kento received a BYE, meaning he has four wins and Bodyguard officially has four losses, which mathematically eliminates from winning. But, he could still take some wins to screw the scoreboard. Now that we got that out of the way, let's…dive right in.
4/16/2018
Champion Carnival 2018 Block A Match
Naoya Nomura vs. Shuji Ishikawa
Review: We get Shuji Ishikawa back in the race as he looks to keep his vow by not losing another match going forward, so let's see if he keeps his promise when he faces Naoya next. The beginning in the match is a bit humorous to me and even Shuji attempted to murder Naoya by taking him over to the stage from the outside and to Powerbomb him, but that fails and just gets pushed off basically. Shuji would just mostly control the majority of the match as the crowd tries to get behind Naoya to help him overcome this monster of a man. Naoya would come close a couple of times and even kicked out of the Fire Thunder, but he would fail as Shuji would still get the win with his Powerbomb called Splash Mountain, giving himself another win in his name.
Recommended: The match was average at best, so up to you if you wanted to watch it.
4/18/2018
Champion Carnival 2018 Block A Match
Ryoji Sai vs. Yuji Hino
Review: Hino right now has four wins in his name and is still undefeated as he goes into this match with a lot of confidence after defeating former Triple Crown Champions and some of the best in the Japanese scene, but now we need to see if our Asia Heavyweight Champion can try and stop his momentum and finally get a win in his name after losing his first two matches. Soon as the match starts, you can see Hino being a little too overconfident in his match with Ryoji even though they do go back and forth a few times, but you can tell Hino wasn't trying as much since he knew he was gonna win the match and has a chip on his shoulder for sure since he's been on a role since the Carnival started.
The match though was solid enough to get by as Hino and Ryoji still performed very well for themselves, and were able to provide a story for Hino and his progression in the tournament. Around near the ten minute mark, Hino attempts to go for the FUCKING BOMB to secure himself a possible final spot in A Block, but Ryoji would counter it into a roll-up and would get the surprise win, ending his undefeated streak! The crowd reaction may have felt a bit anti-climatic, but it was still an awesome spot and a huge win for Ryoji here to give him that much needed momentum.
Recommended: Fun match, worth at least one view.
4/20/2018
Champion Carnival 2018 Block A Match
Naoya Nomura vs. Ryoji Sai
Review: Both Naoya and Ryoji are back at it again and this time they'll be fighting each other as Naoya needs to win this match here or he will also be mathematically eliminated like how The Bodyguard is, while Ryoji would also be affected in the standings if he loses this match as well, so both of them really need the win here, but one of them is gonna have to lose. The two would work well in the beginning and both had enough offense in the bout to make each other look strong throughout the match. Naoya was explosive near the end of the bout as he would hit his Rolling Spear that would lead to a pinfall, but Ryoji would kick out at 2.5, but Naoya would attempt to pin him again after hitting a top rope Splash, but it still wasn't enough to take out the Asia Heavyweight Champion here. Before Naoya would attempt a second splash, Ryoji would get up in time to hit a Superplex, work on him a little bit before he hits his Arakawa Tekkyo to give himself his second win, leaving Naoya mathematically eliminated from the tournament.
Recommended: Fun solid match, give it a look.
Champion Carnival 2018 Block A Match
Joe Doering vs. Shingo Tagaki
Review: We get both Shingo and Joe competing this time in the tournament, which means that Shingo still has three matches left and could be enough for him to secure a spot in the finals if things work out in his favor near the end of it, but somebody has to lose first to get the slight advantage over the other. Before the bell has a chance to ring, Shingo would start to assault Joe right away to give himself a slight advantage over the Gaijin giant here, but it would be short lived as Joe would recover enough to strike back at him and his strikes are slightly better that I haven't yelled at my screen right away. Joe would showcase more of his power outside of his striking and you can see why the guy is so powerful and how he presents himself in his matches. Matches like these show why Shingo is considered one of the best since he has been one of the MVP's on A Block for me so far and I do still believe he might win to go to the finals or at least come close, but it all depends on how they book it here. Shingo would start to hit his Pumping Bomber and Last Falconry, but Joe would kick out of it and hit a Diving Body Press before he puts Shingo away with the Revolution Bomb, giving Joe his third win in the tournament and Shingo's second lost in a solid match.
Recommended: I really enjoyed the match and Shingo gets another match on the list for top A Block matches.
Champion Carnival 2018 Block A Match
Yuji Hino vs. The Bodyguard
Review: With Yuji Hino suffering his first loss in the tournament, he would need to defeat Bodyguard here to not only give his confidence back, but to also secure his spot on the top still since he only has one match left after this one and that is against Kento Miyahara, and Kento still has to fight Joe before he gets his match with Hino, so the outcome of the match here could help decide what the last couple of days could lead up to for the finals as the rest look like they might have a chance, except Bodyguard and Naoya who are mathematically eliminated from the tournament. Good to see that Bodyguard is back in action despite missing one match in the tournament due to the injury and I really wanted to see him and Kento fight again too, but nothing to do about it now except for Bodyguard to try and get a win to hurt Hino's momentum a little bit more. The match was hard hitting as they both played to their powerhouse strength mixed in with their wrestling, and Hino still has that chip on his shoulder despite losing his first match at the previous show. but he attempts to fix that mistake when he goes for the FUCKING BOMB on Bodyguard, but he would fall off of him and hits a Lariat to get the unsuspecting win over Hino!
I didn't expect Bodyguard to get the pinfall on Yuji, but now it will eventually start to get Hino annoyed due to losing two matches in a row and he only has one left, which hurt his chances to advance to the finals unless Kento could somehow lose to Joe Doering and cause him and Hino to tie up again before our duel.
Recommended: Match was alright when it starts, but the ending was average
Overall: While not as good as the ones I did in the previous article, it was still fun for what it was as the whole card was solid up and down as we have a couple of days left for A Block to see who will come out on top, and we have all but two of them slightly having a chance to win as well.
Favorite Match: Joe Doering vs. Shingo Tagaki
Least Favorite Match: Yuji Hino vs. The Bodyguard
Score: 7/10
Current Standings:
Kento Miyahara (4-1) (8 Points)
Yuji Hino (4-2) (8 Points)
Joe Doering (3-2) (6 Points)
Shingo Tagaki (2-2) (4 Points)
Shuji Ishikawa (2-2) (4 Points)
Ryoji Sai (2-2) (4 Points)
Naoya Nomura (1-4) (2 Points)
The Bodyguard (1-4) (2 Points)