AJPW Champion Carnival A Block Results & Review: Part 5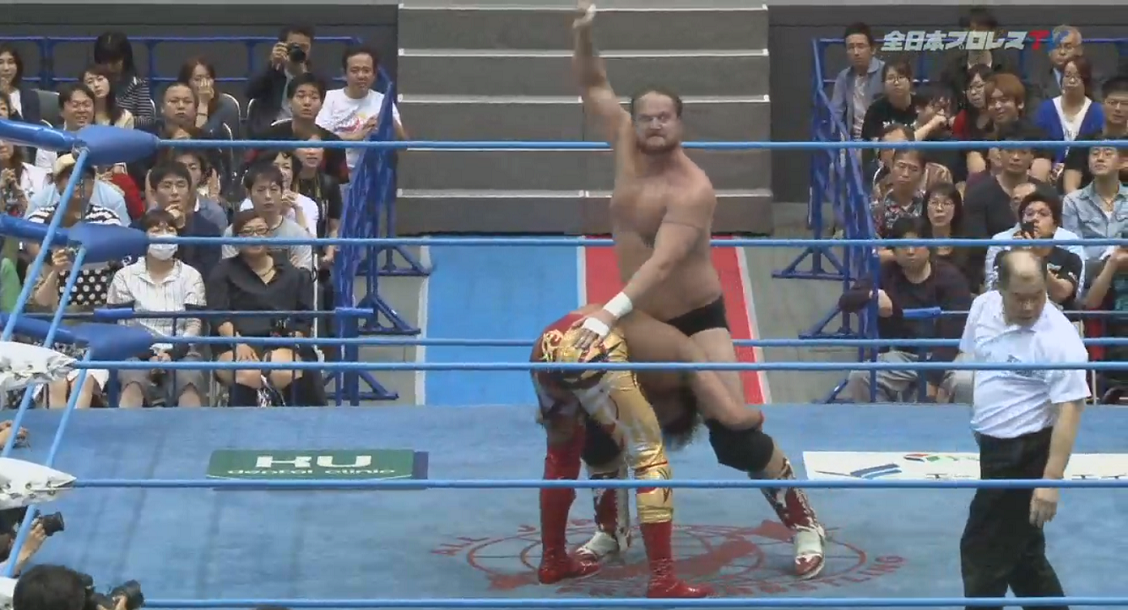 Hello and welcome to another chapter in the A Block of our Champion Carnival! We are almost done, with only the 29th show and the final four matches standing between us and the two block winners match on April 30th.
Let's not waste any time with this as we watch everyone try to get the rest of their matches in before our final day, so let's….dive right in.
4/21/2018
Champion Carnival 2018 Block A Match
Ryoji Sai vs. Shingo Takagi
Review: Shingo is back in action as he looks to bounce back with the two back to back losses he received and is now fighting Ryoji, who has won his last two matches and is on a roll after he suffered his first two losses, so let's see who wins this to get more momentum. The match starts off right with both of these guys going at it and Shingo would find himself an advantage over Ryoji by ducking his to the turnbuckle post which caused him to hurt his leg, but Shingo would capitalize on it by working on his leg throughout the match. Shingo is still one of the highlights of this tournament for me as he's been having quality matches so far along with Kento Miyahara, I really hope Shingo does stick around and I know I've said it before, but the guy is amazing. Ryoji has also done well selling the injury during the match and still gave him a moment to shine in the match as well, he even kicked out of both Last Falconry and Pumping Bomber from Shingo and there was a slight chance he could've won, but Shingo would get his third win by making him tap out to the Ura STF.
Recommended: Solid match, worth checking out between two great competitors.
Champion Carnival 2018 Block A Match
The Bodyguard vs. Shuji Ishikawa
Review: With Bodyguard finally getting a win under his belt when he defeated Yuji Hino at the previous show and let's see who else he can knock down with him since while he's mathematically eliminated, he can still ruin other peoples momentum to make sure they don't win either. Let's see if his leg can hold out a little bit longer or if Shuji keeps his promise and keeps winning his matches going forward. The crowd was behind Bodyguard, but you can see his injury taking a toll on him as he has a hard time moving around and I kinda feel bad for the guy, but gotta give him credit for at least wanting to continue the match. The match is not even five minutes as Shuji gets the quick win with the Fire Thunder after Bodyguard kicking out of the first one.
Recommended: Despite Bodyguard being injured, the match wasn't terrible with what they had to work with and did it's purpose, but not great either. So up to you if you wanna watch.
4/22/2018
Champion Carnival 2018 Block A Match
Ryoji Sai vs. Shuji Ishikawa
Review: With both of these guys having matches at the previous show, Shuji would need to win here to possibly secure a spot as one of the finalists and Ryoji would need a win here to stay alive while being tied with Shuji, so we gotta see who needs this win here. The match would start off a little bit slow at first, which is fine since it gave us a nice little build up as the match progresses and picks up as the match keeps going on and it starts to get better. Ryoji has been great during his matches here and is considered underrated performance wise compared to the others in the tournament and Shuji is always great, so them working together is fun. Ryoji would kick out of the Fire Thunder and that leaves Shuji wanted to put him away quick as he goes for a Powerbomb, but Ryoji flips him over and pins him to give himself another win in the match as he has a chance to stay in the race. This technically means that Shuji is mathematically eliminated here since he lost to both Hino and Kento that even if they tied in their match on the final day while Shuji wins his final match, still wouldn't be enough due to them still being tied and the both of them still having a win over him. Shuji did well and he could still screw with Shingo in their last match if he defeats him to prevent him from winning.
Recommended: Another really solid match here and Ryoji Sai gets the underrated performance from this entire block.
Champion Carnival 2018 Block A Match
Joe Doering vs. Kento Miyahara
Review: A month ago, these two would fight for the Triple Crown Championship if you remembered my coverage of that show, the two would deliver a great match and Kento would defeat the Gaijin monster to reclaim his championship once more. Now the two must fight once more and if Kento wins this match, it would pretty much guarantee him a spot in the finals, however if Joe wins this match, then he will be on top of the race next to Kento and Yuji while also getting a future Triple Crown Championship rematch. This is probably Joe's best match in the Carnival for me as most of his matches here have been a hit or miss, but this one definitely delivered since these two just work together. Kento still showing that he's the best in All Japan with his performances and being able to work well with just about anybody here in the company since it's hard to have a bad match with him nowadays. Kento's Blackout knees are a sight to see as he hits a devastating one to Joe to the outside and we even see Joe getting aggressive to Kento into this match, now I wish we saw more of this side of Joe and he'd be fantastic. Joe would start to pull off some moves like a Piledrive to pick up the win, but Kento kicks out of it and would start to deliver some moves as well like his Blackout and a regular German Suplex, but now Joe kicks out of this one. In about twelve minutes, Joe would hit his variation of the RAINMAKER, then a Diving Body Press before putting him away with the Revolution Bomb after failing his first attempt due to a reversal as Joe is now tied with both Kento and Hino. This also means with Ryoji Sai is also mathematically eliminated from the tournament due to losing to Joe earlier in the tournament and if they somehow tied, Joe would advance since he defeated him. We now get our rematch for the Triple Crown Championship in the future and it should be a good one.
Recommended: Very good match despite their last encounter being the better one of the two and we definitely will see them fight one more time.
4/25/2018
Champion Carnival 2018 Block A Match
Naoya Nomura vs. Shingo Tagaki
Review: These are the only two that haven't had their sixth match yet until now and this is their time to fight before the final day happens on the 29th, this match also determines if Shingo will either have a chance to make it or be mathematically eliminated. I said it before and I will say it again, Naoya is gonna have a bright future within the company in about two to three years time and he's only 24 years old too, so he has plenty of time to learn and grow, even being here with all of these great wrestlers is helping him shape up for the future. The match was solid and Naoya would have a few close calls to get his second victory in the match, but Shingo would secure another win to be one step closer to winning A Block as he wins with the MADE IN JAPAN aka Last Falconry.
Recommended: It was a fun match and Shingo is always a treat to see.
Overall: Some of the matches went over well and can tell this was more of a winding down moment before we have our final show on the 29th. If you haven't seen Andrew's coverage for B Block, please do so as he's had quite a stacked few days with B Block coming to an end and ended off with bang.
Favorite Match: Kento Miyahara vs. Joe Doering
Least Favorite Match: Shuji Ishikawa vs. The Bodyguard
Score: 7.5/10
Current Standings:
Kento Miyahara (4-2) (8 Points)
Yuji Hino (4-2) (8 Points)
Joe Doering (4-2) (8 Points)
Shingo Tagaki (4-2) (8 Points)
Ryoji Sai (3-3) (6 Points)
Shuji Isihkawa (3-3) (6 Points)
Naoya Nomura (1-5) (2 Points)
The Bodyguard (1-5) (2 Points)
Now we have one day left for A Block as the last four matches are set to take place to see who will go onto the finals and we only have four people mathematically eliminated here, meaning only one of these four can go on to the finals and here is how each of them could make it.
Kento Miyahara: Defeats Yuji Hino and both Joe Doering and Shingo Tagaki lose/draw their matches
Yuji Hino: Defeats Kento Miyahara
Joe Doering: Defeats Naoya Nomura and Kento defeats Hino
Shingo Tagaki: He defeats Shuji Ishikawa, Joe Doering loses/draws his match, or Kento/Hino ends in a draw or Kento wins.
---
Always Use Your Head and visit the official Pro Wrestling Tees store for The Chairshot All t-shirt proceeds help support the advancement of your favorite hard-hitting wrestling website, The Chairshot!

---
(NOAH) WEEKLY NEWSLETTER VOL.5 ~ 12TH OCTOBER 2018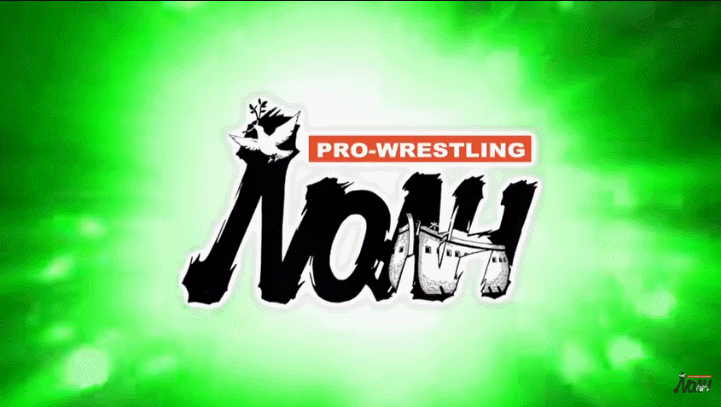 CURRENT TOUR RECAP
As Noah head towards the end of the year, Autumn Navigation began on October 7th in Gunma. I am afraid I don't have too much information about the first two shows.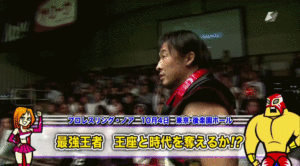 Naomichi Marufuji's feud (not so much Akitoshi Saito's) with Mitsuya Nagai and "The Hooligans" began in earnest. Marufuji came out with a weary expression like he had to deal with something that was tiresome (and to him it is, as he says that The Hooligans are not worthy of the title shot, although he's had to begrudgingly give them one), and this match was to prove just to be that as Nagai came out to "second".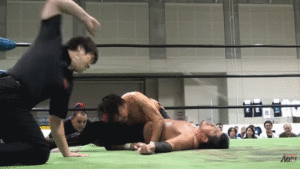 "Second" in this case being another word for "interfere", which he did by pulling the referee out of the ring when Marufuji went for the pin on Taniguchi. While the ref and Nagai argued, Cody Hall used the distraction to creep into the ring and ambush Marufuji with "The Hooligan" bomb, meaning that Taniguchi got the win when the ref got back in the ring.
Afterwards The Hooligans stood over Marufuji, Cody Hall & Taniguchi holding the heavyweight tag belts, and Taniguchi with his foot on him.
Marufuji said afterwards that he was irritated before, but he's angry now, and he's had enough. This wasn't enough, however, to stop The Hooligans from running over them again on the 11th October.
Noah have started the pre-matches for Global League; on the 11th October, Masa Kitamiya and Katsuhiko Nakajima faced off against each other after a long while. Nakajima, as ever, smirking when kicking someone, this time his tag partner.
NEWS
NOAH MERCHANDISE AVAILABLE IN EUROPE & USA
IPW have announced that they have become the official merchandise vendor for Noah for Europe, and I understand they also deliver to the USA. I am afraid for any other country, you would need to check directly with them. Shop can be accessed via the link above.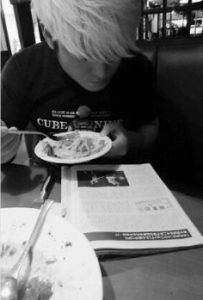 "COME AT ME YOU BASTARDS"
Kenoh's column this week is thought to be generally not too interesting (aside from maybe the end about appearing in a quiz show), but he does give some interesting insights into life in Noah and how wrestlers branching out into other programs beyond wrestling, can help a product.
Speaking of Kenoh, I read a very sweet story in an interview earlier this week.
When Kenoh was a tiny infant (about two or three), he used to stand at the window of the Nippon Kempo watching them practice until his mother removed him. Even when it snowed, he would stand at the window.
His mother later asked if he could see inside, and then enrolled him in the school.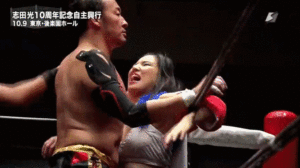 NAOMICHI MARUFUJI VS HIKARU SHIDA
For her tenth anniversary in wrestling, Hikaru Shida challenged Naomichi Marufuji to a rematch. They had last clashed on April 17th, and she had been knocked out within a few minutes (108 seconds to be precise). This time she managed to last eighteen minutes with him. He took knee attacks, and she took chops.
Marufuji won with the high knee, and said afterwards that "the match was fun, and with so much potential, I want you to be the top girl".".
WINTER NAVIGATION 2018 & EARLY DATES FOR JANUARY 2019
Noah have announced the dates for "Winter Navigation 2018", plus "Great Voyage in Yokohama Vol.2" and "NOAHFul Gift in Differ".
They have also announced dates for January 2019.
Last year NOAHFUL Gift was held in ShinKiba, this year it will be being held at Korakuen Hall. Although Noah have announced no plans for the format as of yet, it will most likely feature the flea market in which Noah sell their old ring wear to fans (in the old days they would also serve Dojo chanko) and the usual battle royal and comedy matches.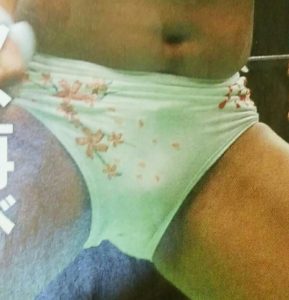 Genba Hirayanagi threatened to appear last year in some gnarly old pants when he heard there was a flea-market. Sugiura said no one would want them, and Marufuji told him that it was "called obstruction of business".
Thankfully Genba's questionable taste in clothes is not a recurring feature, but Akitoshi Saito in cosplay is. In past years we have seen a lounge singer (complete with frilled cuffs, cummerbund and a velvet suit), and a pigtailed joshi. 2017 saw him in a video which was played in installments throughout the evening flanked by Moose in a Burger King hat, Eddie Edwards in a Santa hat (both were trying not to laugh), and Saito in various stages of undress whilst wearing a wig and make-up.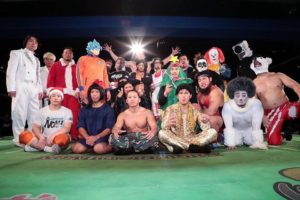 During the Battle Royale last year, everyone dressed up; well, almost everyone, as Kenoh appeared in an old karate outfit, and HAYATA came as himself in DOVE Pro. Other highlights included Takashi Sugiura being labelled a "vulgar and tasteless Santa" by Tokyo Sports, Hi69 was a "Panda" (his costume was purple tights and Panda face-paint, and according to Hajime Ohara he had gone out and bought his costume the night before, leading Sugi to point, laugh and say "that's not a Panda, that's a monster), Hajime Ohara as Kiki from "Kiki's Delivery Service" complete with satchel full of bakery goods, a Jiji on his shoulder, black wig with a bow and a broom, Hitoshi Kumano as a bear, Daisuke Harada as HAYATA (which HAYATA did not appreciate and glared at him afterwards) and of course the inevitable Mr. Koto (Atsushi Kotoge).
Needless to say its a fun show, and if you are going to be in Tokyo over Christmas\New Year, I not only envy you, I also highly recommend you go and see it. All grudges, rivalries and title matches are put aside, and the roster relax and have fun.
OUTSIDE PARTICIPATION
Naomichi Marufuji and Hi69 will miss Noah's event on the 18th November as they will be participating in Ryuku Dragon Pro in Okinawa
Kenoh will be appearing for KAIENTAI DOJO on Sunday October 28th, he will team with Tank Nagai against Yuri Asakawa & Kengo Mashimo.
Junta Miyawaki will make his second appearance for YOUNGDOMS (FREEDOMS sub brand) on the 5th November, he will team with Shunsuke Sayama vs Toru Sugiura and SUSUMU
GHC BELT NEWS
Current champions
GHC Heavyweight Champion: Takashi Sugiura
GHC Junior Champion: Daisuke Harada
GHC Heavyweight Tag Champions: Naomichi Marufuji & Akitoshi Saito
GHC Junior Tag Champions: Minoru Tanaka & Hi69
The GHC Heavyweight Championship currently has no challenger as Global League will begin in late October to determine the number one contender.
Daisuke Harada and Atsushi Kotoge will clash over the GHC Junior Championship on October 30th at Korakuen Hall (match signing to be held the same day)
Naomichi Marufuji & Akitoshi Saito will defend the GHC Heavyweight Tag Championship against "The Hooligans" (Maybach Taniguchi and Cody Hall) on Sunday October 14th in Kobe.
The GHC Junior Tag Championship has not been challenged for yet.
TOUR TIDBITS
Naomichi Marufuji was involved in a minor car accident this week when someone reversed into him, he is fine fortunately.
Noah released Halloween Revolutionary cloaks for kids which were sold on the 11th October, with the Revolutionary Hero on hand to sign them. Atsushi Kotoge has said that the manufacturing cost is too high to make them for adults.
Takashi Sugiura gave a defense match interview, in it he said he wants to be the first reigning champion in history to win Global League, and if that happens he will nominate his own opponent, which will be Masato Tanaka. They have fought against each other in the past, but they have never had a title match over a single belt.
Mitsuya Nagai called a lady in the crowd "you old bag" because she was mouthing off to him.
Mohammed Yone's disco ball for his entry has become a thing
People would like to see Atsushi Kotoge and Kaito Kiyomiya tag together and challenge for the belts
HAYATA has a new online diary, "HAYATAbot", I am afraid that to access it requires a paid subscription
Kenoh will finally get his wish for a singles match with Naomichi Marufuji on the 8th November at Korakuen Hall for Global League 2018.
Like Hi69 does, Atsushi Kotoge did a short question time with fans on Twitter, highlights included; Kotoge saying he doesn't drink at home, and Go Shiozaki asking what the capes were made of to which, Kotoge said playfully, "asshole, I'll go and look". He never actually answered Shiozaki's question.
Kenoh's friend, Masahiro-san (whom Kenoh has blocked, and who Masahiro-san calls "that asshole who blocked me"), posted a few candid pictures of when he stayed at Kenoh's home for the night on Twitter. Masahiro-san usually deletes them a few minutes after posting, but they were there long enough to ascertain Kenoh bought tourist fodder Union Jack boxer shorts when he visited London for Frontline Pro Wrestling.
Hajime Ohara is holding exercise classes in Kawasaki which are open to adults of every age and sex. The classes will be simple exercises in how to build, tone and maintain muscles and how to exercises with a water bottle.
KING SHAMLESS'S CORNER
None this week, he's managed to behave himself.
EVENT RECAPS
7TH OCTOBER 2018, NEW SUNPIA TAKASAKI, GUNMA
11TH OCTOBER 2018, OYAMA CITY CULTURAL CENTER SMALL HALL, OYAMA, TOCHIGI
LINKS
English language translation of Naomichi Marufuji's biography, "Heir to The Ark"
Takashi Sugiura's sixth defense interview
Akira Taue loved the "Talk Battle" with Toshiaki Kawada
Like what I do? Consider supporting me on Patreon 
---
Always Use Your Head and visit the official Pro Wrestling Tees store for The Chairshot All t-shirt proceeds help support the advancement of your favorite hard-hitting wrestling website, The Chairshot!

---
(NOAH) WEEKLY NEWSLETTER VOL.4 ~ 5TH OCTOBER 2018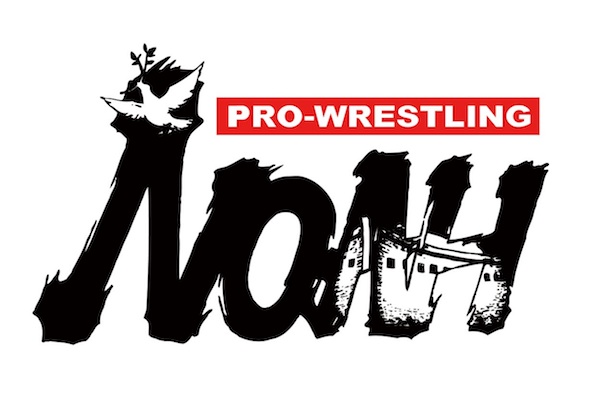 CURRENT TOUR RECAP
Noah have had excellent attendances recently, bad weather, transport difficulties and a weekday show, have not kept people away. Korakuen might not have been sold out for the final, but it was a damn good result for a Thursday night with the majority of people making a mad dash across Tokyo to get there after work.
Hopefully, the fans dedication to seeing Noah and their willingness to battle through Typhoon weather (the event on the 30th September was fast tracked because of it and fans were warned that the show might be cancelled half way through due to the weather), rush hour traffic on a weekday and face resultant travel difficulties, will make the network consider just what they are missing.
Naomichi Marufuji missed the last two nights of Global Junior League as he was appearing in WRESTLE-1 and then Kansai Pro, but he was back for the 4th October.
The GHC Heavyweight match signing took place on September 29th 2018 at Yokohama Radiant Halls. Nakajima appeared with the usual smirk, and refused to answer any questions and when prompted to speak, sat with an eerie grin on his face like he found the whole thing very funny. Takashi Sugiura (who arrived wearing the tired expression like that of a father that has been called too many times to the Principals office over the misbehavior of his son), told him and everyone else that the smile would be wiped off Nakajima's face when he got repeated elbows in it on the 4th October. That evening the veterans were obliterated by the "young people" as Yokohama went wild, Nakajima's comment on the match was, "Oh, that was fun".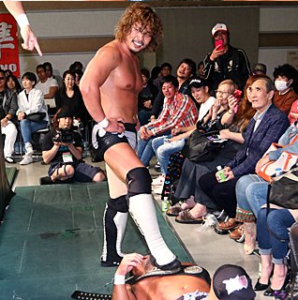 The clash on the 30th September, however, was very different. The battle damaged endoskeleton inside Takashi Sugiura rebooted itself, and Nakajima caught a beating (seriously, half the time Sugi looked like he was going to put him over his knee). In a very short match Sugiura caught Nakajima with the Olympic Slam, the ref counted three, and Sugiura continued battering on him until the ref pulled him off, and he stood with his foot on him as Nakajima had done to him, before Nakajima was carried off on the back of the Revolutionary Hero who was watching at ringside. Sugiura later said that Nakajima was like a fly who "fled when I tried to crush him", and vowed to crush him at Korakuen Hall.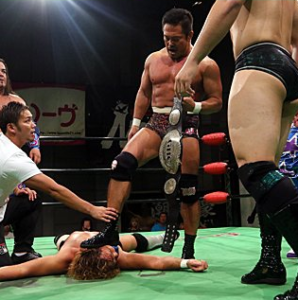 On the 4th October, evidently learning nothing from the 30th September, Katsuhiko Nakajima came strolling out to the ring, big smirk on his face, sinister new ring robe with faux wolfskin and sinister black pants, boots and kneepads. As soon as the bell rang, he lay down on the floor, resting his head on his hands and with his elbow bent, looking as if he were posing for a suncream or speedos advert.
Sugiura was not impressed.
It was a brutal match with kicks, elbows, slaps and slams (Sugiura did the turnbuckle brainbuster and held it for twenty seconds), and at one point Masa Kitamiya got involved which earned loud boos from the crowd, especially as Nakajima was using a wooden bar to choke Sugiura with. Eventually, Sugiura seized the chance for the ankle lock, and even bit into Nakajima's boot.
It was too much for Nakajima, and he tapped out.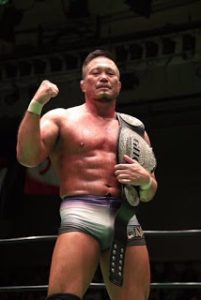 Afterwards most of the competitors for Global League got into the ring, (aside from the veterans that was, and those who were seconding Nakajima and the two who are coming in from outside promotions), and started yelling at each other and pointing fingers. Nagai got on the microphone first and said that the Hooligans were gunning for the GHC Heavyweight too, Kiyomiya told them that they would have to go past him first (Sugiura later said in an interview that he doesn't consider Kiyomiya a challenge, as he couldn't get past Kenoh to qualify for the number one contendership, so that's one down for him), and Sugiura told them all to keep their pants on, the league starts on the 30th October, and so "all you youngsters, you had better start practicing".
Naomichi Marufuji said he was going to finish this nonsense of The Hooligans on the 4th October, being too tired to deal with a "bald octopus and his worthless friends", so he made this picture of them asking them to turn up to the event like this (Marufuji seems to share Sugiura's obsession with bald people, and told Nagai to either grow hair down to his shoulders or get a wig if he wanted a title shot).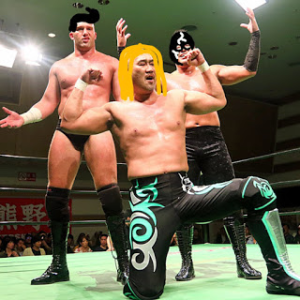 Nagai is not impressed by being called "a bald Octopus" and vowed to make Marufuji "regret the words you spewed".
On the 4th October, Naomichi Marufuji & 50 Funky Powers clashed with The Hooligans, who were more interested in attacking Marufuji than they were Saito, and he took the brunt of things in the match. Afterwards, The Hooligans (Cody Hall and Maybach Taniguchi holding up the belts) stood over them and unfurled their Hooligans flag.
Marufuji has to now give them a title shot, (although he says he is only doing it to crush them), and the two teams will meet in Kobe on the 14th October, before that Naomichi Marufuji and Maybach Taniguchi will have a rare singles match on the 7th October, with Akitoshi Saito facing Cody Hall.
Daisuke Harada faced off against his nemesis, Kotaro Suzuki on the 29th September in a very tense match, which ended with Kotaro Suzuki with the win. He stood over the fallen Daisuke Harada and said that he was going to "shine up that rusty belt" (I think he may also have called him a "Class A War Criminal", which seems a little extreme).
YO-HEY (watched by Kotaro Suzuki and Yoshinari Ogawa) faced Ikuto Hidaka for the semi-finals. YO-HEY seemed to have picked up a knock the knee during the match, (which Hidaka exploited), but he held on in there and refused to quit. The clock ticked away, near falls followed near falls, and then Hidaka locked in the Shinken Capture.
YO-HEY refused to quit.
The clock ran out and YO-HEY was awarded the win, which meant that he now had two jobs; to win Global Junior League and more importantly, to defend the honor of the Noah juniors against Kotaro Suzuki.
The showdown came on the 4th October, between the man who was not Noah born, but yet had the majority of the crowd behind him seeing him as representing Noah, and the man who is Noah born, but yet walked out of Noah, and therefore isn't considered to be Noah anymore. The match was harsh with a lot of near falls which kept the crowd on the edge of their seats, but Kotaro Suzuki prevailed, and won Global Junior League 2018.
RATELS were at ringside and attended to YO-HEY, when he was rolled out of the ring, YO-HEY could be seen putting his palms together to bow and apologizing to Daisuke Harada.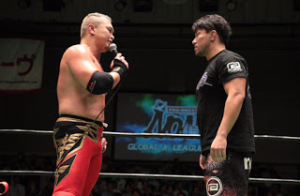 After the match Kotaro Suzuki challenged Daisuke Harada. He later said he didn't want the belt, but he had a plan for it, and he was bringing excitement to a division whose guys were bored and stuck in a rut.
All poor YO-HEY could say was "I'm sorry…I'm sorry".
Junta Miyawaki is still without his first win, but the day is coming nearer, Noah are teasing a lot of near falls though.
Both Kouki Iwasaki (who faced Kenoh on the 4th October, and wants to do again) and Hiroshi Yamato (WRESTLE-1) say that they would like to further participate in Noah. Iwasaki says he wants to face Kenoh again and "knock him down".
The wins of Takashi Sugiura and Kotaro Suzuki are the best outcomes for Noah.
The Junior division needs a proper heel, and while you could say they have Yoshinari Ogawa, Ogawa due to his age, status backstage in the company as the oldest active veteran (who is always referred to as "Mr. Ogawa" and treated with the highest respect), cannot enter a feud where his opponent runs him down, although he can go to toe to with the youngsters in the ring. Ogawa's main role is as a teacher, and the rookies who come from the dojo, always pass through him; and Kotaro Suzuki therefore fulfills the role as someone who is a "things were better in my day" heel, allied in some way with Ogawa (whose mouthpiece and whipping boy he can be), and who doesn't need to be treated with the same respect as Ogawa is. The fans accept Ogawa as "ratboy", it is inconceivable that he would enter a feud with the normal back and forth banter.
As for Takashi Sugiura, most of the Super New Generation Army (barring Kaito Kiyomiya, who isn't ready) have challenged him, as has Naomichi Marufuji. Global League resets this and now everyone battles for it, along with the new blood of The Hooligans and the two outside competitors. Takashi Sugiura has said that if he wins the league then he will chose his own challenger, and it will probably be someone from outside Noah.
Global League this year can be best summed up as "Global League 2018: Sugi's Gonna Kill Ya", but before that its on to Autumn Navigation.
NEWS
Koji Kanemoto will appear for Noah on the 14th October 2018, he will team with Minoru Tanaka and Hi69 vs RATELS (YO-HEY, HAYATA and Tadasuke)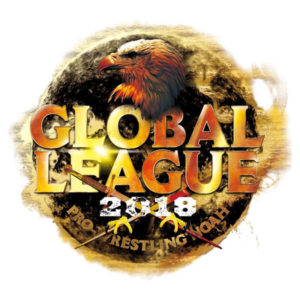 Global League participants and dates
BLOCK A
Naomichi Marufuji
Akitoshi Saito
Quiet Storm
Katsuhiko Nakajima
Kenoh
Masa Kitamiya
Mitsuya Nagai
Kohei Sato
BLOCK B
Takashi Sugiura
Mohammed Yone
Go Shiozaki
Atsushi Kotoge
Kaito Kiyomiya
Maybach Taniguchi
Cody Hall
Kazusada Higuchi
As excited as people are about Global League 2018, there is some disappointment as fans did hope to see Jay Bradley or Masato Tanaka.
Tuesday, October 30th – Korakuen Hall (18.30) ~ FIRST NIGHT
Thursday, November 8th – Korakuen Hall (18.30)
Sunday, November 11th – Matsuyama City Community Centre (17.00)
Wednesday, November 14th – Takamatsu Symbol Tower Exhibition Hall, (18.30)
Friday, November 16th – World Pavilion, Osaka (19.00)
Saturday, November 17th – Edion Arena, Osaka (18.30)
Sunday, November 18th – Kyoto, KBS Hall (3pm)
Wednesday, November 21st – Aizuwakamatsu City Cultural Centre, Fukushima (18.30)
Thursday, November 22nd – Miyagi, Sendai (18.30)
Friday, November 23rd – Yokohama Radiant Halls, Kanegawa (17.30)
Sunday, November 25th – Korakuen Hall, Tokyo (18.00) ~ FINALS
Holy War Vol.3 
Akira Taue was Toshiaki Kawada's next guest for his "Talk Battle" at Holy War Vol.3 (Kawada says that Vol.4 will either be this year or next year, with the two youngest on Noah's roster hoping that they will be on it again).
I think Kawada had hoped that Akira Taue would talk about his struggle of being Noah's president, but I don't think that Taue wanted to re-live the trauma by going through it again. For the record, Taue has only ever told tidbits about it, he's never done a sit down interview about it. The role turned him into an old frail man overnight.
The "Talk Battle" was very funny and very moving; they talked about Mitsuharu Misawa and how Taue was the one who invited Kawada to Noah (not Misawa), Taue's sumo days (which the fans wanted to hear more about), Taue called Kawada "a bullying mother in law" when he was being difficult and Kawada asked Taue to please stop smoking and cut down his drinking – Taue said he wasn't doing either, and no doubt 99% of the roster stubbed their cigarettes out when they heard Kawada say that. They told some funny stories, like the time when All Japan took the dojo to the seaside for summer training and Taue (known for his aversion to training) turned up without running shoes and with sandals because to his mind, "sandals are for the beach".
At the end of the event they played a medley of Jumbo Tsuruta's, Mitsuharu Misawa's and Kobashi's theme music (they found the first two very emotional).
GHC BELT NEWS
Current champions
GHC Heavyweight Champion: Takashi Sugiura
GHC Junior Champion: Daisuke Harada
GHC Heavyweight Tag Champions: Naomichi Marufuji & Akitoshi Saito
GHC Junior Tag Champions: Minoru Tanaka & Hi69
Either the winner of Global League 2018 (or a challenger that Takashi Sugiura appoints should he win the league) will be determined on the 25th November
Daisuke Harada will defend the GHC Junior Heavyweight belt against Kotaro Suzuki on the 30th October
Naomichi Marufuji and Akitoshi Saito will defend the GHC Heavyweight Tag Titles against Cody Hall & Maybach Taniguchi in Kobe on the 14th October
The GHC Junior Tag Championship has not been challenged for yet, although the boys from Zero One (Ikuto Hidaka and Takuya Sugawara) have hinted that they may challenge.
TOUR TIDBITS
Takashi Sugiura seemed in a very good mood after the title match, joking about why someone would want to beat up an old man.
Tadasuke made Yoshiki Inamura to do his entry with him. Inamura wasn't quite confident enough to do the headbanging and air guitar part though (HAYATA is on record saying it is embarrassing)
Atsushi Kotoge had dinner with "father and son" (Go Shiozaki and Kaito Kiyomiya)
Mitsuya Nagai came through the heavy door at Yokohama Radiant Halls to make his entry, and it slammed shut on Maybach Taniguchi behind him.
Katsuhiko Nakajima kicked Mohammed Yone's afro, and laughed.
KAZMA SAKAMOTO called Marufuji's picture of Nagai, Hall and Maybach "A Masterpeice".
Daisuke Harada addressed the crowd on the 30th September and thanked them for coming out in spite of the inclement weather, HAYATA, who was in the ring with him, said "Same". Considering Harada's address to the crowd in this manner, and his promotional work on radio shows and for tours, it would not surprise me if one day he took over Go Shiozaki's role as Head of the Noah Wrestlers Association.
Naomichi Marufuji says that he is fighting Kenoh on many fronts (Kenoh said in his last column about Marufuji's perceived political maneuvering, Marufuji said all he had done was fight to defend Noah)
Minoru Tanaka says that as a child he was "good at playing building blocks"
YO-HEY actually gave a coherent promo on October 1st, except when the wheels fell off at the end and he started talking about snowball fights
Naomichi Marufuji has been appointed "Tourist Ambassador to Konosu City, Saitama" on a two year term
Minoru Tanaka underwent emergency surgery due to a septic thumb
Kikutaro got scruffed by referee Shu Nishanaga (KENTA had him thrown out of SEM once); speaking of Kikutaro he proclaimed himself "The Ace of SEM" (SEM was disbanded in 2015), and I don't want to know why he was squeezing Atsushi Kotoge's balls.
SPECIAL 4 (Hi69, Minoru Tanaka, Yoshinari Ogawa and Seiya Morohashi) now come out to "Ultra Soul"
Hajime Ohara has proposed a "Team Kawasaki" with Ikuto Hideki (and possibly Hiroshi Yamato)
Mitsuya Nagai says that when Marufuji becomes bald he will put him in "The Bald Octopus Club"
Noah are calling some of the Global League tag matches "Voyage for Global League".
KING SHAMELESS' CORNER
Takashi Sugiura abstained from drinking alcohol for a week before the title match in case of head injury and\or concussion, but after the match and subsequent examination at the hospital he was given the all clear, and he went out to dinner afterwards and drunk alcohol. Having had a day of having to behave himself pretty much, he told Tokyo Sports (who call him "King Shameless"), that he had a wet dream when he woke up the next morning. I don't want to know any more.
EVENT RECAPS
September 29th, Yokohama Radiant Halls: 
September 30th, Ikos Ageo, Saitama
October 4th, Korakuen Hall 
Holy War. Vol 3 
LINKS
Naomichi Marufuji appointed Tourism Ambassador to Konosu City, Saitama 
SEM
Doug Williams has now retired 
"Heir to the Ark": Naomichi Marufuji's biography 
---
Always Use Your Head and visit the official Pro Wrestling Tees store for The Chairshot All t-shirt proceeds help support the advancement of your favorite hard-hitting wrestling website, The Chairshot!

---
Dragon Gate The Gate of Victory Results & Review (10/2/2018)

Welcome back to Dragon Gate and this is the second to last show before Shingo's departure in a couple days, so I decided to cover whatever the network decides to air until his departure meaning this one and the next one.
We have a special appearance in this show that I'm sure most of you know at this point and I will get to it when the actual match happens.
Let's see how this show turns out and…dive right in.
Six Man Tag Team Match
Hiroshi Yamato, Kota Minoura & Mondai Ryu vs. Natural Vibes (Kzy, Susumu Yokosuka & YASSHI)
Review: We got half of Natural Vibes opening up the show today after losing to R.E.D at the elimination tag match as Kzy, Susumu, and YASSHI will be taking on Hiroshi Yamato, Kota Minoura, and Mondai Ryu to give the fans an entertaining match to start the show. Will Natural Vibes win?
We had Hiroshi Yamato singing during his entrance, wasn't bad. The match was mostly entertaining with Natural Vibes doing their dancing around along with their tag moves together in the match and a little comedic encounter between Yamato and Kzy when she held hands and did that dance until Yamato accidentally hits Kzy in the head. The other team didn't do too bad either since it was just some random people paired off together which happens during the undercard of the show. Other than that, nothing really big happens here since it's just a regular tag match. Kota Minoura would start to get some momentum over Kzy until Kzy tried to do his Running Elbow Smash, which got reversed into a flash pin but Kzy kicked out of it. Kzy would be able to pick him up for a Piledriver as Kota kicked out of it and picked him up again for the Running Elbow Smash and Natural Vibes gets the win.
Rating: Tony Schiavone and a half
Tag Team Match
Gamma & Genki Horiguchi vs. Don Fujii & Ryo Saito
Review: We got another tag match with Roy Saito and Don Fujii teaming up again as they take on Gamma and Natural Vibes member, Genki Horiguchi. Fujii and Saito are still trying to keep the ball rolling with this tag team and I still hope it leads to something for both of these guys. Will they win to get momentum or will the odd duo pull a victory out of nowhere?
It now looks like that Ryo is wearing Fujii's gear so that they could match, think it makes sense if they're gonna be a team. This match is just a straight-up comedy match and kinda felt like that was how it needed to go for this one with the people involved in this match. Gamma and Ryo would have a sumo type of match and even did the posing for it which Ryo would win and even Hip Toss Genki when he tried to run in. Genki would tie yellow tape to Ryo's ear as Gamma would grab the other end of it to run around the hall, almost making it to the stairs as Fujii attacked Genki to make Gamma let go as well. Both Fujii and Ryo would do a neck twist to Genki and it looked like one of his braids fell off of his head and had to tag Gamma in as he tried to put Ryo in a submission till Fujii threw a water bottle at him. Both Fujii and Ryo would hit a Chokeslam on their opponents and Gamma took it horribly, like wow. Gamma would try to roll Ryo up but he pulled the back of her shorts down to have his bare ass out in the open and then the two would try to roll each other up with him still bare-assed as Ryo would get the final surprise pin for the victory.
Rating: Tony Schiavone and three quarters
Singles Match
KAI vs. Punch Tominaga
Review: It looks like KAI is set to have another match with Dragon Gate and I'm not sure if this is part of the tour or just doing another match or two, but I'll take whatever I can get with him to see him wrestle. His next match is against Natural Vibes member, Punch Tominaga and feels like it could be a rather comedic but fun match. Which one of these two will win?
Punch would attack KAI on the outside to get the first advantage over him and he does appear to have him on the ropes for the beginning part of it. It was surprisingly pretty back and forth when they were fighting each other in the match since I expected it to be completely one-sided once Punch had his little fun in the beginning, but glad it wasn't the case. KAI so far in this tour has had mediocre matches and not that they're bad, but they're just matches with nothing really standing out with them to make them memorable. The match was very short too, around six minutes as Punch would go for his Moonsault off the rope and misses and KAI would hit Punch with a Lariat for a two count. KAI would then bit a Brainbuster for another two count and picked him up for the Michinoku Driver and get the win.
Rating: Eric Bischoff
Eight Man Tag Team Match
Hyo Watanabe, Masaaki Mochizuki, Shun Skywalker & Yuki Yoshioka vs. Tribe Vanguard (Kagetora, U-T, YAMATO & Yosuke Santa Maria)
Review: We got our first and only eight-man tag match for the show as Tribe Vanguard takes on Masaaki Mochizuki's team and he kinda does have a unit with people like Yuki, Shun, and Hyo but they're not an official unit and don't have a name. Will Mochizuki and Shun get revenge on YAMATO or Tribe Vanguard wins this?
All eight of these men delivered in this match with them giving us fast-paced action throughout the entire match with both teams going back and forth, hitting their moves out of nowhere whenever someone else breaks out of a pin or hits a move of their own. Tribe Vanguard were more consistent with their maneuvers due to them being a well-established stable in this match and I gotta give it up for U-T and Kagetora for being the highlights of the match since both of these guys just did great and stood out more in the match, but doesn't take away from guys like YAMATO and Yosuke.
Mochizuki's team would also match up with them as Shun would once again deliver in the match and so did the other guys in the match to show that they very well could be a future unit in Dragon Gate if they're serious about being one or they'll just keep teaming and doing solo stuff without forming a unit, that's all up to them. When I talk about the non-stop action of the match, U-T would have someone in a Kneebar and once it was broken up, Kagetora would hit a Diving Elbow Drop out of nowhere. Mochizuki would be in a hold and Shun would try to Moonsault off the top ropes, but was being held onto by Tribe Vanguard and Yuki out of nowhere would hit the Standing Moonsault while they were too focused on Shun. U-T and Hyo would be in the ring now and U-T would lock in Skayde hold onto Hyo to make him tap out as he gets the win for Tribe Vanguard!
Rating: Bruce Prichard and a quarter
Six Man Tag Team Match
MaxiMuM (Dragon Kid, Jason Lee & Kaito Ishida) vs. R.E.D. (KAZMA SAKAMOTO, Takashi Yoshida & Yasushi Kanda)
Review: We got a six-man tag match with MaxiMum going to war with R.E.D this time after having them assault MaxiMuM at the last show once the main event was over. We got Dragon Kid leading the charge this time with Jason Lee and Kaito Ishida as they take on Takashi Yoshida, Yasushi Kanda, and KAZMA SAKAMOTO. I do we get to see more for KAZMA here in this match but we will see what happens here. Which of these units will win?
I think it was kill Kaito Ishida on R.E.D's agenda because he certainly took the majority of the beatings in this tag match. We got to see a little bit more of KAZMA in the match and he did a slightly better performance in this one compared to his return at the last show and could be a better powerhouse guy than Takashi if given the opportunity to. MaxiMuM were quick in this match due to relying on their agility since they took on the powerhouses of the R.E.D unit and Dragon Kid would mostly be the one to outmaneuver the opponents while Jason Lee would try to keep up, but they kept on getting overpowered.
Dragon Kid and Kaito would do a combo with Kid hitting the 619 while Kaito would hit a Dropkick at the same time and it would've been a really cool spot if they timed it up a little bit better in the match. Kaito would have Kanda sitting on his shoulders while they were both on the turnbuckle and Dragon Kid would jump the ropes to hit a Super Hurricanrana. KAZMA got back in the ring with Kaito and slammed him down as he signaled Takashi and Kanda to hit the Diving Elbow Drops onto him and Kid would break the hold. KAZMA would hit the Pop-up Powerbomb on Kaito and picked him up on his shoulders so Takashi would hit the Doomsday Device and top it off, Takashi picked him up for the Cyber Bomb and R.E.D wins it.
Rating: Eric Bischoff and a half
Tag Team Match
Big Ben (Ben-K & Big R Shimizu) vs. DoiYoshi (Masato Yoshino & Naruki Doi)
Review: So we officially have a date for the Open the Dream Gate Championship match between Masato Yoshino and Ben-K as it's set to take place on November 4th at the show, The Gate of Destiny. For now, we got a tag match with Yoshino teaming up with Naruki Doi as they take on Ben-K and Big R Shimizu. I'm excited to see how this feud will turn out and this will be the first step to see where this direction will go. Will the champion win or will Ben get the early advantage?
Instead of R.E.D going in for the attack, DoiYoshi would attack them first before they got into the ring. I gotta make this comment before I continue further and I'm kinda disappointed with how they changed Ben's look. I'm saying this because he originally looked like this shogun badass with his attire and now he just looks like a generic powerhouse with his change in appearance. I think he still could've kept the gear and just made it red, but with what they gave him now, I don't like it personally but I still like him despite that. Moving on, seeing DoiYoshi teaming up together with just them was fun to see and they did pull off some sweet tag moves together which I will get to in a little bit. We've seen Big Ben wrestle as a team on here before and we know they're good together despite Big R not being that good, to begin with, but them as a tag team works and we got a solid match between the two teams.
We had Naruki on the top rope Yoshino held Ben-K up for him to kick and as Naruki hits the Dropkick, he landed on Big R for the Senton at the same time and would get a two count out of it. Big R would go for the Shot-put Slam on Naruki and would turn it around to a Crucifix as Yoshino Dropkicked Big R to make Naruki land the pin for a two count. Big R would try to go for it again as Naruki would hit a Flash Pin for another two count and as Yoshino went for the Torbellino, Ben-K caught him for a Spear before he could land it all. Ben was also able to hit Naruki for a Spear and would kick out of it at two. Yoshino would hit the Torbellino this time and had Big R on his knees so Naruki would hit the Bakatare Sliding Kick and would pin Big R for the win. Yoshino would get the first win in this feud between him and Ben-K and it was a good way to start it off, but now we gotta see if they can keep the ball rolling here.
Rating: Eric Bischoff and three quarters
Tag Team Match
R.E.D. (Eita & X) vs. BxB Hulk & Shingo Takagi
Review: We got our main event here as Shingo Takagi and BxB Hulk are teaming up before their big match as they agreed and R.E.D weren't very keen on that decision and told Shingo that Eita and a mystery partner will be facing them for this tag match. It looks like R.E.D will be having a new recruit after this match is over and it looks like Shingo is officially out of the group while Eita is in charge. Who is the mystery partner and can Shingo & Hulk defeat them?
I was right to say that Eita would be kicking out Shingo since that is exactly what he did before the bell would ring and as he introduced his partner, the lights would go off for a moment and when the lights go on, we have the return of PAC fka Neville. That's right, PAC has returned to his home in Dragon Gate instead of going to the obvious places like NJPW/ROH and I'm glad he chose Dragon Gate since this is the best place for him right now. PAC still looks good like he never lost any of his muscle and now it's time to see if he has any ring rust or not. Also, the reaction on Hulk's face during this reveal was priceless.
There were two stories in this match and one of them was Shingo and R.E.D since he was out of the group and what R.E.D do to him during the entire match with these weapons was pretty much telling him karma was a bitch and this is what he's getting back. The second story is PAC and the progression of his character and personality from when he left six years ago to when he came back with his new attitude and personality, I'm glad he kept his WWE look from when he was a heel since that was one of the bigger highlights of his career until the very end and would now try this new persona on a different playing field. As for the ring rust, he really didn't have much almost as if he never lost a step, but it's hard to tell due to it being a tag match. The match itself was very solid and it was mostly the story of it that carried the match than the actual wrestling of it and that's kinda fair due to the atmosphere of the match. Shingo would hit the Pumping Bomber on both Eita and PAC for a two count and Kanda hits Shingo with the black box to distract him enough for Eita to pick it up. Eita went to hit him with it but Shingo caught the box and threw it outside but accidentally hits the referee when he bumped into him, which lead to R.E.D to come in for all of them to hit their moves on Shingo and Big R tops it off with the Shot-put Slam on him. PAC would get Shingo to the corner and hits the Red Arrow to give R.E.D the win.
After the match, YAMATO would get in the ring and told PAC that he wanted to fight him. MaxiMuM got into the ring next and they all talked about how they wanted to fight PAC now, and now Natural Vibes does the same thing and it looks like everyone wants a piece of PAC now since he's back in Dragon Gate, but it looks like the four units will be having a war coming soon. Speaking of PAC, I wonder what title he'll be going for? I wanna say Open the Dream Gate, but it all depends on if Ben-K can get it or not. If that's the case, he could go for the Open the Brave Gate against Dragon Kid or he could team up with Eita to fight for the Open the Twin Gate titles. He has a lot of different options and curious to see which route he takes.
Rating: Bruce Prichard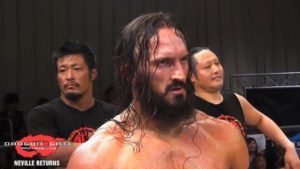 Overall: The undercard of the match was really weak, but the last four matches made the show more tolerable and we have the return of PAC to close off the show as Shingo now has one match left before he departs from Dragon Gate. Will these changes be for the better or for worse? We're gonna have to find out soon enough.
Favorite Match: Hyo Watanabe, Masaaki Mochizuki, Shun Skywalker & Yuki Yoshioka vs. Tribe Vanguard
Least Favorite Match: Hiroshi Yamato, Kota Minoura & Mondai Ryu vs. Natural Vibes
Score: 7.5/10
---
Always Use Your Head and visit the official Pro Wrestling Tees store for The Chairshot All t-shirt proceeds help support the advancement of your favorite hard-hitting wrestling website, The Chairshot!

---