AJPW Champion Carnival A Block Results & Review: Part 5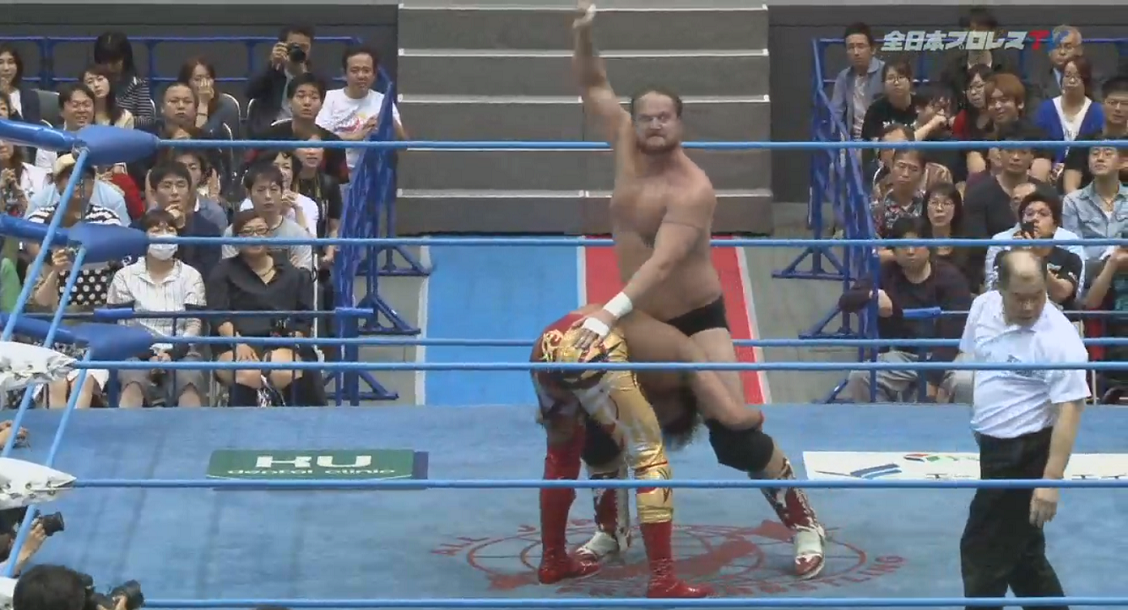 Hello and welcome to another chapter in the A Block of our Champion Carnival! We are almost done, with only the 29th show and the final four matches standing between us and the two block winners match on April 30th.
Let's not waste any time with this as we watch everyone try to get the rest of their matches in before our final day, so let's….dive right in.
4/21/2018
Champion Carnival 2018 Block A Match
Ryoji Sai vs. Shingo Takagi
Review: Shingo is back in action as he looks to bounce back with the two back to back losses he received and is now fighting Ryoji, who has won his last two matches and is on a roll after he suffered his first two losses, so let's see who wins this to get more momentum. The match starts off right with both of these guys going at it and Shingo would find himself an advantage over Ryoji by ducking his to the turnbuckle post which caused him to hurt his leg, but Shingo would capitalize on it by working on his leg throughout the match. Shingo is still one of the highlights of this tournament for me as he's been having quality matches so far along with Kento Miyahara, I really hope Shingo does stick around and I know I've said it before, but the guy is amazing. Ryoji has also done well selling the injury during the match and still gave him a moment to shine in the match as well, he even kicked out of both Last Falconry and Pumping Bomber from Shingo and there was a slight chance he could've won, but Shingo would get his third win by making him tap out to the Ura STF.
Recommended: Solid match, worth checking out between two great competitors.
Champion Carnival 2018 Block A Match
The Bodyguard vs. Shuji Ishikawa
Review: With Bodyguard finally getting a win under his belt when he defeated Yuji Hino at the previous show and let's see who else he can knock down with him since while he's mathematically eliminated, he can still ruin other peoples momentum to make sure they don't win either. Let's see if his leg can hold out a little bit longer or if Shuji keeps his promise and keeps winning his matches going forward. The crowd was behind Bodyguard, but you can see his injury taking a toll on him as he has a hard time moving around and I kinda feel bad for the guy, but gotta give him credit for at least wanting to continue the match. The match is not even five minutes as Shuji gets the quick win with the Fire Thunder after Bodyguard kicking out of the first one.
Recommended: Despite Bodyguard being injured, the match wasn't terrible with what they had to work with and did it's purpose, but not great either. So up to you if you wanna watch.
4/22/2018
Champion Carnival 2018 Block A Match
Ryoji Sai vs. Shuji Ishikawa
Review: With both of these guys having matches at the previous show, Shuji would need to win here to possibly secure a spot as one of the finalists and Ryoji would need a win here to stay alive while being tied with Shuji, so we gotta see who needs this win here. The match would start off a little bit slow at first, which is fine since it gave us a nice little build up as the match progresses and picks up as the match keeps going on and it starts to get better. Ryoji has been great during his matches here and is considered underrated performance wise compared to the others in the tournament and Shuji is always great, so them working together is fun. Ryoji would kick out of the Fire Thunder and that leaves Shuji wanted to put him away quick as he goes for a Powerbomb, but Ryoji flips him over and pins him to give himself another win in the match as he has a chance to stay in the race. This technically means that Shuji is mathematically eliminated here since he lost to both Hino and Kento that even if they tied in their match on the final day while Shuji wins his final match, still wouldn't be enough due to them still being tied and the both of them still having a win over him. Shuji did well and he could still screw with Shingo in their last match if he defeats him to prevent him from winning.
Recommended: Another really solid match here and Ryoji Sai gets the underrated performance from this entire block.
Champion Carnival 2018 Block A Match
Joe Doering vs. Kento Miyahara
Review: A month ago, these two would fight for the Triple Crown Championship if you remembered my coverage of that show, the two would deliver a great match and Kento would defeat the Gaijin monster to reclaim his championship once more. Now the two must fight once more and if Kento wins this match, it would pretty much guarantee him a spot in the finals, however if Joe wins this match, then he will be on top of the race next to Kento and Yuji while also getting a future Triple Crown Championship rematch. This is probably Joe's best match in the Carnival for me as most of his matches here have been a hit or miss, but this one definitely delivered since these two just work together. Kento still showing that he's the best in All Japan with his performances and being able to work well with just about anybody here in the company since it's hard to have a bad match with him nowadays. Kento's Blackout knees are a sight to see as he hits a devastating one to Joe to the outside and we even see Joe getting aggressive to Kento into this match, now I wish we saw more of this side of Joe and he'd be fantastic. Joe would start to pull off some moves like a Piledrive to pick up the win, but Kento kicks out of it and would start to deliver some moves as well like his Blackout and a regular German Suplex, but now Joe kicks out of this one. In about twelve minutes, Joe would hit his variation of the RAINMAKER, then a Diving Body Press before putting him away with the Revolution Bomb after failing his first attempt due to a reversal as Joe is now tied with both Kento and Hino. This also means with Ryoji Sai is also mathematically eliminated from the tournament due to losing to Joe earlier in the tournament and if they somehow tied, Joe would advance since he defeated him. We now get our rematch for the Triple Crown Championship in the future and it should be a good one.
Recommended: Very good match despite their last encounter being the better one of the two and we definitely will see them fight one more time.
4/25/2018
Champion Carnival 2018 Block A Match
Naoya Nomura vs. Shingo Tagaki
Review: These are the only two that haven't had their sixth match yet until now and this is their time to fight before the final day happens on the 29th, this match also determines if Shingo will either have a chance to make it or be mathematically eliminated. I said it before and I will say it again, Naoya is gonna have a bright future within the company in about two to three years time and he's only 24 years old too, so he has plenty of time to learn and grow, even being here with all of these great wrestlers is helping him shape up for the future. The match was solid and Naoya would have a few close calls to get his second victory in the match, but Shingo would secure another win to be one step closer to winning A Block as he wins with the MADE IN JAPAN aka Last Falconry.
Recommended: It was a fun match and Shingo is always a treat to see.
Overall: Some of the matches went over well and can tell this was more of a winding down moment before we have our final show on the 29th. If you haven't seen Andrew's coverage for B Block, please do so as he's had quite a stacked few days with B Block coming to an end and ended off with bang.
Favorite Match: Kento Miyahara vs. Joe Doering
Least Favorite Match: Shuji Ishikawa vs. The Bodyguard
Score: 7.5/10
Current Standings:
Kento Miyahara (4-2) (8 Points)
Yuji Hino (4-2) (8 Points)
Joe Doering (4-2) (8 Points)
Shingo Tagaki (4-2) (8 Points)
Ryoji Sai (3-3) (6 Points)
Shuji Isihkawa (3-3) (6 Points)
Naoya Nomura (1-5) (2 Points)
The Bodyguard (1-5) (2 Points)
Now we have one day left for A Block as the last four matches are set to take place to see who will go onto the finals and we only have four people mathematically eliminated here, meaning only one of these four can go on to the finals and here is how each of them could make it.
Kento Miyahara: Defeats Yuji Hino and both Joe Doering and Shingo Tagaki lose/draw their matches
Yuji Hino: Defeats Kento Miyahara
Joe Doering: Defeats Naoya Nomura and Kento defeats Hino
Shingo Tagaki: He defeats Shuji Ishikawa, Joe Doering loses/draws his match, or Kento/Hino ends in a draw or Kento wins.