AJPW Champion Carnival Results/Review A Block: Part 1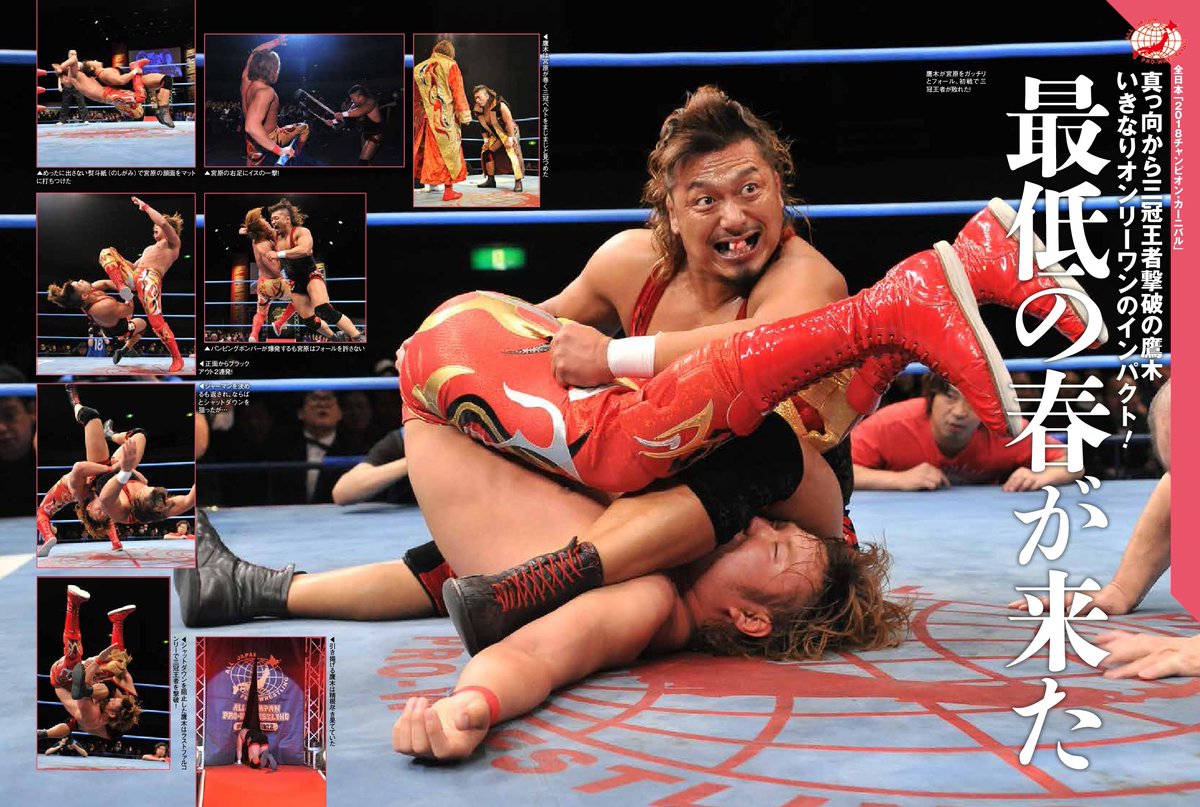 Hello and welcome to the first day of the Champion Carnival where I will be covering A Block throughout the entire tournament, while Andrew Balaz will be covering the B Block matches. Before I talk about the matches, let me explain how the scheduling is going to work with these since it's not like the G1 Climax.
There will be days where we get two each or one of us has three matches and the other has one, so we're gonna split it up by parts and do it every 4-5 matches for each article depending on the schedules and we will provide dates as to when these matches happen so you can watch them. I hope you enjoy these reads and follow us on this adventure, so let us….dive right in.
Day 1 April 7, 2018
2018 Champion Carnival A Block Match
Shuji Ishikawa vs. Yuji Hino
Review: We're kicking off the Carnival with last year's winner, Shuji Ishikawa who has not only won the Carnival, but he also won the Triple Crown Championship from Kento Miyahara, so now he looks to make lightning strike twice and win the tournament once more. For people that don't know Yuji Hino, he is currently a freelancer who mostly wrestles for Wrestle-1 right now and this is his first time participating in the Carnival, should be a good one. The match would start off a little bit slow since it was mostly testing out their strengths and after that just a little bit of slow pacing, but near the end is where it would pick up and it picks up very nicely. Shuji shows he can still work a great match for his age and how much damage he took from his body when he was working with BJW, and is even part of one of my favorite tag teams with Suwama so definitely check him out. Yuji is also someone you shouldn't sleep on since he's also a really good powerhouse guy and can be exciting to watch. Shuji would hit the Fire Thunder and Yuji kicks out of it! We would get a surprise with Yuji hitting the FUCKING BOMB to pick up his first win over last years winner.
Recommended: A bit slow, but definitely watch it.
2018 Champion Carnival A Block Match
Kento Miyahara vs. Shingo Tagaki
Review: We get our AJPW vs. Dragon Gate match here with two champions, we have our Triple Crown Champion, Kento Miyahara taking on the Open the Owarai Gate Champion, Shingo Tagaki. These two are actually my A Block picks to win their respective side and they're fighting off first, that's awesome. We would get a little video first of how Kento defeated Joe Doering to win back the Triple Crown Championship and how he aims to win the whole thing as the champion, can he do it? We will see. For Shingo, this is also his first time in the Carnival and his third match in All Japan since he only had two special matches there in 2014 and 2015, so will he be able to win it and represent Dragon Gate? Again, we'll find out and wish him well.
If this match wasn't a tournament match, this definitely would've been a big MOTY contender for me or even in the Top 5 since the match was just tremendous. We have two amazing wrestlers giving us a great match in the first day of the Carnival and a match that wasn't even the main event of that show. From our first nicely paced opening sequence, to how Shingo was working on Kento's knee, from just even the very end of the match. We had a little spot of Kento pulling a bit of a dirty tactic and the referee would pull his hair to have him let go as if he was a troubled child and that was hilarious, he even ripped the chair away from Shingo as if he was an annoyed babysitter. The last few minutes of the match are really something you need to see and it was absolutely breathtaking from the spots in the match, the moves they pulled, just to win the match. I'm also going to praise Kento every chance I get until I see more people watching him since the kid is still great and even has better knee strikes than Omega, and I know I said it before, but saying it again anyway. We get another surprise as Shingo pins in the champ with the Last Falconry! This gives Shingo a strong win and hopefully a future match for the Triple Crown Championship if Shingo somehow doesn't win the Carnival because I would love to see them fight again outside of the tournament.
Recommended: Definitely a favorite for this year, great match and watch it.
Day 2 April 8, 2018
2018 Champion Carnival A Block Match
Shuji Isikawa vs. Joe Doering
Review: Looks like Shuji is already set for his second block match instead of having someone else fight Joe, but I'll take it. We get our hard hitting match between two former Triple Crown Champions and with this show having no commentary, you just hear a lot of heavy grunting more than what you find in a porno..hot. The match had a better pacing compared to the first one on day one and it was enough to give both men a strong showing in the match. The last couple of minutes picked up with both men showing off their power in the match to try and go over, but Shuji would not only get the upperhand on him, but would redeem his loss by pinning the former champ with the Fire Thunder.
Recommended: I liked it so worth at least one viewing.
2018 Champion Carnival A Block Match
Kento Miyahara vs. Naoya Nomura
Review: We get Kento showing off his swagger during his entrance a little bit, so I thought that was pretty cool and love his confidence despite losing to Shingo on day one, and I also love how he wants to get the crowd going and ready before the actual match starts. There are times that I like the ref not taking shit from anyone when a wrestler tries to do some dirty tactics in the matches, but this time felt like he got involved a little bit too much there and kinda needs to tone it down a little bit. Anyway, this match was great and it shows that Kento is on Okada's level and he's having great matches with guys people hardly know for that matter, so imagine when he fights the globally known people, he would be a lot of people's top guy for sure. Naoya Nomura deserves as much credit too because he did great in this match and I'm looking forward to seeing his other matches in the Carnival as well. Much like the last match, the last couple of minutes pick up and it does a fantastic job, I loved Naoya's spear transition into a pin right after, wish I see more doing that. Kento would also redeem his loss and pick up the win with his Shutdown German Suplex Hold in a great match.
Recommended: Absolutely yes.
Overall: I declare the first two days of the Champion Carnival a success as all the matches delivered, even B Block side if you check out Andrew's reviews of the show as well and you should since he has great insight as well and will convince you to watch as well. Kento did a fantastic job in both matches and had match of the night on both days, that's my boy. I'm excited for the Carnival to kick up and I hope it delivers til the end and they get more deserved recognition.
Favorite Match: Kento Miyahara vs. Shingo Tagaki
Least Favorite Match: Shuji Ishikawa vs. Yuji Hino (Hard choice since all four delivered.)
Score: 7.5/10
Current Standings:
Shingo Tagaki (1-0)
Yuji Hino (1-0)
Kento Miyahara (1-1)
Shuji Ishikawa (1-1)
Joe Doering (0-1)
Naoya Momura (0-1)
Bodyguard (0-0)
Ryoji Sai (0-0)
---
Always Use Your Head and visit the official Pro Wrestling Tees store for The Chairshot All t-shirt proceeds help support the advancement of your favorite hard-hitting wrestling website, The Chairshot!

---
AJPW Champion Carnival B Block Ratings & Results: Part 4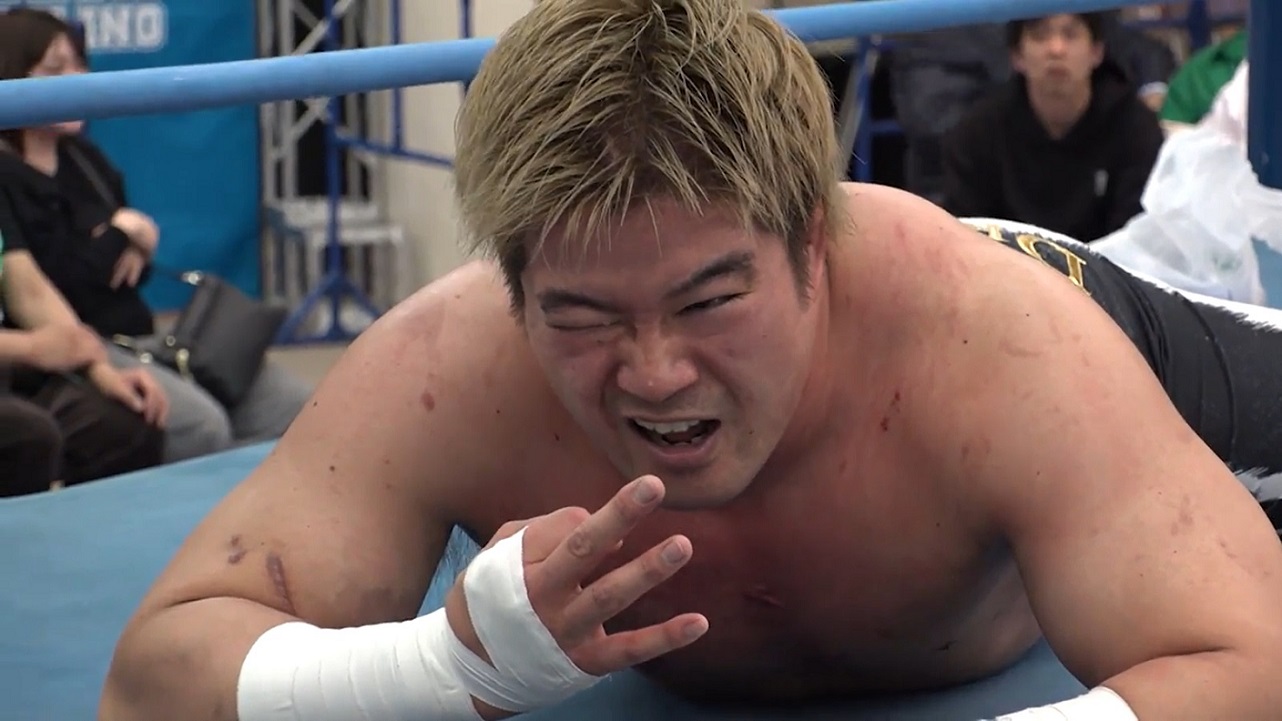 Welcome to Part 4 of the All Japan Pro Wrestling Champion Carnival B block. This has been an interesting mix of younger men trying to prove themselves, freelancers trying to take over a new company, and the old guard proving they aren't obsolete. There's been some variety in the matches, and definite variety in how they portray concepts in the Carnival.
Matches have had comedic qualities, but never over the top. This has been a nice display of each participant respecting the prestige of the Carnival. So let's see what matches we've got in this article.
4/16
KAI vs Yukata Yoshie
Yoshie continues to try very hard and capture some fan support (including myself). He moves pretty well for a big guy, he's just inconsistent depending on his opponent.
KAI showed a lot of fighting spirit, going back and forth with striking and power. When KAI kicks out of a Thesz Press, Yoshie decides to go to the top rope for a big move. Realizing he might die, KAI does everything he can to stop Yoshie from hitting him with a move from the top rope.
Thankfully for KAI, a couple of step up Enzuigiris give him the opportunity to hit the Meteor Impact, and finally get a Carnival win.
Winner: KAI via Meteor Impact
Rating: ***
Dylan James vs Yoshitatsu
There's not a lot to say about this match in a preview. Yoshi is trying to put together a late surge, and Dylan is trying to save face.
This might be James' longest match of the Carnival so far, and oddly, it was alright. The two men seem very evenly matched, Yoshi having the speed and experience edge, where James has the power and height advantage. Both men utilize what they are better at, and James looks to have the match won multiple different times.
Numerous lariats can't put away Yoshitatsu. Yoshi eventually gets the advantage to put Dylan in the Koji Clutch. Even though he doesn't tap it weakens him enough to set up for the Codebreaker from the corner. That's two wins in a row, thanks to Jericho's Codebreaker.
Winner: Tatsu via CBJ (Codebreaker of Jericho)
Rating: *** 1/4
4/18
Dylan James vs KAI
This is definitely not expected to be a clinic. A power guy in James, against KAI who's been struggling a bit in the Carnival.
This match is basically what we expect. KAI hits a few strikes, James over powers him easily, hits a few big power moves. But when Dylan James goes for his Chokeslam, KAI rolls away, hits him with a kick, followed by a very nice Gannosuke Clutch.
Even though James kicks out right after the 3 and continues to attack KAI, when the referee admonishes him, he just seems surprised it was a pinfall. But when she implores that it was indeed a 3 count, he relents and heads to the back.
Winner: KAI via Gannosuke Clutch
Rating: ** 1/2
Yukata Yoshie vs Naomichi Marufuji
This is one of those matches where Yoshie's inconsistency hurts him.
We get an actually beautiful comedic struggle match. Where Marufuji goes to try and lift Yoshie many times, but can't lift the bigger wrestler. When Yoshie goes to do a power move, Marufuji finds ways to counter and flip out of them. So admittedly, this was a very enjoyable first few minutes that showed what both wrestlers can and can't do.
Then we reach a spot, where Marufuji was supposed to follow Yoshie to the ropes, but Yoshie stops, hits the ropes a second time, and the wheels kind of fall off for a while. Sloppy exchanges, Yoshie not taking Marufuji's blitz well, and then falling back into the corner early before a kick connects, just makes those couple minutes look bad.
Sloppy match or not, Marufuji wins with the move he innovated, the Shiranui (Sliced Bread).
Winner: Marufuji via Shiranui
Rating: ** 1/4
Jun Akiyama vs Yoshitatsu
Carnival Grandpa, fresh off his first loss to Suwama, now gets a surging Yoshitatsu.
This starts off as one of those weird matches where referee Wada is a little too involved. Akiyama continues his wily veteran ways by rolling in and out of the ring to keep Yoshi chasing, which visibly frustrates the younger wrestler. But Kyohei Wada is also getting sick of the rope-a-dope, so when Akiyama slides back in after Yoshitatsu went out to get him, Yoshi tries to collect his thoughts momentarily, but the referee fast counts him, forcing action to start.
This match is fantastic in the way it's laid out. Yoshitatsu keeps looking better, more natural and overall seems to be enjoying himself, and it shows in his work. They both exchange momentum and it gets to a point where Tatsu looks like he might pull off a win. But when Yoshitatsu looks to lock in his Koji Clutch, Akiyama very cleverly counters it by cradling the legs, for a cheap, but cunning pinfall.
A harder loss than one may think, since this knocks Yoshitatsu out of being able to win B Block. Reason being, he's lost to the current top 3 competitors, so if they were to all finish with the same record, Yoshitatsu loses on tiebreakers.
Winner: Akiyama via cradle counter to Koji Clutch
Rating: ***
Current B-Block Standings:
Jun Akiyama: 4-1 (8 Points)
Naomichi Marufuji: 3-0 (6 Points)
Suwama: 3-1 (6 Points)
Zeus: 2-2 (4 Points)
KAI: 2-3 (4 Points)
Yoshitatsu: 2-3 (4 Points)
Dylan James: 2-4 (4 Points)
Yutaka Yoshie: 1-5 (2 Points)
As we see, Suwama still holds a tiebreaker over Akiyama if they were to end with the same record. But the only other man with a clear chance to win, is the currently undefeated Naomichi Marufuji, Zeus has a shot, but he needs to go on a huge run. At the current point, everyone in the bottom 4 are mathematically eliminated from winning the block.
---
Always Use Your Head and visit the official Pro Wrestling Tees store for The Chairshot All t-shirt proceeds help support the advancement of your favorite hard-hitting wrestling website, The Chairshot!

---
Mitchell's Ring of Honor Report! (4/14/18)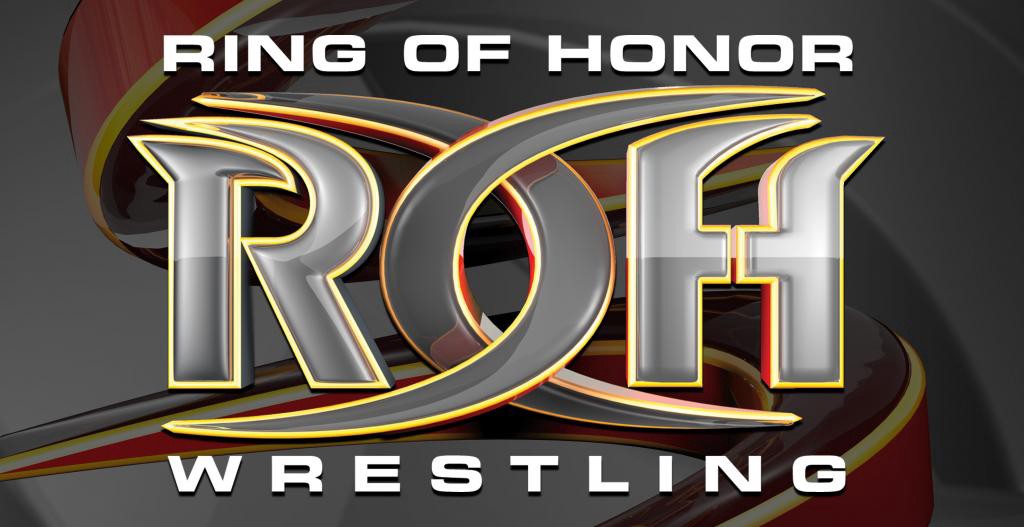 ROH WRESTLING TELEVISION, Episode 343
ROH brings a whole lot of tag team action this week! The main event is a Tag Team Championship Contenders Gauntlet match, where the last team standing will challenge The Briscoes for the titles, and it includes The Kingdom and The Young Bucks! Plus, Frankie Kazarian VS Hiromu Takahashi to settle a long-standing grudge!
All images courtesy of the Fite.TV app and streaming service
OFFICIAL RESULTS
Frankie Kazarian VS Hiromu Takahashi; Takahashi wins.
ROH World Tag Team Championship Contenders Gauntlet: The Young Bucks win and will challenge The Briscoes for the titles.
PLAY BY PLAY
Frankie Kazarian VS Hiromu Takahashi!
SoCal Uncensored's Heavy Metal Rebel remembers the days when "Kamaitachi" was on the Addiction's side. He also remembers when the Ticking Timebomb ditched The Addiction. After so much time has passed, will Kaz get back at Hiromu for leaving him and Daniels high and dry?
While making his way out to the ring, Hiromu takes notice of a fan's Daryl the cat plushie and brings it to the ring with him. Kaz is annoyed as he has to make room for Hiromu to place the stuffed animal in the middle of the ring. Hiromu praises Daryl!
Daryl aside, fans are chanting for "Takahashi! Takahashi!" as Kazarian returns inside the ring. The bell rings without the Code of Honor and the two circle. They tie up and Kaz gets the waistlock but Hiromu gets the standing switch. Kaz breaks out to put on a wristlock but Hiromu reverses to his own wristlock. Kaz uses ropes to flip out of the hold then whip Hiromu, but Hiromu reverses. Things speed up as Kaz hurdles Hiromu, then he reverses the hip toss into a fireman's carry bridge cover, ONE! Kaz goes for the legs but Hiromu pushes him away, Hiromu lies down as Kaz kips-up. Fans applaud as the two circle again.
Kaz talks trash to the fans, but Hiromu takes a time-out to again retrieve the Daryl doppelganger. Hiromu looks into the camera as he pretends to be a cat, cleaning its ears, but then he hurries into the ring as Kaz comes rushing out. Kaz swipes at Daryl, bane of his existence, but gets blasted by Hiromu's running dropkick! Hiromu goes to the apron and leaps but Kaz gets clear. Hiromu turns around and ducks Kaz's clothesline, only to run into his boot. Kaz grabs Hiromu and snap suplexes him into the barriers! Hiromu writhes while Kaz gets into the ring to embrace the heat. Hiromu clutches his ankles while we go to break.
ROH returns as Kaz chokes Hiromu against the ropes. The referee counts and Kaz backs off, but then slingshots over to give Hiromu an uppercut. Kaz taunts the fans before returning to the ring. He drags Hiromu up but Hiromu fires off chops. Kaz knees low then suplexes Hiromu up, but Hiromu slips out and lands on the apron. Hiromu punches Kaz a couple times, then shoulders in, but Kaz hits him with a guillotine leg drop! Hiromu hangs from the ropes, so Kaz springboards to give him another guillotine leg drop!
Cover, TWO, but Kaz keeps his cool. He talks trash and toys with Hiromu before bringing him up for a back suplex to backbreaker! Hiromu writhes again, but Kaz toys with him more. Kaz brings Hiromu up again for haymakers, then whips him corner to corner. Hiromu boots Kaz back then runs, but into Kaz's kick. Kaz runs, but Hiromu follows to rally with forearms and elbows. Hiromu kicks, kicks and kicks Kaz down, then covers, TWO! The fans rally for Hiromu and Hiromu fires up. He whips and reels Kaz in, but Kaz dodges the lariat. Hiromu gets him with a back elbow instead, then runs, dodging Kaz to throw him with a huricanrana!
Kaz gets to a corner and Hiromu hits him with a clothesline. Hiromu rolls Kaz out then runs for a low dropkick. Kaz rolls out of the ring but Hiromu gets to the apron. Hiromu runs for the leaping dropkick! Down goes Kaz and Hiromu fires up! Hiromu drags Kaz up and into the ring, cover, TWO. Kaz slowly stands but Hiromu shouts "Timebomb!" Hiromu lifts Kaz in a fireman's carry, but Kaz fights his way off. Kaz gets the waistlock but Hiromu bucks him off. Kaz runs back in but Hiromu puts him on the apron. Hiromu swings but Kaz ducks and shoulders back in. Kaz slingshots in for the DDT! Cover, TWO!
The fans chant for Hiromu, but Kaz drags him up and whips. Hiromu reverses and runs in, but Kaz slips out to the apron and hotshots Hiromu back! Kaz climbs up to springboard but Hiromu ducks under. Hiromu runs at him but Kaz puts him back on the apron. Hiromu slingshots in, but Kaz gets him with a cutter!
Cover, TWO! Kaz can't belive it, and gets mad at the referee. Hiromu stirs while Kaz pushes the referee, and the referee pushes back and Hiromu rolls Kaz up! TWO, but Hiromu is right on Kaz with haymakers. Hiromu whips Kaz corner to corner but Kaz boots him down. Cover but Kaz puts his feet on the ropes, TWO! Kaz really can't believe that, but he drags Hiromu up by his hair. He slaps Hiromu, then goes to run but Hiromu rolls him up again! TWO, into small package, TWO! Kaz swings but Hiromu ducks, SUPERKICK! Hiromu runs and takes Kaz off his feet with a fiery lariat! Fans fire up while Kaz staggers. Hiromu lifts him into the fireman's carry, then swings him out for the Timebomb driver!
Cover, Hiromu wins!
Winner: Takahashi, by pinfall
The Timebomb shows the Heavy Metal Rebel that he's more than just eccentric. With wins like this, can Hiromu find himself in contention for a singles title in ROH?
The Beer City Bruiser & Brian Milonas are attacking Team Coast 2 Coast!
Specifically, the Keg Man and the Kingpin are clubbing and clobbering Leon St. Giovanni! Bruiser stands LSG up against a wall to then flatten him with a body splash, then keeps him up so Milonas can do the same! They leave LSG writhing on the ground, having eliminated one team even before tonight's Tag Team Gauntlet. Will the other teams be able to win once the bullying behemoths enter the match?
Caprice Coleman joins commentary.
The Most Versatile Man in Sports Today joins Ian Riccaboni and Colt Cabana to watch this massive tag team main event!
ROH World Tag Team Championship Contenders Gauntlet!
And speaking of massive, the first team out is literally the biggest team in all of ROH, Beer City Bruiser & Brian Milonas!
Normally being first out in such a match is a disadvantage, but this duo doesn't seem bothered by it at all. They used the Human Rocket, Leon St. Giovanni, as an appetizer, will they feast on the other five- Well, four teams? But wait, Shaheem Ali still comes out for Team Coast 2 Coast!
He also has a microphone in hand. Ali looks at Bruiser & Milonas, and tells them, "You two think it's a joke." He saw what they did, jumping LSG backstage before this match, and they just assume Ali is going to back out. "You gotta be out your mind." But he knows The Bruiser & Milonas only took Team C2C out because they're scared! Ali isn't afraid, he'll take them both on! This Tag Team Gauntlet is starting out as a handicap!? That suits the big boys just fine, they exit the ring to flank Ali. Ali slips into the ring, the bell rings, and it begins!
The Beer City Bruiser & Brian Milonas VS Shaheem Ali!
Bruiser pursues Ali but Ali punches him away. Bruiser tumbles into Milonas, and Ali builds speed and FLIES!
Ali wipes Bruiser out but Milonas gets into the ring. Ali hops up and shoulders into the Kingpin, then slingshots over to run. He jumps but Milonas catches the crossbody, but Ali fights out with elbows. Fans rally with the endless elbows Ali gives Milonas, and Milonas falls back on his butt! Ali fires up and runs, and basement dropkick from the side. Milonas flounders but Bruiser is back. Ali sees him coming and counters with a low spinning backhand. Ali uppercuts and has both big men in the corners. He runs in but only gets Milonas as Bruiser gets clear. Bruiser runs at Ali but Ali gets around to a waistlock. Bruiser gets the standing switch and feeds Ali to Milonas' boot. Ali staggers, and is sandwiched by Bruiser & Milonas! Ali flops to the mat, and Bruiser finally stands in his team's corner.
Milonas brings Ali up and whips him hard corner to corner, then brings Ali back over for the first actual tag of this match. Bruiser comes in and throws haymakers, then tags Milonas back in. Bruiser whips Ali to a corner but Ali boots him back. Ali runs out but Bruiser back drops him onto Milonas' shoulder, and Milonas brings Ali up for a sit-out powerbomb! Cover, TWO, and neither Bruiser nor Milonas can believe it. Milonas argues with the ref but then goes back to stomp Ali at the ropes. Without a partner, Ali is all alone while we go to break.
ROH returns to Ali fighting back but being kept down in Bruiser's & Milonas' corner. Milonas runs in but Ali dodges and kicks back. Bruiser tags in but Ali sees him coming. Ali gives him forearms and elbows, then a leaping heel kick. Milonas comes back but Ali rocks him with a headbutt! Milonas staggers back and sits down in a corner but Bruiser gets up and runs at Ali. Ali baits him into another corner, and Bruiser bounces off buckles, then Ali adds a complete shot! Cover, TWO! Ali keeps going, climbing up top, but Milonas clubs him with a forearm. Milonas climbs up to join Ali while Bruiser climbs up another corner. Milonas SUPERPLEXES Ali, Bruiser FROG SPLASHES! The Last Call combination!
Cover, three count, Bruiser & Milonas eliminate Ali.
Elimination: Coast 2 Coast
They took out LSG before the match and finish up by taking out Ali here. The next team up in the Gauntlet is… "OH! HELL! YEAH!!" It's Big Rhett & Little Willie!
The Beer City Bruiser & Brian Milonas VS The Dawgs!
They may not have gotten anything for the 16th Anniversary Show, given how wasted they were, but Bruiser & Milonas are "two guys just as drunk as us!" Why have a match when they can have a beer? The Dawgs offer a drink to Bruiser & Milonas, and the big beer belly boys accept. They also down those drinks in about two seconds and then throw hands on The Dawgs! Bruiser & Milonas whip Ferrara & Rhett, respectively, but The Dawgs dodge the haymakers to spit beer in their faces! Rhett knocks Bruiser's & Milonas' heads together, then so does Ferrara. Then Rhett knocks Milonas' & Ferrara's heads together. Milonas stays standing, and runs at The Dawgs, but the Dawgs dump Milonas out. The Dawgs shove each other, then Rhett launches Ferrara at Bruiser. Bruiser catches Ferrara easily, but Rhett dropkicks Bruiser in the face! Cover, ONE, and things sort out to the teams' corners.
Rhett tags Ferrara in, and The Dawgs cross Bruiser's arms before whipping him backwards into buckles. Ferrara wants to whip Rhett in, but Rhett stops that. Rhett slaps some sense into Ferrara before whipping Ferrara in for the shoulder tackle. Ferrara runs at Rhett but Rhett redirects him in for another shoulder tackle. Ferrara wants to try again, Rhett spins him around an extra time, but Bruiser gets out of the way, sending Ferrara into buckles! Bruiser rocks Rhett with a right but Ferrara boots Bruiser. Rhett rocks Bruiser back while Ferrara hops up, Ferrara leaps for a flying huricanrana!
However, it sends Bruiser all the way to his corner and Milonas tags in. Ferrara doesn't know that and Bruiser yanks him into buckles. Milonas steps up to Ferrara and gives him repeated hip attacks! He tags Bruiser back in, Bruiser knocks Rhett off the apron before giving Ferrara the cannonball!
Cover, TWO! Fans chant for "Little Willie", and he starts slapping Bruiser. But Bruiser only has to slap Willie once to knock him down. Ferrara keeps trying but Bruiser chops him back into the corner. Milonas tags in and stomps Ferrara. Milonas brings Ferrara up and taunts Rhett before throwing Ferrara overhead! The Dawgs are in trouble while we go to break.
ROH returns to fans rallying for Ferrara. Milonas toys with him, so Ferrara bites Milonas' fingers! Ferrara then crawls under, but Milonas brings him up. Ferrara sunset flips over, but there's no way Little Willie can bring down Mastadon Milonas. Milonas jumps but Ferrara gets clear of his rear, hot tag to Rhett! Big Rhett rallies, big forearm to Bruiser and big enziguri to Milonas. Rhett gets around and knees Milonas low, then runs to boot him high. Milonas stays standing so Rhett unloads haymakers and chops. Milonas shoves but Rhett dodges to rock him with another right. Bruiser returns as Rhett runs again, and rocks Rhett with a right of his own! Bruiser whips Rhett corner to corner but Rhett goes up and over to then monkey flip Bruiser! Ferrara returns to leap from the apron, and tornado DDT Bruiser to the ground!
Fans fire up for The Dawgs as Milonas stands up. Milonas runs at Rhett but misses, Ferrara runs in to hit Milonas with a big back elbow. Rhett runs in to add on a helluva kick. Ferrara becomes the step stool, for Rhett's bicycle kick to table top Milonas down! The Dawgs fire up while Milonas stirs. Rhett tags in Ferrara and Ferrara climbs while Rhett fetches Milonas. But Rhett can't suplex Milonas up for the finisher! Milonas back drops Rhett then rocks Ferrara. Milonas climbs up to join him, SUPERPLEX! He covers while Bruiser keeps Rhett away, three count, Bruiser & Milonas eliminate The Dawgs.
Elimination: The Dawgs
That's two teams in a row for ROH's biggest tag team, and we're now halfway through this gauntlet. But there's no rest for the wicked, out come… The Motor City Machine Guns!
The Beer City Bruiser & Brian Milonas VS The Motor City Machine Guns!
And the former ROH World Tag Team Champions bring the fight to the exhausted hosses!
Chris Sabin & Alex Shelley throw hands on Bruiser & Milonas, but Milonas knocks Shelley down with one body shot. Sabin runs but Bruiser follows, to then flatten Sabin with a crossbody! Milonas adds the spinning back senton! Shelley stands up but Milonas is right on him. Milonas picks Shelley up and Bruiser runs in for a dropkick-started sidewalk slam! The MCMG are down while Bruiser & Milonas somehow have energy to spare. Milonas gets Sabin with those hip attacks, then Bruiser runs in, but Sabin dodges the cannonball! Milonas sees that and runs at Sabin, but Sabin dumps him out. Shelley returns and Bruiser goes after both MCMG, but then he runs into a drop toehold. Bruiser stays standing just on sturdiness, so Sabin runs to give him a bulldog! Then they hit Bruiser with double basement dropkicks.
The fans fire up while MCMG aim at Milonas. Shelley slingshots out, but Milonas catches him. Milonas puts Shelley on his shoulders but Sabin gets to the apron. Sabin gives Milonas a Penalty Kick, but then Bruiser rocks Sabin with a right hand! Bruiser goes out to the apron while Milonas holds the MCMG. Bruiser gets moving, but the MCMG get clear, that cannonball goes into Milonas!
The big men go down and MCMG take aim again. Bruiser stands up, but gets double SUPERKICKS! He still stands so they put him in the ring. Sabin puts Bruiser in a corner, and the MCMG give him the boot-kick combo. Shelley climbs while Sabin turns Bruiser around, for Skull & Bones!
Cover, MCMG eliminate Bruiser & Milonas!
Elimination: Beer City Bruiser & Brian Milonas
The former ROH World Tag Team Champions are the ones to finally eliminate the behemoth bullies, but now they'll face… Matt & Nick Jackson, The Young Bucks!
The penultimate match-up is of two former ROH World Tag Team Champions! Fans erupt with excitement while we go to break.
The Motor City Machine Guns VS The Young Bucks!
ROH returns and these two teams are face to face in the ring with streamers everywhere. The ring is cleared while the fans start up the Terminator drums. Both teams are very familiar with each other, so they skip the formalities and go right to brawling! All four men throw hands fast and furious, and the Bucks get MCMG in opposite corners. The Bucks whip Sabin & Shelley at each other, but MCMG do-si-do and run back at the Bucks. The Bucks dodge but so do the MCMG, and back again, it's the Bucks who get the double corner clotheslines! Fans applaud while the Bucks high-five, and then the fans chant "The! Elite! The the Elite!" as Matt helps Nick acrobatically crossbody onto Shelley.
Sabin runs at the Bucks but gets double kicks for it. Nick sweeps the legs while Matt runs and comes in with the basement dropkick. Matt's back bothers him, though, he still hasn't been able to let his body recover. But that doesn't matter right now, he whips Nick at Shelly in a corner. Shelley boots Nick back, then boots Matt. Nick tries again but gets caught, Sabin returns and Shelley helps him to the apron. Shelley gives Nick a buckle complete shot, then Sabin climbs up to hit Matt with a missile dropkick. Fans are mixed over cheering and jeering the MCMG. Shelley keeps Nick in a corner while Sabin whips Matt in, Shelley drop toeholds Matt into Nick's groin! Then Shelley's boot grinds Matt's head deeper in! Shelley even blows snot on the Bucks to add insult to injury.
Sabin drags Matt up and hoists him onto Nick's shoulders for a Tree of Woe. Both Bucks are stuck in the corner, both MCMG run in, Sabin boots Nick while Shelley basement dropkicks Matt!
The Bucks tumble down, Nick slumping all the way out of the ring. Shelley puts some stank on his right hand, then brings Matt over to Sabin for the tag. Shelley swings on Nick but Nick hits him first. Sabin uses Shelley as a step stool to dropkick Nick down before he can enter. Matt revives and throws hands on the MCMG! Matt runs but into the Dream Sequence: atomic drop to dropkick to half-Muda and another dropkick! Fans are fired up, Sabin covers, TWO! Sabin keeps on Matt with a chinlock, but Nick rallies the fans. Matt feeds off that energy and fights his way out. Matt runs but Shelley trips him up. Shelley drags Matt out of the ring, but Matt SUPERKICKS him away!
Matt gets up and shoulders into Sabin, then slides under. Sabin goes after Matt, Matt standing switches but Sabin elbows Matt away to then elbow Nick down. Matt dodges Sabin and wheelbarrow, victory roll facebuster! Nick returns to his corner and Matt crawls that way, but Shelley goes after Nick! He yanks Nick off the apron, but gets a SUPERKICK like earlier! Nick gets back up, Matt gets the hot tag! Sabin runs at Nick but Nick shoulders in, then slingshots over for the facebuster.
Nick cartwheels to asai moonsault Shelley down, then runs back in to give Sabin a corner shining wizard. He keeps moving, and DIVES on Shelley. Matt is back and grabs Sabin, Nick helps him out with the Sliced Break, Sabin's move! Nick adds another shining wizard, then both go out to Shelley to give him double SUPERKICKS! The Bucks have the fans all fired up, "The! Elite! The the Elite!" Nick tags in Matt and Matt drags Sabin up. Nick waits on the apron, but between Matt's bad back and Sabin's flailing, Sabin slips out to a facelock. Sabin tries to use Nick for the tornado DDT but Nick ducks, to then SUPERKICK Sabin off Matt. Matt SPEARS Sabin, and the Bucks combine for the springboard splash and standing moonsault combo!
Cover, TWO! The Bucks are surprised, but they don't slow down. Nick rallies the fans again, and the two double whip Sabin. Sabin reverses but Matt goes up and over. Sabin blocks Nick's kick and sends it at Matt, but Matt dodges, only for Sabin to SUPERKICK Matt! Nick SUPERKICKS Sabin back, then rushes at the returning Shelley. Shelley puts him on the apron and knocks him off with an elbow. Matt runs in but into Shelley's cravat. Shelley runs for Sliced Bread, but Matt catches him into Tombstone position!
Nick hurries to the apron but Sabin quickly anchors his feet. Shelley slips out of the Tombstone but Matt gets him in the fireman's carry! Nick kicks Sabin away then climbs up, More Bang for Your- No! Shelley's knees catch Nick's 450! And then Matt's moonsault is tripped up by Sabin's SUPER German Suplex! The fans fire up as Sabin and Shelley hurry to bring Matt up. MCMG want the same finish, but Nick trips Shelley up. Matt backslides Sabin, three count! The Bucks eliminate MCMG!
Elimination: Motor City Machine Guns (Alex Shelley & Chris Sabin)
One team of former ROH World Tag Team Champions advance while the other is gone! We know who the last team left is, but we go to break before their introductions.
The Young Bucks VS The Kingdom!
ROH returns, and yes, it is TK O'Ryan & Vinnie Marseglia who were lucky last place in this Gauntlet. The Sassy Wild Horse & Horror King made their way out while ROH was on commercial break, but they're already in control of Matt Jackson. Replay shows it was thanks to Matt Taven distracting the Bucks while TK & Vinnie entered from the crowd and attacked from behind.
In the present, someone tosses in a chair? It's Nick Jackson, of course, but the referee isn't going to allow this match to get extreme. However, this does give the Kingdom an opening to stomp and choke Matt behind the referee's back. Vinnie tags in and chokes Matt against the ropes, then bends him backwards. The referee counts and Vinnie lets go at 4, but TK gives Matt a cheap shot boot. Nick rallies the fans and TK mocks it all while Vinnie clubs Matt in the back. Vinnie trash talks Matt, then clubs him more before standing on that bad back. He bends Matt back then throws him down before giving Nick a cheap shot. Matt runs in but Vinnie knees him away. Vinnie runs and tilt-o-whirls, but Matt denies the leg sweep. Vinnie rolls Matt forward instead, then bends him back with a chinlock.
TK talks trash to the fans while Vinnie drives in knees to Matt's spine. Fans chant for "The! Elite! The the Elite!" but Vinnie tags TK in. TK turns Matt around to drive in forearms, then tags in Vinnie. Vinnie runs side to side for the forearm smash, then another, then throws Matt into the corner, but Matt uses that to knock TK down! Vinnie still gives Matt another forearm, then hoists Matt up top. Nick rallies the fans again while Vinnie climbs up. Matt fights back, but TK has crawled under the ring, all the way to the Bucks' corner. Matt fires off hands and sends Vinnie down, then adjusts to hit the Macho Elbow! He can't cover, so he crawls for his corner instead. TK lurks and trips Nick up just as Matt leaps over!
The Sassy Wild Horse mockingnly reaches to tag Matt, but mocks the fans a little too long, Matt SUPERKICKS TK down! Vinnie stands up and runs in, but into Matt's boots. Matt hops up, and gives Vinnie a corkscrew stunner! Nick returns and Matt fires himself up. Matt crawls, as does Vinnie, hot tags to TK and Nick! Nick rallies on The Kingdom with kicks and elbows, then a Shining Wizard into the bulldog and clothesline! Fans fire up while The Kingdom regroup. Nick sees them, runs, and JUMPS!
He takes The Kingdom down, then puts TK back into the ring. Nick climbs up and takes aim, but TK rolls out of the ring. Nick hops down, and decides to go out to the apron, where he roundhouses TK! But that's not all, he gives TK an apron German suplex! Nick puts TK back in the ring and fires up, but Vinnie grabs his feet. Nick stomps on Vinnie's hands then hits the tornado DDT to the floor! He keeps going, shoulders in on TK and slingshots over for the sunset flip and Cease Sharpshooter!
TK endures the hold, Vinnie comes in and throws furious right hands. But Nick holds on! He glares Vinnie down, so Vinnie goes and gets his hatchet! The referee stops him from using the weapon, and even confiscates it. However, that still leaves the baseball bat! Vinnie jabs Nick in the ribs with the slugger, and TK rolls Nick up, TWO!? The screw job didn't work! TK wants his bat and Vinnie tosses it to him, but Nick ducks the swing to tag in Matt! Matt rallies on the Kingdom with right hands back and forth between Vinnie & TK. TK clubs Matt in the back and that stops that. The Kingdom double whip Matt but Matt breaks the line to double clothesline them down!
Matt is all fired up but still very stiff. He goes to lift TK but that back limits him. The fans rally for him, but Matt still can't get TK all the way up. When Matt finally does, Vinnie chop blocks his legs out! The Kingdom drag Matt up and throw him out. TK drags Nick in to watch Vinnie pull pads off the floor! But Vinnie takes too long enjoying the moment, because Nick breaks free and SUPERKICKS TK! Nick then goes to the apron and Penalty Kicks Vinnie down. Nick puts Matt back in the ring and the fans chant "Young Bucks! Young Bucks!" Matt goes after TK, but that bad back slows him down again. Nick helps Matt with the Tombstone scoop then hurries back to the apron. Nick springboards, Five Star Meltzer Driver!!
Cover, The Young Bucks win!!
Winners: The Young Bucks (Matt & Nick Jackson), Matt pinning
The Bucks are victorious! They overcome the Horror King & Sassy Wild Horse to earn themselves an ROH World Tag Team Championship match! They will challenge #DemBoyz, Jay & Mark Briscoe, in the near future. Will the Bucks end the Briscoe's historic ninth title reign to begin their fourth? Or will the Briscoes continue to prevail in their war of Sandy Fork VS Everybody?
---
My Thoughts:
A really great night of action for ROH, even with just two matches and nothing else. The opening match of Kaz and Hiromu was great, even though I'm surprised it took this long for them to do something with that story. "Kamaitachi" leaving The Addiction was a long time ago, but I suppose with Hiromu hitting it so big upon returning to NJPW, there just wasn't room in his schedule for a blow-off with either Kaz or Daniels. Hiromu going over here is great for his ROH career, and I think it'd be great if he got at least an ROH World Television Championship run within the next few months.
Then the Tag Team Gauntlet was of course incredible. It elevated all the regularly featured teams within the division, and not just for their in-ring abilities. Bruiser & Milonas are rising as a Heel team, and showed their endurance. Shaheem Ali showed grit as he toughed it out in a handicap against those two, while the Dawgs even established themselves as favorable Tweeners compared to Bruiser & Milonas. The MCMG VS Bucks was great as always, but The Kingdom are still top Heels in ROH with that sneak attack. I was surprised Taven didn't stick around to interfere, but that's been overdone so it actually turned out better that he didn't. The Bucks go over in the end because they're The Young Bucks, the best tag team across multiple promotions. Plus, now that they're going Heavyweight in NJPW, they and The Briscoes could end up feuding over both ROH & NJPW belts.
My Score: 8.5/10
---
Always Use Your Head and visit the official Pro Wrestling Tees store for The Chairshot All t-shirt proceeds help support the advancement of your favorite hard-hitting wrestling website, The Chairshot!

---
Ja'von's Impact Wrestling Report! (4/19/18)
Impact Wrestling continues the road to Redemption tonight, the final show before the new PPV makes its debut!
All images and tweets courtesy of Impact Wrestling's twitter page
QUICK RESULTS
Braxton Sutter and Su Yung vs Fallah Bahh and Kiera Hogan: Braxton and Su Yung via pinfall
KM Open Challenge: Brain Cage via pinfall
Johnny Impact vs Kongo Kong: No Contest
Austin Aries vs Pentagon Jr. vs Fenix: Pentagon Jr. via pinfall
PLAY-BY-PLAY
Braxton Sutter and Su Yung vs Fallah Bahh and Kiera Hogan: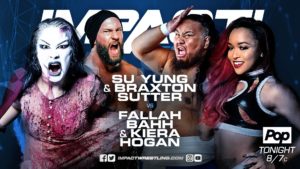 This match kicks off Impact this week and Sutter comes out to introduce his partner Su Yung. The commentators hype up Yung as a HUGE threat to Allie and her Knockouts Championship. Kiera Hogan and Fallah Bahh make their way to the ring together doing the signature Fallah bahh head hit. Sutter and Yung get the jump on both Hogan and Bahh but Kiera and Fallah counter with Sutter thrown in the corner. Bahh goes for the splash but Braxton counters with an elbow. Fallah hits a belly to belly suplex on Sutter.
For such an unorthodox pairing @HoganKnowsBest3 and @FALLAH1 are totally in sync. #IMPACTonPop pic.twitter.com/1T3NFoJFtS

— IMPACT (@IMPACTWRESTLING) April 20, 2018
Hogan tags in and meets Su Yung. Hogan is the upper hand a bit and Yung tags out leaving Hogan to deal with Sutter. The action is fast paced and Bahh and Sutter are now the legal men and Braxton knocks Bahh out of the ring and Su Yung does a barrel roll onto Bahh taking him out. Sutter brings him back in the ring and stays in control but Bahh eventually counters and they both tag in their partners as Hogan takes it to Su Yung and gets a two count. Yung fights back and attempts her finisher but Kiera fights back and hits a butterfly suplex. Sutter gets involved but Hogan gets a big shot on him sending him into the corner. Bahh comes in for the save but Su grabs the kendo stick and hits Fallah but it doesn't faze him.
Is this a forewarning of things to come for Allie this Sunday at Redemption? #IMPACTonPop @realsuyung pic.twitter.com/uxpcUkqJPy

— IMPACT (@IMPACTWRESTLING) April 20, 2018
While distracted with Su Braxton takes out Bahh and Su Yung hits the paincswitch on Kiera Hogan for the pinball victory. Post match Allie comes down the ramp and attacks Yung but Sutter breaks them apart and Yung takes advantage. It takes Sutter and a couple of refs to hold both these ladies back.
Winners: Braxton Sutter and Su Yung (Pinfall) This match allowed for everyone to shine and we got to see how the partnership Sutter and Yung would work together during a match. Yung looked strong here and loved the post match brawl between Allie and Su Yung.
LAX are in their clubhouse and worried about Scott Steiner being Eli's partner for the title at Redemption. Conan reminds them that Stiener is a wildcard and hyped them up for the match.
Jimmy Jacobs and Kongo Kong are interviewed by McKenzie Mitchell backstage and says that pretty people like her and Johnny are in a bubble and don't have to work for anything cause it's hand to them. Jacobs says after tonight he wants Impact to see a monster staring back at him when he looks in a mirror.
A video package plays showcasing a deeper look into the House of Hardcore Match: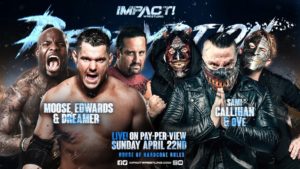 In my opinion this should be a fun match for the Impact crowd on Sunday. Bodies will be put on the line and tables will be broken but when it's all said and done Eddie, Moose, and Dreamer will be victorious.
THIS SUNDAY – @TheEddieEdwards has finally eliminated the numbers game as he has enlisted @THETOMMYDREAMER and @TheMooseNation to face @TheSamiCallihan and oVe.

It'll be House of Hardcore rules. Anything goes, Anything is Possible. #Redemption pic.twitter.com/rRZgRjPPeU

— IMPACT (@IMPACTWRESTLING) April 20, 2018
KM's Open Challenge: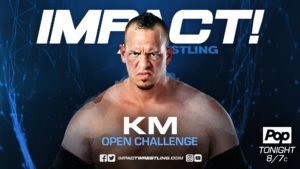 KM makes his way to the ring and knocks a fan's hat off his head. KM calls himself an innovator and will create a one of a kind match. He calls out the locker room and saying he will make history with them. Brian Cage answers the challenge and makes his way to the ring. KM tries to weseal his way out of the match and claim to be friends with Cage.
.@MrGMSI_BCage has beaten people with a whole assortment of moves – the Drill Claw, the Discus Lariat and now this. He's unstoppable. #IMPACTonPop pic.twitter.com/K9JSQEAVDU

— IMPACT (@IMPACTWRESTLING) April 20, 2018
KM tries to leave the ring but eats a back body drop for his troubles as the match begins. Cage hits a basement dropkick and multiple clothesline on KM in the corner. Cage hits a deadlift duplex and an elbow drop from the top followed by the discus clothesline and an F5 type maneuver for the pinfall victory.
Winner: Brian Cage via pinfall This match was basically a squash match to keep Brain Cage looking strong heading into his six way match on Sunday.
Johnny Impact vs Kongo Kong:
A video package is played showcasing Kong Kongo becoming the new big monster of Impact and how we get to Johnny Impact vs Kongo Kong tonight. The video package is narrated by Jimmy Jacobs. This is a first time ever match between the two.
Kongo Kong and Jimmy Jacons make their way to the ring for the match. Johnny Impact makes his way to the ring for this first time ever match. Impact starts with a big shot to Kong's chest and doubles him over but Kong fights back and knocks him out of the ring. Impact comes in the ring very cautiously and tries to use his speed against the monster but to no avail as Kongo Kong catches him and knocks him down. Kong stands on the back of Impact's head then tosses him in the corner for a big splash and knocks Johnny to the ground for a two count. Impact fights back and hits Kong with a big knee to the face then a standing shooting star press for a two count. Kong regains control and chokes Impact on the middle rope. Impact begins to rally with jabs and punches on Kong but they have no effect on Kong. Johnny goes for a springboard maneuver but Kong catches him and tries toss him but Impact lands on his feet. Kong drives Johnny to the outside of the ring. Impact then goes for a running attack off the steel steps but is swatted midair. Kong then hits a rolling Denton to Impact up against the steps. The ref comes out to check on Impact but Kongo Kong tosses him into the steel barricade. Jacobs and Kong set up the steps on the ring apron and Kong launches him like a lawndart face first into the steps.
Maybe @TheRealMorrison isn't so gorgeous anymore. @JimmyJacobsX may have gotten his way again. #IMPACTonPop pic.twitter.com/yEpnu8iatl

— IMPACT (@IMPACTWRESTLING) April 20, 2018
Winner: No Contest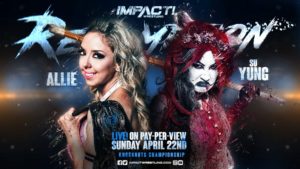 A video package showcasing a deeper look into Allie vs Su Yung for the Knockouts Championship this Sunday.
THIS SUNDAY AT REDEMPTION – @AllieImpact will need every ounce of fire and determination she can muster as she faces he toughest challenger so far.

Allie goes one on one with @realsuyung for the Knockouts Championship LIVE on PPV THIS SUNDAY! #IMPACTonPop pic.twitter.com/GoHktDEl5U

— IMPACT (@IMPACTWRESTLING) April 20, 2018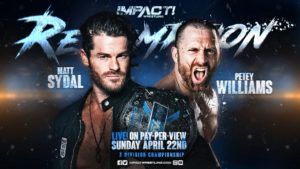 Video package showcasing a deeper look into the X-Division Championship match this Sunday.
THIS SUNDAY at Redemption – @iPeteyWilliams looks to win the X-Division Championship for the first time in 10 years as he challenges @findevan! #IMPACTonPop pic.twitter.com/BAkL6U9Jer

— IMPACT (@IMPACTWRESTLING) April 20, 2018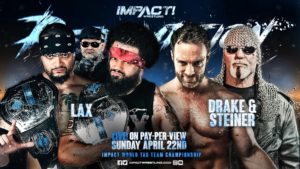 A video package showcasing a deeper look into the Tag Team Championship match this Sunday.
THIS SUNDAY AT REDEMPTION – Scott Steiner and @TheEliDrake form an unlikely alliance as they team to challenge @Ortiz5150 and @SantanaLAX for the IMPACT World Tag Team Titles! #IMPACTonPop pic.twitter.com/opBKSvOzgE

— IMPACT (@IMPACTWRESTLING) April 20, 2018
Eli Drake is interviewed backstage by McKenzie Mitchell and Drake says he's the only one to ever hold TWO briefcases and that he's not down and out since losing the world title. Stiener shows up and says he will deliver the tag titles to Drake.
Impact Wrestling World Champion Austin Aries vs Pentagon Jr. vs Fenix (Non-Title):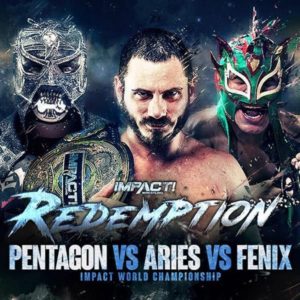 Pentagon Jr. makes his way to the ring first followed by Fenix then the world champion Austin Aries. The match begins with a staredown and a game of one-upsmanship between the three men. Aries gets caught with a superkick from Fenix followed up by Pentagon Jr. hitting Fenix with a superkick of his own. Pentagon Jr. grabs Fenix with a wristlock and goes for a springboard maneuver but Fenix counters and sends Pentagon Jr. outside the ring. Austin comes back into the ring and takes it to Fenix hitting a diving elbow to the back of the neck from the corner to get a two count. Pentagon Jr. eventually finds his way back into the ring and takes it to both men. This match is fast pace as both Aries and Pentagon Jr. spill yo the outside and Fenix comes off the ropes with a springboard corkscrew.  Fenix bring Pentagon back in for a near fall. Fenix goes for a package piledriver on Pentagon back Aries breaks it up by boxing Fenix's ears and tries to lock in the last chancery but Pentagon breaks it up with a kick to the chest. As we go to break Aries attempts a suplex from the top rope.
.@ReyFenixMx with a jaw dropping corkscrew tornillo. #IMPACTonPop pic.twitter.com/Fy8NnT4RyQ

— IMPACT (@IMPACTWRESTLING) April 20, 2018
Back from break and Fenix hits a running elbow to Aries in the corner. Aries then attempts to lock inthe last chancery but Pentagon breaks it up. Pentagon and Fenix are known in some worlds as the Lucha Brothers and they hit a few double team maneuvers on Aries. Fenix and Pentagon Jr.  exchange chips to each other as they argue who should pin Aries. Aries comes back to break them up but eats a double superkicks and sends him out of the ring for the rest of the match.
If this happens again THIS SUNDAY AT REDEMPTION @PENTAELZEROM will be the new IMPACT World Champion! #IMPACTonPop pic.twitter.com/zB2i8RKzGl

— IMPACT (@IMPACTWRESTLING) April 20, 2018
Pentagon then hits a pop powerbomb for a two count then follows with the Pentagon Driver for the win.
Winner: Pentagon Jr. via pinfall
---
Always Use Your Head and visit the official Pro Wrestling Tees store for The Chairshot All t-shirt proceeds help support the advancement of your favorite hard-hitting wrestling website, The Chairshot!

---