AJPW Champion Carnival Results/Review A Block: Part 1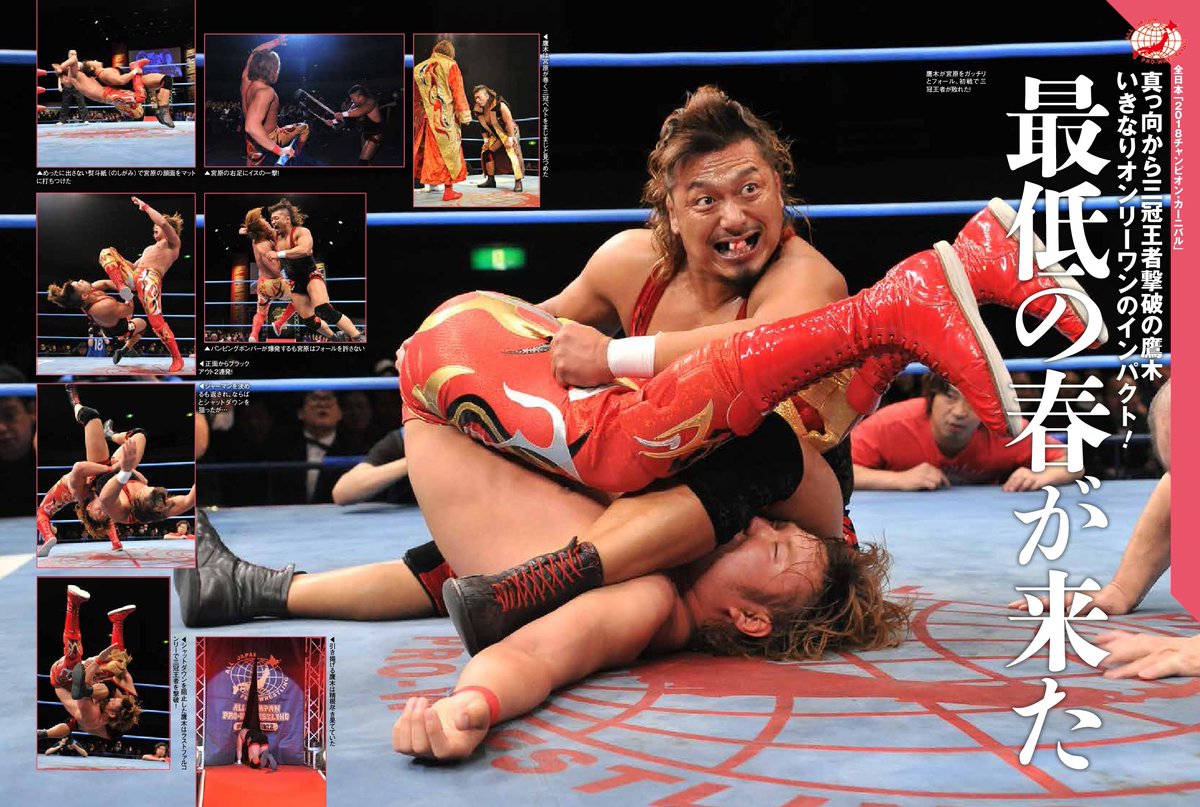 Hello and welcome to the first day of the Champion Carnival where I will be covering A Block throughout the entire tournament, while Andrew Balaz will be covering the B Block matches. Before I talk about the matches, let me explain how the scheduling is going to work with these since it's not like the G1 Climax.
There will be days where we get two each or one of us has three matches and the other has one, so we're gonna split it up by parts and do it every 4-5 matches for each article depending on the schedules and we will provide dates as to when these matches happen so you can watch them. I hope you enjoy these reads and follow us on this adventure, so let us….dive right in.
Day 1 April 7, 2018
2018 Champion Carnival A Block Match
Shuji Ishikawa vs. Yuji Hino
Review: We're kicking off the Carnival with last year's winner, Shuji Ishikawa who has not only won the Carnival, but he also won the Triple Crown Championship from Kento Miyahara, so now he looks to make lightning strike twice and win the tournament once more. For people that don't know Yuji Hino, he is currently a freelancer who mostly wrestles for Wrestle-1 right now and this is his first time participating in the Carnival, should be a good one. The match would start off a little bit slow since it was mostly testing out their strengths and after that just a little bit of slow pacing, but near the end is where it would pick up and it picks up very nicely. Shuji shows he can still work a great match for his age and how much damage he took from his body when he was working with BJW, and is even part of one of my favorite tag teams with Suwama so definitely check him out. Yuji is also someone you shouldn't sleep on since he's also a really good powerhouse guy and can be exciting to watch. Shuji would hit the Fire Thunder and Yuji kicks out of it! We would get a surprise with Yuji hitting the FUCKING BOMB to pick up his first win over last years winner.
Recommended: A bit slow, but definitely watch it.
2018 Champion Carnival A Block Match
Kento Miyahara vs. Shingo Tagaki
Review: We get our AJPW vs. Dragon Gate match here with two champions, we have our Triple Crown Champion, Kento Miyahara taking on the Open the Owarai Gate Champion, Shingo Tagaki. These two are actually my A Block picks to win their respective side and they're fighting off first, that's awesome. We would get a little video first of how Kento defeated Joe Doering to win back the Triple Crown Championship and how he aims to win the whole thing as the champion, can he do it? We will see. For Shingo, this is also his first time in the Carnival and his third match in All Japan since he only had two special matches there in 2014 and 2015, so will he be able to win it and represent Dragon Gate? Again, we'll find out and wish him well.
If this match wasn't a tournament match, this definitely would've been a big MOTY contender for me or even in the Top 5 since the match was just tremendous. We have two amazing wrestlers giving us a great match in the first day of the Carnival and a match that wasn't even the main event of that show. From our first nicely paced opening sequence, to how Shingo was working on Kento's knee, from just even the very end of the match. We had a little spot of Kento pulling a bit of a dirty tactic and the referee would pull his hair to have him let go as if he was a troubled child and that was hilarious, he even ripped the chair away from Shingo as if he was an annoyed babysitter. The last few minutes of the match are really something you need to see and it was absolutely breathtaking from the spots in the match, the moves they pulled, just to win the match. I'm also going to praise Kento every chance I get until I see more people watching him since the kid is still great and even has better knee strikes than Omega, and I know I said it before, but saying it again anyway. We get another surprise as Shingo pins in the champ with the Last Falconry! This gives Shingo a strong win and hopefully a future match for the Triple Crown Championship if Shingo somehow doesn't win the Carnival because I would love to see them fight again outside of the tournament.
Recommended: Definitely a favorite for this year, great match and watch it.
Day 2 April 8, 2018
2018 Champion Carnival A Block Match
Shuji Isikawa vs. Joe Doering
Review: Looks like Shuji is already set for his second block match instead of having someone else fight Joe, but I'll take it. We get our hard hitting match between two former Triple Crown Champions and with this show having no commentary, you just hear a lot of heavy grunting more than what you find in a porno..hot. The match had a better pacing compared to the first one on day one and it was enough to give both men a strong showing in the match. The last couple of minutes picked up with both men showing off their power in the match to try and go over, but Shuji would not only get the upperhand on him, but would redeem his loss by pinning the former champ with the Fire Thunder.
Recommended: I liked it so worth at least one viewing.
2018 Champion Carnival A Block Match
Kento Miyahara vs. Naoya Nomura
Review: We get Kento showing off his swagger during his entrance a little bit, so I thought that was pretty cool and love his confidence despite losing to Shingo on day one, and I also love how he wants to get the crowd going and ready before the actual match starts. There are times that I like the ref not taking shit from anyone when a wrestler tries to do some dirty tactics in the matches, but this time felt like he got involved a little bit too much there and kinda needs to tone it down a little bit. Anyway, this match was great and it shows that Kento is on Okada's level and he's having great matches with guys people hardly know for that matter, so imagine when he fights the globally known people, he would be a lot of people's top guy for sure. Naoya Nomura deserves as much credit too because he did great in this match and I'm looking forward to seeing his other matches in the Carnival as well. Much like the last match, the last couple of minutes pick up and it does a fantastic job, I loved Naoya's spear transition into a pin right after, wish I see more doing that. Kento would also redeem his loss and pick up the win with his Shutdown German Suplex Hold in a great match.
Recommended: Absolutely yes.
Overall: I declare the first two days of the Champion Carnival a success as all the matches delivered, even B Block side if you check out Andrew's reviews of the show as well and you should since he has great insight as well and will convince you to watch as well. Kento did a fantastic job in both matches and had match of the night on both days, that's my boy. I'm excited for the Carnival to kick up and I hope it delivers til the end and they get more deserved recognition.
Favorite Match: Kento Miyahara vs. Shingo Tagaki
Least Favorite Match: Shuji Ishikawa vs. Yuji Hino (Hard choice since all four delivered.)
Score: 7.5/10
Current Standings:
Shingo Tagaki (1-0)
Yuji Hino (1-0)
Kento Miyahara (1-1)
Shuji Ishikawa (1-1)
Joe Doering (0-1)
Naoya Momura (0-1)
Bodyguard (0-0)
Ryoji Sai (0-0)