AJPW Dream Power Series Final Results/Review (3/25/2018)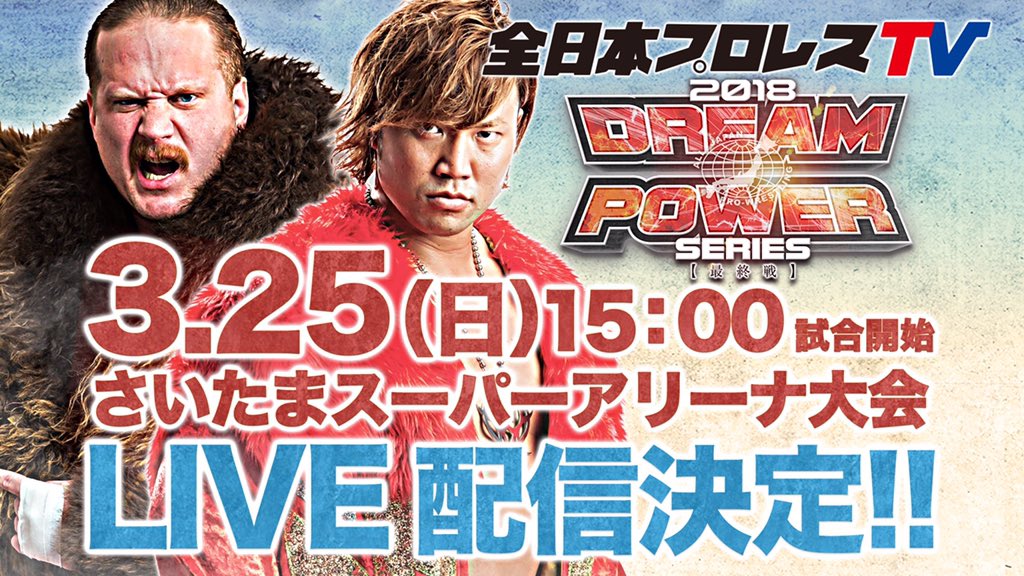 Alright so this is the first big show on the AJPW streaming service which you can find right here at https://www.ajpw.tv/ and you can get it for as low as 900 yen a month which is around 8 dollars in US currency, so if you want new Japanese content outside of New Japan, definitely check them out and just in time for the Championship Carnival coming up also. So let's ….dive right in.
Ten Man Tag Team Match
Atsushi Maruyama, Yutaka Yoshie, Naoshi Sano, Keiichi Sato & Carbell Ito vs. Masakado, Ishikiri, Revlon, Takashi Daimonji & FG Mask
Review: A problem with the service you would notice right away is that their entrance themes don't play when the wrestlers make their way to the ring, but you would hear it after the match is over, I don't know if it's a copyright issue or anything, but still a bit annoying. The match however is just a standard ten man tag match with nothing special really happening, but some of the camera angles felt off when you see a dive to the outside happening and you don't really get a chance to see all of it. Yutaka Yoshie would get the win for his team after pinning Revlon with the Jumping Body Press to give him momentum for the upcoming Championship Carnival.
Recommended: If you wanna get familiar with everyone then sure, otherwise just skip it.
Six Man Tag Team Match
Masanobu Fuchi, Yohei Nakajima & TAJIRI vs. Osamu Nishimura, Ultimo Dragon & Kotaro Suzuki
Review: Here you go, some familiar faces for you guys like TAJIRI and Ultimo Dragon in there, good to see them still going and showing that they actually still got it despite their ages. I didn't really find anything wrong with this match since it was just a couple of vets having a six man tag match and more importantly having a good time in the ring together while having the fans happy. Opening sequence between Yohei Nakajima and Kotaro Suzuki was very nicely done and some nice work from TAJIRI as well. Masanobu was in for the majority of the match later on as he was mostly working with Ultimo Dragon until the end of the match where Ultimo would pin Fuchi with the La Magistral, but they did provide us with some entertaining comedy during the time in the ring, so I can't complain.
Recommended: Not a great match, but completely harmless and fun.
Singles Match
Koji Iwamoto vs. Josh Bodom
Review: Another little con for the stuff being muted is that it also cuts off the announcer, so hard to tell who is who if you're new to the product so keep that in mind while you watch, might have to do a little bit of research if you wanna know more about the guys you like, good thing for Google. I enjoyed this match quite a lot actually, Koji and Josh worked well together in the match, gave us a fun exhibition bout, Josh looked really good in this match, then again both of them did. Josh pulling off a Tombstone onto the ring apron as well as a Brainbuster off the top rope to try and get the win, but it still wasn't enough as Koji would make a comeback near the end and pull off a win with a vicious Koko no Geijutsu. Great effort by Josh Bodom, be sure to keep an eye on him because if they ever wanna get another top gaijin outside of Joe Doering, give him a call.
Recommended: I enjoyed it, so give it a watch.
Tag Team Match
Naoya Nomura & KAI vs. Yoshitatsu & Yuji Hino
Review: And yes, it is the same Yoshitatsu who was in WWE and NJPW where his careers in both of them didn't live up to the hype and a shame too because he really did show promise when I saw him in WWECW fighting guys like Regal and Christian, but that went nowhere. Even when he went back to NJPW, had his neck broken and was never the same again, to me he was worse than Taichi (who is doing awesome now.), it looked like his career was gonna come to an end, but luckily AJPW helped save him a little when partnered with Kento Miyahara showing that there's a chance for him afterall, now if he does well in the Carnival then I will get behind him again. This tag match is considered a Championship Carnival special since all four of these men are in the tournament and giving us a little preview of them by doing this tag team match here. Another thing with the Carnival is that they like to get some outside talent for this one and Yuji Hino is one of them as he wrestles for Wrestle-1, so good to give other companies a chance to have some exposure and maybe some new followers as well. The match itself was a quick five minute bout with them doing just enough, but not enough to give the fans too much as they got a whole tournament to see these guys in action. Hino would pick up the win for his team when hits the move that's literally called the 'Fucking BOMB' on Naoya Nomura.
Recommended: Get you hyped for the Carnival, so I would like to think so.
Six Man Tag Team Match
Suwama, Hikaru Sato & Yusuke Okada vs. Kazuyuki Fujita, Kendo Kashin & NOSAWA Rongai
Review: A little bit of a backstory of this rivalry before we talk about the match here. On February 3rd when Suwama and Ishikawa lost the Tag Team Championships, Kazuyuki, NOSAWA, and Kendo would assault Suwama after the match to start their invasion of the company, however Hikaru and Yusuke would help aid Suwama to fend them off.  Yusuke would eventually join Suawama's faction named Evolution later on that day during a press conference as Suwama aims to help rebuild Evolution and get rid of Hagure IGF from ruining AJPW. Only bad thing is that during the hype video for this, they cut off the audio of it even with the interviews too so that's annoying.
This match was more of a fight than a wrestling match as it should be since Hagure IGF are more known to be the hardcore guys of the group, even a guy in a Freddy Kruger costume would hand them weapons during the match to use them on their opponents during the bout. Yusuke would take most of the abuse in the match while Suwama and Hikaru are being dealt with on the outside of the ring. I think the match has done it's job with making the feud progress and doing enough to make you wonder what's gonna happen next after this match is over. The referee would stop the match giving Hagure IGF the win when NOSAWA applied the Camel Clutch on Yusuke and after the match, they would all drink beers and pour some on Suwama to humiliate him while he was knocked down.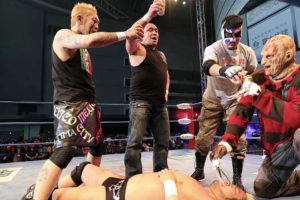 Recommended: If you wanna follow where this storyline leads, I would recommend that you do so.
– Jake Lee appeared and stated that he will be returning to active competition on May 24 at the Korakuen Hall. Lee has been out of action since August after he suffered a left knee ACL rupture. I'm happy to see him come back and had a great match against Shuji Ishikawa during the Triple Crown Championship match, so I hope his return goes well.
All Asia Tag Team Titles
Jun Akiyama & Yuji Nagata (c) vs. Takao Omori & Manabu Nakanishi
Review: Yes, Yuji Nagata also does AJPW now when he returned to be Jun's partner for the All Asia Tag Team Championship match and would go on to win the belts as well meaning he'll be sticking around for a while and even Manabu Nakanishi is here as well challenging for the belts….yay. Don't know why but I'm just not a big fan of Manabu or his work, even in his early years I just couldn't get too invested in him. The match is nothing really special to write home about, but it's not terrible either as the match was just average to me. Also Manabu should never attempt to do a Plancha to the outside ever again, but least no one got hurt, but still though. Luckily Uncle Jun would pick up the win and retain the titles by hitting the Wrist Clutch style Exploder on Omori.
Recommended: It's skippable unless you really wanna watch it.
AJPW Jr. Heavyweight Title
Atsushi Aoki (c) vs. Shuji Kondo
Review: On February 25th, Wrestle-1's Shuji Konda would win the Junior BATTLE OF GLORY Series to earn a Jr. Heavyweight Championship opportunity against Atsushi Aoki, now can he win the belt or will Aoki retain in his first title defense?
I wonder why Aoki is still wearing the mask since originally it was only for his match against TAJIRI to prevent being sprayed in the eyes with the green mist, but I guess he plans on keeping the look going forward. I liked the match for what it was as both men got plenty of offense in this match and can see why Shuji won the match since he's pretty good and Aoki isn't bad either. Plenty of back and forth action throughout the match and told a decent story to go with it, wasn't happy with a kickout during the Piledriver spot since I feel like there's some moves that you should never kick out of and a Piledriver is one of them, but that's just me. Atsushi would retain by making him tap out in a modified Armbar he calls the Trap Over in a good bout.
Recommended: I would watch it, yes.
AJPW Tag Team Titles
Zeus & Bodyguard (c) vs. Ryoji Sai & Dylan James
Review: Zeus and Bodyguard are one of my favorite tag teams in All Japan, I love their chemistry, they work well together and also perform well individually as well, maybe one day Zeus will get a Triple Crown Championship run, but we'll see. Both of these teams are also in the Championship Carnival as well so this is like another preview for the upcoming tournament. Ryoji Sai is also the current All Asia Heavyweight Champion and looks to add another set of championships around his waist here tonight with Dylan James.
This tag title match is much better than the previous one that happened on this show as we had some nice tag team action and some power and aggression between the two teams here. Zeus and Bodyguard continue to show their power as a tag team while Dylan and Ryoji show their brute force with their strikes and teamwork. Zeus and Bodyguard however would drop the titles in their first defense as Ryoji would pick up the win for his team after hitting the Nachi no Taki on Bodyguard in a solid tag team match.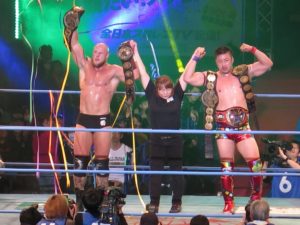 Recommended: Worth a viewing, solid and fun match.
Triple Crown Title
Joe Doering (c) vs. Kento Miyahara
Review: This was I was looking forward to when it was first announced and I gotta say that it delivered. Kento is someone that is one of my favorite Japanese wrestlers outside of New Japan, just seeing how good he is in the ring and how much the crowd loves him, I also love his knees a lot better than Omega's V-Triggers. He is somebody that is a star and can carry the company for years and help it rise up again to its glory days. Joe Doering is also someone who has been on a roll lately after battling cancer in 2016, and has been on fire since his return by dominating all of his opponents in quick fashion while also winning the Triple Crown Championship as well, now he hopes to retain so he can head to the Championship Carnival as the Triple Crown Champion.
The match itself was pretty solid and almost shy away from being a five star match to me or even being in my Top 25 Matches list, I felt like if it went on for ten more minutes, it would've been one of the best this year. I didn't mind that the match was seventeen minutes, but the ending to me felt a little bit more anticlimactic since we had this beautiful sequence for the last couple of minutes and just everything about it was magic, but the ending was just happened so quick that you feel like you've been blue balled that you wanted to see them go a little bit longer. Another thing I wanted to say for Joe is that I wish he would hit Kento a little bit harder because you have this big powerful guy that can just defeat you with just doing a running body press and then you see him stomps and punches and there were times that it just looked pretty weak, that is until the end and he punched the crap out of him. Anyway, Kento Miyahara would once again reclaim his championship with Shutdown German Suplex Hold, to end Doering's reign as the champion and now he will be heading into the Carnival as the Triple Crown Champion.
Recommended: Definitely give it a watch, great match.
Overall: Despite the issues with the audio, the show was pretty solid as most of the matches delivered except for a couple of them, had a great main event, and a good way to get people ready for the Championship Carnival as I'll post the blocks and participants at the bottom of it.
Favorite Match: Joe Doering vs. Kento Miyahara and Koji Iwamoto vs. Josh Bodom
Least Favorite Match: Atsushi Maruyama, Yutaka Yoshie, Naoshi Sano, Keiichi Sato & Carbell Ito vs. Masakado, Ishikiri, Revlon, Takashi Daimonji & FG Mask
Score: 7.5/10
Alright so the Championship Carnival takes place on April 7th as I will be covering A Block and my friend, Andrew Balaz will help me out and cover B Block as we we'll work together and watch/cover the whole tournament for you and do commentary for the final show. So here are the blocks and participants
A BLOCK:
Kento Miyahara
Shuji Ishikawa
Yuji Hino (W1)
Shingo Takagi (Dragon Gate)
Ryouji Sai
The Bodyguard
Naoya Nomura
Joe Doering
B Block:
Jun Akiyama
KAI
Zeus
Naomichi Marufuji (NOAH)
Suwama
Yoshitatsu
Yutaka Yoshie
Dylan James
If this doesn't get you hyped up, then I don't know what to tell you.
Mitchell's NXT Battleground Results & Report! (5/28/23)
Will Bron break… HIM?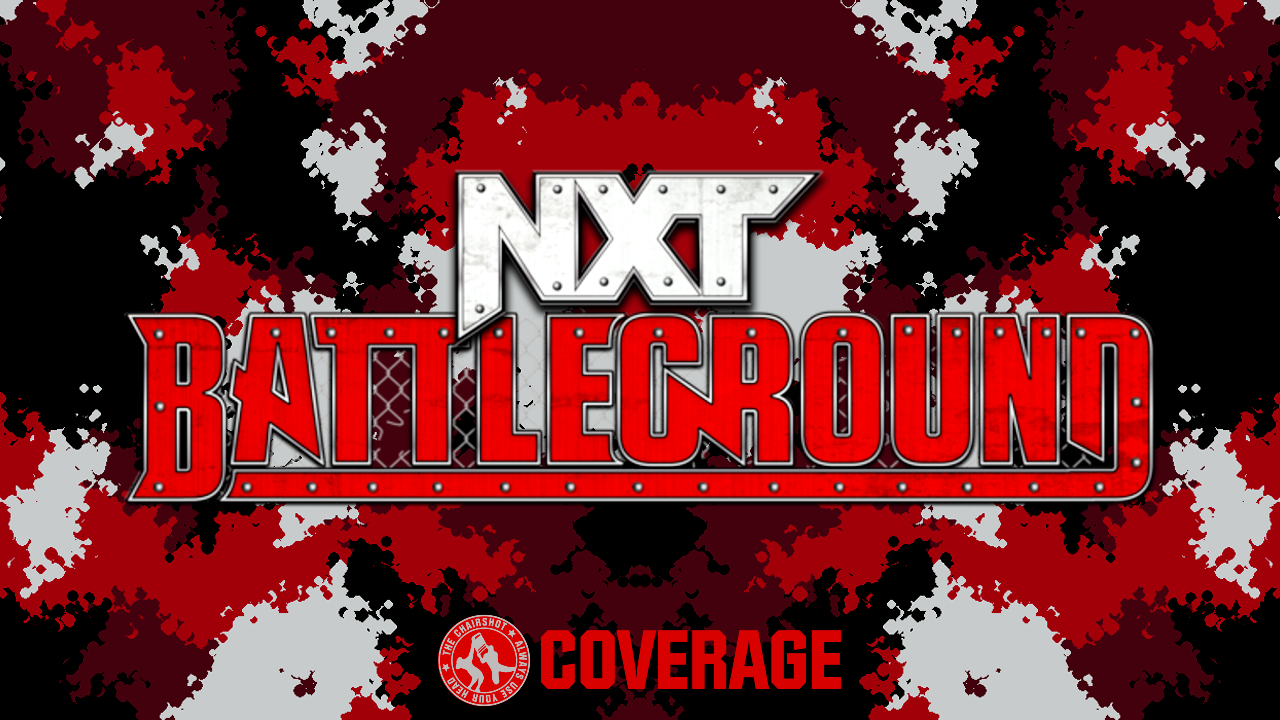 Who is truly the top dog of NXT?
Lowell, Massachusetts becomes a Battleground as hometown hero, Carmelo Hayes, defends his NXT Championship in a rematch against Bron Breakker!
OFFICIAL RESULTS
NXT Tag Team Championships: Gallus VS The Creed Brothers; win(s) and
NXT Heritage Cup Championship: Noam Dar w/ ??? VS Dragon Lee w/ Nathan Frazer; wins and
Last Man Standing: DIJAK VS Ilja Dragunov; wins.
NXT Women's Championship Tournament Finals: Lyra Valkyria VS Tiffany Stratton; wins and is the new NXT Women's Champion.
NXT Championship: Carmelo Hayes w/ Trick Williams VS Bron Breakker; wins and
PLAY BY PLAY
It's the NXT Battleground Kickoff Show!
Join Megan Morant, Matt Camp & Sam Roberts in discussing, analyzing and predicting all the action here tonight!
Noam Dar talks with Oro Mensah backstage.
Will Oro be Dar's cornerman now? He got Oro a first class ticket out here to Lowell, and that 5 star hotel. Oro does like the hotel room with the jacuzzi. Dar says they can live that high life together, if Oro is Dar's second to defend the Heritage Cup in its first match on American soil! Oro says he'll think about it. What? But the match is tonight! There's no time to think! Dar cradles the cup, is the Scottish Supernova gonna lose his baby?
Mitchell's AEW Double or Nothing Results & Report! (5/28/23)
What're the odds?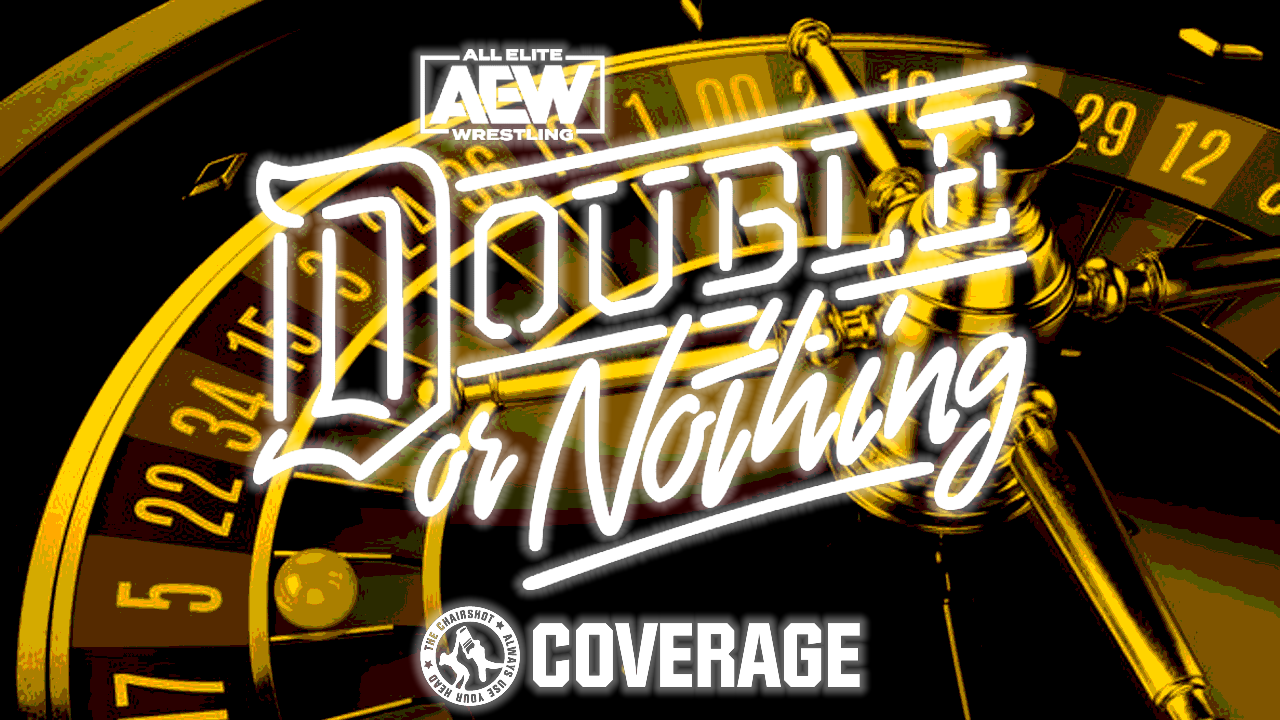 Will the Devil of AEW pay for his sins in Sin City?
Double or Nothing raises the stakes on MJF by putting him in a Fatal 4 Way for the AEW World Championship! Will his reign of terror survive a weekend in Las Vegas?
OFFICIAL RESULTS
Buy-In – High Stakes Six Man Tag: Hook & The Hardy Boyz VS Ethan Page & The Gunns; win and
AEW International Blackjack Battle Royal: ??? wins and
AEW TNT Championship Ladder Match: Wardlow VS Christian Cage w/ Luchasaurus; wins and
AEW TBS Championship: Jade Cargill VS Taya Valkyrie; wins and
AEW Women's World Championship: Jamie Hayter w/ Britt Baker & Hikaru Shida VS Toni Storm w/ The Outcasts; wins and
AEW World Tag Team Championships, Special Referee Mark Briscoe: FTR VS Team Triple J w/ Sonjay Dutt & Satnam Singh; wins and
AEW World Trios Championships Open House Rules Open Challenge: The House of Black VS ???; win(s) and
Anarchy in the Arena II: The Elite VS Blackpool Combat Club; win(s).
Unsanctioned Match, Special Enforcer Sabu: Adam Cole VS Chris Jericho; wins.
AEW World Championship Fatal 4 Way: MJF VS Sammy Guevara VS "Jungle Boy" Jack Perry VS Darby Allin; wins and
PLAY BY PLAY
[Due to scheduling conflicts, coverage of Double or Nothing will begin later tonight]