Chairshot Classics: NWA Starrcade '86 – The Skywalkers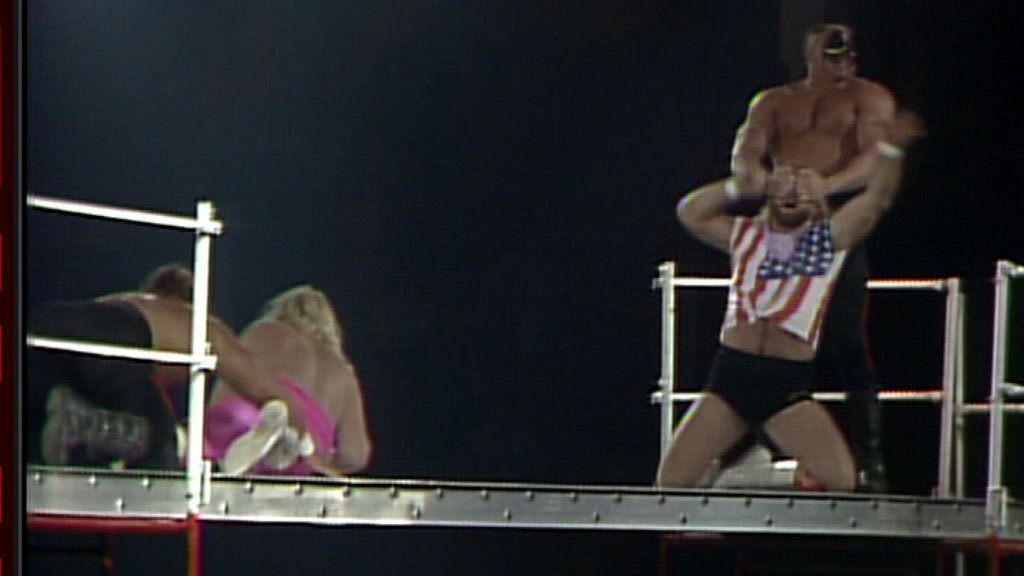 Open: Starrcade '86 is once again multi-venued at the Omni in Atlanta and the Greensboro Colesium in Greensboro, North Carolina. Tom Miller welcomes us to Greensboro, meanhile the scaffold hovers above the ring in Atlanta. Miller then asks everyone to rise for the National Anthem. Tony Schiavone & Rick Stewart are standing by at The Omni, while Bob Caudle & Johnny Weaver open the show in Greensboro, Caudle giving us a rundown of what's to come before heading to the squared circle.
Match #1: Tim Horner & Nelson Royal vs. Don & Rocky Kernodle
Horner and Rocky start the match. A couple hip tosses and they exchange a variety of wrist and hammer locks. A little chain wrestling including Kernodle missing a dropkick before Rocky gives Horner an arm drag. Don is tagged in. Horner with a bodyslam on Don. He runs the ropes and executes a powerslam. Horner tags in Royal. Don connects with a shoulder tackle before Royal catches him with an abdominal stretch on Don, who reverses to a hip-toss. Don misses a charge to the corner and Royal tags out.
Horner cannot get much going on Don. Royal tags back in and puts a sleeper on Don, but Don is able to walk to the corner for a tag. Rocky enters the ring with a sunset flip from the top rope. 2 count is broken up with a headscissor. Rocky follows with a bodyslam, but misses a cross body. Royal tags Horner. and gives him a powerslam. A small package gets the same. A little brawling in the ring and Don makes the tag, and gives Horner a delayed vertical suplex. 2 count and a kickout. Don gives Horner a backdrop, and tries running into a diving headbutt, but he misses. Horner gives Don a dropkick. 2 count. They run the ropes and Don nails a big clothesline. Rocky tags in again, sends Horner to the ropes and hits a gorilla press slam. Rocky cradles Horner for a pin, but Horner reverses it into a pinfall of his own sitting on his chest and holding his legs. 1-2-3 for the win.
Winners: Tim Horner & Nelson Royal (Pinfall Counter)
EA's Take: This was a nothing happening match for me and in retrospect, I'm a little curious as to why it's on the card. Don Kernodle is the most known of this grouping, but only if you're familiar with Sgt. Slaughter's career since they were partners and tag champions. Nelson Royal was a wrestler back in the 1960's, had retired, then came back in 1983. Meanwhile, Horner is still a bit of an upstart, but neither he or Royal are ever anything more than jobbers. I don't know why I was supposed to care about this match and unlike in year's past when the crowd was into seemingly everything, the noise was fairly subdued in this one. Honestly, I had no idea who was even supposed to be the heels until the match was over.
Match #2: Brad Armstrong vs 'Gorgeous' Jimmy Garvin w/Precious
Both men lock up and let go. Garvin is taunting the crowd. They lock up again very aggressively. Lots of fast paced, vicious, traditional wrestling. Garvin slows it down with a headlock but Armstrong fights it. The ref finally breaks it up. Garvin applies another headlock but Armstrong attempts to counter with a wristlock. Armstrong wrestles Garvin down into an armbar submission. He continues to work on the arm with his knee and he gets some near falls. Both men are back to their feet fighting for control, trading armbars. Armstrong with a headlock takedown. They trade submissions on the mat until it's broken by the rope. Back to their feet. Garvin wrestles Armstrong down and locks up his leg. He and Precious both taunt the crowd and camera.
Armstrong struggling to no avail with Garvin really strong on his legs for an extended period. Armstrong is able to get Garvin in a headlock despite the hold, and it's what ultimately breaks it. Both men to their feet, back and forth on the ropes until Armstrong takes him down with a drop toe hold. Armstrong goes to work with some arm submissions until Precious is up distracting the wrestlers and ref on the apron. Garvin takes advantage of the distraction and works Armstrong down into a headscissor submission by illegally pulling him down by his hair. Armstrong trying to find strength but he's caught in the grasp. Garvin continues to taunt the crowd. A huge pop when Armstrong escapes. Both men to their feet, they run the ropes and Armstrong delivers a hip toss, followed by a snapmare.
Garvin is quickly up though, and somehow gets Armstrong back down to the mat in the same headscissor submission. Armstrong once again escapes. They're on their feet and Armstorng takes control, Garvin is caught in a headlock and fighting. Multiple kidney shots and he picks Armstrong up for a side slam, but Armstrong is able to counter. Garvin is still caught in that headlock. Garvin wills Armstrong's shoulders to the mat for an apparent 3 count, but the ref saw Garvin holding the trunks and pushes them back over. Both men slowly to their feet, Garvin still caught in the headlock. He fights until finally breaking the hold with a side suplex. Both men down, Garvin is first to his feet. Attempts a pin, gets a 2 count. He bashes Armstrong's head into the turnbuckle and throws him through the middle rope. The crowd boos. Precious approaches Armstrong taunting him.
Garvin kicks him into the rail on his attempt to re-enter the ring and Precious continues to taunt. The same results happens again. The ref backs Garvin off long enough for a drowsy Armstrong to make it back to the ring. Garvin with a snapmare and a 2 count. The crowd is trying to encourage Armstrong but Garvin is in control. Several 2 counts for Garvin after several attacks including a backbreaker. A shoulder tackle for Garvin but it looks like the men bumped heads so they're both down on the mat. Both are up after a referee 6 count. Garvin attempts a body slam but Armstrong falls on top of him. 2 count. Garvin is frustrated and they exchange blows. Armstrong whips him to the corner but Garvin counters with a knee to the face. 2 count for Garvin. Shiavone explains there is 1 minute left! Garvin attempts a sleeper, but Armstrong with a takedown. They exchange pin attempts to no avail. Schiavone explains they're at the 15 second mark as Garvin bodyslams Armstrong and heads to the top rope. As he executes an attempted splash, the bell rings and Armstrong moves.
Winner: Draw
After The Bell: 

Armstrong attacks Garvin and sends him to the outside. He's fired up now, Precious confronts Armstrong in the ring and the crowd is hot. Garvin attempts to get Armstrong from behind, but he's wise to it and delivers punches until Garvin stumbles back out of the ring. Garvin is upset, but is consoled by telling himself he's still undefeatedas the crowd boos him out of the arena.
EA's Take: Great selling of the aggression at the beginning of the match here by two real pros. Brad comes from the famed Armstrong family of course, arguably the most talented of the bunch. Even his brother 'Road Dogg' Jesse James has stated as much. Coming from a pedigree almost makes it inevitable sometimes that you'll be skilled in the ring and that's certainly the case with the son of WWE Hall Of Famer Bullet Bob. The flamboyant Jimmy Garvin is a fantastic heel and the kayfabe brother of Ronnie Garvin and Terry, something that was never really brought up much after The Gorgeous One made a name for himself in WCCW. He strikes you as a David Lee Roth-type and Precious added to his rock star aura. My only issue with this contest is having it finish as a draw, but I can understand why they'd want both guys protected at this point in their careers.
Match #3: Hector Guerrero & Baron Von Raschke vs. Shaska Whatley & The Barbarian
Barbarian is looking pretty intense, wrapped in chains. HUGE pop and HUGE sombraro for Hector! The heels both attack Hector. They work each other to corners before Hector and Baron whip their opponents into each other. Hector with a backbody drop on Whatley. Hector in control with a dropkick and a splash. Whatley is able to reverse and make the tag to Barbarian. Whatley holds him while Barbarian delivers a big fist from the 2nd rope. Barbarian takes control and hangs up Hector on the ropes.
Hector moves an attempted clothesline and Barbarian goes over the top rope. Baron rushes over to hold Barbarian as Hector leaps over the top rope for a splash. Whatley goes after Hector and runs him into the post. Barbarian back on the attack with a snakeeyes on the gate. Whatley comes back for a few more cheap shots and rolls him back into the ring. Barbarian with a gorilla press slam and a leg drop. He makes the tag to Whatley who hits a backbody drop before tagging Barbarian again. They double team Guerrero who is in trouble. Barbarian executes a backbreaker followed by a headbutt. Whatley with some dirty play in the corner before Barbarian makes the tag and they deliver a double backbody drop. Attempted pin, 2 count. Whatley foils Hector's attempt at a tag and drags him back to his corner. While the ref is lecturing Whatley, Barbarian is holding Hector in the corner.
Another tag is made and Barbarian gets off a big boot. 2 backbreakers in a row from Barbarian and another tag is made to Whatley. Whatley with a headbutt followed by spitting on Hector. He whips Hector to the rope for an apparent backbody drop but Hector stops short to the surprise of Whatley. The crowd goes wild as Hector dives to his corner for a tag to Baron. Baron marches around the ring and goes to work. Barbarian attempts to interfere but Baron knocks their heads together. He delivers the claw to Whatley but it's broken up by Barbarian. All 4 men in the ring going to work. Whatley whips Baron to the corner but Baron moves and Whatley hits the turnbuckle. Baron drops the elbow and gets the pinfall.
Winners: Hector Guerrero & Baron Von Raschke (Von Raschke/Elbow Drop)
After The Bell: 

The heels toss Hector over the top and double team Baron. Barbarian to the top rope as Whatley positions him for a diving headbutt. Hector back to the ring, delivers a dropkick and the heels retreat.
EA's Take: The Barbarian really seems to be finding himself a bit more in this one. Like I stated, he really seemed to be more intense. His partner, Shaska, might be better remembered as Pez Whatley, who had arrived in JCP in 1985 and initially feuded alongside Jimmy Valiant against Paul Jones' Army. Now a turncoat, he really felt like just an interchangeable body next to Barbarian. I think we all know who Hector Guerrero is or are at least aware of who The Guerreros are, so you should be familiar with what he can do in the ring. He essentially did the heavy lifting here. Baron is of course a legend in the Minnesota area and is also a turncoat, but going the opposite direction of Pez. In all, this is really just an odd mix, Baron's best days are long behind him, but Hector can work and Barbarian is getting his footing under him.
Backstage: Johnny Weaver is outside Dusty Rhodes' locker room. The American Dream hasn't granted and interview about his match tonight, Weaver pleads for one and Dusty is heard through the door saying to leave him alone.
Match #4 is No Disqualification for the NWA United States Tag Team Championships: The Kansas Jayhawks (Bobby Jaggers & Dutch Mantel) vs. NWA United States Tag Team Champions The Russians (Ivan Koloff & Krusher Kruschev)
Ivan and Mantel start. Ivan using his power but Mantel manages a quick backbody drop and a tag to Jaggers. Ivan is punched to the ground followed by a whip and an elbow. Jaggers delivers more blows and uses Mantel's boot in the corner and makes the tag. Lots of quick tags as the Jayhawks are in control. Ivan finally makes the tag to Krusher and the crowd boos. Krusher and Mantel lock up. Krusher works him to the corner and bullies him with rights. Ivan holds Mantel on the ropes and Jaggers breaks it up. Mantel rebounds with some offense forcing Krusher to the Jayhawks corner where they use the no DQ rule to their advantage.
More quick tags and double teams from the Jayhawks. Krusher stops short of a drop toe hold attempt and makes the tag to Ivan. Now it's the Russians' turn to doubleteam Mantel. Both Ivan and Mantel exchange failed Irish whips and Jaggers is tagged in. After a headlock, Mantel is tagged back in for a double elbow. Ivan wills himself back to the Russian corner. Mantel is fighting but can't keep up with the two sided attack. Mantel is pulled out of the ring and is dropped knee first on the gate. Krusher rolls him back to Ivan who is waiting in the ring. Shoulder tackle by Ivan. Tag made to Krusher and more double team action ensues. 2 count by Krusher.
Double team work in the corner by The Russians. Jaggers is trying to break it up, but is being led away by the ref. The Russians whip Mantel to the ropes and he counters with a double clothesline. Mantel tags Jaggers who doesn't discriminate going after both Russians and bashing their heads together. He whips Ivan for a lariat but the pinfall is broken up by Krusher. Now all 4 men are going at it, Jaggers and Krusher in the ring, Mantel and Ivan out. Commentators remind fans that there is no DQ. Ivan gets his trademark chain and climbs to the top rope while Krusher has Jaggers in his patented Bearhug. Before Ivan can jump he is literally whipped by Mantel from the apron. Krusher lets go of Jaggers and is whipped by Mantel, they both stumble out of the ring and brawl on the floor. Jaggers and Ivan are doing battle in the ring, as Jaggers is whipped to the ropes he's hit from behind by Kruschev with Koloff's chain. Jaggers falls to the mat and Mantel cannot get back in the ring thanks to Krusher. Pinfall for the win.
Winners and STILL NWA United States Tag Team Champions: The Russians (Kruschev/Foreign Object)
EA's Take: Nikita is no longer around with Ivan and Krusher, but we'll get to that later in the main event. The future Zeb Colter & Bobby Jaggers don't have a pretty offense, which can also be said about The Russians, so this was basically a slugfest for the secondary tag titles. Boy, if you thought WWE had a lot of titles, they're surely following the footsteps of the NWA! Absolutely nothing historical about this one, The Kansas Jayhawks were a fairly short-lived duo, Jaggers is most known for feuding with Dusty in Florida, but that's really it. Obviously, Dutch's best days are probably coming up when he steps behind the scenes.
Match #5 is an Indian Strap Match: Rick Rude w/Paul Jones vs. Wahoo McDaniel
To win this match, you must touch all 4 corners in succession. Before the bell, Paul Jones takes the strap and demands Wahoo put it on first. Wahoo has no trouble obliging. Rude disropes and flaunts. Wahoo responds by whipping him and gets a big pop. The two bluff at starting a tug of war with the strap. Wahoo delivers a few whips before both men exchange punches. Rude is taken down with a shoulder tackle and Wahoo chokes him on the mat. Rude rolls out of the ring but Wahoo drags him back in. Rude applies a headlock and eventually rolls him to the mat. Both men get back to their feet and Rude's on the offense beating Wahoo into the corner.
Rude wraps the strap on his feet and beats on Wahoo who is still sitting down in the corner. Rude flaunts to the crowd again and receives a boo. Back on the offense in the corner again. Bodyslam delivered by Rude who then wraps Wahoo's wrists to restrict his motion and attempts the corners. He gets two before Wahoo gives a boot to the face. Wahoo lands a couple elbows to the head and works Rude into the corner. Paul Jones is demanding the ref break it up when Wahoo wraps the strap on the head of Rude. Wahoo delivers a flurry of whips to the back of Rude. Wahoo whips Rude to the corner and delivers a backhanded clotheline before dragging Rude to the corners. Rude appears to be deadweight as Wahoo gets 3 corners. Rude finally starts fighting back and pushes Wahoo down to the mat with his feet.
With Wahoo still down, Rude goes to the top rope and lands an elbow to the neck. The two fight for control, Rude gains it and he is back to the top rope again. Wahoo rolls to the ropes and uses the strap to throw Rude off the top and to the mat. Wahoo lands an elbow to the forehead and now he's going for the corners. Paul Jones is going nuts. Wahoo gets 3 corners but Rude appears to be coming back to life. There is a tug of war as Wahoo goes for number 4. Jones is up on the Apron to attempt a stop to Wahoo's pursuit. Wahoo elbows him back to the floor and dives for the 4th corner successfully.
Winner: Wahoo McDaniel
After The Bell: 

Rude is enraged and attacks Wahoo in the corner. Jones is up into the ring to help. They tie Wahoo to the ropes but Hector and the Baron have a run in to save him before any further damage is done. The babyfaces celebrate in the ring.
EA's Take: Boy, The Ravishing One surely stands out among anybody you'll see tonight just because of his look. Now, I'm not obsessed with jacked dudes like Vinnie Mac supposedly is, but Rude just LOOKS like a star. Rude would make a name for himself in Florida and WCCW, hailing from Minnesota, the land of many legends. The relative newcomer would quickly jump into Paul Jones' Army and join the feud against Wahoo upon his arrival to JCP. The Chief is still hanging on by a thread career-wise and if you remember what Rude was famous for (at least to me), his ability to sell is really the entertaining point of this match. I've never really been a fa of the strap match and just the whole concept of having to touch all four corners, not my cup of tea. Of course like many others who did it before him, Rude would leave for greener pastures in the WWF the following April.
Backstage: The Russians are backstage with some words on tonight's events. Ivan talks about outsmarting the Jayhawks and calls out Dusty Rhodes. He talks about Nikita's upcoming match with Ric Flair tonight, Krusher demands Nikita do the honorable thing and give him the first title shot if he wins.
Match #6 for the NWA Central States Championship: 'Superstar' Bill Dundee vs. NWA Central States Champion Sam Houston
Dundee looks bothered by the crowd's support for Houston. Dundee works Houston into the corner but Sam ducks a lariat. They lock up again and exchange armbars until Houston works him to the mat and delivers a legdrop. Both men regroup. Dundee has Houston on the mat in a headlock but Houston turns him for a couple near falls. They are back to their feet and to the ropes. The ref breaks it up. The two regroup. Irish whip to the corner and Houston with a headscissor takedown. Houston applies a headscissor submission. Dundee refuses to submit. Back to their feet once again, and Houston with a couple arm drags followed by a dropkick. Dundee is frazzled. They lock up and Dundee manages a takedown.
The ref is questioning if Dundee used Houston's hair to bring him down. More submission work on the mat and Dundee lands a knee on the neck. 1 count. Houston stumbles to the corner before turning around and landing a punch on the pursuing Dundee. Houston is on the offense and tries for a running bulldog, but Dundee reverses it with a side suplex. Houston counters this with a full backflip and lands on his feet. Dundee runs him into the turnbuckle and pulls him backward for an attempted pin but Dundee pulls the trunks. The ref lectures Dundee on pulling the trunks.
They lock up again and Dundee sends Houston through the middle rope. It appears Houston hits the side of the table, he's hurting. Dundee tries an attack on the floor, but Houston reverses it with an atomic drop and rolls back in the ring. Dundee is pulled back into the ring for a 2 count. Houston lands a punch but Dundee gets a big boot to Houston's face. Dundee goes to the top rope and lands his Bombs Away, but he arrogantly delays the pin and only gets a 2 count. Dundee on the attack and appears to have his fingers in Houstons mouth. Dundee applies a front facelock and tells the cheering crowd to shutup. More punches and elbows. 2 Count.
Dundee lands 4 more punches before Houston goes down, and Dundee struts around the ring. He taunts again before a pinfall attempt and only gets 2 with the delay. Dundee applies a Boston crab and Houston screams "NO" when the ref asks him. Houston powers his way out but they're in the ropes. Houston is once again thrown through the middle ropes. Dundee looks like he was headed for the top rope but the ref stops him from jumping to the floor. Houston crawls back into the ring and this time Dundee can land a big fist from the top rope. 2 count and Dundee is frustrated. Dundee takes Houston down to the mat with an inverted headlock.
Houston pumps the fans up by kicking the mat and slowly gets back up. He drives Houston to the corner and lands several rights. He whips Dundee for an elbow to the jaw. 2 Count. Houston with a knee to the jaw. Bodyslam by Houston, but Dundee moves an attempts knee drop. Dundee goes to work on the affected knee, using the bottom rope to make it vulnerable. Several knee submissions applied by Dundee. When Houston is able to shove Dundee off, he knocks the ref into the corner. This gives Dundee the opportunity to grab Houston's the boot that fell off when the hold was broken and he clocks him with it. The ref saw it from the mat and calls for the bell. Dundee celebrates but the ref raises Houston's hand.
Winner and STILL NWA Central States Champion: Sam Houston (Disqualification)
After The Bell: 

An enraged Dundee beats Houston with his own boot until he's able to roll out of the ring. Dundee is showered with boos.
EA's Take: Sam Houston moves up the card for this year's Starrcade after opening the show the year prior. This was a really quick pace for these smaller stars, good job from Dundee to keep up with the young Houston at his age before slowing the pace. Dundee's biggest exploits were in Memphis where he had a pretty hot feud against WWE Hall Of Famer Jerry Lawler, but by 1986 he was the same age as JJ Dillon. Again, another unusual title in the Central States Championship, which was the primary title of NWA affiliate Central States Wrestling (Kansas City).
Match #7 is Hair vs. Hair: Jimmy Valiant w/Big Mama vs. Paul Jones w/Manny Fernandez
Before the bell, Fernandez argues with the referee about going into the cage saying he's going to sit ringside. He reluctantly works his way down. Several wrestlers from the back attack Fernandez to get him in the cage. Valiant is on the attack first. Irish whip and lariat to Jones. Valiant with a hiptoss as the crowd goes wild. Valiant rakes the back of Jones and hits another hiptoss. He continues the attack with a facerake.
The ref backs Valiant off Jones as they move to the turnbuckle. Jones goes to his tights and takes out a foreign object. He hits Valiant with it. "Big Mama" is trying to distract from ringside, but Jones is able to land several stomps and punches on a bleeding Valiant. 2 count. Jones is enraged and goes back to work on Valiant. Another pinfall attempt but the leg is on the rope. When Jones sees this he attempts a knee drop on Valiant's leg, but Jimmy moves. Valiant starts pumping the crowd up "Hulk Style".
Valiant is once again struck by the foreign object without the refs seeing it. Pinfall attempt by Jones, 2 count. Jones goes for the Indian Deathlock but Valiant pulls his head to the mat. The two are back to their feet and they exchange rights before Valiant takes control. Whips Jones to the ropes and into a sleeper. A desperate and struggling Jones once again reaches for a foreign object. Valiant shoves Jones to the turnbuckle who then falls to his back and the foreign object flies from his hand to the center of the ring. Valiant picks up the foreign object and hits him with it. 1-2-3.
Winner: Jimmy Valiant (Foreign Object)
After The Bell: 

Valiant with the clippers shaves a knocked out Jones. Fernandez is slowly lowered to the floor and is demanding to come out. After the shaving is done, Fernandez attacks Valiant from behind and Rick Rude runs in joining the attack. Rude works on Valiant while Fernandez gets a chair. The two piledrive Valiant into the chair and then cover Jones' head as they exit the ring.
EA's Take: The never-ending feud between Valiant and Paul Jones continues on, but would conclude after this one. In years past, the crowd was hot for anything going on between these two. That was not the case tonight as they would really die down almost into a silence during some points before a big pop for the finish. Maybe they were finally catching on that the matches just weren't that good. I'd argue that Jones was a better worker even at this stage.
Intermission: Like every other year, we have an intermission like this is some kind of house show. Instead of highlights from previous Starrcade shows and interviews, we get a look at the last Jim Crockett Cup to promote the next upcoming tournament.
Match #8 is a Street Fight: Big Bubba Rogers w/Jim Cornette vs. Ronnie Garvin
Prematch, Cornette is on the mic to introduce Rogers. Schiavone explains the rules of the street fight which is the same as a last man standing. Garvin lands a few punches that seem to not effect a towering Rogers. Rogers looks for a traditional test of strength tie up. Garvin bluffs at it and punches Rogers out of the ring. Cornette helps Rogers regroup and he's back to the ring. Rogers sends Garvin through the middle rope but he lands on his feet. Garvin is back to the ring and the men tie up. You can hear Cornette barking from ringside. The two brawl before Garvin is once again thrown through the middle rope.
Garvin slow to get back to the ring but he does so with a soda from the announce table. He splashes it on Rogers face and takes advantage with some vicious offense. Bubba finally rolls out of the ring and the crowd pops. Cornette gives Bubba a foreign object but Garvin catches Bubba in a chokehold as he enters the ring. Garvin works Bubba to the corner but Rogers out strengths him and gets in some blows. Bubba knocks him into the turnbuckle and nails him with a foreign object which appears to be a roll of nickels. Garvin gets up at an 8 count from the ref and Bubba goes back to work with punches to the mat. Garvin is once again up and an 8 count but is immeditaley bodyslammed by Bubba. 2 count. Bubba is up and the ref goes for another 10 count. Again, up at 8. The two exchange punches but Garvin pulls a rope out of his boot and starts choking Bubba with it.
The two work on the mat and Garvin lands several punches before once again tying Bubba up with the rope. After some exchanges, Rogers is able to take control and gets Garvin in a bear hug. Garvin gradually works the crowd up and is able to counter the bearhug with a headbutt but not for long. Bubba puts him in another. Garvin again counters with headbutt. Garvin lands multiple rights until finally punching him over the top rope to the floor. Cornette is pleading with Bubba to get up. Bubba's back in the ring at the 6 count. Garvin still on the offense with rights until Bubba falls through the middle rope.
Garvin gives chase to the floor but Bubba counters with a knee to the midsection and rolls him back to the ring. Bubba to the top rope for a "Bubba Slam" but Garvin is to his feet for a gorilla press slam from the top rope. 2 count. When Bubba kicks out, Garvin lands on the referee. Garvin is first to his feet and lands a piledriver while the ref is unconcious. As Garvin stumbles near the ropes for a pin, Cornette hits Garvin on the back of the head with his racket and the referee starts his 10 count for both men who are down for the 10 count. He reaches 10 but explains on the mic that there must be a winner, so the first man to his feet will win. Cornette continues to plead with Bubba and gets in the ring but the ref pushes him back out. Garvin is the first to his knees. The ref is standing near Bubba and is pulled down. Garvin was to his feet but is hit in the knee by Cornette without the ref seeing. Bubba makes his way to his feet and win the match.
Winner: Big Bubba Rogers
After The Bell: 

The crowd chants 

"

Bull$#%!

".

EA's Take: In the words of Greg DeMarco referring to Big Bubba, "Thank God someone got him a gimmick!". We know about the exploits of Ronnie Garvin after last year, but Bubba is obviously Ray Traylor, the future Big Bossman. I previously posted a picture of him working under his real name in JCP on The Chairshot's Instagram and let me tell you, he was as bare bones (character-wise) as it gets. This upstart came into JCP and got pulled from television by Dusty Rhodes, who saw the potential in him and no longer wanted Traylor jobbing out. He was given the Big Bubba name and places alongside Jim Cornette as his bodyguard, looking like Mr. Hughes with a suit and shades (although not permanent shades like Hughes). He would get a good push and end up working opposite Dusty into 1987, but would make his way to the WWF in July of the same year.
Match #9 is First Blood for the NWA World Television Championship: Dusty Rhodes vs. NWA World Television Champion Tully Blanchard w/James J. Dillon
Before the match, they show Rhodes coming to the ring straight from his dressing room. JJ Dillon is putting a piece of headgear on Tully but Dusty is protesting. The ref and JJ get into an argument until finally JJ gives it up. Now JJ is putting some form of grease or oil on Tully's face. The ref angerly protests this as well and wipes his face with a towel. Meanwhile, Dillon confronts Rhodes and is pushed to the mat. Dusty gives him some kicks and Dillon is bleeding. Tully misses a charge and offers Rhodes a test of strength.
Dusty instead kicks him to the midsection. The two regroup and lock up. Dusty taunts Blanchard by threatening him with his elbow. The two temporarily lock up but protect themselves from getting hit with punches or elbows. They regroup and lockup. Blanchard catches a kick, takes Rhodes to his back but misses an elbow. They lockup, and Rhodes hits a headbutt. Rhodes delivers a snapmare and a stomp to the knee. They tie up in the corner and Dusty works the midsection. The crowd goes wild as Rhodes hits an elbow. Dusty wants Tully checked but there's no blood. Rhodes with a chop and Blanchard's on the mat.
Rhodes with an elbow drop to the inside of the knee x2. When Rhodes threatens for the head, Blanchard rolls outside the ring. The two regroup and this time Blanchard takes control. After a snapmare, he rips at Rhodes' face but is pulled to the mat instead. Rhodes works Blanchard to the corner, but JJ Dillon trips Rhodes from the outside and the big man falls into the ref. Meanwhile, Blanchard climbs the ropes. Dillon tosses Blanchard a shoe, but he can't use it as Dusty catches his jumping effort. Rhodes with a suplex to Blanchard, but they hit the ref once again. With the ref out, Dusty delivers a barrage of punches to Blanchard's head and he is bleeding but the referee is unconcious. As Rhodes celebrates, Dillon cleans the blood from Blanchard, puts oil over the cut and gives him a roll of coins. Blanchard hits Rhodes with the coins and he falls to the mat. When the ref comes to, the first thing he sees is a bleeding Dusty Rhodes.
Winner and STILL NWA World Television Champion: Tully Blanchard
After The Bell: 

Dusty is enraged, pleading with the ref that Blanchard was bleeding first to no avail.
EA's Take: Another bloody brawl at Starrcade for Tully and another screwed finish going against the babyface. The build to this one was much better than the match itself and although I prefer Blanchard's match against Magnum TA last year, it's still a good watch and of course the crowd was white-hot. The formation of The Four Horsemen in early 1986 changed everything for pro wrestling's future and anybody they were put up against seemed to come out the better of it. I stated previously that Dusty's got the book and while he had put himself in main events in years past, he was starting to move himself down the card a bit and use his name to solidify other talent. Tully didn't necessarily need it, but it gave him another high-profile match on Starrcade and continued The Horsemen/Rhodes rivalry without going to Dusty vs. Flair for the third year in a row.
Match #10 is a Skywalkers Match: The Road Warriors (Animal & Hawk) w/Paul Ellering vs. The Midnight Express (Bobby Eaton & Dennis Condrey) w/ Jim Cornette
To win this contest, you must push your opponents off the scaffold. Condrey starts to climb the ladder to the top of the scaffold but is very hesitant. Cornette encourages him up. As Eaton begins his climb, Cornette is grabbing his leg. Cornette comes to the announce table and proclaims that this match is insane. The Express look very nervous and start by sitting and crawling. Condrey crawls under Hawks legs and begins with Animal while Hawk and Eaton start as well. The Express are down face first early. Pretty slow moving basic stuff until the Express throws powder in the face of both Road Warriors.
Animal dangles off the right side of the scaffold and the Express are in control. Hawk's legs are dangling. Eaton works Animal over and has one leg over. Bobby is underneith the scaffold trying to pull Animal over. He's now hanging onto to Animals leg with one arm, the scaffold with another before catching himself on the scaffold. Eaton climbs back up as does Animal. Animal faceplants Eaton on the scaffold. Condrey is bloody from the work of Hawk. Both are bleeding. Condrey to the ladder. It looks like he may be trying to crawl down.
Hawk's got him by the hair and delivers a right. Another right as Condrey moves down the ladder. A kick to the head as Condreys in a bad spot. Hawk comes down to kick him some more but Eaton stumbles over to save him. Animal is trailing Eaton though and catches him. Hawk delivering a series of punches to Condrey from just below the scaffold. The two continue to exchange blows while Eaton and Animal exchange up top. Animal beats beats Eaton the the lower scaffold but Eaton uses the monkey bars. All 4 men on the monkey bars swinging back and forth. The Roadwarriors kick them down. First Condrey, then Eaton.
Winners: The Road Warriors
After The Bell: 

Outside the ring, Paul Ellering steals Jim Cornettes tennis racket and chases him down. Cornette tries to escape up the scaffold. Ellering gives chase. Cornette does realize Animal is still up there. Surrounded, a scared Cornette drops to him belly as Animal pulls on him. Cornette is hanging from the monkey bars and quickly falls to the ring in obvious pain.
EA's Take: This is of course the famous spot where Cornette blows out both of his knees and despite his acrophobia (fear of heights), would be willing to do the spot since it was on such a big stage. Big Bubba was supposed to catch him, but obviously that didn't happen and Corny was seriously hurt. Now, if this isn't the most dangerous gimmick you've seen that didn't involve barb-wire or explosives, I'm not sure what is. Being so high up in the air leaves you on the edge of your seat, but with such an element of danger, you can imagine how difficult it is to have any sort of match under these circumstances. With two of the greatest tag teams ever, I understand the idea of the gimmick keeping Cornette at bay, but it just wasn't for me. Waiting to watch somebody DIE is not really something I'm interested in.
Match #11 is a Steel Cage Match for the NWA World Tag Team Championships: The Andersons (Arn & Ole) vs. NWA World Tag Team Champions The Rock 'N' Roll Express (Ricky Morton & Robert Gibson)
Gibson and Ole start. Ole's aggressive but Gibson dodges a punch and Ole punches the cage. They lock up, Gibson on the offense but they roll to the Anderson's corner and Ole makes the tag. Morton rushes the ring but is kicked out by the ref. Arn and Gibson working. Arn is driven into the cage multiple times before stumbling to Morton's corner for some cheap shots. He's able to stumble to his own corner and make the tag to Ole. Ole and Gibson exchange blows until Gibson is able to make the tag to Morton. Morton on the offense knocking Ole to the mat. They exchange a couple of reversals until Ole is able to tag Arn. Arn and Morton lock up.
Arn attempts to bash Morton to the cage but he puts his boot up. Multiple arm lock reversals before Arn backs off. Regroup. Morton with an armbar and tags Gibson. Gibson with an Irish whip into corner. Arn moves and Gibson is put up to the top rope. Arn works Gibson's leg into the cage before dragging him off the top rope for a tag to Ole. Ole continues to work the left leg with stombs and leg drops. Another tag to Arn who picks up where Ole left off, working the left leg. Gibson is able to kick him off but before he can tag Morton, another tag is made to Ole. Ole stomps the leg but Gibson tries to fight back. The referee breaks the hold at the ropes.
Ole drags him back toward the Anderson corner but Gibson retalitates with shots to the head. He's able to keep hold of Gibson's foot though and makes the tag to Arn who continues submissions and knees shots to the damaged leg. Arn drags him up, Gibson attempts one kick but Arn catches it. From one foot Gibson lands a kick to Arn's head. Arn is in position to make the tag to Ole but meanwhile, Gibson barrel rolls to his own corner and tags Morton. A huge ovation from the crowd. After brief offense, the Andersons double team Morton and Ole, the legal man, runs Morton into the steel cage twice. Ole punches him into the corner and puts his boot to Morton's head until the ref calls him off. Snapmare by Ole. 2 count. Ole with a kick to the shoulder followed by an armbar. Morton fights him off and punches him to the ground, but Ole makes the tag along the way.
Arn works Morton into the corner and drags his face along the cage on both sides. Morton is bloody but fighting back. Arn stops the momentum wrapping Morton's arm around the rope and tagging Ole. Ole goes to work with some stomps. He continues to target the left arm with a submission but it's broken by the ropes. Ole hurls Morton over the turnbuckle and into the cage. More submission maneuvers and stomps on the left arm. He drives Morton into his own corner and tags Arn. Arn with an Anderson slam and goes to the 2nd rope. Morton reverses the double axe hammer with a shot to the gut and the crowd goes wild. Morton lands a DDT but Ole rushes the ring with stomps to Morton. When Gibson tries to stop this, the ref singles him out and forces him back to the corner while Ole continues to beat on Morton. Despite any official tag, it appears Ole is the legal man and he hits a shoulder drop. 2 count. Morton is fighting back but they're in the Anderson's corner again and the tag is made to Arn. A brief double team before Arn takes control and continues working the arm and pounding on his head.
Arn whips Morton to the ropes, he ducks a clothesline and gets Arn on the back of the head on the rebound. Both men are lying on the mat. As both men struggle to get up, Arn holds Morton's trunks and makes the tag to Ole. Ole with a stomp followed by an arm submission. The ref checks but Morton says no. The two are down on their knees and Morton tries to fight back and respond to Ole's punches. Ole works him to the ropes near the Anderson corner where Arn holds him and delivers cheap shots. When they lock up again, Morton tries to attack Ole's leg but despite this, Ole makes the tag to Arn. Morton ducks a clothesline, but Arn lands a spinebuster. 2 count before Gibson saves. As the ref is redirecting Gibson, a tag is made to Ole who goes to the top rope while Arn holds him. Ole delivers a kick to the back of Morton's head and is immediately to the mat in another armbar submission.
Both men to their feet before Morton drops and kicks Ole in the face. Ole rebounds into another headlock, but a whip to the corner results in both men hitting each other's head. Both men slow to get up but Ole is first and tags Arn who thwarts Morton's attempt with a stomp. He applies a front facelock to Morton who refuses to give up. Both men slow to their feet, front facelock in tack. Morton fights back with rights while Arn misses his punches. Both men to the mat. Arn makes the tag. Morton desperately fights Ole off and works him into a small package but Arn makes the save. Gibson rushes Arn and the referees try to get them out of the ring. Meanwhile Ole lifts Morton for a body slam but Gibson dropkicks Morton on top of him and they get the 3 count.
Winners and STILL NWA World Tag Team Champions: The Rock 'N' Roll Express (Morton/Assisted Body Slam Counter)
After The Bell: 

The Andersons go after the 

E

xpress as they crawl their way out of the cage.

EA's Take: What a loaded tag division JCP has, at least it feels that way with your top four! This was a masterful work of art by two more of the best duos ever, The Andersons dominating the action much like they did last year. I don't need to delve too much into this one because you should already know what to expect from them and that's exactly what they gave us. This was everything tag team wrestling should be.
Match #12 for the NWA World Heavyweight Championship: NWA United States Champion Nikita Koloff vs. NWA World Heavyweight Champion Ric Flair
Before the match there's a tribute to Magnum TA. Mixed reaction for Nikita. The two lock up and Koloff powers him down. They lock up again and get the same result. Flair walks out of the ring to regroup. Test of strength and Koloff immediately twists his arm. Flair screams and the crowd cheers. Flair responds with chops that do not effect Koloff. Frustrated, Flair goes for another walk. They finally lock up again, and Flair is once again powered to the mat. You can hear Flair say "OK, Now you get your butt kicked you son of a gun!". Flair works Koloff to the corner, but Koloff is able to turn and ultimately hiptosses Flair back to the center of the ring. Regroup and lock up.
Nikita powers him to the turnbuckle and hiptosses him once again followed by a couple impressive 1 handed body slams. Flair cowers away on his backside and demands the ref to back Koloff off. They lock up again, run the ropes and Flair tries an unsuccessful shoulder tackle. On attempt number two he is caught in a bear hug. Flair is screaming "No". Koloff works Flairs shoulders to the mat but he kicks out at 2 several times. He's pulled up to a full bear hug. Flair walks himself to the ropes to break the hold but Koloff immedaitely with shoulders to the midsection. Flair pulls a reversal on an Irish whip and gets Koloff up for a vertical suplex. But Nikita is right back to his feet and the frustrated Flair leaves the ring and paces outside in pain. He crawls back into the ring begging Koloff to back off for a minute. They lock up and Koloff administers a headlock.
Flair fights back with punches and works him to the corner for shoulders to the midsection and chops. Flair with a punch to the face and a whip to the ropes. After a failed shoulder tackle, Koloff reverses the next run with The Russian Hammer. The ref breaks the hold. Flair pulls himself up by the rope. Koloff attempts a clothesline but Flair moves and Koloff flies over the top rope. Flair starts to work on the knee, running it into the post outside and clipping him inside. Flair taunts Koloff who is struggling to get to his feet. Flair with multiple chops before getting into the Figure Four Leglock. As the ref isn't looking, Flair takes extra leverage from the rope. Koloff struggles but refuses to give up. Koloff manages to turn the figure four, but Flair is on the ropes and the hold is broken. An angry Flair gets up and runs Koloff's eyes across the top rope.
Flair with chops in the corner, but it seems to invoke Koloff. Koloff powers him down to the other corner. A begging Flair receives kicks and shoulder shots before a shoulder tackle. On the 2nd attempt, Flair is able to reverse and throw Koloff through the middle rope. Flair follows and leads Koloff around the ring and smashes his head on the scaffold. Koloff is bleeding. Back to the ring, Flair hits a snapmare followed by a knee to the head. 2 count. Side suplex by Flair and another 2 count. Flair is frustrated and delivers a series of punches to the head before the ref backs him off. This seems to have woken Nikita up. Nikita is up and stalking Flair. Koloff on the offense with shoulder blocks and a body slam. Koloff hip tosses Flair who is screaming "NO!". Koloff whips Flair to the turnbuckle and he tumbles outside the ring. Koloff giving chase, but when he gets there Flair delivers a headbutt to the midsection. He tries to run Koloff into the scaffold again but its blocked and instead Koloff drives Flair's head into the structure. Koloff back to the ring first as the ref counts. Koloff hits him again from inside the ring. Flair works his way into the ring and Koloff drives him into the turnbuckle.
When Koloff slowly approaches an offensive maneuver, Flair reverses with a kick to the gut and a chop in the corner. Koloff matches chops and punches and Flair falls face first to the mat. Whip to the rope. Koloff hits an awkward shoulder tackle which also hits the referee who is knocked to the floor. Flair with the Irish whip to the corner, but Koloff comes back with a huge lariat. He makes a prolonged cover but there is no referee in the ring. Koloff tries to pull the referee back in (who is being helped by other official) In the meantime, Flair is up and delivers a knee to Koloff's back. A new official rolls into the ring for a pinfall attempt. 2 count. Koloff blocks a punch and attempts to whip Flair into the ropes. Flair reverses the whip but when Koloff comes back, Flair ducks a clothesline and hits the new referee. Koloff bullies Flair in the corner as the original referee returns to the ring. As he tries to break the hold in the corner x2, Koloff pushes him down. Ref calls for the bell.
Winner: Double Disqualification
After The Bell: 

A complete melee as various wrestlers rush the ring to pull them apart.
EA's Take: This is very unusual in terms of crowd reaction, Nikita getting a mix of cheers and boos, but Flair's a Horsemen and they're heels. After the accident to Magnum TA, booker Dusty Rhodes had to make a change as Magnum was set to be pushed into a main event title match against Flair. The era of the evil Russians was starting to come to a close, so in order to capitalize on the changing political tides, Nikita would side with Rhodes and make the switch. Clearly, not all of the crowd was buying it yet. Nikita is much improved at this point and it allows Flair to do what he does best and that's sell, sell, sell. This clash put Dusty in an unusual spot however, as Nikita isn't ready for the World Title, but still needed to be protected to a degree if he was ever to get there. That leaves us with a finish I don't care for, but again, I understand why it had to be done.
EA's Finisher: A solid show. I think the gimmick matches were a lot cleaner than last year and made them more enjoyable, but that Skywalkers Match I definitely could have lived without. I applaud JCP for trying something new, but to me it just doesn't work, it's far too dangerous and was a wasted opportunity to have a quality match between two all-time great teams. The Andersons and Rock 'N' Roll Express put on a tag team clinic, the main event was a better in-ring product than the year before and we continue to see Crockett replenish his roster with young talent (which was really a necessity, but if not for that ability they may have had to sell much sooner). The production value is certainly getting better as well, plus there weren't really any tech issues that I can recall. If I'm being honest, JCP's product is really every bit as good as the WWF's and in cetain aspects, is even better. The difference is WWF is mainstream, JCP was not.
Top Three To Watch
1 – The Andersons vs. The Rock 'N' Roll Express
2 – Ric Flair vs. Nikita Koloff
3 – Sam Houston vs. Bill Dundee
---
Always Use Your Head and visit the official Pro Wrestling Tees store for The Chairshot All t-shirt proceeds help support the advancement of your favorite hard-hitting wrestling website, The Chairshot!

---
Chairshot Classics: NWA Bunkhouse Stampede 1988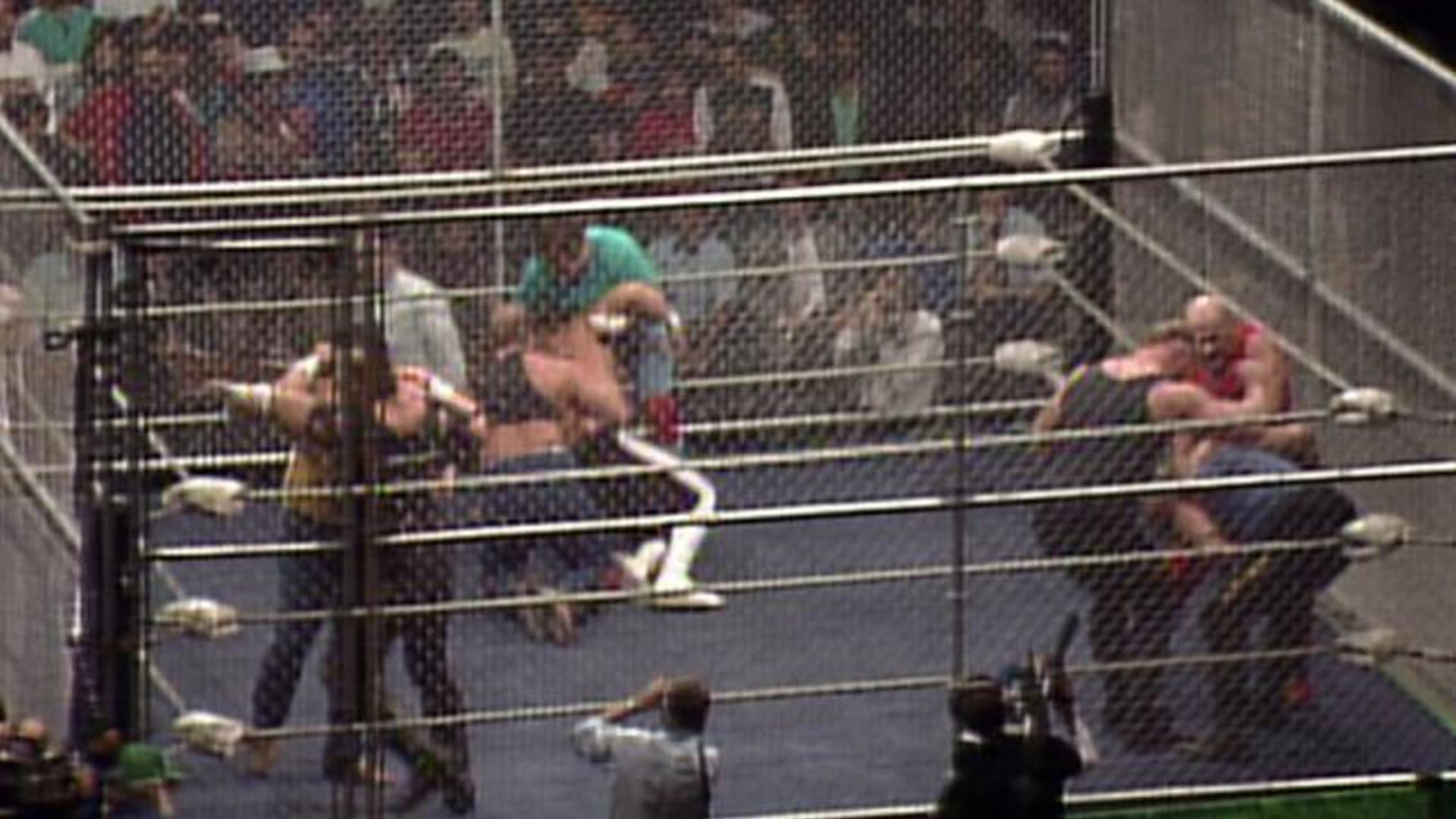 Jim Crockett Promotions and the NWA make their first foray into more pay-per-view events with the inaugural and only Bunkhouse Stampede! There were four Bunkhouse events, but this is the lone one to be broadcast as JCP follows in the WWF's footsteps of adding to their PPV schedule. The match itself is another Dusty Rhodes creation to headline the show, however the WWF would fire back yet again with JCP in their stomping grounds of Uniondale, New York. After running the inaugural Survivor Series up against Starrcade '87, Vince McMahon would do it again here with the first Royal Rumble event broadcast. Not on PPV mind you, but on the USA Network in an attempt to stop people from buying JCP's product. Let's see how it plays out as our opening match gets ready to begin, but first…
Ringside: Bob Caudle & Jim Ross run down the card for the night which consists of three title matches, plus the finals of the Bunkhouse Stampede.
Match #1 for the NWA World Television Championship: NWA United States Tag Team Champion 'Beautiful' Bobby Eaton w/Jim Cornette vs. NWA World Television Champion Nikita Koloff
A big pop for Koloff at his ring announcement. The two lock up and quickly release. Eaton immediately checks in with Cornette. They lock up a few more times and Eaton works Koloff into the corner before another clean break. The next lock up features brief chain wrestling before Eaton breaks it up in the ropes. At the next lockup, Eaton works Koloff into the corner and delivers punches that wake Koloff up. Nikita responds with a shoulder tackle. They lock up again and Koloff wins a test of strength. Koloff applies an arm bar followed by repeated blows on the back. Koloff works Eaton to the mat with a wristlock submission.
Back to their feet, Eaton breaks the hold with an elbow to the nose and kicks Koloff who stumbles through the middle rope to the floor. Some brawling ensues on the floor before Eaton rolls Koloff back into the ring. Eaton attempts to knock Koloff into the turnbuckle but Nikita reverses. They slow it down and both men are squaring up back in the ring. Eaton with a take down off of a side headlock and he maintains a headlock on the mat. Cornette is constantly barking at the referee. Koloff slowly makes his way back to his feet with the headlock still on. He whips Eaton to the rope but is hit with a shoulder tackle. They run the ropes after this and Koloff is able to land a power slam. Eaton regroups with Cornette at the side of the ring.
The two lock up again and Eaton hits another side headlock take down. Koloff rolls from the lock and attempts a pin but only gets 2. Eaton maintains control with the headlock on the mat. Back to their feet, Eaton once again powers Koloff to the concrete floor. He follows Nikita and lands some punches before Koloff throws him off and into the ring post. Koloff follows up with a hip toss on the concrete floor. More brawling happens on the floor before Koloff is pushed back into the ring. Eaton delivers a snapmare takedown followed by a standing elbow drop. There is a pin attempt and a 2 count. Eaton applies a hammerlock submission on the mat. Cornette plugs his ears as the crowd cheers for Koloff to get up.
The crowd loudly cheers "Cornette Sucks!", Koloff slowly works up to his knees and finally stands, delivering 2 elbows and a shoulder tackle before Eaton gets a knee up in defense. Eaton climbs to the top rope and lands a missile dropkick. Pin attempt for a 2 count. Eaton applies another hammerlock submission. The crowd is really giving it to Jim Cornette. After a hammerlock that feels like forever, Tony Schiavone announces there are 5 minutes left in the time limit over the loud speaker. Koloff is back to his knees but he is still trapped in the hammerlock. Koloff finally breaks the hold with a few elbows and hits Eaton with a half-hearted Russian Sickle that hangs him up in the ropes.
They get to their feet at approximately the same time and Eaton has another arm submission takedown. 3 minutes remain. Koloff refuses to submit, and Eaton puts his knee into his opponents back. 2 minutes remain. Koloff back to his feet, with elbows to the stomach but Eaton responds with some kicks of his own and a modified arm bar take down. More submission work on the mat. 1 minute remaining. Koloff strengths back to his feet. They exchange stiff punches. Eaton begs for mercy. Koloff drives Eaton to the corner and delivers 6 punches before an Irish whip to the other corner. Koloff lands a solid Russian Sickle, but there's not enough time for a pin.
Winner: Time Limit Draw
After The Bell: Cornette is in the ring, but he loses his tennis racket in a terrified jump. Eaton attacks Koloff from behind and 'Sweet' Stan Lane of the Midnight Express runs in to make it a double team. The partners kick Koloff out to the concrete.
EA's Take: These two solid NWA stars delivered quite a stinker here. If I ever re-watch the match, I'm getting a stop watch out and timimg how many of these twenty minutes were simply spent laying on the mat in a hammerlock submission. JR did his best to make sense of the "strategy", but there was no logic or strategy here. If the crowd wasn't so interested in heckling Jim Cornette, you probably could have heard some snores. After Cornette claimed Eaton & Lane were respectively going after singles titles, that leads to our match tonight. Eventually, Nikita will team with Dusty (the champion Lane went after) to evolve the feud, but I don't get the finish here. To me, Nikita goes over here, lays claim to a title shot due to the victory, THEN pairs up with Dusty to switch the focus to the US Tag Titles. That's how this should have gone down.
Match #2 for the UWF Western States Championship: Larry Zbysko w/Baby Doll vs. UWF Western States Champion Barry Windham
Zbysko argues with the ref while Baby Doll argues with Windham. The ref finally demands Baby Doll get out of the ring. The two lock up and have a clean break. Windham gets the better end of the next lockup, powering Zbysko to the mat. Windham applies a head lock, runs the ropes and delivers two shoulder tackles and a hiptoss. A frustrated Zbysko consults Baby Doll outside the ring. He takes his time getting back in. Zbykso hits a single leg take down and a short leg submission.
Back to their feet, Zbysko is complaining that Windham is illegally pulling his hair. Windham applies another headlock. The two run the ropes and Windham stops short causing Zbysko to miss a dropkick. They lock up and Windham reverses a hammerlock into a fireman's carry take down. The two work their way to the turnbuckle and they exchange right hands. Zbysko attempts a martial arts kick but Windham catches his foot. Zbysko is back to the concrete again, very frustrated.
Baby Doll appears to be trying to distract Windham, but to no avail. Zbysko is back in and hits another single leg take down. Zbysko tries to work on the seemingly injured leg but Windham breaks the hold by yanking on Zbysko's face. The two run the ropes. Zbysko hits a shoulder tackle, followed shortly by a drop toe hold. Zbysko is applying what looks like a modified half-crab submission. He turns Windham over into a toehold submission. Windham works his way to one foot and breaks the hold with a kick to the head. They regroup, run the ropes and Windham delivers a power slam followed by a 2 count. Windham to the top rope but misses his jump. Zbysko goes right back to work on the vulnerable knee. Windham is back up and hopping on 1 leg but Zbysko maintains the hold until Barry finally lands a few punches. Zbysko delivers sloppy bodyslam and a lateral press for a 2 count.
Zbysko puts a head lock on, but Windham reverses it with a 1 armed belly to back suplex. Windham can't build off the momentum as Zbysko hits another drop toe hold and goes back to that half-crab. One back to their feet, the two exchange hard rights until Windham lands 3 in a row and Zbysko goes down on his back. A whip into the ropes and Windham lands a dropkick. Windham with a vertical suplex and another 2 count. Windham with a side solto suplex and another 2 count. He whips Zbysko into the ropes and grabs him in a sleeper hold. Zybysko breaks the hold by stumbling to the ropes and he rolls out to Baby Doll. Windham has none of the attempted slow down and follows him out.
Some brief brawling before Zbysko rolls into the ring first. 15 minutes have expired. Zbysko walks toward the apron and Windham grabs his ankles dropping Larry on his back. Windham pulls him over for a low blow against the post. Windham re-enters the ring. Zbysko is whipped to the ropes but ducks down on the comeback. Windham attempts a massive lariat and his momentum takes him through the middle rope and back to the floor. He's able to take control when Larry follows though, and Zbysko is smashed face first on a nearby table. As Windham slowly gets to the apron, he hits a shoulder to Zbysko's stomach and attempts a sunset flip. This is countered by Zbysko's right hand. Zbysko attempts a neckbreaker but Windham reverses it into a backslide for a 2 count.
Zbysko sets up for a piledriver but it is reversed into a back body drop. Back to their feet, Zybysko is whipped into the ropes. The two collide in the middle of the ring and they both drop to the mat. Slowly to their feet, Windham moves on an Irish whip to the turnbuckle. Windham steps up to the 2nd turnbuckle and the crowd counts the punches off. On the following Irish whip to the opposite turnbuckle, Zbysko collides with the referee. Windham has Zbysko rolled up into an apparent 3 count, but the ref is down. Windham celebrates but then realizes the situation. He checks on the ref and Zbysko appears to hit him from behind with a foreign object. Zbysko gets the pinfall win.
Winner and NEW UWF Western States Champion: Larry Zbysko (Foreign Object)
EA's Take: This is definitely better than our first match, but that wasn't hard to accomplish. As I stated in my Starrcade '87 review, Barry's being setup for a push towards the top so losing the non-prestigious Western States Title is a good thing. Zbysko would take off from the NWA the following year still as the champion and it was subsequently retired, so that shows how "revered" it was. It wouldn't be but a couple of months later that Windham will turn heel and join The Horsemen, possibly the most recognizable incarnation of the group in its history.
Match #3 for the NWA World Heavyweight Championship: Road Warrior Hawk w/Paul Ellering vs. NWA World Heavyweight Champion Ric Flair w/James J. Dillon
The two lock up and Hawk quickly powers Flair down. Flair takes his time contemplating his next move. Hawk with a side headlock. Flair works Hawk into the corner for a chop, but Hawk just stares him down. Flair walks out to the apron and paces, baffled by his opponent. The two lock up again, Flair delivers a knee and chop to the midsection. Flair attempts a shoulder tackle that doesn't even move Hawk. He goes for a 2nd shoulder tackle and instead Hawk catches him in a gorilla press slam.
JJ Dillon tries to call timeout but the ref won't have it. Yet another gorilla press from Hawk. Flair is backing up on the mat screaming "no". Hawk delivers a barrage of kicks to Flair's midsection. Flair with plenty of theatrics after this attack. Hawk pulls him up and lands a standing dropkick followed by a blow to the head. Hawk relentlessly pulls Flair up for a hiptoss. Flair rolls out of the ring and Dillon tries to give him some encouragement. Hawk meets him at the apron upon his return and vertically suplexes Flair back in. Flair is whipped into the rope and is caught in a bear hug. Hawk works Flair's shoulders down to the mat for a two count. Flair is back to his feet and lands more useless chops. Flair is whipped into the ropes and Hawk lands a shoulder block.
Flair rolls out of the ring and around on the concrete while Ellering stares down Dillon. Hawk joins Flair on the floor who is able to rake the eyes. This only makes Hawk angry and he stalks Flair around the ring. Once back in the ring, Hawk muscles Flair to his knees and Ric finally gets some offense with a low blow. Flair with seemingly more effective kicks, chops and an eye rake after this disruption. The crowd is chanting for Hawk. Flair with a snapmare take down followed by a knee to the head. He covers Hawk for a 2 count. Flair pulls Hawk up and throws him through the middle rope and onto the floor. Flair follows him out and whips Hawk into the steel gate twice. Hawk stumbles back toward the ring as Flair taunts the crowd.
Flair climbs the turnbuckle and hits a double axe handle and another knee to the head. Lateral press from Flair for a 2 count. Flair whips Hawk to the rope who surprises Ric by reversing it into a neck breaker. Hawk to the turnbuckle but misses his attempt at a knee drop. His left knee is apparently injured so Flair takes advantage and works it over in a variety of ways. Outside, Ellering is stalking Dillon to make sure there is no funny business. Flair taunts Hawk yelling "Come on, tough guy" as he delivers more blows to the injured knee. Flair with some chops followed by a belly to back suplex. Flair pulls Hawk to the ring post and swings the injured knee into the metal. Back in the ring, Flair successfully applies the figure four leg lock and uses the ropes for leverage when he can. Hawk refuses to quit. Hawk starts an attempted reversal as Schiavone's voice is heard saying 15 minutes has expired.
The crowd cheers loudly as Hawk completes the submission reversal. Flair is screaming in pain before breaking the hold at the ropes. Both men are slow to get up. Flair hits an elbow to the head and goes to the top rope. Hawk beats him to the punch and Flair takes his patented gorilla press bump from the top. Hawk with chops in the corner. Flair turns him around and sends him to the opposite side with an Irish whip. Hawk comes off the turnbuckle strong and lands a clothesline but he accidentally hits the ref as well. The two run the ropes. Hawk ducks a clothesline and comes back, sending Flair over the top rope with a clothesline of his own. Outside the ring, Hawk runs Flair face first into the post twice. Flair is bleeding.
They work their way back into the ring where Hawk delivers a power slam. Flair cowers into the corner and Hawk lands some rights, followed by an Irish whip and a clothesline. Somehow, Flair climbs to the top turnbuckle but Hawk meets him there. Hawk superplexes Flair, and there is plenty of time for a successful pinfall but there is no conscious ref. JJ Dillon enters the ring and hits Hawk with a chair. This barely phases Hawk who gets up and stalks Dillon down. Flair picks up the chair and delivers a headshot when Hawk turns around.
The ref rolls back in the ring shortly after this as Flair has a lateral press on Hawk but only gets a 2 count. Flair delivers a massive vertical suplex but is shocked to see Hawk is right back to his feet, completely unphased. Flair begs for mercy but Hawk climbs to the 2nd turnbuckle and the crowd counts off the 10 punches. Flair stumbles and falls in the middle of the ring. Flair retreats back to the turnbuckle but sneaks in a knee to the midsection and rushes to get the chair. He hits Hawk with the chair across the back and the ref calls for the bell.
Winner: Road Warrior Hawk (Disqualification)
EA's Take: Classic Flair here as Hawk looks like a million bucks. Lots of no-selling from one of of The Road Warriors and Naitch sells the crap out of the offense, so while I don't care for screwy finishes, I don't know how else you keep the belt on Flair while accomplishing the overall goal. It was interesting to see Hawk going for a singles title, which adds to my intrigue in the match. I have always been of the opinion that Hawk could have been a singles star had he wanted it and had his head screwed on straight. Animal? I'm not so sure, Hawk just always seemed to have much more charisma and was certainly a better promo. They would always come back together however, as we all know.
Match #4 is a Steel Cage Bunkhouse Stampede: Arn Anderson vs. The Barbarian vs. Tully Blanchard vs. Ivan Koloff vs. Road Warrior Animal vs. The Warlord vs. Dusty Rhodes vs. Lex Luger
Everyone takes a dance partner and goes to work. Arn Anderson and Dusty double team Ivan Koloff. Dusty almost eliminates Tully Blanchard immediately through the door. Luger and Warlord exchange blows as Dusty changes his attention back to Koloff. He goes for another elimination but Koloff holds on. Anderson and Blanchard try to double team Luger out of the cage to no avail. Koloff, Rhodes and Barbarian are all up on the top rope in one corner exchanging blows.
Barbarian tries to send Dream over but can't get the big man over. Animal is stalking Tully Blanchard as they tight rope walk across the top rope. Animal grinds Blanchard's face on the cage. Arn is being pursued by Dusty for an elimination but is saved when Koloff hits Dream from behind. Luger is up on the 2nd turnbuckle delivering blows to the head Barbarian. Rhodes throws Blanchard head first into the cage, where back in the center, Luger hits an atomic drop on Koloff. Arn Anderson is bloody and getting his face grated on the cage. Barbarian and Warlord double team Animal. Barbarian bites the bridge of Animal's nose.
Luger is going crazy throwing rights to all comers and the crowd pops as Rhodes uses a strap on everyone else. The Barbarian is able to pull the strap away from Rhodes and uses it against him in the corner. Luger's momentum slows and Arn Anderson delivers some rights. Animal has Dusty's strap now and uses it on Koloff before giving it back to Rhodes. Dream whips Koloff who really seems outmatched. The Warlord and Barbarian with a double team clothesline on Animal. Arn Anderson has removed one of his boots. Koloff steals the strap and uses it against Rhodes' bleeding arm. Luger takes the boot away from Arn Anderson and threatens to use it on Blanchard. Animal saves Rhodes from Koloff.
Luger is driven into the cage by the Warlord and receives a set of double team chops from he and Barbarian. We see Anderson being close to thrown over by Animal while partner Blanchard now has the strap around the neck of Koloff at the door. Anderson fights it off and is back in the ring delivering a double axe handle. Rhodes' arm is a bloody mess. Ivan Koloff is eliminated over the top of the cage by Animal. Back in the ring, Luger rakes Barbarian's eyes over the top rope. Barbarian fights back with some chops, but is met with an attack from Rhodes. At the door, the Warlord is hanging on tight as Animal is punching him out.
Animal is attacked from behind by the Barbarian and they both go out at the same time. Road Warrior Animal & The Warlord have been eliminated.The Horsemen and Rhodes and Luger team up and go at it. Power slam from Luger on Blanchard and he gets Tully into a brief torture rack submission. Barbarian takes over with Rhodes while Anderson tries to save his partner. Luger tries to fight both of them off but can't overcome the double team. Barbarian is biting the bloody arm of Rhodes while the Horsemen carry Luger to the door. Luger fights back. Blanchard goes to the top rope, but Luger knocks him off.
All 3 men are battling at the door. Anderson hovers over a punching Luger on the apron. Blanchard is using his feet to slide Luger out but Anderson is father outside than Lex. All 3 men simultaneously fall out to the concrete. Arn Anderson, Lex Luger & Tully Blanchard have been eliminated. Only Dusty Rhodes and The Barbarian remain in the ring. Rhodes delivers some bionic elbows near the ropes but Paul Jones sneaks a foreign object into Barbarian's hand. Barbarian wastes no time to use it.
Paul Jones cheers him on as Dusty is on his back in the middle of the ring. Barbarian goes to the top rope and delivers a diving headbutt. Barbarian drags Rhodes to the door. Both men are slowly out to the apron. Dream appears to be in trouble but comes back with more bionic elbows. Back in the ring, Rhodes whips Barbarian and hits an elbow. Both men to the turnbuckle and both men climb to the top rope. Rhodes lifts Barbarian to a seated position atop the cage. A first bionic elbow knocks Barbarian to the outside of the cage. A 2nd elbow knocks him to the floor.
Winner: Dusty Rhodes
EA's Take: Kind of like the scaffold matches, this gimmick match is visually interesting, but conceptually nonsensical. Granted, five of the competitors were eliminated at the door which is at least a realistic sell, but over the top of the cage? It meant there were a lot of spots where multiple wrestlers were up on the top turnbuckle and walking across the top rope in a way they never would in a normal match. Most of the time, the wrestlers were simultaneously climbing up the ropes willingly and unprompted. If your goal is to avoid being thrown over the cage, why would you put yourself in a more dangerous spot? It made as much sense as someone in a modern Royal Rumble choosing to jump over the top rope and fight guys off from the apron. Being eliminated at the door is more realistic, but the door eliminations weren't very exciting. The guys gave a good brawl in the ring, but I think they would have been better off with a traditional battle royal concept.
EA's Finisher: This two hour event leaves a lot to be desired and quite frankly, that would be reflected in the number of buys it would gain. It was widely ridiculed by the pundits, primarily because Dusty booked himself to win all four Bunkhouse Stampedes. Was it justified? Who am I to say? I think it may have helped had the dark match been on the main card, which was Sting & Jimmy Garvin vs. The Sheepherders, better known as The Bushwhackers. With only four matches, there was no reason that couldn't be part of the broadcast. While many on this card are beloved Hall of Famers, none of these matches were exactly Shawn Michaels and Bret Hart putting on a technical clinic that captivates our attention for a long period of time. JCP will be back at it as they go to a whopping THREE PPVs in 1988, with The Great American Bash up next in June. It's refreshing to cover an event other than Starrcade and JCP does have talent, but unless you are interested in seeing what this Bunkhouse Stampede match is all about, you should avoid this one.
Top Three To Watch
1 – Ric Flair vs. Road Warrior Hawk
2 – Bunkhouse Stampede
3 – Barry Windham vs. Larry Zbysko
---
Always Use Your Head and visit the official Pro Wrestling Tees store for The Chairshot All t-shirt proceeds help support the advancement of your favorite hard-hitting wrestling website, The Chairshot!

---
Leaping Through The Network: WCW Thunder #32 [September 17 1998]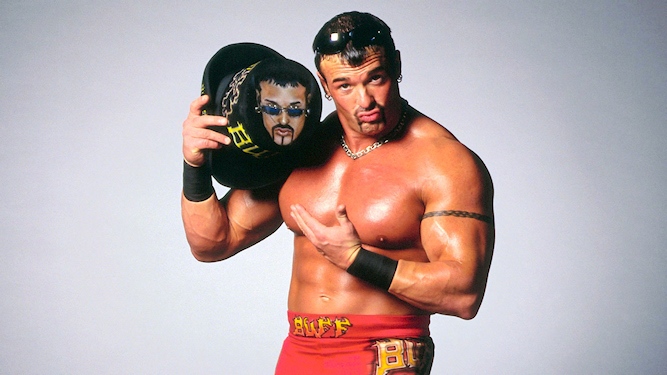 It's that time again to put the 'Flashback Friday' into Flashback Friday as we leap through the WWE Network Pay Per View by Pay Per View and show by show in as random a way possible.
No sooner had the people at The Chairshot. com worked out that I can leap into a certain place like a random Wrestlemania or for that matter a Raw after Wrestlemania, they decided to impliment a vote allowing you, the reader, to vote for where you want me to go.
Vote you did and you chose WCW Thunder.
Back in the day WCW and WWE competed on opposite channels every Monday night from 1995 until 2001. With the rise of the NWO in WCW and a fairly tired format from WWE, WCW sat undefeated at the very top of the Monday Night ratings for 84 consecutive weeks. Cashing in on the popularity of Nitro/ milking what they could out of Nitro, WCW announced Thunder to air on Thusday nights would begin in early 1998. Many said it would dilute the hot product that was Nitro.
But was Thunder any good? To answer that one, it's time for us to leap into….
Thunder #32 [September 17 1998]
Following the opening credits, we open with our comentary team of Tony Schiavone, Bobby Heenan and Lee Marshall who tell us that Ric Flair's career is on the line tonight in an Arm Wrestling Match.
Wrath vs Bobby Eaton
Wrath grabs Eaton by the throat and pushes him into the corner to start this one following up with a boot and a chop. An Irish Whip and a Clothesline by Wrath before he steps on Eaton's throat choking him and following that by standing on the apron and using the ropes for leverage to choke Eaton again. Wrath whips Eaton off the ropes but Eaton comes back with a series of punches. It doesn't last long as a Pump Kick sends Eaton rolling to the outside. On the outside, Wrath pushes Eaton face first into the turnbuckle post before shoving Eaton back into the ring, climbing to the top turnbuckle and launching himself at Eaton connecting with a Flying Clothesline. After a Shoulder Block Wrath hits a Meltdown (a Pump Handle Powerslam) and gets the pinfall victory.
Winner: Wrath
We see a brief highlight package of Ric Flair as his career is on the line later. Tony tells us that Hulk Hogan versus The Warrior has been signed for the upcoming Halloween Havoc pay per view. I can't wait to cover that one.
Mike Enos vs Lenny Lane
Lenny Lane looks a lot like a young Chris Jericho which is odd because he isn't Jericho and Mike Enos looks nothing like Blake Beverly from the old Beverly Brothers tag team which is odder because he is Blake Beverly.
A Collar and Elbow Tie-up goes nowhere so Enos pushes Lane into the corner and follows up with boots. Are they re-creating the previous match, because that's exactly how that one started? Enos grabs Lane and, impresively, launches him across three quarters of the ring. Enos follows up with a Gorilla Press Slam and a couple of Elbow drops before Lane rolls out of the ring. Enos gives chase but Lane rolls back into the ring. He then drops Enos throat first across the top rope before launching himself over the top rope with a Plancha. In the ring, Lane gets a two from a Bulldog but Enos counters a Leap Frog by Lane into a Powerslam and a Clothesline before getting a two of his own from a Neckbreaker and follows up with a Stun Gun which is only broken because Lane gets a foot on the rope. Enos slows things down with a Chin Lock before unloading on Lane with kicks and punches but argues with the referee for a bit allowing Lane to get a two from a School Boy. A Cross Body by Lane is caught and countered into a Whirlwind Faceplant (best I can call it) and gets the pin and win for Enos.
Winner: Mike Enos
Mean Gene Okerlund is backstage with Scott Steiner and Buff Bagwell. Okerlund tells Scott that a match has been signed for Halloween Havoc between Scott and his brother, Rick Steiner. Scott says he's looking forward to the match after he proved at Fall Brawl that he is bigger, stonger and faster than Rick. He proved it at Fall Brawl and he will do the same at Halloween Havoc.
We see highlights from last Sunday's Fall Brawl where Chris Jericho took on a clearly fake Bill Goldberg and beat him with a Walls Of Jericho. Following that, we're treated to another Ric Flair highlight video.
Vincent vs Steve Armstrong
Vincent misses a Clothesline and Armstrong catches him with an Inverted Atomic Drop before pulling Vincent's bandana over his face and peppering him with punches that knock Vincent into the corner. AGAIN? It must be made of a thin material as Vincent gets his feet up to block a charging Armstrong before Vincent throws Armstrong over the top rope and out of the ring. Years ago in WCW this would have gotten him a DQ loss. Shame they dropped that rule. Vincent dives off the apron catching Armstrong with a flying Clothesline followed by a whip into the steel steps. Back in the ring, Vincent scales the turnbuckles and hits Armstrong with an Axe Handle. Vincent pulls on an Arm Wringer sending Armstrong down to the canvas and follows that up by legdropping Armstrong as he leans over the middle rope. A single arm DDT is transitioned into an Armbar and this one is over. Doesn't explain why it happened though.
Winner: Vincent
We get footage of WCW fans discussing their love of Ric Flair followed by a clip of Monday's Nitro when Ernest Miller interfered in a Van Hammer vs Alex Wright match and got arrested.
Ernest Miller vs Rick Fuller
Miller gives Fuller three seconds to get out of the ring or he's in trouble. Fuller doesn't take it so Miller starts the match with Roundhouse Kicks to Fuller's hamstring and tries choking Fuller with his jacket before hitting Fuller's shoulder off the turnbuckle post and choking him with a wire. The referee takes a steel chair from Miller and Fuller applies a Bear Hug outside the ring. Miller bites his way out of that (and no that isn't a spelling mistake he really did bite him) and whips Fuller into the ringside steps.
Back in the ring, MIller attacks Fuller's left shoulder with knees and an Armbar. Fuller fights back with a Heart Chop and a Bodyslam but misses a second rope Splash allowing Miller to run up the ropes and hit a Roundhouse Kick he calls 'the Feliner' for the win.
Winner: Ernest Miller
Yet another highlight video of Ric Flair airs.
Curt Hennig vs Norman Smiley
A Collar and Elbow Tie-up again just sort of ends. Hennig grabs Smiley in a Waistlock that Smiley reverses into one of his own forcing Hennig to grab the ropes to break it. Smiley applies a Hammerlock that he turns into a Front Face Lock and turns that into an Arm Wringer that he uses to Suplex Hennig which gets him an early two count. A side Headlock by Smiley is sent into the ropes but Smiley rebounds with a Shoulder Block. A second bounce of the ropes by Smiley is countered by Hennig with a Drop Toe Hold before Hennig works on Smiley's left knee bringing his weight down on it and following that with a sort of knee wrench before taking it to the corner with kicks to the hamstring. Smiley fights back with an Uppercut and gets his feet up to block a charging Hennig. It's not enough as Hennig catches Smiley with a Perfect Plex and not many kick out of that. Certainly not Smiley anyway.
Winner: Curt Hennig
More Flair highlights!!!
Kevin Nash & Konnan vs Scott Hall & Stevie Ray
Oh joy, it's the drunk Scott Hall angle (!) Stevie Ray and Konnan start and Ray rakes Konnan's eyes and smashes him down with Axe Handle Smashes and boots but Konnan fights back with a forward roll into a Clothesline, a Snapmare and a basement Dropkick. Konnan whips Ray into the corner and charges but is met by Ray's boot and a Clothesline followed by a Bodyslam and stomps before tagging Hall who goes for an Abdominal Stretch but Konnan counters it with a Drop Toe Hold. After much stalling, a second Drop Toe Hold is transitioned into a Chinlock. Konnan lets Hall up and bounces him off the rope but Hall reverses it sending Konnan into the ropes where he's met by Ray's boot in the shoulder blades and a kick to the head from Hall. Hall gets distracted and is rolled up in a School Boy and a Small Package that both get two counts. A single punch by Konnan knocks Hall on his seat. Following a brief Coffee brak Hall fights back going for a Razor's Edge but Konnan Back Drops his way out of it and applies another Chinlock before hitting a back kick and an X Factor that staggers Hall to the point that he falls out of the ring where is is counted out. Crowd boos loudly.
Winners: Kevin Nash & Konnan
We see highlights from Monday's Nitro when Ric Flair returned to The Horsemen. This is a fairly famous promo where Arn Anderson brings out the current Horsemen while the crowd scream for Ric Flair. I'm skimming over it now but I'll cover it better if/when we get to that Nitro. Mildly amusing is the contrast between Flair and Benoit. Flair is ranting about Bischoff and his face is going redder and redder and Benoit looks so dead pan.
Arn Anderson vs Eric Bischoff [Arm Wrestling Match]
Referee Nick Patrick explains the rules to both men. Bischoff reminds Arn it's a left handed Arm Wrestling Match. Despite having nerve damage in his left arm, Arn's OK with this. Bischoff isn't. He backs off and stalls before 'tagging out' and replacing himself with Buff Bagwell
Arn Anderson vs Buff Bagwell [Arm Wrestling Match]
Buff reminds Arn that he's retired and mocks Arn's 'withered toothpick of an arm'. Arn tells Buff the next time he sees Buff, he'll have a tyre iron. In mere seconds, Buff wins over Arn's injured arm.
Winner: Buff Bagwell
Buff and Bischoff celebrate and we fade out.
Post Show: This felt a lot like a B show. A 1998 version of Main Event, Superstars or Xplosion instead of being on the same level as Nitro. Most of the matches on here wouldn't make it onto Nitro never mind pay per view. Worse still the matches were short making them feel even more pointless.
Match Of The Night: Curt Hennig vs Norman Smiley. I liked it. It was an enjoyable little taster of what they can do and it left me wanting more. None of the rest did.
MVP: I feel it has to be Ric Flair. Not even on the show and yet the whole episode felt built around him. While I may be the only wrestling fan that doesn't like Ric Flair, WCW clearly loves him.
And with that it's time to pack up and move on as I leap to another show. I can be found on Twitter @Callaweasy2220 where I live-Tweet my way through Raw, Smackdown, NXT and, when there's one on, Pay Per View. As always there is a vote going on over @theCHAIRSHOTcom for where I'll be heading to for upcoming shows so #UseYourHead and go there for that and while you are there, there are articles on Raw, Smackdown, 205, NXT, pay per Vews, News, reviews and Brock Lesnar.
I'm going blue and about to leap so have a fun week, I'll be back next Friday and in the meantime ALWAYS have an Angle.
"Help me! Help me! The WWE Champion is kicking my butt! Help Me!"
Oh boy.
---
Always Use Your Head and visit the official Pro Wrestling Tees store for The Chairshot All t-shirt proceeds help support the advancement of your favorite hard-hitting wrestling website, The Chairshot!

---
Flashback Friday: AJ Styles vs. Tyler Black (Seth Rollins) 4/28/06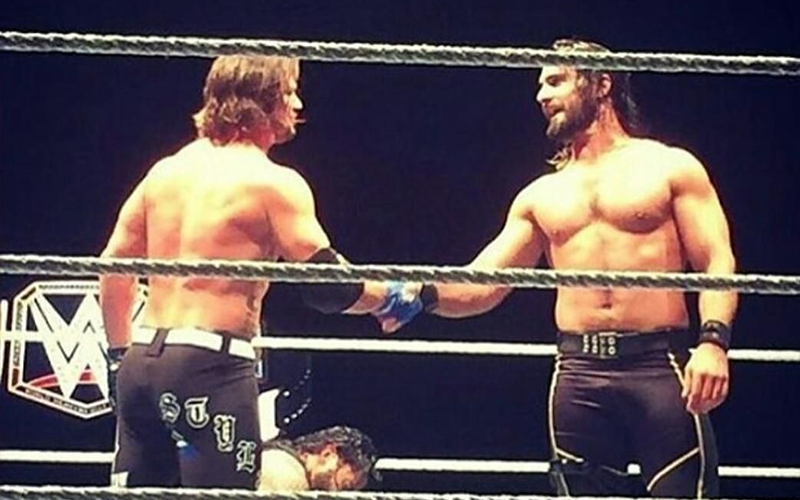 Welcome to the first installment for Flashback Friday. The premise of the piece is to review an old match between opponents' fans probably didn't know had faced each other in the past; the matches will be accessible at the end of each column. For this month's installment, the match is said to be the only time these two men faced each other to date, and it wasn't in a WWE ring. The match took place on April 28th, 2006 in Muscatine, IA at an NWA No Limits show. The two men facing each other were current WWE champion AJ Styles and former WWE champion Seth Rollins. We should mention that this match was before there was a 'Seth Rollins;' at the time he went under the moniker of Tyler Black. The match went just over twenty-eight minutes and featured a more seasoned Styles against a green Tyler Black.
AJ Styles s. Tyler Black (Seth Rollins)
April 28, 2001, IWA No Limits (Muscatine, IA)
Times have changed for both men since then. The match took place in a gymnasium in front of a crowd of possibly a couple of hundred people. It begins with the camera focused on the entrance, and a very young, fresh-faced Tyler Black emerging from behind the heavy-duty steel doors. Fans immediately gravitated towards him as he slapped hands with everyone in attendance on his way to the ring. He was quite enthusiastic, soaking in all the adulation of the crowd as he stood on a table and slapped his chest, showing how pumped up he was for this match-up. Once Black is in the ring, the camera pans away to the doors to focus in on the next participant. Emerging from behind the doors was an equally fresh-faced AJ Styles, with his clean-cut look and short hair, and missing the AJ tattoo that runs down the right side of his rib cage. Styles, much like Black, walked in with much fanfare and carried a little more notoriety at the time. He also slapped hands with fans along his way to the ring. We can tell that this was relatively new for all involved, as it didn't have the refined finish that we have become accustomed to seeing in the WWE today.
Both men stood in the ring prepared to go as they were announced for the match. We have to remember that, this being twelve years removed from today, it lends itself to seeing things from both men we may not necessarily see from them anymore. This is what proves to be so exciting about this match-up. The match started off simple enough with both men trying to feel their way along, trying to lock up not unlike what fans will see from either man today. Both men's physiques have certainly developed since this match. Both have developed the strength of their upper body and core. The physical differences also make what we see from them here quite unique.
Early on, the match was fairly technical, with Styles taking Black down momentarily only to have it countered and Black recovering and gaining the advantage. Both men pretty much used a ground game to try to wear down and exhaust the other guy. Those in attendance appreciated the story these two were telling early on. Both men then began to exchange arm drags in what seemed like a progressive moment in the match. However, just when it appeared as though Black had the advantage, Styles regained the advantage with a side headlock on the mat. There were a few attempts to use leverage in order to make a pinning attempt. There weren't a lot of high spots early on, with each man spending more time trying to work on their opposition. This was until Styles hit Black with a phenomenal dropkick and followed that up with a plancha to the outside the ring onto Black.
This was when it began to pick up. Styles rolled Black into the ring and attempted a pinfall, only getting a two count. He then proceeded to hit Black with a side backbreaker and once again got a two count. A vertical suplex led to another count of two. It was at this point where Black attempted to make a comeback by hitting Styles with a few kicks, almost defensively in order to keep distance between himself and the phenomenal one. However, that only went so far as Styles hit a vertical shoulder breaker leading to another pinfall attempt. Styles then transitioned to what appeared to be the last chancery, a submission maneuver made famous by Austin Aries. Black writhed in pain then struck Styles out of desperation in order to break the hold.
Black was battered and beaten, having been systematically worked on by Styles, who was proving that he is the veteran, of the two. However, when Styles attempted a springboard move, Black dropkicked the top rope knocking his opponent down. Black then climbed the top rope and hit a standing moonsault onto Styles on the outside, with nothing to brace their fall, but steel folding chairs. He then rolled Styles in the ring and attempted his own pinfall, but again only a two count was made. Black, still trying to recover himself from the earlier beating he received, was moving slowly as he slammed Styles. He then proceeded to hit a running senton. Styles attempted to make a comeback, but Black continued to get the advantage with a variation of a side headlock and reverse chin lock, wearing down the phenomenal one.
Once both men returned to a vertical base, Black hit a bridging suplex on Styles. He then followed it up with a rolling fireman's carry into a standing moonsault, but only to a count of two. Styles slowly began to mount a comeback, only for Black to counter. Styles ended the sequence with a Pele kick, taking Black down and buying time to recover. Both men attempted standings suplexes, countering each other's effort until Styles ultimately succeeded. He followed that up with a suplex into a standing reverse neckbreaker, once again to no avail. Styles signaled for the Styles Clash, but Black countered it and then caught AJ in mid-air for a powerbomb pinning combination.
The match truly began to pick up. Spots included Styles' famous moonsault into a Scorpion death drop. Black then perched his opponent on the top rope and hit a superplex from the top rope, once again for a count of two. Both men appear completely exhausted at this point, but Black managed to hit a running kick and a standing 450 splash. Styles revived and again signaled for the Styles Clash, this time hitting it for the three count. While there may have only been a few hundred in attendance that didn't take away from the action these two showcased in this match.
Winner via

pinfall

: AJ Styles
After the match, Styles got on the microphone and pointed out how good Black was. He said that he is the future and gave him the match of his life. It ended with a handshake a hug out of mutual respect. Fans shared their appreciation, and then Black got on the microphone and said 'Thank you' to AJ for helping make a dream come true. Once Black left the ring fans showed their respect for him by patting him on the back or giving him hugs.
All wrestlers have to start somewhere, and this match gave fans a glimpse of how these two tremendous athletes give it their all regardless of the size of the crowd. Styles had a higher level of recognition and popularity due to his being in TNA at the time, but Black was an unknown in comparison. The match took place prior to Black joining Ring of Honor, which was where a wider range of fans began to see just how talented he was. This small venue gave fans an opportunity to see this promising young talent in action.
The running time of the video is over 28 minutes, but that isn't really an accurate account of the match. It was probably closer to about 20 minutes of in-ring action, which is quite telling as both men got a great deal of offense. When we consider the time when the match took place it makes sense that Styles walked away from the winner. However, Black (or Rollins) was certainly given an opportunity to show just how good he was. Before watching the match, it would have been easy to think that Black was green going in, but that wasn't true at all. His moves looked polished, his selling of offense appeared refined, and this was twelve years before he was in WWE, where he has only gotten better.
It is incredible to think that nearly twelve years after this match, both men are now prominently featured performers in WWE, but have never faced each other while with the company. A number of the moves the men performed in the match perhaps couldn't be done today. However, it is probably safe to assume that they could put on an even better performance today. We have to consider that in WWE oftentimes a day is dedicated to planning out a match, in order to have it appear as flawless as possible in its execution.
We hope you enjoyed this little trip down memory lane, and encourage you to watch the match for your own enjoyment.
---
Feel free to follow me on Twitter @TheMarcMadison and Instagram @themarcmadison
Feel Free to like my Facebook page Pro Wrestling Post
Feel Free to check out my blog The Wrestling News Hub Magazine including interviews with ROH top prospect tournament entrant, Curt Stallion, Sebastian Suave, Ring of Honor's Frankie Kazarian, "All Good" Anthony Greene, 'The Green Machine' Mike Orlando, Josh Briggs, ROH top prospect finalist John Skyler and current rising Ring of Honor star Flip Gordon with interviews with Tyson Dux, Ivelisse and Madman Fulton (former WWE NXT superstar Sawyer Fulton) former WWE referee Jimmy Korderas and Ring of Honor commentator Ian Riccaboni.
---
Always Use Your Head and visit the official Pro Wrestling Tees store for The Chairshot All t-shirt proceeds help support the advancement of your favorite hard-hitting wrestling website, The Chairshot!

---