CheapShots: Kazuchika Okada,The Best In The World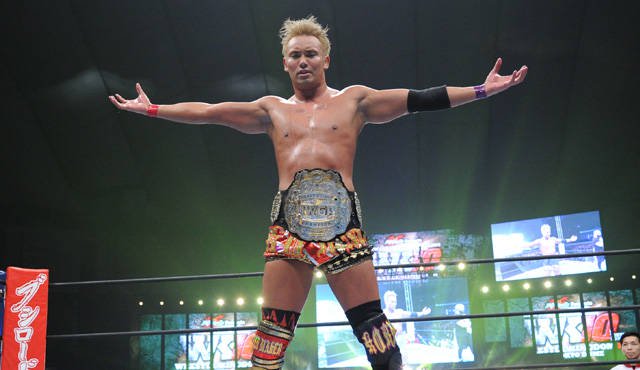 Kazuchika Okada, is the best wrestler there is today. Period. There are no ifs, ands, or buts about it. Yes I said it, if you don't agree with me you are wrong. If you don't agree, then you need to get off of the Kenny Omega Bandwagon, and stop only watching WWE, and go watch Okada's matches. Is my statement bold and out of left field? No. There are many people who believe this same thing. How do I know that Okada is the best wrestler there is today? Allow me to tell you the ways.
Shades of Flair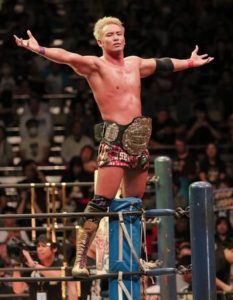 Now is it ballsy of me to compare Okada to Ric Flair? Yes. But, there is no one who reminds me so much of Flair than Okada. It's not that he is copying Flair in any way. It is Okada's ability in the ring that reminds me so much of Flair. I believe that Okada is doing something in wrestling today that I believe has not been seen since the days of Ric Flair. Okada is a champion, who has held the title for over 600 days, and puts on 60 minute matches. Have you ever tried to sit down and watch a 60 minute wrestling match? Some just drag on and on. There are very few people who can put on a 60 minute match consistently and keep it entertaining. Flair is one, Okada is the other.
He echoes shades of Ric Flair who made his rounds during the NWA territory, and early WCW days. Flair wasn't the biggest, wasn't the fastest, but his in ring ability, and his ability to tell a story in the ring is what makes Flair great, Okada is doing this same thing. One of the other things that make Flair the greatest of all time, was his ability to make anyone he wrestle look like they belong in the ring with him. Okada does the same thing, but elevates it. He makes them look like they belong in a Heavyweight Title match, and will also wrestle their style of wrestling. His match against Zack Sabre Jr. proved that he doesn't just have the Strong Style Wrestling ability. He wrestled a match that showcase Sabre's style, and at the end of the match it showed that yes Okada beat him, but he beat him at his own game, proving why he is the champion.
Okada was picked to be the face of NJPW, and he hasn't let them down, showing why he deserves that top spot. (Something WWE could learn from.) He being the face of NJPW is a reason why we will never see him in WWE. And we really don't need to see him in WWE. I fear it would hurt his wrestling ability. He is known for 60 minute, barn burning matches for him to have a 15min spot on the card would be insulting. But, every time he wrestles he shows why he is the champion and the face of NJPW. He is charismatic, he is a big guy, but also agile. His ability in the ring isn't the flashiest, but he is polished. I am not going to talk about star ratings cause I think one man's opinion shouldn't be taken as gospel. But, if you are into that kind of thing, then yes Okada does have a few of these matches.
Conclusion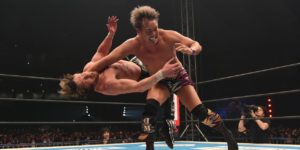 I truly believe that once his career is said and done (which will be a long time from now cause he is still young), Okada will be considered one of the greatest wrestlers who has ever laced up his boots. If you aren't watching Okada wrestle, or haven't seen him wrestle, then I implore you, to drop what you are doing and start watching. My ramblings don't do him justice. All I can say is, see it for yourself, you won't be disappointed. If you are a fan of Pro Wrestling and not "Sports Entertainment" as Vince calls it, then do yourself a favor, and get in on history in the making.