Chris Deez's WWE Wrestlemania 34 Predictions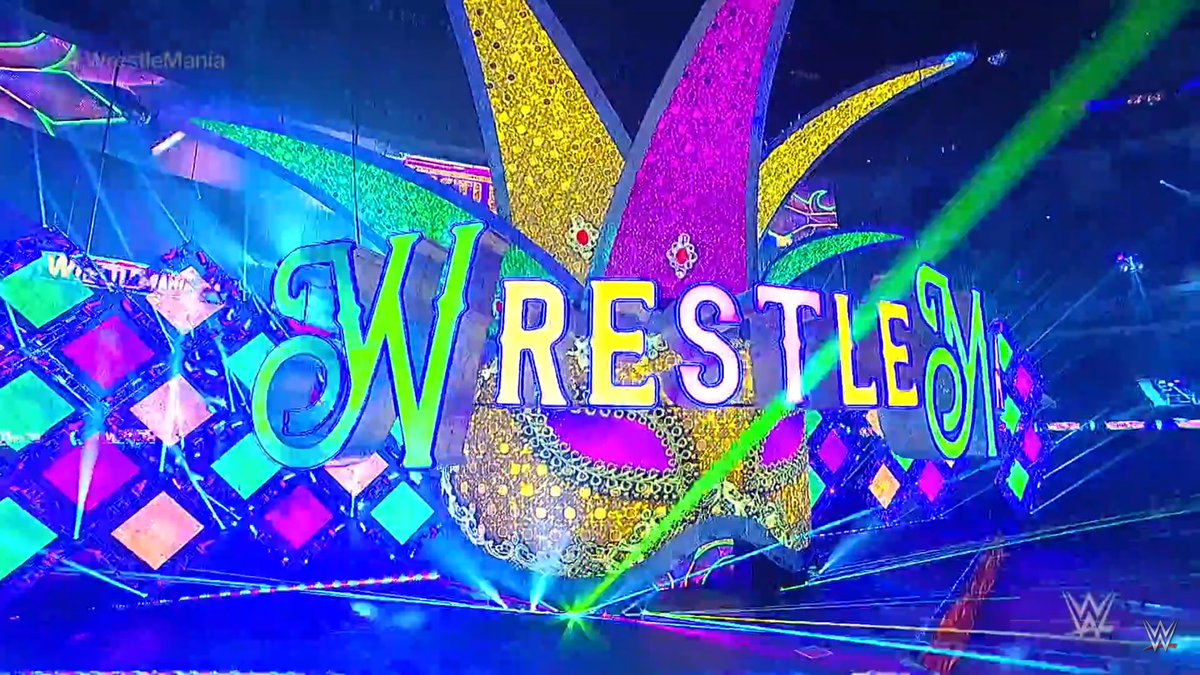 The Road To WrestleMania is about to reach its final destination. The Showcase of The Immortals is upon us, and with the biggest night of the year only days away, its time for me to pull on my prediction pants and try to decipher what is going to happen on this most spectacular of nights. We've got arguably the most impressive 'Mania card of all time, with intriguing situations, dream matches, heavily invested storylines and multi man madness aplenty. So, have WWE run out of gas? Or is there still plenty of life under the hood?
The engines are revving. The drivers are ready. Let's get this show on the road…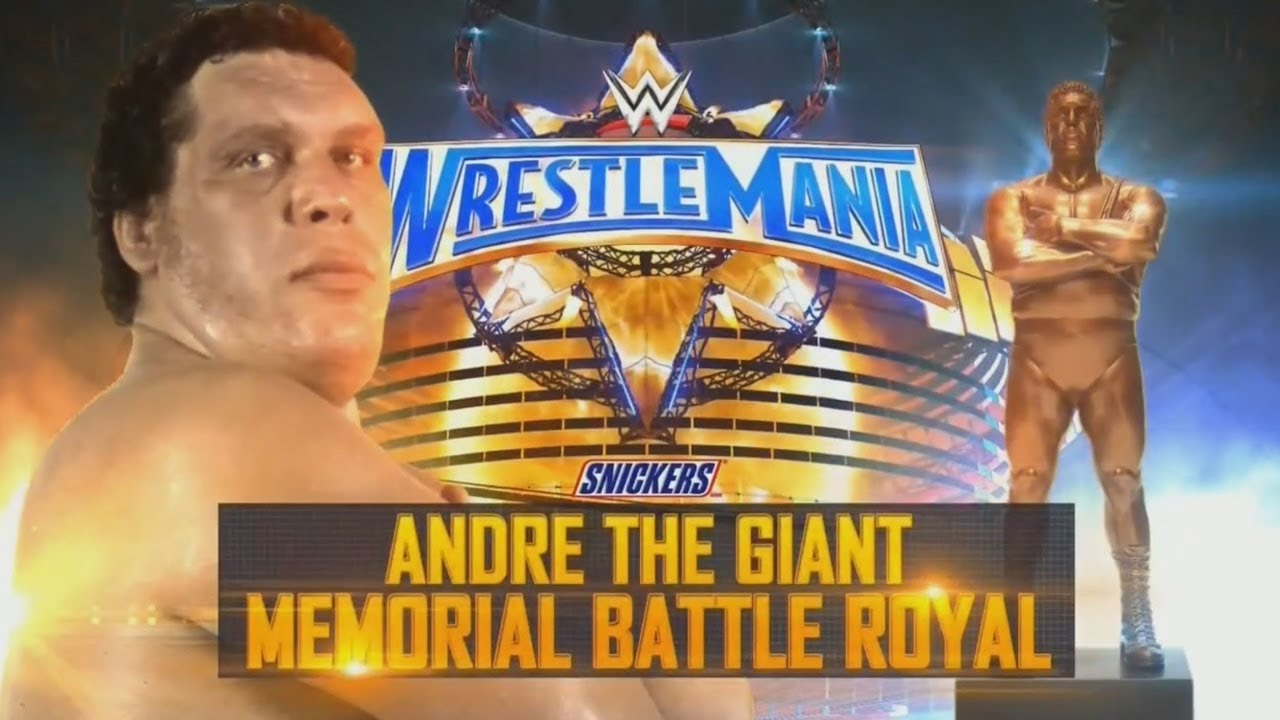 Andre The Giant Battle Royal
How We Got Here: As is the norm now, every superstar who the creative team have given up on gets shoved into a mini Royal Rumble to – A) Makes them feel important. B) Save creative doing their jobs properly, and C) Fill some time. Expect jobbers aplenty and some guys you forgot were even still on the books.
What Should Happen: As much as I don't want to see him wasted on something meaningless like this, Samoa Joe should come back here. He should dominate the match, eliminating jobbers left right and centre in an effort to remind WWE why he is one of the best heels (and superstars in general) on the roster. What should also happen is these matches should start to mean more. Why not give the winner a future mid card title shot? Or put them into a number 1 contenders match?
What Will Happen: No-one will care from the start. Someone like Apollo Crews or Kassius Ohno will win. People will care even less.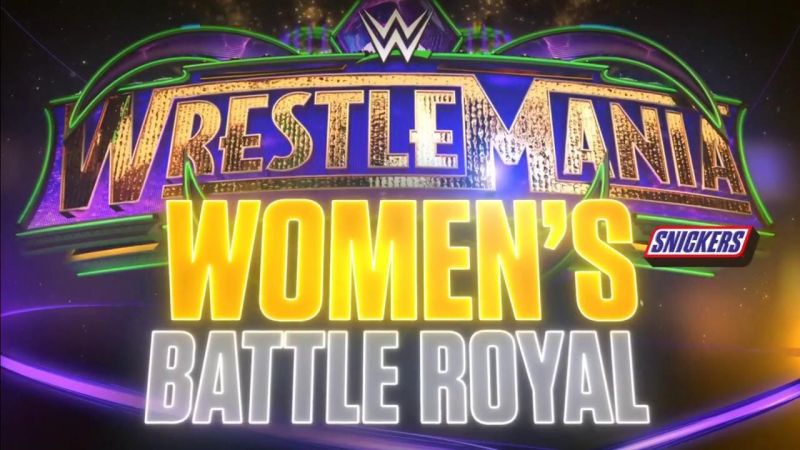 Women's Battle Royal
How We Got Here: WWE have continued to come good on their promise to back the Women's revolution. This match is the latest in a long line of 'first evers' for the ladies… shame it was named after a woman who treated other women like garbage through sex trafficking eh? WWE made a quick fire change and remove The Fabulous Moolah's name from the match, but you can fully expect the fans to still shit all over this one.
What Should Happen: Becky Lynch should win this one. Her treatment over the last year has been astounding, one of the best women on either roster continues to be buried. An iron woman performance and hard fought win should be followed by a shot at the belt on the blue brand, especially considering how weak the SDLive division has become.
What Will Happen: 20-30 women we give absolutely no shits about will slog through a botch fest. Fully expect someone undeserving such as Liv Morgan to win this. But it's okay because she's pretty… right?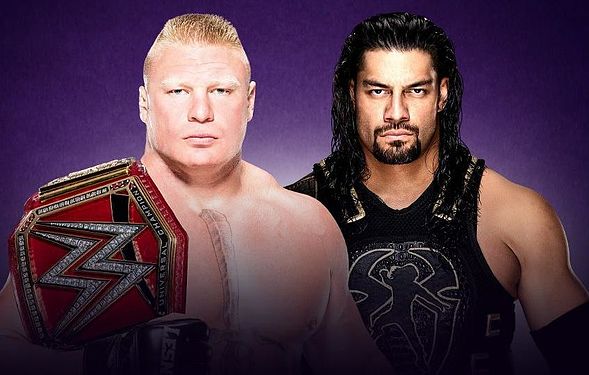 Roman Reigns v Brock Lesnar
How We Got Here: It's a classic love story. Deluded, out of touch billionaire falls in love with masculine, stereotypical, handsome, long haired, averagely talented man because family ties dictate. Think of it like an arranged marriage. Billionaire has his head turned by strong, intimidating, elusive man who shows up to whisk him off his feet roughly 10 times every year. Billionaire is torn between his two sweethearts. True love finds a way against all odds and the old lovesick fool chooses the best of a bad bunch to be his bae, and in the process bleeds them of all their money. The End.
What Should Happen: Loads of things should have happened. Seth Rollins should've been involved. Finn Balor should've been invested in more. The Miz should've been repaid for his amazing 2017. Samoa Joe should've been used better. Braun Strowman should've been a key factor. What should happen is the fans should be listened to and someone deserving should be champion. Simple.
What Will Happen: Roman Reigns. Because Roman Reigns. Then Roman Reigns will Roman Reigns all over WWE and Roman Reigns for the foreseeable future. Did I mention Roman Reigns? Sorry I must have forgotten. Roman Reigns. R O M A N R E I G N S. Glad we cleared that up. P.S … Roman Reigns.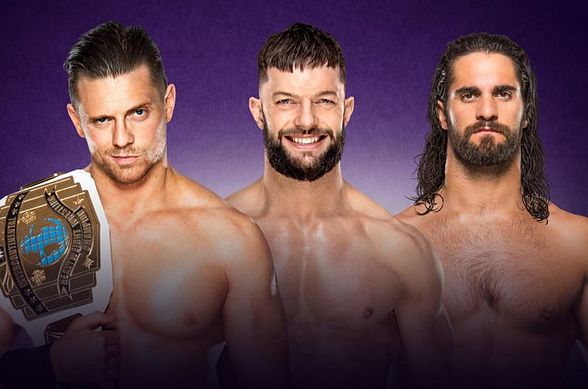 The Miz v Finn Balor v Seth Rollins
How We Got Here: Potential match of the night, though ill be saying that a lot throughout these predictions. The Miz was rightfully named superstar of the year at the end of 2017, and he has continued that same form a good 4 months into 2018. Seth Rollins was unfortunate to find himself forced into a forgettable tag team with Jason Jordan following Dean Ambrose's untimely injury and is now looking to make himself relevant again. Finn Balor needs the belt more than anyone involved, and arguably anyone on the entire roster. After a phenomenal start to his main roster career, injury setbacks and uninspiring rivalries have seen him fall out of favour despite still being wildly popular with the WWE Universe. Growing animosity between Seth and Finn, with Miz pulling the strings in the background, have made this match far more interesting than your standard triple threat. All 3 will bring the best out of eachother.
What Should Happen: As a huge Miz fan I find it hard to want anything other than him retaining. He has done wonders for the belt and fully deserves to become the longest reigning IC champ in history. At the same time though, it may be time to freshen things up a little and either of the other men involved would be fantastic advocates for the IC title.
What Will Happen: Seth will win. Not many guys in the entire company have been as impressive as The Architect this year, proven by his gauntlet match performance on RAW before Elimination Chamber and his subsequent showing at the PPV. A worthy winner. Here's hoping we see Heel Rollins as a result of this too.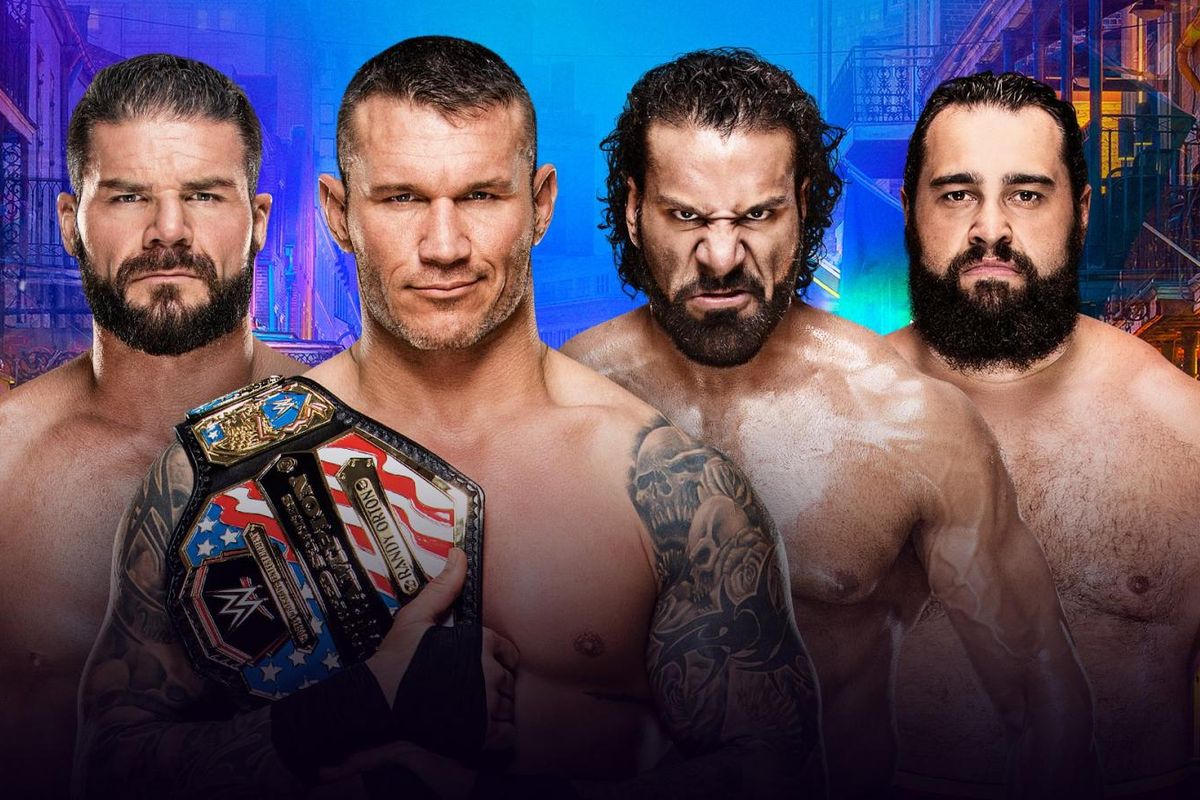 Randy Orton v Rusev v Bobby Roode v Jinder Mahal
How We Got Here: Match of the night contender number two! This match went up sharply in a lot of people's estimations from the second Rusev was entered. There is nothing more beautiful in wrestling than seeing someone SO deserving of an opportunity finally earning it by getting themselves over naturally. Randy Orton didn't need the title in the first place, he has been irrelevant for the last 12 months despite being WWE Champion for part of it and needs to drop the belt to better, younger and more talented guys. Bobby Roode has flattered to deceive on the main roster after an outstanding NXT career and title run. We desperately need to see him turn heel again, and this could be balanced out beautifully be Rusev's sudden face turn. Jinder Mahal is… well he's in the match I guess. The less said about that the better.
What Should Happen: There really is only one option. Rusev should turn WrestleMania into RusevMania and become the new U.S Champion. The fans love him, he deserves it after being shat all over for nearly two years and the merchandise sales alone would make this a financial goldmine for WWE.
What Will Happen: My heart says WWE will see sense and let it be Rusev's time. My head says WWE are complete morons and will keep the belt on Orton. Because he's one of Vince's golden boys, and we all know Vince loves nothing more than to be showered in gold by muscly men… *ahem*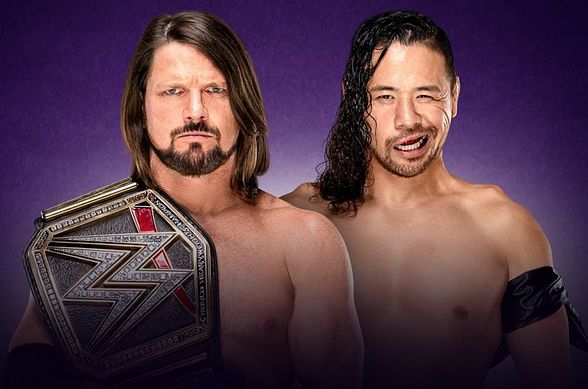 AJ Styles v Shinsuke Nakamura
How We Got Here: Match of the night contender number three and potentially the match of the year. The hype surrounding this one has been abnormally huge ever since Money In The Bank, and these two will no doubt pull off an absolute classic… if WWE allow them to. Unfortunately, the build up to the match has been piss poor, with very little in the way of promo to build actual interest. Roman Reigns v Brock Lesnar is the last thing any of us want to see, but I'll take my hat off to WWE because they've actually managed to make it interesting to a degree. It's almost as though WWE don't trust AJ and Nakamura to come through despite being two of the very best in the entire world. Nakamura has been frankly horrendous to watch on the main roster, and my chief concern is that this match is only being hyped up because of the two men putting on a clinic when they met back in Japan. What people need to wake up and realise is that this is not Japan. This is WWE. The place where great wrestling comes to die.
What Should Happen: Styles should keep the belt. He is simply the best in the world right now and has been for many years. He has elevated the title, had fantastic rivalries and is fan favourite on an almost Daniel Bryan level. Speaking of the bearded one, he should be the one to face Styles after retaining the belt at Mania.
What Will Happen: Nakamura will win. WWE simply have to make it up to him after such poor treatment. Don't agree with me that he has been treated poorly? Why? Because he won the Royal Rumble? Okay sure… but he also lost repeatedly to Jinder Mahal and has played second fiddle on SDLive to a storyline involving Shane McMahon. That's not great treatment…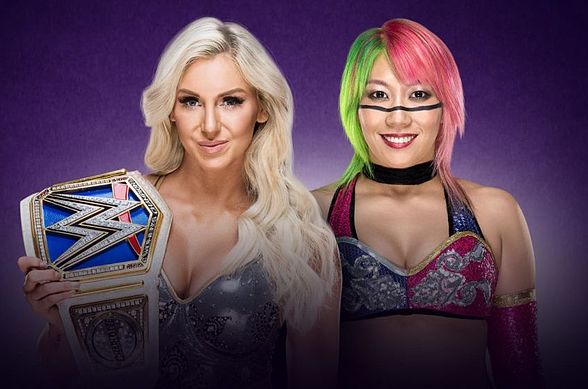 Charlotte v Asuka
How We Got Here: I have tried. LORD KNOWS I have tried. But for the life of me I just can not care about Asuka in the slightest. Okay, she was great in Japan. Big whoop. Okay, she was great in NXT. Well done to her. Main roster Asuka is a whole other story. Uninspiring feuds, plenty of botches for someone so 'amazing' and still absolute garbage promo skills have left her being nothing more than a flashy entrance. She predictably won the Rumble and chose Charlotte as her 'Mania opponent. I live and breathe Alexa Bliss, but I'm glad Asuka chose Charlotte. The two should bring the best out of eachother and, god willing, I'' be made to eat my words. The interesting part will come post 'Mania where, if Asuka dethrones Charlotte, she will have absolutely nothing to do on SDLive. The rest of the blue brand's women are absolute garbage and, barring an Ember Moon call up, Charlotte is the only one to pose a legitimate threat.
What Should Happen: Charlotte should retain, ending Asuka's unbeaten streak. The Queen is the best female wrestler of the last decade and has suffered on SDLive due to the lack of competition. Move Sasha Banks over during the next Superstar Shake-up and make this a three way tussle. Add Moon for even more fun.
What Will Happen: Asuka will win. We will be told for the next 17 years how much history she has made. WWE will try and convince us to care going forward despite no contingency plan.
Alexa Bliss v Nia Jax
How We Got Here: Great storytelling that's how. The cracks in the friendship started to show months ago and WWE kept teasing us with the potential split. It worked. It was interesting. We actually have Enzo Amore to thank for this. If he could have kept it in his pants outside of WWE, Nia would've still been embroiled in an embarrassing and barely believable romantic storyline with him. Thanks Enzo! Outstanding character work on both sides centred around a controversial bullying storyline have worked wonders for this feud, with the eventual pay-off set to be a huge feel good moment.
What Should Happen: Nia wins, overcoming the big (tiny actually), bad bully. The whole crowd do a small fist pump and say YOU GO GIRL!
What Will Happen: Exactly that. WWE would look foolish to allow the bully to come out victorious when they run a real life anti bullying campaign. Then again. This is WWE…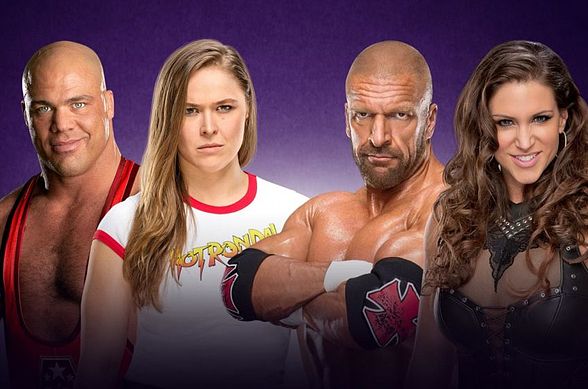 Ronda Rousey & Kurt Angle v Stephanie McMahon & HHH
How We Got Here: Ronda Rousey pointed at a big sign 4 times within 3 very uncomfortable minutes and overshadowed a historic night for the women of WWE. We all knew she was en route to WWE, and while this rubbed a lot of people up the wrong way WWE have actually handled the situation quite well since her initial appearance. An instant title shot would've pissed off a lot of people, superstars included, and drawn comparison to part timers like Brock Lesnar. Placing her into a match with 3 other competitors will help cover any flaws she might have in ring, and teaming up with fan favourite Kurt Angle will guarantee a positive reaction when she inevitably makes Stephanie tap out. Post 'mania, she needs a manager desperately. The fans have take to her fairly well, even chanting her name this week on RAW, but her limited in ring and promo skills will soon start to grate. Paul Heyman has already hinted to the fact he will manage a female superstar after Lesnar leaves (again), so placing these two together could do wonders for Rousey's WWE career and certainly get the fans onside.
What Should Happen: Feel good factor. Employees topple tyrannical bosses. Rousey will make Stephanie tap out from an arm bar after a match heavily dominated by the two men.
What Will Happen: Exactly that. People will cheer and boo (Choo? Beer? Beer please!) and generally not know what to do. Rousey will go on to have a disappointing WWE career and appear sporadically despite the promise of a 'full time schedule'.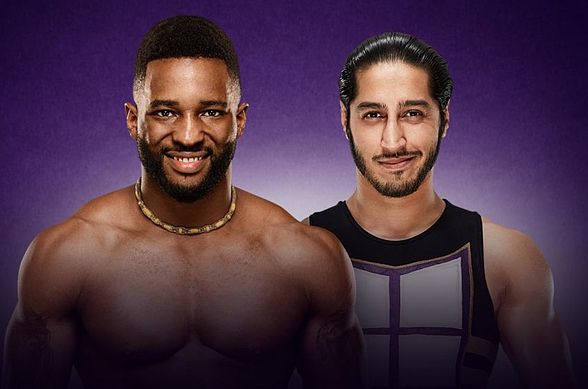 Cedric Alexander v Mustafa Ali
How We Got Here: Enzo Amore did a very bad thing and single handedly managed to screw up all of the good work Neville had put in throughout 2017. WWE made the right call in having HHH take over proceedings, and with the addition of Drake Maverick as GM, 205 Live has been incredibly entertaining again. Cameo appearances from some of the best talent in the world gave the Cruiserweight Tournament real prestige, and showed that great wrestling will always get people watching more than a loudmouth piece of trash spouting bullshit on the mic every week will do.
What Should Happen: Well for starters the match should be on the main card. It won't be though, it'll be pre show. Neville v Austin Aries wasn't deemed big enough last year so I highly doubt this one will be either. Cedric Alexander should be the winner here. It feels like they've been holding the belt aside for him ever since Enzo was fired, and the tournament was simply set up for him to be the eventual winner without simply being handed the belt.
What Will Happen: Exactly that. Alexander will win and the match will be incredible, but wont be seen by as many people as these two insanely talented young guys deserve.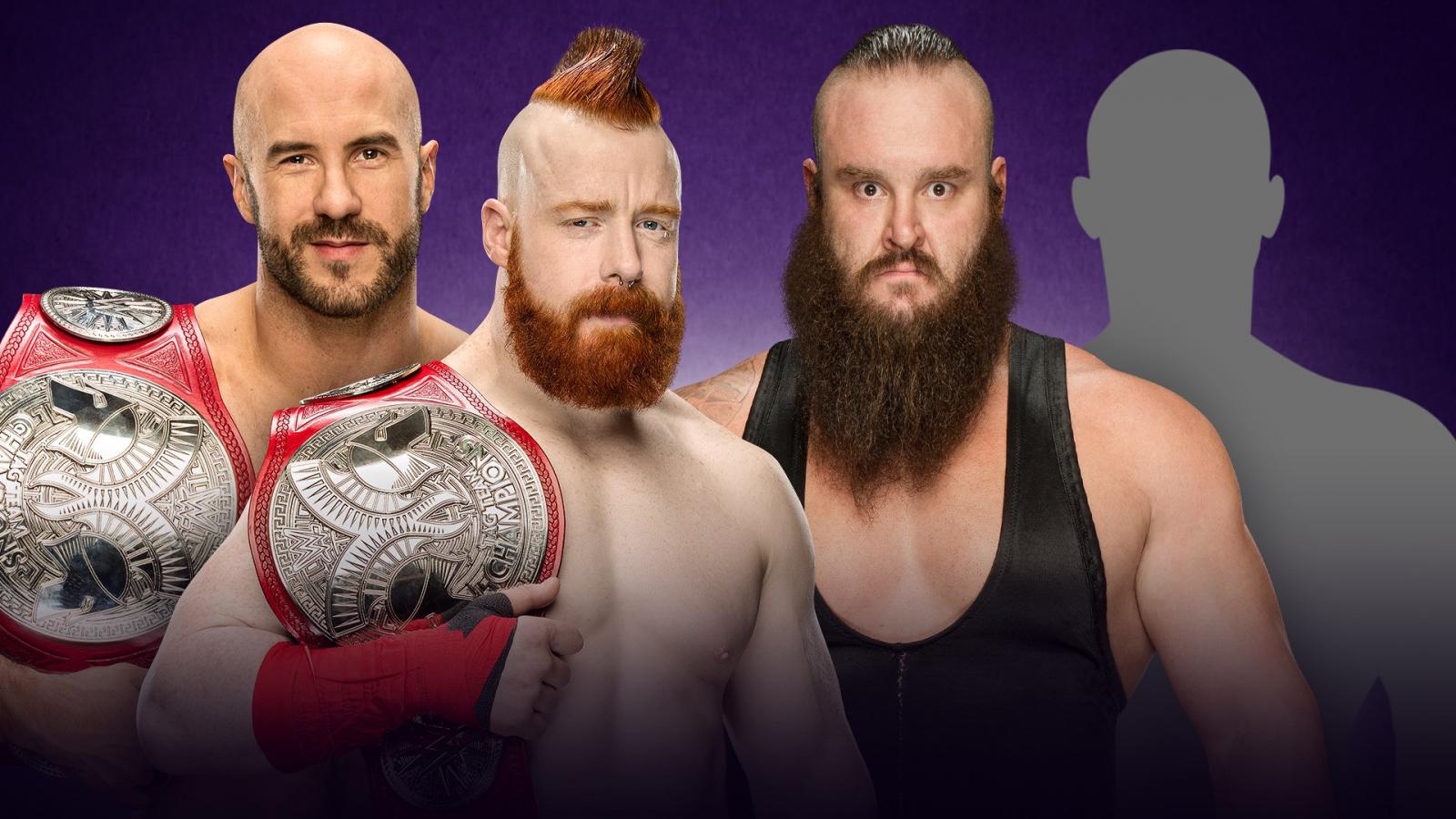 Braun Strowman & ??? v The Bar
How We Got Here: Coming in just behind The Miz, Strowman was one of the superstars of the year in 2017. How he hasn't held a belt yet is beyond me. After weeks of teasing, we still don't know who will be joining the monster among men at 'Mania, which is something I'm all for. WWE so rarely keep surprises anymore, and while the internet has been abuzz with rumours, we are no closer to finding out. The most obvious choices at this moment in time are Elias and Rey Mysterio, but for me it has to be a returning Samoa Joe. Even better yet we could see a reincarnated version of Bray Wyatt, for the first time since losing the Ultimate Deletion match to Matt Hardy, return to partner his former Wyatt Family cohort. They could win the belts, appear on RAW the next night claiming no one can take them out and then all of a sudden they're ambushed by Authors of Pain. That right there is money. Book it WWE. Thank me later. A large part of me doesn't want to see Strowman win the belts, regardless of him being alone or with a partner. The Bar have been the standout team on RAW in 2017, their odd couple partnership works perfectly and it would be awful to see them ripped apart so easily. It would undo all of their hard work and leave RAW with an even more irrelevant tag team division.
What Should Happen: The Bar should retain. RAW need them and they deserve the success they've worked so hard for. If they split up it'll be devastating for both of their careers. The only way I would accept them dropping the belts would be if they then move over to SDLive for a fresh challenge.
What Will Happen: Braun Strowman and his mystery partner will win. They'll embarrass The Bar because at the end of the day Strowman is every bit as over as anyone, if not everyone, on either roster. His momentum needs to continue. It's a really tough one this as I love all the guys involved. None of the competitors deserve to have their momentum come to a grinding halt, but WWE have backed themselves into a corner once again.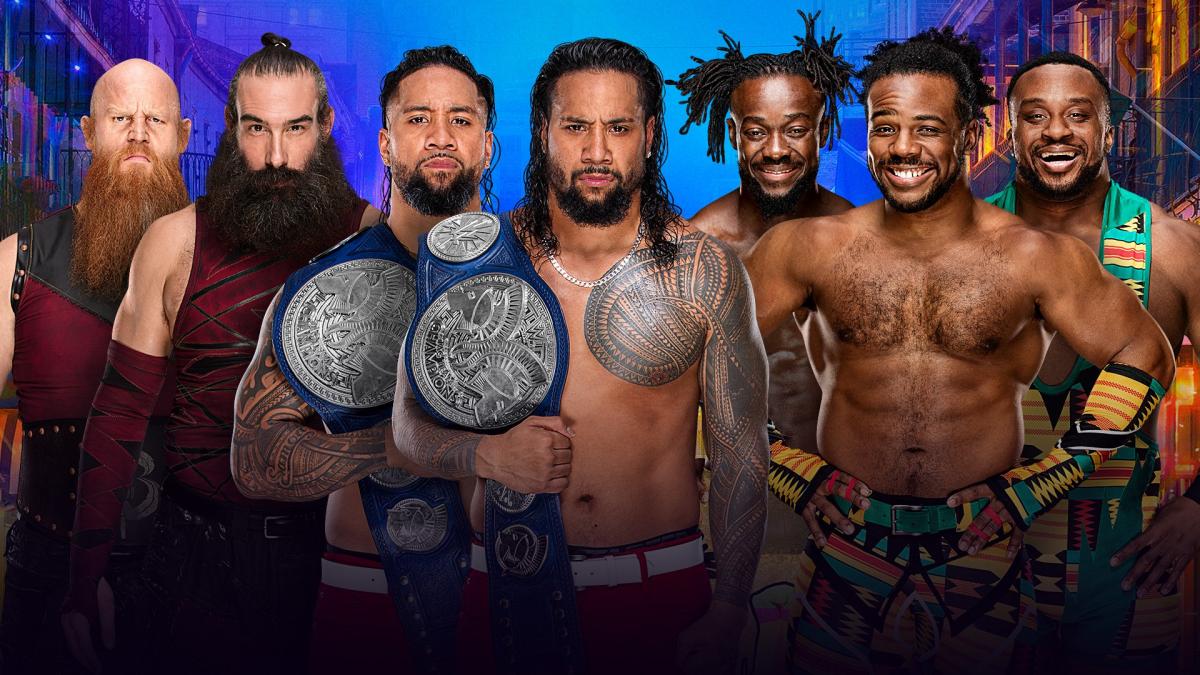 The Uso's v The New Day v Blugeon Brothers
How We Got Here: My pick for match of the night. Hands down. I've said that a few times but this… this one is almost nailed on. After a couple of months squashing no name local talents and main roster jobbers, Blugeon Brothers have come into their own as the most dominant team on either brand. The Uso's and The New Day had by far the rivalry of 2017 with 5 star matches almost every week, and their outstanding chemistry together will help to balance out the more dominating and clunky style of Harper & Rowan. Expect this match to be full of spots, nasty bumps and innovation. It really is a testament to The Uso's and New Day that after virtually two years of feuding, they can still keep their rivalry feeling fresh every time they compete.
What Should Happen: Blugeon Brothers should win and dominate the division for a few months until either SAnitY or AOP step up to challenge them.
What Will Happen: I think that's exactly what will happen. The Uso's don't deserve to lose, but if they retain, what can they really do next? They can't realistically retain in future matches against the dominating BB. They would be much better off getting drafted over to RAW to shake up their stale as all hell division.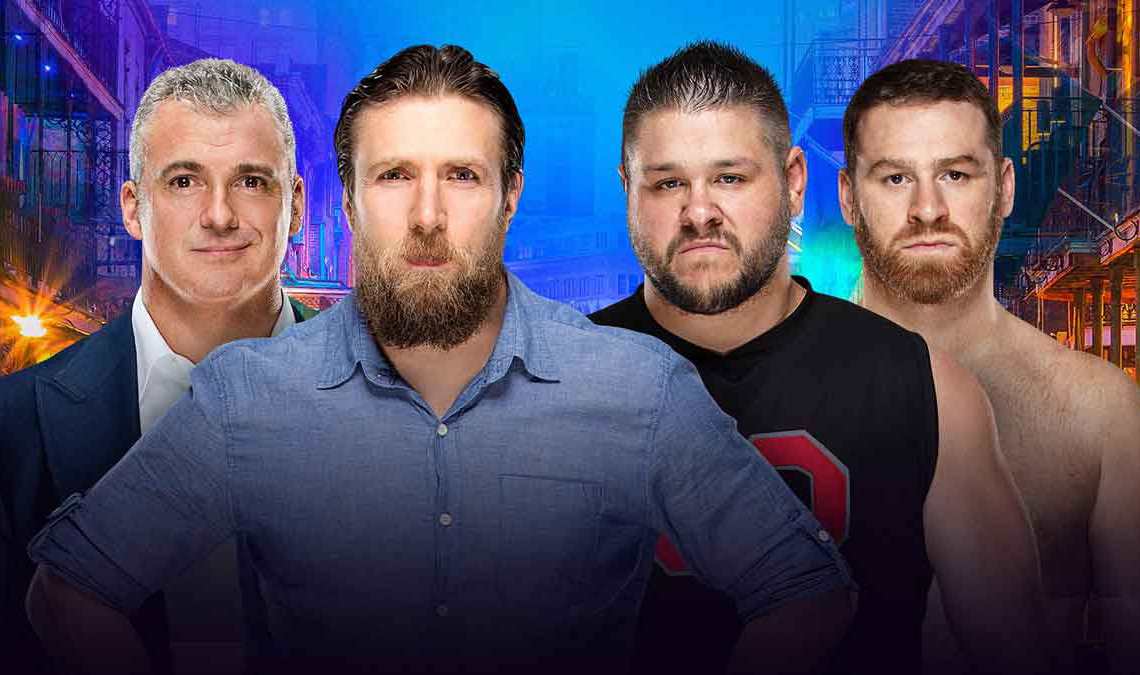 Daniel Bryan & Shane McMahon v Kevin Owens & Sami Zayn
How We Got Here: WWE finally swallowed their pride, admitted they were wrong and chose to listen to the dozens of doctors who Daniel Bryan had spoken to all over the world. They gave us what we wanted so badly. But more importantly they gave a man his life back. The in ring return of Bryan is hands down the most incredible, shocking and genuinely moving comeback of all time. My only issue here is that Shane McMahon is involved and will 1000000% take away the shine of this amazing moment. Fully expect some sort of turn, leading to a horrendous feud over the next few months in an attempt to recapture the 'against all odds' struggle vs authority. Owens & Zayn will undoubtedly bring out the best in Bryan and the battle will be great to watch, but it just begs the question of why he wasn't given a bigger and better match for his big return. Either way, at the end of the day we should just be thankful that we get to see Bryan return to in ring action.. a true once in a lifetime moment we thought would never happen.
What Should Happen: Bryan should be allowed to wrestle as much as he possibly can in this match. There were no signs of ring rust as he battled back against the heels on the night of his return announcement, so if he feels capable he should be given the chance to go all out. He will obviously pick up the win here, likely pinning Owens in a result which will see the heels moving to RAW as part of the terms and conditions of the match.
What Will Happen: WWE will restrict how much involvement Bryan has in the match, giving him a couple of short runs and the moment of glory at the end. He deserves much more but this is WWE. They will never fully admit that they were in the wrong. Shane will do most of the wrestling here, maybe centred around a beatdown on bryan which keeps him out of the match for a short while.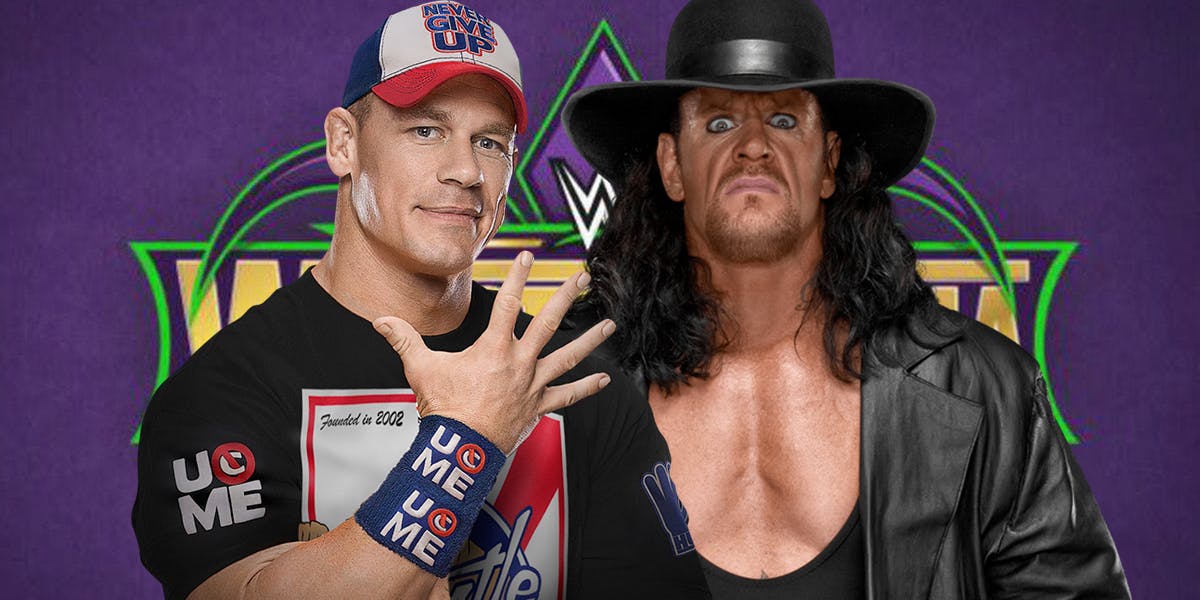 John Cena v The Undertaker
How We Got Here: WWE ran out of things for Cena to do but needed to sell more tickets for 'Mania, so the result was to give us a match they think we want to see, when in reality absolutely nobody does. Quite frankly if you want to see this match, you don't deserve to watch WrestleMania or call yourself a wrestling fan. The Undertaker has given nearly 30 years of his life to WWE. He is arguably the greatest of all time. Why should this living legend be forced to slog through yet another painful, debilitating, embarrassing mismatch when he is waaaaay past his prime. The match isn't even confirmed yet due to Taker's refusal to accept the challenge, but if it does go ahead you can expect this to be the worst match of the night.
What Should Happen: It shouldn't happen at all. But it's going to because WWE don't give a shit about their employees. Only lining their own pockets. Taker will appear on the night as Cena calls him out one last time. The match should be short, no longer than 15 minutes, with Taker looking dominant. In an ideal world I would have Cena call out Taker one last time and receive no response. Cena goes to leave the ring. Lights go out. 'Dead Man Walking…' is heard from the titantron… Taker returns as the American Badass. An all out war begins, spreading out across the arena with Taker dominating. It's the only conceivable way to keep him looking strong while maintaining a decent length match.
What Will Happen: God knows. I literally have no idea. Neither man needs the win. It benefits nobody. Neither man suffers from a loss. I would hope that Taker wins and ACTUALLY finally retires. This gives Cena the chance to leave for a longer period of time than he usually does while he fulfils other commitments.
Steve Cook's Fave Five: April 2021
It's a little more than halfway through April! You know what that means…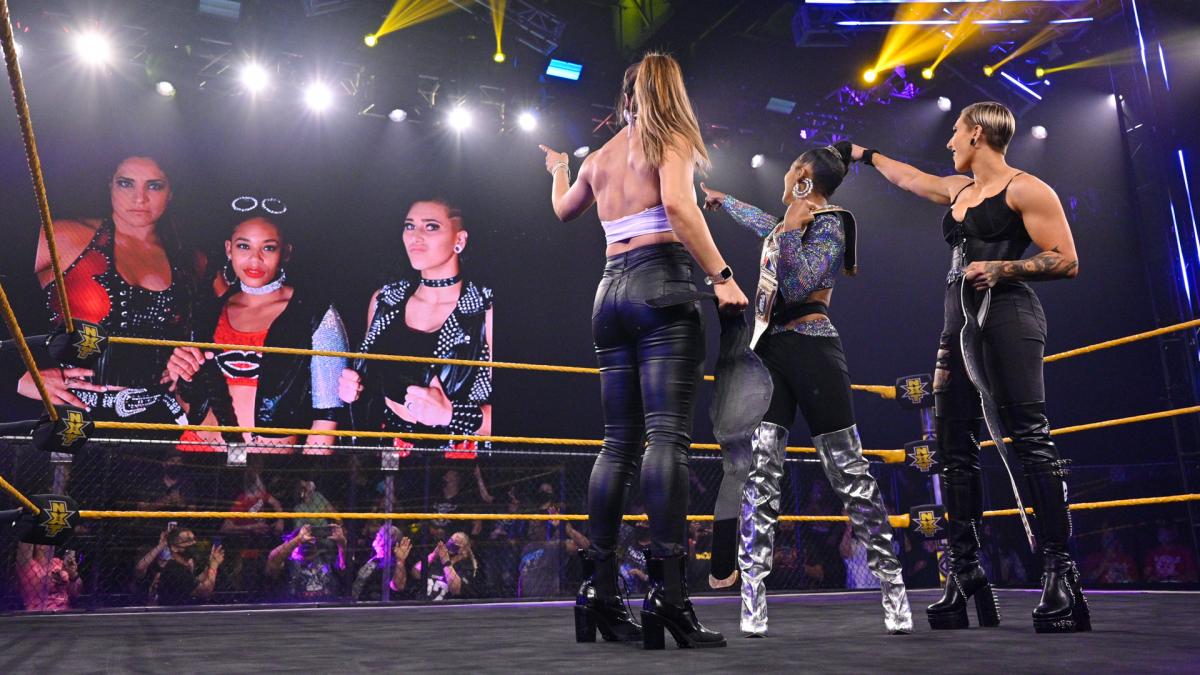 It's a little more than halfway through April! You know what that means.
It's time to talk about my current five favorite wrestlers like I'm Booker T. Let's break down the Fave Five!
5. Samoa Joe
A gentle reminder that Samoa Joe is one of the greatest talkers in the game pic.twitter.com/p4TZeZIAV7

— Kenny Majid – A Kenny For Your Thoughts Podcast (@akfytwrestling) April 15, 2021
I figure what happened between Samoa Joe & WWE was the following: WWE offered Joe an announcing contract since either they didn't want to use him in the ring or their doctors wouldn't clear him to wrestle. Joe looked at the contract, noticed the financial discrepancy, realized he could probably get NJPW to let him train young boys in California for that kind of money and said "thanks but no thanks". Nothing else really makes sense to me.
Unfortunately, those who thought that WWE wouldn't utilize Joe to their fullest potential were right. It wasn't all WWE's fault though. Joe had a lot of miles on his tires when he got there. Injuries are always more of a concern with larger wrestlers the older they get. And when Joe was healthy, he did get to do some good stuff and show people a glimpse of the Samoa Joe that people like me raved about back in the mid to late 2000s.
In any event, Joe got his WWE run. It was a thing that happened. I'd be shocked if he doesn't wind up in AEW because he seems like the kind of guy Tony Khan would throw all the money at. Should be fun!
4. Kris Statlander
Like she never left 👽 #AEWDynamite pic.twitter.com/rlNgLBAFoU

— All Elite Wrestling on TNT (@AEWonTNT) April 15, 2021
AEW does have a pretty insane number of factions right now. It risks the possibility of all of the groups blending together, with none of them really capturing the attention of fans. However, there are positive things about AEW's faction warfare that shouldn't be overlooked. It makes booking fresh matches to fill cards pretty easy. You can have groups facing off each week, but in different combinations that keep it fresh.
Another good thing: It can help us decide how we feel about characters that we might be on the fence about. Kris Statlander's character was a topic of discussion from the moment she entered AEW. A lot of people weren't sure how to take her. Wrestling aliens, or wrestlers who think they're aliens, aren't exactly common. Its the kind of thing that gets over in the indies, because those feds attract fans that are more willing to buy into unique concepts. Mainstream is a tougher sell.
Aligning Kris with the Best Friends makes sense to those in the know, since she came up working shows with them. It also helps people that don't know about her figure out more. The Best Friends are a happy go lucky group that are the whitest of white meat babyfaces you'll find in AEW, and that's a good thing. They're welcoming to people with unique personalities, as Orange Cassidy's presence establishes. A friendly alien couldn't ask for a better group to surround herself with, and from their appearances so far she seems like a perfect fit.
Add in the fact that the time on the shelf helped her get into better shape and refine her look & presence, and the sky's the limit for Statlander. As long as she can stay in the ring, I'm expecting big things from her in 2021.
3. Tay Conti
Sometimes, all one needs is a change of scenery to approach their true potential. Tay spent a few years at the WWE Performance Center learning how to be a professional wrestler. During her time there, Tay never showed much in the way of potential. Even though she had a combat sports background and had the type of physical appearance that gets attention, Conti's TV time was very limited and uneventful. She seemed like one of those wrestlers that was bound to stay in developmental until WWE gave up on them, then drop off the face of the earth without most wrestling fans noticing.
Tay's story took a different route. She ended up being one of the cuts that AEW took an interest in, and was brought in for the Deadly Draw Women's Tag Team Tournament. Her teaming with Anna Jay worked well on & off-camera, and she pretty much fit right in with the group immediately. She started training with Dustin Rhodes, and pretty much immediately started looking better in the ring & figuring out what worked for her. Now, she's one of the people helping AEW's women's division go to a higher level.
This isn't meant to denigrate WWE's Performance Center or its methods. There just isn't a wrestling training center out there that's going to work for everybody. Tay had to find what worked for her. The people that recently got cut will have to do the same. Hopefully, the people that recently got signed by WWE will thrive in that environment.
2. Bianca Belair
We've recently seen three new Women's Champions under the WWE umbrella, all of whom are great in their own way. I've talked about Rhea Ripley before, she's got unlimited potential and so far she's done very well on the main roster. Raquel Gonzalez is doing very well on NXT and her push to the championship made perfect sense & got over. I do think the best of the title changes was Bianca's defeat of Sasha Banks in the main event of WrestleMania Saturday. It was a special moment for Bianca, a very fun match to watch, and a great performance from both Bianca & Sasha Banks, who did everything she could to make Bianca in that match.
You see the video of the NXT segment up above, with the three current Women's Champions under the WWE umbrella celebrating together. Apparently there was a picture taken in 2019, and there were pictures taken after this week's NXT, with Triple H making sure to get in there as he likes to do with all new champions. I've never really been a fan of that sort of thing, even the "Horsewomen" celebrations on previous NXT shows didn't do much for me.
Besides the usual complaints people have about things like that, the thing that I didn't like was how Rhea & Raquel came off. They were all smiling & happy like they were Big Daddy Cool Diesel after beating Mr. Bob Backlund in 1994. Completely against what Raquel has been up to this point, and what Rhea has been when she's been at her best. Hopefully this is just a one-time thing for Rhea for the portion of the NXT audience that likes their lady wrestlers crying & happy after their performances, and hopefully it's leading to Raquel getting dismembered by Dakota Kai, who can't be happy about her heater winning the championship and then turning into Smilin' Diesel.
Fortunately for Bianca, it does nothing to affect her character or our opinion of her. That's why I think her title run will go best. I'm also putting her here because I'm pretty well convinced there isn't a wrestling move or spot she can't do well. Insanely talented, and the more experience she gets the better she'll be.
1. Darby Allin
Sometimes you just want to watch something that's stupid fun. Something that doesn't need too much thought in order to enjoy it. Just people doing crazy things to entertain an audience. Darby Allin matches are just what you need when you're looking for something like this. There isn't anybody crazier in pro wrestling today than Darby, which is probably for the best. I'm convinced this kid has a death wish.
The one thing that kinda gets me about Darby sometimes is how he kicks out of everything. Poor Matt Hardy wasn't going to beat that kid unless he shot him with a gun, and apparently there's a metal detector at Daily's Place. (Shoutout to Matt by the way, hell of an effort in that match.) But then I remember that Darby Allin is a daredevil and constantly posting videos online where he's jumping off high places and doing crazy things. Obviously, it's going to take a little more to beat a daredevil than your average pro wrestler.
What's it going to take to beat Darby Allin? That's a good reason to keep watching.
NXT Minus 6: About that Cole-O'Reilly match…
It was the Takeover match that held the most promise. Where did it go wrong?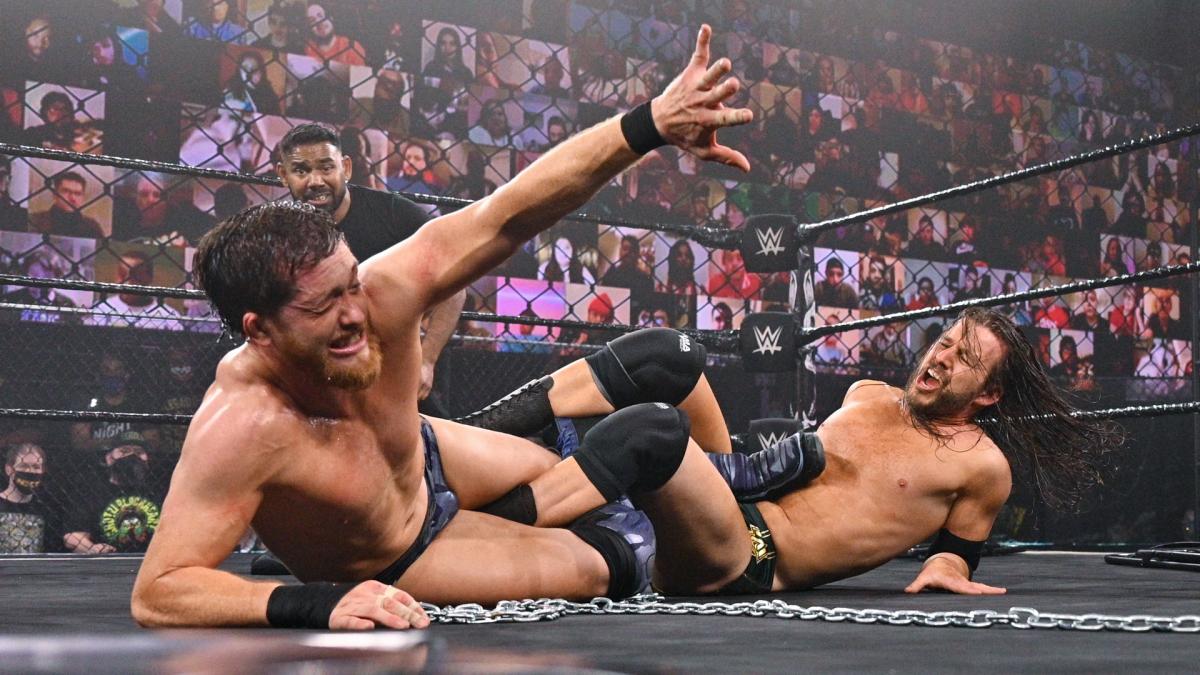 It was the Takeover match that held the most promise. Where did it go wrong?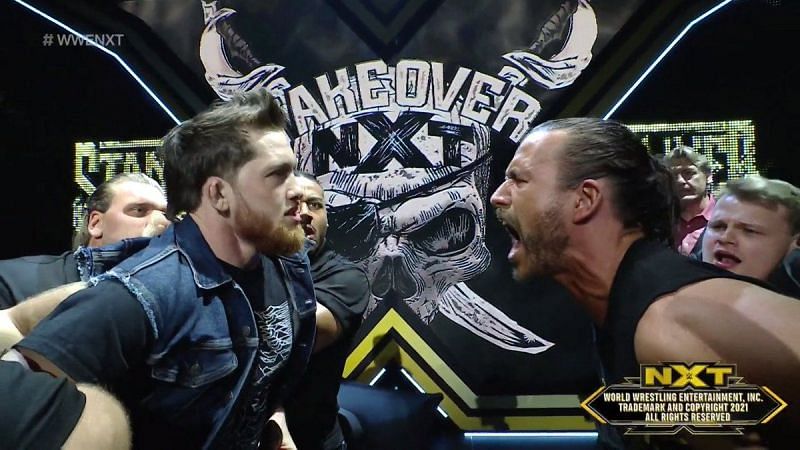 6. I was jacked to 11 for Adam Cole versus Kyle O'Reilly. I was ready to give it a Tokyo Dome 6 stars. MOTY before the bell rang. A masterwork of storytelling. I correctly predicted it would be an unsanctioned match. Then the action started, and it quickly became "be careful what you wish for because you just might get it."
5. After the first few acts of violence, it was apparent that the problem with the match would be the stipulation. The last NXT unsanctioned match was Johnny Gargano versus Tommaso Ciampa in 2018. That was 3 short years ago, but things move quickly in today's world. There is very little chance an unsanctioned match can deliver the level of violence it promises as long as NXT is on the PG-13 Peacock.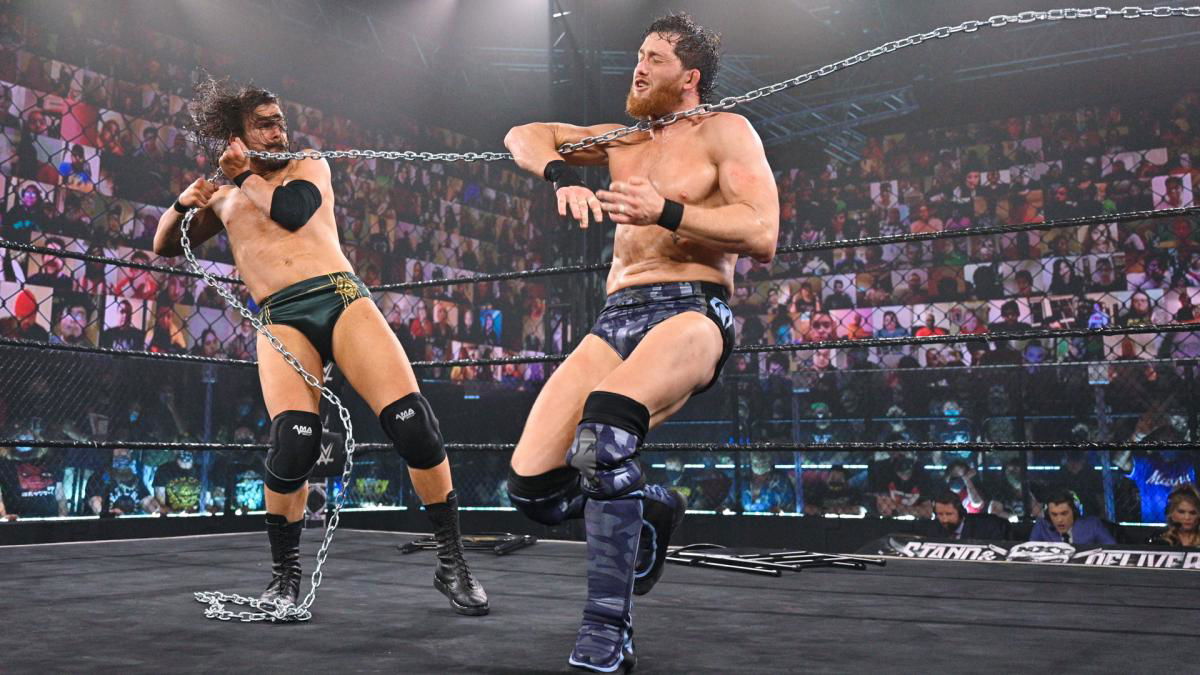 4. Fans are losing their minds over all the content Peacock is leaving on the cutting floor. A lot of it was offensive and would never work today, but that's not the point. The fact is there's only so much violence Peacock's parent company NBC will tolerate from wrestling. Take the chain, for example. Other than the clothesline, it was practically useless. O'Reilly tried to make it work, but it fell flat. In an unsanctioned match, 20 feet of heavy duty chain should be all you need to decimate another human being.

3. Maybe I'm a victim of my own wrestling memory. An unsanctioned match in Memphis in the 80's would have been a bloodbath. Someone would have been hung over the top rope with the chain around his neck. Whipped across the back. Hog tied. Someone would have wrapped it around their fist for a few stiff shots to their opponent's forehead. But that goes back to my original point. None of that would fly today even if NXT was only on the WWE network.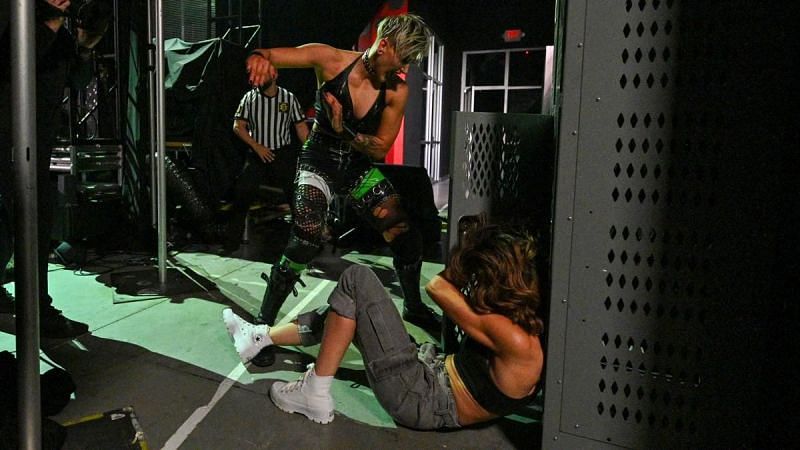 2. I'll go so far as to say the only violent-promising stipulation that interests me is Falls Count Anywhere. There is zero drama in wrestlers pulling chairs from under the ring. The chance to use the naturally occurring environment as a weapon still holds a world of suspense. Someone is going through windows, walls, off the stage, over the guardrail, stuffed in a locker. Honestly, I'm tired of people getting hit in the stomach with folding chairs. Of all the ways to hit someone with a folding chair, that's the least practical. 
1. I'm sorry to say Kyle O'Reilly versus Adam Cole didn't deliver what I expected. Maybe I'm in the minority. Maybe I don't need over-the-top violence to entertain me. Maybe I don't need wrestling to keep pushing the envelope. Five of my top 6 matches of 2021 are straight up wrestling matches. Maybe all I need is two (or three or four) strong characters and a good story. Damn, I sound old.