Ja'Von's IMPACT Wrestling Live Report! (4/26/18)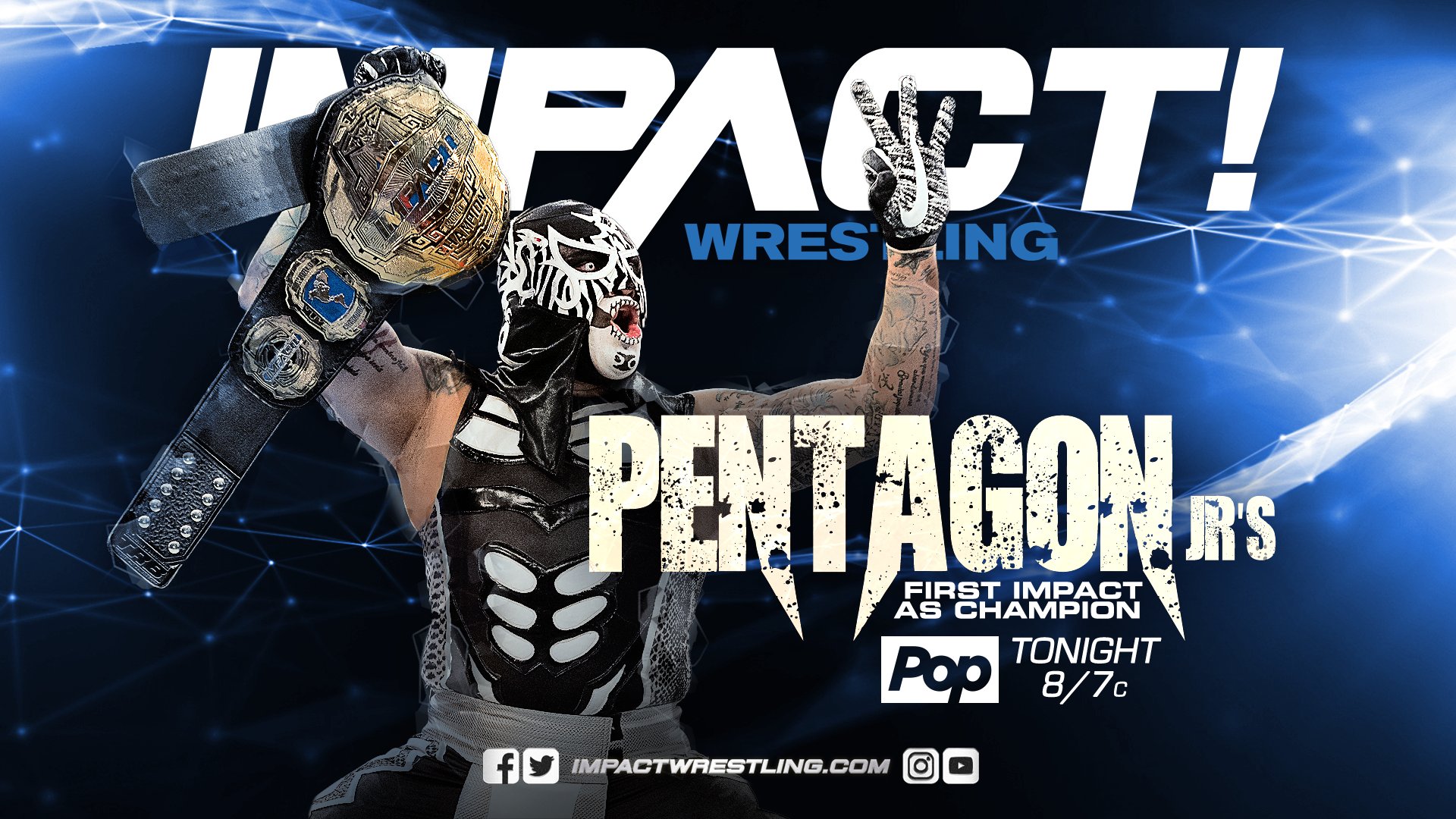 Quick Results:
Allie vs Taya Valykire (Knockouts Championship): Allie retains via pinfall 
Trevor Lee vs Brian Cage: Brian Cage via pinfall
Moose vs Braxton Sutter: Moose via pinfall 
Eli Drake and Scott Steiner vs LAX (Impact Tag Team Championships): Eli Drake and Scott Steiner retains via pinfall
Play by Play:
Impact opens with a recap video of Redemption from this past Sunday.
Austin Aries kicks off Impact with a town hall meeting with the roster. Aries says he's trying to breathe new life in the company. Austin says he still holds the Impact Grand Title and have some pull. Moose says Aries is making excuses and Aries tells him to do what he does best and that grunt work on the field. They both come nose to nose and Moose tells him to screw himself and leaves. The rest of the roster begins to leave as well.
Brian Cage vs Trevor Lee: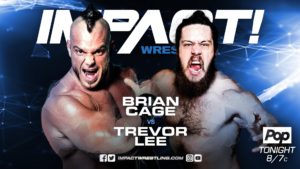 Trevor Lee makes his way to the ring with Caleb Konley. "The Machine" Brain Cage makes his way to the ring. Collar and elbow tie up and Cage sends Lee to the outside. Caleb gives Trevor a bit of a pep talk. Lee gets back in the ring and Cage sends him back outside. Lee gets back in the ring and tries to kick Brian Cage in the gut but Cage counters and drops Lee. Cage sends Lee into the corner. Trevor counters and gains control of the match. Trevor drops the ropes and Cage goes over the top rope but hangs on. Lee jumps over and double stomps Cage in the chest.
Fantastic double stomp on the apron by @TLee910. #IMPACTonPop pic.twitter.com/Up79zhH7dq

— IMPACT (@IMPACTWRESTLING) April 27, 2018
Back in the ring Lee pushes Cage in the corner and stays on the attack. Woth the ref's back turned Konley gets a cheap shot on Cage. Lee lays in on Cage with multiple kicks. Cage regains control and hits Lee with a pumphandle slam.
.@MrGMSI_BCage seems to break out new and unique offense every match. Always bringing innovation. #IMPACTonPop pic.twitter.com/qbA6Zp3qhE

— IMPACT (@IMPACTWRESTLING) April 27, 2018
Down the stretch Cage hits the drillclaw for the pinfall victory.
It used to be the X-Division. With @MrGMSI_BCage involved it's the Weapon X-Division. #IMPACTonPop pic.twitter.com/Z6OvQrBxrj

— IMPACT (@IMPACTWRESTLING) April 27, 2018
Winner: Brian Cage via pinfall
Eddie is walking into the Impact Zone and runs into Dreamer. Tommy tells him to go back to the hospital and be with his wife. Eddie bypasses Dreamer and enters the Impact Zone. Eddie them makes his way to the ring and grabs a mic. Eddie says at Redemption he put Sami Callihan in the hospital where he belongs but says the job isn't done yet cause oVe isn't in the hospital either. Eddie then threats to put both of the Christ Brothers wives in the ICU. oVe come out and attack Eddie. Eddie gets control of the Christ Brothers with a suicide dive then brings Jake Christ in the ring and begins to beat him down.
.@TheEddieEdwards is wasting no time taking it to oVe. #IMPACTonPop pic.twitter.com/1eYy4sYL3D

— IMPACT (@IMPACTWRESTLING) April 27, 2018
The Christ Brothers regain control and begin the beat down on him. With Eddie in the corner Dave charges him but Eddie side steps and goes shoulder first in the corner then clotheslines Jake Christ. Eddie goes to the outside to and gets a kendo stick. As Eddie is getting back in the ring a video of Sami Callihan going into Alisha Edwards hospital room plays and he says he just wants to talk.
Even bloodied, battered and confined to a wheelchair @TheSamiCallihan finds a way to be utterly creepy. #IMPACTonPop pic.twitter.com/X1QrLB5jdT

— IMPACT (@IMPACTWRESTLING) April 27, 2018
Eddie then leaves to head back to the hospital.
A recap video of the main event of Redemption plays.
A video plays and it's a heart felt story of the incredible comeback of DJZ.
Moose vs Braxton Sutter: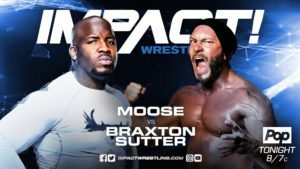 Braxton Sutter makes his way to the ring for the match. Sutter gets on the mic and says he has something but doesn't get the chance to speak thanks to Moose. Moose makes his way to the ring after interrupting Braxton. Braxton gets in Moose's face and trash talks him then slaps him in the face. Moose gets upset and throws Sutter in the corner and begins to lay in chops on Sutter. Moose comes in to keep up the attack but Sutter gets the boot up in time to counter. Sutter gets on the top rope for a big move but Moose catches him with a big dropkick.
Picture perfect dropkick by @TheMooseNation sends Sutter to the floor. #IMPACTonPop pic.twitter.com/tz4w6YIYjK

— IMPACT (@IMPACTWRESTLING) April 27, 2018
Moose follows him to the outside to follow up but Braxton side steps and pushes Moose into the steps. Sutter rolls back in looking for a countout victory. Moose gets back in the ring but Sutter gets a suplex on Moose into the ropes for a two count.
.@BraxtonSutter connects with a devastating suplex in the corner. #IMPACTonPop pic.twitter.com/ngakneSaQ0

— IMPACT (@IMPACTWRESTLING) April 27, 2018
Down the stretch Sutter ends up in the corner and Moose hits a running dropkick then a massive spear for the win.
.@TheMooseNation picks up a momentum building victory with a Spear. #IMPACTonPop pic.twitter.com/v2ncjvX4e3

— IMPACT (@IMPACTWRESTLING) April 27, 2018
Winner: Moose via pinfall
Post match the crowd chants happy birthday for Moose. Moose congratulates Pentagon for winning the title. Moose says that he's Mr. Impact Wrestling and will be the guy to take the title from him.
McKenzie Mitchell interviews Matt Sydal backstage. Sydal says he has open his third eye and no one not even Taiji Ishimori will take the belt from him. Apparently someone has been attack backstage.
Somebody has been attacked backstage, leaving behind only a mysterious card. #IMPACTonPop pic.twitter.com/hjA8dT9xgE

— IMPACT (@IMPACTWRESTLING) April 27, 2018
LAX is in the clubhouse talking about how things are falling apart since Redemption. Homicide is in Mexico City doing business for them. Ortiz tells Santana that they need to focus on the Tag Team Titles then fix their issues.
Allie vs Taya Valykire(Knockouts Championship):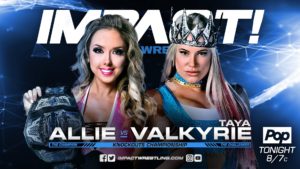 Taya Valykire makes her way to the ring for the title match. Allie makes her way to the ring to defend her championship.
.@AllieImpact is REALLY excited to be here tonight! #IMPACTonPop ? pic.twitter.com/LN7HgI3bNa

— IMPACT (@IMPACTWRESTLING) April 27, 2018
Taya gets the jump on Allie with a HUGE clothesline. Taya sends her into the corner and stomps down Allie. Taya then tosses Allie to the other side of the ring and puts the boots to her head. Taya then drives Allie head first into the turnbuckles. Allie then fights back but Taya regains control very quickly. Taya has Allie by the hair and puts Allie in the corner. Taya goes running at Allie for an attack but Allie catches her and sends her into the turnbuckles. Allie now has control of the match and goes on the attack on Taya. Allie then hits a Russian Legsweep for a two count. Taya comes back and hits a back suplex on Allie for a two count.
VICIOUS back suplex by @TheTayaValkyrie. #IMPACTonPop pic.twitter.com/hGeiLL67Ky

— IMPACT (@IMPACTWRESTLING) April 27, 2018
Taya looks for her finisher but Allie breaks free and eventually connects with the BSE then a codebreaker for the win and retains her championship.
Winner: STILL Knockouts Champion Allie via pinfall 
After the match many undead brides come down to the ring carrying a coffin.
Things have suddenly become MUCH creepier. #IMPACTonPop pic.twitter.com/GjJ1242px6

— IMPACT (@IMPACTWRESTLING) April 27, 2018
They place the coffin on the outside of the ring and leave. The lights go out and when they come back on Su Yung is I. The ring and gets the jump on Allie and hits a hangman's DDT on Allie from the bottom rope. Su then drags Allie out of the ring as the lights go back out. When the lights come back on Su Yung and Rosemary are standing face to face in the ring.
.@realsuyung and @WeAreRosemary FACE TO FACE! #IMPACTonPop pic.twitter.com/khn5nvY22P

— IMPACT (@IMPACTWRESTLING) April 27, 2018
The lights go back out and when they come back on Rosemary is alone in the ring and checks on Allie.
Video plays hyping Slammiversary this summer from Canada.
KM finds Fallah Bahh backstage and says he regrets fat shaming him and say they have a tag match together next week.
Eddie makes it back the hospital and runs to his wife's room looking for Sami. Eddie ask Alisha where is Callihan and she says he just wanted to talk and asks why he left her there alone. Eddie runs out looking for Sami's rokm and finds it and beats on Sami who is laying in his hospital bed. Nurses and security come in to break things up and say the police is here.
Not only did he threaten oVe's wives earlier but @TheEddieEdwards just violently attacked @TheSamiCallihan in a hospital bed.

He's unhinged. #IMPACTonPop pic.twitter.com/diSlJX786k

— IMPACT (@IMPACTWRESTLING) April 27, 2018
A recap video play of what happend last week between Johnny Impct, Jimmy Jacobs, and Kongo Kong.
Impact Wrestling Tag Team Champions Eli Drake and Scott Steiner vs LAX( Tag Team Championships):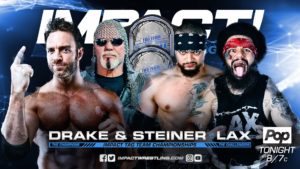 The champions make their way to the ring to defend their titles. Steiner gets a mic and says that no one believed him when he said that he was going to win the tag titles. He also says that he was trending #6 on Sunday.
And he'll tell you himself. #IMPACTonPop pic.twitter.com/di9rMnoPfZ

— IMPACT (@IMPACTWRESTLING) April 27, 2018
He then proceeded to make a racist joke when he talked about Konan being missing. LAX make their way to the ring to try to reclaim the Tag Team Titles. Eli and Scott play mindgames with LAX. Eli and Ortiz start the match and Ortiz pushes Eli into the corner and begins to throw hands. Ortiz then tags in Santana and they begin the double moves on Eli. Santana then hits a big chop on Eli in the corner. Back and forth Irish whip reversal and Santana goes over the top rope and hits a superkick on Steiner on the apron. While the ref is dealing with Drake and Ortiz Steiner puts Santana head first into the steel steps. Back from break Eli is standing on top of Santana then puts him in his corner and tags in Stenier. Scott then hits a belly to belly for a two count. Mindgames come into play allowing Drake to get a cheap shot in then Scott tags in Eli and stomps Santana. Eli then tags back in Stenier who hits a belly to belly overhead suplex from the top rope.
BELLY TO BELLY OFF THE ROPES!

Scott Steiner has no concept of time. He's rolling back the years every week. #IMPACTonPop pic.twitter.com/iYcTcKWgBn

— IMPACT (@IMPACTWRESTLING) April 27, 2018
Steiner then tags in Eli and they hit double moves on Santana for a two count.
Largest Arms, naming Dummies. #IMPACTonPop @TheEliDrake pic.twitter.com/5z9lz0mSsm

— IMPACT (@IMPACTWRESTLING) April 27, 2018
Santana begins to fight back and both men are down. Santana tags in Ortiz and takes out both men and goes for a pin but only gets a two as Steiner breaks it up. Double team moves from LAX and Ortiz hits a death valley driver for a two count. LAX looks to hit the street sweeper but counters and gets the pinfall victory.
.@TheEliDrake reverses the Street Sweeper in mid-air with an incredible counter to RETAIN the World Tag Team Titles. #IMPACTonPop pic.twitter.com/Z5ZxvQBmvd

— IMPACT (@IMPACTWRESTLING) April 27, 2018
Winners: STILL Impact Wrestling Tag Team Champions Eli Drake and Scott Steiner via pinfall
Post match Eli grabs his world title briefcase and says the team of him and Scott Steiner are not a fluke and the titles are not going anywhere. He says he stands with the tag titles but also stands with his briefcase and says it's just about time for him to cash in. Aries comes out with all his belts.
.@AustinAries is really feeling the effects of Pentagon Jr at #Redemption18. He's a belt lighter and has a dislocated elbow for his troubles. #IMPACTonPop pic.twitter.com/A9k2KKfIEr

— IMPACT (@IMPACTWRESTLING) April 27, 2018
Aries says he doesn't want any trouble since he is still nursing his dislocated elbow. Aries says that he still has a world title talking about the Impact Grand Championship. He also says it doesn't matter if it's Drake or Pentagon his other world title is coming back to him. Drake saysthat he gain his belt while Aries lost his. Drake says it doesn't matter who it is he will deliver a keister kicking to the winner and it just might be Aries. Pentagon Jr. comes out and makes his way to the ring. The tag champions attack Pentagon and Aries but Pentagon clears the ring of the tag champs. Aries looks to hand the world title back to Pentagon but doesn't let go. Both guys then hold their belts up as they stare each other down. Pentagon celebrates to close the show.
My Thoughts: This was a pretty solid sho this weekwith all the fallout from Redemption. Great matches tonight and it lookslike the feuds that led to Redemption are not over quite yet as we got more storyline progression. I like the fsct that Aries is putting more emphasis on the Impact Grand Championship and wanting it to be on the level of the world title.
My Score: 7/10
---
Always Use Your Head and visit the official Pro Wrestling Tees store for The Chairshot All t-shirt proceeds help support the advancement of your favorite hard-hitting wrestling website, The Chairshot!

---
Mitchell's Ring of Honor Report! (7/7/18)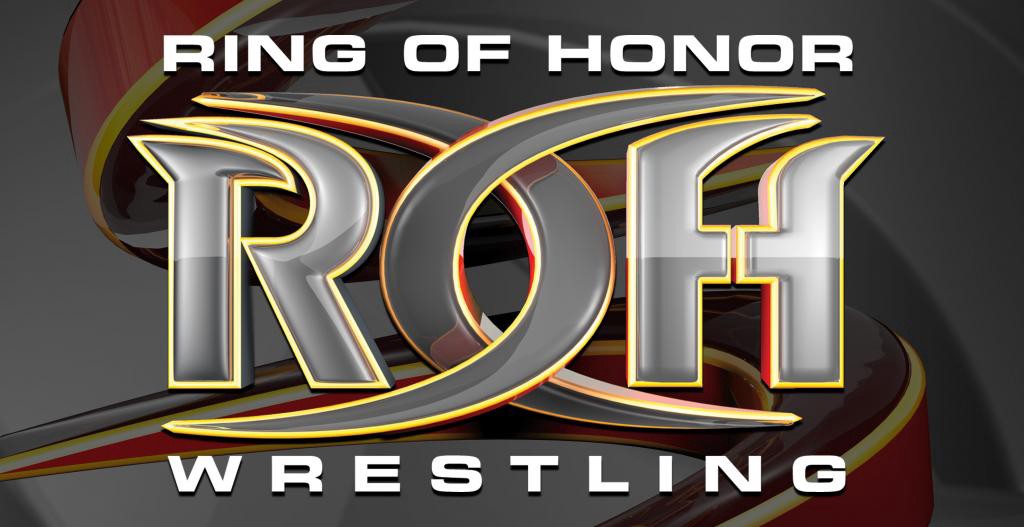 ROH WRESTLING TELEVISION, Episode 355
ROH goes to the extreme as Cheeseburger and Bully Ray battle in a No Holds Barred Match! With no rules but to win, can Burger survive the hardcore legend?!
All images courtesy of the Fite.TV app and streaming service
OFFICIAL RESULTS
Riley Shepard & Gabby Ortiz VS Sumie Sakai & Stella Grey; Sumie & Stella win.
No Holds Barred: Bully Ray Dudley VS Cheeseburger; Bully Ray wins.
Titan VS Cody w/ Brandi Rhodes & Bernard the Business Bear; Cody wins.
PLAY BY PLAY
Cody & Brandi Rhodes speak.
"You know those stories about pirates that plundered a ship and leave a man behind, marauders that raid a village and leave one behind?" Both fiction and reality, one person was always left behind to tell the tale. Titan, you're going to experience that as Cody leaves just enough gas left for you to crawl back to CMLL. That way, he can tell them that if they want to maintain a relationship with Cody's ROH, they need to send someone bigger, better. No one's bigger than Cody. Cody laughs and hugs his wife, but will he need to be consoled by her after tonight?
Riley Shepard & Gabby Ortiz VS Sumie Sakai & Stella Grey!
The Women of Honor return as the inaugural ROH WOH Champion teams with the ROH Dojo graduate to take on the debuting Geek Gladiator and returning Gift of Gab. Can the Ray of Sunshine continue on her roll since becoming champion, even in 2v2 competition? Or will there be a shocking non-title upset from the Monster Factory graduates?
The Code of Honor is upheld, and Stella starts with Riley. They circle with the bell and tie up. Riley gets a headlock then wrenches the arm. Stella rolls through to reverse the wrench, then brings Riley to the mat. Riley gets up and arm-drags but Stella holds on. Stella has Riley in the armlock, but Riley gets up and whips. Stella reverses the whip, then drop toeholds, and Sumie adds the dropkick before Stella hits the elbow drop. Sumie goes back to her corner while Stella covers, TWO.
Stella brings Riley up but Riley rolls Stella away from Sumie. Riley kicks Stella down, then tags to Gabby. Gabby neck snaps Stella then hits a basement dropkick. Cover, TWO, but Gabby keeps her cool. Fans rally up while Gabby tags Riley back. They double Russian leg sweep Stella, then Riley cartwheels to drop knees. Cover, TWO, but Gabby & the Geek keep control while we go to break.
ROH returns and Stella suplex fights with Gabby. They go for a suplex at the same time, but cancel out. Stella suddenly throws Gabby overhead! Stella crawls for Sumie while fans fire up. Gabby crawls for Riley, hot tags to her and Sumie! Sumie rallies on Riley with Mongolian chops! She's all fired up as she whips but Riley reverses, only for Sumie to hammerlock and forearm Riley! Sumie runs, and bowls Riley over with a forearm smash! She hits the shining wizard, covers, but Gabby breaks it up quick. Gabby and Riley double whips Sumie, but Sumie breaks through to hit them with double clotheslines! Gabby and Riley end up in opposite corners, so Sumie forearms Riley before grinding a boot into Gabby.
Sumie hits Riley with another forearm, then the swinging knee! She goes after Gabby but Gabby puts her on the apron. Sumie knocks Gabby away, then climbs up top. Missile dropkick! Riley gets up to roll Sumie, TWO! Sumie gets back at her with the TJ Neckbreaker! TWO! Sumie's surprised, but she's not done yet. She brings Riley up but Riley jawbreakers. Gabby returns for a jumping DDT! Riley fireman's carry but Sumie slips out. Riley kicks away and rock Sumie with a roundhouse. Cover, but Stella breaks it just in time. Gabby hits Stella, then whips Stella, only for Stella to SPEAR her down! Riley gets Stella with an Exploder! She swings on Sumie but Sumie counters with a back elbow. Sumie then gets Riley in the Smash Mouth!
Cover, Sumie & Stella win!
Winners: Sumie Sakai & Stella Grey, Sumie pinning
Gabby & Riley did the Monster Factory proud, but it wasn't enough to stop this Ray of Sunshine. Will the star of Japan's Jersey Shore make this inaugural reign an instant classic?
ROH looks at what led to tonight's No Holds Barred match.
Cheeseburger requested such an intense match after everything Bully Ray has done to him. It was back at Supercard of Honor XII that The Dawgs challenged Burger to a match, but Burger needed a partner. So Burger turned to a man he thought would help him in the tag team hall of fame legend. Bully accepted, and the two rallied on Rhett & Ferrara, only for Bully to turn on Burger mid-match! Bully was disgusted by Burger putting him on the spot. To Bully, Burger and wrestlers like him are what's wrong with wrestling today.
Then, as Burger looked for payback at War of the Worlds back in May, Bully robbed him of it with a low blow! Bully let himself be counted out as he glared at fans, then came back to hurt Burger more with a powerbomb. Burger got back at Bully a couple days later with a low blow, only to suffer a SUPER sit-out powerbomb! Bully added insult to injury as he used chains to whip and lash Burger. Burger wins on the record books, but he wants more. Now he will enter the hardcore legend's territory in a match with No Disqualifications and No Count Outs! Will Burger truly win against his Bully? Or will he be lucky to survive?!
No Holds Barred: Bully Ray Dudley VS Cheeseburger!
It's Burger Time, but this won't be fun and games. Bully literally let Burger win their past two meetings, once by disqualification, then by count-out. Now there's no way for Bully to keep himself protected from a loss to the underdog, will Bully be a man and finish this fight?
Bully sure seems to do something, as he rushes the ring, already armed with a kendo stick!
Though, he doesn't use it yet, as he sneaks up behind the fired up Burger for a low blow! Burger tumbles down and fans rain down boos and jeers as the bell rings. Fans do cheer "E C Dub! E C Dub!" for the legend, too, as the Hammerstein Ballroom is old stomping grounds for one half of Team 3D. Bully also shows he has a cheese grater for the Cheeseburger. Burger is clutching his nuts but Bully won't give him time to rest. He hammers Burger down then brings in a trash can to SMASH Burger with it! Bully grimaces down at Burger as he drags him over, to whip him into barriers! Bully trash talks Burger, egging him on as he hammers Burger again. He brings Burger up and around to bounce off the timekeeper's table.
Cary Silkin gets up from his seat, not wanting to be this close to the action, and Bully gets in his face about it. The fans sense a table in their future, but Bully puts Burger into the ring instead. Bully talks trash to Cary again, then goes back to Burger. Fans let Bully know what they think of him as he brings Burger up. Bully sets Burger on the top rope, and into a Tree of Woe, to stand on the crotch! Bully tortures Burger's nuggets, and reminds everyone, especially the referee, that there are no disqualifications. He starts intimidating the referee, and fans boo and jeer. Bully watches Burger on the mat, refusing to quit. Burger drags himself up but Bully is on him again with a trophy lift! And then throws him to the mat! Bully mocks the fans by lending an ear, brother.
Bully, still talking crap to Cary, then grabs that kendo stick and takes his time playing around. He dares the ref to do something, then he SMACKS Burger across the back. Burger writhes in pain but Bully won't end it. Bully continues to, well, bully the referee, but we take a commercial break.
ROH returns but Bully still toys with Burger. He lifts Burger up with the kendo stick to jab it into Burger's ribs. Bully says "This is what you wanted." He puts up his hands to jab and jab away. Burger wobbles as Bully winds up the Bionic Elbow, but Bully takes too long and Burger picks up the kendo stick! Burger SMACKS Bully back! And his front! Fans are fired up with Burger as he just swings for the fences! Bully is writhing in pain now as fans chant for Burger. Burger keeps going, then chokes Bully with the stick! Bully snapmares Burger off, then kicks him before picking him up for a powerbomb TOSS!
Burger crash lands on the mat, but Bully isn't done with him. Bully is stinging from the kendo stick strikes, but Hammerstein shouts "We Want Tables!" Bully rejects that idea to present a chain! He whips and slaps Burger over and over with the steel, daring Burger to get up. The referee won't let Bully continue, "He's had enough!" Bully says "He's had enough when I say he's had a enough." The ref pleads with Bully but Bully whips HIM with the chain! That's the last straw for Colt Cabana, he rushes the ring!
Cabana SPEARS Bully and throws furious right hands! Hammerstein is thunderous as Cabana grabs that chain, to clothesline Bully with it! Fans are chanting "Colt Cabana!" as the ROH veteran takes that cheese grater, and hands it to Burger! He brings Bully around to open the way, and Burger goes up to ask, WAZZUP!? The cheese grater to the nuts, that's what! And Burger grinds it in deep! Fans are thunderous for Burger, as Cabana tells him, "Burger! Get the tables!" Fans like that!
Burger & Cabana grab a table, drag it into the ring, but Bully revives and grabs Burger, to back suplex him down. Cabana is beside himself as Bully brings the table out for his own uses. Cabana tries to coach Burger up but Bully is on him again. Bully brings Burger over, sets him on the table, then hammers away to keep him there. Bully climbs up, takes aim, and leaps, but Burger dodges! The splash belly-flops through the table!
Burger crawls over, makes the cover, but there's no referee! Another one appears, counts, TWO!! If only there wasn't the delay, Burger would've won by now. But Burger still has something left. He fires up, takes aim, but now BJ Whitmer brings Cabana away from ringside. Bully boots Burger down, covers, Bully wins!
Winner: Bully Ray Dudley, by pinfall
Just as Burger was closing in on true victory, Bully pulls a win out of nowhere. The referee helps him stand up, but Bully shoves him out of the ring! Bully celebrates for himself, and surprisingly doesn't beat down Burger more. Will this bully ever get what he truly deserves?
It's Coleman's Pulpit!
The Most Versatile Man in Sports Today returns to bring us the truth, for the truth will help you see. Today's guest, or rather guests, are the most requested guests and the ROH World Six Man Tag Team Champions, The Kingdom.
The Kingdom's Matt Taven & TK O'Ryan are honored to be on the show, they're big fans of Caprice Coleman. Huge fans even. They were raised right, because they never come to a party without bringing a gift. The Kingdom remembers Coleman's days in the Rebellion, and that sweet beret. They have a nice little surprise: a brand new… Dunce cap! Or rather, "Melvin" cap. Oh, and balloons, courtesy of Vinnie Marseglia. Want some wine? No thanks. Well alright. Vinnie drinks his from a balloon…?
Moving on, the two-time Six Man champs are going to learn who their next contenders are after a five-team Gauntlet match! Isn't that a little fishy? The Kingdom had to wait a whole year to get their rematch, but a "merry bunch of Melvins" get a shortcut to a title match? Caprice is a smart man, is that a conspiracy to him? Perhaps. Coleman remembers a story, there was a guy who got everything handed to him. His parents bought him a luxury sedan for his 16th birthday, but then he wrecked it! So what did he do then? He just asked for another, and his parents got him one. This time it was a mid-size, because now he'd have to drive his siblings around. This "adversity" made that young man spruce up that car into the best out of what they head. Like The Kingdom and the titles!
Hey, wait. Are they the sedan in this story?! Is Coleman claiming there's no conspiracy?! Well he just thought they were passed that. There IS a conspiracy! Matt is #TwoBeltsOneTaven and he should have THREE belts! He's the real ROH World Champion! And by the way, that hat was calling Coleman a Melvin the entire time. Coleman tells "Pauly Shore" here that he is no Melvin, and they are his guests, "you jive turkey!" Says you, you Melvin jive turkey SUCKA! Back at you, you jive TIVE turkey! That's Dr. Jive Turkey to you, Melvin! Doctor? More like SUCKA Jive Tive- Balloon pop. Y'all're crazy. And that's coming from Vinnie. Taven isn't crazy, he's a champion. And Coleman's pocket square isn't even real. The Kingdom storm out, leaving Coleman to close his segment with a "See you later."
SoCal Uncensored speaks.
"Matt Taven, the Kingdom, I have to applaud you." First, they took advantage of Three-Team Six Man chaos to keep those titles in the UK. Second, there's now a "wacky gauntlet" so that SCU has to battle everyone else for a rematch they should already have. That's fine by Daniels, because the SCU is happy to beat up all the filler ROH creates for this gauntlet to happen. In New York, all the wannabe badass trios can bring it on, because the SCU will bring that #MandatoryViolence. Will Daniels, Kaz & Scorpio win against four other would-be contenders to get their rematch with The Kingdom?
The Dawgs are desperate.
They need a third man to even be part of the Six Man Tag Gauntlet, but if they want Shane Taylor to be that third man, they need lots and lots of cash! Maybe they can squeeze some of the other guys for money. Ryan Nova comes along but doesn't want any trouble. Then give up some cash! He doesn't have any on him, so Rhett shakes him down. Look, it's his wallet! Wait, all he has is $6 and a bunch of receipts? Now what? Can they at least give Ryan his wallet back? Yes, and a swift jab, too! "Keep the change, you filthy animal." The Dawgs laugh their way out, but with barely enough money for drinks, how are they gonna pay the Notorious Hitman?
Titan VS Cody w/ Brandi Rhodes & Bernard the Business Bear!
The crossover of ROH and CMLL continue, but the American Nightmare vows to make this an ultimatum. Will the former ROH World Champion prove the oldest promotion needs to step it up? Or will he find that he's the one not on CMLL's level?
Cody upholds the Code of Honor with Titan, but then wants Titan to kiss the ring. Titan declines, he just wants to wrestle. The bell rings and the two circle. Cody wants Titan to hold on a moment, as he gets some push-ups in. Cody gets his pump and flexes, so Titan shows off his flexibility with neck stretches. Fans like that, and even Cody applauds. Fans chant "Lucha! Lucha!" for CMLL as Cody and Titan circle again. They tie up, Cody gets a headlock and takeover, but Titan stands back up. Titan fights out then powers out, but Cody runs him over. Titan kips back up, and Cody admits that was good. But then Cody kicks low and drops for the uppercut.
Titan comes back with quick kicks, then whips. Cody reverses and things speed up, but Titan shows his balance with the handstand, only for Cody to kick him down. Cody flexes to embrace both cheers and jeers. He stalks Titan to a corner, then whips him corner to corner, but Titan reverses. Titan runs in but is put on the apron. Titan swing kicks Cody away, then springboards for a crossbody! Dropkick on top, and Titan dares Cody to come back. Titan runs, but Bernard swipes at him! Titan backs the bear down, but Cody comes back. Cody misses but then Brandi trips Titan up. Cody pounces on Titan, then covers. TWO, but the former champion is still in control while we go to one more break.
ROH returns once more, and Cody goes after Titan's mask! The referee counts so Cody backs off to hear the fans boo and jeer, brother. Fans only boo and jeer more as Cody goes side to side. Cody goes back to Titan and whips him into a corner. Cody gives a corner clothesline, then another. He slaps Titan, then embraces the heat. Cody runs corner to corner, but Titan follows with a big corner clothesline! Titan kicks Cody between ropes over and over, then springboards for a missile dropkick! He keeps moving, giving another dropkick to send Cody out. Titan and the fans rally up, and Titan builds speed, but Bernard trips him! Titan goes after Bernard, but then Cody rushes in. Cody swings on Titan, but Titan dodges and Cody hits Bernard instead! Cody checks on Bernard, but then Titan mule kicks and SUPER Asai Moonsaults!
Titan wipes out both Cody and Bernard! Bernard's head came off! Is he dead?! Brandi tries to help the mascot, but Titan grabs her by the sling. The referee warns Titan, and Titan thinks better of it, so he just hits Cody again. Titan puts Cody back in the ring, then climbs up top. Fans fire up, but Cody sees him and goes to the opposite side. Titan hops down, but Cody boots him down! Cody shouts for Brandi to give him something. She throws in her hairspray, but it ends up closer to Titan. Titan picks it up, but the referee takes it away. This leaves Titan open to Cody's low blow kick! Then Beautiful Disaster Kick! TWO!? Titan survives somehow, but Cody grows frustrated.
Cody drags Titan up, and the two brawl with forearms. They go back and forth, then Cody jabs and throws haymakers. Cody runs, but Titan goes Matrix to then calf kick! Titan runs, but Cody uses the ref as a shield. Titan stops, and in the distraction, Cody snatches the mask off!! Small package, Cody wins!!
Winner: Cody, by pinfall
Such disrespect and dishonor, but for the American Nightmare, a win is a win. Cody and Brandi laugh at the embarrassed luchador, but will they get the last laugh in the hunt for the ROH World Championship?
---
My Thoughts:
This was a good episode of ROH. Not as good as other weeks, but still good. The WOH Division tag match was alright, but it could've been better. Perhaps while Gabby & Riley have worked together and they have chemistry, they just weren't as familiar with Sumie and Stella. That and the fans didn't really know whether to cheer or boo Sumie, they went back and forth at times. In the end, Sumie's team wins because the inaugural WOH Champion should only lose in singles competition, and only to someone fitting. With Deonna Purrazzo headed back to the WWE, it seems like it'll be between Kelly Klein or Tenille Dashwood to be the next #1 contender.
That No Holds Barred Match went as could be expected. I like this new element of Bully targeting Cary Silkin, former owner of ROH before the Sinclair purchase, and still an active producer of the show. I bet Bully will end up facing Colt Cabana at some point, with how Cabana did his best to even things out for Cheeseburger. That Coleman's Pulpit segment to hype up the Six Man Gauntlet was so goofy, I couldn't help but like it. There was a lot of great detail in facial expressions and close-up camera cuts, like Vinnie preparing a balloon string garrote for Coleman. SCU stake their claim, but I wonder if one of these makeshift trios will come out on top instead. And I know Cody is the star right now, especially in his own mind, but Bully and Burger would've made a better main event all things considered.
My Score: 8/10
---
Always Use Your Head and visit the official Pro Wrestling Tees store for The Chairshot All t-shirt proceeds help support the advancement of your favorite hard-hitting wrestling website, The Chairshot!

---
Mitchell's Lucha Underground Report! (7/11/18)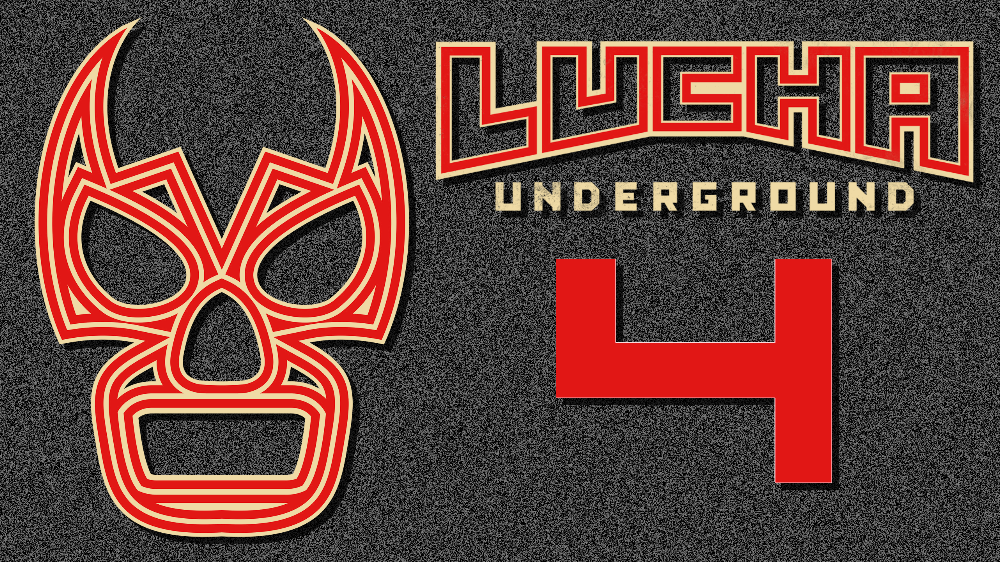 Lucha Underground Season 4, "Sacrificio"
The Monster, Matanza, is a demigod on a rampage, and he prepares another Sacrifice to the Gods! Is anyone on the Lucha Underground roster safe?!
Gifs to come courtesy of http://frentique.tumblr.com/
OFFICIAL RESULTS
Sacrifice to the Gods: Matanza Cueto VS Cortez Castro; Matanza wins, and Cortez is sacrificed.
Ancient Aztec Medallion match: Ivelisse VS Joey Ryan; Ivelisse wins.
Triple Threat Ancient Aztec Medallion match: Son of Havoc VS Killshot VS The Mack; Mack wins, he and Havoc earn medallions.
Ancient Aztec Medallion match: Mil Muertes w/ Catrina VS Cage; Muertes wins.
PLAY BY PLAY
Cortez Castro is in the ring.
The dirty cop who was investigating Dario Cueto has been invited out by Antonio. Antonio's sources have sniffed out that Cortez is an undercover cop. But that's fine, because Antonio is reporting a murder. Well, not a murder, but a sacrifice!!
Sacrifice to the Gods: Matanza Cueto VS Cortez Castro!
Antonio is killing two birds with one stone, or perhaps a pig? Either way, Matanza rushes the ring in a hurry! Cortez tries to fight him off with that kendo stick, but to no avail. Matanza headbutts Cortez down, then whips for the WRATH OF THE GODS! Cover, Matanza wins!
Winner: Matanza Cueto, by pinfall
The Monster God has won, and the Believers call for "Sacrifice!" With another flash of bloody lightning, Cortez disappears! That makes two souls devoured by the Temple, how many more will be taken to satiate Matanza's blood lust?
Ancient Aztec Medallion match: Ivelisse VS Joey Ryan!
The Baddest Bitch made an impact in her return when she hammered her ex, Jeremiah Crane, then shoved him in a casket. Meanwhile, The Big Sleazy just wants to spread the love. Or at least the baby oil… Who will grab hold of gold to qualify for the Gift of the Gods?
The bell rings and Joey tucks the lollipop in his pants. He knows Ivelisse wants him, but he won't let her slap him. She still does, with the other hand. He pie faces her back, then he gives her a face full of chest hair! Ivelisse grabs that hair and throws him by it! She chops the chest hair off him, then springboards for an arm-drag. Joey staggers, but Ivelisse throws him more with headscissors. She gives him a back elbow, he gives her a SLAP! Joey climbs on and grinds her face into the mat. Fans boo and jeer, but Joey just enjoys it more. He covers, TWO. He tries again, TWO! One more time, TWO! Joey swears that's six, because it adds up. The referee disagrees with that logic. Joey goes back to Ivelisse for a chinlock.
Fans rally up for Ivelisse, and she stands up. Ivelisse fights out with body shots, but Joey shoves her. She comes back into an Octopus! Joey breaks out but Ivelisse throws him out. Ivelisse builds speed, but runs into a SUPERKICK! Joey covers, but rather lazily, TWO! He's shocked, but he has something up his sleeve. Or rather, in his pants. He pulls the lollipop, but Ivelisse snapmares and kicks him down! Both wrestlers slowly get up, then speed up. Ivelisse rallies and enziguris, cover, TWO! Joey gets to a corner but Ivelisse is on him with a chop and a whip. He reverses, then sleazes it up as he runs in, but into a SUPERKICK. Ivelisse runs, but into a spinebuster! Cover, TWO!
The Believers rally up, and Joey stalks Ivelisse. He goes for the chest but Ivelisse counters and kicks away. Ivelisse throws him with a German Suplex! Cover, TWO! Fans rally up again, and Ivelisse gets going. Joey catches her with a  shoulder to the stomach, then prepares a bomb. He lifts her up but she fights out. She slaps away, then scorpion kicks into the running Destroyer! Cover, Ivelisse wins!
Winner: Ivelisse, by pinfall; earns an Aztec Medallion
Finally, the Baddest joins the Gift of the Gods seven-way! Can she skyrocket to the top with a free shot at the Lucha Underground Champion?
Triple Threat Ancient Aztec Medallion match: Son of Havoc VS Killshot VS The Mack!
The Lucha Underground Trios Champions weren't so sure about each other when Antonio Cueto just decided to lump the Man from the Open Road in for the MIA Dante Fox. But then they turned it around in their first defense together against Infamous Inc. Will they be able to keep things together when they're forced to fight over such a tempting singles prize?
But wait, Antonio Cueto has been thinking about this match all night. It's missing something. Three champions fighting for one medallion, that's great. But he always asks himself, "Could it be greater?" Believers seem to think so. So in a brilliant flash, it came to him: it's missing a second medallion! The only one who gets nothing is the one who gets pinned or submitted! The stakes just got raised, who will be the odd man out?
Lucha Underground returns and the match begins! And while Killshot targets Havoc, Mack doesn't want the team to implode like this. Killshot moves him aside, but Havoc counters. Killshot slips out of the suplex and shoves Havoc into Mack's shoulder. Mack swings a kick but Killshot ducks it. The champions stare down, but the two who have been a team longest are the ones arguing the strongest. Killshot kicks Mack and then throws him out. He goes after Havoc, then throws him to ropes. Havoc dodges and speeds up to DIVE on Mack! Killshot builds speed but handsprings out, only to run into Havoc's boots. Havoc goes up to springboard, asai moonsault wipes out Killshot & Mack!
Fans rally for Havoc as he puts Mack in the ring. Havoc throws hands on Mack then whips him. Mack counters with an arm-drag, then runs into the corner. Havoc dodges but Mack headstands and twerks! Mack dodges Havoc to back elbow him into the corner. Havoc rolls out but Mack takes aim. Mack builds speed but Killshot moves to intercept, only to get the running enziguri! Killshot goes back out and Mack builds speed again to FLY! Mack wipes out Havoc and Killshot! Fans are fired up as Mack puts Killshot back in the ring. Killshot is dazed but he still swings on Mack. Mack blocks and SLAPS the taste out of his mouth. Mack chops Killshot sharp in the corner, then whips him to ropes. Killshot reverses and wrings the arm out, to then kick it out. He stalks Mack to a corner to then stomp that arm.
Killshot brings Mack up and chops him in return. He kicks the arm, then trips Mack up. Havoc returns but Killshot ducks under. Killshot gives him a tilt-o-whirl backbreaker. Mack hits Killshot from the apron but Killshot sweeps the legs to SUPERKICK Mack down. Fans rally for Killshot as he stalks Havoc. He slaps Havoc in the head, then says he's not a brother in arms, he's a nobody! Killshot slaps Havoc more, but Havoc gets fired up. Havoc hits back, and it's a brawl of heavy forearms. They go back and forth but Havoc gets the edge. Killshot knees low, then runs, but Havoc follows. Tilt-o-whirl DDT brings Killshot down!
Mack returns slowly while the other two are still down. He stands, but Killshot and Havoc follow. Mack hits Killshot, Killshot hits Havoc, and Havoc hits Mack.
They keep going, and Mack kicks Killshot. Havoc boots Mack, then handsprings but misses. Mack POUNCES to send Havoc out! Mack whips Killshot out but Killshot bumps him back. Killshot then slings in and German suplexes, but Mack is up! But Mack runs into a Spanish Fly and dropkick! Believers know "This is Awesome!" but far from over. Havoc returns, and kicks Mack back. He climbs up, lines up the shot, an double double stomps them! Rebound cutter!
But Mack kicks Havoc to a corner. Mack runs in for a big left, then a boot wash! He keeps going, inverted cannonball! Havoc staggers up, Mack Samoan Drops and kip-ups to a moonsault! Cover, TWO!! Fans are loving Mack as he puts Havoc on the top rope. Mack slaps Havoc before climbing up to join him. Havoc resists, then fights back with body shots. He clubs away on Mack's back, fast and furious! Havoc headbutts Mack down, then adjusts. Killshot returns to grab his beard! Killshot fireman's carry, Death Valley on the apron! He puts Havoc in, then climbs up for the killer stomps! Mack Stunner! But who to pin!? The loser loses a medal, so he chooses Kilslhot! Mack wins!!
Winner: The Mack, by pinfall; only Killshot does not earn an Aztec Medallion
The Mack helps himself and Son of Havoc join the Gift of the Gods match, but leaves his older friend out in the cold. They're all still Trios Champions, but it doesn't seem like Killshot is happy with how it went down. He and the others argue it out, but Killshot slaps the medallion out of Mack's hand. Dysfunction always seems to follow the Trios Titles, will it lead to a tag team implosion?
Ancient Aztec Medallion match: Mil Muertes w/ Catrina VS Cage!
The Man of 1000 Deaths and the Machine fought over the Gauntlet of the Gods last season, but both men are without that prize after King Cuerno stole it from Mil. But in the Temple, revenge always gains rewards, so perhaps this will make it up to Cage. Can the Machine overcome death in order to then pursue the Gift of the Gods and Pentagon Dark's Lucha Underground Championship?
The two behemoths stare down, then start brawling! Cage knees low but Muertes hits back. Cage hits a jumping knee, then runs, but into a big right from Muertes. Muertes whips but Cage reverses. Muertes clubs Cage's back but Cage clobbers him with a clothesline. Yet Muertes comes back with one of his own! Muertes whips Cage again, then pops Cage up, but to get a headscissors! Cage swings but misses, Muertes tilt-o-whirls! Then backstabber! Cage goes out of the ring, but Muertes pursues. Believers are dueling as Muertes brings Cage up to ram him into the apron. Then he throws Cage into railing. Cage gets up and SUPERKICKS Muertes! And throws Muertes into the railings. Cage throws forearm after forearm, and the Believers are rabid!
Cage grabs Catrina, but she's not worried. Muertes rocks Cage with a right! Then Muertes bumps Cage off a chair, and puts him back in the ring. Muertes goes to bump Cage but Cage counters. Cage swing kicks, then climbs up to DEADLIFT SUPERPLEX Muertes into the ring! Cover, TWO! Cage is surprised, but not deterred. Fans duel more as Cage whips Muertes . Muertes slides to a stop to rock Cage. Cage staggers towards the ref, Muertes runs in, and SPEARS the ref!
Cage jumped out of the way, then discus clotheslines Muertes down! He covers, but no ref to count! The Believers count to about 5 before a replacement ref enters! He counts, TWO! If only he was there sooner, Cage would've won. Cage hears the Terminator drums, but then he suddenly clobbers that second ref!
Muertes hits the Flat Liner, covers, but a third ref is slow to appearing. TWO, and now Muertes is the one angry with authority. The referee is caught into a CHOKE SLAM! Muertes lifts Cage, Cage slips out but Muertes elbows back. Muertes goes to throw Cage but Cage throws Muertes into a post! Cage lifts Muertes in a pumphandle driver! But there's still no referee. Muertes gets away, but fans know "This is Awesome!" Cage builds speed to FLY! The Machine wipes out Muertes, and Believers are losing their minds! Cage brings Muertes around to bump off the apron, then fireman's carry. Muertes slips out to RAINMAKER! Or, maybe, Death Maker. Muertes brings out a chair, but Cage SUPERKICKS it into him! Cage scoop slams Muertes, then brings that chair over.
Cage soaks in the applause of the Believers, but that fan wearing the Cuerno mask takes off that mask to reveal… He's Pentagon Dark!!
The Lucha Underground Champion is back for revenge after what Cage did to him weeks ago! CERO MIEDO!! And he attacks! The referees can't disqualify this as Pentagon SMACKS Cage with the chair!
Pentagon puts Cage in the ring, and Muertes slithers in. Muertes stalks Cage, and SPEARS! The Reaper's Trident sets up for the Flat Liner! Cover, count, Muertes wins!
Winner: Mil Muertes, by pinfall; earns an Aztec Medallion
With an assist to the Bone Collector, the Man of 1000 Deaths earns his spot in the Gift of the Gods title match. He asks Catrina to bless his victory with the Lick of Death, but she cannot. Seems that after gaining her mortality, she gave up her dark rituals. Muertes doesn't understand, but he's very upset with his femme fatale. They disappear into the shadows, for now.
Pentagon Dark speaks.
"Cage, don't be sad because you didn't win that medallion." Don't worry, because next week they will battle for the Lucha Underground Championship! Cage gets what he wants, but Pentagon tells him right now, that just like Aztec Warfare, the night will end with Pentagon still champion. And Cage, "mi amigo", my friend, you will come out with a broken arm! Because Pentagon Dark has CERO MIEDO! Will the Machine make good on the free shot the Bone Collector is giving him? Or will he lose an arm along with the match?
The Rabbit Tribe has gone down the rabbit hole.
Paul London wonders, can this furniture get any smaller? Saltador finally speaks, saying he finds it "quite comfortable." Mala Suerte seems to agree. Mascarita Sagrada finally returns. Alright, muchachos, the White Rabbit is ready to see you. Vaminos! Yes, let's go! The tripped-out trio follow Mascarita further down the rabbit hole and…
"I have been waiting for you." They bow before the great White Rabbit. They wish to have his guidance. Oh? In exchange for what? "Anything that you wish." Anything, you say? Yes, anything. Then kill the man who brought you to him. Wait. Kill Mascarita? Tick tock, Mr. London! Kill Mascarita or you will not get your wish. Well okay… London raises the blunt instrument, and SPLATTERS poor Mascarita.
Bravo, Mr. London, bravo! That was very entertaining. And now, they shall see how far they're really willing to go. What new madness has come to Lucha Underground?
---
My Thoughts:
A pretty good Lucha Underground episode, and all about the Aztec Medallions and Gift of the Gods. Unless I've lost count, I think there's one medallion left, and we've got a great field of competitors already. Cuerno, Dragon Azteca, Ivelisse, The Mack, Son of Havoc, and now Mil Muertes. These six alone will put on a great match, adding just about anyone as the seventh will make it better. Ivelisse does pretty good against Joey Ryan, and she was a shoe-in between how fans love her and how Joey has been booked in LU. The twist for the triple threat was great, it really gives a great story for the Trios Champions without even needing another team to face. Though, I do expect them to put those titles on the line soon, and then lose them because Killshot quits on the team.
Muertes VS Cage was great, even before Pentagon made that surprise appearance. Pentagon giving Muertes the win is fine, as it helps bring up a new wrinkle in Catrina's story: Muertes' reaction. He'll want explanations as to why Catrina didn't do the Lick of Death, which has been a staple of their segments since the beginning. Meanwhile, Cage VS Pentagon is set and is going to be a great match. Honestly it could go either way, and creates suspense as to who the eventual Gift of the Gods Champion will be challenging. The only thing not related to Gift of the Gods was the Sacrifice. There wasn't a whole lot of pomp and circumstance with it, but it seems this will be Lucha Underground's way of doing squash matches. At the same time, sacrificing Cortez should trigger the story with Captain Perez, so that'll be interesting.
My Score: 8.5/10
---
Always Use Your Head and visit the official Pro Wrestling Tees store for The Chairshot All t-shirt proceeds help support the advancement of your favorite hard-hitting wrestling website, The Chairshot!

---
Mitchell's WWE NXT Report! (7/11/18)
The NXT Tag Team Championships are defended in a rematch from Royal Albert Hall! Will Mustache Mountain defeat the Undisputed Era in the US like in the UK?
All images courtesy of the WWE's official Twitter
OFFICIAL RESULTS
Adam Cole VS Danny Burch; Cole wins.
Kairi Sane VS Vanessa Borne; Kairi wins.
NXT Tag Team Championships: Mustache Mountain VS The Undisputed Era's Kyle O'Reilly & Roderick Strong; The Undisputed Era wins and become the new NXT Tag Team Champions.
PLAY BY PLAY
Adam Cole VS Danny Burch!
You'll see @roderickstrong & @KORcombat later tonight, but #UndisputedERA's #WWENXT #NorthAmericanChampion @AdamColePro is kicking things off! pic.twitter.com/DoWuAXUHP3

— WWE NXT (@WWENXT) July 12, 2018
The NXT North American Champion didn't appreciate the British Brawler's bad mouthing, or his challenge to a match 1v1. GM William Regal did, though, and has made this non-title match! Can Burch hit back on the Panama City Playboy in place of the injured Boston Brawler, Oney Lorcan?
✌️@strongstylebrit is FIRED UP for this opportunity! #WWENXT pic.twitter.com/QAzW1q9rHN

— WWE NXT (@WWENXT) July 12, 2018
The bell rings and fans duel. Cole and Burch circle then tie up. Burch pushes Cole back but Cole comes back with a wristlock. Burch reverses to a wristlock but Cole rolls and reverses. Cole gets a hammerlock but Burch spins through to overhead suplex Cole to the mat. Burch has the armlock and grinds Cole on the mat. Cole gets up and out with a stiff forearm. Burch sits down, but Cole is on him with a headlock takeover. "I don't think so, Danny!" he trash talks as he grinds Burch's head. Burch works his way back up, then powers out. Cole runs him over with a shoulder, then runs again. Things speed up and Burch runs Cole over in return. Burch runs, things speed up again, but Burch sees the dropkick coming. He counters with a drop toehold, but Cole pushes him away.
Burch side steps Cole to rock him with a forearm! Cole ends up outside but Burch fetches him. Cole shoves Burch into a post, then hits a neckbreaker to the floor! The ref has them get back in, and Cole leaves Burch down. The count climbs, but Burch beats it at 8. Cole is on him with another neckbreaker. Cover, TWO. Burch clutches his neck and gets to a corner, but Cole keeps his eyes on him. Cole walks over but into a right hand. Cole blocks the boot to stomp a mudhole into Burch, then backs off at 4. He drags Burch up for a snap suplex, then drives in a knee to the back. Cole trash talks Burch as he drives in another. Burch writhes to the ropes, but Cole says he's "not in my league."
Cole puts Burch in a corner, then throws forearms and body shots. Cole backs off at 4, then brings Burch out for a scoop slam. Cover, TWO! Burch rolls away but Cole is right on him with a chinlock. Fans rally up and Burch feeds off the energy. Burch fights back with body shots, but Cole bicycle boots him down! Cole drags Burch back up for elbows to the back of the neck. Burch gets to ropes but Cole keeps on him. Cole snapmares Burch back into the snapmare. "You'll never beat me. Ever!" Fans rally up and Burch jawbreakers free. Burch chops and chops away on Cole, but Cole shoves. Burch ducks to Thesz Press and rain down hands.
Cole gets to a corner but Burch gives him a corner European Uppercut and clothesline, then a swing kick for good measure. Burch hops up, missile dropkick! Then a kip-up! He fires up, as do the fans. Burch drags Cole up, but Cole fireman's carry. Burch slips out for a German Suplex, then a big lariat. Cover, TWO! Into a crossface! Cole is trapped, but he rolls free. Burch comes back with EuroUpper, headbutt and knee. Then another headbutt! Cole staggers, but Burch is on him in the corner. Burch hangs Cole up top, for London Tower! Cover, TWO!! So close and yet so far from pinning the NXT North American Champion. Burch gets up, keeping his cool. Fans rally up as Burch brings Cole back up. Cole resists the bomb, but Burch clubs away.
Burch suplexes but Cole knees out. Cole fakes Burch out for the mule kick, then the bicycle kick, to Ushigoroshi! Cover, TWO! Cole grows frustrated with Burch, but he knows "nobody can beat me!" Fans rally up again as Cole takes aim. SUPERKICK! But Cole isn't done there, he brings Burch up for the Last Shot brainbuster! Then, with knee pad down, Cole runs for the Last Shot shining wizard! Cover, Cole wins!
Winner: Adam Cole, by pinfall
Burch proves how tough he is, but in the end, Cole wins again. Will the North American Champion's reign continue without finding a worthy contender?
#WWENXT #NorthAmericanChampion @AdamColePro just proved why he is in fact THE MAN around @WWENXT with a win over @strongstylebrit! pic.twitter.com/zsQvcO61jE

— WWE (@WWE) July 12, 2018
NXT Media interviews Candice LeRae.
Mrs. Wrestling knows she's close to the championship, but then she encounters and confronts the NXT Women's Champion. Shayna Baszler wants the little lady to stick to being the "cute little sidekick." Candice slaps Shayna, and a brawl began! Referees, security and other women superstars had to pull them apart! There is a fire burning in the Women's Division, will a match be the only thing that puts it out?
Backstage interview with Dakota Kai.
The Captain of Team Kick has heard the choice words of the Queen of Spades. But Dakota is going to face Shayna again really soon. She's working her way up the ladder and will get another title shot. But the Lady of NXT, Lacey Evans, says no one cares what Dakota thinks. If those "dirty paws" ever grabbed the title, she'd just bring it down. What the Women's Division is a lady with class, confidence and sophistication to elevate it. Let's be honest, that's not Dakota. Oh, so she goes from talking trash online to talking trash in face. How about Dakota kicks her class next week in a match? Lacey seems to accept the challenge, will she exercise her Woman's Right to a victory? Or will all her talk be taken out with the trash?
"What this Women's division needs is a lady with class, confidence, and sophistication…and let's be honest, you don't have those traits, sweetheart." – @LaceyEvansWWE to @DakotaKai_WWE #WWENXT pic.twitter.com/np5iOyV4SW

— WWE NXT (@WWENXT) July 12, 2018
Kairi Sane VS Vanessa Borne!
The action is about to continue RIGHT NOW on @WWENetwork as @VanessaBorneWWE prepares for battle against @KairiSaneWWE! #WWENXT pic.twitter.com/sVad5gL3SM

— WWE Network (@WWENetwork) July 12, 2018
The vivacious Vanessa is bold enough to call out the inaugural Mae Young Classic winner, all over the Pirate Princess' choice of costume. Will Kairi show Vanessa why she was a star of Stardom? Or will Vanessa get the upset and sink Kairi's ship?
The #PiratePrincess @KairiSaneWWE has ARRIVED at @FullSail! #WWENXT pic.twitter.com/bd540vkOCU

— WWE (@WWE) July 12, 2018
Fans are strongly behind Kairi at the bell. She and Vanessa circle, then tie up. Vanessa powers Kairi back to a corner, but shoves out of the break. Kairi puts her in the corner to push her, then honors the break. She threatens a punch, but just boops Vanessa on the forehead. Vanessa rushes out but into a waistlock. Vanessa standing switches and throws Kairi down. Kairi avoids the stomp, then blocks the kick, to Dragon Screw! Kairi runs, and rolls for a leg tweak. Cover, TWO, into a toe-and-ankle hold! Vanessa crawls to a ropebreak. Kairi lets go, and backs off to dare Vanessa to come back for more. Vanessa does, but runs into a crucifix! Kairi isn't strong enough to bring Vanessa down, though, and Vanessa turns it into a Samoan Drop! Cover, TWO!
Vanessa keeps on Kairi with a body scissor squeeze. She throws forearms into Kairi, but fans rally up. Kairi endures and turns around to throw forearms at Vanessa. Vanessa forearms Kairi more, then brings her up for a spinning suplex! Cover, TWO, and Vanessa grows frustrated. Vanessa rams her knees and elbows into Kairi, then stomps her to a corner. Fans cheer Kairi on but Vanessa toys and trash talks the Pirate Princess. She throws Kairi to ropes for a motorcycle stretch! Vanessa lets go at 4, but turns things around into a draping cloverleaf! She even kicks away at Kairi's back until the ref counts 4.
Whatever gets the job DONE. That's all that matters to @VanessaBorneWWE! #WWENXT pic.twitter.com/apg5p2xFz7

— WWE NXT (@WWENXT) July 12, 2018
Vanessa throws Kairi down, then drops a big elbow. Fans rally up as Vanessa throws Kairi around more. Vanessa walks on Kairi, then climbs up top. She demands fans cheer for her, but then she misses the Vader Bomb! Kairi gets up and runs in, Blockbuster! Kairi and Vanessa slowly stand, and Kairi fires off double chops! She whips Vanessa but Vanessa reverses. Kairi rebounds to headscissor, then Interceptor spear! Kairi fires up while Vanessa crawls to the corner. Marching the plank, Kairi runs in for the Sliding D forearm! Kairi climbs up top, but Vanessa headbutts her. Vanessa throws Kairi down from the top rope! She's not done, either, as she brings Kairi up. Kairi revives for the spinning back-fist. Vanessa clubs away on Kairi in return, then rolls her to a cover, TWO, and Kairi gets a modified cloverleaf of her own! Kairi calls this the Anchor Lock!
When @KairiSaneWWE locks in the ⚓️, it's OVER.

What a victory for the #PiratePrincess on #WWENXT! pic.twitter.com/j1ciMOF836

— WWE (@WWE) July 12, 2018
Vanessa taps, Kairi wins!
WInner: Kairi Sane, by submission
The Pirate Princess brings out something brand new, and it works! Vanessa is improving, but not enough to stop this great Stardom champion. Will Kairi sail towards an NXT Women's Championship?
The odyssey continues for @KairiSaneWWE… #WWENXT pic.twitter.com/WdrhiXjBTH

— WWE NXT (@WWENXT) July 12, 2018
Kairi speaks.
"Shayna Baszler. I know you are strong, but I beat you before." The MYC finals in fact. Kairi vows to do it again! And again! And again! "Again! Again!" echoes out with the NXT Universe. Kairi vows to come for that treasure, that NXT Women's Championship! "Ahoy!"
Just in from NXT GM William Regal!
Seeing as how there are so many worthy contenders for Shayna Baszler's title, it seems only fitting to give them all a chance! It will be a FATAL 4 WAY to decide a new #1 Contender! The Pirate Princess has one victory over the Queen of Spades, while Crazy Nikki Cross came close. At the same time, Mrs. Wrestling wants at Shayna something fierce over the comments the champ had for her, as does The EST, Bianca Belair! One woman will move on to be the number one, who will challenge the Reign of Terror?
BREAKING: @KairiSaneWWE @NikkiCrossWWE @CandiceLeRae & @BiancaBelairWWE will do battle NEXT WEEK to determine the #1 Contender to @QoSBaszler's #WWENXT #WomensChampionship! pic.twitter.com/wyfuLcwOCQ

— WWE NXT (@WWENXT) July 12, 2018
NXT Media speaks with Aleister Black.
With two weeks left before the Embodiment of the End faces the Psycho Killer, the NXT Champion knows there's always someone who thinks they'll change things. But then Johnny Wrestling comes by and says Ciampa cannot be champion. Aleister doesn't seem to take him seriously. Gargano wants to make sure Ciampa doesn't win. Alesiter does understand that, but Gargano has to let him be the one to handle it. Gargano needs to worry about himself in the meantime. Gargano knows exactly what he's doing. Aleister and Gargano part ways, the champion headed to the ring. But then Ciampa attacks Aleister! The Blackheart doesn't want to wait two weeks, as he drags Aleister out onto a table for a draping DDT!!
OH MY GOD. @ProjectCiampa just STRUCK AGAIN, and this time it's #WWENXT Champion @WWEAleister on the receiving end! pic.twitter.com/ecCMga1BQD

— WWE NXT (@WWENXT) July 12, 2018
Ciampa leaves Aleister down and out while medics are called. Ciampa waves good-bye, but will he be waving a white flag come their title match? Or has he just made Aleister's reign #FadetoBlack?
NXT Tag Team Championships: Mustache Mountain VS The Undisputed Era's Kyle O'Reilly & Roderick Strong!
Can The #UndisputedERA make it 2-for-2 tonight?@KORcombat & @roderickstrong challenge #MoustacheMountain RIGHT NOW on @WWENetwork for the #WWENXT #TagTeamTitles! pic.twitter.com/ogTZU8PPA2

— WWE Network (@WWENetwork) July 12, 2018
While the Undisputed Era love to #ShockTheSystem, they were the ones shocked when Tyler Bate & Trent Seven defeated them in the Royal Albert Hall during the United Kingdom Championship special. The UE tried to deny it, claiming it was a fluke, but will they succeed in taking back the titles? Or will Mustache Mountain simply go 2-0 and send the Undisputed Era to the back of the line?
Their moustaches are glorious, and they are YOUR #WWENXT #TagTeamChampions!@Tyler_Bate @TrentSeven pic.twitter.com/jxgiHxsLOq

— WWE NXT (@WWENXT) July 12, 2018
Fans duel already as the introductions are being made. The belts are raised and the bell rings, and Undisputed rush the champions! Strong goes after Seven while O'Reilly goes after Bate. They have them in opposite corners, then whip them out, but Mustache Mountain do-si-do to hit EuroUppers! Seven lifts and slams O'Reilly, then Bate slams Strong on top of him. Bate gets to a corner and knee-boards off Seven to senton on them both. Seven and Bate coordinate for the assisted back senton. Strong and O'Reilly get to ropes, but they get whipped across the way. They hold ropes to bail out, then regroup. Bate & Seven throw them out, but Undisputed come back in quick, only to fall for Bop and BANG!
Strong & O'Reilly go back outside but Bate & Seven keep on them. They brawl and chop outside, and Bate throws O'Reilly into the apron. Seven has Strong on the other side, throwing body shots at the steps. O'Reilly kicks Bate back, then goes to help Strong. They bump Seven into a post, then a shinbreaker to the steps!
.@TrentSeven's knee just got CRUSHED on the steel steps courtesy of @roderickstrong! #WWENXT pic.twitter.com/4Z5x3P0Lkg

— WWE NXT (@WWENXT) July 12, 2018
Seven goes down in a heap, but Strong is still on him. They go into the ring while fans continue to duel at a fever pitch. Strong stomps the bad leg then tags in O'Reilly. O'Reilly runs to knee drop the bad knee. Seven does what he can to cover up as O'Reilly throws fast strikes. O'Reilly jams the knee with a leg DDT, then drags Seven back. Tag to Strong and Strong goes right at the leg brace. Strong pulls it off to expose the knee to stop it directly. Tag back to O'Reilly for dragon screws and a standing Indian deathlock! O'Reilly twists the leg, but Seven can only fight from the mat. Seven tries to get to Bate but O'Reilly cartwheels to more ground 'n' pound palm strikes. O'Reilly gets an outside heel hook! Tag to Strong and they torture the leg.
Fans have not slowed down one bit in their dueling chants. Strong goes after the knee but Seven fights as much as he can. Seven grabs hair but Strong doesn't let go of the leg. Seven endures the pain, and kicks away with his free leg. Strong lets go, but tags O'Reilly. O'Reilly is on that bad leg, smashing it against the ropes! Seven manages to counter with a roll up, TWO! Seven shoves O'Reilly away but Strong tags back in. Strong whips but Seven kicks him away. Seven dumps Strong out but Strong drags Seven down. Seven shoves again, but O'Reilly runs in. O'Reilly gets tossed out hard, and Seven crawls! Bate is ready, but Strong anchors Seven long enough for O'Reilly to get to Bate! Seven misses his chance, and now Strong is on him again.
Strong puts the legs in an Indian deathlock and grinds his heel into the knee. Seven fights and endures, throwing hands and chops on Strong. Strong lets him go, but only long enough to bring him up. Seven chops, even on one leg. He fakes a chop, blocks a chop, and hits a DDT! Strong and Seven crawl, but O'Reilly boots Bate down! Seven chops O'Reilly, but O'Reilly gets the leg! Seven endures the heel hook, and fights with the other leg. O'Reilly lets go from being rocked by that right foot. Seven drags himself over, but so does O'Reilly. Hot tags to Bate and Strong! Bate rallies on the Undisputed Era! Big back drop for Strong! Then a corner EuroUpper. Bate whips corner to corner but Strong reverses, only to run into that knee lift! Flying EuroUpper, then the standing shooting star! Cover, TWO!
This match has been high energy from the start, but now fans are really fired up. O'Reilly runs in but gets taken for a ride. O'Reilly slips into a sleeper on Bate, but Bate bumps him off buckles. Strong runs in, but into an Exploder onto O'Reilly! Bate picks up Strong and spins him around, but then catches O'Reilly! Now we go for a spin AND a swing! Flashback to Royal Albert Hall!
THIS JUST IN: @Tyler_Bate isn't human. #WWENXT pic.twitter.com/iBDy1UI9ir

— WWE NXT (@WWENXT) July 12, 2018
Bate puts them both down on top of each other, then deadlifts Strong for a bridging German! TWO!! Seven is getting his knee checked on, but he knows Bate is going it alone right now. Fans are at a fever pitch as Bate slowly stands. Bate sees Seven is still in a bad way, so he goes after Strong. He tries the double underhook but has to rolling kick O'Reilly out. Bate runs into Strong's boot, enziguri, and then whip. Rebound lariat from Bate! Then, TYLER DRIVER '97!! Cover, but O'Reilly breaks it just in time! This match continues, but fans are loving it! Bate throws O'Reilly out, then checks on Seven. Seven wants to get in, because "This is Awesome!"
Bate isn't so sure himself, his mentor is too wounded. Strong hits Bate but Bate hits Strong. Strong whips but counters the rebound for a half-nelson backbreaker! Tag to O'Reilly, Penalty Kick! Cover, TWO! But right into the brainbuster!! Cover, TWO!! Bate toughs it out for the sake of his mentor, but O'Reilly tags in Strong. The Undisputed Era coordinate but Bate fights them both off. Bate escapes Total Elimination! Strong has Bate but Bate hits back. Knee strike sends Bate into Seven! Seven tags and starts chopping away on Strong & O'Reilly! His one leg and both arms are working, so he uses them both to fire away strikes. He gets O'Reilly in a Snap Dragon! Then dodges Seven for a back hand and SEVEN STAR LARIAT!! Cover, TWO!!
This match isn't done, but neither is Seven. Fans are thunderous while Seven and Strong slowly stand. Seven tries the torture rack, but that bad leg limits him. Strong escape to chop block the leg! Then, Inverted Cloverleaf! But Seven holds and attacks Strong's leg to resist. Seven is stuck in a Strong Clutch, but Bate boots Strong down! Bate has to back off, but Seven shoves Strong away hard. O'Reilly tags in, and O'Reilly leaps onto Seven with a knee to knee! Then the heel hook returns! Seven endures like nothing before as he hammers away at O'Reilly's own leg. Seven grabs the ref to resist tapping. He reaches for Bate, reaches for ropes, but is still so far away.
Nobody has EVER needed a tag more than @TrentSeven needs to make it right now. #WWENXT pic.twitter.com/RTf70Zh5EO

— WWE NXT (@WWENXT) July 12, 2018
O'Reilly drags Seven all the way back, but Seven kicks and slaps. It's a slap fight on the mat! O'Reilly wrenches back, but Seven still finds the grit to fight. Fans chant "YES! YES!" with every hit, and Seven frees himself! Seven crawls but so does O'Reilly. O'Reilly stays between Seven and Bate. Fans duel again, but O'Reilly goes for another leg hold! It's a double knee bar!! Seven screams in pain, and Bate sees his mentor in pain. Bate grabs a towel, but Seven tells him not to throw it! Seven rolls for the ropes, for his corner, but O'Reilly wrenches back as hard as he can. Bate is so torn between pride and compassion, but Seven shouts for him not to quit! Seven fights with everything he has left, but Bate can't do it! He throws in the towel!!
Winners: The Undisputed Era, by submission; NEW NXT Tag Team Champions
.@Tyler_Bate could not stand to see @TrentSeven take any more punishment. #WWENXT pic.twitter.com/uvHqpxwdwI

— WWE NXT (@WWENXT) July 12, 2018
Bate couldn't do it. He couldn't watch his mentor, his brother in arms, suffer any longer. But that's fine by the Undisputed Era's standards, they just got their belts back. They all celebrate on the ramp, from O'Reilly to Strong to Cole and Fish. This is what it took to get those belts back, what will it take for someone to take them away?
After @Tyler_Bate threw in the towel, the #WWENXT tag team division once again belongs to The #UndisputedERA! pic.twitter.com/4VCsOOOWW8

— WWE (@WWE) July 12, 2018
---
My Thoughts:
This was a damn good NXT! All three matches felt strong, and can be considered as contributing to story. Adam Cole fights fair and square in his match with Burch, but he really couldn't call upon the rest of the Undisputed Era given how important the main event was. But Cole does win fair and square, and so far he has no contenders to his title. There's plenty of time before the next TakeOver special, so perhaps one will step up in the coming weeks. Vanessa does great even in losing to Kairi, but Kairi winning was only natural for the inaugural MYC winner. That Fatal 4 Way is going to be great, but if there's one person we know isn't winning, it's Nikki Cross. Nikki is meant to join SAnitY on the main roster one way or another, but it could go any which way with the other three.
Of those three, bet more on Candice or Kairi. Bianca is still more Heel than Face, and even if this is NXT, it's still WWE, and they prefer Face VS Heel. From there, either choice is great, because we either get the tiebreaker of Kairi VS Shayna, or we get the continuation of that sudden brawl between Shayna and Candice. In the NXT  Championship story, I did not expect Ciampa to pounce on Aleister like that. Maybe the night of their title match, but not this far out. They'll play up Aleister's condition next week, but I'm pretty sure he makes it to the match. But now I'm even more unsure of how that'll go, what with Gargano adamant about Ciampa NOT winning the title before him. Maybe Gargano interferes just as Ciampa is about to win, which will Aleister as much as Ciampa, for a triple threat?
Then that main event was probably the best NXT Tag Team Championship match ever! Definitely one of the best since DIY VS Revival, DIY VS AoP, and the like. They also heaped a bunch of story into the match with that steel step shinbreaker and all the leg holds. You could really feel the animosity from the Undisputed Era, as well as the emotional conflict in Bate. Commentary did a great job reminding us that Seven trained Bate, and was anywhere from a big brother to a father figure for the younger wrestler. It's rare for a match to end with someone literally throwing in the towel, but it really worked here. Undisputed Era wins while Mustache Mountain isn't really weaker for it. Obviously Mustache Mountain's rematch is in question with Seven's bad leg, but I really hope we get a tiebreaker in the end.
My Score: 8.8/10
---
Always Use Your Head and visit the official Pro Wrestling Tees store for The Chairshot All t-shirt proceeds help support the advancement of your favorite hard-hitting wrestling website, The Chairshot!

---