Official Chairshot Ratings & Review: New Japan Sakura Genesis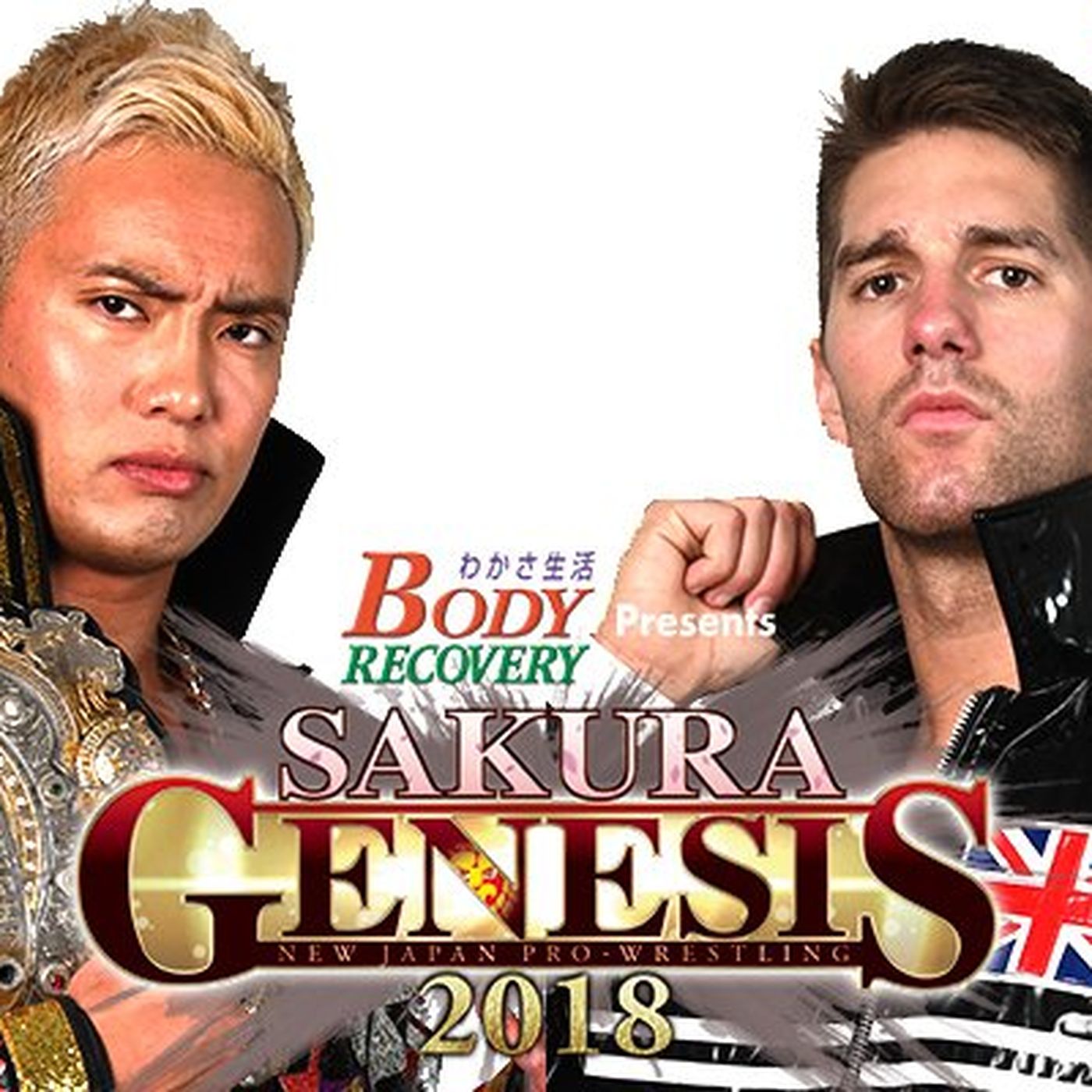 Coming off the AXS TV special one week ago, we have a few story continuations to retain interest. So anyone that got invested in the Bullet Club drama or Marty Scurll's epic disrespect, might have decided to find a way to watch this show.
Formerly known as Invasion Attack, the now named Sakura Genesis is usually something of note because the New Japan Cup winner gets their title shot. So you have someone who was built up a few weeks ago, riding a wave of momentum, into a very pivotal championship match. This one is no different since Okada is looking to tie Tanahashi's record for successful defenses in one reign as well as sole possession of the 'Gaijin Killer' moniker (currently Okada is tied with Tatsumi Fujinami for most successful defenses against unique foreigners at 6).
Given all of this, Okada has the most at stake, when it comes to historical records. But Sabre of course wants to break up this 600+ day reign and prove that being a Submission Master, is the way to go.
The Young Bucks vs Yujiro Takahashi & Chase Owens
The Bullet Club internal struggles continue as we get more Bullet Club vs Bullet Club matches. We see an odd dynamic here, where the Bucks are coming off their loss to the Golden Lovers against arguably, the two bottom guys in Bullet Club. It's also due to that fact that the match suffers slightly.
While not a bad match at all, I doubt anyone expected the Tongan B Squad to win. Solid match, good spots, nice selling from Matt Jackson, hell Don Callis even made a Ricky and Robert reference with how Matt and Nick have been wrestling their matches lately. So, a perfectly fine opener and would've probably been more believable against, well, any other two people.
Winner: Young Bucks
Rating: ** 3/4
Taichi & Iizuka vs Tomohiro Ishii & Toru Yano
To be honest, this match is just fun considering the combatants.
Taichi and Iizuka attack Ishii and Yano before the bell, as per Suzuki-Gun tradition. The microphone stand, ring bell, draw string and chairs are all used as weapons against the Chaos members. But the way this usually goes is Ishii gets beat up for 90% of the match, Yano gets his shtick in, and then Chaos wins.
That's what happens, Yano does the Yano stuff, low blows and win via Lariat/Roll Up combo.
Winner: Ishii & Yano
Rating: ** 1/2
NEVER Open 6 Man Tag Team Championship: Michael Elgin, Togi Makabe & Ryusuke Taguchi vs Bad Luck Fale, Tama Tonga & Tanga Loa (c)
The least prestigious title in all of New Japan, but these participants are always entertaining.
During a big outside spot, Fale chokes Elgin with the microphone chord and then makes a Step Brothers reference by saying " He's just got one of those faces you want to punch". Lots of fun moments and hard hits. Taguchi does his coaching moments, gives Elgin and Makabe a baseball signal to imply some kind of move, but before he can execute it, Fale and Loa have replaced them in the ring, much to Taguchi's chagrin.
The match ends shortly after that, when Taguchi hits a 619 then goes for a springboard Hip Attack, but Tama Tonga moves and hits the Gun Stun. Thank God they're not in Louisiana.
Winner: Fale & G.O.D.
Rating: ** 3/4
Hiroshi Tanahashi, Juice Robinson & David Finlay vs 'Switchblade' Jay White, Yoshi-Hashi & Hirooki Goto
Now for the people that give WWE shit for 50/50 booking, New Japan does something similar with tag matches making a difference in momentum for upcoming title matches.
With Finlay getting a US Championship match and Juice in NEVER consideration, it was written all over the bathroom walls that the Chaos team would lose. It's still a damn good match from an entertainment angle. Some solid action, Finlay landed his Stunner finish on Jay White to add to his credibility, Juice hits Pulp Friction on Goto and Yoshi-Hashi eats the pin…cause well…he sucks.
Also the only noticeable awkwardness was at the very end when it took Hashi a few extra moments to figure out which ropes to bounce off of to go into the finish. It was very obvious that Hashi was indecisive, and just kinda beats home more reasons on why he's never had a championship in New Japan.
Winner: Tanahashi, Juice & Finlay
Rating: ** 3/4
Tetsuya Naito, EVIL & SANADA vs Minoru Suzuki, Lance Archer & Davey Boy Smith Jr.
All of the Suzuki-Gun members have reasons to go after the LIJ members. Archer & Smith want a rematch for the tag titles and Suzuki feels disrespected by Naito's indifference towards him and the IC belt.
This match was fantastic with all of those threads coming out at different points in the match. Suzuki did his best to focus on torturing Naito, even going as far to purposely avoid the other person in the ring with him, just to hit Naito. But stories aside, this match was very well wrestled. SANADA had a bunch of perfectly timed saves, and was honestly the workhorse when it came to flashy moments.
One fun aspect was LIJ got the upper hand at one point and EVIL called for everyone to come in for a group combination attack (which is common place in Japan). But when Naito tried to come in from the outside, Suzuki grabbed his foot and interrupted the flow of the combination move. This lead to giving Davey enough time to get back in, stop a Magic Killer attempts and the two Killer Elite Squad members hit a Killer Bomb on both EVIL and SANADA.
Post match promo was a lot of Naito pissing off Suzuki and basically saying he does what he wants and wouldn't commit to Suzuki's challenge.
Winner: Suzuki-Gun
Rating: *** 1/2
Junior Heavyweight Tag Team Triple Threat: Roppongi 3k vs Bushi & Hiromu Takahashi vs Yoshinobu Kanemaru & El Desperado (c)
This match started off fast with Roppongi 3k knocking down Bushi and Hiromu, then doing a stereo dive during Desperado and Kanemaru's entrance.
Lots of action, also nicely building up a story between Hiromu and Rocky Romero. First Takahashi chases him into the crowd, then, when he gets his hands on him, Sho drapes himself over Rocky's prone body to shield him. After that babyface moment, we get a "who can cheat harder" between the LIJ and Suzuki-Gun members.
Hiromu and Bushi get the advantage early, even resulting in Hiromu hitting a Time Bomb, but Kanemaru pulls the ref out. Desperado slides in after that, the ref assumes he tagged in and hits Pinche Loco, for the champs to retain.
Winner: Kanemaru & Desperado
Rating: ***
Junior Heavyweight Championship: Marty Scurll vs Will Ospreay (c)
Scurll interrupted the feel good moment at Strong Style Evolved, to get this short notice match.
Part of the story here is that Ospreay never beat Scurll in a one on one match, so he's in the process of exorcising his demons. But about this match, it was fantastic. Scurll worked over the neck, and Ospreay was trying to mount offense from beneath most of the match. We saw multiple counters, many false finishes and just a great overall match.
第6試合はIWGP Jr.選手権試合、@WillOspreay VS @MartyScurll !
初めてベルトを巻いたこの両国で@WillOspreay は防衛することができるのか⁉︎
視聴&登録▷https://t.co/NxJKtVK94f #NJPWWorld #njSG #NJPW pic.twitter.com/qbAWU0dMlo

— njpwworld (@njpwworld) April 1, 2018
The pacing was erratic like you'd expect, but pretty much full speed kind of erratic, not bad. Ospreay nearly kills himself with a Spanish Fly from the apron to the floor that bent his neck and cut his forehead. So half of Ospreay's face was blood soaked for the last 7 or so minutes, and it just added to the drama. The fans looked on in horror and desperation when Ospreay was on the losing end of things, but once Ospreay hits his second Oscutter, the match is over.
Fans pop huge, the doctor wants to see Will immediately, but he first has to challenge Kushida. So it's Ospreay's goal to go through the other 3 members of the Wrestle Kingdom 4-way one on one, just to make sure it wasn't a fluke.
Winner: Will Ospreay
Rating: *****
Hangman Page & Cody vs The Golden Lovers
I think everyone with a pulse and interest in New Japan knows how much hatred there is between Cody and Kenny, so the story here is obvious.
We saw a lot of back and forth, the Lovers looked a lot better than at Strong Style Evolved, and the rivalries were in full effect. Cody and Kenny started things off, and every time the Lovers could zero in on Cody, they did. Page bailed out Cody numerous times and it was really nice to see his loyalty in full effect. Kota and Kenny had a vendetta, Cody just wanted to send a message to Kenny and Page was proving himself to everyone.
.@CodyRhodes & @theAdamPage#NJPWWorld Watch now▶︎https://t.co/Tj7UBJ4PjP#njSG pic.twitter.com/3d26uqzVWp

— njpwworld (@njpwworld) April 1, 2018
Even though the Golden Lovers looked much better, a well timed boot off the apron by Page, sent Kenny flying through a table. So Kota put up a good fight, but eventually fell to the numbers game when Cody rolled him up with a handful of tights for the pinfall victory. Notable points are that The Young Bucks showed up momentarily, Nick said "Look what it's come to", refused to shake hands with Cody and walked away. As well as, Cody got a cut above his left eye. So Kenny and Cody go into Supercard of Honor next week, with mirrored eye injuries.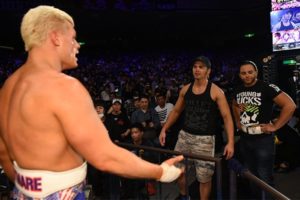 Damn good match, and it's nice to see Kenny and Kota finally start to regain their chemistry.
Winner: Page & Cody
Rating: **** 1/4
IWGP Heavyweight Championship: Kazuchika Okada (c) vs Zack Sabre Jr.
Can Sabre become only the second person to submit Okada (the first being Shinsuke Nakamura) or does Okada get his record tying 11th defense?
Early on, Okada wrestled a technical match. It's always amusing how Okada changes his offense and style depending on his opponent. After a few minutes, Sabre gets the advantage and keeps it for a good portion of the match. Zack had a counter for the drop kick, neck breaker, cobra clutch, basically Okada's entire arsenal.
SAKURA GENESIS 2018(4/1)を公開!
絶対王者 VS サブミッションマスター!息もつかせぬ激しい攻防!
V11を目前とする@rainmakerXokada とイギリス人初のIWGPヘビー級王者を目指す@zacksabrejr !
果たしてベルトを手にするのは⁉︎
視聴&登録▷https://t.co/PLB6rT8nNC#NJPWWorld #njSG #NJPW pic.twitter.com/iHxo5x1VO5

— njpwworld (@njpwworld) April 1, 2018
What makes this match easy for most fans, is that it starts off an old school, technical, mat based match with counter submissions and roll ups. Even a nice call back to the Rainmaker counter, flying cross armbreaker, that Shinsuke beat Okada with. This match was just such a pleasure to watch, from the story, to the strikes, to the submissions…ring work and psychology doesn't get much better than this.
Okada retains thanks to his jumping tombstone and a third and final Rainmaker.
Winner: Kazuchika Okada
Rating: ***** 1/4
After the match, Gedo says no one is stronger than Okada and Tanahashi chants ring throughout the arena. Before Okada can start his "3 Things" promo, Tanahashi walks out. So it's obvious that now since Okada has tied Tanahashi's record, Tanahashi wants a chance to defend it. No official acceptance was made at this point. Okada kind makes fun of the fact that Tanahashi hasn't had exactly a successful run between injuries, losing the Intercontinental Title and losing the finals of the New Japan Cup, so he doesn't see what right Hiroshi really has to challenge.
If people watch this, after Strong Style Evolved, they will see the difference between a New Japan large event and a 'special' event. Overall match quality was better, and you see a mixture of match styles and defenses. Surprisingly no title changes, but they did announce the dates and venues for the G1 this year.
So Happy Easter, April Fool's Day, and pay your rent!