Official Chairshot Ratings & Review: WrestleMania 34 (NXT Takeover NOLA ratings)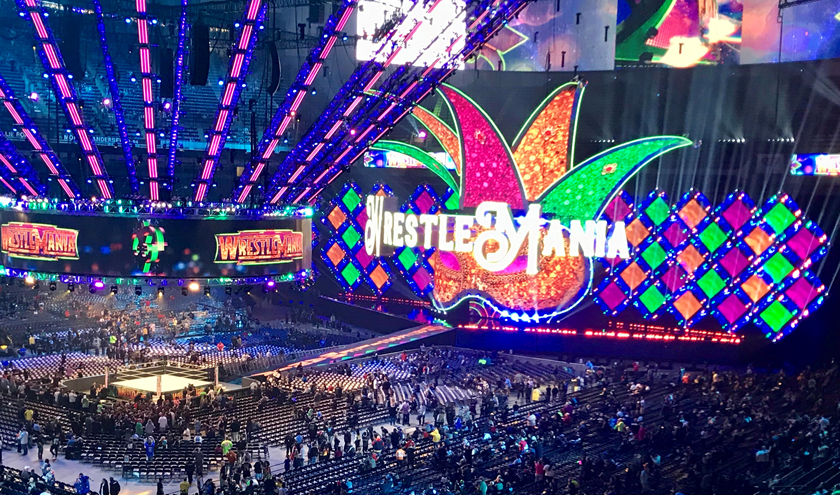 Another article that's a little later than I usually do, but long weekends and a day job means I need to sleep. So if you listened to Pod Is War, then you'd know my general disdain for the build to WrestleMania 34 and lack of faith in this one being positively memorable. Now the next logical step is for me to say, LET'S FIND OUT! But wait, wait, let's summarize NXT Takeover NOLA, since that was generally received well.
NXT Takeover: NOLA
NA Championship 6 Man Ladder Match: Adam Cole vs Killian Dain vs Lars Sullivan vs Ricochet vs Velveteen Dream vs EC3
Winner: Adam Cole
Rating: *** 1/4
NXT Women's Championship: Ember Moon (c) vs Shayna Baszler
Winner: Shayna Baszler
Rating: *** 1/2
NXT Tag Team Championship Triple Threat: Roderick Strong & Pete Dunne vs Author of Pain vs Undisputed Era (c)
Winner: Undisputed Era
Rating: ***
NXT Championship: Andrade 'Cien' Almas (c) vs Aleister Black
Winner: Aleister Black
Rating: **** 1/2
Unsanctioned Match: Johnny Gargano vs Tommaso Ciampa
Winner: Johnny Gargano
Rating: *****
So there we go, it was a damn good Takeover, not the best ever, but damn good. Now, we can get to the point of getting to WrestleMania 34.
Humongous Wonder #8's Royal Battle
It's a battle royal for a trophy that hasn't matter since it became a thing.
I mean, what's to describe. Midcarders and jobbers got eliminated, then it comes down to Matt Hardy, Mojo and Corbin. Wyatt appears and helps Hardy eliminate the other two, they embrace, pose in the middle of the ring, and that's that. The EXPEDITION for Gold, is off to a WONDERFUL start.
Winner: Matt Hardy
Rating: ** 1/2
Cruiserweight Championship: Cedric Alexander vs Mustafa Ali
The stalwart of the Pre-Show, Cruiserweight matches!
Now all of us who watched the 205 Live tournament, have noticed that the in-ring work has gone up. However, the characters are still cookie cutter and not focused upon, so the stories aren't tangible. That being said, this match was a good match, but nothing surprising, except for Cedric nearly losing his balance and dying twice.
Not the best match of the tournament, and being the second match on the Pre-Show, it wasn't even supported by a decent crowd. Cedric wins, and now hopefully they can learn how to balance characters to appeal to casual fans, while keeping decent work rate.
Winner: Cedric
Rating: ***
Inaugural Women's Battle Royal
Same as the men's, literally no one cared.
It seemed like the crowd eventually work up when Sasha and Bayley had their moment, but then Naomi apparently not getting eliminated and then sliding in at the end, killed things. The crowd popped hard for Bayley and then we got swerved. This was the beginning of a common theme in Mania this year.
Winner: Naomi
Rating: **
Intercontinental Title Triple Threat: Seth Rollins vs The Miz (c) vs Finn Balor
This match opened the main show, and it was what everyone expected. We had a lot of action, Miz showed a lot of guts by telling the Miztourage to go to the back and fight his own fight. Miz really was the star of this match, he had a lot of old school heel moments and scouted both men well, resulting in countering an Enzugiri by Finn Balor, into a Dragon Screw over the top rope.
Seth and Finn had the big flashy spots, break ups, springboards and Seth even pulled off a double Blackout (since we don't call it the other thing). Thanks to the afore mentioned spot, Seth was in perfect position to hit one more Blackout on The Miz, and pick up the pinfall victory. So Seth is now a Grand Slam Champion, the last on The Shield to get it, but hey they're handing those out like free water ice on the first day of Spring. So I guess we're supposed to care, right?
Winner: Seth Rollins
Rating: ****
Smackdown Women's Championship: Asuka vs Charlotte Flair (c)
Well it's the prestige of the Flair name versus the mystique of the streak.
In a hard hitting match, that had a lot of back and forth, it did mostly live up to the hype. Charlotte is spotty with her match quality, and Asuka occasionally just out ranks the opponent too much, so the dynamic looks awkward. This was even, and the Figure 8 is still a legitimate finishing maneuver.
Our owner Greg Demarco went lone wolf on the Charlotte train, and good on him. I didn't want them to break the streak yet, but there really isn't another woman who could reasonably do it.
Winner: Charlotte
Rating: *** 1/2
United States Championship: Rusev vs Jinder Mahal vs Randy Orton (c) vs Bobby Roode
This match had a long build since Jinder had wins over Roode and Orton, but Rusev getting added was random.
We saw a match that was, well odd. There was a lot of pairing off, not a lot of team work, and then a finisher spamming party. So Jinder was the last one to hit a finisher, so he picks up the win over Rusev. So we have a NEW America hating foreign heel, US Champ (somewhere Greg Demarco rejoices).
A little surprised that Rusev didn't get the win, purely, to placate the crowd. But Jinder will be a good champion, even if it's possibly short lived.
Winner: Jinder Mahal
Rating: ** 1/2
Ronda Rousey & Kurt Angle vs Stephanie McMahon & Triple H
This match had most people's curiosity since Ronda wasn't really impressive these past few weeks.
Kurt and Trips started things off, with Kurt looking better than Survivor Series, but still very slow and old. This was all just leading up to Ronda getting the hot tag, and wow, she came out like a house on fire.
Ronda started off too hyped, but fell into rhythm nicely. This was her coming out party and she was amazing. Throwing hands with Triple H, breaking up a pin attempt and getting across the point that she'll use a cross armbreaker as her finish.
Easily the most entertaining match, maybe it wasn't technically amazing, but it was fun, exciting and the high point of the show.
Winner: Ronda & Kurt
Rating: *** 1/2
Smackdown Tag Team Championship: Bludgeon Bros vs The Usos (c) vs New Day
The Usos finally get on the main card, but can they stop the sledgehammer wielding behemoths?
This match began the downward spiral of disappointing matches. If we were still in the PPV age, I would've said this one had time cut from it. Weird spots, Luke Harper chillin on the turnbuckle for a few minutes to unveil a new Super Powerbomb finish.
And in less than 7 minutes, we have new champions, who dispatched of the two top teams from 2017.
Winner: Bludgeon Bros
Rating: ** 3/4
Undertaker vs John Cena
Elias came out as a distraction for Cena making it seem like it wouldn't happen. Then when Cena was about to leave, the lights go out, the hat and coat appear and then disappear in the middle of the ring…and the gong hits.
This match was supposed to showcase Undertaker's new hip. His hair was the correct length, he pulled off and Old School, a leg drop, sat up mid 5 Knuckle Shuffle for a fun gif and wins after 1 Tombstone.
I guess this match was the physical embodiment of "be careful what you wish for", since Cena got squashed.
Winner: Undertaker
Rating: **
Shane McMahon & Daniel Bryan vs Kevin Owens & Sami Zayn
I have no Earthly clue what this match was to be fair.
Daniel was picked off early by the heels before the bell, so he languished on the outside for 10 minutes while a sick, freshly off of surgery, not even wrestler, took out 2 main event players. Yes it can be argued that Zayn hasn't really reached that height, but we've got a nearly 50 year old man taking on two full time wrestlers.
Then, Bryan makes a big save and it's Shane's turn to play dead for a while. Cheap pops,and Daniel getting his stuff in was academic, but Daniel and Shane win, so now we're gonna have weeks of Owens and Zayn pulling a Heath Slater.
Winner: Shane & Daniel
Rating: ** 3/4
WWE Championship: Shinsuke Nakamura vs AJ Styles
Now most fans should've tempered their expectations, but of course they didn't. So welcome to another match that failed to really deliver.
The match was good from a technical and story telling standpoint since you knew something was wrong with Shinsuke, since he wasn't his usual playful self. But in a match that was paced too slowly, never really grabbed an already tired crowd's attention, this really suffered.
AJ Styles winning is perfectly fine, even though many wanted to see Shinsuke win. The only saving grace to all of this, is we got a well executed Nakamura heel turn. Anyone who liked Shinsuke in New Japan knows he began as a badass heel, and CHAOS was actually a heel stable before Nakamura went more eccentric.
Winner: AJ Styles
Rating: ***
Raw Women's Title: Nia Jax vs Alexa Bliss
This match, was…what we expected it to be.
Alexa ran around, tried to take some short cuts, failed and Nia killed her and did some damage to Mickie James as well. Hooray, Nia wins, in probably the only 'being bullied' angle that absolutely no one cared about.
Winner: Nia
Rating: **
Raw Tag Team Championship: Braun & Nicholas vs The Bar
Braun literally walks through the crowd and chooses a child. I had flashbacks to the Power Rangers Turbo movie…and that was crap too.
Braun has single-handedly ruined the legitimacy of every current tag team. He beats The Bar by himself, the kid is technically the youngest champion in WWE history (sorry Rene Dupree).
So yes, I personally hated this, it took too long to find the kid and this is just a slap in the face to the story telling that it's supposed to be even a little realistic. I'm gonna need to find Cornette's reaction.
Winner: Braun & Nicholas
Rating: *
WWE Universal Championship: Brock Lesnar vs Roman Reigns
This match was really the only one they put effort into over the last few weeks. They also had a solid match at WrestleMania 31, so things were looking up.
Oh ya, but swerves and underwhelming is the name of this show. What was this match? 10 Suplexes, no real tension, no real intrigue, Roman just kicks out of 5 F5s or something like that.
This was what you decided to close a bloated 7 hour event with? I mean seriously, Goldberg vs Lesnar from 'Mania 20 was a better match.
Winner: Brock Lesnar
Rating: * 1/4
WrestleMania 34, the show that peaked halfway through and ended so poorly that any of the good is immediately forgotten because of how bad, the bad truly was. Advantageously I became Trivia Champion at the Annual WrestleMania Party I go to. It came down to a last minute answer to force a Triple Threat lightning round. Triple Threat lightning rounds are stressful, let me tell you.
Yes I just expounded on a Trivia game, because that was overall more memorable and enjoyable than this show. Somehow, you take a bunch of high work rate wrestlers and still manage to screw it up. And people wonder why I drink…
Andrew's Top 5 Matches: Week Ending 7/14/2019
HOLY WRESTLING WEEKEND BATMAN! With everything that went on, what did I see and what made the Top 5?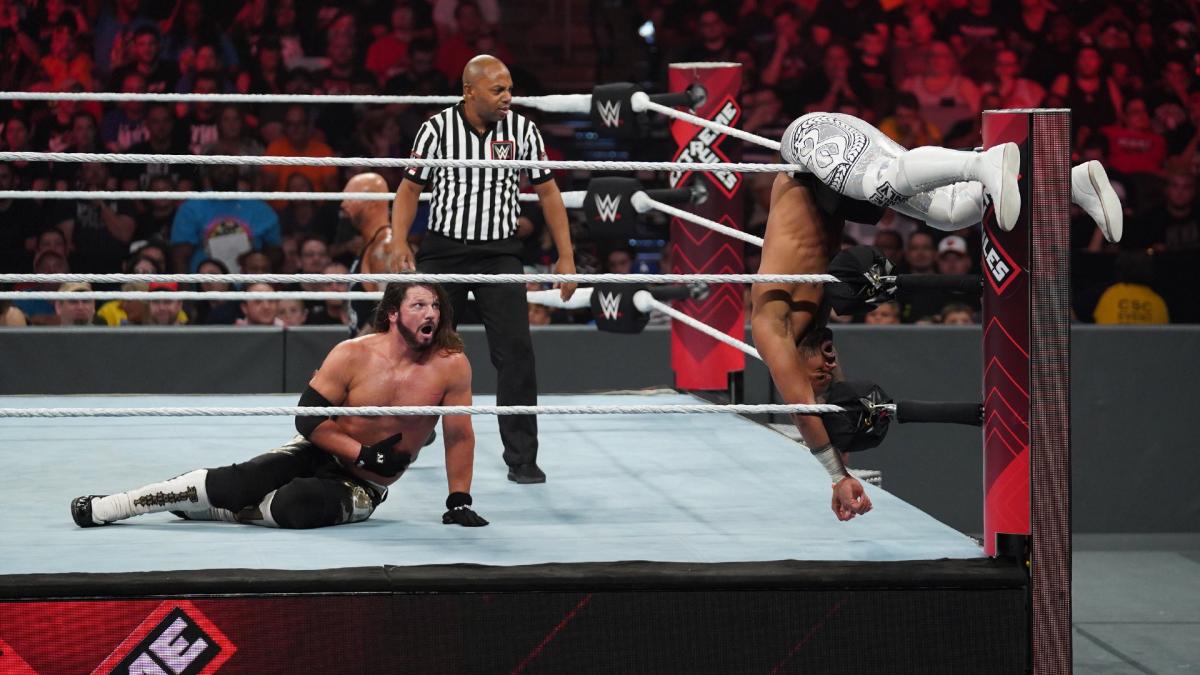 HOLY WRESTLING WEEKEND BATMAN! With everything that went on, what did I see and what made the Top 5?
Well let's not mess around too much since we've got a lot to break down. Our June match of the month was a two horse race, but one did end up winning without any controversy.
Updated Match of the Year Pool:
January – NJPW Wrestle Kingdom 13 IWGP Heavyweight Championship: Kenny Omega (c) vs Hiroshi Tanahashi
February – NXT Halftime Heat: Ricochet, Aleister Black & Velveteen Dream vs Adam Cole, Johnny Gargano & Tommaso Ciampa
March – Stardom: Wonder of Stardom Title Match: Jungle Kyona vs Momo Watanabe (c)
April – WrestleMania 35: WWE Championship: Kofi Kingston vs Daniel Bryan (c)
May – AEW Double or Nothing: Cody Rhodes vs Dustin Rhodes
June – NJPW BOSJ 26 Finals Day: BOSJ 26 Finals: Shingo Takagi vs Will Ospreay
So there we go. The BOSJ Finals that blew away many that saw it, still resonated well with voters. So we have our first iteration of the same company getting a second match, but still none of the wrestlers yet.
Now what won last week, as the first match of July? Impact Wrestling Slammiversary: Impact World Championship: Brian Cage (c) vs Michael Elgin, took the first match slot of July.
Since we had so many shows this weekend, there was a draw, so we've got 6 matches this week in the interest of fairness.
5t. NJPW G1 Climax 29 Night 3: Block A: SANADA vs Will Ospreay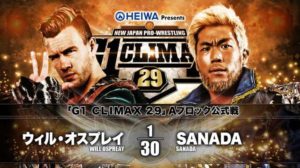 From My Analysis:
Well now, this went back and forth quite a bit. SANADA proved his athleticism, Ospreay proved that he can hang with heavyweights and it was close the whole time. The only really awful spot was Ospreay slipping out of the Paradise Lock. There's a gimmick there, and we don't need the allure of it to be cheapened for a dumb flip spot. Aside from that worthless moment, the match was really wrestled well and SANADA had a few attempts at victory. SANADA's constant desire to use the Moonsault still proves to be his downfall. He really needs a new move.
Winner: Ospreay via Stormbreaker
Rating: ****
5t. AEW Fight for the Fallen: The Brotherhood (Cody & Dustin Rhodes) vs The Young Bucks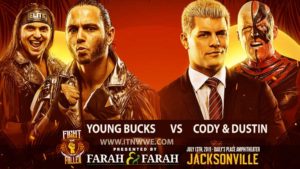 Snippet from Mitchell's Coverage:
The Bucks have Dustin alone and they know it. Fans rally up behind Dustin as he throws hands on both Bucks! He gives jab after jab, and pumps it up like daddy did! Dirty birds for Matt, bionic backhands for Nick! But then a SUPERKICK in return! Shining Wizard to Macho Elbow! Cover, TWO!! Fans duel again as Matt grits his teeth. Matt runs at Dustin in the corner but gets a kick. Dustin hops on for a DESTROYER! Cover, TWO!! Fans rally and Dustin still feels it. Dustin tags Cody in and he sends Nick's kick into Matt. Then Cody SUPERKICKS Nick, grabs Matt, but Nick SUPERKICKS Cody back! The Bucks think, and as Cody stands again, they give him DOUBLE SUPERKICKS to the back! Cover, but Dustin breaks it!
The Rhodes regroup, as do the Bucks. Fans hope they "Fight Forever!" as the Rhodes both stand together. The Bucks rush them, to steal the uppercuts! But then they get SUPERKICKS from the Rhodes! To give them back! Stolen Cross Rhodes! Cover, TWO!! Cody survives his own move, but the Bucks are not done. Nick FLIES onto Dustin, then coordinates with Matt. Matt gut wrenches, Nick springboards, MELTZER DRIVER! Cover, the Young Bucks win!
Winner: Bucks via Meltzer Driver
Rating: ****
4. NJPW G1 Climax 29 Night 2: Block B: Tomohiro Ishii vs Jeff Cobb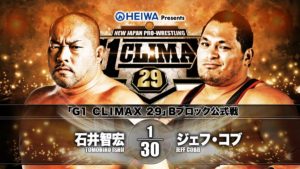 From My Analysis:
HOSS FIGHT! Big boys do big boy things and it was great. Chop exchanges, suplexes and both men putting the other through hell. Each favored their backs at different points, which made sense with all the punishment and suplexes both we dolling out. This definitely felt like it could go either way and that's always a great vibe. Cobb never hit Tour of the Islands, so it was well protected.
Winner: Ishii via Vertical Spike Brainbuster
Rating: ****
3. WWE Extreme Rules: United States Championship: AJ Styles vs Ricochet (c)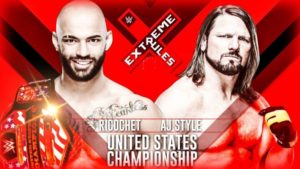 Snippet From Mitchell's Coverage:
Styles goes to suplex but Ricochet counters with a swinging neckbreaker! But Styles still lifts Ricochet for a brain buster! Cover, TWO!! Both men are down again but fans know "This is Awesome!" Styles slowly gets up and drags Ricochet over to a corner. Styles hauls Ricochet up top but Ricochet fights back. They brawl and Styles rocks Ricochet. Styles climbs up to join Ricochet but Ricochet fights back again. Ricochet slaps Styles off the top and adjusts position. But Styles is right back up, only to get a hotshot from Ricochet! Ricochet climbs back up, springboard shooting star! Cover, but Styles has a foot under the rope! Anderson points it out and the count is off!
Ricochet can't believe how close he was, but he vows to wrap it up. He drags Styles to a drop zone, climbs up top, but Anderson runs over. Ricochet leaps over him and BOOTS Anderson down! But this distraction allows Gallows to trip Ricochet! Ricochet is stuck on the corner and Styles takes advantage, with an IMPLODING STYLES CLASH! Cover, Styles wins!
Winner: Styles via Avalanche Styles Clash
Rating: **** 1/4
Honorable Mentions:
NJPW G1 Climax 29 Night 3: Block A: KENTA vs Hiroshi Tanahashi
Winner: KENTA via Go 2 Sleep
Rating: *** 3/4
WWE Extreme Rules: SmackDown Tag Team Titles: The New Day vs Heavy Machinery vs Rowan & Daniel Bryan (c)
Winner: New Day via Midnight Hour
Rating: *** 3/4
NJPW G1 Climax 29 Night 2: Block B: Juice Robinson vs Shingo Takagi
Winner: Juice via Pulp Friction
Rating: *** 3/4
AEW Fight for the Fallen: CIMA vs Kenny Omega
Winner: Omega via One Winged Angel
Rating: *** 3/4
WWE Extreme Rules: Raw Tag Team Titles: The Revival (c) vs The Usos
Winner: Revival via Shatter Machine
Rating: *** 1/2
AEW Fight for the Fallen: SCU vs Lucha Brothers
Winner: Lucha Bros via Spike Fear Factor
Rating: *** 1/2
NJPW G1 Climax 29 Night 3: Block A: EVIL vs Kota Ibushi
Winner: EVIL via Everything is Evil
Rating: *** 1/2
WWE Extreme Rules: Undertaker & Roman Reigns vs Shane McMahon & Drew McIntyre
Winner: Undertaker via Tombstone
Rating: *** 1/2
WWE Extreme Rules: Intercontinental Championship Match: Shinsuke Nakamura vs Finn Balor:
Winner: Nakamura via Kinshasa
Rating: *** 1/4
WWE Extreme Rules: Aleister Black vs Cesaro
Winner: Black via Black Mass
Rating: *** 1/4
AEW Fight for the Fallen: Jimmy Havoc, Darby Allin & Joey Janela vs MJF, Shawn Spears & Sammy Guevara
Winner: Spears via Death Valley Driver
Rating: *** 1/4
WWE Extreme Rules: WWE Championship: Kofi Kingston (c) vs Samoa Joe
Winner: Kofi via Trouble in Paradise
Rating: *** 1/4
NJPW G1 Climax 29 Night 3: Block A: Bad Luck Fale vs Lance Archer
Winner: Archer via EBD Claw Hold
Rating: ***
WWE Raw: 2 out of 3 Falls: The Miz & The Usos vs The Revival & Elias
Winner: Miz & Usos 2-1
Rating: ***
AEW Fight for the Fallen: Kip Sabian vs Hangman Page
Winner: Page via Deadeye
Rating: ***
NJPW G1 Climax 29 Night 2: Block B: Jon Moxley vs Taichi
Winner: Moxley via Deathrider
Rating: ***
IMPACT!: Kiera Hogan vs Jordynne Grace vs Madison Rayne
Winner: Grace via Grace Driver
Rating: ***
NJPW G1 Climax 29 Night 3: Yoshinobu Kanemaru, Minoru Suzuki & Taichi vs Tetsuya Naito, Shingo Takagi & BUSHI
Winner: Suzuki via Gotch Style Piledriver
Rating: ***
WWE SmackDown: Shinsuke Nakamura vs Finn Balor
Winner: Shinsuke via Kinshasa
Rating: ***
NJPW G1 Climax 29 Night 2: Minoru Suzuki & Zack Sabre Jr vs Kazuchika Okada & YOSHI-HASHI
Winner: Sabre via Cross Arm Breaker
Rating: ***
WWE Extreme Rules: Extreme Rules Winners Take All Raw Women's & Universal Championships Match: Becky Lynch (c) & Seth Rollins (c) vs Baron Corbin & Lacey Evans
Winner: Rollins via Stomp
Rating: ***
2. NJPW G1 Climax 29 Night 3: Block A: Kazuchika Okada vs Zack Sabre Jr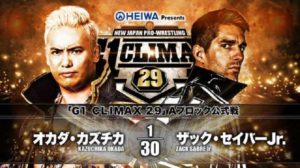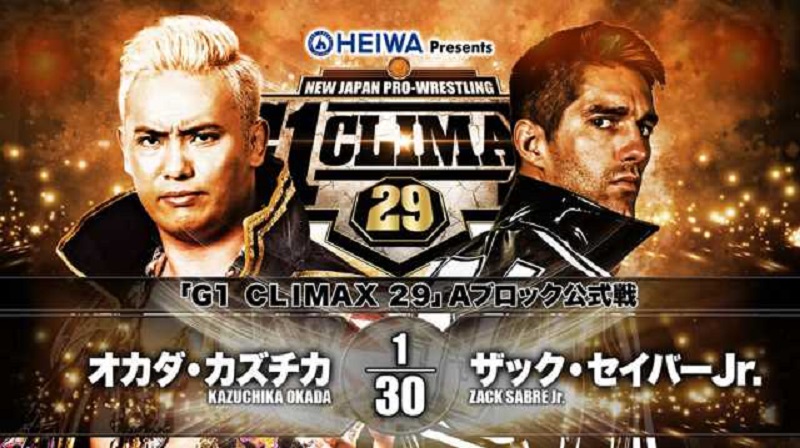 From My Analysis:
Okada has the amazing ability to wrestler his opponent's style of match. Sabre stretched him and tried to break him, but Okada fended off every attempt. We saw numerous counters, submissions and great wrestling. Okada's Rolling Rainmaker to set up the traditional Rainmaker is always a fun transition. Awesome match.
Winner: Okada via Rainmaker
Rating: **** 1/4
1. NJPW G1 Climax 29 Night 2: Block B: Jay White vs Hirooki Goto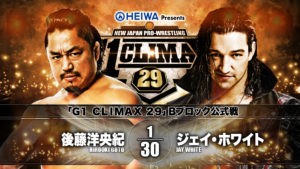 From My Analysis:
Jay White hasn't taken Goto seriously, like the better portion of New Japan fans. White put on some great heel work, from his interactions with Gedo, to being a step ahead with a beaming shit eating grin the whole time. Goto showed the heart and resolve that he used to be well known for. Most people who became fans over the last 4 years or so, know Goto as a good hand but to never accomplish anything really. This could finally be a return to the form he had a while ago when he was considered on equal footing with Nakamura and Tanahashi. Damn great effort from both wrestlers.
Winner: Goto via GTR
Rating: **** 1/4
Thoughts:
Well even though I missed the Evolve show because of having plans on Saturday, I think I caught enough of the quality shows. The Rhodes' story is something I've been finding entertaining, but watching Jay White's character evolve is great too. So my vote will go to Jay White vs Hirooki Goto.
Goto showing a possible resurgence and White continuing to grow are all great things so early in this G1 Climax tournament.
(NOAH) WEEKLY NEWSLETTER VOL.43 ~ 14TH JULY 2019
Global Junior Tag League has started! Hisame let's us know what's going on in Pro Wrestling NOAH!

Global Junior Tag League has started! Hisame let's us know what's going on in Pro Wrestling NOAH!
CURRENT TOUR RECAP
After a long break in which it was thought that due to the silence coming from the roster, they had all gone on a short summer break, NOAH returned on the 12th July to hold a show in Tokorozawa.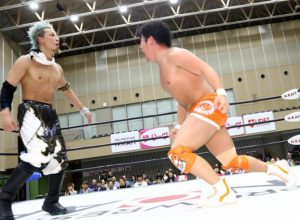 In Global Junior Tag League, YO-HEY defeated Junta Miyawaki (although he did praise him afterwards in a rambling promo), and Chris Ridgeway defeated fellow STINGER, Kotaro Suzuki by making him tap.
Minoru Tanaka vs Daisuke Harada for Global Junior League, was the main event of the evening, and what a match it was. They pulled everything out of every drawer they had, Tanaka worked on Harada's knee, while Harada worked on the neck. The match went to a thirty minute draw, and both spoke afterwards about it. Minoru Tanaka says that he won today, and he will win the league. He also mentioned that he wants to see more junior matches main event shows.
Daisuke Harada said that he would not let "that stranger" win, and he would challenge for the belt again, whether the fans liked it or not.
Takashi Sugiura and Hajime Ohara took on Masao Inoue and Kinya Okada, and there was the usual amusing Inoue\Sugiura interplay. Earlier in the evening, joining in with Marufuji not remembering Kenoh's name, and vice versa, Takashi Sugiura joined in, but changed it so that he couldn't remember Masao Inoue's name. Inoue is a sufferer of gout, and naturally Sugiura targeted his foot by keeping him in the ankle lock after Kinya Okada had tapped, and then when his arms were lifted in victory, he continued stamping on Inoue's foot.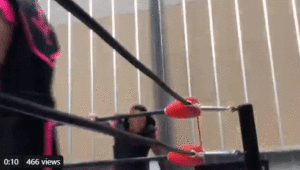 Speaking of Marufuji and Kenoh, Kenoh (when the team of Marufuji, Yoshinari Ogawa, Hiroshi Yamato and Keisuke Ishii took on Kongoh), timed it just right when Marufuji bounced into the ring, landed and turned so that he was there waiting for him, and they both got in each others face. Inamura was chopped to ribbons.
As Go Shiozaki was still absent (he will return to the ring on the 15th), Katsuhiko Nakajima came to the ring carrying both of the tag belts. As he said at the match signing which took place on the 13th June, he was preparing more for the GHC Heavyweight than the singles, and so he started the match off against Kaito Kiyomiya. However, it wasn't Nakajima who took the win, but Kaito Kiyomiya with the Tiger Suplex on Hi69.
EVENT RECAPS
Tokorozawa City Gymnasium, Sub Arena (12th July 2019)
Post match promos – 12th July 2019

Current Global Junior League Scores (as of July 14th 2019)
BLOCK A
Minoru Tanaka 5
Daisuke Harada 3
Yoshinari Ogawa 2
Tadasuke 2
YO-HEY 2
Junta Miyawaki 0
BLOCK B
HAYATA 4
Chris Ridgeway 4
Hajime Ohara 2
Hitoshi Kumano 2
Kotaro Suzuki 0
Hi69 0
NEWS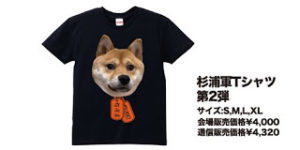 In keeping in the theme of using pets on merchandise (a silhouette of one of Hitoshi Kumano's little French Bulldog appeared on the back of one of his t-shirts, and Akitoshi Saito had a cat t-shirt) continued when NOAH put the head of Takashi Sugiura's beloved Shiba Inu on a t-shirt, complete with dog tags which read "company dog". Naturally, this was a shot at Kongoh (in specific Kenoh, as he is the only one who speaks), who are currently feuding with The Sugiura Army, and the use of the phrase "Company dog" (i.e. someone who does his masters bidding unquestionably, comes goes, fetches, wags tail etc).
The t-shirt will be released on the 15th July at Korakuen Hall, with mail order to follow (a white version is also available).
NAOMICHI MARUFUJI'S COMIC STRIP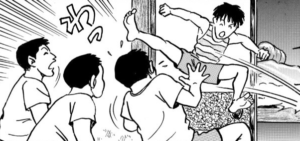 Naomichi Marufuji has started illustrating a comic for "Weekly Pro". The comic is a condensed version of his autobiography, "Heir To The Ark", and starts off with his childhood growing up in Saitama with three older brothers, and wrestling with them which inspired his love of the sport. The comic starts off with two of his brothers arguing about who they are going to be, then they tell little Marufuji that they feel sorry for him, as being the youngest and the smallest, he is going to get it from them (which he did in reality), and Marufuji fighting back by saying that Tiger Mask (Mitsuharu Misawa) is strong.
You can find an ongoing translation on my blog.
TAKAYAMANIA

The main event for TAKAYAMANIA EMPIRE 2 will be Hideki Suzuki and Minoru Suzuki vs Naomichi Marufuji and Masato Tanaka. Event will be held on Monday, August 26 2019 at Korakuen Hall.
Broadcast most likely will be through ABEMA (a Japanese PPV subscription channel, only available to those in Japan).
CURRENT CHAMPIONS
TOUR TIDBITS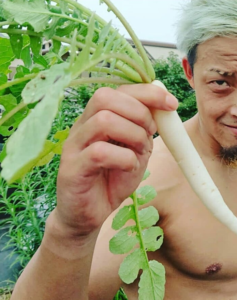 ~ HAYATA'S garden has produced Daikon. YO-HEY celebrated by putting it in his mouth.
~ NOAH held a joint fan birthday party for Kaito Kiyomiya and Junta Miyawaki. Miyawaki turned 22 in June, with Kiyomiya turning 23 this month.
~ Naomichi Marufuji says he has a new gown for Korakuen Hall on the 15th June
~ YO-HEY made a summer vacation to see his family in rural Yabu. One of his young nieces asked him if he was married to HAYATA.
BROADCASTS
NOAH's big Kawasaki Kultz event (and the GHC Heavyweight title, plus the final night of Global Junior League 2019) will air on the 2nd August on G+ at 12.30am JST
NOAH will be broadcast live on Sunday 4th August at 11.30am JST on G+
GIF OF THE WEEK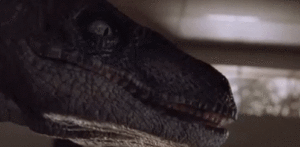 LINKS
GHC Heavyweight tag & single championship signing

Picture credit: Noah GHC, PKDK, YO-HEY
GIF credit: Noah GHC