ROH "Steel City Excellence" Results 4/14/18 *SPOILERS*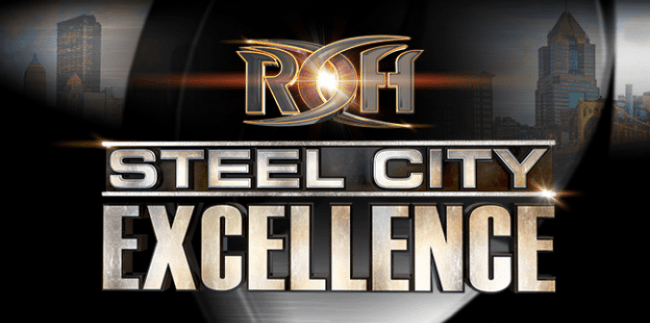 ROH "Steel City Excellence" Results 4/14/18 *SPOILERS*
Chuckie T defeated Josh Woods via pinfall.
Bully Ray came out and cut a heel promo, basically just reiterated what he said at Supercard of Honor. He called out Joe Koff at the end of it. Received a mixed reaction.
Coast to Coast defeated Beer City Bruiser and Brian Milonas
Sumie Sakai defeated Stella Gray via pinfall to retain the Women of Honor Title. Sumie got a decent pop. After the match, Jenny Rose, who was on commentary, demanded a title shot.
Silas Young defeated Flip Gordon via pinfall to retain the ROH TV Title. Solid match, very complimentary styles. Silas's big edge in experience was played up as the difference.
Jonathan Gresham defeated Will Ferrara via pinfall. After the match, Rhett Titus came in to beat down Gresham and the MCMG made the save of their old Search and Destroy partner.
Shane Taylor defeated Ryan Nova via TKO. This was a total squash match, which was stopped by the ref about a minute in after multiple chokeslams. Taylor stayed by the timekeepers table for the next match.
The Kingdom defeated Dalton Castle and The Boys via pinfall. The Kingdom came out with the six-man tag belts they stole at Supercard of Honor. Christopher Daniels attempted to take them back during the match, but Shane Taylor stopped him, having apparently been paid off by Kingdom. A fun match with a healthy dose of comedy from Dalton and the Boys. It was pretty clear that Taven is being set up for a title shot.
Tanile Dashwood came out to cut a promo, received a strong pop from the crowd. Said she was disappointed in herself for not winning the WOH tournament and is on a mission to win the WOH Title, lead the division, and help continue the women's wrestling revolution. She ended by saying she's found a home in ROH.
The Young Bucks defeated The Briscoes via DQ. The Briscoes retain the ROH Tag Titles. Match of the night! Classic tag formula as the Briscoes controlled the pace with flashes of offense from the Bucks mixed in. Matt kicked out of the Jay Driller to a big reaction. The Bucks gained the advantage and were about to hit the Meltzer Driver when Mark hit Nick with a chair and Todd Sinclair called for the bell. The Briscoes proceeded to beat the ever living piss outta the Bucks, including superplexing Matt onto a pile of chairs. Bullet Club (and Flip) tried to make the save, but their efforts were scattered and poorly coordinated and the Briscoes had little trouble fending them off. The Briscoes walked away from the carnage to some serious heat.
Jenny Rose defeated Brandi Rhodes via pinfall. Jenny got some heat when she was announced as being from Philly, since the Pens are in the middle of a series with the Flyers. Brandi came down to the ring with Bernard the Business Bear, who of course took a bump half way through the match.
Jay Lethal defeated Punishment Martinez via pinfall. Lethal put on an absolute clinic, hitting seven(!) suicide dives in a row to start the match, and showed great psychology throughout. Martinez sold a knee injury, which was well worked in several spots. The crowd was really into Lethal, who he edged out Dalton as the most over face outside Bullet Club.
Kelly Klein defeated Madison Rayne via pinfall.
A match between a local guy and a jobber ended with Bully Ray interfering and beating them both up. Bully started cutting another heel promo when Cheeseburger showed up to big pop. Cheeseburger got in Bully's face and called him a "piece of shit," which earned him chokeslam from Bully. Joe Koff came out and fired Bully as the "enforcer," and Bully countered by saying he is coming out of retirement.
The Motor City Machine Guns defeated The Dawgs via pinfall.
Cody, Marty Scurll and Hangman Page defeated "SoCal Uncensored" Christopher Daniels, Frankie Kazarian, and Scorpio Sky in a non-title match via pinfall. Hangman came out to the Bullet Club theme, while Scurll and Cody came out to their own music. Scurll got the biggest pop of the night. This was typical fun, fast, lucha-style six-man with some crazy high spots. Page got the pin on Kazarian (I think) after hitting Rite of Passage (he hit a double buckshot lariat and his running shooting star press from the apron earlier in the match). Some tension was played up between Scurll and Cody, with Scurll accidentally hitting Cody with the umbrella. The two feigned fighting before hugging it out. I'm guessing the episode will end before they reconcile to heighten the Bullet Club drama.
To close the show, Cody took the mic to thank the fans and invited the rest of Bullet Club (and Flip) into the ring for the typical shenanigans. Marty ended the night by singing Backstreet Boys. Stupid fun!
Credit: PWPonderings/ProWrestling.net
Adam's Worst Review EVER: Talk N' Shop-A-Mania 2020
With glowing endorsements from Chris Jericho and Randy Orton; Talk N' Shop-A-Mania brings the rasslin! Alex Koslov ain't dead, but Sex or Chad will be after the Boneryard! But – How bad was it?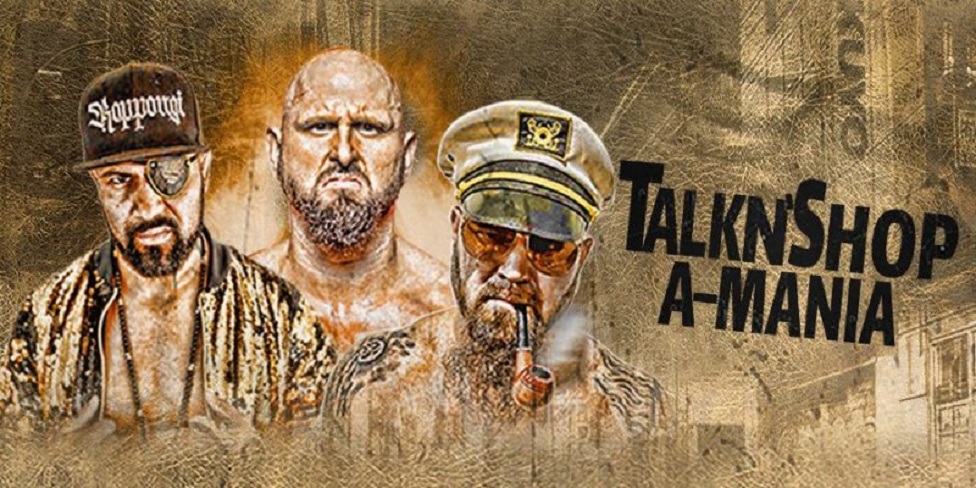 Well, they don't have WWE money anymore and didn't sign with AEW so this is how they will do their business. God knows where the income is even coming from, probably left over Stimulus Check money. Jericho and Orton have said their peace about this event and with such names like Chavo Guerrero, Swoggle, Alex Koslov and Rocky Romero, it will be the worst thing of 2020 since the Coronavirus.
Time to catch a beerski because I played Cornerback, not Center like Big LG in football so, time to stomach Talk N' Shop-a-Mania.
Results:
Social Distancing Battle Royal: Chico El Luchador last Eliminates Alex Koslov's Bearded Mother to become the Inaugural Talk N' Shop-A-Mania 24/7 Championship: * 3/4
Frankie Coverdale vs "Nature Boy" Paul Lee in a Contract on a Tree Match:  Winner is… who cares. 3 Elvis' out of Five
Hardcore Match: George North vs Stump Kowalski: Ends because Gallows Called It: 7 Foot Deep End
80's Russians vs Jungle Kittens: Russians win via Russian Sickle: Fuck You. The 90s Rule
Rory Fox vs Swoggle Ryder:  Swoggle Ryder wins via Getting Tossed by Brian Myers:  17 Inches out of 3 Feet
Boneryard Match:  Sex Ferguson vs Chad 2 Badd: Should have listened to the Bucks or Stayed in Japan
Review:
Karl Anderson pulls up to Gallows' House with Rocky in a booster seat and run into Teddy Long wanting his money for appearance as Dave Penzer announces Karl, Doc and Rocky to the ring as they introduce the viewers to Gallow's back-fucking-yard (His words, not mine) before we get the promo for the Boneryard Match for Sex Ferguson and Chad 2 Badd.
Social Distancing Battle Royal
The event starts with the Social Distancing Battle Royal with a bunch of amazing names inside the ring but none of them can hold up against the wrestling God known as Freight Train eliminating all competitors until Brian Pillman Jr comes in as a surprise entrant and tries taking it to Freight Train but suddenly Alex Koslov of the Forever Hooligans woke up from his drunken bender from last night to take the two on. After Freight Train did the deadliest double clothesline I've ever seen in my life, Koslov's bearded mother came in to beat Koslov, the legend Freight Train and Pillman with her purse before eliminating the tenth wonder of the world, Freight Train but once the ring was clear and Koslov's mom was in the ring, Chico el Luchador came in and eliminated her for the 24/7 Championship of Talk N' Shop-A-Mania.
Aftermath: Doc Gallows tries to interview Alex Koslov but, his mom returns to beat him up with her purse.
If it wasn't off the rails enough after the first match, the rest of the show becomes a jumble of run ins, references, gimmick changes, taco trucks and did I mention references? So until the Boneryard Match, the rest of this kind of runs together
The Russians make things short and sweet with a destructive Russian Sickle Clothesline but the Flock, Lodi, Sick Boy, and Big Yeti—I mean Big Ron Reese showed up to take it to the Russians before Reese, still thinking he's the Yeti, dry humping the ring post but D'lo Brown comes down, bobbing his head like the 90's from back in the day and hitting a Lo Down then suddenly, Gores from Rhino come out to make the 90's party official. Brian Pillman shows up but it's Junior, coming down to take it to everyone with actual wrestling moves and bumps. Rimjob shows up… I mean Kim Chee comes out, stomach coming over his dick but, nobody is around before Chavo Guerrero and Pepe come out and take out Rimjob. Willie Mack shows up, good ol' Cold Stone hitting poor people with Stunners before Machine Gun hands Willie and Chavo some Talk N' Shop Beerskis before Cold Stone Willie Mack stuns Chavo. Pepe is safe, don't worry.
The next match up is Rory Fox giving us a history lesson from 2008 WWECW with Zack Ryder showing a jobber's ass during a roll up and wants his revenge from all those years, ruining his legendary career. Brian Myers comes out and instead of Matt Cardona showing up due to elite contractual issues, Swoggle makes his appearance and takes on the massive hogged Rory Fox and Rory loses because Myers channeled his inner Gary Foster (if you don't know what I'm talking about, look it up) and launches Swoggle for the win.
Chico El Luchador goes to work out in Gallows' gym in the basement but Chavo is attempting to kill him because of the past and take it all over the gym. Chavo beats Chico for the 24/7, in spite of all of the gas and juicing Chico has done and then celebrates with Chad 2 Badd with a Talk N' Shop Beerski but Chad attacks him and wins the title off of Chavo because the booker winning the championship is never a Nightmare and makes them look like the King of the Mountain.
Boneryard Match: Sex Ferguson vs Chad 2 Badd
Chad 2 Badd coming in by a hearse but the druids drop him when taking him out of back, the druids run off because Chad is pissed off. Sex Ferguson shows up in his chopper of a Golf Cart with a lot of cameos from some amazing legends in the business. The Rock N' Roll Express selling merch at a table, Heath Miller and Brian Myers enjoying some Talk N' Shop Beerskis on some lawn chairs and the other half of Air Raid; Air Paris, sadly without his Phenomenal tag team partner back in WCW. Sex takes it to Chad. all the way to the ditch where Chad talks to Uncle Allen's hand from the Bone(r)yard they saw and says it's not his fault and he switched shows since Ball Lameman screwed them. Chad gets distracted by Maria again and dances with her just like Japan. Ferguson goes and hits Chad then is taking care of what he should have done in Japan before Maria pumps the breaks and stops all violence. Ferguson and 2 Badd keep laying into each other and kick nZo, falling into the merch table.
The two go to the top of the hearse and Sex goes for the tombstone but gets it reversed because Chad rips ass in Ferguson's mouth. Suddenly, we get a "flashback" to September of last year where The Young Bucks sign Gallows and Anderson to AEW but, turn it down because texts from Triple H are cool. After some superkicks to get us back to the current day, we get to the end. Chad 2 Badd retains the 24/7 Championship, wins the Boneryard Match and the cowboy rides off into the sunset, not letting Sex Ferguson get his singles, babyface, IC Championship run.
Overall Score: Two Good Brothers out of Forty Bullet Club Members
(actually checked his math)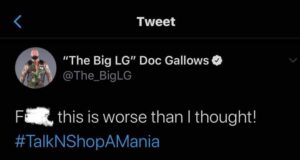 I… I wish I had more alcohol for this. This show was so fucking stupid, so hilarious, I popped so hard because of the WCW references with The Flock, AIR GODDAMN PARIS, The Yeti, all of this was amazingly awful and I am so happy I wanted to cover this. It's like watching a car crash run into a train, through a tornado and the jokes, both inside and out with Gelatinous Paul, not getting fired like the last Mania they were in and even Gallows getting thrown off in another Boneyard Match, even the laughing sit up spot between Lesnar and Taker from their SummerSlam match years ago and much more.
This just was the worst Pay-Per-View ever and the best Pay-Per-View of 2020. I legitimately watched this multiple times because it is so horrible that it's a miracle and I'm not just saying that because Mike Bennett showed up multiple times even if Maria kills him.
Results: MLW War Chamber (9/7/19)
MLW rolled into Dallas for War Chamber in 9/7/19, with a steel cage main event featuring The Von Erichs, Austin Aries vs. Brian Pillman Jr, the debut of Douglas James, and more!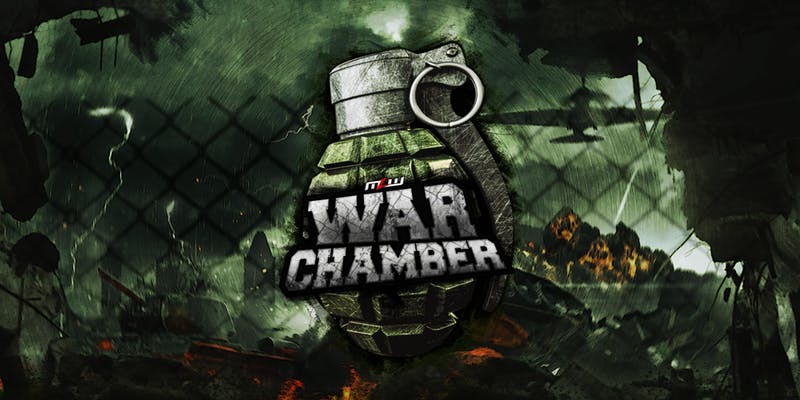 MLW rolled into Dallas for War Chamber in 9/7/19, with a steel cage main event featuring The Von Erichs, Austin Aries vs. Brian Pillman Jr, the debut of Douglas James, and more!
Results courtesy Fightful.com:
Dominic Garrini beat Ariel Dominguez
The Spirit Squad beat Andy Dalton & Local Wrestler
Leo Brien beat Brandon Banks
Austin Aries beat Brian Pillman Jr.
Bunkhouse Match: Mance Warner beat Jimmy Havoc
Timothy Thatcher beat Douglas James
Mega Danger beat Ace Austin
LA Park & Hijo del LA Park beat Magnus & Black September
Jordan Oliver beat Zenshi
MLW Tag Team Championships – Two Out Of Three Falls: The Dynasty (MJF & Richard Holliday) (c) beat The Hart Foundation (Teddy Hart & Davey Boy Smith Jr.)
War Chamber:The Von Erichs (Marshall & Ross Von Erich), Low Ki & Tom Lawlor beat CONTRA Unit (Jacob Fatu, Josef Samael, Simon Gotch & Ikuro Kwon)