Should Roman Reigns Fail, Then This Is Drew McIntyre's WWE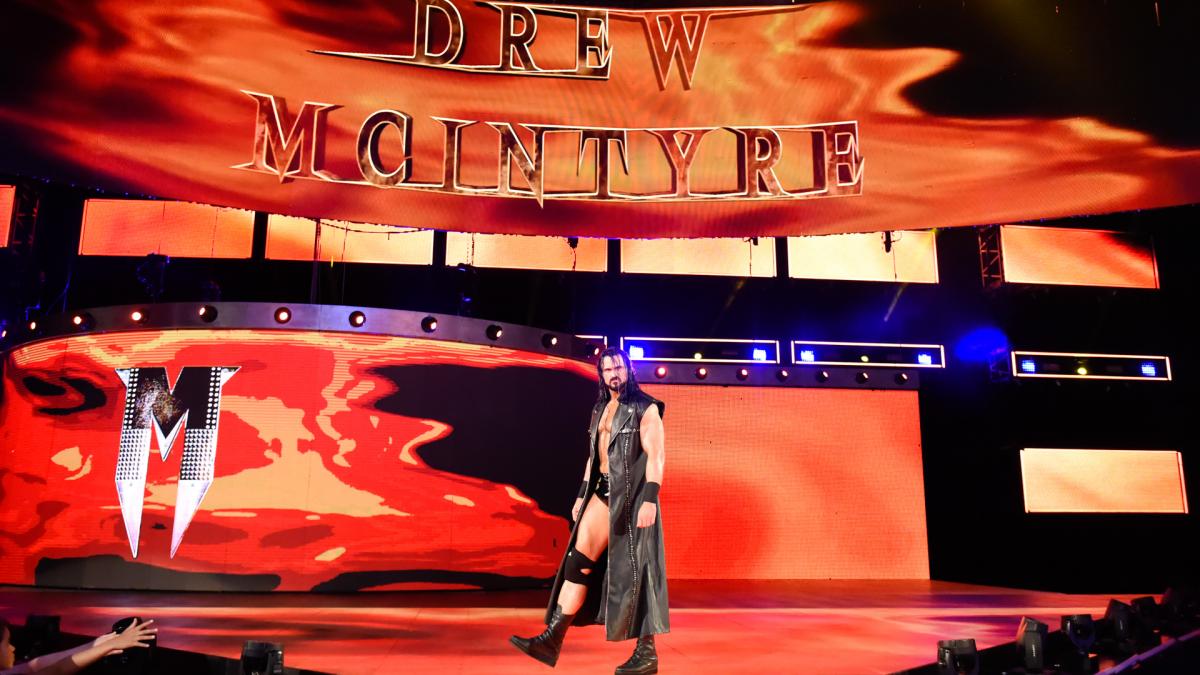 A few days ago, our own David Levin wrote about Roman Reigns and wondered when his seemingly endless push to the top of the WWE would end (which you can read here). His determination is the one that most hardcore fans accept as reality: "It's a relationship that will continue to remain toxic as long as Reigns is pushed down fans' throats."
The WWE has tried everything to get "The Big Dog" over, going so far as to seemingly plant fake Reigns fans in the crowd to begin positive chants during the most recent edition of Monday Night Raw. Things that have earned other superstars respect in the past hasn't made a dent in the boos that rain down on Reigns every time he steps between the ropes, and eventually, Vince McMahon will have to accept that a spade is a spade.
And that Roman Reigns is in danger of never getting over and becoming the face of the company. We're not wishing that upon him. If anything, he's a victim of his own circumstance. Yet wrestling is a fickle business, and the WWE has refused to be flexible while waiting for the perfect moment to crown him as the new John Cena.
Should that never happen — and should McMahon actually accept that — then he'll have a former chosen one waiting in the wings in Drew McIntyre.
The former 3MB member did something this past Monday that Reigns has never managed to do: he captured the crowd with a from-the-heart promo that immediately resonated with fans. Anyone who wasn't sure about who McIntyre was after his main roster debut last week was immediately filled in.
"And trust me when I tell you that times are changing. I'm not what WWE wants. I am the wakeup call and reality check that this place so desperately needs," he passionately barked into the microphone, his eyes ablaze as he gazed out into the crowd. At that moment, it was his crowd and he knew it.
His words rang true with the audience because McIntyre has one trait that all the creative in the world can't bestow on Reigns.
He's genuine.
He's not a wanna' be bad ass character with the machine of one of the most powerful media companies in existence chugging along behind him, creating so much smog fans can't tell what's real and what is fake. McIntyre has already been the chosen one once, and you can tell that it eats him up inside that he didn't capitalize before.
One gets the feeling that he's not going to miss out on that opportunity again. And this time, it's an opportunity that he's worked for. The evidence of his hustle is all over YouTube and available online, and in today's wrestling, that matters.
Now he's the prodigal son, and it appears that the WWE isn't going to force him into some gimmick or schtick. They aren't going to force him to downplay his previous accomplishments, like we've seen with the likes of Finn Balor and, to a lesser degree, AJ Styles. He's not a caricature of himself.
The man we saw in the ring on Raw was Drew Galloway, through and through. His magnetism was undeniable, and WWE fans learned what indie supporters have known for years now: that when McIntyre speaks, people listen.
It wasn't an Austin 3:16 moment — those kinds of promos are once in a generation — but we did see a flash of what is to come for the 32-year-old journeyman turned champion-in-waiting.
Unlike numerous other superstars who have been plucked from the independent circuit, McIntrye is actually built like a prototypical McMahon guy. The announce team on Raw couldn't stop talking about how great he looks in the ring, and he appears even bigger standing next to the somewhat undersized Dolph Ziggler.
Reigns is also 32, but the mantle of the next face of the WWE is very much up for grabs. If McIntyre stays healthy and performs up to his own lofty standards, then he'll belong in the ring with the likes of Reigns and Brock Lesnar within a year or two.
If Monday night was any indication, he'll have the support of the people along the way as well. People have been fed up with Reigns for years now, and they seem to be souring on Lesnar as the ludicrous details of his new WWE contract emerge. Six percent of all merch sales? More than $600,00 per match? That's supposed to the working people's guy? Someone who tugs at our heartstrings?
Please. Deliver us Drew McIntyre. A man who was accepted, pushed, rejected and then had to work his way back to the top wrestling promotion on Earth.
Do people seriously want a 3MB reunion?

Listen to that promo, Drew McIntyre is a main eventer. Anything less would be an insult to what he's done since coming back. #RAW #WWE

— The Golden Maharaja™ (@KingNj90) April 24, 2018
Drew McIntyre was a charisma vacuum ten years ago. His promo on Raw last night was fantastic. I have no doubt he'll be world champion within a year.

— Thomas Broome-Jones (@TBroomey) April 24, 2018
What happens when a former hand-picked McMahon guy clashes with a so-called Big Dog who has had five-plus years to win crowds over? And what happens when it's McIntyre, and not Reigns, who is getting the hero's welcome? It's tough to imagine WWE ever putting someone like Balor or even Elias over on Lesnar.
But McIntrye? He's the best of both worlds. An indie darling with a sharp wit, great in-ring skills and the look to match. Imagine where Styles could be if he'd arrived in the WWE before his 35th birthday. That's the kind of scenario we have on our hands right now.
The road to the top of the mountain is incredibly long. And once you reach that peak, that's when the real work begins. One promo doesn't make a championship-caliber career, but McIntyre took a booming step forward on Raw this week.
And we can't wait to see what he's going to do for an encore next Monday.