Stardom Dream Slam in Osaka Results & Review (3/31/2018)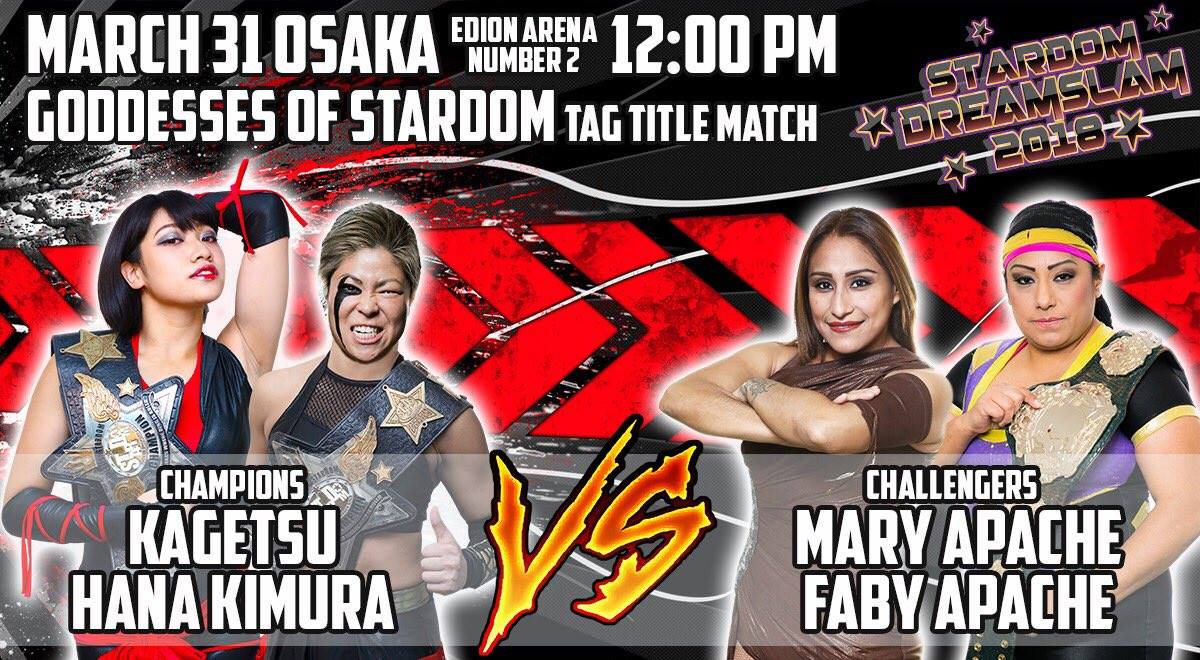 We continue our Dream Slam tour with the penultimate show. April 1st is where the big matches will be taking place, including that Exploding Death Match.
Today however, we get Io Shirai and Odeo Tai defending their Stardom titles before the big show. So let's not waste any more time and….dive right in.
Six Man Tag Team Match
Starlight Kid, Hanan & Natsumi vs Ruaka, Nao Yamaguchi & Leo Onozaki
Review: Our opener is of course a trios match with the Future of Stardom division here as both teams are looking to get a win for one of their partners that haven't won a match yet aka Leo and Natsumi, so let's see which team wins it. This is also Starlight Kid's first match since winning the Future of Stardom Championship at the last show too and looks to win and gain momentum before her match as AZM the next day. The match starts off the usual mess with where everyone would be in the ring to do something and just comes off a bit too sloppy for me here. However, some have been starting to show some progress such as Hanan and Natsumi and hopefully they show more of their growth this year. Starlight Kid though is the only good thing about the match as the rest was still sloppy up until the end where Starlight would win with her Rounding Moonsault on Nao to pick up the win.
Now on https://t.co/q8dHnF58vW from Osaka, it's a Future of Stardom Trios Match! Starlight Kid, Hanan & Natsumi vs Ruaka, Nao Yamaguchi & Leo Onozaki! pic.twitter.com/tywymud65d

— We Are Stardom (@we_are_stardom) April 9, 2018
Recommended: If you like Starlight Kid, then yes otherwise just skip.
Three Way Match
Saki Kashima vs Shiki Shibusawa vs Natsu Sumire
Review: We get a three way match this time and I really hope that this is much better than the previous one we had with Xia and if you follow my articles and have read that one or watched it, you'll know why. We have Sumire getting involved this time and I guess it's to give her something while Kagetsu and Hana have a title match, and Tam already booked for later. We also got Saki having her second match back after she lost in her return match and hoping to pick up a win this time. And then there's Shiki who lost in the finals of the Future of Stardom Championship tournament and looks to get back on the saddle. Before the match in one of the pre match interviews, Sumire said she'll win due to her professional make-up while the both of them are cheap with their make-up and when she wins, she'll dump them into the Dontobori River…the monster. Also Sumire coming out with the whip equals nice.
Damn, Starlight Kid is super quick with taking out the streamers compared to the guys at ROH, then again not hard to top ROH in things recently. Okay, stay on target now. Sumire would cut ANOTHER promo in the ring this time before the match start to insult their make-up and call them 'country side Yankii's!", then she would tell them to go to the river before they had enough of her shit and start beating her up as the match finally starts. We get a good mixture of decent wrestling and some entertainment as they would have humor in the match with Sumire trying to dictate how they all punch each other, even though it doesn't go in her favor, but the Joe Doering punches take a bit away from the match (Sorry Joe). Shiki and Saki would get payback on Sumire as Shiki would have her in a Camel Clutch and Saki pours water on Sumire to smear the make-up off of her face, the humiliation! Saki would get the win over Shiki by hitting the Killswitch for the win!
Recommended: Much better match.
Tag Team Elimination Match
Jungle Kyona, Natsuko Tora, Kaori Yoneyama & Konami vs Viper, HZK, Momo Watanabe & AZM
Review: We have a battle between Team Jungle and Queen's Quest in a regular elimination match very similar to how NJPW does them with being able to win by pinfall, submission, or throwing them over the top rope. Which unit will establish dominance?
Team Jungle's pre match interview is well..weird, they would talk about how they'll win since they have the most body weight and Kaori would shout out 'we're fat!', random. This match is mostly to give a little preview before Viper and Kyona have their SWA Championship bout on the next show. HZM would try to give Natsuko her lolipop and she didn't want it, rude. The match would start off with Team Jungle being thrown into a corner while everyone but Viper hits their moves on all four as Viper missed her Cannonball, AZM almost got eliminated quickly til Queen's Quest would catch her before elimination. Kaori would be in the ring to outsmart both Momo and Viper til it would bite her in the ass as Viper reversed a rollup to hold her down to pin and eliminate Kaori. Natsuko would get in the ring next to try and eliminate Viper, but she failed a minute later as Viper would hit the Avalanche to get rid of her too, leaving Team Jungle with two people left while Queen's Quest still has all four.
Queen's Quest would have the advantage for a moment until Konami and Kyona reverse their double teaming as Kyona and Viper were alone in the ring together wrestling back and forth til Viper attempts to throw her out of the ring, but Jungle hangs on until Viper attempts to run towards her, only to both of them being eliminated via over the top rope, leaving Konami alone against HZK, AZM, and Momo. Konami would valiantly try to fight them off, but the numbers game is too much for her, HZK would toss AZM over her shoulders to make her land a nasty Double Stomp which looked awesome, but Konami would outsmart them once again and would eliminate AZM with a nice Roundhouse Kick. Konami would last for another minute until Momo would pick up the win with her B Driver, giving Queen's Quest the victory.
Now on https://t.co/q8dHnF58vW from Osaka, the 4 vs 4 elimination tag match between Team Jungle (with Konami) vs Queen's Quest! pic.twitter.com/Yjo33PLIe5

— We Are Stardom (@we_are_stardom) April 11, 2018
Recommended: Slow start, but picks up and is entertaining.
Tag Team Match
Mayu Iwatani & Tam Nakano vs Toni Storm & Xia Brookside
Review: I know when I first started covering Stardom I said that Kagetsu was the next contender due to how she was teasing the championship match, but it actually is Mayu who has a shot against Toni Storm finally and I apologize for the mix-up. Toni right now isn't in the best mood for losing her SWA Championship and now has to worry if she'll lose her World of Stardom Championship against Mayu. Mayu and Tam wasting no time as they attack Toni and Xia.
We are underway here with Tam showing more of her in-ring work outside of Oedo Tai and she's actually not bad at all, I'm liking what I'm see and Xia is also showing improvement as well. We also get a little preview between Toni and Mayu and all I gotta say is that Mayu is back, baby! I'm finally seeing her getting into the groove of things again and I hope she takes that belt away from Toni to reclaim her top spot as the new ace of Stardom. Very entertaining match, nice offense from all four of these women and we have Mayu getting the win with a beautiful Dragon Suplex Hold on Xia to get the pin and this is just me, but Mayu has the best Dragon Suplex that I've seen in the business currently, just her arch and everything is gorgeous. Looking forward to this match.
Recommended: Very good match, definitely worth a watch.
Wonder of Stardom Title Match
Io Shirai (c) vs. Bea Priestley
Review: So this will be my first time seeing Bea Priestley in a one on one match, so I'm hoping she impresses me here because so far I am just not into her work right now and still has the worst Curb Stomp I've ever seen, so let's see if she can win me over when she fights Io. For Io, this will be her 7th title defense as Wonder of Stardom Champion and I heard the belt will be given a little makeover with some nice new white leather, so the winner will be getting a shiny new belt on top of it. This match showed me that Bea does have some potential, but still wasn't a lot to impress me in this match I'm afraid. Don't get me wrong, some of her stuff was good and has a very nice Superkick, but other stuff from her was also sloppy at the same time and her selling is not so good, but I will let it slide for now. Io as always does a fantastic job working with her opponents and can give us a solid match with almost anyone and that is what we see here. Both do well at some spots and Io would pull an Okada and hit a Tombstone before hitting her finisher which is a Moonsault Press, and retaining her title while getting the newly redone one.
Now on https://t.co/q8dHnF58vW! Io Shirai defends the Wonder of Stardom title vs Bea Priestley in Osaka! pic.twitter.com/JRuwx9413c

— We Are Stardom (@we_are_stardom) April 12, 2018
Recommended: Not great, but still pretty solid. Give it a watch
Goddesses of Stardom Title Match
Kagetsu & Hana Kimura (c) vs. Mary & Faby Apache
Review: Due to the Apache Sisters getting a pinfall on Kagetsu during one of their previous matches, we're able to have this title match taking place here and this is also Oedo Tai's 7th title defense here like how it was with Io also. So let's see if Kagetsu can get some momentum before her Exploding Death Match or if Oedo Tai can get derailed and the Apache Sisters can claim the Goddesses of Stardom Championships. Come to think of it, those are the only belts in the company that have the black leather while the rest are in different colors, weird but neat. Very nice sequences between Kagetsu and Faby to start us off and a outside spot where Kagetsu would throw Mary into the chairs and she does a front flip going pretty far with it also. Apache Sisters really do work well as a tag team and I can see why they're considered legends in Mexico and nice to see them working with Stardom to help out some of the younger talent while also giving them their daughter, Natsumi. The tag match itself was solid and both teams do very well here as we see the teamwork with just Hana and Kagetsu to see why they won the titles in the first place. Oedo Tai would retain their championships with Kagetsu hitting the Oedo Coaster on Mary Apache and they've successfully defended their championship seven times as we now have one show left which is sure to be a great one.
Recommended: Fun match, loved the tag teams.
Overall: Solid show for show and a great way to get it hyped up for the last Dream Slam show where we will have our first ever Exploding Death Match in Stardom along with the World of Stardom Championship match between Toni and Mayu. I'm looking forward to it and be sure to find it when it's up in about a week.
Favorite Match: Mayu Iwatani & Tam Nakano vs Toni Storm & Xia Brookside
Least Favorite Match: Starlight Kid, Hanan & Natsumi vs Ruaka, Nao Yamaguchi & Leo Onozaki
Score: 7/10
See you all for Dream Slam in Nagoya and be sure to check out my coverage for Champion Carnival if you want more puroresu content.