Stardom Dream Slam in Tokyo Results & Review (3/28/2018)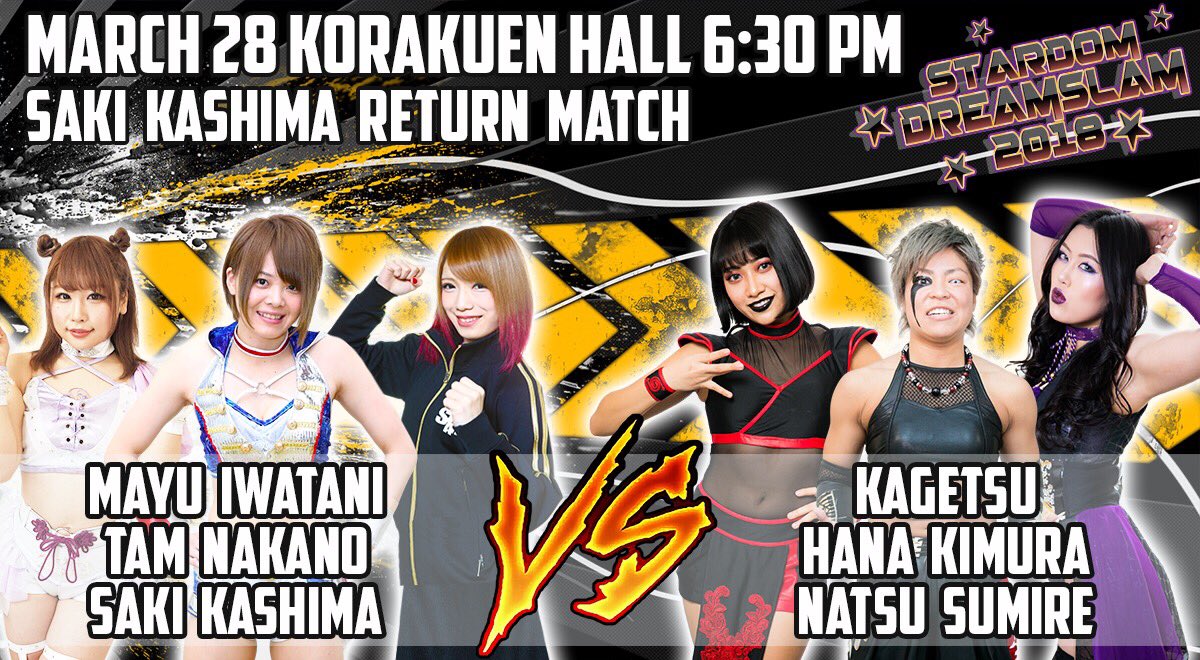 Here we are, as we have Stardom's next show uploaded fully!  We will crown our first Future of Stardom Champion, Hiromo Mimura's final match, the return of Saki Kashima, and a double title match between Toni Storm and Viper.
Before we start, I also need to point out that the show marks the final appearance for Fuka, who has been a general manager, trainer and ring announcer for Stardom since the promotion's debut in 2010. Act Yasukawa, Natsumi Showzuki, Haruka Kato and Takumi Iroha all came to the ring to bid her farewell, and video messages for Fuka from Kris Wolf and Kairi Sane (formerly Kairi Hojo) were played. Very emotional for them and good luck to Fuka. Let's…dive right in.
Tag Team Match
Hanan & Leo Onozaki vs Ruaka & Nao Yamaguchi
Review: We're opening up the show with a Future of Stardom division tag team match with all of our newcomers here as they look to showcase their talents for the audience. The match itself was almost four minutes as all four of them had their chance to do a few things here and there in the match. Leo and Nao are improving a bit while Hanan looks to be the better of the four, and Ruaka I still can't get fully behind, but then again she is young and she even picks up the win with a Fisherman Suplex on Onozaki.
Recommended: This one is pretty skippable.
Tag Team Gauntlet Match
Apache Sisters vs. HZK & AZM vs. Kaori Yoneyama & Keneisha Moon vs. Hiroyo Matsumoto & Natsuko Tora vs. Bea Priestley & Xia Brookside
Review: This is a regular gauntlet match where two teams enter the match first and when one is eliminated, the next team comes out and they do that til the fifth team is in and a winner will be announced. The first two teams in this match are HZK/AZM taking on Kaori/Keneisha. Starts off with AZM and Kaori, as Kaori looks to be on a roll during the match as she out maneuvers both her and HZK a little bit, and then she tagged Keneisha Moon in who while I like her look, not too impressed with her as she was slow and sloppy on some spots, didn't even hold herself up for the end. HZK would pin Keneisha with a sloppy Michinoku Driver in three minutes, and now Bea/Xia are the next opponents. This bout was much better compared to the previous one as it lasted twice as long and had more time for everyone in the ring. Xia, just don't use the Curb Stomp anymore, she was doing fine in the match and much better than her Three Way Match, but the Curb Stomp she does is just plain awful and I think she needs a new finisher, but Xia pins AZM with that horrendous Curb Stomp and now we get the Apache Sisters. This one didn't even last two minutes as Mary Apache would made Xia tapout with the Atlantida and now we have Hiroyo/Natsuko as our last team. Now this one was a much better match actually since we had nice fast pacing action and just delivered us a much better five minute bout between the two teams, but Faby Apache would win hitting her version of the Pedigree and looks like they'll fight Kagetsu and Hana Kimura for the Goddesses of Stardom Championships on March 31st.
Recommended: It was decent enough for a viewing.
Future of Stardom Championship Match
Shiki Shibusawa vs Starlight Kid
Review: Here are our two finalists in the tournament as one of them looks to make history and win the Future of Stardom Championship, which looks a nice small white belt similar to the Wonder of Stardom one. Shiki wastes to time as she starts to take the advantage soon as the bell rings to make her victory a quick one, but Spring Tig- I mean Starlight Kid is having none of that as she would eventually fight back despite a botched 619, at least she tried. The last two minutes of the match saved it as we had some nice close calls and we now have our first champion, Starlight Kid after hitting her Rounding Moonsault, congrats to Starlight! After the match, Starlight would name her first challenger and it is AZM as they two will face off at the April 1st show which is shaping up really nicely.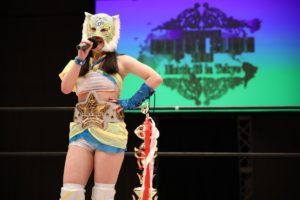 Recommended: It was a good match, watch it if you've been following the tournament.
Singles Match
Natsumi vs Io Shirai
Review: We have ANOTHER debut here and her name is Natsumi who is the daughter of Mary Apache and she surprisingly does her interview speaking English and gotta say that it's pretty impressive of her, and then I saw who she was facing and gotta say good luck since she's gonna need it. For Io the match is kinda important to her since she's close to the Apache Sisters as well as her being trained by their mother, Gran Apache. Natsumi has a lot to work on and I'm sure she was also nervous with her match being against one of the best female wrestlers right now, but she did show some nice moves and can go if put in the right direction, but her selling needs a lot of work. Good job for Io for helping her out in the match and pulling out the win with her famous Moonsault Press, showing why she's still Stardom's ace.
Recommended: Worth a viewing at least.
Hiromi Mimura Retirement Match
Hiromi Mimura & Konami vs Jungle Kyona & Momo Watanabe
Review: Here we are, Hiromi's final wrestling match in her career and I don't know what her plans are for after, but I wish her well with what she does next. It seems like Hiromi hand picked her opponents for this one as Jungle and Momo reunited JK GReeeN just for this match and guess it seems fitting since they shared the ring together when they were considered the rookies. The match starts off harmless, nice back and forth action, and then suddenly just about everyone on the roster lines up to hit a move on the turnbuckle as their little goodbye to Hiromi, except for Sumire Natsu who goes to hit her with the whip, but kisses her instead…nice. Kagetsu would then put a mask on her until Io just bitch smacked Hiromi, and then Jungle and Momo throw Konami into Hiromi as she dropkicks her own partner! Even after having the shit kicked out of her, Hiromi would still do her SHOUT chant and then get kicked down, and then repeat again like they're trying to tell her to shut up or something. This match is great and I love the last five minutes of it, so emotional for these women, nice action between Hiromi and Jungle, but Jungle had to pull the trigger and won with her Hammer Throw Powerbomb.
After the match, they would have a retirement ceremony for Hiromi as it starts with her grandmother coming into the ring to give her flowers, she would then give a speech about her struggles of becoming a professional wrestler and how she was able to overcome them as she also now passes her SHOUT onto Mayu Iwatani who has supported her throughout her career. However, Mayu said she did not want to inherit her skills and SHOUT. She would grab a jar and have the audience together for one final SHOUT chant before the ten bells would play as she makes her exit from the world of professional wrestling. Good luck and thank you, Hiromi.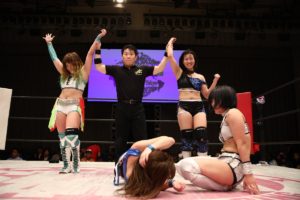 Recommended: Yes
SWA & ICW Women's Double Championship Match
Toni Storm (c) vs. Viper (c)
Review: Alright we got our double title match where we have Toni Storm defending her SWA Championship (And not her World of Stardom again) against Viper who will put up her ICW (Insane Champsionship Wrestling) Women's Championship. Toni is the second SWA Champion and has defended the title fifteen times which is a very impressive reign and hopes to make it a sixteenth time when she takes on Viper while also hoping to add another title to her collection as they both have three championships and one will have a fourth and the other will be down to two. This match was great, hard hitting, told a nice story, crowd was into it. Viper and Toni went all out to deliver this type of match with us, Viper nearly killed Toni with a Cannonball on the outside while Toni was sitting on a chair, and even Toni hits a Piledriver on the outside, these ladies are killing it. Fifteen minutes later, we have a new SWA Champion as Viper won with a Diving Body Press, Joe Doering would be pleased. Viper has ended Toni's long reign as SWA Champion, as she was then challenged by Jungle Kyona to a match for the title on April 1st as Viper accepts.
Recommended: Great match, definitely watch it.
Six Man Tag Team Match
Mayu Iwatani, Tam Nakano & Saki Kashima vs Kagetsu, Hana Kimura & Sumire Natsu
Review: Saki Kashima has made her return to Stardom after being away from 2013, but nice to see her back and hope she sticks around for a nice long career. Saki has had some ring rust, but expected when you haven't been wrestling for five years, but damn can she sell. Any more or kick she took, she would make it look more vicious to sell it better for the match and she just makes it look good. The match was entertaining as it also continued the story of Oedo Tai and Tam Nakano to get ready for that Explosing Death Match coming on on April 1st. I also found out that it actually is Mayu who is fight Toni on that show for the World of Stardom Championship finally, so another one to look forward to. Impressive bout and good showing by Saki, however it wasn't enough as Kagetsu would hit Oedo Roller Coaster (450 Splash) to pick up the win for her team. After the match, it was announced the "Stardom Draft" will take place on 4/15, specifically for the three main factions in Stardom, Oedo Tai, Queen's Quest and Stardom Army. A three way match between Kagetsu, Io Shirai and Mayu Iwatani will be held that day to determine the order of the picks. Interesting to see where this would lead.
Recommended: I enjoyed it, fun spots and good story progression.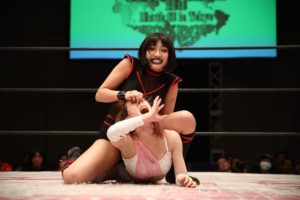 Overall: Despite the undercard being weak, the last three matches all delivered to give us quality action, title changes, and a proper farewell to one of their own.
Favorite Match: Toni Storm vs. Viper
Least Favorite Match: Hanan & Leo Onozaki vs Ruaka & Nao Yamaguchi
Score: 7.5/10
See you all for the March 31st show.