There was a time not too long ago when women's wrestling wasn't just considered to be one of the least important aspects of a professional wrestling card, but for many people was sadly relegated into the category of 'bathroom break' which is a position no talent wants to be in at any point in his/her career. Prior to the most recent growth of the 'Women's Revolution', women were sadly handed the short end of the stick on the vast majority of WWE shows and as a result some dark days loomed over some of the most talented individuals in the wrestling world.
When looking back at the period of 2002-2006, women in the WWE were generally placed at the bottom of the card, with a few exceptions on the odd occurence. Instead of being offered storylines and matches that would emote care and passion from their loyal fanbase, they were shoved into meaningless and sometimes revolting angles that position them more as sex-symbols than anything. Matches such as 'Bra & Panties' and the use of the word 'Diva' not only detracted from everything that made women like the legendary Mae Young so special but gave the WWE fanbase very little to clamour over, other than vanity.
Further combining the lack of compelling characters, matches with far too little time to invoke a reaction or a general sloppiness & inconsistency in terms of their creative direction lead to a complete disconnect with the mainstream audience. This wasn't through any fault of their own, as at the time women in professional wrestling, at least within North American territories, just weren't viewed in the same light as their male counterparts.
Thankfully, with a complete shift in their backstage influencers and creative directions, women haven't just received attention equal to that of men but on countless occasions have outshined their efforts and made their mark.
Our most recent example in this shift is 'The Empress of Tomorrow', Asuka.
The recent 'Women's Revolution' has brought along a plethora of fresh and new talent, the likes of Sasha Banks, Bayley, Nia Jax, Carmella, Becky Lynch, RAW Women's Champion Alexa Bliss and SmackDown Women's Champion Charlotte have all become standouts in this revitalized division. None however, at least in my eyes, have been positioned in the seat of dominance the way Asuka has been since her 2015 debut in NXT.
As of April 2nd, Asuka's undefeated streak stands at 265 wins, a streak that has spanned over 908 days and the conquering of 8 former Women's champions. To know this streak not only stands as the longest of the modern era isn't just a testimony to the importance that women now play in the landscape of WWE, but the magnitude that this upcoming match with Charlotte at Wrestlemania 34 could have on everyone. This includes not just us as fans, but likely the many talents who will be backstage during the match itself.
Charlotte has long been considered the best pound-for-pound women's wrestler on the main roster, this goes without mentioning her previous heritage to her father, 16-Time World Champion 'Nature Boy' Ric Flair. Many, myself included feel Charlotte's historic victory at Wrestlemania 32 was the renaissance of women's wrestling and a sign that change had finally come after a long overdue wait. Her brutal rivalry with Sasha Banks that shortly followed throughout 2016 pushed the women into all new territory, breaking ground and providing them with a platform previously unheard of in the business.
While we all watched this history unfold, there was no collision course clearer than the eventual one with Asuka, who at that point had been dismantling the women down in NXT for well over a year. Both women achieved historical accomplishments during their time in WWE; Charlotte becoming the inaugural RAW Women's Champion, while Asuka cemented her legacy by winning the first-ever Women's Royal Rumble earlier this year.
Those achievements not only raised the legitimacy of both women's respective careers, but made fans question what would happen one day, the one day that we got to see 'The Empress of Tomorrow' clash with the best that WWE had to offer. That day is soon to be upon as, and we only need to wait until this Sunday at WrestleMania 34 to see which woman truly lives up to their own name.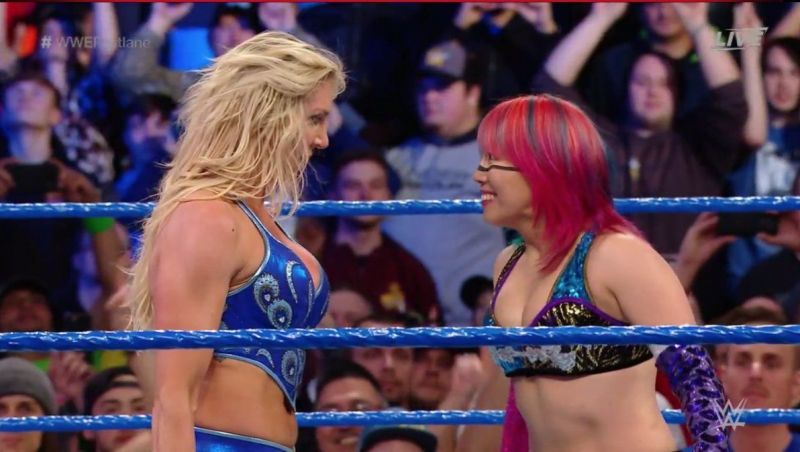 It may seem like a normal match on paper, but Charlotte vs Asuka is far more than just what it's billed as on the surface. It is a clash of the talent that came out of NXT and accomplished so much in such a short space of time, and it is also a clash to once and for all find out who is truly the best. Having beaten 8 former Women's Champions there is little left for Asuka to prove, but Charlotte could potentially be the one to break the streak that has ruled the WWE landscape for so very long. At the same time, there is no challenger who possess a bigger threat to the 'Queen' of Smackdown than Asuka herself, as her previous track record will leave a large section of the audience with fear in their hearts.
It is storytelling like this that makes this match on Sunday so pivotal. Along with pairing up the two current best in the world, it shuld generate an image of how far our women have come in such a short space of time. This isn't intended to harm the reputation of the other Women's matches on the card, as I'm expecting nothing but quality, but no match on the card has the core WWE fanbase more interested than this historical clash.
If you're like me, and are tuning in this Sunday, I advise you to consider the importance of this match. We are also lucky enough for have 3 other prominent matches involving some very lucrative female talent, but none hold a candle to what Charlotte & Asuka have the chance of producing at WrestleMania 34. This is more than just a championship match, it's everything I've ever wanted women's wrestling to embody; a solid storyline, well-defined characters and a match that any WWE or NXT fan has been waiting to see for almost 3 years.
WrestleMania has ridiculous potential with the card on offer this year, if you're looking for this years 'Dark Horse', look no further than the SmackDown Women's Championship match.