Top 5: Matches of the Week Ending 4/1/2018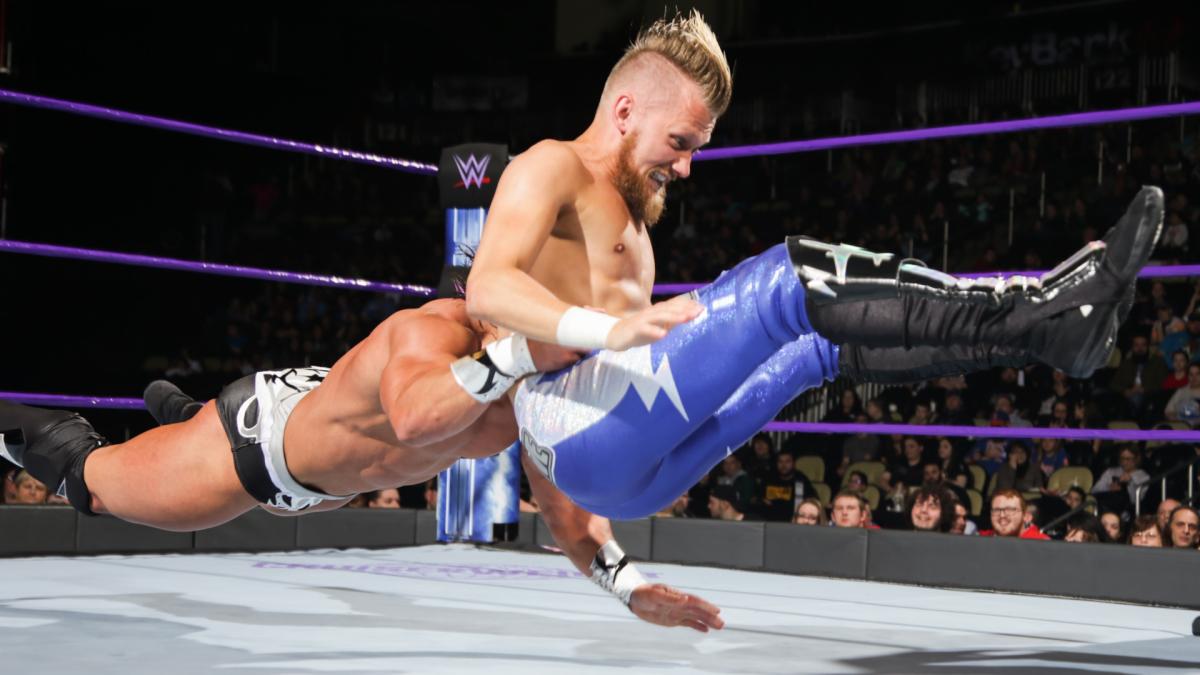 So to add to the amazingly ridiculous number of things today is, this is the final vote for the March pool. Which when it comes down to it, no matter what wins this week, March will be a hard vote next week.
As for the winner of this past week, it should've been fairly obvious. Coming off the hype for the event and the fact that the crowd was electric and most people were going crazy, The Golden Lovers vs The Young Bucks @ Strong Style Evolved, ran away with the vote.
Now that the formalities are out of the way, let's see what wins this week.
5. 205 Live: Mark Andrews vs Tony Nese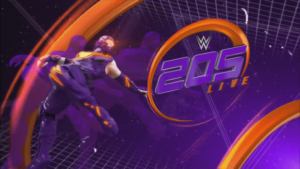 This is the battle of who gets to try and get revenge on Drew Gulak. Which as a premise seems dumb, "He was too mean during a single elimination tournament…let's hold a grudge".
But premise aside, the match ended up being really good. We saw a lot of interesting offense by Mandrews, trying to utilize his risky style. While on the other hand, Nese was showing off his athleticism again, but his arrogance was seemingly his downfall. It was a close match and came down to Mandrews having to counter Nese with his stunner and then his a Shooting Star Press for the pinfall victory.
So Mark Andrews gets a match against Drew Gulak next week, and hopefully Gulak gets to establish his brutal style and become a title threat.
Rating: *** 1/2
4. Impact Grand Championship & World Championship: Matt Sydal (c) vs Austin Aries (c)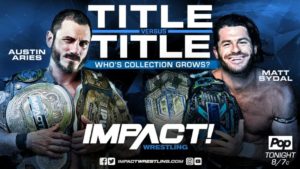 So Aries is taking this 'belt collector' moniker very literally, and this match comes from basically saying he's never been Grand Champion and using the World as leverage to get Sydal to agree.
Aries rarely has a bad match, and aside from his name recognition, I feel the quality that everyone's been living up to, is what's helping ratings. So here we have a Cruiser style, on par with everything 205 Live has been doing during this tournament. Hard strikes, nice character interactions with Sydal playing to Josh Matthews (his spiritual advisor), fast pacing with crisp technical counters.
The end comes when Sydal misses his Shooting Star Press, lands on his feet, but gets caught by Aries' discus forearm, and then the Brainbuster is academic. If this were to get PPV time, without a 5 Minute Pop TV commercial break, this could easily compete with anything New Japan and NXT have been putting out.
Rating: *** 3/4
3. NJPW Sakura Genesis: Hangman Page & Cody vs The Golden Lovers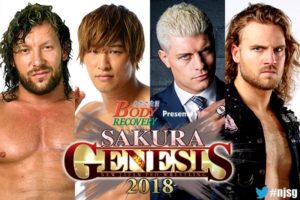 I think everyone with a pulse and interest in New Japan knows how much hatred there is between Cody and Kenny, so the story here is obvious.
We saw a lot of back and forth, the Lovers looked a lot better than at Strong Style Evolved, and the rivalries were in full effect. Cody and Kenny started things off, and every time the Lovers could zero in on Cody, they did. Page bailed out Cody numerous times and it was really nice to see his loyalty in full effect. Kota and Kenny had a vendetta, Cody just wanted to send a message to Kenny and Page was proving himself to everyone.
Even though the Golden Lovers looked much better, a well timed boot off the apron by Page, sent Kenny flying through a table. So Kota put up a good fight, but eventually fell to the numbers game when Cody rolled him up with a handful of tights for the pinfall victory. Notable points are that The Young Bucks showed up momentarily, Nick said "Look what it's come to", refused to shake hands with Cody and walked away. As well as, Cody got a cut above his left eye. So Kenny and Cody go into Supercard of Honor next week, with mirrored eye injuries.
Damn good match, and it's nice to see Kenny and Kota finally start to regain their chemistry.
Rating: **** 1/4
Honorable Mentions
NJPW Sakura Genesis: Tetsuya Naito, EVIL & SANADA vs Minoru Suzuki, Lance Archer & Davey Boy Smith Jr
Rating: *** 1/2
205 Live: Buddy Murphy vs Kalisto vs Akira Tozawa vs TJP
Rating: *** 1/2
Impact: Bobby Lashley vs Brian Cage
Rating: *** 1/4
NXT: SAnitY vs Pete Dunne & Roderick Strong
Rating: ***
2. NJPW Sakura Genesis IWGP Junior Heavyweight Championship: Marty Scurll vs Will Ospreay (c)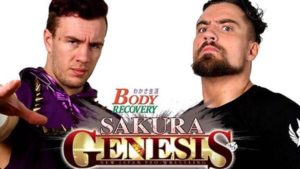 Scurll interrupted the feel good moment at Strong Style Evolved, to get this short notice match.
Part of the story here is that Ospreay never beat Scurll in a one on one match, so he's in the process of excorsizing his demons. But about this match, it was fantastic. Scurll worked over the neck, and Ospreay was trying to mount offense from behind most of the match. We saw multiple counters, many false finishes and just a great overall match.
The pacing was erratic like you'd expect, but pretty much full speed kind of erratic, not bad. Ospreay nearly kills himself with a Spanish Fly from the apron to the floor that bent his neck and cut his forehead. So half of Ospreay's face was blood soaked for the last 7 or so minutes, and it just added to the drama. The fans looked on in horror and desperation when Ospreay was on the losing end of things, but once Ospreay hits his second Oscutter, the match is over.
Ohhhhhhhhh… WOW. #njSG

➡️ https://t.co/8n90d75Nfk pic.twitter.com/cep6MrzIMC

— TDE Wrestling (@totaldivaseps) April 1, 2018
Fans pop huge, the doctor wants to see Will immediately, but he first has to challenge Kushida. So it's Ospreay's goal to go through the other 3 members of the Wrestle Kingdom 4-way one on one, just to make sure it wasn't a fluke.
Rating: *****
1. NJPW Sakura Genesis IWGP Heavyweight Championship: Zack Sabre Jr vs Kazuchika Okada (c)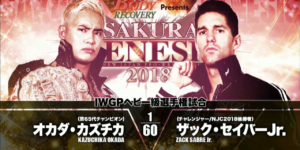 Can Sabre become only the second person to submit Okada (the first being Shinsuke Nakamura) or does Okada get his record tying 11th defense?
Early on, Okada wrestled a technical match. It's always amusing how Okada changes his offense and style depending on his opponent. After a few minutes, Sabre gets the advantage and keeps it for a good portion of the match. Zack had a counter for the drop kick, neck breaker, cobra clutch, basically Okada's entire arsenal.
What makes this match easy for most fans, is that it starts off an old school, technical, mat based match with counter submissions and roll ups. Even a nice call back to the Rainmaker counter, flying cross armbreaker, that Shinsuke beat Okada with. This match was just such a pleasure to watch, from the story, to the strikes, to the submissions…ring work and psychology doesn't get much better than this.
Okada retains thanks to his jumping tombstone and a third and final Rainmaker.
Rating: ***** 1/4
Now instead of my usual hemming and hawing, my pick is easy, Okada vs Sabre Jr. The fact that there were style, pacing, and momentum changes, coupled with classic mat counters and submissions, the match truly had everything. Ospreay and Scurll was fantastic too, but it didn't show the depth and breadth of Okada's match. This match was the definition of a clinic, it's used a lot in commentary as a throw away line for a technical match, but this one was special. When AXS TV has it, probably in a month, DVR it.
As always, complaints, comments, realizing that Snowflakes are greater than Stars, or whatever, comment your opinion. Always use your head and speak your opinion.