Top 5: Matches of the Week Ending 4/1/2018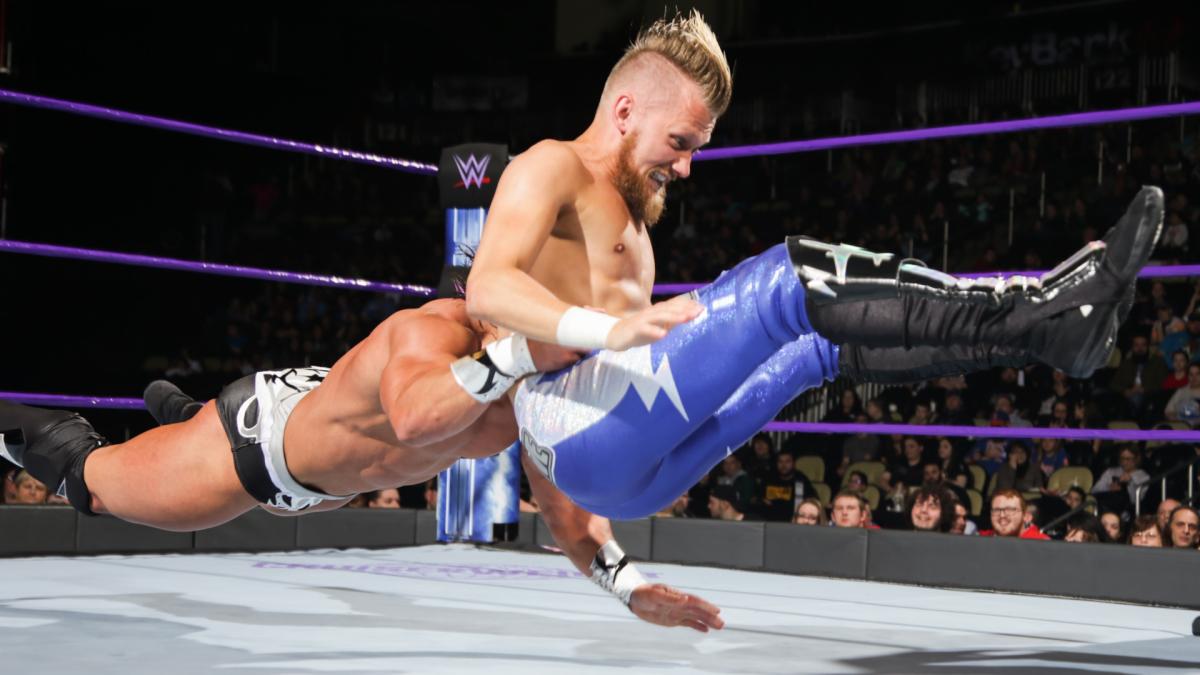 So to add to the amazingly ridiculous number of things today is, this is the final vote for the March pool. Which when it comes down to it, no matter what wins this week, March will be a hard vote next week.
As for the winner of this past week, it should've been fairly obvious. Coming off the hype for the event and the fact that the crowd was electric and most people were going crazy, The Golden Lovers vs The Young Bucks @ Strong Style Evolved, ran away with the vote.
Now that the formalities are out of the way, let's see what wins this week.
5. 205 Live: Mark Andrews vs Tony Nese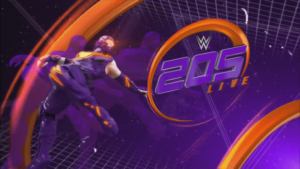 This is the battle of who gets to try and get revenge on Drew Gulak. Which as a premise seems dumb, "He was too mean during a single elimination tournament…let's hold a grudge".
But premise aside, the match ended up being really good. We saw a lot of interesting offense by Mandrews, trying to utilize his risky style. While on the other hand, Nese was showing off his athleticism again, but his arrogance was seemingly his downfall. It was a close match and came down to Mandrews having to counter Nese with his stunner and then his a Shooting Star Press for the pinfall victory.
So Mark Andrews gets a match against Drew Gulak next week, and hopefully Gulak gets to establish his brutal style and become a title threat.
Rating: *** 1/2
4. Impact Grand Championship & World Championship: Matt Sydal (c) vs Austin Aries (c)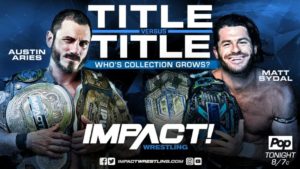 So Aries is taking this 'belt collector' moniker very literally, and this match comes from basically saying he's never been Grand Champion and using the World as leverage to get Sydal to agree.
Aries rarely has a bad match, and aside from his name recognition, I feel the quality that everyone's been living up to, is what's helping ratings. So here we have a Cruiser style, on par with everything 205 Live has been doing during this tournament. Hard strikes, nice character interactions with Sydal playing to Josh Matthews (his spiritual advisor), fast pacing with crisp technical counters.
The end comes when Sydal misses his Shooting Star Press, lands on his feet, but gets caught by Aries' discus forearm, and then the Brainbuster is academic. If this were to get PPV time, without a 5 Minute Pop TV commercial break, this could easily compete with anything New Japan and NXT have been putting out.
Rating: *** 3/4
3. NJPW Sakura Genesis: Hangman Page & Cody vs The Golden Lovers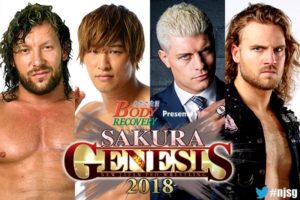 I think everyone with a pulse and interest in New Japan knows how much hatred there is between Cody and Kenny, so the story here is obvious.
We saw a lot of back and forth, the Lovers looked a lot better than at Strong Style Evolved, and the rivalries were in full effect. Cody and Kenny started things off, and every time the Lovers could zero in on Cody, they did. Page bailed out Cody numerous times and it was really nice to see his loyalty in full effect. Kota and Kenny had a vendetta, Cody just wanted to send a message to Kenny and Page was proving himself to everyone.
Even though the Golden Lovers looked much better, a well timed boot off the apron by Page, sent Kenny flying through a table. So Kota put up a good fight, but eventually fell to the numbers game when Cody rolled him up with a handful of tights for the pinfall victory. Notable points are that The Young Bucks showed up momentarily, Nick said "Look what it's come to", refused to shake hands with Cody and walked away. As well as, Cody got a cut above his left eye. So Kenny and Cody go into Supercard of Honor next week, with mirrored eye injuries.
Damn good match, and it's nice to see Kenny and Kota finally start to regain their chemistry.
Rating: **** 1/4
Honorable Mentions
NJPW Sakura Genesis: Tetsuya Naito, EVIL & SANADA vs Minoru Suzuki, Lance Archer & Davey Boy Smith Jr
Rating: *** 1/2
205 Live: Buddy Murphy vs Kalisto vs Akira Tozawa vs TJP
Rating: *** 1/2
Impact: Bobby Lashley vs Brian Cage
Rating: *** 1/4
NXT: SAnitY vs Pete Dunne & Roderick Strong
Rating: ***
2. NJPW Sakura Genesis IWGP Junior Heavyweight Championship: Marty Scurll vs Will Ospreay (c)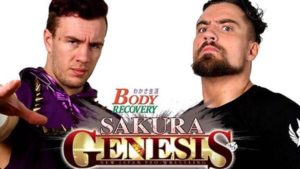 Scurll interrupted the feel good moment at Strong Style Evolved, to get this short notice match.
Part of the story here is that Ospreay never beat Scurll in a one on one match, so he's in the process of excorsizing his demons. But about this match, it was fantastic. Scurll worked over the neck, and Ospreay was trying to mount offense from behind most of the match. We saw multiple counters, many false finishes and just a great overall match.
The pacing was erratic like you'd expect, but pretty much full speed kind of erratic, not bad. Ospreay nearly kills himself with a Spanish Fly from the apron to the floor that bent his neck and cut his forehead. So half of Ospreay's face was blood soaked for the last 7 or so minutes, and it just added to the drama. The fans looked on in horror and desperation when Ospreay was on the losing end of things, but once Ospreay hits his second Oscutter, the match is over.
Ohhhhhhhhh… WOW. #njSG

➡️ https://t.co/8n90d75Nfk pic.twitter.com/cep6MrzIMC

— TDE Wrestling (@totaldivaseps) April 1, 2018
Fans pop huge, the doctor wants to see Will immediately, but he first has to challenge Kushida. So it's Ospreay's goal to go through the other 3 members of the Wrestle Kingdom 4-way one on one, just to make sure it wasn't a fluke.
Rating: *****
1. NJPW Sakura Genesis IWGP Heavyweight Championship: Zack Sabre Jr vs Kazuchika Okada (c)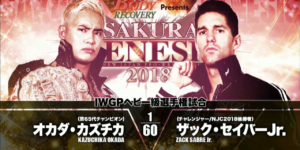 Can Sabre become only the second person to submit Okada (the first being Shinsuke Nakamura) or does Okada get his record tying 11th defense?
Early on, Okada wrestled a technical match. It's always amusing how Okada changes his offense and style depending on his opponent. After a few minutes, Sabre gets the advantage and keeps it for a good portion of the match. Zack had a counter for the drop kick, neck breaker, cobra clutch, basically Okada's entire arsenal.
What makes this match easy for most fans, is that it starts off an old school, technical, mat based match with counter submissions and roll ups. Even a nice call back to the Rainmaker counter, flying cross armbreaker, that Shinsuke beat Okada with. This match was just such a pleasure to watch, from the story, to the strikes, to the submissions…ring work and psychology doesn't get much better than this.
Okada retains thanks to his jumping tombstone and a third and final Rainmaker.
Rating: ***** 1/4
Now instead of my usual hemming and hawing, my pick is easy, Okada vs Sabre Jr. The fact that there were style, pacing, and momentum changes, coupled with classic mat counters and submissions, the match truly had everything. Ospreay and Scurll was fantastic too, but it didn't show the depth and breadth of Okada's match. This match was the definition of a clinic, it's used a lot in commentary as a throw away line for a technical match, but this one was special. When AXS TV has it, probably in a month, DVR it.
As always, complaints, comments, realizing that Snowflakes are greater than Stars, or whatever, comment your opinion. Always use your head and speak your opinion.
NXT Minus 6: A Tale of Two Champions
Bradley Jay is here with the WWE NXT Minus 6, and we have new champions. Two very, very different new champions.
Bradley Jay is here with the WWE NXT Minus 6, and we have new champions. Two very, very different new champions.
Our two new champions could not be more different…
6. Doomsday Saito comes to the ring and gives a painful, cliched promo. Any wrestler in the back could have said those exact words. Train harder and beat people up. He's angry. We get it. The only thing Saito could do that would interest me is move to RawDown. On the other hand…
[EDITOR'S NOTE: Not gonna lie, that promo was wasn't even hot garbage. It was cold garbage.]
5. Raquel Gonzalez delivers a genuine, heartfelt promo that only she could give. Tears of joy. It told her story, and it's exactly why she got the pop and the chant she deserved. The addition of Rhea Ripley and Bianca Belair, complete with throwback pic, was icing on the cake. I'm excited for whatever Gonzalez does next. Speaking of…
4. Fantasy booking alert!!! Two weeks ago, Raquel Gonzelez told the world I was the one who believed in her. I was the one who made her a champion. Then Rhea Ripley shows up, and Bianca Belair shows up, and I'm the one sent to the back. How quickly you forget who your real friends are. I was the one who took you to the top, and chicka, I am the one who is going to drag you to the bottom. I used you to get to the top and that's exactly what I'm going to do. I am Dakota Kai.
3. No more Santa Claus Ice Cream Bar. Santos Escobar has earned his name back. His match with KUSHIDA is everything great about NXT. Say it with me. Good things happen when you let wrestlers wrestle! Fast paced. Great action. Surprise ending. I'm going 4.5 stars. Give me a match that good every Tuesday and I'm a happy camper.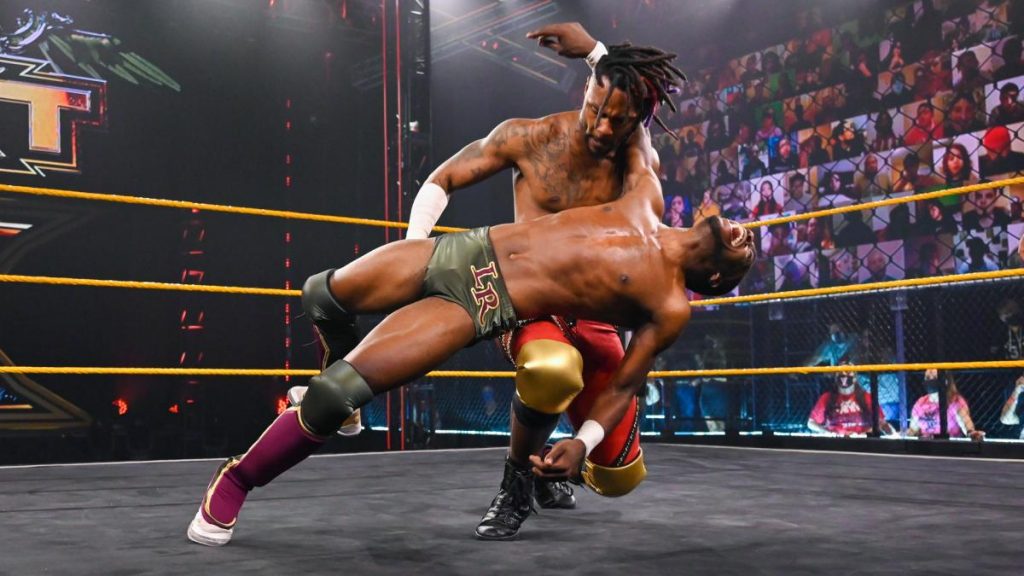 2. Right now, I don't know if any two wrestlers have better chemistry than Swerve Scott and Leon Ruff. Every time they get together, it's electric, and this week was no different. This is quickly climbing into Rivalry of the Year territory. I thought I was happy to see Swerve pick up the victory and move on. Then Ruff goes insane in the membrane and now I'm excited to watch them fight forever.
1. This week's That's Why I Love Wrestling goes to…Roderick Strong. Kayfabe. Work. Shoot. I don't care. Strong deserved a better goodbye than what he got. He is the Perfection of Performance (shout out to the Hitman). He and Kyle O'Reilly were the best version of the Undisputed Era tag team champions. I always got excited for a Strong match because I knew he'd deliver. Roderick Strong is exactly the kind of wrestler that makes me love wrestling. Until he returns, he will be sorely missed.
Steve Cook's Fave Five: April 2021
It's a little more than halfway through April! You know what that means…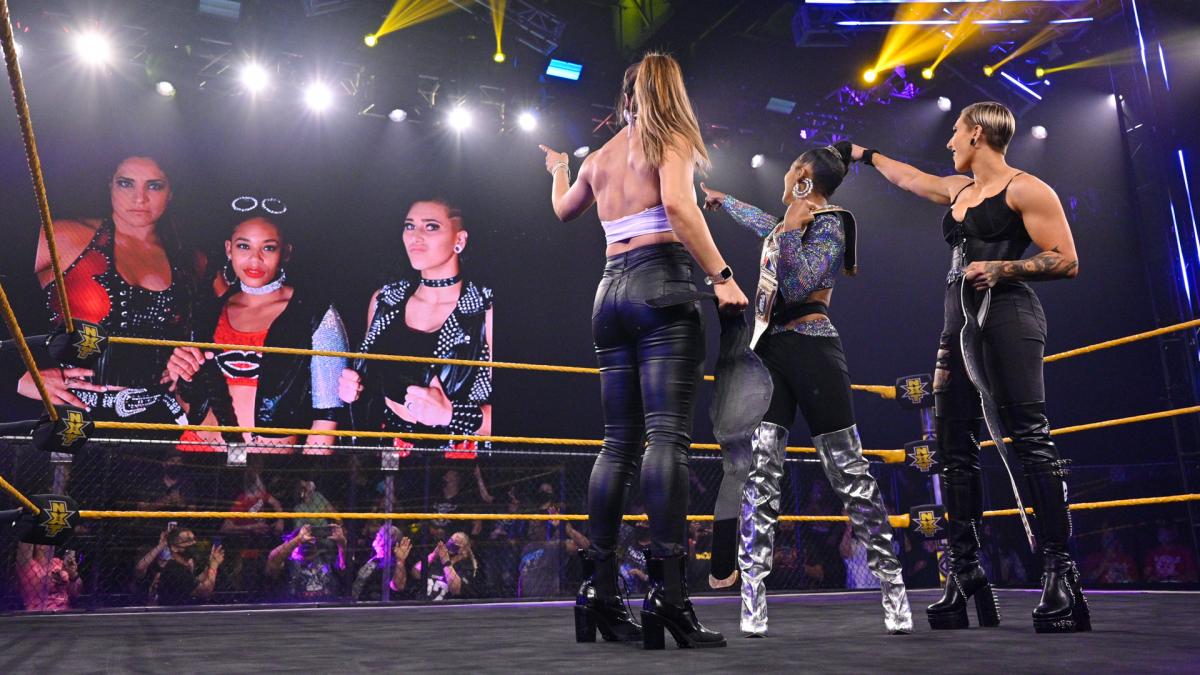 It's a little more than halfway through April! You know what that means.
It's time to talk about my current five favorite wrestlers like I'm Booker T. Let's break down the Fave Five!
5. Samoa Joe
A gentle reminder that Samoa Joe is one of the greatest talkers in the game pic.twitter.com/p4TZeZIAV7

— Kenny Majid – A Kenny For Your Thoughts Podcast (@akfytwrestling) April 15, 2021
I figure what happened between Samoa Joe & WWE was the following: WWE offered Joe an announcing contract since either they didn't want to use him in the ring or their doctors wouldn't clear him to wrestle. Joe looked at the contract, noticed the financial discrepancy, realized he could probably get NJPW to let him train young boys in California for that kind of money and said "thanks but no thanks". Nothing else really makes sense to me.
Unfortunately, those who thought that WWE wouldn't utilize Joe to their fullest potential were right. It wasn't all WWE's fault though. Joe had a lot of miles on his tires when he got there. Injuries are always more of a concern with larger wrestlers the older they get. And when Joe was healthy, he did get to do some good stuff and show people a glimpse of the Samoa Joe that people like me raved about back in the mid to late 2000s.
In any event, Joe got his WWE run. It was a thing that happened. I'd be shocked if he doesn't wind up in AEW because he seems like the kind of guy Tony Khan would throw all the money at. Should be fun!
4. Kris Statlander
Like she never left 👽 #AEWDynamite pic.twitter.com/rlNgLBAFoU

— All Elite Wrestling on TNT (@AEWonTNT) April 15, 2021
AEW does have a pretty insane number of factions right now. It risks the possibility of all of the groups blending together, with none of them really capturing the attention of fans. However, there are positive things about AEW's faction warfare that shouldn't be overlooked. It makes booking fresh matches to fill cards pretty easy. You can have groups facing off each week, but in different combinations that keep it fresh.
Another good thing: It can help us decide how we feel about characters that we might be on the fence about. Kris Statlander's character was a topic of discussion from the moment she entered AEW. A lot of people weren't sure how to take her. Wrestling aliens, or wrestlers who think they're aliens, aren't exactly common. Its the kind of thing that gets over in the indies, because those feds attract fans that are more willing to buy into unique concepts. Mainstream is a tougher sell.
Aligning Kris with the Best Friends makes sense to those in the know, since she came up working shows with them. It also helps people that don't know about her figure out more. The Best Friends are a happy go lucky group that are the whitest of white meat babyfaces you'll find in AEW, and that's a good thing. They're welcoming to people with unique personalities, as Orange Cassidy's presence establishes. A friendly alien couldn't ask for a better group to surround herself with, and from their appearances so far she seems like a perfect fit.
Add in the fact that the time on the shelf helped her get into better shape and refine her look & presence, and the sky's the limit for Statlander. As long as she can stay in the ring, I'm expecting big things from her in 2021.
3. Tay Conti
Sometimes, all one needs is a change of scenery to approach their true potential. Tay spent a few years at the WWE Performance Center learning how to be a professional wrestler. During her time there, Tay never showed much in the way of potential. Even though she had a combat sports background and had the type of physical appearance that gets attention, Conti's TV time was very limited and uneventful. She seemed like one of those wrestlers that was bound to stay in developmental until WWE gave up on them, then drop off the face of the earth without most wrestling fans noticing.
Tay's story took a different route. She ended up being one of the cuts that AEW took an interest in, and was brought in for the Deadly Draw Women's Tag Team Tournament. Her teaming with Anna Jay worked well on & off-camera, and she pretty much fit right in with the group immediately. She started training with Dustin Rhodes, and pretty much immediately started looking better in the ring & figuring out what worked for her. Now, she's one of the people helping AEW's women's division go to a higher level.
This isn't meant to denigrate WWE's Performance Center or its methods. There just isn't a wrestling training center out there that's going to work for everybody. Tay had to find what worked for her. The people that recently got cut will have to do the same. Hopefully, the people that recently got signed by WWE will thrive in that environment.
2. Bianca Belair
We've recently seen three new Women's Champions under the WWE umbrella, all of whom are great in their own way. I've talked about Rhea Ripley before, she's got unlimited potential and so far she's done very well on the main roster. Raquel Gonzalez is doing very well on NXT and her push to the championship made perfect sense & got over. I do think the best of the title changes was Bianca's defeat of Sasha Banks in the main event of WrestleMania Saturday. It was a special moment for Bianca, a very fun match to watch, and a great performance from both Bianca & Sasha Banks, who did everything she could to make Bianca in that match.
You see the video of the NXT segment up above, with the three current Women's Champions under the WWE umbrella celebrating together. Apparently there was a picture taken in 2019, and there were pictures taken after this week's NXT, with Triple H making sure to get in there as he likes to do with all new champions. I've never really been a fan of that sort of thing, even the "Horsewomen" celebrations on previous NXT shows didn't do much for me.
Besides the usual complaints people have about things like that, the thing that I didn't like was how Rhea & Raquel came off. They were all smiling & happy like they were Big Daddy Cool Diesel after beating Mr. Bob Backlund in 1994. Completely against what Raquel has been up to this point, and what Rhea has been when she's been at her best. Hopefully this is just a one-time thing for Rhea for the portion of the NXT audience that likes their lady wrestlers crying & happy after their performances, and hopefully it's leading to Raquel getting dismembered by Dakota Kai, who can't be happy about her heater winning the championship and then turning into Smilin' Diesel.
Fortunately for Bianca, it does nothing to affect her character or our opinion of her. That's why I think her title run will go best. I'm also putting her here because I'm pretty well convinced there isn't a wrestling move or spot she can't do well. Insanely talented, and the more experience she gets the better she'll be.
1. Darby Allin
Sometimes you just want to watch something that's stupid fun. Something that doesn't need too much thought in order to enjoy it. Just people doing crazy things to entertain an audience. Darby Allin matches are just what you need when you're looking for something like this. There isn't anybody crazier in pro wrestling today than Darby, which is probably for the best. I'm convinced this kid has a death wish.
The one thing that kinda gets me about Darby sometimes is how he kicks out of everything. Poor Matt Hardy wasn't going to beat that kid unless he shot him with a gun, and apparently there's a metal detector at Daily's Place. (Shoutout to Matt by the way, hell of an effort in that match.) But then I remember that Darby Allin is a daredevil and constantly posting videos online where he's jumping off high places and doing crazy things. Obviously, it's going to take a little more to beat a daredevil than your average pro wrestler.
What's it going to take to beat Darby Allin? That's a good reason to keep watching.