Top 5: Matches Of The Week Ending 4/15/18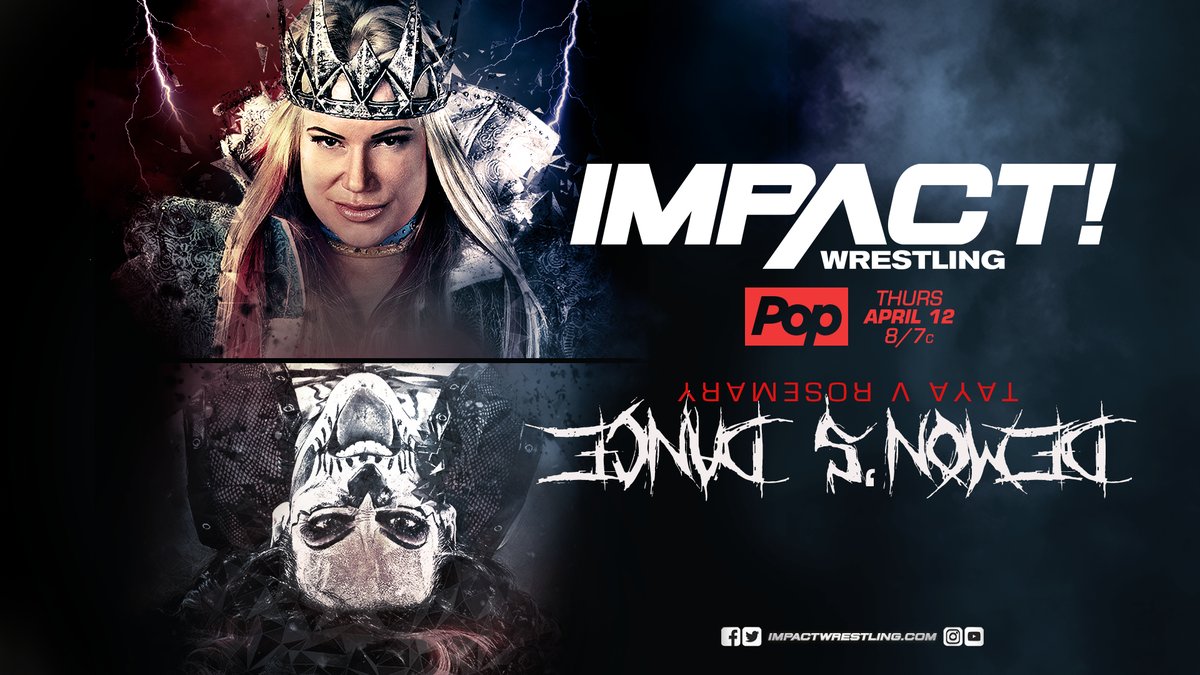 We made it through WrestleMania weekend, and now we have a sort of normal week. However, since I'm doing coverage for the All Japan Champion Carnival, those matches will be more prevalent than an average list.
Before we get to the AJPW dominated Top 5, let's assess the month of March and last week's votes. Month of March match that got added to the yearly pool:
January – Gargano vs Almas
February – Kazuchika Okada vs SANADA
March – Golden Lovers vs Young Bucks
That gives us a little variety already in the early goings of the year. As for last week it was close, I had to consult a tiebreaker. So the match that won the tie breaker, Andrade 'Cien' Almas vs Aleister Black @ Takeover NOLA. This may be a little controversial, but opinion is subjective, and obviously no one match ran away with a consensus number 1.
Let's get to this week's Top 5.
5. Impact Demon's Dance: Rosemary vs Taya Valkyrie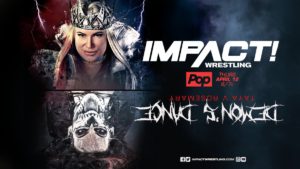 Rosemary and Taya have had a feud dating back to AAA, while bleeding into Impact starting last year when Taya debuted.
So Demon's Dance is just another name for Raven's Rules…or basically, extreme rules. They went outside early, and Taya kept trying to callback to her initial statement to Rosemary with Road to Valhalla on the entrance ramp. For Rosemary's sake, she blocked it a few times and forced Taya to change her direction.
A solid wrestling match ensued, a bunch of chairs got introduced and…well there was an awkward spot. After Taya hits a double knee to a chair on Rosemary's face, while she's laying in the corner, Taya then decides to place a chair between her legs and…well…split the uprights? I can honestly say, I've never seen that in a women's match.
Following that Rosemary got the momentum back, introduced a table and was setting up for something. Taya nearly circumvents the table, but Rosemary powers through Taya's offense, eventually they both battle on the top rope, and Rosemary drives Taya through the table, for the victory.
Solid hard hitting match between two women with a lot of history.
Rating: *** 1/2
4. 205 Live: Kalisto vs Akira Tozawa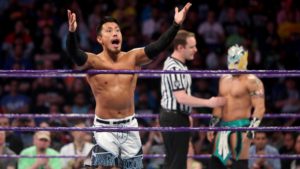 Continuing the Lucha House Party versus the Japanese guys storyline, we see these two get paired into a match.
Surprisingly, this drop down to 205 Live, seems to have given Kalisto validity and a venue to look like a legit threat. This match went back and forth nicely, with not many sloppy spots. Tozawa and Kalisto played their parts of two former champions who are trying to reestablish themselves.
After a multitude of dives from Tozawa, he tried to set up for his Senton, but was countered by Kalisto. After a good exchange between the two, Kalisto hits Salida Del Sol, and gains the pinfall victory.
Rating: *** 3/4
3. AJPW Champion Carnival: Jun Akiyama vs KAI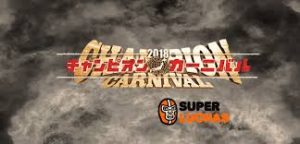 Still looking to establish himself in All Japan, KAI comes into this match behind the eight ball, against a legend.
Given the types of matches Jun has put on lately, this really floored me. He seemed more determined to hurt KAI. Took a big spill into the guardrail and in general, pulled off moves with much more velocity than I'm accustomed to seeing him do.
They traded multiple pinfalls , changed the pace a few times and made both men look fantastic. Akiyama still proves himself to be the crafty veteran with the way he wins. At the point this match happened, it was the highest rated B Block match, thus far.
Rating: ****
Honorable Mentions:
AJPW Champion Carnival: Jun Akiyama vs Yukata Yoshie
Rating: *** 1/2
Smackdown: Daniel Bryan vs AJ Styles
Rating: *** (would be higher if it didn't get cut short)
2. AJPW Champion Carnival: Jun Akiyama vs Suwama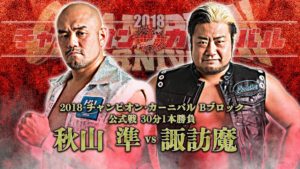 Two guys towards the top of the standings, this will either give Jun more space, or help Suwama come back from an early loss.
Now this is where my lack of historical knowledge hurt me. Suwama and Akiyama went at it, like two men who hate each other. Suwama threw the guard rail at Akiyama, they both threw chairs and this was all after about 40 seconds of them just hitting each other over the ropes.
So I'm not sure where this grudge started, but the hatred was palpable. Hell, even at the end of the match it was obvious when referee Wada calls for the stoppage and Suwama doesn't release right away and continues trying to inflict damage.
Rating: **** 1/4
1. AJPW Champion Carnival: Shingo Takagi vs Yuji Hino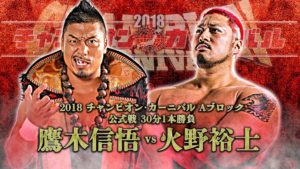 Shingo is a highly decorated wrestler billed out of Dragon Gate (even though news broke recently about him leaving), and Hino is on a hell of a run.
Both of these guys were undefeated moving into the match, and it had a feeling like a finals match. A lot of hard and heavy strikes, big power moves and just impressive resilience from both men. It should be noted that with how close this match was, Shingo is about 30 pounds lighter, and still managed to lift him for power moves.
In a feat that isn't often done, Hino kicks out of a Pumping Bomber and Last Falconry, so that left Shingo trying to find an answer. But sadly for Shingo, the size and power of Hino took the advantage, and on the second attempt hits the Fucking Bomb (literally the name of his move) for the pinfall.
Rating: **** 1/2
If anyone wants to complain about a Japan bias, think about it like this. Champion Carnival is a tournament like the G1, the quality of the matches will be hard to top, with basic television programming. With all that said, Jun Akiyama has been working well beyond what I expected from him, but Shingo has had onl 3 matches so far, and 2 have been the best matches of the tournament.
So be that as it may, Shingo Takagi vs Yuji Hino @ AJPW Champion Carnival, is my choice of match of the week. Agree or not, leave your choices and comments. Use your head for more than a hat rack and make your opinion known.
NXT Minus 6: Too Early To Fantasy Book War Games?
Everyone loves fantasy booking. Right?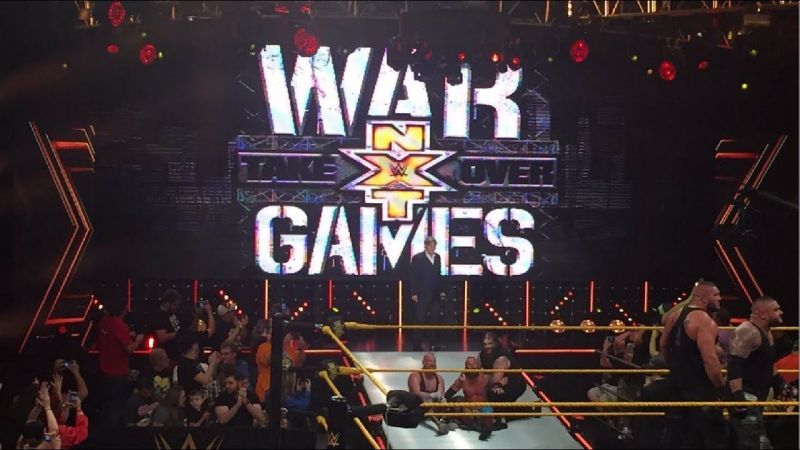 The answer is No. It's not too early.
6. NXT teases us with a Matt Riddle-Arturo Ruas match that went 3 minutes? I know it's not happening, but those guys deserve a Takeover spot. Kudos to NXT for playing up the mma aspect. Everything from Mauro's commentary to the ref stoppage made this feel like it should have been in an octagon. If you haven't already seen it, check out Ruas' match from the Evolve 10th Anniversary show. Dude is a killer.
5. We got the final opening round match of the Dusty Rhodes Everyman Classic. Bronson Reed is good. He delivered what might be the biggest frog splash I've ever seen. There is always a place for athletic big men, but he's not the story.
4. Dexter Lumas is creepy. The key to wrestling is to crank your personality up to 11. If this creepy thing is any part of Dexter Lumas, I don't want to be in a room with him. I don't trust him around my kids. I wonder how many crimes against humanity he's already committed. Creepy in a way that Bray Wyatt can only hope to be.
3. Tyler Breeze enters the running for Savage Burn of the Year. He looked at Jaxson Ryker and asked "Weren't you Buddy Murphy?" Brutal. That line alone is worth the return of Prince Pretty.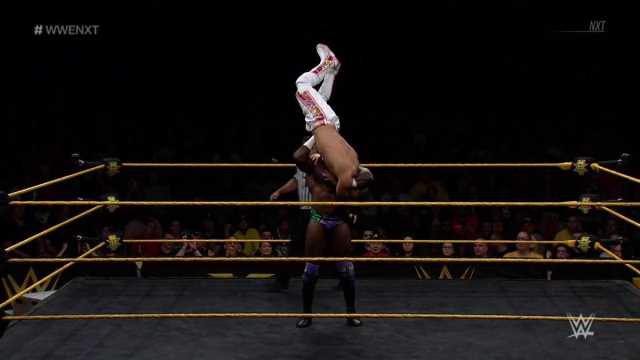 2. I finally got the moment I was waiting for: an interesting KUSHIDA match. I was ready to send him to 205 in exchange for Akira Tozawa. And if this is Apollo Crews, I will gladly take him back full time in NXT. Stellar matchup and worth watching. 4.4 stars. 
1. Oh no, this cannot be happening. They're turning Keith Lee into Kassius Ohno 2.0? He's talking about getting passed over for the new guys? And he's jobbing to Damian Priest next week? Been here a year and zero Takeover matches? The Ridiculous Keith Lee deserves better. THIS…CAN…NOT…BE…HAPPENING!!!
Bonus time: Old school versus new generation. Tyler Breeze heads up a cast of NXT OGs to take on Undisputed Era in (cue William Regal voice) War Games to determine NXT supremacy. Keep Apollo around. Throw in Cesaro and Harper, maybe even Samoa Joe, and you've got yourself one hell of a brawl. Either that or Undisputed Era versus the Club. I'm cool with both.      
Tiffany's Takes: WWE NXT (7-17-19)
Who will be the first to challenge Adam Cole for the NXT Championship?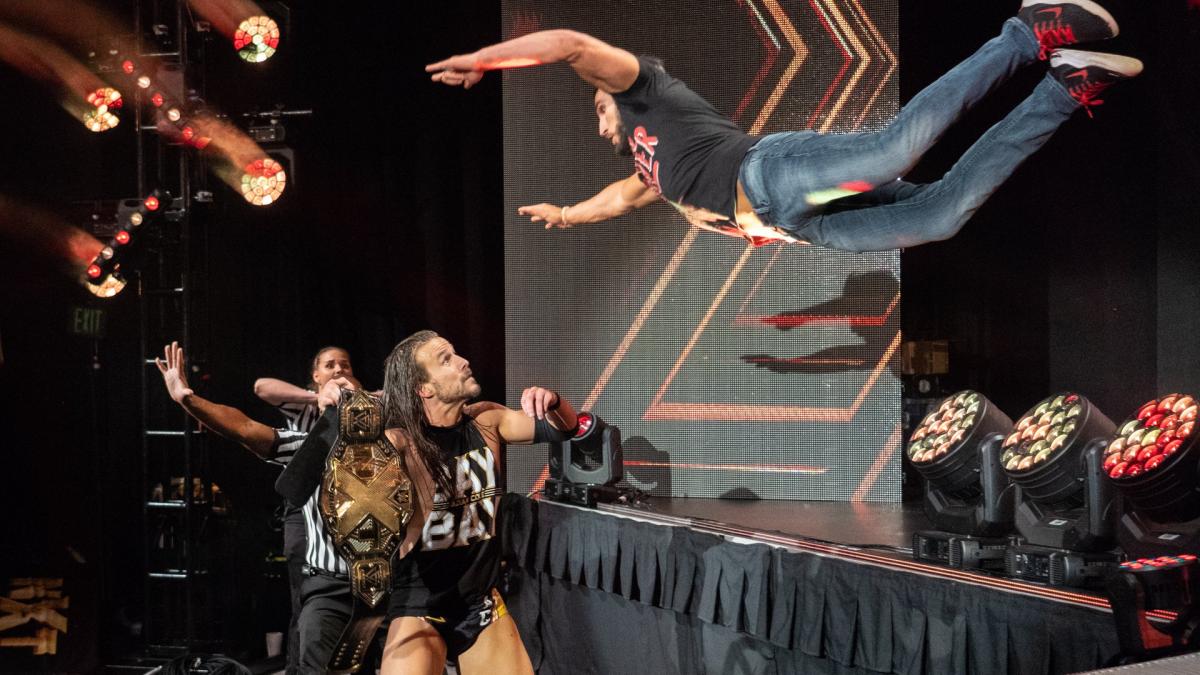 Who will be the first to challenge Adam Cole for the NXT Championship?
Have I ever told anyone that I can't stand Matt Riddle? I have? Okay. I don't even know what it is, but he sets my teeth on edge. I will give him props for having a good match with Arturo Ruas, but I'm not sure what they're doing with his character, except teasing a heel turn after that NASTY beatdown of Ruas. I am here for Killian Dain vs Riddle, that even sounds like fun!
Looks like we are going to Undisputed Era vs Street Profits at some point, but I'm waiting for UE to make a big deal about Street Profits being on the Main Roster for the last couple of weeks.
I love that Mia Yim is learning from everyone's mistakes in dealing with Shayna Baszler and is going after Baszler's friends, who are the real reason she's stayed on top for so long. This feud is going to get nasty in a hurry and I can't wait!
The next match of the NXT Breakout Tournament  had a lot to live up to after two AMAZING matches and one not so amazing. I'm not sure what in the world Australian Strong Styles is, I'm guessing it's like any 'Strong Style' in that it's pretty hard hitting. I also didn't know Australia had a Black Forest, it was never on 'Crocodile Hunter'. I did like this match, however. I can't say it was as amazing as some of the other matches, but it was really good. Bronson Reed won the match for Australia, so we'll see what happens in Round 2.
Someone should tell Tyler Breeze that having a beard doesn't make you a man. I've seen teenagers with better facial hair. I did love the little dig at Forgotten Sons, but I don't think Breeze really wants to pick a fight with Jaxson Ryker, that's not going to end well.
Well, it looks like we'll likely get a confrontation between Io Shirai and Candice LeRae next week, unfortunately for Kacy Catanzaro, she's going to be Shirai's punching bag before that.
I wasn't really into KUSHIDA vs Apollo Crews. I'm just not a huge fan of either guy. The match was really good, but I don' t think anyone really thought Crews was going to beat KUSHIDA, who is getting built into a title contender, but it was a longer match than Crews has been having for most of his WWE run, so there's that.
I'm still not into Keith Lee, I just don't get it, but I'm super stoked  about the prospect of Lee vs Damian Priest, that promises to be a wild match.
So, it's officially official, we WILL be getting Adam Cole vs Johnny Gargano III and it sounds like it's going to be the last one. I did like Gargano comparing his victory tour of trying to inspire young people in Cleveland with Cole's obnoxious antics at the Gargano restaurant. Also, love the 'Johnny Badass' thing, very cool. NXT TakeOver: Toronto II is going to be a wild ride in that Three Stages of Hell match! Thank you, William Regal for booking that!
That's it for Tiffany's Belated NXT Takes! Tune in Monday for Monday Night RAW!