Top 5: Matches of the Week Ending 4/22/18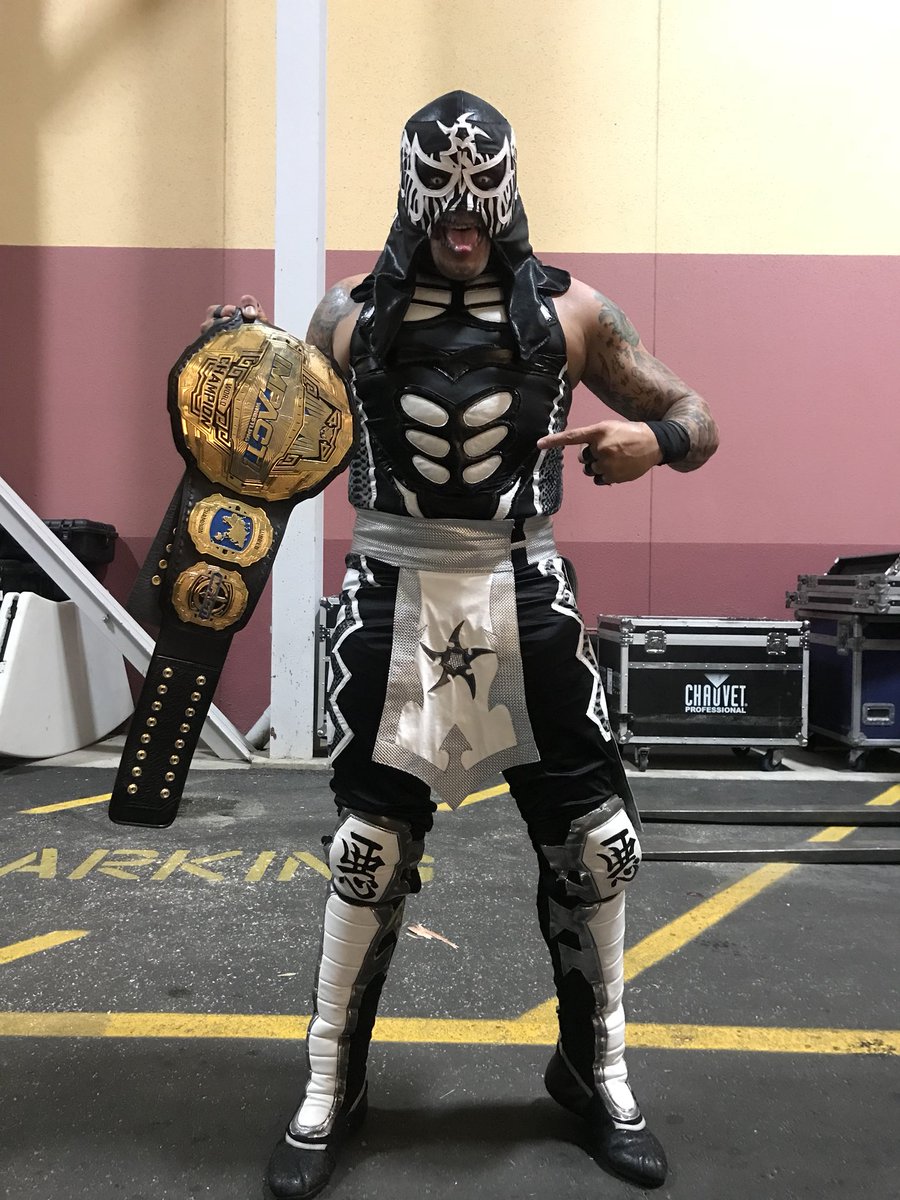 Okay well, thanks to Major League Wrestling having TV and Impact having something to prove, this is a surprisingly diverse list if we include the honorable mentions. Aside from that, our matches last week needed a vote winner even though it was dominated by AJPW. This is why the reader vote matters, since that heavily skewed the vote.
So the winner of last week was, Shingo Takagi vs Yuji Hino @ AJPW Champion Carnival! It may not win the April vote in general, but I love seeing a variety of companies in the vote.
Anyway, let's see what we've got to work with this week.
5. ROH: Kelly Klein vs Mayu Iwatani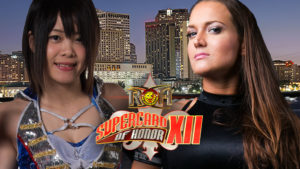 Now I'm aware this is the Semi-Finals match from Supercard of Honor. However, I didn't watch Supercard except for the Cody match, so I figured I'd count this one since it was on ROH TV.
Kelly is a beast that the women in ROH haven't been able to beat cleanly, and it shows in the match. Even though Mayu is a heavily decorated wrestler from Stardom, Kelly's size and power advantage make it seem unfair very early.
The match has a few attempts at back and forth, with Mayu wrestling from underneath nearly the entire time. Just when it looks like the smaller wrestler might pull it off, Kelly slaps on a submission and wins the match via referee stoppage. This match probably should've been the finals since both women brought some aggression, and the match was better than the women's matches involving Sumie Sakai.
Rating: *** 1/2
4. MLW Fusion: Austin Aries vs ACH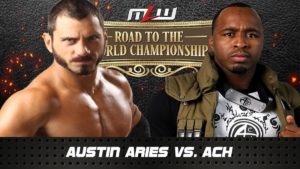 Now to kick off, I never realized ACH says he hails from the Planet Vegeta, that popped me for the Dragon Ball reference.Either way, we have two very well known Cruiserweights, and this is the kick off match.
When the match starts we see ACH has the right side of his ribs and his right upper thigh taped up. Aries and ACH shake hands to kick things off, and honestly, Aries never really tries to exploit the injured areas.
This match was the longest match of the night, and the two put on a clinic. ACH was hampered slightly because of his injuries, but both men got all of this signature moves in. Schiavone kept jumping at the opportunity to call the 450 Splash, and when ACH finally did it, he was met with Aries' knees.
After a Horns of Aries submission and the Discus Fivearm, Aries finally puts away ACH with the Brainbuster.
If this is a precursor for how they're going to pace out their shows, anyone who loves quality wrestling, will enjoy this program.
Rating: *** 3/4
3. Impact Wrestling Redemption X Division Championship: Matt Sydal (c) vs Petey Williams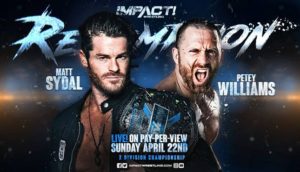 Williams got a Feast or Fired case, to cash in for an X Division Title shot. Since returning last year, Petey has had 2 or 3 opportunities and kept coming up short.
This was more of a wrestling match, then a high spot match. Petey focused on Matt's legs and lower back, while Sydal was favoring injuries throughout. Big pop/spot in the match was when Petey hits the Canadian Destroyer, but Sydal rolls out of the ring. After that, Petey gets desperate and tries to set up a Super Canadian Destroyer from the top turnbuckle.
Sadly for Petey, Sydal fights off the Destroyer, goes for a Shooting Star, Williams rolls out of the way and attempts one more Canadian Destroyer. Sydal slips through Williams' legs, and picks up the pinfall by a pump handle cradle. Damn good match.
Rating: ****
Honorable Mentions:
Impact Redemption House of Hardcore: Ohio Versus Everything vs Tommy Dreamer, Eddie Edwards & Moose
Rating: *** 1/2
AJPW Champion Carnival: Dylan James vs Yoshitatsu
Rating: *** 1/4
Raw US Championship: Jinder Mahal (c) vs Jeff Hardy
Rating: *** 1/4
MLW Fusion: Pentagon vs Rey Fenix
Rating: *** 1/4
Smackdown: Daniel Bryan & AJ Styles vs Rusev & Aiden English
Rating: ***
2. AJPW Champion Carnival: Zeus vs Naomichi Marufuji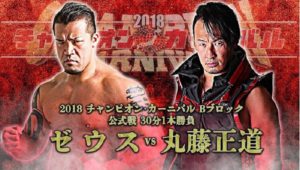 Zeus needs this victory to stay alive in the Carnival, and Marufuji has been riding an undefeated wave.
Zeus comes out with long pants and a rally towel, which isn't his normal attire, so I'm not sure if there's a story there. But the match itself was exactly what you expect from two high tier wrestlers.
They feel each other out by a test of power, trading chops and just generally seeing what the others' pain threshold is. Zeus dominates most of this match, even though Marufuji gets in everything from the Kawada kicks to his corner blitz. Both men get their finishers countered or slowed down a few times, so you are sucked in since either man has the prowess to win this.
Just when Marufuji gets some momentum, and looks to end it with the Shiranui, Zeus counters it with his signature Jackhammer and gets back on the winning track. Personally, this is my favorite match of the Carnival so far.
Rating: **** 1/4
1. Impact Redemption World Championship Triple Threat: Austin Aries (c) vs Fenix vs Pentagon Jr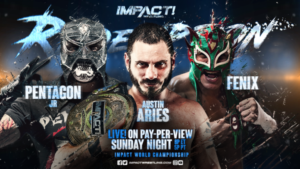 The thrown together main event because Alberto decided to no show during Mania weekend. It's also really a curious situation with Fenix and Pentagon being so visible to Americans within the last month. Both made their WrestleCircus debuts, MLW Fusion main event, ImpactvsLU special event and now Redemption.
Aries tried to take the fight to the brothers immediately, and we got a nice callback to the last triple threat, when Fenix and Pentagon went for the stereo superkicks, but Aries avoided it. After that, it was definitely a free for all. Pentagon had a lot of moments where he baited his little brother into moves, but Fenix had glimses of brillianc. He also had the same issue as other high fliers though, with the top rope. Fenix (and Aero Star in an earlier match) lost balance often, but Fenix is much smoother and made it look like an extended set up, opposed to an obvious botch.
From that point, we see Aries slowly gain momentum back, and keep each man in opposite corners, before they decide to team up. It's this point where the big brother tactics work wonders. Since it looks like Pentagon tells Fenix to pin him, then superkicks him. From that point Pentagon puts Fenix in a Gory Special and then also lifts Aries into a Package Piledriver, for an amazing combination move.
Pentagon then, breaks Aries' arm and hits his Pentagon Driver. AND NEW Impact Wrestling World Champion, Pentagon Jr! Even through the awkward spot with Fenix and the top rope, the match was hard hitting, had some call backs and showed a lot from all three men. Plus it's the first hiccup in Aries' "Belt Collector" gimmick, so that's a wrinkle we might not have been getting with Alberto.
Rating: **** 3/4
This is another hard choice, and even though this list contains my favorite Champion Carnival match, I'm gonna have to vote for, Austin Aries vs Pentagon Jr vs Fenix @ Redemption. With a bunch of fun twists, and numerous great matches, this triple threat was the cherry on top of the best Impact/TNA PPV in at least 5 years.
Last week should've been proof that your opinion matters. If you're reading this and you feel strongly one way or the other about the top 5, make your voice heard.
The Miz: WWE's Newest Babyface Wins Fans Over
2019 , Miz is a face, Daniel Bryan is a heel…cats and dogs are sleeping together, right? David breaks down why Miz as face actually works this time around!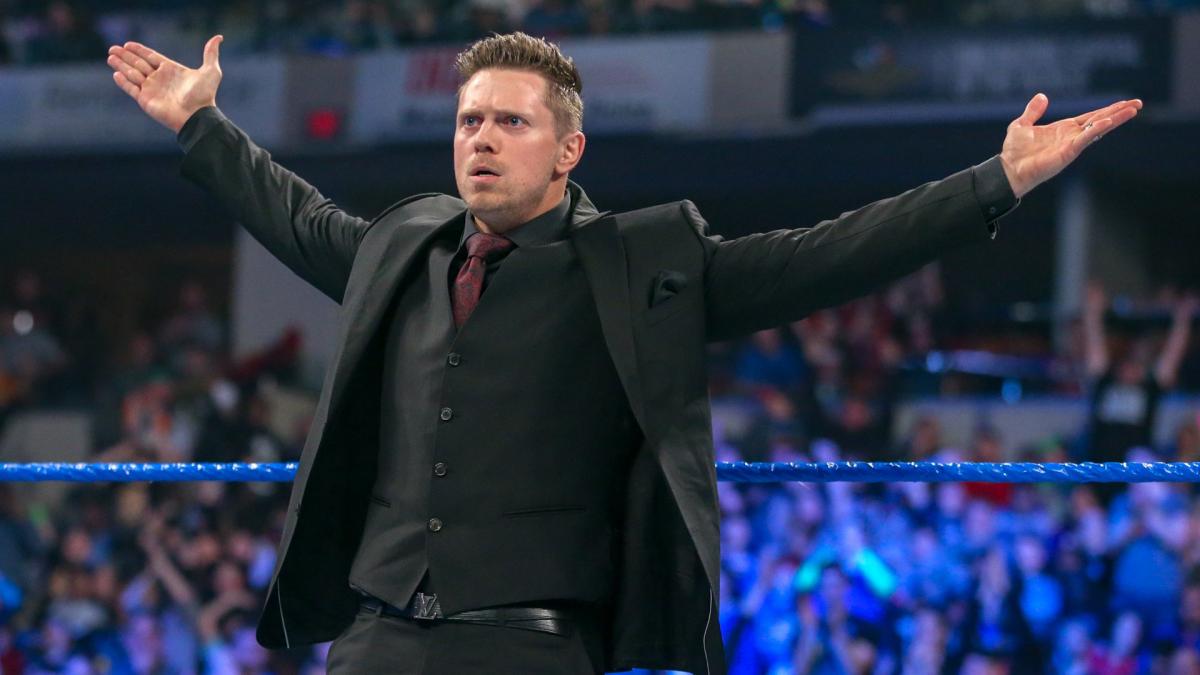 2019 , Miz is a face, Daniel Bryan is a heel…cats and dogs are sleeping together, right? David breaks down why Miz as face actually works this time around!
When WWE decided to flip the script and give Daniel Bryan his chance at becoming the company's top heel, I immediately wondered what would happen to The Miz and how he would impact Tuesday nights.
For any of us who doubted the possibility that Mike Mizanin could pull off a run as a top baby face, we should all apologize now. One of my favorite characters in wrestling today proved once again last night that it does not matter which role he plays, there is brilliance and how he does it.
I'm not 100 percent excited about this program with Shane McMahon, however I think it is a great storyline the WWE put together in one of the more shocking twists and turns of the year so far. McMahon, much like his father Vince, is a natural heel. The Miz has shown versatile to make it work in either side of the squares-circle. Like his matches before, this could be a defining moment for McMahon, who will once again prove he is better than expected in a wrestling ring.
For The Miz, I'm curious how this all plays out given after this feud I wonder which direction the creative team will take in developing his character even more.
This promo on Tuesday night was nothing short of brilliant. And for a performer who is used to working off heat from the crowds, he showed the ability to win them over. The mark of a great wrestling performer is the ability to work as a babyface or a heel and keep the wrestling fan engaged.
It also presents a potential challenge to Bryan in the future should WWE keep the company title around his waist.
As I've discussed before, wrestlers need other wrestlers to be great. Jack Brisco needed Dory Funk, Jr. Ric Flair needed Ricky Steamboat and Dusty Rhodes. The Miz needs Bryan. From a fan perspective, seeing those two in a ring and a role reversal is worth the price of admission alone.
My concern as I just touched on it, is the company will drop the ball in character development. It will lose sight of what it has in the performer and the self promoter. There is no one better than the former WWE and Intercontinental champion.
The Miz's words were real, succinct, passionate and gripping. Never for a lack of animation, he is just as dynamic when speaking his mind. There should be another world title run in his future, but I wonder with the most recent push of Kofi Kingston, does this mean the A-lister becomes the B+ superstar?
By the way, the comment about Vince not owning Kofi was spot on at the moment.
I suspect the feud between co-owner of WWE and the man I like to call the company's greatest asset will continue past April. How it concludes is predictable. McMahon is not a full-time performer and should not be. As for The Miz, the doors opened a little wider on Tuesday night. We saw a focused and determined wrestler on television. I'm betting that translates to one of the best years he's had in this business in 2019.
Mustafa Ali Should Be Thankful For KofiMania
Steve Cook reminds us that Kofi's current angle is due to Mustafa Ali's injury. Which, may have turned out beneficial for…Mustafa?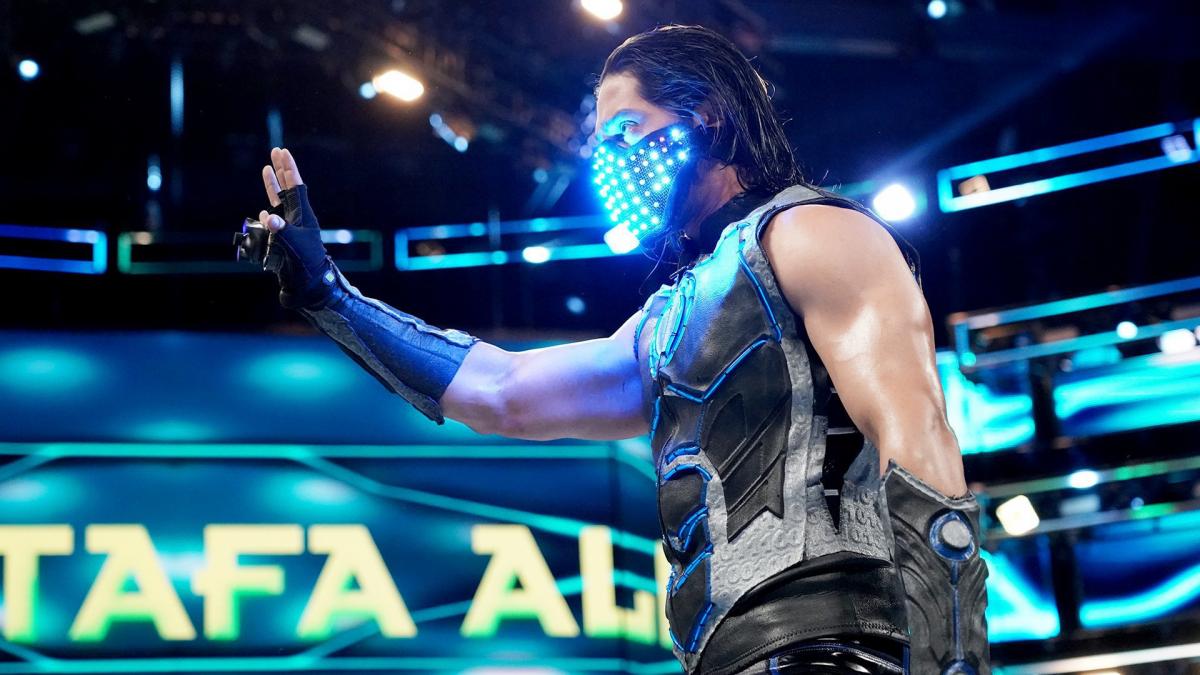 Steve Cook reminds us that Kofi's current angle is due to Mustafa Ali's injury. Which, may have turned out beneficial for…Mustafa?
When I first heard it, I didn't believe it.
Don't get me wrong. I don't mean to demean the ability of Mustafa Ali. In his limited time under WWE's umbrella of entertainment, he's amazed crowds with unbelievable moves. He's also shown the ability to be likable, much to the amazement of some that believe that people of his descent can't be supported by the WWE Universe.
Ali is a remarkable story. He was sixteen years old when he had his first match in February 2003. Mustafa worked graveyard shifts as a police officer while pursuing his wrestling dream, along with having a family.
He has a good head on his shoulders & a very promising future.
WWE is high on Ali, as they have every right to be. So high, in fact, that the word around the campfire was that Ali was slated to challenge for the WWE Championship at WrestleMania. Those plans were put on hold just before the Elimination Chamber, when Ali suffered an injury that forced him out of the Chamber match for the WWE Championship. Ali still might have been in line for a title shot, as there was still plenty of time before WrestleMania when he was scheduled to come back.
But a funny thing happened, Kofi Kingston was tapped to take his place, and the fans in Houston went absolutely crazy for him. We've been watching Kofi on WWE television for eleven years now. We saw him break into WWECW as a fresh-faced, happy-go-lucky Jamaican kid. Upon his arrival on Raw (and later SmackDown), he became a regular in the Intercontinental & United States championship scene, depending which show he was on. He also became a tag team specialist, winning tag team championships with CM Punk, Evan Bourne & R-Truth.
Then The New Day happened, and it took Kofi's popularity to a whole other level. Kofi, Xavier Woods & Big E have become one of the most successful trios in wrestling history. The only downside? It put Kofi's singles career on ice. There were no more quests for secondary titles in hopes of breaking into the main event scene as a legitimate contender for a top championship. Kofi, Big E & Xavier had their role. Pump up the crowds, make money off merchandise & be happy.
You can make a lot of money doing that. But eventually you develop a taste for something more.
Honestly, it seems more like Big E & Xavier developed that taste for Kofi. They've been speaking up for him ever since this thing started at Elimination Chamber. Back at Money in the Bank when New Day was granted a slot in the match, they insisted that Kofi take it. It makes sense. New Day has achieved so much on the tag team side of things that the only thing left for them to do is reach the top of the mountain. One of them obtaining a top singles championship will be like all of them doing so.
Kofi got Mustafa's slot at Elimination Chamber, and the fans bit on it hard. Here was a guy they had been watching for years busting his butt and doing whatever he was asked to do at the best of his ability. To the Houston fans, Kofi more than deserved to be there. He deserved to be WWE Champion. It seems like most of the WWE Universe is falling in line with the idea. Kofi's being thrown obstacles left & right now, and even people that should know better are really buying into the idea that WWE doesn't want Kofi Kingston in the WWE Championship match at WrestleMania.
It's an incredible thing. Kofi's lucky to have gotten this opportunity. Do you know who's even more lucky that Kofi got this opportunity?
Mustafa Ali.
It's kind of funny when you think about it. Ali's been wrestling longer than Kingston. He's more than paid his dues to get to WWE. He's defied the odds his entire career. Ali is an amazing story that is really difficult to root against. However, if he got pushed right into a WWE Championship match at WrestleMania after a couple of months on SmackDown, people would root against him. Specifically, the fans that attend WrestleMania would root against him.
Mustafa has paid his dues. But we didn't get to see it. We've seen Kofi Kingston paying dues for over a decade now. Not to sell Mustafa's experiences short, but we weren't at the indy shows watching him work. We weren't on the graveyard shift with him. Kofi Kingston has been right in front of us for eleven years, proving that he deserves to be at the top of WWE just as much as anybody else does. It's easier for us to identify with Kofi.
Had Ali been placed into the WrestleMania match with Daniel Bryan, the same thing would have happened that happened at Fastlane in Cleveland. He would have gotten booed, he would have had a nice performance and that would have been it. Bryan would have moved on to the next thing in time for the next PPV while Mustafa Ali would be looking for his next goal.
He deserves better, and he'll get better.
We need to see Mustafa Ali work his way up. It's not his fault that most of us don't watch 205 Live, but the fact of the matter is that we don't. We need to see him against the best of WWE, busting his ass and proving he belongs with the best in the business every single night.
It'll take longer to get there. The reward will be much better. Once Mustafa Ali reaches the top of WWE, there will be no doubt that he deserves it. He won't be somebody getting a push because of his life story, or because there was nobody else around at the time. He'll be a superstar that the WWE Universe has grown to love & respect.