Top 5 Matches: Week Ending 4/8/2018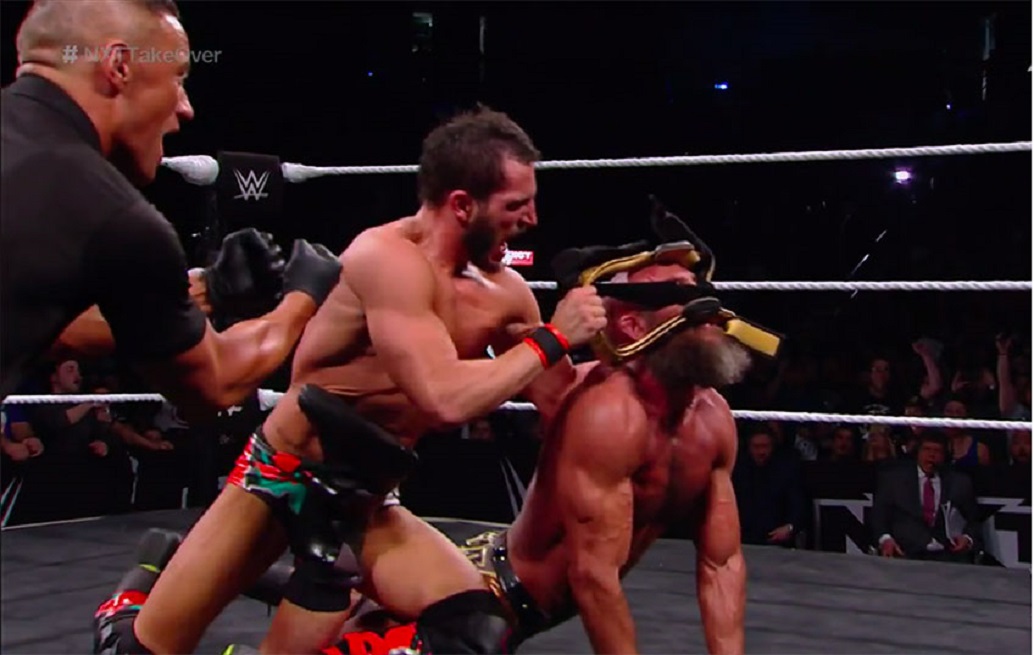 Well this is a day later than usual because, MANIA GOES TOO DAMN LONG! There I said it, I miss 3.5 hour shows when I could get to sleep before the Late Late Show came on.
So ya, long weekend culminated with WrestleMania that goes on for 7 hours just to underwhelm. But that's a different article, let's get to who won last week. The final match added to the March pool is, Zack Sabre Jr vs Kazuchika Okada @ Sakura Genesis. So let's review the pool:
March Pool:
Smackdown: John Cena vs AJ Styles
NJPW 46th Anniversary: Kazuchika Okada vs Will Ospreay
205 Live: Roderick Strong vs Cedric Alexander
NJPW Strong Style Evolved: Golden Lovers vs Young Bucks
NJPW Sakura Genesis: Kazuchika Okada vs Zack Sabre Jr
This pool is a little more New Japan heavy than usual, but they also had a lot of solid events last month. So for the March pool, I'm voting for, Kazuchika Okada vs Zack Sabre Jr, because that may be my favorite match of the year so far. But, now it's time for this week's choices.
T-5 Evolve 102 Evolve Championship: Zack Sabre Jr (c) vs Matt Riddle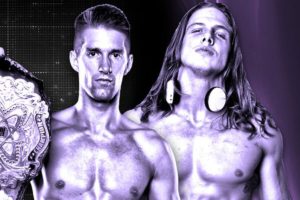 Sabre coming off of a huge run in the New Japan Cup and a 5+ Snowflake classic against Okada, this wasn't gonna be easy. Both men have similar technical/mat styles, but Sabre was trying to keep his 400+ day reign as Evolve champion going.
As for the match, this is exactly what it was expected to be. A lot of countering holds, strikes to open up space and rope breaks for days. Matt Riddle, even though he's an accomplished MMA fighter, was outclassed by Zack Sabre for most of the match. If you like old school, grounded submission wrestling, this is the match for you.
If you need flips and high intensity spots, then just know Riddle managed to get out of Orienteering with Napalm Death and slap on his own Bro-Mission, to force Sabre to tap out. So Matt Riddle is the new Evolve champion, fourth times the charm for him.
Rating: ****
T-5 WrestleMania 34 Intercontinental Championship Triple Threat: The Miz (c) vs Seth Rollins vs Finn Balor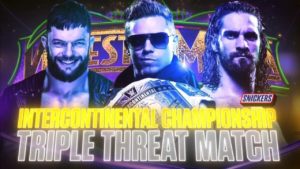 With all the wrestling this weekend, it's expected that we'd have our first tie.
This match opened the main show, and it was what everyone expected. We had a lot of action, Miz showed a lot of guts by telling the Miztourage to go to the back and fight his own fight. Miz really was the star of this match, he had a lot of old school heel moments and scouted both men well, resulting in countering an Enzuigiri by Finn Balor, into a Dragon Screw over the top rope.
Seth and Finn had the big flashy spots, break ups, springboards and Seth even pulled off a double Blackout (since we don't call it the other thing). Thanks to the afore mentioned spot, Seth was in perfect position to hit one more Blackout on The Miz, and pick up the pinfall victory. So Seth is now a Grand Slam Champion, the last on The Shield to get it, but hey they're handing those out like free water ice on the first day of Spring. So I guess we're supposed to care, right?
Rating: ****
4. AJPW Champion Carnival: Shingo Takagi vs Kento Miyahara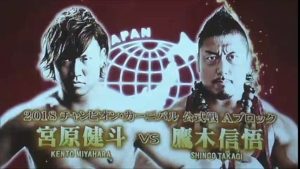 In each of their first matches of the Carnival, we see two favorites get paired up.
Shingo gets hyped up nicely with all of his Dragon Gate accomplishments, and the incumbent Champion Kento looks confident as ever. After a brief feeling out process, neither of them slow down. A few nice outside spots show that even though they are from different companies, their desire to win, gives them the aggression of heated rivals.
A small issue with this is the referee Kyohei Wada keeps interjecting himself, like all the time. It gets painful, but results in a funny spot when Kento plays to the camera and Kyohei pulls his hair like a child to get the break. Kento then begins to look grumpy and argue while fussing with his hair.
Aside from the small comedy spot, this had everything else. Each guy got in their moves, the crowd was really behind both of them, but it ends with Shingo hitting Last Falconry for the pinfall. If there was a story build to this, we could've had a 5 Snowflake classic, but tournament matches always lack a small wrestling aspect.
Rating: **** 1/4
3. NXT Takeover NOLA NXT Championship: Aleister Black vs Andrade 'Cien' Almas (c)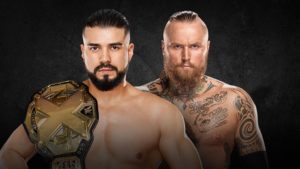 Aleister's first Takeover victory was Almas, before Zelina Vega officially came into his life. So we have Andrade trying to avenge an embarrassing loss with a new mean streak, and Aleister wants the title along with some vengeance of his own because of Andrade's previously mentioned mean streak.
Zelina gets involved early and often, which helps Almas keep up with Black, even though honestly, Black seemed off the entire match. Landing his Asai Moonsault poorly, losing balance during a rope assisted armbreaker, as well as taking Zelina's Spike-rana very poorly, just to name a few. The fun part of Zelina's interference is that technically it made Almas the first person to kick out of a Black Mass, since she helped is foot onto the rope.
All in all, Almas looked very capable without Zelina's assistance, which funnily enough, her final attempt, proved fatal for Andrade. Aleister moves, Andrade has to catch La Muneca and eats a Black Mass, since he can't protect himself. Black is the new and oddly enough, 13th NXT Champion.
Rating: **** 1/2
Honorable Mentions
ImpactvsLU: Austin Aries vs Pentagon Jr vs Fenix
Rating: *** 3/4
AJPW Champion Carnival: Kento Miyahara vs Naoya Nomura
Rating: *** 3/4
WrestleMania 34: Ronda Rousey & Kurt Angle vs HHH & Stephanie McMahon
Rating: *** 1/2
Evolve 102: Munenori Sawa & Daisuke Sekimoto vs Ringkampf
Rating: *** 1/2
WrestleMania 34 Smackdown Women's Championship: Asuka vs Charlotte Flair (c)
Rating: *** 1/2
NXT Takeover NOLA Women's Championship: Ember Moon (c) vs Shayna Baszler
Rating: *** 1/4
AJPW Champion Carnival: Suwama vs Zeus
Rating: *** 1/4
2. ROH Supercard of Honor: Cody vs Kenny Omega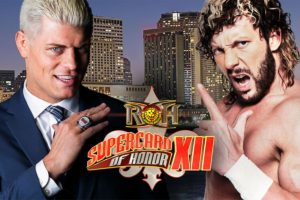 One of the most well known storylines on the internet, we see if Omega can quell the dissension Cody has begun in the Bullet Club.
The crowd was fully invested in the hating on Cody and loving of Kenny. It started off slowly since Cody brought Brandi and Bernard the Business Bear with him to serve as distractions. This was wrestled as more of a Cody match, then the break neck work rate matches people expect from Kenny.
Aside from fighting for leadership supremacy, Cody and Kenny represent other things. Cody represents old school wrestling, where the character is more important to get over than the ring work, and Kenny is the champion of the work rate smart marks. So it's no surprise that an ROH crowd would fall into the assumed dynamic perfectly by rejecting Cody and heralding Kenny.
As for the match, there were a lot of moving pieces. Kenny accidentally puts Brandi through a table, looks remorseful, he takes out Bernard, and with all the distractions stopped, it looks like Kenny is gaining momentum. There's a moment when both Kenny and Cody are down, so the Young Bucks decide to go to the ring. They slide in, argue a little, and then allow the crowd to pick their superkick victim.
Since we've already been over the crowd's preferences, the Bucks line up to take off Cody's head. Cody manages to see it coming, moves out of the way, and Kenny eats the double superkick. The Bucks look distraught, Cody hits the Crossroads and we see Cody standing tall as the streamers rain down on him (fickle crowd, eh).
In what was supposed to answer some questions for Bullet Club, we just got a ton more. But one thing is for sure, Cody is the best heel in wrestling currently.
Rating: **** 3/4
1. NXT Takeover NOLA Unsanctioned Match: Johnny Gargano vs Tommaso Ciampa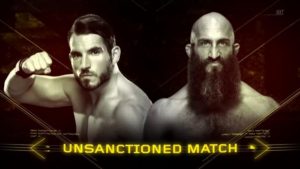 The story that's been building for about a year, with the stipulation that if Gargano loses he's gone from NXT.
We saw a lot of callbacks, brutality and overall hatred here. Both men hit their halves of their DIY finish, crutches and an exposed turnbuckle. One spot that got a huge reaction from the crowd was the Sunset Flip Powerbomb onto an exposed portion of the floor.
Either way, there were more moments in this match then I can summarize, and even the spots that weren't executed properly were forgivable since it was a grudge match with a lot on the line. So sure, there were less than perfect moments and some spots were slow, but the story this match told can't be argued.
Gargano winning by using the knee brace to wrench back on Ciampa's neck was a nice moment and shows exactly how far Gargano would go, to end this blood feud.
Rating: *****
There's so much here, it's ridiculous. The top two matches have the most visible storylines to everyone and contain two of the best heels currently in wrestling. I'm a little bias since I prefer Cody, so that would mean my vote will go to, Cody vs Kenny Omega @ Supercard of Honor. Even though I wasn't a fan of the ROH show, when you've got a match like this, you take notice.
Comment, Tweet at us, Share or just seethe in anger. However you want to react, just make sure we hear it.