Top 5: Superstar Shake-Up Moves WWE Should Make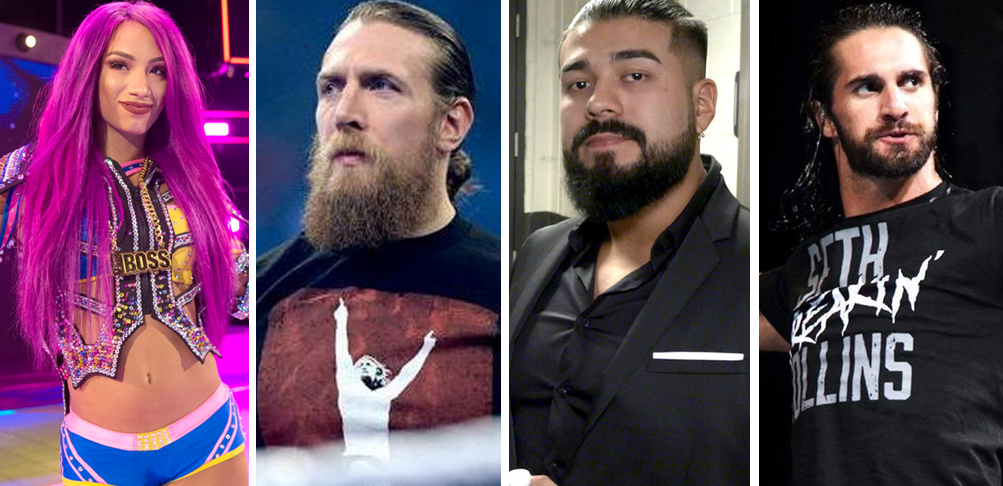 The WWE Superstar Shake-Up is this week, and it's always an exciting time for the fans watching at home. You never know who will move brands, as the entire roster will be in attendance for both Raw and Smackdown.
But there is a bigger question at hand: Who should move brands?
Here are the Top 5 roster moves WWE should make in the Superstar Shake-Up. These moves include Raw/Smackdown swaps, and an NXT call-up. Read and then hit me up on Twitter @ChairshotGreg with your top moves!
5. Seth Rollins to Smackdown, Jinder Mahal to Raw
Headed into WrestleMania, I long assumed Rollins would be headed to Smackdown to take the mantle of the Blue Brand along with AJ Styles, with Shinske Nakamura heading to Raw. Today I can't be so sure about the second half, but I still see Seth Rollins moving to Smackdown to lead the march towards WrestleMania 35.
As for Jinder Mahal? WWE is in the midst of a television courtship with Fox, and the diverse appeal represented by Mahal is probably a bigger deal than the internet fan wants to believe. Mahal is also an amazing heel, which is the key to long-term storytelling.
Another hidden reason for Mahal to go to Raw? The Authors Of Pain. Akam and Razar will be without Paul Ellering, presumably because the former doesn't want the heavy travel schedule. While the Singh Brothers provide a great diversion, AOP won't be thrown around quite so easily, and with The Maharaja there to do the talking, they can be a serious threat in the neglected tag team division.
4. Andrade "Cien" Almas (with Zelina Vega) to Smackdown
Andrade "Cien" Almas has been brilliant during his NXT run, despite being a bit directionless at the start. Once Zelina Vega showed up, the key piece was no longer missing. Now it's time to take this act to Smackdown, and keep it intact.
Vega is involved in the Paige movie production, Fighting With My Family, and having her on the brand can be useful. But this is about way more than that.
Almas, a major star as La Sombra in Mexico, has proven he can carry a story to the fans, and they've proven they will buy-in. He's provided some of NXT's best in-ring performances over the past year, and Vega has been the added element needed to drive his story home.
On Smackdown you have some great potential feuds with Bobby Roode, and NXT-fan dream opponents like Shinsuke Nakamura, AJ Styles (if he doesn't move) and more.
Billed at 210 lbs, I wouldn't be against him "dropping five pounds" and sticking around for 205 Live after Smackdown on occasion. The purple brand's association with Raw has been downplayed to the point that this crossover wouldn't be a bad thing.
3. The Usos to Raw, The Bar to Smackdown
The Usos earned their way onto the WrestleMania main card, even if it didn't go so well. Now they've earned their way onto Raw, where they can reunite with their blood(line) in Roman Reigns.
Provided, that is, that Reigns doesn't move to Smackdown!
The Bar was absolutely ravaged at WrestleMania, to the point that I don't think you can take them seriously. I'd fully expect them to lose to Matt Hardy & Bray Wyatt in Saudi Arabia, and departing for the blue brand.
I'd also expect them to break up. Sheamus vs. AJ Styles and/or Nakamura could be amazing, but the split would most benefit Cesaro. It's no secret that I love Cesaro, and with Sheamus potentially nearing the end of his career, the time is perfect to push Cesaro.
(Pushing Cesaro, by the way, is a move I won't ever give up on. Ever.)
2. Sasha Banks to Smackdown, Becky Lynch to Raw
Two of the three women involved in the most important women's match in WrestleMania history (at WrestleMania 32 with Charlotte Flair) Sasha Banks and Becky Lynch are two of the pioneers of the current Women's Evolution. And no women are in bigger need of a change of scenery than these two.
Moving her to Smackdown does mean more potential match-ups with Charlotte Flair, a match-up we say far too often on Raw before the last shake-up. But it also provides some great match-ups for Becky Lynch, who has really floundered for the last year on Smackdown.
The move also separates Sasha and Bayley, which is likely to get a blowoff (for now) this Monday on Raw.
Honorable Mentions
Kofi Kingston and Xavier Woods to Raw – Believe it or not, this is really Xavier going to 205 Live (as suggested by Chairshot Radio's PC Tunney), Kofi on Raw, and leaving Big E to have a singles career on Smackdown.
Drew McIntyre to Raw – Drew McIntyre was rushed to the NXT Championship, and almost seems out of place. He didn't appear on the most recent tapings that I know of, and outside of Andrade has no real reason to be there. I think he could do really well on Raw.
1. Roman Reigns to Smackdown, Daniel Bryan to Raw
Even typing those words, I think I'm crazy. But this one really makes TOTAL sense.
Roman Reigns has spend forever being touted as "The Guy," but his booking in the end doesn't prove it. His loss to Brock Lesnar at WrestleMania came three years too late, and now he seems to be lacking any real direction. Samoa Joe stepped up to the challenge, but he doesn't even get a shot as The Samoan Sex Machine until after Roman challenges Brock inside a steel cage at Greatest Royal Rumble.
In my ideal example, Reigns loses again at Greatest Royal Rumble, coming to Raw to feud with Shinsuke Nakamura and AJ Styles–two men he's put on amazing matches with in the past (even if Nakamura was in a short dose at the Royal Rumble). Short of disappearing until SummerSlam, a move to Smackdown is appropriate for Reigns.
Daniel Bryan may seem like the heart and soul of Smackdown, but in reality he's the heart and soul of the entire WWE. Sending him to Raw, especially during the aforementioned television negotiations, makes tremendous sense.
Plus moving Daniel Bryan to Raw puts him in position to complete the story of his return: winning the Universal Championship from Brock Lesnar. It's the closest you can get to the Yes Movement, and it's a brilliant call to the fact that Daniel Bryan was supposed to get overwhelmed by Brock Lesnar at SummerSlam 2014, not John Cena.
---
Who do you think should move? Hit me up on Twitter @ChairshotGreg with your top moves!
King's WrestleMania Rewind: Charlotte Flair vs. Asuka from WrestleMania 34
Chris king is back with one of the most underrated matches in WrestleMania history–Charlotte Flair vs. Asuka!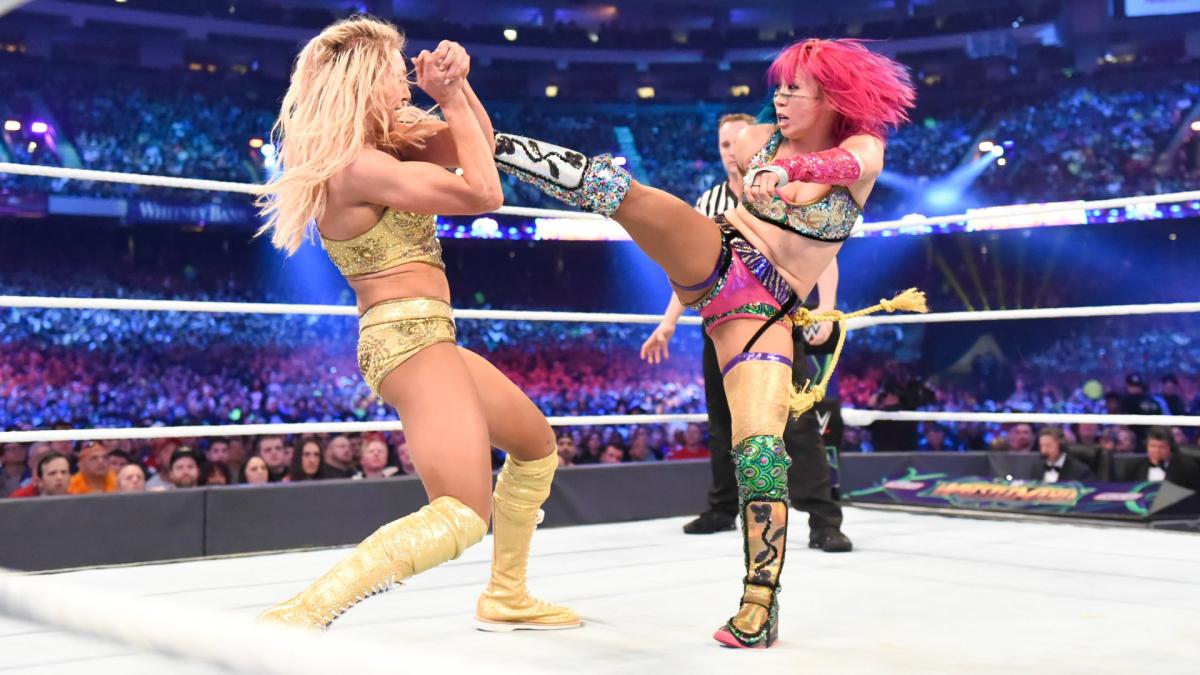 Chris king is back with one of the most underrated matches in WrestleMania history–Charlotte Flair vs. Asuka!
We look back at Charlotte Flair vs. Asuka at WWE WrestleMania 34. 'The Empress of Tomorrow' put her unprecedented and historic undefeated streak of 914 days on the line against 'The Queen's' SmackDown Women's Championship.
For years, this was considered a dream match while Asuka dominated the roster in NXT, while Flair won numerous championships on the main roster on both Raw and SmackDown. The Empress made her long-awaited debut on the September 11th episode of Raw and began to tear through the competition.
Asuka outlasted all twenty-nine other women in the historic first-ever Women's Royal Rumble match to challenge for the title of her choosing. At Fastlane, she made her choice.
The WWE Universe was so excited for this match myself included. Both superstars delivered a fantastic performance on the Grandest Stage of Them All executing counter after counter. Asuka showed off some nasty-looking kicks to her opponent, and Flair hit a thunderous Spanish Fly off the top rope. Flair was seconds away from defeat at the hands of The Empress but she locked in Figure Eight and Asuka was forced to tap out.
I can't even begin to explain how shocked I was at this outcome, as nearly everyone expected The Empress to continue her undefeated streak and walk away with the women's title. This controversial decision was the downfall of Asuka's momentum. She would ultimately win the SmackDown Women's Championship at the 2018 TLC pay-per-view in the triple-threat ladder match.
Fast forward to this year when Asuka has recently returned with her Japanese-inspired persona Kana. Kana is dangerous and ruthless and is heading into a championship with Bianca Belair at WrestleMania 39. The Empress has regained all her momentum and is highly favored to walk away with the Raw Women's Championship. Let's hope that Asuka and Belair can tear the house down and deliver an A+ grade match both women are fully capable of.
King: Dominik Mysterio Needs To Do This At WrestleMania
Chris King is here with what WWE should do with Dominik Mysterio at WrestleMania in his long-awaited match against his father Rey Mysterio Jr.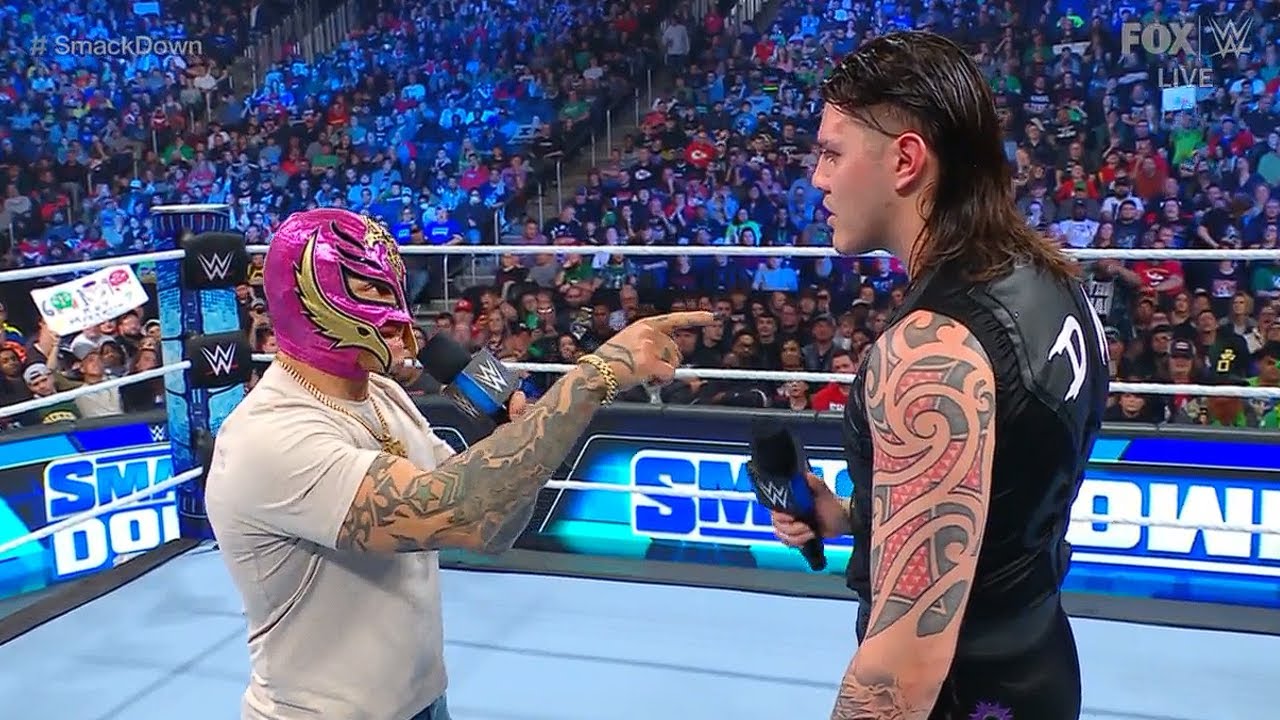 Chris King is here with what WWE should do with Dominik Mysterio at WrestleMania in his long-awaited match against his father Rey Mysterio Jr. 
On this week's episode of Friday Night SmackDown, Rey Mysterio finally snapped and beat some sense into his disrespectful punk-ass kid Dominik. The member of the Judgement Day came out to push his father again for a match on the Grandest Stage of Them All, this time with his mother and sister at ringside. The ungrateful punk told his mom to "Shut Up," as a father even I wanted to jump through the screen and whoop his ass.
Back in October of last year, Mysterio made the emotional decision to possibly quit the company but, instead, Triple H persuaded the Lucha libre superstar to move over to SmackDown to avoid his son. This came after Dominik shockingly turned on his father at Clash at the Castle. Mysterio did everything he could to refuse his despicable son's challenge for Mania but, a man can only be pushed so far. Mysterio will be inducted into the 2023 WWE Hall of Fame and I expect Dominik to embarrass his father during his speech to further this personal feud.
Yes, the WWE Universe hates Dominik and wants to see him get the ever-loving crap kicked out of him but, this feud is missing a special ingredient to capitalize on the biggest heat possible. Throughout this feud, Dominik has made mention of the legendary Eddie Guerrero on several occasions going back to the "iconic" 2005 feud.
I know WWE might not want to go this route but, Dominik MUST come out to Eddie Guerrero's theme at Mania. The disrespectful punk needs to come out in a lowrider to garner nuclear heat. It doesn't matter if The Judgement Day comes out and causes interference for Dominik to get the win, all that matters is that both superstars get the biggest payoff of this nearly year-long feud. Just imagine the Roman Reigns heat after he defeated The Undertaker and multiply that by ten. Dominik portrays the perfect heel and he truly is the missing ingredient that The Judgement Day needed to grow and evolve into a top faction.