Top 5: Superstar Shake-Up Moves WWE Should Make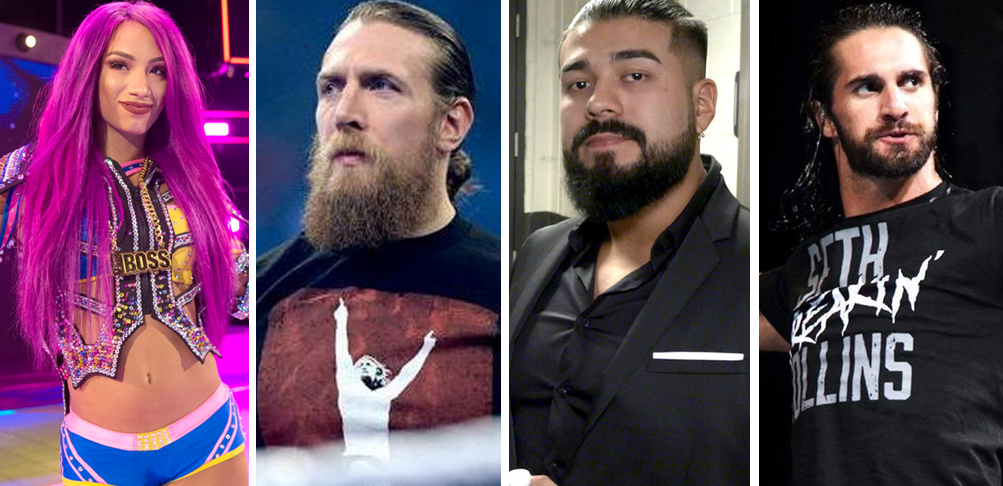 The WWE Superstar Shake-Up is this week, and it's always an exciting time for the fans watching at home. You never know who will move brands, as the entire roster will be in attendance for both Raw and Smackdown.
But there is a bigger question at hand: Who should move brands?
Here are the Top 5 roster moves WWE should make in the Superstar Shake-Up. These moves include Raw/Smackdown swaps, and an NXT call-up. Read and then hit me up on Twitter @ChairshotGreg with your top moves!
5. Seth Rollins to Smackdown, Jinder Mahal to Raw
Headed into WrestleMania, I long assumed Rollins would be headed to Smackdown to take the mantle of the Blue Brand along with AJ Styles, with Shinske Nakamura heading to Raw. Today I can't be so sure about the second half, but I still see Seth Rollins moving to Smackdown to lead the march towards WrestleMania 35.
As for Jinder Mahal? WWE is in the midst of a television courtship with Fox, and the diverse appeal represented by Mahal is probably a bigger deal than the internet fan wants to believe. Mahal is also an amazing heel, which is the key to long-term storytelling.
Another hidden reason for Mahal to go to Raw? The Authors Of Pain. Akam and Razar will be without Paul Ellering, presumably because the former doesn't want the heavy travel schedule. While the Singh Brothers provide a great diversion, AOP won't be thrown around quite so easily, and with The Maharaja there to do the talking, they can be a serious threat in the neglected tag team division.
4. Andrade "Cien" Almas (with Zelina Vega) to Smackdown
Andrade "Cien" Almas has been brilliant during his NXT run, despite being a bit directionless at the start. Once Zelina Vega showed up, the key piece was no longer missing. Now it's time to take this act to Smackdown, and keep it intact.
Vega is involved in the Paige movie production, Fighting With My Family, and having her on the brand can be useful. But this is about way more than that.
Almas, a major star as La Sombra in Mexico, has proven he can carry a story to the fans, and they've proven they will buy-in. He's provided some of NXT's best in-ring performances over the past year, and Vega has been the added element needed to drive his story home.
On Smackdown you have some great potential feuds with Bobby Roode, and NXT-fan dream opponents like Shinsuke Nakamura, AJ Styles (if he doesn't move) and more.
Billed at 210 lbs, I wouldn't be against him "dropping five pounds" and sticking around for 205 Live after Smackdown on occasion. The purple brand's association with Raw has been downplayed to the point that this crossover wouldn't be a bad thing.
3. The Usos to Raw, The Bar to Smackdown
The Usos earned their way onto the WrestleMania main card, even if it didn't go so well. Now they've earned their way onto Raw, where they can reunite with their blood(line) in Roman Reigns.
Provided, that is, that Reigns doesn't move to Smackdown!
The Bar was absolutely ravaged at WrestleMania, to the point that I don't think you can take them seriously. I'd fully expect them to lose to Matt Hardy & Bray Wyatt in Saudi Arabia, and departing for the blue brand.
I'd also expect them to break up. Sheamus vs. AJ Styles and/or Nakamura could be amazing, but the split would most benefit Cesaro. It's no secret that I love Cesaro, and with Sheamus potentially nearing the end of his career, the time is perfect to push Cesaro.
(Pushing Cesaro, by the way, is a move I won't ever give up on. Ever.)
2. Sasha Banks to Smackdown, Becky Lynch to Raw
Two of the three women involved in the most important women's match in WrestleMania history (at WrestleMania 32 with Charlotte Flair) Sasha Banks and Becky Lynch are two of the pioneers of the current Women's Evolution. And no women are in bigger need of a change of scenery than these two.
Moving her to Smackdown does mean more potential match-ups with Charlotte Flair, a match-up we say far too often on Raw before the last shake-up. But it also provides some great match-ups for Becky Lynch, who has really floundered for the last year on Smackdown.
The move also separates Sasha and Bayley, which is likely to get a blowoff (for now) this Monday on Raw.
Honorable Mentions
Kofi Kingston and Xavier Woods to Raw – Believe it or not, this is really Xavier going to 205 Live (as suggested by Chairshot Radio's PC Tunney), Kofi on Raw, and leaving Big E to have a singles career on Smackdown.
Drew McIntyre to Raw – Drew McIntyre was rushed to the NXT Championship, and almost seems out of place. He didn't appear on the most recent tapings that I know of, and outside of Andrade has no real reason to be there. I think he could do really well on Raw.
1. Roman Reigns to Smackdown, Daniel Bryan to Raw
Even typing those words, I think I'm crazy. But this one really makes TOTAL sense.
Roman Reigns has spend forever being touted as "The Guy," but his booking in the end doesn't prove it. His loss to Brock Lesnar at WrestleMania came three years too late, and now he seems to be lacking any real direction. Samoa Joe stepped up to the challenge, but he doesn't even get a shot as The Samoan Sex Machine until after Roman challenges Brock inside a steel cage at Greatest Royal Rumble.
In my ideal example, Reigns loses again at Greatest Royal Rumble, coming to Raw to feud with Shinsuke Nakamura and AJ Styles–two men he's put on amazing matches with in the past (even if Nakamura was in a short dose at the Royal Rumble). Short of disappearing until SummerSlam, a move to Smackdown is appropriate for Reigns.
Daniel Bryan may seem like the heart and soul of Smackdown, but in reality he's the heart and soul of the entire WWE. Sending him to Raw, especially during the aforementioned television negotiations, makes tremendous sense.
Plus moving Daniel Bryan to Raw puts him in position to complete the story of his return: winning the Universal Championship from Brock Lesnar. It's the closest you can get to the Yes Movement, and it's a brilliant call to the fact that Daniel Bryan was supposed to get overwhelmed by Brock Lesnar at SummerSlam 2014, not John Cena.
---
Who do you think should move? Hit me up on Twitter @ChairshotGreg with your top moves!
---
Always Use Your Head and visit the official Pro Wrestling Tees store for The Chairshot All t-shirt proceeds help support the advancement of your favorite hard-hitting wrestling website, The Chairshot!

---
Top Five Rivalries Of The WWE Reality Era
The Reality Era is often overlooked as an actual era of WWE television. It was so short and did little to change things up that people simply count it as part of the PG era. While it may be no more than a transitional period between the PG Era and the New Era, there are still some gems within it, especially in terms of rivalries.
5. Dean Ambrose vs. Seth Rollins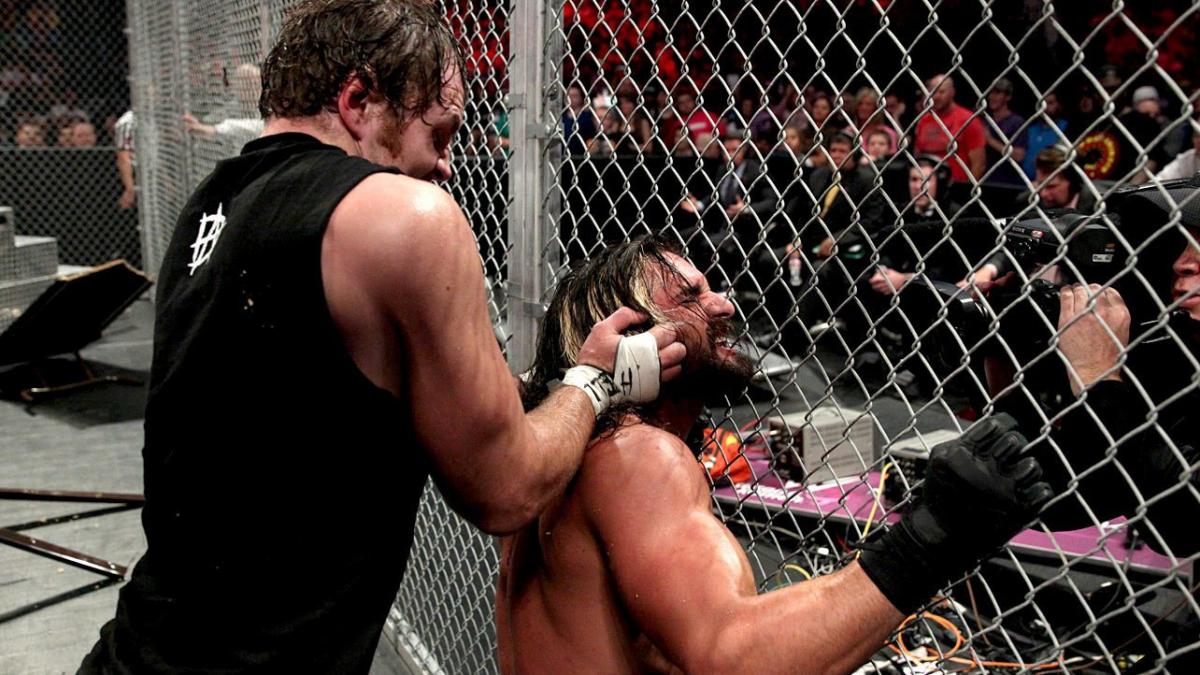 When the Shield was destroyed by the Architect himself, it was only a matter of time before Dean and Roman set out for revenge. While Rollins and Reigns did have their differences, it was Ambrose who battled Rollins in the summer and fall of 2014. Nearly every stipulation we see regularly was used. From perhaps the best lumberjack match in WWE history to a great Hell in a Cell encounter, these two proved their spot as the future of the company. Rollins would go on to cash in his Money in the Bank contract at WrestleMania and then continue to feud with Ambrose for a while once again, this time with the WWE Championship up for grabs. There will certainly be more matches between the f=two in the future, and from their track record I don't think many will be apposed to it.
4. John Cena vs. AJ Styles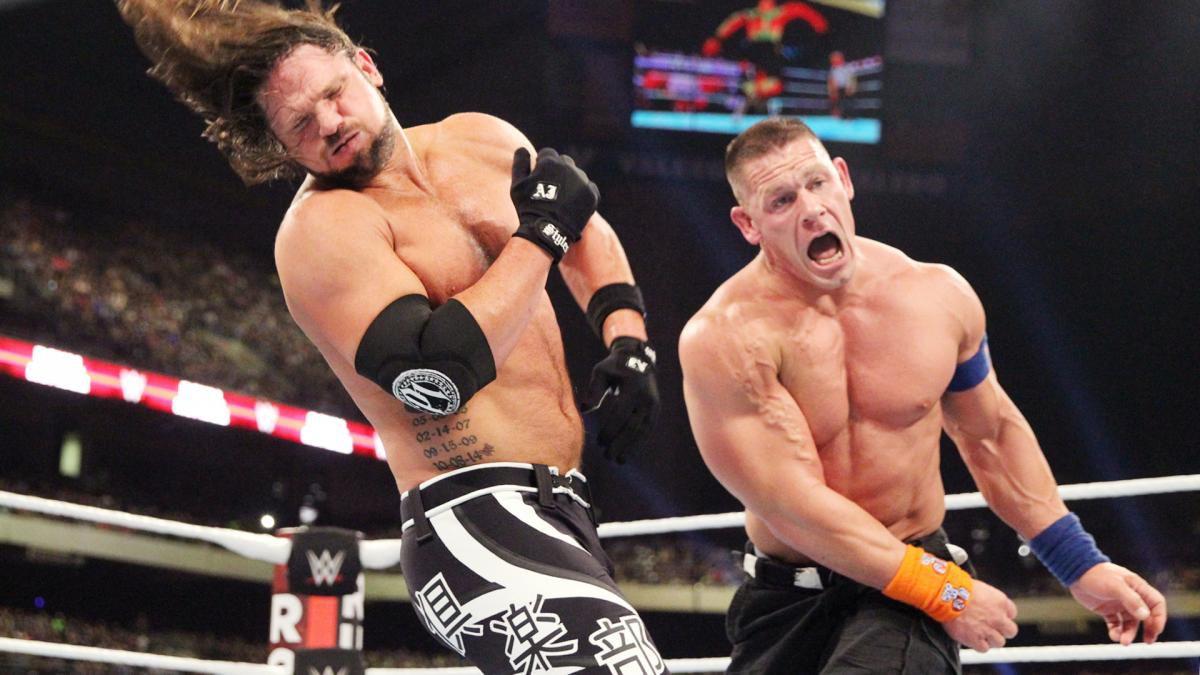 Coming from the later months of the Reality Era, Styles and Cena's first match happened just before the reemergence of the brand split. The fact that Styles was able to emerge victorious at Money in the bank, as well as Summerslam was truly a sight to behold. After guys like Wyatt and Rusev couldn't topple Big Match John, it was a relief tosee the Phenomenal One break through. AJ's subsequent WWE Championship win really kicked off the New Era with a bang, and his matches with Cena helped elevate him to that level. In the future, we may see some more between these two opposites. They really do contrast well and mesh in the ring.
3. The Shield vs. Evolution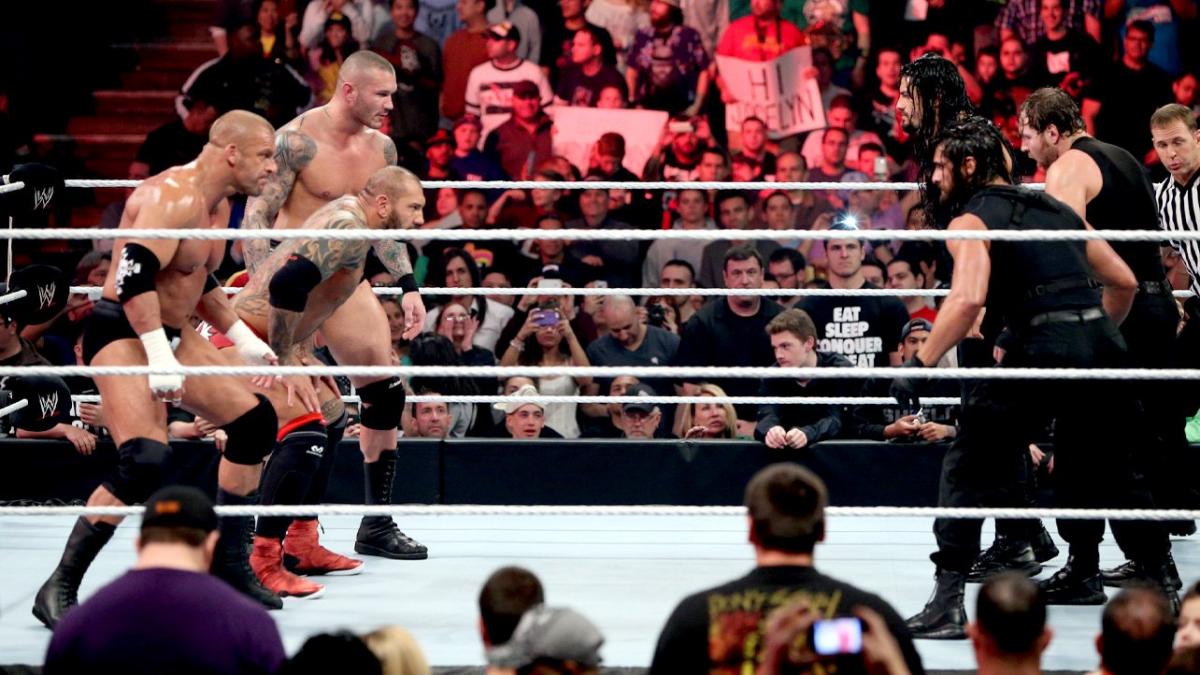 Believe it or not, there was a time when Roman Reigns was one of the favorites of the WWE Universe. Alongside his Shield brethren, he entered a war with the newly reformed Evolution (excluding Ric Flair). It was a branch off from the Daniel Bryan vs. Authority storyline, which added a layer of intrigue to their feud. The two matches the factions put on were as near the peak of faction war as we have seen since the Attitude Era. And while the Shield took both victories, one of which was a clean sweep in an elimination match, the members of Evolution never appeared weak. Fittingly enough, the night after, we witnessed the destruction of both stables.
2. Undertaker vs. Brock Lesnar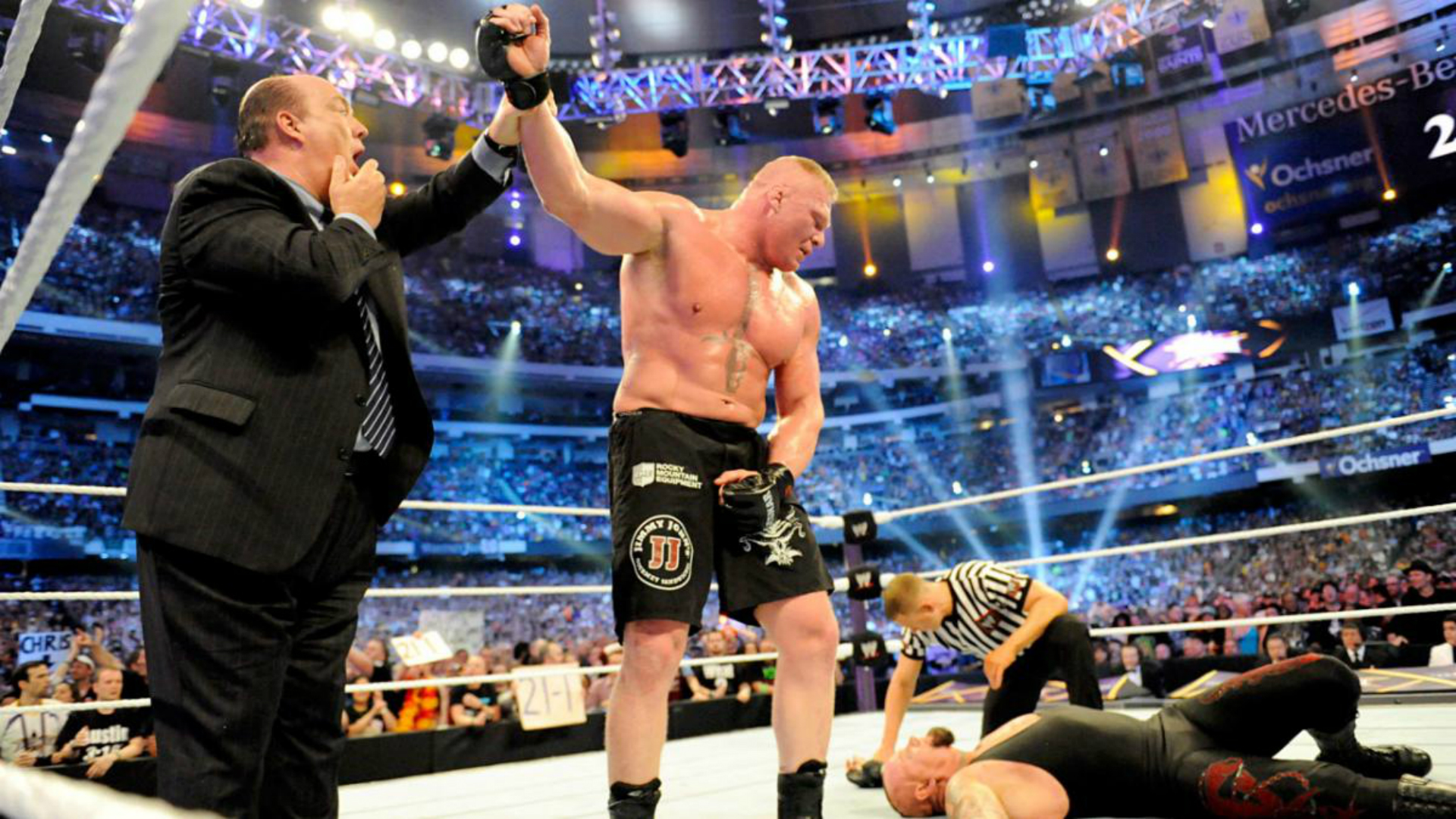 After Lesnar snapped the Undertaker's WrestleMania undefeated streak in half, we wondered if Big Evil would attempt some sort of revenge when it was clear he wasn't done in the ring. While it took a while longer than some might have desired, the feud we were given was a great showcase of the two most powerful entities of the time. The storyline continued depicting the more human side of the Undertaker and the dominance of Lesnar, two things WWE does well at representing. Despite the disappointing finish to their Summerslam encounter, the match was one of the best of the year, and their Hell in a Cell match a few months later would end up being one of the best cell matches in it's history. The story of Undertaker's revenge was already laid out, making it easy to get invested. It is regarded as the last great rivalry for both men at the moment.
1. Daniel Bryan vs. The Authority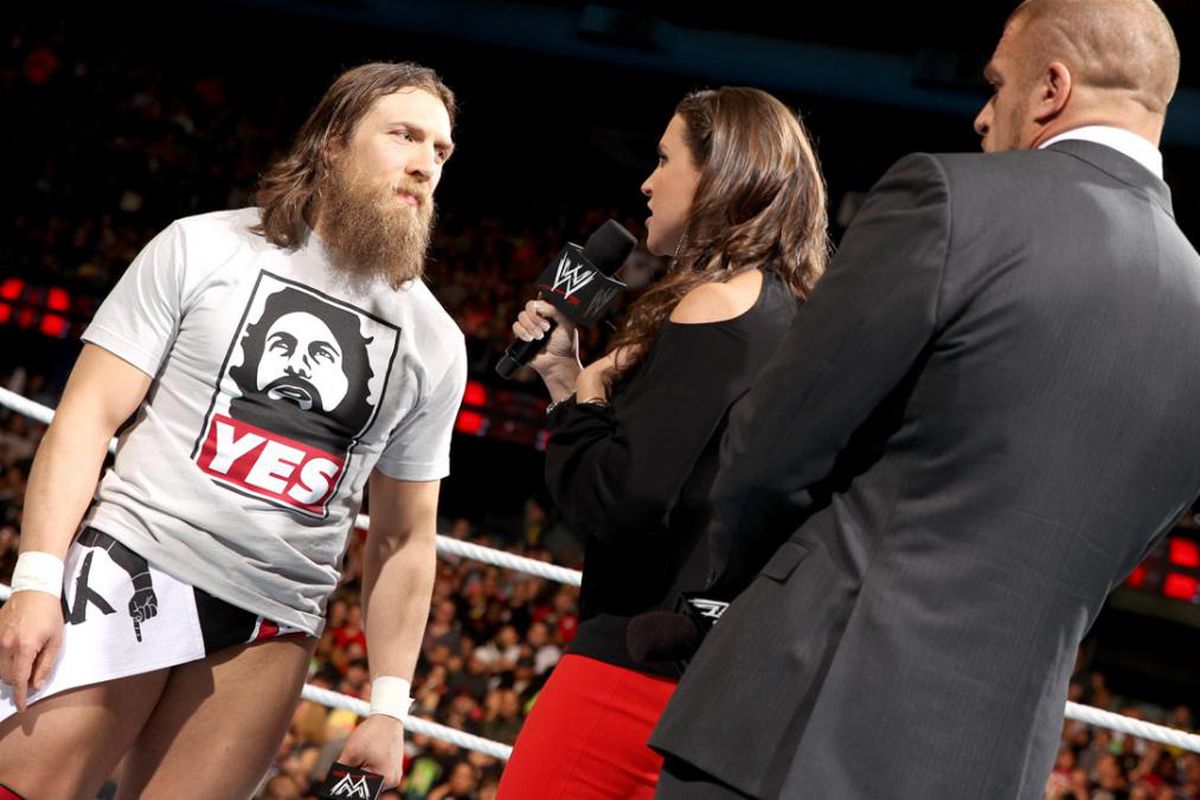 While this technically began in the PG Era with Triple's turn on Bryan and Randy Orton cashing in Money in the Bank, it ended with the birth of he Reality Era. Daniel Bryan's rise was one of the things that put the PG Era to rest. The Authority wasn't the most well received corporate stable ever, but it did what it needed, especially with Daniel Bryan. The fans had been behind him for years, and with the YES movement in full swing, it was easy to get behind him as he faced the representation of what was keeping him from the main event. This of course capped off with Bryan standing tall at WrestleMania in one of the best moments in it's history. It isn't likely we will see something of this magnitude ever again, and that makes it all the more special.
---
Always Use Your Head and visit the official Pro Wrestling Tees store for The Chairshot All t-shirt proceeds help support the advancement of your favorite hard-hitting wrestling website, The Chairshot!

---
The Underrated Files: Hakushi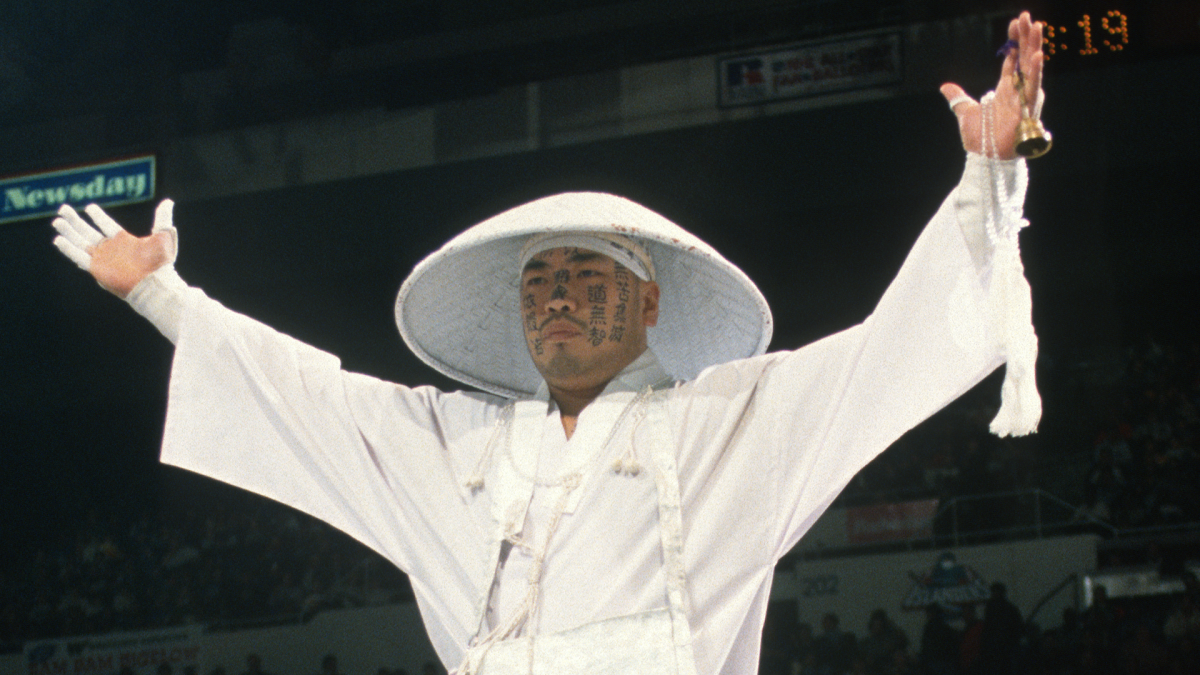 Say I wanted you to think of some WWE Superstars that came from 'The Land of the Rising Sun', Japan. Most assuredly, the most common names you or any WWE fan came up with would be Hall Of Famer Mr. Fuji, Tajiri, maybe Taka Michinoku or Sho Funaki and more recently, Shinsuke Nakamura, Asuka, Hideo Itami and Akira Tozawa. Maybe even a less-remembered man named Kenzo Suzuki and perhaps another Hall Of Famer in Tatsumi Fujinami, but one that is often forgotten about would be that of 'The Modern Day Kamikaze', 'The White Angel', Hakushi.
Born Kensuki Shinzaki in Tokushima, Japan on December 2nd, 1966, Hakushi is a former soccer player who trained in amateur wrestling while in high school, but went on to become an actor before thinking of joining the professional wrestling ranks. He received minimal success with his acting chops, which led him to pursue the squared circle in 1992 after meeting one of Japan's all-time greats, Gran Hamada. He began training under this legend, originally learning the Mexican style of lucha libre before making his pro debut under a mask. Named Mongolian Yuga for Hamada's Universal Lucha Libre promotion, a company that was the first of its kind in Japan based around the style. Shinzaki wouldn't spend much time there, leaving the promotion in 1993 to follow another Japanese legend, The Great Sasuke, as they headed to an upstart company called Michinoku Pro Wrestling.
Shinzaki would unmask and take on a new persona as Jinsei Shinzaki, a Buddhist pilgrim gimmick that really allowed him to hone his very original style, slow and meditated. Without knowing it, the gimmick also showed he had entertainment value as his entrance became just as interesting, dressed in white robes, carrying a shakujo staff and donning a hat that would be comparable to one worn by Raiden of the Mortal Kombat games.
He was a silent heel and would feud against the aforementioned Great Sasuke, but the intrigue of his character would lead to people getting behind him. This unforseen change caused a babyface turn to help his now-former rival. In 1994, Shinzaki wrestled on a World Wrestling Federation tour of Japan, catching the right eyes. The upstart quickly found himself being offered a contract in what could be considered unusual for a man who had only been competing roughly two years.
In late 1994, he would arrive in the WWF using the same gimmick, but under his new name Hakushi, meaning "White Master". He added Buddhist shakyo text all over his body (which referenced a famed Japanese tale and folk character, Hoichi the Earless) and Hakushi would receive a solid push upon his entry to the United States. The going was good early, picking up victories with the help of his new manager Shinja over jobbers like Matt Hardy, as well as mid-card talents such as Aldo Montoya and The 1-2-3 Kid. He was something that fans in America had never seen before, a mixture of lucha libre and what would be known today as strong style, showing off his athleticism with awe-inspiring moves like an Asai moonsault or a back handspring moonsault over the top rope to an opponent on the floor. Hell, he was even the first man I saw execute a bronco buster, although it didn't have the same kind of connotation it would have later on during the Attitude Era. Additionally, he brought the wrestling style known as lucharesu to the WWF, which saw him not use one single finishing maneuver, but would imply a variety of moves that could end a match.
'The White Angel' would have a brief alliance with the masked Superstar Kwang (Savio Vega) before turning on him, then would embark on his most notable rivalry in the WWF against the legendary Bret 'Hitman' Hart. If you ever saw 'The Excellence of Execution' and Hakushi go one-on-one, those matches still hold up to this day and even Bret himself has credited 'The Modern Day Kamikaze' as being innovative and very technically sound. Unfortunately, Hakushi would generally come out on the losing end of those confrontations and for one reason or another, he never saw the same success. He would move on to a feud with perennial jobber Barry Horowitz, even shockingly losing a match to him in what I remember being a surprising move, even as a 9-year old. Hakushi would never reach the heights he once saw with his matches against 'The Hitman' and would eventually leave the company in 1996 when his contract expired.
It's not really known what exactly happened or why Hakushi was not more of a player in the WWF, as he was supremely talented and still a relatively young man at the time of his departure. I have previously covered a number of classic WWF pay-per-views, which is where I gained a newfound respect and appreciation for not only Hakushi's character, but also what he could do in the ring given the time period. I've always been a fan of characters that were a little darker like The Undertaker or Bray Wyatt, but perhaps he was too far ahead of his time to be fully appreciated by the company or fans alike.
I would highly recommend looking up some of his work. You might end up saying, "Wow, did you see that?!", or possibly wondering, "How did this guy not get a longer stint?". I'd also argue that if he could time travel to today's current wrestling landscape, I probably would have had a lot more to write about.
---
Always Use Your Head and visit the official Pro Wrestling Tees store for The Chairshot All t-shirt proceeds help support the advancement of your favorite hard-hitting wrestling website, The Chairshot!

---
SAnitY To WWE Smackdown Isn't Special Without Nikki Cross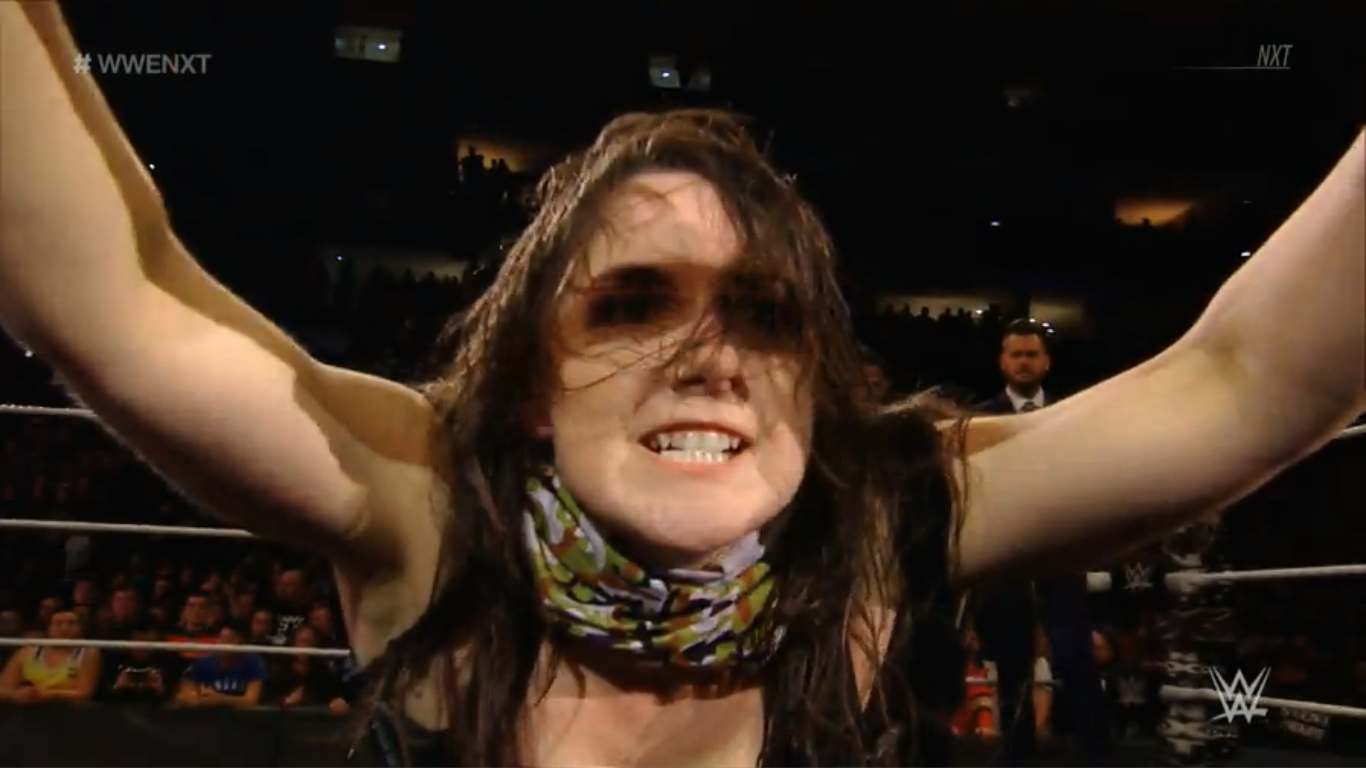 The WWE's (apparently) annual superstar shakeup went down earlier this week, and both Monday Night Raw and SmackDown Live! was chock full of surprise returns and shocking debuts. From Drew McIntyre showing up alongside Dolph Ziggler on the red brand to Samoa Joe taking the blue brand by storm, it was a fun way to finally wind down after the road to WrestleMania and the Show of Shows itself.
It has been assumed for months now that SAnitY would be called up from NXT following the Showcase of the Immortals, and those assumptions proved to be true. While the stable hasn't physically debuted yet, they were given a vignette on SmackDown, teasing their eventual appearance on the show.
It doesn't take a particularly astute observer to notice that someone is missing from the group. While Killian Dain, Alexander Wolfe and Eric Young are all advertised, Nikki Cross is nowhere to be found.
Which is a shame, because she's a huge reason for what makes the group tick in the first place.
Without Nikki Cross, SAnitY is just three angry dudes promising to bring "chaos" to Tuesday nights. Gee, where have we seen that before? The Shield reunion was derailed by a series of unfortunate events, but we're just a few months removed from being reminded of the destruction that trio caused upon arrival.
The existence of one three-man stable obviously doesn't mean another can't join the fray as well, but is there even enough of a difference between SAnitY's schtick and what the Bludgeon Brothers have been bringing to the table on a weekly basis since their debut?
A warning for @WWEUsos? #SDLive #BludgeonBrothers pic.twitter.com/e0YKfH8WYT

— WWE Universe (@WWEUniverse) April 11, 2018
Remember, we saw similar vignettes building up Harper and Rowen as men who existed simply to watch the world burn. Their verbiage was a bit less direct, sure. But at the most basic of levels, SAnitY and the Bludgeon Brothers both seem to desire the same things. A fact that will be much tougher to hide on a two-hour show.
Young is a strong promo, but can his words differentiate SAnitY from Harper and Rowen on the main roster with a crowd that might not be familiar with their NXT work? Time and time again, we've seen that what happens on the yellow and black brand rarely translates or matters on Monday or Tuesday.
What makes SAnitY special?
The answer to that question prior to that vignette airing was Nikki Cross, without question.
Her kinetic energy radiated from the ring as she bounced off of Wolfe and jumped onto Dain's back while Young delivered his cryptic promos. Watching this 5-foot-2, 118-pound cannon ball ricochet from ring rope to ring rope while her (much) larger counterparts trodded along was a huge part of the group's appeal.
Cross comes across as out-of-this-world crazy as she bites into the ring ropes and laughs vindictively as her brothers in arms raise hell in the ring. Without her in the mix, SAnitY runs a very real risk of simply becoming the Wyatt Brothers part deux. The WWE has never really known what to do with Bray Wyatt and his over-the-top but incredible promo abilities.
Why should we have faith that they'll be able to get Eric Young and the rest of SAnitY right? There's no denying that all three of these guys can go — Dain, in particular, seems to be a main roster mid-card star in the making — but that's not enough on the WWE's main shows.
Shinsuke Nakamura, Finn Balor and Bobby Roode are also great wrestlers in their own rights but went through some legit growing pains once arriving on the main roster. Balor is arguably the biggest star NXT has ever promoted, and he's just now starting to find his footing.
Cross, who could have made SAnitY unique right out of the gate, was unfortunately left in the proverbial minor leagues to pursue a rivalry with Shayna Baszler. Those two will put on some highly physical matches, and maybe it'll be good for Cross to get some reps on her own.
But there's only one chance to make a first impression, and the WWE badly gimped SAnitY by stripping them of their most special commodity: Nikki Cross.
---
Follow @theCHAIRSHOTcom on Twitter to keep up with all the latest wrestling news, opinions and more!
---
Always Use Your Head and visit the official Pro Wrestling Tees store for The Chairshot All t-shirt proceeds help support the advancement of your favorite hard-hitting wrestling website, The Chairshot!

---