Top 5 Ways I Was Wrong At WrestleMania 34 (And The One Way I Was Really Right)
WrestleMania 34 is in the books, and it is sure to go down as one of the most polarizing shows in WWE history. Given the nature of the WWE product lately, that might be the feel they were going for. As an analyst covering the product, I of course made some predictions. On the big ones, I was dead wrong. Except for that one—and it's a doozy.
What were they? Let's take a look at the my Top 5 "Wrongs" from WrestleMania 34, and the big one that I got "right."
(I put them in quotes because I don't mind being wrong—it's more fun that way. But I do like getting the major one right.)
---
I told you The Undertaker would most definitely not wrestle at WrestleMania 34
In hindsight, I am okay with it. But I did not expect The Undertaker to compete at WrestleMania 34, not against John Cena or anyone for that matter. In fact, I didn't expect The Undertaker to wrestle anyone, anywhere, ever again.
And I was dead wrong.
(Pun basically intended.)
The Undertaker came back at WrestleMania 34 and squashed John Cena. It was the second major squash of John Cena's career, and it was really beautiful. John Cena was informed that The Undertaker was at WrestleMania, so he had to leave his seat in the crowd and run to the back (upstaging a major moment a little, but we'll get to that).
Later in the show, Cena returned to call out The Undertaker, but he didn't show. Again. Instead we got Elias, who Cena disposed of. At this point I expected The Undertaker to come "rollin'" down the stage, but it didn't happen. Cena's music played, and he left. Except he didn't get all the way up the ramp before his music stopped. And he didn't get a chance to do much before it went dark. And it wasn't dark long before The Undertaker's coat and hat were once again left in the ring.
And lightning struck, and it was gone.
What followed was the typical entrance from The Undertaker, which was apparently enough for Michael Cole to inform us that The Undertaker accepted John Cena's challenge. It was indeed a match, and The Undertaker did indeed dispatch of John Cena with relative ease.
The Undertaker looked better than he looked at WrestleManias 30 and 33, both of his lone WrestleMania losses. It appears that the hip surgery worked out well enough, and The Deadman is back.
What does my "wrongness" lead to? I think it's easy to assume it's a WrestleMania 35 showdown with John Cena—a proper showdown with a proper build. I also expect The Undertaker to be an entrant in the Greatest Royal Rumble.
Why did The Undertaker leave his gear in the ring at WrestleMania 33? I can't answer that question. My best educated guess is that it was a "just-in-case" as his status was likely up in the air due to his surgery. Once it went well enough, they told the story they told—and to me it worked in the end.
I told you Roman Reigns would most definitely beat Brock Lesnar at WrestleMania 34
Look, I am not alone in this one. Almost everyone told you Roman Reigns was going to beat Brock Lesnar at WrestleMania 34. But I was sure of it.
I was so sure of it that I went so far as to say that Brock Lesnar should have won at WrestleMania 31, holding the title for over three years and finally losing it to Roman Reigns in their New Orleans rematch.
None of that happened. Brock Lesnar and Roman Reigns gave you an amazing fight that you likely don't appreciate enough, and then Roman literally bled for the company. Roman Reigns was the complete embodiment of this storyline, and he was proven right. "Vince's Boy" won.
What does that mean? Well honestly it means a heel turn, but that's another article that comes out later today!
For now, just bask in the fact that I couldn't have been more wrong about this one. Brock Lesnar shocked the world and left WrestleMania 34 still your WWE Universal Champion.
I told you AJ Styles and Shinsuke Nakamura would deliver a match worthy of being called a WrestleMania main event
Outside of the waste of space that was the Kickoff, this match was easily the most disappointing of the night. For a "Dream Match," this was a nightmare.
I've seen people blame the crowd, but watch this match with the sound muted. It was an okay match, many many many notches below what you'd fairly expect from AJ Styles and Shinsuke Nakamura.
The payoff to this match was…a nutshot? At that point the nutshot was somewhat satisfying because it finally made me care about the match. But what about the 20+ minutes that came before it? Not good.
These two are capable of more. They've given us more in the Tokyo Dome. They did not deliver at WrestleMania.
(I was right about AJ winning btw. Check our staff predictions!)
I told you Rusev had to win the United States Championship to put a lid on the "Rusev Day" chants
Rusev Day is obviously over. Is Rusev? I am not so sure.
But I firmly believed that if you added Rusev to the United States Championship Match, he had to win it. I mean, why else do you add him?
I figured the win for Rusev would put the kibosh on the Rusev Day chants, and I was wrong. He didn't need to win at all!
Jinder Mahal, the guy who I wanted to win all along, did win. And we didn't hear another Rusev Day chant for the rest of the night. I guess the fans still got it out of their system.
At least the IWC's resident Jinder Mahal apologist still have his champion, right?
Honorable Mentions
I told you The New Day was finally getting their WrestleMania Moment. Instead, they jumped the shark (even for them) and it's finally time to put the gimmick to rest.
I told you Shane McMahon was obviously turning on Daniel Bryan, with a Bryan turn as a potential back-up claim. That allows Kevin Owens and Sami Zayn to win, right? Nope—none of that happened.
I told you Finn Balor was the only choice to leave WrestleMania 34 as the Intercontinental Champion
Yep, unequivocally I said that Finn Balor must win the Intercontinental Championship at WrestleMania 34.
The reasons were obvious:
Seth Rollins was headed to Smackdown to carry the blue brand along with AJ Styles.
The Miz was moving onto the main event scene, likely to feud with Roman Reigns over the Universal Championship (which Reigns was obviously winning, right???).
Well I was wrong. Balor didn't win, and Rollins doesn't seem to be headed to Smackdown. Instead, Seth Rollins adds his name to the WWE's Grand Slam Champions by capturing the Intercontinental Championship at WrestleMania.
So that's bad, right? I had a terrible WrestleMania, but I got something very big, very right.
---
I told you Charlotte Flair was going to defeat Asuka, end her Streak, and retain the Smackdown Women's Championship
I didn't even have a hard time making this decision. Asuka's mystique was definitely infectious, but it wasn't such that she couldn't possibly lose. And her Streak was impressive, as any streak is, but most of it was compiled in NXT, canon that's largely ignored on the main roster.
The biggest part of Asuka's Streak was always going to be the end, and it almost seemed appropriate that the WWE created a streak so they could end it in New Orleans.
That's exactly what happened, and exactly what I said would happen.
Charlotte Flair is wrestling royalty by birth, but WWE is building up her career to match that birthright. And it's not changing anytime soon.
If women are going to main event WrestleMania in the next few years, it's not going to be because of Asuka. It's going to be because of Charlotte Flair, and a step in that direction was her being the one to end Asuka's streak.
---
Sound off in the comments and let me know how you were wrong (and right) about WrestleMania 34. You can also hit me up on social media @ChairshotGreg.
Andrew's Impact Wrestling Ratings & Analysis 4/19/2019
Impact Wrestling's penultimate show leading toward Rebellion! Andrew goes through the show and lends his analysis! How was the show?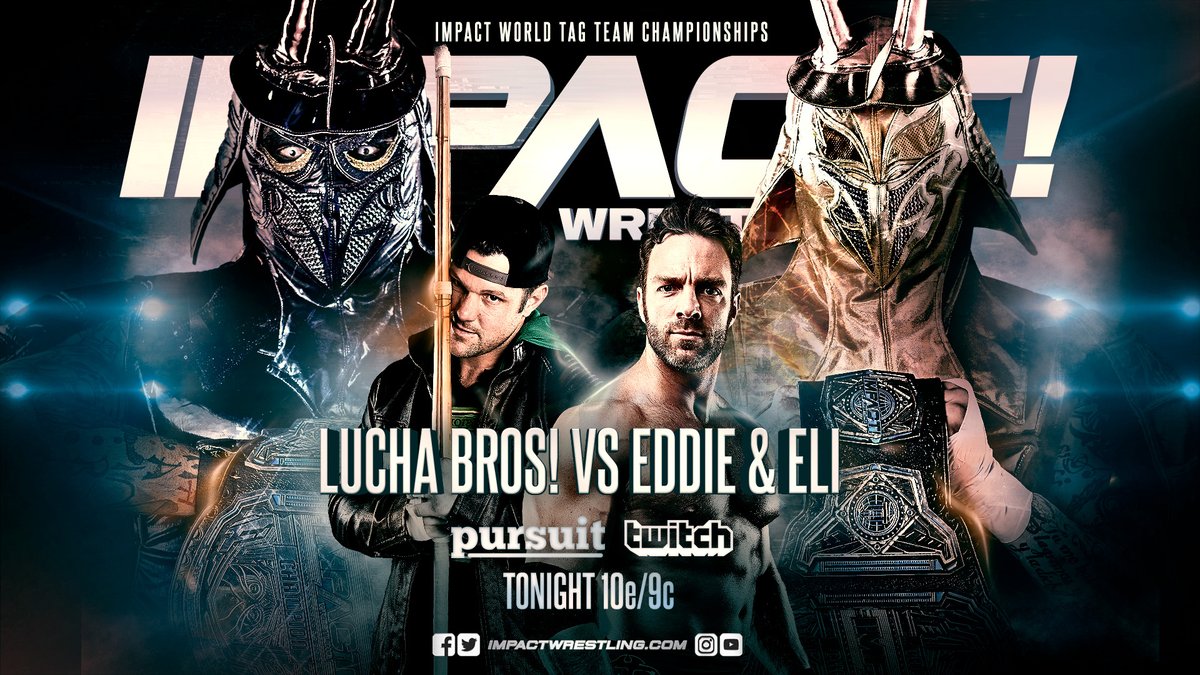 Impact Wrestling's penultimate show leading toward Rebellion! Andrew goes through the show and lends his analysis!
Scarlett and Fallah debut as a tag team today! Tessa and Gail's story continues to bubble up and Eddie Edwards & Eli Drake get their shots at the Tag Team titles!
The whole oVe story and Rich Swann continues as Tommy Dreamer apparently is getting sacrificed to Madman Fulton. Are we about to watch a murder?
.@THETOMMYDREAMER has fought bigger, fought more dangerous and he will get violent on @FultonWorld TONIGHT! #IMPACT

WATCH NOW – https://t.co/jyZYT6QL46 pic.twitter.com/ce3ctkWfU1

— IMPACT (@IMPACTWRESTLING) April 20, 2019
Ratings:
Scarlett Bordeaux & Fallah Bahh vs Desi Hit Squad: Scarlett wins via Tandem Banzai Drop – * 1/2
Moose vs Dez: Dez wins via Body Scissors Cradle – ** 1/4
Madman Fulton vs Tommy Dreamer: Fulton wins via Lifting Reverse STO – ** 1/2
Madison Rayne vs Taya Valkyrie: Rayne wins via Roll-Up – N/A
IMPACT Tag Team Titles: Eddie Edwards & Eli Drake vs Lucha Bros (c): Lucha Bros retain via Spike Fear Factor – ***
Analysis:
Okay let's be serious for a minute. This wasn't a great match, but it was entertaining. The crowd enjoyed singing along to Scarlett's music, Fallah did most of the work since the Hit Squad didn't want to interact with Scarlett at first. Amusing spot was after Raj got hit with a Stink Face from Scarlett, Rohit pulled him out and sat in the corner asking for the Scarlett Stink Face. They pulled the bait and switch since she told him to close his eyes. Scarlett jumps on Fallah's back and Tandem Banzai drop with Scarlett pinning Raj was the finish. It was amusing, not a great match, but told a story and was entertaining.
Step aside Rocky, this is the greatest training montage of all time. #IMPACT @CodyDeaner @JakeSomething_ pic.twitter.com/ShPGqXV6ga

— IMPACT (@IMPACTWRESTLING) April 20, 2019
A couple backstage segments with Lucha Bros and Eli & Eddie hyping the tag match. Eddie is still imbalanced singing "We are the three best friends" song, of course referencing Kenny the kendo stick as the third.
The final leg of Moose's revenge against the Rascalz. Moose took the match lightly, and controlled the majority of the match. Lawn Darting Dez into the corner was cool. Hell Dez tried to do a Dragonrana on the outside, Moose caught him smooth as butter and then smashed his head into the steps, before throwing him into the other Rascalz. After rolling him back in, the other Rascalz get involved for the first time and allow Dez to roll through with a Body Scissors into a Cradle.
After the match we see Rosemary and Kiera Hogan arguing. Kiera says as long as there's two of them, two of them will fight Su Yung. So Rosemary proceeds to beat the crap out of Kiera and choke her with the chain leash that held the Bunny before she was killed in the Undead Realm. Yes, I know what I just wrote.
GWN Flashback Match: Tag Team Title 5150 Street Fight: LAX vs OGz, Slammiversary 7/22/2018
After the flashback we get a decent length segment of Tessa going to one of Robert Irvine's restaurants where she runs down Gail, says she's most famous for screwing a famous chef. Then she proceeds to terrorize different people all while looking for Robert Irvine. She doesn't find him, has some interesting lines, and she sells things well. Not everyone acts well in the segment, but it wasn't completely awful. A few amusing moments.
Not really sure why Madman and Dreamer are in a non-Hardcore match. It's an alright match. Dreamer gets most of his offense in when Fulton takes too long to go to his next move. After hitting the DDT, Dreamer goes out to get a kendo stick…in a normal match, misses and Fulton hits a Reverse Lifting STO (think Corbin's End of Days). Not sure what Fulton is calling it, but that was the end. Then a brawl between oVe and the rest of Dreamer's little rag tag team of Willie Mack and Rich Swann.
Taya ran down Canada, said she wasn't gonna do the match, but Madison jumped her before she could leave. Then after surviving the initial flurry, Taya tries to powder out, but Jordynne Grace throws her back in. Taya is mad and distracted, School Girl Roll-Up. So nothing to rate, but I guess this is comeuppance for one half of the douchey championship couple.
.@LanceStorm will be the special referee for @TheRealMorrison vs. @MrGMSI_BCage Rebellion main event! #IMPACT pic.twitter.com/LUss9Sl3J9

— IMPACT (@IMPACTWRESTLING) April 20, 2019
Interesting match even though it felt to be less than 10 minutes long. Lucha Bros start fast and spotty, but eventually Eddie and Eli slow it down. LAX tries to cost Lucha Bros the match, but they fail. Eddie tries to throw Kenny to Eli, but Eli misses. Eddie gets wiped out and they pin Eli with the Spike Fear Factor. Afterwards Eli turns on Eddie and beats him with Kenny.
Overall Score: 6/10
Above average. Not a bad show, but it definitely felt like an episode to try and put more focus on the smaller stories. Lance Storm getting involved in the main event story does add a little more star power. Given that D'Amore insulted Cage before the confrontation, it makes me wonder where management's feelings lie.
So again, the show wasn't exactly a blow away, but there were plenty of entertaining moments. Ideally next week should finish the hype for Rebellion, and I'm really hoping Rebellion returns to the good wrestling form that Redemption and Slammiversary had last year.
Carol: Is Lacey Evans The Right Opponent For Becky Lynch?
Lacey may have The Woman's Right, but is she the right opponent for Becky? Carol explores the question.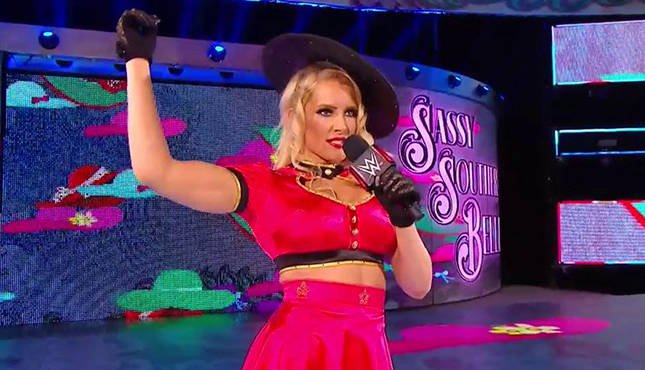 Lacey may have The Woman's Right, but is she the right opponent for Becky? Carol explores the question.
It's been one week since Becky Lynch won both the RAW and SmackDown Women's Championships at WrestleMania. But Lynch doesn't have time to rest because she's getting ready to defend her titles against Lacey Evans.
Evans being the championship contender has caused mixed reactions with fans.
So I have to wonder, is Lacey the right contender for Becky Lynch?
I can see why fans are upset with Evans being Becky's first opponent. Since Becky is the top star of the women's division and fans would expect her first title defense to be with another big star such as Sasha Banks or Bayley.
I can see Becky feuding with someone like Sasha or Bayley, but their match would be saved for a bigger PPV such as SummerSlam. In the meantime, Becky will have to be put in a filler feud and Lacey Evans is her first opponent.
I don't watch NXT so I'm not familiar with Lacey's in-ring work, although I do know about her gimmick. Since arriving on the main roster, Lacey hasn't competed much in the ring. The only thing she does is walk down the ramp like a runway model in the middle of a match.
This past Monday on RAW, Lacey competed in her first match on the main roster when she fought Natalya.  While the match was short, it did give the WWE Universe a chance to see Lacey's wrestling ability. Lacey showed that she has a lot of strength when it comes to wrestling, but is that enough to make her a worthy championship contender.
Reports say that WWE views her as a future star in the women's division. She fits the mold of WWE's women wrestlers, so it's not surprising they want to push her. But are they pushing her too fast by having her challenge Becky Lynch for the Women's Championships?
It would be best to slowly build up Lacey's character until she's able to prove why she's championship caliber. But at the same time, a Becky Lynch feud could be just the thing to get the WWE Universe interested in the wrestler.
Becky's the biggest star of the women's division and anyone who has a feud with her is sure to gain a lot of attention. If WWE is adamant about making Lacey a star, a championship match with Lynch could be thing to get her push started.
While some fans are hesitant about Lacey Evans and Becky Lynch's feud, this is a big opportunity for both ladies.
For Evans, she'll have to prove to fans and WWE officials that she has what it takes to be a big star in the women's division. As for Lynch, she's worked hard to earn her spot as the top star in WWE. After a successful win at WrestleMania, she's going to have to continue her momentum going to keep her spot as champion and leader of the women's division.
Of course, WWE's booking will play an important role in this feud. But if booked right, Lacey and Becky could both come out of this feud looking strong.