Another year, another WrestleMania failure for the Big Dog. We've seen Roman Reigns in the last four WrestleMania main events. He's 2-2, and the two wins didn't exactly set the world on fire.
Sunday seemed tailor-made to be Roman's day. He'd spent the last month getting beat up by Brock Lesnar. The Beast's contract status was unknown, but everybody thought it was a moot point. WWE had built to this moment for four years, apparently. Brock Lesnar had become an unstoppable monster so Roman Reigns would stop him & fully take his seat on top of the WWE mountain. It seemed pretty obvious. Until it didn't happen.
A couple lines of thought have emerged in the days after. One is that Brock will drop the title to Roman in Saudi Arabia at the Greatest Royal Rumble Ever. The other is that Brock will hang on to the title long enough to pass CM Punk's 434 days as WWE Champion. It's kind of silly, but makes sense if you look at things from WWE's logic.
Neither does much to help Roman Reigns. But if we're being honest, it's nothing new. Reigns has his flaws, but he also has a lot of positives. As much as WWE wants him to be The Guy, they seem to be the main thing getting in the way. One of the main things Jeremy Lambert & I have noticed on our Arc of Wrestling podcast is WWE's inability to close the deal with Reigns, even when it's right there.
Here are the Top 5 Worst Roman Reigns Booking Decisions.
5. WrestleMania 33: Good Idea, Bad Timing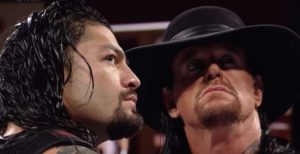 If one good thing came from Reigns' match with the Undertaker, it's that WWE figured out that the Dead Man can't be working over twenty minutes anymore. His performance here against Reigns actively kept the Big Dog from getting the rub he was supposed to get out of it. Hindsight being 20/20, they probably should have had Reigns squash him in five minutes.
Yes, it would have gotten a bad reaction. But it got a bad reaction anyway, so it's not like they could have made it much worse.
4. Royal Rumble 2015: Even The Rock Can't Save This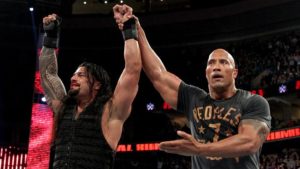 One year prior, Roman Reigns had never been more over. One of the side effects of Daniel Bryan being left out of the Royal Rumble & Batista being the obvious winner of the match was the fans getting behind Reigns towards the end of the match. He had eliminated a ton of guys & looked good during the match, so the crowd had no problem getting behind him in hopes that there would be a surprise winner.
By the time 2015 rolled around, Roman Reigns was anything but a surprise winner. The fans still wanted Daniel Bryan, who was actually in the match this time. His elimination early on led to everybody getting booed, especially Reigns. Even the Rock couldn't turn the fans when he came down to rescue Reigns from a Kane & Big Show beatdown.
Reigns was the victim of circumstance here, but it could easily have been avoided if WWE had any kind of an idea of what their audience wanted in that match. They forged ahead with the plan anyway, and it seemed like they were ready to crown Roman Reigns.
3. WrestleMania 31: Rollins Takes Reigns' Moment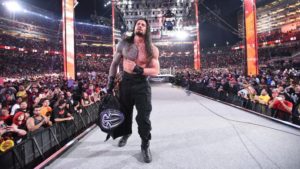 I'll get in trouble for listing this one. Greg DeMarco & others often cite Seth Rollins' Money in the Bank cash-in at the end of WrestleMania 31 as one of the all-time great WrestleMania Moments. Indeed, it was exciting & somewhat unexpected to most.
But what did it do for Roman Reigns? Nothing good. It was one of the first instances of WWE being afraid to fully pull the trigger on their golden boy. They pressed through the Royal Rumble. At FastLane they had Bryan put Reigns over. In the leadup to WrestleMania, you had Bryan & Paul Heyman both laying the Reigns praise on real thick. If you're going to press against fan reaction to that degree, you might as well go through with the story & not half-ass it.
What Rollins' win did above all else was further the perception that Roman Reigns couldn't get it done when it really counted.
2. Survivor Series 2015: Sheamus 5:15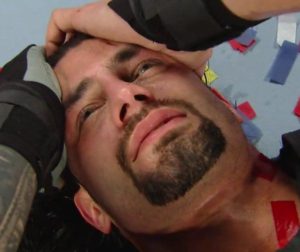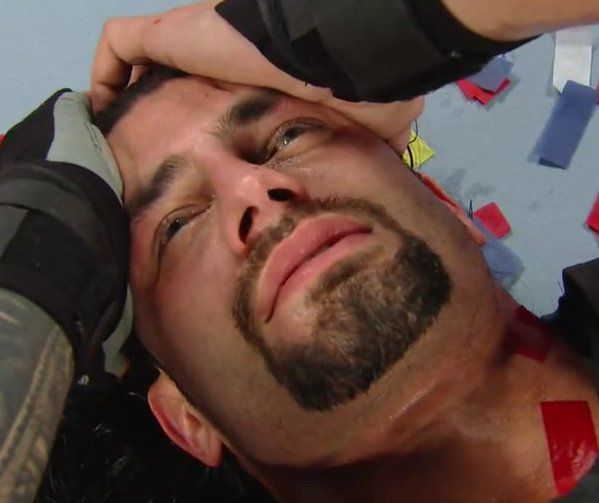 The first world championship victory should be a crowning achievement for a top guy. We still remember Hulk Hogan toppling the Iron Sheik in Madison Square Garden. The Austin Era began in Boston when Shawn Michaels' career ended for the first time. Even though John Cena's first title win went on before Batista's at WrestleMania 21, he still got the rub from ending the then record-setting reign of John "Bradshaw" Layfield, who had pissed everybody off for months. People wanted to see him lose to anybody.
Roman Reigns' first WWE Championship victory should have been along the lines of these memorable moments. He should have been the ever popular babyface getting the big win to shut up people the fans detested. Instead, he defeated the more popular Dean Ambrose in a tournament final and then decided to beat up Triple H during his victory celebration. Sheamus came in, cashed in his Money in the Bank briefcase, and Roman's first world title reign was over in 5:15.
People attempted to defend this by pointing out that Daniel Bryan's first WWE Championship reign ended in similar fashion at SummerSlam 2013. (It wasn't Bryan's first world title reign, but that didn't stop the comparisons.) The reaction to Bryan getting screwed was surely what WWE brass were hoping for here, but Roman Reigns & Daniel Bryan are two entirely different animals. Bryan's appeal lies in being the over-matched underdog that has to fight through endless adversity before rising up and overcoming it all. More importantly, he was perceived as somebody that Vince McMahon & the rest of the higher-ups didn't want as champion, and the SummerSlam result & the results the months afterwards just made the story even more believable. He was considered an underdog on & off-screen.
Roman Reigns is the complete opposite. He's at his strongest with the fans when he's running over everybody in his path & nobody can do anything to stop him. He's not good at getting sympathy. Nobody ever feels sorry for him. Cutting his title reign short here just gave him the vibe of being a choke artist. They made it even worse by having him cry afterwards. It didn't make him more sympathetic, it made him a crybaby.
1. Royal Rumble 2016: Takes Half The Match Off, Still Loses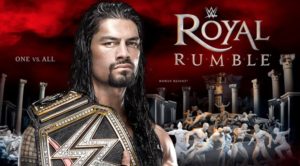 It was going to be One vs. All. Roman had eventually gotten the WWE Championship out of the hands of Sheamus, and Triple H was mad. He decided that Reigns was going to defend the championship in the Royal Rumble, and that the Big Dog was going to be the first entrant.
Sounds good, right? Roman had some pretty heavy odds to overcome. There were a number of ways it could go…
-Reigns could last the entire match & win
-The Big Dog could last the entire match & come up just short
-He could get screwed early on & have a reason for a rematch later.
They decided to combine 2 & 3. The illustrious League of Nations stable came out & attacked Reigns early in the match, beating him up & putting him through a table. Of course, they forgot to throw him over the top rope, which enabled Reigns to come back 30 minutes later, showing no real signs of distress. He didn't even go off on a stretcher or anything like that. Reigns walked to the back after his beatdown, trying to portray a tough guy…that was walking off from a fight.
He didn't even win! Triple H came back to active competition at #30 & overcame all odds to become a 14-time World Champion. The idea here was to have Triple H use his ultimate heeling abilities to put Roman over at WrestleMania. Roman went over, but the feud did nothing to help him & only resulted in more boos.
Defenders of Reigns' timeout during the Rumble compare it to Stone Cold Steve Austin's similar stint out of action during the 1999 Royal Rumble. Austin at least went off in an ambulance after taking a beatdown from Vince McMahon's Corporation, and drove the ambulance back to the building. When he no-sold something, he did it in style. Reigns did the lazy man's version of Austin's comeback attempt.
Shocking that the lazy version of Stone Cold Steve Austin booking didn't get over the same way.