Top 5: Worst Roman Reigns Booking Decisions
Another year, another WrestleMania failure for the Big Dog. We've seen Roman Reigns in the last four WrestleMania main events. He's 2-2, and the two wins didn't exactly set the world on fire.
Sunday seemed tailor-made to be Roman's day. He'd spent the last month getting beat up by Brock Lesnar. The Beast's contract status was unknown, but everybody thought it was a moot point. WWE had built to this moment for four years, apparently. Brock Lesnar had become an unstoppable monster so Roman Reigns would stop him & fully take his seat on top of the WWE mountain. It seemed pretty obvious. Until it didn't happen.
A couple lines of thought have emerged in the days after. One is that Brock will drop the title to Roman in Saudi Arabia at the Greatest Royal Rumble Ever. The other is that Brock will hang on to the title long enough to pass CM Punk's 434 days as WWE Champion. It's kind of silly, but makes sense if you look at things from WWE's logic.
Neither does much to help Roman Reigns. But if we're being honest, it's nothing new. Reigns has his flaws, but he also has a lot of positives. As much as WWE wants him to be The Guy, they seem to be the main thing getting in the way. One of the main things Jeremy Lambert & I have noticed on our Arc of Wrestling podcast is WWE's inability to close the deal with Reigns, even when it's right there.
Here are the Top 5 Worst Roman Reigns Booking Decisions.
5. WrestleMania 33: Good Idea, Bad Timing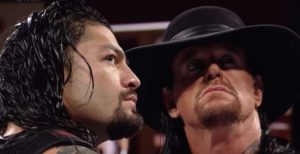 If one good thing came from Reigns' match with the Undertaker, it's that WWE figured out that the Dead Man can't be working over twenty minutes anymore. His performance here against Reigns actively kept the Big Dog from getting the rub he was supposed to get out of it. Hindsight being 20/20, they probably should have had Reigns squash him in five minutes.
Yes, it would have gotten a bad reaction. But it got a bad reaction anyway, so it's not like they could have made it much worse.
4. Royal Rumble 2015: Even The Rock Can't Save This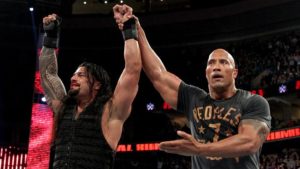 One year prior, Roman Reigns had never been more over. One of the side effects of Daniel Bryan being left out of the Royal Rumble & Batista being the obvious winner of the match was the fans getting behind Reigns towards the end of the match. He had eliminated a ton of guys & looked good during the match, so the crowd had no problem getting behind him in hopes that there would be a surprise winner.
By the time 2015 rolled around, Roman Reigns was anything but a surprise winner. The fans still wanted Daniel Bryan, who was actually in the match this time. His elimination early on led to everybody getting booed, especially Reigns. Even the Rock couldn't turn the fans when he came down to rescue Reigns from a Kane & Big Show beatdown.
Reigns was the victim of circumstance here, but it could easily have been avoided if WWE had any kind of an idea of what their audience wanted in that match. They forged ahead with the plan anyway, and it seemed like they were ready to crown Roman Reigns.
3. WrestleMania 31: Rollins Takes Reigns' Moment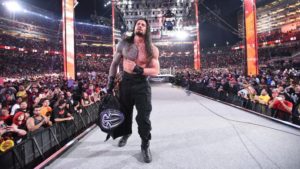 I'll get in trouble for listing this one. Greg DeMarco & others often cite Seth Rollins' Money in the Bank cash-in at the end of WrestleMania 31 as one of the all-time great WrestleMania Moments. Indeed, it was exciting & somewhat unexpected to most.
But what did it do for Roman Reigns? Nothing good. It was one of the first instances of WWE being afraid to fully pull the trigger on their golden boy. They pressed through the Royal Rumble. At FastLane they had Bryan put Reigns over. In the leadup to WrestleMania, you had Bryan & Paul Heyman both laying the Reigns praise on real thick. If you're going to press against fan reaction to that degree, you might as well go through with the story & not half-ass it.
What Rollins' win did above all else was further the perception that Roman Reigns couldn't get it done when it really counted.
2. Survivor Series 2015: Sheamus 5:15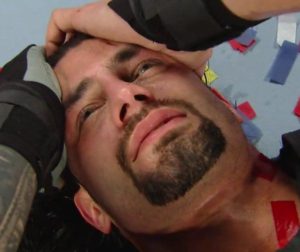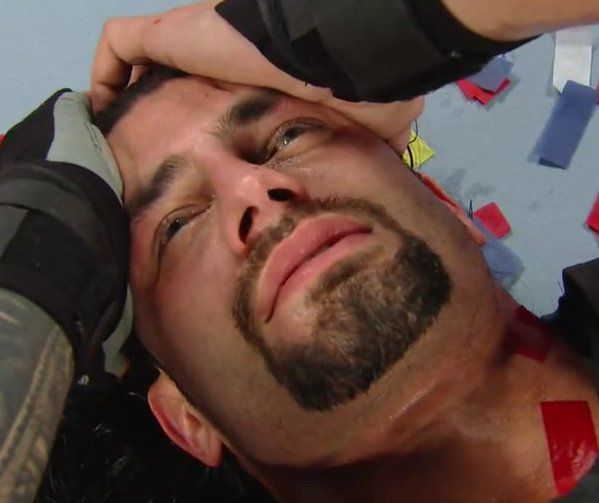 The first world championship victory should be a crowning achievement for a top guy. We still remember Hulk Hogan toppling the Iron Sheik in Madison Square Garden. The Austin Era began in Boston when Shawn Michaels' career ended for the first time. Even though John Cena's first title win went on before Batista's at WrestleMania 21, he still got the rub from ending the then record-setting reign of John "Bradshaw" Layfield, who had pissed everybody off for months. People wanted to see him lose to anybody.
Roman Reigns' first WWE Championship victory should have been along the lines of these memorable moments. He should have been the ever popular babyface getting the big win to shut up people the fans detested. Instead, he defeated the more popular Dean Ambrose in a tournament final and then decided to beat up Triple H during his victory celebration. Sheamus came in, cashed in his Money in the Bank briefcase, and Roman's first world title reign was over in 5:15.
People attempted to defend this by pointing out that Daniel Bryan's first WWE Championship reign ended in similar fashion at SummerSlam 2013. (It wasn't Bryan's first world title reign, but that didn't stop the comparisons.) The reaction to Bryan getting screwed was surely what WWE brass were hoping for here, but Roman Reigns & Daniel Bryan are two entirely different animals. Bryan's appeal lies in being the over-matched underdog that has to fight through endless adversity before rising up and overcoming it all. More importantly, he was perceived as somebody that Vince McMahon & the rest of the higher-ups didn't want as champion, and the SummerSlam result & the results the months afterwards just made the story even more believable. He was considered an underdog on & off-screen.
Roman Reigns is the complete opposite. He's at his strongest with the fans when he's running over everybody in his path & nobody can do anything to stop him. He's not good at getting sympathy. Nobody ever feels sorry for him. Cutting his title reign short here just gave him the vibe of being a choke artist. They made it even worse by having him cry afterwards. It didn't make him more sympathetic, it made him a crybaby.
1. Royal Rumble 2016: Takes Half The Match Off, Still Loses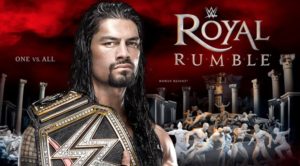 It was going to be One vs. All. Roman had eventually gotten the WWE Championship out of the hands of Sheamus, and Triple H was mad. He decided that Reigns was going to defend the championship in the Royal Rumble, and that the Big Dog was going to be the first entrant.
Sounds good, right? Roman had some pretty heavy odds to overcome. There were a number of ways it could go…
-Reigns could last the entire match & win
-The Big Dog could last the entire match & come up just short
-He could get screwed early on & have a reason for a rematch later.
They decided to combine 2 & 3. The illustrious League of Nations stable came out & attacked Reigns early in the match, beating him up & putting him through a table. Of course, they forgot to throw him over the top rope, which enabled Reigns to come back 30 minutes later, showing no real signs of distress. He didn't even go off on a stretcher or anything like that. Reigns walked to the back after his beatdown, trying to portray a tough guy…that was walking off from a fight.
He didn't even win! Triple H came back to active competition at #30 & overcame all odds to become a 14-time World Champion. The idea here was to have Triple H use his ultimate heeling abilities to put Roman over at WrestleMania. Roman went over, but the feud did nothing to help him & only resulted in more boos.
Defenders of Reigns' timeout during the Rumble compare it to Stone Cold Steve Austin's similar stint out of action during the 1999 Royal Rumble. Austin at least went off in an ambulance after taking a beatdown from Vince McMahon's Corporation, and drove the ambulance back to the building. When he no-sold something, he did it in style. Reigns did the lazy man's version of Austin's comeback attempt.
Shocking that the lazy version of Stone Cold Steve Austin booking didn't get over the same way.
---
Always Use Your Head and visit the official Pro Wrestling Tees store for The Chairshot All t-shirt proceeds help support the advancement of your favorite hard-hitting wrestling website, The Chairshot!

---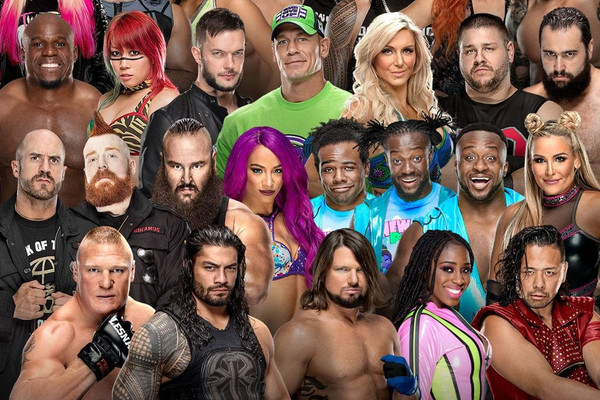 WWE in the past four years has been signing talents from all over the world and from every promotion that has amazing talent in an effort to steal those talents and to prevent this promotions to make any good quality wrestling. NJPW and ROH have been the biggest targets on talent that WWE takes from, names like Finn Balor, Luke Gallows, Karl Anderson, AJ Styles, Shinsuke Nakamura, Adam Cole, and just name a few have been signed to the WWE machine but the biggest problem WWE has is that what to do with all that talent.
Starting in NXT has been proven to be the best way to start your journey in WWE and the biggest example of this was Mike Kanellis, who started on the main roster instead of NXT and after just a few months of his debut he was relegated to low card position in WWE.But starting in NXT does not guarantee success in WWE, because like I mention before WWE and all it's brands currently have to much talent and wrestlers like Balor,Roode, and others are lost in the shuffle and not to mention that Balor and Roode had very good runs in NXT.
Despite WWE having a full roster, they are looking to sign ore talent and their biggest targets are Kenny Omega, Cody and The Young Bucks In a desperate way to stop NJPW's plans to expand into the american market and stop the rise of the independent scene it currently has by the success this men have right now. Also, another factor WWE would like to try to sign this amazing wrestler in the case of The Young Bucks is to boost the profile of the WWE tag division that in it's current state is really bad.
Despite all this good wresters WWE has in its roster right now, the booking has become dreadful and some of the worst wrestling right now and maybe wrestlers like Finn Balor, Shinsuke Nakamura, Bobby Roode and others should consider jumping ship to another promotion that could book there talent in a better way.
---
Always Use Your Head and visit the official Pro Wrestling Tees store for The Chairshot All t-shirt proceeds help support the advancement of your favorite hard-hitting wrestling website, The Chairshot!

---
Levin's SmackDown Live Review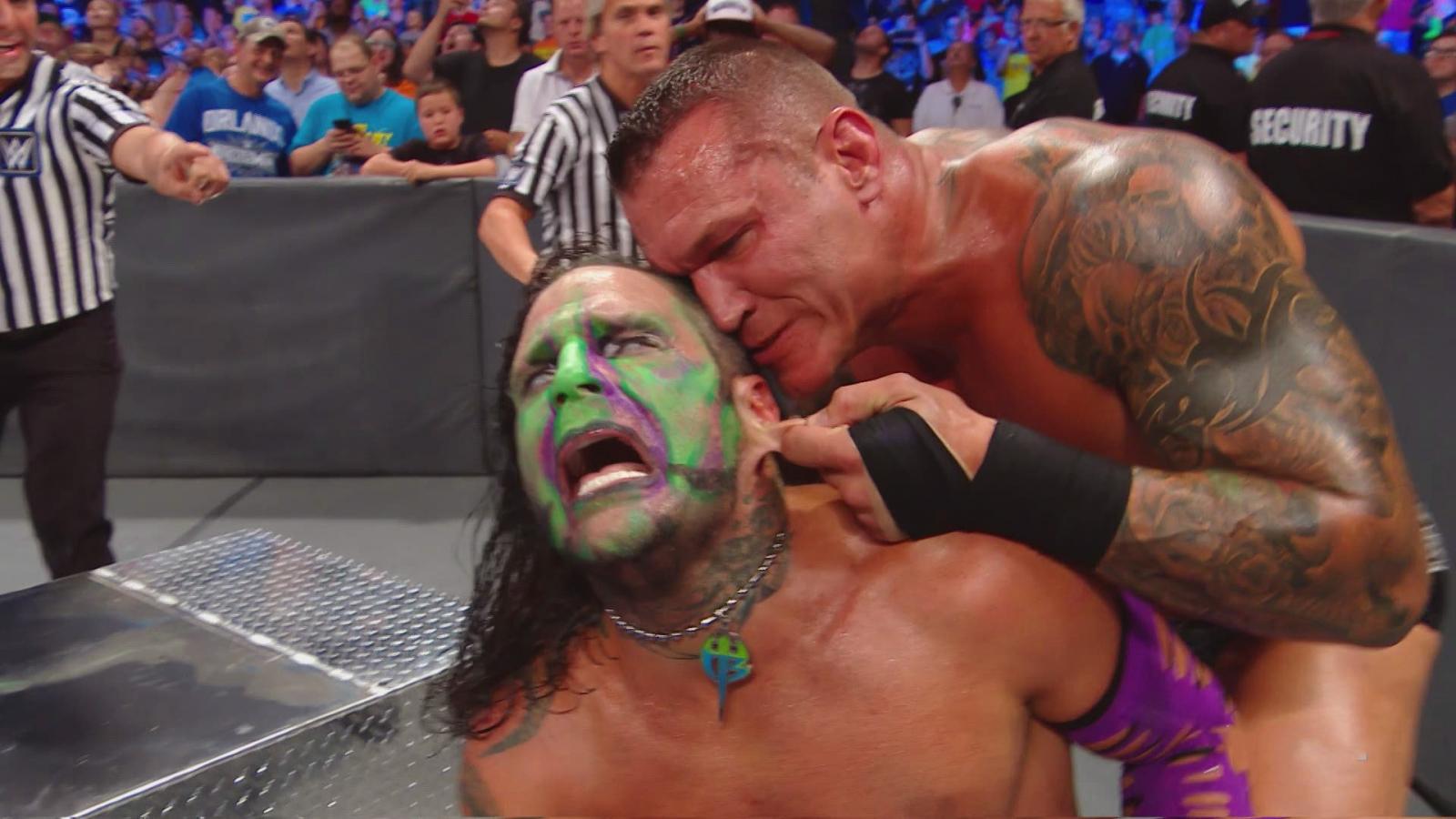 You figured the aftermath of the Extreme Rules pay-per-view would be "must-see" television on SmackDown Live. With Jeff Hardy demanding a rematch for the United States Title with Shinsuke Nakamura and a potential confrontation with Randy Orton, the show was very much something I was looking forward to.
Let's not forget WWE still had to wade through the waters of A.J. Styles' win over Rusev. Would the company continue to book this feud moving forward? There was Carmella and her stooge James Ellsworth and the Asuka "situation." Would the Empress of Tomorrow exact her revenge?
And if that wasn't enough, Daniel Bryan has officially signed his new deal with WWE, which means he could be booked as a contender for Styles' WWE Title. Where did The Miz fit in all of this, while he was busy playing softball during the MLB All-Star festivities and missed the show on Sunday night?
I waited anxiously for answers. Was I satisfied with the results? No exactly. Here are a few thoughts about SmackDown Live.
A.J. Styles vs. Cien Almas
The two superstars meet for the first time in WWE and does well for himself. The two crossed paths in Japan, renewing an old rivalry. The former NXT star has shown in recent weeks he could be part of the blue brand's title picture. Almas was able to answer the WWE champion's arsenal.
If WWE is going to push Almas toward the main event picture, this was the showcase he needed. Almas may have submitted to the calf crusher, but this is a feud I would love to see moving forward.
It also remains to be seen when WWE may book Styles to finally drop the company title.
The Demise of Rusev Day?
More like the beginning of the end of the relationship between Rusev and Aiden English. After watching the exchange between English and Lana, discussing how bad Rusev's sidekick felt about costing him the WWE Title at Extreme Rules, I hope this does not lead to a confrontation between both performers.
This would be a huge blow to Rusev's chance to remain in the main event picture. It may also put an end to the "Rusev Day" phenomenon.
Becky Lynch vs. Mandy Rose
While I am huge fan of Lynch, maybe even a slight crush on the Irish lass, the continual weekly bouts with Lynch and Sonya Deville have to stop. There is no movement in the women's division. If anything, moving Sasha Banks to Tuesday nights might be the best thing for this division while Charlotte Flair is still out of action.
I will say this, the match between the two women may have been the best we have seen, with Rose showing she can hold her own with a former women's champion. But still, "Make this stop!"
Now, Lynch sets her sights on Carmella and the SmackDown Women's Title.
Paige and Carmella
I love Paige. Leave it to the SmackDown Live general manager to stir the pot. Lynch gets her shot at Carmella in a non-title match. If she beats the champion, she gets another match at SummerSlam. It makes you wonder what the heck the company is doing with Asuka.
Samoa Joe vs. Tye Dillinger
Seriously! Dillinger is a classic example of moving to the main roster too soon. Joe should be part of the main event picture. You have to wonder when that might happen as WWE has yet to fully push the wild Samoan.
If Joe is not used effectively, where he deserves a chance to face Styles (see a theme here?) but his health and a crowded title picture may screw him out of a match.
The Miz Eulogizes Team Hell No!
The best part of Tuesday nights is the appearance of the "A-Lister." Offering a eulogy for the demise of Daniel Bryan and Kane, who suffered a broken ankle in the loss to the Bludgeon Brothers was class Miz.
Oh, and congratulations on winning the MVP of the celebrity softball game on Monday night. Sorry, back to the moment at hand. We even got an N'Sync reference which was classic.
The Miz remains the class of Tuesday nights.
After proclaiming Bryan's career is dead, you know what happens next. The setup for SummerSlam has begun.
Yes! Yes! Yes!
Kofi Kingston vs. Eric Young
There was a time when Eric Young was one of the best in the business and one of the more underrated wrestlers. Now, he is the leader of Sanity. I'm not sure if I like this faction, but they are growing on me.
Kofi Kingston could be part of the main event picture, but he is mired in the current situation with The New Day. I'm still waiting for WWE to dissolve this trio and give Kingston, Big E and Xavier Woods their own angles. The match between Kingston and Young could be a solid mid card feud, but that won't happen.
A wheel barrow neck breaker gives Young the win.
Jeff Hardy vs. Shinsuke Nakamura (for the United States Title)
In the opening segment, Hardy said he was BROKEN because he did not have the United States Title around his waist and invoked his return title match clause. It was a good match, but not great.
Hardy takes the fight to the champion immediately. But this match slows down as expected. Nakamura continues to play the role of villain well, getting heat from the fans in attendance (who were mostly quiet until the Bryan-Miz segment). I'm curious what this match would be like if Hardy was healthy.
He admitted he has been banged up for some time prior to the Extreme Rules pay-per-view.
Insert Randy Orton. The Viper beats the hell out Hardy until he defends himself. Ultimately, Orton stakes his claim as the top heel on Tuesday nights.
---
Always Use Your Head and visit the official Pro Wrestling Tees store for The Chairshot All t-shirt proceeds help support the advancement of your favorite hard-hitting wrestling website, The Chairshot!

---
WWE Possibly Doing an All Women PPV? Yes, Please!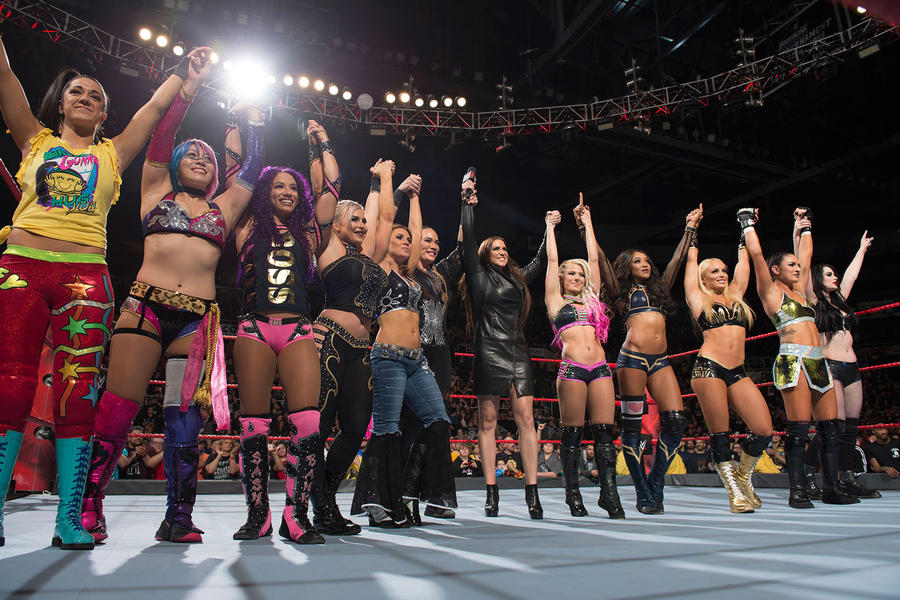 So, rumor's been going around that WWE's planning to do a PPV strictly for the Women's Divisions of RAW and SmackDown and all I can say is: FINALLY! WHERE DO I SIGN UP FOR TICKETS?!
Ever since the start of the Women's Revolution, it's become more and more obvious that the women need a show of their own because as the Women's Divisions grow on the Main Roster, there's less and less room for them on the PPVs and TV and it's a problem that's not going to get better with time.
A major promotion doing an all women PPV isn't new. TNA has done them before for their Women's Division, however, WWE has never before invested the time in exploring such a thing, or had a big enough Women's Roster to do it with, now they have both.
Why? Well, the RAW and SmackDown Women's Divisions have a lot of talent, but are still seriously outnumbered by the men's roster and so don't get as much TV time as they should and when they do get TV time, if they aren't involved in the title situation, they're usually in a multi-person tag match.
So, what are WWE's options here?
1. A Regular PPV. They could just take an already existing PPV like Unforgiven or No Mercy and just have an all-female card. Problem is making it feel special instead of WWE just copping out.
2. A Brand New PPV. This is the one I like the best, instead of resurrecting an old PPV: Give the women a PPV of their own that is named for them. The name I've been kicking around today is 'WWE: Revolution' and having the poster be of the two Women's Division rosters.
3. A Network Special. This is the one I can honestly see WWE doing in the spirit of the UK Tournament or the Greatest Royal Rumble. One idea that a lot of fans seem to like is 'Queen of the Ring', which would, of course be an all women's version of King of the Ring.
One issue I can see arising from doing an all women PPV is having enough matches to fill a three hour PPV/Special slot plus the Kickoff Show. There's about twenty women between RAW and Smackdown, now that sounds like a lot, but WWE had a card of about 35 people divided up into twelve matches, including the Kickoff Show, and there was still a lot of talking to make the time stretch and that was with seven title matches. So how would they fill in the gaps for the Women's Division when each division only has one title belt to compete for?
1. Include NXT. The NXT Women's Division is looking really good right now and a good case could be made to include the NXT Women in an all women WWE PPV/Special.
2. Include some legends. If WWE were to do something like they did with the Women's Royal Rumble and bring back some past Women's Division stars and Legends and set up some dream matches it would not only generate a lot of interest in the show but definitely fill the roster up.
3. Have Title Tournaments. This would really only work if WWE was planning on introducing secondary and tag titles to the Women's Divisions. The finals for those matches would be great additions to a Women's PPV.
4. Include the Mae Young Classic. I doubt very seriously that this will happen, but it would be a great addition if this PPV goes off to maybe have the Mae Young Classic final match on the card.
Again, it's only rumored that WWE's considering a Women's Division PPV, but I think it's an idea whose time has come and is long overdue. Since 2015, the revamped Women's Division has shown that they are more than capable of carrying a card, never mind a PPV on their own and it's time they were given the chance to prove it.
---
Always Use Your Head and visit the official Pro Wrestling Tees store for The Chairshot All t-shirt proceeds help support the advancement of your favorite hard-hitting wrestling website, The Chairshot!

---