Top 5: Worst WrestleMania Moments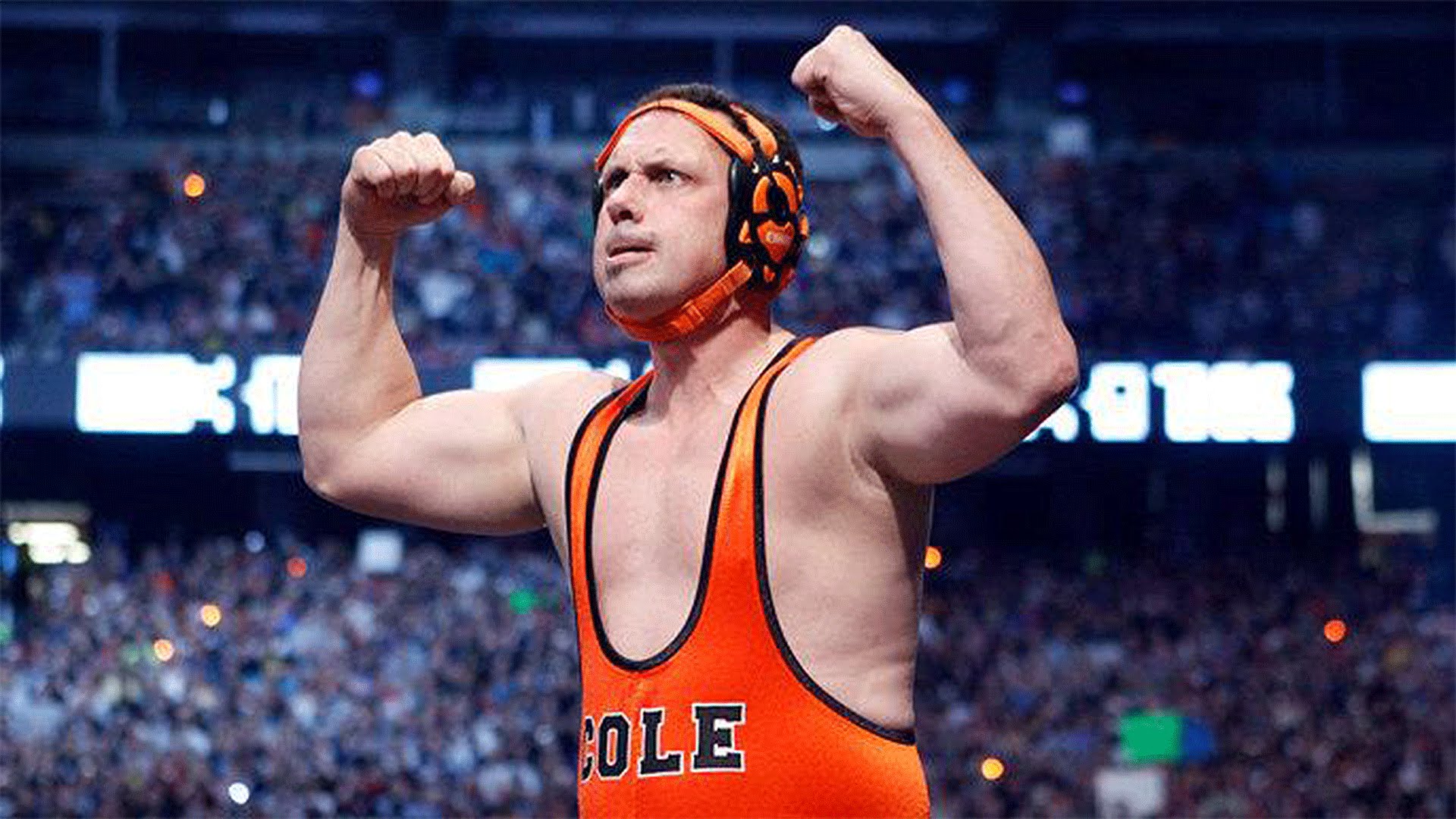 WrestleMania Moments seem like bigger goals for a WWE Superstar than championships. What was once a saying busted out one time by Jim Ross during Hulk Hogan vs. The Rock has become the backbone of WWE. WrestleMania has become the one show a year that everybody cares about, and every moment is apparently a WrestleMania Moment.
Thing is: not every WrestleMania Moment is great. Some of them are downright stinky. Some moments that are meant to be epic end up coming off as anything but. Some moments are so hideous that you wonder why they were even thought of. The week before WrestleMania seems like as good a time as any to remind everybody of this.
I left off pretty much anything to do with irrelevant celebrities because we all knew those moments were going to stink anyway. The Miller Lite Catfight Girls' Pillow Fight was never going to take up space in the highlight reel. Snooki wasn't going to have a five star match. Howard Finkel joining the Hair Club For Men wasn't meant for anything more than a laugh.
These are the Top 5 Worst WrestleMania Moments.
5. Sting vs. Triple H (WrestleMania XXXI)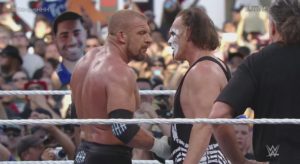 I know I'm in a minority on this one. I remember watching this as it unfolded & also watching my Twitter feed explode with positivity & people marking out for all of the random appearances. Everybody from DX came out to help Triple H. Everybody from the NWO came out to help Sting. Eventually Triple H got the win & everybody ended up showing mutual respect.
I had so many problems with all of this. Sting losing his only WrestleMania match doesn't even make my list, because the winner & loser here didn't particularly matter. Here's what I was confused by:
-Why was the NWO helping Sting? Sure, he joined the Wolfpac when they were feuding with NWO Hollywood, but that was because of his unending loyalty to Lex Luger. He never fully forgave Hogan or most of the other NWO guys.
-Why would Sting show Triple H respect after he was beaten by a sledgehammer shot? The whole reason Sting came to WWE to begin with was his disapproval of the Authority & their evil ways. Why would Triple H cheating to beat him magically change his mind on the matter?
-Was this match booked for any other reason than to prove that WWE > WCW? And why were they still obsessed with reiterating that point more than a decade later?
I know a lot of you probably liked it. To me, it was a gigantic waste of time. I can see these guys in their prime on WWE Network. I didn't need to see them stumbling around here.
4. Bret Hart vs. Mr. McMahon (WrestleMania XXVI)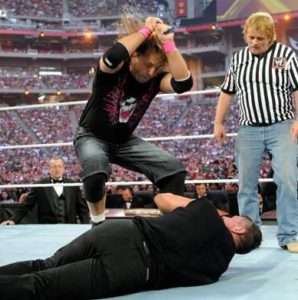 This is another one that will probably make people mad. Don't get me wrong, I loved the fact that Bret finally came back to WWE & made amends with everybody involved with the Montreal Screwjob. It was time to let bygones be bygones & give Bret the historical spotlight that he deserves.
We could have skipped the on-screen feud with Mr. McMahon though. We also could have skipped the "match" at WrestleMania, which was as embarrassing to watch as I feared going in. Bret has obviously never been the same physically since his stroke, and Vince wasn't exactly an athletic marvel whenever his prime would have been. Watching Vince get heat on Bret & the young Harts coming down to help was sad more than anything else. Harry, TJ & Nattie are all great in their own way, but this didn't do them any favors.
Bret vs. Vince was very similar to the later Sting vs. HHH match. They both appealed to nostalgia in very flawed ways. Many didn't care the presentation was flawed & were simply happy to see their old favorites. I would have rather remembered my old favorites the way they were. There's probably more money to be made the former way, of course.
3. Michael Cole vs. Jerry Lawler (WrestleMania XXVII)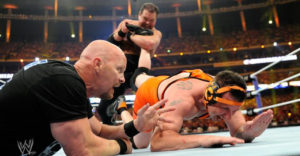 It was nice that The King finally got to have a match at WrestleMania. That is the only good thing that can be said about this atrocity. After we sat through months of Michael Cole crapping on everybody on the WWE roster & burying the product to the point of no return, Lawler was set to shut him up at WrestleMania. We got a couple of fun matches with Lawler vs. The Miz out of the buildup, so that was pretty cool. Stone Cold Steve Austin was the guest referee for some damn reason. I still can't believe they wasted him on this.
After fourteen minutes of in-ring action that felt like forty due to Cole getting to do most of the offense, Lawler got the win by making Cole submit to an ankle lock. The Anonymous Raw General Manager then reversed the decision due to Austin's biased officiating. But hey, Austin got to stun some announcers nobody cared about. Just a tremendous waste of time and the exact opposite of a WrestleMania Moment.
2. Hulk Hogan Wins the WWF Championship (WrestleMania IX)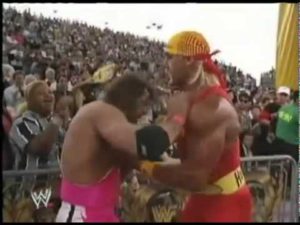 Even as a kid this whole thing didn't feel right. Bret Hart was about to defeat Yokozuna & retain the WWF Championship when Mr. Fuji threw salt in Bret's eyes while he was applying the Sharpshooter. Yoko wound up getting the pin in less than legitimate fashion. Hulk Hogan came down due to his outrage, & Fuji issued an open challenge to Hogan right then & there. Bret seemingly approved, and Hulk ran in & beat Yoko in a minute.
It was supposed to pop the crowd, which it did, but it felt a bit off & didn't show anybody in a positive light. Hogan beat a 500 pound man who had just been through a grueling match & was worn out. Yoko needed Fuji to beat Bret, & couldn't beat Hulk. Fuji looked like an idiot for issuing a challenge to Hulk Hogan while his champion was sucking so much wind that the first three rows passed out from oxygen deprivation. Bret looked like a gullible fool that was fine with the Hulkster stealing his thunder & spot on top of the mountain.
This could have made sense if it was leading to a full-time Hulk comeback, or even a part-time one. Instead it led to Hogan dropping the title at King of the Ring back to Yokozuna while Bret Hart twiddled his thumbs & waited for his big match with the Hulkster. I think he got one in WCW, but I'm not 100% sure. They gave stuff like that away on Nitro all the time.
Honorable Mention: Big Show vs. Akebono (WrestleMania 21)
Five words: Big Show in a diaper.
Honorable Mention: Sheamus Beats Daniel Bryan In 18 Seconds (WrestleMania XXVIII)
This would be an easy top 5 pick if it didn't build up a tremendous amount of goodwill for Bryan. I've grown to appreciate it for that alone. The only problem is that the guy it was actually supposed to get over, Sheamus, got less than nothing out of it. The assertion that the outcome was WWE's goal all along doesn't pass the laugh test.
1. "Santina Marella" Wins Miss WrestleMania Battle Royal (WrestleMania XXV)
This train wreck had a couple of parts. First, we were treated to the musical stylings of future WWE Hall of Famer Kid Rock.
We all have our opinions when it comes to music & politics. I won't subject you to mine here, other than to say that I am no fan of what Kid Rock brings to the table. The various Divas entered in the battle royal got to walk out during Rock's final song & if you could identify most of them you're a better man than I. Let's run down the list:
Alicia Fox
Beth Phoenix
Brie Bella
Eve Torres
Gail Kim
Jackie Gayda
Jillian Hall
Joy Giovanni
Katie Lea Burchill
Layla
Maria
Maryse
Melina
Michelle McCool
Mickie James
Molly Holly
Natalya
Nikki Bella
Rosa Mendes
Sunny
Tiffany
Torrie Wilson
Victoria
Some of these folks hadn't been seen in years. Sunny? Joy? Molly Holly dressed in her original Holly cousin persona? They all came back here with little notice from anybody because it was a battle royal with way too many people in it that went 7:25, and nobody got entrances because Kid Rock had to sing. Most of these women would have been a viable winner because it's a battle royal & who really cares, right?
They managed to choose the worst possible option.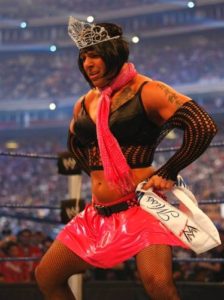 "Santina Marella". The alleged twin sister of Santino Marella, who emerged during the build-up to this match because…hell, I don't know why. Somebody was really high that day I guess. Santino's humor was popular with fans at the time & this gave him something to do. It was simply really stupid at the time. Hindsight makes it look really really stupid.
The tone of women's wrestling in WWE has flipped 180 degrees in the nine years since somebody thought this was a good idea. Thank God. I guess the real question is if naming the Women's WrestleMania Battle Royal after Santina Marella would have gone over better than the attempt at naming it after Fabulous Moolah.
King's WrestleMania Rewind: Charlotte Flair vs. Asuka from WrestleMania 34
Chris king is back with one of the most underrated matches in WrestleMania history–Charlotte Flair vs. Asuka!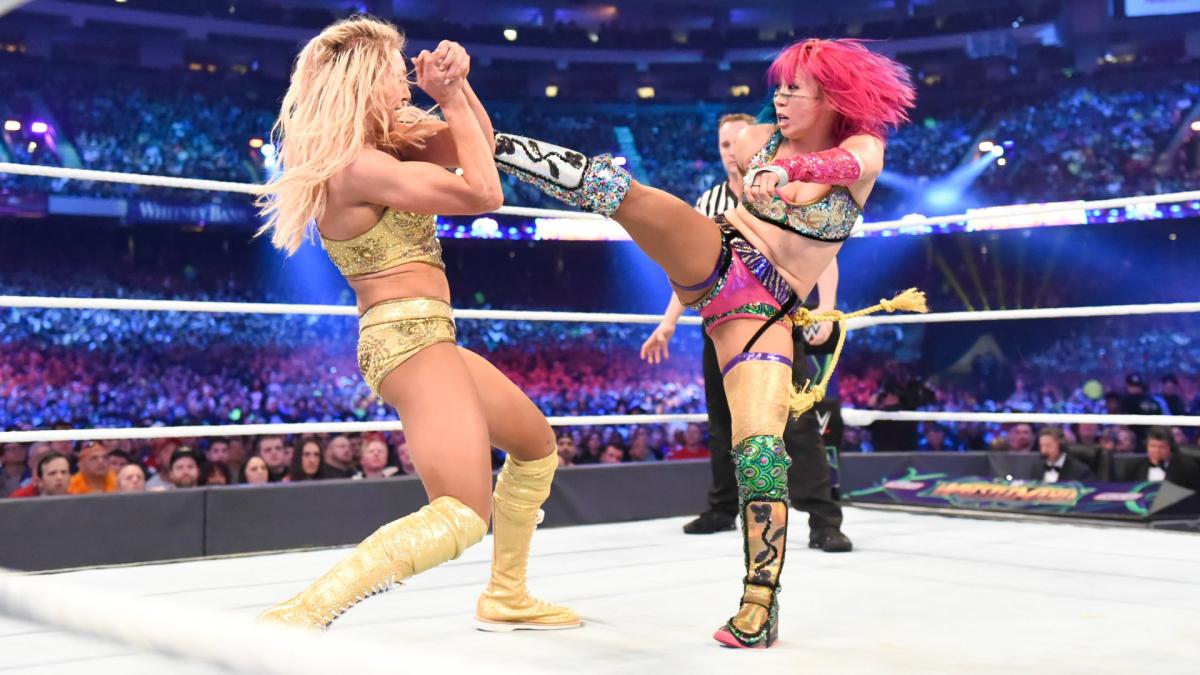 Chris king is back with one of the most underrated matches in WrestleMania history–Charlotte Flair vs. Asuka!
We look back at Charlotte Flair vs. Asuka at WWE WrestleMania 34. 'The Empress of Tomorrow' put her unprecedented and historic undefeated streak of 914 days on the line against 'The Queen's' SmackDown Women's Championship.
For years, this was considered a dream match while Asuka dominated the roster in NXT, while Flair won numerous championships on the main roster on both Raw and SmackDown. The Empress made her long-awaited debut on the September 11th episode of Raw and began to tear through the competition.
Asuka outlasted all twenty-nine other women in the historic first-ever Women's Royal Rumble match to challenge for the title of her choosing. At Fastlane, she made her choice.
The WWE Universe was so excited for this match myself included. Both superstars delivered a fantastic performance on the Grandest Stage of Them All executing counter after counter. Asuka showed off some nasty-looking kicks to her opponent, and Flair hit a thunderous Spanish Fly off the top rope. Flair was seconds away from defeat at the hands of The Empress but she locked in Figure Eight and Asuka was forced to tap out.
I can't even begin to explain how shocked I was at this outcome, as nearly everyone expected The Empress to continue her undefeated streak and walk away with the women's title. This controversial decision was the downfall of Asuka's momentum. She would ultimately win the SmackDown Women's Championship at the 2018 TLC pay-per-view in the triple-threat ladder match.
Fast forward to this year when Asuka has recently returned with her Japanese-inspired persona Kana. Kana is dangerous and ruthless and is heading into a championship with Bianca Belair at WrestleMania 39. The Empress has regained all her momentum and is highly favored to walk away with the Raw Women's Championship. Let's hope that Asuka and Belair can tear the house down and deliver an A+ grade match both women are fully capable of.
King: Dominik Mysterio Needs To Do This At WrestleMania
Chris King is here with what WWE should do with Dominik Mysterio at WrestleMania in his long-awaited match against his father Rey Mysterio Jr.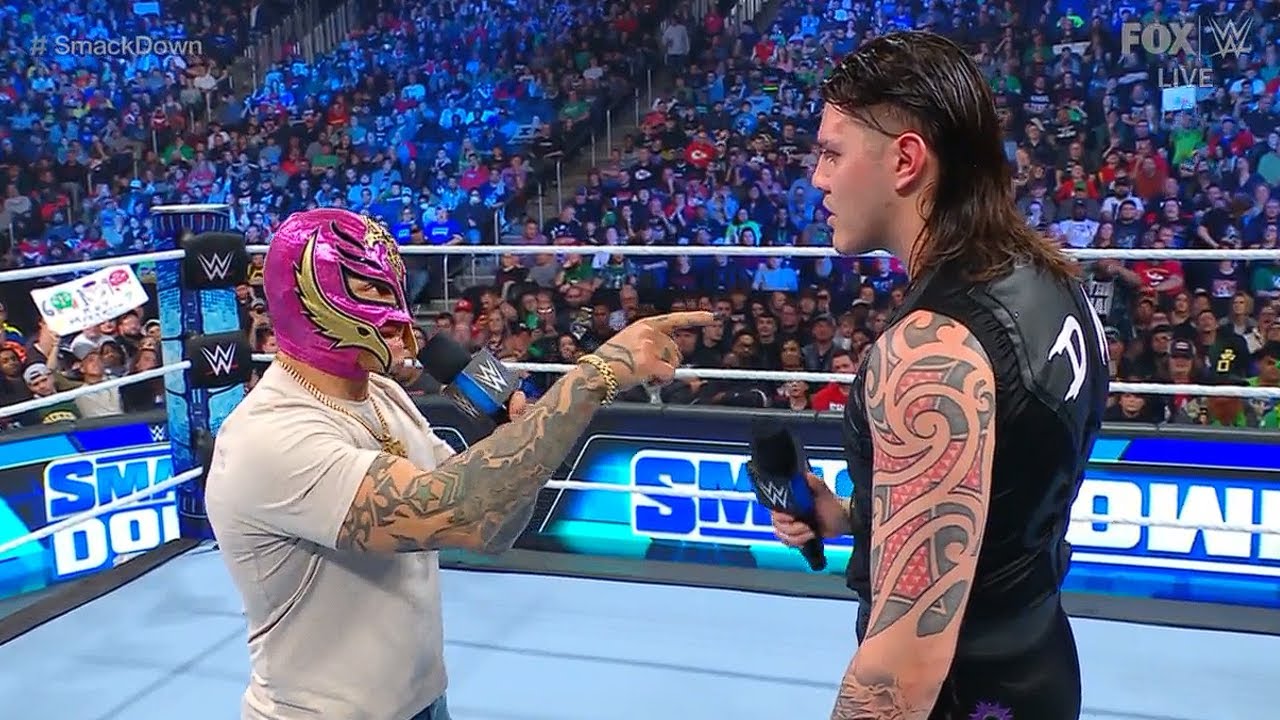 Chris King is here with what WWE should do with Dominik Mysterio at WrestleMania in his long-awaited match against his father Rey Mysterio Jr. 
On this week's episode of Friday Night SmackDown, Rey Mysterio finally snapped and beat some sense into his disrespectful punk-ass kid Dominik. The member of the Judgement Day came out to push his father again for a match on the Grandest Stage of Them All, this time with his mother and sister at ringside. The ungrateful punk told his mom to "Shut Up," as a father even I wanted to jump through the screen and whoop his ass.
Back in October of last year, Mysterio made the emotional decision to possibly quit the company but, instead, Triple H persuaded the Lucha libre superstar to move over to SmackDown to avoid his son. This came after Dominik shockingly turned on his father at Clash at the Castle. Mysterio did everything he could to refuse his despicable son's challenge for Mania but, a man can only be pushed so far. Mysterio will be inducted into the 2023 WWE Hall of Fame and I expect Dominik to embarrass his father during his speech to further this personal feud.
Yes, the WWE Universe hates Dominik and wants to see him get the ever-loving crap kicked out of him but, this feud is missing a special ingredient to capitalize on the biggest heat possible. Throughout this feud, Dominik has made mention of the legendary Eddie Guerrero on several occasions going back to the "iconic" 2005 feud.
I know WWE might not want to go this route but, Dominik MUST come out to Eddie Guerrero's theme at Mania. The disrespectful punk needs to come out in a lowrider to garner nuclear heat. It doesn't matter if The Judgement Day comes out and causes interference for Dominik to get the win, all that matters is that both superstars get the biggest payoff of this nearly year-long feud. Just imagine the Roman Reigns heat after he defeated The Undertaker and multiply that by ten. Dominik portrays the perfect heel and he truly is the missing ingredient that The Judgement Day needed to grow and evolve into a top faction.