Top 5: Worst WrestleMania Moments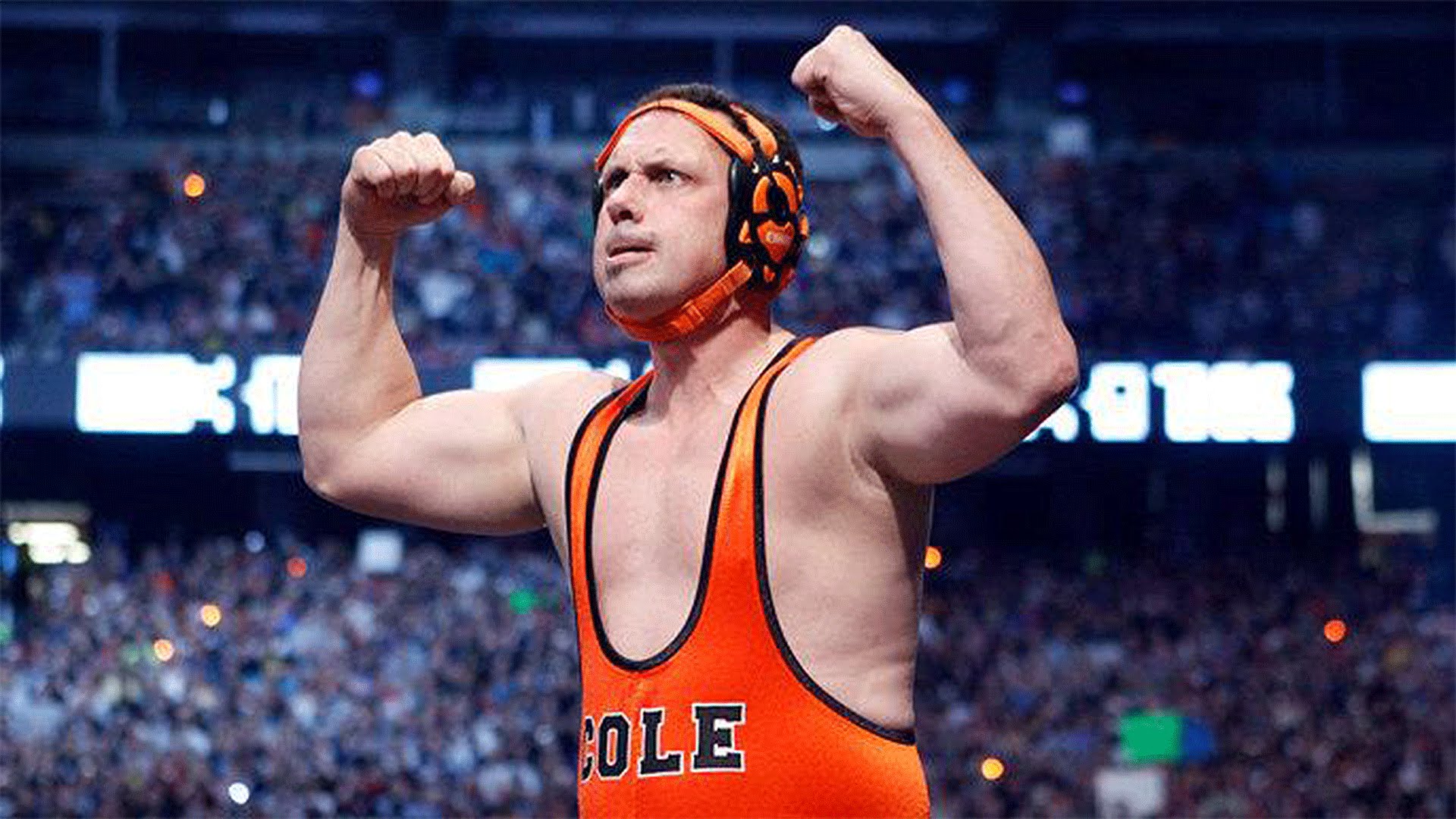 WrestleMania Moments seem like bigger goals for a WWE Superstar than championships. What was once a saying busted out one time by Jim Ross during Hulk Hogan vs. The Rock has become the backbone of WWE. WrestleMania has become the one show a year that everybody cares about, and every moment is apparently a WrestleMania Moment.
Thing is: not every WrestleMania Moment is great. Some of them are downright stinky. Some moments that are meant to be epic end up coming off as anything but. Some moments are so hideous that you wonder why they were even thought of. The week before WrestleMania seems like as good a time as any to remind everybody of this.
I left off pretty much anything to do with irrelevant celebrities because we all knew those moments were going to stink anyway. The Miller Lite Catfight Girls' Pillow Fight was never going to take up space in the highlight reel. Snooki wasn't going to have a five star match. Howard Finkel joining the Hair Club For Men wasn't meant for anything more than a laugh.
These are the Top 5 Worst WrestleMania Moments.
5. Sting vs. Triple H (WrestleMania XXXI)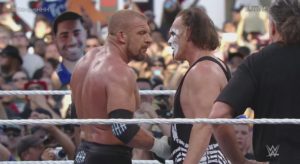 I know I'm in a minority on this one. I remember watching this as it unfolded & also watching my Twitter feed explode with positivity & people marking out for all of the random appearances. Everybody from DX came out to help Triple H. Everybody from the NWO came out to help Sting. Eventually Triple H got the win & everybody ended up showing mutual respect.
I had so many problems with all of this. Sting losing his only WrestleMania match doesn't even make my list, because the winner & loser here didn't particularly matter. Here's what I was confused by:
-Why was the NWO helping Sting? Sure, he joined the Wolfpac when they were feuding with NWO Hollywood, but that was because of his unending loyalty to Lex Luger. He never fully forgave Hogan or most of the other NWO guys.
-Why would Sting show Triple H respect after he was beaten by a sledgehammer shot? The whole reason Sting came to WWE to begin with was his disapproval of the Authority & their evil ways. Why would Triple H cheating to beat him magically change his mind on the matter?
-Was this match booked for any other reason than to prove that WWE > WCW? And why were they still obsessed with reiterating that point more than a decade later?
I know a lot of you probably liked it. To me, it was a gigantic waste of time. I can see these guys in their prime on WWE Network. I didn't need to see them stumbling around here.
4. Bret Hart vs. Mr. McMahon (WrestleMania XXVI)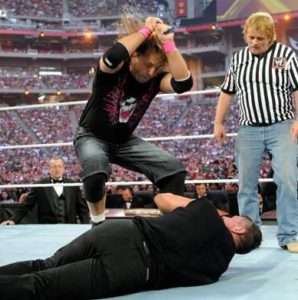 This is another one that will probably make people mad. Don't get me wrong, I loved the fact that Bret finally came back to WWE & made amends with everybody involved with the Montreal Screwjob. It was time to let bygones be bygones & give Bret the historical spotlight that he deserves.
We could have skipped the on-screen feud with Mr. McMahon though. We also could have skipped the "match" at WrestleMania, which was as embarrassing to watch as I feared going in. Bret has obviously never been the same physically since his stroke, and Vince wasn't exactly an athletic marvel whenever his prime would have been. Watching Vince get heat on Bret & the young Harts coming down to help was sad more than anything else. Harry, TJ & Nattie are all great in their own way, but this didn't do them any favors.
Bret vs. Vince was very similar to the later Sting vs. HHH match. They both appealed to nostalgia in very flawed ways. Many didn't care the presentation was flawed & were simply happy to see their old favorites. I would have rather remembered my old favorites the way they were. There's probably more money to be made the former way, of course.
3. Michael Cole vs. Jerry Lawler (WrestleMania XXVII)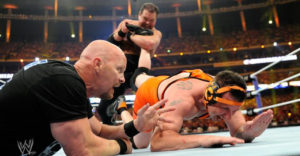 It was nice that The King finally got to have a match at WrestleMania. That is the only good thing that can be said about this atrocity. After we sat through months of Michael Cole crapping on everybody on the WWE roster & burying the product to the point of no return, Lawler was set to shut him up at WrestleMania. We got a couple of fun matches with Lawler vs. The Miz out of the buildup, so that was pretty cool. Stone Cold Steve Austin was the guest referee for some damn reason. I still can't believe they wasted him on this.
After fourteen minutes of in-ring action that felt like forty due to Cole getting to do most of the offense, Lawler got the win by making Cole submit to an ankle lock. The Anonymous Raw General Manager then reversed the decision due to Austin's biased officiating. But hey, Austin got to stun some announcers nobody cared about. Just a tremendous waste of time and the exact opposite of a WrestleMania Moment.
2. Hulk Hogan Wins the WWF Championship (WrestleMania IX)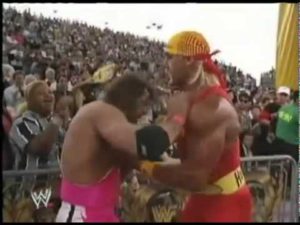 Even as a kid this whole thing didn't feel right. Bret Hart was about to defeat Yokozuna & retain the WWF Championship when Mr. Fuji threw salt in Bret's eyes while he was applying the Sharpshooter. Yoko wound up getting the pin in less than legitimate fashion. Hulk Hogan came down due to his outrage, & Fuji issued an open challenge to Hogan right then & there. Bret seemingly approved, and Hulk ran in & beat Yoko in a minute.
It was supposed to pop the crowd, which it did, but it felt a bit off & didn't show anybody in a positive light. Hogan beat a 500 pound man who had just been through a grueling match & was worn out. Yoko needed Fuji to beat Bret, & couldn't beat Hulk. Fuji looked like an idiot for issuing a challenge to Hulk Hogan while his champion was sucking so much wind that the first three rows passed out from oxygen deprivation. Bret looked like a gullible fool that was fine with the Hulkster stealing his thunder & spot on top of the mountain.
This could have made sense if it was leading to a full-time Hulk comeback, or even a part-time one. Instead it led to Hogan dropping the title at King of the Ring back to Yokozuna while Bret Hart twiddled his thumbs & waited for his big match with the Hulkster. I think he got one in WCW, but I'm not 100% sure. They gave stuff like that away on Nitro all the time.
Honorable Mention: Big Show vs. Akebono (WrestleMania 21)
Five words: Big Show in a diaper.
Honorable Mention: Sheamus Beats Daniel Bryan In 18 Seconds (WrestleMania XXVIII)
This would be an easy top 5 pick if it didn't build up a tremendous amount of goodwill for Bryan. I've grown to appreciate it for that alone. The only problem is that the guy it was actually supposed to get over, Sheamus, got less than nothing out of it. The assertion that the outcome was WWE's goal all along doesn't pass the laugh test.
1. "Santina Marella" Wins Miss WrestleMania Battle Royal (WrestleMania XXV)
This train wreck had a couple of parts. First, we were treated to the musical stylings of future WWE Hall of Famer Kid Rock.
We all have our opinions when it comes to music & politics. I won't subject you to mine here, other than to say that I am no fan of what Kid Rock brings to the table. The various Divas entered in the battle royal got to walk out during Rock's final song & if you could identify most of them you're a better man than I. Let's run down the list:
Alicia Fox
Beth Phoenix
Brie Bella
Eve Torres
Gail Kim
Jackie Gayda
Jillian Hall
Joy Giovanni
Katie Lea Burchill
Layla
Maria
Maryse
Melina
Michelle McCool
Mickie James
Molly Holly
Natalya
Nikki Bella
Rosa Mendes
Sunny
Tiffany
Torrie Wilson
Victoria
Some of these folks hadn't been seen in years. Sunny? Joy? Molly Holly dressed in her original Holly cousin persona? They all came back here with little notice from anybody because it was a battle royal with way too many people in it that went 7:25, and nobody got entrances because Kid Rock had to sing. Most of these women would have been a viable winner because it's a battle royal & who really cares, right?
They managed to choose the worst possible option.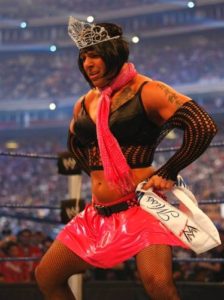 "Santina Marella". The alleged twin sister of Santino Marella, who emerged during the build-up to this match because…hell, I don't know why. Somebody was really high that day I guess. Santino's humor was popular with fans at the time & this gave him something to do. It was simply really stupid at the time. Hindsight makes it look really really stupid.
The tone of women's wrestling in WWE has flipped 180 degrees in the nine years since somebody thought this was a good idea. Thank God. I guess the real question is if naming the Women's WrestleMania Battle Royal after Santina Marella would have gone over better than the attempt at naming it after Fabulous Moolah.
---
Always Use Your Head and visit the official Pro Wrestling Tees store for The Chairshot All t-shirt proceeds help support the advancement of your favorite hard-hitting wrestling website, The Chairshot!

---
Braun Strowman: The WWE Universe Needs You Now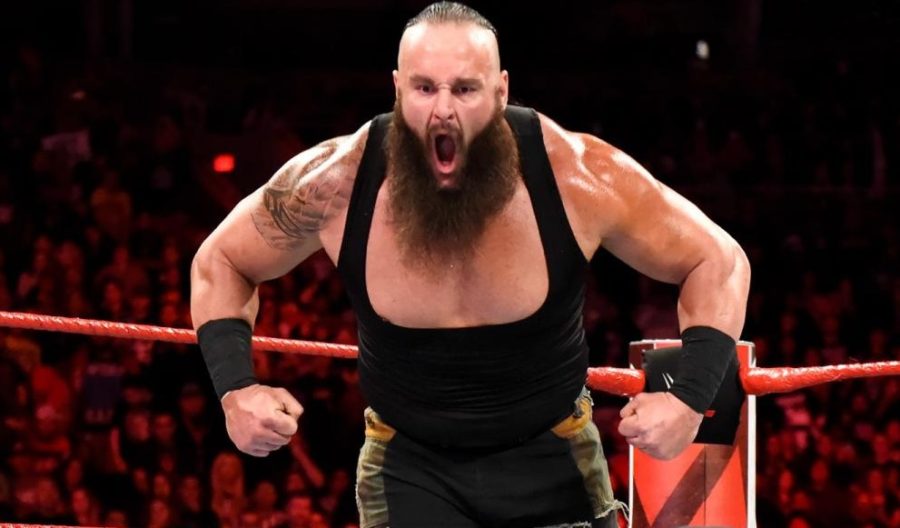 If you haven't noticed, WWE fans are a bit angry at the current Universal Champion Brock Lesnar. They are equally disappointed in the current storyline between Bobby Lashley and Roman Reigns – two performers who are being shoved down their throats as the chosen ones to earn the right to face "The Beast Incarnate" at SummerSlam next month.
The main event picture has become almost comical as the company continues to push Reigns as "The Guy" while losing clean to Lashley at the Extreme Rules pay-per-view last week and other superstars receive bigger pops from the fans in the arenas across the country.
Could we all just stop this madness and give Braun Strowman the title already? Mr. "Monster in the Bank" would solve a lot of problems, mainly waking a comatose fan base looking for a new leader of the band. It's not a matter of when Strowman will cash in his briefcase, it is now more about how soon can he do it and will SummerSlam begin the reign of his terror?
There is nothing to like about the upcoming match between Reigns and Lashley next week to determine Lesnar's newest opponent. While rumors for months have centered around Lashley getting a shot at the strap, he is as vanilla as they come with his delivery and his ability in the ring. I'll give Reigns credit – he has become a better in-ring performer and has evolved on the microphone. Still, fans want him so far away from the main event picture, they would sell their souls to see it happen.
All of this is happening while Lesnar is appearing at UFC events, planning title matches in the octagon and counting the money Vince McMahon continues to throw at him.
Strowman could make this all better, put a bandage on the bleeding Raw is experiencing and usher in a new era in this company. A sports writer here in Jacksonville told me a couple of months ago this would be the "Summer of Strowman" but I am still waiting for the earth-shattering event. The current feud with Kevin Owens is entertaining, but it does the "Monster Among Men" no good in helping him get tot eh apex of this company.
Owens needed a program. Strowman needed a program. See the connection out of necessity here?
WWE has a serious problem with its main event picture. With two triple-threat matches last Monday that could have given Seth Rollins, Finn Balor or Drew McIntyre a chance at red glory, the company recoiled and decided simple was better. It's as if WWE is determined to make sure other more popular performers are buried under the blanket of the "bigger is better" theme Vince McMahon has preached for decades.
What's the point?
Either Lashley or Reigns will face Lesnar at SummerSlam. The crowd will go mild and the fans they will pray to the gods that Strowman comes out and captures the title. It's the only way to save this angle. We have waited long enough for the Strowman Era to begin in WWE. It should begin in August. If it does not, the mutiny that has already begun amongst WWE's fan base will continue.
And no one, not even Strowman benefits from that.
---
Always Use Your Head and visit the official Pro Wrestling Tees store for The Chairshot All t-shirt proceeds help support the advancement of your favorite hard-hitting wrestling website, The Chairshot!

---
My Voice Matters: On Hulk Hogan And Representation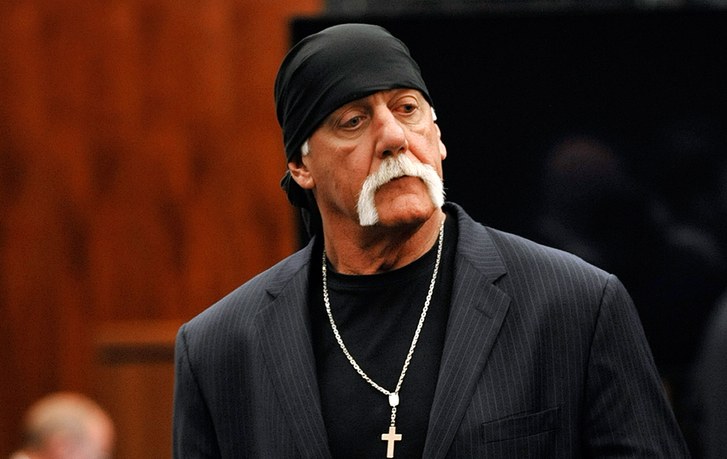 Being a black pro wrestling fan is more difficult than you think.
In the last couple of weeks, events in the pro wrestling industry have done more than enough to test my mental fortitude, discernment, and judgment towards personalities and fans alike. As you may or may not know already, the WWE reinstated wrestling icon Hulk Hogan into their Hall Of Fame after an exile lasting 3 years. What was the cause of this ban you might ask? It was Hogan admitting to racist ideologies in a secretly recorded rant expressing his feelings about his daughter's interracial relationship. It went a little something like this:
"I mean, I don't have double standards. I mean I am a racist, to a point, f****** n*****. But then when it comes to nice people and s***, are whatever."…
It doesn't stop there, he had more to say.
"I'd rather if she was going to f*** some n*****, I'd rather have her marry an 8-foot-tall n***** worth a hundred million dollars! Like a basketball player"

"I guess we're all a little racist. F****** n*****."
That was it, it was that leaked audio of him devaluing me and people that look like me into nothing more than n****** not worthy of his daughter unless we put a basketball in a hoop. These words by him once discovered immediately disgraced the former WWE and WCW World Champion, stripping him of his Hall Of Fame nomination and any mention of him on WWE television or memorabilia indefinitely. All it took was 3 years for Vince McMahon to wait for this to blow over and take the coward's approach of reinstating him, bringing him into the fold to give a half-hearted apology, and McMahon himself not being present to explain himself.
For Hogan (real name Terry Bollea), his rants were more than just a layer from a white man who has built a character later in his career at the expense of popular black culture. From wearing an assortment of Jordans and durags to refusing anyone to wear the same type of clothing at his beach restaurant, it seemed a little excessive to create a dress code that aims at a particular group of people. Also coming from the same era where wrestling icons of of the 80s and 90s were freely dropping racist slurs in front of targeted minorities, it shouldn't come as a surprise.
It didn't take long for the news to face backlash from a number of fans and media outlets, even the talent themselves had words. The New Day and Titus O'Neil both shared their thoughts on the reinstatement, feeling that the character Hulk Hogan has earned his place there but the man Terry Bollea have so much more to prove in his sincerity:
— King T'Kofi (@TrueKofi) July 18, 2018
My TRUTH!! pic.twitter.com/3HgsmXOOEg

— Titus O'Neil (@TitusONeilWWE) July 18, 2018
O'Neil has stated in his letter that Hogan wasn't truly sorry for what he said, he was only sorry that he was caught. WWE should know that this will be a complete PR nightmare and for that it makes little sense to bring him back up in the first place.
Like The New Day and Titus, I also know that forgiveness does not come easy. He no longer belongs on WWE television and any version of him appearing as far ambassador, an angle, or even a public apology would come off as contrived. The more I think about how far this went between the two parties shows how much the wrestling industry as a whole fail to acknowledge the grievances of their minority audience. You will have old guardsmen like Jerry Lawler (alleged statutory rapist) shout how much this about PC culture and Eric Bischoff proclaiming that it is just "haters" instead of using common f****** sense. What Hogan said was reprehensible and it's something I simply 'won't get over' because f*** that, he doesn't deserve my forgiveness.
Which makes it all the more upsetting when I see those that support his return and defend his actions are those that are seen as the tastemakers of the wrestling media. The majority of them are middle-aged white men who have no inclination of the world outside of their bubble entirely designed by New Japan and Attitude Era DVDs. For far too long I have to hear from these people who haven't shared my experiences tell my kind that we should move on from facing discrimination and the societal hurdles. No, it's bigger than just boycotting WWE because they're a "nazi organization" when these same nerds are seeing nothing wrong with what Hogan has done.
It's clear there's a severe lack of representation of voices in wrestling media, not excluding the talent representing in these companies. I had to see one of my peers lambasted and ridiculed on Twitter simply because he questioned the lack of panels featuring POC and Women for September's Starrcast event. Instead of responding to the questions at hand of whether they reached out to any podcasts, they circled around posting a link saying people from all over are attending. At this point it is a disservice to keep a loyal, yet fringe market in the dark when there are unique perspectives that need to be heard.
It's more than just black-and-white, there's women of all racial backgrounds that have extensive knowledge on topics that many men aren't capable of attacking in an intelligent manner (see. Sexual Assault). There's LGBTQ voices that see things in complexities that I have understood but still willing to learn. Until these voices are featured on the notable platforms housed by the typical generic gatekeepers, we as a united fanbase are still far behind.
---
Always Use Your Head and visit the official Pro Wrestling Tees store for The Chairshot All t-shirt proceeds help support the advancement of your favorite hard-hitting wrestling website, The Chairshot!

---
Ite Lemalu's Interview With Bad Luck Fale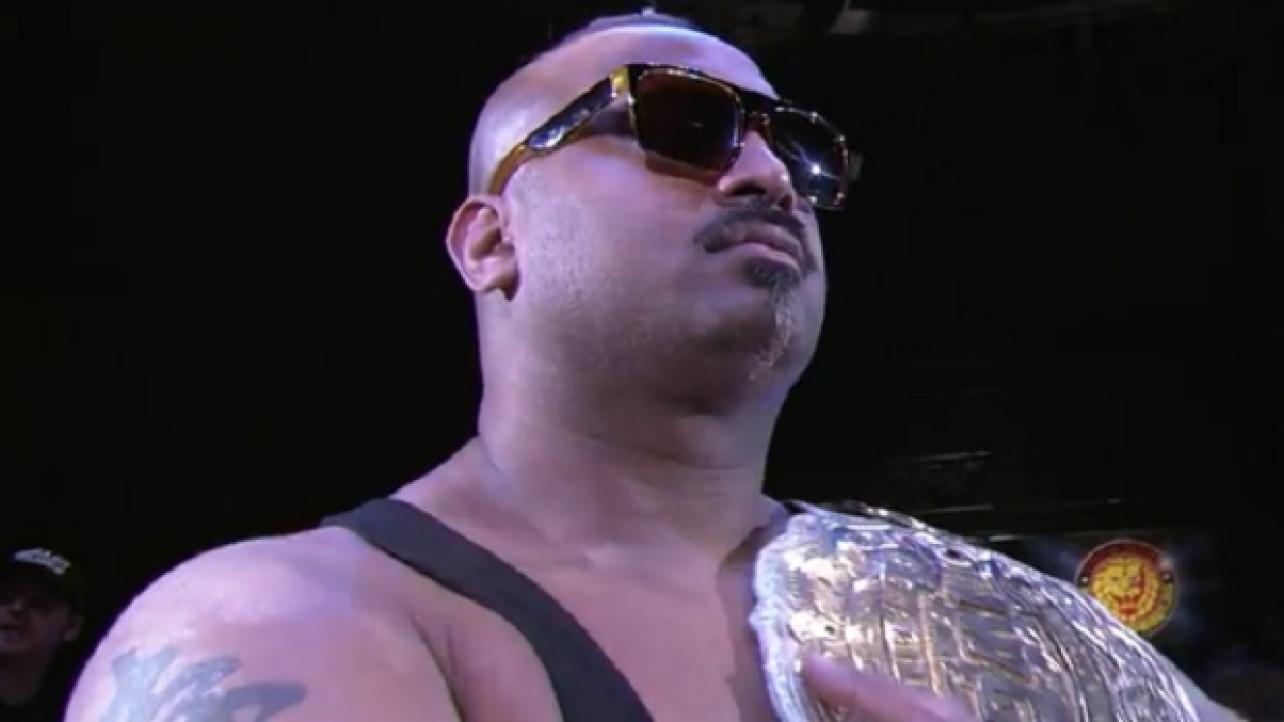 This article discusses the baddest man in pro wrestling; Bad Luck Fale. Along with his fellow Tongans and 'Firing Squad' members, Tama Tonga, Tanga Loa and King Haku; this Polynesian branch of the Bullet Club are causing all sorts of havoc at the New Japan Pro Wrestling's G1 Climax tournament series. Although Fale is currently a prominent topic of discussion in the wrestling world, this piece focuses more on his backstory as a youngster growing up in New Zealand and the ongoing work he serves in his South Auckland community. I had the privilege of interviewing Bad Luck Fale during his visit back to NZ, to which I gained some valuable insight into the man nicknamed, "Underboss".
Ite Lemalu:  Please share your memories about your family's journey, migrating from Tonga to New Zealand?
Bad Luck Fale:  We moved from Tonga to New Zealand in 1989. It was a whole new world, but it wasn't an easy life. Mum, Dad, and my older siblings struggled with multiple jobs to look after us. We lived in Onehunga (central Auckland) then moved to Mangere (South Auckland) in the early 90's.
Ite Lemalu:  What are some of your first memories of watching wrestling?
Bad Luck Fale:  The earliest memories of wrestling was when we were still in Tonga. My grandfather had a wrestling videotape, and we watched it over and over, for years. I remember watching Hulk Hogan, King Haku and Andre the Giant, who stood out.
Ite Lemalu:  Could you describe your experience as a student at De La Salle College, specifically your time playing for the 1st XV rugby team: How much did this school prepare you to transition from rugby to pro wrestling?
Bad Luck Fale:  De La Salle gave me the chance to get to where I am today. There were times where I couldn't afford to pay for my school fees so my 1st 15 coach would help me out, and that wasn't just me. The school still helps those who are in need to this day.
Ite Lemalu:  When you first arrived in Japan, how were you at adapting to the culture?
Bad Luck Fale:  I arrived in Japan only knowing "Konnichiwa" and expecting to see samurai warriors walking around; it was a very different world. It was not easy at all. Having to learn the language and getting used to the food.
Ite Lemalu:  The number of Pacific Islanders in wrestling has grown a lot in the last 15 years; other than and yourself and the Islanders you work with in Japan; who are some other Pacific wrestlers that you've met?
Bad Luck Fale:  I've met the great Rikishi and his son and nephew. I've received
nothing but love.
Ite Lemalu:  In regards to the working relationship between New Japan Pro Wrestling and Ring of Honor; have you considered working for ROH or basing yourself in the United States?
Bad Luck Fale:  I actually I haven't. But if the opportunity arises who knows.
Ite Lemalu:  What are your plans for the G1 Climax tournament?
Bad Luck Fale:  Like I have every year. I aim to stamp my mark as one of the greats and make sure the voice and presence of our Polynesian people are noticed.

Ite Lemalu:  What inspired you to set up the Fale Dojo and locating it in South Auckland?
Bad Luck Fale:  The reason I based it in south Auckland is to give the young people there the same opportunity I had. Not all of them play rugby, netball etc. This is just another option. Henare is making a huge impact on the business at the moment and he will be a superstar in the near future. My goal is to open up Fale Dojo in Tonga, Fiji, and Samoa.
Ite Lemalu:  During your spare time, you invest a lot back into your community.  Could you share some of the work that you're involved in?  
Bad Luck Fale:  I like to share my struggles and journey with the local youth groups and schools. Hopefully, some of them will realize that they too can make it.
Ite Lemalu:  Who has been your favourite opponent so far; and is there a wrestler you've yet to lock up with that you'd like to wrestle?
Bad Luck Fale:  Thus far, Shinsuke Nakamura. My dream match is to team up or wrestle against the man King Haku.
Ite Lemalu:  Before we close off, is there anything you'd like to say to your fans?
Bad Luck Fale:  Cheer me or boo me. Thank you!
Thank you @TOKSFALE
---
Always Use Your Head and visit the official Pro Wrestling Tees store for The Chairshot All t-shirt proceeds help support the advancement of your favorite hard-hitting wrestling website, The Chairshot!

---