Top 5: Worst WrestleMania Moments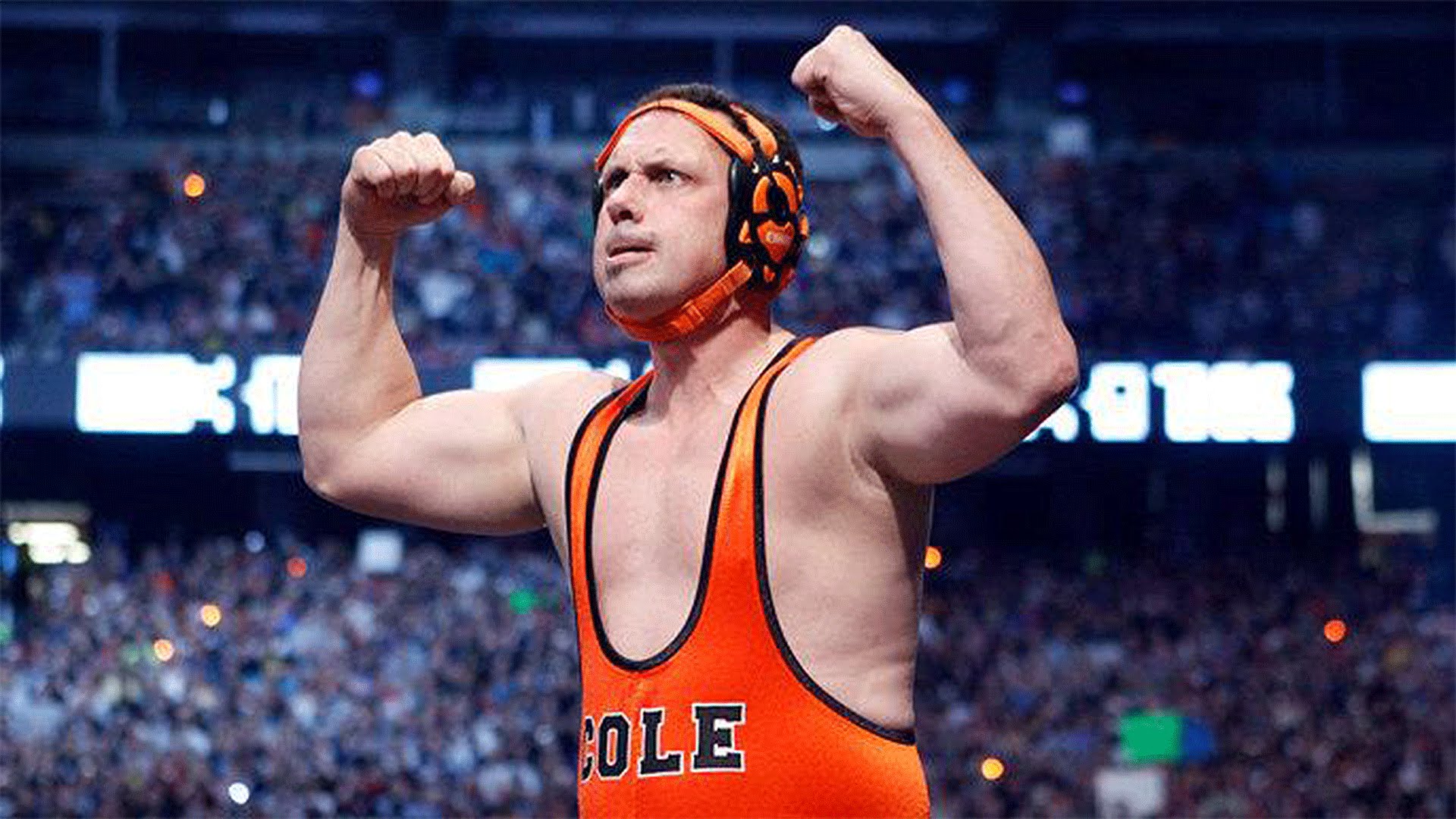 WrestleMania Moments seem like bigger goals for a WWE Superstar than championships. What was once a saying busted out one time by Jim Ross during Hulk Hogan vs. The Rock has become the backbone of WWE. WrestleMania has become the one show a year that everybody cares about, and every moment is apparently a WrestleMania Moment.
Thing is: not every WrestleMania Moment is great. Some of them are downright stinky. Some moments that are meant to be epic end up coming off as anything but. Some moments are so hideous that you wonder why they were even thought of. The week before WrestleMania seems like as good a time as any to remind everybody of this.
I left off pretty much anything to do with irrelevant celebrities because we all knew those moments were going to stink anyway. The Miller Lite Catfight Girls' Pillow Fight was never going to take up space in the highlight reel. Snooki wasn't going to have a five star match. Howard Finkel joining the Hair Club For Men wasn't meant for anything more than a laugh.
These are the Top 5 Worst WrestleMania Moments.
5. Sting vs. Triple H (WrestleMania XXXI)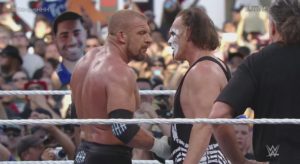 I know I'm in a minority on this one. I remember watching this as it unfolded & also watching my Twitter feed explode with positivity & people marking out for all of the random appearances. Everybody from DX came out to help Triple H. Everybody from the NWO came out to help Sting. Eventually Triple H got the win & everybody ended up showing mutual respect.
I had so many problems with all of this. Sting losing his only WrestleMania match doesn't even make my list, because the winner & loser here didn't particularly matter. Here's what I was confused by:
-Why was the NWO helping Sting? Sure, he joined the Wolfpac when they were feuding with NWO Hollywood, but that was because of his unending loyalty to Lex Luger. He never fully forgave Hogan or most of the other NWO guys.
-Why would Sting show Triple H respect after he was beaten by a sledgehammer shot? The whole reason Sting came to WWE to begin with was his disapproval of the Authority & their evil ways. Why would Triple H cheating to beat him magically change his mind on the matter?
-Was this match booked for any other reason than to prove that WWE > WCW? And why were they still obsessed with reiterating that point more than a decade later?
I know a lot of you probably liked it. To me, it was a gigantic waste of time. I can see these guys in their prime on WWE Network. I didn't need to see them stumbling around here.
4. Bret Hart vs. Mr. McMahon (WrestleMania XXVI)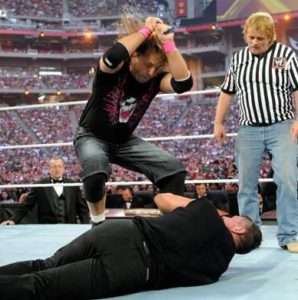 This is another one that will probably make people mad. Don't get me wrong, I loved the fact that Bret finally came back to WWE & made amends with everybody involved with the Montreal Screwjob. It was time to let bygones be bygones & give Bret the historical spotlight that he deserves.
We could have skipped the on-screen feud with Mr. McMahon though. We also could have skipped the "match" at WrestleMania, which was as embarrassing to watch as I feared going in. Bret has obviously never been the same physically since his stroke, and Vince wasn't exactly an athletic marvel whenever his prime would have been. Watching Vince get heat on Bret & the young Harts coming down to help was sad more than anything else. Harry, TJ & Nattie are all great in their own way, but this didn't do them any favors.
Bret vs. Vince was very similar to the later Sting vs. HHH match. They both appealed to nostalgia in very flawed ways. Many didn't care the presentation was flawed & were simply happy to see their old favorites. I would have rather remembered my old favorites the way they were. There's probably more money to be made the former way, of course.
3. Michael Cole vs. Jerry Lawler (WrestleMania XXVII)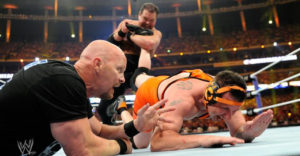 It was nice that The King finally got to have a match at WrestleMania. That is the only good thing that can be said about this atrocity. After we sat through months of Michael Cole crapping on everybody on the WWE roster & burying the product to the point of no return, Lawler was set to shut him up at WrestleMania. We got a couple of fun matches with Lawler vs. The Miz out of the buildup, so that was pretty cool. Stone Cold Steve Austin was the guest referee for some damn reason. I still can't believe they wasted him on this.
After fourteen minutes of in-ring action that felt like forty due to Cole getting to do most of the offense, Lawler got the win by making Cole submit to an ankle lock. The Anonymous Raw General Manager then reversed the decision due to Austin's biased officiating. But hey, Austin got to stun some announcers nobody cared about. Just a tremendous waste of time and the exact opposite of a WrestleMania Moment.
2. Hulk Hogan Wins the WWF Championship (WrestleMania IX)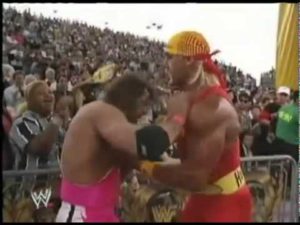 Even as a kid this whole thing didn't feel right. Bret Hart was about to defeat Yokozuna & retain the WWF Championship when Mr. Fuji threw salt in Bret's eyes while he was applying the Sharpshooter. Yoko wound up getting the pin in less than legitimate fashion. Hulk Hogan came down due to his outrage, & Fuji issued an open challenge to Hogan right then & there. Bret seemingly approved, and Hulk ran in & beat Yoko in a minute.
It was supposed to pop the crowd, which it did, but it felt a bit off & didn't show anybody in a positive light. Hogan beat a 500 pound man who had just been through a grueling match & was worn out. Yoko needed Fuji to beat Bret, & couldn't beat Hulk. Fuji looked like an idiot for issuing a challenge to Hulk Hogan while his champion was sucking so much wind that the first three rows passed out from oxygen deprivation. Bret looked like a gullible fool that was fine with the Hulkster stealing his thunder & spot on top of the mountain.
This could have made sense if it was leading to a full-time Hulk comeback, or even a part-time one. Instead it led to Hogan dropping the title at King of the Ring back to Yokozuna while Bret Hart twiddled his thumbs & waited for his big match with the Hulkster. I think he got one in WCW, but I'm not 100% sure. They gave stuff like that away on Nitro all the time.
Honorable Mention: Big Show vs. Akebono (WrestleMania 21)
Five words: Big Show in a diaper.
Honorable Mention: Sheamus Beats Daniel Bryan In 18 Seconds (WrestleMania XXVIII)
This would be an easy top 5 pick if it didn't build up a tremendous amount of goodwill for Bryan. I've grown to appreciate it for that alone. The only problem is that the guy it was actually supposed to get over, Sheamus, got less than nothing out of it. The assertion that the outcome was WWE's goal all along doesn't pass the laugh test.
1. "Santina Marella" Wins Miss WrestleMania Battle Royal (WrestleMania XXV)
This train wreck had a couple of parts. First, we were treated to the musical stylings of future WWE Hall of Famer Kid Rock.
We all have our opinions when it comes to music & politics. I won't subject you to mine here, other than to say that I am no fan of what Kid Rock brings to the table. The various Divas entered in the battle royal got to walk out during Rock's final song & if you could identify most of them you're a better man than I. Let's run down the list:
Alicia Fox
Beth Phoenix
Brie Bella
Eve Torres
Gail Kim
Jackie Gayda
Jillian Hall
Joy Giovanni
Katie Lea Burchill
Layla
Maria
Maryse
Melina
Michelle McCool
Mickie James
Molly Holly
Natalya
Nikki Bella
Rosa Mendes
Sunny
Tiffany
Torrie Wilson
Victoria
Some of these folks hadn't been seen in years. Sunny? Joy? Molly Holly dressed in her original Holly cousin persona? They all came back here with little notice from anybody because it was a battle royal with way too many people in it that went 7:25, and nobody got entrances because Kid Rock had to sing. Most of these women would have been a viable winner because it's a battle royal & who really cares, right?
They managed to choose the worst possible option.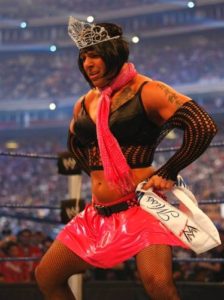 "Santina Marella". The alleged twin sister of Santino Marella, who emerged during the build-up to this match because…hell, I don't know why. Somebody was really high that day I guess. Santino's humor was popular with fans at the time & this gave him something to do. It was simply really stupid at the time. Hindsight makes it look really really stupid.
The tone of women's wrestling in WWE has flipped 180 degrees in the nine years since somebody thought this was a good idea. Thank God. I guess the real question is if naming the Women's WrestleMania Battle Royal after Santina Marella would have gone over better than the attempt at naming it after Fabulous Moolah.
Andrew's WWE Raw & SmackDown Live Review & Notes (1/21 &1/22)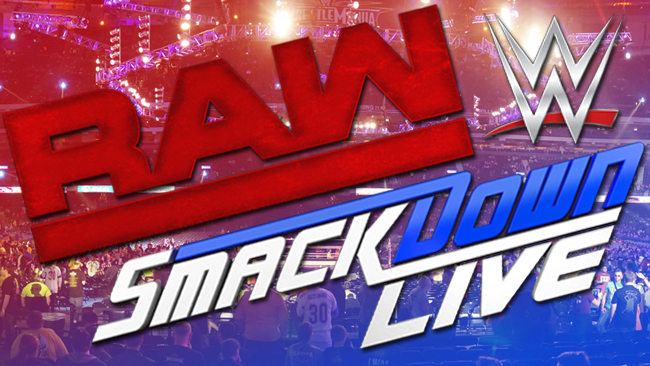 The Royal Rumble "Go Home" shows. Did they produce entertaining content, or limp towards the finish line since most will watch Rumble purely on name value. Let's find out!
Now given that I enjoyed Raw so much last week, I'm tempering my expectations for this week. It's been longer than I care to try and remember, that WWE has knocked it out of the park two weeks in a row.
With the low bar set, do we see a Fosbury Flop, or well…just a flop. Let's see!
Raw Ratings:
Finn Balor vs Braun Strowman: Balor wins via DQ after Lesnar interferes – * 1/2
Apollo Crews vs Bobby Lashley: Lashley wins via Spear – *
Seth Rollins vs Drew McInture: Rollins wins via Cradle – ** 1/2
Lucha House Party vs Jinder & The Singhs: Gran Metallik wins via Backbreaker – -* (yes it's negative)
Elias vs Baron Corbin: Corbin wins via End of Days – N/A
The Ascension vs Heavy Machinery: Otis wins via Caterpillar – N/A (squash)
Raw Tag Team Titles: Bobby Roode & Chad Gable vs The Revival: Gable retains via Rollup – ***
Bayley & Sasha Banks vs Natalya & Ronda Rousey: Banks wins via Bank Statement on Natty – ***
Review Notes:
We kick off things with talking…well now, new changes right? Heyman does his played out thing by now, Vince comes out and tells his own variation of a Wikipedia edited David and Goliath story. Braun shows up to try and look menacing and speak words that don't matter. Finn walks out after like 15 minutes of bickering, to point out that this is typical. He then tells a closer to correct David and Goliath story. Vince gets the bright idea that Brock should be at ringside for the real David and Goliath bout of Finn versus Braun.
Now before this match started, we all knew how it was gonna end. Brock at ringside, Braun is a monster so he can't lose clean and Finn is the challenger…so he can't lose clean. So yeah, making matches that can't logically have a winner is a waste of time, much like this match. The action was alright, the spot where Lesnar catches a falling Balor just to Overhead Suplex him to the floor was moronic since the referee saw it and didn't throw out the match there. Finn fights back valiantly, then right after landing the Coup de Grace, Lesnar F5's Balor and THAT'S a DQ apparently. Must've gotten NFL referees for this match.
Lashley and Lio come out, and every bit of praise I gave them the last two weeks goes out the window here. Lio is worthless saying nothing of merit, and this somehow devolves into a pose off when Apollo Crews comes out to throw his hat in the ring. The pose off did showcase a little personality from Apollo, so that was a bright spot, but come on…this is dumb. Then Lashley attacks him and a match happens regardless of any previous words or stipulations to the pose off (yay wrestling).
Lio apparently will now be a bigger player in the matches, which is fine. But when no one cares about either wrestler, we came off roughly 20 minutes of talking into a gimmicked finish, for another match without a clean finish. Short match with no story or reason to care.
Rollins comes out, gives a speech we're supposed to care about, but I really don't. He brings Roman up AGAIN, and really seems to be going through the motions almost to a disingenuous point. McIntyre comes out to save the segment before it leads to a match, cause everyone in the Rumble needs to be showcased leading to it, yeah, that sounds right, sure.
The match is standard fair for a Rollins match. Okay work rate, slightly predictable sequencing, but since the finish was a Cradle…that's different. I don't know, the match was fine, but McIntyre losing just signals that now he wins the Rumble or finds a way to at the very least, cost Rollins the win.
The Revival discuss their position with Vince in the back, say they'd like an impartial special guest referee and Curt Hawkins walks up. Vince tells him he's the special ref and Hawkins has the best line of the night with "Well, I have seen a lot of threes lately…", and then the Revival start buttering him up before the match.
Lucha House…Jinder and the Singhs…WHY!? This has no business being a thing beyond they are two groups of 3. Stupid, useless, worthless, I hate the Lucha House Party. Send them back to 205 Live, deport them, I don't know…just stop. This is not good, they have no personality, and have been damaged from that dumb House Party rule gimmick from a few weeks back. Screw this team. And who wins with a Backbreaker not named Roderick Strong?!
Dana Brooke is talking at EC3, I say talking at cause he doesn't respond and she just hits him with a litany of questions as Elias walks to the ring.
Elias tries to do his thing, Corbin interrupts, a forgettable match happens and Corbin wins cause he needs to look like he's marginally competent going into Rumble.
Alexa Bliss' Moment of Bliss, is a train wreck again, multiple women just walk out, declare their piece for the Rumble, Alexa even makes note of all her shows have been awful and she's sick of it. So she announces herself in the Rumble, the only highlight was Lacey Evans finally came out and said a few things for the first time. All you Nasties are gonna learn.
The Ascension get to be fed to Heavy Machinery! Well I guess that proves they're staying on Raw since Raw loves job matches. Only real note from this is Otis' Worm, is not called the Caterpillar. You know, like the company that makes heavy machinery. The writers are true wordsmiths I tell you.
This tag match was like a highlight real of heel wrestling 101 and a referee actually being attentive. Hawkins is by far the best referee of the night (and weekend probably too), so a decent match. Nice spots, these two teams have nice chemistry and we see a reuniting of Zack Ryder and Curt Hawkins at the end. So maybe that's where The Revival go next. Only odd take away is why would you make The Revival sympathetic for the last few weeks and then ruin it completely in 2 weeks. The direction just makes no sense.
Ronda with a passionate, yet clumsy and weird biblical promo with the hair washing feet thing. What since David and Goliath was referenced now we're quoting the bible for promos? Ugh…no more talking Ronda please.
Yes we all know Sasha had a wardrobe malfunction during this match. But let's not have that take away from a decent match and the fact that Bayley and Sasha did technically give Ronda her first loss in WWE. So building up the challenger for two weeks right before the PPV seems like the obvious set up, but be honest, 99% of us have Ronda winning anyway. Sasha could've defeated the whole women's division and we'd still go, "yeah but". It was nice to see Bayley and Sasha continue to work decently as a team, but they did sow some seeds for Bayley versus Sasha since Sasha tended to move out of the way a lot and let Bayley eat moves.
Overall Score: 5/10
There really seemed to be no passion or imagination in this show except for Ronda's odd promo. As Tony Acero so nicely put on Raw Reaction, I was just saying "okay", through most of this show. It didn't surprise, intrigue or go outside of the box at all. Just a basic color by numbers Raw. Mediocrity encapsulated in a show, if you will. SmackDown has to be better…
SmackDown Live Ratings:
Mandy Rose w/Sonya Deville vs Naomi: Rose wins via pinfall – **
Miz w/Shane vs Cesaro w/Sheamus: Cesaro wins via Gotch Neutralizer – ***
Mustafa Ali vs Samoa Joe: Joe wins via Coquina Clutch – ** 1/2
2 out of 3 Falls: Rey Mysterio vs Andrade Almas: Rey wins via DQ 2-1 – *** 3/4
Review Notes:
So since it's WWE we start off with talking, but this one is Becky and Asuka, and we like them. Becky does the old school heel thing of listing Asuka's accolades but making sure to mention that Asuka didn't BEAT her and she's still just better than Asuka. Charlotte saunters out, let's out a Woo and Asuka tries to get in a cheap shot on Becky, thus creating a brawl for a few minutes. Becky gets the upperhand throwing Asuka into the announce desk, before the brawl heads backstage.
Naomi has every right to try and kill Mandy. She tried to cause problems in her marriage and Naomi had the upperhand in most of the match. A flurry of kicks and elbows from Naomi give us hope she'll get her revenge, but Sonya's interference becomes too much, giving Mandy the opening to show Naomi into the ring post and cover her for the pinfall.
Miz and Shane might be my favorite thing on SmackDown story wise. I mean I love Andrade & Rey Mysterio angle, but the sheer fun and enjoyment Miz and Shane seem to be having is infectious.
The match had a lot of good resiliency from Miz. The Miz has been looking like a better wrestling ever since the World Cup tournament. Miz tried to get an early win with the Figure Four Leglock, but Cesaro got out of it. Sheamus eventually takes out Shane so they can get in a cheap shot, which leads to a Gotch Neutralizer and a win for Cesaro.  Post match beatdown sees Shane eat a Brogue Kick, as well as getting driven through Miz and effectively through the announce table. Feels like a heavy signal that Miz and Shane will win at Rumble, but who knows.
Mustafa points out an interesting aspect of Joe beating him down last week. That being, Joe looks down on him, like he doesn't belong there and he wants to prove himself.
Vince basically moderates the discussion between Daniel Bryan and AJ Styles. Not much is really said except for AJ turning the FICKLE word against Bryan and it catching a little. Styles chases Daniel outside the ring, lays in a few shots, rolls him back in for the Phenomenal Forearm, Daniel uses Mr. McMahon as a shield to then lay out AJ with Knee Plus.
Truth and Carmella are walking through the back discussing the Rumble. Truth toys with the idea of challenging Buddy Murphy for the Cruiserweight title, and when Carmella points out the weight limit, he takes it as her calling him fat and storms off a bit. Charlotte and Carmella have a few words, but nothing really noticeable here.
Ali showed that he learned from last week and turns around some call back spots into flips and body presses. But Joe eventually proved to be too much and Ali taps out to the Coquina Clutch.
New Day have a nice moment discussing Rumble plans, Kofi has a moment of doubt if he can't come up with a cool spot, Kayla tries to ask the question everyone does about would they eliminate each other. After going through a list of people who asked, they say "Is Tony Chimmel gonna ask us too?", and Chimmel shows up before they shoo him away asking if they look like Edge and to get going.
YAY! 2 out of 3 falls match! Andrade and Rey all day! First fall comes after Andrade connects on an Avalanche Sitout Powerbomb. Rey hits a Code Red, doesn't' get him, but pulls out the Canadian Destroyer as a counter to what looks like a Powerbomb and evens it up at one a piece. Rey tried to get a quick win with the West Coast Pop, but Andrade kicks out. After Rey finally connects with a 619, Samoa Joe shows up to ruin the finish. In the middle of making his final decree, Randy Orton RKO's Joe to a giant pop from the crowd.
Overall Score: 7/10
Well okay we're back to the normal situation of SmackDown being the clearly superior show and Raw being mediocre at best. Andrade and Rey are just wonderful together, that match could've been something special if it were allowed to finish decisively. I look forward to a time when they get 20+ minutes on a PPV to just tear the roof down. SmackDown is such a treat coming off a Raw that left, not a sour taste in my mouth, but ashy disappointment.
The Streak Part 4: Darkness Falls – 1998-99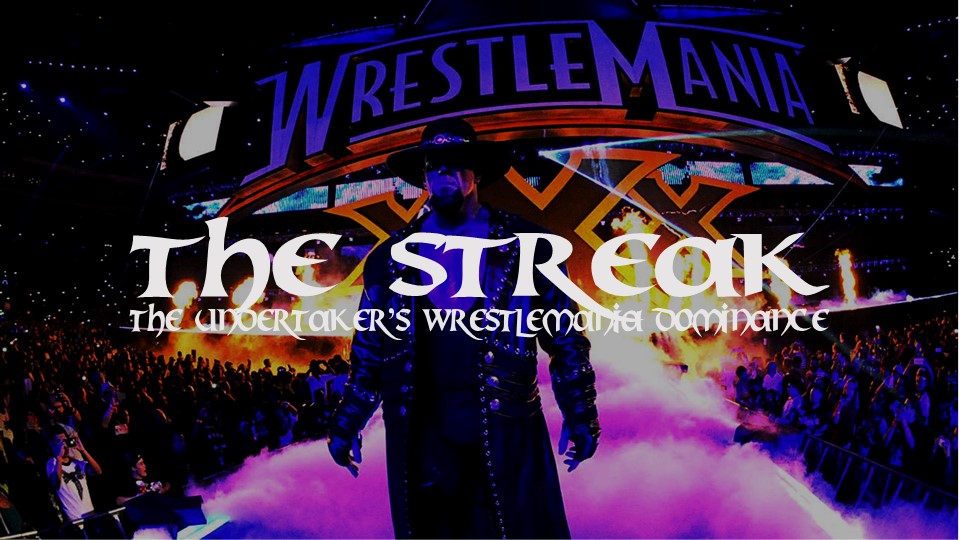 Tiffany MC brings you the next two matches as part of The Streak, as The Undertaker battles Kane and the Big Boss Man at WrestleMania!
The years of 1998-99 were turbulent times for WWF and the Undertaker. The Monday Night Wars, started by the advent of WCW Monday Nitro were heating up and the question of which company would prevail was on everyone's mind. In order to compete, WWE began featuring edgier, sexier, more reality based storylines.
For the Undertaker, this meant the introduction of his long-lost brother, Kane, setting off a storyline and partnership that has lasted 20 years and had more twists and turns than a daytime drama. Also in these years, Taker would reunite with Paul Bearer and unleash his disturbing Ministry of Darkness on the WWF, igniting a feud with Vince McMahon, which would culminate in one of the most shocking reveals in wrestling history.
WrestleMania XIV: Cain vs Abel Part 1: Of all the matches Taker had in this period, this WrestleMania match with Kane is not only one of the best in terms of quality, but had a very compelling storyline. The story has become a little convoluted over the years and there have been a lot of twists and turns, but the story in 1998 was this: Undertaker and Kane were brothers, there was a fire at the funeral home their parents owned, their parents were killed and Undertaker thought Kane had been killed as well, but Kane had only been horribly burned. Paul Bearer nursed Kane back to health and raised him while encouraging his hatred of his older brother.
When it was  revealed to Taker that Kane was not only alive, but looking for revenge, he actually refused to fight his brother due to a promise he'd once made to their parents. It wasn't until Kane and Paul Bearer cost Taker the WWF Championship at Royal Rumble 1998 and set the casket containing Taker on FIRE, did Taker finally fight back and vowed to unleash unholy vengeance on his brother and his former manager.
Before this match gets started, we're introduced to Pete Rose, who was going to be guest ring announcer for this. Ol' Charley Hustle was never afraid to shoot his mouth off and proceeded to insult the Boston fans and the Boston Red Sox, who at that time hadn't won a World Series in 80 years. Before the riot could get going, Kane came out and attacked Rose and Tombstoning him, much to the delight of the crowd.
Taker's entrance was simply AMAZING! It was such a cool entrance that a clip of it was used in WrestleMania promo videos for a few years. It started with a Gregorian chant while the druids, with lit torches, came out and since there was a long entrance ramp at WrestleMania XIV, there were a lot of druids when the chanting reached its crescendo, the lights went out and the gong started. Taker came down the ramp in a coat that made him look like Dracula, but it looked SUPER cool with all the lit torches.
Taker's matches are never pretty or extremely technical, and this match was no exception. It started with punches and shoves and stayed there. Kane dominated much of the match and caught Taker during a crossbody attempt. Kane had the Tree of Woe in mind but the 6'10" Undertaker was way to tall for that.
Kane did a really great job of hanging with Taker on a big stage, but he was definitely a little rough around the edges. It wasn't quite 'Do I Owe You Money?' territory, but it was close.
Throughout the match, Paul Bearer made his presence known, chastising Undertaker throughout the match in that annoying voice of his and getting in some cheap shots whenever the ref wasn't looking. Have to say that Bearer was clearly whiffing a lot of his punches, but Taker sold his butt off anyway.
The match went out to the floor, but Jack Doan was very reluctant to do a count or do anything other than get out of the way. Even using the steps Kane had thrown to get back in the ring.
One of the craziest parts of the match was Taker going for the running dive and being…directed into the Spanish announce table, which was being manned by WWF Legend Tito Santana, who kept doing commentary on the floor while his colleagues tried to get up.
Taker's self-preservation would finally kick in, but it would take THREE Tombstone piledrivers to put Kane away, and Kane still nearly kicked out at the last possible second.
Enraged at his son's defeat, Paul Bearer grabbed a chair and attacked the Undertaker just for the hell of it. Kane joined in the attack and Taker was left in a heap in the ring, which made the win over his demented brother less than the sterling victory he'd wanted. However, Taker sat up and was able to leave the ringside area under his own steam.
Highlight: Pete Rose being a damn good sport and taking that tombstone like a champ. Taker's entrance. Tito Santana continuing to do commentary in the wreckage of the Spanish Announce Table.
Rating: 7/10 This was a fantastic match and my favorite of Taker's WrestleMania matches in the 1990s.
WrestleMania XV – Boss Man Goes to Hell: This match came about through one of the most disturbing storylines of the Attitude Era. The Undertaker had reunited with Paul Bearer and became the Lord of Darkness. Then he began recruiting superstars to form The Ministry of Darkness, which would be the launching pad for teams like Edge and Christian and the APA. Taker began demanding that Vince give him a title shot and began targeting Vince's family, specifically Vince's daughter, Stephanie McMahon. In an attempt to end the threat, Vince sanctioned the first ever WrestleMania Hell in a Cell Match and sent the Corporation's Chief of Security, the Big Boss Man to end the threat of the Undertaker.
Boss Man comes out and still didn't get in a great reaction, despite being the nominal babyface in this match. Undertaker, despite being a very scary heel, got a pretty good pop when the gong hit, though the pop died a little during the 'Accept the Lord of Darkness' stuff. Undertaker came out looking like a 90s horror film maker's idea of Satan.
I'm going to be honest, I really hated this match. I wasn't a fan of Taker's Satanic stuff  and that killed my enjoyment of this match. Boss Man, though being a good half a head shorter than Taker was still large enough to really be able to take it to Taker, including cuffing Taker to the cell and beating him with the nightstick. One funny thing was Taker going for Old School and then realizing that he was too tall to be able to pull that move in the cell, which was much shorter then, and then getting nut shot by Boss Man.
That said, this was a pretty good Hell in a Cell match and it was as brutal as you'd expect it to be in the days when bloody matches were a staple of WWE shows.
It wasn't until after the match was over that the thing I hated most about this match happened. The Brood (Edge, Christian, and Gangrel) descended from the rafters and helped Taker 'hang' Boss Man from a noose from the roof of the cell. Even knowing that Boss Man had a harness on and wasn't in any real danger, the sight of that…lynching was so disturbing that I can hardly stand to watch it. If I had to consider who would think that was 'edgy' and not 'disturbing', I'd say this spot came from the brain of Vince Russo.
Highlight: It ended.
Rating: 4/10 The match was fine, but I HATED what happened afterwards.