Why Brock Lesnar's WWE Exit Can't Come Soon Enough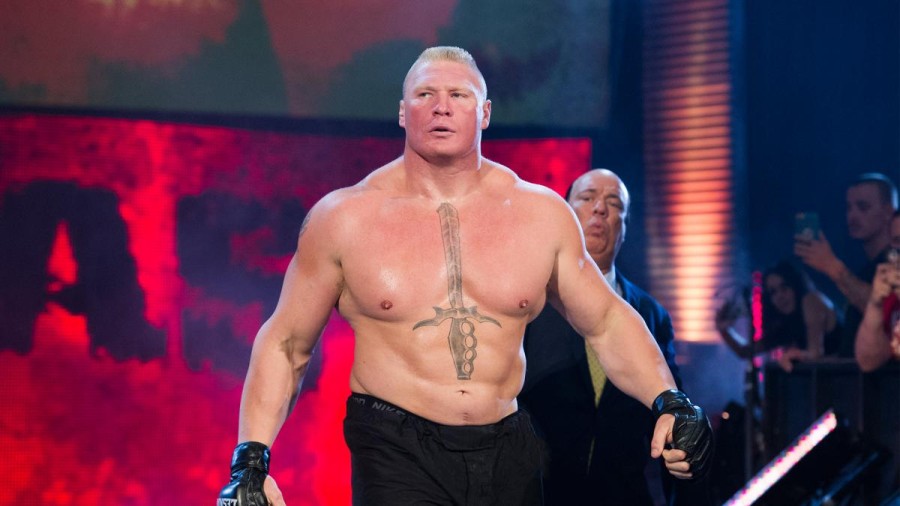 The crowd fell almost silent as the bell was rung, and an air of disappointment washed over the entire arena in New Orleans. Brock Lesnar, rather surprisingly, pinned Roman Reigns clean at WrestleMania 34 last Sunday to retain his WWE Universal Championship.
This reaction was nothing to do with the fact that the supposed villain had overcome the hero of the piece, nor was it that we wanted to see Roman finally conquer his long-time foe. It was the realisation that Lesnar would be sticking around in WWE for a while longer and would be remaining our champion. But he's a big draw, right? Surely, we should be happy to have such a big name in the company? Brock was at one time a fan favourite, and as recently as a couple of years ago was still looked upon favourably by the WWE Universe, but a now virtually non-existent schedule and an even more non-existent move set have seen him drop way down in a lot of people's estimations.
What occurred at WrestleMania was wildly different from what everybody was expecting. After virtually a full year of build up and hype, Reigns was nailed on to emerge victorious, conquer the beast and finally pluck that thorn from his side. The fact that Brock had already announced his return to UFC and was yet to sign a new WWE contract only served to add more fuel to the fire and made the result a foregone conclusion. But it was not to be. WWE shocked the world by having Brock retain and added insult to injury by having him decimate Reigns. The Big Dog was left battered and bloodied in a brutal finish to the match, taking six of Brock's F5's along the way.
The Beast Incarnate was now not only standing atop of WWE mountain with the Universal Championship in his grip but he also had a brand new spanking WWE deal. The company swiftly announced that Lesnar had signed on the dotted line and would take on Reigns yet again at the Greatest Royal Rumble PPV in Saudi Arabia later this month.  There's every reason to believe that Brock will lose the gold and finally be on his way, but we've been fooled into thinking that multiple times now. The rematch makes no sense on one hand. Roman, the challenger, lost his title opportunity in New Orleans, therefore he should have to earn another shot. Then on the other hand it makes a little sense. WWE want Reigns to win the belt and receive a great reaction from the crowd. He is inexplicably adored in countries like India and Arabia, so his victory will go down a treat and leave Vince McMahon stroking his ego some more, thinking we have all taken to Reigns finally. It'll be interesting to see how much the boo's and jeers intensify 3 nights later when WWE return to the States…
However, all may not be well with WWE's relationship with Lesnar. We've seen various reports from reliable sources in recent weeks that Lesnar and Vince had a heated backstage confrontation after the curtain fell at WrestleMania which supposedly led to the champ throwing his Universal Championship belt at the boss. Something like this coming out can only serve to cause damage to the WWE Universe's already poor perception of Lesnar. It is well documented that he has very little time or respect for people both inside and outside of the company, so adding into the mix his diva like behaviour will surely convince WWE to finally act and cut ties.
I for one will be thrilled to see Lesnar leave. Part timers and nostalgia still have a large part to play in WWE, but with Lesnar it has always felt different. Whenever Stone Cold, The Rock or Undertaker return you can see how pleased they are to be back. Lesnar doesn't give even the smallest of fucks. He is widely perceived as entitled and lacking any sort passion for the business. He simply can't wrestle and relies on brute strength with no real move set to speak of. He has failed to distance himself from his MMA background and operates as if he is still in the Octagon of UFC. WWE tried their best to use these well-known facts to help get Roman over. He spent weeks calling out Lesnar over his inadequacies during the build to their showdown, though it did little to help Roman's cause. Despite all of this, the main source of distaste towards Brock will forever come from his limited work schedule. Regardless of your feelings towards Reigns, at least we will see the title every week once it is around his waist.
Throughout the last 16 months, Lesnar has competed in only 21 matches. That's spread over roughly 70 episodes of RAW, monthly PPV's, Big 4 PPV's and any live shows along the way. By comparison, WWE champion AJ Styles has competed in over 200 matches in that same period. Lesnar's sporadic appearances have often forced WWE to work around him, to focus less on the main event scene and close the show with mid carders. For guys like The Miz it was a blessing in disguise. His 2017 was out of this world, but it says something when the Intercontinental Championship scene is having to take centre stage in the absence of your 'top guy'. The build to SummerSlam last year was great, with Samoa Joe, Braun Strowman and Reigns putting in all the hard work, but it always felt like it was lacking something. Simply put, its difficult to build a proper storyline when your champion is never around. 
The worst thing about Lesnar for me is that even when he does show up, his matches are almost always trash. They aren't even close to being main event quality considering the absurd amount of money he receives for them. In a day and age when WWE can regularly churn out 5 star matches from the likes of Styles, Seth Rollins, Nakamura and Finn Balor this doesn't sit well with us fans. The frustrating thing is that Lesnar is capable of putting on good matches from time to time. His champion vs champion meeting with Styles at Survivor Series last year was phenomenal (pun intended) and the fatal 4 way at SummerSlam was a match of the year contender. These instances are so few are far between that even when they do come around, it's still very hard to justify his prolonged absence. Not to mention that his opponents, especially in the case of Styles, must put in almost all the groundwork to protect Lesnar.
When he eventually does turn up and puts on an underwhelming performance in a main event or showcase match, as he did with Reigns at WrestleMania, it's infuriating. It's all too easy to conclude that the majority of that is due to a lack of effort. You see it in every sport in the world. LeBron James or Cristiano Ronaldo can have bad spells but will always eventually come good, they know their poor performances can have negative effects on others around them. This has far too often been the case with Lesnar in recent times. His matches with Strowman, Goldberg, Joe, Reigns and all others have failed to live up to the hype, but he does nothing to improve. He'll take 3 months off, come back and let the other guy do all the work.
The first time I saw Lesnar take somebody to Suplex City, I loved it. It was a fun thing which you just knew was going to take off, especially with the live crowds. However, either a change in direction from WWE or Lesnar personally have led to this once coveted destination turning into a holiday from hell. Fans will now regularly boo Lesnar's heavy handed offence and have stopped counting along to multiple suplex's. The key reason for that must be Lesnar's shift to a much less varied style. His matches have become droll parodies of themselves. It's 10 minutes of German suplex's and F5's, sporadic bursts of direct punches and unnecessary violence accompanied by potato faced screams.
With everything in mind, it's impossible not to want WWE to bid farewell to Lesnar. His departure would change the landscape of WWE in a huge way and lead us to a new dawn where the main event on the biggest night of the year doesn't get drowned out by "this is awful" chants. A RAW without Lesnar could be centred around a younger and more talented superstar who is available every night of the week. Rollins and Balor have both shown what they can do in a main event spot, Joe and Strowman are two of the most over superstars in recent years with bags of potential and NXT houses tonnes of future stars. For now, the most obvious plan is to have Reigns dethrone Lesnar and open a bevy of top tier challengers coming forward to claim their spot.
The roster is currently the best that it has ever been. So good in fact that WWE opted to have John Cena v Undertaker, two of the biggest names in the company's history, be a last-minute WrestleMania add-on. The women's division, despite dipping recently, has been outstanding for the last couple of years. NXT is without a shadow of a doubt the A show right now, with younger and hungrier talent chomping at the bit.
WWE do not need Lesnar. They didn't last time, they don't this time and they certainly won't need him going forward. The Next Big Thing is no longer Brock Lesnar. The Next Big Thing is waiting in the wings…