Finally found some time to catch up on Wrestle-1 and this being uploaded a couple of weeks ago, we now get to see who wins the Cruiser Fes, the W-1 Championship match, and Mutoh's final match before he gets knee replacement surgery.
My one gripe with Wrestle-1 is the uploading schedule. It takes about two weeks, after the show already aired, but what can you do? So let's…dive right in.
Singles Match
Masayuki Mitomi vs. Seigo Tachibana
Review: We start off our show with a standard exhibition match to get the crowd into it a bit and was relatively short for it being less than five minutes, but it actually wasn't bad at all as both of them delivered with the time that they had and Seigo looked pretty good in the match. Seigo would get the win with a Cross Armbar, causing Masayuki to tap out.
Recommended: It wasn't terrible, watch it if interested.
Tag Team Match
Kenshin Chikano & Tsugutaka Sato vs. Drunk Andy & Yusuke Kodama
Review: It's time for Enfants Terribles to have another match hoping to finish the show with each member getting a victory like how Seigo did just before, now Drunk Andy and Yusuke Kodama intend to do the same here. One problem I had here is that it looked like some of it got cut off more than usual aside from their entrances since it started with Andy and Kodama attacking Sato with a double team move, so pretty disappointing. I know before I said I'm not impressed with Chikano and I was hoping it would change my mind here and guess what? It didn't. The tag match was pretty average though as there wasn't a lot of mess up's or anything and much like the last one, it was solid enough to get by and be harmless. Enfants Terribles would pick up another win as Yusuke would hit the Mad Splash on Sato.
Recommended: Decent match, same answer as the last.
– We get a commercial here and I don't know what the hell is going on, but I am strangely interested. Curse you, Japan and your marketability!
Six Man Tag Team Match
Daiki Inaba, Jiro "Ikemen" Kuroshio & Seiki Yoshioka vs. Kaz Hayashi, Ryuji Hijikata & Shuji Kondo
Review:  Jiro and Seiki on the same team? Yes please, two of my favorites in the promotion right now. Both Seiki and Kaz Hayashi start off the match with an amazing sequence that was fast paced and exciting and now I wanna see them battle for the Wrestle-1 Cruiserweight Championship down the road. Both Jiro and Seiki would hit a double Lionsault to the outside on their opponents and they matched it perfectly too might I add. The match was a lot more entertaining than the previous two and very good showing by all six of these men. Daiki Inaba did pretty well for himself too and doing good on his own against the veteran team, but he would lose with Shuji Kondo reversing a submission hold into the Samson to get the victory.
Recommended: Solid and entertaining, nothing more to ask for and Jiro is still super kawaii, so yes.
Tag Team Match
Hana Kimura & Saori Anou vs. Natsumi Maki & Sho Sekiguchi
Review: I love how Hana Kimura would wear dark colors in Stardom for Oedo Tai and then wear something colorful for Wrestle-1 as if she was a completely different person there. Sho really likes to hit a lot of Dropkick's in this match since that was pretty much all she did aside from a few roll-up's as well, but anyway, the match a couple of sloppy spots and not a lot of tag team wrestling in it as it felt like it was mostly showcasing themselves a little bit here, but nothing completely wrong with that. The match would last almost ten minutes with Hana hitting a Missle Kick of her own on Sho to pick up the victory and I love Hana, but it didn't look that good either.
Recommended: That is up to you if you love Hana Kimura or know any of the other joshi competitors in there, otherwise I'd skip.
UWA World Trios Title Match
Koji Doi, Kumagoro & Takanori Ito (c) vs. FUJITA, MAZADA & NOSAWA Rongai
Review: We got our first title match of the night as we have ourselves a Trios Match with our younger guys taking on the veteran team of Tokoyo Gurentai, but have a different name in All Japan since it's just NOSAWA and FUJITA there and not MAZADA. Ito reminds me a lot of Kevin Owens since he actually looks like him from body size and wrestling attire, but he also moves pretty fast for himself as well and definitely a highlight of this match, he definitely has a bright future in the company. Koji and Kumagoro would feel out of sync at times with their tag team maneuvers, but don't know if that's fully intentional or not. Ito seems to have some bad luck as he not only lost his Wrestle-1 Result Championship in February, but he not lost his UWA World Trio's Championship after failing on their fifth defense making Tokoyo Gurentai the new champions after FUJITA would roll him up for the win.
Recommended: Fun match, no complaints from me and worth watching Takanori Ito.
WRESTLE-1 Cruiser Fes 2018 Final Match
Alejandro vs. Andy Wu
Review: Here we are at last as these are our two finalists of the Cruiser Fes Tournament. The first round had a series of hit and miss matches and our semi-finals definitely picked up as they gave us two solid matches and some worthy winners at the end of it and I have no problem with either of these men winning tonight to challenge the Wrestle-1 Cruiserweight Champion, Seiki Yoshioka at the show on April 18th. As of this tournament, I am officially a Alejandro fan, I gotta admit that I've been very impressed with his work and part of me thinks he would be a fantastic addition to Dragon Gate if he wasn't working for Wrestle-1, but I can't complain with him there and no doubt a future Cruiserweight Champion. Andy Wu is already a well decorated wrestler in Wrestle-1 and a great opponent for Alejandro to test out his worth here in the company. Alejandro would pick up the surprise victory after hitting two of his Tilt-A-Whirl DDT's which he is officially now called EDO ES TADO, congrats to Alejandro for winning Cruiser Fes and I'm looking forward to his title match.
Recommended: Solid match, two great cruisers and a nice ending to the tournament.
– What's with these awesome and weird commercials!? You need to see these!
Eight Man Tag Team Match
Keiji Mutoh, Kazushi Miyamoto, Ryota Hama & SUSHI vs. Hiroshi Yamato, KAI, Masayuki Kono & Yasufumi Nakanoue
Review: I do wanna clarify something here saying that this is not his retirement match, but this however the last time he will be performing the Moonsault as Keiji Mutoh and at a DDT show, he would do it one last time as Great Muta before he would have his knee replacement surgery. He does intend to return to the ring, but right now that will be up in the air and I wish him a speedy recovery.
Everyone else would be in the ring already as a small video played highlighting Mutoh's career and even played Final Countdown for a moment there before he would come out to the ring with a thunderous applause from the crowd. I haven't seen Mutoh wrestle in a couple of years due to most content being limited and not knowing about the Archive or Puro Dream til about a year now, but aside from his Backbreakers looking weak due to his bad knees, shows he can still go in the ring. Ryota Hama has quite possibly the most torturous Stink Face just for him standing there over you for over 20 seconds and it's like suffocation, definitely worse than Rikishi's. Everyone else though it was nice to see them wrestling like SUSHI since it's been a while since I've seen him work, and glad to see he's doing well. The match was pretty solid for itself and hardly any botches in it, then again what you expect with a ring full of vets that can still go in the ring.
After a nearly twenty minute match, Mutoh would hit his final Moonsault for the win over Masayuki Kono in a solid tag team match. After the match, Mutoh thanked everyone, even SUSHI (they had a good laugh), for coming out and taking part in this match today. As Mutoh will be taking an extended period of time away from the ring as he undergoes knee replacement surgery. Mutoh stated that it is his intention to return to the ring, but today was the last ever moonsault that he will be able to do even if he can return following the procedure. Thank you and good luck, Mutoh.
Recommended: Fun match, definitely a watch specially for Mutoh.
WRESTLE-1 Title Match
Shotaro Ashino (c) vs. Manabu Soya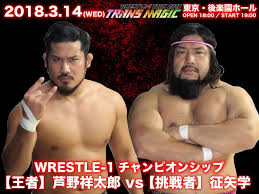 Review: Time for our main event as Shotaro Ashino is looking to not only get a clean sweep for Enfants Terribles in victories, but he also looks to add an 8th successful title defense under his name as he's had a fantastic reign so far as champion and now to see if he can keep going as he fights that man that pinned him in February, Manabu Soya and he is also someone looking to revitalize his career and a win here would benefit him as well, so looking forward to seeing this match and to see who would come out on top and lead Wrestle-1 to new heights.
Oh wow, Manabu gave himself a compete makeover as he shaved off not only his beard, but his hair as well, talk about wanting a major change. This match was fantastic, it told a great story in the ring, it was technical, powerful, and emotional for both of these men and both delivered their strengths in the ring. Ashino is a star wherever he goes and has proved it in the ring and I can see why he's had the belt for so long and why he is considered a top guy. Manabu is also a great powerhouse that meshed with him perfectly here and I'm glad that I was able to see these two fight here. The match would give us the right amount of length with twenty-three minutes and the last five minutes of it bringing it home, Soya would finally dethrone Ashino with the Wild bomber Lariat to become the new Wrestle-1 Champion!
After the match, Soya thanked AKIRA for helping him wake up from his recent slump and unwillingness to strive for more. He even stated that his intention is to challenge for the W-1 Tag belts along with AKIRA. Soya stated that he wishes for everyone to take notice of W-1, as this years marks the 5th year of the promotion's launch, as he aims to defending champion. Happy anniversary to Wrestle-1 and I hope they have a successful year and congrats to Manabu for winning the championship and I'm looking forward to his reign. Ashino would be furious with himself being the only member of Enfants Terribles to lose a match and one he really didn't want to either and during a post match interview in the back, he declared that everything was over and this was the end. What does he mean? I don't know, but we'll have to wait and see.
Overall: Every match was solid and much better than the last two shows that I've covered for them and shows that they can give us quality wrestling when everyone steps up their game. We get a fantastic main event that everyone should watch. Infact, I'll post the link to the video in this very article so you can see for yourself.
Favorite Match: Shotaro Ashino vs. Manabu Soya
Least Favorite Match: Hana Kimura & Saori Anou vs. Natsumi Maki & Sho Sekiguchi
Score: 7.5/10