WrestleMania 22: Big Hit or Big Flop?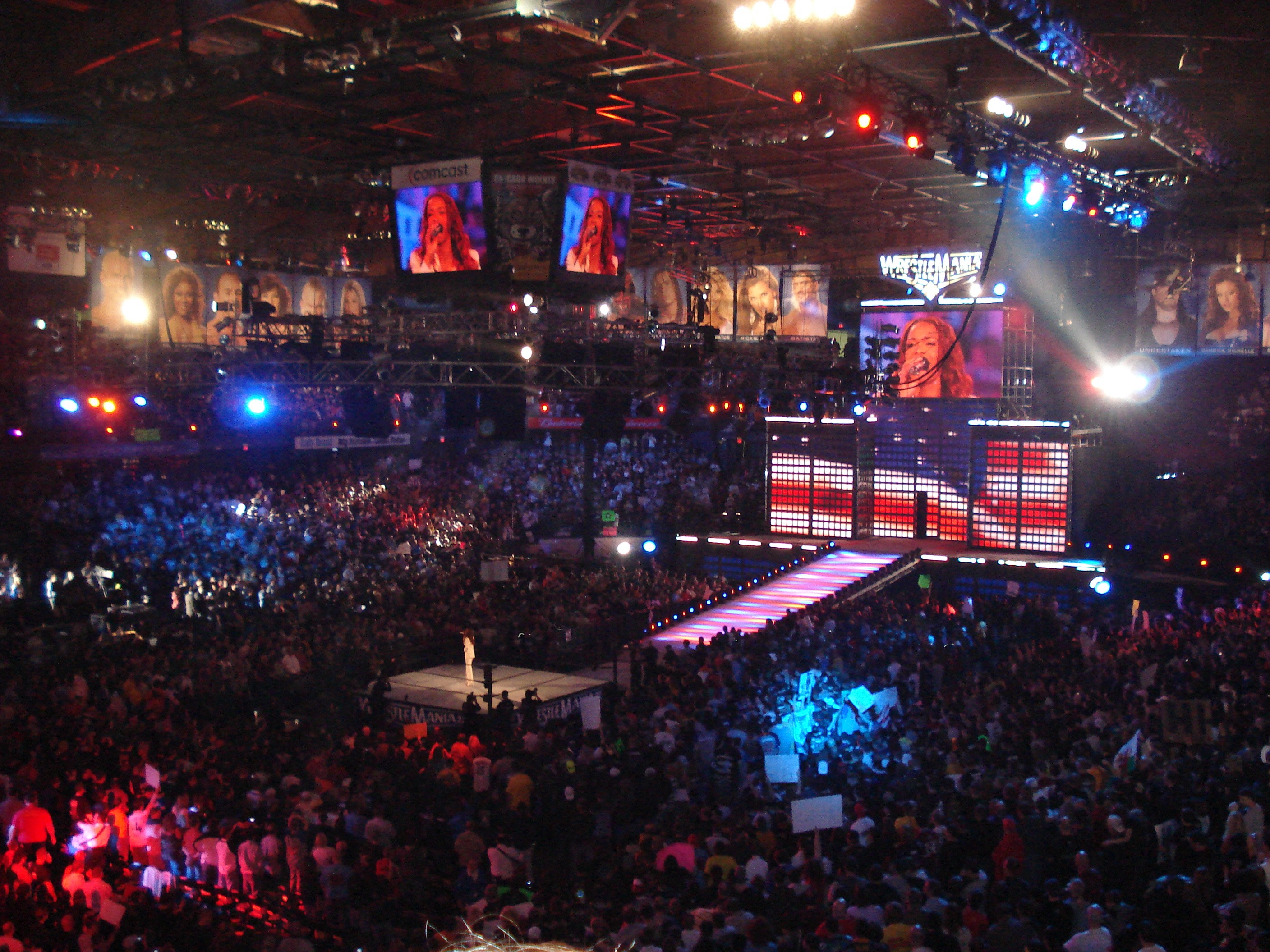 WrestleMania 22 comes to us from the Windy City and features what looks like a very stacked card, including Rey Mysterio vying for the World Heavyweight Championship, a Casket Match, and the Chairman of WWE in a No-Holds Barred Match. Surprisingly, this show gets really great reviews all around, so let's see if they're justified!
Opener
Michelle Williams (Destiny's Child) sings 'America, the Beautiful'. We get a great video about the superstars hanging with our Armed Forces.
There's a great video about the history of WrestleMania and promos for the big matches on the card.
World Tag Team Championship Match: Big Show and Kane vs Chris Masters and Carlito
Carlito gets a decent pop, Masters does not. Big Show and Kane get a great pop. As Kane and Big Show get to the ring, Carlito and Master bail out, probably the smartest thing they could've done.
Winner: Big Show and Kane by pinfall. Afterwards, Carlito and Masters argue over who is at fault. Masters tries to blame Carlito, but Carlito leaves.
Highlights
Kane hitting a dropkick and a leapfrog (yes, seriously)
Show hushing the crowd, so they can hear the 'smack' of his hand on Masters' chest.
Carlito trying to do an armwringer on Big Show.
Big Show hitting a superkick
Comments: This was a good match. Kane and Big Show worked really well together and with Carlito and Masters
We go to Coach who is talking to HBK about his issues with Vince. Shawn says he told Vince the truth and he's never regretted telling the truth. He reflects on how last year, he and Kurt Angle tore the house down but he doesn't expect a five star match tonight because his match with Vince is going to get violent, brutal, and ugly. He tells Vince to say his prayers because his ass is getting kicked tonight.
Money in the Bank Ladder Match: Rob Van Dam vs Bobby Lashley, Finlay, Matt Hardy, Ric Flair, and Shelton Benjamin
Just about everyone gets a decent pop. RVD and Flair get the best ones.
Winner: Rob Van Dam
Highlights:
Ric Flair doing a ladder match at 57 years old and hanging with guys much younger than himself.
RVD winning the briefcase
Matt Hardy suplexing Flair off the ladder.
Comments: This is one of the best Money in the Bank matches, in my opinion.
We go to Josh Matthews who is interviewing Mean Gene Okerlund, the first commentator to be inducted into the Hall of Fame (Monsoon, Ventura, and Heenan don't count because they were wrestlers and/or before their broadcast careers). Okerlund says he had a great time the night before and ran up quite a bar tab. They are interrupted by Randy Orton, who scoffs at Mean Gene's induction. Mean Gene isn't in the mood for this and walks off, saying some not-nice sounding things about Cowboy Bob Orton.
Randy is a little perplexed by Mean Gene's attitude and says that what he was going to say is that when he's inducted into the Hall of Fame, it's going to be for nights like WrestleMania when he'll make history by beating 'paper champion' Kurt Angle and 'charity case' Rey Mysterio and become World Heavyweight Champion. He goes on to brag about being The Legend Killer and dares anyone to disagree. A tap on the shoulder reveals Batista. Batista is all pleasantries but reminds Orton that whoever wins the title is just holding it until he gets back from injury and promises to be back soon. He also vows to be World Heavyweight Champion at WrestleMania 23 (he's either psychic or spoiling his storyline for the next year).
It's time for the Hall of Fame reveal, but we're told that Bret Hart won't be there because he was 'uncomfortable' participating with the evening's proceedings (Translation: He didn't want to be around HBK). The audience isn't happy with Bret chickening out. Our inductees: Mean Gene Okerlund,  Sensational Sherri (who is on the arm of Ted DiBiase), Tony Atlas (part of the first African-American Tag Team Champions, along with Rocky Johnson), Verne Gagne (Owner/Promoter of AWA), William 'The Refrigerator' Perry (1986 Chicago Bears, participated in WrestleMania II), The Blackjacks, Eddie Guerrero (Vickie and Chavo Guerrero accepted for him), and Bret Hart, who refused to participate. Vickie gets a lot of love from the other inductees and Eddie gets the best pop. Tazz and Cole are clearly emotional.
WWE United States Championship Match: Chris Benoit vs John 'Bradshaw' Layfield (with Jillian Hall)
JBL comes out first, in his limo to a round of boos. Benoit gets a great pop. This was a really physical match, but it wasn't a great one for either man. Still, it was a good one, but not as great as it seemed on paper.
Winner: JBL by pinfall, using the ropes for leverage.
Highlights: JBL playing up the heel by mocking Eddie Guerrero and getting his a** kicked for it.
Comments: This was an 'eh' for me.
We get a recap of the Foley/Edge feud.
Hardcore Match: Mick Foley vs Edge (with Lita)
Joey Styles joins us for this match. Edge and Lita are out first a round of boos. Foley is out to a great pop
This match was insanely good and starts with Edge trying to Mick with a baseball bat. This would be Lita's last WrestleMania as a full-time competitor. She would retire in November, but would make occasional appearances, such as being inducted into the WWE HOF, and presenting the newly reinstated Women's Championship.
Winner: Edge by pinfall
Highlights:
Edge taking the thumbtack bump.
Mick wearing barb wire under his shirt
Spear through the flaming table
Comments: Kudos to both guys for an amazing match.
Booker T and Sharmell are backstage and Sharmell is begging Booker to not make her go through with this match. Neither of them know why the Boogeyman is after them. They make their way to the ring and are waylaid by various people, none of whom are much help.
Handicap Match: Booker T and Sharmell vs The Boogeyman
Booker T and Sharmell come out to a quiet pop. Boogeyman is out next to no pop. Booker T makes Sharmell start the match, which she doesn't want to do, but it's a ruse so that Booker can attack Boogeyman from behind. To say this match was filler is being kind. I don't know who Booker ticked off to get put in this mess, but it couldn't have been this bad.
Winner: Boogeyman by pinfall.
Comments: I have no idea why this had to be on WrestleMania.
We get a recap of the Trish/Mickie feud.
WWE Women's Championship: Trish Stratus vs Mickie James
Mickie comes out to a pretty good pop despite being the heel. Trish gets a great pop. This was a really great match. The perfect mix of story, psychology, and match. The crowd turning on Trish and cheering Mickie was unexpected, but very interesting since Trish had been the perennial sweetheart of the fans, whether she was a face or a heel.
Winner: Mickie James by pinfall with the Mick Kick, which was a bit of a letdown. Mickie celebrates happily, to the joy of the crowd.
Highlights: The crowd turning on Trish mid-match and JR/Lawler's reaction to it. Mickie showing her incredible in-ring skills.
Comments: This is the match that made me a Mickie James fan, so it is near and dear to my heart. This would be Trish's last WrestleMania as a full-time competitor. She would retire in September after winning her seventh Women's Championship and still makes occasional appearances.
We got backstage with the McMahons for a segment that I won't go into because it bothers me immensely, even though I know it's a work.
The Streak: Undertaker vs Mark Henry – Casket Match
The druids bring out a freight car sized casket. We get a quick recap of the Taker/Henry feud. Henry comes out first to a round of boos. Not very many people seem to think Henry has a prayer of beating Taker.
The lights go out, lightning hits the stage, and flames erupt. The Deadman Cometh.  Mark Henry is talking smack and trying, not very successfully, to act like he's not scared.
As is usual, for most of Taker's WrestleMania matches, this was not a technical or scientific masterpiece. This was a brutal, physical, fight. Mark Henry is NOT someone Taker can just toss around, like he has most of his opponents.
Winner: Undertaker by putting Mark Henry in the casket. The Streak is 14-0.
Highlights: Taker tombstoning Mark Henry.
Comments: This was an okay, match. Both guys did a great job, but I just wasn't into it.
We get a great shot of Chicago and a recap of the feud between Vince and HBK.
No-Holds Barred Match: Shawn Michaels vs Vince McMahon
HBK gets a great pop. Vince gets a good pop too. He shows off his jacked physique and does his BMF walk. This was one of those 'Vince and _ work out past issues by beating each other to a pulp' matches. It wasn't pretty or fancy, but it told a good story.
Winner: Shawn Michaels by pinfall, leaving Vince in a pool of his own blood.
Highlights:
HBK taking out the Spirit Squad.
Vince taking an elbow drop from a 20ft ladder.
Shane trying to save his dad while being handcuffed.
JR and Lawler's commentary.
Comments: A Vince match works because everyone wants to see the boss get his butt kicked, no matter how much they might like them.
We get recap of the Angle/Mysterio/Orton situation.
Triple Threat Match for the World Heavyweight Championship: Kurt Angle vs Rey Mysterio vs Randy Orton
Mysterio is sung to the ring, and instead of a superhero costume, he comes out dressed as an Aztec warrior (or, that's what I THINK that's what his outfit is supposed to be). Orton gets a good reaction. Angle comes out to a really good pop.
This was a great match, which is no surprise, given the men involved. A great story of perseverance is told, and we get a great WrestleMania moment.
Winner: Rey Mysterio by pinfall. The crowd LOSES it. Angle and Orton are furious. Rey's in tears and is joined on the top of the ramp by Vickie and Chavo Jr, who congratulate him.
Highlights: Rey FINALLY becoming World Heavyweight Champion!!! Everyone being emotional.
Comments: I have no shame in admitting that I still BAWLED when Rey won. Eddie would've been so proud of him.
We see Cena and Triple H prepping for their match.
Playboy Pillowfight: Torrie Wilson vs Candice Michelle
Candice Michelle is out first to a quiet pop, as does Torrie.  For some reason, even though it's supposed to be a pillow fight, Torrie and Candice are both in evening gowns.
Unbelievably, this actually ended up being a wrestling match, not a very good one, but an actual wrestling match, instead of a sexy pillow fight. I'm almost glad I didn't skip it.
Winner: Torrie Wilson by pinfall.
Comments: Best that I'll say is that it was quick and they didn't use pillows.
Now that that's over, it's time for the recap of the Triple H/Cena feud.
WWE Championship: John Cena vs Triple H
Triple H comes out in his first 'Skull King' entrance. These would become more and more elaborate. He gets a really good pop, despite the outfit and entrance, that Triple H even said looked stupid.
Cena's entrance begins with a video about the Chicago gangsters and tying it to 'Hustle, Loyalty, Respect'. A NICE 1920/30s era car comes out (don't ask me what kind), protected by 'gangsters' with Tommy guns. Our tough guys (most of whom are soon to be familiar faces) surround the ring as Cena's music hits. Cena gets his usual mixed reaction, dressed in a trenchcoat and fedora, with his own Tommy Gun, that he fires off (blanks were used, obviously).
This was a really good match. The clash of styles really worked for the story and psychology.
Winner: John Cena by submission.
Highlights: The entrances
Comments: I liked this match a lot.
Notes: One of the 'gangsters' accompanying Cena was a little-known superstar in development named CM Punk.
Overall Comments
So, was WrestleMania 22 all it was cracked up to be? Yeah, for the most part. There were not outright bad matches and the bad ones were mostly just 'Why is this on here?' than 'WTF?'.
Stinkers: Booker T and Sharmell vs Boogeyman. I have no idea why that was put on the WrestleMania card. Playboy Pillow Fight gets a pass on this one because it actually turned out better than it sounded.
Match of the Night: Edge/Foley and Michaels/McMahon.
Final Thoughts: I really enjoyed this show a lot. The focus was on the wrestling and not on the backstage stuff.
---
Always Use Your Head and visit the official Pro Wrestling Tees store for The Chairshot All t-shirt proceeds help support the advancement of your favorite hard-hitting wrestling website, The Chairshot!

---
Chairshot Classics: WCW WrestleWar '91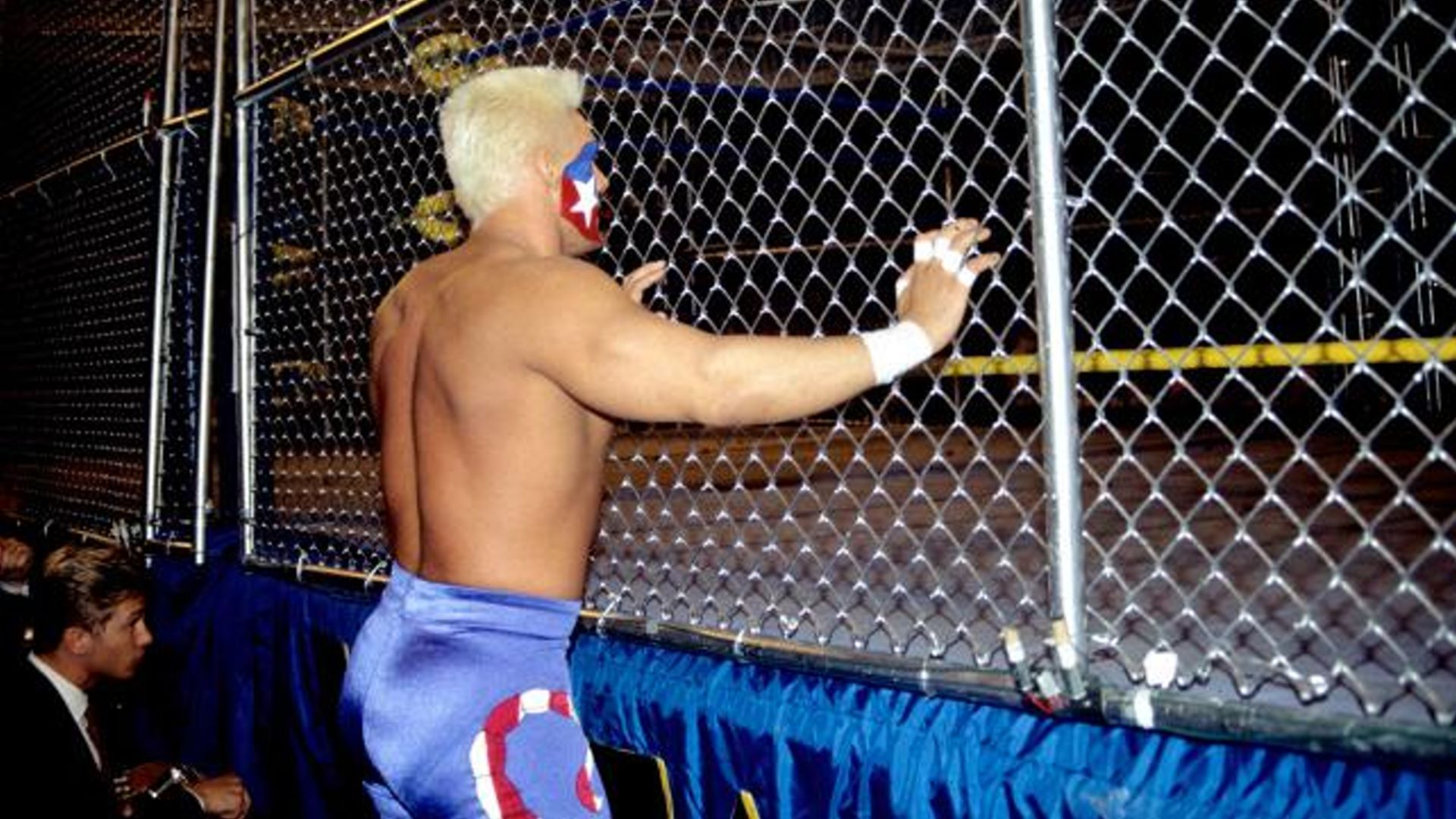 For the first time, WCW holds a pay-per-view fully on their own, as they continue their slow split with the National Wrestling Alliance. This event is not under the NWA banner any longer, but brings back the WarGames for the continued fallout from Starrcade. 'The Nature Boy' is also the new World Champion again, ending Sting's reign roughly a month and a half prior. Sting has now fielded his squad to even the odds with The Four Horsemen, but can his patchwork team match the cohesion of Ric Flair's men?
Match #1 for the WCW World Six-Man Tag Team Championships: WCW World Six-Man Tag Team Champions Junkyard Dog, Ricky Morton & 'Wildfire' Tommy Rich vs. The State Patrol (Lt. James Earl Wright & Sgt. Buddy Lee Parker) & Big Cat
Cat and JYD start the action. The two big men exchange rights and JYD catches his jaw. JYD ducks a clothesline and hits one of his own. He headbutts Big Cat who quickly tags in Wright. Side headlock and a tag to Morton. Wright sends Morton, but Ricky avoids contact and sends him down with a hiptoss and an armdrag. More arm drags from the RnR man. Tag is made to Rich and they double clothesline Wright. Wristlock into an armbar on Wright. He fights out of the hold and sends Rich to the ropes.
Wildfire reverses the offense and scoop slams him. Wright moves away from an elbow but Rich doesn't pull the trigger. An arm drag into a wristlock by Rich, Wright breaks it up with a poke to the eyes. He slams Rich and tags in Parker. Parker misses an elbow and is sent over with an arm drag and gets caught in an arm bar. Shoulder blocks to the midsection from Parker who sends Rich to the ropes. Shoulder tackles by Rich, who then reverses a hiptoss into one of his own. Another arm drag by Rich. Tag is made to Morton and Parker powers him into the corner. Morton reverses an Irish whip and delivers an inverted atomic drop. Wright rushes the ring and has the same fate. Arm drag by Morton and he pulls his opponent up, tagging in JYD. Snapmare and a stomp by the big man. A headbutt from JYD and Big Cat is tagged back in.
JYD looks for a test of strength, Big Cat has the early advantage but JYD reverses it with a back heel trip. They exchange head butts and Big Cat drops an elbow for two. Parker is tagged back in, he strikes JYD with no effect. JYD fights back and tags in Morton. They run the ropes and Morton is hit in the mid section. Wright is tagged in and the Patrol double teams Morton. More double team work by State Patrol after another quick tag. Big Cat is tagged in. Drop toe hold/elbow combo from the partners. Lateral press but Morton kicks out. Morton is sent and gets a dropkick by the big man. Cat headbutts him to the ground and kicks him into the corner. He slams Morton down but Ricky moves from the big elbow. Parker is tagged in and he exchanges rights with Morton. Powerslam in midair from Parker but Morton kicks out.
Another quick tag and a bulldog/elbow combo from the Patrol. Yet another quick tag and Morton is reeling from double team work. Big Cat is in. Morton tries a cross body but is caught with a back breaker. Big Cat gets some heat on his opponents and with the ref's back turned, Morton is triple teamed. Parker is tagged in and applies a reverse chinlock. Irish whip, but Morton moves and Parker hits the turnbuckle. Wright is tagged in, but Morton somersaults over and tags in big JYD. He goes right to work and hits Parker with the Big Thump. Cat breaks up the pin attempt as all participants rush the ring. JYD gets up and knocks Cat out of the ring and Morton jumps on the laid out Parker and picks up a three count.
Winners and STILL WCW Six-Man Tag Team Champions: JYD, Morton & Rich (Morton/Thump)
EA's Take: Well, I guess you don't have to be the legal man to pick up the win. I've seen he idea of a 6-Man Title in WWE being tossed around by some on social media and I can't even begin to imagine how much of an abortion that would be. Nevertheless, this one was just a way to just cluster mid-card guys together and the championships don't even last a calendar year in WCW. It just doesn't have the appeal and excitement you'd think outside of Mexico. I've never seen the need for it.
In The Arena: Tony Schiavone is standing by with Terry Taylor and Alexandra York. York explains that thanks to Taylor's in-ring success, the York Foundation is flourishing. They have been using computers to scientifically determine their opponent's weakness. York predicts Taylor will win in less than 15 minutes and 28 seconds, Taylor predicts pain.
Match #2: Brad Armstrong vs. 'Beautiful' Bobby Eaton
Eaton blindsides Armstrong right off the bat. Armstrong fights back and they run the ropes. Headscissor, dropkick and an arm drag by Armstrong. He hangs on for an armbar. Back to a vertical base, wristlock by Armstrong. It's broken in the corner and Eaton slaps Armstrong across the face. A reversed Irish whip, and Armstrong monkey flips Eaton and goes right back to the arm bar. He keeps the pressure on the arm. Back to their feet and Eaton breaks it with a knee before dumping Armstrong to the floor. He gives chase and Randy Anderson starts the count. Armstrong drives Eaton into the rail and ring post. Both men back to the ring and Armstrong returns to the arm.
He holds a wrist lock before transitioning back to the armbar. Eaton gets over to the ropes to break it. Tempers flare and they shove one another, Eaton cowers back to the ropes again. Eaton calls for a test of strength and Amrstrong obliges. Kick to the mid section by Eaton and Armstrong drops to his knees. Back to a vertical base for Armstrong. He disorients Eaton by climbing up over his shoulders, running up the turnbuckle and turning around with a flying cross body and a two count. Arm drag/Armbar combo once again for Armstrong. Back to their feet and to the corner, Eaton hits a cheap right. Eaton slingshots Armstrong over the ropes but it's reversed.
Armstrong with a right to the abdomen and goes back to work on the wrist and arm. Eaton reverses a waist lock and hits a huge clothesline. Eaton is slow to cover and only gets two. He sends Armstrong and lifts him for a back breaker. He leans in but Armstrong kicks out again. Scoop slam by Eaton  followed with an elbow, he can still only get two. Reverse chinlock by Eaton. Armstrong hits elbows but Eaton stops the breakup with a knee to the face. Slingshot backbreaker by Beautiful Bobby. He goes for the pin and Armstrong kicks out.
Eaton applies a modified Camel Clutch. The crowd gets behind Armstrong who works to his feet. Shots to the midsection, but Eaton counters the attempt with an elbow and he kicks Armstrong out to the floor. Bobby hotshots him across the railing and heads back to the ring. Armstrong is slow to return but he beats the count. An abdominal stretch is applied by Eaton who uses the ropes for leverage. Randy Anderson crawls in between Armstrong's legs to catch Eaton cheating and breaks it up.
The two exchange blows, Irish whip but Armstong moves and Eaton goes legs first into the turnbuckle. Drop kick followed by a side Russian leg sweep by Brad but Eaton is too close to the ropes to get the pin. Irish whip by Armstrong but Eaton reverses with a neck breaker. Eaton heads to the top rope and he lands a flying leg drop which earns him the win.
Winner: 'Beautiful' Bobby Eaton (Alabama Jam)
EA's Take: Cornette and Lane have both departed the company at this point. I miss The 

Midnight

 Express, but I'm happy to see Eaton putting on great singles matches. Unfortunately for him, we'd find out there was a reason why he was always in a tag team as he can't really talk well or change his look with the times. The Armstrong family has to be one of the most underrated families in wrestling. When I started watching WCW religiously in the mid 90's, Brad was doing a lot of jobs, but there's no doubt the guy could work. It's just too bad he was never able to show his personality on-camera, then later gets saddled with a gimmick blatantly ripping off his own brother.
---
Always Use Your Head and visit the official Pro Wrestling Tees store for The Chairshot All t-shirt proceeds help support the advancement of your favorite hard-hitting wrestling website, The Chairshot!

---
Chairshot Classics: Raw #7 [March 1st 1993]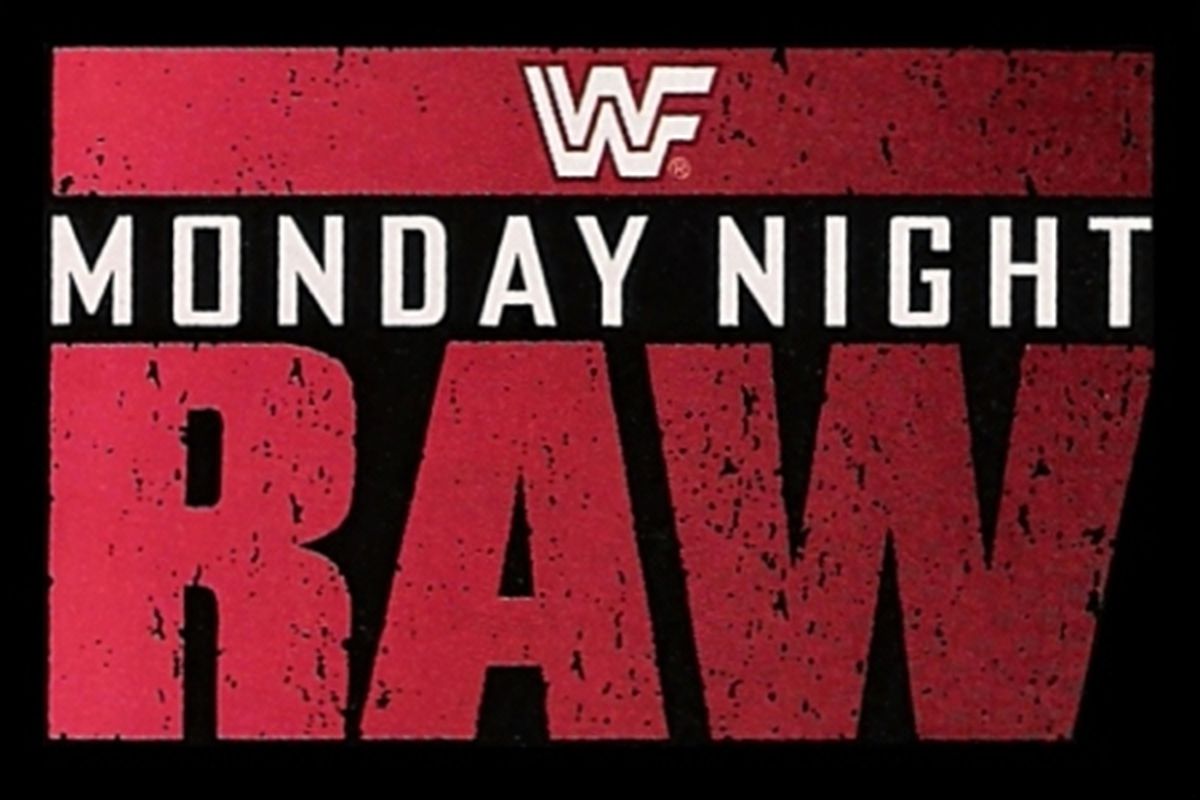 Hello from the Raw side where we chronologically wander through past episodes of WWE's Monday Night Raw episode by episode. Seven weeks in and it's time for a WWE Title match. To see who it was defended against and if it was defended at all (see what I did there?) lets head on to
Raw #7 [March 1 1993]
As soon as Raw opens, WWE Champion, Bret Hart is on his way down the isle for……
. Bret Hart vs Fatu [WWE Title]
Fatu pushes Bret out of a Collar and Elbow. Bret turns a second one into a Headlock but Fatu sends him off the ropes. Nobody moves as both men clash shoulders together in the centre of the ring. Bret charges at Fatu who catches Bret and Bodyslams him before an Elbow Drop that Bret rolls to avoid. Bret hits an Armdrag followed by knees to the shoulder before applying an Armbar. Fatu breaks it by throwing Bret into the turnbuckles. However, Bret avoids a charging Fatu and Armdrags him into another Armbar. Fatu breaks this one by sending Bret off the ropes. Again nobody moves when both men clash shoulders in the centre of the ring. Bret hits Fatu with another Shoulder Block and this time Fatu goes down. Bret runs the ropes and falls over Fatu (which Vince tries to pass off as a trip by Fatu's manager, Afa, despite Afa being nowhere near Bret) and clutches his knee. He's faking it. As Fatu celebrates his opponent's injury Bret runs at Fatu and rolls him up with a School Boy that gets him a two count.
Bret Arm Wringers his way back into the Armbar. Fatu tries to break it with a Bodyslam but Bret rolls through it still holding the Armbar. Fatu breaks it again by sending Bret off the ropes but Fatu telegraphs a Back Drop and Bret Faceplants Fatu into the canvas. Fatu is Samoan and apparently shots to the head (like a Faceplant) have no effect on him and he stands straight back up and Superkicks Bret for a two count. Fatu uses his hard Samoan head to hit Bret with a Headbutt. Fatu sends Bret off the ropes and tries to Hip Toss Bret. He counters it and, despite managing to Armdrag Fatu twice so far this match, can't Hip Toss Fatu because he's too heavy and gets Clotheslined by Fatu for another two count. Fatu applies a nerve grip to Bret's shoulder. Bret tries to fight his way out with Elbows to the gut but Fatu pulls Bret's hair and re-applies the nerve grip. It's eventually broken when Fatu gets hungry and bites Bret. Fatu catches Bret as he runs right into a Back Elbow and gets a two count. Samu walks down the isle. Bret ducks a Clothesline and hits a Cross Body for a two. Fatu kicks out hard enough to send Bret rolling out of the ring. Afa distracts the referee allowing Samu to Bodyslam Bret Hart onto the ringside mats followed by a series of Headbutts and finally Sam rams Bret into the ringside steps.
Back from the ads and Bret is still on the outside of the ring and not been counted out. (how short were the ads back in '93 and can we have those back?) Fatu is fanally bored waiting and hits Bret's head off the apron before rolling Bret back into the ring. Fatu Headbutts Bret and Irish Whips him hard into the corner. Fatu gets a two from a side Backbreaker. Fatu Irish Whips Bret again and drops with another Headbutt for another two count. Fatu gets another two count from a Piledriver. Fatu bites at Bret again and kicks him in one corner before Irish Whipping Bret chest first into another for yet another two count. Fatu gets another one from a Sidewalk Slam and a second rope Headbutt. Fatu climbs to the top turnbuckle but Bret stops him with a Right Hand and Superplexes Fatu for a two count as does a Bulldog. Bret hits a Side Backbreaker and a second rope Elbow Drop before applying the Sharpshooter. Afa distracts the referee while Samu Clotheslines Bret. Fatu rolls out of the ring and Samu gets a two count. Afa distracts again and Fatu is back in. Bret slips out of a Bodyslam attempt and pushes Fatu into Samu causing Samu to get tied up in the ropes. Bret hits Fatu with a Russian Leg Sweep and Dropkicks Afa to prevent him interfering. Bret locks Fatu in the Sharpshooter and this is over.
Winner: Bret Hart [still WWE Champion]
Time for a Wrestlemania Report. Mean Gene hypes the matches for Westlemania including Hogan & Beefcake vs DiBiase & IRS, Giant Gonzales vs The Undertaker, Shawn Michaels vs Tatanka, Lex Luger vs Mr Perfect and Bret Hart vs Yokozuna. Tickets are still available.
Via sattelite we link up with Crush. He demonstates his prediction for his Wrestlemania match by crushing a coconut.
. Doink vs Koko B Ware
Doink attacks Koko before the bell with a Running Knee and then stops on Koko before Elbow Dropping Koko's knee. He then stops Koko's knee. Doink applies a Half Crab that quickly becomes an STF. Doink kicks at Koko's hamstring. Doink hits Koko with a Neckbreaker. Doink applies the Stump Puller and this one is over. Night of Submissions this is.
Winner: Doink
"Elvis" or Rob Bartlet interviews Doink at ringside. Doink hands Bartlet a tiny cream pie. Bartlet shows it to the crowd and turns right into… Doink smushes a normal sized cream pie into Bartlet's face. I love Doink sometimes.
We get the Bret Hart IcoPro ad, the Savage Slim Jim ad and the action figure ad.
Vince McMahon is in the ring with Ted DiBiase & IRS. DiBiase says he thought Hogan had gone off into the sunset but "oh no, here he comes again". DiBiase says that insted of taking an asset, Hogan has taken an overpaid loss in Jimmy Hart. IRS says if they wanted they could have put Beefcake out of wrestling for good, but they didn't and calls their attack "a wake up call". DiBiase says not only will they put the titles on the line against Hogan and Beefcake, but they wll do so at Wrestlemania. He should watch Raw, Mean Gene told me about this match earlier in the show on the Wrestlemania Report.
The Wrestlemania ad airs. Slightly over a month away and tickets are STILL available.
. Lex Luger vs PJ Walker
Yes people it's Enhancement Time! This time it's PJ Walker. He will go on to become ECW alumni Justin Credible. We will see him turn up in about 2020 as masked jellyfish Aldo Montoya.
Luger starts with a Kick to the gut and an Elbow to the back of PJ's head. Luger then Irish Whips PJ hard into the corner twice. Luger then lifts PJ and drops his back across Luger's knee for a Backbreaker and then hits a Suplex. Luger then rams PJ head first into the corner twice and then catches PJ with a High Knee. Luger then lifts PJ for a Bodyslam but instead runs him into the corner (similar to an Oklahoma Stampede). With PJ hanging from the turnbuckles in a Tree Of Woe stylee, Luger kicks at PJ's gut. Down off the corner, Luger then Soccer Kicks PJ in the ribs. Luger then hits PJ with a running Forearm and pins him with his pinkie.
Winner: Lex Luger
. Rick Steiner & Scott Steiner vs Duane Gill & Barry Hardy
Yes people, it's another Enhancement Time! This match feel familiar to anyone? It should, this is basically the Executioners vs The Steiners from Raw #1 only the Executioners are maskless.
Scott and Barry start. Scott goes quickly from an Arm Wringer into a Double Leg Takedown but Barry quickly gets to the ropes. Scott turns a Collar and Elbow into a Headlock and Barry pushes him off the ropes. Scott hits him with a Shoulder Block as he rebounds which knocks Barry down. Scott goes off the ropes again, leapfrogs Barry and smashes a Forearm across his back. Scott grabs Barry and lauches him with an Overhead Belly To Belly Suplex. Scott hits a Snapmare and tags Rick who Clotheslines Barry over the top rope and out of the ring. Scott throws Barry back into the ring where Rick lifts him onto his shoulder and runs (similar to Luger's variation of the Oklahoma Stampede earlier) into the corner. Rick throws Barry into his own corner so he can tag Duane who runs straight into a Back Drop by Rick. Duane is then thrown off the ropes where Rick catches him with a Tilt-a-Whirl Backbreaker and an Elbow Drop. Scott tags in and hits Duane with a Pump Handle Slam. Scott sends Duane off the ropes and Dropkicks him. Rick tags in and briefly applies a Camel Clutch before tagging Scott back in. Scott hits a Double Underhook Suplex and a Frankensteiner. He covers Duane and to no surprise, this is over.
Winners: Rick Steiner & Scott Steiner
The ad for Mania airs again.
Commentary hype next weeks matches including Mr Perfect vs Rick Martel and Ted DiBiase & IRS vs El Matador & Virgil and we are done for another week.
Post Show: What can I say? Raw in 1993 is what it is and it will be that way for a couple of years yet.
Match Of The Night: Bret Hart vs Fatu. It was a WWE Championship match on TV and was at least given time for them to do something with. The rest was just filler.
MVP: Bret Hart AND Fatu. Fatu's offence plus Bret's selling made the match.
Rating: 6/10
With that I bid you farewell. I'll be back next week with Episode 8. In the meantime I can be found on Twitter @Callaweasy2220 where I live tweet Raw, Smackdown, NXT and (when there's one on like the other night with Extreme Rules) pay per view. I also talk Wrestling and post random pictures of what wrestling I am watching so feel free to pop over.
While you are here on TheChairshot.com we have news, views and reviews for you to amuse yourself with.
As I said, I'll be back next week so until then, #UseYourHead and ALWAYS have an Angle!
---
Always Use Your Head and visit the official Pro Wrestling Tees store for The Chairshot All t-shirt proceeds help support the advancement of your favorite hard-hitting wrestling website, The Chairshot!

---
Chairshot Classics: NWA-TNA Episode 3 "Tag Team Turmoil"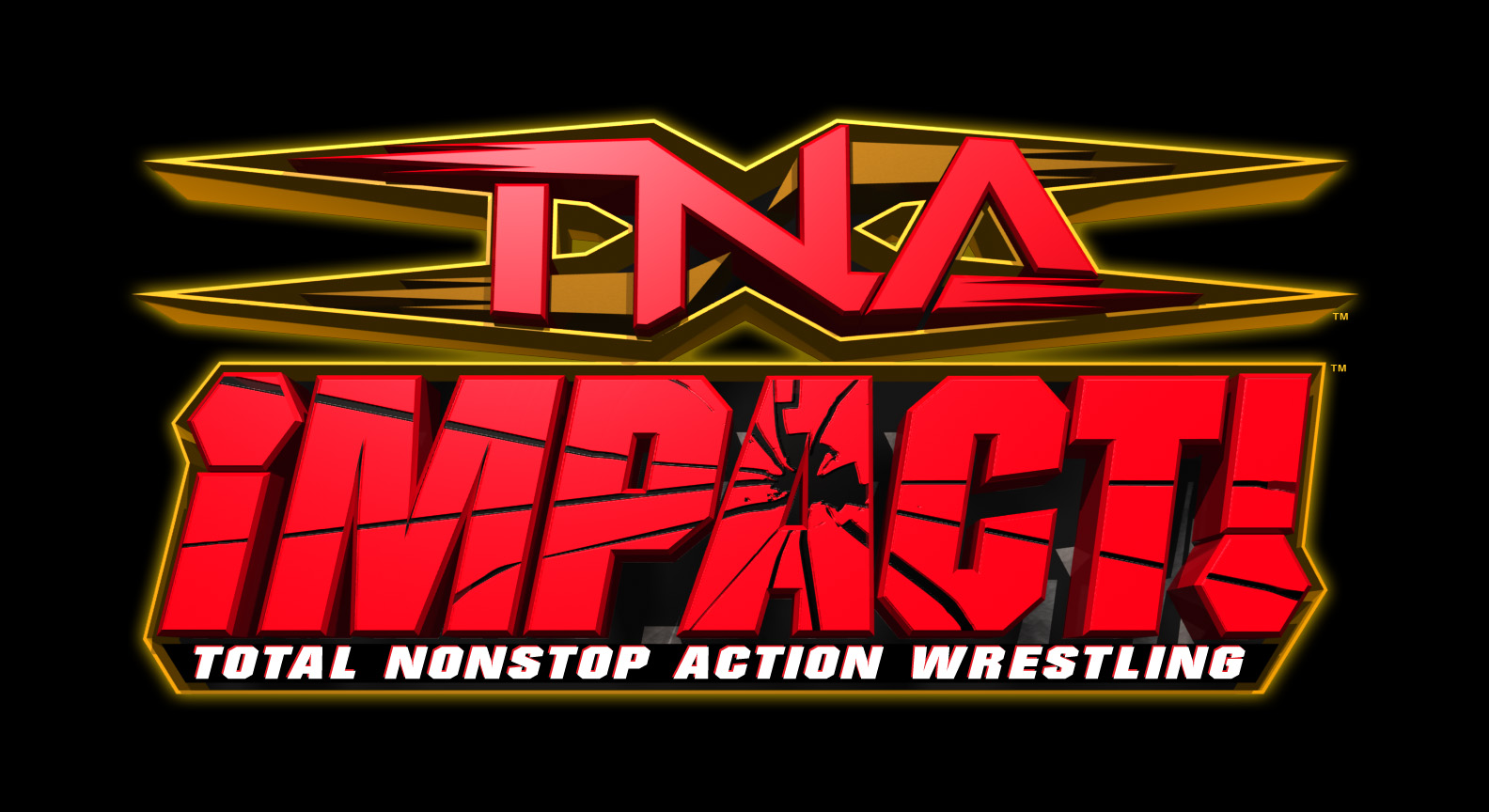 This week, TNA is building on two good shows, and this week is all about the Tag Team Division. We're getting a one-night tournament to crown the new NWA Tag Team champions, Ken Shamrock will be facing Malice (I guess the rest of Guns n Roses weren't available this week for Slash) and AJ Styles will defend his brand new X Division Championship against David Young. Let's see how they do!
Opening
TNA seems very pyro happy this week. There's a sign about the show needing 'Athena'. Don West is wearing an ugly red suit jacket with black pinstripes. We're told that Ken Shamrock and AJ Styles will be defending their titles against Malice and David Young, respectively, as well as crowning new Tag Team Champions and our Main Event is going to be Scott Hall and Brian Christopher vs Jeff Jarrett and K-Krush. Ferrara points out that Jarrett and K-Krush got screwed last week by the 'babyfaces'.
(Gotta agree with Ferrara on this one, that was BS.)
We're introduced to Jim Wilson, who is president of the NWA. Wilson apologizes for missing the first show, he was in Japan on a scouting mission (I think that's what he said). He says that there's a surprise but won't reveal the surprise just yet, but does give Tenay a trophy and welcomes TNA to the NWA.
(I thought they were already in the NWA.)
Tenay gives an awkward thanks for the trophy, clearly he thought they were already in the NWA too, but presses about the surprise. Wilson says that during his tour of Japan, he met a big, 280lb Japanese man and that next week, this gentleman, whose name is Omori will face the winner of the Shamrock/Malice match next week (sorry Guns-n-Roses).
Round 1 of the Tag Tournament: 'Cowboy' James Storm and Chris Harris vs The Johnsons (with Mortimer Plumtree)
Storm and Harris get a HUGE pop. If I remember correctly, this was the start of their run as 'America's Most Wanted'. Storm's got a pistol that's he's shooting off (blanks, I assume).
The Johnsons are back and not looking any better than they did two weeks ago, and Plumtree is every bit as obnoxious. I'm hoping this doesn't last long.
We start with Harris and Johnson #1. I think it's safe to say that the Johnsons are only going win this by dumb luck, because they stink.
This match is…not good. It's very awkward and both teams are trying to find their footing and the Johnsons just…ugh! Thankfully, this is a short one.
Winner: James Storm and Chris Harris by pinfall, they advance to the next round. Plumtree is berating the Johnsons and the Johnsons aren't happy and start to give Plumtree the worst looking chokeslam ever, but then settle on just pushing him down.
Comments: Thank god, that's over. This was awkward on both sides of the ring, but Storm and Harris, even with only being a week-old team, were a lot better than the Johnsons.
Scott Hall comes out, he's not dressed to wrestle, so I guess this is a promo segment. Hall looks like he's had a few cocktails, but before he can get past 'Hey, yo', Jarrett crashes the party. After a 'Hey, yo, my ass' that the crowd seems to like, Jarrett tells Hall that no one wants to see or hear him, which the crowd disagrees with. He tells Hall to take his ass exactly where he came from…bitch.
(Uh…okay, that sounded more awkward than it needed to sound)
Hall says that Jarrett hasn't changed at all. He still talks a lot of smack but he (Hall) doesn't think Jarrett can back it up. He then tells Jarrett 'Don't sing it, just bring it', which sounds like they ripped it right out of Rock's mouth, to be honest.
Jarrett is fine with that and heads for the ring, saying they don't have to wait until later. Unfortunately, Wilson, who seems to have drawn the 'Irritating Management Figure' straw this week. Wilson seems to have forgotten that the NWA stopped being a big deal to anyone about fifteen years ago and was definitely not a big deal eight years ago when Shane Douglas threw the belt down and cut his epic promo when Eastern Championship Wrestling went extreme, and says that Jarrett is not going to run roughshod over the NWA and that Jarrett is going to do what they say. Jarrett seems to find Wilson's delusions of power and authority amusing but backs off for now.
Wilson doesn't know when to shut up and actually seems to think that his word is law, but Jarrett plays nice and backs off. Jarrett's uncharacteristic retreat is quickly explained when K-Krush attacks Hall from behind.
(Okay, now that's how a heel acts.)
Hall quickly gets the upper hand and sends K-Krush out of the ring, but Jarrett's message was sent loud and clear: Hall doesn't only have Jarrett to worry about.
(Okay, is someone not paying the light bill here, because the lights in the building keep dimming).
We get sent back to the back, where Storm and Harris were apparently jumped in the locker room after beating the Johnsons. Storm is a bloody mess. The NWA VP throws everyone, including Goldilocks, out of the locker room with orders for someone to get the EMTs.
Anthony Ingraham vs Monty Brown
Back in the ring, we've got a filler match. Anthony Ingraham is already in the ring and Monty Brown is on his way out to a pretty good pop.
Brown cuts a promo that's a little hard to understand over the music, but from what I can hear is Brown saying that he's there for one reason and that is to beat Ken Shamrock and he's going to show everyone how he's  going to get what he wants.
Okay, maybe it's my eyes, but it looks like either Brown is really whiffing these punches, or Ingraham's timing is off.
This is a typical jobber match. Ingraham's just there to get beat up, but Brown's rough as a cob in spots.
I'm guessing, judging by the movements, Brown's setting Ingraham up for his finisher, which he hits and gets three.
Winner: Monty Brown by pinfall.
Comments: This was an okay match. Brown was pretty rough in spots and some of the spots weren't crisp, but it wasn't an awful match.
Goldilocks is looking for the NWA president, who I thought was Jim Wilson, but she's saying Jim Miller. Either way, she isn't having much luck when she's interrupted by the Psycho Dwarf. Psycho is mad that he wasn't allowed to wrestle two weeks ago and wants to 'Makes some midgets/bitches (can't really understand him) bleed.' He calls out Gary Coleman (Diffr'nt Strokes), Mini Me (Austin Powers), and the drunk midget from Howard Stern (don't know his name). Either way, he wants to see a midget bleed. Goldilocks looks weirded out (or she's trying not to laugh at him).
Back in the ring, it's time for our second Tag Team Tournament Match.
Round One of the Tag Team Tournament: The Rainbow Express (with Joel Gertner) vs Buff Bagwell and Apollo
Rainbow Express gets the reaction you'd expect them to get. I'm not sure who is more hated, Gertner or the Express, but at least we don't have to listen to Gertner talk.
Backstage, Goldilocks is interviewing the Rainbow Express' opponents: Buff Bagwell and Apollo.
(Oh dear)
Apparently, Buff and Apollo are surprise entries into this tournament, or they were to Goldilocks. Buff takes exception to being termed a 'surprise' and calls Goldilocks 'Goldilegs', much to her irritation, before reminding us that he's a six-time World Tag Team Champion.
Buff vows to become a seven-time tag champion and that's why he picked Apollo. Apollo's the biggest, baddest, the #2 man in the business (Buff apparently thinks he's the #1 guy, not, you know, the NWA Champion). Apollo's game, until the #2 comment.
Goldilocks looks bored and unimpressed.
Apollo vows victory, but apparently, Buff doesn't think people will be able to understand Apollo, because he interrupts and basically repeats what Apollo said.
(This is going to end badly.)
Goldilocks thanks them for a wonderful (yes, it was that dripping with sarcasm) interview and sends it back to the ring.
Bagwell gets a surprisingly good pop, as does Apollo. Ferrara, who is the HEEL commentator, is panning Bagwell's interview, but West defends him…kind of.
(Okay, who dropped out of this tournament for this team to be put together?)
Bagwell and Bruce start us out and we get a quick back and forth before Bruce gets the upper hand and kisses in Lenny.
Alicia comes out, wonder who she's going to be bothering this time, and apparently, it's Ferrara, who is more than happy to pay up, unlike Alicia's other…transactions.
Back in the ring, Apollo's been tagged in and is taking on both member of the Rainbow Express. Where Bagwell is, I have no idea.
When asked about the Alicia thing, Ferrara assures us that it's not what we think. (It's not, I researched it and I'm glad they scrapped it).
Apollo is doing a pretty good job, but Gertner's inserting himself in this thing.
Rainbow Express hit the Broken Arrow, the signature finisher of the World's Greatest Tag Team on Apollo, and think it was so nice, they had to do it twice, only it looks like Bruce botched it a little.
Lenny goes for pin, but Apollo doesn't want to cooperate.
Bruce and Buff are tagged in, no kissing this time, and Buff actually seems to be making some headway, but things get a little screwy and suddenly Apollo is taking on Bruce instead.
Apollo is about to end this thing when Lenny and Buff come back in. Buff  hits the Blockbuster, but eats a superkick by Lenny, who gets the pinfall.
Afterwards, Buff is upset and embarrassed. Apollo is giving him a lot of flack for the loss and leaves, leaving Buff in the ring.
Ferrara goes for an interview and asks if Buff wants a mic. A very sad looking Buff tells Ferrara to call him 'Marcus' (his real name) and not to call him 'Buff' anymore. Ferrara is surprised and asks him why. Marcus says that he's been 'Buff' his entire career and what has it gotten him: A broken neck that he came back from and no one gave a s**t (his words, not mine). He bemoans being a six-time tag champion and getting beat by two gay guys. He says he wants to be called Marcus forever and the other thing he wants is to go home.
Ferrara is stunned. Marcus says that 'Buff' has ruined his career and that his ass is going home and gives Ferrara his top hat.
Winner: Rainbow Express by pinfall.
Comment: Okay, that wasn't a total trainwreck. The promo at the end really broke my heart and I'm not a fan of Bagwell's.
Back to business, Ken Shamrock is coming out, but he's not dressed for wrestling.
Shamrock cuts a promo on Brown and pans Brown's comments about going for the NWA title. He reminds us that he went through nineteen guys to get the NWA title and Brown's only had one match. He also tells Brown to be careful what he wishes for because he could have a short career.
The crowd is doing the 'What?' chant and it's really irritating, thankfully, Shamrock seems amused by it.
Shamrock reminds us that he faces Malice this week and Omori next week. He also says that IF Brown is able to get a title shot by then, he'd be happy to beat him up and send him home with his head shoved up his ass.
(Charming)
The lights go out and James Mitchell is here and tells Shamrock not to concern himself with Monty Brown or Omori but that he DOES need to fear Malice.
When the lights come back up, Shamrock's been laid out and Malice is standing over him. Security and EMTs come in, putting the title match in doubt.
Backstage, Goldilocks is trying to get a word with NWA VIP Bill Berens over what is going on tonight. Apparently, Mr. Berens is trying to get an update on James Storm and Chris Harris. Jerry Lynn is also there and tells Berens that he can find a tag partner he can step in. Berens is being very uncooperative with Lynn and Goldilocks.
Up next is Puppet, aka Psycho Dwarf.
Puppet vs Todd Stone
 Puppet gets the mic and continues his rant from earlier tonight. Before he can get too far, his opponent comes out. Puppet isn't sure what to make of this guy, but here we go.
Puppet greets his opponent with several shots to the head with a kendo stick and a size appropriate trash can.
I have no idea what the heck is going on, but this is basically a hardcore match with little people and Stone seems to be the jobber. Puppet hits an F-5 (F-2.5?) on Stone for the win.
fterwards, Puppet celebrates by hitting the ref with the kendo stick before attacking Stone some more. He nails Don West when West wants a high five and basically is swinging his stick at anything moving.
Winner: Puppet by pinfall.
Comment: Uh, yeah, okay.
Goldilocks is with Shamrock, trying to figure out if Shamrock will be able to face Malice later on. The EMT tells her that they're trying to figure that out and they're going to do a further assessment. Shamrock tries to get up (not very hard, I might add) and the EMTs get him sat back down.
We get a recap of the Miss TNA match and what happened to Francine, including the creepiness that Ferrara pulled, and rightly got his butt kicked for. Apparently, we're getting a match.
Francine vs Taylor Vaughn
Francine gets a good pop, as does Taylor, whose music sounds like a little like Charlotte's.
Apparently, someone didn't tell Francine that ECW's rules (or lack thereof) don't apply in TNA, because she produces the belt from last week and starts whaling on Taylor with it.
Scott Armstrong gets the belt away from Francine and I guess this match has started. Vaughn gives Francine a taste of her own medicine, and even gives Armstrong a smack for interfering…which gets her disqualified.
Taylor and the crowd are furious because Francine got what she deserved. Ferrara apparently didn't learn his lesson from last week and goes to comfort Francine and raises her hand and that's when things get weird. Francine puts Ferrara's hand on her boobs. When Ferrara responds the way most men would to a woman putting his hand on her chest, Francine beckons him closer and then smacks him before nailing him with the belt.
Winner: Francine by DQ.
Comment: That happened.
Borash introduces Hervey Sadler…who apparently is not going away anytime soon. Apparently, Hervey is worried about K-Krush showing up because he's got some big security guys backing him up.
It's a good thing Sadler's success relies on his driving skills and not his promo skills because the promo was nothing to write home about, even if I could totally understand what he was saying.
Thankfully, K-Krush is back to save us from this monotony. He tells Sadler to shut up and reminds him and us of their on-going feud.
The promo goes about as well as it has for the last two weeks, until K-Krush shoves Sadler, who responds with a decent spear and begins punching K-Krush until security gets them separated.
K-Krush is furious and says that he doesn't have time for Sadler this week due to his main event match this week but that he's free next week, and challenges Sadler to a match, which Sadler accepts before security escorts him out.
(Why do I have a bad feeling about this?)
NWA Championship Match up next.
NWA World Heavyweight Championship: Ken Shamrock vs Malice (with James Mitchell)
 Mitchell and Malice are out to music that Paul Bearer would call cliched to a round of boos. Malice looks a little like Sycho Syd and JBL, which is an odd combination.
Shamrock comes out, to everyone's surprise and he's selling the pain of the beatdown like he's just stubbed his toe and is trying to walk it off.
Anyway, this match is all Malice at the start and he's rough as a cob, but he's doing a good job of looking like a credible threat.
Malice does a move where he climbs to the middle turnbuckle while having Shamrock in a headlock. It looks like it could be an impressive strength move if he can make it look a little smoother.
Shamrock starts showing some life and tries to get Malice in a submission hold, but he's too beat up and Malice gets away.
Malice throws Shamrock outside and Mitchell tries to distract the ref, who refuses to cooperate.
Malice throws Shamrock back in the ring, but gets caught when Shamrock gets him in a leg bar, but Malice gets to the ropes.
This match has been all Malice, Shamrock's only gotten in two offensive moves the whole time and it's starting to get boring.
Spoke too soon, Shamrock finally wakes up and starts acting like he's got a horse in this race. After one belly to belly suplex, he gets a pinfall.
Malice and Mitchell are furious and confused, and I don't really blame them.
Result: Ken Shamrock by pinfall.
Comment: That was not a great showing by either man. Malice is not quite ready for the spot he was in and hesitated several times before making a move. Shamrock was basically a punching bag and his sudden victory didn't really do either man any favors. Hope the match against Omori is better than this.
X-Division Championship: AJ Styles for David Young (with Bobcat)
 So, David Young and the ever classy Bobcat are back and Young has a title shot against Styles for some reason. Bobcat is loving the attention, but Young isn't happy. Styles gets a great pop. His music is a hokey country music sound, but it works for him.
Young gets the jump on Styles, but Styles quickly recovers. Young is very awkward, but he's doing an okay job out there.
There's a REALLY awkward spot where Styles looked to be going for a plancha but either misjudged did the spot wrong or Young was too close to do the spot correctly. They recover and Styles throws Young back in the ring for a two count.
Meanwhile, Bobcat has lost interest in Borash, much to Borash's relief, I'm sure, and is busy talking on her cellphone. Yes, kids, cellphones did exist in 2002 and there were obnoxious people on them even then.
Styles goes for a springboard move but Young knocks him off and back onto the floor, before hitting a surprisingly good springboard moonsault. Young seems a little irritated by Bobcat being on the phone, but it's not making an impact on the match. Young goes for a German Suplex, but Styles lands on his feet. There's another awkward spot that ends with Styles being suplexed into the corner. Young is showing some impressive moves, but this match is really awkward.
Bobcat puts down her phone long enough to wave to the camera before going back to her conversation. Young hits a really good powerslam but only gets two.
(Come on, guys, pick it up a little.)
Styles hits a superkick but only gets two. He hits what looked like it was supposed to be a springboard moonsault but it didn't go off and he transitioned it into a reverse DDT, but again, only got two. Young hits another powerslam that looked nasty, but Styles won't stay down.  He gets Styles into the corner and goes for a Frankensteiner, but Styles counters into a Styles Clash from the middle turnbuckle.
Bobcat either doesn't notice that Styles won or doesn't care because she gets in the ring and mugs for the crowd. Styles, quite ungentlemanly, shoves her out of the way, but she gets up and keeps going
Winner: AJ Styles by pinfall.
Comment: Another not great outing for a defending champion. There were a lot of awkward spots in this match and I can't say they were all Young's fault. I'm a little curious to see what they have planned for David Young and Bobcat.
Backstage, Goldilocks is with the Rainbow Express, who currently don't have an opponent for the Tag Team Tournament due to Storm and Harris being taken out earlier in the evening.
For whatever reason, Lenny decides to tell Goldilocks that while they aren't interested in her, she should be interested to know that they know a place where she can get her hair fixed.
Goldilocks isn't having it and tries to continue her interview but Gertner seems more interested in being a sexist creep, emphasis on CREEP, by hinting that he takes 'toys' with him to the airport. Goldilocks isn't having it and asks about the tag team tournament. Gertner replies that since every other team has either been beaten or beaten up, the Rainbow Express not only get the rest of the night off but will leave as NWA World Tag Team Champions. He then tells Goldilocks that he might just wrestle her. Goldilocks is disgusted. He then states that under NWA rules and regulations, if all the other teams have been beaten or can't compete, the last team standing (Rainbow Express in this case) wins by default.
(Guess we know who was behind Storm and Harris getting beat up).
Gertner then kisses Goldilocks and leads his team out of the locker room. Goldilocks laughs it off, but I'd be rushing to sanitize my face after that.
Up next is the final match of the Tag Team Tournament, but we only have one team.
Gertner comes out with the Express, all looking confident that they'll be handed the belts and leave since Storm and Harris were taken out.
Borash says that the NWA officials have said that the Rainbow Express must have opponents for the match. Gertner is audibly furious. Their opponents are…Jerry Lynn and AJ Styles.
Final Match For NWA Tag Team Tournament: The Rainbow Express (with Joel Gertner) vs Jerry Lynn and AJ Styles
Lynn and Styles get a great pop. Styles looks sore and tired from earlier. Rainbow Express get the jump on Styles and Lynn, but that quickly changes.
This quickly turns into a brawl outside the ring, but inside, Lenny and Lynn are facing off and Lynn is outclassing Lenny at every step.
Couple of funny/risqué moments. Lynn goes for the Bronco Buster, but changes his mind, getting a few kicks in before hitting a drop toe hold on Bruce, who was trying to get a cheap shot in, that sends Bruce head first into Lenny's Jesus Zipper, and then rams Bruce back into Lenny's crotch several more times.
Lynn seems to be in control, until Gertner grabs his leg to keep him from going to the top turnbuckle, allowing Lenny time to pull himself together and take control of the situation. Lenny kisses Bruce in and West's fairly homophobic ranting about it is a little nauseating. Bruce only gets a two count for his pin attempt.
Lynn manages to get back in control but only gets a two count after a guillotine leg drop. Styles is tagged in and manages a little offense before tagging Lynn back in. Gertner goes for the leg distraction again, but Lynn ignores it, while the ref is berating Gertner, Bruce gets a low blow in. Bruce tags Lenny in, but Lynn hits a jawbreaker.
Lenny goes for a Full Nelson, but Lynn slips away and hits an awkward Victory Roll but only gets a two count. Lynn misses a dropkick, giving Lenny an opening for his really bad looking Lion Tamer, but Styles makes a run-in and gives a stiff looking clothesline to break things up. While the ref is berating Styles about coming in without a tag, Bruce does exactly that, but the ref does nothing, of course.
Bruce kisses in Lenny, who gets Lynn up in a vertical suplex, but then seems to have forgotten what he was going to do with him, before finally hitting the suplex, but only gets a two count. Frustrated, Lenny takes a cheap shot at Styles and kisses in Bruce. Bruce shoots Lynn into the corner, but Lynn counters with another Victory Roll, but only gets another two count.
There's a very funny exchange where Bruce tries to go for a Sunset Flip and Lynn sits down on him for a pin and then realizes what he's doing. Bruce counters a headscissors takeover attempt with a faceplant, but only  gets a two count.
After an extended time in a head scissors submission, Bruce tries to get Lynn into a piledriving or powerbombing position, but Lynn blocks and gets clobbered for his effort. Bruce goes for a powerbomb, but Lynn counters and goes his piledriver, but Bruce counters, Lynn counters the counter and would've gotten three if Gertner hadn't distracted the ref for a few seconds.
Lynn hits a reverse DDT but can't capitalize on it and both men tag in (no kissing) their partners.
Styles seems to have finally gotten his wind back because he comes in like a house of fire. Styles gets two near falls, the last of which is broken by Bruce. Lynn comes in and we have chaos. Lenny hits a Full Nelson facebuster, but Lynn breaks up the pin and hits his piledriver on Lenny, giving Styles time to hit the corkscrew senton and we have new Tag Team Champions!
The crowd is ecstatic! Though, oddly, Styles is the only one celebrating at first, maybe because Lynn and Bruce were out of the ring and Lynn didn't realize what had happened. He gets in the ring and both men celebrate.
Winner: Jerry Lynn and AJ Styles
Comments: That was a really great match once Styles was able to get his wind back and take the pressure off of Lynn. It was still awkward in several places, but a very good match.
We go backstage and find President Wilson/Miller tied up backstage with FU written on his belly.
We get a recap of the issues between Jarrett/Hall/K-Krush/Christopher, including last week where the babyfaces screwed over the heels.
Jeff Jarrett and K-Krush vs Scott Hall and Brian Christopher
Krush gets a minimal reaction, as does Jarrett. It's implied that Jarrett might have had something to do with whatever happened to NWA President Whatshisname. Christopher gets a great pop as does Hall. Thankfully, Hall and Christopher came out without help.
We start off with a brawl that quickly heads to the floor.
This was a really great match, but it seems to be struggling to top the Tag team final match, which probably should've been the Main Event.
Jarrett and Krush are a really good team, but Hall/Christopher just seem like very odd ringfellows. Christopher's got a lot of talent, but he just doesn't fit in with Hall, Jarrett, and K-Krush. Jarrett is really making a case of being the guy to build the TNA brand around. Despite not being the biggest guy on the roster, he's easily one of the most talented and it's really showing in this match.
Christopher makes an error, by trying to stop a tag attempt by Jarrett to Krush by grabbing Krush at the other side of the ring, which takes him out of position for Hall to make the tag. What the heck?! Christopher acts like he wants Hall to tag him in, then yanks his hand away and punches Hall. In the exchange that follows, the ref gets knocked out and Hall is left fending for himself and takes out Christopher.
Okay, so Christopher has turned heel and helps Jarrett hit the Stroke. Christopher hits the leg drop and Jarrett and K-Krush get the win.
The heels are celebrating, and the crowd is livid.
Winner: Jeff Jarrett and K-Krush by pinfall.
Comment: That was better than I expected, the heel turn was a nice swerve, but it still felt a little flat after that Tag Team match.
Jarrett gets on the mic and says that he proved his point: Scott Hall isn't worth a s**t. He goes on to say he's beaten Hall in 1995, 1997, ran him out of WCW and WWF, and that he's going to run him out of the NWA. Jarrett then proceeds to beat up Hall some more.
Jarrett says that Hall is just like all the other legends in the NWA, he's not worth a damn. He then tells Tenay to take that to NWA President Jim Whatshisname, since apparently no one knows if his last name is Wilson or Miller, Harley Race, Dory Funk and all the other NWA legends. Jarrett seals the deal by cracking the NWA trophy over Hall's head. Apparently the NWA didn't skimp on the trophy because it takes Jarrett two tries to break the thing.
As the EMTs come out, Jarrett challenges everyone he can think of:  Toby Keith, Starling Marlin and vows to whip everyone's ass. He also says he'll run Scott Hall out of the NWA if it's the last thing he does.
Jarrett then drops an elbow on Hall for the sheer hell of it and then tells everyone to put it down in their books: He got screwed the first night of TNA (which is true), and he'll be damned if he'll ever let it happen again. Jarrett makes a comment about Toby Keith but I couldn't understand it over the commentators talking. He tells Scott Hall to never forget what happened and then attacks him again. Jarrett walks out still complaining about Episode #1 and him getting screwed by Fargo and the NWA.
Tenay reminds us that next week we're going to have a NWA title match between Shamrock and Omori, an X-Division match featuring the return of the Flying Elvises. Jarrett is back again and still attacking Hall. We end with Jarrett dropping the stretcher frame on Hall.
Overall Comments:
So, how was Episode #3? It was pretty good, it did a good job of moving the storylines forward now that we're past the first two episodes. The three titles for TNA have been introduced and have champions for them.
There is still a lot of awkwardness in the matches and a lot of guys who were put into spots they aren't ready for in terms of in ring skill. I saw several awkward spots in just about every single match tonight. A lot it is probably because TNA is just starting and are using what's available and what's available are…the guys WWF/E doesn't want or isn't interested in at the moment, or the guys who were in WCW or ECW and didn't want to work for WWE.
That said, it was a very good show.  The tag team tournament was really good, though the final match went a little long for my liking and was mostly all Jerry Lynn because Styles had JUST wrestled a fairly tough match not five minutes earlier.
Speaking of Styles, having seen how great he is in WWE, it was a surprise to me to see so many awkward spots in his match against David Young and I can't say that all of it was Young's fault. That said, Styles had only been in the business a few years and so some awkwardness is still going to happen.
The main event was really good, but it felt like someone was telling Jarrett to keep talking because the run time hadn't be reached, but it put Jarrett over as a top heel, which he was needing.
One of the tough things about watching TNA from 2002 is seeing all the sexism and homophobia that was out there for everyone to see. I found myself very uncomfortable with several segments simply because things have changed so much in the past fifteen years, that being reminded of how things were is a little disconcerting.
Stinkers: Oh, that's hard. I'd have to say that the Johnsons vs Storm and Harris was the worst.
Snoozers: Shamrock vs Malice. It was just very awkward and watching Shamrock, a legit badass, being tossed around was not entertaining.
Match of the Night: The Tag Team Final, even though it ran a little too long for my liking.
Final Thoughts: I really enjoyed this show and I'm intrigued to see what's next.
---
Always Use Your Head and visit the official Pro Wrestling Tees store for The Chairshot All t-shirt proceeds help support the advancement of your favorite hard-hitting wrestling website, The Chairshot!

---