WrestleMania 24: Sunshine State Smackdown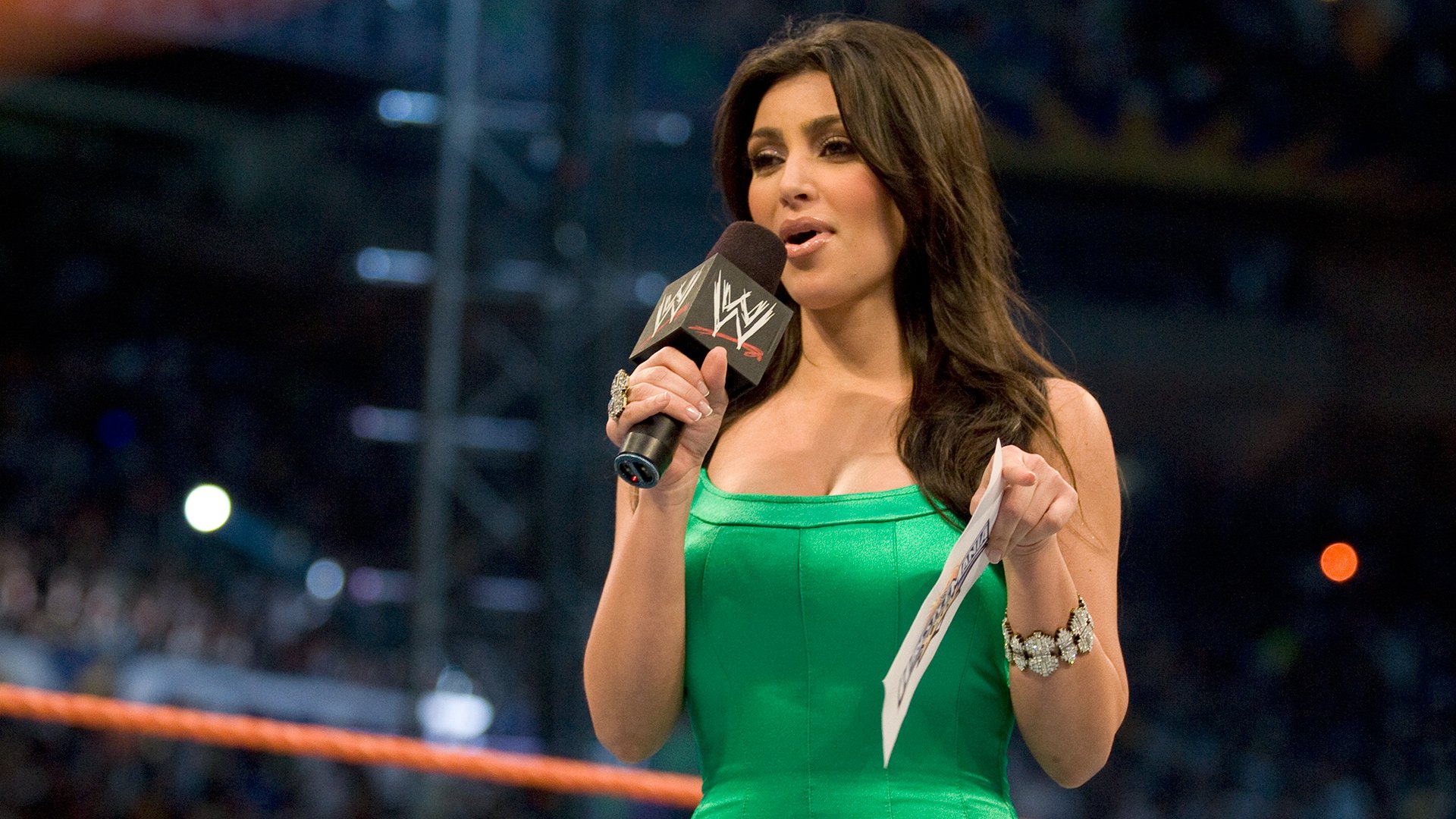 WrestleMania emanates from the Citrus Bowl in sunny Orlando, Florida and boasts a pretty stacked card including a No Holds Barred match between Floyd Mayweather and the Big Show, Undertaker vs Edge for the World Heavyweight Championship, and Ric Flair putting his career on the line against Shawn Michaels. So, was it fun in the sun, or a washout? Let's find out!
Opener
We open with a flyover by the Blue Angels. John Legend sings 'America, the Beautiful'. Up next is a montage of the superstars talking about what WrestleMania means to them and a promo of the big matches.
Belfast Brawl: John 'Bradshaw' Layfield vs Finlay (with Hornswoggle)
JBL comes out to a loud round of boos and since the Citrus Bowl's roof is open, it must've been loud. Finlay and Hornswoggle come out to a great pop. This match was bowling shoe ugly and I'm not sure why it was on the card, except that they didn't have a kickoff show yet.
Winner: JBL by pinfall.
Highlights: Hornswoggle swinging a kendo stick bigger than he was.
Comments: That happened.
Kim Kardashian is our guest host and she seems…excited, though she managed to fend off Mr. Kennedy.
Money in the Bank Ladder Match: CM Punk vs Mr. Kennedy vs Carlito vs MVP vs Chris Jericho vs John Morrison vs Shelton Benjamin
Our competitors come out to various pops. Punk, Jericho, and Benjamin get the best pops. There was a lot going on with this match and a lot of great spots, including a moonsault with the ladder by Morrison that you really need to see to believe.
Winner: CM Punk
Highlights: Matt Hardy's return, Morrison's flip with the ladder, Carlito's Backstabber off the ladder. Jericho/MVP's ladder joust
Comments: This is one of my favorite MitB matches.
We get a backstage thing with Cena, Orton, and Triple H.
There is a Hall of Fame look back. Our Inductees were: Gordon Solie (commentator), Eddie Graham (Promoter from Tampa, helped make Dusty Rhodes and many other big names), the Brisco Brothers, Mae Young, High Chief Peter Maivia and 'Soul Man' Rocky Johnson, and Ric Flair.
Note: Ric Flair's kids represented him at the Hall of Fame spot and we get our first look at Charlotte, though she was referred to by her real name, Ashley, at the time.
Interpromotional Match: Batista vs Umaga
We get an introduction to the General Managers. Regal (RAW) gets a round of boos, Teddy Long gets a big pop. Batista gets a huge pop. Umaga gets a round of boos.
This was a much better match than it sounded on paper. This wasn't a technical match, but both guys did really well and meshed. Umaga's athleticism is amazing and he really shined in this one. For some odd reason, the crowd seemed to get behind Umaga towards the end.
Winner: Batista by pinfall
Comments: That turned out better than I'd expected.
ECW Championship Match: Chavo Guerrero vs Kane
ECW General Manager, Armando Estrada is in the ring and does the introductions. Chavo is out first to little reaction. Kane gets a good pop. There's not a whole lot to say about this match. The official time was 00:11. It wasn't even a time filler.
Winner: Kane by pinfall
Comments: Honestly, why did they even put this on?
We get a vignette of Carlito getting his ass kicked by a seagull. Disney star Raven-Symone is there to pay honor to fifty Make a Wish kids in the audience.
Career Threatening Match: Ric Flair vs Shawn Michaels
HBK gets a great pop. Ric Flair gets a huge pop, he's wearing a gorgeous robe, but the cut of the neckline made him look like the skin on his face was being pulled too tight. This was an amazing match. Even though Flair's ring ability had declined considerably over the years, he and HBK really brought out the best in each other.  It's clear that both men wanted Flair's last match to remind people of how good he'd been for most of his career.
Winner: Shawn Michaels by pinfall. Afterwards, HBK leaves the ring and lets Ric say goodbye to the fans. There wasn't a dry eye in the arena.
Highlights: Flair FINALLY hitting the high crossbody. The final sequence. The audience thanking Ric.
Comments: I have always hated this 'You lose another match, you retire' storyline because it seemed pretty obvious what was going on and have thought that just being honest about Flair retiring would've been a lot better. WWE telegraphed what was going on too much in the buildup to really take this storyline seriously. Still, thanks for the memories, Naitch, even though my exposure to you was very limited.
Playboy BunnyMania Lumberjill Match: Beth Phoenix and Melina (with Santino Marella) vs Ashley and Maria
The lumberjills are out first to not much reaction. Ashley and Maria get minimal reaction. Beth and Melina don't get a much better reaction and neither does Santino. This match was okay all things considered. I can't say it really stood out, it just seemed to be an excuse to have the Divas out and rolling around in the ring.
Winner: Beth Phoenix and Melina by pinfall.
Comments: Well, that happened.
Triple Threat Match for the WWE Championship: Randy Orton vs Triple H vs John Cena
Cena is played to the ring by a marching band to an okay pop, since I'm pretty sure the crowd didn't realize who it was at first.  Triple H gets a great pop. Orton gets little reaction.
This starts as a brawl between Cena and Orton, then a brawl between Triple H and Orton. This was a pretty good match, all three guys really took it to each other and made the match seem important, despite not being the main event, as it should've been.
Winner: Randy Orton by pinfall on John Cena.
Comments: That was a really good match.
No Disqualification Match: Floyd Mayweather, Jr vs Big Show
Big Show comes out to a good reaction. Mayweather comes out with his entourage to a pretty good pop. This wasn't an awful match, but it wasn't great. The sight of Mayweather, who looked like a child compared to Big Show, applying a sleeper hold was laughable.
Winner: Floyd Mayweather by knockout, with the use of brass knuckles
Comments: While I understand that the Boxing world didn't want Mayweather's first defeat to be at the hands of a wrestler, I don't like the idea of Big Show losing to a guy he would've easily squashed in normal circumstances.
Kim Kardashian announces a new Citrus Bowl attendance record: 74,635!
The Streak vs. World Heavyweight Championship: Edge vs The Undertaker
The druids come out first, lighting the way for the Undertaker. The Deadman Cometh to a great pop. I never like Taker coming out first, it ruins the mind games. Edge comes out to a good pop. He also has Vickie Guerrero brought out.
This was a great match. According to Edge, he and Taker realized that they'd never faced one another in a one-on-one situation, though they'd had tag team matches against each other, despite being colleagues for a decade and so tried to work on the bugs during a tour of Argentina before WrestleMania. It makes this match even more amazing because they wrestled like they'd wrestled each other hundreds of times.
Winner: The Undertaker by submission. The Streak is 16-0.
Highlights: Charles Robinson sprinting as fast as he can down the ramp to count Edge's shoulders is a much loved gif for good reason: It's FUNNY!
Comments: This was a great match.
Overall Comments
So, was WrestleMania 24 a great time in Florida or was it a washout? Overall, I'd say it was fun in the sun. This was a great show overall, with a few stinkers.
Stinkers: Playboy BunnyManiacs or whatever that was. ECW Championship match was a disgrace, as was the Belfast Brawl.
Match of the Night: Toss up between Flair/Michaels and Undertaker/Edge.
Celebrities: I have no idea why Kim Kardashian was there. She was only in two segments despite being the guest host of the show. Raven-Symone was better, she was there for an ACTUAL reason. The marching band for Cena would've been cool if the audience had realized what they were hearing.
Final Thoughts: I liked this show, it was fun and had some great moments.