Bray Wyatt Has Found His Niche With Woken Matt Hardy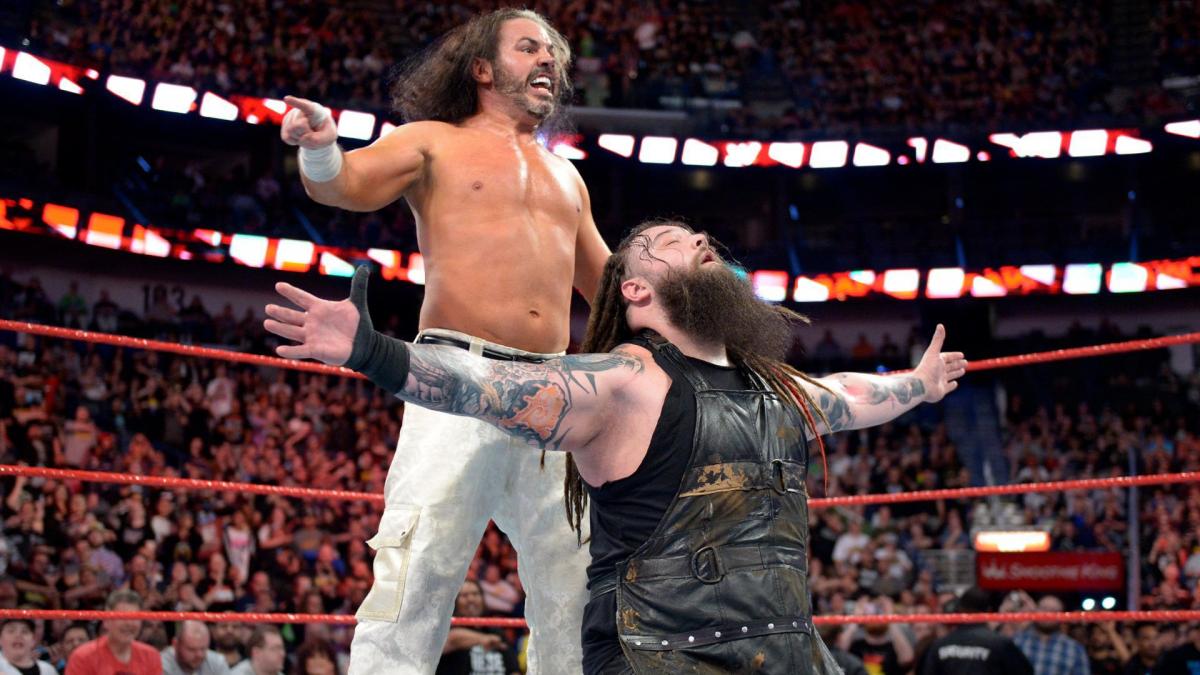 Matt Hardy is sharing his Woken wisdom with the world. The first man to fully accept that wisdom is Bray Wyatt and the two men are now a tag team in WWE. Many fans saw this coming, as Wyatt's character had peaked for the most part. There was only so much ground WWE could cover with him in his Eater of Worlds persona.
It was indeed time for a change and Hardy facilitated that change. Now the two men are sharing the same air without trying to destroy each other, which seemed to be their fate. Like Undertaker and Mankind, Matt Hardy and Bray Wyatt seemed destined to feud forever. But they are much better as a team.
That was perhaps not what fans expected. Though the signs of a potential partnership were there, no one could have predicted just how well they would mesh together. Fans watched them fight for so long that any union between them could have fallen flat.
But they are clicking together quite nicely at this point. Their personalities compliment each other and they have a great chemistry together. Wyatt has slid into the No.2 spot, which is a change of pace for him. He was always the man at the head of The Wyatt Family. He was always the one pulling the strings.
Therein lays the disbelief among many fans when it comes to this new team. Wyatt spent his entire WWE career as a heel. There was never any reason for anyone to trust him, because he was always playing mind games with everyone around him. He had no history as a babyface and he never really crossed into that area at any time during his run. He always had an agenda and that agenda was usually trouble for whoever crossed him.
Then there's the fact that he was such a twisted soul. Bray Wyatt was never really hated like other heels around him, but he was booed. At his best Wyatt was creepy and sometimes even frightening. At his worst, he was a babbling madman. Somewhere in the middle, he found his niche.
The WWE faithful often didn't understand what he was talking about but they knew it was psychological. Wyatt often seemed to talk above everyone's head, as if he was already three steps in front of them. Fans took what they wantd from his promos and though the point wasn't always clear, the intent was. Bray Wyatt wanted to be worshipped. He needed to be.
His character's existence needed validation. The only way he could get that was by controlling others and making them need him. They were subservient to him and he led the way. Wyatt's opponents wanted to shut him down but they were being played as well. Bray thrived on funhouse horror and expected everyone else to live that life with him. In that world, only he stood at the top.
So when fans now see him alongside Matt Hardy, they immediately have doubts. How could such a megalomaniacal figure like Bray Wyatt actually step aside and give control of his fate to a man that was beneath him? Wyatt did try to destroy Hardy and was convinced that he could do it. How could one brawl completely change his mind and indeed his very essence? Is that even possible?
In the world of WWE, Bray Wyatt is Marvel's Loki. Like his comic book counterpart, Bray is devilish and conniving, always ready to use others for his own personal gain. He is a trickster, a wolf in sheep's clothing, a man that wants to slide in and take whatever he wants before anyone knows he was there.
Neither man is concerned with obliterating everything around them; they would much rather rule it all. Complete power is intoxicating and both men are indeed addicted to it. Loki has betrayed his brother Thor numerous times in order to get that kind of power. Is it only a matter of time until Bray Wyatt betrays Matt Hardy for the same reason?
The biggest problem with that theory is fans just saw it happen. Randy Orton once followed Bray and then turned on him. It was obvious from the start that Orton was up to something; he's called The Viper for a reason. But no matter how many times it seemed as if Randy would leave Bray, he stayed. He even began to fit. Suddenly Randy Orton looked like he belonged with Bray Wyatt. Fans accepted it. But as soon as everyone relaxed, Orton made his move.
This could happen again of course. Wyatt could betray Hardy and leave him for dead in the middle of the ring. He could even take control of SAniTy and possibly even remake them in his own image. Many fans believe that would work and it quite possibly could. But is that the right move for Bray Wyatt?
Right now he and Matt Hardy are just getting started. Some guys are better enemies than friends but that just doesn't apply to this situation. Hardy and Wyatt have gone to war many times before. Fans have seen that. It was fun and it worked for them. But it was time for something new. The same is definitely true for Wyatt.
Bray needed a change. He may have the same look and he may have the same move-set in the ring but he has evolved. Wyatt reached his apex and needed to do something fresh in order to keep moving forward. That's exactly what he's done now. Wyatt was a compelling heel but he can be a dynamic character babyface. This is what he perhaps should have been all along.
Matt and Bray are not The Hardy Boyz. They're also not The Wyatt Family. These two Superstars are something more, something different. Hardy revitalized his pro wrestling career with his Broken and Woken personas. Bray Wyatt is now doing the same. The time for twists and turns may come. But now the time is right for this duo. Matt Hardy and Bray Wyatt are bizarrely fun together and that fun is just beginning.
King's WrestleMania Rewind: Charlotte Flair vs. Asuka from WrestleMania 34
Chris king is back with one of the most underrated matches in WrestleMania history–Charlotte Flair vs. Asuka!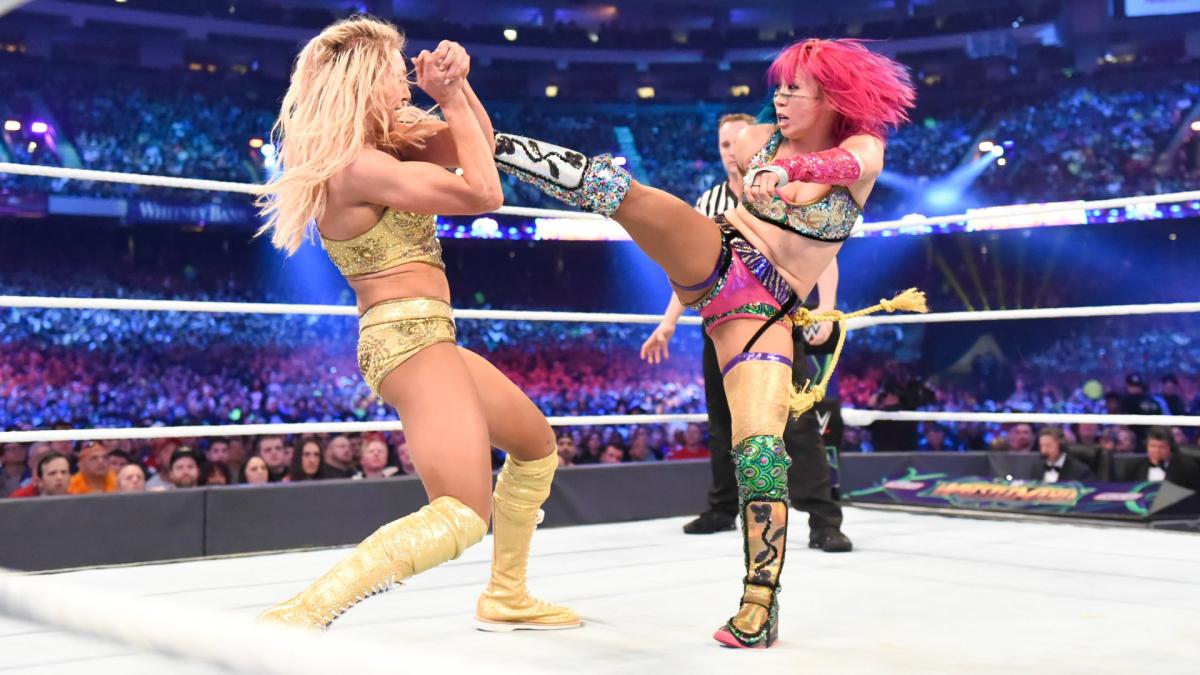 Chris king is back with one of the most underrated matches in WrestleMania history–Charlotte Flair vs. Asuka!
We look back at Charlotte Flair vs. Asuka at WWE WrestleMania 34. 'The Empress of Tomorrow' put her unprecedented and historic undefeated streak of 914 days on the line against 'The Queen's' SmackDown Women's Championship.
For years, this was considered a dream match while Asuka dominated the roster in NXT, while Flair won numerous championships on the main roster on both Raw and SmackDown. The Empress made her long-awaited debut on the September 11th episode of Raw and began to tear through the competition.
Asuka outlasted all twenty-nine other women in the historic first-ever Women's Royal Rumble match to challenge for the title of her choosing. At Fastlane, she made her choice.
The WWE Universe was so excited for this match myself included. Both superstars delivered a fantastic performance on the Grandest Stage of Them All executing counter after counter. Asuka showed off some nasty-looking kicks to her opponent, and Flair hit a thunderous Spanish Fly off the top rope. Flair was seconds away from defeat at the hands of The Empress but she locked in Figure Eight and Asuka was forced to tap out.
I can't even begin to explain how shocked I was at this outcome, as nearly everyone expected The Empress to continue her undefeated streak and walk away with the women's title. This controversial decision was the downfall of Asuka's momentum. She would ultimately win the SmackDown Women's Championship at the 2018 TLC pay-per-view in the triple-threat ladder match.
Fast forward to this year when Asuka has recently returned with her Japanese-inspired persona Kana. Kana is dangerous and ruthless and is heading into a championship with Bianca Belair at WrestleMania 39. The Empress has regained all her momentum and is highly favored to walk away with the Raw Women's Championship. Let's hope that Asuka and Belair can tear the house down and deliver an A+ grade match both women are fully capable of.
King: Dominik Mysterio Needs To Do This At WrestleMania
Chris King is here with what WWE should do with Dominik Mysterio at WrestleMania in his long-awaited match against his father Rey Mysterio Jr.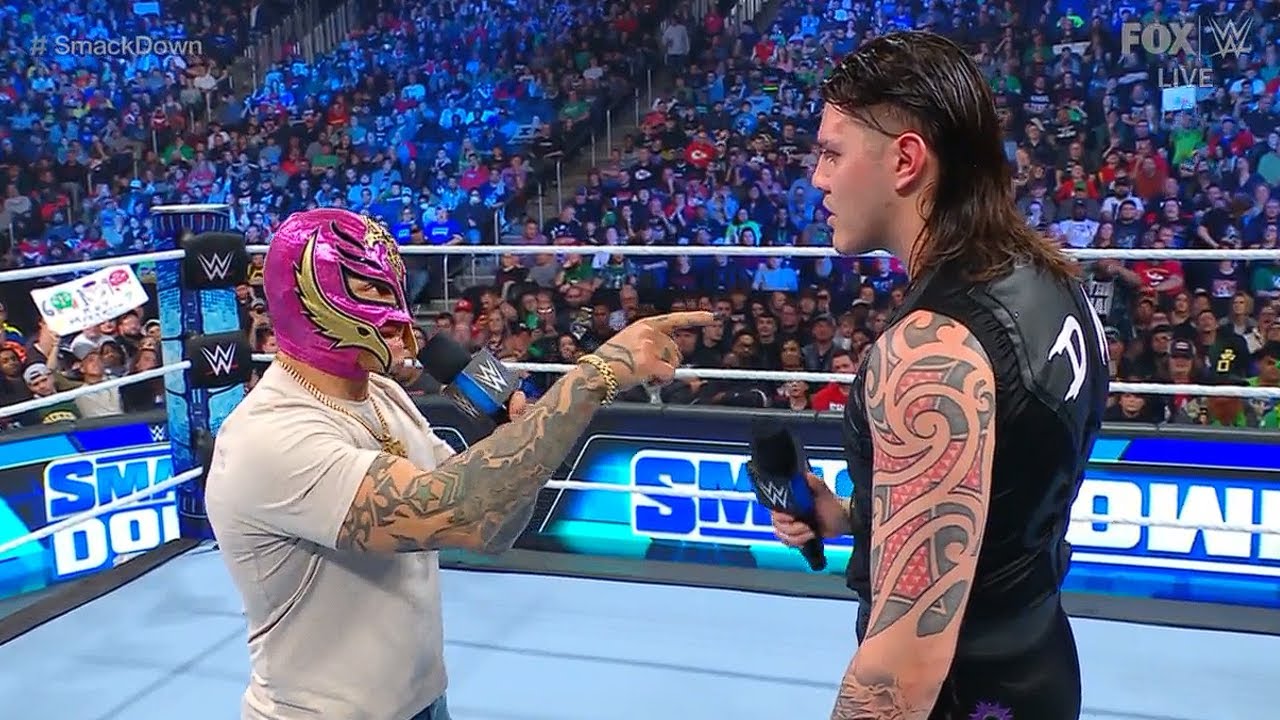 Chris King is here with what WWE should do with Dominik Mysterio at WrestleMania in his long-awaited match against his father Rey Mysterio Jr. 
On this week's episode of Friday Night SmackDown, Rey Mysterio finally snapped and beat some sense into his disrespectful punk-ass kid Dominik. The member of the Judgement Day came out to push his father again for a match on the Grandest Stage of Them All, this time with his mother and sister at ringside. The ungrateful punk told his mom to "Shut Up," as a father even I wanted to jump through the screen and whoop his ass.
Back in October of last year, Mysterio made the emotional decision to possibly quit the company but, instead, Triple H persuaded the Lucha libre superstar to move over to SmackDown to avoid his son. This came after Dominik shockingly turned on his father at Clash at the Castle. Mysterio did everything he could to refuse his despicable son's challenge for Mania but, a man can only be pushed so far. Mysterio will be inducted into the 2023 WWE Hall of Fame and I expect Dominik to embarrass his father during his speech to further this personal feud.
Yes, the WWE Universe hates Dominik and wants to see him get the ever-loving crap kicked out of him but, this feud is missing a special ingredient to capitalize on the biggest heat possible. Throughout this feud, Dominik has made mention of the legendary Eddie Guerrero on several occasions going back to the "iconic" 2005 feud.
I know WWE might not want to go this route but, Dominik MUST come out to Eddie Guerrero's theme at Mania. The disrespectful punk needs to come out in a lowrider to garner nuclear heat. It doesn't matter if The Judgement Day comes out and causes interference for Dominik to get the win, all that matters is that both superstars get the biggest payoff of this nearly year-long feud. Just imagine the Roman Reigns heat after he defeated The Undertaker and multiply that by ten. Dominik portrays the perfect heel and he truly is the missing ingredient that The Judgement Day needed to grow and evolve into a top faction.