AJPW Champion Carnival Finals Ratings & Joint Review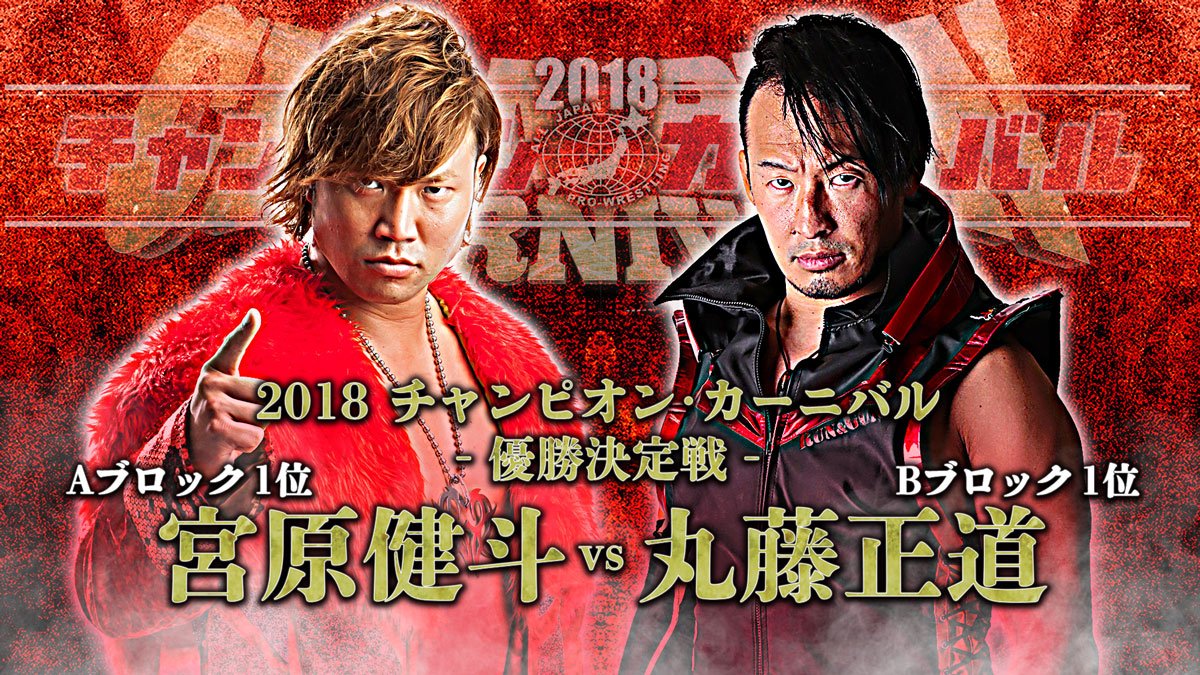 We come to the end of the Champion Carnival. A Block Winner, Triple Crown Champion Kento Miyahara and the B Block Winner, Naomichi Marufuji, face off in the main event for the Carnival Trophy.
Taking a different angle to this article, Mathew Sarpacione and I will be doing a joint review of the entire April 30th show, since the Block separation is now over. So, with everything we saw, history and quality, how does this last show measure up?
Masanobu Fuchi & Osamu Nishimura vs Takao Omori & Yutaka Yoshie
In typical Japanese fashion, the opener has some veterans that the crowd appreciates, but my rating system doesn't. The match was what's to be expected. A few signature spots, Fuchi gets in a few Scoop Slams on Omori…and then the finish happens. But the crowd liked it, so, at least they know their audience.
The match was harmless, but not something to write about that it was mostly slow and sloppy. The crowd loved Fuchi so I guess in a way it made them happy. – Mathew
Winner: Takao via Axe Bomber
Rating: *
3 on 3 Elimination Match: Atsushi Aoki, Hikaru Sato & Yusuke Okada vs Atsushi Maruyama, Koji Iwamoto & Yohei Nakajima
At first, they didn't fully explain what type of elimination it was with over the top rope or pinfall/submission, but they clarified it and showed that the match was gonna be a little bit sloppy. I was impressed with Hikaru Sato mostly in the match and cared about him more than the Junior Champion. Sucks for Yusuke Okada getting injured and I hope the best for him. Curious to see Maruyama and Aoki fighting off next due to Josh being off the tour, but should be good. – Mathew
Ya basically everything Mathew said. The match was average, a few fun spots for eliminations, but Okada getting injured on his elimination is just unfortunate.
Winner: Murayama via Cradle
Rating: **
Violent Giants vs Yoshitatsu & Naoya Nomura
I'm always happy to see Violent Giants being back in the ring together are they're one of my favorite tag teams right now. The match was solid and I keep saying Naoya was gonna be a star in the company one day and he keeps showing it recently during the Carnival, and Yoshitatsu didn't do too bad either for himself and hopefully he goes back again. The ending is what sold it for me with Suwama refusing to let go of the Manriki Sleeper on Yoshi after the match since it adds more progression to the story since we forgot about the one with NOSAWA. – Mathew
Suwama feeling insulted during the Carnival since Yoshitatsu not only beat him, which caused him to lose the block, but also got him to submit. A little extra anger from Suwama and a lot of Ishikawa making fun of Yoshitatsu putting his hand in front of his mouth made for an entertaining match. Not a lot on the line besides pride, but still a solid match.
Winner: Suwama via Manriki Sleeper
Rating: *** 1/2
KAI & Tajiri vs Ryoji Sai & Dylan James
This match, is a means to an end. Sai and James need opponents for their Tag Team Titles, so what better way then to lose a non-title match. It would've been nice for the match to have been better, but the ending sequence was fun and helped the overall perception of the match.
Really not a whole lot to say about it since it was a little bit short, but felt like it would be all over the place at times, specially with the outside spots. Loved the green mist spot with TAJIRI and KAI picking up the win right after that. Also had to admit that Ryoji chasing TAJIRI down was kinda funny and hopefully the title match is better. – Mathew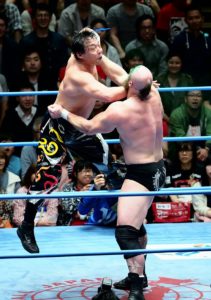 Winner: KAI via Frog Splash after green mist
Rating: ** 1/4
Bodyguard, Zeus & Shingo Takagi vs Jun Akiyama, Yuji Hino & Joe Doering
Definitely my favorite tag match on this show since most of them delivered except for Bodyguard since his stuff felt so out of place compared to how well the others did. I loved the interaction between Zeus and Yuji Hino since it made me wanna see them wrestle one on one and soon, plus they both did fantastic in their respected blocks and matches, more of Yuji Hino if he's free. Shingo is still great and not much more to say since I've been praising him in all of my articles and glad to see him get that well deserved respect. Joe winning was the right call since he does need momentum if he plans on getting revenge on Kento. Also the last interaction with Hino and Zeus after the match was fantastic. – Mathew
Zeus and Shingo need to be a tag team, not Bodyguard. Bodyguard is clumsy, sloppy and looks out of place in any match with upper mid card talent or better. Yuji Hino and Zeus need to have a match though, it just needs to happen. The back and forth strong style spots, the chop battles and even the way they interacted after the match, shows a lot of respect and what could be a great match.
Make it happen All Japan!
Winner: Doering via Revolution Bomb on Bodyguard
Rating: *** 1/2
Champion Carnival Finals: Naomichi Marufuji vs Kento Miyahara
With all the emotion and history that went into Marufuji's match with Akiyama, one had to wonder, exactly what he had left in the tank.
Marufuji came out with a little extra pop in his step, and you could see he wanted this. Highlights of the match being a big Springboard Curb Stomp, the Crescent Kick around the post, Piledriver on the apron as well as a collision of knees, Marufuji's Bicycle Knee met Kent's Blackout and both men went down for a few moments.
Both men kicked out of the other's signature moves, so Marufuji decided to bring out the homage to his friend, his trainer, nearly an adoptive father to him, Misawa's Flowsion. After landing the Flowsion, Marufuji picks up the pinfall and the NOAH banner waves in victory at AJPW Champion Carnival.
I never thought that they would be able to top Marufuji vs. Akiyama since that match was something else, but these two have raised the bar for sure as two of Japan's best going at it in the ring. We definitely saw shades of Kobashi, Misawa, and Kawada in Marufuji in this match and you can tell how much this Carnival meant to him and to getting this far, you knew he wanted it more than Kento.
Both of these men just click with every sequence and every move they have done to each other, the close calls, the story, the everything about this match is something that needs to be seen by everyone that is a fan of wrestling since they get that magic and spirit of puroresu in this match right here. I'm glad Marufuji won and I know they said he wasn't interested in the Triple Crown title due to wanting to focus on the GHC title match that takes place five days after Power Series, but we get the match anyway. Also liked that he invited Kento to come work a match at NOAH if All Japan would allow it. – Mathew
Winner: Marufuji via Fisherman Flowsion
Rating: ***** 1/4
I thought the Carnival was fantastic and definitely much better than last year's for sure. I like that the match quality has gone up ever since they announced a streaming service since they want to have more eyes on their product with more subscribers. If they can keep up this momentum and get more freelancers/partnerships, I think we can see them rising higher here and then some. – Mathew
With the increase in match quality, the increase in Carnival attendance and the electricity in the crowd for the Finals and Akiyama/Marufuji's match a few days ago, shows a lot of good potential for All Japan. Hopefully the Power Series manages to retain this momentum instead of relying on the last few days of title matches.
Also for the record, Mathew and I guess correctly on the winner in the Uneducated Feat article. We may have gotten the pairing wrong, but Marufuji won, and much like the NCAA tournament, people only care if they guessed the winner right. Until next Carnival everyone!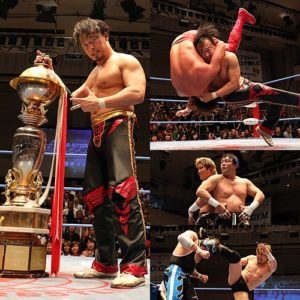 (NOAH) NOAH WEEKLY NEWSLETTER VOL.145 ~ 17TH OCTOBER 2021
N-1 Victory winner Katsuhiko Nakajima had his Heavyweight Championship match against Marufuji. Who won? What other challengers stepped up to the champions? Hisame has all the answers!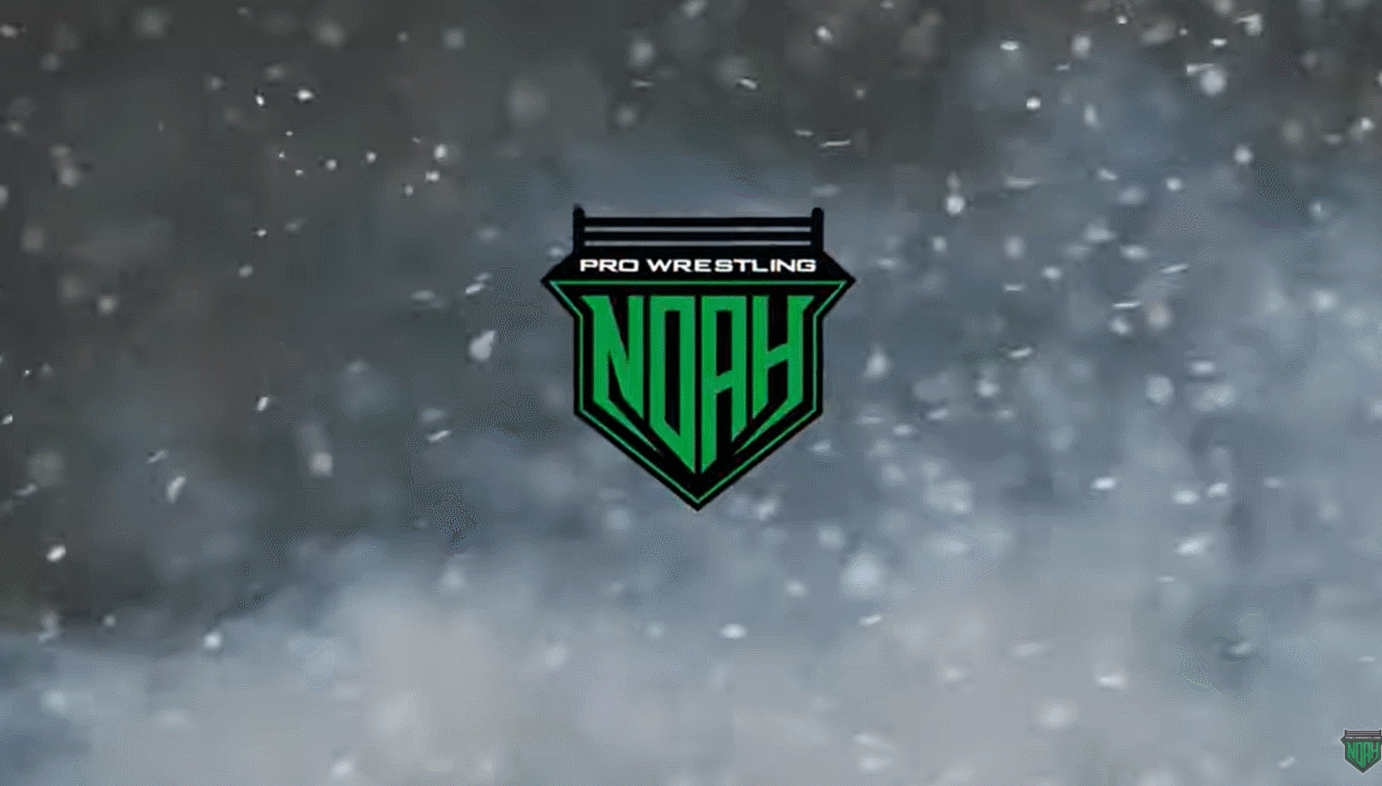 N-1 Victory winner Katsuhiko Nakajima had his Heavyweight Championship match against Marufuji. Who won? What other challengers stepped up to the champions? Hisame has all the answers!
NEWS
"I am NOAH!" Katsuhiko Nakajima is the new GHC Heavyweight Champion
The mid generation in NOAH are starting to make waves over their seniors in a manner that before they had never made any progress in; Go Shiozaki finally overcame Naomichi Marufuji in a singles match, and next it was Katsuhiko Nakajima's turn. Nakajima beat Naomichi Marufuji for the GHC Heavyweight title on the 10th October in Osaka. Nakajima, who had won the N-1 and won the championship, barely had time to pause as his next challenger appeared, Masato Tanaka. Nakajima had been speaking of his appetite, "devouring, devouring and devouring" but still being hungry.
Tanaka told him that Nakajima had not "devoured me" yet and challenged him for the belt. The title match has been set for the 30th October in Fukuoka, which is Nakajima's hometown. After Tanaka had gone, Nakajima told the crowd, "The era is moving. I have finally taken the GHC Heavyweight! I AM NOAH"*
The first pre-match between Tanaka and Nakajima was a tag which saw Masaaki Mochizuki team with Nakajima against Tanaka and Takashi Sugiura on the 17th October in Kawasaki. Mochizuki of course had challenged Takashi Sugiura for the GHC National. Tanaka scored the first round in the pre title battles by pinning Nakajima with the Sliding D. Tanaka closed out the show, addressing Nakajima with "I am going to devour you deliciously, and tear the belt from your waist!""
*This phrase is more attributed to Go Shiozaki, but it was Katsuhiko Nakajima who said it first. Nakajima used it against Minoru Suzuki during the Suzuki Army invasion.
 Eita & NOSAWA Rongai become the new GHC Junior Heavyweight Tag Champions
The GHC Junior Tag Belts (which are just as chaotic as the division that holds them), changed hands in a short match on the 10th October in Osaka when Perros De Mal Del Japon's Eita & NOSAWA Rongai defeated Hajime Ohara and Atsushi Kotoge in only four minutes and four seconds. Kotoge and Ohara were completely overwhelmed by the underhand tricks of their opponents, which included double teaming, face stamping and NOSAWA using apron interference. Afterwards, Eita spoke on the microphone;
"We are the new champions! You are below trash, we don't need your applause! Kotoge, Ohara, they were boring today"
Backstage, NOSAWA said they weren't interested in defending the belts against any of NOAH, and told Eita to bring someone from Dragon Gate.
HAYATA retains against Daisuke Harada, NOSAWA Rongai challenges and builds a house of cards
HAYATA retained the GHC Junior Heavyweight Championship against Daisuke Harada in Osaka on the 10th October. He did the unthinkable and made Harada do something that HAYATA would never have done in the past, and that Harada has probably never done since he was a rookie, and that was to tap out. After the match, HAYATA was surrounded by Perros Del Mal De Japon like they were a pack of jackals, who made him choose a challenger. NOSAWA was at the forefront, and is probably the person that STINGER hate the most, and so HAYATA nominated him and breaking his record of not speaking for about ten months to say, "Next…NOSAWA Rongai". NOSAWA's face fell as everyone in the juniors knew that HAYATA was rapidly being seen as the ultimate champion, and no one was going to let him back out of it. The title match was arranged for the 30th October in Fukuoka.
NOSAWA said he would accept HAYATA'S nomination on one condition; he chose the pre-match, he chose where it was going to be and he chose the people. So what did he choose on the 17th October? A match between himself, Yoshinari Ogawa & Naomichi Marufuji at Club Citta who would take on HAYATA, YO-HEY and Kaito Kiyomiya. It must have seemed a good way to wind Ogawa and HAYATA up, but in reality it turned around to bite NOSAWA hard and fell around him like a house of cards when Ogawa defected practically to STINGER, YO-HEY tried to somehow stay true to the team he was in (although he and HAYATA were ignoring each other practically) and NOSAWA used him to take HAYATA'S springing elbow, and Kaito Kiyomiya joined the fray as he is allied with HAYATA and Ogawa in their hatred of NOSAWA. After HAYATA got the win by kicking NOSAWA in the crotch, the three of them beat up on NOSAWA, Kiyomiya smiling as sadistically as his teammates. You can be sure that unconscious and with his tongue lolling out of his mouth as he was, NOSAWA is going to be out for revenge against all three of them.
Masaaki Mochizuki challenges for the GHC National
While Kendo Kashin attempted to throw Masakatsu Funaki off of the balcony in Osaka on the 10th October, Masaaki Mochizuki who had defeated Takashi Sugiura with the True & Strong High Kick, challenged him for the GHC National title. Mochizuki had always wanted to have a singles match with Sugiura, took the chance as under NOAH rules if you beat the champion then you can challenge the champion. Sugiura accepted the challenge, and it has been set for the 28th October in Kumamoto. Their first pre match took place on the 17th October at Club Citta, Kawasaki. Unfortunately neither Sugiura nor Mochizuki won the match, and neither got the pin over the other, as it was won by Masato Tanaka over Katsuhiko Nakajima.
Kenoh & Haoh go to Dragon Gate
Kenoh and Haoh invaded Dragon Gate who were holding a show in Kyoto to challenge the tag champions (Susumu Yokosuka and KING Shimizu). Haoh said "It seems that the next challenger is not decided, that is why we came all the way to Kyoto. What are you going to do? Do it or not?" Haoh took off his t-shirt and charged, he was taken out and he and Kenoh were told that the champions were not going to run from them and to come dressed to fight in Osaka on the 3rd November.
EVENT RECAPS & POST MATCH PROMOS
"Grand Square in Osaka" – 10th October 2021
Event recap Post match interviews
"Go to the Demolition Stage" – 15th October 2021
Event recap Post match interviews
"NOAH Sanctuary" – 17th October 2021
ELSEWHERE IN NOAH
– Kinya Okada debuted new ring wear in Osaka on the 10th October. True to Okada's Showa era style, his ringwear reflected this in a simple pattern of black and grey.
– Keiji Mutoh said to Kazushi Sakuraba that they should do "Double Impact" during their tag match against Kenoh and Kaito Kiyomiya on the 10th October. Sakuraba thought he meant the Van Dam film, but no Mutoh was referring to the "Doomsday Device" (which is known in Japan as "Double Impact"). During the match, Sakuraba did the lifting while Mutoh went to jump off of the top turnbuckle. Kenoh fortunately saved Mutoh a scolding from his doctor by knocking him down.
– Tadasuke has sworn that the Kongoh Juniors will make a comeback. This was said after wading into a mass brawl between STINGER and Perros De Mal Del Japon on the 15th October.
– Manabu Soya is showing a growing frustration with his lack of wins and apparently Kongoh. Snatching his arm away from the ref recently, and walking off when his team got the win.
– Unsurprisingly, after wrestling the equivalent of four matches in one day in a short space of time, YO-HEY ended up with a black eye.
– Kenoh and Kaito Kiyomiya found that they had a lot in common after their tag together in Osaka on the 10th. Teaming together against Keiji Mutoh and Kazushi Sakuraba, Kenoh said "Kiyomiya and I defeated those guys…" and then after a moment of silence, glared at Kiyomiya and walked off.
– YO-HEY made a cryptic comment following a brief moment of almost doing a tandem move with HAYATA and then doing one with NOSAWA, which NOSAWA ruined by shoving YO-HEY in the way of HAYATA'S handspring elbow, "I wanted to work together." Was he referring to NOSAWA or to HAYATA?
– Junta Miyawaki scored a huge win in the elimination match of the 15th October when he pinned Ikuto Hidaka. Miyawaki's second win came on 17th October when he pinned Kinya Okada.
CURRENT CHAMPIONS
THIS WEEK IN NOAH
Monday, October 18th: Atsushi Kotoge (36)
Monday, October 18th: Shuhei Taniguchi (45)
Friday, October 22nd: Haoh debut anniversary (16 years)
Sunday, October 24th: Go on to the DEMOLITION STAGE 2021
Aore Nagaoka
Start time: 17:00 JST
Broadcast: WrestleUniverse
LINKS
"Come at me you bastards!" Kenoh's Weekly Pro Column
"I want to hide a secret word that only Wrestling fans can understand" – Funky Kato creates a theme song for NOAH's "New Year at The Budokan"
GIFs taken from WrestleUniverse.
(NOAH) NOAH WEEKLY NEWSLETTER VOL.144 ~ 7TH OCTOBER 2021
The N-1 Victory has concluded! We have a number one contender for Marufuji's GHC Heavyweight Championship and much more! Hisame gives us all the emerald updates!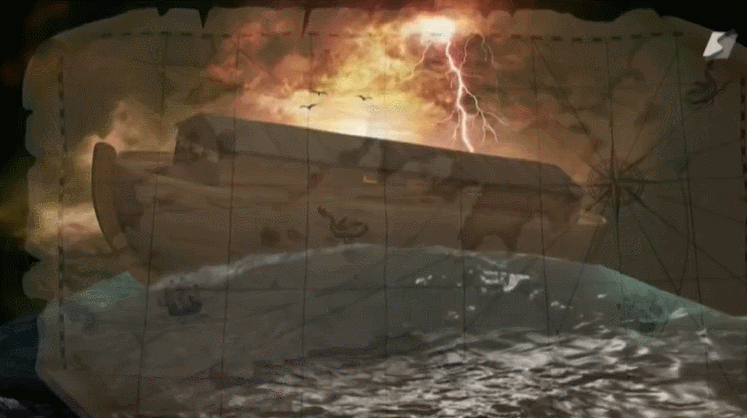 The N-1 Victory has concluded! We have a number one contender for Marufuji's GHC Heavyweight Championship and much more! Hisame gives us all the emerald updates!
NEWS
N-1 VICTORY 2021: Katsuhiko Nakajima vs Naomichi Marufuji
The final four of Katsuhiko Nakajima, Kenoh, Kaito Kiyomiya and Masakatsu Funaki, faced each other to fight to be the winner of the N-1 VICTORY 2021 on the night of the 3rd October at Korakuen Hall.
Kenoh had said he wanted to see for himself this new Kaito Kiyomiya, and he got a full first taste when Kiyomiya flew across the ring at him, not even waiting for the bell it seemed, and attacked. Kiyomiya went for the quick pins to try and catch Kenoh off guard, but after a fierce fight in which Kenoh had to figure out this stranger, it was Kenoh who walked away the victor. A furious Kaito Kiyomiya angrily stalked off (after slamming his fists against the ring, shaking the iron barrier in rage and pulling the curtains apart angrily), backstage he refused to be filmed.
Both Katsuhiko Nakajima and Masakatsu Funaki had said they were looking forward to their singles match. Nakajima had said it would be short, and while it wasn't as short as he perhaps thought, (it was 8 minutes, 38 seconds), it was a brutal with a long hangtime on the vertical spike for the win by Katsuhiko Nakajima, meaning that the finals were now Kenoh vs Nakajima, the Kongoh showdown that Nakajima had wanted. When the main event started, you could feel the air being sucked out of Korakuen with expectation as the two of them faced up in the ring prior to the match. There was a handshake, and then it was on. Kicks, vicious slap war, chokes, they bought them out to wear each other down. There was a moment of comedy however when Kenoh did his own "Shutter Chance" on Nakajima, but the night was not to be his past defeating Kiyomiya, it belonged to Katsuhiko Nakajima who won with the Diamond Bomb after 20 minutes. Wrapping himself around the trophy for the second year in a row, Nakajima spoke on the mic and caused Marufuji to leave the commentary booth and come down to the ring.
"I won it this year too! Naomichi Marufuji, after winning the harsh league called the N-1, at last I have come to you. I am not going to finish there. On the 10th October, I am going to take Naomichi Marufuji's belt in Osaka. Please polish it for then."
Marufuji  congratulated him on his win, and said;
"I will shatter the confidence, the motivation & the chance to succeed that you gained by winning the league. I am going to break you into small pieces. I will break you so much you won't even understand the meaning of winning the league. It's victory or defeat, Katsuhiko"
The title match will take place on the 10th October in Osaka, but the match signing will take place on the 8th October at 17:00 JST on NOAH's official YouTube (also expected will be the signing of the GHC  Junior Heavyweight and the "Special Tag in Osaka" between Keiji Mutoh and Kazushi Sakuraba vs Kenoh and Kaito Kiyomiya).
Eita humiliates Atsushi Kotoge
Pre-matches during the N-1 haven't been easy for the juniors as NOAH held some events as empty arena  and attended matches have tended to be N-1 cards only. The pre-matches GHC Junior Heavyweight tag title challenge between Perros Del Mal De Japon (NOSAWA and Eita) and Atsushi Kotoge and Hajime Ohara haven't happened too often as a result due to that, and Eita's outside schedule. With only two NOAH junior matches on the card at finals night at Korakuen, Eita obliterated Kotoge in the first and last one. Eita's tactics included hiding under the ring and emerging the other side to jump his opponent, attacking Kotoge when Kotoge broke the cardinal rule of never ever shaking hands with another NOAH Junior, and even throwing him over the barrier.
Eita's true humiliation (as Kotoge described it) came at the end of the match when Eita poured water on Kotoge and then left, knocking him with his knee as he did. Backstage, Eita threw even more oil on a division that is ready to erupt at any moment at the slightest provocation, by proclaiming that he was the NOAH Juniors.
Daisuke Harada vs HAYATA
Daisuke Harada and HAYATA clashed in their final pre-match at Korakuen Hall on the 3rd October, and again it was inconclusive and for Daisuke Harada at least (HAYATA is usually emotionless) it was frustrating as the first match ended in a double pin when both HAYATA and Harada had their shoulders down and therefore pinned each other, and when Harada demanded a one on one fight with HAYATA, HAYATA simply left after a few seconds. The title match will take place in Osaka (Daisuke Harada's hometown and a significant place for HAYATA) on the 10th October.
NOAH Halloween
While there hasn't been a NOAH Halloween show announced, NOAH are releasing Halloween themed merchandise. Sadly the badges will only be venue only, but fans will be able to purchase a towel, a t-shirt and keyrings with these designs via the online NOAH shop from 22.00 JST on the 10th October. Overseas fans please use a carrier like WhiteRabbit as NOAH cannot deliver internationally. Unsurprisingly HAYATA the pirate and YO-HEY the jester have proved very popular subjects for fan art…but the question must be asked, why those two together in particular been released as designs?
EVENT RECAPS & POST MATCH PROMOS
Event recap: N-1 VICTORY 2021 Finals Night (Sunday October 3rd 2021, Korakuen Hall)
Post Match Interviews: N-1 VICTORY 2021 Finals Night (Sunday October 3rd 2021, Korakuen Hall)
ELSEWHERE IN NOAH
– Naomichi Marufuji says that Kaito Kiyomiya is undergoing training with Yoshinari Ogawa.
– Yuya Susumu has termed his team as "The Hiroshima Boys" in the match on the 15th October in Yokohama. This is himself, Seiki Yoshioka and HAYATA. Not Yoshinari Ogawa. Interestingly, Ogawa has an singles match on that night against Kotaro Suzuki. It's very rare that Ogawa has singles matches.
– Some brave mosquitos attacked Takashi Sugiura as he sat on a park bench after walking his dogs
– Referee Shu Nishinaga (along with long suffering referee Keigo Yoshino) where travelling in an elevator from an office on the 7th floor of a building when the lift stopped due to the earthquake which hit Tokyo on the 7th October. Both had to navigate a pitch black emergency staircase.
– Kenoh says he climbed Mount Fuji this summer, and did it in four hours.
– Kendo Kashin has decided that Manabu Soya should order a bed for his NOAH care home as he did an advert for nursing beds. Soya told him that if he wanted one, then he should approach the company directly. Akitoshi Saito said he wants a king sized bed with a water mattress.
– Naomichi Marufuji visited Takuma Sano recently at Sano's restaurant. Sano has the old design of him made a few years ago, when the NOAH roster at the time where characterized as animals.
– Kenoh says that the picture on the front of Weekly Pro this week of himself and Katsuhiko Nakajima after the match was "Kongoh pride"
– HAYATA got into a fight with the gate when attempting to walk off from the match at Korakuen Hall.
– Arch rivals Kaito Kiyomiya and Kenoh not only have to team on the 10th October in Osaka (Kenoh's reaction was one of shocked fury, while Kiyomiya has made no comment), but also are slated to attend the press conference on the 8th.
CURRENT CHAMPIONS
THIS WEEK IN NOAH
Sunday, October 10th: GRAND SQUARE 2021 in Osaka
Osaka EDION Arena, 1st Stadium
Start time: 4pm JST
Broadcast: ABEMA & WrestleUniverse
*Broadcast Note
WrestleUniverse will have English commentary.
Hopefully the ABEMA broadcast will be a free and worldwide one, but please note that whether it is or isn't, if you are outside of Japan you should not subscribe to ABEMA to watch the show as unfortunately you need to be a subscriber to watch replays or to watch the event from the beginning should you be tuning in half way through. Unless you are either in Japan, or have a VPN that you know is compatible with ABEMA, subscribing and the added difficulty of finding a VPN that works is not recommended. A far better investment would be a subscription to WrestleUniverse as at the time of writing, you will not be charged until January 2022.
LINKS
"I'm the only one!" Kenoh's law, domination of the N-1 and putting Marufuji on notice for the taking of the GHC
"I wanted to get rid of the glitzy look, and focus on professional wrestling" – the full resurrection of NOAH's Supernova, Kaito Kiyomiya confesses the true intention of his image renewal
"The Best Fresh Feeling" Naomichi Marufuji aspires to a "same unit confrontation" with Funaki, a request for the 10th October Osaka event
With thanks to: Metal NOAH
GIF taken from WrestleUniverse
Picture credit (badges) NOAH GHC