AJPW Champion Carnival Finals Ratings & Joint Review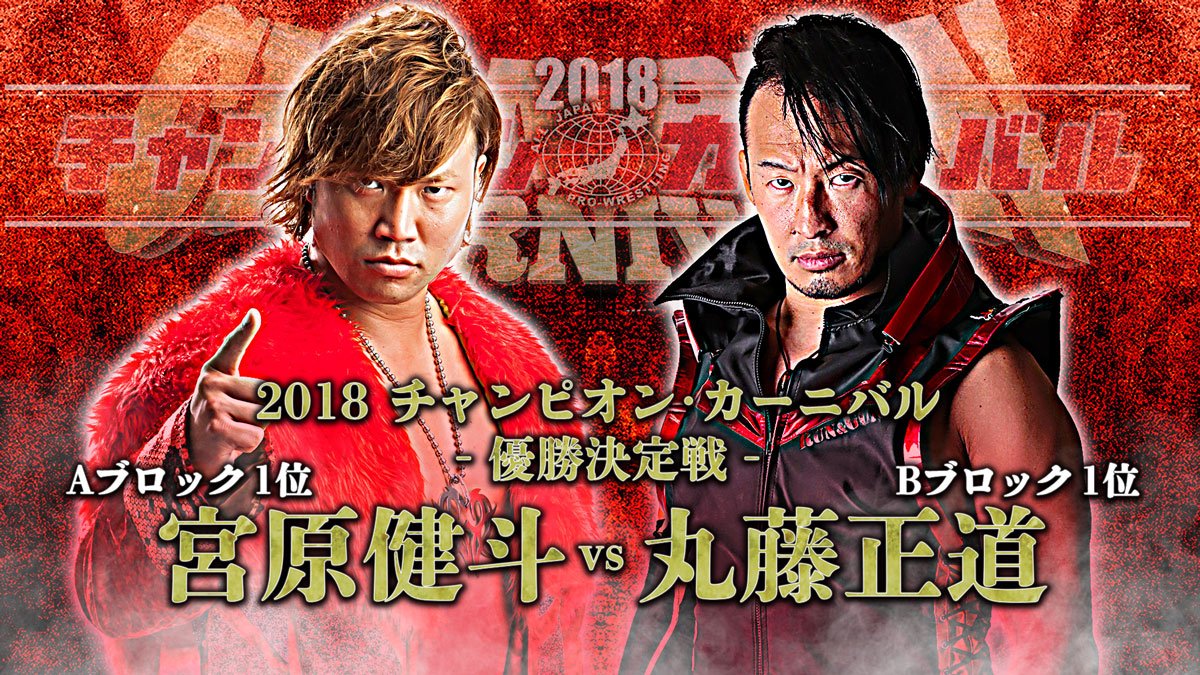 We come to the end of the Champion Carnival. A Block Winner, Triple Crown Champion Kento Miyahara and the B Block Winner, Naomichi Marufuji, face off in the main event for the Carnival Trophy.
Taking a different angle to this article, Mathew Sarpacione and I will be doing a joint review of the entire April 30th show, since the Block separation is now over. So, with everything we saw, history and quality, how does this last show measure up?
Masanobu Fuchi & Osamu Nishimura vs Takao Omori & Yutaka Yoshie
In typical Japanese fashion, the opener has some veterans that the crowd appreciates, but my rating system doesn't. The match was what's to be expected. A few signature spots, Fuchi gets in a few Scoop Slams on Omori…and then the finish happens. But the crowd liked it, so, at least they know their audience.
The match was harmless, but not something to write about that it was mostly slow and sloppy. The crowd loved Fuchi so I guess in a way it made them happy. – Mathew
Winner: Takao via Axe Bomber
Rating: *
3 on 3 Elimination Match: Atsushi Aoki, Hikaru Sato & Yusuke Okada vs Atsushi Maruyama, Koji Iwamoto & Yohei Nakajima
At first, they didn't fully explain what type of elimination it was with over the top rope or pinfall/submission, but they clarified it and showed that the match was gonna be a little bit sloppy. I was impressed with Hikaru Sato mostly in the match and cared about him more than the Junior Champion. Sucks for Yusuke Okada getting injured and I hope the best for him. Curious to see Maruyama and Aoki fighting off next due to Josh being off the tour, but should be good. – Mathew
Ya basically everything Mathew said. The match was average, a few fun spots for eliminations, but Okada getting injured on his elimination is just unfortunate.
Winner: Murayama via Cradle
Rating: **
Violent Giants vs Yoshitatsu & Naoya Nomura
I'm always happy to see Violent Giants being back in the ring together are they're one of my favorite tag teams right now. The match was solid and I keep saying Naoya was gonna be a star in the company one day and he keeps showing it recently during the Carnival, and Yoshitatsu didn't do too bad either for himself and hopefully he goes back again. The ending is what sold it for me with Suwama refusing to let go of the Manriki Sleeper on Yoshi after the match since it adds more progression to the story since we forgot about the one with NOSAWA. – Mathew
Suwama feeling insulted during the Carnival since Yoshitatsu not only beat him, which caused him to lose the block, but also got him to submit. A little extra anger from Suwama and a lot of Ishikawa making fun of Yoshitatsu putting his hand in front of his mouth made for an entertaining match. Not a lot on the line besides pride, but still a solid match.
Winner: Suwama via Manriki Sleeper
Rating: *** 1/2
KAI & Tajiri vs Ryoji Sai & Dylan James
This match, is a means to an end. Sai and James need opponents for their Tag Team Titles, so what better way then to lose a non-title match. It would've been nice for the match to have been better, but the ending sequence was fun and helped the overall perception of the match.
Really not a whole lot to say about it since it was a little bit short, but felt like it would be all over the place at times, specially with the outside spots. Loved the green mist spot with TAJIRI and KAI picking up the win right after that. Also had to admit that Ryoji chasing TAJIRI down was kinda funny and hopefully the title match is better. – Mathew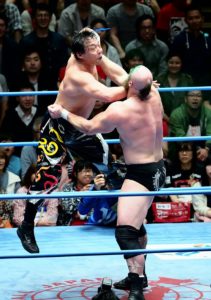 Winner: KAI via Frog Splash after green mist
Rating: ** 1/4
Bodyguard, Zeus & Shingo Takagi vs Jun Akiyama, Yuji Hino & Joe Doering
Definitely my favorite tag match on this show since most of them delivered except for Bodyguard since his stuff felt so out of place compared to how well the others did. I loved the interaction between Zeus and Yuji Hino since it made me wanna see them wrestle one on one and soon, plus they both did fantastic in their respected blocks and matches, more of Yuji Hino if he's free. Shingo is still great and not much more to say since I've been praising him in all of my articles and glad to see him get that well deserved respect. Joe winning was the right call since he does need momentum if he plans on getting revenge on Kento. Also the last interaction with Hino and Zeus after the match was fantastic. – Mathew
Zeus and Shingo need to be a tag team, not Bodyguard. Bodyguard is clumsy, sloppy and looks out of place in any match with upper mid card talent or better. Yuji Hino and Zeus need to have a match though, it just needs to happen. The back and forth strong style spots, the chop battles and even the way they interacted after the match, shows a lot of respect and what could be a great match.
Make it happen All Japan!
Winner: Doering via Revolution Bomb on Bodyguard
Rating: *** 1/2
Champion Carnival Finals: Naomichi Marufuji vs Kento Miyahara
With all the emotion and history that went into Marufuji's match with Akiyama, one had to wonder, exactly what he had left in the tank.
Marufuji came out with a little extra pop in his step, and you could see he wanted this. Highlights of the match being a big Springboard Curb Stomp, the Crescent Kick around the post, Piledriver on the apron as well as a collision of knees, Marufuji's Bicycle Knee met Kent's Blackout and both men went down for a few moments.
Both men kicked out of the other's signature moves, so Marufuji decided to bring out the homage to his friend, his trainer, nearly an adoptive father to him, Misawa's Flowsion. After landing the Flowsion, Marufuji picks up the pinfall and the NOAH banner waves in victory at AJPW Champion Carnival.
I never thought that they would be able to top Marufuji vs. Akiyama since that match was something else, but these two have raised the bar for sure as two of Japan's best going at it in the ring. We definitely saw shades of Kobashi, Misawa, and Kawada in Marufuji in this match and you can tell how much this Carnival meant to him and to getting this far, you knew he wanted it more than Kento.
Both of these men just click with every sequence and every move they have done to each other, the close calls, the story, the everything about this match is something that needs to be seen by everyone that is a fan of wrestling since they get that magic and spirit of puroresu in this match right here. I'm glad Marufuji won and I know they said he wasn't interested in the Triple Crown title due to wanting to focus on the GHC title match that takes place five days after Power Series, but we get the match anyway. Also liked that he invited Kento to come work a match at NOAH if All Japan would allow it. – Mathew
Winner: Marufuji via Fisherman Flowsion
Rating: ***** 1/4
I thought the Carnival was fantastic and definitely much better than last year's for sure. I like that the match quality has gone up ever since they announced a streaming service since they want to have more eyes on their product with more subscribers. If they can keep up this momentum and get more freelancers/partnerships, I think we can see them rising higher here and then some. – Mathew
With the increase in match quality, the increase in Carnival attendance and the electricity in the crowd for the Finals and Akiyama/Marufuji's match a few days ago, shows a lot of good potential for All Japan. Hopefully the Power Series manages to retain this momentum instead of relying on the last few days of title matches.
Also for the record, Mathew and I guess correctly on the winner in the Uneducated Feat article. We may have gotten the pairing wrong, but Marufuji won, and much like the NCAA tournament, people only care if they guessed the winner right. Until next Carnival everyone!