AJPW Super Power Series 2018 Results & Review (5/24/2018)
We are back with some All Japan Pro Wrestling coverage again! Finally, we get the much anticipated rematch with our Champions Carnival winner, Naomichi Marufuji taking on the current Triple Crown Champion, Kento Miyahara. The last time these two fought was at the Carnival final where they both won their respected blocks and Marufuji would come out the winner to get a future title match despite him saying he had no desire to go for the belt at this time.
However, they still gotta follow rules and keep the ball rolling, so here we are now. We got what looks to be a stacked show tonight and even the return of Jake Lee, something to look forward to. So let's not waste anymore time and just…dive right in.
Singles Match
Yohei Nakajima vs. Ishikiri
Review: Before the majority of the show gets covered in tag matches, we get a singles matches to kick the show off between Yohei and Ishikiri. I see Ishikiri wearing the Mortal Kombat logo on the side of his pants there, thumbs up to you. The match started really fast paced and fairly impressive might I add. Both of these men have done well for the opening bout and was mostly impressed with Ishikiri as he stood out for me a little bit more than Yohei, which I'm not saying he's bad either. Around six minutes, Yohei would hit a spinning back kick which he calls Tobiushiro-Mawashigiri and then get the win in a pretty solid opener.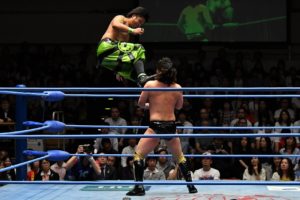 Recommended: Good match to get the crowd going.
Tag Team Match
Jun Akiyama & Osamu Nishimura vs. Takao Omori & Masanobu Fuchi
Review: This tag match is special to them since this is also a tribute match to one of All Japan's greats, Jumbo Tsuruta who has passed away eighteen years ago this month. So this match between the people that remember this legend is for the respect they had for him and how much he meant to these four men right here.
I think it's amazing that the crowd reaction whenever Fuchi is in the ring is one of the loudest in the company right now next to guys like Kento, Suwama, Shuji, etc. Whenever Jun would hit Fuchi with an open fist or move out of the way when he goes for a dropkick, the crowd showers Jun in a ton of boo's an it's just entertaining and a bit heartwarming to see that they still love Fuchi. The match wasn't great, but it was exactly how I expected it to go with four vets working together to give people still something entertaining at least and it was all in good fun, so what more could you ask for? Jun would do the Wrist Clutch Small Package Hold on Fuchi to get the win for his team. After the match, all four of them would honor the passing of Jumbo Tsuruta who is considered one of the greatest of all time and just the great in All Japan by many people, his spirit lives on with the company to to help shine All Japan to a brighter future. JUM-BO!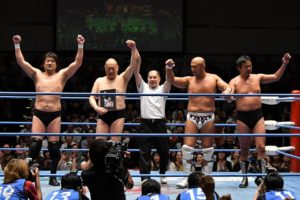 Recommended: Fun match, touching tribute, and a nice call back to the stuff that happened during Jumbo's era. Worth a watch.
Eight Man Tag Team Match
Suwama, Shuji Ishikawa, Atsushi Aoki & Hikaru Sato vs. Zeus, Joe Doering, Atsushi Maruyama & Black Tiger VII
Review: Up next is a eight man tag with both teams consisting of two heavyweights and two junior heavyweights with Violent Giants teaming up with Sato and current Junior Heavyweight Champion, Atsushi Aoki taking on Zues minus Bodyguard who is resting his legs finally, teaming up with Joe Doering, Atsushi Maruyama, and Black Tiger VII. Last time the two Atsushi's were in the ring, it was for the Junior Heavyweight Championship on the May 12th show where Aoki would retain over Maruyama, but it looks like they could go again if this match goes well.
I just need to get this out of the way, but how is Zeus not won the Triple Crown Championship by now? I mean it because this guy is amazing and has a great fan following, I'm just surprised he hasn't won their main title just yet, but I hope he does soon because I think he would be a fantastic champion if given the opportunity. Also another thing I want to point out and I feel like that it should be addressed here since it involves the junior division, and all I gotta ask is who is their leader? I ask this because the junior division is severely lacking leadership and while Aoki is probably the better one there so far, there's still not enough that really stand out fully. When you look at WWE, NJPW, Impact, or Dragon Gate, you can see they have enough people to carry their respective division with a solid roster and giving us quality of matches, while All Japan really doesn't and as Andrew said when we were special guests on Dave's podcast called Uncle Jun's Junction, there's no spice there and when you had to rely on guys like TAJIRI and Ultimo Dragon to help carry that title and division (no disrespect to both men), then you need to rebuild it and soon.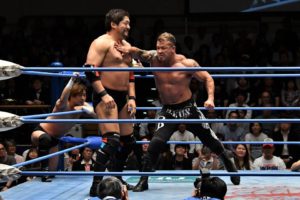 Anyway, onto the match before I ramble on about their weak division and how Zeus isn't champion, this is probably my favorite tag match on this show since all eight of these guys showcased their stuff wonderfully here with great action between whoever was fighting who in the ring, even Joe did pretty well for himself there despite my previous complaints while still liking him at the same time. Think my favorite part was the abuse Maruyama took from Suwama when they shared the ring together and Suwama would hit him with a stiff Lariat every time, it just made me chuckle.The Violent Giants picked up the win with their Last Mountain (Double Powerbomb) on Maruyama.
Recommended: Very good tag match, definitely worth viewing.
Six Man Tag Team Match
Ryoji Sai, Dylan James & Keiichi Sato vs. TAJIRI, KAI & Kotaro Suzuki
Review: I must've read something wrong because I could've sworn we were supposed to have a Tag Team Championship match between TAJIRI and KAI taking on Dylan and Ryoji on this show, but I guess I've heard wrong or they changed it since we're getting a six man tag instead while the title match will take place on the June 3rd show. I will admit that the team of TAJIRI and KAI is actually going pretty well as they have a good chemistry between humor and actual tag team wrestling, and it somehow works while on paper you would think it shouldn't, but for some odd reason it's working and you can't explain it. Sato and Suzuki started off the match with some fast paced action and they were very crisp with their time together which made me wanna possibly see them in the junior hunt since these two were awesome.
My one problem with the match was both teams of KAI/TAJIRI and Sai/Dylan were mostly doing their stuff outside of the ring and the fact they were away from each other, the camera had to go back and forth, and while I don't mind stuff like it, but it did feel like it dragged on a little bit and they even did it for a brief moment a couple of minutes after that while Sato and Suzuki were just staying in their corners while these four kill each other. When everyone is finally back in the ring, TAJIRI would spray his poison mist on Sai to get him out of the ring while Kai took care of Dylan, and Sato picked up the win for his team with the Blue Destiny on Suzuki. TAJIRI and KAI now get more momentum leading in their upcoming title match and we will see if it pays off.
Recommended: Not bad. Enjoy the flow of the show.
Tag Team Match
Jake Lee & Koji Iwamoto vs. Naoya Nomura & Yoshitatsu
Review: After being sidelined for ten months, Jake Lee makes his return to the ring as he teams up with Koji to take on his former partner, Naoya and Yoshitatsu, so let's see if Lee has any ring rust from the time being spent away from the ring. Jake Lee didn't do too bad for his first time back since there were times he felt like he was a bit out of it, but he did pretty well for the other times and not gonna harp on him since he just got back from injury. I know I said in the Carnival that Naoya could be one of the bright future of the company and I also mean that with Jake Lee since he also has that untapped potential and I saw that when he fought Shuji last year for the Triple Crown Championship. these two can definitely become great in the upcoming years. The match was solid for what it was despite some sloppy moments and a botched Tornado DDT by Yoshi, but also didn't do bad despite that, and of course Lee won in his return match with hitting a vicious High Angle Backdrop on Nomura. Welcome back, Jake Lee.
Recommended: Decent match, Jake Lee is definitely something special.
Triple Crown Title
Kento Miyahara (c) vs. Naomichi Marufuji
Review: Now it is time for the main event as Kento defends his Triple Crown Championship against the winner of this years Champion Carnival, NOAH's Naomichi Marufuji. I feel like this is more of a continuation of the story between AJPW and NOAH as NOAH is already 2-0 when Marufuji defeated both the president of AJPW, Jun Akiyama and the current champion, Kento Miyahara. The history and story between these two companies is long and historic despite some of the bad blood they had over the years and I'm glad that they're using this to help rebuild that bridge to have at least some type of closure, and also Marufuji looking to take their championship as an extra added aalt on the wounds he left there and bring it to NOAH before his GHC Heavyweight Championship match on the 29th of this month against Takashi Sugiura. Kento however is looking to avenge not only his loss to Marufuji (Which is a fantastic match and you should definitely check it out), but to avenge his companies honor since he felt like Marufuji disrespected it. So can lightning strike twice or will Kento get his revenge on Marufuji? Let's not waste any time and see.
I'm gonna get my one complaint out of the way here so it doesn't take away from the rest of the match and what I'm about to say, and it's that most of the felt very similar to their previous match and I mostly mean it with the opening sequence since aside from Kento being more aggressive, I felt like I saw it before and around the same time too instead of giving us a little bit something different to make it a completely new match and to me personally it did hurt it a little, but the match is still fantastic despite the one complaint. Kento showed more of his aggressiveness in the match here since he knew he had to win here or else All Japan would look like a joke compared to NOAH and Marufuji, and even Marufuji wasn't giving him any mercy whatsoever during this match since he felt more aggressive as well and it was a much needed element to the both of them.
Another thing I can say about this match is that it felt bigger and in a way it was since there was a bigger prize involved and the crowd was much more into this one, even gave it a New Japan type atmosphere with how the crowd was reaction to everything they would do and even with just chanting their name, and it was awesome. I felt like they hit the nail with everything they needed to do with progressing the story and adding another chapter with this rivalry, and the final five to ten minutes were tremendous and it was exactly how it should end with high impact and pretty much last resort to try and give it your all to win. Kento would finally hit the Shutdown German Suplex Hold and he avenged his loss while also retaining the title, and defending All Japan's honor.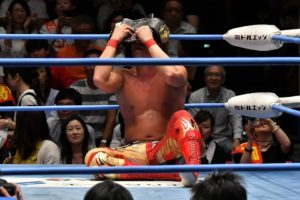 After the match, we have a new challenger into the mix and for some reason it's….Dylan James. Why is it him again? What did he do to earn a title opportunity since his team lost earlier? Why are we awarding Dylan a Triple Crown match after having a weaker performance than Bodyguard in the Carnival? Did they just wanna give Kento an easy defense before the next big show? I got no faith in this match, but Jun apparently does, so we'll see what happens. Now that Kento and Marufuji have one win against each other, when should they fight again? In the Carnival final, Marufuji did invite Kento to come down to NOAH sometime to perform and his 20th anniversary show is coming up in September, so I think we could have the final match of the trilogy there if they choose to go forward with it. It could even be a champion vs. champion bout if Kento keeps the belt til then and if Marufuji defeats Sugiura on the 29th to take his belt and keep it til then. Either way, I'm excited to see what they do with this next since you can tell it's not over.
Recommended: I liked their first encounter a little bit better by a hair, but still an amazing match and should be viewed a bunch of times.
Overall: I thought the show was very enjoyable as none of the matches were bad at all and basically solid all around with a great main event to close it off. Looking forward to see what new chapters come their way except for Dylan/Kento.
Favorite Match: Kento Miyahara vs. Naomichi Marufuji
Least Favorite Match: Yohei Nakajima vs. Ishikiri (Not a bad match, but if I had to pick one.
Score: 8/10
See you all next time.
Mathew's AJPW Champion Carnival B Block Results & Review: Part 3
Another few days, Mathew brings us another part of the Champion Carnival! All Japan's biggest tournament of the year keeps churning in quality! How is B block going?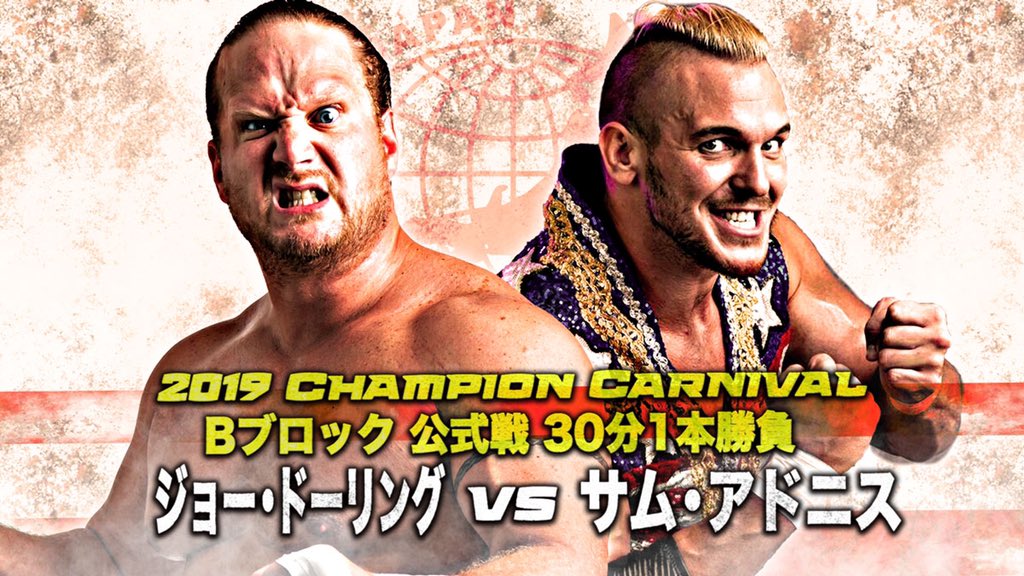 Another few days, Mathew brings us another part of the Champion Carnival! All Japan's biggest tournament of the year keeps churning in quality!
Welcome back to the Carnival, as we look at the next three shows for the part of the ongoing tournament.
The last part had a lot of solid matches and some nice victories that changed the game a little bit. As we get a little bit closer to the finals, the standings for this set of matches should be interesting.
Will Yoshitatsu remain the only one undefeated now or someone breaks that? Let's see who will move up or down in the standings as we…dive right in.
Rating System:
0 Stars: Dave Meltzer
1 Star: Vince Russo
2 Stars: Tony Schiavone
3 Stars: Eric Bischoff
4 Stars: Bruce Prichard
5 Stars: Jim Cornette
4/11/2019
Champion Carnival B Block Match
Jake Lee vs. Yoshitatsu
Review: Our first match for this show is Jake Lee taking on Yoshitatsu. Jake Lee was recently able to get his first win when he defeated Joel Redman. Yoshitatsu is currently the only one undefeated when he won against Suwama at the last show. Jake would need to have another win here to move up while Yoshi winning would move him to the top spot. Can Jake get another win or will Yoshi remain undefeated?
Yoshi, I know you spent money on Hunter Club gear and I'm sure you're very proud of yourself but I think you should let that go. You're not in New Japan anymore, no real need for it and just move forward. Anyway, I thought this was an enjoyable match but if I had to nitpick one thing, it would be that I wish there was a lot more intensity in the match since you kinda felt that when they had a tag match in the last big show I did for them and it didn't feel like a grudge match or anything for the first half of it. Yoshi having good matches back to back is a very pleasant surprise and I hope that momentum keeps on going as we go forward with the tournament. The chemistry between them was a really nice touch with a great showing by both these men. Jake psyched Yoshi out with a punch to the gut and ran towards him only to get caught in a Koji Clutch which Jake rolled him up for a two count. Yoshi would eventually hook the Koji Clutch all the way after countering his Backdrop and it looked like he had him tapped but Jake answered the referee, making him break it up and pin him for a two. Jake would deliver two knees to his chest before hitting the Backdrop Driver to get the three count, ending the only winning streak we had for B Block.
Rating: Eric Bischoff and a half
Champion Carnival B Block Match
Suwama vs. Sam Adonis
Review: Our next match is Sam Adonis taking on Suwama. Suwama recently lost to Yoshitatsu but he's still in a good position with only one win and one loss as he still has time to bounce back. Sam currently has zero wins and two losses, so he would need to get a win here if he would wanna stay in the game a little longer. Can Suwama bounce back or does Sam sweep his chances under the rug?
Suwama is a great opponent for Sam as they have similar styles, making it easier for Sam to work with and show more of what he could do in the ring as he gave a much better performance here than his previous match against Joel. They were able to showcase enough power and strikes to make it rather engaging for the audience who are fans of this type of style, to begin with. It also shows how helpful Suwama can be with his opponents to help make them look good while bringing out your potential as the match progresses. Sam would get Suwama down with a few hits such as the Blockbuster and even lifted him for a Running Powerslam as Suwama was still able to kick out and gets frustrated as he goes to grab a chair for later. Suwama would attempt another Last Ride after failing the first time as Sam would use a dirty tactic of biting his fingers to make him let go as he grabbed the chair to try and strikes him, but Suwama grabbed it and threw it to the side. When the referee wasn't looking, Sam would hit him with a low blow and roll him up for a two count. Sam isn't done as he hits a Lariat and a modified Brainbuster it looked like as he shocked the fans by picking up his first win in the tournament. More of this Sam and he'll be in good shape.
Rating: Eric Bischoff and a quarter
4/13/2019
Champion Carnival B Block Match
Naoya Nomura vs. Joel Redman
Review: Onto the next show as the one opening this up is Naoya Nomura taking on Joel Redman. Nomura recently suffered his first loss when he fought Joe Doering but he's still in a good spot as he's still in first place with the three wins he already has under his belt. Joel recently got his first win when he defeated Sam Adonis and he now has a chance to climb up the ladder a little bit more if he can take Nomura down here. Will Nomura get another win and secure his spot or will Joel pull him down a bit?
I see Joel went back to his better gear than his previous one, thank goodness because he looks a lot better without the singlet. Speaking of Joel, he delivers another great performance in his match against Nomura who also performed just as great as Joel did. Joel was able to do arm manipulation once he threw Nomura into the turnbuckle to know where he needed to take the advantage over him. Nomura did great selling the injury and getting the crowd behind him when he hits Joel with the Spear to try and get momentum back on his side. Nomura would be able to hit a Northern Lights Suplex and another Spear with a roll-up as Joel would still kick out of it. Joel was able to catch him into the Fujiwara Armbar and it looked like he had him ready to tap but Nomura would grab the ropes. Joel saw him going towards the apron and hits a Suplex from the other side and catches him for a Spinning Tombstone and Nomura would still kick out of it, but he quickly turned it back into the Fujiwara Armbar and Nomura tapped out! I know it's been 7 years since this match happened, but I would love to see Joel Redman fight Zack Sabre Jr again, like immediately.
Rating: Eric Bischoff and three quarters
Champion Carnival B Block Match
Suwama vs. Takashi Yoshida
Review: Our match to close our block for this show is Takashi Yoshida coming back as he takes on Suwama. Suwama has one win and two losses while Takashi is one win and one loss as of right now, so they're pretty much about even right now. Suwama would need to win the match here though if he can stay in the game. Which one of these two giants comes out the victor in this brawl?
I wasn't too fond of the first half of the match due to it being a little bit clunky and the fighting around the outside of the arena dragged on a little bit longer than it needed to, plus the camera angles for most of it didn't help out at all. Outside of that though, the middle of the match was a lot better than I highly anticipated since you got two giants duking it out as best they could with the throat thrusts, Lariats, and a Powerbomb from Takashi along with other power moves. While I'm still not a big fan of Takashi, he has been performing in this tournament much better than anticipated since he used this time to actually showcase his move set properly. Suwama was also able to help Takashi out in the match to make him perform better like how he did with Sam the previous night.
Takashi would have Suwama in his clutches as he hits him with a Diving Elbow Drop for a two count and would do his throat thrusts with a Lariat as Suwama would counter the Lariat with a Lariat of his own on his arm. Suwama would be able to hit the Backdrop and Takashi would be able to kick out of it and Suwama wants to call for the finish when he sets him up for the Last Ride. Once he had Takashi up for the Last Ride, he would just drop him down without doing the full move and I'm not exactly sure what happened there. Suwama would pick him up instead of pinning him as he hits one more Backdrop to get the pinfall victory in a solid match but sloppy beginning and end.
Rating: Eric Bischoff and a quarter
4/14/2019
Champion Carnival B Block Match
Joe Doering vs. Sam Adonis
Review: Our final show for this article as our opening match is Joe Doering taking on Sam Adonia. Both of these men are currently with one win and two losses under their belt, meaning one of them is going to have to suffer a third loss and be in a rather bad position with the standings. Which one of them will be in last place?
The first minute or so was basically Sam hiding behind the rope so he wouldn't be touched as you have Joe waiting by the ropes, not having any of his crap today as he just wants to beat him up. Which is exactly what he does do when they're outside of the ring for a couple of minutes as the two were back and forth, but it was mostly Joe that was getting the upper hand. Joe got him back in the ring as he would look to put him away as Sam would distract the referee long enough to kick Joe in the dick and down goes the giant. Joe is unable to move as Sam would pin him down to get the pinfall victory, leaving Joe in last place with three losses.
Rating: Tony Schiavone and a quarter
Champion Carnival B Block Match
Joel Redman vs. Takashi Yoshida
Review: Our final match for this set of matches is Joel Redman taking on Takashi Yoshida. Joel is even right now with two wins and losses while Takashi only has one win still but with two losses, meaning things aren't looking so hot for Takashi right now. Is Joel does win here, then he'll be in first place next to Naoya Nomura and if Takashi wins, the majority of them will all be tied up except for Joe and Nomura. Which one of them will get the victory?
It's so weird seeing Takashi trying to chain wrestle Joel at the beginning of the match and the shocking part of it is him doing it well on top of that, scary sight if you ask me. Joel is, of course, more technically sound compared to Takashi, so of course, he would win this part of the bout. Takashi performed a lot better here than he did in his previous match with Suwama from beginning to end while Joel keeps on proving his worth with all the matches he's been in. Joel would give Takashi a couple of kicks to take him down before he does his Diving Knee Drop off the top rope for a two count. It looked like Joel was gonna go for the Spinning Tombstone but Takashi would fight out of it to pick him up as Joel gets off him to go for a Backslide with Takashi kicking out. Takashi would hit the Kong Lariat to knock him down and Joel would still kick out, leaving Takashi frustrated and would pick him up to hit the Cyber Bomb as he gets the victory over Joel.
Rating: Eric Bischoff
Overall: Aside from one match, the rest of the show was solid again as usual as I'm very happy with my results so far as it comes to the quality of the matches with an exception for a couple that happened. Our next set of shows should give us a better assessment to see where people stand and who will have no chance of making it.
Favorite Match: Joel Redman vs. Naoya Nomura
Least Favorite Match: Joe Doering vs. Sam Adonis
Score: 7/10
Current Standings:
Naoya Nomura: (3-2) (6 Points)
Yoshitatsu: (2-1) (4 Points)
Daichi Hashimoto: (2-1) (4 Points)
Suwama: (2-2) (4 Points)
Jake Lee: (2-2) (4 Points)
Joel Redman: (2-2) (4 Points)
Takashi Yoshida: (2-2) (4 Points)
Sam Adonis: (2-2) (4 Points)
Joe Doering: (1-3) (2 Points)
Andrew's AJPW Champion Carnival 2019 A Block Ratings & Analysis: Part 3
A Block and Andrew bring out Part 3! Champion Carnival is rolling, and after a few interesting results already…this will be an interesting tournament.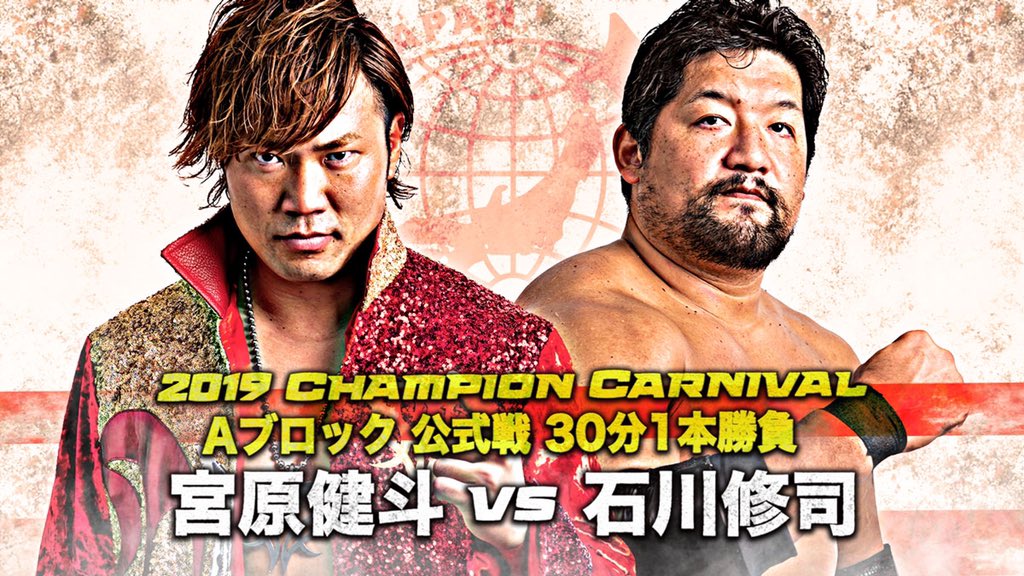 A Block and Andrew bring out Part 3! Champion Carnival is rolling, and after a few interesting results already…this will be an interesting tournament.
Welcome to Part 3 of the Champion Carnival A Block!
This will cover matches on 4/11 – 4/13 – 4/14.
Shuji and Ryoji's draw already make some of these outcomes different. Let's dance the dance, shall we?
Ratings:
Gianni Valletta vs Yuma Aoyagi: Aoyagi wins via End Game @11:25 – ***
Kento Miyahara vs Dylan James: Kento wins via Shutdown Suplex Hold @20:40 – **** 1/2
Shuji Ishikawa vs Yuma Aoyagi: Ishikawa wins via Splash Mountain @13:40 – *** ½
Gianni Valletta vs Ryoji Sai: Sai wins via Sky Kick @11:45 – ** 1/4
Zeus vs Dylan James: Zeus wins via Jackhammer @16:55 – *** 3/4
Zeus vs Ryoji Sai: Sai wins via Nachi Waterfall @22:30 – ****
Kento Miyahara vs Shuji Ishikawa: Ishikawa wins via Giant Killer @19:15 – **** 3/4
Analysis:
Well now, this was Valletta's most entertaining match of the carnival and it's probably because it was much simpler. The stupid chain didn't play a part in the match and he stuck to biting and short cuts. They brawled up into the crowd and Valletta even scared a fan in the aisle. So where it may have lacked in general in-ring action, it was entertaining on a whole. Plus if Aoyagi lost to Valletta after the big win over Zeus…I…I don't think I'd be able to take the rest of the tournament seriously.
Miyahara is the ace for a reason. Even though I've been admitting that Dylan has gotten better over the year, this was a very good match. Dylan is proving himself to be in contention for main event titles soon when he can mostly hold his own. It was a lot of expected spots and personality from Senior referee, Kyohei Wada, when he was interacting with Kento. Nothing bad to say about this match, it's just really good and main events the 4/11 show.
Shuji is already starting to make my comment from the previous part come true. Stringing a few wins together, makes his Draw against Ryoji very interesting so far when it comes to tie breakers and overall points. Yuma was the underdog the entire match since he's the smaller man. But he had some believable moments where he caught Shuji unawares. A nice Guillotine with Body Scissors gave Yuma his closest near fall, but Shuji's power is too much.
Well now we've got Gianni's less than talented self, against Ryoji who tends to have awkward singles matches with gaijin. Things start off with Gianni putting his chain in the back of his pants, and even though he's rattling, referee Nikkan Lee can't seem to locate it, so the opening salvo is a comedy spot. Great…one of these matches. Ryoji loves to sell a knee like he's starting a war dance, but then forget when it's time to suplex people. It's beyond frustrating. It gets to the point where I think Sai taught Seth Rollins how to sell a knee…like a complete imbecile. As for the match, it's…serviceable.
Rounding out the 4/13 matches, Zeus and Dylan James main event the show. This was a lot of heavy strikes, some outside brawling, but just a good back and forth power match. I'm bias to all things Zeus, but it is always amusing to see the taller power guys try to pick on the fact that he's chiseled, but not the tallest. Both men attempt signature Chokeslams which are usually the set up for their finishes, but neither successfully pulled them off. After a nice flurry and Biceps Explosion from Zeus, he hits the Jackhammer and gets his 2 points. WASSHOI!
The first A Block match of 4/14 is the hometown Osaka thiccboy Zeus versus…Ryoji, great. Ryoji was chiding Zeus before the match even started, and took an early advantage, dominating most of the first few minutes out of the ring as well as within. After Zeus fired up a little the match got better, but there's always something with Ryoji's matches where moves just don't look good, or a momentum swing spot just stick out as illogical. For the near falls, story telling and general intensity this was a pretty good match. But I'm never gonna be very high on Ryoji Sai, but having him beat Zeus in Osaka is surprising. So there's that at least.
Shuji and Kento have a bit of history, and most of their encounters are usually quite high quality. This was paced well and the strikes resonated through the screen. You got a little bit of everything, a bunch of great near falls and Shuji going deep into his arsenal to put this one away. Like I said in his earlier match, that Draw is just making standings more and more interesting. Plus Kento has one more person to worry about after the Carnival, since he is the current Triple Crown champion.
Overall Score: 8/10
We had a lot of quality matches over these three days, and some fun wrinkles. Sai and Ishikawa are currently 1 and 3 in the block thanks to the draw that was mentioned a few times. Zeus continues his hot and cold spurts in All Japan, but thanks to his fan appeal and him being positioned fairly strongly on the card, his opponents gets elevated a bit by beating him. So my pizza snacks are a little scared, maybe a little cold, but Zeus still has 3 more matches left, one of them being against Shuji. He had a similar set up last year, so he's not out of it yet.
A Block has been so damn swingy. Either the best of matches of the tournaments, or a few snoozers. Definitely makes for an interesting dice roll depending on the show.
Current Standings:
Shuji Ishikawa (3-1-1) – 7 Points
Zeus (3-2) – 6 Points
Ryoji Sai (2-1-1) – 5 Point
Yuji Okabayashi (2-0) – 4 Points
Dylan James (2-2) – 4 Points
Kento Miyahara (2-2) – 4 Points
Yuma Aoyagi (2-2) – 4 Points
Gianni Valletta (0-4) – 0 Points
Atsushi Aoki (0-2) – 0 Points