AJPW Super Power Series 2018 Results & Review (5/24/2018)
We are back with some All Japan Pro Wrestling coverage again! Finally, we get the much anticipated rematch with our Champions Carnival winner, Naomichi Marufuji taking on the current Triple Crown Champion, Kento Miyahara. The last time these two fought was at the Carnival final where they both won their respected blocks and Marufuji would come out the winner to get a future title match despite him saying he had no desire to go for the belt at this time.
However, they still gotta follow rules and keep the ball rolling, so here we are now. We got what looks to be a stacked show tonight and even the return of Jake Lee, something to look forward to. So let's not waste anymore time and just…dive right in.
Singles Match
Yohei Nakajima vs. Ishikiri
Review: Before the majority of the show gets covered in tag matches, we get a singles matches to kick the show off between Yohei and Ishikiri. I see Ishikiri wearing the Mortal Kombat logo on the side of his pants there, thumbs up to you. The match started really fast paced and fairly impressive might I add. Both of these men have done well for the opening bout and was mostly impressed with Ishikiri as he stood out for me a little bit more than Yohei, which I'm not saying he's bad either. Around six minutes, Yohei would hit a spinning back kick which he calls Tobiushiro-Mawashigiri and then get the win in a pretty solid opener.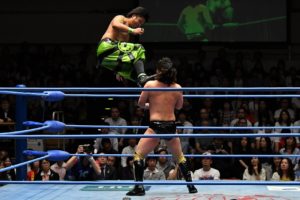 Recommended: Good match to get the crowd going.
Tag Team Match
Jun Akiyama & Osamu Nishimura vs. Takao Omori & Masanobu Fuchi
Review: This tag match is special to them since this is also a tribute match to one of All Japan's greats, Jumbo Tsuruta who has passed away eighteen years ago this month. So this match between the people that remember this legend is for the respect they had for him and how much he meant to these four men right here.
I think it's amazing that the crowd reaction whenever Fuchi is in the ring is one of the loudest in the company right now next to guys like Kento, Suwama, Shuji, etc. Whenever Jun would hit Fuchi with an open fist or move out of the way when he goes for a dropkick, the crowd showers Jun in a ton of boo's an it's just entertaining and a bit heartwarming to see that they still love Fuchi. The match wasn't great, but it was exactly how I expected it to go with four vets working together to give people still something entertaining at least and it was all in good fun, so what more could you ask for? Jun would do the Wrist Clutch Small Package Hold on Fuchi to get the win for his team. After the match, all four of them would honor the passing of Jumbo Tsuruta who is considered one of the greatest of all time and just the great in All Japan by many people, his spirit lives on with the company to to help shine All Japan to a brighter future. JUM-BO!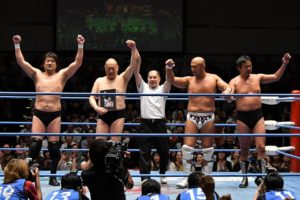 Recommended: Fun match, touching tribute, and a nice call back to the stuff that happened during Jumbo's era. Worth a watch.
Eight Man Tag Team Match
Suwama, Shuji Ishikawa, Atsushi Aoki & Hikaru Sato vs. Zeus, Joe Doering, Atsushi Maruyama & Black Tiger VII
Review: Up next is a eight man tag with both teams consisting of two heavyweights and two junior heavyweights with Violent Giants teaming up with Sato and current Junior Heavyweight Champion, Atsushi Aoki taking on Zues minus Bodyguard who is resting his legs finally, teaming up with Joe Doering, Atsushi Maruyama, and Black Tiger VII. Last time the two Atsushi's were in the ring, it was for the Junior Heavyweight Championship on the May 12th show where Aoki would retain over Maruyama, but it looks like they could go again if this match goes well.
I just need to get this out of the way, but how is Zeus not won the Triple Crown Championship by now? I mean it because this guy is amazing and has a great fan following, I'm just surprised he hasn't won their main title just yet, but I hope he does soon because I think he would be a fantastic champion if given the opportunity. Also another thing I want to point out and I feel like that it should be addressed here since it involves the junior division, and all I gotta ask is who is their leader? I ask this because the junior division is severely lacking leadership and while Aoki is probably the better one there so far, there's still not enough that really stand out fully. When you look at WWE, NJPW, Impact, or Dragon Gate, you can see they have enough people to carry their respective division with a solid roster and giving us quality of matches, while All Japan really doesn't and as Andrew said when we were special guests on Dave's podcast called Uncle Jun's Junction, there's no spice there and when you had to rely on guys like TAJIRI and Ultimo Dragon to help carry that title and division (no disrespect to both men), then you need to rebuild it and soon.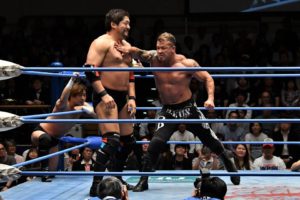 Anyway, onto the match before I ramble on about their weak division and how Zeus isn't champion, this is probably my favorite tag match on this show since all eight of these guys showcased their stuff wonderfully here with great action between whoever was fighting who in the ring, even Joe did pretty well for himself there despite my previous complaints while still liking him at the same time. Think my favorite part was the abuse Maruyama took from Suwama when they shared the ring together and Suwama would hit him with a stiff Lariat every time, it just made me chuckle.The Violent Giants picked up the win with their Last Mountain (Double Powerbomb) on Maruyama.
Recommended: Very good tag match, definitely worth viewing.
Six Man Tag Team Match
Ryoji Sai, Dylan James & Keiichi Sato vs. TAJIRI, KAI & Kotaro Suzuki
Review: I must've read something wrong because I could've sworn we were supposed to have a Tag Team Championship match between TAJIRI and KAI taking on Dylan and Ryoji on this show, but I guess I've heard wrong or they changed it since we're getting a six man tag instead while the title match will take place on the June 3rd show. I will admit that the team of TAJIRI and KAI is actually going pretty well as they have a good chemistry between humor and actual tag team wrestling, and it somehow works while on paper you would think it shouldn't, but for some odd reason it's working and you can't explain it. Sato and Suzuki started off the match with some fast paced action and they were very crisp with their time together which made me wanna possibly see them in the junior hunt since these two were awesome.
My one problem with the match was both teams of KAI/TAJIRI and Sai/Dylan were mostly doing their stuff outside of the ring and the fact they were away from each other, the camera had to go back and forth, and while I don't mind stuff like it, but it did feel like it dragged on a little bit and they even did it for a brief moment a couple of minutes after that while Sato and Suzuki were just staying in their corners while these four kill each other. When everyone is finally back in the ring, TAJIRI would spray his poison mist on Sai to get him out of the ring while Kai took care of Dylan, and Sato picked up the win for his team with the Blue Destiny on Suzuki. TAJIRI and KAI now get more momentum leading in their upcoming title match and we will see if it pays off.
Recommended: Not bad. Enjoy the flow of the show.
Tag Team Match
Jake Lee & Koji Iwamoto vs. Naoya Nomura & Yoshitatsu
Review: After being sidelined for ten months, Jake Lee makes his return to the ring as he teams up with Koji to take on his former partner, Naoya and Yoshitatsu, so let's see if Lee has any ring rust from the time being spent away from the ring. Jake Lee didn't do too bad for his first time back since there were times he felt like he was a bit out of it, but he did pretty well for the other times and not gonna harp on him since he just got back from injury. I know I said in the Carnival that Naoya could be one of the bright future of the company and I also mean that with Jake Lee since he also has that untapped potential and I saw that when he fought Shuji last year for the Triple Crown Championship. these two can definitely become great in the upcoming years. The match was solid for what it was despite some sloppy moments and a botched Tornado DDT by Yoshi, but also didn't do bad despite that, and of course Lee won in his return match with hitting a vicious High Angle Backdrop on Nomura. Welcome back, Jake Lee.
Recommended: Decent match, Jake Lee is definitely something special.
Triple Crown Title
Kento Miyahara (c) vs. Naomichi Marufuji
Review: Now it is time for the main event as Kento defends his Triple Crown Championship against the winner of this years Champion Carnival, NOAH's Naomichi Marufuji. I feel like this is more of a continuation of the story between AJPW and NOAH as NOAH is already 2-0 when Marufuji defeated both the president of AJPW, Jun Akiyama and the current champion, Kento Miyahara. The history and story between these two companies is long and historic despite some of the bad blood they had over the years and I'm glad that they're using this to help rebuild that bridge to have at least some type of closure, and also Marufuji looking to take their championship as an extra added aalt on the wounds he left there and bring it to NOAH before his GHC Heavyweight Championship match on the 29th of this month against Takashi Sugiura. Kento however is looking to avenge not only his loss to Marufuji (Which is a fantastic match and you should definitely check it out), but to avenge his companies honor since he felt like Marufuji disrespected it. So can lightning strike twice or will Kento get his revenge on Marufuji? Let's not waste any time and see.
I'm gonna get my one complaint out of the way here so it doesn't take away from the rest of the match and what I'm about to say, and it's that most of the felt very similar to their previous match and I mostly mean it with the opening sequence since aside from Kento being more aggressive, I felt like I saw it before and around the same time too instead of giving us a little bit something different to make it a completely new match and to me personally it did hurt it a little, but the match is still fantastic despite the one complaint. Kento showed more of his aggressiveness in the match here since he knew he had to win here or else All Japan would look like a joke compared to NOAH and Marufuji, and even Marufuji wasn't giving him any mercy whatsoever during this match since he felt more aggressive as well and it was a much needed element to the both of them.
Another thing I can say about this match is that it felt bigger and in a way it was since there was a bigger prize involved and the crowd was much more into this one, even gave it a New Japan type atmosphere with how the crowd was reaction to everything they would do and even with just chanting their name, and it was awesome. I felt like they hit the nail with everything they needed to do with progressing the story and adding another chapter with this rivalry, and the final five to ten minutes were tremendous and it was exactly how it should end with high impact and pretty much last resort to try and give it your all to win. Kento would finally hit the Shutdown German Suplex Hold and he avenged his loss while also retaining the title, and defending All Japan's honor.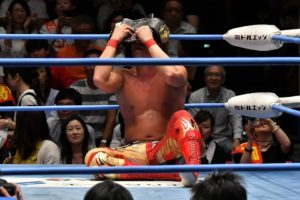 After the match, we have a new challenger into the mix and for some reason it's….Dylan James. Why is it him again? What did he do to earn a title opportunity since his team lost earlier? Why are we awarding Dylan a Triple Crown match after having a weaker performance than Bodyguard in the Carnival? Did they just wanna give Kento an easy defense before the next big show? I got no faith in this match, but Jun apparently does, so we'll see what happens. Now that Kento and Marufuji have one win against each other, when should they fight again? In the Carnival final, Marufuji did invite Kento to come down to NOAH sometime to perform and his 20th anniversary show is coming up in September, so I think we could have the final match of the trilogy there if they choose to go forward with it. It could even be a champion vs. champion bout if Kento keeps the belt til then and if Marufuji defeats Sugiura on the 29th to take his belt and keep it til then. Either way, I'm excited to see what they do with this next since you can tell it's not over.
Recommended: I liked their first encounter a little bit better by a hair, but still an amazing match and should be viewed a bunch of times.
Overall: I thought the show was very enjoyable as none of the matches were bad at all and basically solid all around with a great main event to close it off. Looking forward to see what new chapters come their way except for Dylan/Kento.
Favorite Match: Kento Miyahara vs. Naomichi Marufuji
Least Favorite Match: Yohei Nakajima vs. Ishikiri (Not a bad match, but if I had to pick one.
Score: 8/10
See you all next time.
(NOAH) NOAH WEEKLY NEWSLETTER VOL.131 ~ 9TH MAY 2021
GHC Junior News starts to get fleshed out after the chaos of last week! Hisame breaks that down and helps to guide us along the rest of the NOAH builds.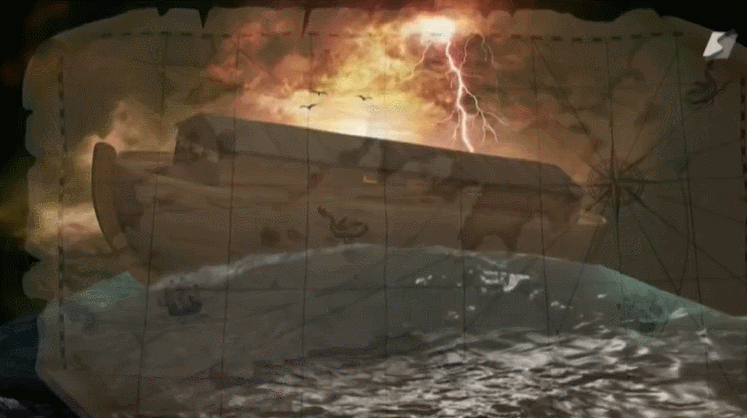 GHC Junior News starts to get fleshed out after the chaos of last week! Hisame breaks that down and helps to guide us along the rest of the NOAH builds.
NEWS
Yuya Susumu challenges for the GHC Junior Heavyweight, Atsushi Kotoge has terms. Yoshinari Ogawa not happy.
On the 3rd of May following the upheaval in the NOAH Juniors and the dissolution of FULL THROTTLE, after a typically wild NOAH Junior match (featuring brawls between all four units, including one that wasn't even in the match, but only appeared to bait their enemies), Yuya Susumu challenged Atsushi Kotoge for the GHC Junior Heavyweight title. Kotoge, who will accept any challenge for anyone, told Susumu that he would do it on one condition; Ogawa and HAYATA put the GHC Junior Heavyweight titles on the line against Daisuke Harada and Hajime Ohara. NOAH went ahead and made both title matches for the 30th May at the Mitsuharu Misawa memorial show.
STINGER, who can always be relied upon to make things difficult, started making a fuss. Yoshinari Ogawa gave an interview to Pro Wrestling DX in which he said he had no problems putting the belts on the line against Daisuke Harada and Hajime Ohara, who he recognized as worthy opponents, but he didn't see why Kotoge got to decide the title challenge for the junior belts and why NOAH did it without their permission, and therefore STINGER were going to refuse to defend them.
CYBERFIGHT FESTIVAL 2021 NEWS
Takeshita invades NOAH
DDT'S Takeshita returned the favor to Kaito Kiyomiya, by turning up in NOAH. The two faced off in the ring on the 3rd May after Kiyomiya's match against Ikuto Hidaka. Kiyomiya had been speaking on the microphone when Takeshita got into the ring. Takeshita reminded Kiyomiya of what was coming up and asked him if he was truly ready for it. He and his partner where, but he had hardly seen intensity from Kiyomiya recently. Backstage Takeshita said that his whole purpose of coming here today was to tell Kiyomiya that if he wants new scenery, then he needs to stop sulking, and show an intense fight, which he hadn't seen for a while. Kiyomiya's response backstage was typically polite, "I think it's a difference in the way of thinking. We are not going to lose to the size of heat, and I hope we can interact that way in the ring."
Kenoh was ruder about Takeshita, someone who he wasn't even in a match with, when he described him to Sanshiro Takagi as wearing a "filthy t-shirt". "Filthy" in Kenoh's mind as it is associated with DDT.
Kenoh invades DDT to confront President Sanshiro Takagi
Now that he is feeling better and has a certain amount of strength back, Kenoh decided the time was right to confront Sanshiro Takagi over CyberFight Festival, by bursting into DDT on the 4th May. Kenoh, looking a lot better than he did on the 2nd May, started by apologizing for the trouble caused by his getting ill with Coronavirus. Takagi told him to look up, Kenoh didn't, and when he did after repeated requests, got a stunner. Takagi told Kenoh to stop acting like a brat, he had read his column and seen his comments, and reminding him that like it or not he was his boss (Kenoh had said that Takagi was "President in name only" earlier), he was ordering him to appear at the event. Kenoh, (after a long rant, which included yelling at the DDT mat), said that there was NO ONE in DDT who was worthy of fighting him.
So Yukio Sakaguchi appeared and they had a stare off until separated by Takagi. Kenoh stamped off and it was announced later that a fourteen man tag had been arranged that would pit DDT vs Kongoh; Sanshiro Takagi, Akito, Kazusada Highuchi, Yukio Sakaguchi, Naomi Yoshimura, Yukio Naya & Hideki Okaya vs Kenoh, Katsuhiko Nakajima, Masa Kitamiya, Manabu Soya, Haoh & Nioh.
Sasadango and Dino demand a match against The Sugiura Army
On the 9th May, DDT'S Sasadango decided that he and Danshoku Dino should challenge The Sugiura Army to a match at CyberFestival. Dino didn't seem as enthusiastic as Sasadango, who said that he didn't know why he said it, but he wanted to do it. Takashi Sugiura's response was to say that he was tied up with the title match against Kazushi Sakuraba, and these two "comedians" where not going to get a match against The Sugiura Army. He also threatened (probably somewhat tongue in cheek as knowing Sugi he will create a match with Kazuyuki Fujita and Kendo Kashin) that if such a match went ahead, heads would roll. Namely Narihiro Takeda's and Sanshiro Takagi's.
EVENT RECAPS & POST MATCH PROMOS
Post match promos: Day 1 (NOAH THE OVATION 2021, 2nd May 2021)
Event recap: Day 2 (NOAH THE OVATION 2021, 3rd May 2021)
Post match promos: Day 2 (NOAH THE OVATION 2021, 3rd May 2021)
ELSEWHERE IN NOAH
~ Yasutaka Yano did an early move of Kotaro Suzuki's which involved a flip on an opponent when in the corner of the ring. Kotaro, his hero, encouraged him to do this more. Yano says he wants a singles match with Kotaro one day.
~ NOSAWA Rongai had a false tooth fall out before a match
~ Katsuhiko Nakajima was so demonic in the match against Funky Express on the 3rd May, he actually frightened fans watching at home.
~ With summer starting, the NOAH dojo is already reaching temperatures of 30 Degrees Celsius
~ Masaaki Mochizuki found himself given a bit of a cold shoulder when he refused to tell Naomichi Marufuji whose corner he would be in for Marufuji's title match against Keiji Mutoh. Yuko Miyamoto said he would be in Marufuji's.
~ Junta Miyawaki teases Kaito Kiyomiya and Yoshiki Inamura by pulling muscle poses in the mirror behind them when they use some of the weight machines at the NOAH dojo. Kiyomiya has named the mirror "Miyawaki's mirror".
~ Kenoh, Tadasuke, Haoh and Manabu Soya will return to the ring on the 15th May. Kenoh is in an eight man tag, which will hopefully mean he won't do too much.
CURRENT CHAMPIONS
THIS WEEK IN NOAH
Thursday, May 13th: Hajime Ohara debut (17 years)
Saturday, May 15th: "ALL OUT ATTACK 2021" (17:00 JST)
"ALL OUT ATTACK 2021" will be broadcast via ABEMA. I know this will be a free stream, but I don't know if it will be available worldwide. Please check on the day.
LINKS
Kenoh's letter, written while infected with corona, aiming at returning on the 15th May at Korakuen
Mathew's AJPW Champion Carnival Results & Review: Final Day (5/3/2021)
The Final day of AJPW's Champion Carnival has arrived! Do we see any of the numerous tie breaker possibilities show up? Or will we see a clean winner to this single block Round Robin?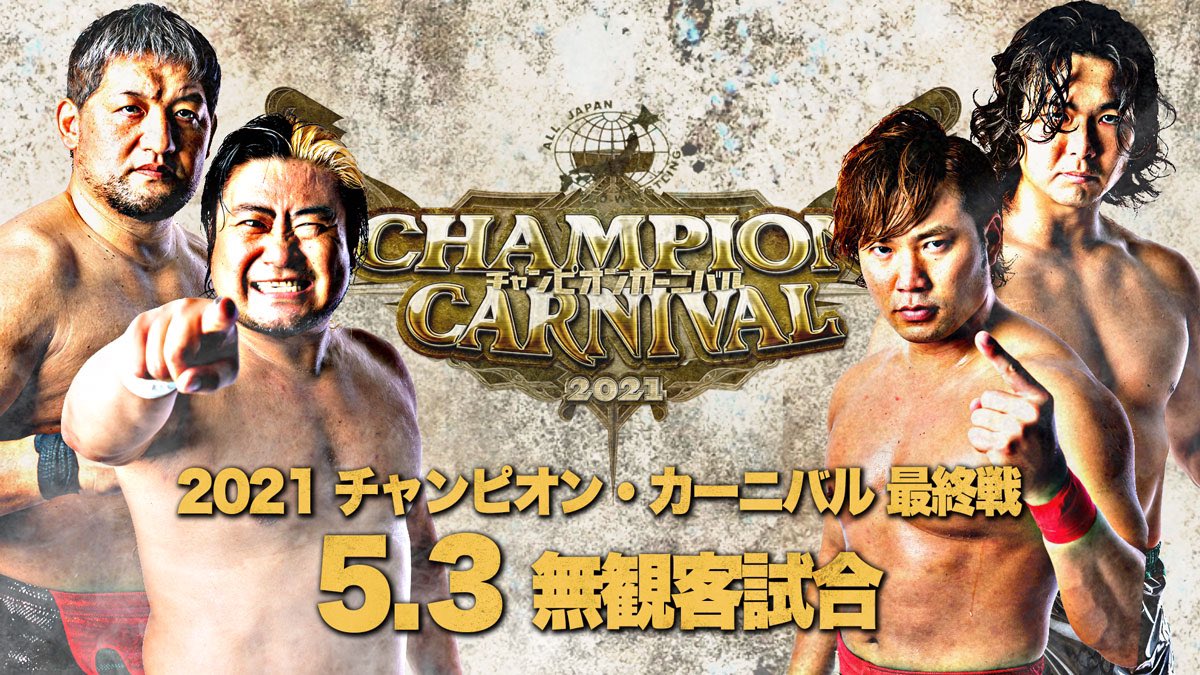 Well, folks, the time has come to finish off our coverage of the Champion Carnival. First off, I wanna thank Andrew for covering me by doing four of the shows when I was both away and sick, couldn't ask for a better partner. This has been a fun carnival, and I hate to see it end when we had fun match-ups and people who have improved in the card. However, we must finish up with the final day and see who will win.
Let's find out our Champion Carnival winner as we…dive right in.
Star Rating System:
0 Stars: Dave Meltzer
1 Star: Vince Russo
2 Stars: Tony Schiavone
3 Stars: Eric Bischoff
4 Stars: Bruce Prichard
5 Stars: Jim Cornette
Quick Results:
Shotaro Ashino vs Koji Doi: Ashino wins via Grapevine Ankle Lock – *** 1/2 
Kohei Sato vs Yuma Aoyagi: Yuma wins via Japanese Leg Clutch – *** 1/4 
Shuji Ishikawa vs Suwama: Shuji wins via Giant Slam – ****
Kento Miyahara vs Jake Lee: Jake wins via D4C – **** 1/2 

Champion Carnival 2021 Match
Shotaro Ashino vs. Koji Doi
Review: Let's get this show started as Shotaro Ashino takes on his former stablemate, Koji Doi. Shotaro has wanted to get his hands on Koji ever since Enfants Terribles turned their back on him a couple of months ago, and now he's looking to get this chance. None of them have a chance of winning but this is more for Shotaro wanting to get revenge. Will he be able to or does Koji foil them?
You think either Koji or Shotaro would charge at the other before the bell would ring to have heat or revenge but it doesn't appear to be the case here. A nice little opening sequence with armdrags involved while locking up as the two got up on their feet, staring at each other. Shotaro would take Koji down to try and apply the Ankle Lock but Koji quickly rolled out of it and tried to hit the Murder Lariat as Shotaro ducked but Koji would eventually get him into the corner to stomp his chest in. Koji is getting control in the match now and I don't recall the last time I've seen him work more technical but then again, being in the ring with Shotaro would kind of make you have to. I don't remember the last time they ever fought in singles action but I like the little chemistry they would have here in the match and Shotaro being on his own could lead to more interesting matches in the future like this one.
Shotaro was able to catch Koji for a Belly-to-Belly Suplex before he picked him up for the Gutwrench Suplex as he covers him but Koji kicked out at two. Shotaro applied an Ankle Lock for a moment but Koji slipped out of it to reverse it into the Rings of Saturn as he has it locked in now. Shotaro would slide towards the ropes while punching Koji's head to make him roll towards the ropes as Shotaro escaped the hold. Koji Lariats him into the corner and hits a Backdrop but Shotaro kicked out at two. Koji went for the Murder Lariat but Shotaro ducked it to get behind him for a German Suplex! The two exchange blows until Koji hits a Rolling Elbow and picks him up for the Swinging Side Slam but Shotaro kicked out again! Koji went for the Murder Lariat again but Shotaro blocked it and hits him with various European Uppercuts but Koji kicked out. Shotaro applies the Ankle Lock once more and Koji tries to flip him over but Shotaro keeps his grip on the hold and laid down Kurt Angle style to keep him locked as Koji had no choice but to tap out!

Rating: Eric Bischoff and a half


Champion Carnival 2021 Match
Yuma Aoyagi vs. Kohei Sato
Review: Time for our next match as Yuma Aoyagi takes on Kohei Sato. Sato has a chance to tie for the main event if he can win this match, but he'll be eliminated if he loses here. Yuma may be eliminated but he could have a chance to ruin it for Kohei and get ten points on the board. Will Kohei hang on or does his journey end here?
The two start with some chain wrestling here with Yuma getting the best of Kohei, getting him in a headlock for a solid minute or so, wringing his neck to apply some pressure for whenever he wants to go for the End Game later on near the end of the match. Kohei would eventually push him off to get Yuma down for a shoulder tackle and ran the ropes, leading to Yuma getting up to hit a Dropkick as Kohei rolls to the outside. Yuma applies the headlock again once they were outside of the ring, knowing he has to take him down as fast as he can due to Kohei being taller than him. Throughout the whole Carnival, I've enjoyed their performances as a whole. Kohei was able to show that he could hang with anyone on the roster and deliver some stiff but quality matches at the same time. Yuma is my MVP of the tournament as this was the Yuma I wanted to see for so long, and we were able to see that from him for the past month.
Here comes Kohei with the strikes as he stopped Yuma with a forearm, then a knee to the gut before flipping him over with a Snapmare, kicking him in the back to apply damage to Yuma. Kohei delivers forearms to Yuma's upper back while he was still sitting down as Kohei isn't letting up this time around due to how Yuma was toying with him in the first half of the match. Kohei delivers one more forearm before pinning Yuma but he kicked out at two. Kohei now applies a Sleeper Hold to try and make Yuma pass out but he gets his foot on the ropes to make him break the hold. Yuma went for a Dropkick but Kohei latched onto the ropes so he wouldn't get hit and attempts to knee Yuma but is caught with a Dragon Screw. Yuma kept running the ropes, ducking Kohei's Lariats as Yuma catches him with a Flying Forearm before climbing to the top rope to hit a Crossbody as Kohei kicked out! Yuma ran the ropes again, only to get caught by a knee from Kohei, and delivers stiff kicks to the chest to get him down but Yuma kicked out. Kohei would then pick Yuma up to hit a Falcon Arrow as Yuma kicked out again. Yuma tried to German Kohei but is met with an elbow, leaving him dazed and called for the German Suplex Hold as Yuma reversed it into the Japanese Leg Roll Clutch Hold, getting the quick pinfall over Kohei! And with that, Kohei is now eliminated!

Rating: Eric Bischoff and a quarter

Champion Carnival 2021 Match
Suwama vs. Shuji Ishikawa

Review: Past the halfway point now as it's champion vs champion with Triple Crown Champion, Suwama taking on his former teammate and GAORA TV Champion, Shuji Ishikawa. The last time these two fought each other, they were still teaming. This is now the first time they're fighting since splitting up five months ago, so expect them to settle any hard feelings into the ring. If Suwama can win here, he'll be tied to fight the winner of the main event. Will Suwama win or is he eliminated as well?
The two locked up as Shuji gets control in the beginning, pushing Suwama into the ropes until he lets go, only to catch him with a headlock again and topped it off with a shoulder tackle. Suwama looked a little annoyed here and the now would exchange blows back and forth to one another, however, Suwama hits the two-handed chop before getting behind Shuji to apply the Sleeper Hold but Shuji grabbed the ropes to break the hold. Shuji had a difficult time getting up, so Suwama would capitalize on that by taking control of the match from here, working on Shuji's neck with strikes and holds to weaken it in case he wants to make his former partner pass out here. Uh-oh, it looks like Shuji is accidentally bleeding from the nose when Suwama pulled on him during the hold but Shuji was able to grab the rope to break it. Shuji finally starts to fight back as he gets out of the ring, hanging Suwama over the apron Randy Orton style, and then hits a DDT to make Suwama land on the floor! I'm glad it's not a one-sided encounter since they're both top guys who have teamed together for years, they know how they work and they always deliver in the ring whenever they fight each other. Suwama's neck appears to be in pain as the referee checks on him to see if he wants to continue, and he does while rolling back into the ring.
Shuji would stomp Suwama down once he rolled back into the ring, but Suwama tries to fight back as Shuji catches him in an Anaconda Vice style while slamming him down onto the mat. Shuji turned it into a Cobra Clutch as Suwama is fighting to stay alive and eventually gets his foot on the rope. Shuji ran the ropes to try and Lariat the champ but Suwama would catch him to hit a Flatlinner, saving himself some time to get back some momentum, applying the Sleeper once again. Shuji was struggling in the hold as Suwama turned him around to try and hit the Last Ride but fails to do so when Shuji flips him over. The two slowly get up and start hitting each other back and forth but Shuji would hit multiple forearms as Suwama collapses onto the mat. Shuji tried to lift Suwama but Suwama reverses it into a Suplex! Suwama is making a comeback, delivering double-handed chops to Shuji before tossing him into the ropes to hit a Lariat and covers him but Shuji kicked out. Suwama lifts Shuji for the German Suplex and charges at him for another Lariat, covering him again but Shuji kicked out again! Suwama hits the Backdrop as Shuji kicked out again but Suwama turns in into a Sleeper Hold once more as Shuji looks to be in trouble but he lets go to pin him as Shuji barely kicked out! Suwama is getting annoyed and picks Shuji up, leading to the two exchanging blows again, both men being stiff towards one another until Suwama attempts the Discus Lariat, Shuji ducks it to hit the Dragon Suplex and tops it off with a Tsunami! Shuji delivers multiple knees to Suwama while he was on his knees, struggling to get up until Shuji picked him up for the Fire Thunder and Suwama kicked out at two! Shuji hits a Kamigoye and then a Tsunami, only for Suwama to kick out at two again! Suwama was struggling but Shuji would hit the Giant Slam onto Suwama, pinning him for the victory, and eliminating the Triple Crown Champion!

Rating: Bruce Prichard

Champion Carnival 2021 Final Match
Kento Miyahara vs. Jake Lee

Review: Now that both Suwama and Kohei lost their respective matches, this is the official final round of the Champion Carnival as Kento Miyahara takes on Jake Lee. These two are no strangers to each other, they were in the finals in 2019 where Kento defeated Jake. Jake only has one victory over him and that was in the Odo Tournament in 2019. With Jake's new persona, maybe this is what he needs to defeat Kento again, Who wins the Carnival this year?

The two locked eyes as it'll start the same as they normally do but this time, they're going slow with it since they know each other so well and was anticipating when they would strike. The two are eventually out of the ring and while Kento does his headbutts, Jake decides to attack the gut of Kento, working on that as his body part this time around. You can never go wrong with these two together in the ring since Kento always brings out the best in Lee. While it's not their best work in-ring-wise, the story for it makes it excellent, Jake is tapping into that darker side of himself, doing whatever it takes to win in this match with Kento. And even though TOTAL ECLIPSE is out there with him, they don't interfere since Jake wants to win this one on his own to prove to himself that he can beat him one-on-one without anybody butting in. The two are on the ring apron as they fight back and forth until Kento hits a Piledriver onto Jake, making him fall to the floor!

The two are now in the ring as Kento hits the Blackout on the back of his head, Jake flopping down on the mat, Kento tossing him into the ropes as Jake catches him with a beautiful Leg Lariat as they both go down. Jake delivers another knee to Kento's gut as he tries to fight through the pain but Jake kicks him in the gut to pin him as Kento kicked out at two. The two exchange blows once Kento has a burst of energy as Kento kicked him in the face before running the ropes, getting caught with a Giant Killing as Kento goes down but kicked out again! Jake goes for the D4C as Kento reverses it into a German Suplex, hitting another Blackout. Kento tries to hit the Shutdown German Suplex Hold but Jake reverses to knee his gut again. Jake hits Kento repeatedly in the face and chest with knee strikes until Kento was knocked out, Jake waiting for him to get up as he went for the D4C but Kento reversed it into a Small Package as Jake barely kicked out! Kento finally hits the Shutdown German Suplex Hold onto Jake but Jake would kick out! Kento couldn't believe it as he tries again, he has it locked in but Jake is struggling till he reaches the ropes with his teeth. Kento quickly pulled him in the center, still having it locked but breaks free, only to get hit with another Blackout! Kento goes for one more as Jake roundhouse kicks him in the head twice, and catches him to hit the D4C as he pins Kento in the ring to win the Champion Carnival!

That's right, Jake Lee is your Champion Carnival winner! This was the right call to make since Jake is a star in the making and someone they desperately need if they want to help create the future of the promotion. Kento is the ace of the company but he doesn't need the win or the Triple Crown Championship any time soon. He's already well-established and this doesn't hurt him at all, he can bounce back at any time. Jake's official challenge will take place at Champions Night on May 16th, where he will fight Suwama for the title. If they were smart, they would pull the trigger right here and give him his long-overdue run with the belt and if not, then he's a lost cause and all the momentum he's had will flatline. Do the right thing here, All Japan.

Rating: Bruce Prichard and a half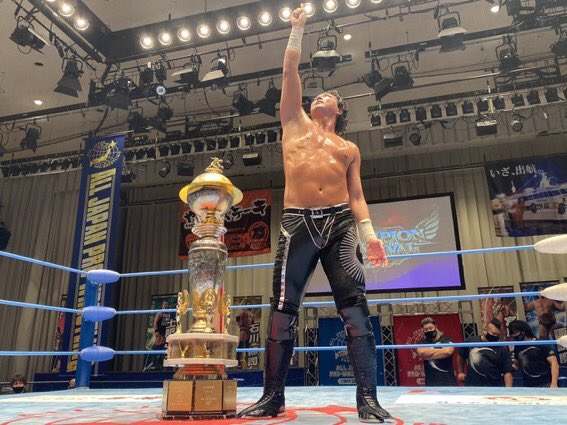 Overall: A lot of solid stuff for the final day of the Carnival. The last two matches were great ways to end the show. The only thing that hurt it was the fact that there were no crowds allowed at the event due to the State of Emergency recently. The right man won and I couldn't be happier for Jake, I just hope he wins on May 16th, only time will tell. Fun Carnival and looking forward to next year!

Favorite Match: Kento Miyahara vs. Jake Lee

Least Favorite Match: Yuma Aoyagi vs. Kohei Sato

Score: 8/10


Champion Carnival Final Standings:
Jake Lee (6-3) (12 Points) (Winner)
Kento Miyahara: (5-4) (10 Points)
Suwama: (5-4) (10 Points)
Kohei Sato: (5-4) (10 Points)
Zeus: (5-3-1) (10 Points)
Yuma Aoyagi: (5-4) (10 Points)
Shuji Ishikawa: (5-4) (10 Points)
Shotaro Ashino: (4-5) (8 Points)
Shinjiro Otani: (2-6-1) (4 Points)
Koji Doi: (1-6-2) (2 Points)