Bobby Lashley Should Be On SmackDown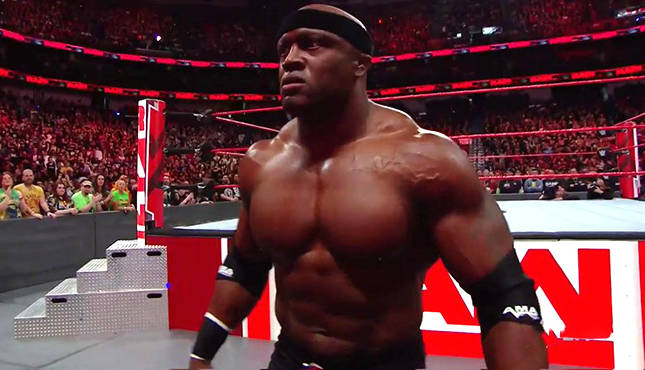 Too much of a good thing usually turns it worse over time. Moderation is key, especially when it comes to effective storytelling — that's why Michael Cole constantly vomiting WWE buzzwords is such a detriment to the product.
This is an issue that Monday Night Raw is going to face in the near future if they aren't there already. That's because there are simply too many big men trying to carve out a niche on the show. Sure, they have three hours to do so, but time isn't the problem.
The issue is that there are only so many creative and clever ways to book monsters. This is why Big Show wasn't one of the most dominant forces in professional sports entertainment history. Wrestlers are generally only as good as the stories they are enabled to tell, and the red brand is rapidly going to run out of real estate when it comes to their heavyweights.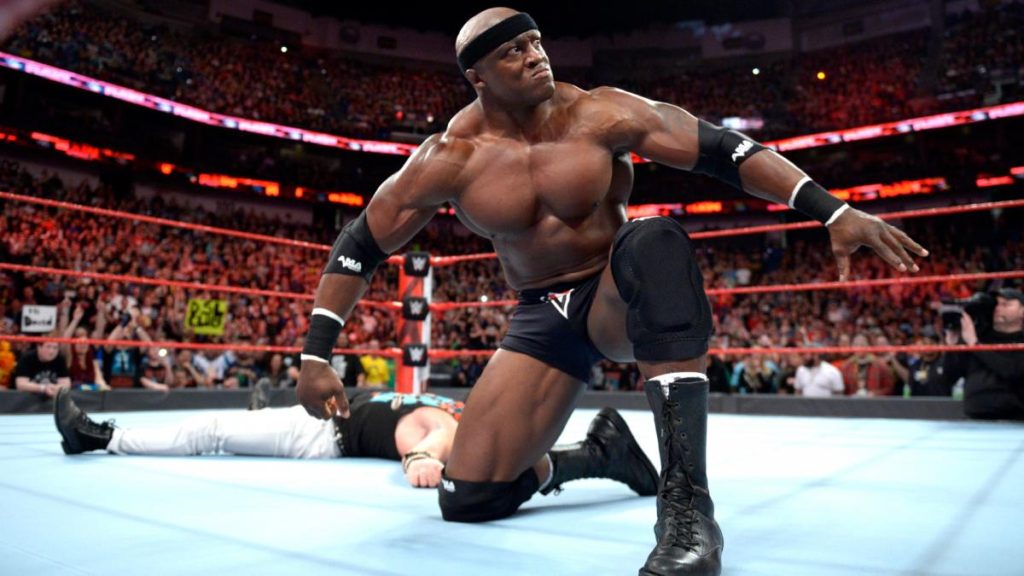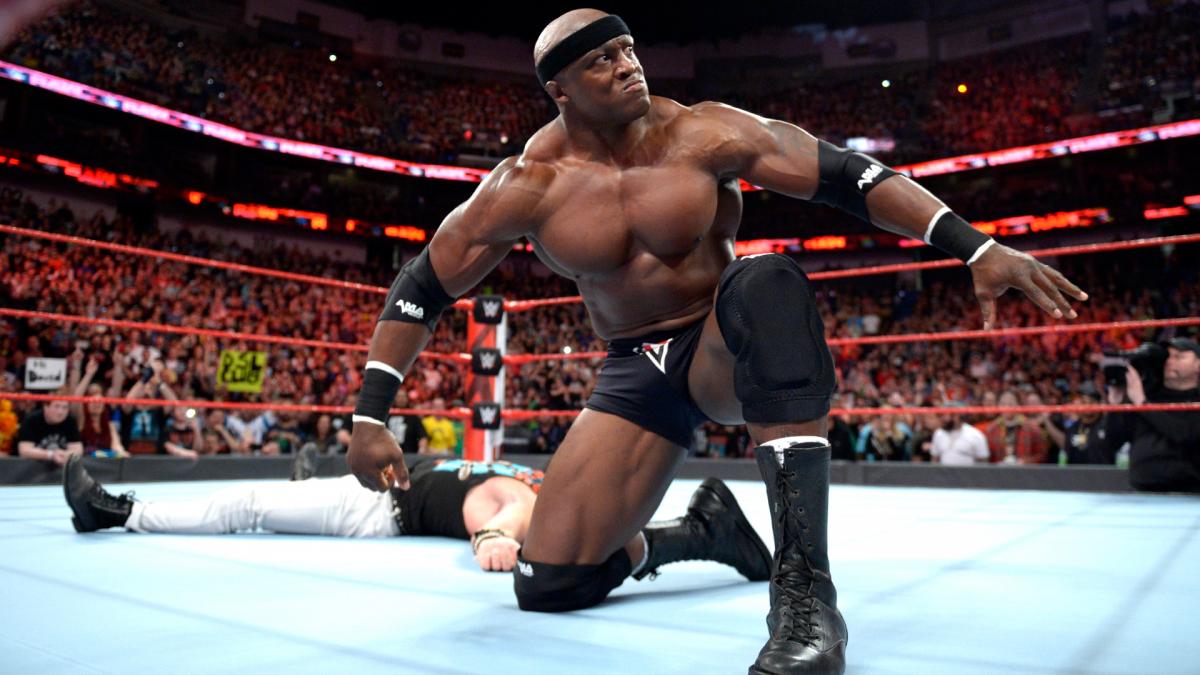 Bobby Lashley was a fantastic addition to the show, and he's been popping crowds with regularity since his surprise return during the Raw after WrestleMania. Eventually, though, he'll need to be involved in an actual feud, and it's unclear who is left for him to square off with; especially since this is technically WWE's "down season."
How do you book Lashley when you have Brock Lesnar occupying the space of Legit UFC Fighter Turned Pro Wrestler on the show? What kind of spots can you give him to flash his strength when Braun Strowman is already flipping ambulances and tearing down lightning structures with a grappling hook?
It'd even be tough to build Lashley as a Superman-type character who can withstand a lot of punishment because that's how they are trying to get Roman Reigns over. It's not working and hasn't been working for the better part of the last year, but that hasn't stopped Vince McMahon from trying to make it click yet.
All of this has us wondering how the WWE will manage to use Lashley to the best of his capabilities. He was green during his last go-around with the company but has since turned himself into a rock solid performer in the ring. A feud with Lesnar might be in the cards eventually, but how do we get there?
---
Recommended Reading: Can The Undisputed Era Be WWE's Best Faction?
---
Lashley won't go over on Strowman because the latter has been billed as an unstoppable force for months. Here's a guy who creative decided to put over one of the most decorated tag teams in recent memory in The Bar… and they let him do it with a literal child in his corner.
Now the Monster Among Men simply can't be stopped, and he's going to continue to move mountains — and bury the rest of the roster in the process — on his way to the top of the heap. Strowman has been built to the point where not even a massive beatdown at the hands of Lashley wouldn't be viewed as a step back. Just think about all of the destruction Strowman has caused and taken, and he's continued to press forward.
There's the possibility that Lashley will turn on Strowman at Backlash — our speculation, not an actual rumor — but there's virtually no chance he'd win that feud. He'd simply be another bug for Strowman to squash. How is that fun? We can hear Cole now, talking about how he's never seen Lashley manhandled like this, etc, etc, etc.
Spare us.
JUST ANNOUNCED: @BraunStrowman & @fightbobby will square off against @FightOwensFight & @SamiZayn at #WWEBacklash! #RAW pic.twitter.com/DDwLNjuzq2

— WWE (@WWE) May 1, 2018
Then there's Lesnar, who just signed a mega-deal to stay with the WWE and rumors continue to fly about him returning to the UFC in the near future. It's unclear when the Beast Incarnate will drop the Universal Title, but odds are good that it'll be Reigns taking the belt from him.
Not Lashley.
So what does that leave for the 41-year-old? A program with Drew McIntyre could be lights out but probably wouldn't do either potential title contender much good. Someone would have to lose, and someone would have to topple down the card for a while as a result.
How many times can the WWE feed Kevin Owens to a larger opponent before it becomes predictable? KO surprisingly ate the pin in Montreal this past Monday night, and he hasn't had a great run since losing the Universal Title to Goldberg at Fastlane in a joke of a squash match.
An intriguing possibility is a feud with Jason Jordan, but how much mileage would a Jordan-Lashley program have while Lesnar, Strowman and Reigns are figuratively and literally taking all of the big man spots?
Which leads us to the conclusion that it was a bit of a miscalculation by the WWE to bring Lashley back as a member of the Raw roster. McMahon will continue to pile as much talent onto the "A show" as he can, but all the wrestling skill in the world doesn't matter when there aren't good stories to be told.
And right now, there doesn't appear to be a clear or interesting path forward for Lashley on Monday nights.
---
Follow @theCHAIRSHOTcom on Twitter to keep up with all the latest wrestling news, opinions and more!
Fight or Flight: The Ongoing Drama of The New Day in WWE
The angle that has everyone talking…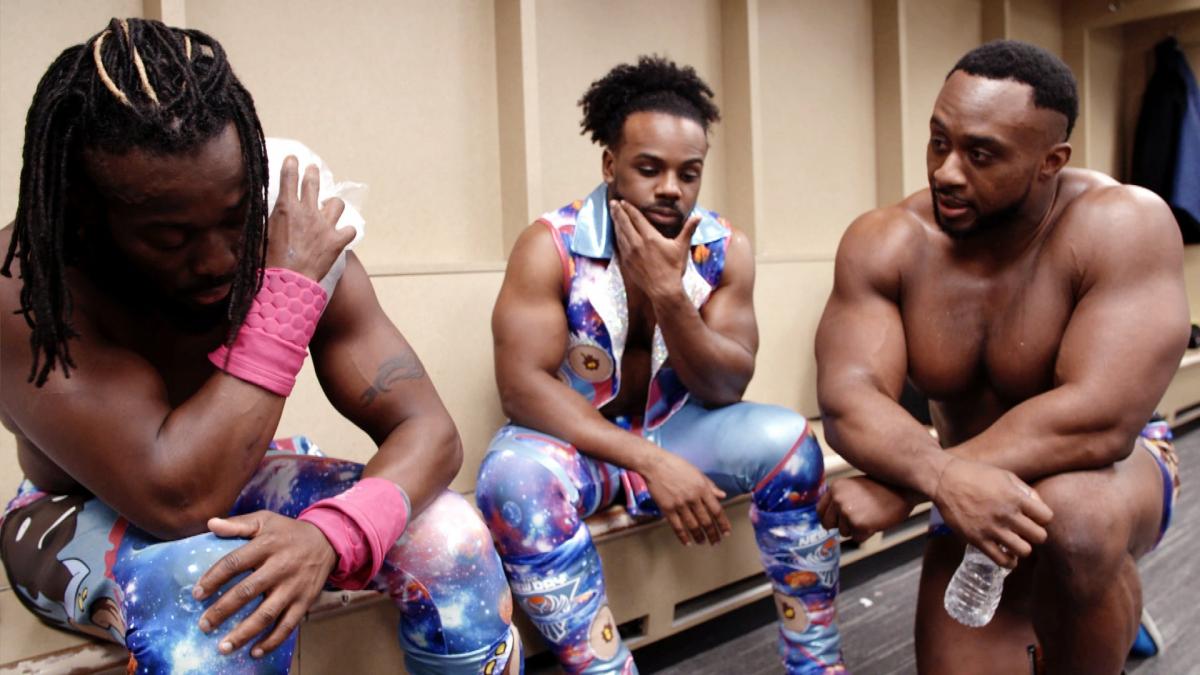 The New Day is at a crossroads, or so WWE would have everyone believe. The typically fun-loving trio has hit a wall and is contemplating quitting the company due to recent events involving Kofi Kingston's pursuit of the WWE Championship.
It's all storyline of course. Maybe Big E and Xavier Woods were instructed to vent on social media, or maybe they pitched the idea and WWE signed off on it. Either way, the three Superstars are likely not going anywhere any time soon. So what is the point of all this?
In a perfect world, unity is the most important thing. E, Woods and Kingston have had each other's backs for nearly five years, making them the longest running faction in WWE history. No matter what challenges have come their way, they've faced them together. The New Day has always been about the whole, not the one.
To find that kind of loyalty in any walk of life is a rare thing indeed. But that's especially true in the pro wrestling business, where tag teams and stables come and go all the time. Eventually, a talent's gaze shifts from the group to a championship. The lust for that championship becomes all-encompassing and sooner or later, the faction falls apart.
It happened with Triple H in D-Generation X and Evolution. It also happened with Seth Rollins in The Shield. But these are just two examples where the prize became more important than the partnership. 
But in the case of The New Day, this has not happened. Kofi's world championship dreams lay dormant for many years before he finally got his shot versus Daniel Bryan. Kingston was a champion with his two best friends and that was enough for him. It was also enough for the fans.
Indeed, when the WWE faithful speculated on The New Day's demise, Big E was often the one predicted as the breakout star. He was just too big and too charismatic to not stand out from his New Day brothers. 
Most of the possible scenarios involving Big E included him turning heel, with Woods and Kingston perhaps remaining a tag team. It was similar to Batista's turn on Evolution, except Big E would be the heavy. He would leave his best friends in ruins, while he rose to the top of WWE. So is that still a possibility?
As fans try to find some sort of deep meaning here, the conversation regarding The New Day's breakup is returning to the forefront. While it's indeed refreshing to see a faction that takes care of its own, The New Day is still comprised of competitive Superstars. Competitive Superstars want to win and that means taking every opportunity available to do just that.
So if the carrot of championship gold was dangled in front of Big E, would he bite? Most fans would likely say yes. Of the three, Big E is the one that seems to be the more inclined to go heel and take advantage of the situation. But is that really the case?
— Florida Man (@WWEBigE) March 20, 2019
Xavier Woods has never really been portrayed as the primary mastermind behind The New Day, but that's exactly what he is. He is the architect of the group and just like Seth Rollins, he might jump at the chance to become the next big thing. So where does that leave Kofi?
Kofi is perhaps the least likely to go heel here. He's just so likable and his character has so much heart, it's hard to imagine WWE fans turning on him. Of course if Kingston were to side with Vince McMahon to not only get his title opportunity but also perhaps win it? Then all bets are off. Kofi Kingston would become public enemy No.1.
It's definitely an intriguing proposition. Kingston has never had the chance to fully flex his muscles as a heel. He would surely be up to the test and he may just impress everyone with his range as a performer. But in the likelihood of possible outcomes, this is one that is perhaps slim at best. 
The fact is that for many WWE fans, the time has come to look deeper. Simply destroying Kofi Kingston on a regular basis in order to get him over seems incredibly simple and frustratingly repetitive. There has to be more to it than that. Right? Even if Kofi wins the WWE Championship at WrestleMania 35, which many believe he will, does everything just go back to normal with The New Day afterward?
We have kept other skills on deck for a reason…. pic.twitter.com/3B2IrqKqrE

— ✈️ GDC Wed/Thurs✈️ (@XavierWoodsPhD) March 20, 2019
But in the imperfect world of WWE, the ends justify the means. Or they don't at all. It really depends on what day of the week it is. On one hand, Woods and E look like cowards for wanting to just cut and run. Top babyfaces stay and fight. They battle to the death if it means never giving the heel the satisfaction of owning the day. Babyfaces have much more honor and pride than to just walk away.
However on the other hand, maybe it's indeed Kofi who wants to stay and fight. He could suddenly begin to see Big E and Xavier Woods as cowards as well and even chastise them for it on TV. How could they even contemplate walking away when The New Day has never backed down from a fight? Just that attitude alone could be enough to cause Woods and E to turn heel on Kofi. Then The New Day would be in tatters, just like every faction before them.
But in this modern PC world, the idea of leaving because the job you love doesn't love you back, is pitch perfect. Sometimes it's not enough to stay the course and keep striving to be the best. Sometimes it's best to know when to move on, if only for the sake of maintaining sanity. 
Despite what the truth is here, it's obvious that everyone is talking about this angle. Fans are invested and that's the most important thing. Kofi Kingston is the right player in the right moment and the crowd is on this journey with him. They're also with The New Day as a group. Every twist and turn adds even more compelling layers to this storyline. Whether or not it will all mean anything in the end, remains to be seen.
Gunz: Roman Reigns Is Killing Seth Rollins
Has the return of Roman Reigns derailed Seth Rollins?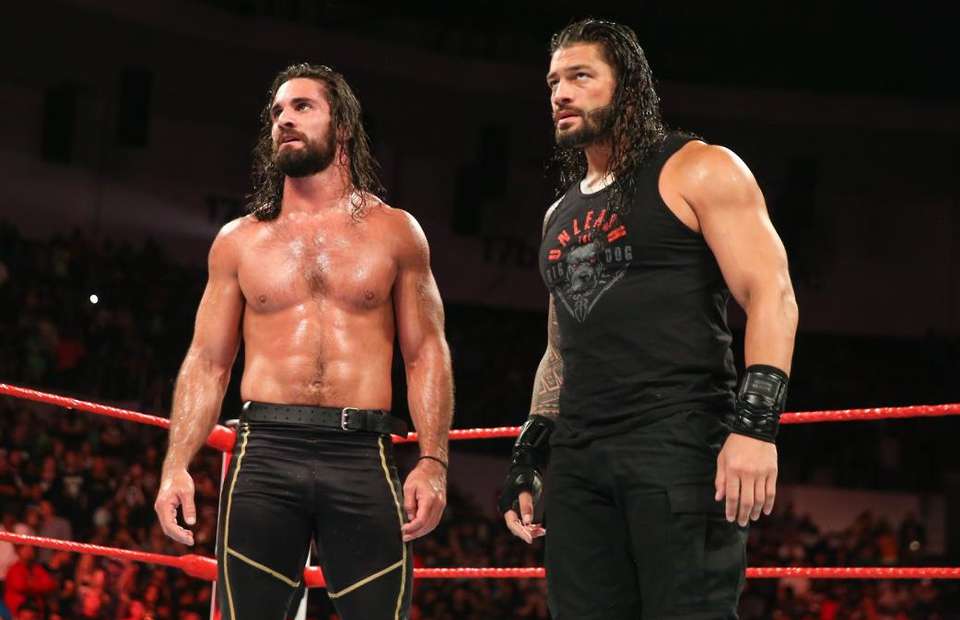 Has the return of Roman Reigns to WWE television (and storylines) derailed the momentum of Seth Rollins? See what Korey Gunz has to say about that!
Just two months ago, Seth Rollins stood in the middle of the ring as the winner of the Royal Rumble. Always a guy that would deliver in the ring, and having been long considered the workhorse of the WWE by most fans and deserving of "the push," Rollins seemed poised to ride a wave of momentum into WrestleMania to face Brock Lesnar for the Universal Championship, slay "The Beast," and truly become the face of the next evolution in the WWE.
That seems like ages ago now. In this "what have you done lately" world, it feels like a distant memory. The momentum that Rollins once had appears to be waning. The groundswell of support for the Architect to be crowned "the man" seems muted now. Granted, some of that is probably due to Rollins' latest unfortunate injury keeping him out of in-ring action for a month, and it is also due to the absence of the champion he is supposed to be building a heated rivalry with for the biggest show of the year. But the real proverbial fork in the road on Rollins' road to WrestleMania came from an unlikely and undoubtedly unforeseen source- Roman Reigns.
Make no mistake, this is not about Joe Anoa'i, the person. You are a liar if you can with a straight face that you didn't feel for the man when he made his cancer announcement back in October, or that you weren't happy for him when he announced his return. Whether you cheer or boo the character Roman Reigns, you can't help but have respect for the man.
However, you can't deny that when Roman announced his return to the ring on February 25, things changed. The trajectory felt different. Take the Fastlane pay-per-view for instance. The focus shifted from the build up to WrestleMania to the latest hot shot reunion of the Shield. Roman was back, Dean Ambrose's dramatic heel turn that took place the same night of Roman's cancer diagnosis was quickly nullified (talk about coming full circle), and Seth Rollins was suddenly thrown back into a group he had supposedly, finally, outgrown.
Like it or not, Roman Reigns is viewed by the common fan as the "leader" of the Shield. Rollins might be a solid 1-A at best, but for the general audience he was always looked at as #2. That's why he was first turned heel against his brothers five years ago in the first place. Roman was the next big babyface, and an Ambrose turn was too predictable. Plus, in Ambrose's case, he was actually probably better off as a crazy babyface character anyway if his recent heel run was any indication. Rollins was the one who needed that "umph." And he got it, to be sure. But now fast forward to 2019, and it's hard to be groomed as The Beast Slayer and heir to the Universal Title throne when you're hastily thrown back into a stable that you are not even perceived as the leader of, and four weeks out from your WrestleMania main event no less.
Want more proof? Look no further than this past Monday's RAW. The opening segment, featuring the Universal Champion Brock Lesnar and advocate Paul Heyman trying to hype the match with Rollins for Mania, is interrupted by Drew McIntyre so he can challenge Roman Reigns. Rollins then comes out to beat up McIntyre to set up a match between the two for later, that Rollins loses (albeit with interference from Brock) so they can build the angle that Reigns is the last Shield member for McIntyre to beat- THE member. In many ways, you could argue Seth/Brock took a backseat to Roman/McIntyre, and Roman wasn't even there!
In no way do I fault Roman for this situation. His comeback is a real life feel good moment for sure. But the residual effect it has had on Rollins' momentum is palpable. The Big Dog has certainly taken a bite out of his push, and maybe even the chances of Rollins getting his true "moment" at Mania. If they really wanted to anoint Rollins as a flag bearer for the company, I think they should have held off Reigns' return until after WrestleMania.
Follow Korey on Twitter @KoreyGunz