BUY or SELL: Seth Rollins Is The Current Best Wrestler In The World
Is Seth Rollins today's best? The Chairshot weighs in!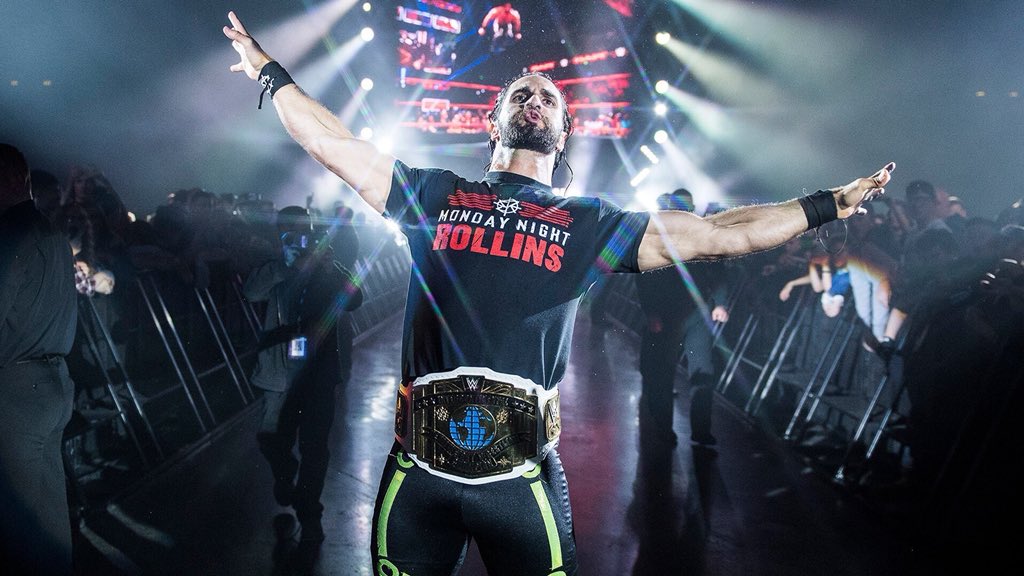 "Best In The World" is a moniker that has been used both in and out of the wrestling scene. CM Punk made it into shirts, Daniel Bryan made the assertion as when he was ROH World Champion Bryan Danielson, and Chris Jericho added "at what I do" and got it over. Many are calling near 700-day IWGP Champion Kazuchika Okada that very thing.
But in 2018, Seth Rollins has stepped up to the plate to stake a claim on being the absolute best.
There was only one way to find an answer, and that was to pose the question to our crack staff here at The Chairshot. Each was sent the question and asked to "Buy" or "Sell" the notion, with an explanation of why.
These are their responses, this is BUY or SELL:
(Commentary in italics.)
Jon Weigell – SELL
In WWE, he's probably the best (right next to AJ Styles). But as far as the whole wrestling world is concerned, he's behind names like Tetsuya Naito, Kazuchika Okada and Kenny Omega in my mind. Rollins definitely breaks my top 5 though.
See how this works? Also, not shocked Japan rared it's head in the first response!
Eric Ames – SELL
But not because I don't feel he's deserving of the honor. Honestly, it depends on what your criteria is for "best wrestler", which is always the case with these kinds of questions. To give an answer though, I think we're looking at a "1A" and "1B" type of situation. While I can't argue against it, I can't argue for it either because of one name…AJ Styles. Also, if Andrew says someone from Japan is equally as good as well, I'd probably believe him.
Did someone say…Andrew?
Andrew Balaz – SELL
Mainly off the basis that most people complain WWE isn't even the best wrestling around (biggest doesn't equate to best). So just because he's had an impressive 4 months, in a company not known for quality wrestling, that's like being the star player on a losing team. He's not even the best wrestler in WWE, he's top 3, but not the best. Don't let recency bias skew the worldwide narrative.
Well, the question does say best in the world "today." So recency is inherent to the question.
---
Recommended:
Andrew Balaz and Christopher Platt discuss this very topic in the latest edition of POD is WAR!
---
Big Rick – SELL
Four reasons why: The Miz, Finn Balor, AJ Styles, Daniel Bryan.
Excited to see The Miz on here. Being the Best In The World means talking as well. But does it also knock AJ Styles down a half-peg? Also, note that you can be a pure WWE fan and still see some great wrestling.
Big Dave – SELL
I absolutely feel Seth is in the Top 5 but to say he is #1 in a world where Daniel Bryan just came back, AJ Styles is WWE Champ, Kenny Omega, Kazichika Okada, Tetsuya Naito, Will Ospreay are in NJPW, and you have incredible talent in WWE like Andrade Almas, Aleister Black and Richochet….I can't unequivocally buy that Seth is #1. Is he in the conversation? Easily. I just can't feel completely confident with anointing Seth Rollins as Best In The World.
Yes, we have two guys named "Big" something. It's wrestling. Also, it's too soon to have Ricochet on this list. But he'll end up on it before all is said and done.
Steven Mitchell – BUY
Granted, WWE has AJ Styles, Shinsuke Nakamura and Daniel Bryan, and Kenny Omega exists at all. But when was the last time Shin or Styles went over an hour in a match? How many matches do NJPW stars really do in a month? Rollins not only works on the WWE Schedule of day after day, week after week, but he goes even harder. Rollins even said in his promo on April 30th that he's had the whirlwind workhorse schedule with the Intercontinental Championship, but you wouldn't know it with how each match he's in is incredible.
From the historic Raw Gauntlet to his WrestleMania win that made him a Grand Slam Champion to Greatest Royal Rumble to the Raw-After-GRR to being the highlight of Backlash (though that wasn't that hard, but Backlash is another subject all together) to the May 7th edition of Raw where he elevated Mojo Rawley, and how he welcomes being the new Open Challenge Champion, #MondayNightRollins IS the best.
Now, Steven literally covers EVERYTHING being referenced by everyone, and does it without bias. That's credibility to me.
Christopher Platt – SELL
He's had a hell of a run the past few months, but he's naught even the best in the company.
Okay, then who is? Feed Me More!
Christopher Platt – AJ Styles, Daniel Bryan, Roman Reigns.
He put some respeck on Roman's name! #SamoanSexMachine #BelieveTHAT
---
Recommended:
Derek Montilla joined Greg DeMarco on Outside Interference and they discussed Seth Rollins as the best in the world.
---
Steve Cook – SELL
Rollins is having a killer series of matches, no doubt about it. He's busting out all kinds of crazy moves & putting together the best run he's had in WWE in a couple of years. We know there's more to wrestling than moves though. You gotta talk. You gotta have a personality. Seth has gotten better at these things over the past few years, but it's still nowhere near an asset for him. I've had AJ Styles as the best wrestler in the world for awhile now, and he still has the spot from where I sit. Say what you will about the finishes to his matches with Shinsuke Nakamura, but the work leading up to it is good & he's done a good job as the rightfully outraged babyface champion. Rollins is working his way up the ladder, but he's not past AJ yet.
Dan "DPP" Phelan – SELL
Seth Rollins may be my favorite superstar in the business today, but I am selling that he is the best wrestler in the world today. There are many people on the level of Seth Rollins in the ring. If we are talking straight wrestling, you can't ignore guys like Brock Lesnar, Finn Balor, Kenny Omega, and Kazuchika Okada, just to name a few.
Seth Rollins has the benefit of a great opportunity to be in the position he is in, and that makes him look amazing in the eyes of the wrestling community. If you include mic skills, there are very few that can be argued at his level today. But if we're talking straight wrestling, he is a great wrestler, but it's difficult to say he's the best when so many amazing wrestlers out there in the world.
DPP referenced Brock Lesnar. Take THAT, internet fans!
PC Tunney – SELL
There is no one best in the world. Seth Rollins is among the elite group, though.
MIND. BLOWN.
So 10 members of The Chairshot staff, all weighing in, and we got one BUY. ONE BUY? Damn. What do I think? Read on…
Greg DeMarco – BUY
I'm with Mitchell (and Derek Montilla). Seth Rollins is the best wrestler in the world TODAY. We might be watching him at his absolute peak, we might not. I've long called AJ Styles the best in-ring performer in the world, and he might still hold that imaginary title. But as important as that is, there's more to it. And Seth Rollins is a better promo guy, looks more like a superstar (I mean, he gets Generic CAW Superstar over!), can literally work anyone, and sells the matches as real more than anyone right now.
Yes, you have the  likes of Kazuchika Okada, Tetsuya Naito and Kenny Omega in Japan. And I'd love to see Seth Rollins in the ring with each. Hell, I'd love to see him dance with Styles, Shinsuke Nakamura, and Daniel Bryan.
I don't know how long he sits atop this mountain for me, but as of today, Seth Rollins is the Best In The World.
(And I prefer him as a heel.)
The Chairshot Authority: SELL (9-2)
---
What say you? Share your thoughts on social media @theCHAIRSHOTcom using the hashtag #UseYourHead. Speaking of which, remember to Always Use Your Head!