Chairshot Classics: WCW WrestleWar '89 – Music City Showdown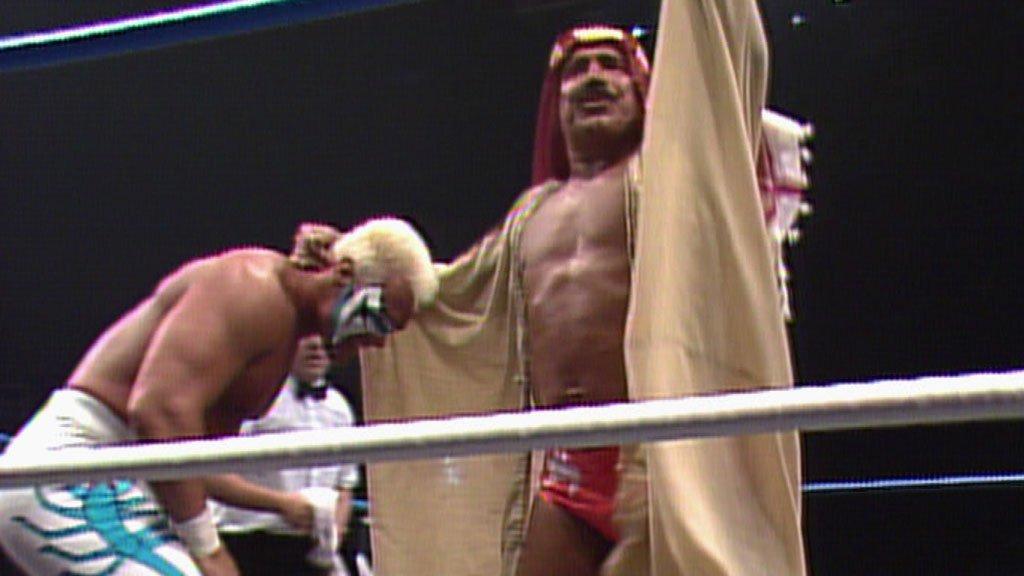 We've hit the beginning of the final year of the 1980's and another new pay-per-view for WCW and the NWA, WrestleWar 1989! After venturing into the month of January in 1988 and being opposed by the inaugural Royal Rumble on cable television, this year WCW waits until early May, just over a month after WrestleMania V where the Mega Powers exploded. A questionable decision to have a PPV on the heels of one of WWF's most successful? The Magic Eight Ball is telling me it's likely. Regardless, let's get to the show!
Open: Jim Ross & Bob Caudle are ringside to welcome us to the show before sending it to the ring. Ring Announcer Gary Michael Cappetta introduces The Oak Ridge Boys for our National Anthem. We go back to Ross at ringside, JR explaining that the NWA has stepped in and disallowed he stipulation of Hair vs. Hair for the US Tag Titles, however we will still see those titles on the line. He then sends us to a video package to run down the entire card.
Match #1: The Great Muta w/Gary Hart vs. Doug Gilbert w/Eddie Gilbert
The Great Muta lures Gilbert in and delivers a kick to the mid section. Another karate kick to the chest from Muta before dumping Gilbert outside. Gilbert is thrown face first into the gate. Back to the ring, and they run the ropes. Gilbert is able to land a high cross body and a clothesline. Muta rolls to the floor to regroup. Back in the ring, they lock up and Muta rakes Gilbert's eyes several times before landing an aggressive elbow.
Irish whip to the rope, and Muta does a handstand roll and splashes him in the corner. They run the ropes again – Muta looks for a cross body but Gilbert reverses it and slams his face into the mat. Muta reverses the momentum with another eye rake. He goes to the top rope but misses a moonsault. He lands on his feet though and drop kicks Gilbert to the outside. Muta goes flying with a body press and he rolls Gilbert back to the ring. Muta delivers a back breaker. This time he lands the moonsault and gets the pin.
Winner: The Great Muta (Moonsault)
EA's Take: Really basic stuff here to begin the show and other than some high-flying from Muta, it's essentially a squash match. Keiji Mutoh (or The Great Muta) had arrived in WCW less than two months prior alongside Gary Hart, who proclaimed Muta was the son of The Great Kabuki who he previously managed. He immediately embarked on an undefeated streak and gained a push. Doug Gilbert, the younger brother of Eddie…well, that's primarily all he's known for. He was a solid worker and we'll see him make his way around multiple companies like the WWF, USWA and ECW, but really he was another in a long line of people that got into the business because they were related to someone in the business.
Match #2: 'Hacksaw' Butch Reed vs. Ranger Ross
Ranger Ross comes to the ring with a color guard. The two men circle – they lock up and break it off. Side headlock takedown by Ranger Ross and he holds the submission on the mat. They work to their feet and run the ropes. Ross can't move Reed with a shoulder tackle, but he delivers a hiptoss. Reed holds the ropes in the corner but Ross pulls him off. Another side headlock by Ross.
Reed works him to the corner, Ross reverses an Irish whip but Reed comes off the turnbuckle with a clothesline. Snapmare takedown by Reed who follows it with a stomp to the head. Teddy Long is now ringside and scouting the match. Ross delivers a bunch of right hands, but Reed comes off the ropes with a kick to the chest. Snapmare takedown and several heavy elbows by Reed. He applies a lateral press but only gets a 2 count. Reed keeps Ross on the mat with a reverse chin lock and uses the ropes for leverage.
The referee checks the arms but he only gets 2. Back to their feet, and Ross delivers some elbows to the midsection but Reed pulls him back down. The referee finally catches Reed's foot on the ropes and breaks the hold. Reed stays on him with rights. They run the ropes and Ross is able to get a European take down. 2 huge dropkicks and knocks Reed out of the ring, and Ross gives chase by leaping over the top rope.
Reed is rolled back in the ring, but he catches Ross with a cheapshot as he was trying to enter. Reed delivers a vertical suplex from the apron and goes to the top rope. Ross gets up to his feet but he's stunned, and Hacksaw flies at him with a shoulder tackle. This is enough to get the pin.
Winner: 'Hacksaw' Butch Reed (Shoulder Tackle)
EA's Take: Ranger Ross was surely athletic, but it's funny how Reed had a way to burn match minutes with long reverse chin locks. This is clearly the start of a new managing gimmick for Teddy Long as he scouts the ring from the outside, which there will be more of in the future. Ross obviously comes from a military background and got his start with Continental in Tennessee, but to say he's not remembered may be an understatement. Reed is fresh off his run with the WWF, but toiled in the mid-card of WCW upon his arrival, which is exactly what he was doing in New York.
Match #3 is a Bullrope Match: 'Cowboy' Bob Orton w/Gary Hart vs. 'Captain Redneck' Dick Murdoch
The two play tug of war with the rope and Murdoch bests him first. Orton is cornered and Murdoch threatens him with the bell. He swings and misses but he's able to land some rights with the fist. Orton turns the tables and replies with shots of his own. Orton tries to use the post to his advantage but Murdoch rolls out to the floor to meet him. Orton tries to run away but he's stopped by the pull of the rope. Muroch rolls into the ring.
Orton tries to get away but he's pulled in. They two exchange blows but Orton takes control with some kicks and an elbow. Murdoch is down in the corner and Orton stays right on him with knees. Orton is able to land a straight right with the cowbell in hand. Orton continues to stomp Murdoch and he gets a 2 count. Murdoch backs Orton off with a right hand to the midsection but he's slow to get up. Instead Murdoch takes off his cowboy boot and uses it as a weapon. The crowd enjoys that move. Orton suffers more blows with the boot.
Orton is sent with an Irish whip to the corner and he comes off the turnbuckle and takes another shot with the cowboy boot. Murdoch only gets a 2 count. Back to their feet, Orton stops the hypothetical bleeding and knocks Murdoch down with a couple rights. Orton stomps the back of the head, picks up Murdoch, whips him to the ropes and delivers an elbow. Orton goes to the top rope but Murdoch is up first. He uses the rope to pull Orton down and he immediately hogties him! Murdoch delivers a few elbows before getting the 1-2-3 on the helpless Orton.
Winner: 'Captain Redneck' Dick Murdoch (Elbow Drop)
After The Bell: A complete melee in the ring involving the wrestlers, manager and referee Nick Patrick. Orton is able to get the rope around Murdoch's neck and he practically hangs him from the apron.
EA's Take: These sort of gimmick matches are never scientific and to me all Bullrope matches are the same. The Cowboy made his return to just a month prior and immediately put himself beside Gary Hart, solidifying his heel status from years past. There was some backstory here, as the feud with Murdoch began after getting a cheap win, but it's obviously a secondary feud on this card. His WCW run won't last long though and he'd unsuccessfully attempt a comeback to the WWF later in the year, essentially finishing his career.
Match #4: The Dynamic Dudes (Shane Douglas & Johnny Ace) vs. The Samoan Swat Team (Samu & Fatu) w/Paul E. Dangerously
Dangerously introduces himself in a very familiar way and introduces The Samoan Swat Team. The DDs come down to the ring wielding skateboards. All 4 men are in the ring, and Tommy Young demands they pick starting competitors. It's Ace and Fatu to start. They lock up and let go. The crowd chants Paul E sucks. Ace can't seem to damage Fatu with some kicks. Fatu misses a clothesline and Ace drives his head to the mat but he's right back up. Samu rushes the ring but he's taken down with a bodyslam. Ace delivers an arm drag to Fatu and tags in Douglas. They run the ropes and Fatu thinks Douglas has stumbled outside the ring.
Paul E barks for him to turn around where Douglas is waiting for him with a standing drop kick. The crowd is loud for the Dudes. Samu is tagged in and he immediately takes over on offense chopping ace to the ground. They run the ropes once again and Shane climbs up Samu's shoulders and flips him down to the mat. Wristlock applied to Samu and Ace is tagged in. The Dudes exchange wrist locks and tags before Ace and Samu work the action to the Samoan side. Ace backs Samu into the ropes and when he goes to whip him to the opposite rope, he didn't notice that a tag was made to Fatu. He leeps over Samu's back but he's met with Fatu's big right foot.
Both Samoans stomp away and Dangerously brags on the outside. Fatu delivers a barefoot to the midsection. Ace tries to counter Fatu's hip toss but can't move the man. Famu clotheslines him down to the mat. Samu is tagged in. Ace tries fighting back but Samu delivers a big chop in the corner. Ace reverses an Irish whip to the corner and Samu runs right into the turnbuckle. Ace delivers kicks to the midsection but Samu catches his leg. Dangerously distracts the ref and the Samoans double team Ace. Johnny is reeling and finds himself in a nerve submission. Tag is made to Fatu and he comes off the top with an axehandle.
Fatu chokes Ace on the mat and Fatu tells off the referee who tries to break it up. A reverse chin lock is applied as Ace tries reaching out for a tag. A vicious headbutt by Fatu, but Ace is able to reverse the Irish whip and hits Fatu with a back body drop. Ace tries following it with a drop kick but he misses. Tag is made to Samu who prevents Ace from getting to his partner. Ace is moved to the corner so Fatu can hold him in place for a punch, but Ace ducks and Samu nails his partner. Ace crawls for his corner but Samu stomps him down. Samu follows it up with a side slam and a 2 count. Dangerously demands the ref count faster.
A tag is made to Fatu and the team delivers double head butts. Ace ducks a clothesline but can't avoid Fatu's power slam. Another 2 count as Ace kicks out of a pin. Samu is tagged in once again and they both rake the eyes of Ace. Johnny can't make the tag. Shane tries to enter the ring which distracts the ref so the Samoans can get another double team in. Samu holds Ace down on the mat with a shoulder submission. Shane gets the crowd behind them. Ace finally fights his way out with elbows to the midsection and driving Samu's head to the mat. He still can't make the tag. They run the ropes and Samu catches Ace's foot.
He works him down to the mat and Samu applies a Boston Crab. Dangerously grabs the mic and taunts Ace. Back to their feet, Ace tries a kick to the midsection but his foot is caught. He hops around before pulling himself to Samu's torso and flipping him to the mat. Hot tag is finally made to a fired up Shane Douglas. He delivers an Irish whip and a dropkick. Fatu tries to rush the ring but he's met with a dropkick as well. Samu gets another dropkick . He whips Samu to the ropes but is met by the Samoan's clothesline.
A tag is made to Fatu who immediately goes to the top rope and lands a huge splash. A pin attempt is broken up by Johnny Ace. Samu knocks Ace out of the ring. Fatu scoops Douglas for a powerslam, but Ace heads for the top rope. He dropkicks his partner on top of Fatu while the referee is distracted by their opponents. The Dynamic Dudes pull off the upset.
Winners: The Dynamic Dudes (Douglas/Assisted Full Body Press)
EA's Take: WOW! Tons of energy and tons of action in this one! Fatu was a little smaller than in his Rikishi days and boy does he look like he could be an Uso. I was very impressed with the agility of the Samoans, but I mean, it runs in their blood, right?. Johnny Ace definitely worked 75% of the match before that hot tag. Ric Flair and Ricky Steamboat's rematch is a classic, but this is easily the most underrated match on the card, despite how ridiculous The Dudes' gimmick is.
Match #5 for the NWA United States Championship: NWA United States Champion Lex Luger vs. Michael 'P.S.'Hayes w/Hiro Matsuda
Hayes wants Luger to back off so he can strut. The too lock up and Luger powers Hayes to the corner. Nick Patrick breaks it up to the dismay of the crowd. Another lock up and Hayes holds a side headlock. Luger throws him to the ropes but Hayes hits a high cross body press and gets a 1 count. Hayes applies another side head lock and laughs at the crowd. They run the ropes and Hayes escapes a military press attempt, instead hitting Luger with a Russian leg sweep.
Another tie up and Patrick breaks it up in the corner once again. Luger slaps Hayes across the face, and the frustrated Hayes paces outside. Back in the ring, another tie up. Luger blocks a round house and slaps Hayes once again. The two exchange rights before Lex delivers a back body drop. Hayes rolls out of the ring and the crowd taunts him. They go for the tie up, but Hayes kicks him into the midsection. He drives Luger's head into the turn buckle and flies through the air with a clothesline. Hayes signals it's time for the DDT but Luger pushes off. Hayes falls on the back of his head and rolls out of the ring once again. Hayes is upset by the "Luger" chants.
He tells the crowd to shut up. They lock up and Luger holds onto an impressive wristlock. He turns it into an armbar submission on the mat. Hayes fights back and they run the ropes. Hayes can't get Luger down with a sunset flip and instead Luger goes back to the submission after an arm drag takedown. The two work their way to their feet. They run the ropes and Luger catches Hayes in mid air and puts him down with a back breaker. Back to the wristlock from Luger. Hayes delivers unsuccessful shots to the mid section. They work their way to the corner and Hayes delivers a cheap shot and follows it with some chops.
Irish whip by Hayes and he follows him with a clothesline. Hayes taunts but Luger didn't go down. Luger catches him with a choke hold and follows it with 10 punches in the corner. They run the ropes and Luger misses a cross body slam and tumbles over the top rope. Hayes opportunistically attacks Luger on the outside and runs him into the ring post. Hayes brings Luger back into the ring with a vertical suplex and gets a 2 count on the lateral press. Hayes stays on Luger and holds him in a reverse chin lock. Luger strengths his way up to a vertical base and delivers elbows. Luger is freed up and they run the ropes. Hayes' foot is caught, but he breaks it up before Luger can capitalize. Hayes hits Luger with a bulldog and gets another 2 count.
It's right back to the reverse chin lock by Hayes. Luger works his way up as the crowd cheers. Luger delivers a few blows but Hayes rakes the eyes and sends him outside. Matsuda rams Luger's face into the railing while the referee is dealing with Hayes. Back to the ring, and Hayes hits a body slam and an elbow. Luger kicks out at 2. Hayes drops fists on Lugers face and taunts the crowd from the 2nd rope. Another reverse chin lock by Michael Hayes. Hayes barks that he's "got him down". Referee checks the arms but only gets two.
Luger works his way back to his feet and fights to break the hold. Hayes tries to ram his head into the turn buckle but Luger blocks it. Instead it's Luger who rams Hayes' head, but Michael gets a thumb to Luger's eye. Hayes sets up for a trademarked bulldog, but Luger throws him across the ring. Punches by Luger in the corner followed by a hip toss and clothesline. He can only get a 2 count.
Luger delivers a huge military press and follows it with another! He looks to do it one more time and executes it! Lex is calling for the torture rack. Hayes flips off Luger's back and nails a DDT. Both met are down and slow to get up. Hayes hits a shoulder tackle and the referee goes down with Luger. Michael Hayes is fatigued on the ropes but Terry Gordy comes down and pushes Hayes on top of Luger as the referee gets up. Nick Patrick calls 1-2-3.
Winner and NEW NWA United States Champion: Michael 'P.S.' Hayes (Outside Interference)
EA's Take: These NWA matches have given me a new level of respect for Michael Hayes. He was a superb entertainer, despite his ring work being a bit rough at times. It makes perfect sense to turn him heel since the previous pay-per-view, Starrcade. Luger was red hot at this time, but his short comings could be seen in this one. A mile away in retrospect. He made his living on a good physique and a predictable' repetitive move-set. This win was short lived as the two continued the feud and exchanged belts a few times.
Match #6 for the NWA Television Championship: NWA Television Champion Sting vs. The Iron Sheik w/Rip Morgan
Sting is led to the ring by a group of running children. The Iron Sheik demands to be introduced as a former world champion. The Sheik takes cheapshots with his flagpole. He takes part of his garment off and chokes Sting. He tells the crowd to shutup. He tries chopping Sting but Sting's unaffected. Sting with kicks to the midsection and he returns the favor with the choking.
Sting whips Sheik to the rope and delivers a clothesline. The crowd responds to Sting's yell. The two tie up. Sheik chops Sting and delivers a side salto suplex. Sting is thrown to the ropes and Sheik hits a clothesline. Sting fights back with kicks. Irish whip to the corner and Sting flies for a Stinger Splash! Sting applies the Scorpian Death Lock and the Sheik gives in!
Winner and STILL NWA Television Champion: Sting (Scorpion Deathlock)
EA's Take: Well…what can you say about a two minute match? Sting's clearly a company and fan darling, but did Sheik just need an easy payday at this point? He's so far beyond his good days, it's not even funny. Yet, we'll continue to see him compete over the next few years. It's really quite strange to think about now, anyone who moved around as poorly as he did in his later years would NEVER be allowed back in a WWE ring. Unless you're The Great Khali.
Match #7 for the NWA World Heavyweight Championship: NWA World Heavyweight Champion Ricky 'The Dragon' Steamboat vs. 'Nature Boy' Ric Flair
Terry Funk, Pat O'Connor and Lou Thesz are ringside as judges. A tie up and a clean break. Another tie up and Steamboat delivers an armdrag. Flair claims his hair was pulled. They circle and tie up again. Side headlock and shoulder tackle by Flair. Steamboat comes back with a hip toss and a unique arm drag. Steamboat holds the arm but Flair tosses Steamboat to the corner. The two exchange face slaps before Flair falls onto his backside and backs off. Another tie up and Flair takes a cheap shot and big chops in the corner. A straight right from Flair, and the two exchange a flurry of vicious chops. Irish whip and a back body drop from Steamboat.
Flair stumbles out to the floor and he's slow to return to the ring. The two cautiously square each other up, and Steamboat reverses a side headlock into an overhand wristlock. Steamboat strengths Flair down to the mat and goes into an arm bar. He emphasizes the pain with knees to the shoulder. Flair is reeling and screaming out in paid. Steamboat with elbow drops to Flair's shoulder without letting go of the lock. They run the ropes, and Steamboat delivers a shoulder tackle and an armdrag before going right back into the armbar.
The two are on their feet and Flair is caught in a hammerlock. Flair reverses it with a drop toe hold, but Steamboat regains control immediately. Steamboat has Flair down in a half nelson. Working back to their feet, Flair breaks it up with more vicious chops. He whips Steamboat to the ropes but Ricky sneaks under his legs and drags Flair right back to the mat and into the hammerlock. Back to their feet, Flair uses Steamboats hair to get to the corner and break the hold. Flair takes a cheap forearm to Steamboat's head and follows it up with 2 more that knocks the champion down.
More chops as the crowd "Wooos", Flair with shots to the abdomen and the back but Steamboat gets a 2nd wind and chops Flair back. Flair falls face first on the canvass and Steamboat goes back to the hammerlock. Steamboat flips over Flair to get extra leverage. Back to their feet and Flair lifts Steamboat on his shoulders and sets him on the top turnbuckle. Steamboat leaps off the turnbuckle, chops Flair, delivers a hiptoss and sends him over the top rope with a drop kick. Steamboat goes to the top turnbuckle as the ref pleads with him and gets him down. Flair regroups and re-enters the ring. Flair baits him with a test of strength and kicks him to the mid section.
When they run the ropes, Steamboat delivers another arm drag and hammerlock sequence. Flair is quick to get up this time, but Steamboat maintains the arm bar. They run, and Steamboat delivers a shoulder tackle, but Flair comes back with a hip toss. He takes his time and therefore misses an elbow drop and Steamboat goes back to work on the arm. They work to the corner and Flair uses his shoulder to hit the abdomen of the Dragon. Trademark chops from Flair who mixes it up with some kicks. Through 15 minutes, the judges decide Steamboat is ahead. Steamboat fights back but Flair gets him in the eye. Flair with a football tackle and he tosses the champ out to the floor.
Steamboat is immediately back in and aggressively fights back which includes 10 punches in the corner. Flair is whipped to the opposite turnbuckle and Flair gets caught upside down on it. The Dragon with more offense in the corner followed by a shoulder tackle. When he tries to follow it up, Flair grabs his head and Steamboat goes over the top rope. The referee decides it was not intentional and doesn't call for a DQ. Now outside of the ring, Flair chops Steamboat over the railing and goes for a chair. The referee stops that before it starts and instead Flair lands an elbow on the throat of Steamboat and re-enters the ring.
Flair gets impatient and heads back to Steamboat and the two exchange more hard chops. Steamboat gets the advantage and he chases Flair back into the ring. Steamboat is quick to the top rope and he delivers a fist to the Nature Boy. Flair is whipped over the top turnbuckle and meets a clothesline on the apron. Steamboat hits a snapmare takedown on Flair and relentlessly goes back to the arm bar. Back to their feet and Steamboat lands a shoulder tackle before leaping for a cross body and stumbling down to the floor. Flair takes advantage with an elbow to the skull while he's on the apron. He pulls Ricky back into the ring and delivers a knee to the head. More chops by Flair and Steamboat keeps fighting his way to his feet. Flair chokes Steamboat with his boot near the rope. Steamboat tries to fight back but Flair has the upper hand. Belly to back suplex from Flair and he gets about 2 and a half! Flair continues to try to hold Steamboat's shoulders down but to no avail. Another knee drop to the head from Flair followed with a WOOO!
Flair delivers a butterfly suplex and again, a hair away from getting a 3 count. He backs up again and this time drops an elbow on Steamboat's neck. Flair barks at Tommy Young after another 2 count. Flair whips Steamboat to the ropes, Ricky ducks a clothesline but on the comeback, Flair catches him and hot shots him on the top rope. He pins Steamboat but it's too close to the ropes. Flair backs off and he's met with a chop on his return. Flair drags Steamboat out to the floor and delivers a vertical suplex on the floor. The 2nd round of judges voting is split, but with a 2-1 favor for Flair. Back to the apron and Steamboat reverses a vertical suplex from the apron. He lands on his feet and surprises Flair with a roll up but can only get 2. Steamboat is on the offense and whips Flair to the ropes. Flair ducks a clothesline and goes for a cross body and both men go flying over the top rope.
Flair's up first and he throws Steamboat back into the ring. Flair goes to the top rope, but as expected, he's gorilla pressed from the top. Steamboat is feeling the energy of the crowd. Punches from Steamboat in the corner followed by an Irish whip and a back body drop. Flair plays possum before getting a kick to the mid section in. He goes for a side suplex but Steamboat lands on his feet, pulls Flair down and cradles him for a 2 count. Steamboat sets Flair atop the top turnbuckle and hits a massive superplex! Steamboat goes for the double chicken wing but Flair gets his feet on the ropes. Flair's head is bashed off the top turnbuckle and Steamboat heads for the top rope. He hits a massive chop from the top and he returns to the top rope.
This time, Flair jerks the ropes and Steamboat falls all the way to the floor. As Steamboat tries to re enter the ring, he's attacked by Flair on the apron who finishes it with a long hold vertical suplex. Flair pulls the leg of Steamboat to weaken it as he applies the figure four. The ref counts as Steamboat's shoulders drop to the mat but he kicks out. Steamboat fights and tries to get to the ropes. Steamboat gets to the ropes and the hold is broken. Flair uses his knee on Steamboat's knee in the corner.
Steamboat chops back as Flair holds the champ's foot. Steamboat breaks the hold by leaping up for a kick to the head. Steamboat pulls Flair up for a body slam, but Flair reverses it into an inside cradle and picks up the win! Ricky Steamboat shows gives a handshake and pays his respect for a great match.
Winner and NEW NWA World Heavyweight Champion: 'Nature Boy' Ric Flair (Inside Cradle)
After The Bell: Jim Ross interviews Ric Flair who gives a surprisingly humble interview, complimenting Ricky Steamboat. Terry Funk interrupts the interview and issues a challenge to Flair for the belt. When Flair denies the opportunity due to Funk's time in Hollywood, Terry attacks him which includes a pile driver on a table.
EA's Take: Another fantastic bout between these two and I love how it seamlessly flowed right into Flair's next feud, which brings us one of my all-time favorite matches at Clash Of The Champions IX. The face turn here for Flair is starting to become needed at this point in time. An incomparable heel, you could see that the crowd was somewhat split and people were getting behind the arrogant character to a certain extent. The booking for Flair/Steamboat over the past few months was superb, giving us three straight instant classics and then a great transition into the Funk rivalry. Some of the best stuff WCW will put together for literally years.
Match #8 for the NWA World Tag Team Championship – Special Referee Nikita Koloff: NWA World Tag Team Champions The Varsity Club (Mike Rotunda & 'Dr. Death' Steve Williams) w/Kevin Sullivan vs. The Road Warriors (Hawk & Animal) w/Paul Ellering
The Road Warriors waste no time in ambushing the Varsity Club right after their entrance and they clear the ring. The Club tries to fight back and there is a 4 man melee in the ring but the Warriors are still in control. We start with Animal and Williams. They lock up and go to the corner. Sullivan immediately gets in the ref's face and he gets "ejected"! Animal with a shoulder tackle and a clothesline. Animal pursues but Williams gets a foot to the midsection. They fight for position and guest referee Koloff tries to separate them.
Williams gives him a hard time and Koloff threatens to "eject" him too. Williams backs off and tags in Rotunda. They run the ropes. Animal gets a shoulder tackle but on the next run, Rotunda lands a drop kick. Rotunda heads for the top body, but his cross body press is reversed by Animal's body slam. Williams tries to break up a pin attempt and it distracts Animal. Hawk is tagged in. Williams lands the first shots and he scoop slams him. Hawk moves on an elbow drop attempt and power slams Williams instead. He drops a fist on Williams who then rolls out of the ring. Hawk gives chase and clotheslines him off the apron!
Hawk tries a follow up clothesline that misses and Hawk's arm hits the ring post. The referee is caught up with Animal who is protesting as Rotunda comes over for a cheap shot. Williams goes to work on the outside and then rolls back into the ring. Hawk follows but he's reeling. Hawk reverses a whip to the ropes but Williams comes back with a clothesline and makes a tag to Rotunda. Before Rotunda can take advantage of the situation, Hawk makes the tag to Animal. He lands an atomic drop and a drop kick.
Huge shoulder block by Animal, but Williams tries to break it up. Another melee in the ring. Rotunda misses a clothesline and tumbles over the top rope. The Warriors set up Williams for the Doomsday Device and execute it. The referee goes for the pin, but Kevin Sullivan and Dan Spivey have run back out and they drag Koloff out of the ring. They attack Koloff and Hawk tries exits the ring to come to his aid.
This leaves a two-on-one situation in the ring for the Varsity Club. Animal is the victim of a double clothesline. Williams joins the attack on the outside while Animal and Rotunda look to face off 1:1. Williams and Hawk roll back into the ring and Hawk hits him with a big boot. Shortly thereafter, the bell rings. There has been a disqualification due to outside interference.
Winners: The Road Warriors (Disqualification)
EA's Take: I knew going into this match that the Warriors either had to win or be screwed again and that's exactly what happened. You really have to question the match order of this card, but I'll get into that in my finisher later. The Road Warriors' heel turn didn't last very long, as the people never wanted to boo them. Varsity Club was arguably the top heel team, so this was the natural progression. They had previously been screwed out of the titles just a little more than a month prior. This one featured lots of brawling (I know…shocker), since Rotunda is easily the best worker of the group.
Match #9 for the NWA United States Tag Team Championship: NWA United States Tag Team Champions Eddie Gilbert & Rick Steiner w/Missy Hyatt vs. The Varsity Club (Kevin Sullivan & Dan Spivey)
Sullivan and Spivey waste no time attacking the champs. Sullivan appears to chase Hyatt but he's interrupted by Gilbert. On the outside, Spivey attacks Steiner with a shoulder block. In the ring, Gilbert and Sullivan go to work. Gilbert with an Irish whip but Sullivan gets his foot up. He tags in Spivey but Gilbert rolls out to the floor. Back to the ring Gilbert ducks clotheslines and they lock up. Spivey delivers rights in the ring while Sullivan cheap shots Steiner on the floor. Gilbert is whipped to the ropes but he reverses the momentum with a right to the face. Spivey rakes the eyes but Gilbert rolls out to the floor.
Sullivan attacks Steiner and rams him into the post as the other two brawl their way back into the ring. Sullivan is tagged back in. Sullivan lands a right and mocks the fact that Steiner isn't in his corner. More rights and a clothesline from Sullivan before he tags Spivey back into the ring. Spivey holds Gilbert in a choke hold and slams him to the mat. Gilbert is whipped to the ropes and dropkicked.
Gilbert is caught in a a potential back breaker but he reverses it to a small back body drop. Spivey is up immediately though, and Sullivan is tagged back in. Sullivan is on the offensive and he quickly tags Spivey back into the ring. Side slam by Dan Spivey who gets a 2 count. Spivey whips Gilbert to the ropes and lands a big boot. Sullivan takes a cheap shot while the referee is distracted.
Spivey lands a powerslam on Gilbert and tags Sullivan back in. Sullivan slaps Gilbert's face several times before Gilbert's able to sneak through Sullivan's legs and make a hot tag to Rick Steiner. The ref didn't see the tag and won't allow it. Spivey attacks Steiner and the ref attempts to redirect him. Sullivan appears to be setting up for a pile driver but while the ref is distracted with Spivey, Rick 'Steiner-lines' Sullivan and Gilbert flips over him for a successful pin.
Winners and STILL NWA United States Tag Team Champions: Eddie Gilbert & Rick Steiner (Gilbert/SteinerLine)
EA's Take: Utter garbage that this is the main event of this show. I don't think anybody could explain to me any reason this closes things out other than "the faces went over". With a screwy finish in the NWA World Tag Title Match, plus Flair getting left laying by Terry Funk, you have to think the thought process here is "send 'em home happy". Unfortunately, it doesn't make any logical sense in the grand scheme of things. This isn't even your primary Tag Title. Get outta here with that!
Finisher: As Conrad Thompson always says on Something Else To Wrestle, "Who booked this s$%*?". Not only did Flair and Steamboat make it impossible for anyone to follow them, like I said before, you put your secondary tag titles in the main. What?!? I think it's entirely fair to wonder, since the man booking the show is in the main event, perhaps that played a part? I can't say that for sure, but you certainly have to wonder. This card had two real gems in the Flair vs. Steamboat and Dynamic Dudes vs. Samoans bouts, but it was filled out by a ton of sub seven-minute matches that made you wonder what it was doing on the card. Vince's grip on pro wrestling is at full-strength for sure.
Top Three To Watch
1 – Ric Flair vs. Ricky Steamboat
2 – The Dynamic Dudes vs. The Samoan Swat Team
3 – Lex Luger vs. Michael Hayes
Chairshot Classics: WCW Monday Nitro Episode 22
Hogan vs Flair, Giant vs Savage!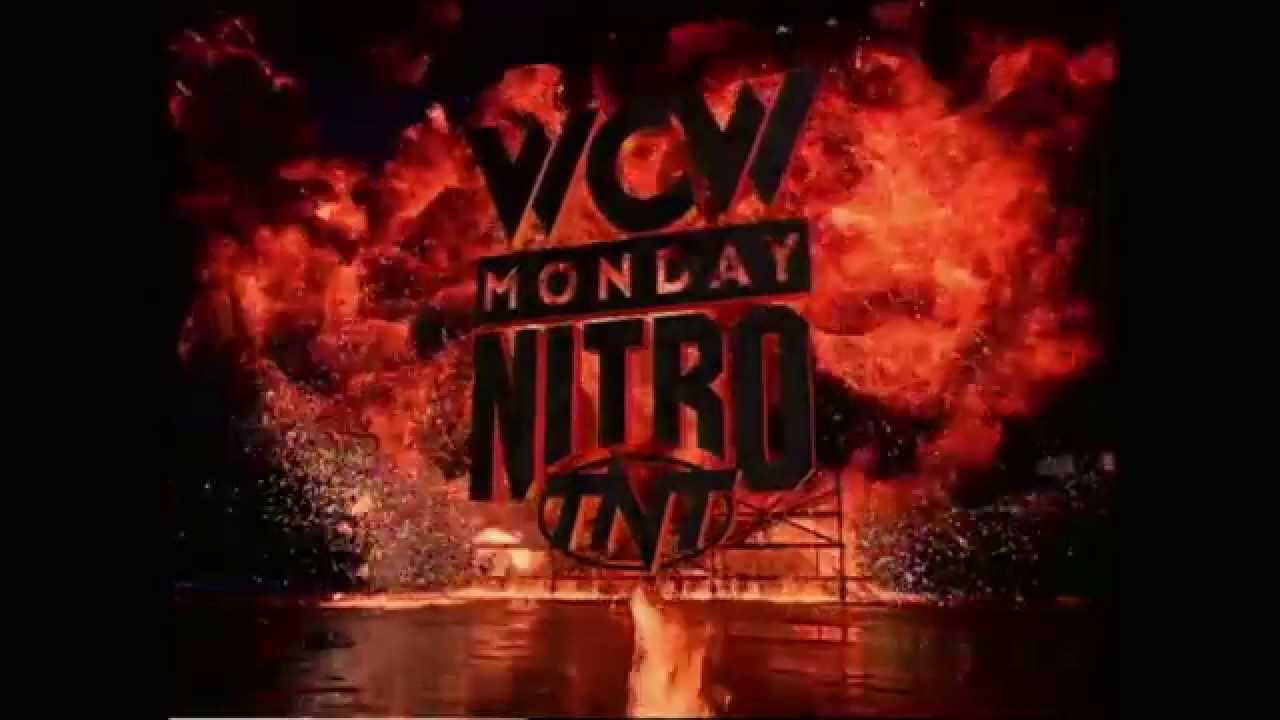 From the Canton Memorial Civic Center, in Canton, Ohio, WCW brings us Monday Nitro from January 29, 1996!
This show is advertised to feature Hulk Hogan taking on Ric Flair. There's a tease about tension between The Dungeon of Doom and The Four Horsemen while The Road Warriors battle The Faces of Fear. We also are slated to see Randy Savage facing The Giant. Bischoff, McMichael and Heenan are on the call as usual.
Ric Flair vs Hulk Hogan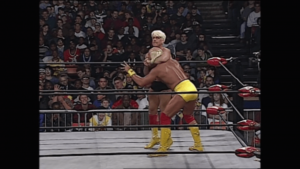 Hulk Hogan is jerking the curtain? How often did this happen? Hogan is getting a sizable amount of boos at this point in 1996. Miss Elizabeth is back too, out in Hulk's corner. Flair gets shoved a few times so Hogan can look strong to start the match, Flair goes for a couple of chops, but Hogan no sells them, hits a big back body drop and clotheslines Flair out of the ring and poses. Back in the ring, Flair chop blocks a leg to get his heat back after Hogan just ruined Flair's offense by no selling. Finally Hogan sells the chops, but Flair goes to the top rope and gets tossed off as Hogan starts to come back until he eats a back elbow. Jimmy Hart tries to get involved but Hogan kicks him off. Hulk comes back with strikes a forehead bite because he's a good guy. Outside the ring, Flair rakes the eyes to regain control and get back in the ring. Ric tosses him back out and Jimmy chokes Hulk with a bandana. Flair continues to work on the leg, hits a shin breaker and HOLDS ON! He locks on the figure four leglock in a sequence I've never seen, beautiful. Hogan reverses the hold and Flair gets to the ropes. Hulk blocks a suplex attempt and hits one of his own. Flair chops and strikes but Hogan no sells but his come back is cut off by a back elbow. Flair hits a stalling belly to back suplex, awesome, but only gets a near fall. Hulk starts to, well, Hulk up. Three punches, big boot and a leg drop. Arn Anderson with brass knuckles gets cut off by Hulk. Flair hits Hogan with Miss Elizabeth's high heel shoe and gets the pinfall victory. Elizabeth and Savage checking on Hogan, who is selling the eye big time. Very stereotypical Hogan match, but it was given some good time to breathe.
Winner: Ric Flair via pinfall
Faces of Fear vs Road Warriors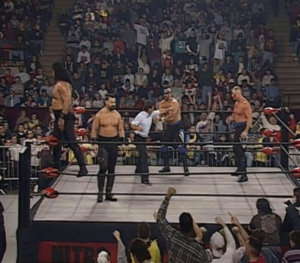 Hawk and Animal get a huge pop, out in black and blue spikes, looking ready to dominate. This is a pretty typical looking LOD match. Animal is in early, with some shows of strength, then tags in Hawk. Hawk takes a little punishment then no sells a piledriver. Animal back in and eats some more offense from both of the Faces of Fear, seeming to work on the back. Barbarian hits a big back breaker, and Meng is back in with a camel clutch. Animal slams the mat a few times….isn't that a submission? Apparently not, as Animal is sent out of the ring and into the barricade and turnbuckle by Barbarian. Meng hits a big dropkick, that was pretty impressive! Barbarian hits a big powerbomb on Animal but he kicks out at two. Animal sells a 2nd rope clothesline in a very strange way, falling forward. Barbarian tries it again but Animal clotheslines him and tags in Hawk. Hawk is on fire, striking both Barbarian and Meng before hitting a double clothesline on them. Barbarian puts Hawk up on the top rope and Animal goes for the Doomsday Device, but Meng pushes him off the top rope. Animal eats a piledriver, and Barbarian goes for another but Hawk comes off the top rope with a clothesline for a pinfall victory. Not the typical squash type match for the Road Warriors.
Winners: Road Warriors via pinfall
Mean Gene has Kevin Sullivan in the ring talking about the dissension between The Dungeon of Doom and The Four Horsemen with Hugh Morrus by his side. Arn Anderson and Brian Pillman come down and Sullivan says that Anderson should take care of Pillman. Anderson takes Pillman to task and tells him that all that's left is tough love. Sullivan and Morrus attack Anderson and Pillman but Anderson fights back and clears out the Dungeon. Anderson tells WCW executives that he demands a match with Sullivan and Morrus, Pillman says he'll get them out this mess since he got them into it.
Sister Sherri vs Madusa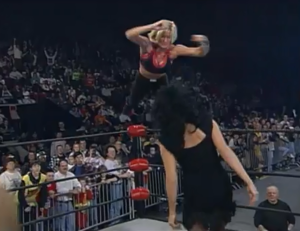 Mean Gene is back in the ring with Sister Sherri and Madusa comes out and attacks Sherri with a cross body from the top rope. Sherrie comes back and wraps Madusa's leg around the turnbuckle but Madusa comes back with a snap suplex on the outside of the ring. Bischoff is obsessed with calling these kicks silly martial arts type names like "back leg round kicks" and it really takes away from the action. Sherri comes back and goes up top, Madusa counters it and Sherri holds on to roll her up for the pinfall victory. Madusa snaps after the match, hits a german suplex that drops Sherri right on her head in an ugly landing. Madusa slams Sherri's head in the mat repeatedly before the refs get control. That all looked rough.
Winner: Sherri via pinfall
WCW Heavyweight Championship
The Giant vs Randy Savage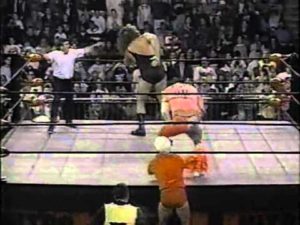 Savage attacks Giant from behind with the belt before the match and one shot after the bell rings. The ref calls for the bell and there's a disqualification. Ric Flair is out and attacks Savage before taking a big stalling suplex by The Giant. They knock the ref out and continue to work over Savage. Flair is directing Giant which is odd. Flair calls for the chokeslam and Giant obliges. Out comes Hogan with an eye wrap and chair, takes out Giant and the entire Dungeon of Doom as they come out. Flair grabs a mic and Jimmy Hart and The Giant join him and challenge Hogan and Savage. Flair challenges Savage for the World title in a cage and Giant challenges Hogan in an unsanctioned match in a cage for Superbrawl. Hogan and a ref are helping Savage out as the show closes.
Winner: The Giant via disqualification (title stays with Savage)
---
What a show this Nitro turned out to be. Entertaining with the story telling. The wrestling was alright, but the big factor was all the story progression here. They're building to WCW Superbrawl, and we'll see how that all goes down!
Chairshot Classics: NWA-TNA Episode 19 – October 30, 2002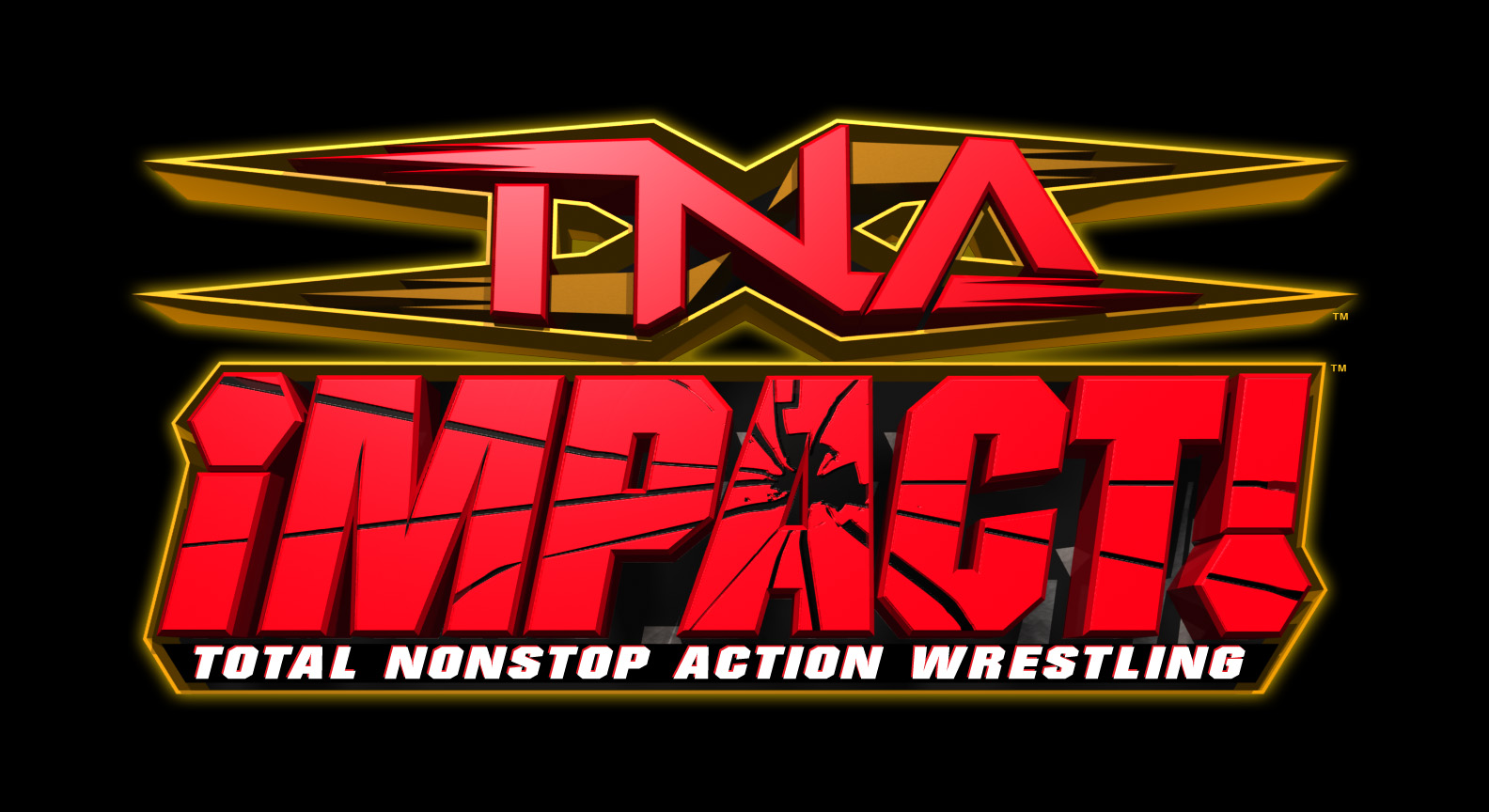 This week, TNA will start the search for Ron Killings' next opponent. Some new rules are laid down by Bob Armstrong, the mystery of Mr. Wrestling III deepens, and Amazing Red has the chance of a lifetime. How'd they do? Let's find out.
Tony Mamaluke vs Kid Kash: We go right into the match. There's a lot of standing switches and going for early pins. The first few minutes of this match consist of this and it gets boring quickly. The match was okay, it wasn't much to write home about. Kash did his best to get a decent match out of Mamaluke, but the flow of the match was just blah and there was no real chemistry between them. Kid Kash would get the win with his Money Maker finish.
Winner: Kid Kash by pinfall.
Comment: Okay match, but very boring.
To my surprise, Tenay hypes a #1 Contender's Tournament that hasn't been announced yet. The tournament consists of:
Curt Hennig vs Jeff Jarrett, Sonny Siaki vs Jerry Lynn, Syxx Pac vs Brian Lawler, and Ron Harris vs BG James.
Did we have trouble with the editing crew this week? Why would you hype a tournament that no one knew about?
We're shown a pre-show interview Tenay did with Scott Hall, who actually seemed sober. Hall said that he'd been attracted by the 'Outlaw Spirit' of TNA. That there were young guys trying to make a name for themselves and older guys that don't care and are there to have fun.  He also comments that the people who own the company, who are Jeff Jarrett, Jerry Jarrett, and Panda Energy, are too stupid to know when to quit. He also admitted that TNA is the only company that's willing to hire him.
Tenay mentioned that the only title Hall has never held in his long career is the World Heavyweight Championship. Hall said that he respected the title and would be lying if he said he didn't want it, but he also respected the TNA locker room.
When asked about Ron Killings, Hall said that he was very impressed with Killings, but Killings was going to find out that he's not as good as he thinks he is.
NWA-TNA World Heavyweight Championship Match: Ron Killings vs Scott Hall: Killings comes out to a raucus crowd, who wasted no time telling him how much he sucked. Finally fed up with this, Killings fired back by telling the crowd that if he sucked, they swallowed.
That was pretty good.
While the crowd chanted 'Overrated' at him, Killings griped about the backstage politics practiced by the former Kliq/NWO members and Curt Hennig.
Normally, I would roll my eyes at this, but it definitely explains why a group of guys who are clearly past their primes are still in a main event position.
Killings then addressed the Mr. Wrestling III situation and said that Jeff Jarrett was NOT Mr. Wrestling III. No one is sure how to take that since there had been no suspicion or implication of that at all. Turning his attention to Hall, Killings tried to use Hall's 'Don't sing it, just bring it,' catchphrase but he flubs it badly. Hall comes out and advises Killings to quit messing with the fans and to stop being Jarrett's tool because he's getting played like Ricky Ricardo's bongo drums.
Seriously, what decade are we in.
Anyway.
Once the ACTUAL match got going, it was pretty good. From the way Hall sounded once he came out for the match, I'm guessing that he'd visited the bar once his interview with Tenay was over because he was a little sloppy in places and his selling needed work. However, the match wasn't as bad as their previous encounter.
Mr. Wrestling III runs in and attack Hall, but Hall was ready and fought back before unmasking Mr. Wrestling, but he didn't show the man's face. However, Mr. Wrestling's work was done because the distraction was enough for Killings to get the pinfall. Mr. Wrestling gets his mask back on, though Tenay and West claim they saw light colored hair, as if that proves it was Jarrett, despite the build and body movements indicate otherwise.
Winner: Ron Killings by pinfall.
Comment: That was an okay match, but Killings needs a better opponent.
Apparently, we were supposed to have a video recap of the Hennig/Jarrett feud, but the video doesn't show. Jarrett comes out for a promo. He claimed that he was going to keep things short since the show is Total Nonstop Action. He had two points to make.
Six weeks ago, he'd vowed to stop griping about not getting a title shot and decided to earn it.
If I remember correctly, he made that vow while holding a bound, pissed off, little person before a match.
He thanked the NWA for putting him in the tournament and vowed to walk out of the tournament as NWA champion.
He addressed the Mr. Wrestling III situation by putting a bounty out on the masked man's hide. He didn't name an amount but stated that if anyone could tell him who Mr. Wrestling was, he'd pay whatever amount they named.
I assume there's a cap on this
At this point, Hennig comes out and he looks like he's been in the same bar or party Hall had been at and had just left. He mocked Jarrett's previous Double J and Chosen One gimmicks before throwing some shade at DDP for some reason.
I'm not sure what's the obsession with DDP, I assume there's a reason.
Hennig then implied that Jarrett himself was Mr. Wrestling III, despite the fact that Jarrett himself had beaten up Mr. Wrestling III. Hennig then vowed to kick Jarrett's ass.
Three Way Dance for NWA-TNA Tag Team Championship: America's Most Wanted vs Hot Shots vs The Michaels: The Hot Shots and Michaels get little reaction, and actually seemed to be in alliance with each other. Storm and Harris come out, and have AMW on their tights. Both men seem to be in a bad mood because the match started on the floor. This match was pretty good. Storm and Harris seemed to finally be gelling more as a team and their teamwork was much better than their opponents.
The Hot Shots and Michaels seemed to be in cahoots until it looked like the Michaels were going to win the match, then all hell broke loose. AMW would get the pin after hitting what would become known as the Death Sentence on one of the Michaels for the three.
Winner: America's Most Wanted by pinfall
As AMW were celebrating, the lights went out. When the lights came back on, Slash and Primetime Brian Lee were in the ring, attacking AMW. James Mitchell is enjoying this before getting on the mic, vowing that the New Church would do whatever they wanted for as long as he tells them until he gets what he wants, calling himself a personal messiah.
Comment: Okay match, the stuff with New Church was interesting.
In another pre-show interview, Mike Tenay talked to NWA rep, Bob Armstrong. Armstrong revealed that, in an effort to give the fans a better experience and to make sure that every title match has a clear winner, if a champion gets DQ'd or counted out, they would lose the title.
In response to locker room and fan complaints about who was getting title shots, Armstrong officially announced the #1 Contender's Tournament and the card. To keep things on the up and up, Head of Security, Don Harris would be the referee, even though his twin brother is part of the tournament.
Because that wasn't a conflict of interest or anything.
#1 Contender's Tournament Match: Ron Harris vs BG James: Before the match gets started, we find out that Syxx-Pac vs Brian Lawler won't be happening tonight because Syxx has a hip injury.
Given the storyline between Syxx and Lawler, I could make a joke about this, but I won't.
Ron Harris comes out to little reaction. Judging by the smile on his face, he seems to think he's got an in in this thing. James does his usual entrance, without talking. The match was bleh. Don Harris was not a great referee and seemed to be favoring his brother, which is no shock.
We go to the back where Jarrett and Hennig are fighting and the jobbers are trying to pull them apart. Hennig seemed to have overdone the blading because he's bleeding like crazy while Goldylocks is trying to get him help while still being a backstage reporter. Bob Armstrong, seemingly fed up with Don Harris' lackluster referee job, came out and told Don that he was done as a referee. Don was furious at the dismissal and attacked Armstrong.
The distraction and chaos gave BG James the opening he needed for a roll up win.
Winner: BG James by pinfall.
Comment: Blah. How did these two get into the tournament.
Mixed Tag Team Match: Jorge Estrada and Priscilla vs Ace Steel and Bruce: This was supposed Estrada and Priscilla vs Steel and Plumtree, but Plumtree refused, saying that he was too much of a gentleman to fight a woman, so he brought out a more…appropriate competitor, Miss TNA, Bruce.
Oh no, not this again.
This match was total crap and that's all I'm going to say about it.
Winner: Ace Steel and Bruce. After the match, Plumtree has Steel and Bruce put Priscilla over his knee so he can spank her.
Comment: BLAH!!!!
#1 Contender's Tournament – Curt Hennig vs Jeff Jarrett: Hennig comes out for the match, his head still wrapped and his face still bloody, but before he gets in the ring, Jarrett attacks him with a chair, throws him in the ring, and hits the Stroke, to the joy of the crowd.
Winner: Jeff Jarrett by pinfall.
After the match, Jarrett continued to attack Hennig before being forced to leave.
Comment: If I had to hazard a guess of what just happened, I would guess that NWA officials decided that Hennig was too messed up to wrestle.
#1 Contender's Tournament – Jerry Lynn vs Sonny Siaki: Goldylocks is with Jerry Lynn, and mentions his ongoing issues with Sonny Siaki and asks about revenge. Lynn finds the question amusing and says that, while he would love to get revenge on Siaki, he was more interested in winning the tournament and getting another shot at the NWA-TNA championship because politics have kept him from getting that far before.
After a recap of the Siaki/Lynn feud, Goldy is back, with Sonny Siaki, who is standing way too close for her comfort or mine. Siaki is being a real creep to Goldy, making a lot of innuendoes about her obsession with him and not saying much of value about the match.
The actual match was okay. It was better than last week's encounter, but Siaki seemed bored and disconnected. He didn't get much of a reaction from the fans, who were busy chanting 'Rocky Ripoff', and didn't do anything to get more from them. Siaki would get the pin after using the ropes for leverage after hitting Money Clip.
Winner: Sonny Siaki by pinfall.
Enraged, Jerry Lynn attacks Siaki and gives Siaki's knee the same treatment Siaki gave him.
Comment: That was a pretty good match, but Siaki didn't seem very engaged in the match.
Even though Syxx-Pac is out with an injury, we get a very dramatic recap of his feud with Brian Lawler and April's involvement.
Backstage, Goldylocks is with Lawler and April. Lawler looks like he's over the moon and very in love. April doesn't seem quite as lovestruck as Lawler, but she's making a good effort.
In response to Goldy's question, Lawler says that things between him and April are great. He compares their love to Antony and Cleopatra, or Romeo and Juliet, apparently missing the parts where those relationships ended pretty tragically. He kisses April and keeps talking about how wonderful things are.
This is nauseating, but he seems happy.
Lawler and April go out to a mixed reaction, but Lawler's too smitten to care. A person that I sincerely hope was a plant and not an ACTUAL fan, attacks Lawler, so Lawler pulls him out of the crowd and beats him up.
X-Division Championship Match – AJ Styles (with Mortimer Plumtree) vs Amazing Red: Red gets a great ovation, as does Styles, even with Plumtree with him. I'll admit, I was very skeptical about Amazing Red going into this match. What I've seen of his work in TNA since his debut hasn't impressed me all that much. He seemed to be a high spot guy who didn't have a lot of actual wrestling skills. I'm pleased to say that he proved me wrong, at least a little bit, in this match. Red actually showed off some wrestling skills and was able to keep up with Styles.
Styles, for his part, made Red look like a star and actually seemed a little winded halfway through the match. Plumtree, perhaps fearing his meal ticket was slipping away, grabbed Red's leg as a distraction, but Red, wisely didn't go after him. Styles would eventually get the pinfall after rolling through a hurricanrana off the top turnbuckle.
Winner: AJ Styles by pinfall.
Comment: Great match. Red looked fantastic in defeat.
We close with Don West doing his 'Please keep us employed!' promo.
Overall Comments: So how was week 19 of NWA-TNA? This week was actually pretty good. It wasn't fantastic, but it was better than some of the shows they've put on.
I was disappointed that TNA has started sliding back in their treatment of women, hopefully that's not going to become a major issue again.
One gripe I keep having is with the almost amateurish things the company is doing. If you're going to announce a tournament, you make the official announcement at the start of the show with the explanations, not just have the lead commentator dump it on the fans at the start of the show with no explanations or build.
I normally scoff and roll my eyes when people talk about backstage politics in wrestling, particularly when it comes to the Kliq. However, this week, I found myself siding with the people complaining. Hall, Syxx, James, and Hennig (who was never part of the Kliq), are all great, but you can't tell me that any of them really should be in the spot they're in. All four are clearly past their prime and struggle to keep up with the younger guys, and Hall and Hennig both seem to struggle to stay sober on the job.
The Hennig thing continues to depress me. It's sad to see a man I loved to watch wrestle decline as badly as he has. He was clearly on SOMETHING, which probably explains why his match with Jarrett was so short. I don't know how long Hennig was in TNA, but I have a feeling he's blown his chance.
Stinkers: We have another tie between the Mixed Tag match, Hennig/Jarrett, and James/Harris.
Snoozers: Lynn/Siaki. Siaki didn't seem interested, which dragged the whole thing down.
Match of the Night: Styles vs Amazing Red.
Final Thoughts: Overall, this was a good show, even with all the issues.
Chairshot Classics: WWF Survivor Series '93 – The Tradition All Americans Wait For!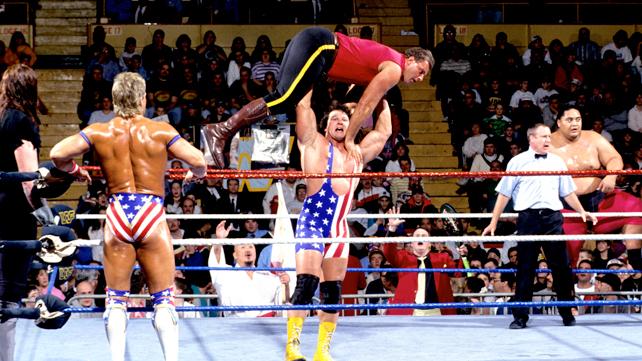 We're getting closer to WWE's annual November tradition the Survivor Series, so today we're taking a look back at another previous event! With Yokozuna still on top of the WWF mountain following SummerSlam, Lex Luger was still on his chase. Along with his team of All Americans, the stage was set for a showdown against the WWF Champion's Foreign Fanatics. Plus, this event has by far the very BEST of Bobby 'The Brain' Heenan from beginning to end!
Open: A video package is played with Lex Luger sitting with his family to talk about Thanksgiving, wishing everybody a happy holidays.
In The Arena: The crowd rises for the singing of our National Anthem.
Match #1 – Traditional Survivor Series Elimination Match: Irwin R. Schyster, Diesel, 'The Model' Rick Martel & Adam Bomb w/Harvey Wippleman vs. The 1-2-3 Kid, Marty Jannetty, WWF Intercontinental Champion Razor Ramon & 'Macho Man' Randy Savage
Razor introduces Savage as his new partner to replace Mr. Perfect. Martel & Ramon to kick things off, The Model with some words for The Bad Guy, Razor pushes him and receives a slap to the face in return. Collar & elbow tie-up, Martel gains a wristlock, the champion counters to one of his own, switches to a hammerlock and they trade reversals before The Model uses a drop toe hold. He goes to a side headlock, The Bad Guy counters again to a hammerlock, Martel working his way up and breaking out with a back elbow, celebrates a little early and gets slapped in the face for it.
The Model strikes with kicks and fists, irish whip to the corner is reversed, Martel hops up and over the champion charging in, runs back across to the 2nd rope for a crossbody, Razor switching the leverage and gets a count of 2. He shoots The Model to the ropes, misses a wild right hand, Martel attempts another crossbody, Ramon catching him in the air for a fallaway slam and another 2 count. The Model goes to the breadbasket with left hands, sends The Bad Guy to the ropes for a kick to the midsection, Razor catches the foot, spins him around and splits him with an atomic drop. Macho sneaks in a jab, the champion follows with an inverted atomic drop, hits the ropes and flattens The Model with multiple clotheslines.
Martel rolls to his corner and tags out, Adam Bomb stepping in and goes face-to-face with The Bad Guy, locking up and Bomb powers Razor back into the corner. They tie-up again and this time Adam powers Ramon to the canvas, the champion going back in for another tie-up and gets caught in a side headlock. Razor pushes him away to the ropes, Bomb explodes off with a shoulder knockdown, the champion looking befuddled and obliging Adam in a test of strength. Bomb grinds The Bad Guy to his knees, Ramon uses the crowd to work back to his feet, uses kicks to the breadbasket and then a northern lights suplex for a cover. Martel hits the ring to break the count at 2 with an elbow drop, Razor sees it coming and avoids it, The Model hitting his partner instead.
Wippleman gets into the ring and shoves Martel, The Model returning fire and punches Harvey to his backside, Adam making him pay with right hands. Diesel comes into the ring to break it up, IRS has to get in between everybody and settle them down. Order is restored, The Kind tagging in, goes to a side headlock on Bomb, gets pushed away to the ropes and floored by a big shoulder knockdown. Adam shoots him back in for a back body drop, 1-2-3 Kid counters with a sunset flip, Adam simply grabbing him by the throat, elevating him into the air and dropping him face-first on the mat. Diesel gets a tag and hammers The Kid, tosses him clear across the ring, then plants him with a gutwrench suplex.
He shoots Kid to the ropes and clocks him with a big boot, Diesel sending him back in for a side slam, but it's countered into a headscissors takedown. Savage quickly gets a tag and runs to the top turbuckle for a double axe handle, clobbers Bomb off the apron with a clothesline, catches Schyster coming in with a back elbow, Martel following to be hit with a body slam. Macho Man splits IRS with an atomic drop, he collides into The Model, both men spilling to the outside, Adam sliding in from behind and ambushing Savage. He hammers Macho in the corner with right hands, irish whip across is reversed, Bomb collides with Diesel who has just gotten back to his feet, Savage clearing Adam to the outside with a high knee to the back.
He slams Diesel, goes back upstairs, scores with the Elbow Drop and gets the elimination. Diesel has been eliminated. The Model attacks Macho from behind and chokes him in the corner, irish whip across is reversed, Savage hitting a back body drop off the rebound. He drives Martel head-first into the top turnbuckle, falls backwards to a tag after taking a big right, IRS entering the match. Schyster strikes first off the collar & elbow tie-up, pummels Savage in the corner, shoots him to the ropes for a clothesline, Macho ducking it and hits a crossbody for a 2 count. He flattens IRS with multiple clotheslines, tag to Razor, The Bad Guy working over the shoulder and goes to an armbar. Schyster finds a standing position, Ramon switches to a side headlock, gets pushed away to the ropes, IRS drops down and The Model delivers a cheap shot from the apron.
He tags in and comes off the 2nd rope with a double axe handle, cracks the champion with a backbreaker, then hammers away at the lower back with a knee drop. Bomb re-enters the match, shoots The Bad Guy to the ropes for a back elbow, tags back out and Martel again comes off the 2nd rope with a double axe. Another quick tag, IRS snapmares Razor over, drops an elbow, follows with a leg drop and gains a count of 2. He utilizes a rear chinlock to wear the champion down, Savage tries to come in and help, gets cut-off by the referee and it allows The Model to switch out without a tag. Martel releases it and sends The Bad Guy to the ropes for a back body drop, Razor counters with a big knee lift, The Model tagging IRS and preventing Ramon from making a tag.
The champion battles back, irish whip to the corner is reversed, Schyster charges in and meets a boot to the chin, Macho getting the tag. Savage slingshots into the ring and immediately gets caught with a knee lift, IRS whips him to the ropes for a back body drop, Macho Man avoiding it with a kick, then drives him head-first into the top turnbuckle after a high knee to the back. He drops Schyster throat-first on the top rope, body slams him in the middle of the ring, climbs the corner and Crush makes his way to the aisle. Savage notices him, drops to the floor, his teammates prevent him from going after Crush and he heads into the ring, still focused on the big Hawaiian.
He climbs to the 2nd rope and taunts Crush to come fight, IRS grabs Macho from behind, schoolboy and he gets a 3 count. 'Macho Man' Randy Savage has been eliminated. Savage sprints to the back, Jannetty taking the ring now, locks up with Schyster and goes to a side headlock. IRS sends him away to the ropes, attempts a hip toss, Marty blocks and hits one of his own, follows with a dropkick and covers for 2. Schyster quickly tags out, The Model drives Jannetty back into the corner and hits a flurry of left hands, buries knees into the abdomen, tag to Adam Bomb and he plants Marty with a back suplex. He chokes him on the top rope, delivers kicks to the ribs in the corner, Martel re-enters and applies an abdominal stretch, using Bomb for extra leverage.
They get caught and the hold is broken, The Model shoots Jannetty to the corner, runs in to deliver a spear, misses and drives his shoulder into the ring post. The Bad Guy tags in as IRS enters, Schyster gets met with with heavy punches, the champion whips him hard back-and-forth into the turnbuckles, grabs him by the neck and plants him with a chokeslam. Ramon says it's over and sets for the Razor's Edge, drives IRS into the mat and his night is finished. Irwin R. Schyster has been eliminated. Martel ambushes Razor from behind, pummels him in the corner, the champion turns the tables on his, Adam hits the ring and it causes everyone to join the fray.
The Model shoots The Bad Guy to the ropes for a back body drop, the champion puts on the brakes, picks him up for the Razor's Edge, IRS taking advantage of the referee being occupied and clocks The Bad Guy with his briefcase. The champion spills to the outside, the official puts on the count and he can't make it back in. Razor Ramon has been eliminated. The Kid steps in, Wippleman holding a conference with his squad, collar & elbow tie-up with Martel, The Model going to the ribs with a knee for the early advantage. Irish whip to the ropes is reversed, 1-2-3 Kid drops leapfrogs over, drops down, measures The Model for a punch, but Martel cartwheels around him to avoid it.
They tie-up again, Kid with a side headlock, gets shoved to the ropes, The Model leapfrogs over this time, gets caught with a Japanese arm drag and The Kid grabs a wristlock. Martel easily escapes after a forearm shot and tags out, Bomb coming in and swinging wildly with a right hand, Kid ducks it, picks the legs and hits the ropes. Adam tosses him into the air, The Kid countering with a dropkick that sends him to the outside, Kid hitting the ropes again and takes flight with a suicide dive. Bomb catches him in the air and slams him on the floor, throws The Kid back into the ring, climbs to the apron and slingshots in with a clothesline. He whips 1-2-3 Kid hard into the turnbuckles, does it again and follows him in, Kid side-stepping away, uses a schoolboy and gets a near fall.
The Kid using stiff kicks, crawls towards his corner, Adam prevents him from getting there and tags out, The Model dropping an elbow to the lower back, plants 1-2-3 Kid with a gutwrench suplex and gets a count of 2. He shoots him to the ropes, doubles him over with a fist to the breadbasket, Martel to the 2nd rope for a double axe handle, but Kid counters with a punch to the ribs of his own. Marty gets the tag and fires away with right hands, whips The Model to the ropes for a jumping back elbow, sends him back in and goes to the abdomen with a fist, following it up with a knee lift. Jannetty shoots him to the corner, rams him head-first into the top turnbuckle over and over, snapamare into a cover and he gains a 2 count.
The Kid tags in and they send Martel to the ropes for a double back elbow, whip to the corner is reversed, The Model charges in, 1-2-3 Kid hops up and over into a sunset flip and that's a 3 count. 'The Model' Rick Martel has been eliminated. Adam Bomb hits the ring and chases Kid to his corner, Marty tags, drives a shoulder to the abdomen from the apron, slingshots in with a sunset flip and puts it away.
Winners & Sole Survivors: The 1-2-3 Kid & Marty Jannetty
EA's Take: Crowd is on fire tonight, especially for this opening contest that was pretty good as far as Survivor Series elimination matches go. This was a pretty good blend of power, speed, technical skills, star power, new and familiar. A nice blend of veterans and up-and-comers like Adam Bomb or The Kid, Savage stepping in for Mr. Perfect who had his comeback attempt derailed by more back issues. Macho was having issues with Crush and served as the "perfect" replacement in his PPV return to the ring after serving as a color commentator on RAW. The only other story line issue here is between Razor & Martel, The Bad Guy having won the IC Title after defeating The Model. Shawn Michaels had been suspended and stripped of the championship, but had returned by this time and claimed to be the rightful title-holder.
Backstage: Todd Pettengill is standing by with Shawn Michaels, The Heartbreak Kid claiming he's still the Intercontinental Champion because the gold never left his waist. Pettengill shows some footage from earlier today in which Family Feud's Ray Combs for comments by The Hart Family about their match tonight. Michaels mocks The Harts some more after watching the tape, informs Bret that he's got a score to settle with him after last year's Survivor Series. His Knights will easily handle the retired Hart brothers and if Stu sticks his nose in it, Shawn vows to waffle him.
In The Ring: Ray Combs of The Family Feud introduces The Hart Family seated at ringside, then takes a survey about our next match before announces the participants.
Match #2 – Traditional Survivor Series Elimination Match: Shawn Michaels & His Knights (Blue Knight, Red Knight, Black Knight) vs. The Harts (Bret 'Hitman' Hart, 'The Rocket' Owen Hart, Bruce & Keith) w/Stu Hart
Combs joins commentary for the match, Shawn & Owen to start the action, Michaels wants a piece of Bruce, The Rocket tagging out. Collar & elbow tie-up, Shawn gains a side headlock, tags The Red Knight, Bruce sending Michaels off to the ropes. Bruce drops down and Red does the same to avoid a collision, Bruce pushes them into one-another and Shawn has some choice words for Red. Michaels stays in the ring, Bruce backs him into the corner off the tie-up, chops away at the chest, irish whip across is reversed, Shawn doubling him back towards his corner and Bruce levels Red & Blue with a double clothesline to knock them off the apron.
Black grabs Bruce and holds him, Shawn with a head of steam for a high knee, Bruce side-steps it, Black gets drilled instead and Bruce follows with an arm drag to Michaels before making a tag. Keith enters the ring and grabs a wristlock, switches to an armbar, then to a hammerlock. The Heartbreak Kid counters out with one of his own, Keith with a back elbow to escape it, hits the ropes and ducks a clothesline, Shawn ducks for a back body drop, Keith puts on the brakes, sends him back to the ropes for a slam, Michaels slipping out and scoring with a kick. He hooks him for a vertical suplex, Keith counters into a small package for a 2 count, quickly catches Shawn with a drop toe hold and goes back to an armbar.
He switches to a standing wristlock, Michaels uses a body slam to escape and makes a tag, Red taking the ring and attempts an elbow drop, but doesn't find the mark. Keith quickly goes into an arm drag and another armbar, tag to Owen he works over the shoulder with a wristlock, Red Knight counters into one of his own, The Rocket rolling through to break away, but takes a thumb to the eye. Red shoots him to the ropes, drops down, goes for a hip toss, Owen blocks it and hits one of his own, follows with a Japanese arm drag and a dropkick, Red falling back into his corner and tagging out. Black comes in and runs right into a hip toss, The Rocket with multiple arm drags, staggers to the wrong corner and pays for it, Owen tossing Black back to his own corner and there's tags on both sides.
Bret steps in with Blue and ties up, Blue rips at the eyes, whips him to the ropes for a kick to the breadbasket, The Hitman catches his foot, spins him around and splits him with an atomic drop. He follows with an inverted atomic drop, hits the ropes and flattens Blue with a clothesline, makes a cover and gets a count of 2. Tag back to Keith, fireman's carry takes Blue over, he slaps on an armbar, makes a tag, Bruce coming in to maintain the hold. Blue finds his footing and sends Bruce off to the ropes, Shawn sneaks in a cheap shot to the lower back, Blue taking the opening to deliver a body slam, making a tag to Michaels who cracks Bruce with a backbreaker.
The Heartbreak Kid drops multiple elbows to the lower back and tags out, Red comes off the 2nd rope with a double axe to the spine, throws Bruce with a butterfly suplex and gets a near fall. Black tags in and pummels Bruce with right hands, Bruce blocks one and goes into a backslide for a quick 2 count, Shawn quickly getting a tag and puts the boots to Bruce to stop any momentum. Bruce spills to the outside under the bottom rope, Michaels goes out to bring him back to the apron, looks to drive him head-first into the top turnbuckle, Bruce blocking it and returning the favor, but he's too close to the wrong corner and gets dropped by Red.
The Heartbreak Kid sends him to the ropes for a clothesline, Bruce ducks it, levels Michaels with one of his own, tags on both sides and The Hitman fires away on Black with rights, sends him to the ropes for another to the ribs, then rolls him up for a near fall. He follows with a small package for another quick 2, cracks Black with a backbreaker, comes off the 2nd rope with an elbow drop, hooks the leg and Shawn breaks the count at 2. Tag to Owen, double irish whip to the ropes, The Rocket clocks Black with a spinning heel kick, lateral press and now Blue hits the ring to break it up before the match falls apart with everyone paired off in opposite corners. Four way irish whip, Michaels & His Knights all collide into one another and the ring clears, Owen goes to the top rope, scores with a dropkick to Black, hooks the leg and gets 3. The Black Knight has been eliminated.
Combs shouts out that we have a winner, but of course that's not the case. Red tries to ambush Owen after the pinfall and gets taken out at the knee, The Rocket targeting the left leg and he makes a tag to Bret for a wishbone. The Hitman keeps on the injured limb, Keith re-enters the match to do more of the same, ties the leg up in the ropes and drives knees to the joint before the ref forces a break. Red uses the opening to score with a big knee lift, tries to reach for a tag, Keith cuts him off, drags him back to the corner and brings Bruce in for more punishment to the knee. Hitman re-enters for another quick wishbone, tag back to Keith who goes back to the leg, Red kicks him away and Keith is sent head-first into the top turnbuckle.
The Red Knight strikes with fists and headbutts, snapmares him over for a knee drop and misses the target, Keith immediately locking on a figure four. Shawn steps in to break it up which baits in Bruce, the official is distracted, Blue Knight switching out without a tag and he pounds Keith with clubbing blows and chops. Keith turns the tables and fires away, irish whip to the ropes is reversed, Red trips Keith up as he hits the ropes, Michaels slingshots in with a diving headbutt to the shoulder and Blue follows with a leg drop on the arm. He goes to work on the shoulder joint with elbows and locks in an armbar, The Heartbreak Kid tags in, drops a double axe to the arm off the top, drives Keith's shoulder into the top turnbuckle multiple times, then wraps it around the ropes and makes a tag.
Red re-enters and keeps on the left arm, pulls Keith under the bottom rope in the corner, drives the shoulder into the ring post and climbs back inside. He positions Keith under the bottom rope and catapults him throat-first into it, Blue gets a tag, drops another leg on the left arm, plants him with a hammerlock body slam, drops another leg and tags out. Shawn goes back upstairs, Blue launches him into a splash, Keith rolls away to avoid it, Bret gets the tag and Michaels quickly tags right out. Red steps in and is met by stinging right hands, irish whip to the ropes is reversed, Red Knight attempts to leapfrog over, Hitman catches him, drops him flat on his back and slaps on the Sharpshooter for the elimination. The Red Knight has been eliminated.
The Blue Knight steps right in and levels Bret before he even releases the Sharpshooter, puts the boots to The Hitman and then dumps him on the outside. Keith comes around ringside to check on him, the official hops out to get Keith back to his corner, Michaels taking the opportunity to drop a double axe on Bret from the apron and throw him back inside. Blue plants Hitman with a vertical suplex for a count of 2, drops an elbow for a quick 1, then drives Bret face-first into Shawn's boot before tagging him. The Heartbreak Kid whips Bret hard into the turnbuckles, drives knees to the lower spine, hooks the leg and gains another 2 count. Irish whip back to the ropes and Michaels connects with a jumping back elbow for another 2, grounds The Hitman with a rear chinlock, the ref checking the arm, but Bret is able to keep it up on the third attempt.
Hitman works to a vertical base, hits the ropes, Shawn goes to the breadbasket with a knee, tag to Blue and he drops a headbutt to the lower abdomen for a near fall. Blue Knight backs Bret into the corner and drives shoulders to the ribs, shoots him across and charges in, The Hitman gets the boots up, hops to the 2nd rope for a clothesline and he crawls to a tag. The Rocket springs in and fires away with fists, scores with a dropkick, puts Blue in the corner and climbs to the 2nd rope for a barrage of punches, then plants him with a body slam. Owen comes off the 2nd rope with an elbow drop and makes a cover, Michaels hits the ring to break it up, Bruce comes in to meet him with heavy rights, then teams up with Owen for a double noggin knocker.
He shoots Shawn at The Rocket, Shawn with a baseball slide under Owen's legs to duck to the outside, turns around and Stu clocks him with a left. Owen slingshots over the top with a crossbody and rolls Michaels back in, whips him into a collision with Blue, goes up top for a crossbody, Shawn ducking it, but The Rocket hits Blue into a cover. The Heartbreak Kid tries to break it up with an elbow drop, misses Owen and hits his partner, Bruce & Owen with a double clothesline to dispose of Michaels, The Rocket locks a Sharpshooter on Blue Knight and he gives. The Blue Knight has been eliminated.
Shawn is left all by himself now, Michaels looks to take a walk and gets cut-off by Bret, Hitman throws him back in the ring, and Owens splits him with an atomic drop. The Heartbreak Kid staggers into the wrong corner and meets a succession of fists, Bruce re-enters and drops multiple knees for a count of 2, sends Shawn to the corner, charges in and runs into a back elbow. Michaels uses a blatant choke, drills Bruce with a superkick, hooks the leg and only gets 2. He whips Bruce to the ropes for a back body drop, Bruce puts on the brakes and counters with a kick, tag to Bret and he steps in for an inverted atomic drop.
He whips Shawn hard into the turnbuckles, catapults him back into the buckles, drops an elbow, lateral press and a near fall. The Hitman plants him with a side russian leg sweep for another 2, looks for a backbreaker, Michaels rips at the eyes to avoid it, Owen tags himself in, sends The Heartbreak Kid to the ropes and tosses him with a belly-to-belly suplex for a near fall. Another whip to the ropes is reversed, Michaels drops down, Owen collides with Bret on the apron and sends him flying into the barricade, Shawn takes advantage of the distraction, schoolboy on The Rocket and a count of 3. 'The Rocket' Owen Hart has been eliminated.
Bruce & Keith are on the floor checking on Bret, meanwhile Owen is losing his temper in the ring, Heenan tosses Shawn a bottle of water and The Heartbreak Kid gets a brief recoup. Bruce slides into the ring and meets him with right hands, flattens Michaels with a clothesline and gains a 2 count. He shoots Shawn in and locks in a sleeper hold, The Heartbreak Kid pulls Bruce into the top turnbuckle to break the hold, Bruce tries to use a side headlock, gets pushed away to the ropes, both guys colliding heads and dropping to the mat. Bruce reaches a tag, Keith whips Shawn to the ropes for an abdominal stretch, Michaels powers out with a hip toss, Keith now reaching a tag to The Hitman.
Bret comes in and pummels The Heartbreak Kid with punches, shoots him into the corner and turns him inside-out, sends him back across, Michaels landing planked across the top turnbuckle. Bret with kicks to the abdomen, Shawn gets crotched on the top rope, Hitman sweeps the legs for the Sharpshooter, Michaels ducks out under the bottom rope and runs to the back, getting counted out.
Winners & Sole Survivors: Bruce Hart, Keith Hart & Bret 'Hitman' Hart
After The Bell: Owen comes back out to seemingly join in on the celebration, shoves Bret and an argument ensues. The Rocket is still hot about the way he was eliminated, Bruce & Keith attempt to reason with him, but Owen won't hear it and he's left in the ring to celebrate alone to a chorus of boos. Todd Pettengill catches up with Owen for a word as he makes his exit, but Owen doesn't want to talk.
EA's Take: A painfully long match that was never the scheduled or planned contest from the beginning. Shawn Michaels was inserted into this rivalry as a placeholder for Jerry 'The King' Lawler after The King was caught under some legal issues. Hence the "Knight" gimmick, which makes a little more sense knowing The King was supposed to be the team captain. Bruce & Keith were pretty boring in the ring to be honest, but thankfully Bobby Heenan's Hart Family zingers kept me interested throughout. The Blue Knight was played by Greg 'The Hammer' Valentine, The Red Knight was Barry Horowitz and Black was a man named Jeff Gaylord that never really gained any notoriety. This match would mark the beginning of Owen's famed heel turn, an angle that truly helped him make a mark on the industry, however he'd give an alignment with Bret one last shot at the Royal Rumble.