Chairshot Classics: WCW WrestleWar '89 – Music City Showdown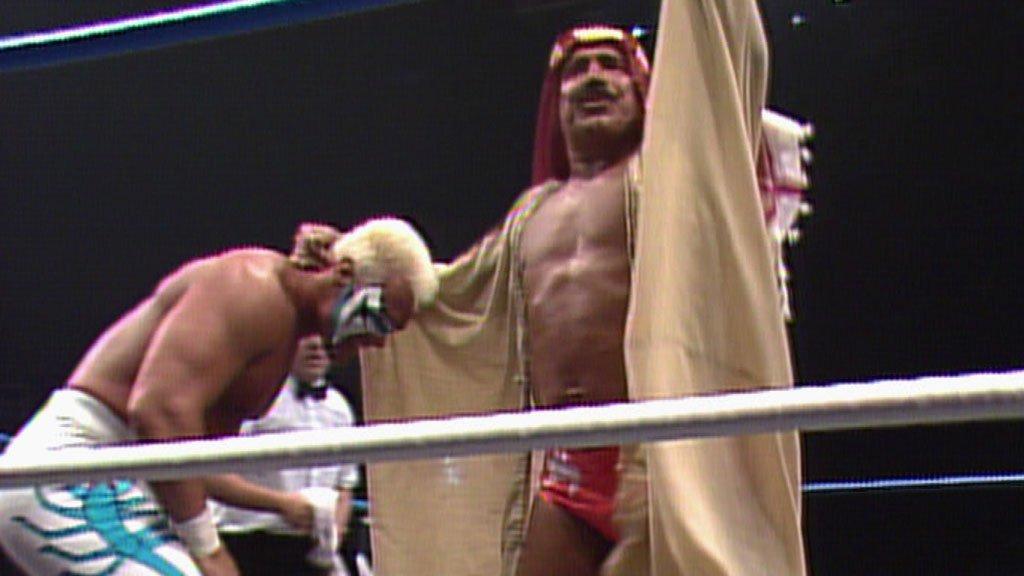 We've hit the beginning of the final year of the 1980's and another new pay-per-view for WCW and the NWA, WrestleWar 1989! After venturing into the month of January in 1988 and being opposed by the inaugural Royal Rumble on cable television, this year WCW waits until early May, just over a month after WrestleMania V where the Mega Powers exploded. A questionable decision to have a PPV on the heels of one of WWF's most successful? The Magic Eight Ball is telling me it's likely. Regardless, let's get to the show!
Open: Jim Ross & Bob Caudle are ringside to welcome us to the show before sending it to the ring. Ring Announcer Gary Michael Cappetta introduces The Oak Ridge Boys for our National Anthem. We go back to Ross at ringside, JR explaining that the NWA has stepped in and disallowed he stipulation of Hair vs. Hair for the US Tag Titles, however we will still see those titles on the line. He then sends us to a video package to run down the entire card.
Match #1: The Great Muta w/Gary Hart vs. Doug Gilbert w/Eddie Gilbert
The Great Muta lures Gilbert in and delivers a kick to the mid section. Another karate kick to the chest from Muta before dumping Gilbert outside. Gilbert is thrown face first into the gate. Back to the ring, and they run the ropes. Gilbert is able to land a high cross body and a clothesline. Muta rolls to the floor to regroup. Back in the ring, they lock up and Muta rakes Gilbert's eyes several times before landing an aggressive elbow.
Irish whip to the rope, and Muta does a handstand roll and splashes him in the corner. They run the ropes again – Muta looks for a cross body but Gilbert reverses it and slams his face into the mat. Muta reverses the momentum with another eye rake. He goes to the top rope but misses a moonsault. He lands on his feet though and drop kicks Gilbert to the outside. Muta goes flying with a body press and he rolls Gilbert back to the ring. Muta delivers a back breaker. This time he lands the moonsault and gets the pin.
Winner: The Great Muta (Moonsault)
EA's Take: Really basic stuff here to begin the show and other than some high-flying from Muta, it's essentially a squash match. Keiji Mutoh (or The Great Muta) had arrived in WCW less than two months prior alongside Gary Hart, who proclaimed Muta was the son of The Great Kabuki who he previously managed. He immediately embarked on an undefeated streak and gained a push. Doug Gilbert, the younger brother of Eddie…well, that's primarily all he's known for. He was a solid worker and we'll see him make his way around multiple companies like the WWF, USWA and ECW, but really he was another in a long line of people that got into the business because they were related to someone in the business.
Match #2: 'Hacksaw' Butch Reed vs. Ranger Ross
Ranger Ross comes to the ring with a color guard. The two men circle – they lock up and break it off. Side headlock takedown by Ranger Ross and he holds the submission on the mat. They work to their feet and run the ropes. Ross can't move Reed with a shoulder tackle, but he delivers a hiptoss. Reed holds the ropes in the corner but Ross pulls him off. Another side headlock by Ross.
Reed works him to the corner, Ross reverses an Irish whip but Reed comes off the turnbuckle with a clothesline. Snapmare takedown by Reed who follows it with a stomp to the head. Teddy Long is now ringside and scouting the match. Ross delivers a bunch of right hands, but Reed comes off the ropes with a kick to the chest. Snapmare takedown and several heavy elbows by Reed. He applies a lateral press but only gets a 2 count. Reed keeps Ross on the mat with a reverse chin lock and uses the ropes for leverage.
The referee checks the arms but he only gets 2. Back to their feet, and Ross delivers some elbows to the midsection but Reed pulls him back down. The referee finally catches Reed's foot on the ropes and breaks the hold. Reed stays on him with rights. They run the ropes and Ross is able to get a European take down. 2 huge dropkicks and knocks Reed out of the ring, and Ross gives chase by leaping over the top rope.
Reed is rolled back in the ring, but he catches Ross with a cheapshot as he was trying to enter. Reed delivers a vertical suplex from the apron and goes to the top rope. Ross gets up to his feet but he's stunned, and Hacksaw flies at him with a shoulder tackle. This is enough to get the pin.
Winner: 'Hacksaw' Butch Reed (Shoulder Tackle)
EA's Take: Ranger Ross was surely athletic, but it's funny how Reed had a way to burn match minutes with long reverse chin locks. This is clearly the start of a new managing gimmick for Teddy Long as he scouts the ring from the outside, which there will be more of in the future. Ross obviously comes from a military background and got his start with Continental in Tennessee, but to say he's not remembered may be an understatement. Reed is fresh off his run with the WWF, but toiled in the mid-card of WCW upon his arrival, which is exactly what he was doing in New York.
Match #3 is a Bullrope Match: 'Cowboy' Bob Orton w/Gary Hart vs. 'Captain Redneck' Dick Murdoch
The two play tug of war with the rope and Murdoch bests him first. Orton is cornered and Murdoch threatens him with the bell. He swings and misses but he's able to land some rights with the fist. Orton turns the tables and replies with shots of his own. Orton tries to use the post to his advantage but Murdoch rolls out to the floor to meet him. Orton tries to run away but he's stopped by the pull of the rope. Muroch rolls into the ring.
Orton tries to get away but he's pulled in. They two exchange blows but Orton takes control with some kicks and an elbow. Murdoch is down in the corner and Orton stays right on him with knees. Orton is able to land a straight right with the cowbell in hand. Orton continues to stomp Murdoch and he gets a 2 count. Murdoch backs Orton off with a right hand to the midsection but he's slow to get up. Instead Murdoch takes off his cowboy boot and uses it as a weapon. The crowd enjoys that move. Orton suffers more blows with the boot.
Orton is sent with an Irish whip to the corner and he comes off the turnbuckle and takes another shot with the cowboy boot. Murdoch only gets a 2 count. Back to their feet, Orton stops the hypothetical bleeding and knocks Murdoch down with a couple rights. Orton stomps the back of the head, picks up Murdoch, whips him to the ropes and delivers an elbow. Orton goes to the top rope but Murdoch is up first. He uses the rope to pull Orton down and he immediately hogties him! Murdoch delivers a few elbows before getting the 1-2-3 on the helpless Orton.
Winner: 'Captain Redneck' Dick Murdoch (Elbow Drop)
After The Bell: A complete melee in the ring involving the wrestlers, manager and referee Nick Patrick. Orton is able to get the rope around Murdoch's neck and he practically hangs him from the apron.
EA's Take: These sort of gimmick matches are never scientific and to me all Bullrope matches are the same. The Cowboy made his return to just a month prior and immediately put himself beside Gary Hart, solidifying his heel status from years past. There was some backstory here, as the feud with Murdoch began after getting a cheap win, but it's obviously a secondary feud on this card. His WCW run won't last long though and he'd unsuccessfully attempt a comeback to the WWF later in the year, essentially finishing his career.
Match #4: The Dynamic Dudes (Shane Douglas & Johnny Ace) vs. The Samoan Swat Team (Samu & Fatu) w/Paul E. Dangerously
Dangerously introduces himself in a very familiar way and introduces The Samoan Swat Team. The DDs come down to the ring wielding skateboards. All 4 men are in the ring, and Tommy Young demands they pick starting competitors. It's Ace and Fatu to start. They lock up and let go. The crowd chants Paul E sucks. Ace can't seem to damage Fatu with some kicks. Fatu misses a clothesline and Ace drives his head to the mat but he's right back up. Samu rushes the ring but he's taken down with a bodyslam. Ace delivers an arm drag to Fatu and tags in Douglas. They run the ropes and Fatu thinks Douglas has stumbled outside the ring.
Paul E barks for him to turn around where Douglas is waiting for him with a standing drop kick. The crowd is loud for the Dudes. Samu is tagged in and he immediately takes over on offense chopping ace to the ground. They run the ropes once again and Shane climbs up Samu's shoulders and flips him down to the mat. Wristlock applied to Samu and Ace is tagged in. The Dudes exchange wrist locks and tags before Ace and Samu work the action to the Samoan side. Ace backs Samu into the ropes and when he goes to whip him to the opposite rope, he didn't notice that a tag was made to Fatu. He leeps over Samu's back but he's met with Fatu's big right foot.
Both Samoans stomp away and Dangerously brags on the outside. Fatu delivers a barefoot to the midsection. Ace tries to counter Fatu's hip toss but can't move the man. Famu clotheslines him down to the mat. Samu is tagged in. Ace tries fighting back but Samu delivers a big chop in the corner. Ace reverses an Irish whip to the corner and Samu runs right into the turnbuckle. Ace delivers kicks to the midsection but Samu catches his leg. Dangerously distracts the ref and the Samoans double team Ace. Johnny is reeling and finds himself in a nerve submission. Tag is made to Fatu and he comes off the top with an axehandle.
Fatu chokes Ace on the mat and Fatu tells off the referee who tries to break it up. A reverse chin lock is applied as Ace tries reaching out for a tag. A vicious headbutt by Fatu, but Ace is able to reverse the Irish whip and hits Fatu with a back body drop. Ace tries following it with a drop kick but he misses. Tag is made to Samu who prevents Ace from getting to his partner. Ace is moved to the corner so Fatu can hold him in place for a punch, but Ace ducks and Samu nails his partner. Ace crawls for his corner but Samu stomps him down. Samu follows it up with a side slam and a 2 count. Dangerously demands the ref count faster.
A tag is made to Fatu and the team delivers double head butts. Ace ducks a clothesline but can't avoid Fatu's power slam. Another 2 count as Ace kicks out of a pin. Samu is tagged in once again and they both rake the eyes of Ace. Johnny can't make the tag. Shane tries to enter the ring which distracts the ref so the Samoans can get another double team in. Samu holds Ace down on the mat with a shoulder submission. Shane gets the crowd behind them. Ace finally fights his way out with elbows to the midsection and driving Samu's head to the mat. He still can't make the tag. They run the ropes and Samu catches Ace's foot.
He works him down to the mat and Samu applies a Boston Crab. Dangerously grabs the mic and taunts Ace. Back to their feet, Ace tries a kick to the midsection but his foot is caught. He hops around before pulling himself to Samu's torso and flipping him to the mat. Hot tag is finally made to a fired up Shane Douglas. He delivers an Irish whip and a dropkick. Fatu tries to rush the ring but he's met with a dropkick as well. Samu gets another dropkick . He whips Samu to the ropes but is met by the Samoan's clothesline.
A tag is made to Fatu who immediately goes to the top rope and lands a huge splash. A pin attempt is broken up by Johnny Ace. Samu knocks Ace out of the ring. Fatu scoops Douglas for a powerslam, but Ace heads for the top rope. He dropkicks his partner on top of Fatu while the referee is distracted by their opponents. The Dynamic Dudes pull off the upset.
Winners: The Dynamic Dudes (Douglas/Assisted Full Body Press)
EA's Take: WOW! Tons of energy and tons of action in this one! Fatu was a little smaller than in his Rikishi days and boy does he look like he could be an Uso. I was very impressed with the agility of the Samoans, but I mean, it runs in their blood, right?. Johnny Ace definitely worked 75% of the match before that hot tag. Ric Flair and Ricky Steamboat's rematch is a classic, but this is easily the most underrated match on the card, despite how ridiculous The Dudes' gimmick is.
Match #5 for the NWA United States Championship: NWA United States Champion Lex Luger vs. Michael 'P.S.'Hayes w/Hiro Matsuda
Hayes wants Luger to back off so he can strut. The too lock up and Luger powers Hayes to the corner. Nick Patrick breaks it up to the dismay of the crowd. Another lock up and Hayes holds a side headlock. Luger throws him to the ropes but Hayes hits a high cross body press and gets a 1 count. Hayes applies another side head lock and laughs at the crowd. They run the ropes and Hayes escapes a military press attempt, instead hitting Luger with a Russian leg sweep.
Another tie up and Patrick breaks it up in the corner once again. Luger slaps Hayes across the face, and the frustrated Hayes paces outside. Back in the ring, another tie up. Luger blocks a round house and slaps Hayes once again. The two exchange rights before Lex delivers a back body drop. Hayes rolls out of the ring and the crowd taunts him. They go for the tie up, but Hayes kicks him into the midsection. He drives Luger's head into the turn buckle and flies through the air with a clothesline. Hayes signals it's time for the DDT but Luger pushes off. Hayes falls on the back of his head and rolls out of the ring once again. Hayes is upset by the "Luger" chants.
He tells the crowd to shut up. They lock up and Luger holds onto an impressive wristlock. He turns it into an armbar submission on the mat. Hayes fights back and they run the ropes. Hayes can't get Luger down with a sunset flip and instead Luger goes back to the submission after an arm drag takedown. The two work their way to their feet. They run the ropes and Luger catches Hayes in mid air and puts him down with a back breaker. Back to the wristlock from Luger. Hayes delivers unsuccessful shots to the mid section. They work their way to the corner and Hayes delivers a cheap shot and follows it with some chops.
Irish whip by Hayes and he follows him with a clothesline. Hayes taunts but Luger didn't go down. Luger catches him with a choke hold and follows it with 10 punches in the corner. They run the ropes and Luger misses a cross body slam and tumbles over the top rope. Hayes opportunistically attacks Luger on the outside and runs him into the ring post. Hayes brings Luger back into the ring with a vertical suplex and gets a 2 count on the lateral press. Hayes stays on Luger and holds him in a reverse chin lock. Luger strengths his way up to a vertical base and delivers elbows. Luger is freed up and they run the ropes. Hayes' foot is caught, but he breaks it up before Luger can capitalize. Hayes hits Luger with a bulldog and gets another 2 count.
It's right back to the reverse chin lock by Hayes. Luger works his way up as the crowd cheers. Luger delivers a few blows but Hayes rakes the eyes and sends him outside. Matsuda rams Luger's face into the railing while the referee is dealing with Hayes. Back to the ring, and Hayes hits a body slam and an elbow. Luger kicks out at 2. Hayes drops fists on Lugers face and taunts the crowd from the 2nd rope. Another reverse chin lock by Michael Hayes. Hayes barks that he's "got him down". Referee checks the arms but only gets two.
Luger works his way back to his feet and fights to break the hold. Hayes tries to ram his head into the turn buckle but Luger blocks it. Instead it's Luger who rams Hayes' head, but Michael gets a thumb to Luger's eye. Hayes sets up for a trademarked bulldog, but Luger throws him across the ring. Punches by Luger in the corner followed by a hip toss and clothesline. He can only get a 2 count.
Luger delivers a huge military press and follows it with another! He looks to do it one more time and executes it! Lex is calling for the torture rack. Hayes flips off Luger's back and nails a DDT. Both met are down and slow to get up. Hayes hits a shoulder tackle and the referee goes down with Luger. Michael Hayes is fatigued on the ropes but Terry Gordy comes down and pushes Hayes on top of Luger as the referee gets up. Nick Patrick calls 1-2-3.
Winner and NEW NWA United States Champion: Michael 'P.S.' Hayes (Outside Interference)
EA's Take: These NWA matches have given me a new level of respect for Michael Hayes. He was a superb entertainer, despite his ring work being a bit rough at times. It makes perfect sense to turn him heel since the previous pay-per-view, Starrcade. Luger was red hot at this time, but his short comings could be seen in this one. A mile away in retrospect. He made his living on a good physique and a predictable' repetitive move-set. This win was short lived as the two continued the feud and exchanged belts a few times.
Match #6 for the NWA Television Championship: NWA Television Champion Sting vs. The Iron Sheik w/Rip Morgan
Sting is led to the ring by a group of running children. The Iron Sheik demands to be introduced as a former world champion. The Sheik takes cheapshots with his flagpole. He takes part of his garment off and chokes Sting. He tells the crowd to shutup. He tries chopping Sting but Sting's unaffected. Sting with kicks to the midsection and he returns the favor with the choking.
Sting whips Sheik to the rope and delivers a clothesline. The crowd responds to Sting's yell. The two tie up. Sheik chops Sting and delivers a side salto suplex. Sting is thrown to the ropes and Sheik hits a clothesline. Sting fights back with kicks. Irish whip to the corner and Sting flies for a Stinger Splash! Sting applies the Scorpian Death Lock and the Sheik gives in!
Winner and STILL NWA Television Champion: Sting (Scorpion Deathlock)
EA's Take: Well…what can you say about a two minute match? Sting's clearly a company and fan darling, but did Sheik just need an easy payday at this point? He's so far beyond his good days, it's not even funny. Yet, we'll continue to see him compete over the next few years. It's really quite strange to think about now, anyone who moved around as poorly as he did in his later years would NEVER be allowed back in a WWE ring. Unless you're The Great Khali.
Match #7 for the NWA World Heavyweight Championship: NWA World Heavyweight Champion Ricky 'The Dragon' Steamboat vs. 'Nature Boy' Ric Flair
Terry Funk, Pat O'Connor and Lou Thesz are ringside as judges. A tie up and a clean break. Another tie up and Steamboat delivers an armdrag. Flair claims his hair was pulled. They circle and tie up again. Side headlock and shoulder tackle by Flair. Steamboat comes back with a hip toss and a unique arm drag. Steamboat holds the arm but Flair tosses Steamboat to the corner. The two exchange face slaps before Flair falls onto his backside and backs off. Another tie up and Flair takes a cheap shot and big chops in the corner. A straight right from Flair, and the two exchange a flurry of vicious chops. Irish whip and a back body drop from Steamboat.
Flair stumbles out to the floor and he's slow to return to the ring. The two cautiously square each other up, and Steamboat reverses a side headlock into an overhand wristlock. Steamboat strengths Flair down to the mat and goes into an arm bar. He emphasizes the pain with knees to the shoulder. Flair is reeling and screaming out in paid. Steamboat with elbow drops to Flair's shoulder without letting go of the lock. They run the ropes, and Steamboat delivers a shoulder tackle and an armdrag before going right back into the armbar.
The two are on their feet and Flair is caught in a hammerlock. Flair reverses it with a drop toe hold, but Steamboat regains control immediately. Steamboat has Flair down in a half nelson. Working back to their feet, Flair breaks it up with more vicious chops. He whips Steamboat to the ropes but Ricky sneaks under his legs and drags Flair right back to the mat and into the hammerlock. Back to their feet, Flair uses Steamboats hair to get to the corner and break the hold. Flair takes a cheap forearm to Steamboat's head and follows it up with 2 more that knocks the champion down.
More chops as the crowd "Wooos", Flair with shots to the abdomen and the back but Steamboat gets a 2nd wind and chops Flair back. Flair falls face first on the canvass and Steamboat goes back to the hammerlock. Steamboat flips over Flair to get extra leverage. Back to their feet and Flair lifts Steamboat on his shoulders and sets him on the top turnbuckle. Steamboat leaps off the turnbuckle, chops Flair, delivers a hiptoss and sends him over the top rope with a drop kick. Steamboat goes to the top turnbuckle as the ref pleads with him and gets him down. Flair regroups and re-enters the ring. Flair baits him with a test of strength and kicks him to the mid section.
When they run the ropes, Steamboat delivers another arm drag and hammerlock sequence. Flair is quick to get up this time, but Steamboat maintains the arm bar. They run, and Steamboat delivers a shoulder tackle, but Flair comes back with a hip toss. He takes his time and therefore misses an elbow drop and Steamboat goes back to work on the arm. They work to the corner and Flair uses his shoulder to hit the abdomen of the Dragon. Trademark chops from Flair who mixes it up with some kicks. Through 15 minutes, the judges decide Steamboat is ahead. Steamboat fights back but Flair gets him in the eye. Flair with a football tackle and he tosses the champ out to the floor.
Steamboat is immediately back in and aggressively fights back which includes 10 punches in the corner. Flair is whipped to the opposite turnbuckle and Flair gets caught upside down on it. The Dragon with more offense in the corner followed by a shoulder tackle. When he tries to follow it up, Flair grabs his head and Steamboat goes over the top rope. The referee decides it was not intentional and doesn't call for a DQ. Now outside of the ring, Flair chops Steamboat over the railing and goes for a chair. The referee stops that before it starts and instead Flair lands an elbow on the throat of Steamboat and re-enters the ring.
Flair gets impatient and heads back to Steamboat and the two exchange more hard chops. Steamboat gets the advantage and he chases Flair back into the ring. Steamboat is quick to the top rope and he delivers a fist to the Nature Boy. Flair is whipped over the top turnbuckle and meets a clothesline on the apron. Steamboat hits a snapmare takedown on Flair and relentlessly goes back to the arm bar. Back to their feet and Steamboat lands a shoulder tackle before leaping for a cross body and stumbling down to the floor. Flair takes advantage with an elbow to the skull while he's on the apron. He pulls Ricky back into the ring and delivers a knee to the head. More chops by Flair and Steamboat keeps fighting his way to his feet. Flair chokes Steamboat with his boot near the rope. Steamboat tries to fight back but Flair has the upper hand. Belly to back suplex from Flair and he gets about 2 and a half! Flair continues to try to hold Steamboat's shoulders down but to no avail. Another knee drop to the head from Flair followed with a WOOO!
Flair delivers a butterfly suplex and again, a hair away from getting a 3 count. He backs up again and this time drops an elbow on Steamboat's neck. Flair barks at Tommy Young after another 2 count. Flair whips Steamboat to the ropes, Ricky ducks a clothesline but on the comeback, Flair catches him and hot shots him on the top rope. He pins Steamboat but it's too close to the ropes. Flair backs off and he's met with a chop on his return. Flair drags Steamboat out to the floor and delivers a vertical suplex on the floor. The 2nd round of judges voting is split, but with a 2-1 favor for Flair. Back to the apron and Steamboat reverses a vertical suplex from the apron. He lands on his feet and surprises Flair with a roll up but can only get 2. Steamboat is on the offense and whips Flair to the ropes. Flair ducks a clothesline and goes for a cross body and both men go flying over the top rope.
Flair's up first and he throws Steamboat back into the ring. Flair goes to the top rope, but as expected, he's gorilla pressed from the top. Steamboat is feeling the energy of the crowd. Punches from Steamboat in the corner followed by an Irish whip and a back body drop. Flair plays possum before getting a kick to the mid section in. He goes for a side suplex but Steamboat lands on his feet, pulls Flair down and cradles him for a 2 count. Steamboat sets Flair atop the top turnbuckle and hits a massive superplex! Steamboat goes for the double chicken wing but Flair gets his feet on the ropes. Flair's head is bashed off the top turnbuckle and Steamboat heads for the top rope. He hits a massive chop from the top and he returns to the top rope.
This time, Flair jerks the ropes and Steamboat falls all the way to the floor. As Steamboat tries to re enter the ring, he's attacked by Flair on the apron who finishes it with a long hold vertical suplex. Flair pulls the leg of Steamboat to weaken it as he applies the figure four. The ref counts as Steamboat's shoulders drop to the mat but he kicks out. Steamboat fights and tries to get to the ropes. Steamboat gets to the ropes and the hold is broken. Flair uses his knee on Steamboat's knee in the corner.
Steamboat chops back as Flair holds the champ's foot. Steamboat breaks the hold by leaping up for a kick to the head. Steamboat pulls Flair up for a body slam, but Flair reverses it into an inside cradle and picks up the win! Ricky Steamboat shows gives a handshake and pays his respect for a great match.
Winner and NEW NWA World Heavyweight Champion: 'Nature Boy' Ric Flair (Inside Cradle)
After The Bell: Jim Ross interviews Ric Flair who gives a surprisingly humble interview, complimenting Ricky Steamboat. Terry Funk interrupts the interview and issues a challenge to Flair for the belt. When Flair denies the opportunity due to Funk's time in Hollywood, Terry attacks him which includes a pile driver on a table.
EA's Take: Another fantastic bout between these two and I love how it seamlessly flowed right into Flair's next feud, which brings us one of my all-time favorite matches at Clash Of The Champions IX. The face turn here for Flair is starting to become needed at this point in time. An incomparable heel, you could see that the crowd was somewhat split and people were getting behind the arrogant character to a certain extent. The booking for Flair/Steamboat over the past few months was superb, giving us three straight instant classics and then a great transition into the Funk rivalry. Some of the best stuff WCW will put together for literally years.
Match #8 for the NWA World Tag Team Championship – Special Referee Nikita Koloff: NWA World Tag Team Champions The Varsity Club (Mike Rotunda & 'Dr. Death' Steve Williams) w/Kevin Sullivan vs. The Road Warriors (Hawk & Animal) w/Paul Ellering
The Road Warriors waste no time in ambushing the Varsity Club right after their entrance and they clear the ring. The Club tries to fight back and there is a 4 man melee in the ring but the Warriors are still in control. We start with Animal and Williams. They lock up and go to the corner. Sullivan immediately gets in the ref's face and he gets "ejected"! Animal with a shoulder tackle and a clothesline. Animal pursues but Williams gets a foot to the midsection. They fight for position and guest referee Koloff tries to separate them.
Williams gives him a hard time and Koloff threatens to "eject" him too. Williams backs off and tags in Rotunda. They run the ropes. Animal gets a shoulder tackle but on the next run, Rotunda lands a drop kick. Rotunda heads for the top body, but his cross body press is reversed by Animal's body slam. Williams tries to break up a pin attempt and it distracts Animal. Hawk is tagged in. Williams lands the first shots and he scoop slams him. Hawk moves on an elbow drop attempt and power slams Williams instead. He drops a fist on Williams who then rolls out of the ring. Hawk gives chase and clotheslines him off the apron!
Hawk tries a follow up clothesline that misses and Hawk's arm hits the ring post. The referee is caught up with Animal who is protesting as Rotunda comes over for a cheap shot. Williams goes to work on the outside and then rolls back into the ring. Hawk follows but he's reeling. Hawk reverses a whip to the ropes but Williams comes back with a clothesline and makes a tag to Rotunda. Before Rotunda can take advantage of the situation, Hawk makes the tag to Animal. He lands an atomic drop and a drop kick.
Huge shoulder block by Animal, but Williams tries to break it up. Another melee in the ring. Rotunda misses a clothesline and tumbles over the top rope. The Warriors set up Williams for the Doomsday Device and execute it. The referee goes for the pin, but Kevin Sullivan and Dan Spivey have run back out and they drag Koloff out of the ring. They attack Koloff and Hawk tries exits the ring to come to his aid.
This leaves a two-on-one situation in the ring for the Varsity Club. Animal is the victim of a double clothesline. Williams joins the attack on the outside while Animal and Rotunda look to face off 1:1. Williams and Hawk roll back into the ring and Hawk hits him with a big boot. Shortly thereafter, the bell rings. There has been a disqualification due to outside interference.
Winners: The Road Warriors (Disqualification)
EA's Take: I knew going into this match that the Warriors either had to win or be screwed again and that's exactly what happened. You really have to question the match order of this card, but I'll get into that in my finisher later. The Road Warriors' heel turn didn't last very long, as the people never wanted to boo them. Varsity Club was arguably the top heel team, so this was the natural progression. They had previously been screwed out of the titles just a little more than a month prior. This one featured lots of brawling (I know…shocker), since Rotunda is easily the best worker of the group.
Match #9 for the NWA United States Tag Team Championship: NWA United States Tag Team Champions Eddie Gilbert & Rick Steiner w/Missy Hyatt vs. The Varsity Club (Kevin Sullivan & Dan Spivey)
Sullivan and Spivey waste no time attacking the champs. Sullivan appears to chase Hyatt but he's interrupted by Gilbert. On the outside, Spivey attacks Steiner with a shoulder block. In the ring, Gilbert and Sullivan go to work. Gilbert with an Irish whip but Sullivan gets his foot up. He tags in Spivey but Gilbert rolls out to the floor. Back to the ring Gilbert ducks clotheslines and they lock up. Spivey delivers rights in the ring while Sullivan cheap shots Steiner on the floor. Gilbert is whipped to the ropes but he reverses the momentum with a right to the face. Spivey rakes the eyes but Gilbert rolls out to the floor.
Sullivan attacks Steiner and rams him into the post as the other two brawl their way back into the ring. Sullivan is tagged back in. Sullivan lands a right and mocks the fact that Steiner isn't in his corner. More rights and a clothesline from Sullivan before he tags Spivey back into the ring. Spivey holds Gilbert in a choke hold and slams him to the mat. Gilbert is whipped to the ropes and dropkicked.
Gilbert is caught in a a potential back breaker but he reverses it to a small back body drop. Spivey is up immediately though, and Sullivan is tagged back in. Sullivan is on the offensive and he quickly tags Spivey back into the ring. Side slam by Dan Spivey who gets a 2 count. Spivey whips Gilbert to the ropes and lands a big boot. Sullivan takes a cheap shot while the referee is distracted.
Spivey lands a powerslam on Gilbert and tags Sullivan back in. Sullivan slaps Gilbert's face several times before Gilbert's able to sneak through Sullivan's legs and make a hot tag to Rick Steiner. The ref didn't see the tag and won't allow it. Spivey attacks Steiner and the ref attempts to redirect him. Sullivan appears to be setting up for a pile driver but while the ref is distracted with Spivey, Rick 'Steiner-lines' Sullivan and Gilbert flips over him for a successful pin.
Winners and STILL NWA United States Tag Team Champions: Eddie Gilbert & Rick Steiner (Gilbert/SteinerLine)
EA's Take: Utter garbage that this is the main event of this show. I don't think anybody could explain to me any reason this closes things out other than "the faces went over". With a screwy finish in the NWA World Tag Title Match, plus Flair getting left laying by Terry Funk, you have to think the thought process here is "send 'em home happy". Unfortunately, it doesn't make any logical sense in the grand scheme of things. This isn't even your primary Tag Title. Get outta here with that!
Finisher: As Conrad Thompson always says on Something Else To Wrestle, "Who booked this s$%*?". Not only did Flair and Steamboat make it impossible for anyone to follow them, like I said before, you put your secondary tag titles in the main. What?!? I think it's entirely fair to wonder, since the man booking the show is in the main event, perhaps that played a part? I can't say that for sure, but you certainly have to wonder. This card had two real gems in the Flair vs. Steamboat and Dynamic Dudes vs. Samoans bouts, but it was filled out by a ton of sub seven-minute matches that made you wonder what it was doing on the card. Vince's grip on pro wrestling is at full-strength for sure.
Top Three To Watch
1 – Ric Flair vs. Ricky Steamboat
2 – The Dynamic Dudes vs. The Samoan Swat Team
3 – Lex Luger vs. Michael Hayes
---
Always Use Your Head and visit the official Pro Wrestling Tees store for The Chairshot All t-shirt proceeds help support the advancement of your favorite hard-hitting wrestling website, The Chairshot!

---
Chairshots Classics: SummerSlam 2008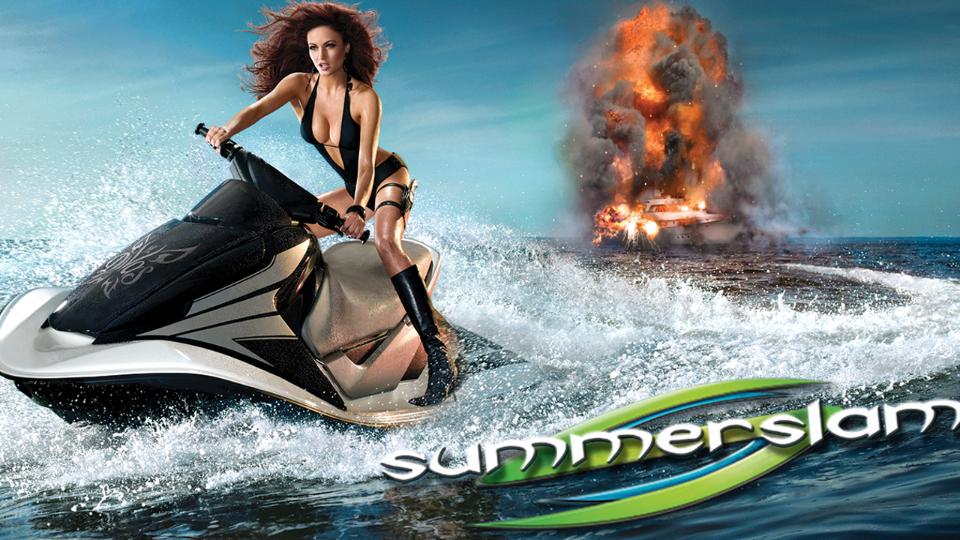 SummerSlam 2008 gives us The Undertaker and Edge in a Hell in the Cell match.  CM Punk and JBL go face-to-face for the World Heavyweight Title,  Matt Hardy squares up with Mark Henry for the ECW Championship and on the WWE side of the Strap we get Triple H and The Great Kahli….all this and so much more in this edition of The Chairshot Classic.
Today we will spend the evening in The Conseco Fieldhouse, home of the Indiana Pacers, in Indianapolis, Indiana. The show is sold-out with 15,997 in attendance and another 447K tuning in on PPV at home. The theme song for the night will be "Ready to Roll" by Jet Black Stare and the event is sponsored by the 20th Century Fox film "Street Kings". On a sidenote this is a great movie that stars Keanu Reeves and Forrest Whitaker. Its the story of crooked cops and one mans journey to bring it all down. Check it out. This is also the first PPV after the WWE went to a PG rating, the last one of the PG-13 era being The Great American Bash. Let's head to the arena and see if this effects the overall product as it's time for "The Biggest Blockbuster of the Summer"!
The show opens with a movie trailer that is done to make SummerSlam seem like the Blockbuster event of the Summer. It goes on to show Vickie Guerrero reinstate The Undertaker and grant him his Hell in a Cell match with Edge. This a feud that carried over from WrestleMania and Taker and Edge were the first to Main Event both events in the same year. This is a well done package and ranks up there in best opens at SummerSlam for sure.
After the package ends Jim Ross welcomes us into the sold-out show and he introduces the other announcers, Jerry "The King" Lawler and Michael Cole. The three men run through the nights card and the first competitor of the night is introduced. Jeff Hardy enters and he gets the usual love from the fans. Or as a JR says "A Michael Phelps-like welcome."  JR is tasked with calling the first match and his partner is Tazz. I wish they would move past this mutli-brand announcing as I am a fan of just one announce crew, not three. Montel Vontavious Porter, or MVP is next out for what looks to be a good opening bout.
As soon as the bell sounds, MVP goes for a big opening kick but Hardy dodges it. This opens a window of opportunity for Jeff to land a series of haymakers to the midsection. MVP rolls from the ring to recover and Hardy is quick to follow him. MVP uses this to his advantage and slides right back into the ring, hoping to get the upper hand. This backfires, and Jeff pulls him back out of the ring by his feet. Hardy then slams MVP into the security wall getting the first nice pop of the night. After high-fiving some fans, Hardy bounces MVP off the apron and returns him to the ring. A springboard leg drop and a pin attempt follow, but MVP gets his foot on the rope to break the count. An armbar is next, and when Hardy transitions into a standing variety of the hold, MVP is able to find the ropes. Hardy keeps the advantage for some time but it starts to shift after MVP hits the charging Hardy with a belly-to-belly toss into the turnbuckle. MVP tries for a cover but Hardy gets the shoulder up at two. MVP works Hardy with an armlock next and every time Hardy is close to escaping, Porter nails him with strikes to keep the hold applied. This eventually leads to Jeff Hardy being put in the camel clutch in the center of the ring. Jeff manages to escape it, but MVP is quick to put him into a variation of  a single leg crab. Hardy finally finds the ropes and the official is forced to break the hold.
Hardy rolls to the apron to escape the stomps of MVP and tries to springboard back into the ring. This doesn't go as planned and MVP catches Jeff, mid springboard, with a right hook. The crowd have a little "MVP" chant here as he brings Hardy back into the ring. Porter tries for a cover and is shocked when he is only rewarded a near fall. An Alabama slam is next, and this leaves Hardy suspended in a tree of woe position. After a quick argument with the official, MVP slams Hardy to the mat and goes for another cover. He is again only gets a near fall and pick Hardy back up. He puts Jeff into a Razor's Edge like set-up but Hardy escapes with the backslide and catches MVP with a reverse neckbreaker. Hardy lands the mule kick and this sends MVP into the corner. When Hardy charges him, MVP pulls off the ropes for momentums and dropkicks Hardy square in the chest. This had some nice impact and sends Hardy sailing across the ring. MVP is quick with another cover attempt, but for the fourth time he only gets the two count. MVP then whips Jeff into the corner, and when he bounces back out, MVP sends him right back into it with a dropkick. MVP tries for the Drive-by Kick but Hardy explodes from the corner and catches him with a slingblade. Both men lay prone as the ref starts his count. They both slowly return to their feet at the count of seven and Hardy gets the advantage with a Russian leg sweep. Hardy tries for the leg drop cover but it's MVP's turn to kick-out. Hardy explodes into a springboard Whisper in the Wind and so does the crowd when this happens. Hardy is quick to return to the top rope, and when he gets up there we see Shelton Benjamin appear at ringside. Hardy crossbodies him and returns right to the top rope. Jeff tries for the Swanton Bomb, but the interference allows MVP to roll from harms way. Hardy hits the mat hard and this allows MVP to hit the Drive-by Kick. When MVP makes the cover, this time he gets the three count and the victory. This was a decent match but I expected better from these two. Not a must watch by any stretch of the imagination and could be skipped over. Match Time-10:21
Next we get an interview with two of the competitors in the next match that is an inter-gender bout with the Intercontinental and Women's Championships on the line. This is team Glamerella, which is made up of Beth Phoenix and Santino Marella. Maria Kanellis interviews the two and this is all really lame stuff here. We re-enter the arena after this tragedy and Lillian Garcia tells us that this is a winner takes all tag-team bout for the IC and Women's Titles. I find this quite offensive to one of my all-time favorite Titles, The Intercontinental Championship. Out first is the Women's Champion Mickie James, who receives a nice pop from the fans. The IC Champ is out next and the crowd has even more pop for Kofi Kingston. Glamerella is out next and incase you're to young to remember this name was a play on the common theme of combined celebrity names at the time. Most famously was the couple of Brad Pitt and Angelina Jolie, or Brangelina, if you will.
The Glamazon and Mickie James start the bout and the collar and elbow leads to a side headlock for Mickie. She tries to hip toss Phoenix, but she is overpowered and Phoenix tosses Mickie off of her. Phoenix is soon kneeling after James dropkicks her knee out from under her. James then hits the ropes and lands another dropkick, this time to the face of Phoenix. Phoenix reverses into a backdrop and this allows her to tag in Marella. As this is a inter-gender match Mickie James isn't forced to come out and lands a kick to the back of Marella's head. She avoids a clothesline from him and this gives her the opportunity to tag in her partner. After the tag is made, Kingston enters the ring via the top rope and nails Marella with a crossbody. Kofi lands a few flipping maneuvers before he sends Santino Marella flying from the ring with a European uppercut. Phoenix starts to yell at her partner and this is when James enters the ring and sends Phoenix sailing off the apron with a dropkick to the back. The crowd pops for this and Beth picks Santino up, as to protect him, because it looks like Kofi is coming out of the ring with a suicide dive. Kofi instead dives into the top rope, intentionally, and bounces back into the ring. Cool stuff here from Kingston.
Marella returns to the apron and when Kofi tries to pull him into the ring Marella hotshots him with a reverse neckbreaker. After Marella does a little more offense and delivers a thumb to the eye of Kingston, he tags Beth Phoenix back in. After a quick kick to the midsection of Kofi, she tags her partner right back in. Marella hits a snap suplex and goes for the cover. Kofi kicks it out at two. Marella responds to this by sitting on the back of Kofi and wrenching on the IC champ's neck. Kofi eventually stands this up and both men hit the ropes. The two collide in the middle and it looks as though they accidently bumped heads. Marella makes the tag and Kofi is able to do the same. Mickie comes in hot and nails the Glamazon with a series of forearms. Mickie then hits the ropes and takes Phoenix off her feet with a slingblade. She hits a second slingblade and when Marella tries to enter the ring James dropkicks him off the apron. After a hurricanrana, Mickie heads to the top rope and hits Phoenix with the Lou Thesz press from the air. She goes for the cover but Marella enters the ring to break it up. James hits him with a cool tornado DDT but this allows Phoenix to attack her from behind. Phoenix hits James with the Glam Slam and makes the cover. The ref counts the three and Beth Phoenix and Santino Marella are new Title holders. This is the first time the IC Title changed hands at SummerSlam since 2002 when Rob Van Dam beat Chris Benoit. (More on that here.) If you have taken the time to read about this match do yourself a favor and DON'T watch it. Pure trash and a disgrace to a Title that has been carried by some of the greatest bell-to-bell performers of all-time. Match Time-5:35
---
Always Use Your Head and visit the official Pro Wrestling Tees store for The Chairshot All t-shirt proceeds help support the advancement of your favorite hard-hitting wrestling website, The Chairshot!

---
Chairshot Classics: WCW WrestleWar '91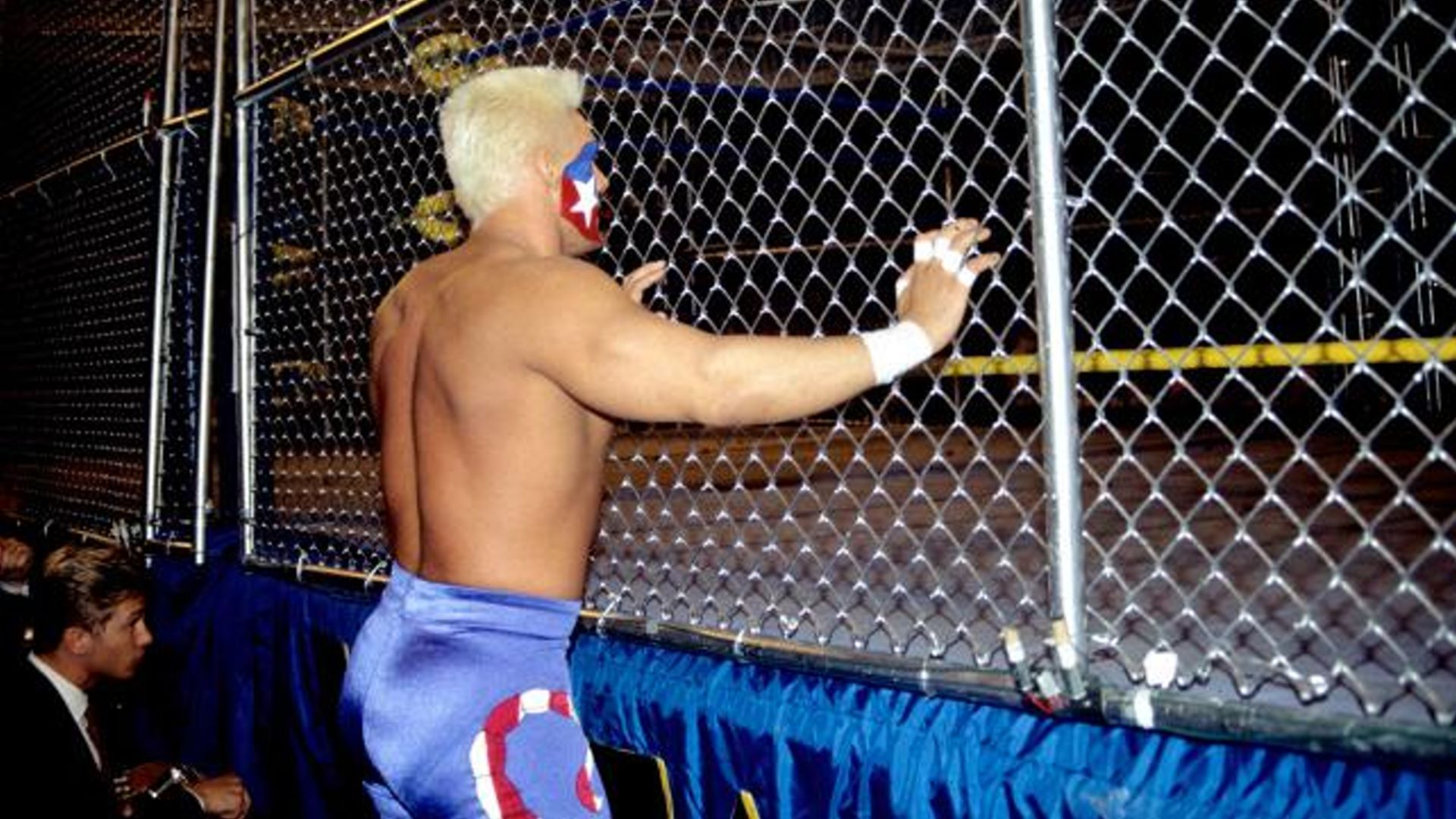 For the first time, WCW holds a pay-per-view fully on their own, as they continue their slow split with the National Wrestling Alliance. This event is not under the NWA banner any longer, but brings back the WarGames for the continued fallout from Starrcade. 'The Nature Boy' is also the new World Champion again, ending Sting's reign roughly a month and a half prior. Sting has now fielded his squad to even the odds with The Four Horsemen, but can his patchwork team match the cohesion of Ric Flair's men?
Match #1 for the WCW World Six-Man Tag Team Championships: WCW World Six-Man Tag Team Champions Junkyard Dog, Ricky Morton & 'Wildfire' Tommy Rich vs. The State Patrol (Lt. James Earl Wright & Sgt. Buddy Lee Parker) & Big Cat
Cat and JYD start the action. The two big men exchange rights and JYD catches his jaw. JYD ducks a clothesline and hits one of his own. He headbutts Big Cat who quickly tags in Wright. Side headlock and a tag to Morton. Wright sends Morton, but Ricky avoids contact and sends him down with a hiptoss and an armdrag. More arm drags from the RnR man. Tag is made to Rich and they double clothesline Wright. Wristlock into an armbar on Wright. He fights out of the hold and sends Rich to the ropes.
Wildfire reverses the offense and scoop slams him. Wright moves away from an elbow but Rich doesn't pull the trigger. An arm drag into a wristlock by Rich, Wright breaks it up with a poke to the eyes. He slams Rich and tags in Parker. Parker misses an elbow and is sent over with an arm drag and gets caught in an arm bar. Shoulder blocks to the midsection from Parker who sends Rich to the ropes. Shoulder tackles by Rich, who then reverses a hiptoss into one of his own. Another arm drag by Rich. Tag is made to Morton and Parker powers him into the corner. Morton reverses an Irish whip and delivers an inverted atomic drop. Wright rushes the ring and has the same fate. Arm drag by Morton and he pulls his opponent up, tagging in JYD. Snapmare and a stomp by the big man. A headbutt from JYD and Big Cat is tagged back in.
JYD looks for a test of strength, Big Cat has the early advantage but JYD reverses it with a back heel trip. They exchange head butts and Big Cat drops an elbow for two. Parker is tagged back in, he strikes JYD with no effect. JYD fights back and tags in Morton. They run the ropes and Morton is hit in the mid section. Wright is tagged in and the Patrol double teams Morton. More double team work by State Patrol after another quick tag. Big Cat is tagged in. Drop toe hold/elbow combo from the partners. Lateral press but Morton kicks out. Morton is sent and gets a dropkick by the big man. Cat headbutts him to the ground and kicks him into the corner. He slams Morton down but Ricky moves from the big elbow. Parker is tagged in and he exchanges rights with Morton. Powerslam in midair from Parker but Morton kicks out.
Another quick tag and a bulldog/elbow combo from the Patrol. Yet another quick tag and Morton is reeling from double team work. Big Cat is in. Morton tries a cross body but is caught with a back breaker. Big Cat gets some heat on his opponents and with the ref's back turned, Morton is triple teamed. Parker is tagged in and applies a reverse chinlock. Irish whip, but Morton moves and Parker hits the turnbuckle. Wright is tagged in, but Morton somersaults over and tags in big JYD. He goes right to work and hits Parker with the Big Thump. Cat breaks up the pin attempt as all participants rush the ring. JYD gets up and knocks Cat out of the ring and Morton jumps on the laid out Parker and picks up a three count.
Winners and STILL WCW Six-Man Tag Team Champions: JYD, Morton & Rich (Morton/Thump)
EA's Take: Well, I guess you don't have to be the legal man to pick up the win. I've seen he idea of a 6-Man Title in WWE being tossed around by some on social media and I can't even begin to imagine how much of an abortion that would be. Nevertheless, this one was just a way to just cluster mid-card guys together and the championships don't even last a calendar year in WCW. It just doesn't have the appeal and excitement you'd think outside of Mexico. I've never seen the need for it.
In The Arena: Tony Schiavone is standing by with Terry Taylor and Alexandra York. York explains that thanks to Taylor's in-ring success, the York Foundation is flourishing. They have been using computers to scientifically determine their opponent's weakness. York predicts Taylor will win in less than 15 minutes and 28 seconds, Taylor predicts pain.
Match #2: Brad Armstrong vs. 'Beautiful' Bobby Eaton
Eaton blindsides Armstrong right off the bat. Armstrong fights back and they run the ropes. Headscissor, dropkick and an arm drag by Armstrong. He hangs on for an armbar. Back to a vertical base, wristlock by Armstrong. It's broken in the corner and Eaton slaps Armstrong across the face. A reversed Irish whip, and Armstrong monkey flips Eaton and goes right back to the arm bar. He keeps the pressure on the arm. Back to their feet and Eaton breaks it with a knee before dumping Armstrong to the floor. He gives chase and Randy Anderson starts the count. Armstrong drives Eaton into the rail and ring post. Both men back to the ring and Armstrong returns to the arm.
He holds a wrist lock before transitioning back to the armbar. Eaton gets over to the ropes to break it. Tempers flare and they shove one another, Eaton cowers back to the ropes again. Eaton calls for a test of strength and Amrstrong obliges. Kick to the mid section by Eaton and Armstrong drops to his knees. Back to a vertical base for Armstrong. He disorients Eaton by climbing up over his shoulders, running up the turnbuckle and turning around with a flying cross body and a two count. Arm drag/Armbar combo once again for Armstrong. Back to their feet and to the corner, Eaton hits a cheap right. Eaton slingshots Armstrong over the ropes but it's reversed.
Armstrong with a right to the abdomen and goes back to work on the wrist and arm. Eaton reverses a waist lock and hits a huge clothesline. Eaton is slow to cover and only gets two. He sends Armstrong and lifts him for a back breaker. He leans in but Armstrong kicks out again. Scoop slam by Eaton  followed with an elbow, he can still only get two. Reverse chinlock by Eaton. Armstrong hits elbows but Eaton stops the breakup with a knee to the face. Slingshot backbreaker by Beautiful Bobby. He goes for the pin and Armstrong kicks out.
Eaton applies a modified Camel Clutch. The crowd gets behind Armstrong who works to his feet. Shots to the midsection, but Eaton counters the attempt with an elbow and he kicks Armstrong out to the floor. Bobby hotshots him across the railing and heads back to the ring. Armstrong is slow to return but he beats the count. An abdominal stretch is applied by Eaton who uses the ropes for leverage. Randy Anderson crawls in between Armstrong's legs to catch Eaton cheating and breaks it up.
The two exchange blows, Irish whip but Armstong moves and Eaton goes legs first into the turnbuckle. Drop kick followed by a side Russian leg sweep by Brad but Eaton is too close to the ropes to get the pin. Irish whip by Armstrong but Eaton reverses with a neck breaker. Eaton heads to the top rope and he lands a flying leg drop which earns him the win.
Winner: 'Beautiful' Bobby Eaton (Alabama Jam)
EA's Take: Cornette and Lane have both departed the company at this point. I miss The 

Midnight

 Express, but I'm happy to see Eaton putting on great singles matches. Unfortunately for him, we'd find out there was a reason why he was always in a tag team as he can't really talk well or change his look with the times. The Armstrong family has to be one of the most underrated families in wrestling. When I started watching WCW religiously in the mid 90's, Brad was doing a lot of jobs, but there's no doubt the guy could work. It's just too bad he was never able to show his personality on-camera, then later gets saddled with a gimmick blatantly ripping off his own brother.
---
Always Use Your Head and visit the official Pro Wrestling Tees store for The Chairshot All t-shirt proceeds help support the advancement of your favorite hard-hitting wrestling website, The Chairshot!

---
Chairshot Classics: Raw #7 [March 1st 1993]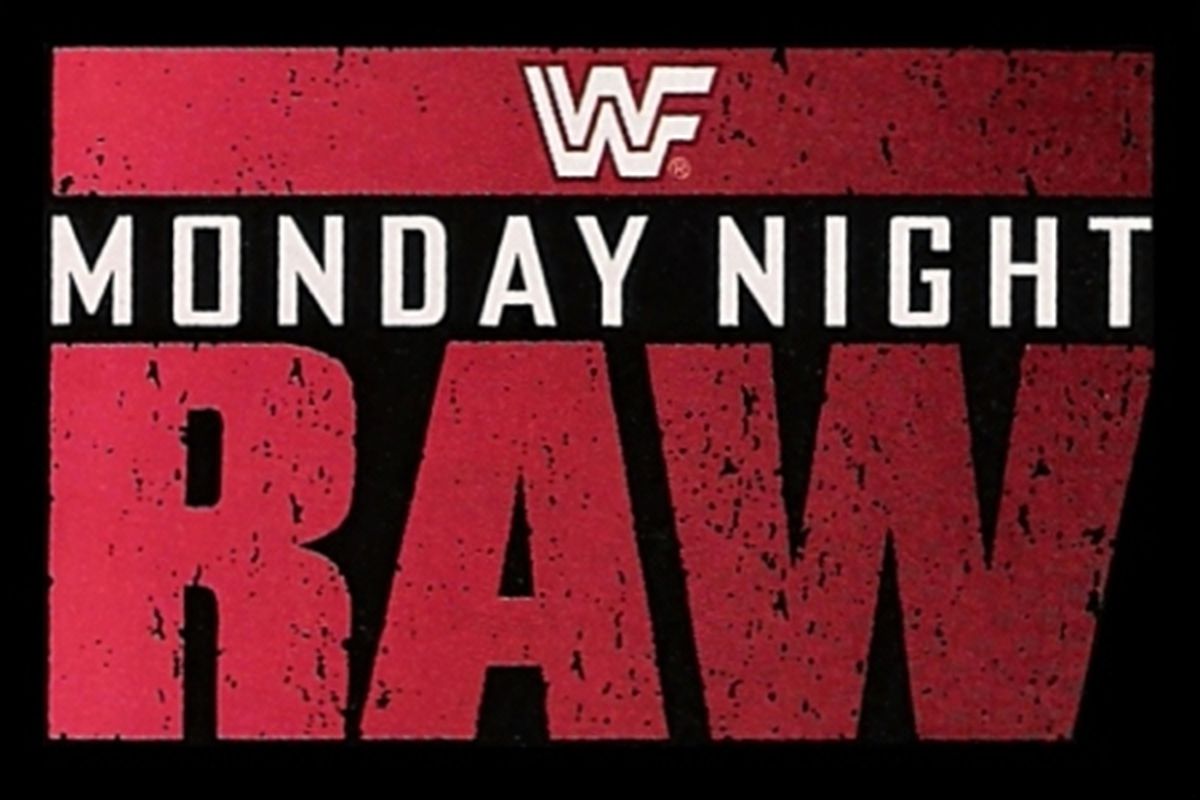 Hello from the Raw side where we chronologically wander through past episodes of WWE's Monday Night Raw episode by episode. Seven weeks in and it's time for a WWE Title match. To see who it was defended against and if it was defended at all (see what I did there?) lets head on to
Raw #7 [March 1 1993]
As soon as Raw opens, WWE Champion, Bret Hart is on his way down the isle for……
. Bret Hart vs Fatu [WWE Title]
Fatu pushes Bret out of a Collar and Elbow. Bret turns a second one into a Headlock but Fatu sends him off the ropes. Nobody moves as both men clash shoulders together in the centre of the ring. Bret charges at Fatu who catches Bret and Bodyslams him before an Elbow Drop that Bret rolls to avoid. Bret hits an Armdrag followed by knees to the shoulder before applying an Armbar. Fatu breaks it by throwing Bret into the turnbuckles. However, Bret avoids a charging Fatu and Armdrags him into another Armbar. Fatu breaks this one by sending Bret off the ropes. Again nobody moves when both men clash shoulders in the centre of the ring. Bret hits Fatu with another Shoulder Block and this time Fatu goes down. Bret runs the ropes and falls over Fatu (which Vince tries to pass off as a trip by Fatu's manager, Afa, despite Afa being nowhere near Bret) and clutches his knee. He's faking it. As Fatu celebrates his opponent's injury Bret runs at Fatu and rolls him up with a School Boy that gets him a two count.
Bret Arm Wringers his way back into the Armbar. Fatu tries to break it with a Bodyslam but Bret rolls through it still holding the Armbar. Fatu breaks it again by sending Bret off the ropes but Fatu telegraphs a Back Drop and Bret Faceplants Fatu into the canvas. Fatu is Samoan and apparently shots to the head (like a Faceplant) have no effect on him and he stands straight back up and Superkicks Bret for a two count. Fatu uses his hard Samoan head to hit Bret with a Headbutt. Fatu sends Bret off the ropes and tries to Hip Toss Bret. He counters it and, despite managing to Armdrag Fatu twice so far this match, can't Hip Toss Fatu because he's too heavy and gets Clotheslined by Fatu for another two count. Fatu applies a nerve grip to Bret's shoulder. Bret tries to fight his way out with Elbows to the gut but Fatu pulls Bret's hair and re-applies the nerve grip. It's eventually broken when Fatu gets hungry and bites Bret. Fatu catches Bret as he runs right into a Back Elbow and gets a two count. Samu walks down the isle. Bret ducks a Clothesline and hits a Cross Body for a two. Fatu kicks out hard enough to send Bret rolling out of the ring. Afa distracts the referee allowing Samu to Bodyslam Bret Hart onto the ringside mats followed by a series of Headbutts and finally Sam rams Bret into the ringside steps.
Back from the ads and Bret is still on the outside of the ring and not been counted out. (how short were the ads back in '93 and can we have those back?) Fatu is fanally bored waiting and hits Bret's head off the apron before rolling Bret back into the ring. Fatu Headbutts Bret and Irish Whips him hard into the corner. Fatu gets a two from a side Backbreaker. Fatu Irish Whips Bret again and drops with another Headbutt for another two count. Fatu gets another two count from a Piledriver. Fatu bites at Bret again and kicks him in one corner before Irish Whipping Bret chest first into another for yet another two count. Fatu gets another one from a Sidewalk Slam and a second rope Headbutt. Fatu climbs to the top turnbuckle but Bret stops him with a Right Hand and Superplexes Fatu for a two count as does a Bulldog. Bret hits a Side Backbreaker and a second rope Elbow Drop before applying the Sharpshooter. Afa distracts the referee while Samu Clotheslines Bret. Fatu rolls out of the ring and Samu gets a two count. Afa distracts again and Fatu is back in. Bret slips out of a Bodyslam attempt and pushes Fatu into Samu causing Samu to get tied up in the ropes. Bret hits Fatu with a Russian Leg Sweep and Dropkicks Afa to prevent him interfering. Bret locks Fatu in the Sharpshooter and this is over.
Winner: Bret Hart [still WWE Champion]
Time for a Wrestlemania Report. Mean Gene hypes the matches for Westlemania including Hogan & Beefcake vs DiBiase & IRS, Giant Gonzales vs The Undertaker, Shawn Michaels vs Tatanka, Lex Luger vs Mr Perfect and Bret Hart vs Yokozuna. Tickets are still available.
Via sattelite we link up with Crush. He demonstates his prediction for his Wrestlemania match by crushing a coconut.
. Doink vs Koko B Ware
Doink attacks Koko before the bell with a Running Knee and then stops on Koko before Elbow Dropping Koko's knee. He then stops Koko's knee. Doink applies a Half Crab that quickly becomes an STF. Doink kicks at Koko's hamstring. Doink hits Koko with a Neckbreaker. Doink applies the Stump Puller and this one is over. Night of Submissions this is.
Winner: Doink
"Elvis" or Rob Bartlet interviews Doink at ringside. Doink hands Bartlet a tiny cream pie. Bartlet shows it to the crowd and turns right into… Doink smushes a normal sized cream pie into Bartlet's face. I love Doink sometimes.
We get the Bret Hart IcoPro ad, the Savage Slim Jim ad and the action figure ad.
Vince McMahon is in the ring with Ted DiBiase & IRS. DiBiase says he thought Hogan had gone off into the sunset but "oh no, here he comes again". DiBiase says that insted of taking an asset, Hogan has taken an overpaid loss in Jimmy Hart. IRS says if they wanted they could have put Beefcake out of wrestling for good, but they didn't and calls their attack "a wake up call". DiBiase says not only will they put the titles on the line against Hogan and Beefcake, but they wll do so at Wrestlemania. He should watch Raw, Mean Gene told me about this match earlier in the show on the Wrestlemania Report.
The Wrestlemania ad airs. Slightly over a month away and tickets are STILL available.
. Lex Luger vs PJ Walker
Yes people it's Enhancement Time! This time it's PJ Walker. He will go on to become ECW alumni Justin Credible. We will see him turn up in about 2020 as masked jellyfish Aldo Montoya.
Luger starts with a Kick to the gut and an Elbow to the back of PJ's head. Luger then Irish Whips PJ hard into the corner twice. Luger then lifts PJ and drops his back across Luger's knee for a Backbreaker and then hits a Suplex. Luger then rams PJ head first into the corner twice and then catches PJ with a High Knee. Luger then lifts PJ for a Bodyslam but instead runs him into the corner (similar to an Oklahoma Stampede). With PJ hanging from the turnbuckles in a Tree Of Woe stylee, Luger kicks at PJ's gut. Down off the corner, Luger then Soccer Kicks PJ in the ribs. Luger then hits PJ with a running Forearm and pins him with his pinkie.
Winner: Lex Luger
. Rick Steiner & Scott Steiner vs Duane Gill & Barry Hardy
Yes people, it's another Enhancement Time! This match feel familiar to anyone? It should, this is basically the Executioners vs The Steiners from Raw #1 only the Executioners are maskless.
Scott and Barry start. Scott goes quickly from an Arm Wringer into a Double Leg Takedown but Barry quickly gets to the ropes. Scott turns a Collar and Elbow into a Headlock and Barry pushes him off the ropes. Scott hits him with a Shoulder Block as he rebounds which knocks Barry down. Scott goes off the ropes again, leapfrogs Barry and smashes a Forearm across his back. Scott grabs Barry and lauches him with an Overhead Belly To Belly Suplex. Scott hits a Snapmare and tags Rick who Clotheslines Barry over the top rope and out of the ring. Scott throws Barry back into the ring where Rick lifts him onto his shoulder and runs (similar to Luger's variation of the Oklahoma Stampede earlier) into the corner. Rick throws Barry into his own corner so he can tag Duane who runs straight into a Back Drop by Rick. Duane is then thrown off the ropes where Rick catches him with a Tilt-a-Whirl Backbreaker and an Elbow Drop. Scott tags in and hits Duane with a Pump Handle Slam. Scott sends Duane off the ropes and Dropkicks him. Rick tags in and briefly applies a Camel Clutch before tagging Scott back in. Scott hits a Double Underhook Suplex and a Frankensteiner. He covers Duane and to no surprise, this is over.
Winners: Rick Steiner & Scott Steiner
The ad for Mania airs again.
Commentary hype next weeks matches including Mr Perfect vs Rick Martel and Ted DiBiase & IRS vs El Matador & Virgil and we are done for another week.
Post Show: What can I say? Raw in 1993 is what it is and it will be that way for a couple of years yet.
Match Of The Night: Bret Hart vs Fatu. It was a WWE Championship match on TV and was at least given time for them to do something with. The rest was just filler.
MVP: Bret Hart AND Fatu. Fatu's offence plus Bret's selling made the match.
Rating: 6/10
With that I bid you farewell. I'll be back next week with Episode 8. In the meantime I can be found on Twitter @Callaweasy2220 where I live tweet Raw, Smackdown, NXT and (when there's one on like the other night with Extreme Rules) pay per view. I also talk Wrestling and post random pictures of what wrestling I am watching so feel free to pop over.
While you are here on TheChairshot.com we have news, views and reviews for you to amuse yourself with.
As I said, I'll be back next week so until then, #UseYourHead and ALWAYS have an Angle!
---
Always Use Your Head and visit the official Pro Wrestling Tees store for The Chairshot All t-shirt proceeds help support the advancement of your favorite hard-hitting wrestling website, The Chairshot!

---